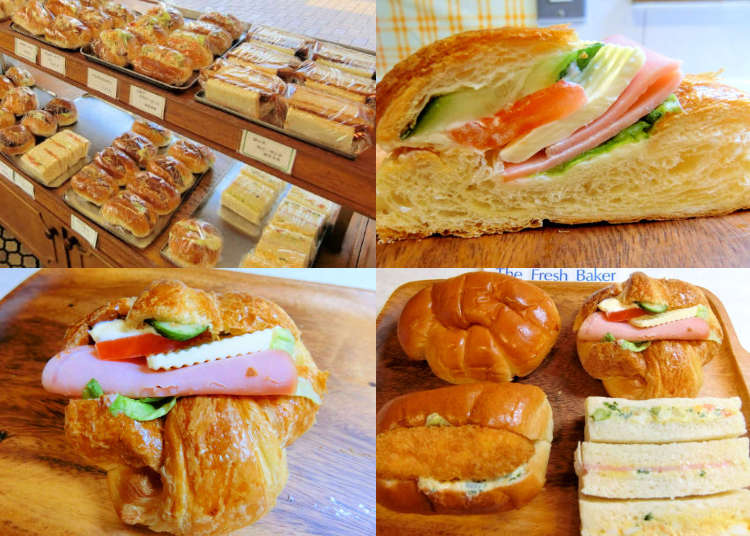 Touring a city that is as big as Tokyo will have you crave a snack for the road sooner or later. While rice balls are a classic, healthy option, we're going to take you to a traditional bakery full of charm! St. Moritz has been in business for over 70 years, loved by locals of all ages for its warm atmosphere and delicious bread and pastry delights!

This community-based bakery can be found just 4 to 5 minutes away from Azabu-Jūban Station on the Tokyo Metro Namboku Line. It sits at a crossing of the local shopping street.
St. Moritz, the Local Bakery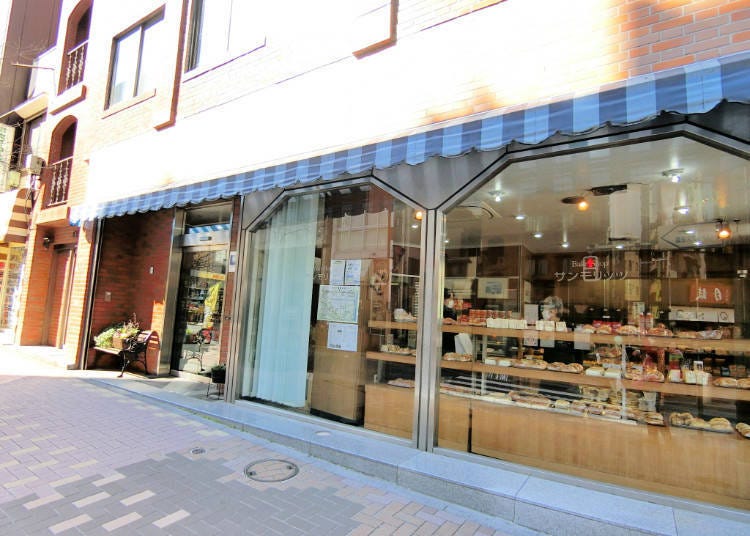 As already mentioned, St. Moritz was founded over 70 years ago. Originally, the bakery seemed to have been in Senju but moved to its current location after the war. Its front is a curious, welcoming mixture between modern fanciness and retro style, with classic red bricks mingling with a blue awning. You won't miss it – the large selection of breads and pastries can be admired through the two large windows. You could decide what to try without even going inside!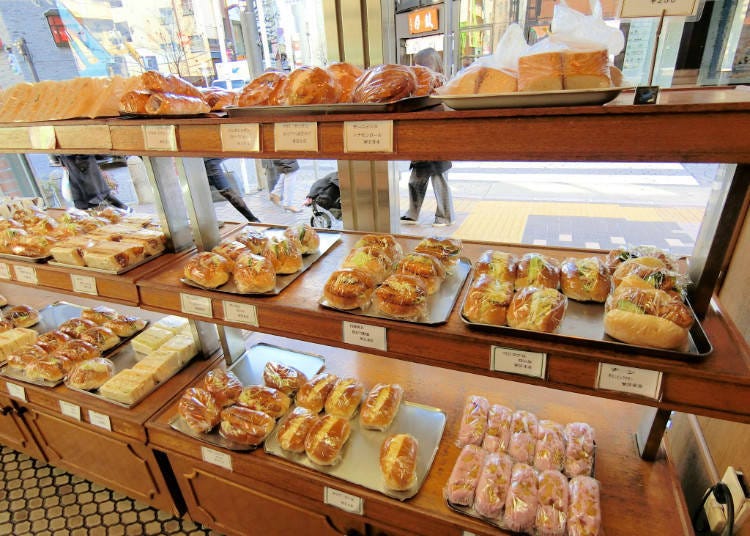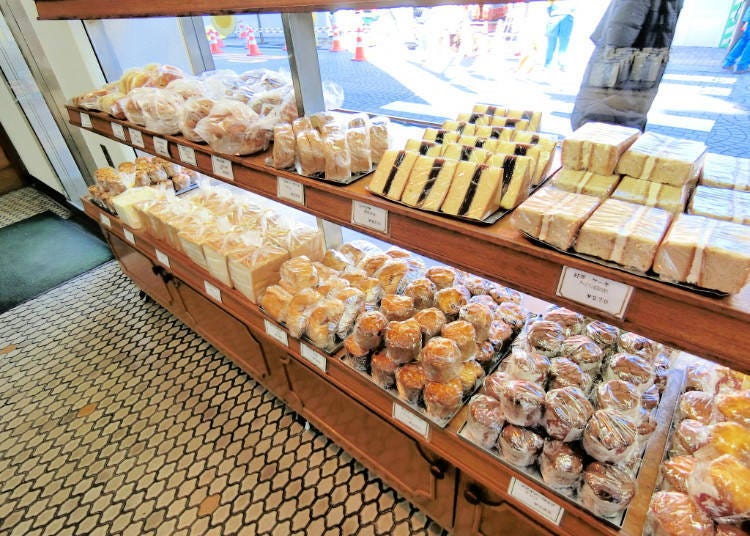 As soon as you enter the shop, you're guaranteed to be surprised by the diverse lineup of bread and pastry! Just as you gaze over the selection, you'll spot over 50 different varieties! St. Moritz opens at 6:00 a.m. in the morning, so just imagine how much work needs to be done to get all these delicacies ready by then!

The ingredients inside the bread are all handmade as well. Whether you buy bread or cake, it'll be carefully wrapped by hand before being handed over – it's this warm, kind feeling that makes St. Moritz so special.

When we visited, we couldn't help but buy four different things. Even that was a struggle, though, as the selection is so big and everything looks so tasty, we had a difficult time choosing.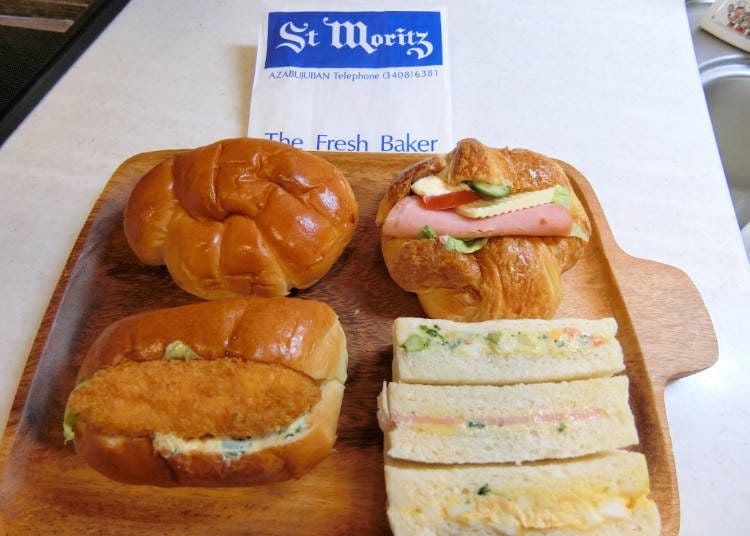 Here's what we bought, clockwise from the upper right: croissant sandwich, mini sandwich, crab cream croquette sandwich, and cream bread. We wanted to have as much variety as possible, so this is what we decided on.

Just looking at the four different bread delicacies makes one's mouth water, doesn't it? Modern, trendy bakeries might create beautiful "Insta-worthy" sandwiches and the likes, but these rustic goodies promise a proper, authentic taste!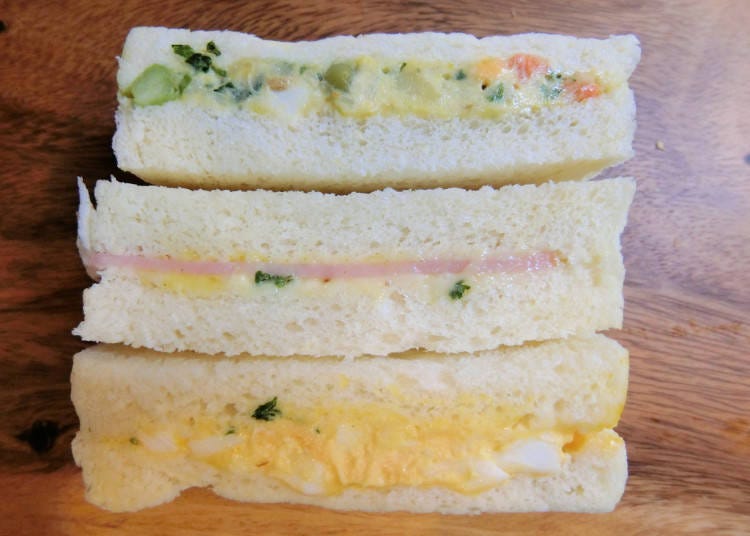 We immediately wolfed down the mini sandwich, a so-called "mixed sandwich." It boasts a delightfully classic combination of potato salad, ham, and egg.

The sandwich bread is remarkably fluffy, just as it is common and loved in Japan. Its slight springiness makes for a nice texture that surely also tastes great if you put it in the toaster for a moment!

The potato salad is a flavorful mix of mayonnaise and different vegetables – potatoes among them, of course. It offers a slight hint of curry that pleasantly tingles on the tongue, different from commonly available potato salad.

The ham sandwich is seasoned with Japanese mustard and mayonnaise, while the egg sandwich actually is egg salad with mayonnaise. Those sandwiches aren't just wonderfully fluffy, they also conquer the heart with an authentic, homemade taste.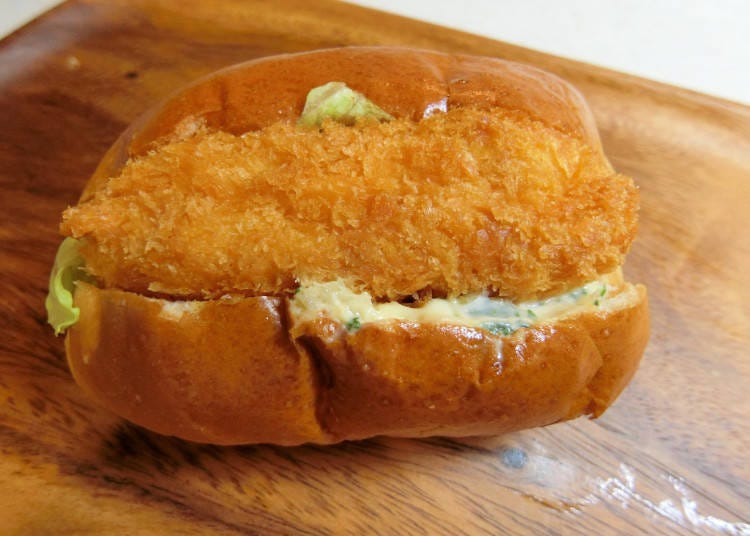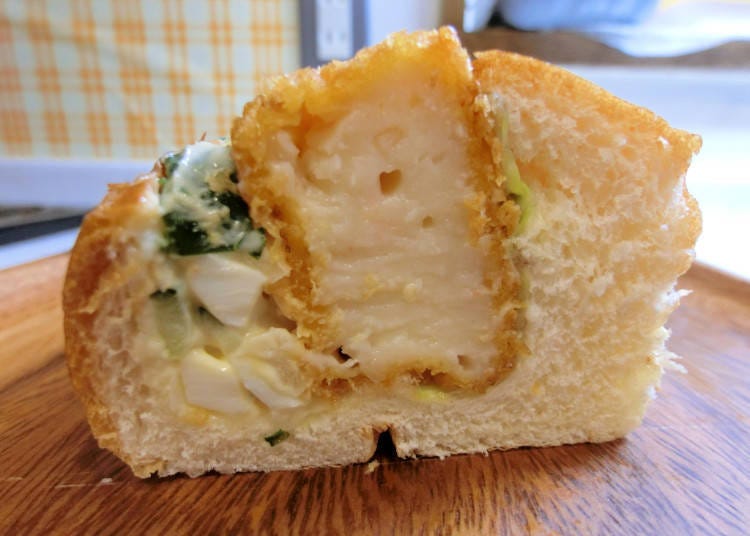 This is the crab cream croquette sandwich. Just look at it – a flavorful bread delight that's roughly the size of a fist! The bread itself was a kind of bread roll, pleasantly soft and with a gentle sweetness that matches the crab cream nicely.

Now for the croquette itself. While it seems to come out of the fridge, it is seasoned with homemade tartar sauce that has little bits of boiled egg in it. The rich taste enhances the croquette just perfectly – this is a satisfying snack for larger appetites!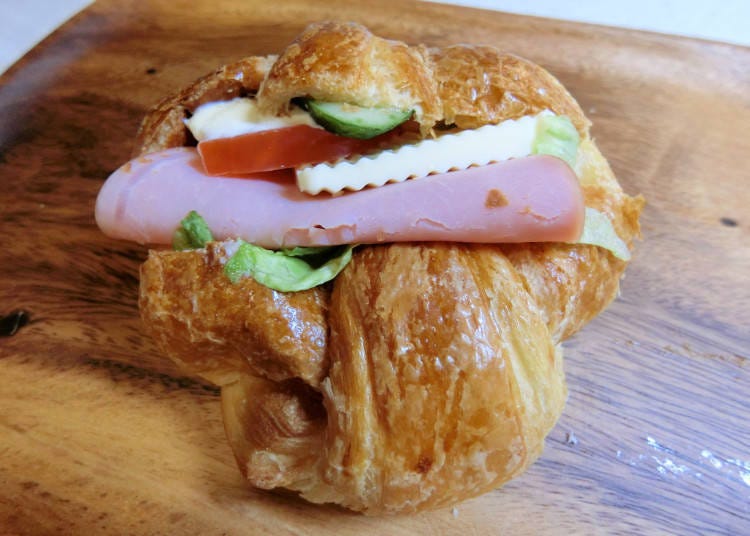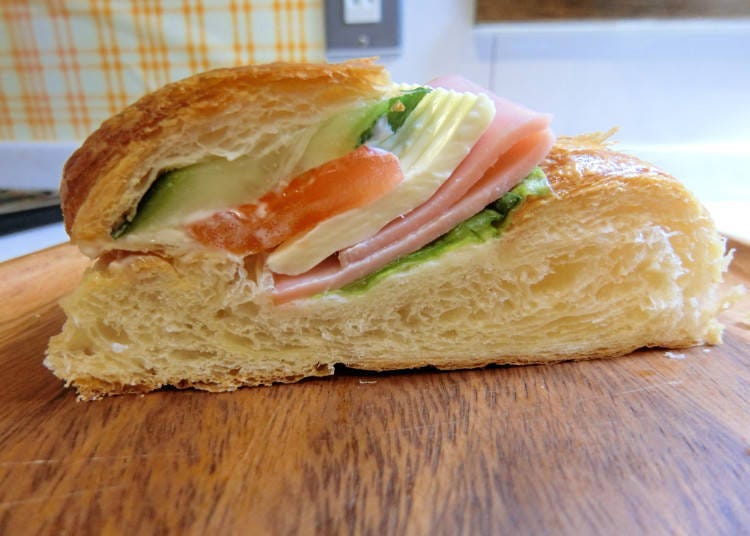 Meet the croissant sandwich! Fresh lettuce, cheese, ham, tomato, and cucumber is arranged between the fluffy layers.

However, it's not a croissant in the authentic French sense, which might surprise you as you first bite in. Instead, it feels like a "prototype croissant" that resembles the early Japanese tries of recreating the French pastry. Even if you don't have a connection to Old Japan, its unique taste carries a delightful nostalgia with it.

Nowadays, you'll find the classic crispy croissants throughout Tokyo, so happening upon a more "Japanese" version is a rather rare treat!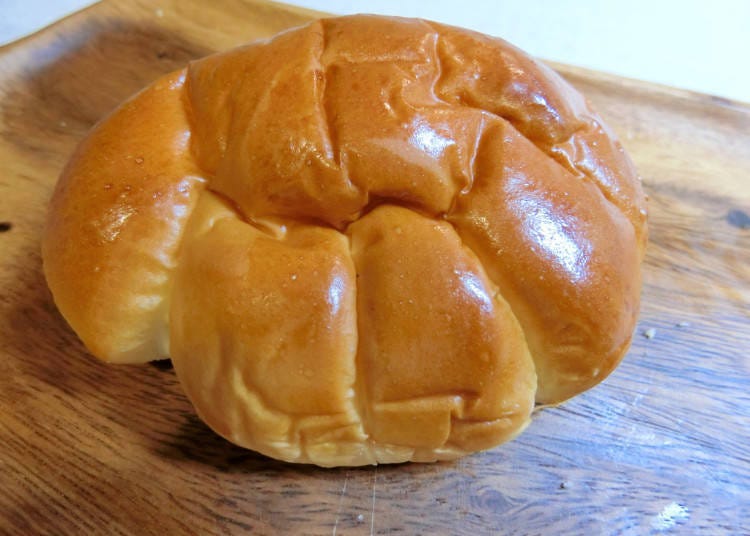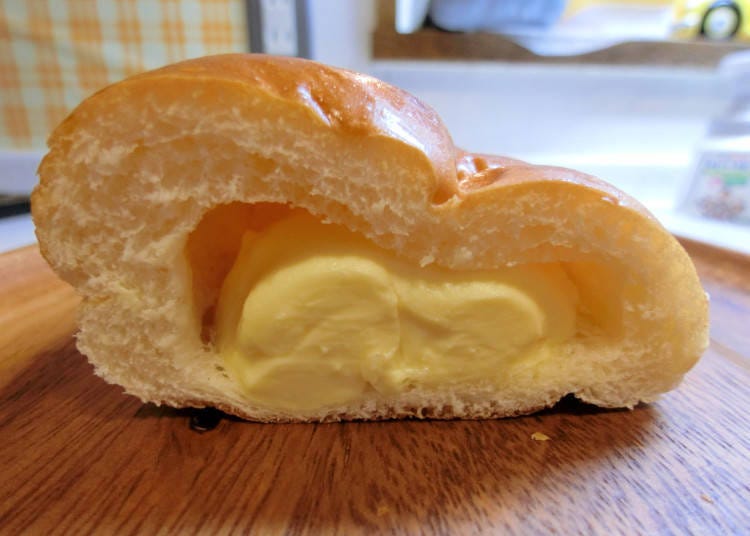 Of course, we wanted to try something sweet as well, so we chose the cream bread. At first, we aimed for sweet bean bread but we also kind of wanted a cake, so...cream bread it is!

The iconic shape of the cream bread that seems to resemble the soft fist of a baby or toddler alone warms the heart. The dough seems to be the same as the one used for the crab cream croquette sandwich; a nice butter bread roll with a subtle sweetness.

There's a generous serving of cream inside, its texture somewhere between mousse and Bavarian cream – slightly unusual but all the more delicious! This certainly was a great pastry experience, reminiscent of custard-based vanilla ice cream.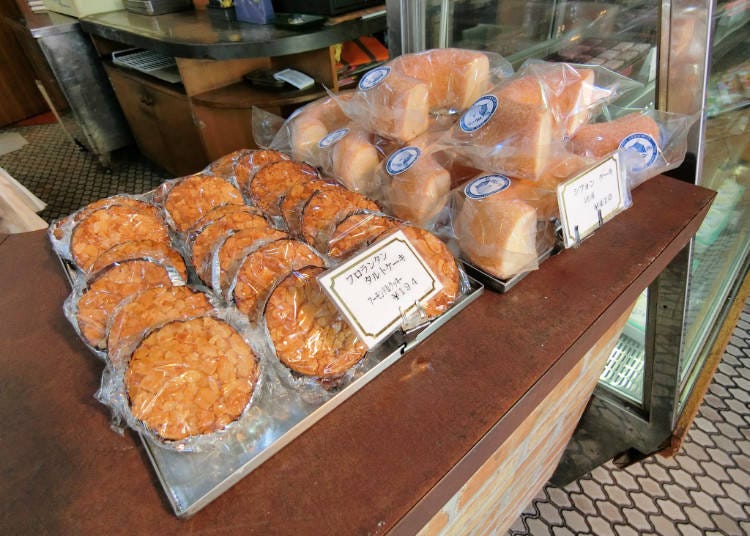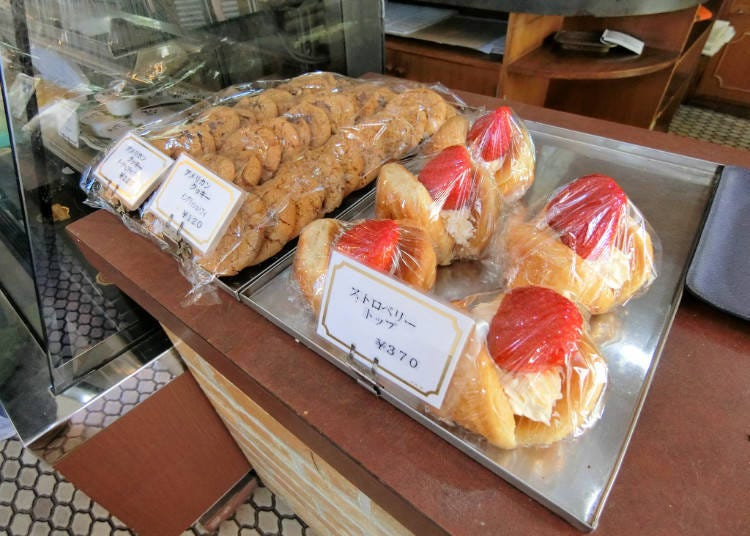 Besides what we showed you, St. Moritz also offers a variety of chiffon cakes, cookies, and other baked delights. So even if you're looking for a tasty treat or dessert, it's an excellent place to go!

St. Moritz doesn't only stand out because of how delicious its breads and pastries are, but also because of the warm, welcoming atmosphere with a sprinkle of nostalgia on top. It's easy to see why this place has so many local fans.

If you're exploring the gourmet town of Azabu-Jūban, make sure to stop by the red brick building with the blue awning and savor some yummy sandwiches and cakes!
サンモリッツ名花堂

Address

3-11-6 Motoazabu, Minato-ku, Tōkyō-to 106-0046

Nearest Station

Azabu-Jūban Station


Hours: 6:00 a.m. – 8:30 p.m. (Tuesday to Sunday)
Closed: Mondays
*This information is from the time of this article's publication.
*Prices and options mentioned are subject to change.
*Unless stated otherwise, all prices include tax.