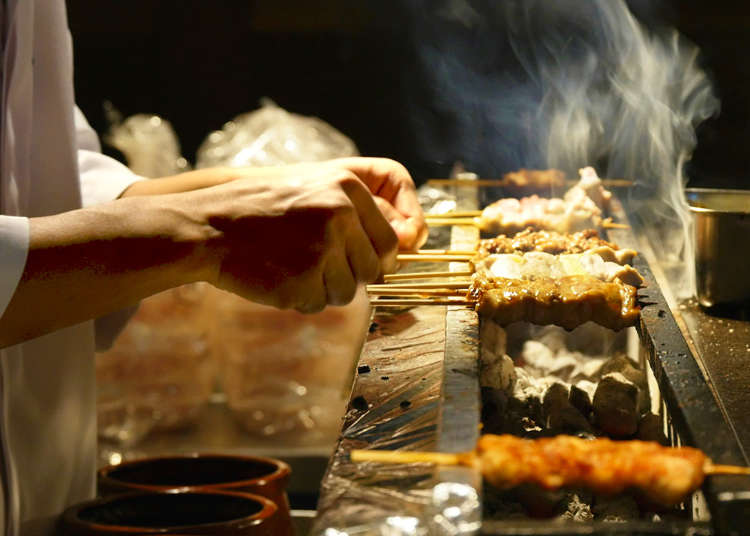 There is a popular style of cooking which simply cries out to be eaten – that is of course yakitori. While often included in the menus of Japanese restaurants abroad, it is usually, and sadly, relegated to the appetizer page, while in Japan you have whole restaurants dedicated to the art of yakitori.
But, what is yakitori? This word isn't enough to describe everything you can eat under this simple word, it isn't just grilled chicken like the kind you are staring at in disappointment on a Caesar salad, it is a skewered piece of chicken which will make your taste buds pop out and shout 'yay.'

The only thing you need is bit of a guide to eating yakitori, so we have brought together everything you need to know about ordering yakitori, types of yakitori and more below.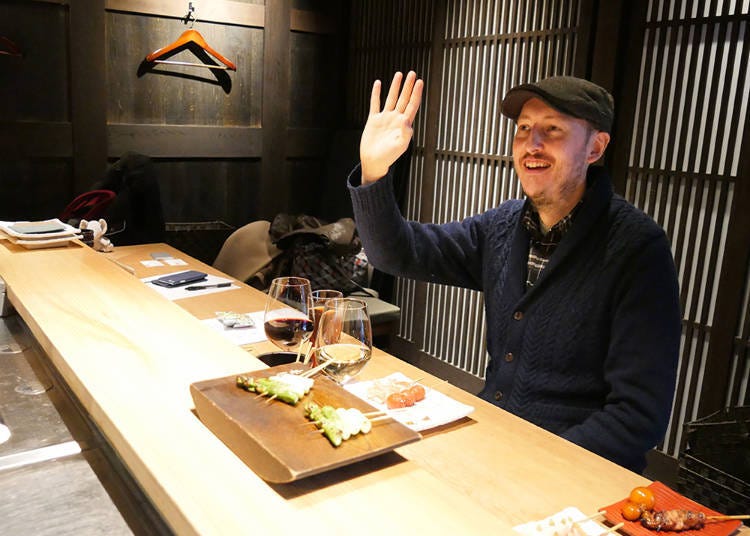 "Sumimasen!"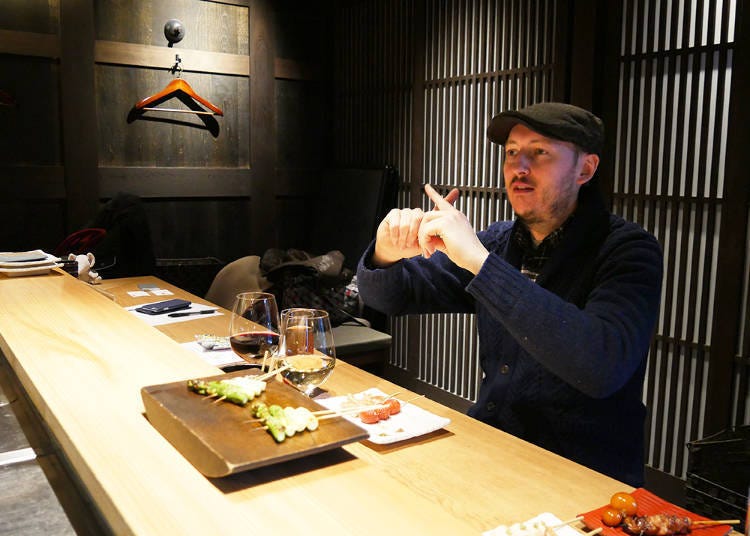 "Okanjo onegai-shimasu" 

You can order from just one skewer, and even for someone who doesn't know Japanese it is easy to order as you can just point at the menu indicate with your fingers how many you want. The only real question is whether you want your yakitori in a tare (soy sauce based) sauce or just with salt – different people have different preferences so you may try one of each to start with so that you can see what you like most. Otherwise some restaurants will recommend either tare or salt for specific skewers. Please see the below guide to ordering yakitori:

• Sumimasen (Excuse me) – すみません
• Kore o ippon onegai-shimasu (Can I have one skewer of this one please) -これを1本お願いします。
• Nihon, sanbon, yonhon (2 skewers, 3 skewers, 4 skewers…) 2本、3本、4本…
• Osusume ha nan desu ka? (What is your recommendation?) – おすすめは何ですか?
• Tare/shio de onegai-shimasu (With tare/salt please) – たれ/塩 でお願いします
• Okanjo onegai-shimasu (the bill please) - お勘定お願いします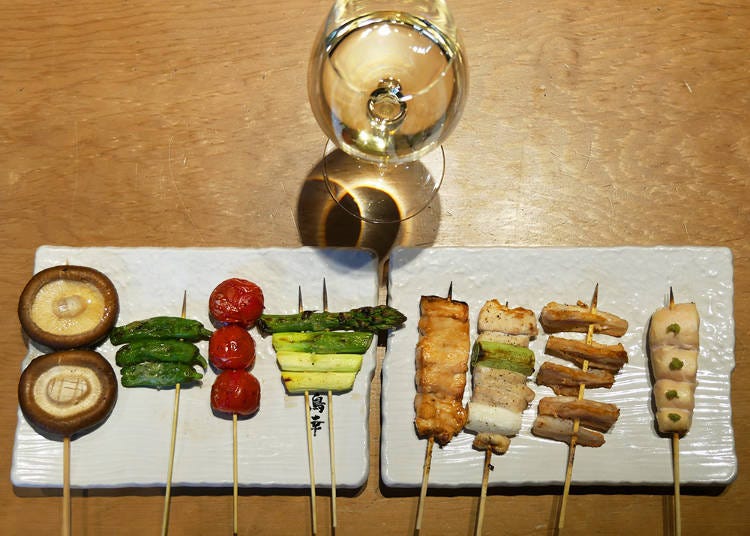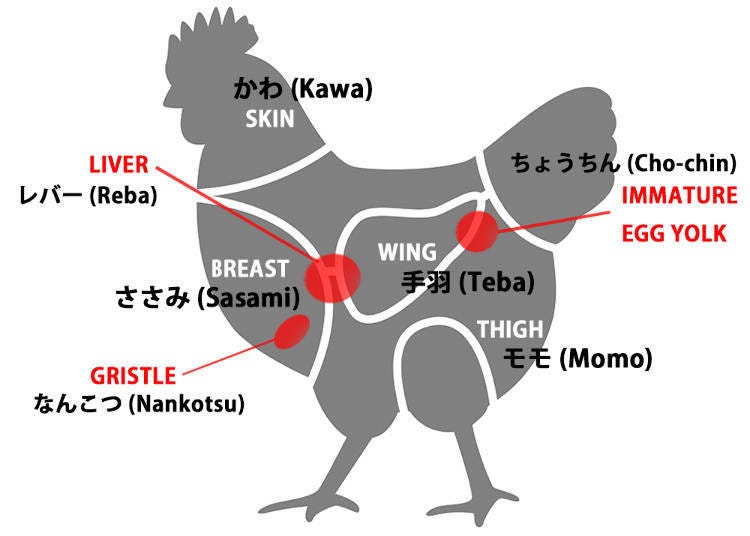 Now let's get into the yakitori menus. It depends on the restaurant but normally a yakitori shop will serve 5-15 kinds of yakitori using different cuts of the chicken, so you will surely be surprised how the taste and texture differ from one to another. Here are the major types – from typical to the unusual!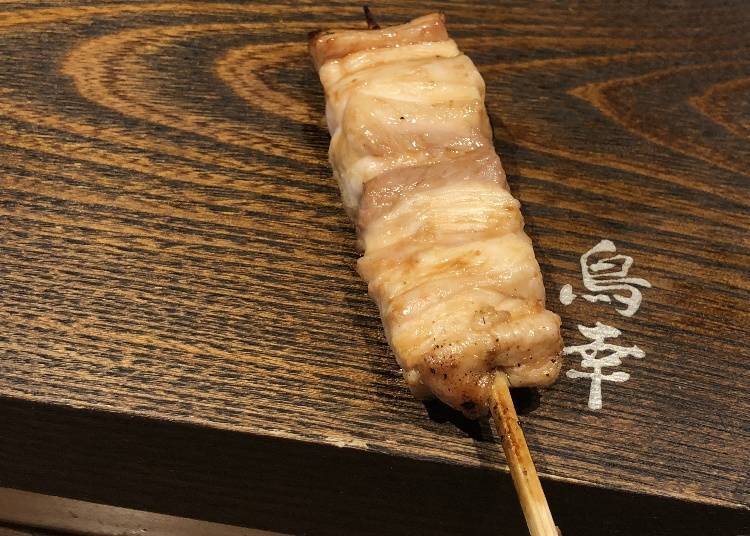 Momo/モモ – Chicken thigh
The most common kind of yakitori that's beloved by virtually everyone would be from the chicken leg. Often consists of three to four succulent pieces of chicken which are just begging to be eaten. As you bite into it you will feel that "yes, this is yakitori!" and will struggle not to immediately gulp down this juicy, full of flavor, skewer. A lot of people tend to prefer yakitori with tare, but this one is also divine with salt.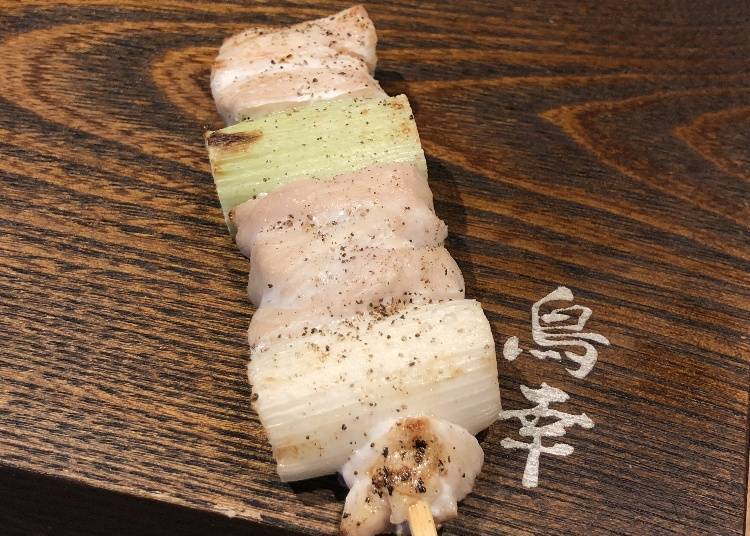 Negima/ネギ間 - Chicken thigh with Japanese leek
This yakitori is especially easy to eat, made with chicken thigh it is a nice juicy bit of meat which just fills your mouth with a taste that you won't forget. In between the pieces of chicken there is a piece of scallion, to a certain extent this skewer is quite iconic and is a popular one to replicate as yakitori overseas. It smells delicious, and it is very juicy.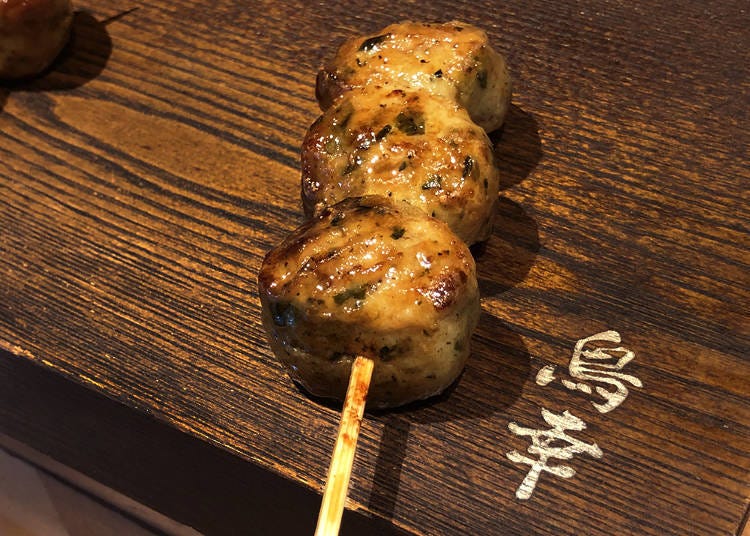 Tsukune/つくね - Meatballs
Everyone loves tsukune, it is hard not to! This yakitori consists of chicken meatballs, often grilled with tare sauce, but which in some regions can be enjoyed served with egg yolk. More often than not, it is mixed with shiso (Japanese basil) and minced gristle. It has a perfect balance between texture and taste, eating it is like a dream for the taste buds which they won't want to wake up from.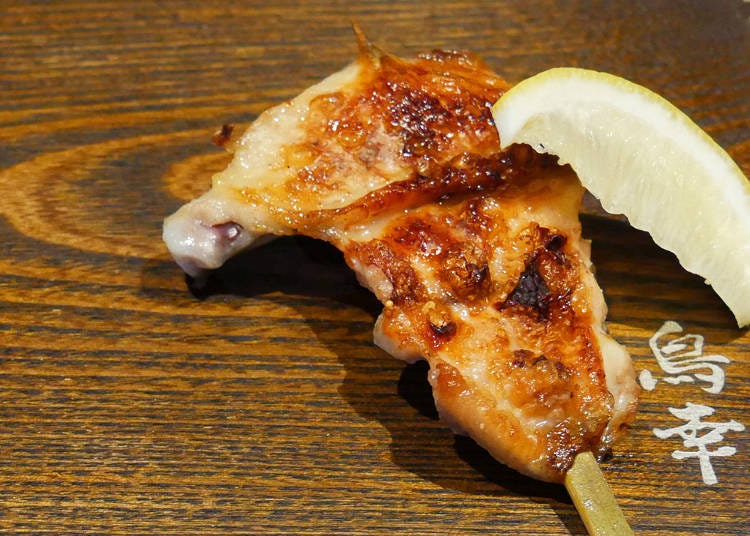 Teba/手羽 -Chicken wings
Teba, which in other countries would just be called chicken wings, are a delicious skewer which is particularly good with salt, and a squeeze of lemon. This skewer, which would be welcome on pretty much anyone's plate, brings together a savory smell together with a pleasing texture. As you bite into it you will encounter a lovely contrast of food texture between the crispy skin and juicy meat underneath.
Slightly More Unusual Yakitori Options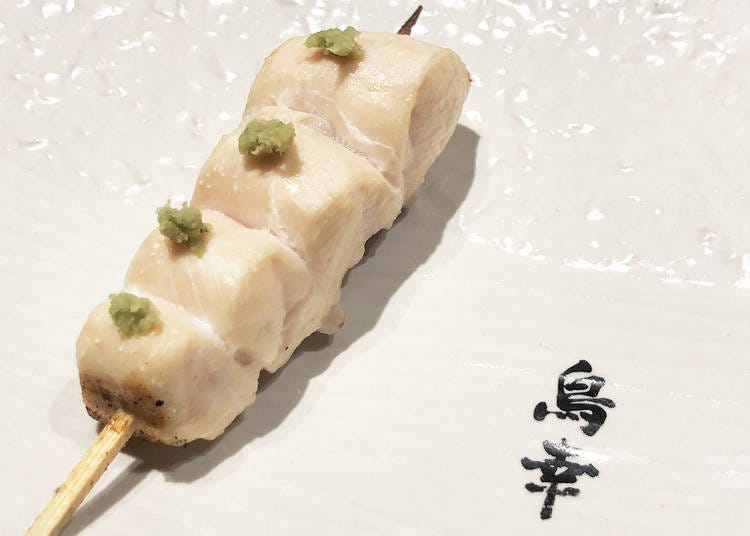 Sasami/ささみ -Chicken breast
Sasami is made from chicken breast, which as chicken goes is a pretty standard cut of meat, but Japan being Japan it is sometimes spiced up a bit with, you guessed it, wasabi! As you chew you get a mixture of both the meat's juiciness and the tang of wasabi, you almost want to stand in shock. Other restaurants might cook it with umeboshi or other seasoning.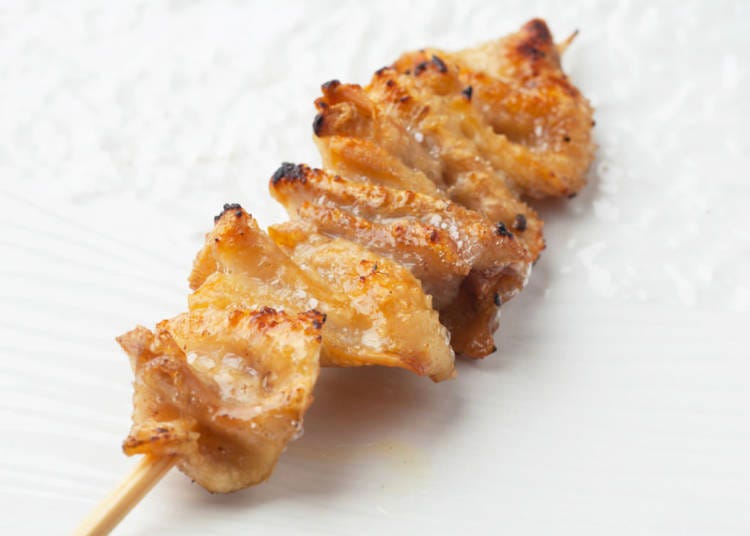 Kawa/かわ -Chicken Skin
Kawa means skin, so this yakitori is actually just grilled pieces of chicken skin – which by itself might sound a bit strange, but after all your KFC or roast chicken includes skin as well, so perhaps it isn't so strange. Different yakitori skewers present a range of different food textures for you to enjoy, and this is certainly one of them. Eating kawa is all about enjoying the crunchy texture. Unfortunately, it is extremely easy to eat, and within seconds you will be left with an empty skewer!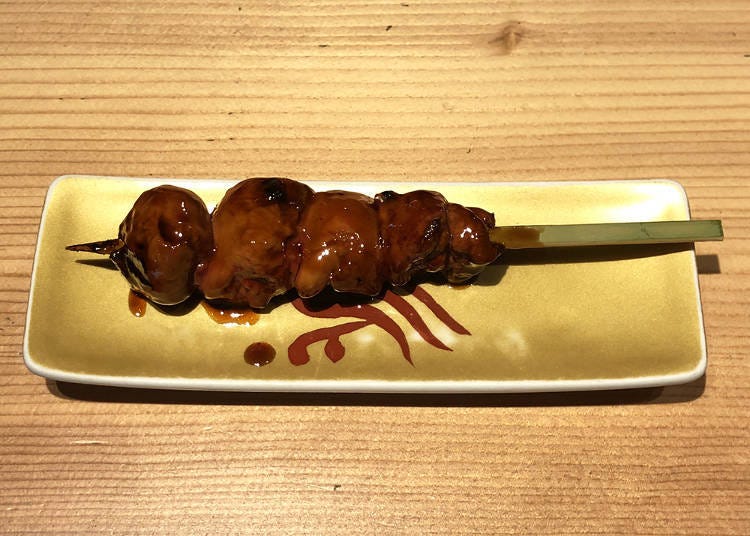 Liver(Kimo)/レバー(きも)- Chicken liver
Chicken liver is a bit like marmite, you either love it or you hate it. The texture is unusual, it is dry and somehow thick, but it is simply a yakitori to try and see how you feel about it! Since it is essential to maintain the freshness, this particular kind of yakitori is really best to try eating it at a quality restaurant first, rather than at some cheap yakitori joint, that way by eating a top-quality one first you will really know whether you like it or not.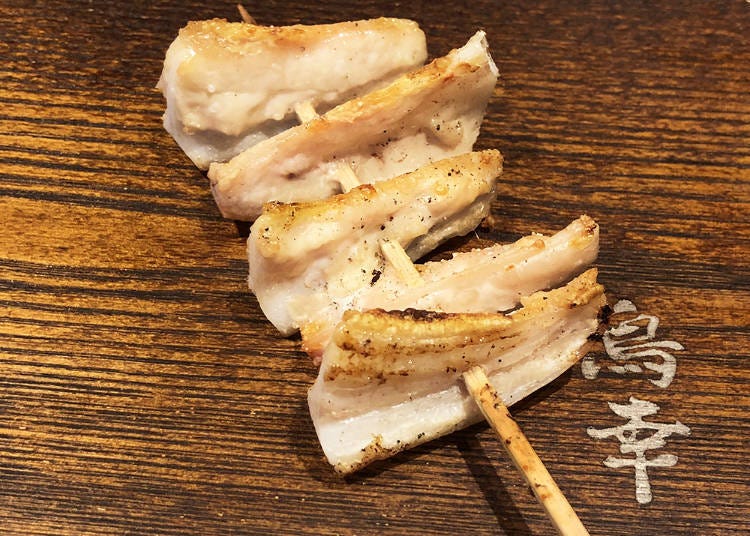 Nankotsu/なんこつ- Chicken gristle
For many, nankotsu is all about the texture. This is made from chicken cartilage, which may sound like an odd chicken part to eat, but besides being tasty the crunchy texture is awesome. For this skewer it is all about having the perfect balance between its texture and its sauce.
Adventurous Yakitori Options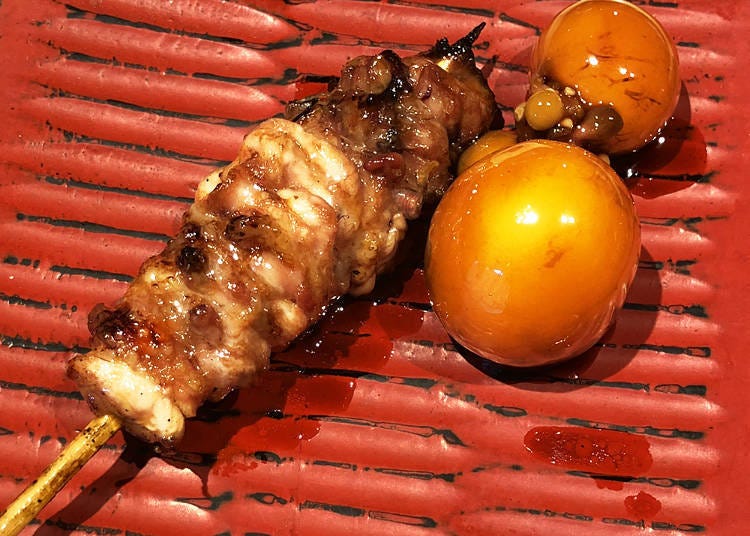 Chouchin/ちょうちん- Immature egg yolk
Chouchin is a very rare yakitori; even for Japanese people many haven't tried it before and have to ask how to eat it. There is a skewer of meat and next to them small ball-like egg looking creations, which are in fact egg yolk. There are two ways you can eat this one, either break the ball and dip the meat in the yolk, or just put the yolk into your mouth and then eat the meat. If you pop the yolk ball and squeeze it with your teeth you will feel a pop and then your mouth will fill with the exquisite taste of yolk! It is pretty amazing!
Non-Chicken Options- Vegetables and More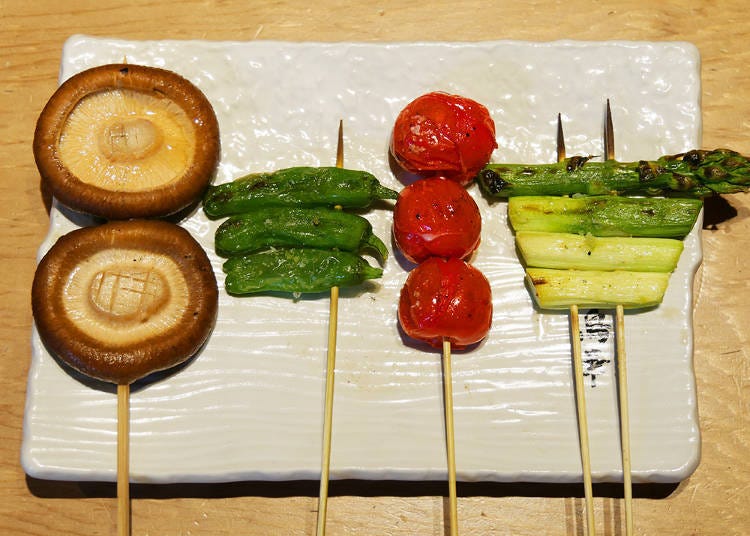 Another great thing about yakitori is its versatility, it doesn't just have to be chicken, and other things can be grilled too, like green peppers, tomatoes and more. Since the natural sweetness of the vegetable really pops, asparagus is a particular favorite for many people; you don't have to be vegetarian to enjoy it!
Yakitori – Relish and Condiments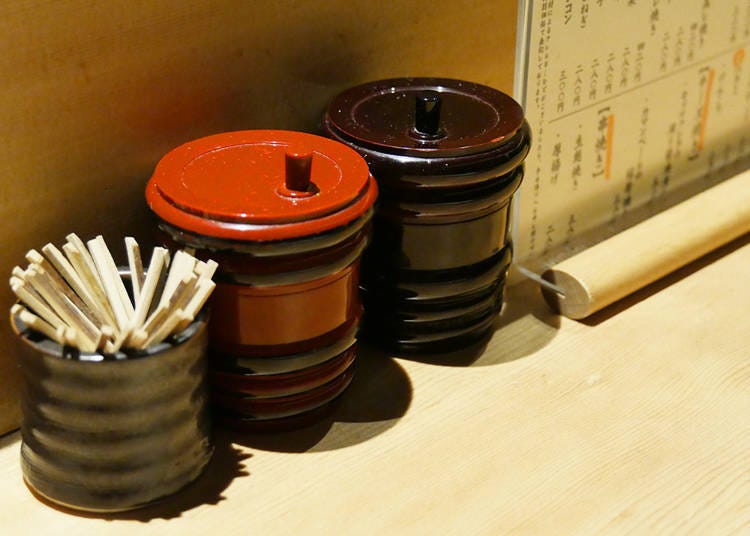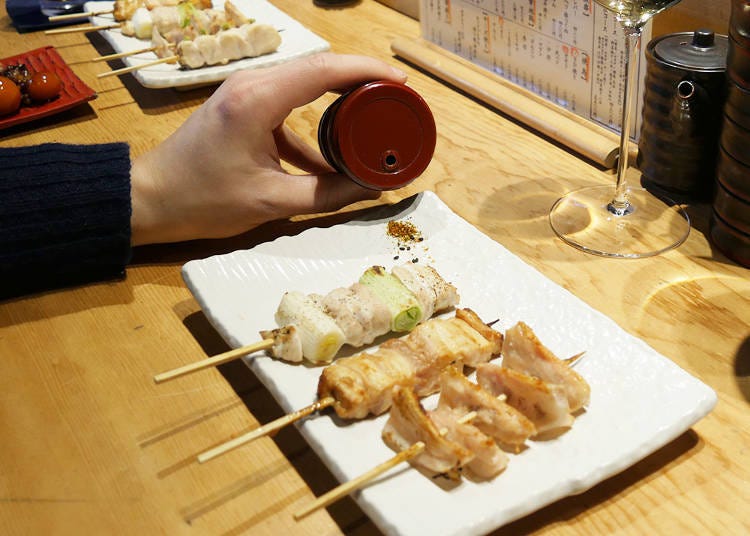 On your table, or on the counter, you will also find some condiments such as shichimi togarashi (七味唐辛子/a mix of seven Japanese spices) and sansho pepper (山椒/a spicy powder made from sansho peppercorns), there is no set condiment for a specific skewer, and you can experiment with them and your skewers and see what you like. You might also find condiments like wasabi(わさび), and yuzukosho (柚子胡椒/yuzu citrus, salt and chili made into a paste).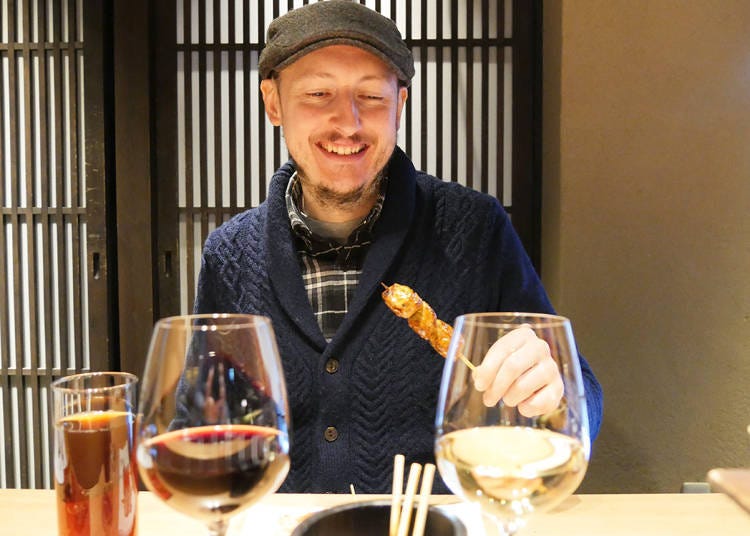 In Japan you will find two kinds of yakitori eaters, one uses their chopsticks to pull the chicken off the skewer onto the plate, and the other picks up the skewer and just gets munching. Though there is something to be said about pulling the chicken off the skewer if you are in a large group and want to share, you won't get the same taste as eating a freshly cooked yakitori straight off the skewer, so if you want the full taste experience always eat from the skewer.
Of course, eating the first piece of meat from a skewer is easy, but the middle and last pieces can be a bit challenging, however one key hint is don't try to stick the skewer down your gullet in a desperate attempt to get that last piece of meat! Put the skewer sideways and chew from there!
After you have eaten every last speck of chicken from your skewer, and your taste buds are still reveling in the glory that is yakitori, what do you do with the skewer itself? It might seem obvious that you should do something like just put the stick back on the plate – but wait!

There is actually a place for your skewers, often by the condiments there is a random empty cup – it isn't a random empty cup! It is actually there for you to put your skewers in, the Japanese think of everything you see, and it just isn't right to have a used skewer sitting right next door to your next deliciously full skewer. It is pretty much standard in every yakitori joint to have to a cup like this which is just for skewers. Now that is class!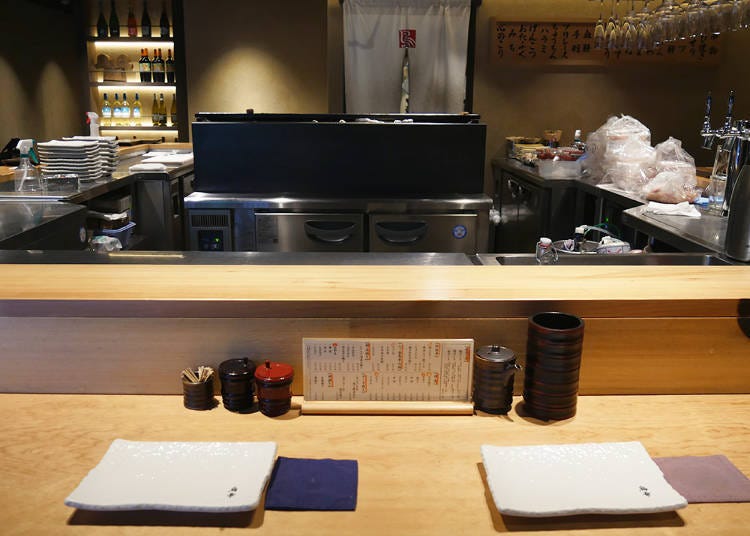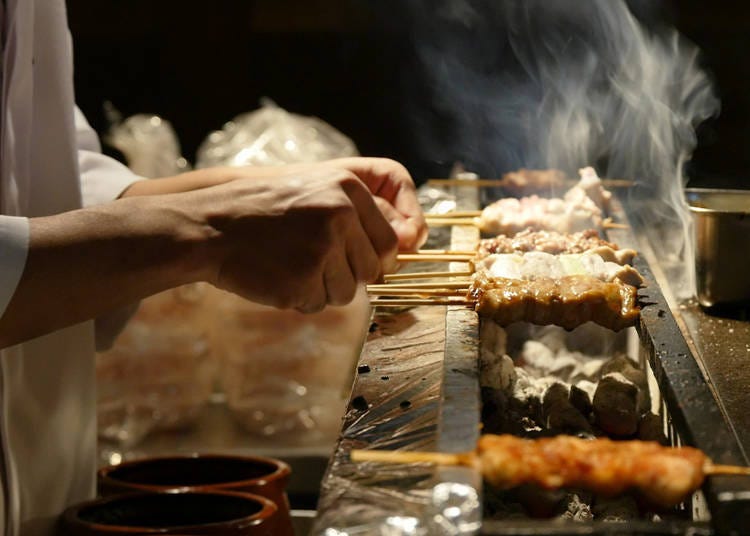 As for the last tip, I would strongly recommend you sit at the counter to make your visit unforgettable. There, you will be absorbed in watching the chef handle all the skewers.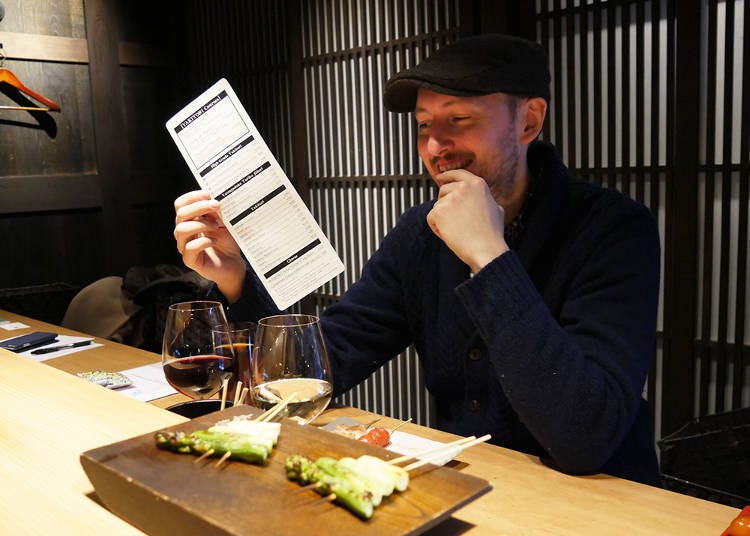 Many types of yakitori, will probably leave you unsure as to whether you will like it or not – don't worry you will like it! – but you do have options such as choosing a set dish which offers up a number of different skewers to dazzle your stomach such as a yakitori moriawase (mixed plate). Or as is often the case, you may find courses start with salad, 5-12 yakitori, and ramen or rice to call it a night, depending on your budget. Of course you can go completely Japanese and just order skewers and see how you go.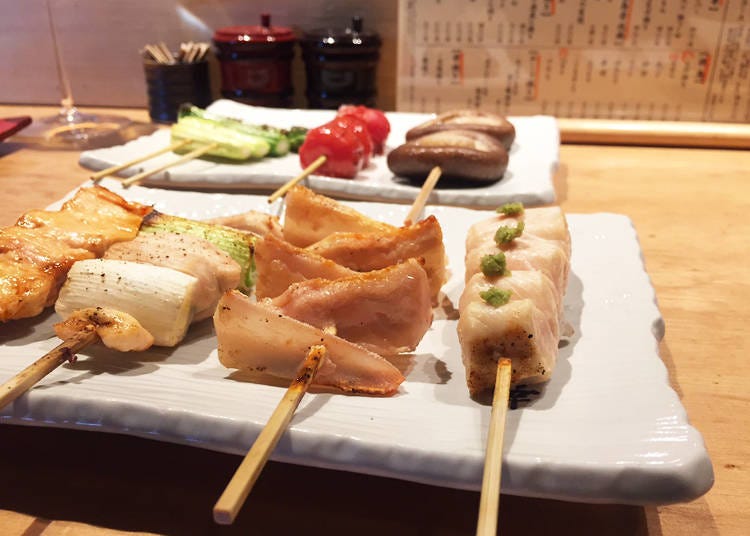 With the above guide in mind you are now well on your way to becoming a yakitori connoisseur! It is a great Japanese cuisine which anyone can eat without chopsticks, and which is easy to order too. The biggest secret behind yakitori is simply be adventurous, the 'safest' options are delicious as they are, but there are so many to try!
Yotikou, the Shop We Visited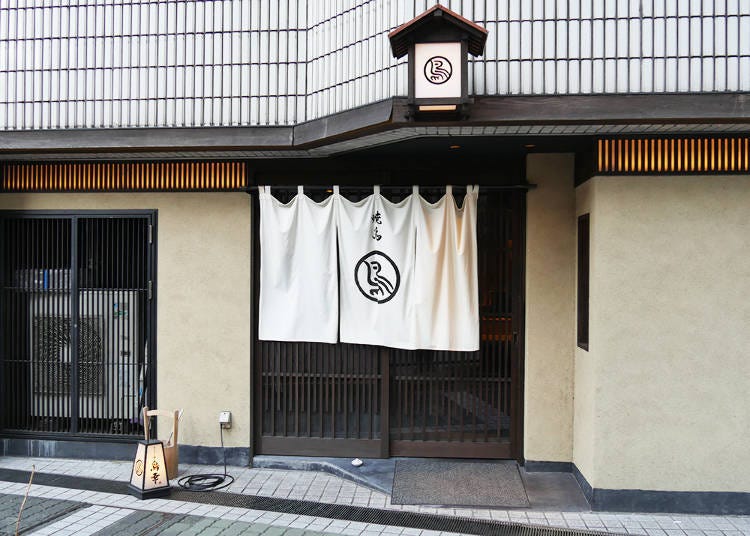 Walking 3 minutes from Roppongi-Ichome station, we visited the yakitori restaurant, Spain-zaka Torikou in order to create this guide on how to enjoy yakitori. On the outside this yakitori restaurant looks elegant, yet simple. It has an understated air about it which gives no indication whatsoever of the pleasures it contains.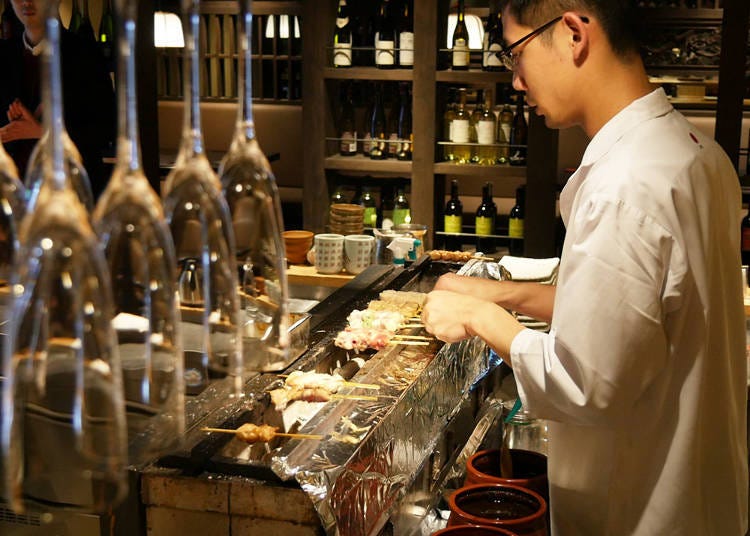 As you enter you are directly confronted with a counter type of seating, with normal table seating to the left side, and behind the counter a masterful chef deeply, and serenely, at work, he always however greets customers with a smile. Here, you have a menu in English and also there are some staff very fluent in English to help you enjoy the best yakitori.
In addition, Spain-zaka Torikou has an app you can download (they provide a QR code to make the process easier) which provides more about the shop's specialties in English. Definitely take some time to read more about the story behind the yakitori while you're waiting for your order to arrive—you're sure to be impressed!
スペイン坂 鳥幸

Address

Ark Mori Building 1F,1-12-32, Akasaka, Minato-ku, Tokyo, 107-6001

Nearest Station

Roppongi Itchome Station (Tokyo Metro Namboku Line)

*This information is from the time of this article's publication.
*Prices and options mentioned are subject to change.
*Unless stated otherwise, all prices include tax.