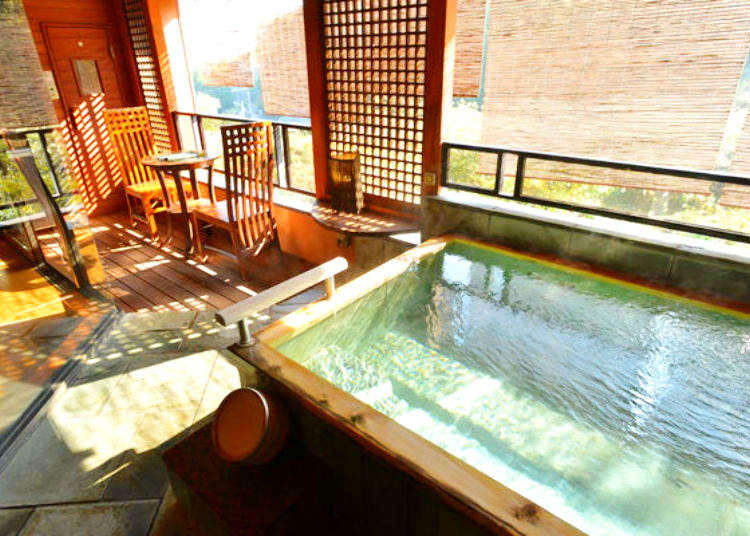 The town of Yugawara in Kanagawa Prefecture is a scenic hot spring town since ancient times. It's a place so old, songs and poems about it appear in the Man'yōshū, Japan's oldest collection of poetry from the 8th century. Even nowadays, Yugawara is dotted with hot spring resorts and spas, but one stands out among all of them: Manyou no Sato Hakuunsou, or simply Hakuunsou in short. Labeled as "a ryokan with great comfort," this traditional Japanese inn is wonderfully upscale while offering a casual hot spring experience at the same time. Let's see what that is all about.
Hakuunsou is about a 5-minute car ride away from JR Yugawara Station. A mountain stream called Chitosegawa flows right beside the resort and lush bamboo trees dip the location in a rich green. The river is home to fish such as trout, Japanese salmon, and ayu (sweetfish), while fireflies dance over the water in June. The location alone represents the famously lush nature of Yugawara.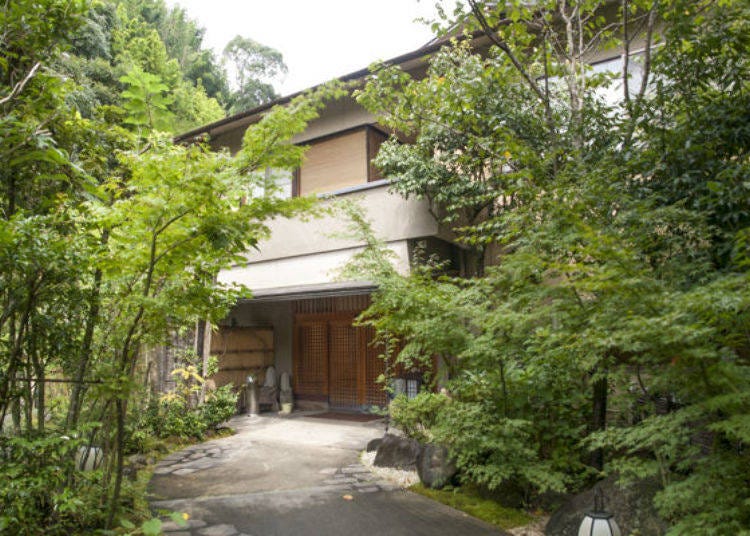 The soft gurgling of the Chitosegawa River can be heard at the entrance of Hakuunsou, engulfed by greenery.
We're greeted by a reception designed in a rough, rocky style, fitting the nature that is all around. "Welcome!" greets us the warm, friendly voice of Mrs. Nagashima, who will show us around Hakuunsou today.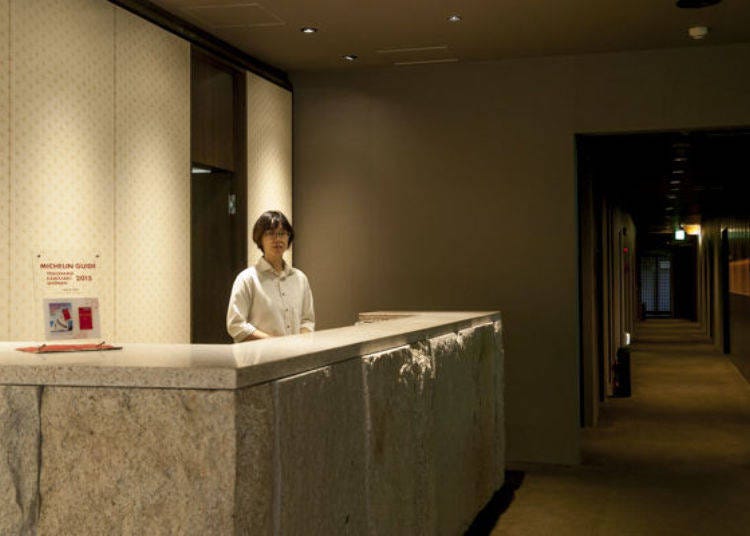 The reception features a little sign telling you about a 2015 award from a certain French guidebook...
This ryokan has been called a place "with great comfort" and a stay here costs 20,000 and more per night. It's a reasonable price, and we're using this offer to spend the night and show you what a stay at Hakuunsou means.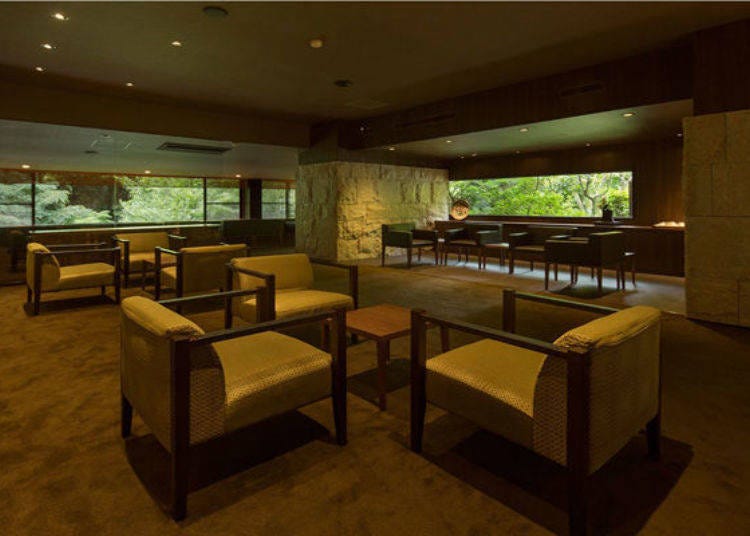 The lobby has been renewed in 2015 and there's green nature just outside the window.
After the check-in was done, we thought we would be taken to our room. But instead, we were shown a beautiful resting space just behind the lobby and its magnificent view. We took a seat and were served delicious matcha tea and Japanese sweets.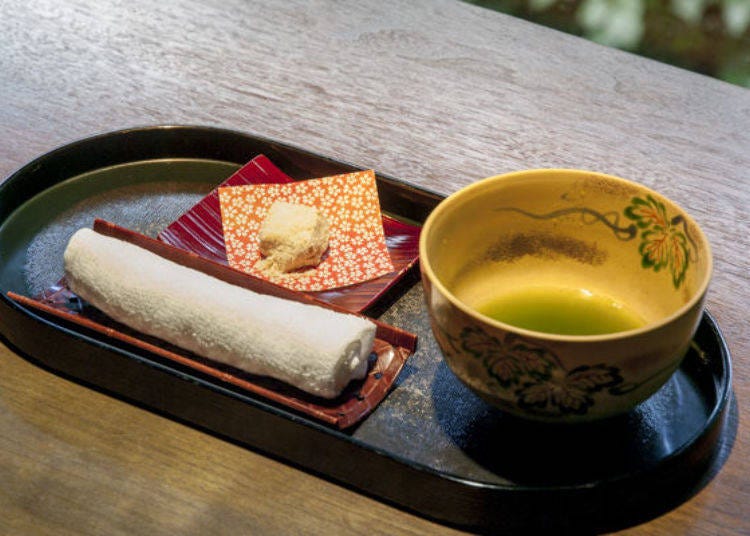 "A lot of our guests come from far away, so first of all, we would like to take care of the tiredness of travel as you gaze out at the beautiful scenery. Once you're relaxed, we will decide when and what you would like to eat," explains Mrs. Nagashima. This heartfelt hospitality, alongside the stunning nature, is sure to bring a smile to your face.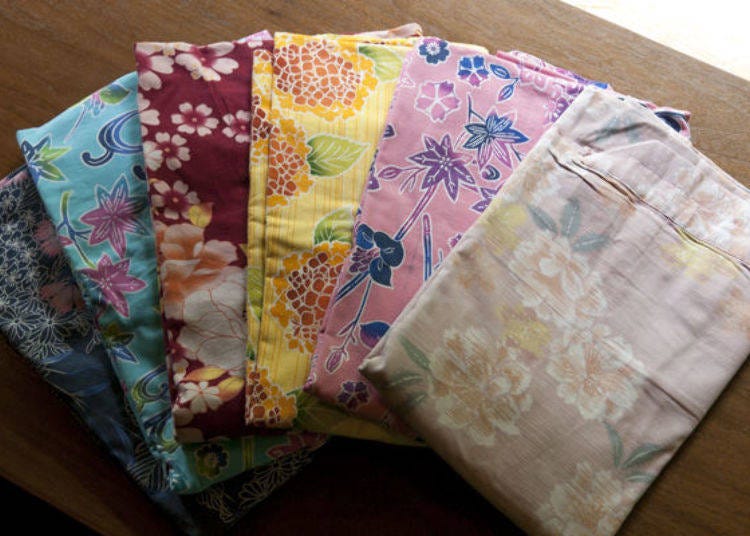 After savoring the tea and taking a short break, we decided on our dishes for dinner and breakfast with the guidance of the staff, and we also got to pick our choice of yukata. Of course, we went with a colorful one. Wearing such a yukata is common at Japanese inns, so finding one that suits your taste is especially nice. Every need is catered to here, without a doubt.
Feeling the Breath of Nature in the Open Rooms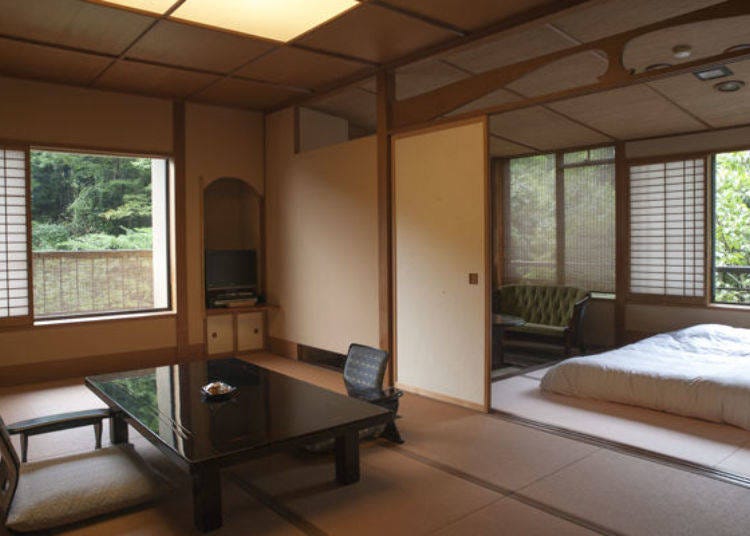 This two-part Japanese-style room is called Jukkoku (28,080 yen per night on weekdays, tax included). They're 12 tatami and 6 tatami wide (about 20 and 10 square meters) and thus offer a lot of space to relax in. Because it's a corner room on the top floor, we enjoy a great view of the scenery outside the two windows.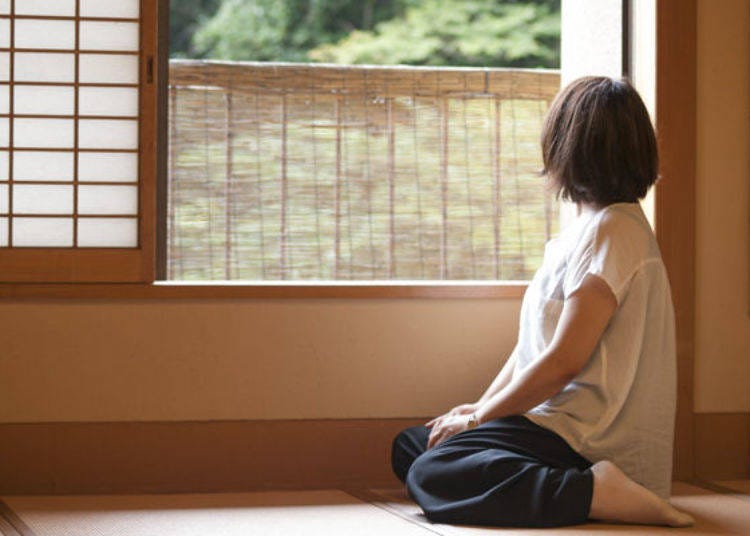 The clear air and the lush green thoroughly refreshed body and soul. It's a beautiful getaway from the hustle and bustle of the city.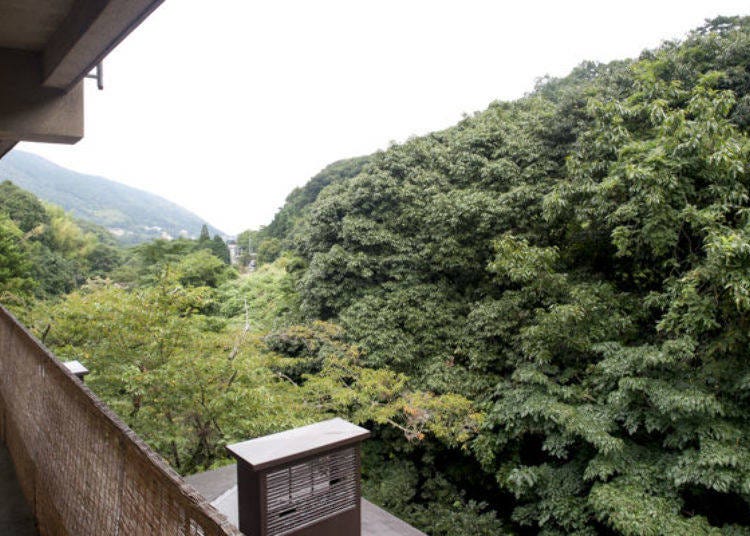 Izusan can be seen from the window.
Soak Your Body in the Private Indoor Hot Spring
After relaxing inside the beautiful room, it's time to enter Hakuunsou's hot spring baths. The resort has a spacious public open-air bath called Sanuki no Yu, as well as a private bath that can be reserved for free.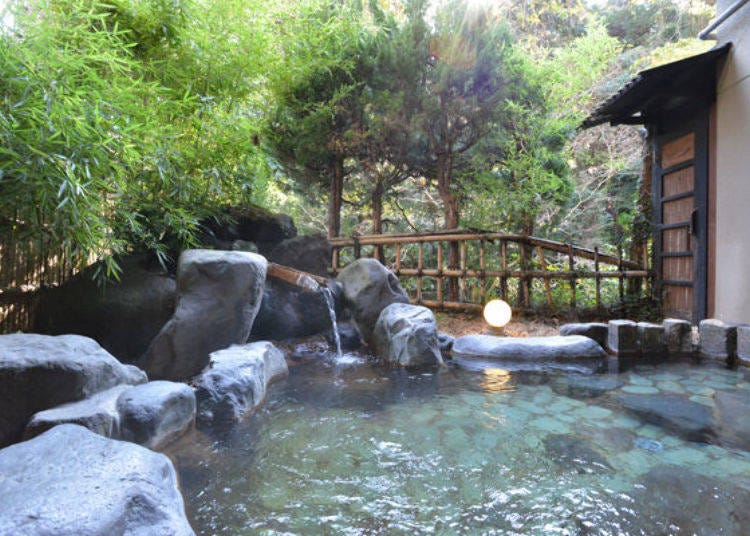 The photo shows Sanuki no Yu, the large public open-air bath. The gurgling of the nearby Chitosegawa River can be heard while relaxing in the hot spring water. It's easy to get lost in the natural scenery.

Since ancient times, Yugawara's natural hot springs have been valued as "healing waters" as people observed a bath positively affecting bruises, rheumatism, skin diseases, and so on. Indeed, it makes the skin feel all soft and smooth while warming your body right to the core.
Sanuki no Yu, the open-air bath, is split into morning and evening, allowing either men or women at a time. These sets change, so no matter your gender, you get to enjoy its hot waters at both times if you stay overnight.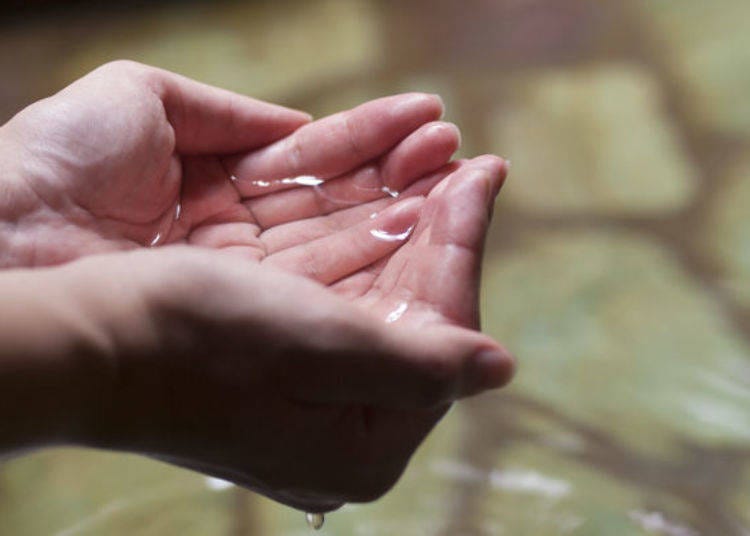 After enjoying the public open-air bath, we move on the private hot spring. Of course, the water for all baths come straight from the natural source. The back of this spa features a resting space with tables and chairs, and using this elegant bath all for yourself feels wonderfully luxurious.
The private bath is right beside the Chitosegawa River, just outside Hakuunsou. Reservation is required at the reception during check-in, and the bath can be booked in sets of 40 minutes.
Prepared by the Head Chef: Dishes with the Finest Local Ingredients
Hakuunsou's charm doesn't end at hot springs. The resort also offers an exquisite experience of Japanese cuisine, with dishes entirely committed to the finest local ingredients.

The food served here is called kaiseki cuisine, meaning a variety of small dishes with seasonal ingredients at their core, served in various courses. The seafood specialties come straight from the nearby Sagami Bay and vegetables from farms all around the hotel. Look forward to seven kinds of appetizers that make the most out of the seasonal ingredients, and charcoal-grilled fish and seafood from Sagami bay such as abalone and shrimp.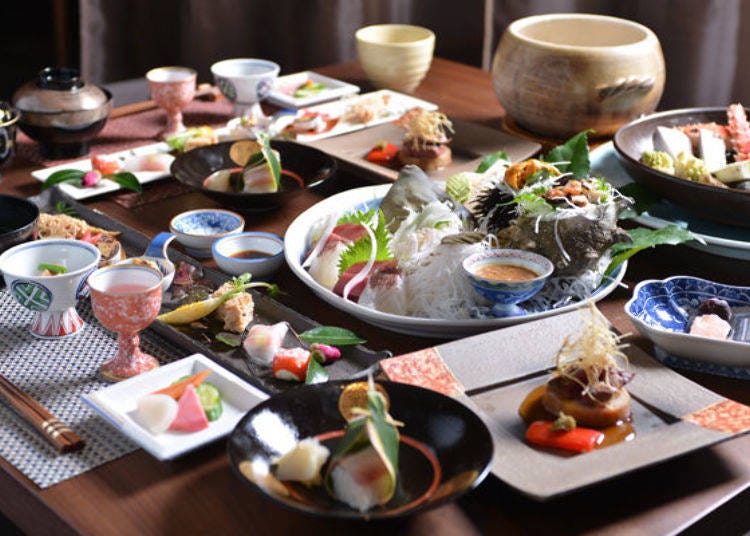 This dinner isn't only characterized by using only local ingredients but also by the careful eye of the chef.
The seafood is fresh from this morning, held in kitchen tanks right at the restaurant up until preparation. The charcoal-grilling (or grilled in an earthen pot during the winter months) draws out the natural flavors of fish, shells, clams, and more. On top of that, the rice accompanying the dishes is high-grade Koshihikari from Minami-Uonuma, carefully cooked in an earthenware pot. Its taste is praised far and wide.
The menu changes every month, with the chef carefully selecting the best ingredients of that time and creating breathtaking meals out of them.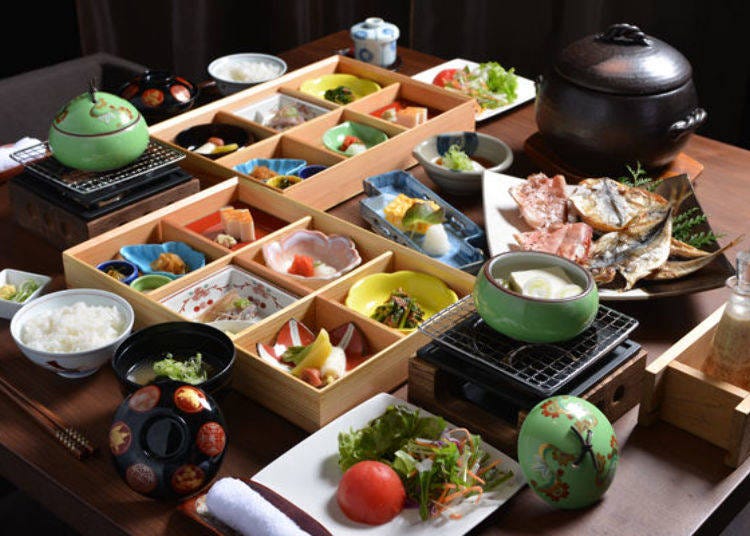 This is the breakfast. We get a choice between various dried foods for the main dish and a say in how we like our eggs – a Kanto-style rolled omelet with soup stock, steamed egg custard, or "onsen tamago," meaning slow-boiled egg with a hard yolk but soft white. There is no better way to start the day than with a rich and flavorful Japanese breakfast.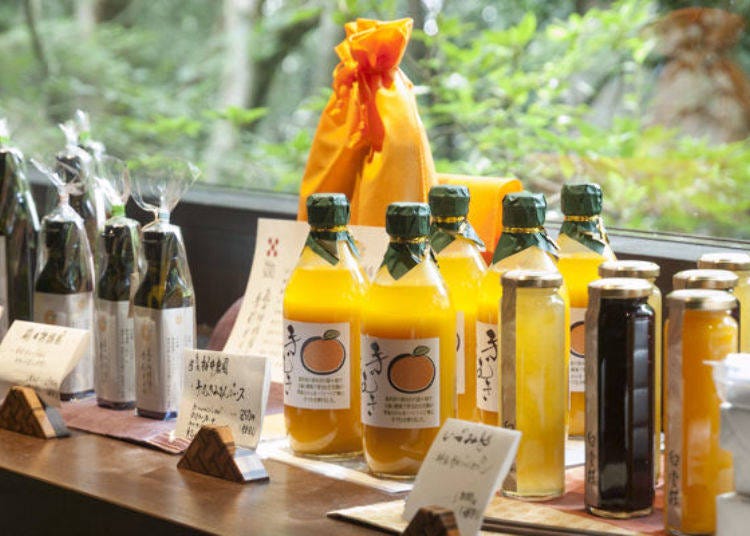 The souvenir corner in the lobby. Breakfast orange juice and deluxe jam are particularly popular.
While a stay for 20,000 yen per night is not exactly cheap, the all-around experience at Hakuunsou makes it seem very reasonable. We certainly spend a wonderfully relaxing time here and recommend it to everyone looking for a thoroughly Japanese hot spring experience. We bid the kind, accommodating staff farewell and left, already making plans to come back.

Last but not least, we'd like to show you Hakuunsou's other rooms. The one shown on the picture below is the most luxurious one called "Soseki" (48,600 yen per night on weekdays, tax included) and features its own hot spring directly connected to the source, as well as a sauna.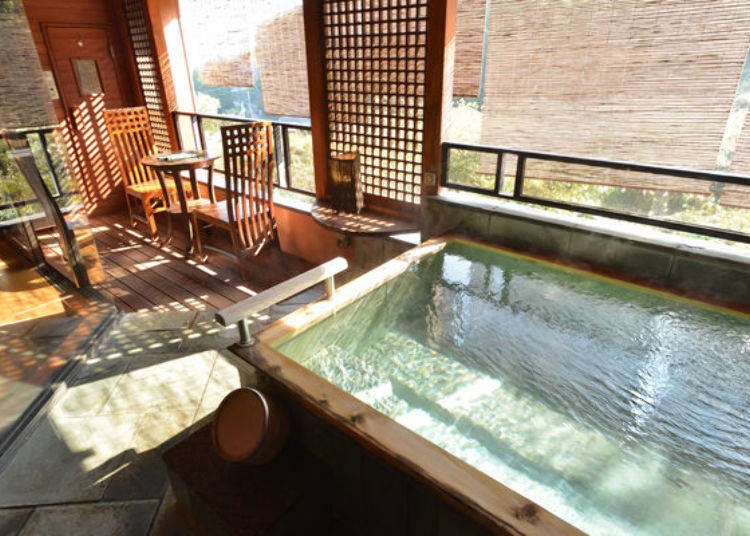 Located in the separate villa, the spacious room is flooded with natural light. Yugawara seems to have been a favorite place of Japan's great writers such as Natsume Soseki and Doppo Kunikida, and without a doubt, Hakuunsou would have been their go-to ryokan. Besides the Soseki room, the resort has various room types with different designs and different features, including outdoor hot springs.

Hakuunsou does not only offer a breathtaking hot spring experience but also authentic Japanese hospitality and cuisine. It seems entirely committed to providing guests with a stay so wonderful, it almost seems like paradise – it's certainly the experience that we had. Taste this once-in-a-lifetime experience for yourself and make your way to Yugawara's Hakuunsou.
Address

Miyakami 716-1, Yugawara, Kanagawa, 259-0314
View Map

Nearest Station

Yugawara Station (JR Tokaido Main Line / JR Ueno Tokyo Line)


Vacancy search, reservation

from

30,800JPY

1room, 2adults

Check with our partner site as the latest rates, rate details, and guest room requirements may vary.
Via Gurutabi

*This information is from the time of this article's publication.
*Prices and options mentioned are subject to change.
*Unless stated otherwise, all prices include tax.
Search for International flights