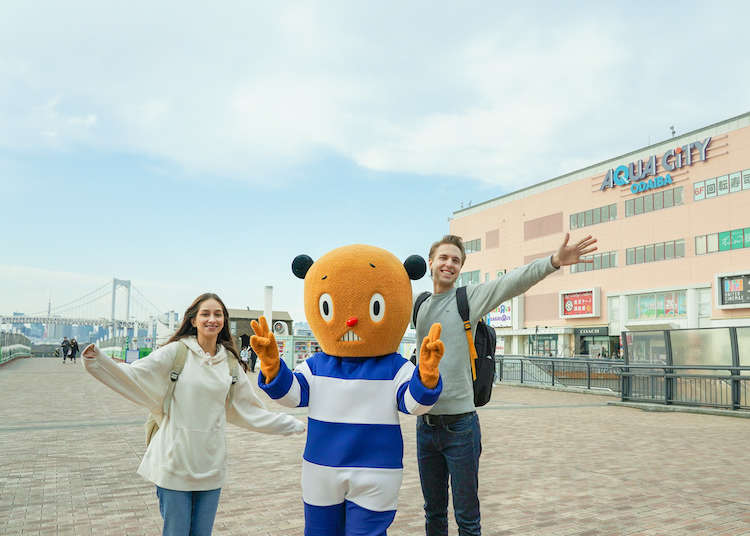 Shopping center Aqua City Odaiba is celebrating 20 years of being the place to go in the seafront area of Odaiba in Tokyo. Especially if your image of Tokyo is nothing but city skyscrapers, you owe it to yourself to get out and see the brilliant blues of Tokyo Bay from this marine-themed entertainment complex. Except great shopping, fashion, as well as stunning views!

With a little help from our guide, Aqua City Odaiba 20th Anniversary mascot Aqupi, we are going to check out Aqua City Odaiba for ourselves and put together your 1-day guide to enjoy everything it has to offer.
Aqupi (Courtesy of Yurikamome, Inc.)
Who's that!? Our very cute guide is the Aqua City Odaiba mascot created especially for their 20th anniversary. The marine striped bear has a quizzical expression and a great sense of humor, so we are sure to be in for a lot of fun! He is going to be showing us around today and be sure to look out for him throughout Aqua City Odaiba's anniversary year on your visit.
Zoom to Odaiba in Style with the New Transit Yurikamome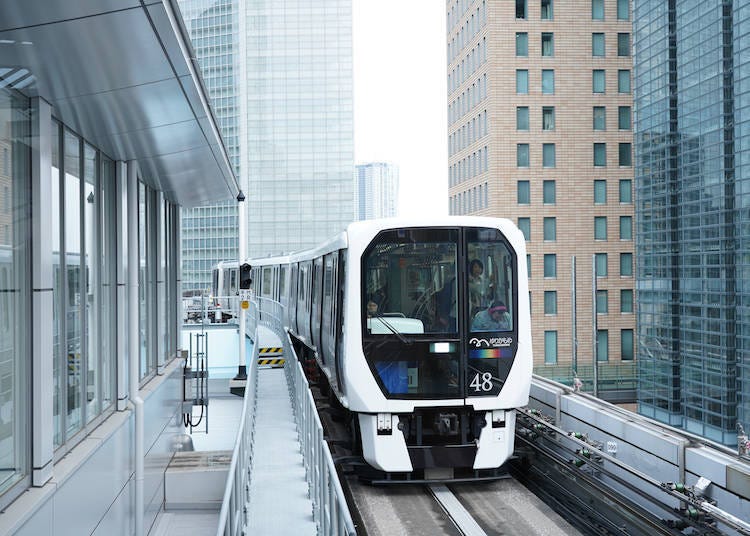 The futuristic New Transit Yurikamome (Courtesy of Yurikamome, Inc.)
You are spoiled for choice when it comes to accessing Odaiba. Not only do you have the Rinkai Line train direct from Shinjuku and Shibuya as well as bus routes, but you can even get there by Tokyo Cruise water bus. However, our pick, especially for convenient access to Aqua City Odaiba, has to be the New Transit Yurikamome, or just the Yurikamome for short. This was actually Tokyo's very first fully automated transit system, speeding out to the Odaiba without a driver in sight! The Yurikamome takes its name from that for the black-headed gulls which call the bay of Tokyo home.

You can be in Odaiba in around 15 minutes from Shimbashi Station, which is located on the Yamanote Line; this means you can get there pretty conveniently and quickly from anywhere in central Tokyo.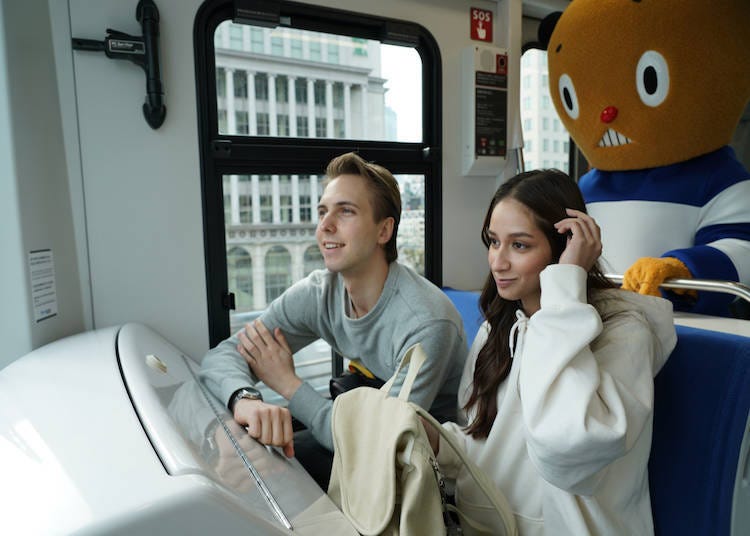 As the train is entirely driverless, you can get right to the front of the train, but you actually get great views no matter where you sit from your high vantage point.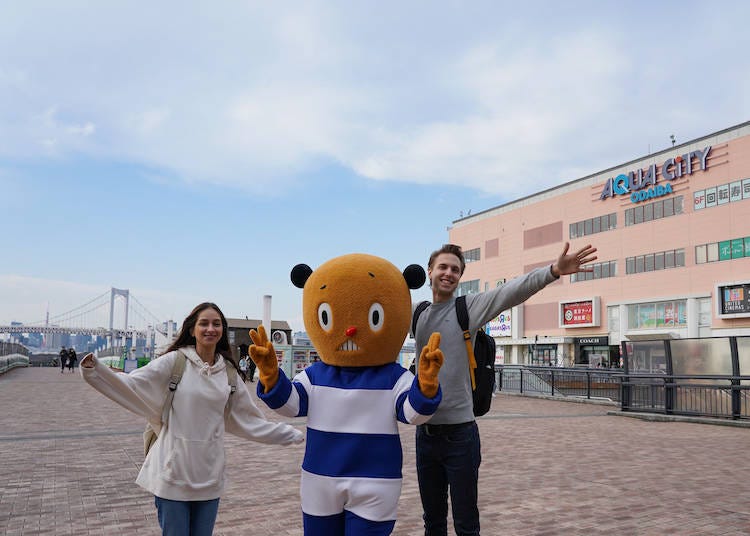 And we are here! Aqua City Odaiba is within a minute or two from Daiba Station itself. In the distance, you can see Tokyo's iconic Rainbow Bridge, and there is a long promenade along the seafront to enjoy - but for now, let's head inside with our guide Aqupi.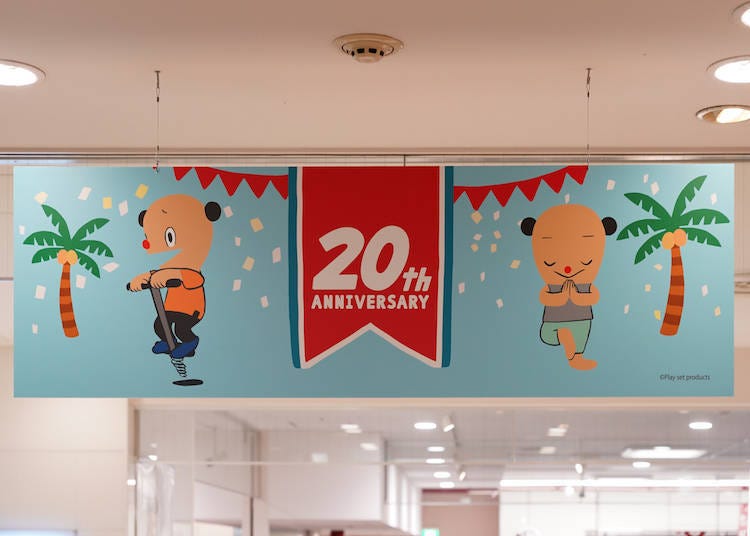 Right from the entrance, you know that Aqua City Odaiba is in the mood to celebrate, and with Aqupi as well. The mascot is set to be used throughout the 20th anniversary year.
Plan your Voyage at the Information Desk
Aqupi was kind enough to escort us to the information desk on our visit. Don't worry, you won't miss it: it's straight from the main entrance leading from Daiba Station. There you can pick up a store guide, ask about tax-free services, or anything else you might need to make your trip perfect.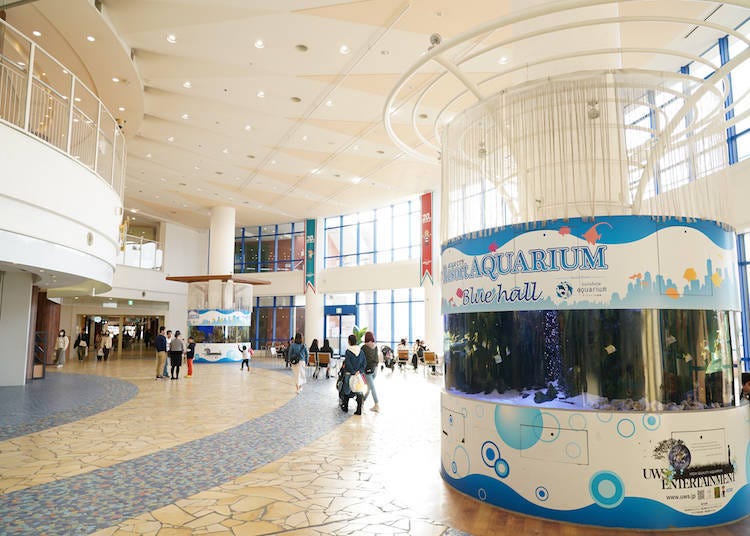 Even with a store guide, you might need a bit of extra help, though. Aqua City Odaiba really is vast, with over 120 stores, restaurants, sea-themed fun, and even a cinema found within the entertainment complex. Of course, there are maps, and a bilingual AI system you can check as you go. You can always head back to the main information desk, but there is another information desk with a difference you have to check out.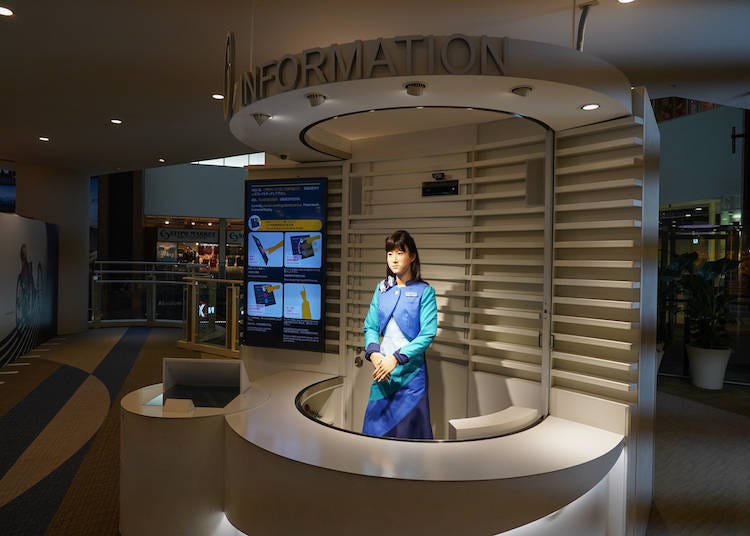 Far afar, you might not be able to tell what is different, especially as the staff, Junko Chihira, is wearing the same Aqua City Odaiba uniform as the other information desk staff. The difference is, she is entirely robotic!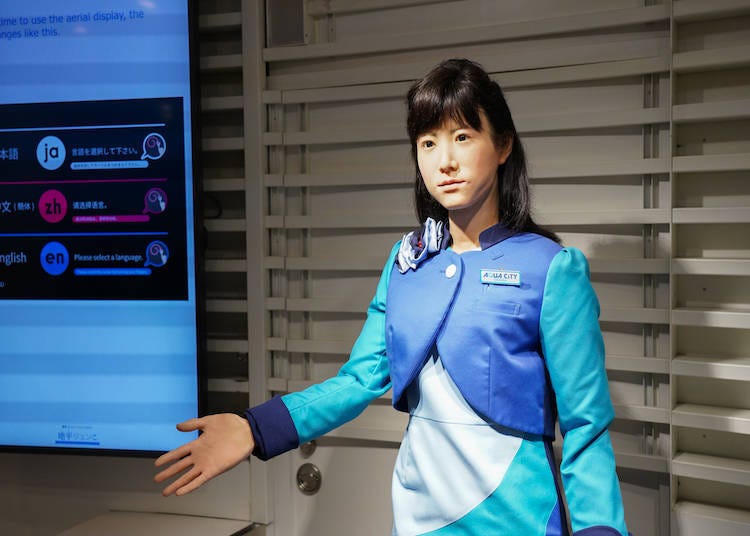 If you have any questions about Aqua City Odaiba, or even want to pry into Junko's personal life, you are free to ask her using the state of the art input system. But there is another side to Aqua City Odaiba that you might now expect.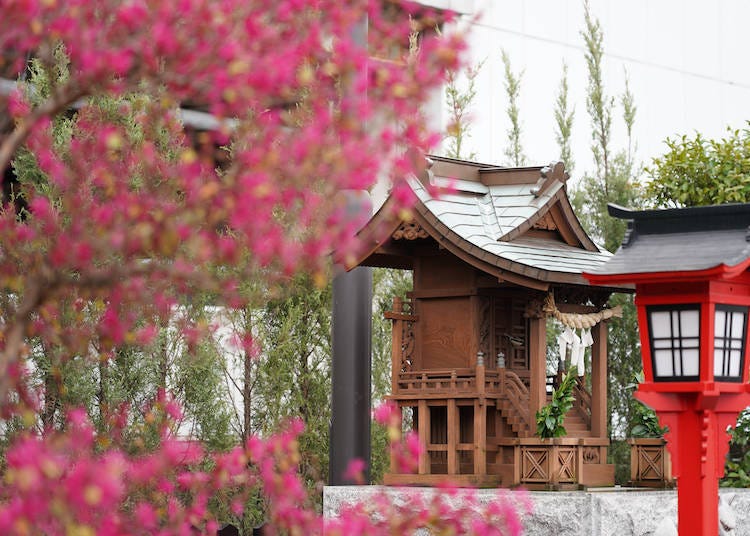 Up on the roof of the main building, there is not only a barbeque area but also a genuine Shinto shrine! The Aqua City Odaiba Shrine has its very own deity associated with good fortune and makes for an excellent photo spot. It is especially popular with couples as part of a romantic Tokyo Bay date, so be sure to check it out on your visit.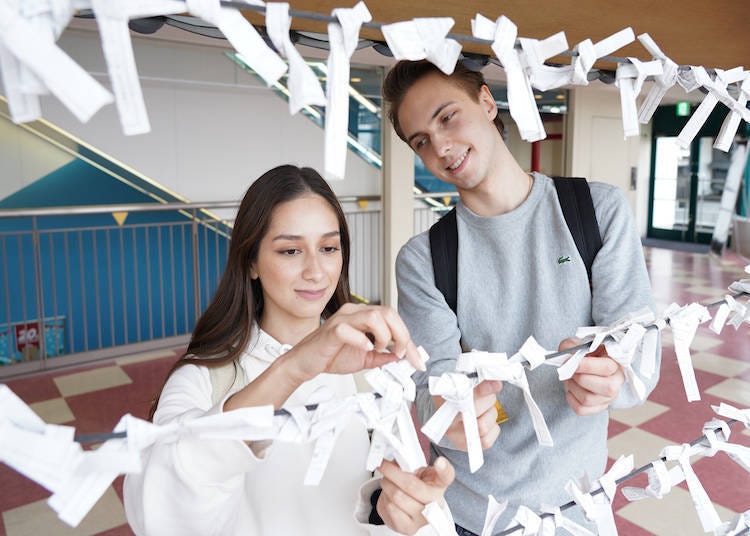 You can even check your omikuji fortune while you are there for a fun and unusual souvenir.
Hit the Ramen-Themed Food Court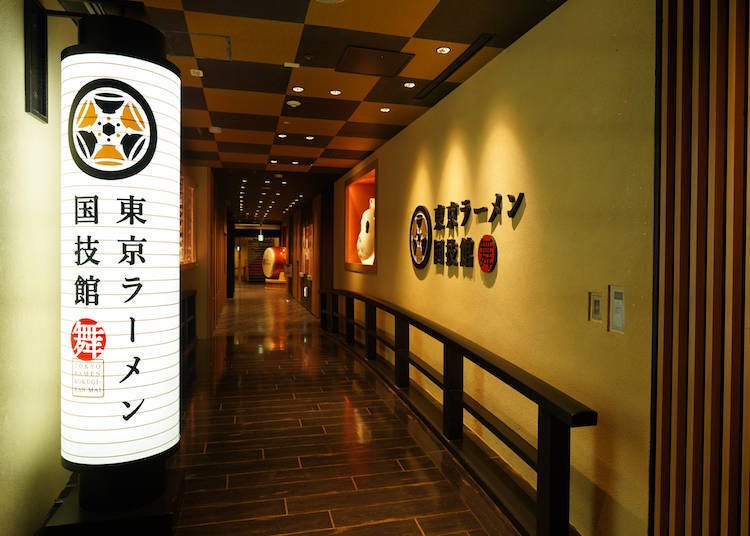 Heading off to lunch and the Tokyo Ramen Kokugikan Mai area of the 5th-floor food court is heaven for ramen lovers.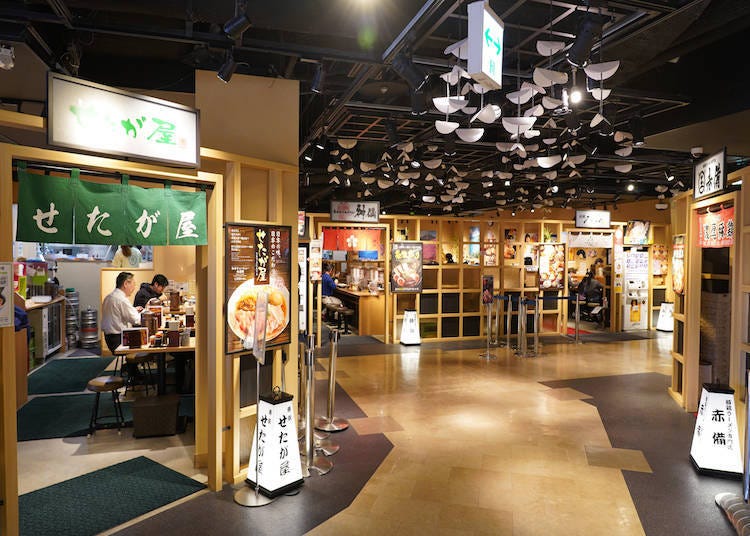 The only challenge is choosing where to go from the 6 restaurants, just don't expect anything but ramen! Of course, there are plenty of gourmet options elsewhere in Aqua City Odaiba, but this is the place to be if you are serious about your ramen.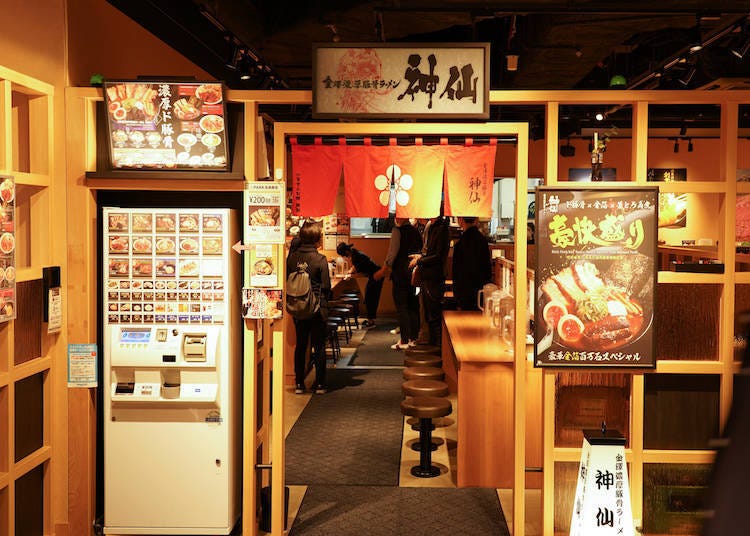 Our selection was Shinsen Ramen, known for its rich pork and soy sauce-based ramen.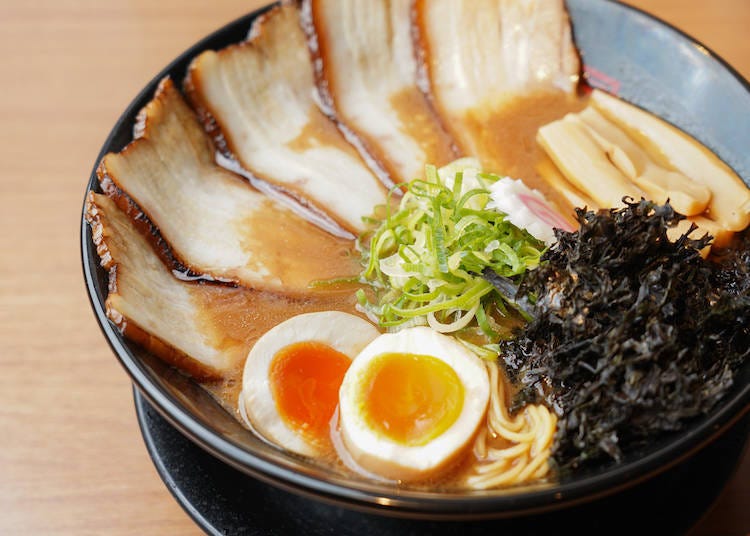 Featuring kakuni and chashu cuts of succulent pork for an exceptionally rich flavor, a soft-boiled egg, laver, green onions, and bamboo shoots, all with a delicious soy sauce base. This will set you up for a full day of shopping ahead.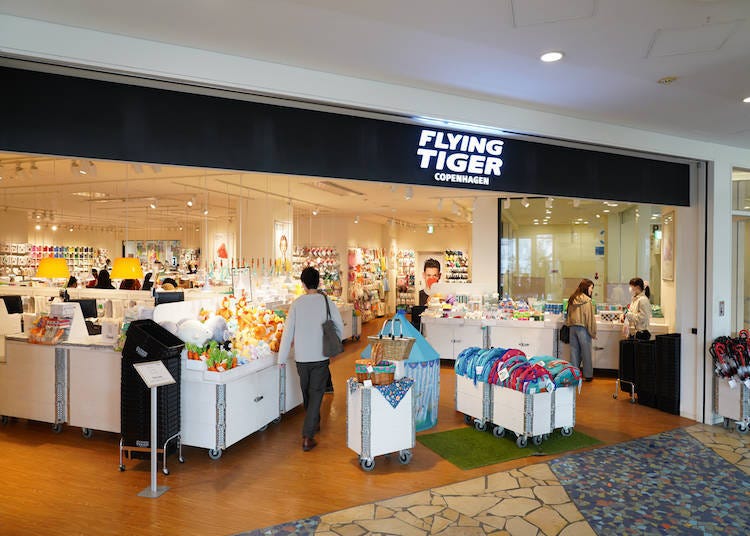 Aqua City Odaiba is, first and foremost, a shoppers' paradise and a hit with everyone, whether couples, families, friends, or solo shoppers.

One of the most popular stores at the moment is Flying Tiger Copenhagen, a variety store perfectly pitched for those who want to browse and find something unexpected.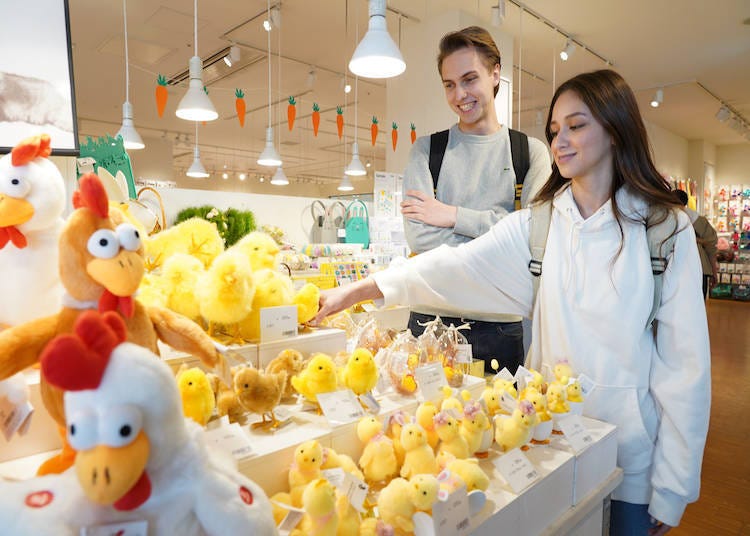 The store is always moving with the times and trends, so you never know what to expect!
There is also a lot of Japanese-style interior design to have fun with, all with a contemporary twist.
A World of Hit Anime and Manga at the Jump Shop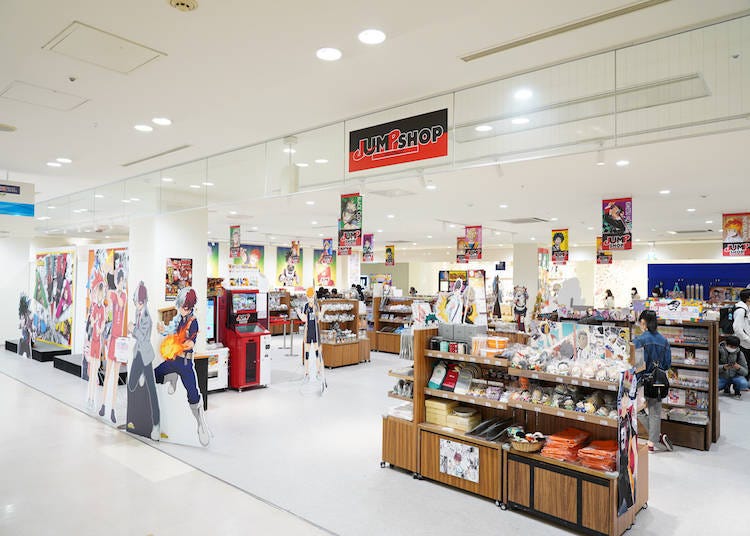 The Jump Shop is also a great way to get in touch with contemporary culture, featuring merch, books, and more from the Shonen Jump series of manga and anime. There are tons to check out from legendary series like ONE PIECE and DRAGON BALL, as well as other favorites. At the entrance, you can't miss the DRAGON BALL photo spot where you can snap a get souvenir shot to mark your visit (displays may differ on your visit).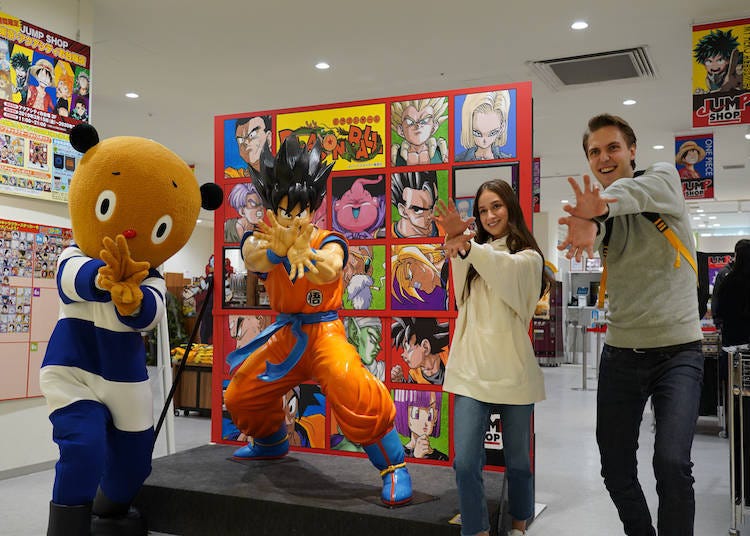 ©SHUEISHA Inc. All rights reserved.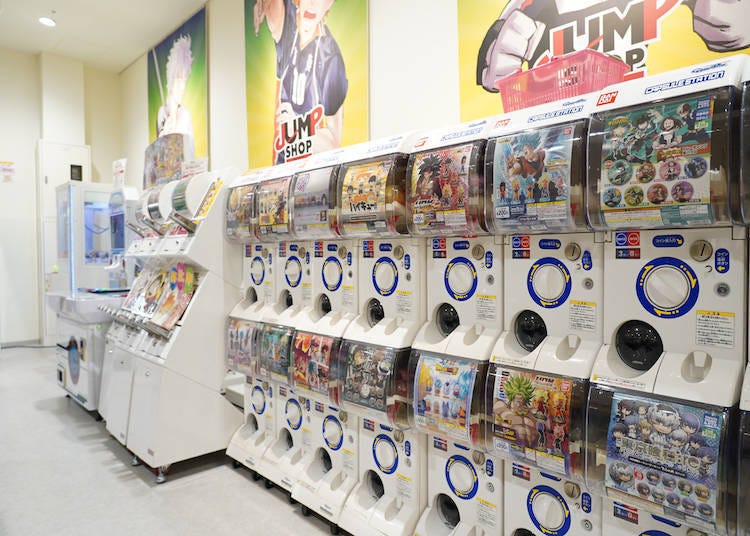 ©SHUEISHA Inc. All rights reserved.
There are also claw games and gashapon machines for those who want to test their skills.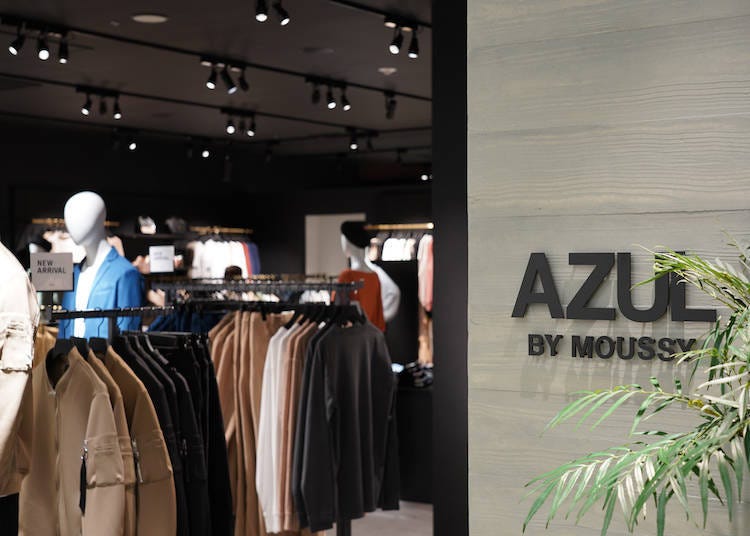 The majority of the Aqua City Odaiba shopping is fashion, and whatever your tastes, you are sure to find something to suit. For Tokyo fashion trends at an accessible price point, you really can't beat Azul by Moussy.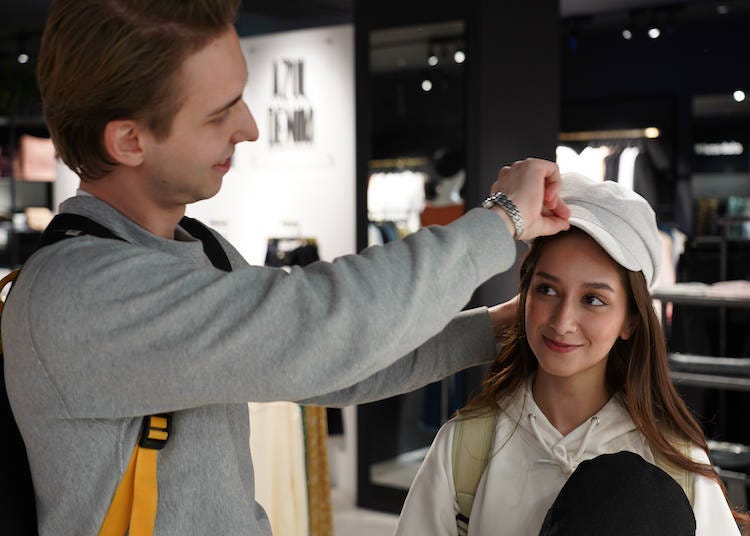 Have fun finding your spring look.
The Comprehensive Daiso Experience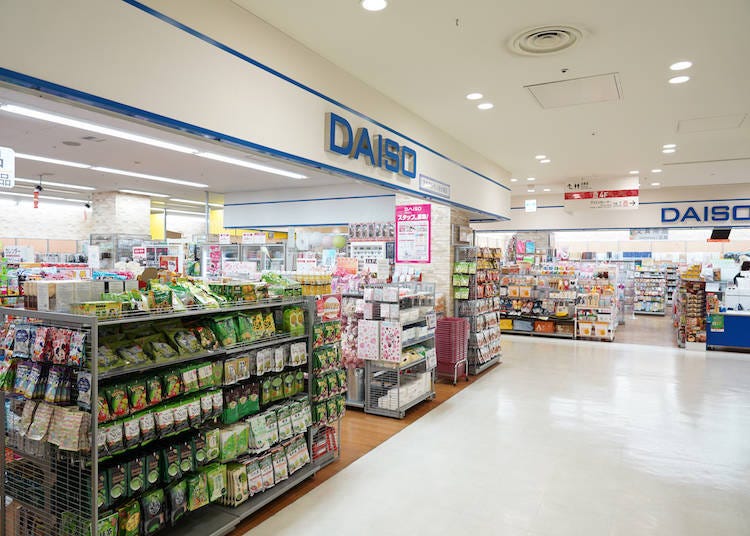 Aqua City Odaiba also has a huge Daiso store in nautical blue branding to match the sea theme of the shopping center as a whole. The majority of the line-up is 100 yen (plus tax) as ever, and everything you could feasibly need for day-to-day life and more besides.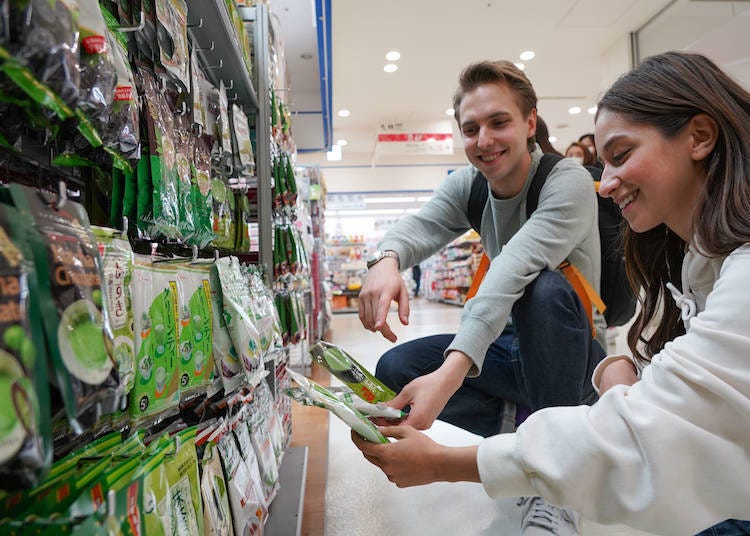 There is also a great selection of souvenirs, Japanese gifts, and sweets!
Dine with a Breathtaking View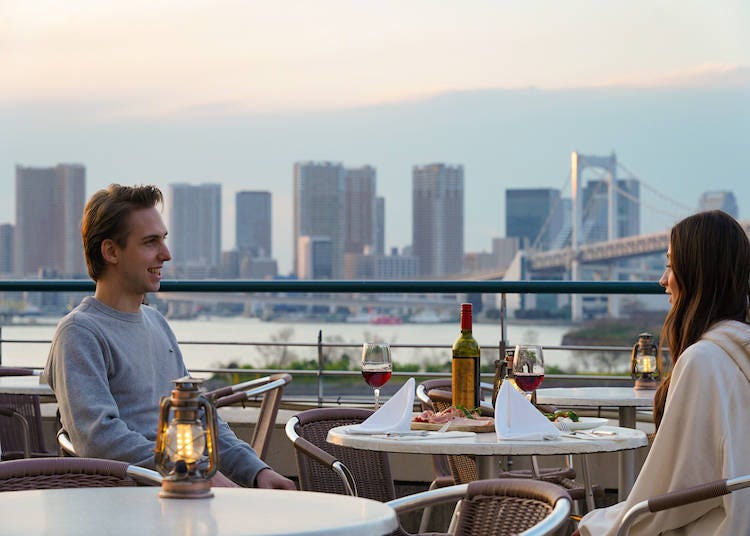 Having worked up an appetite, dinner as the sun sets over Tokyo Bay is on the cards. There are several restaurants with al fresco seating on the wooden decked area overlooking the bay, so you can choose your favorite food and enjoy the same view over to Rainbow Bridge and the glittering Tokyo metropolis beyond.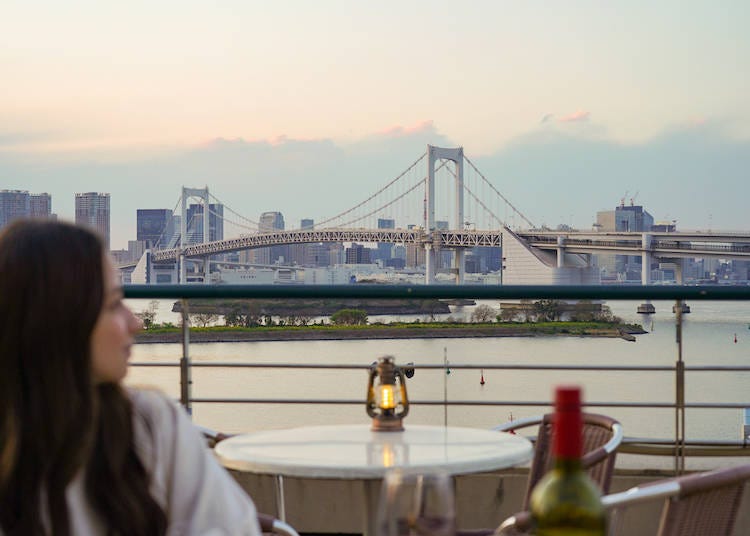 We chose To The Herbs, an Italian-style pizza and pasta bistro known for its herbs, cheese, wine, and cured meats. The perfect accompaniment to watching the sun sink over Tokyo.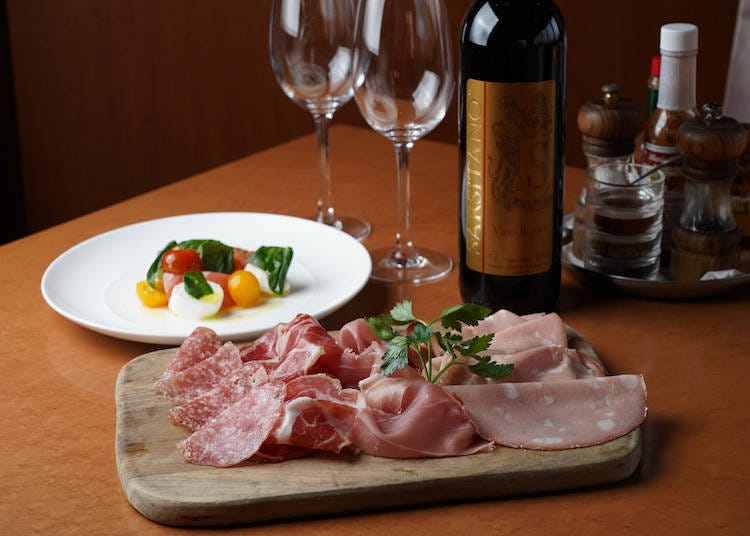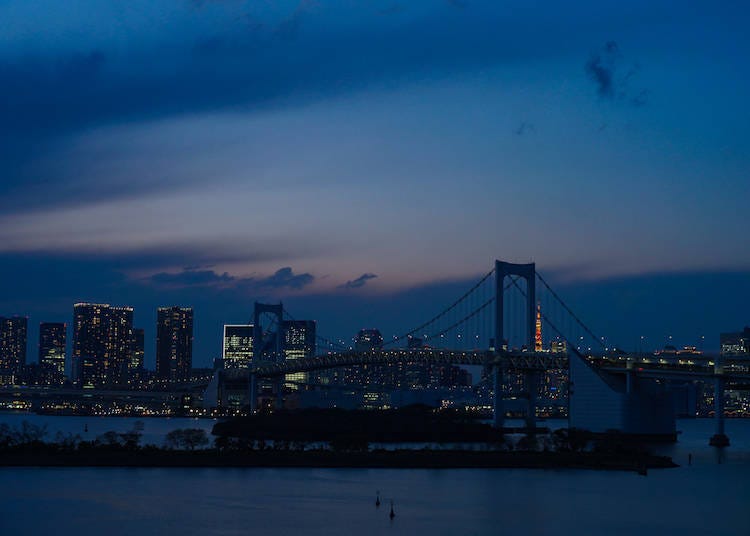 As the sun goes down, the lights go on, turning Tokyo Bay into a glittering landscape dotted with neon and the iconic sight of Tokyo Tower in the distance.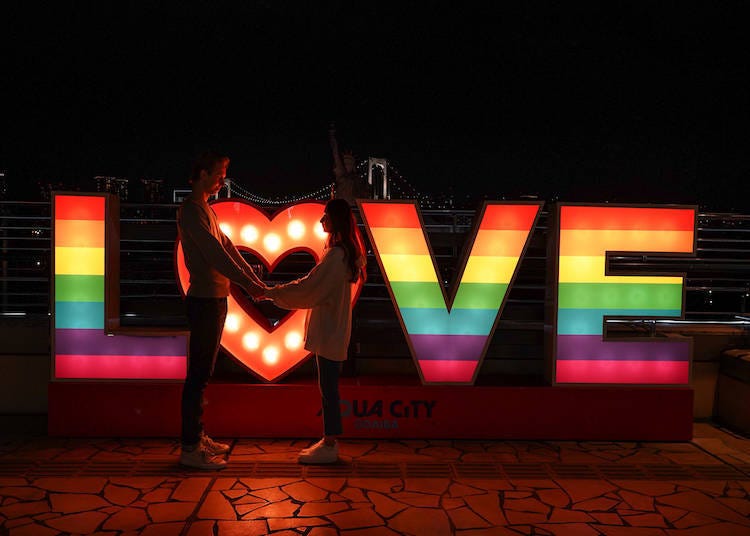 Aqua City Odaiba also has its own illuminations all year round, and there are countless photo spots to explore and capture your perfect shot to share come nighttime.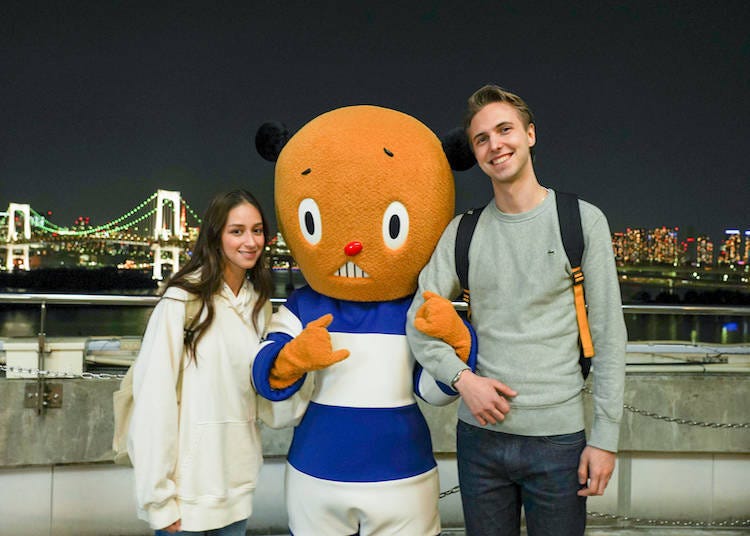 Our thanks to Aqupi for showing us around, and to plan your perfect day visit the link below.
アクアシティお台場

Address

Aqua City Odaiba, 1-7-1 Daiba, Minato-ku, Tokyo, 135-8707


Nearest Station

Daiba Station (Yurikamome)
1 minute on foot


Phone Number

03-3599-4700
*This information is from the time of this article's publication.
*Prices and options mentioned are subject to change.
*Unless stated otherwise, all prices include tax.