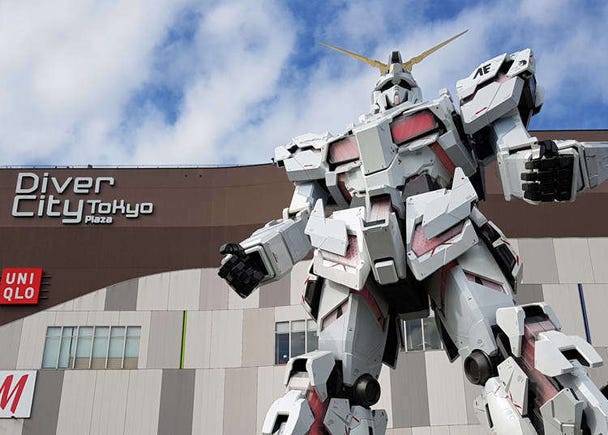 Odaiba is a popular tourist spot that has many attractions such as the Rainbow Bridge and Odaiba Seaside Park. Not only Japanese but many foreign visitors to Japan also visit here.

We asked some of these foreign visitors their reasons for visiting this popular spot. (The following are the individual views of the respondents).
1. Everything from expensive brands to really cheap items is sold here!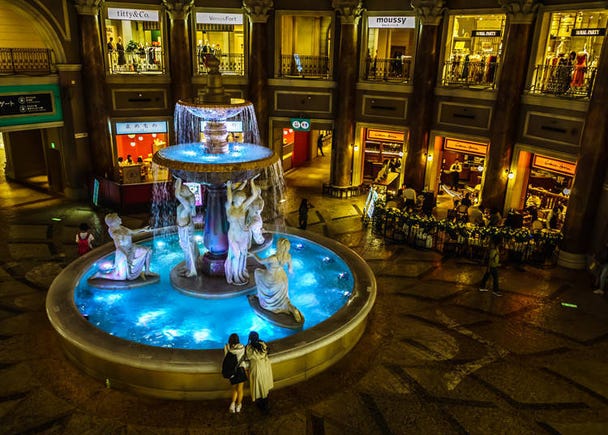 DerekTeo / Shutterstock.com
"There are all sorts of stores here, and we enjoyed shopping for clothes and souvenirs. The children especially enjoyed the sweets and anime mascots, which also made good souvenirs," said an American lady.

"I enjoyed shopping for clothing items that are hard to find elsewhere. I liked the fact that there was a wide range of shops from the expensive to the inexpensive," commented an Indian lady.

"As for shopping, my wife and kids seemed to have a perfect time looking at clothes and souvenirs. There were plenty of facilities where children could enjoy themselves, such as athletic spaces and Legoland, which they enjoyed the most," remarked an Australian man.

Among the various commercial facilities in Odaiba, there are several famous shopping malls such as VenusFort, DECKS Tokyo Beach, AQUA CiTY ODAIBA, and DiverCity Tokyo Plaza. These shopping malls have become popular for their many famous stores carrying the latest brand-name fashions that are sure to satisfy any shopper.

And as the Australian gentleman pointed out, there are well-equipped facilities designed for children, which also add to their attraction. These are places where the whole family can enjoy shopping.
2. Enjoy the spectacular night view that looks like something straight out of an anime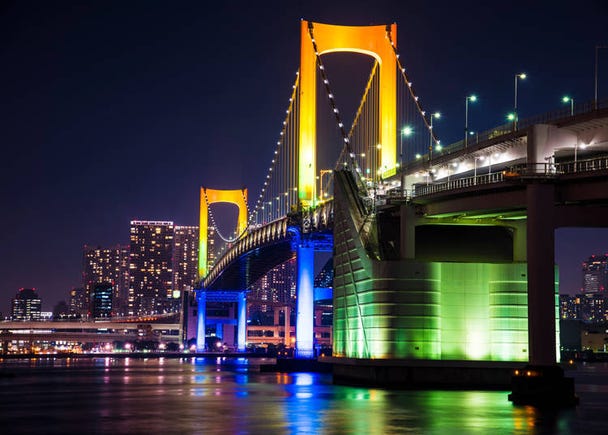 "Taking a boat down from Asakusa, you get a great night view. The Rainbow Bridge and round form of the Fuji TV building really make you feel like this is Tokyo! The night view from our hotel window was spectacular," said an American lady.

"We once stayed at a hotel in Odaiba the day before we returned to India. It was very convenient because it took less than an hour to reach Narita Airport from the hotel by limousine bus. The view at night from the hotel was charming. The view everywhere from left to right was wonderful. We enjoyed waiting for it to become dark," said a lady from India.

"The Rainbow Bridge in the evening is magnificent! It has a very romantic atmosphere that is perfect for an evening date," mused an Australian gentleman.

Odaiba is one of the few places within Tokyo that is famous for its night view. The night-time view from the surrounding hotels and restaurants is beautiful and one of Japan's best. Locations noted for their night views include Shiokaze Park, Dream Bridge, and Daiba Park. One foreigner who saw the night view at Odaiba said, "It looks exactly like something out of the world of anime!" "A stunning area! Japan is truly amazing!" Such are the praises one often hears. When visiting Odaiba, the view there at night is quite memorable.
3. You really need to stay more than one night as there are lots of places to enjoy yourself even if you are not good at Japanese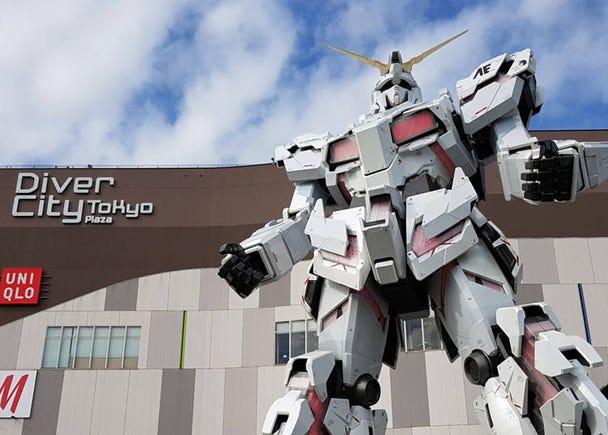 icosha / Shutterstock.com
"During the summer vacation, we took our children to Odaiba, and they had a great time having their photos taken in front of Gundam at DiverCity Tokyo. We were all amazed by how large it is. We saw an exhibition at the National Museum of Emerging Science and Innovation (Miraikan) and also visited the Museum of Maritime Science. There are so many things to see and do that one day is really not enough. The next time we go we want to visit Legoland," said an American lady.

"I was super impressed with the ethereal images in teamLab Borderless. Even though I can't understand much Japanese, this was a place where I could really have a good time. I recommend it to anyone who can't speak Japanese. The Ferris wheel in Palette Town is surprisingly large. I was amazed that I could see Mt. Fuji in the distance. Another thing that surprised me was being able to walk across the Rainbow Bridge," remarked an Indian lady.

"My family's main purpose in going to Odaiba was to see Legoland. The children were thrilled because we could buy unique Lego pieces. This is a great place to bring children because there are many facilities designed for their enjoyment as well as food courts in the shopping centers. There are so many things to see in Odaiba that we couldn't see them all. If we had had more time, we would have liked to have gone to an event at the Science Museum, but we'll have to leave that for another time," said an Australian gentleman.

When you think of Odaiba, the giant Gundam in front of DiverCity Tokyo comes to mind. It was first displayed at the Shiokaze Park in 2009. Then in 2017, it was replaced with another one which still stands today. Many foreign visitors are fans of Japanese manga and anime, so this life-size Gundam is an attraction they especially want to see when they visit Odaiba.
4. There is even a Statue of Liberty in Japan!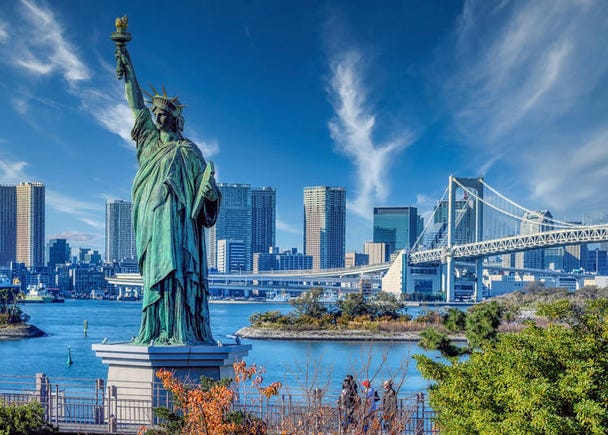 "There's a Statue of Liberty on the beach at Odaiba? Why is there a Statue of Liberty in Japan? It seemed strange to me. I saw lots of people taking photos there. Is it a photo spot?" asked a bewildered American lady.

"I live in Delhi in the northern part of India, where there is no ocean. So I very much enjoyed just looking at the sea. There were places along the coast where I could sit, and I enjoyed relaxing there," remarked an Indian lady.

"There's a Statue of Liberty at Odaiba? I missed that! Why is there a Statue of Liberty in Japan?" asked an Australian gentleman.

The foreigners we interviewed were surprised to see a Statue of Liberty at Odaiba, one of its landmarks. Initially, the Statue of Liberty was borrowed from France in 1998 for a one-year event. However, once the event ended, there were many requests that the Statue of Liberty remained in Odaiba. So a replica was made and set up in its place.

Most foreigners are unaware of that background, so they naturally are surprised to see a Statue of Liberty at Odaiba. French and American visitors, in particular, might find it strange to see a Statue of Liberty in Japan. Still, hopefully they will enjoy seeing this replica that is different from their own when they visit Odaiba.
5. Enjoy a taste of Japan of yesteryear at the Daiba Itchome Shotengai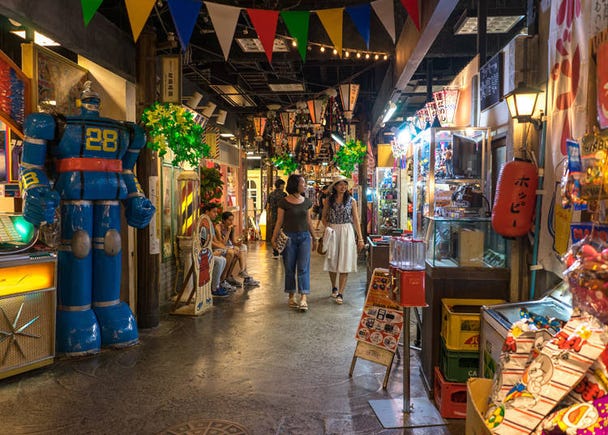 Derek Yamashita / Shutterstock.com
"I have been to the Daiba Itchome Shotengai. It has a retro feel, and I imagined that this is how Japan used to be like. I had fun playing the game machines there. My children bought candy for souvenirs at a mom-and-pop candy store," said an American lady.

"My friend asked me to enter the Haunted House at Daiba Itchome Shotengai. It was terrifying. We were probably only in there for about 10 minutes, but it seemed much longer," an Indian lady said.

"I wondered if Daiba Itchome Shotengai was an arcade of shops that looked like what a Japanese festival must have been like in the past. We bought toys at a mom-and-pop candy store," said an Australian gentleman.

Daiba Itchome Shotengai is a reconstruction of a Japanese shopping arcade from the 1950s. This place is unique because most people have the impression of Odaiba being a place of the state-of-the-art shopping center and entertainment venues. The Daiba Itchome Shotengai offers a variety of shops, such as restaurants, mom-and-pop candy stores, and game arcades, as well as occasional nostalgic events, such as picture-story shows and top-spinning competitions called begoma.

Foreign visitors are impressed by their visit to this venue simulating an old-fashioned Japanese shopping arcade, and indeed it must leave them with many unforgettable memories.
In addition to the facilities introduced this time, there are many more attractive places in Odaiba, such as Oedo Onsen Monogatari, Palette Town, and the Fuji Television Head Office Building. When sightseeing, we recommend that you check the places you want to go to in advance.

Written by: Dali Corporation, Yu Sato
*This information is from the time of this article's publication.
*Prices and options mentioned are subject to change.
*Unless stated otherwise, all prices include tax.