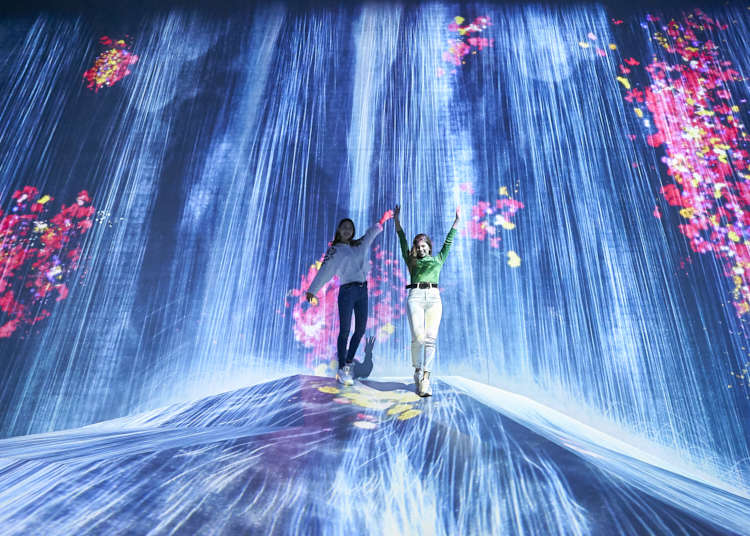 Ever since it opened, digital art museum teamLab Borderless has been popular with visitors from literally everywhere. It's a massive installation, spanning 10,000 square meters, and divided into five worlds with about 60 exhibits among them. On top of that, there's no map or set path to guide you, so your first visit will be filled with mystery!

As a popular spot, you might be thinking about checking it out, but unsure how to enjoy it. Rest assured! We've come up with ten things you need to know so you can have a blast even if it's your first time!
What is teamLab Borderless?
teamLab Borderless is a novel digital art museum set up by art group "teamLab." It opened in Odaiba's Palette Town in June, 2018.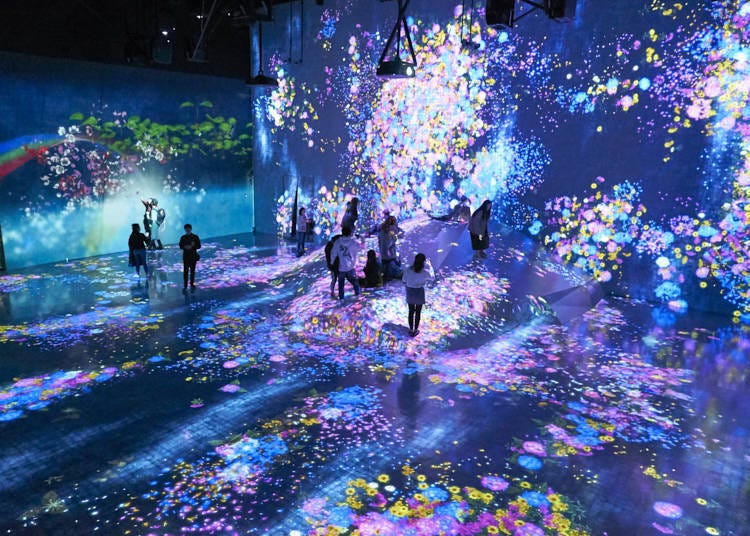 When you step into the museum, you step into a borderless world. The borders between exhibits are ambiguous, giving rise to new forms of expression. Sometimes the art pieces influence each other, creating new works, and other times, you as the viewer become a part of the art, creating yet another novel exhibit. The museum has no map or set path, and you can always take pictures with the exhibit, making it a space with a completely new way of enjoying and engaging with art.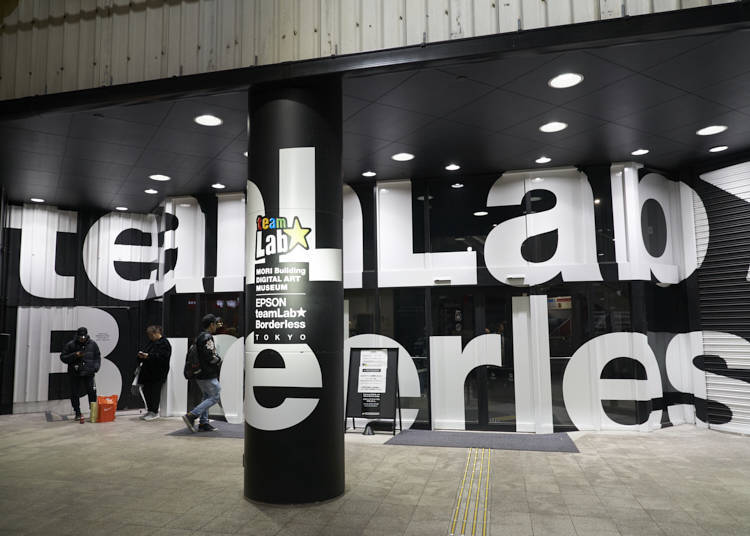 The museum's unique, beautiful vistas have been captured in countless photos uploaded to the internet by visitors. It sees a constantly high turnout of guests, including celebrities and famous artists from abroad, showing its worldwide appeal.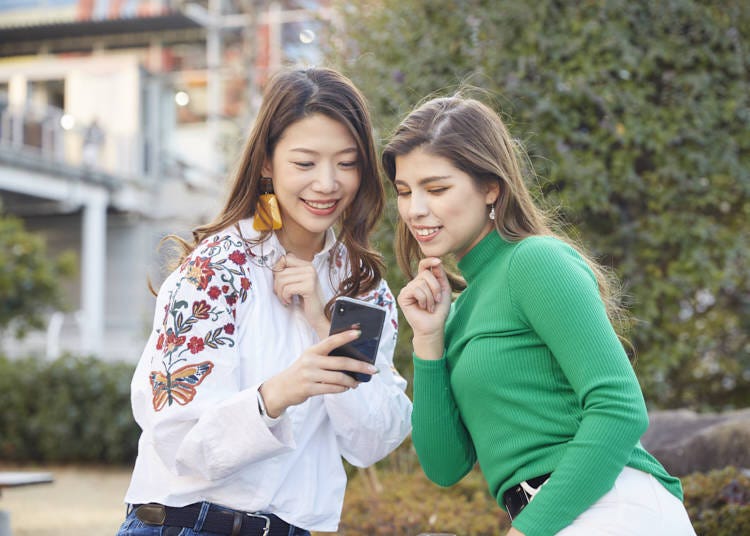 teamLab Borderless is a popular spot, seeing high turnout day after day. While you can buy tickets at the door, they go quickly, and if the presale tickets sell out, they won't even be on sale. If you want to guarantee your entry, make sure you buy your tickets beforehand.
2: Use a locker to travel light!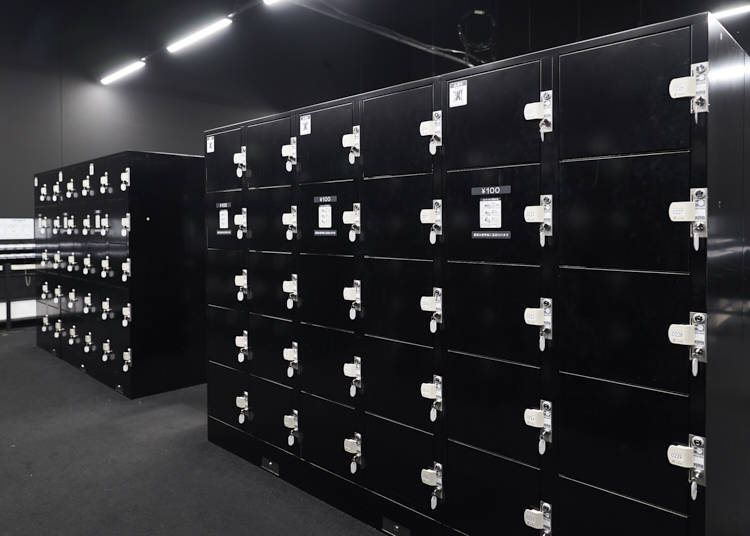 The museum is large and dark, so you'll want to travel as light as you can. Store your bags in a locker at the entrance. There are plenty to choose from, so there's little worry they'll all be taken.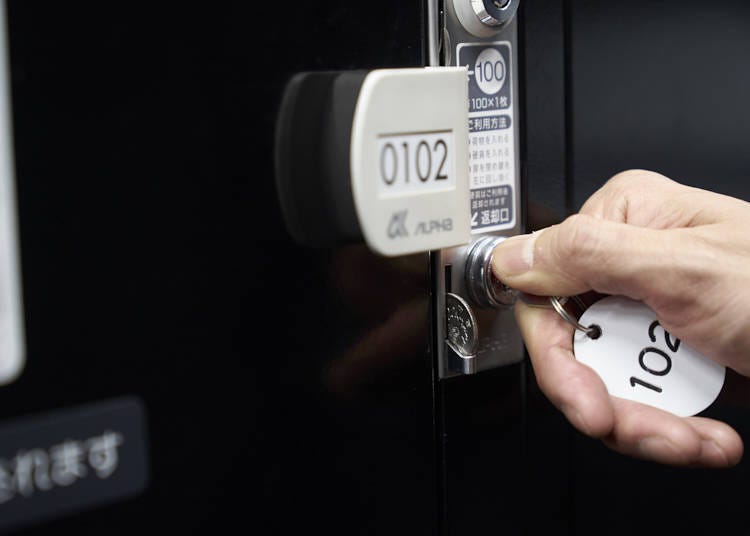 Lockers cost 100 yen to use, but your money is returned upon opening it, making them essentially free. Ticket prices don't cover any purchases made in the museum's café, so make sure you have some 100 yen coins on hand.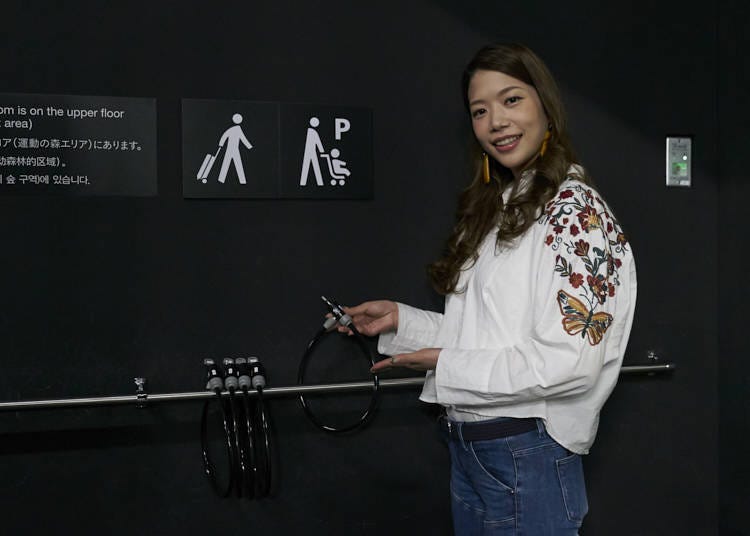 There's also a place to secure strollers and suitcases with combination locks. Travelers on long trips and visitors with children can enjoy the museum without worry, too!
3: What should you wear and bring?
Most of the fun of teamLab Borderless is wandering around the museum, so wearing something easy to move around in is key. Try wearing some comfortable pants with sneakers, or another type of comfortable shoes.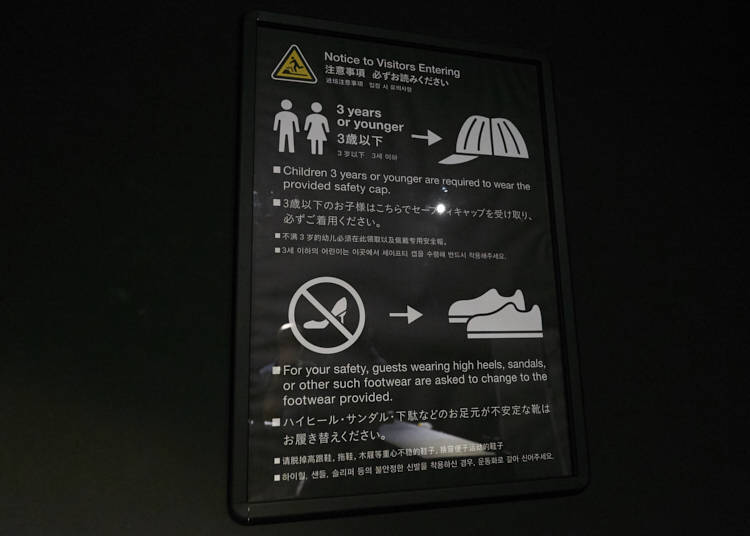 High heels will wear you out, and you won't be able to enter "teamLab Athletics Forest" in them.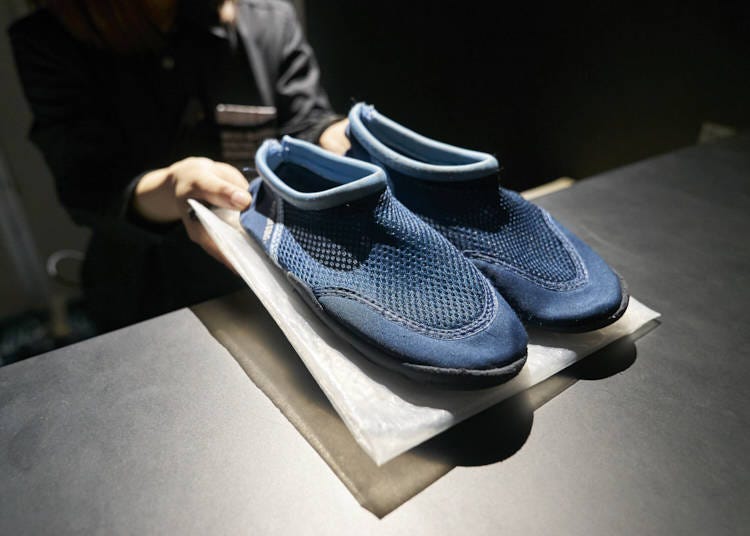 If you do attend in heels, however, there are free rental shoes at the entrance to the Athletics Forest, so feel free to use those.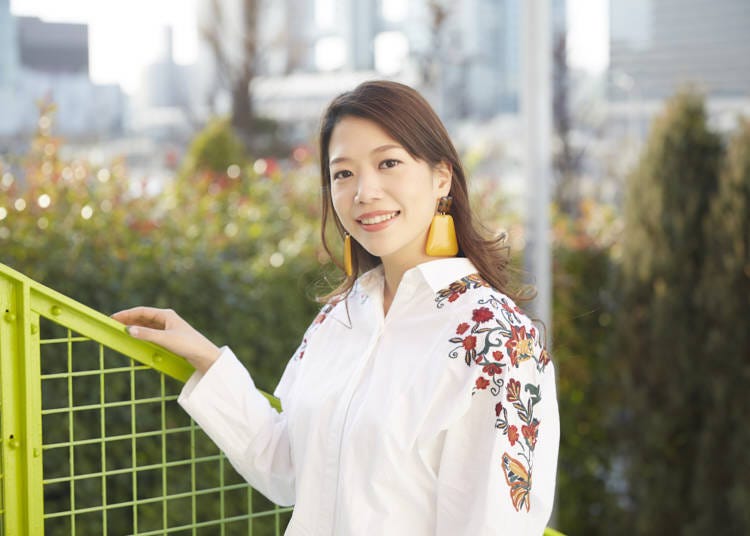 A more advanced technique for enjoying the museum is wearing white clothes!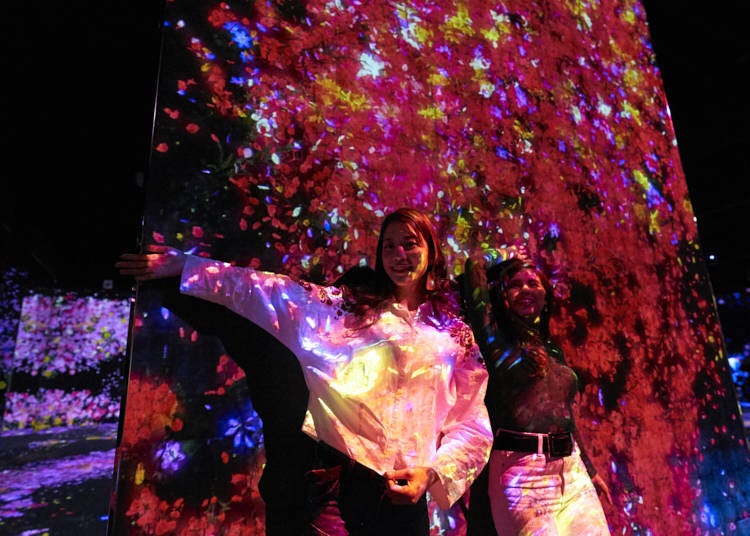 Your white clothes will act as a blank canvas for the art to be projected onto, deepening your immersion.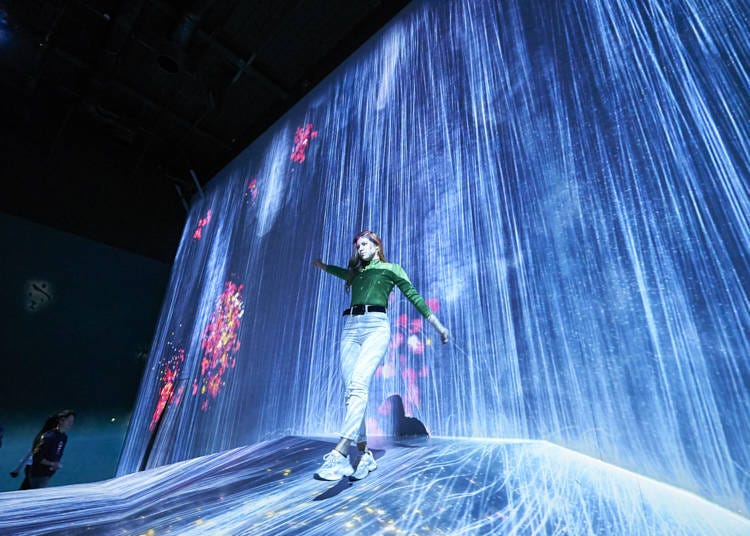 In exhibits with plenty of white light like this, a vividly colorful green or pink will look wonderful too. Go with the image you like the most when picking your outfit.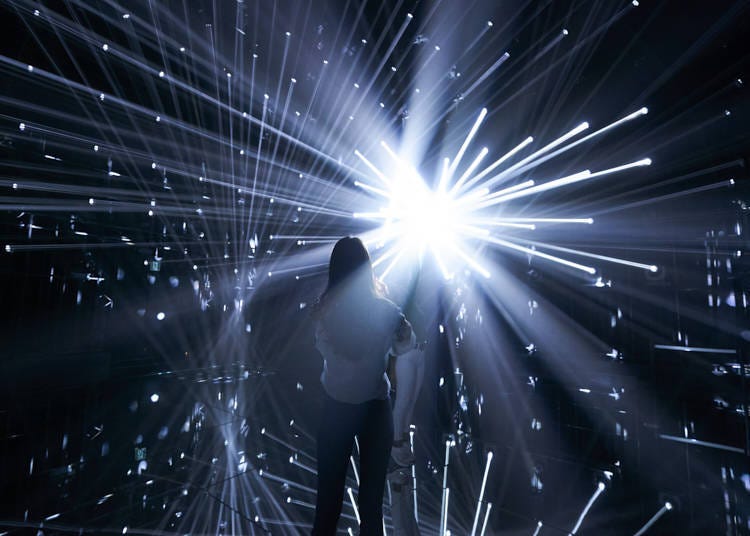 One of the biggest appeals of teamLab Borderless is taking great pictures, which means you'll want your camera or smartphone. You can take pictures and videos in the museum, but you can't use a flash, other kinds of illumination, selfie sticks, or tripods. Take care to charge your gear beforehand – you don't want to run out of juice halfway through your adventure.
4: Don't worry: The language support is also borderless!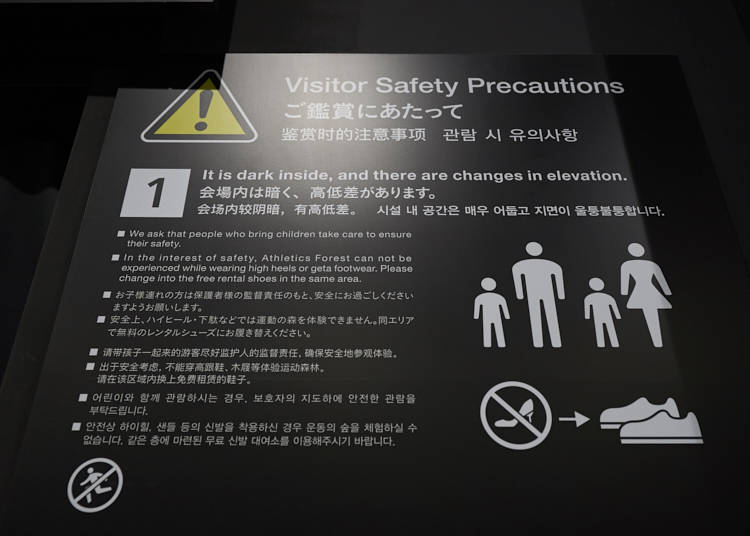 About 40% of visitors here come from outside Japan. Precautions are written in Japanese, English, Korean, and Chinese. When you step into the museum, you step into a borderless world with no need for words. Leave all borders behind and enjoy yourself to the fullest.
5: You'll want to remember these: Popular photo and experience spots!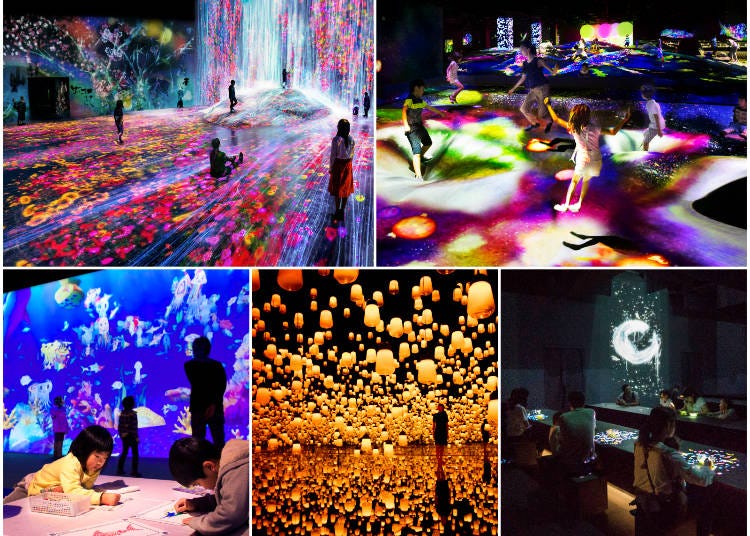 teamLab Exhibition view of MORI Building DIGITAL ART MUSEUM teamLab Borderless, 2018, Odaiba, Tokyo © teamLab
teamLab Borderless is divided into five large spaces: "Borderless World," "Athletics Forest," "Future Park," "Forest of Resonating Lamps," and "EN TEA HOUSE." They're all filled with unimaginably fun exhibits, but we'll introduce the most popular photo and fun spots.
"Universe of Water Particles on a Rock where People Gather"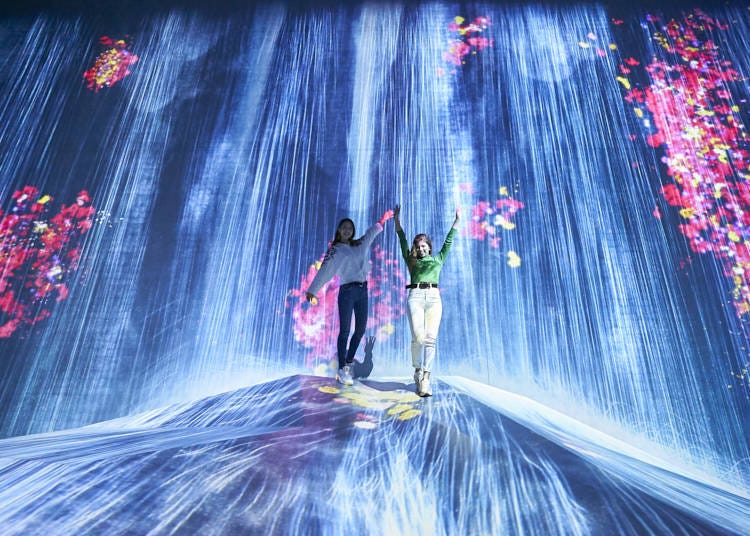 This is an exhibit that lets you really feel that you're part of the art as the water changes its flow around you. Flowers from the forest bloom here as well, making this the perfect spot for taking sensational, dynamic photos.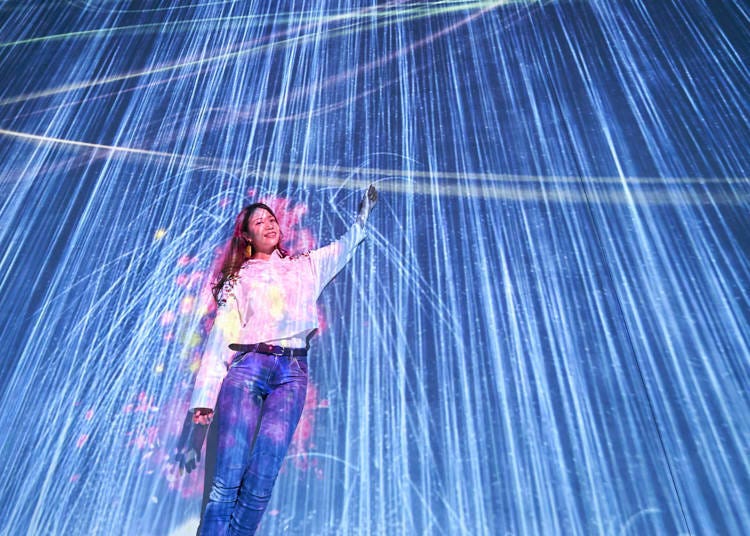 "Forest of Resonating Lamps"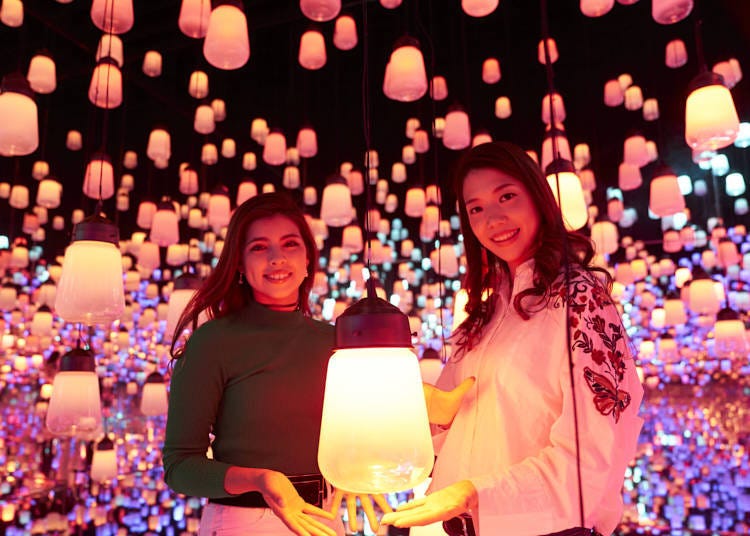 You can imagine that plenty of people would want to step into this room after seeing pictures of it on social media.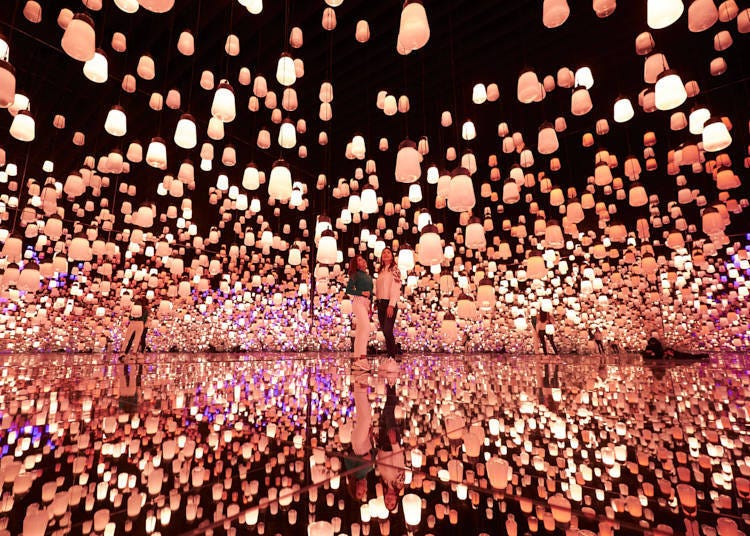 In this fascinating room, you won't be able to see the difference between the floor or the walls. Watch your step so you don't bump into any of the many lamps!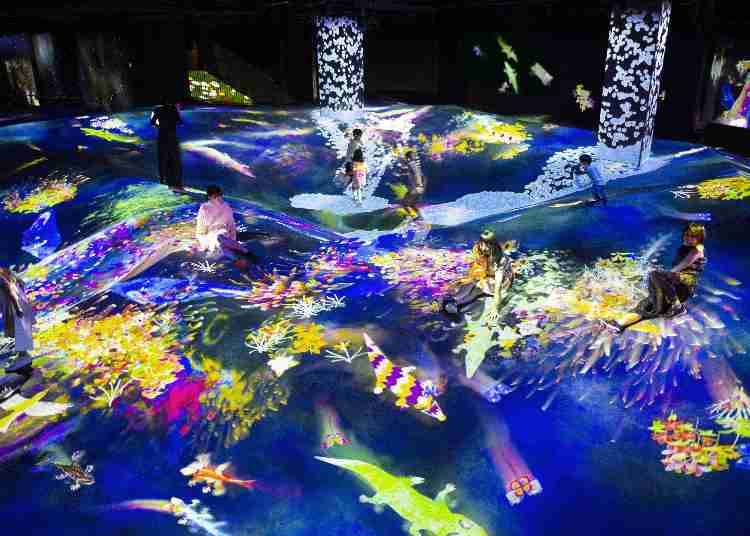 teamLab Exhibition view of MORI Building DIGITAL ART MUSEUM teamLab Borderless, 2018, Odaiba, Tokyo © teamLab
The Athletics Forest is particularly popular with children. Climb, jump, and use your body to become one with the art! Even adults can go back to their childhood for a little and let loose.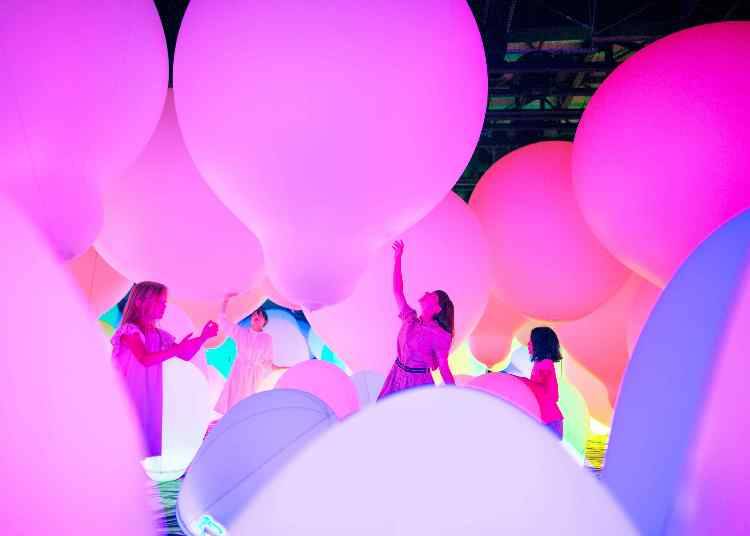 teamLab Exhibition view of MORI Building DIGITAL ART MUSEUM teamLab Borderless, 2018, Odaiba, Tokyo © teamLab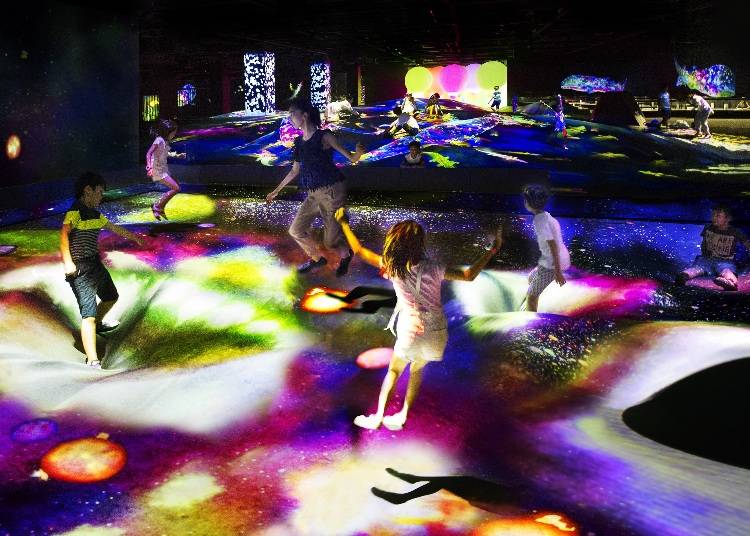 teamLab Exhibition view of MORI Building DIGITAL ART MUSEUM teamLab Borderless, 2018, Odaiba, Tokyo © teamLab
There are plenty of vertical exhibits such as bouldering walls and trampolines, perfect for taking pictures and videos of aerial motion.
6: Some tips for taking great photos!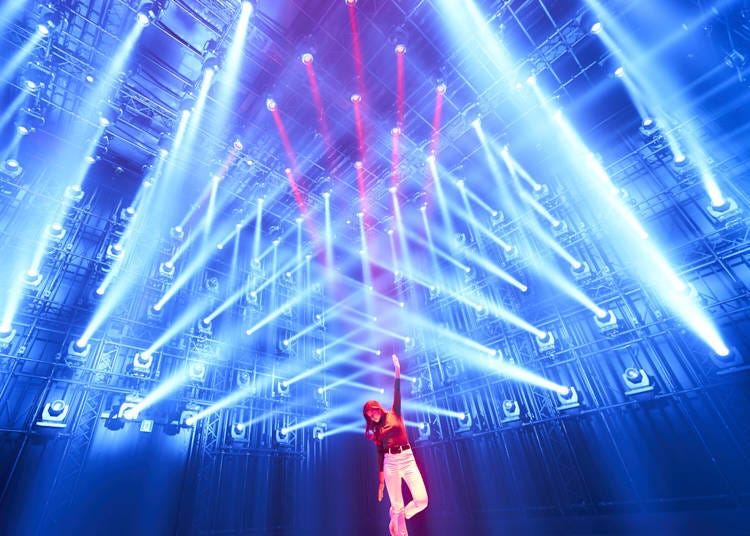 Photography is allowed in all of teamLab Borderless's exhibits. Each work changes with time and viewer presence, so you'll never snap the same picture twice. And as amazing as that is, there are a few tricks you can employ to take even better pictures.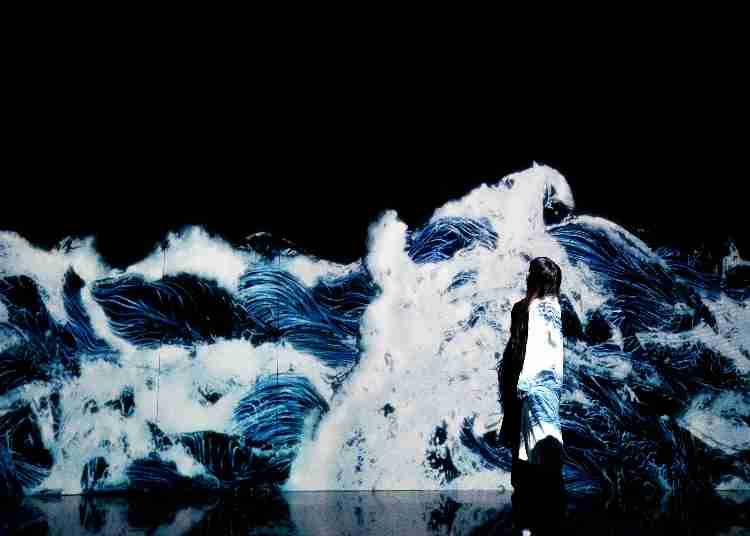 teamLab Exhibition view of MORI Building DIGITAL ART MUSEUM teamLab Borderless, 2018, Odaiba, Tokyo © teamLab
Make use of the exhibit's movements to get light on the people in the picture. For example, when the white wave passes over the subject's face, it makes for a great picture. It's even better with white clothes!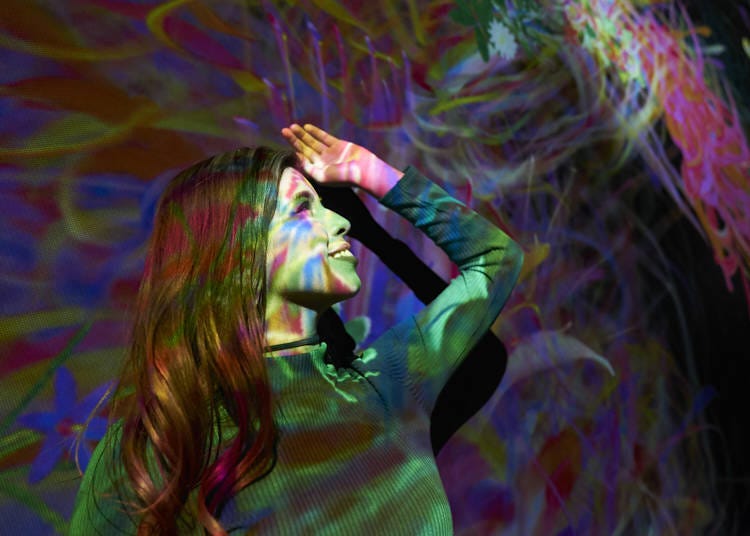 If you stand so that light gets on your face, it will look like you're wearing face-paint in your photo.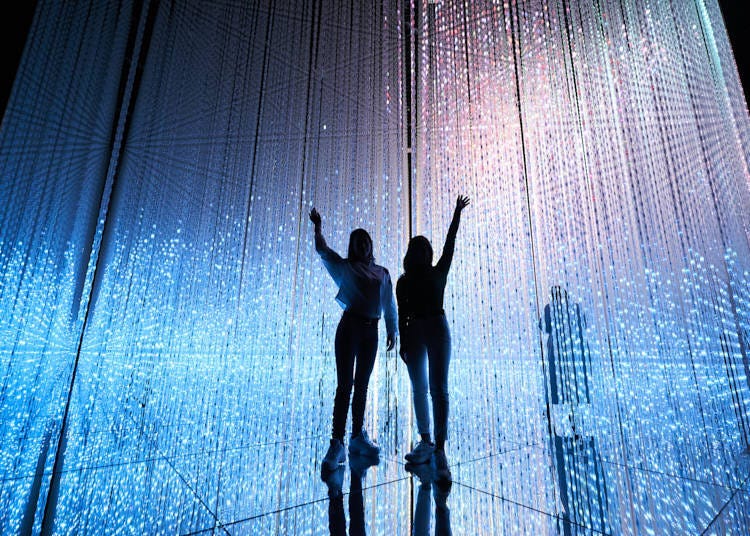 You can also use the light as a screen to take a cool silhouette photo. It's even better if you strike a big pose when you do it!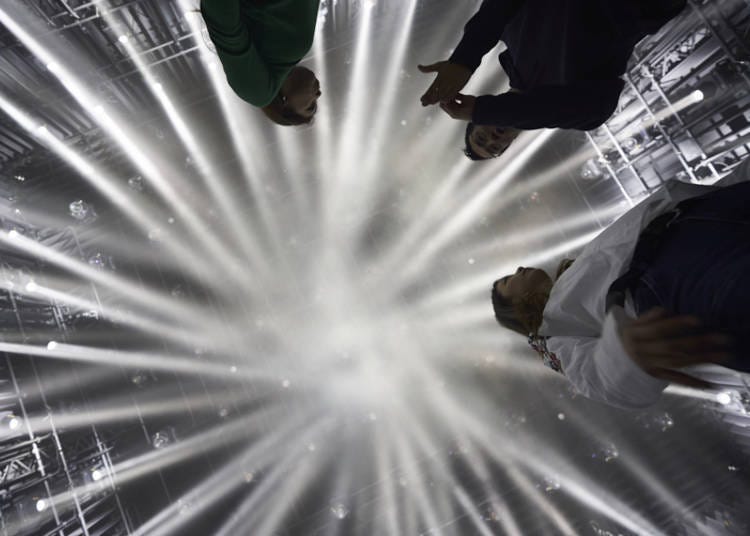 If you point your camera up from directly below, you can take an artistic shot of light beams floating beautifully.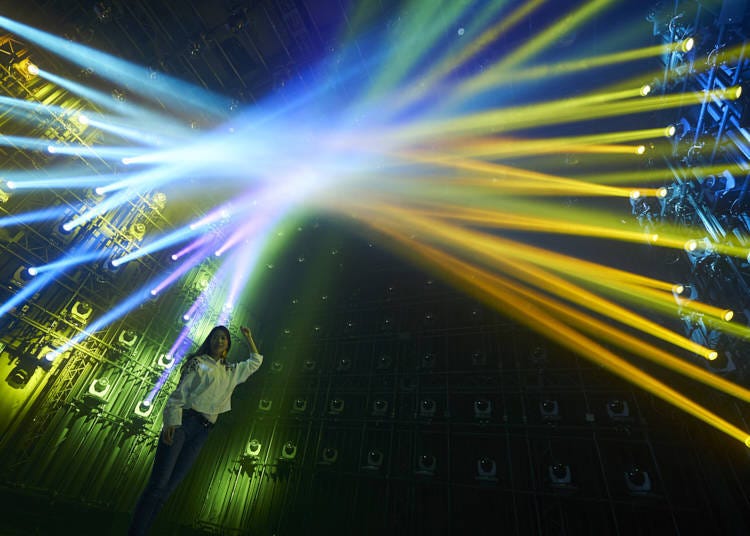 In exhibits where the light moves quickly, you can capture moments unnoticeable by the naked eye with a video or sequence photos.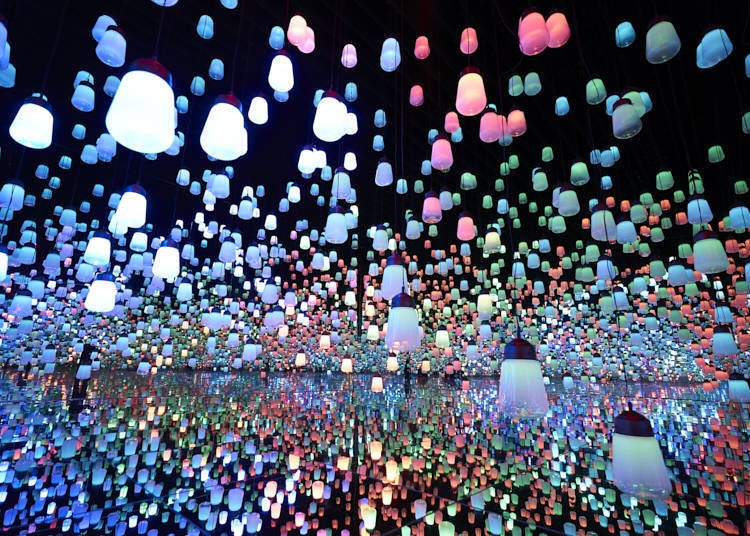 Try to get an angle from below with the camera as close to the floor as you can get.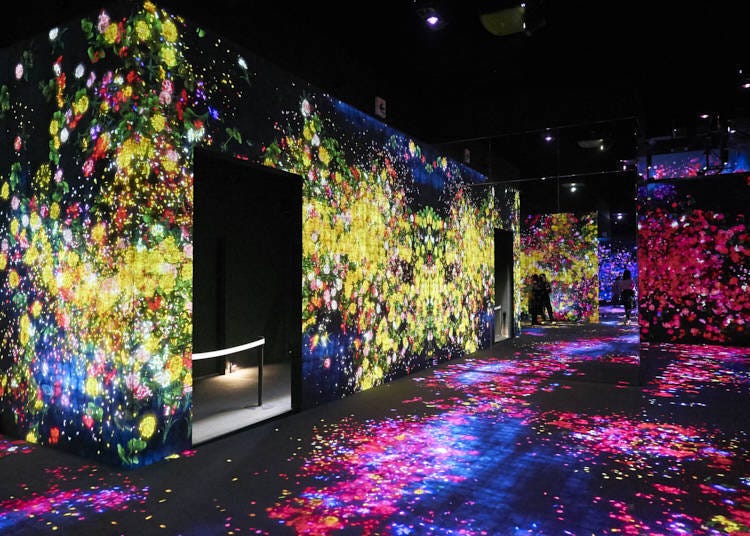 To ensure you don't end up in the photo, try taking it diagonally.
7: Watch your pictures swim in the Sketch Aquarium! It's popular with kids!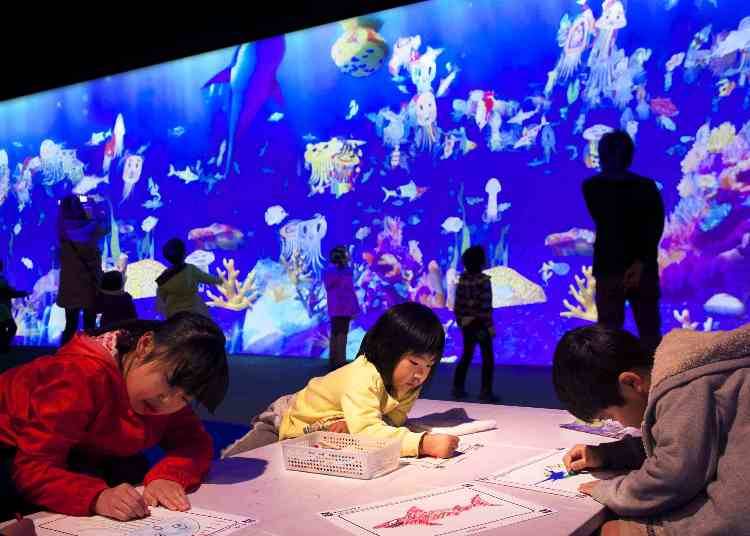 teamLab Exhibition view of MORI Building DIGITAL ART MUSEUM teamLab Borderless, 2018, Odaiba, Tokyo © teamLab
Everyone can enjoy teamLab Borderless, no matter how old or young. The Sketch Aquarium, however, is particularly popular with children. After scanning a picture you've drawn, it swims through the aquarium right before your eyes. Fish the other guests draw will swim along too, changing the scenery every second. The fish also react realistically, running off when you touch them or coming to eat when you touch the feed bag.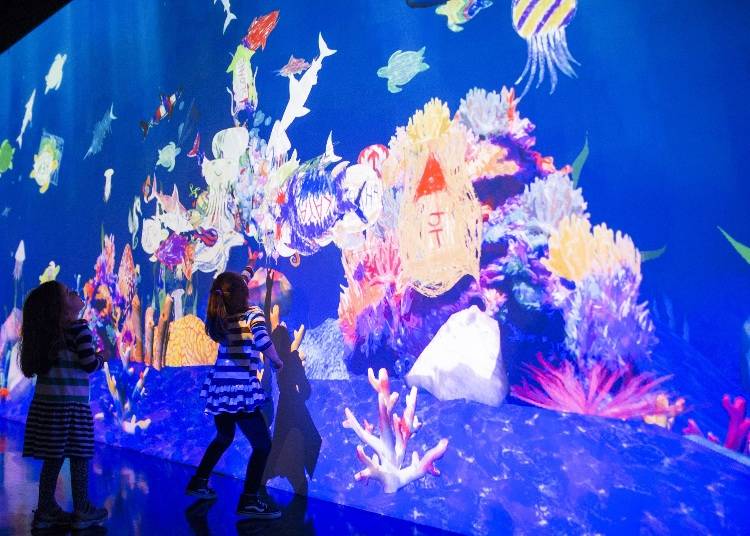 teamLab Exhibition view of MORI Building DIGITAL ART MUSEUM teamLab Borderless, 2018, Odaiba, Tokyo © teamLab
You can go in with an idea of what you'd like to draw, or you can come up with something on the spot when you see the aquarium. Either way is fine!
8: Worried about the museum being dark or getting lost? Here are things to look out for!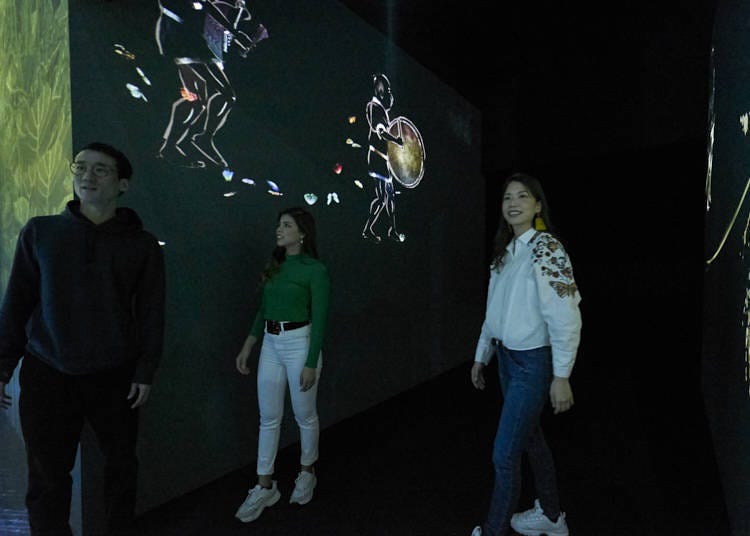 teamLab Borderless has no pamphlets explaining the exhibits, nor does it have a set path or map. This is because the whole point of the museum is to get lost inside and enjoy the experience! The museum is dimly lit, with stairs and some pitch-black sections, so you'll want to watch your step as you go.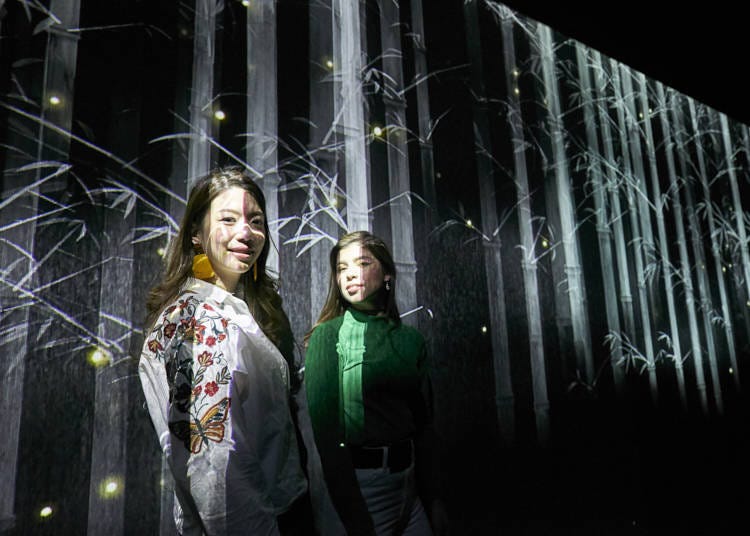 It's very difficult to get back together if people in your group get lost, so you'll want to go with as few people as you can and stick closely together. Still, you might end up losing sight of everything when absorbed in a piece of art, or you might lose your companions when focusing on taking photos, so you may want to decide beforehand on a place to meet up at if the group falls apart.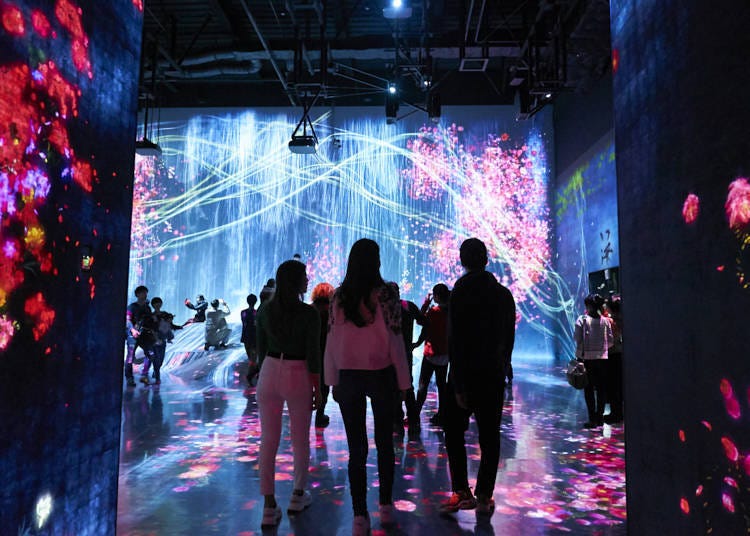 A good place to meet would be the wide open "Universe of Water Particles on a Rock where People Gather", right through the first exhibit, "Forest of Flowers and People: Lost, Immersed and Reborn".
This area is relatively well lit and easy to meet up in.
9: Have even more fun with the app! Download it beforehand!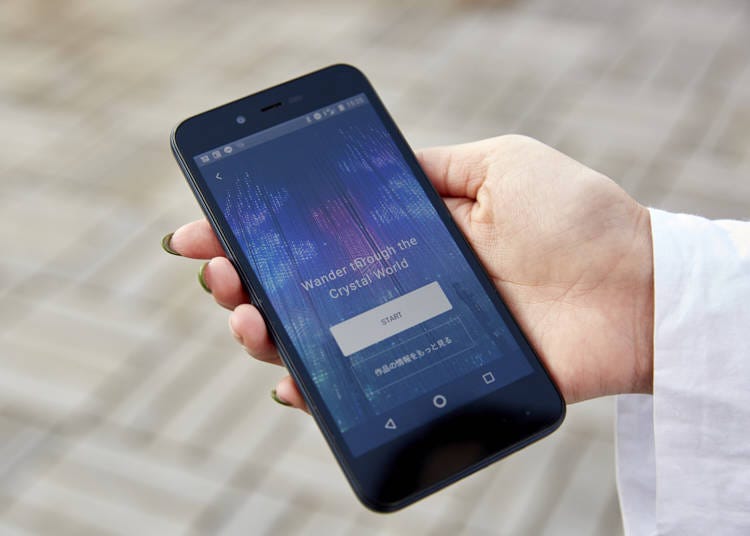 There's an exhibit that reacts to a paired app you can download. We recommend you pick up the "teamLab Exhibition App" on your iOS or Android smartphone before visiting the museum.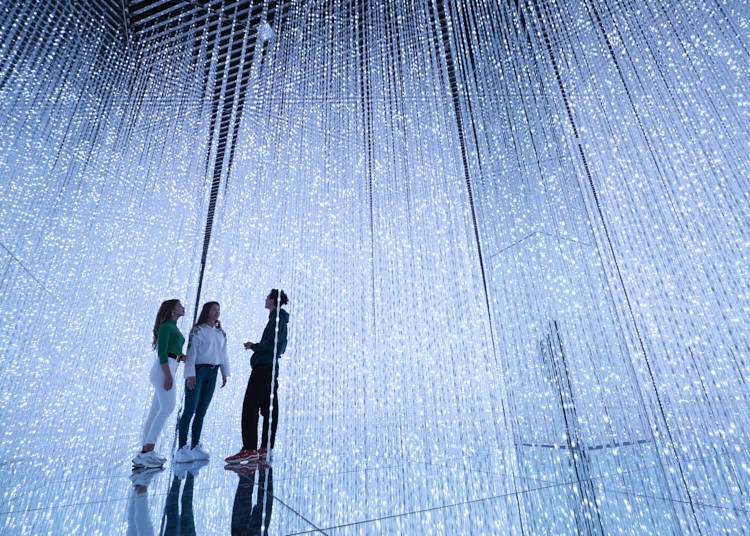 You can use this app with the exhibit, "Wander through the Crystal World."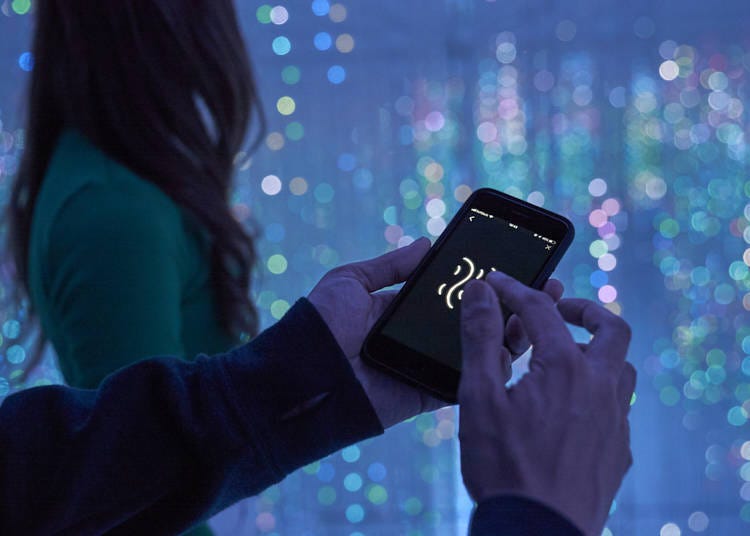 Turn on Bluetooth and Location Services, then select "Wander through the Crystal World" on the app. When it starts, it will present you with some symbols. Pick the one you like and slide it up top to see the room change its color, sound, and movement of light. Try it out—you never know what kind of moments you'll witness!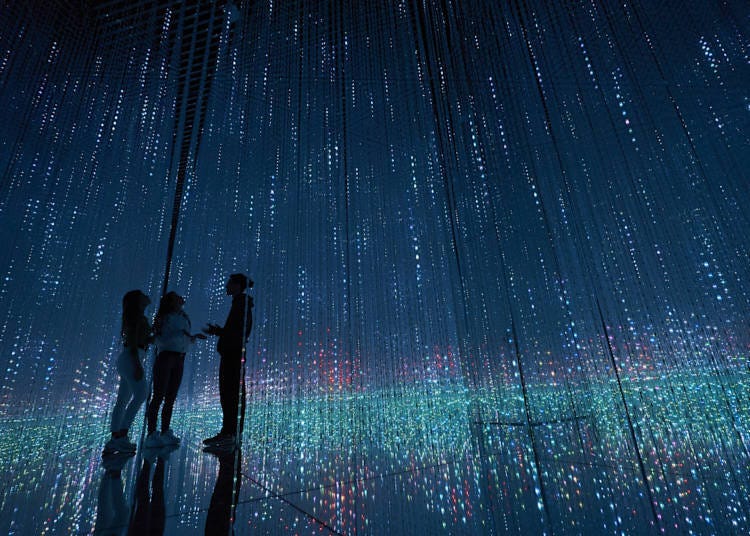 The room looks like it stretches out into infinity. Do be careful not to get so drawn in that you touch or try to go into the light screen.
10: The exhibits have no borders; they are a constant stream of originality! Enjoy making your own discoveries!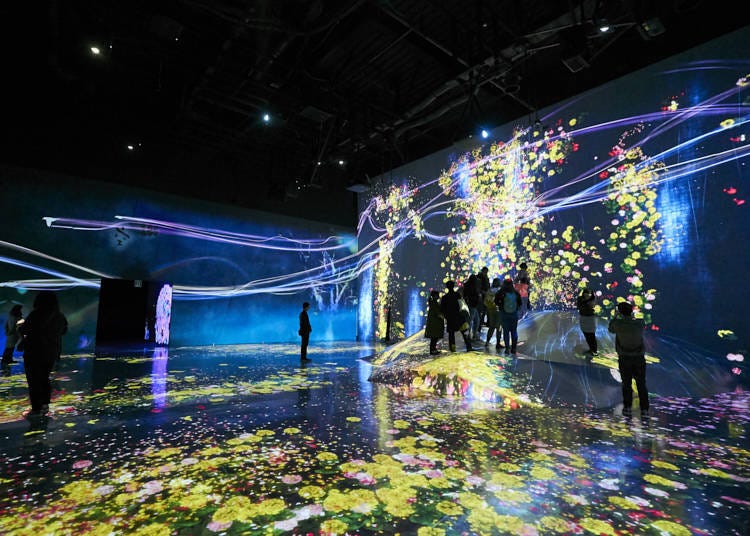 The exhibits in teamLab Borderless change based on the people inside, the time, and the season. Everything you see is something you cannot see again. Whenever you visit the museum, you'll always see something new.
You can look around to make your own art, chase exhibits that pass between rooms, wander about looking to run into new works... The ways to enjoy the museum are endless. It's best to relinquish yourself to your desired sensations, going after what you want to see, touch, and feel.
teamLab Borderless is something you can't miss! Check it out with your own eyes!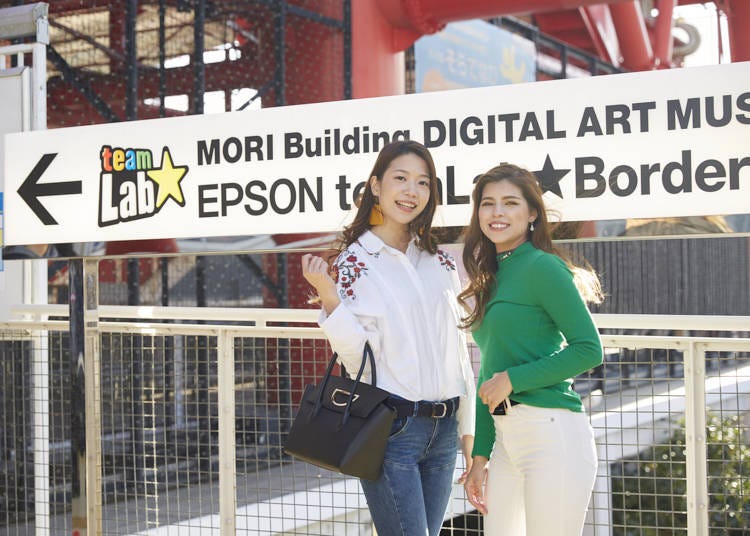 There's so much to see that people find hours pass without them noticing. You'll want to come to this museum time and time again, and if you're only in Tokyo for a short time, you'll want to see it at least once. You'll have to wait in line even with presale tickets in hand, but you'll sometimes get in easily around evening. Check out teamLab Borderless' world as soon as you can and enjoy the surprises that await inside!
MORI Building DIGITAL ART MUSEUM : teamLab Borderless

森ビルデジタルアートミュージアム:エプソン チームラボボーダレス

Address

Odaiba Palette Town, 1-3-8 Aomi, Koto-ku, Tokyo, Japan

Phone
Main: 03-6368-4292 (10:00 a.m. – 6:00 p.m.)

Hours
Weekdays: 10:00 a.m. – 7:00 p.m.
Weekends: 10:00 a.m. – 9:00 p.m.

Closed
Second and fourth Tuesdays of every month
* Operating hours and days of closure differ by season. Please check their official website at (https://borderless.teamlab.art/#information) for further details.
*This information is from the time of this article's publication.
*Prices and options mentioned are subject to change.
*Unless stated otherwise, all prices include tax.