Special Feature

A world of art without boundaries,
a museum without a map
teamLab Borderless in Odaiba, Tokyo
teamLab Borderless, a museum without a map, is jointly managed by MORI Building Co., Ltd. and teamLab Inc. A world without boundaries between spaces or artworks provides a new sensation, impresses all who visit it, and draws attention worldwide. This page introduces the charm of teamLab Borderless.
Nothing stays the same there.
teamLab Borderless is an ever-changing world.
Once you step inside the museum, a world of beautiful art with an otherworldly atmosphere will unfold before your eyes. For those who cannot imagine what a world without boundaries is like, here is a video that introduces some of the museum's charm.
MORI Building DIGITAL ART MUSEUM: teamLab Borderless Complete guide on how to enjoy teamLab Borderless provided by a master who knows all about the beauty of teamLab Borderless!
teamLab Borderless' design is based on the concept that visitors should freely enjoy it by wandering and exploring it with real intent. Therefore, there is no suggested route or guide map. This time, a master who knows all about the beauty of teamLab Borderless gives tips and hints on how to enjoy it and take great photos.
Preparing in advance allows you to enjoy the museum more!
10 things you should know before visiting teamLab Borderless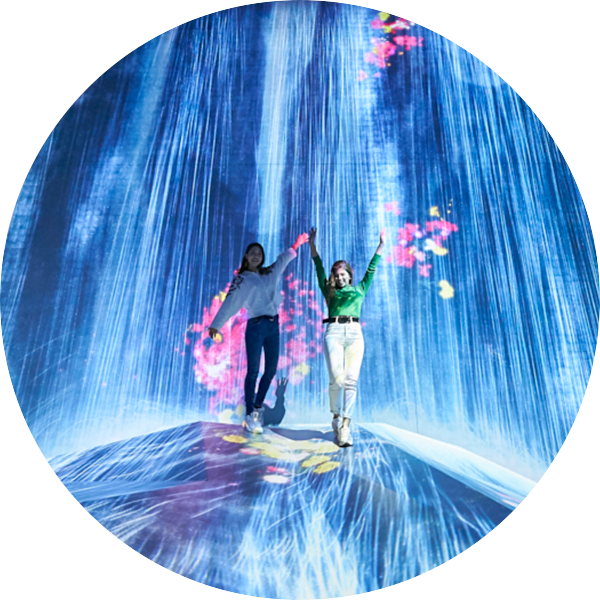 teamLab Borderless has approximately 60 artworks in five vast spaces. Here is a summary of important information that visitors should check before visiting the museum, such as facility information, appropriate clothes, and recommended spots. By referring to the information, even first-time visitors can fully enjoy the museum!
Access information
Hours
Weekdays/10:00 a.m.-7:00 p.m.
Sun, Sat & Holidays/10:00 a.m.-9:00 p.m.
*Last entry 1 hour before the museum's
closing time
Closed 2nd & 4th Tuesdays of the month
*Hours and closing days may vary depending on the season.
For other important details, also visit the official web site.(https://borderless.teamlab.art/#information)
Address
Odaiba Palette Town, 1-3-8 Aomi, Koto-ku, Tokyo, Japan
Ticket Information
Entry Fee
Adults (15 and over): JPY 3,200
Children (4-14): JPY 1,000
Guests with Disabilities: JPY 1,600
*person who has a disability certificate and one accompanying person.