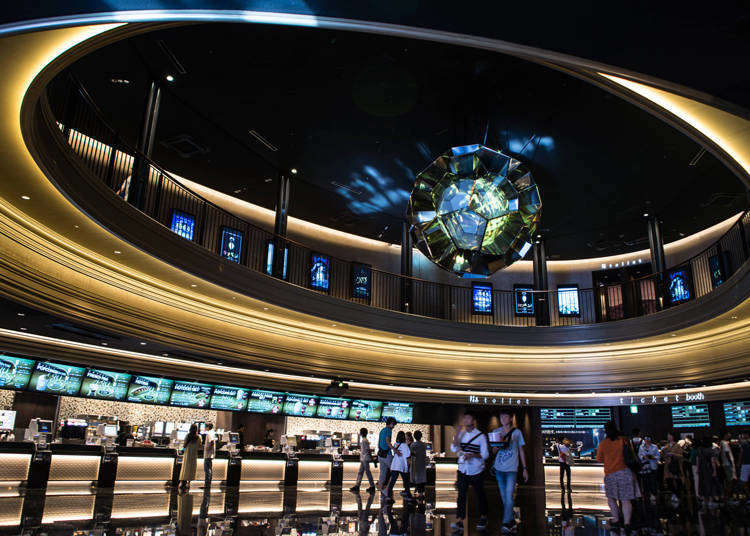 Ikebukuro, along with Shinjuku and Shibuya, is a major hub in Tokyo. In recent years it has become popular among younger generations interested in such Japanese subcultures as anime and manga and this has led to a major transformation of the area. Its popularity has steadily grown since 2018 with the creation of a new type of planetarium that makes full use of CG images and the creation of e-sports complexes where all sorts of games can be enjoyed.

Joining this array is Q Plaza Ikebukuro which made its debut in 2019. It has rapidly gained recognition as a landmark in Ikebukuro on the same level as Ikebukuro Sunshine City. In this review of Q Plaza Ikebukuro we will introduce three shops that we think would be especially enjoyable for foreign tourists.
What exactly is Q Plaza Ikebukuro?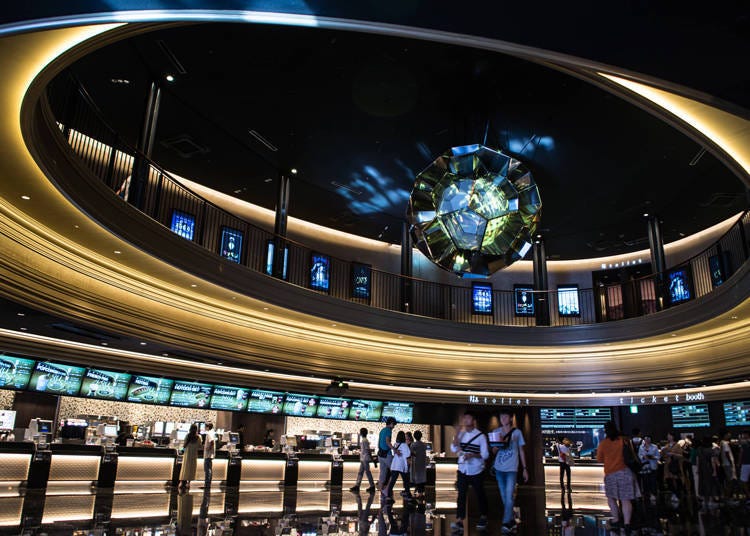 Q Plaza Ikebukuro is a huge facility that opened in July 2019. It was conceived as an entertainment plaza. In addition to a movie theater it also hosts an amusement center as well as a number of places to dine; enough to keep you happily engaged for a whole day.

Its main attraction is the enormous cinema complex which is one of the largest in Tokyo. Q Plaza Ikebukuro consists of two basement floors and 14 stories above ground and the cinema complex occupies floors 4 through 13. On these floors are 12 screens that can accommodate 2,500 people.

In addition to the cinemas, here are three other great spots you really should see.
Enjoy delicious Kanazawa-style pork-bone ramen and Korean desserts in the same place!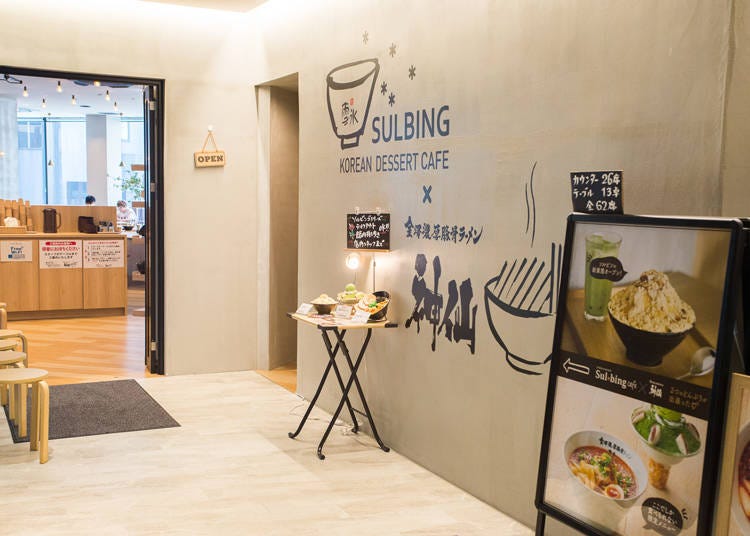 The first place we recommend is the Sulbing Cafe X Shinsen located on the second floor. This is a collaboration between the popular Korean dessert cafe Sulbing, which has about 500 outlets in Korea, and Kanazawa Noko Chuka Soba Shinsen, a ramen shop in Kanazawa City, Ishikawa Prefecture, that is famous throughout Japan for its richly flavored tonkotsu [pork bone] ramen.

The first thing you should try when you visit is the Matcha Sulbing (1,120 yen including tax), a signature dish of the Sulbing Cafe. Matcha Sulbing is a large, exquisite bowl of shaved ice in the middle of which is a large dollop of matcha ice cream liberally sprinkled with matcha powder that gives it a bittersweet aroma.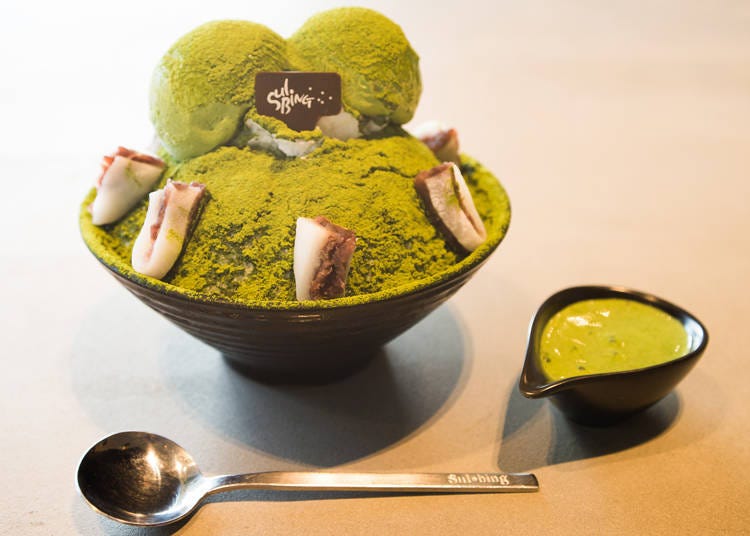 Matcha Sulbing. The anko mochi [bean jam rice cakes] placed around the shaved ice are a nice touch. A special matcha-flavored syrup is poured over the shaved ice.
You get a wonderfully light, soft sensation in your mouth the moment you taste it. Normally you imagine shaved ice to be a bit crunchy, but that is far from the case here at Sulbing.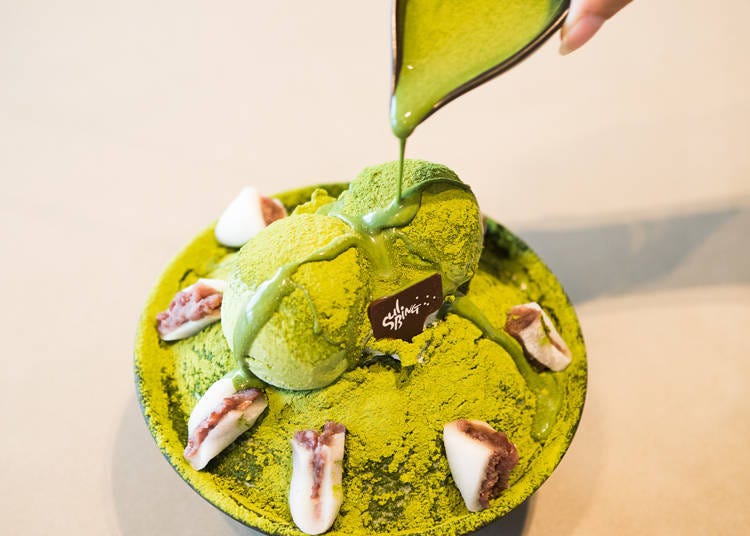 Here the shaved ice is more like powdered snow and that is what gives it its light, fluffy sensation. That also is what causes the ice to instantly dissolve the moment you put it in your mouth. Imagine powdery snow falling from the heavens and that will give you an idea of what this shaved ice is like.

I would love to have learned how this shaved ice is made, but it appears to be a "trade secret". It is also pleasing to the eye, especially the cross section with its layers of matcha and condensed milk.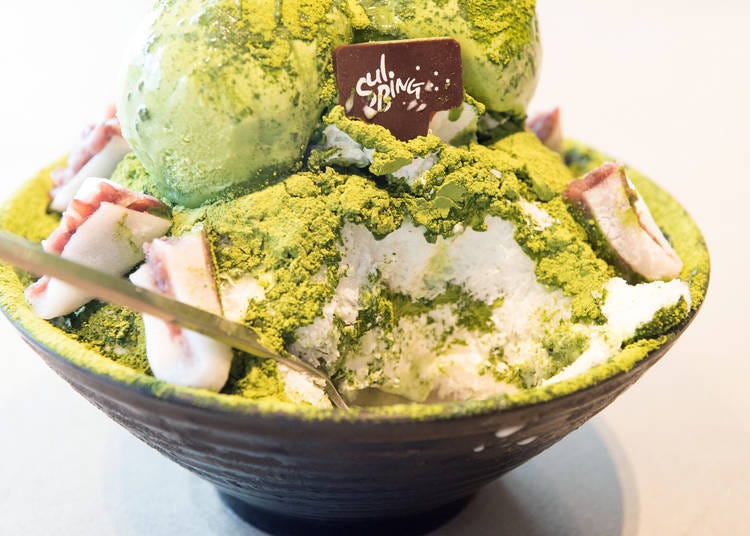 The subtle sweetness of the condensed milk blends in perfect harmony with the matcha powder and matcha ice cream. It would be only natural for someone to think that this is a Japanese traditional treat, but in fact, this is a very popular sweet in Korea that enjoys a long tradition.

Shaved ice is called pinsu in Korean and when topped with red beans it is called patbingsu which is also famous. Oddly enough this sweet is not popular with younger Koreans because they perceive it as being old-fashioned. That being the case, the founder of Sulbing took this traditional Korean treat and modified it in a new way to give it a more modern appeal.

This innovative approach to taking an old, traditional favorite and transforming it into something new and different has made it a solid hit and one appreciated by sweets lovers across the world. You will definitely want to come and try this sweet if you want to experience a new type of dessert you have never had before! Takeout is also possible.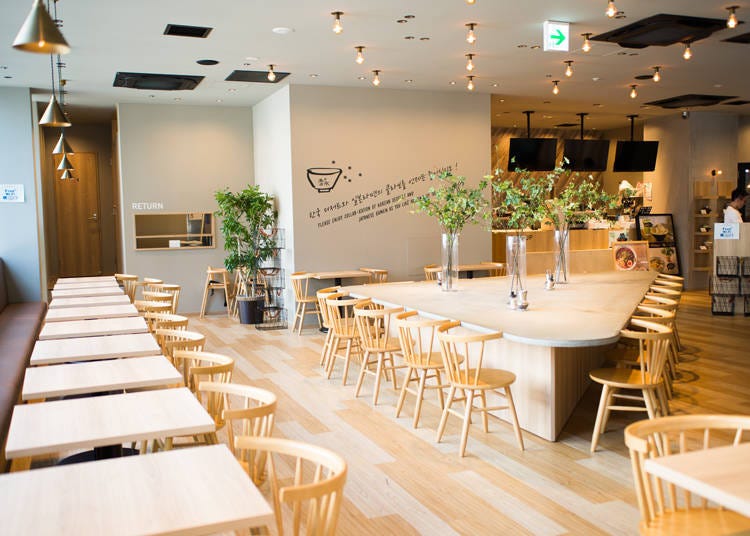 The next item we will introduce is the ramen of Kanazawa Noko Chuka Soba Shinsen. Shinsen is located in Kanazawa City, Ishikawa Prefecture. Since its opening in 2003, it has been enormously popular for its tonkotsu [pork-bone] ramen.

Born out of a fervent desire to create "the best ramen", even if it may have both pros and cons, which is better than something disliked by everyone, this ramen has received praise from many ramen aficionados for not being overly oily.

We tried the Tokusei Yamitsuki Noko Ramen (1,045 yen including tax) which roughly translates to "Specially Rich Ramen You Can't Get Enough of". This is a lavish dish consisting of thin, straight noodles and topped with seasoned egg, leek, laver, Chinese-style pickled bamboo shoots, and thick slices of chashu [roasted pork fillet].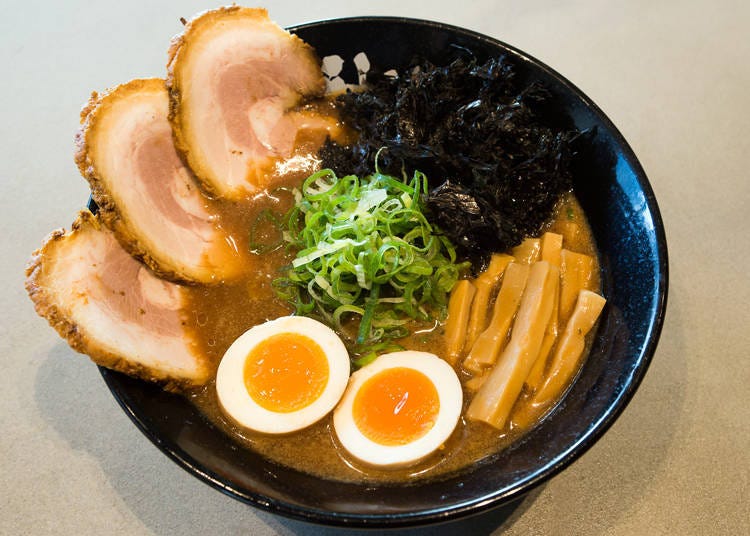 A unique feature of this ramen is that when you lift up the straight noodles you can see how well the thick soup combines with them. Without using any garlic or extra back fat, the soup achieves its rich flavor from the fat extract obtained from pork bones stewed over a high heat.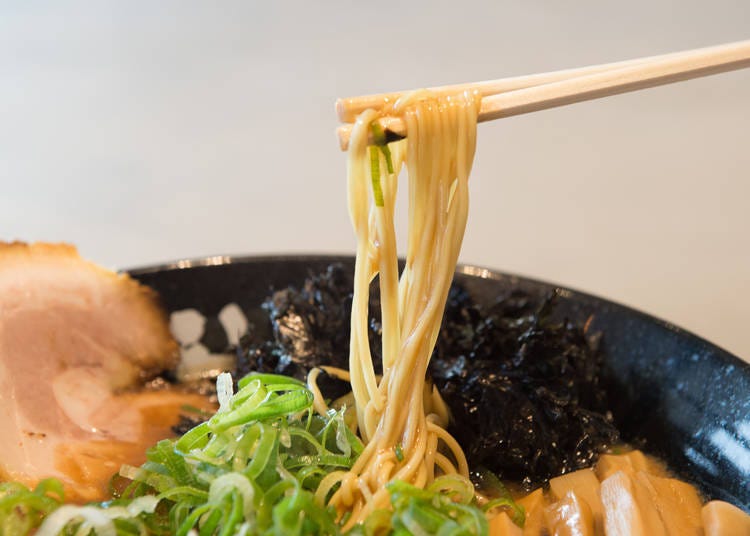 The ingredients that go into the ramen are also very carefully selected and prepared ensuring that their flavor is not overwhelmed by the soup and noodles but complements them.

Chashu simply seasoned to allow the full flavor of the meat to stand out, pleasingly crunchy menma, the aroma of the bounties of the sea conveyed by the laver, specially seasoned eggs that have a nice smoked flavor, and chopped leek to bring out all the flavors all combine to make this a fantastic dish. All the ingredients are perfectly matched to achieve a sublime harmony of flavors that are guaranteed to have you coming back for it time and again.

If you are looking for a straightforward "rich-flavored ramen" that fully delivers the flavor of pork bones, then you will find it here.

We highly recommend this shop where the key word is "innovation" embodied in this unique shop offering both Korean dessert and Kanazawa-style ramen!
SulbingCafe(ソルビンカフェ)×神仙

Address

Q Plaza Ikebukuro 2F, 1-30-3, Higashi Ikebukuro, Toshima City, Tokyo 170-0013

Nearest Station

Access: 5-minute walk from Ikebukuro Station service by each line


Phone Number

03-6709-0324

Hours: 11:00 a.m. ~ 11:00 p.m.
Closed: unscheduled
Experience the realistic world of Resident Evil in the scariest VR game ever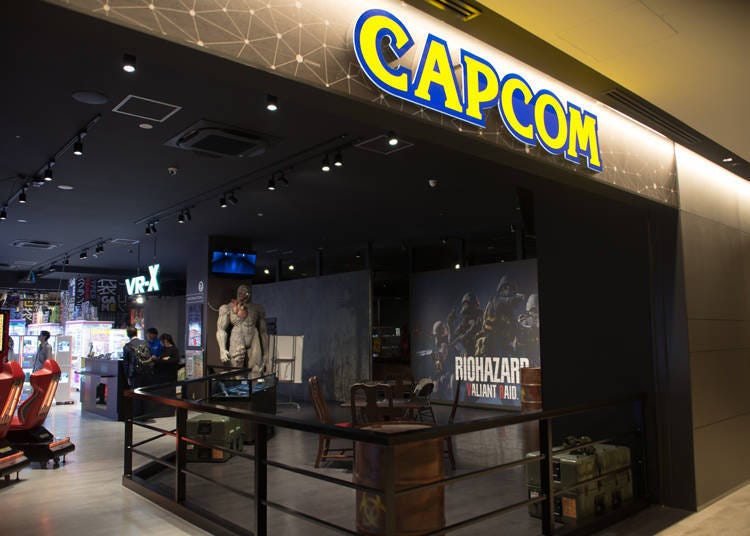 The next shop we recommend is the Plaza Capcom located on the third floor. This amusement center not only has claw games, music games, and print stickers, but in one area there is a Special VR Attraction, the only one of its kind in the world. It is the Resident Evil Valiant Raid. (In Japan, Resident Evil is called 'Biohazard.')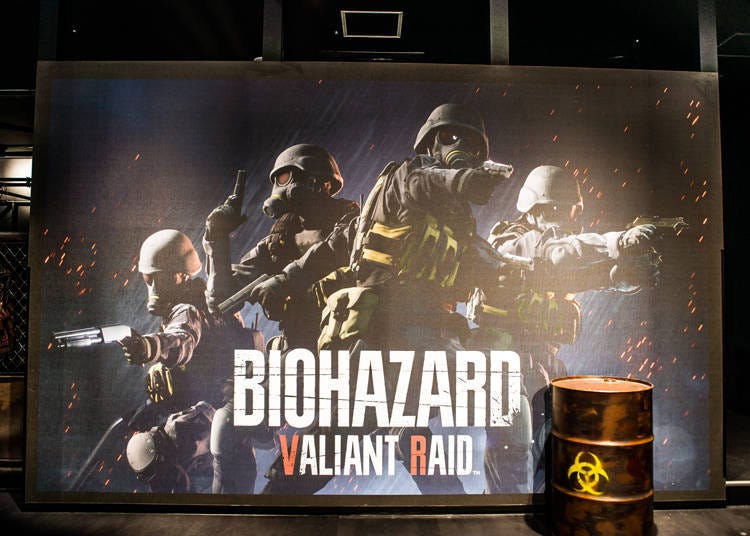 This is billed as "The Scariest Survival Horror Attraction in the World" that delivers by providing a realistic experience through the use of VR. For those who may be unfamiliar with Resident Evil series, it is a survival horror game in which the player tries to escape from a world overrun with zombies by defeating them with weapons and other items.

The first game of the series went on sale in 1996 and so far (as of Feb. 26, 2019) more than 90 million games have been sold in total making it one of the most popular long-running games in the world.

The first thing that catches your eye when you enter the attraction is the huge figure of Tyrant, a boss that appears in a VR game. This life-like figure more than three meters in size makes a powerful impression.
In the VR experience space, models of guns used in the feature are displayed in showcases. Seeing these heightens the excitement of imagining yourself as a commando in life-and-death struggles fighting zombies!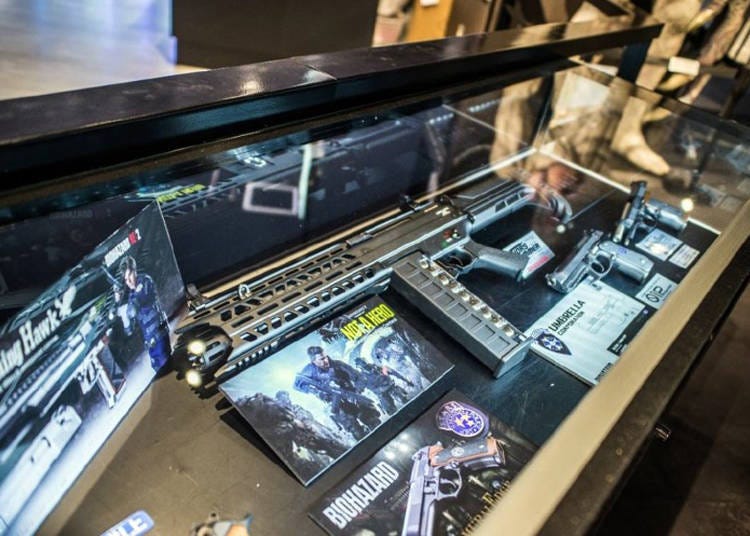 There are two types of Resident Evil VR attractions: the Normal Edition (2,200 yen including tax) and the DX Edition (2,500 yen including tax). In the case of the DX Edition, you play on a mat equipped with a vibration device that increases the sensations of reality and fear. Although intrigued by the DX Edition I opted to try the Normal Edition as this was my first experience.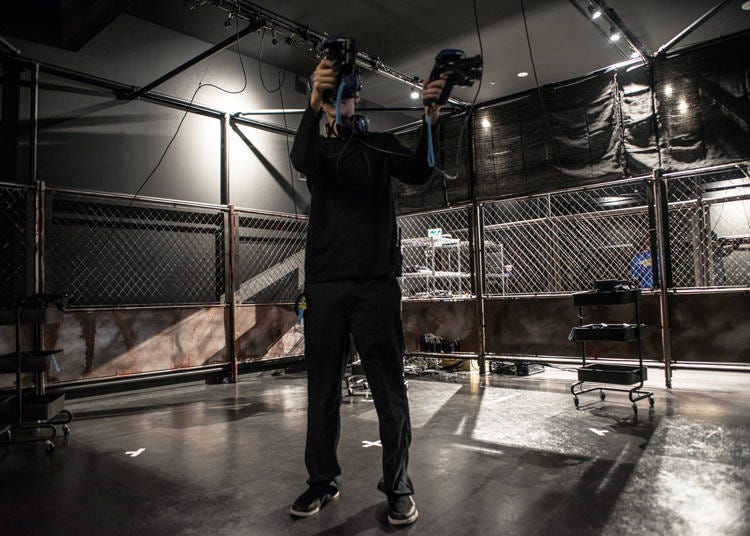 Once I put on the VR goggles and gripped the gun in both hands I was set to go!
The basic rules are quite simple. When zombies appear you just pull the trigger and shoot them down. When you run out of bullets, you can reload the gun by swinging both hands downward and if you want to change the type of gun, then you just swing both your hands upwards.

In addition to the basic handgun, there is also a high-powered shotgun and a machine gun. You need to know how to use the guns effectively, but that is very easy because there are only three basic actions: shoot, lower both hands, and raise both hands.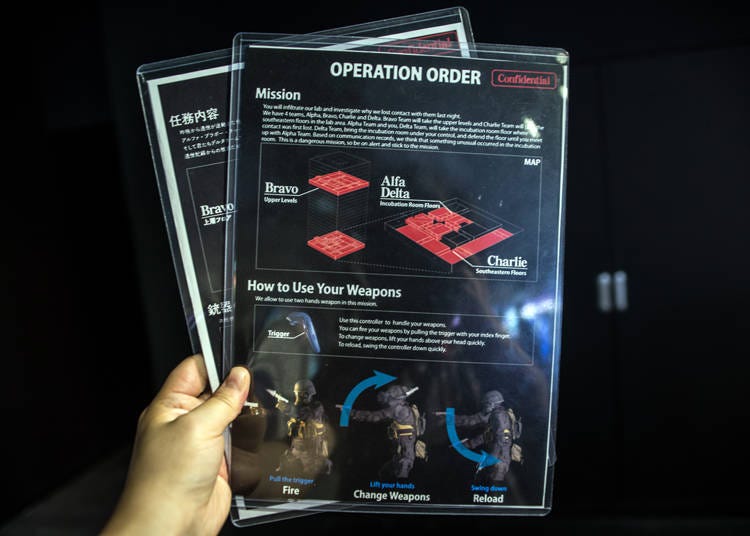 I had played the Resident Evil game before, but honestly speaking, it was nowhere as scary as this! Being a VR attraction, the appearance of zombies just before you takes the reality to a whole new level.

Over and over again I strongly felt the sickening feeling of being chased by grotesque zombies and narrowly being able to escape them with my life. This is a horror attraction that is even scarier than the best haunted house attractions.

It seems that since the release of this attraction in July 2019 only a few groups have managed to clear it (as of Tuesday, October 1, 2019). Anywhere from 1 to 4 people can play at the same time, but if you are aiming to clear the game, then it's best to try doing it as a team of 4! I think foreign visitors would really get a kick out of this attraction!

*Also, from October 26, 2019 (Saturday), you will be able to enter the world of "Resident Evil 7" using VR and explore a house full of terror with up to four friends. RESIDENT EVIL WALK THROUGH THE FEAR is also scheduled to start then. You definitely should stop by here when you visit.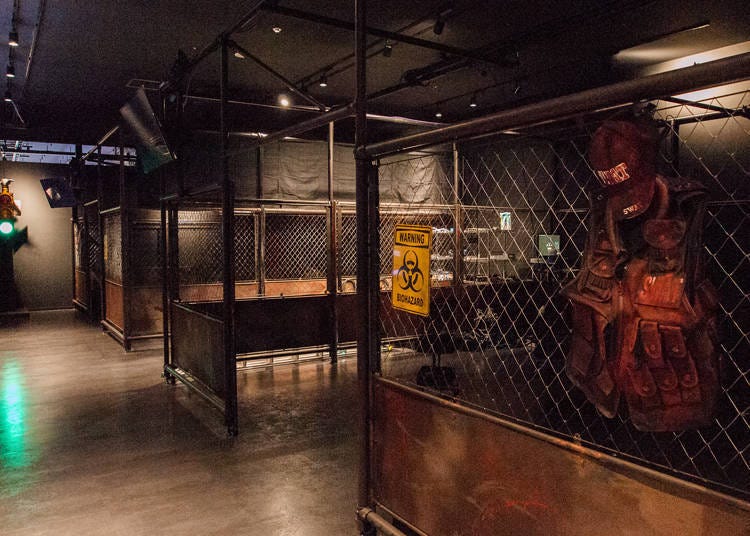 Plaza Capcom Ikebukuro shop

プラサカプコン池袋店

Address

Q Plaza Ikebukuro 3F, 1-30-3, Higashi Ikebukuro, Toshima City, Tokyo 170-0013

Nearest Station

5-minute walk from Ikebukuro Station serviced by each line


Phone Number

03-5904-9105

Hours: 10:00 a.m. ~ 11:45 p.m. (VR-X Corner closes at 11:00 p.m.)
Closed: always open
Enjoy Edomae Sushi prepared by skilled chefs at a reasonable price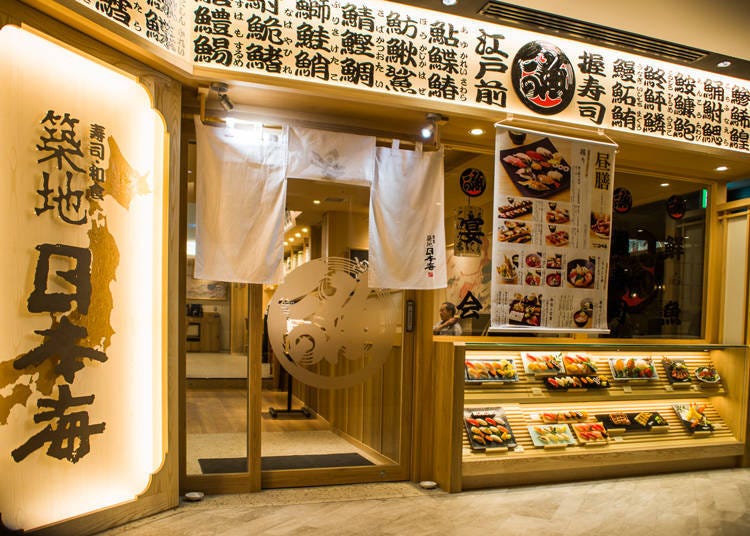 The last spot we would like to introduce is Sushi Tsukiji Nihonkai This is a sushi and Japanese restaurant that offers reasonable Japanese-style dishes and Edo-style sushi using fresh seafood purchased from Toyosu Market and Choshi Fishing Port.

In addition to counter seats that enable you to watch the sushi chefs skillfully preparing the sushi, there is also table seating for your relaxed dining pleasure.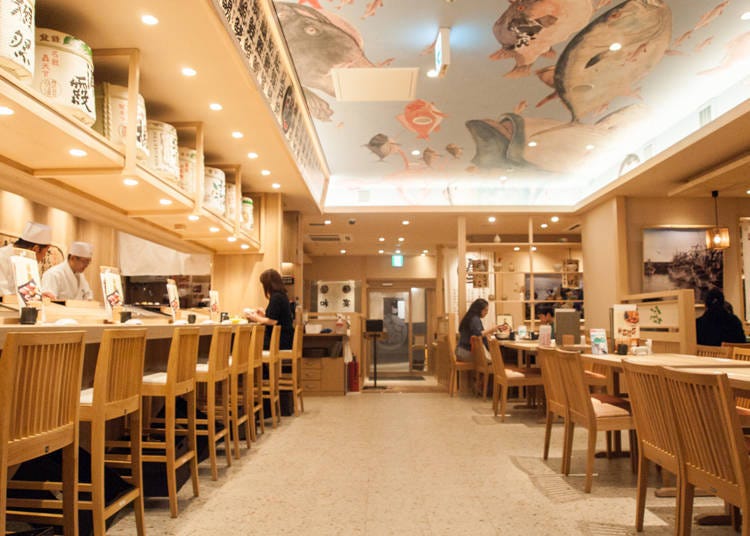 The ceiling is decorated with dynamic images of sea life and the interior is decorated with Japanese sake kegs that combine to give this beautiful interior a truly Japanese feel. These aesthetic touches add to the relaxed dining atmosphere.

The Manpuku Mori plate (2,398 yen including tax) is a perennial favorite. Every day the chefs go to the market to select the finest seafood and as the types offered vary from day to day, the neta [slices of fish or shellfish] served will also vary, though there are always such standards as tuna, squid, shrimp, egg roll, conger eel, salmon roe, salmon, and horse mackerel. 12 of these plus two types of sushi rolls are served on this plate.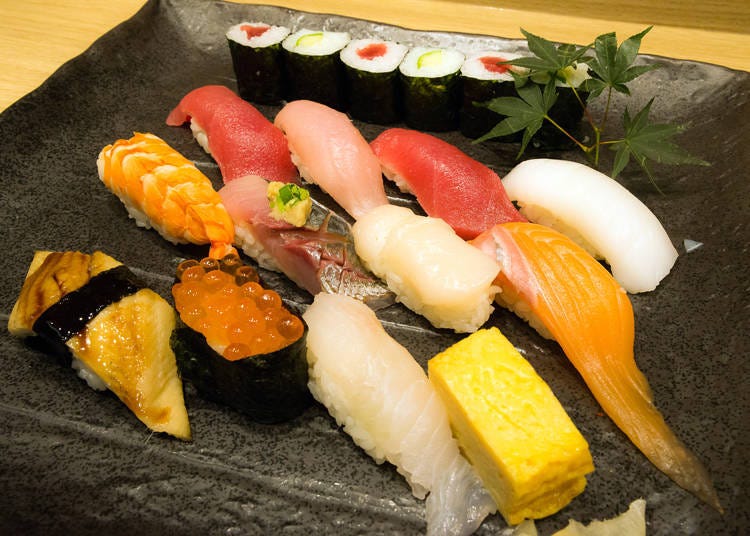 I thought the tuna and conger eel were especially delicious. The tuna had just the right amount of fat enabling its true flavor to come through.

The conger eel is grilled with salt giving it a plump texture. The sweet sauce on the eel perfectly matched the vinegar-flavored bed of rice on which it came!

Another dish I recommend is the Prawn Tempura (1,408 yen including tax). This consists of the finest prawns carefully selected at the fishing port cooked tempura style to a beautiful golden color. The prawns are plump with a hint of mellow sweetness evoking the aroma of the sea.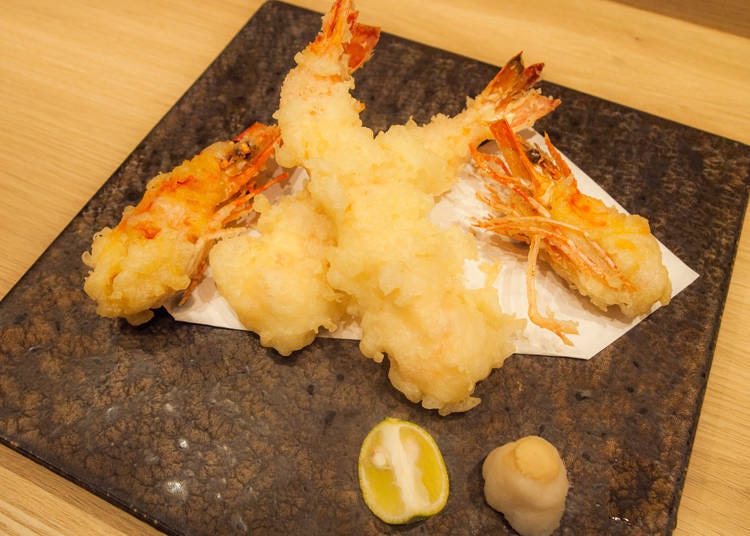 They are delicious whether dipped in the warm tempura sauce or squirted with a wedge of kabosu, a Japanese citrus, and then dipped in salt.

The chefs at Sushi Tsukiji Nihonkai take great pride in the skillful preparation of their dishes. The head chef, Mr. Daimon, had this to say.

"The delicate flavor characteristic of fish such as flounder and tilefish is enhanced with marinated kelp. Prawns are seasoned and then boiled before being firmed up with vinegar. Seasonal saury is broiled. These are extra lengths we go to in preparing the seafood ingredients we use in the sushi. Since these processes vary greatly depending on the condition of the ingredients and the season, they are not always repeated in the same way. We rely on many years of experience and intuition to ensure that we serve you sushi of the highest quality."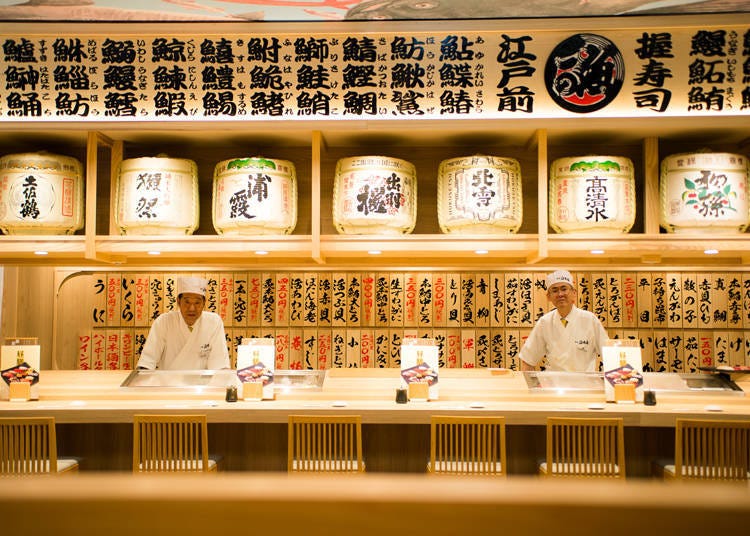 His explanation gives you a really good idea of the extraordinary passion that goes into the making of this Edomae. Moreover, there are recommended ways to eat sushi depending on the neta; salt is recommended for squid and white fish whereas nikiri shoyu [boiled soy sauce] is recommended for tuna. If you are a foreign tourist who wants to enjoy sushi in a recommended way of eating, just ask, "What is the best way to eat this?"

I ate at the counter when I visited and very much enjoyed the light conversation with the chefs. If you enjoy eating fine sushi prepared by master chefs, then you will definitely want to visit here.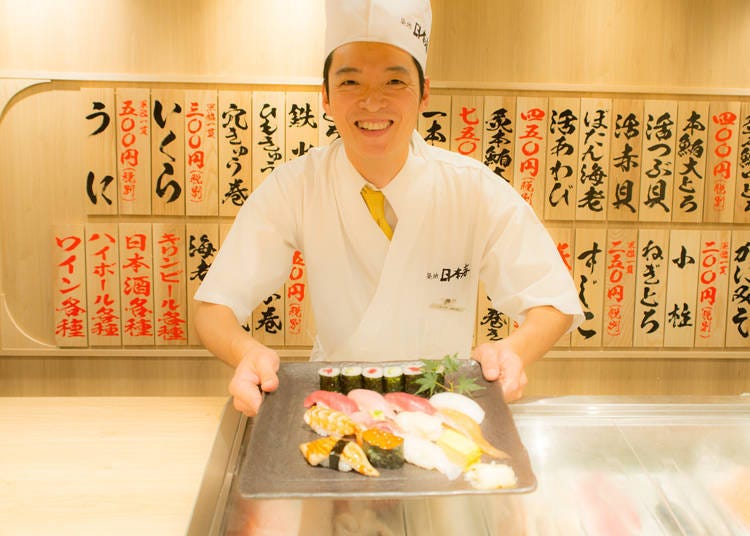 Sushi Tsukiji Nihonkai Q Plaza Ikebukuro shop

築地日本海 キュープラザ池袋店

Address

Q Plaza Ikebukuro B1F, 1-30-3, Higashi Ikebukuro, Toshima City, Tokyo 170-0013

Nearest Station

5-minute walk from Ikebukuro Station service by each line


Phone Number

03-6915-2641

Hours: 11:00 a.m. ~ 11:00 p.m.
Closed: always open
Q Plaza Ikebukuro not only has a fantastic cinema complex, but also has many other exciting spots that are certain to appeal to foreign visitors. In addition to the places introduced in this article, there are cafes, a convenience store, general store, and other dining facilities, too; 16 in total (as of October 2019). For those looking for lots of different places to explore in a single day, then this is the place to come!

Written by: Sayaka Narikawa, Dali Corporation
*This information is from the time of this article's publication.
*Prices and options mentioned are subject to change.
*Unless stated otherwise, all prices include tax.