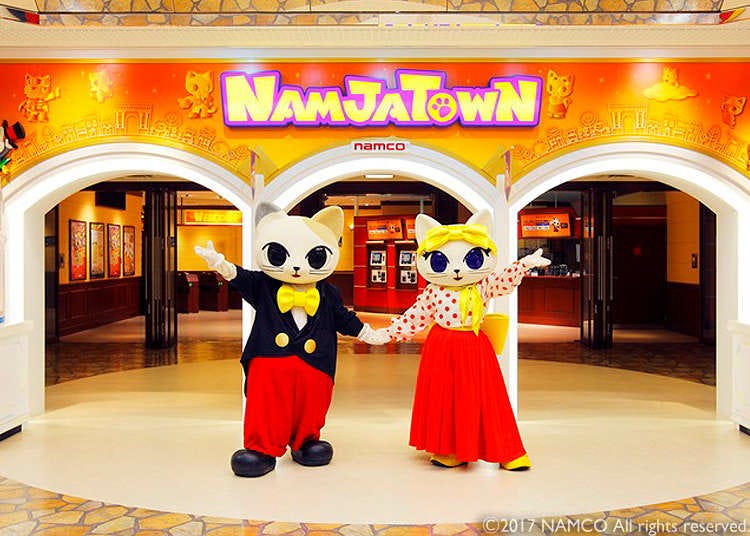 What could be better than eating delicious gyoza and loads of desserts all in one place? If it's a place run by a cat and surrounded by attractions! NAMJATOWN is an indoor theme park located inside Ikebukuro Sunshine City, an enormous complex that houses a shopping mall and other attractions such as a museum, an aquarium, and a planetarium. NAMJATOWN is on the second floor.

Between the exciting attractions, their famous gyoza (over 10 different styles!), and copious desserts (over 30 different flavors of ice cream), there's never a dull moment at NAMJATOWN. The park welcomes couples, families, and everyone else who wants to eat, play, or do both!
There are three towns within the park, each with its own theme and rides.

Pay your 500 yen entrance fee and go inside, where you will be greeted by a cat named Najavu. The cat will say, "Namjara!" meaning, "Welcome!" Don't be afraid, this cat is said to bring luck to you when you meet it. Make sure to go shake hands and take a picture with him!
Mononoke Unnumbered Plot: Enter If You Dare!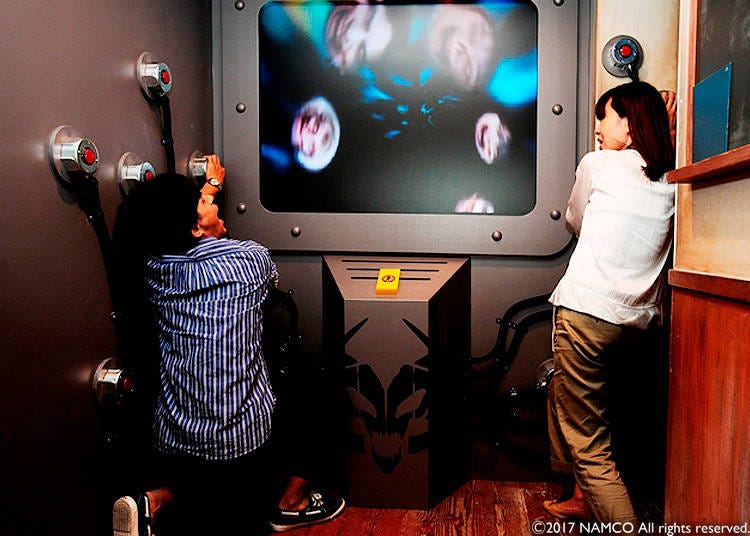 The first town we visited is called the "Mononoke Unnumbered Plot." The town is haunted by Mononoke (Japanese ghosts). Scary, right? The dark lights and ominous music keep your heart pumping fast. There are buttons throughout the town with frightening effects that will make your heart jump when you push them. There are also several thrilling rides, including the popular "Zombie Breaker" and the "Mononoke Detective Troop." Enter if you dare!
Dokkingham Plaza: Enter a Magical and Mysterious World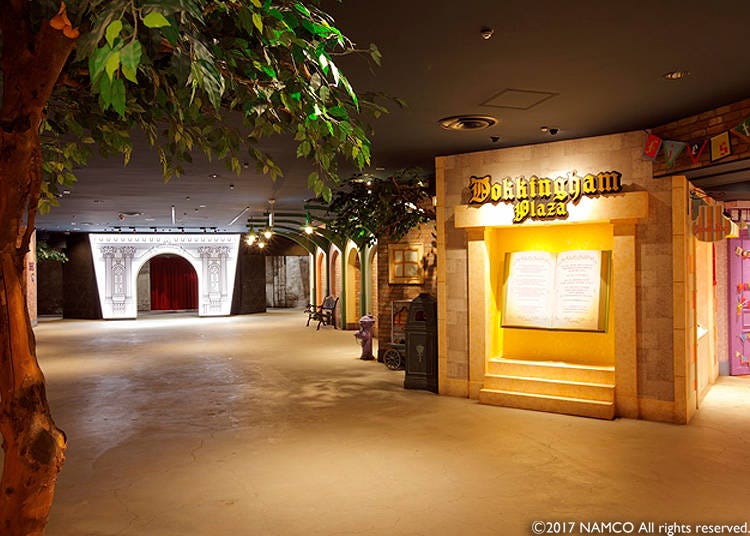 Dokkingham Plaza will make you will feel as if you have been placed inside a fantasy book. There are a lot of fun effects scattered throughout this town that you can play with. There are several rides, such as the "Mononoke Hunters" and "The Magical School's Magic Experience." On these rides, you can roam the area and hunt for Mononoke or fight an evil dragon with your own magic!
Fukubukuro 7-Chome Shopping Street: A Trip to the Past!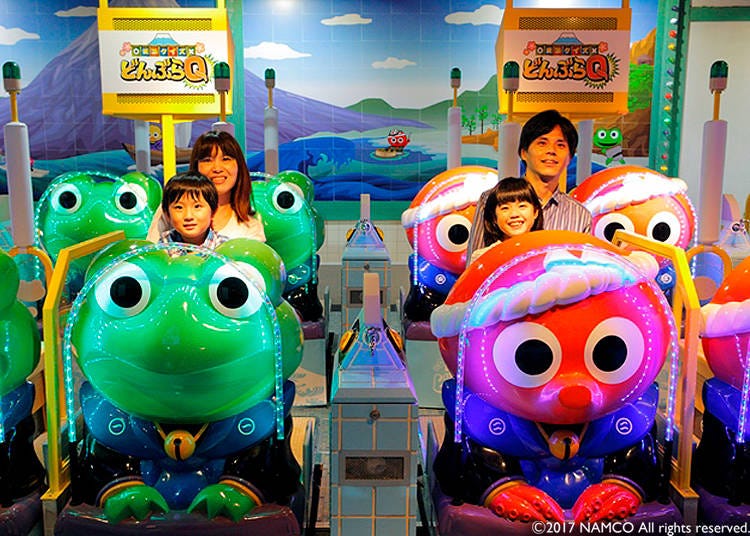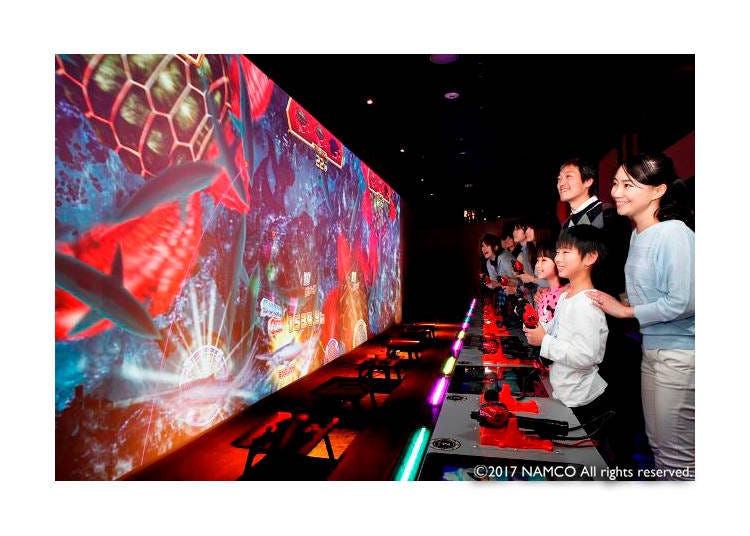 Fukubukuro 7-Chome Shopping Street is a recreation of a traditional small town during the Showa period of Japan. The buildings are made of wood, and walking through the town feels like you have traveled back in time. There is also a room with an old TV, a low table, and tatami to rest on. The rides in this part of NAMJATOWN include the park's most popular "Najavu's Intense Fishing Spirits" game. At this fishing-themed attraction, you compete against other people to catch the biggest fish. Another popular attraction is the "Donbura Q Bath House Quiz Challenge," which is a friendly trivia game against other contestants.
Namja Gyoza Stadium – All of Japan's Gyoza in One Place!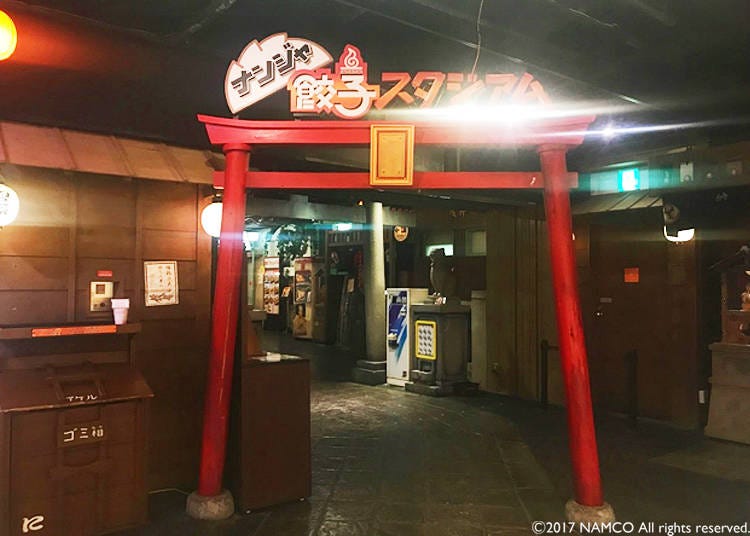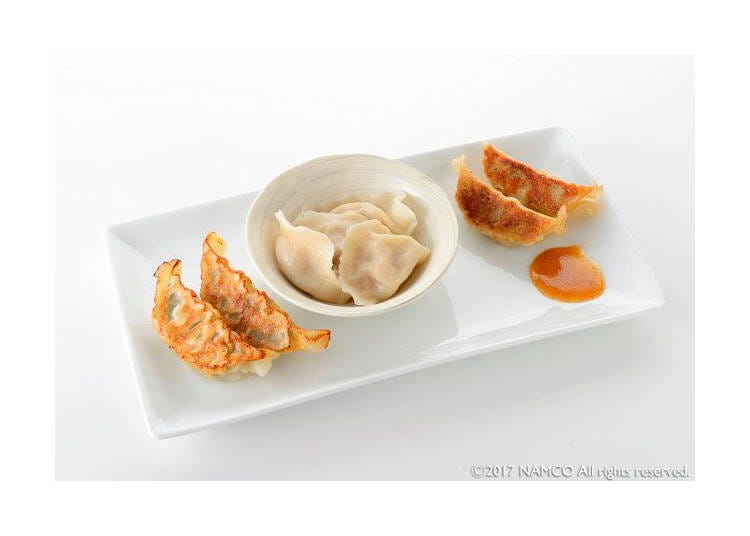 This theme park isn't just famous for its rides! NAMJATOWN is also known for their Gyoza Stadium, and some people come to the park just to try many varieties of dumplings they have to offer. There are eight restaurant counters to choose from, and each sells a different type of gyoza.

There are many unique flavors and styles of gyoza, from gyoza plates different ingredients inside each, to gyoza of different shapes, such as round or wing-shaped styles. By visiting Namja Gyoza Stadium, you can try gyoza from prefectures throughout Japan!
Fukubukuro Dessert Yokocho: Ice Cream for Everybody!
If you feel like you are lacking energy, come to this part of town to re-energize with some sugary sweets! Fukubukuro Dessert Yokocho hosts a variety of dessert shops, including favorites such as pancakes, crepes, and gelato. The crepe shop features cute designs with various characters from NAMJATOWN peeping out at the top of your crepe. At the ice cream shop, you can see over 30 flavors that come from Japan's different prefectures. You can choose up to six different flavors for 720 yen! There are so many delicious options in this town, you will have to come back again to try everything they offer!

Between exciting rides and games, delicious gyoza, and sweet desserts, NAMJATOWN makes for a great afternoon outing with your friends or family!
Address

The second floor of the sunshine city world import Mart Building, 3, Higashiikebukuro, Toshima-ku, Tokyo, 170-0013
View Map

Nearest Station

Higashi-Ikebukuro Station (Tokyo Metro Yurakucho Line)
3 minutes on foot


Phone Number

03-5950-0765
*This information is from the time of this article's publication.
*Prices and options mentioned are subject to change.
*Unless stated otherwise, all prices include tax.