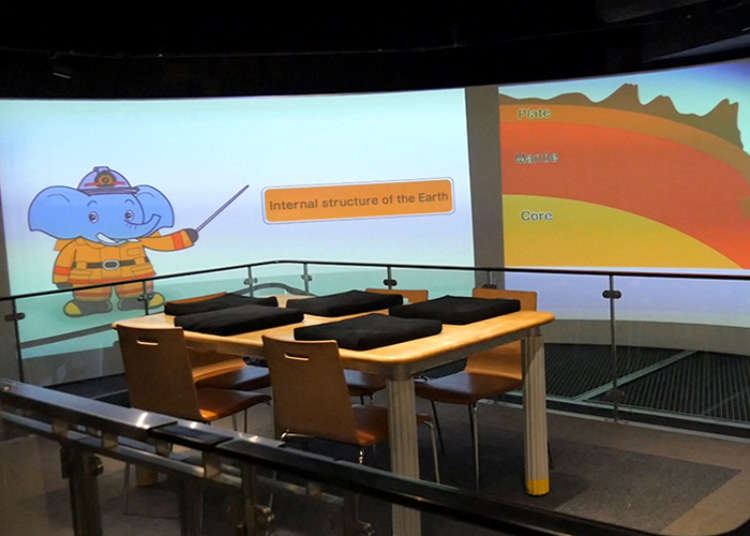 Japan is known for a lot of things. From its rich traditional culture like ukiyo-e and kabuki, the tea ceremony and colorful kimono to modern-day sushi creations and internationally successful anime, the Land of the Rising Sun has much and more to offer. Another thing that Japan keeps making headlines with in newspapers all over the world, however, is natural catastrophes.
A nation that is regularly shaken by smaller and larger tremors and sometimes even hit by tsunamis, being prepared and aware is key to not only dealing with disasters but also to overcome them. Japan, however, also has a reputation as a very modern and tech-savvy society – as such, it comes to no surprise that the ways of disaster preparation and prevention are as entertaining as they are modern and effective.
A Look at Japan and its Tremors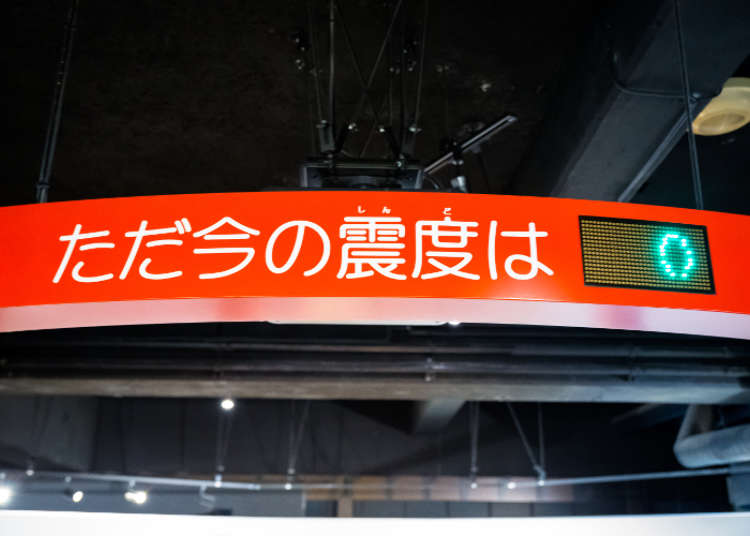 According to the Japanese Meteorological Agency, around 5,000 tremors occur throughout Japan each year, 3,800 of those between Magnitude 3.0 and 3.9. The majority of them are so small that people can barely feel them. From time to time, however, there's a bigger one, a quake that shakes buildings as well as people but hardly causes any damage. And once in a while, a Great Earthquake occurs, one that rocks the ground so violently that buildings collapse, roads crack, and tsunamis may be triggered.
The latest one was the 2016 Kumamoto Earthquakes but the most notorious one of the last decade and actually the strongest quake that Japan has ever experienced was the 2011 Tōhoku Earthquake which didn't only trigger a devastating tsunami but also a major nuclear crisis in the tsunami-damaged Fukushima Daiichi Nuclear Power Plant.
Faults and Plates: The Nature of Earthquakes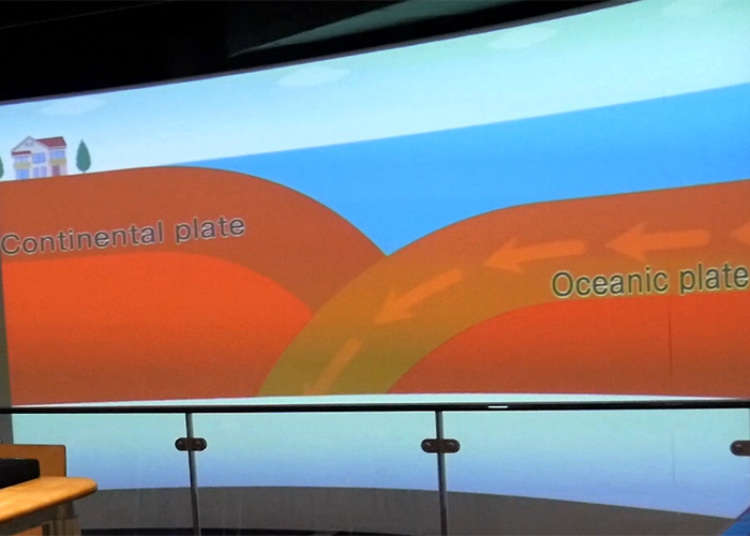 Why is Japan so prone to tremors? The answer to this question lies in the very nature of the country's geography.
The islands of Japan are situated on four different tectonic plates which is also the reason why the country has so many volcanoes. These plates rest on the liquid outer mantle called asthenosphere. The plates riding on this layer, however, aren't static but in constant movement. An earthquake isn't simply two plates colliding with each other either. Instead, one plate is being pushed underneath the other, causing the upper plate's edge to bend inwards.
Friction keeps the edges in place – for a while. Once the stress gets too big, the friction cannot withstand it anymore and, expressed in layman's terms, the edge of the plate snaps back and the built up energy is released in shockwaves that we know as earthquakes. This constant stress may also cause a fracture in the plate known as a fault. In this case, the epicenter of the earthquake is not the colliding plates but these very cracks, so to speak.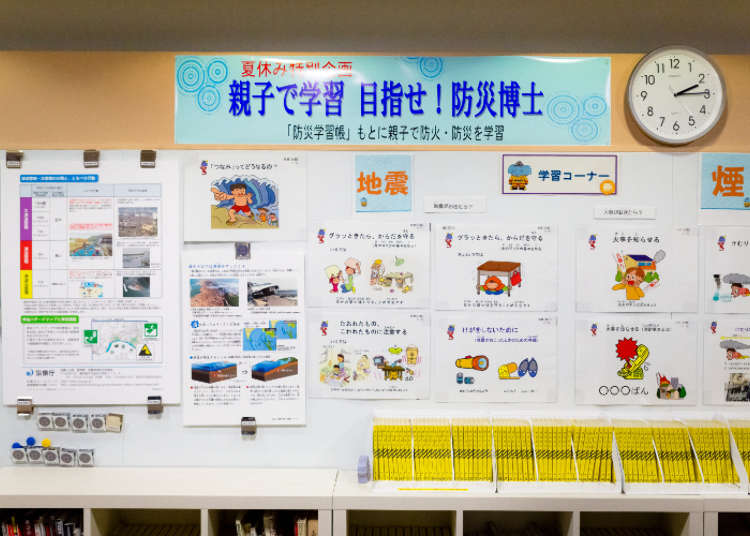 With four plates meeting, it is hardly surprising that Japan experiences this big number of yearly tremors. Throughout history, the country has also been hit by various strong earthquakes with a magnitude of 7.0 or higher, the strongest one in the country's recorded history is as young as 2011. Another devastating example is the 1923 Great Kantō earthquake that struck just south of Tokyo Bay, laying not only the Japanese capital to waste but almost the entire Kantō region. The tremors were so infamously strong, they managed to move the around 90 ton heavy Great Buddha of Kamakura over half a meter.
Japan has learned how to live with earthquakes, being aware of the danger they pose while making continuous efforts to be prepared and educated on how to prevent damage and handle a crisis. The Life Safety Learning Center of the Tokyo Fire Department, also called Bosaikan in Japanese, plays an important role in this process. Free of admission, the institution offers a free-of-charge experience of various disaster scenarios, from magnitude 9.0 earthquakes to fires, rainstorms, and smoke-filled rooms, as well as first-aid training for various situations. A prior reservation is required to participate in the various experiences, available at the Bosaikan's official homepage in both English and Japanese.
Know Thine Earthquake: How to Act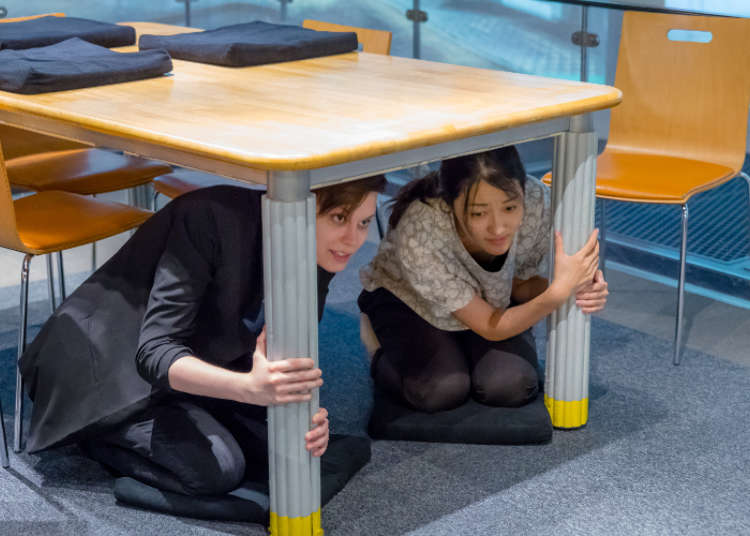 While all of the trainings and experiences at the Bosaikan are worth doing, the earthquake simulator is particularly recommended for non-Japanese people who did not grow up with regular drills. Oftentimes, expats and international tourists, especially those from countries that simply do not experience any earthquakes, find themselves rather overwhelmed when faced with an actual tremor. A lot of misconceptions about what to do and how to react have made their way into the consciousness of many, such as standing underneath a doorway – in fact, doorways are just as likely (or unlikely) to collapse as any other wall.

The rules to follow when the ground starts to shake aren't complicated at all. As hard as it may sound, staying calm is key. Dropping to the floor and covering your head comes next. If possible, try to kneel underneath a table or a similar cover but don't go out of your way to reach it, as you might be knocked over by a jolt or hit by a falling object. Try to stay away from windows, bookshelves, or similar things that might break or topple. In these modern times, buildings are designed to withstand even strong earthquakes, built to absorb the jolting and shaking of the ground. This is why the most damage and injuries caused isn't by collapsing buildings but rather by falling furniture and breaking windows. Even if a building might ultimately collapse during an earthquake, the safest thing to do is not to run outside but instead stay put under a table – it is one of the most reliable shelters during quakes.
Braced for Every Kind of Catastrophe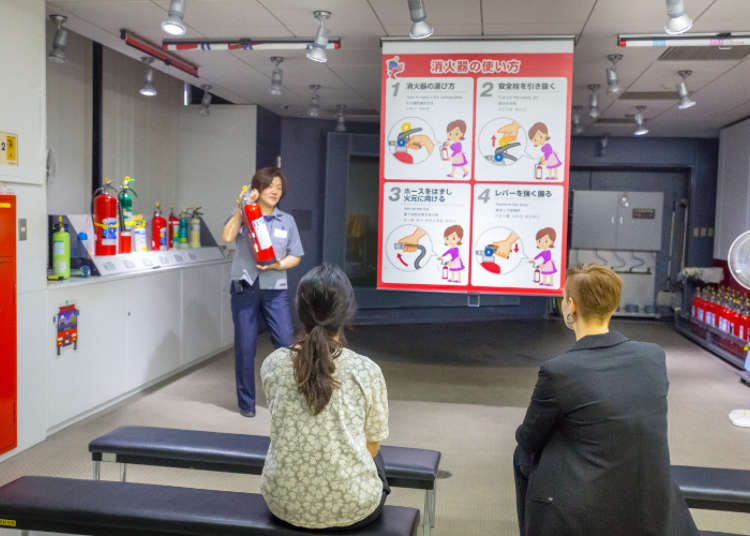 Illustrated with videos, images, and multilingual flyers, the Life Safety Learning Center takes great care to educate each and every person about the correct behavior before, during, and after a disaster in a fun and easy-to-understand way. Besides the earthquake simulator which offers a safe and in-depth opportunity to understand the nature of these natural disasters and how to react to them appropriately, first aid and rescue training, fire and smoke drills, and even unique scenarios such as heavy rainstorms can be practiced at the four different locations throughout Tokyo. Every single location is free of charge, offering different kinds of tours and experiences to be guided through by the staff.
Not knowing what to expect and what to do are huge factors in creating fear – and fear usually clouds one's thoughts, especially in situations when keeping a cool head is particularly important. As such, the Life Safety Learning Center and its various courses, experiences, and information materials is the perfect place to get rid of the fear of the unknown – so why not try it for yourself?
Ikebukuro Life Safety Learning Center

池袋都民防災教育センター(池袋防災館)

Address

2 Chome-37-8 Nishiikebukuro Toshima-ku, Tōkyō-to 171-0021
*This information is from the time of this article's publication.
*Prices and options mentioned are subject to change.
*Unless stated otherwise, all prices include tax.