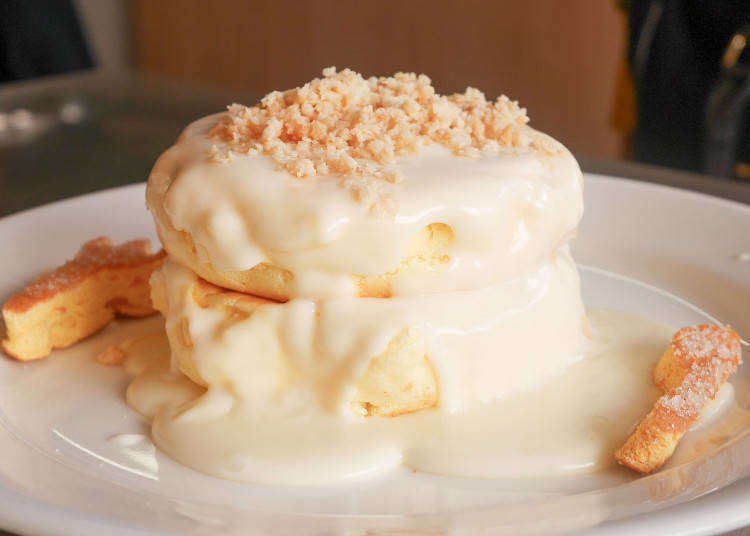 If there's one universal truth, it's that everybody loves pancakes. That's why every country and culture has its very own version of the delicious dish – sometimes sweet, sometimes savory, fluffy and thick or crispy and thin. Japan, known for its sweet tooth, is no exception to this rule. Actually, the world of Japanese pancakes brings forth new and tasty creations year by year, with numerous pancake specialty stores all over Japan and Tokyo ready to satisfy any pancake craving, no matter the season!
Japan has undergone a real pancake boom, initially triggered by breakfast and brunch specialty stores. Now, however, pancakes are an integral part of the menu of all sorts of Japanese cafés and restaurants, incorporating the unique tastes and characteristics of the different chefs. While some places win our hearts with their amazingly tasty varieties, others draw us in with their exceptionally beautiful pancakes, so photogenic that it's hard to take the first bite.
Among this colorful pancake variety, one certain characteristic has stood out and is now known as the "Japanese style:" fluffiness. Especially the trendy area of Harajuku and Omotesando has become a hot spot for anyone wanting to try authentic Japanese pancakes! Whether you like it with thick macadamia sauce or matcha powder and azuki beans, we know just where to go.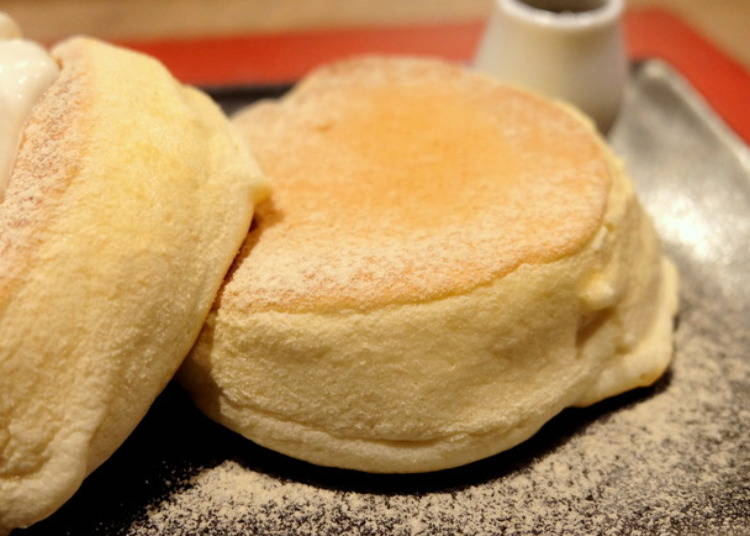 Rainbow Pancake: a Store So Good, It's Become Synonymous with "Pancakes in Harajuku"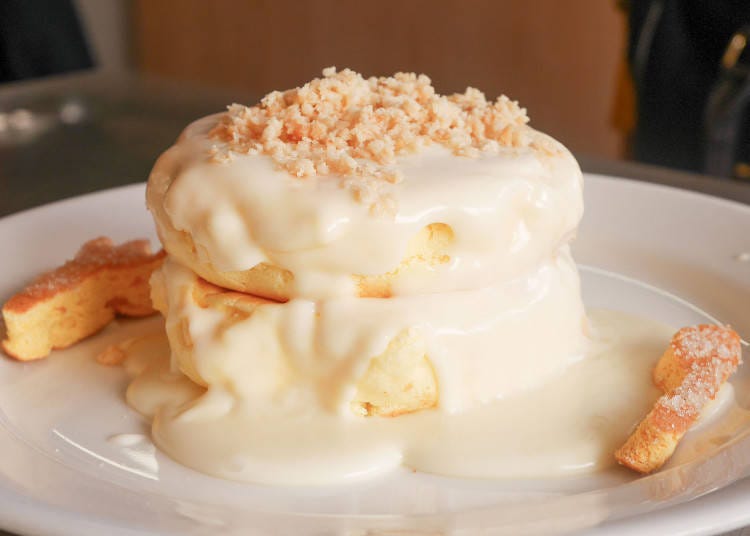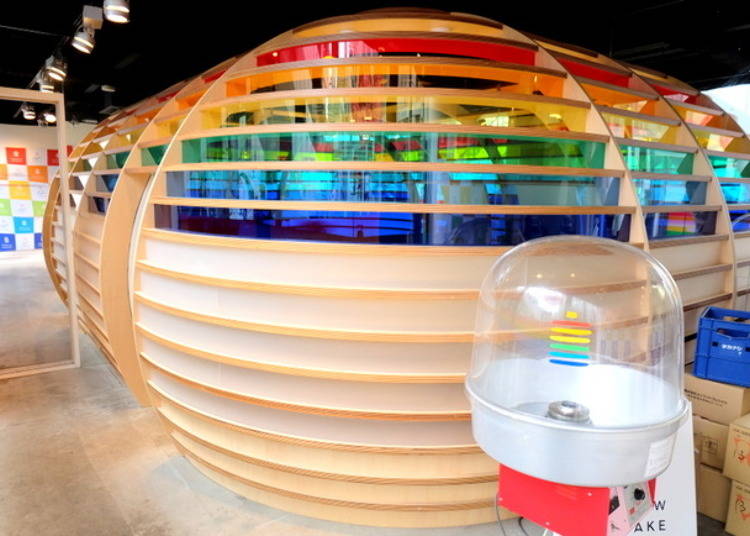 Among Harajuku's numerous pancake specialty stores, one is continuously popular and a real must-visit: Rainbow Pancake. The pancakes you can enjoy at this legendary eatery are the epitome of thick and fluffy, with a slightly harder, fragrant crust and a heavenly soft core that makes you feel like you're biting into a cloud.
Rainbow Pancake's most popular creation is the macadamia sauce pancake. The creamy sauce isn't as sweet as you might imagine and carries a wonderfully deep macadamia flavor, going excellently well with the moist, fluffy dough. It's a real match made in heaven. The only downside: due to its popularity, expect long queues at Rainbow Pancake. However, especially if you plan on visiting in a larger group or with children, the place offers a space that can be rented for an extra fee via telephone reservation.
Either way, if you are exploring Harajuku's famous Takeshita Dori and crave some pancakes, make sure to stop by – it's not far!
レインボーパンケーキ

Address

ARES GARDEN OMOTESANDO 2F, 4-28-4 Jingumae, Shibuya-ku, Tokyo-to 150-0001
Micasadeco & Café: a Pancake Tower with Ricotta!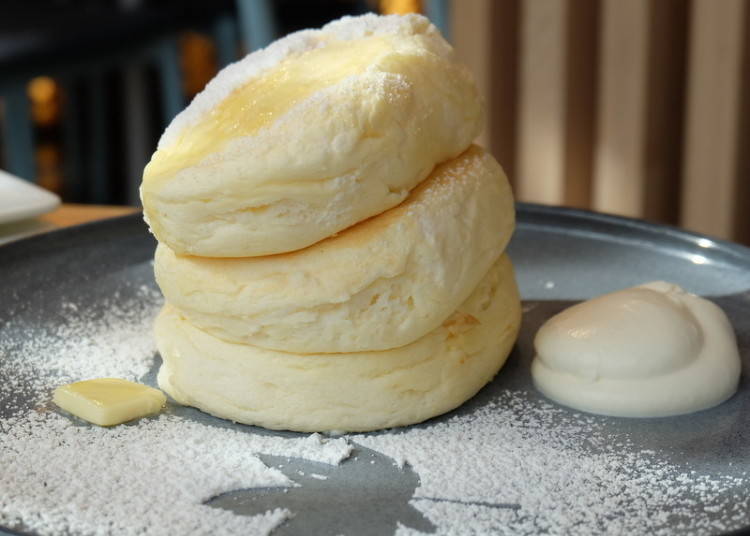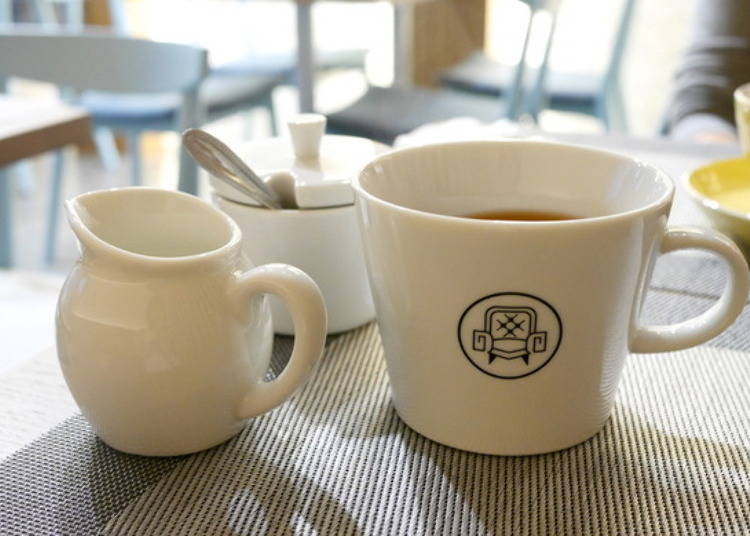 Micasadeco & Café is an immensely popular café originating from Osaka. Now, this famous hot spot can also be found in Harajuku's Cat Street. The pancakes served here have various grades of fluffiness, so to say, depending on what dish you order. What you should definitely try first, however, are the "Fluffy Ricotta Pancakes" – a pancake tower that'll make your mouth water. Three incredibly fluffy pancakes are served stacked on top of each other, and as soon as you enjoy the first bite, the wonderfully milky flavor will immediately captivate you! This flavorful dough doesn't need much more than a bit of butter, maple syrup, and fresh cream as toppings. Other than pancakes, Micasadeco & Café also offers many other dishes on their menu, so it's definitely a great spot to have lunch at as well.
MICASADECO&café 神宮前

Address

HOLON3 3F, 6-16-5 Jingumae, Shibuya-ku, Tokyo-to 150-0001
Riz Labo Kitchen: Pancakes Meet Traditional Japan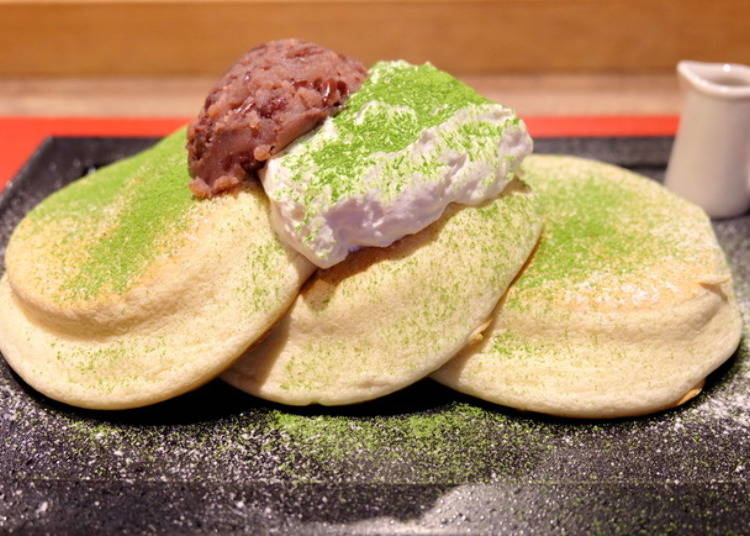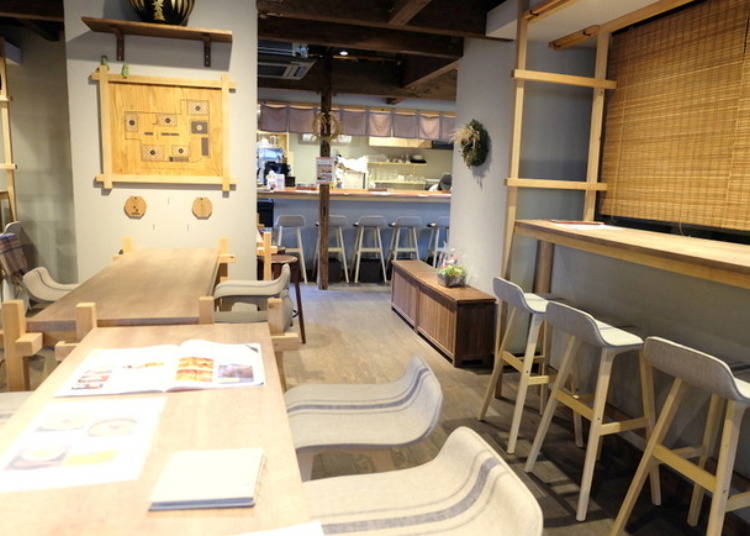 Riz Labo Kitchen is a fairly new favorite of ours that opened in December 2016 in trendy Omotesando. One of the characteristics of Riz Labo Kitchen's pancakes is that they are made from 100% rice flour instead of wheat flour. The recipe for these pancakes has been developed by a rice flour specialist, hence look forward to a treat that isn't just delicious but also a lot healthier than regular pancakes!
You'll also get the chance of getting a wonderfully Japanese experience. Not only does Omotesando Garden, where Riz Labo Kitchen is located at, emit the calm and peace of a real Japanese garden, but there's also one dish that tastes like traditional Japan. The "Matcha Pancakes" are our warmest recommendation. This amazing treat is made with azuki beans and fresh cream from Hokkaido and topped with flavorful matcha powder, to combine some of Japan's favorite tastes. Dig in!
Riz Labo Kitchen

Address

Omotesando Garden 1F, 4-15-2 Jingumae, Shibuya-ku, Tokyo-to 150-0001
Harajuku and Omotesando are two of Tokyo's prime shopping spots, especially for younger folk and those looking for something extraordinary. There's hardly anything better than fancying up your shopping and sightseeing trip to the area with amazing Japanese-style pancakes, so fluffy you'll feel like you're eating a cloud of deliciousness!
As all of the cafés are fairly popular, we highly recommend to visit them during the week – but not visiting them at all is not an option!
*This information is from the time of this article's publication.
*Prices and options mentioned are subject to change.
*Unless stated otherwise, all prices include tax.