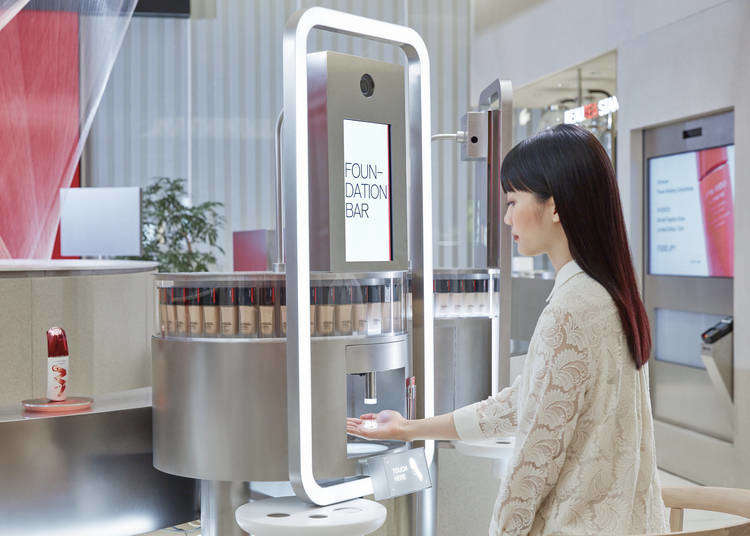 In July 2020, the prestigious beauty brand Shiseido opened its first flagship store in Ginza! A store that provides the experience of the newest technology coupled with the human touch, Shiseido Global Flagship Store offers various novelties and treats that will excite visitors. It is also equipped to prevent the spread of Covid-19.

Here, we'll be giving you a complete guide to the Shiseido Global Flagship Store, and introducing you to the store's crowd-pullers! From recommended exclusive items to the kinds of products you can buy, we'll talk you through all of them.
A beauty store designed in the image of a Japanese Garden
The store's concept is "Japanese Digital Garden." With the motif of a Japanese garden, the shop uses materials, the sounds of water, and pulsing lights, for a distinctly Japanese style interior design.

The store stretches from the basement first floor to the second floor. Each floor has a different concept to cater to the visitors on each floor. Let's take a look for ourselves what each floor is like in detail!
First floor: Find the products you like with testers to try out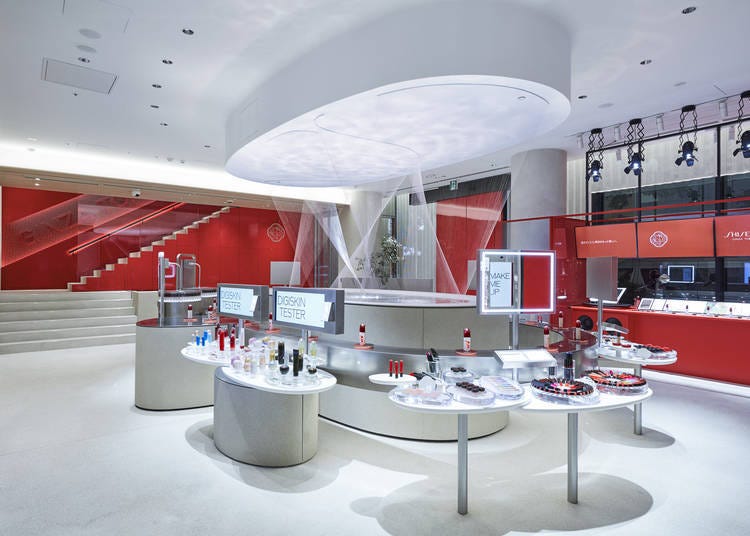 The concept of the first floor is "beauty and play."

At the "Make Me Up" area, you can find digital testers help you compare products and even simulators that allow you to snap a photo of your own face and see what you look like when using different products. Experience and enjoy the latest technology available, and enjoy your time shopping.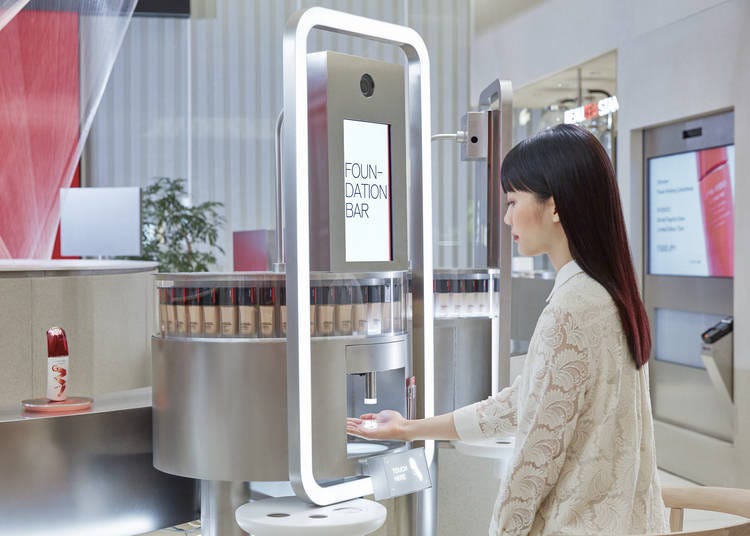 By just taking a photo, you can virtually try out 30 different foundation colors and find the one that suits you best at the "Foundation Bar." It's not just for the Japanese, but people of any skin color can find the foundation that suits their skin color here.
Second floor: Bring out your beauty with a professional's touch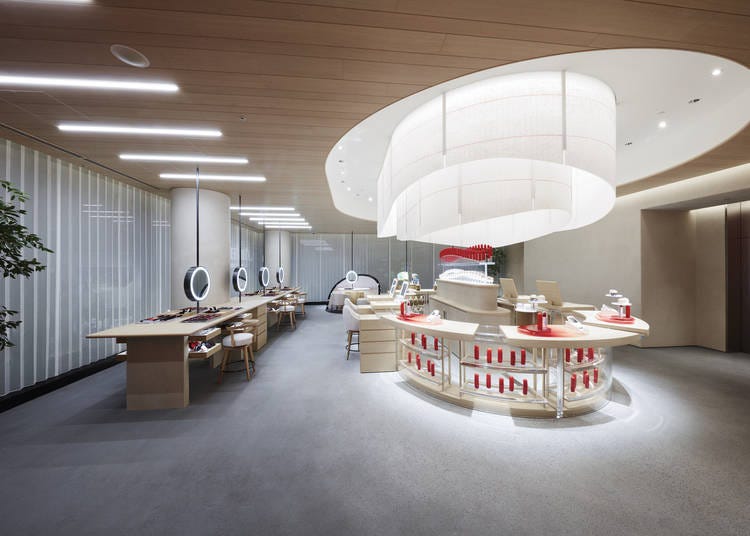 The concept on the second floor is "Bringing out beauty." Here you can have direct and indirect skincare and makeup lessons.

The main aim is to use an app and access the online skincare and makeup lessons. Both do not require reservations, and are free of charge.

The skincare lesson is a video that explains skincare to you in detail, plus the exercises to do to get the expected results, and recipes for recommended foods. For the makeup lesson, one huge plus is that you can take a video of yourself while having the course, and review it when you're at home.

It's a floor where you can experience the uniqueness of the Shiseido Global Flagship Store beyond just a single visit.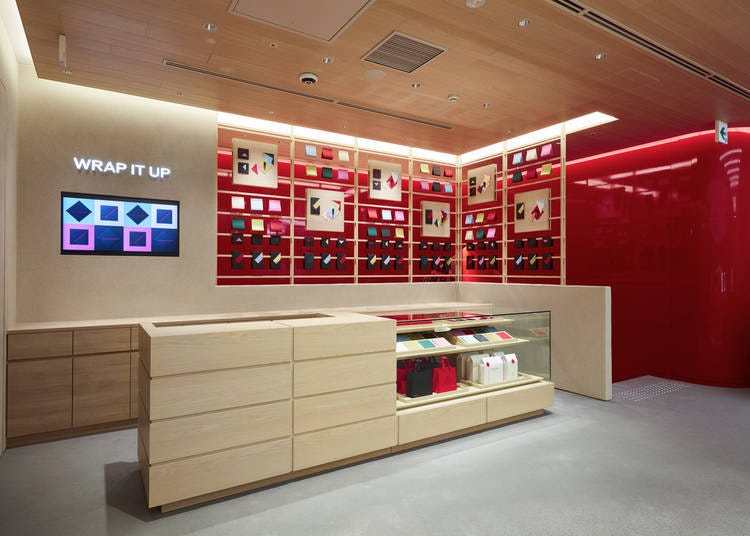 The second floor also has free original wrapping and engraving services. The wrapping paper features the images of origami and mizuhiki ribbon, and be it as something for yourself or as a present or souvenir, you'll definitely be delighted!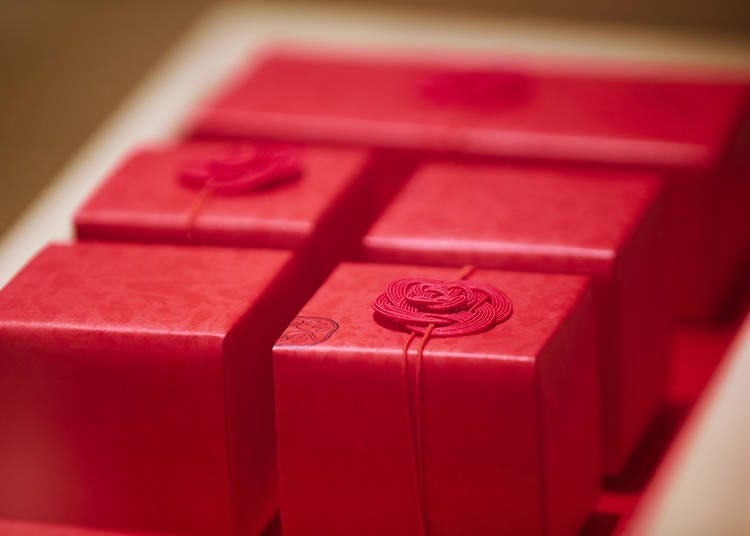 The engraving services allow you to engrave a mark of your choice and is an option only available at the flagship store. If you're there, do make use of the service!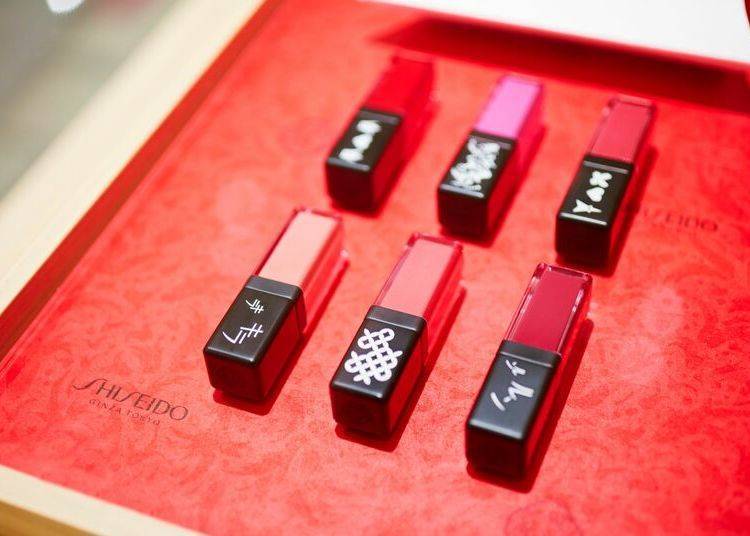 Engraving services are only available for some products
First basement floor: A space to reset and rest your heart and body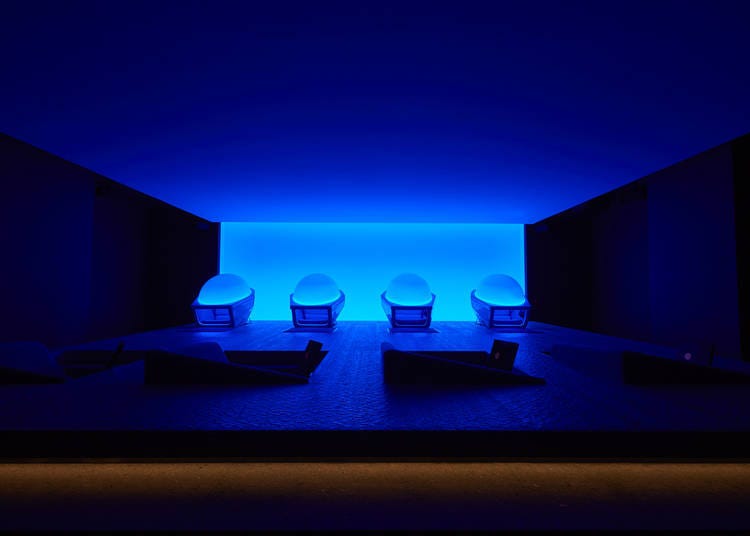 The concept for the basement first floor is "Awakening beauty." While the first and second floors focus on honing beauty from the outside, the basement first floor was created for refining beauty from within. Here, you can try out the Somadome, Japan's first prototype meditation capsule.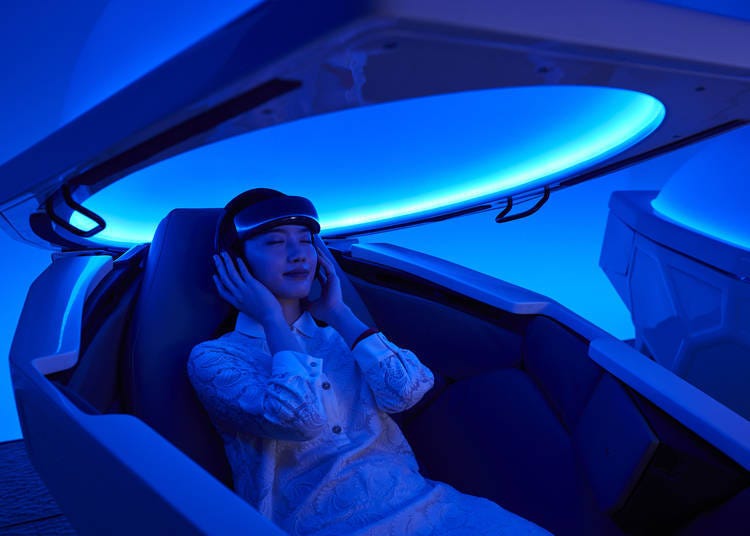 Once you enter the capsule, you can experience a variety of sounds, lights, aromas, and temperatures, according to the audio guide. In this zone, disconnected from everyday life stresses, why not take a moment to rest yourself?

The audio guide is available in Japanese, English, and Chinese.

*Reservations needed, approximately 30 minutes, 4,000 yen (without tax)
Use the Sconnect wristband for a smoother shopping experience
At the Shiseido Global Flagship Store, in place of a cart, the Sconnect wristband is used, and it can record the results of your experiences too. Record the items you want to buy in the Sconnect wristband, and you can collect your buys directly from the cash register, allowing you to enjoy a hands-free shopping experience.

The Sconnect is available in three languages, Japanese, English, and Chinese. When doing product searches and trying testers in the shop, the information will be shown in the language which you selected. As foreign visitors can use it with ease too, it's a beautifully convenient point.
Introducing 6 recommended Shiseido products!
From limited products to ones with engraving services available, we'll be introducing recommended items from the Shiseido Global Flagship Store!

1. Ultimune: A store-exclusive item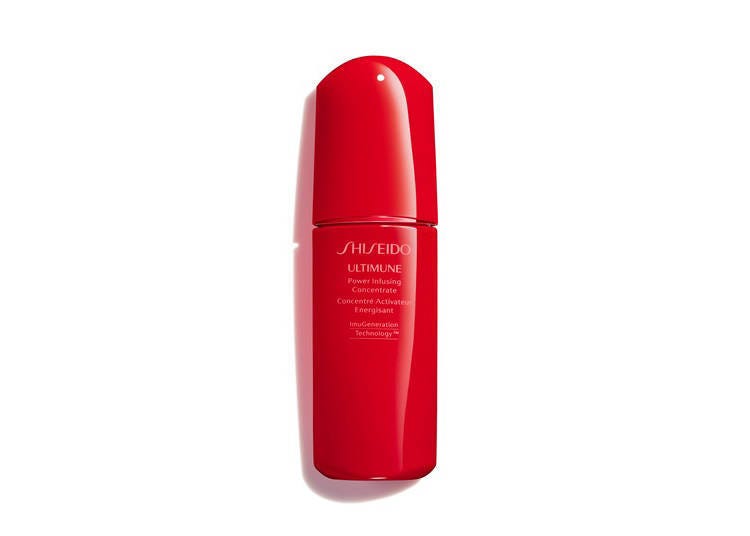 Ultimune Power Rising Concentrate N Ginza Flagship Limited Edition, 16,000 yen for 75 ml (without tax; store exclusive)
One of Shiseido's premier beauty essences, Ultimune, is sold at Shiseido Global Flagship Store in limited-edition packaging. The striking red is a stunning design.

This product is popular amongst those looking for aging care products and for those with dry skin and is a beauty essence that can be used by anyone regardless of age. It brings out the natural beauty of your skin. Why not check it out if you're interested?

As engraving services are available for it, do use them if you're buying this product. The lacquer engraving shines brightly on the bright red packaging!

2. Essential Energy: Using the latest science and technology to bring out the beauty of your skin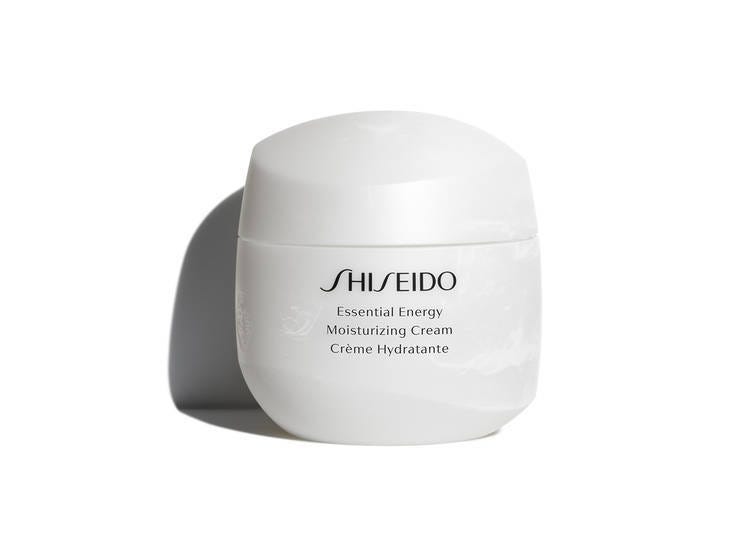 Essential Energy Moisture Rising Cream, 6,500 yen for 50 g (7,020 yen with tax)
The Shiseido Essential Energy cream has a beautiful and round shape. This product was developed for ladies in their late thirties and onwards, who aren't quite feeling the same effects with their current skincare products anymore, with the approach of focusing on "skin feel." You can aim for healthy and glowing skin that is charged with energy.

The round packaging is available in 64 designs. Do choose your favorite one at the shop.

3. Self-Refreshing Foundation: 30 colors to choose from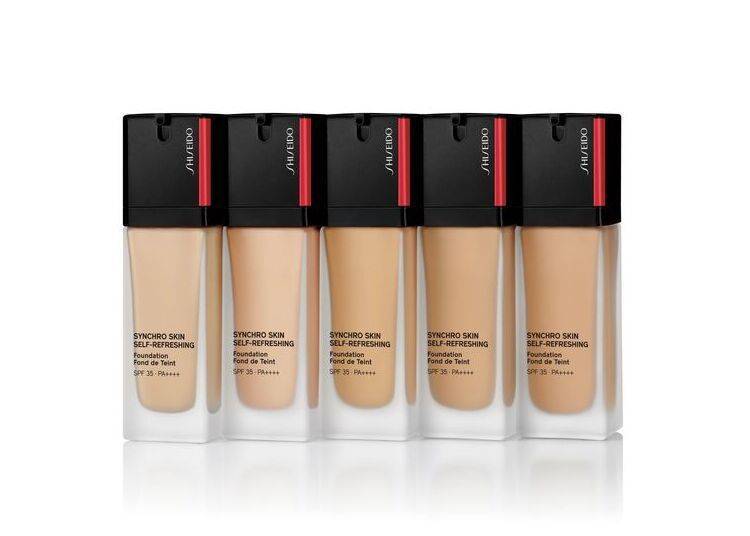 Synchro Skin Self-Refreshing Foundation, SPF35, PA++++, 12 colors available, 6,000 yen for 30 ml (6,480 yen with tax)
Suppose you want your makeup to stay on your skin longer, and be able to smile and move without having to worry about fixing your makeup. In that case, liquid foundation is the way to go.

Shiseido Global Flagship Store has 30 types available for people of any skin color. If you use the Foundation Bar on the first floor, you can determine which one best suits your skin.

4. Lacquer Lip, popular for its engraving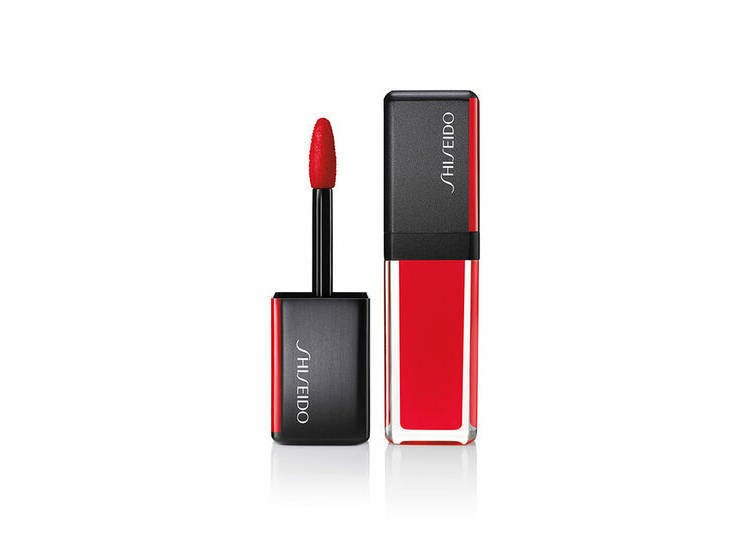 Lacquer Ink Lip Shine, 12 colors available, 3,500 yen for 6 ml (3,780 yen with tax)
A stylish packaging designed with the theme of "Modern Japan," the color is as beautiful as lacquer. It is a popular lip product for its ease of application.

As the product is available for engraving at the Shiseido Global Flagship Store, it's a popular gift product.

5. Kajal Inkartist: Change your face with a single stroke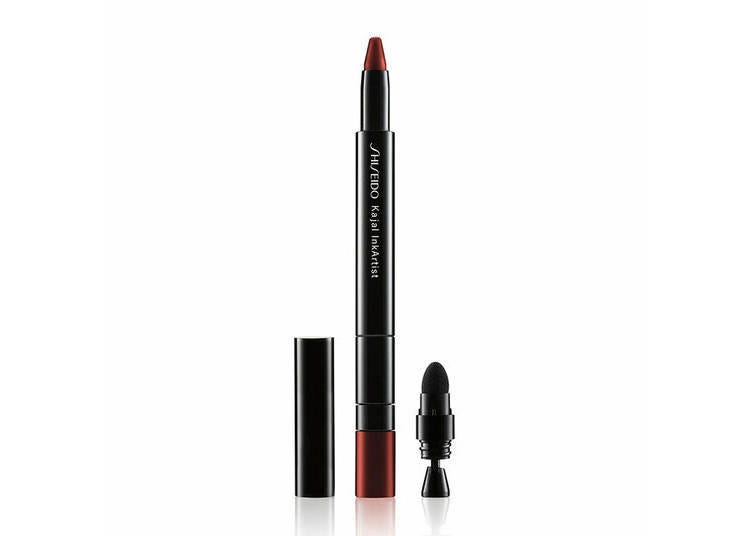 Kajal Inkartist, 10 colors available, 2,200 yen for 0.8g (2,376 yen with tax)
A multi-pencil that can be used as eyeshadow, eyeliner, and for your eyebrows. With a few swift strokes, the color is richly transferred onto your skin. It is waterproof, smudge-proof, and well-pigmented, too, a great plus.

The most popular color is Azuki RED. It's a tone suitable for both natural and extravagant makeup.

6. Deep Retino White 4, popular among those concerned with aging skin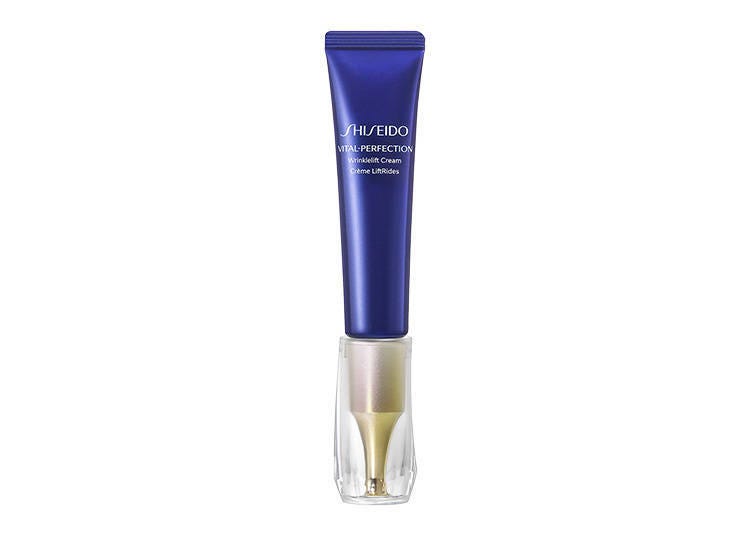 Wrinkle Lift Deep Retino White 4, 12,000 yen for 15 g (12,960 yen with tax)
A product proven to brighten skin and lessen wrinkles around the eyes and mouth, it's a cream that's designed for aging care. For those who are bothered by not wanting to smile because of their wrinkles, do try using this product!
New exclusive experiences at Shiseido's first flagship store
Shiseido Global Flagship Store is a one-minute walk from exit C8 of Ginza Station on the Tokyo Metro's Marunouchi, Hibiya, and Ginza lines.

As most interactions in the shop are digital and indirect, you can enjoy shopping with ease. If you're interested, do pop in and take a look.

At the corner of Ginza 3-chome, are Shiseido Global Flagship Store, Muji, and Uniqlo, forming a golden triangle of Japanese brands. From the gigantic shopping mall "Ginza Six" to "Tsutaya Bookstore" themed after art and traditional Japanese culture, it's a recommended place for sightseeing.
Measures in place to prevent the spread of Covid-19
Disinfection of shop interior and surfaces / Providing disinfectant for use / Requesting customers to disinfect before entering the shop / Ventilation of the shop / Use of a coin tray / Use of partitions / Requiring staff to use masks, wash their hands, disinfect, rinse their mouths, and take their temperature / Entry to the shop by appointment only / Customers feeling unwell are not allowed to enter the shop / Requesting customers to use masks and have their temperature taken / No direct interaction with customers
Shiseido Global Flagship Store

Shiseido Global Flagship Store

Address

3 chome-3-14, Ginza, Chuo-ku, Tokyo-to, 104-0061

Nearest Station

Access:
1-minute walk from exit C8 from Ginza station on the Tokyo Metro's Marunouchi, Hibiya, and Ginza lines
4-minute walk from exit 4 from Ginza-itchōme station on the Tokyo Metro's Yurakucho line
5-minute walk from exit D8 from Yurakucho station on the Tokyo Metro's Yurakucho line


Phone Number

03-3538-5071

Business hours: 11:00 a.m. to 8:00 p.m.
Open all year round
Written by: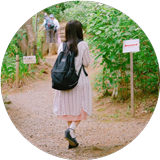 *This information is from the time of this article's publication.
*Prices and options mentioned are subject to change.
*Unless stated otherwise, all prices include tax.
Limited time offer: 10% discount coupons available now!