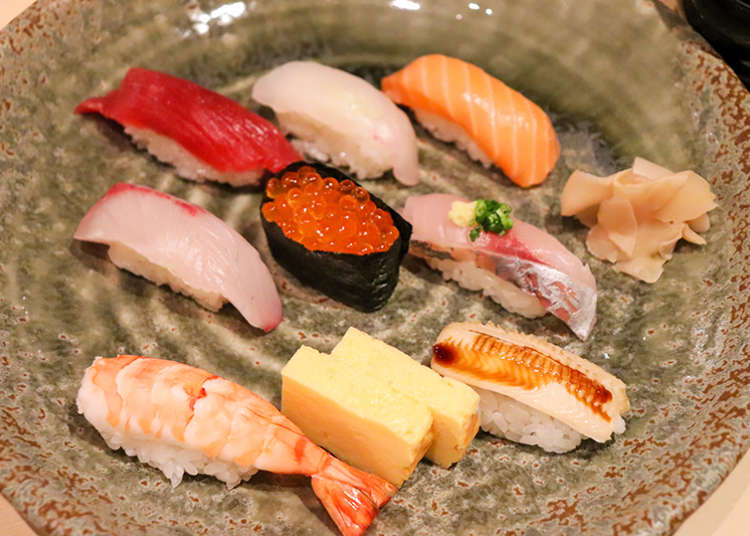 Matsuya Ginza is one of the oldest department stores in Ginza, Tokyo's upscale fashion district. This landmark building is also the only department store with its headquarters in Ginza.

Here, we'll be introducing three recommended Matsuya Ginza restaurants for a value-priced lunch, and giving a quick rundown of each floor as well.
What kind of place is Matsuya Ginza?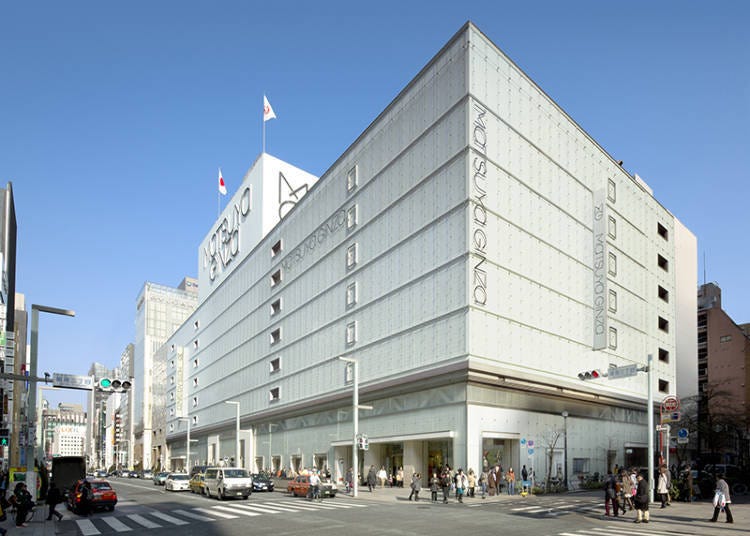 Matsuya Ginza first opened in Ginza in 1925 and is a department store with a long and illustrious history standing at the crossroads of fashion and design. The second basement floor sells fresh food and groceries, while the first basement floor sells ready to eat food.

Altogether, it has 11 floors, including the roof terrace. In line with the culture of Ginza, this is a place where numerous traditional and futuristic specialty stores and services coexist.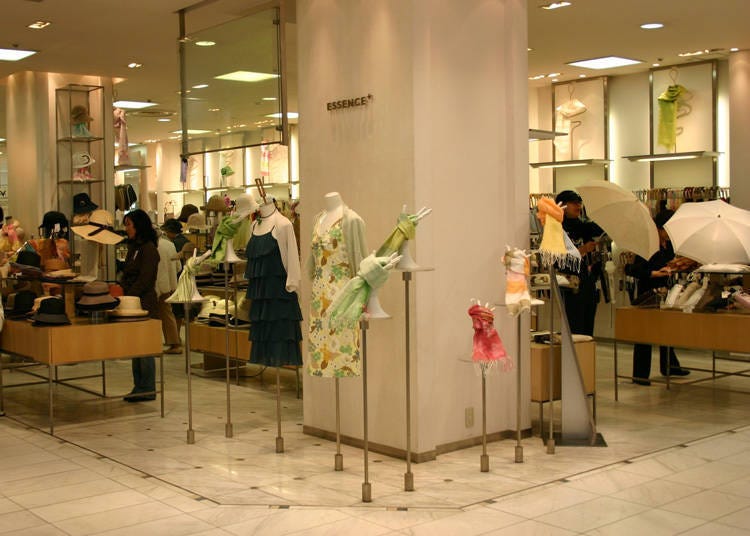 On the first floor are fashion goods and accessories, as well and make-up and other seasonal items. The selection is of goods made in Japan, so look out for fresh and impactful items that catch your eye.

There are plenty of products that are catered to changes in lifestyle as well, and some popular goods such as haute couture masks have even ended up selling 100 pieces in a week!

The second floor is targeted at those following international fashion trends, and famous shoe brands from the world over are gathered here.

The third floor has ladies' outfits, and shoes perfect for career women lined up, while the fourth floor has ladies' fashion and luxury timepieces for sale.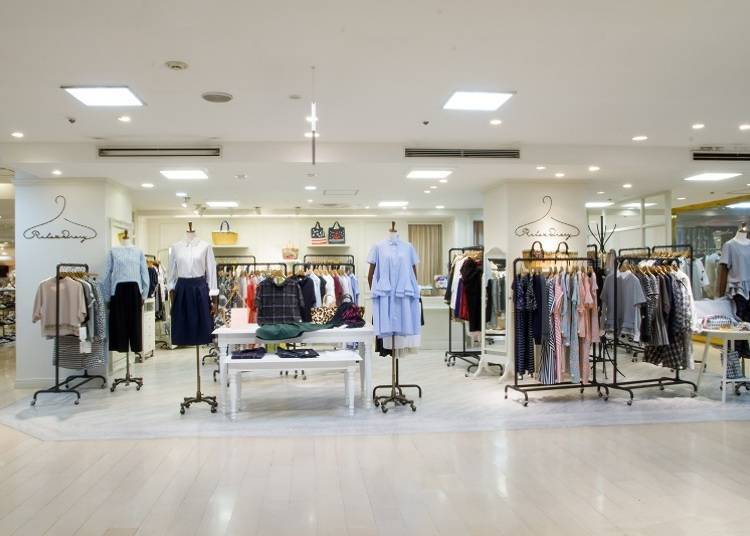 Of these three floors, the third floor is also home to Matsuya's own original fashion selection shop, Rita's Diary. Its interior is modelled after the room of an imaginary girl named "Rita." The shop encompasses the idea of feminism pursued by ladies and has many pieces of clothing perfect for fashionable and radiant women, and has many loyal fans.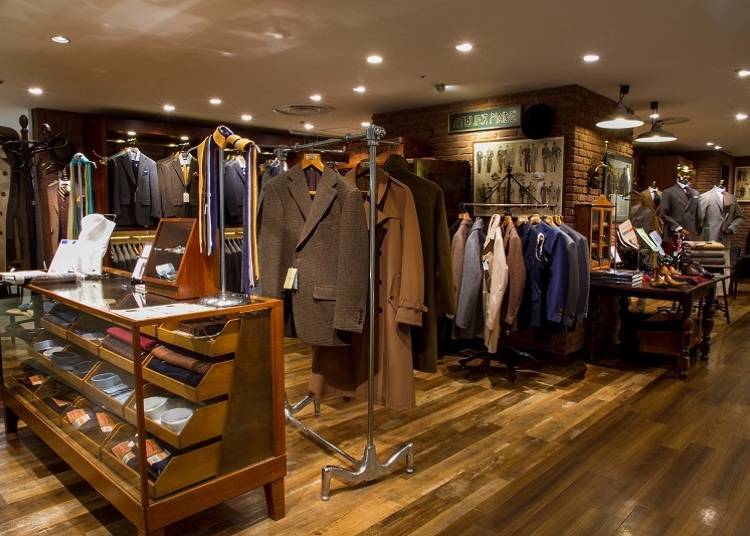 The fifth floor is the gentleman's floor, with many luxury and tasteful men's goods on sale. Atelier Made, Matsuya's own original brand, offers you full support as you pursue the inner gentleman in yourself. The leather crafts corner with expertly made leather goods is one section you absolutely can't miss.

On the sixth floor is the most extensive lingerie section in the Tokyo metropolitan area, as well as a bedding zone featuring various high-quality necessities for a good night's sleep, such as bedsheets, futons, and nightwear. In the baby and children's zone, gifts with the assurance of safety and peace of mind, as well as strong customer service, are offered. At Matsuya, you can peruse their range of specialty Scandinavian style baby goods, such as prams and furniture.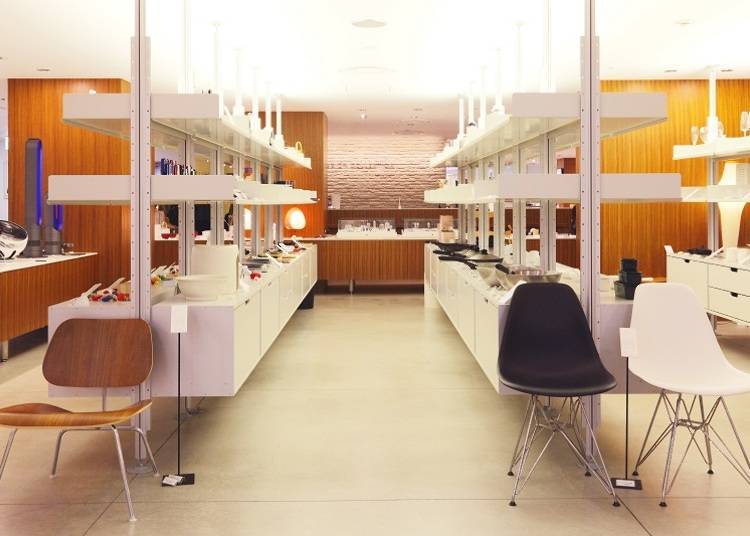 On the seventh floor are living goods, Japanese style clothing, and art. The "Design Collection" was created with the motif of "The Design of Matsuya" in mind. Whether it be something for a bachelor pad, or as a tasteful gift, there are plenty of suggestions for an adult seeking a new lifestyle. On top of that, the Scandinavian specialty shop Scandex, and the Finnish brand Marimekko has branches at Matsuya, known for their strong ties with Scandinavia and northern Europe.
Three Recommended Matsuya Ginza Restaurants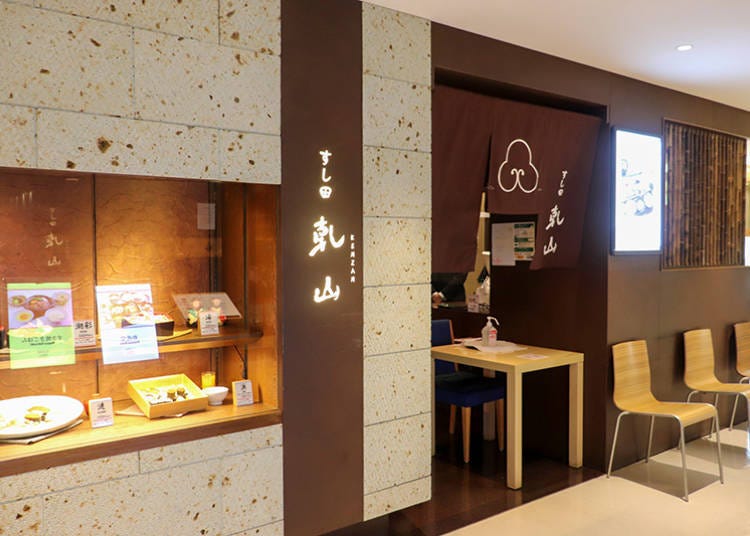 On the eighth floor is Restaurant City Ginza, which brings together both traditional and modern flavors to serve you the best that each season has to offer, with a selection of Japanese, Western, and Chinese cuisines.

In 2017, a new rest area and event space, MG Terrace, was opened, furbished with sofas and lawns to offer families out shopping a place to rest and recharge.

We'll be recommending three restaurants from the eating area on the eighth floor.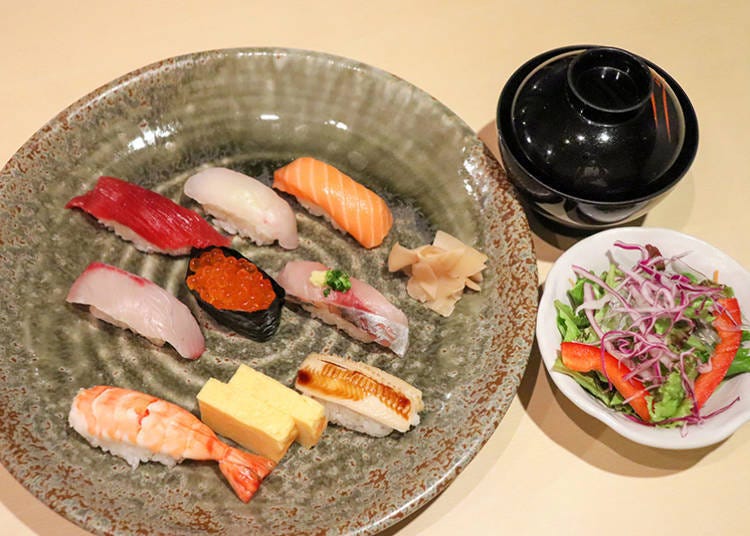 The first is Sushiden Kenzan, a sushi restaurant serving traditional and skillfully-made Edo style sushi using choice and fresh fish.

Sushi using seasonal fish is a given on the menu, and there are also sashimi, side dishes, set menus featuring seasonal specials, healthy menus that change with the seasons, as well as Japanese style desserts as part of the store's lineup. It's also possible to discuss alternatives with the staff, if you have allergies.

For lunch, we recommend getting the "Minato" set, which costs 2,200 yen (without tax). The set is available for dinner as well. It's a well-balanced set with eight pieces of sushi and omelet, as well as seaweed miso soup and salad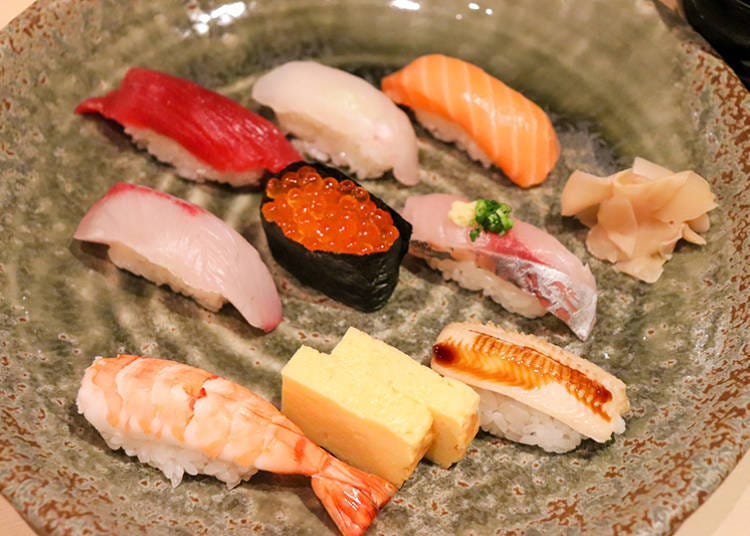 From popular salmon roe gunkan sushi to freshwater eel, steamed prawn, salmon, and tuna, you'll find yourself smacking your lips as you relish all the fresh fish! It's all the types of sushi you could hope to eat gathered on one plate, and is a satisfying set meal indeed.

Besides that, the extra-premium 4,400 yen "Ushio" set with 10 pieces of sushi, a side dish, and a soup, as well as the premium 3,300 yen "Sazanami" set with 11 pieces of sushi, a side dish, and a soup, are worth checking out too!
すし田 乾山 松屋銀座店

Address

3-6-1 Ginza, Chuo-ku, Tokyo Matsuya Ginza 8F

Phone Number

03-3563-5055

Business hours:
Weekdays: lunch from 11:00 a.m.
Weekends and public holidays: lunch from 11:00 a.m.
2. Tsukiji Miyagawa Honten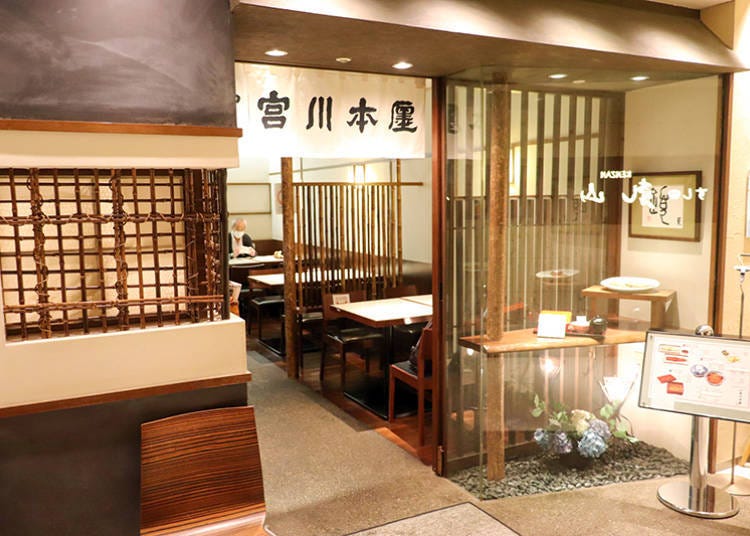 Next up, we'll be introducing to you Tsukiji Miyagawa Honten. First founded in 1893, it is a traditional unagi, or grilled eel, shop where you can taste their special sauce that has been passed down through time.

The chefs at the shop are trained in their craft by "cutting for three years, skewering for eight years, and grilling for a lifetime," so you'll definitely be treated to the most exquisite of tastes at this shop!
On the menu, you can get eel grilled with either tare sauce, called kabayaki, or with salt, called shirayaki, and as unajū set meals or as an unadon rice bowl. Our recommendation is the "Koichidon," a dish that allows you to casually enjoy unagi for 2,640 yen (without tax). The unadon starts off with a bed of piping hot rice, and is topped with one piece of kabayaki eel, for a simple unadon.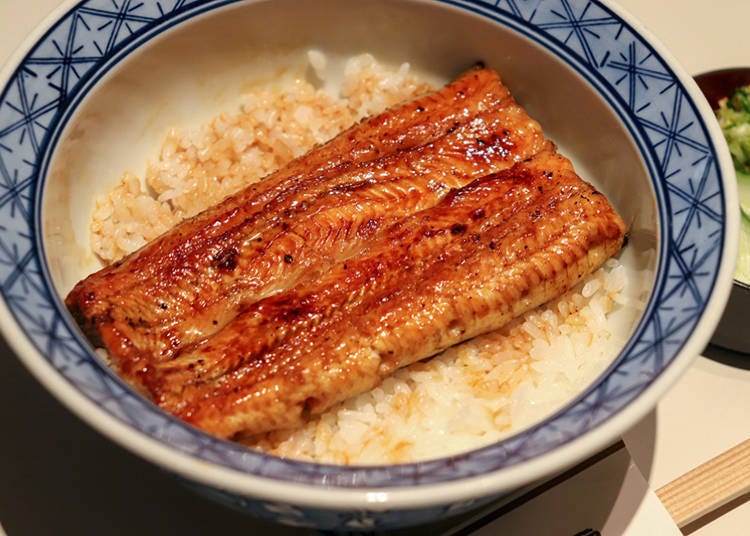 The Edo-style kabayaki is steamed before being grilled, resulting in soft and fluffy flesh, and is an exquisite dish where you can taste the quality of the ingredients used and the skill that went into making the dish. From the fragrance to the taste, you won't be able to stop yourself until you've finished every last bite!
Miyakawa Honten Ginza Matsuya Shop

宮川本廛 松屋銀座店

Address

3-6-1 Ginza, Chuo-ku, Tokyo 8F

Phone Number

03-3567-1378

Business hours:
Weekdays: lunch from 11:00 a.m. to 4:00 p.m., dinner from 4:00 p.m.
Weekends and public holidays: lunch from 11:00 a.m. to 4:00 p.m., dinner from 4:00 p.m.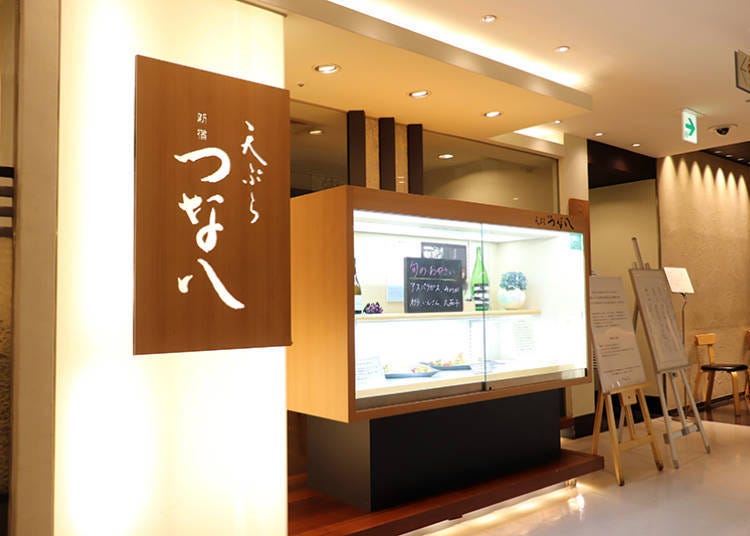 Moving on, we'll be telling you more about Shinjuku Tsunahachi, which serves some of the best tempura around. The shop sells Edo-style tempura, fried in specially procured 100% sesame oil, and has a lasting crunch. With specially chosen ingredients and finely trained chefs, it's a taste that you can never get tired of no matter how much you eat.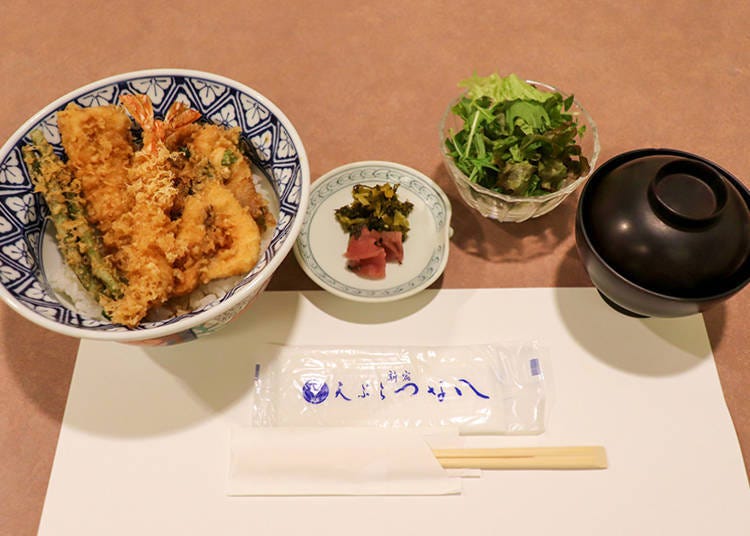 For lunch, the Tsunahachi-Don, which comes with a salad, is recommended at 2,310 yen. A tendon, or tempura rice bowl, comes topped with large prawn, fish, vegetables, freshwater eel, and oyster, and comes with miso soup, pickles, and salad to complete this set.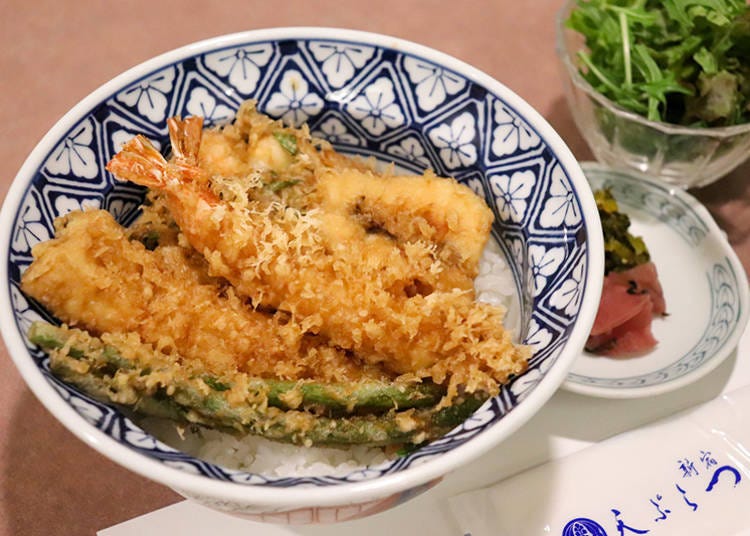 This exquisite tendon allows you to savor various types of tempura, and in a bowl larger than your face, the volume of the meal is quite something as well! The crunchy coating and fluffy rice are complemented well by the sweet and savory tare sauce drizzled over, and is very delicious. The prawns are fresh and firm, and the combination of the fresh vegetables with the umami of the fish is perfect.

Besides this set, there is the "Tsuki" set, which comes with seven items, including two prawns, three types of seasonal vegetables, freshwater eel tempura, and fried oyster, for 2,200 yen, and the "Hana" set, which also comes with fried shiitake mushroom and prawn paste, and fish tempura for a total of nine items for 2,970 yen (without tax). Both sets are available for lunch as well, so do pick out your favorite set to taste some excellent tempura.
天ぷら新宿つな八 銀座店

Address

3-6-1 Ginza, Chuo-ku, Tokyo Matsuya Ginza 8F

Phone Number

03-3567-1374

Business hours:
Weekdays: lunch from 11:00 a.m. to 3:00 p.m., dinner from 3:00 p.m.
Exclusive souvenirs and items from Matsuya Ginza that you have to check out!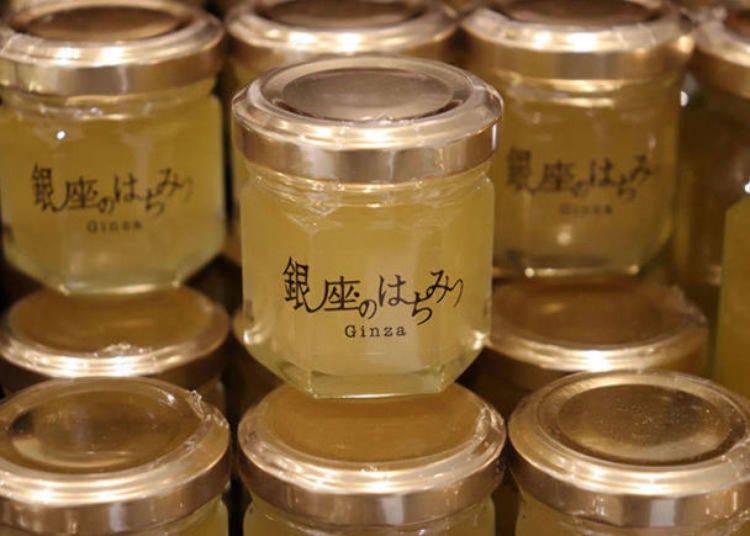 In Ginza, the Mitsubachi Ginza Bee Project was started. Also called "Ginpachi," the project has the goal of uniting the city with nature to have the two coexist in harmony. Honey bees are raised on the rooftops of Ginza, and Matsuya Ginza is one of the participants. Green and sustainable improvements were made to the rooftop, and flowers and plants the bees feed on were also planted, and honey harvested from the bees are sold in the food hall in the basement.

There are many recommended exclusive souvenirs in Matsuya Ginza made using Ginza Honey. When shopping and dining in Matsuya Ginza, checking out the food hall in the basement for souvenirs is a must!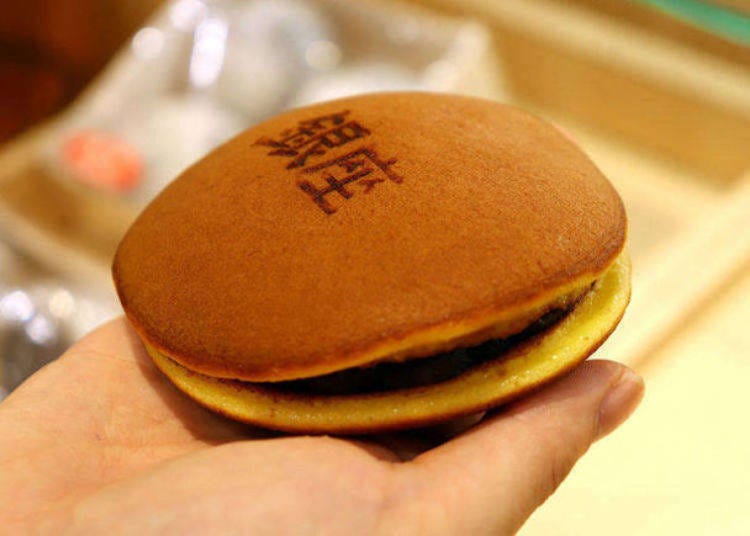 Besides products made of Ginza Honey, Matsuya Ginza has a healthy selection of limited items as well. We checked in with Matsuya Ginza's advertisements and shoppers, for tasteful items exclusive to Matsuya Ginza that you absolutely must see.
In Ginza, the street which brings together the traditional with the modern, is Matsuya Ginza, a leader in fashion, design, and lifestyle. As COVID-19 continues to rampage across the globe, inevitable changes to people's lifestyles have resulted in masks made using Japanese techniques to enter the spotlight, and are a popular item as well.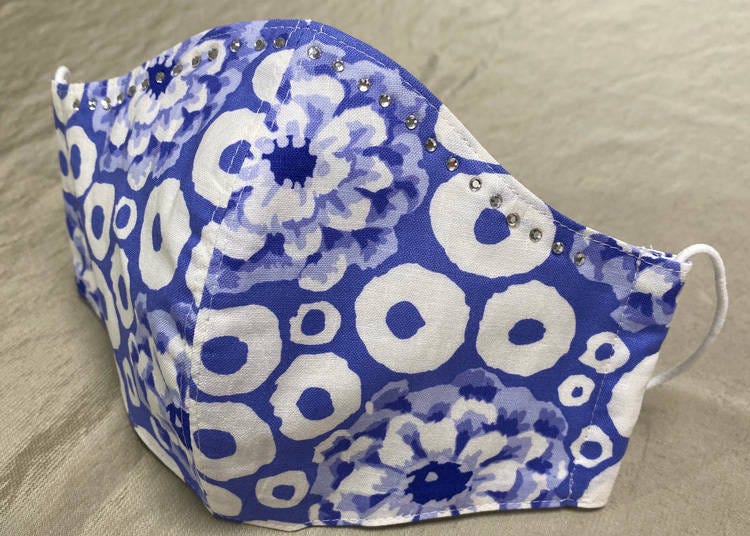 Currently, the entrance of Matsuya Ginza has hand sanitizer in place, and temperature checks are carried out in shops as well. On top of this, restaurants, along with other shops, have undertaken numerous measures to curb the spread of the virus. In this space that radiates the high sense and quality of a place with a long and illustrious history, do enjoy your shopping and dining experience here.
Written by: Naho Jishikyu
*This information is from the time of this article's publication.
*Prices and options mentioned are subject to change.
*Unless stated otherwise, all prices include tax.