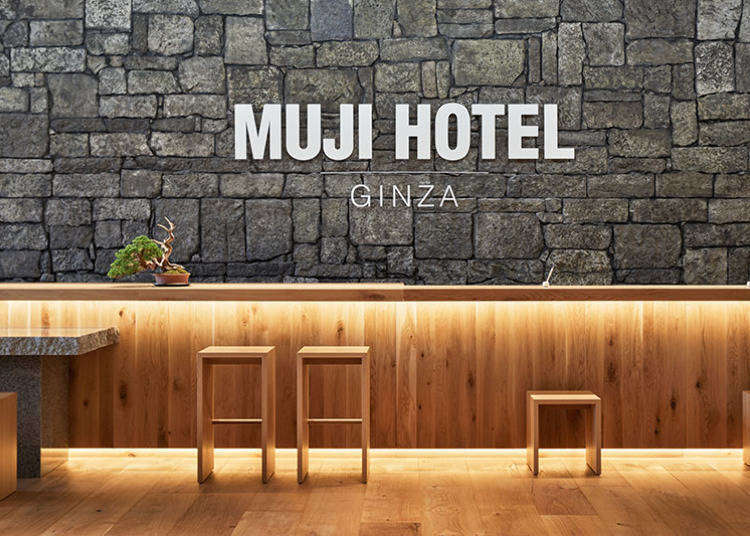 The MUJI Hotel Ginza opened in 2019 with the brand's first World Flagship Store and the first hotel in Japan. Now the the MUJI brand is loved by people all over the world, and the accommodations are equally awesome. This impressive hotel with its excellent service surpasses even the former shop in Yurakucho in showcasing popular MUJI brand goods.

During the preview showing the other day, the keen interest shown by the foreign media was evident by all the foreign languages heard at that time. The shop and the MUJI Hotel Ginza, located between the first basement and 10th floor, were shown.
Enjoy a nutritious meal at the MUJI Diner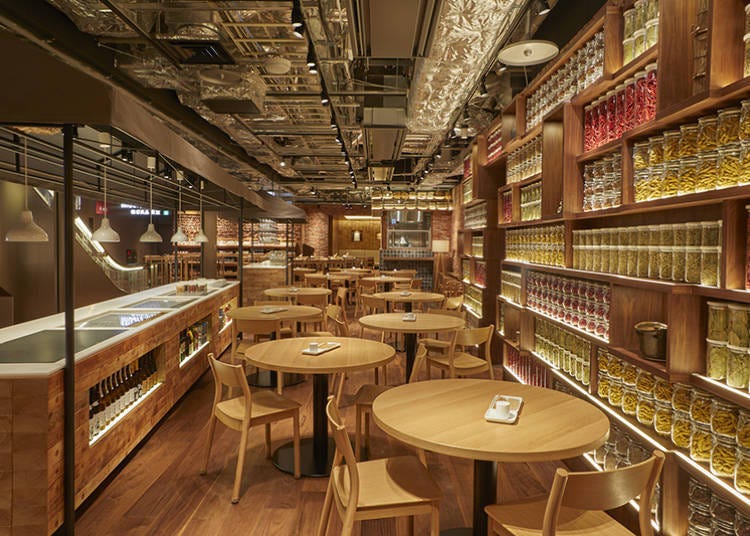 Located in the basement, the MUJI Diner has the themes of Originality, Enjoyment, Tradition, and Sharing. You can enjoy seasonal seafood, meat dishes, and dishes made with game meat, where the focus is on vegetables.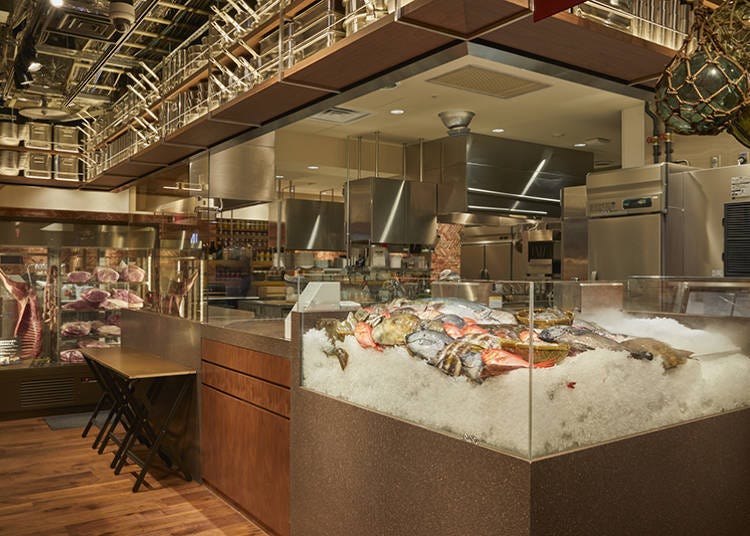 The use of brick and old building materials gives the interior the feeling of a food warehouse. The mood is enhanced by the open kitchen and its activities, and your eyes are drawn to the showcase of seafood and meats.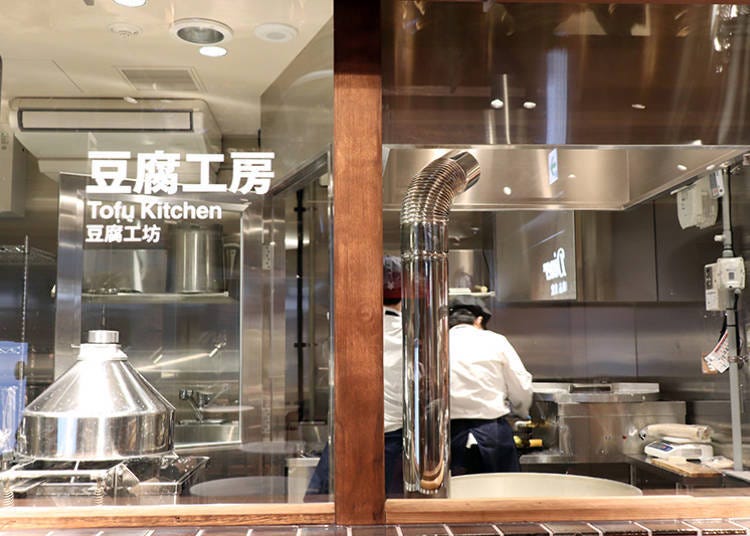 You can also watch chefs working in the glass-encased Tofu Studio. All the tofu served in the restaurant is made here.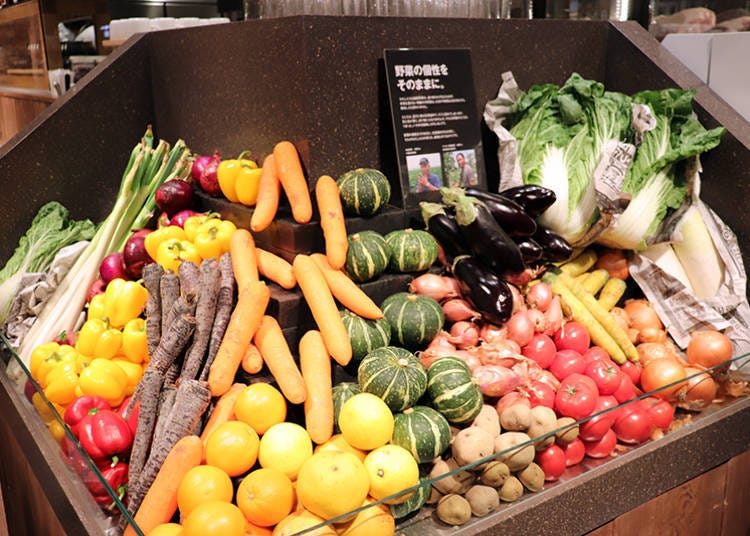 The salad counter, arrayed with all sorts of vegetables, was created to meet the requests of those desiring to eat lots of vegetables. The large selection of vegetables from which to choose is possible because they are obtained directly from farms.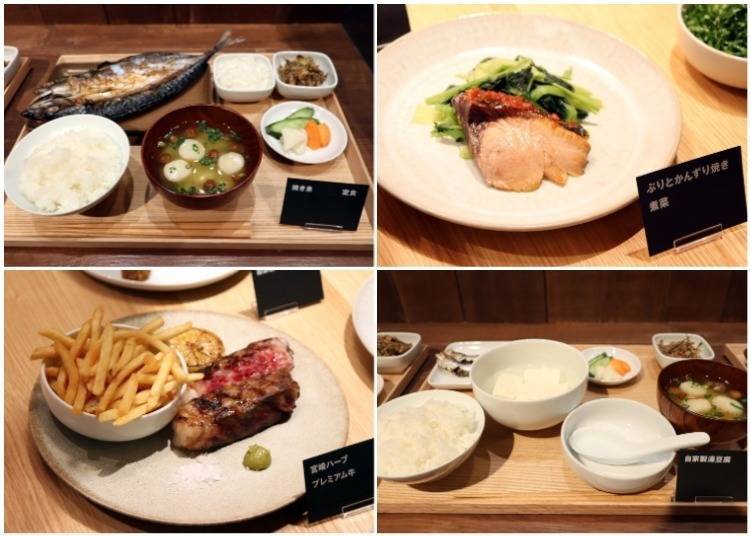 There is a rich variety of menu items selected for each time period. Start your day with a healthy breakfast which is served between 7:30 and 11:00 a.m. Enjoy a porridge made with soy milk, rice balls and miso soup, toast, and scrambled eggs for only 500 yen.

A selection of set meals, which vary from day to day, made with fresh seafood obtained every morning directly from the fishing port in Odawara, is available from 11:00 a.m. to 5:00 p.m. Between 5:00 and 8:00 p.m. there is a selection of small, chilled dishes, grilled seasonal items, and main meat and fish dishes, all carefully prepared with the freshest ingredients. Here you can leisurely relax and enjoy yourself in the warm and cozy atmosphere.
The marché, bakery, and Blend Tea Studio are also new additions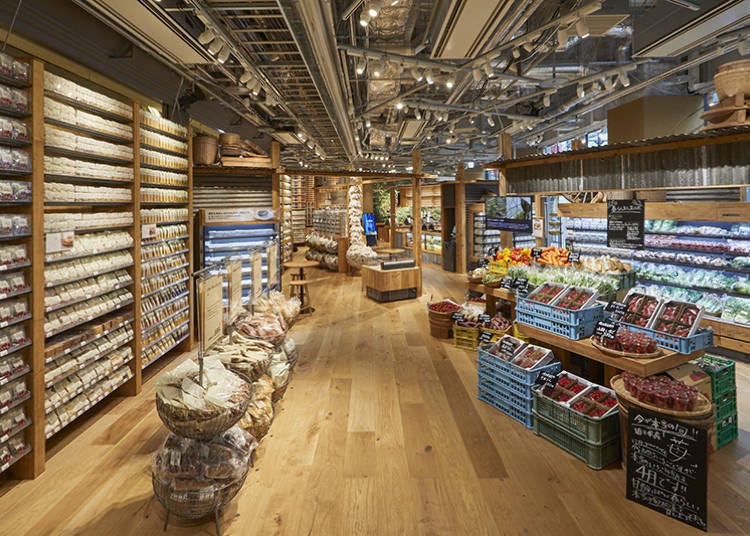 On the first floor, you can purchase frozen food, retort curry, sweets, and other MUJI food products. Compared to the Yurakucho store, here the shelves are packed from floor to ceiling with many more household items from which to choose.
Also making a debut is the Marché (fresh produce section) offering a large selection of seasonal products. Everyday fresh fruit and vegetables are delivered directly by reliable growers thus providing office workers and travelers with healthy and nutritious snacks. Fresh juice made with seasonal fruit and vegetables is available at the newly established juice stand (S size 350 yen, M size 480 yen).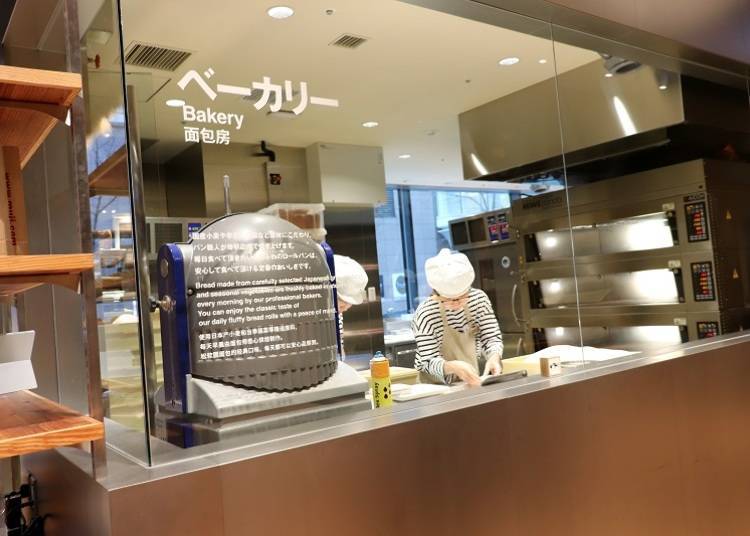 You can buy freshly baked items in the Bakery from 7:30 in the morning. Bakers work early in the morning before the shop opens to stock it with freshly baked items. There is a blackboard that announces the baking schedule making it easier for you to know when items hot out of the oven are available. 

Soft, fluffy rolls, sandwiches made with seasonal ingredients, bread filled with cream made with honwakato [sugar made from Okinawan sugar cane], and other basic items are but some of the many types of baked items available.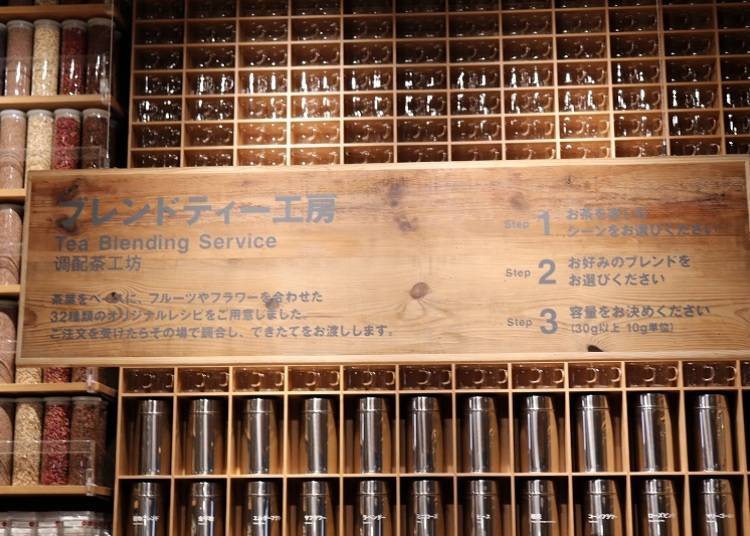 Also be sure to check out the Blend Tea Studio in the back of the first floor. You can select tea from one of the 32 original blends or have a special blend of your own made to suit your mood and occasion.
Before selecting an organic green tea, organic roasted green tea, or organic rooibos tea, first decide whether it will be for refreshing, relaxing, before bedtime, or to go with meals. Next decide on the aroma and flavor and select the number of the teas from the 32 different types. These will then be used to make your own original blend.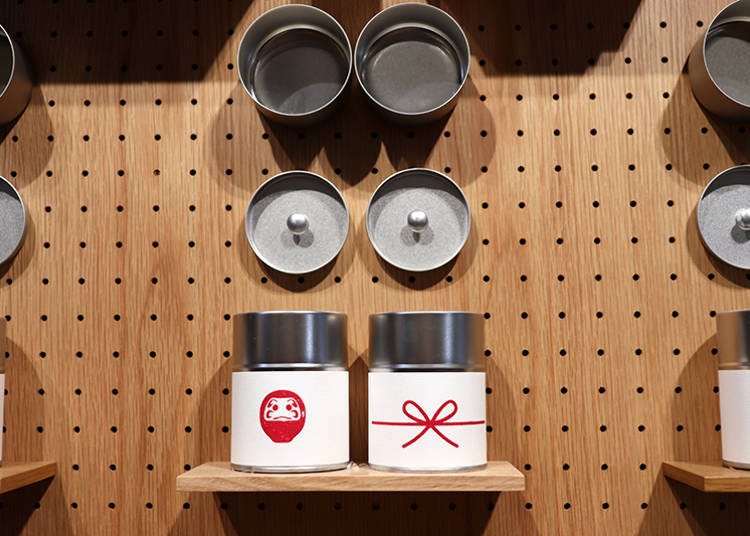 You can also design your own gift canister label by selecting a theme from the many offered to be stamped on a canister label, such as Dharma, Mizuhiki [decorative Japanese cord made from twisted paper], "Tea for You", or "Thank You". These make great gifts.
There are also the Gift Pouch and Gift Canister, both of which are new MUJI GINZA products. Inside the pouches and canisters are chocolate covered strawberries and arare [sweet rice crackers], which are very popular MUJI items.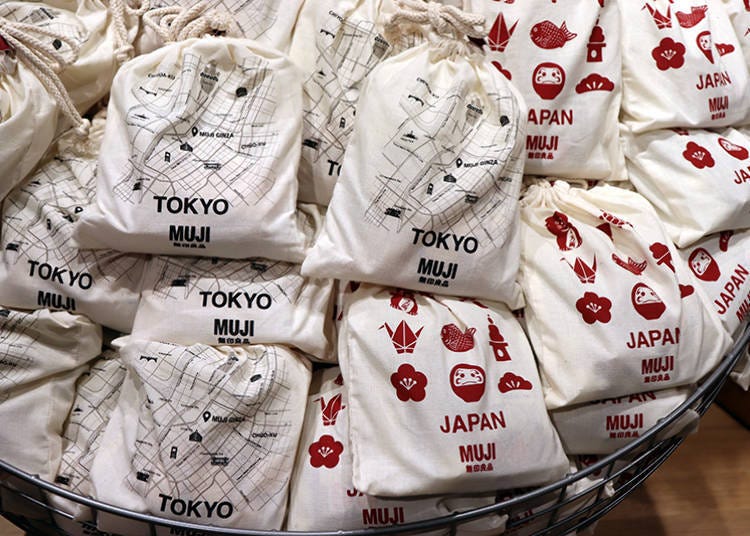 There are two types of design printed on the Gift Pouches; one is a Tokyo Map with Ginza at its center and the other has Dharma, paper cranes, and plum blossoms.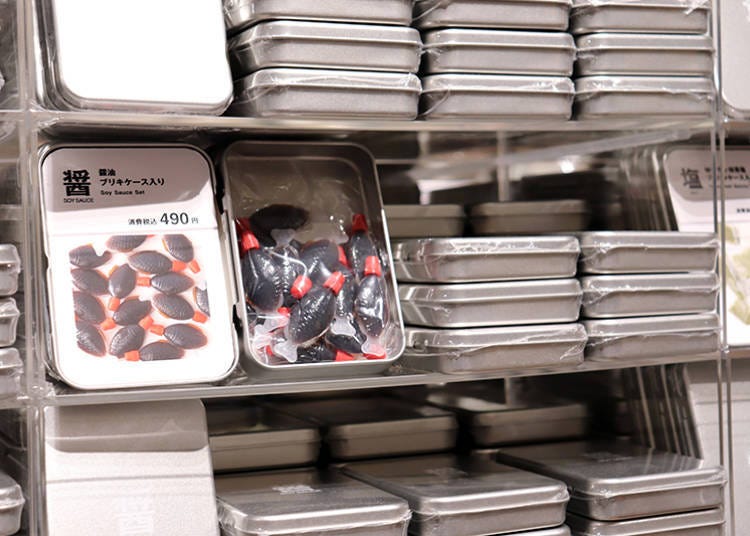 There is also a wide selection of contents for the Gift Canisters, too, such as sweets and small soy sauce dispensers. These make great souvenirs of your visit to Tokyo.
Many fashion and stationery items are also on display
On the second floor you will find women's wear, men's wear, bags, and shoes, and on the third floor there are socks, inner wear, health and beauty, stationery, office supplies, bicycles, and travel items. This flagship shop has a huge selection of basic day-to-day items.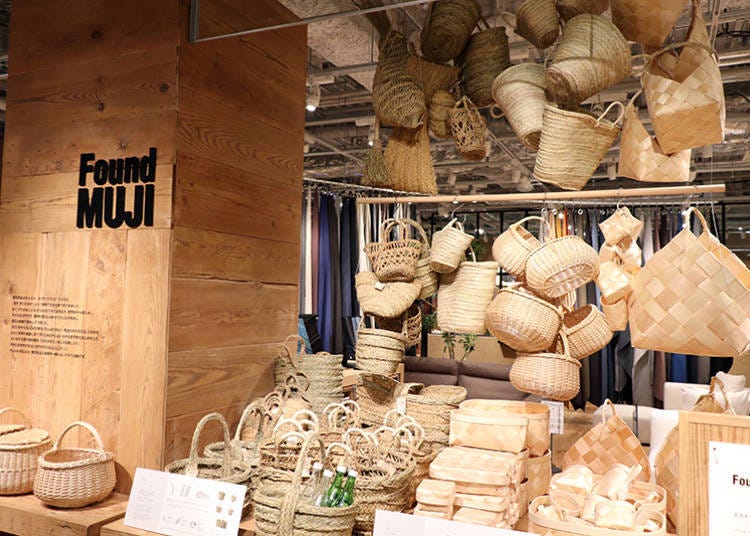 On the fourth floor items for the living room, kitchen, tableware, children's clothing, and maternity wear are displayed. At Found MUJI you can find "good things" that MUJI has discovered all over the world, reproduced and made available as excellent items at a reasonable price.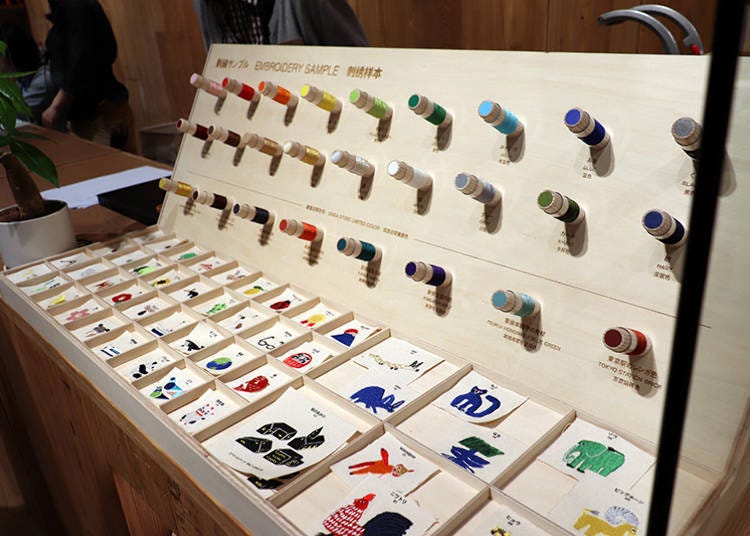 "Design Studio" offers such services as embroidery, repair of books, and creating a customized photo collection. Here you can get a shirt or bag embroidered with a design you like.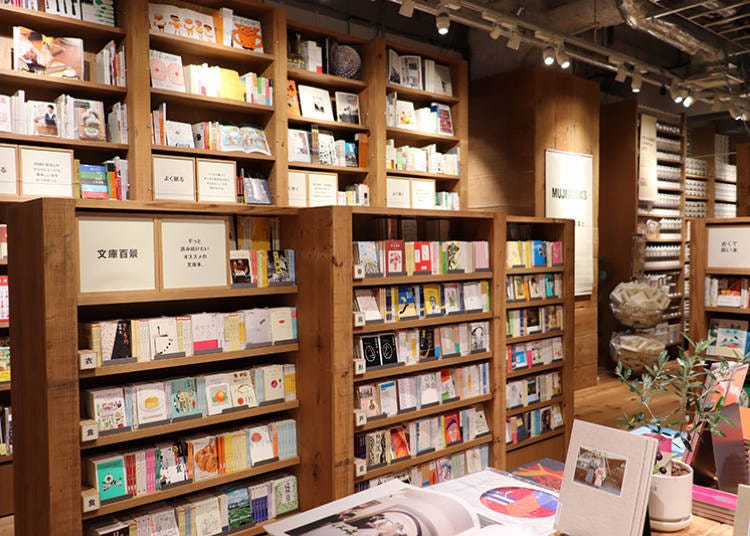 At MUJI BOOKS you can buy old books from its collection of 5,000 gathered from all corners of the world including masterpieces on food, pictures, paperbacks, and foreign books.

On the fifth floor you can find products for the bedroom, storage, laundry as well as consumer electronics, light fixtures, and vacuum cleaners. MUJI SUPPORT provides advice on storage, order-made furniture and construction work, and advice on interior decorating.
Enjoy design culture and the feel of Japan in the atelier, salon and restaurant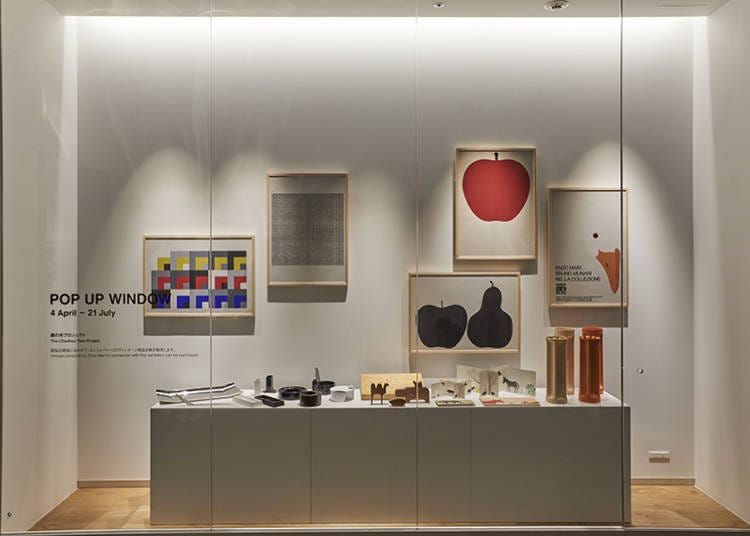 There are two Galleries and a discussion area in the ATELIER MUJI GINZA on the sixth floor that serves as the hub for propagating the composite design culture of MUJI. In Gallery 1 there is a one-year permanent exhibition having a common theme and in Gallery 2 the contents of the exhibition are changed every three months; two places where you can experience a rich design culture.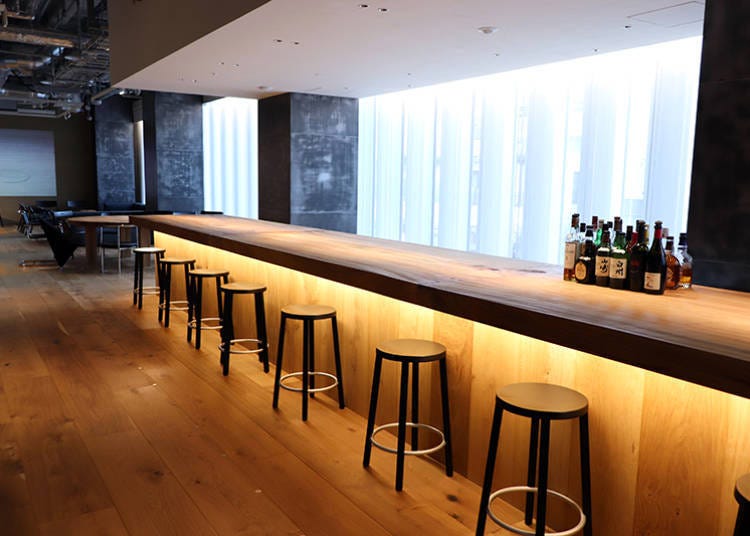 In the ATELIER MUJI GINZA Salon you can relax while enjoying your favorite drink. This is a place where you can enjoy exchanges pertaining to design. The counter of the bar is made from a 400-year-old camphor tree.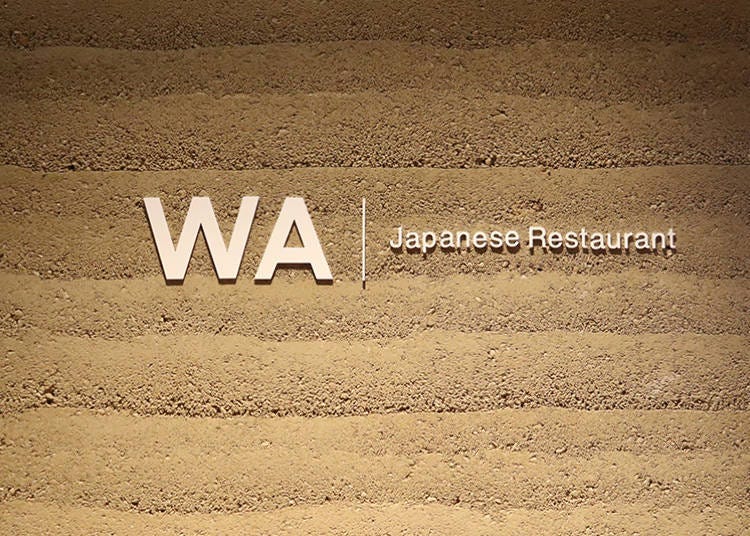 Beyond the front desk of the MUJI Hotel Ginza on the sixth floor is the restaurant WA which serves Japanese cuisine. Here you can savor traditional home-cooking made with lots of seasonal ingredients that reflects the food culture of various regions of Japan.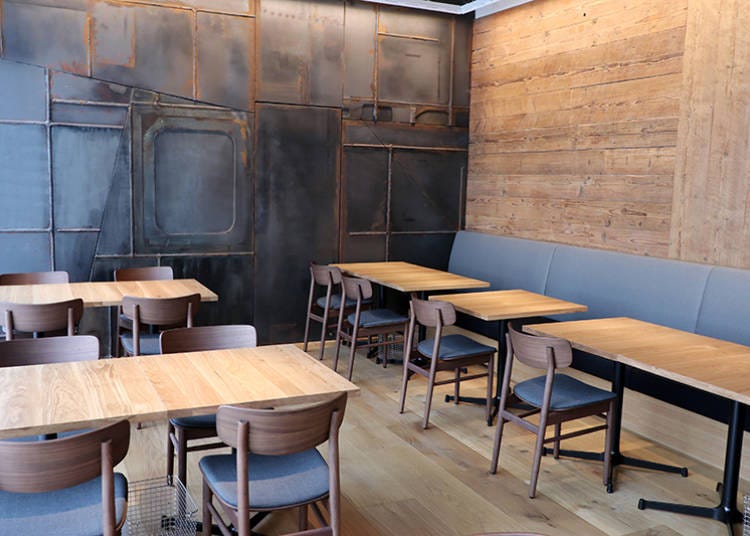 Iron plating salvaged from old ships is used in the wall facing the table seats. This is a space where you can feel the blend of old and new in Ginza that powerfully results in the creation of something new.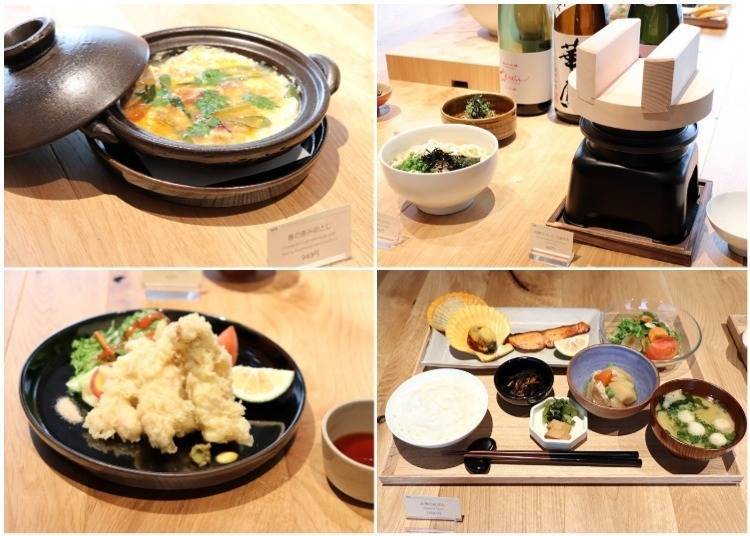 The dishes offered include Haru no Megumi Tamago Toji [blessings of spring egg soup] (940 yen), Hida Koshihikari Hagamadaki [Hida Koshihikari rice cooked in a globular pot] (880 yen), Toriten [chicken tempura] (1,050 yen), and Osakana no Ozen [special fish dinner] (1,600 yen). The menu of authentic regional dishes handed down through generations is changed every three months offering opportunities to enjoy regional delicacies as if you were actually visiting the locale. This is a great way to experience the food culture of Japan.
*Prices include tax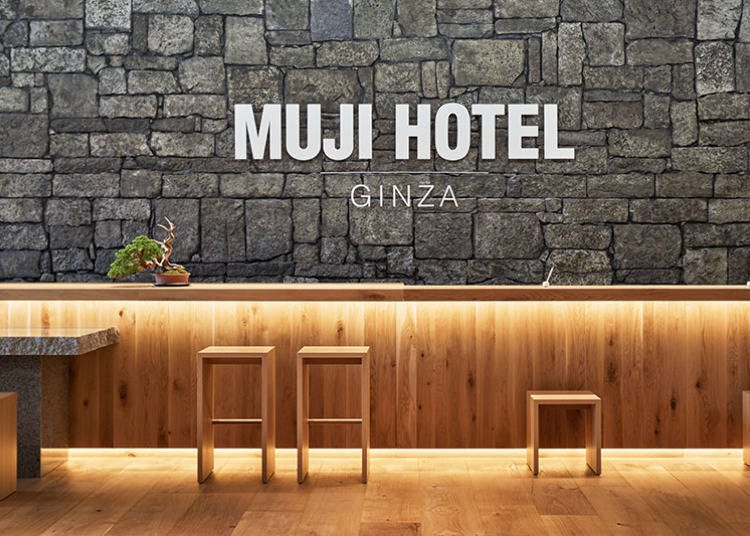 The MUJI Hotel Ginza enables guests to deeply familiarize themselves with the Ginza culture during their stay. The front desk is located on the sixth floor and the guest rooms are on the seventh through tenth floors. The wall behind the front desk is made with paving stones from the old streetcar tracks that ran through Tokyo more than one hundred years ago. You can enjoy the richness of their texture created by the passage of time.
The concept of MUJI Hotel Ginza is described as "anti-gorgeous, anti-cheap", meaning subdued elegance, designed to provide a comfortable and relaxing space that provides an extension of the amenities one enjoys at home even while traveling. There are nine types of guest rooms which number 79 in total.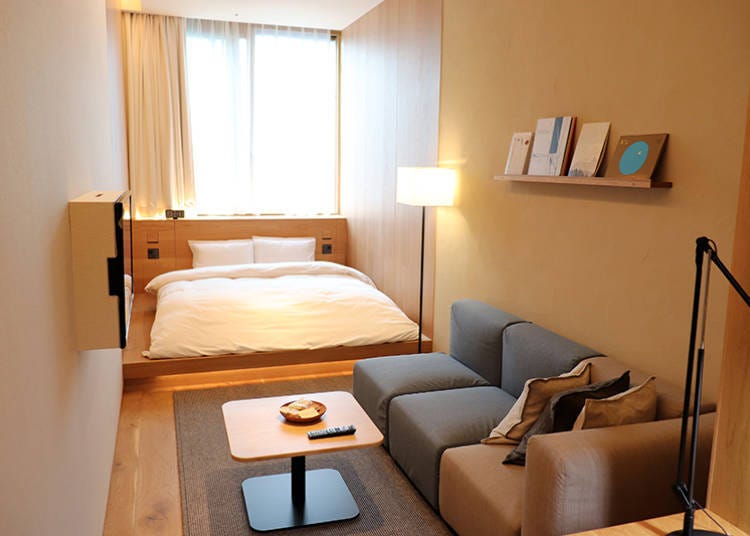 This is a Type C guest room, of which there are 44. The raised area is the bed space. (Bed type: double; maximum occupancy: two; rate: 29,900 yen)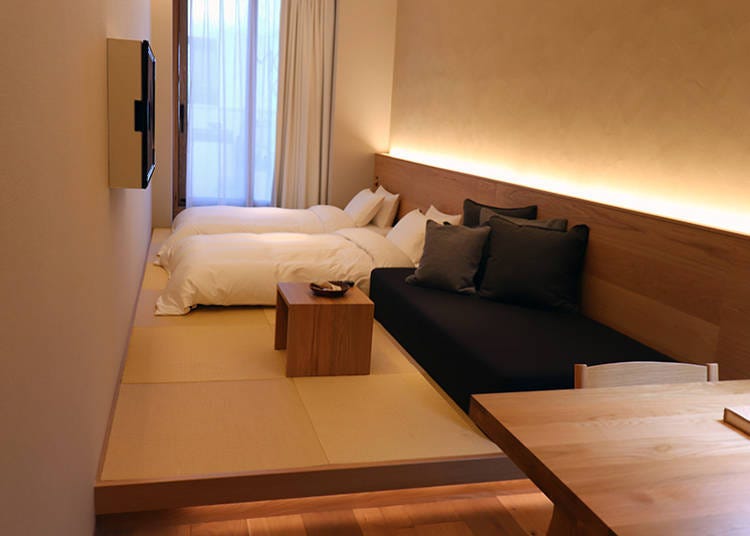 Type E has a raised tatami mat area in the back. The bed is designed to be like a futon to give the sensation of sleeping just above the tatami mats and uses a MUJI Washable Mattress. (Bed type: twin; maximum occupancy: three; rate: 39,900 yen) *+5,000 yen when there are three occupants)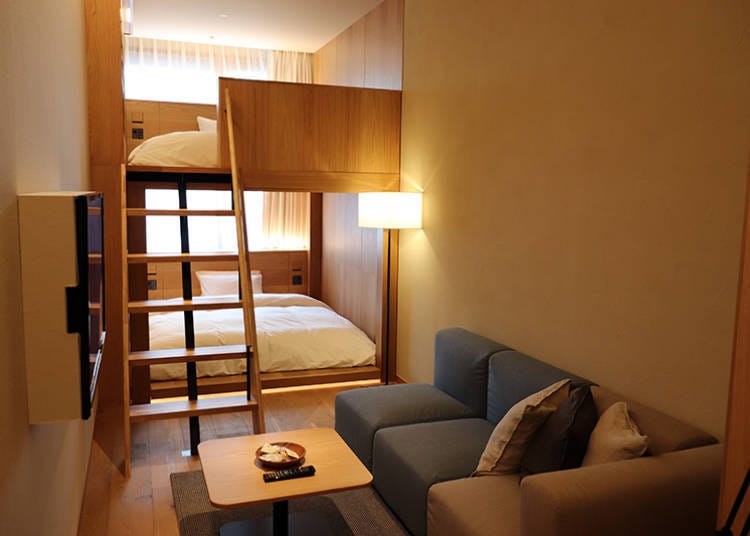 Type G has bunk beds. The bookshelf on one wall has a collection of books having the theme Kachofugetsu [beauties of nature]. Designed for use by a family. (Bed type: bunk beds; maximum occupancy: three; rate: 29,900 yen) *+5,000 yen when there are three occupants)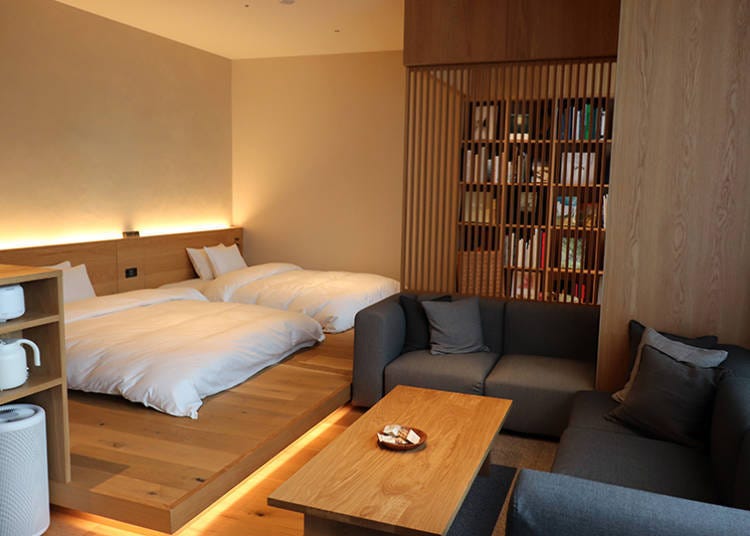 There is only one Type I room which is the largest. It contains large comfortable sofas and a special tatami mat space in the back.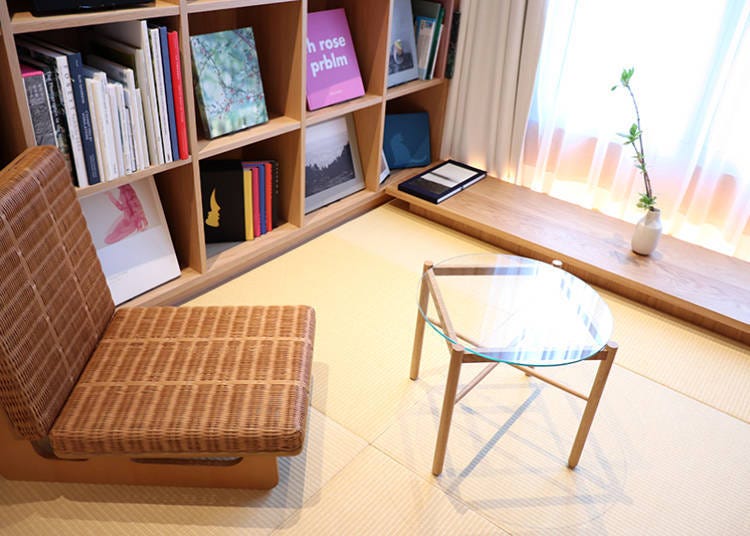 The tatami mat area is a cozy space in which to relax and read. The bathroom is also equipped with a hiba [cedar] wooden bath, enveloping the space with the warmth and soothing aroma of wood. (Bed type: twin; maximum occupancy: four; rate: 55,900 yen) *+5,000 yen when there are three occupants, +10,000 yen when there are four occupants)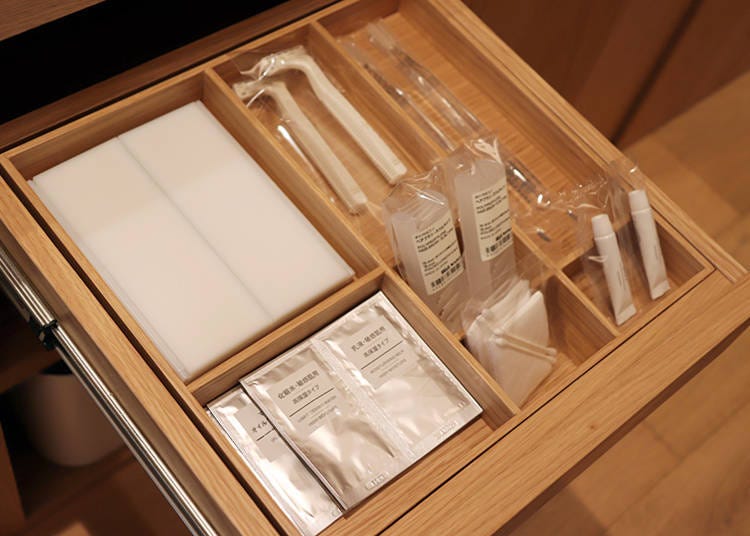 The amenities and other items in the guest rooms are MUJI products. After spending time in these guest rooms you probably will discover items you would like to use at home and which are available for purchase in the shop. The World Flagship Store MUJI GIINZA and the MUJI Hotel Ginza located above it are designed to increase the pleasures of your stay.
*Prices for the guest rooms are per room per night (tax included)
MUJI HOTEL GINZA

Address

3-3-5 Ginza, Chuo-ku, Tokyo

Phone Number

03-3538-6101

Phone
MUJI Ginza: 03-3538-1311
MUJI HOTEL: 03-3538-6101
Open: B1 MUJI Diner 7:30 a.m. ~ 10:00 p.m. (L.O. 9:30 p.m.), 1F ~ 6F 10:00 a.m. ~ 9:00 p.m.
*This information is from the time of this article's publication.
*Prices and options mentioned are subject to change.
*Unless stated otherwise, all prices include tax.