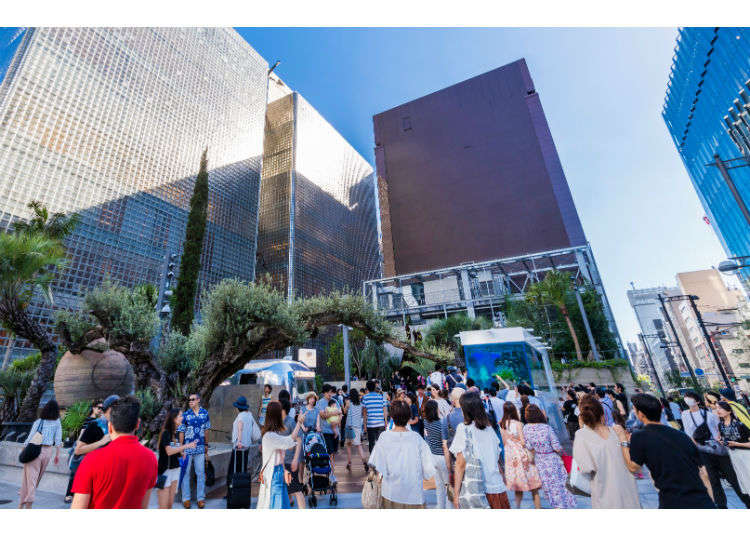 The new Ginza Sony Park opened on the site of the former Sony Building. It's a "vertical park" expanding down five basement floors – but what does that mean? It features a garden by exotic plant hunter Seijun Nishihata, a free indoor roller rink, and a variety of gourmet spots, including a craft beer stand serving brews for a single coin, the shaved ice store Toraya Café, and a shop making and selling red bean paste! Let's dive right in.
A New Landmark: Ginza Sony Park - Open Until 2020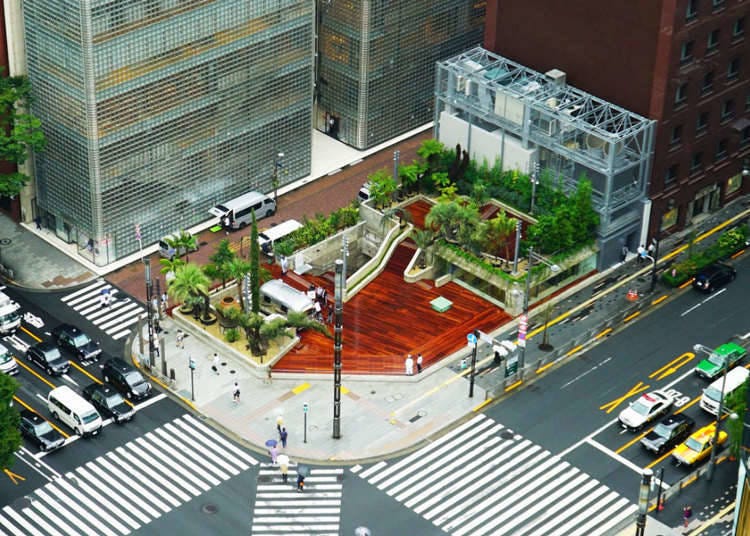 The Sony Building was once a Ginza landmark of its own, but the brand-new Ginza Sony Park that opened on its former site in August 2018 is its successor.

It's a limited-time spot only open until autumn 2020. It boasts the interesting concept of a "changing park," starting on the ground level and extending five floors underground. Home to unique events and gourmet spots found only at that venue, it has already become a favorite spot of both locals and tourists.

The second basement floor is directly connected to Tokyo Metro Ginza Station, and we wanted to see what Ginza Sony Park was all about for ourselves!
The Plant Hunter's Garden and Toraya Café's Shaved Ice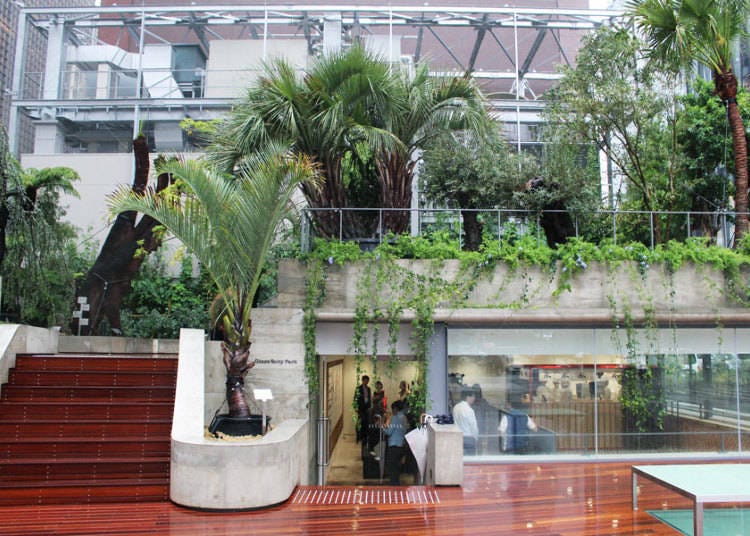 You'll find an actual garden on the first floor called "Ao Ginza Tokyo." Produced by the famous plant hunter Seijun Nishihata, all of the exotic plants from all over the world are up for sale.

Right next to it is a pop-up store of the shaved ice café Toraya Café, open until autumn 2018.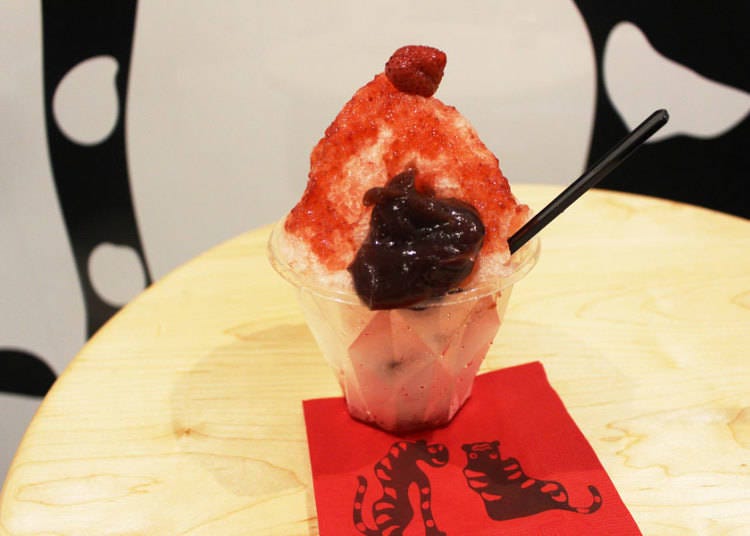 Toraya Café's specialty is an, sweet red bean paste, and that is, of course, what the shaved ice is plentifully topped with! The picture shows strawberry shaved ice (756 yen) with a generous serving of delicious Amao strawberry syrup and bean paste.
The café even served alcohol-based shaved ice delicacies such as limoncello and rum (540 yen each), the perfect snack for a sophisticated afternoon in Ginza.

The pop-up café is only open during summer, until the end of September, so don't miss out on it!
Fresh Bean Paste, Made Right at the Park!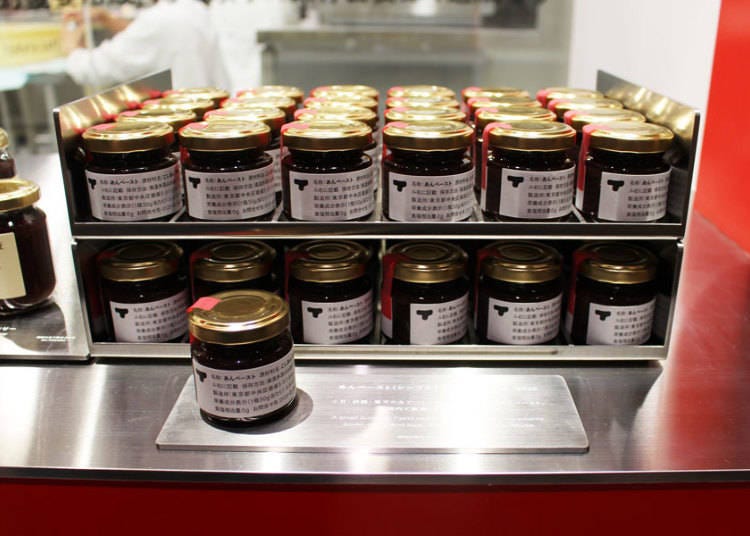 The bean paste for the shaved ice is also for sale. It's actually a limited item only available at Ginza Sony Park, made right at the Toraya Café on the third basement floor.

The "an paste (simple)" (432 yen) is made out of simple raw ingredients such as Ogura red beans, sugar, and agar-agar. It comes in adorable 50g mini jars and is perfect to put on toast, in yogurt, or in granola. It makes for a very Japanese-y souvenir as well!
What you see in the back of the store is the bean paste "factory." Being able to see how the paste is freshly made adds an extra bit of excitement both the taste and shopping experience!
"Yokan a la carte" (897 yen) is also on the menu. Yokan is a traditional sweet bean jelly that Toraya Café sells in an adorable packaging. If you're looking for a gourmet-style souvenir from Japan, this might be the one!
Craft Beer for One Coin and a Deli Food Stand on B4F!
Going down further, we now head to "Beer to Go" by Spring Valley brewery. As the name suggests, Spring Valley Brewery, a craft beer brewery that can be found in Daikanyama, Yokohama, and Kyoto.

Look forward to a choice of 17 kinds of craft beer including limited creations. Every single one of them costs a mere 500 yen (regular size), so you don't have to be worried about overstretching your budget if you want to try more than one! The shop also serves some deli delights, grilled snacks, and sweets to enjoy alongside your choice of craft beer.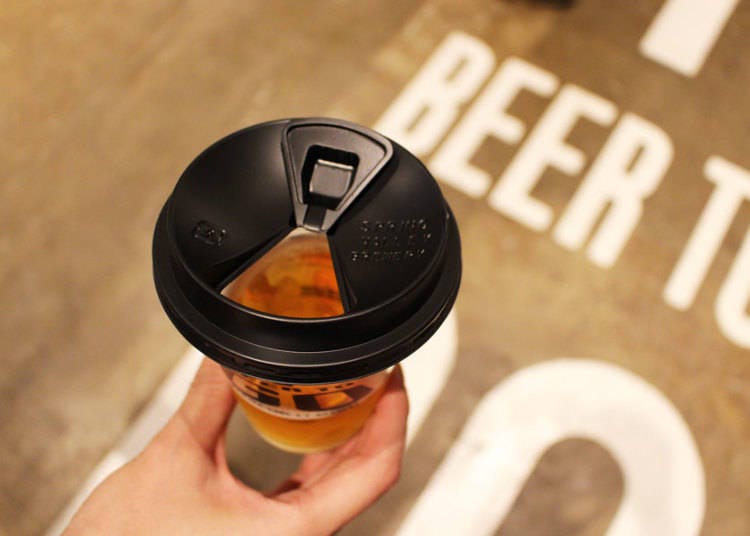 To let you enjoy Ginza Sony Park freely, the beer is served in a plastic cup with a lid, so sip it while exploring the place further!

Now, we want you to look at that lid for a moment – it has been designed with a wider opening to let you fully savor the taste and aroma of the craft beer creations.

We tried the "496" craft beer, which isn't only the shop's recommendation but genuinely tastes fantastic! It has a rich aroma and because it's so refreshing, it'll be gone in no time!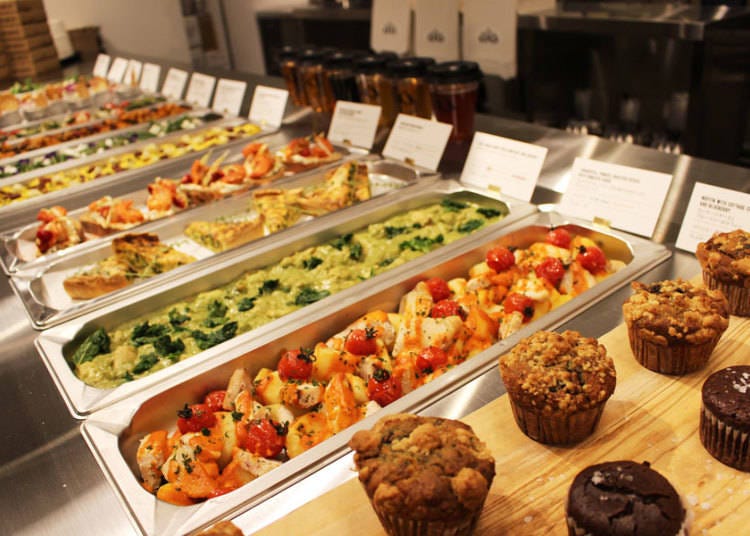 Of course, we also took at look at the deli specialties (400 yen each) beckoning us from the glass showcase.

The store is open from 11:00 a.m., and we particularly recommend the deli lunch set with three kinds of deli dishes, brad, and a craft beer of your choice (1,500 yen, set with coffee or herbal tea is 1,200 yen). This generous lunch offer is served until 4:00 p.m.

The same floor is also home to a secret live venue called "Park Live." Performances taking place here aren't announced until the very same day they're held! Rumor has it that live music can be enjoyed every Friday at 8:00 p.m. and at other irregular intervals. Why not grab a beer and start the weekend with some live music?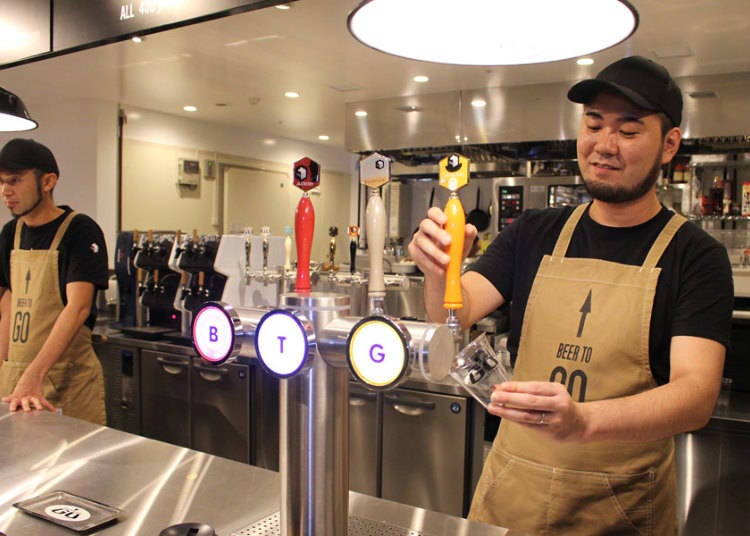 Don't the tap handles remind you of something? They're designed after the Marunouchi, Hibiya, and Ginza Line serving the nearby Ginza Station! This place is full of little surprises just like this one!
The Free Roller-Skating Rink on B2F, Best Enjoyed with Music!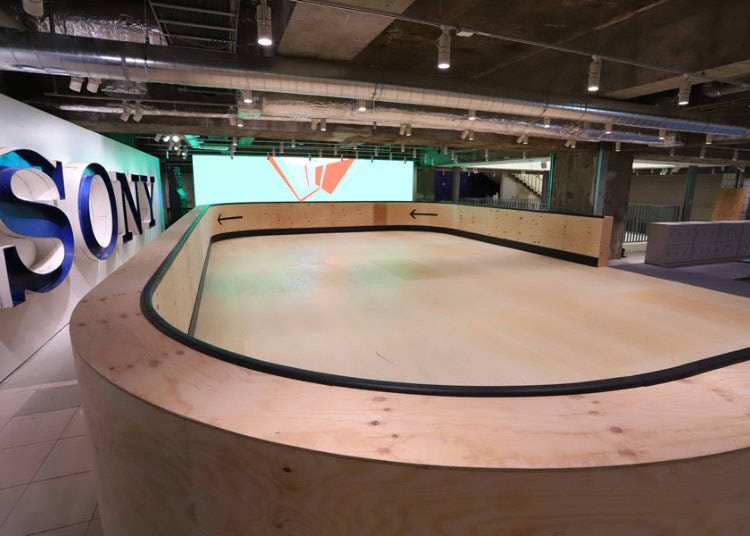 The second basement floor is a space for "activity and experience" type of events. A roller-skating rink is set up until September 254, letting you enjoy good old roller-skating under the concept of "#001 PARK x MUSIC x ROLLER SKATE."

It's not just plain rolling, however. Your experience is enhanced with large 4K displays and music flowing freely from a high-power audio system.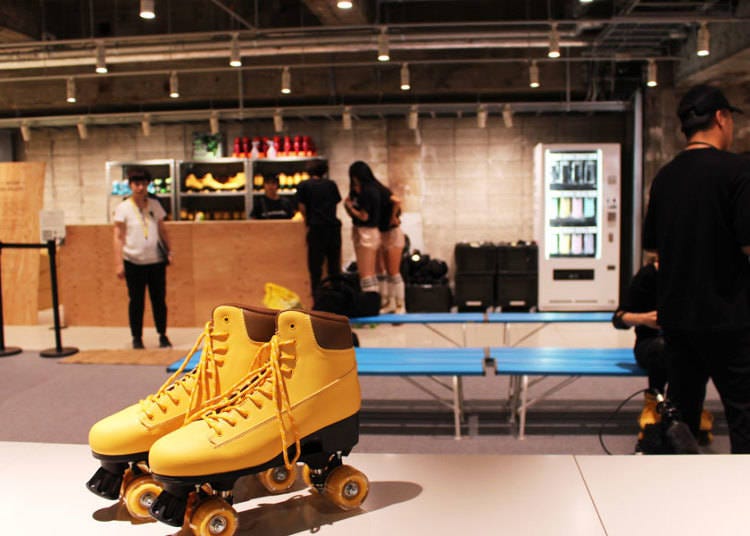 The best part about this is that the roller-skating rink is entirely for free (although there is a schedule system in place for particularly crowded days). We got vivid yellow roller skates and joined the rink right away! Instructors offer short lessons and special performances are held as well.

Once you're done satisfying your shopping cravings in Ginza, why not tackle your playful side and enjoy some fun roller-skating for free at Ginza Sony Park?
New Discoveries with Every Visit to Ginza Sony Park!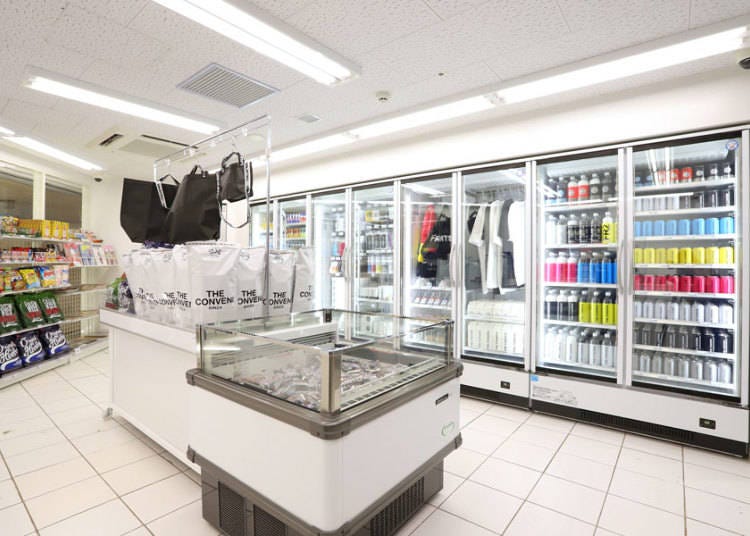 Ginza Sony Park is a fun kaleidoscope of sights and experiences! Make sure to also check out "THE CONVENI," a shop run by the musician Hiroshi Fujiwara that is based on a convenience store, as well as MIMOSA GINZA focusing on nikuman (Chinese meat dumplings), Hong Kong milk tea, and egg tarts.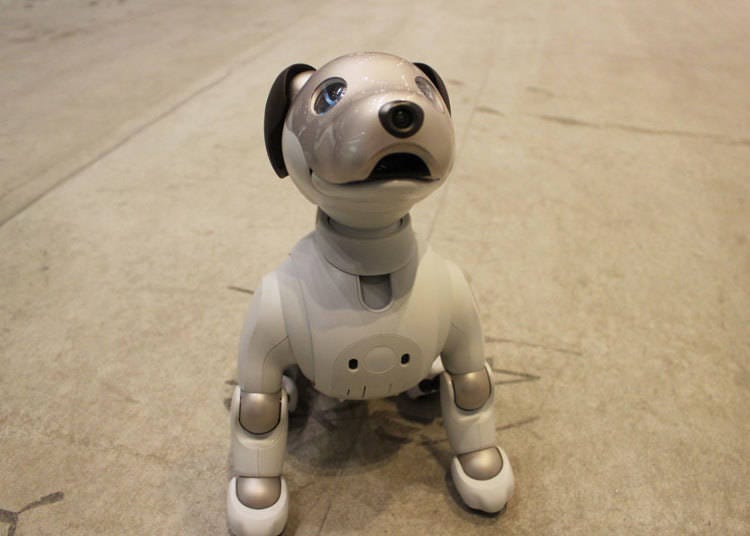 This is Spark, the adorable "Aibo" doggie greeting us on the first basement floor!
August 17 to September 9 also celebrates the comeback of the classic Sony Aquarium from the opening of the original Sony Building. It is supervised by the Okinawa Churaumi Aquarium, one if the largest of its kind, and is home to about 1,000 sea creatures of 25 species.

Ginza Sony Park seems like a never-ending flow of new discoveries and experiences, with numerous limited-time events, shops, and goods! No matter how often you visit, there's something new to be found every single time!

Some details, such as tiles and small windows, are remnants of the original Sony Building, beautifully merging modernity with a prominent piece of Tokyo's past. From shopping to sightseeing, Ginza Sony Park is a must-visit spot when you're in the area!
銀座ソニーパーク

Address

5-3-1 Ginza, Chūō-ku, Tōkyō-to 104-0061

Nearest Station

Ginza Station, Yurakucho Station


Hours: 5:00 a.m. – 12:30 a.m. (scheduled)
*The opening time for the area from the above-ground section to the Tokyo Metro Ginza Station concourse.
*Store opening hours and event times may differ.
*The opening hours of the information counter on B1F is 10:00 a.m. – 8:00 p.m.
Closed: January 1
*The information is as of August 9, 2018. Tax is included in all prices. The contents may be subject to change.
*Top image credit: picture cells / Shutterstock.com
*This information is from the time of this article's publication.
*Prices and options mentioned are subject to change.
*Unless stated otherwise, all prices include tax.