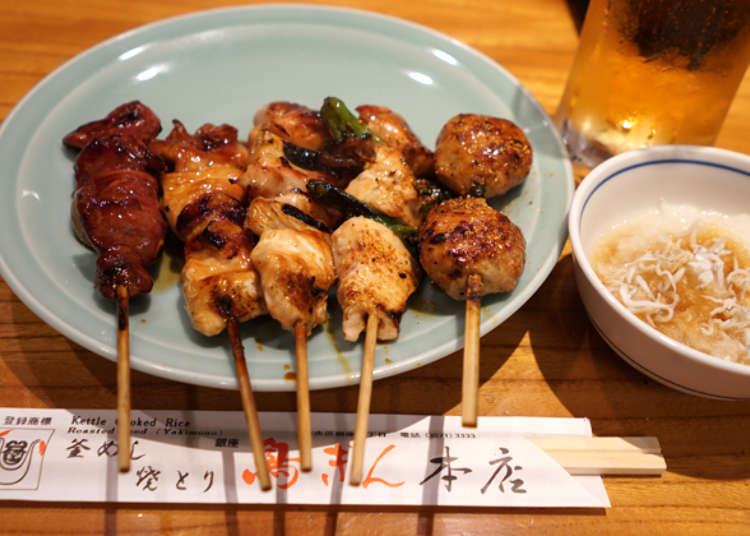 Ginza is Tokyo's glitzy shopping area that recently has been in the public eye more than usual – the relocation of the Tsukiji fish market, The Tokyo Olympics 2020 first souvenir store, and the opening of a fancy new complex called Ginza Place. It's not necessarily a neighborhood where you'd expect some of Tokyo's most amazing yakitori places that offer delectable grilled chicken for very reasonable prices! In case you aren't a fan yet: yakitori is Japanese-style skewered chicken that's typically grilled over a charcoal fire. Sold by the skewer, it is one of those dishes that you will absolutely fall in love with.

Join us on our yakitori gourmet walk through Ginza and explore three recommended restaurants that boast a long history and an unforgettable taste!
1. Torigin – the Prime Address for Yakitori in Ginza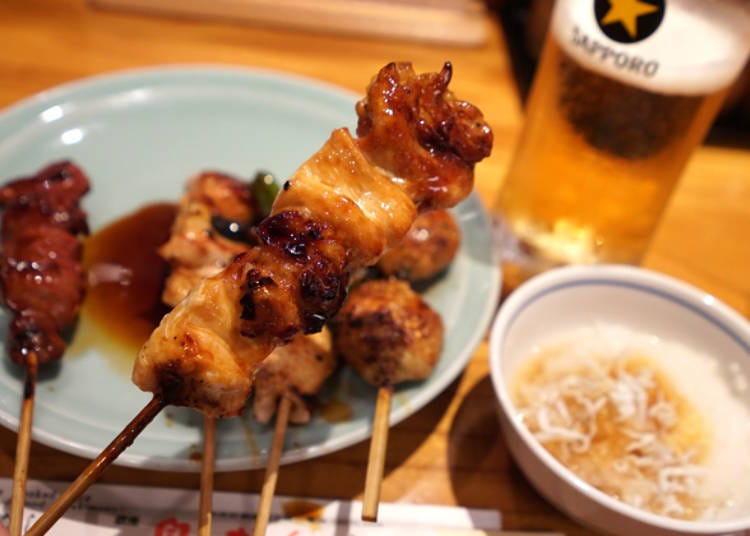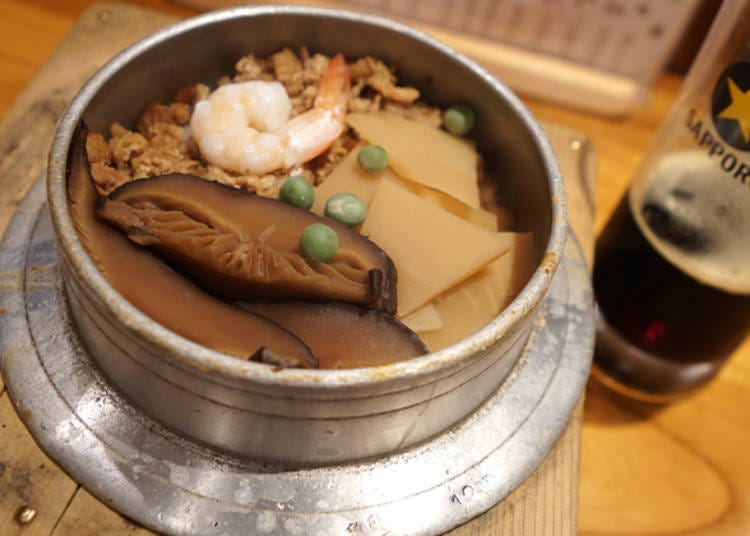 Our first stop is called Torigin and can be found close to Harumi-dori Street, Ginza's main avenue. Torigin boasts 14 locations throughout the metropolis, but the one in Ginza is the head store and looks back on a history of almost 70 years.

The iconic yakitori shop was founded in 1951, when the wounds of the war were still fresh. Back then, yakitori was a favorite of many, enjoyed in small alleys filled with even smaller eateries. Ginza was a hot spot for hungry diners looking for a meal, a trend that brought forth Torigin.

To serve those people as much chicken as they can possibly eat, the first shopkeeper added kama-meshi to the menu, a pot of rice with meat and vegetables. In Torigin's case, it's a truckload of chicken, basically. Next to classic skewers, kama-meshi has become the shop's most iconic menu item.

The restaurant is open from noon, offering an oasis for everyone who looks for a substantial meal and a refreshing drink along with it. The shop's long history can be savored with every bite of the charcoal-grilled chicken – it's yakitori brought to perfection, grilled over Binchōtan charcoal, served with a thick, flavorful sauce. We recommend cold beer as a side.
鳥ぎん 銀座本店

Address

New Ginza Bldg. No. 6 B1F, 5-5-7 Ginza, Chūō-ku, Tōkyō-to 104-0061

Phone Number

03-3571-3333

Hours: 11:30 a.m. – 22:00 p.m. (last order at 9:30 p.m.)
Lunch available on weekdays.
Closed: New Year's
2. Takechan: Excellent Yakitori Right Behind Mitsukoshi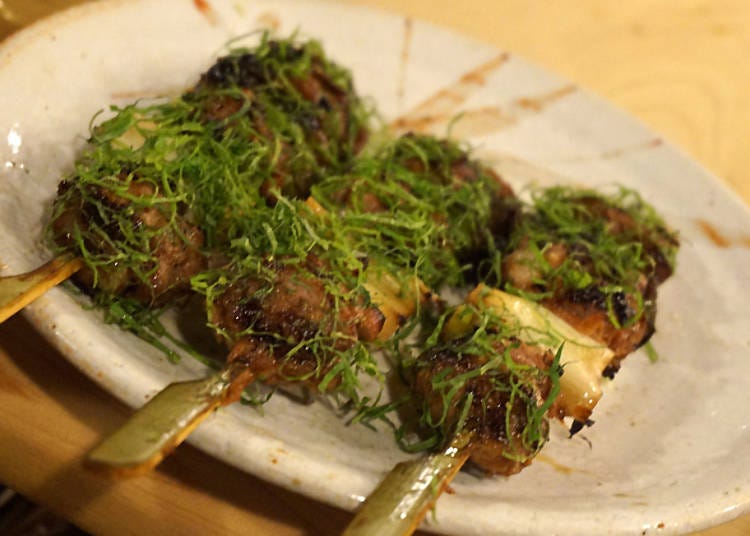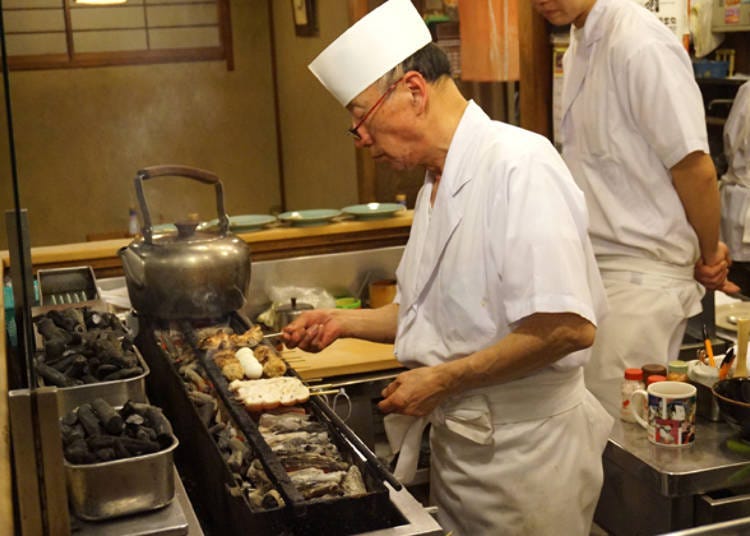 If you come to Ginza, it's very likely that you're going to visit Mitsukoshi, one of Japan's oldest department store chains. If shopping has worn you out, head over to Takechan, just a stone's throw away from the giant store. This yakitori shop stays true to its food stall roots and does not accept reservations, no matter how popular it is. Fans of Japan's grilled chicken queue up in front of Takechan to savor the original yakitori taste, sitting at a wooden counter that is built right around the grill. Watch the chefs work their magic!

Takechan uses a chicken breed called Nagoya Cochin and roasts it over Binchōtan charcoal that's thinner than what's regularly used at yakitori places. The shop also makes excellent duck skewers and we urge you to try the miso duck. There's a wonderful harmony between the miso paste and perilla leaf, boasting a deep flavor with a hint of freshness.

This elaborate gourmet craftsmanship is one of Ginza's best, and yet Takechan sells its grilled chicken creations at regular, affordable prices. There's not a single reason not to go!
武ちゃん

Address

B1F, 4-8-13 Ginza, Chūō-ku, Tōkyō-to 104-0061

Phone Number

03-3561-6889

Hours: 5:00 p.m. – 8:45 p.m. (last order)
Closed: Sundays, national holidays
3. Nenohi: Long-Established, Renowned, and Absolutely Delectable Yakitori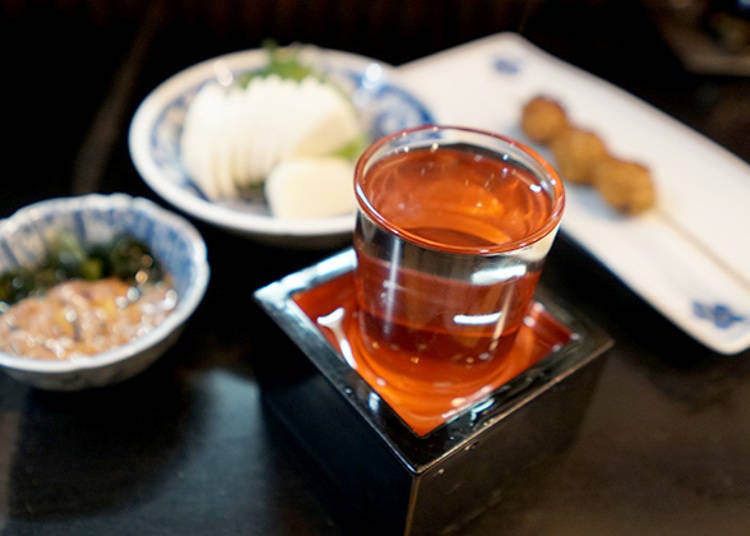 Last but not least, we make our way to East Ginza and a neighborhood that was once known as Kobikichō. Now it's simply called Higashi-Ginza, but some of the shops in the area still are still named after the old, charming alley, faithfully carrying on both legacy and atmosphere.

Nenohi is one of them. The laid-back yakitori shop is about half a century old but shares its name with a 300-year old sake brewery called Morita. The restaurant is not an affiliated store of the brand but apparently was named after the sake that it serves to its guests – which obviously is Morita's Nenohi.

Yakitori can be savored from 200 yen per skewer. Some stores serve pig offal as yakitori, but at Nenohi, you'll only find juicy grilled chicken on your plate. While the shop uses gas burners instead of charcoal grills, it boasts a wonderfully calm and relaxing atmosphere that working Tokyoites love to enjoy a drink in after work. Even locals of the area have a special place in their heart for Nenohi, regularly stopping by for a skewer or two. It's a warm, homely atmosphere that seems to take you far, far away from glitzy Ginza and its shopping giants.

As Nenohi is located right in the middle of Ginza and Tsukiji, the shop's menu also boasts a wonderful variety of seafood dishes. Look forward to indulging in tuna and scallops to your heart's desire!
ねのひ 本店

Address

3-13-5 Ginza, Chūō-ku, Tōkyō-to 104-0061

Hours
Lunch: 11:30 a.m. – 2:00 p.m. (last order)
Dinner: 5:00 p.m. – 11:00 p.m. (last order at 10:00 p.m.)
Closed: Saturdays, Sundays, national holidays
No matter how fancy Ginza is, if you look closely, you'll spot several little neighborhoods and alleys that have never let go of their warm, local charm. Reminiscent of the old days, when the area was known for cheap yet delicious food, they invite to forget about all the glitz for a while and to simply relax over a beer and a flavorful skewer of yakitori.

Writer: Nayu Shiomi
*This information is from the time of this article's publication.
*Prices and options mentioned are subject to change.
*Unless stated otherwise, all prices include tax.