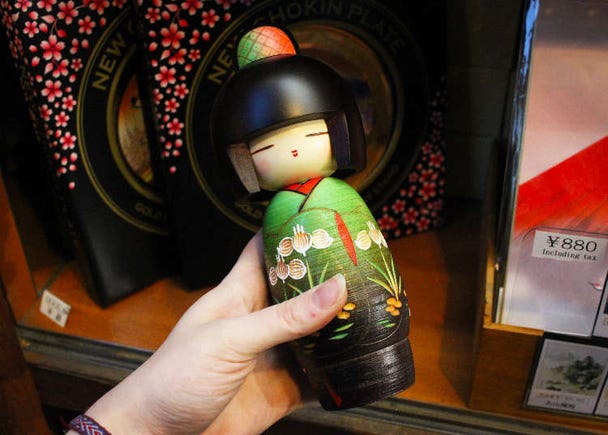 If you're in Tokyo, you are most likely going to visit the area of Asakusa. From famous traditional sights like Senso-ji Temple to the modern Skytree, Asakusa is one of the most popular, must-see areas for all Tokyo travelers. Many tourists visit every year to see the temples, walk the retro-streets, rent kimonos taking pictures along the picturesque river or streets and to shop at the popular Nakamise street that leads to Senso-ji temple.

And while Japan is not a Christian country, Christmas is definitely a major and widely celebrated event, especially with couples. If you're in Japan during the Christmas season and are looking for unique gift ideas to take back to your country, Asakusa and specifically, Nakamise, might be the place to find the perfect item for your friends, family, coworkers, pets or even for yourself. Here are 15 gift ideas for Christmas presents or stocking stuffers this Christmas.
Zodiac Animals: Add an Asian flair to your Christmas tree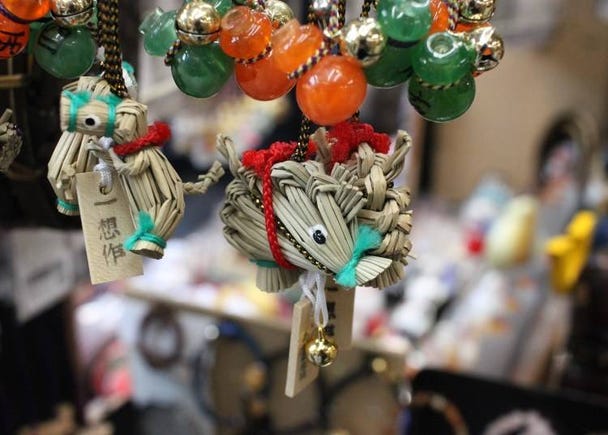 Chinese Zodiac Animals at Shizuoka-ya
In the Chinese calendar there are 12 astrological animals with the year 2020 being the Year of the Rat. Japanese also embrace these zodiac symbols and many products, foods and New Year's cards with the animal of that year are made and sold in celebration.
Chinese Zodiac Animals at Shizuoka-ya
These handmade decorations are not only great for New Years but would be a perfect ornament for a Christmas tree or to hang around the house during the holiday season. Known to bring good luck for the coming year, giving this to a family member to hang outside their door would help ward off bad luck and would also be a unique holiday decoration that stands apart from the typical wreaths or holly.
Kokeshi Dolls: Hand crafted traditional souvenirs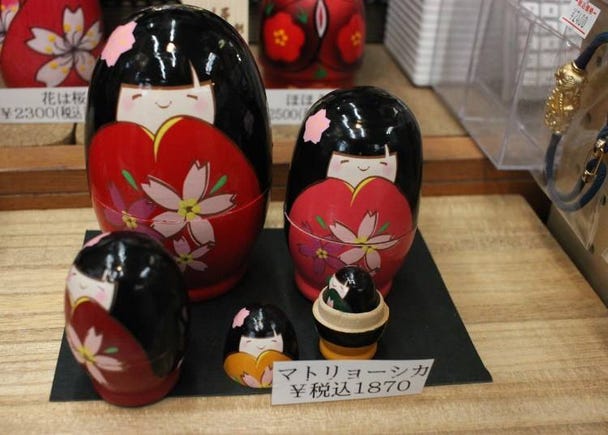 Kokeshi Dolls at Shizuoka-ya
Kokeshi dolls are traditional dolls carved from Japanese cherry or maple wood that originated from the Northern Tohoku region of Japan. They have been crafted for over 150 years and come in a variety of shapes, sizes and colors. Kokeshi dolls consist of a body and head but no arms or legs.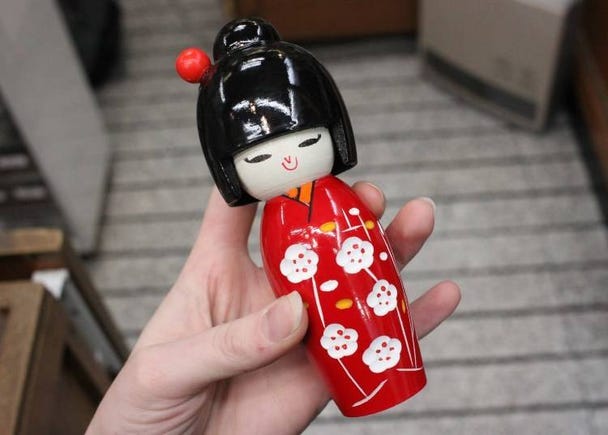 The dolls are usually waxed and painted with floral kimono designs. The faces are also painted and are a great gift for children as they are sturdy and safe as well as for adults who want a piece of traditional Japanese culture to decorate their home or office.
Samurai & Ninja Figurines: What's hiding under your tree?!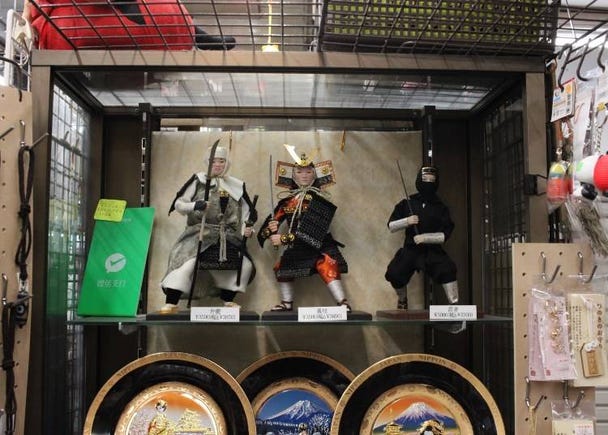 Samurai and Ninja Figurines at Shizuoka-ya
A great gift for Japanese history buffs or those interested in Samurai and Ninja culture. Also for those Otaku collectors in your family who house figurines in glass cases, these intricate and elaborate figures are definitely an impressive item to add to any collection. They are also budget-friendly considering the amount of detail and work that has gone into the design and materials.
Lucky Charms: Cute cats and wise owls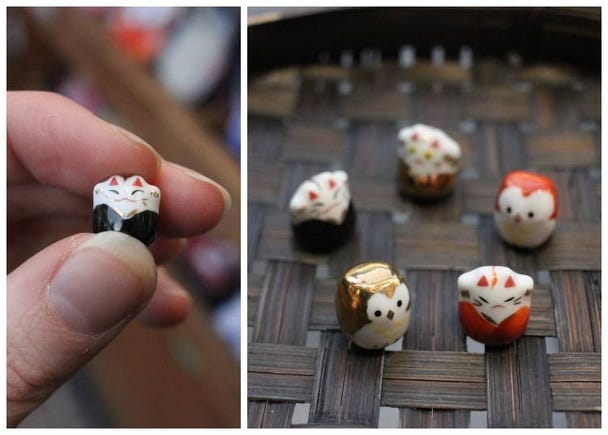 Lucky Charms at Shizuoka-ya
Probably the cutest little amulets you will find, these are tiny, intricate manekineko and owl charms that would make great stocking stuffers for the holidays.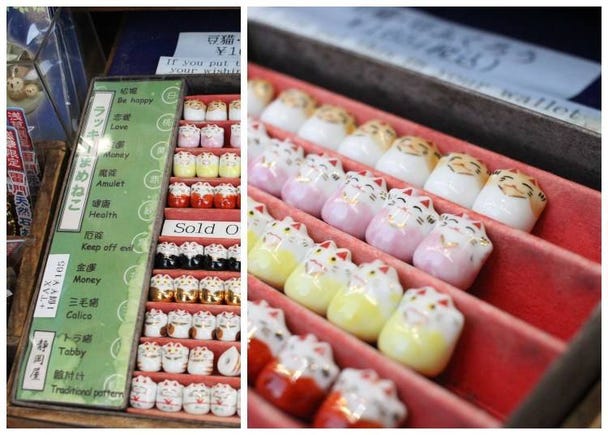 Lucky Charms at Shizuoka-ya
Along with being adorable and easy to bring back to your country, each design has a specific meaning from bringing luck, happiness, wealth and health to warding off evil spirits and finding love. And because they are so cute and small, buying a set is affordable and great for any age.
Daruma Dolls: A Christmas wish to last the year
Daruma Doll at Shizuoka-ya
These round, jovial Japanese doll may somewhat resemble Santa, but they're actually a traditional character based on Bodhidharma, the founder of the Zen tradition of Buddhism.

Made of paper mache, hollow and weighted at the bottom, daruma dolls are like roly-poly dolls so they won't fall over.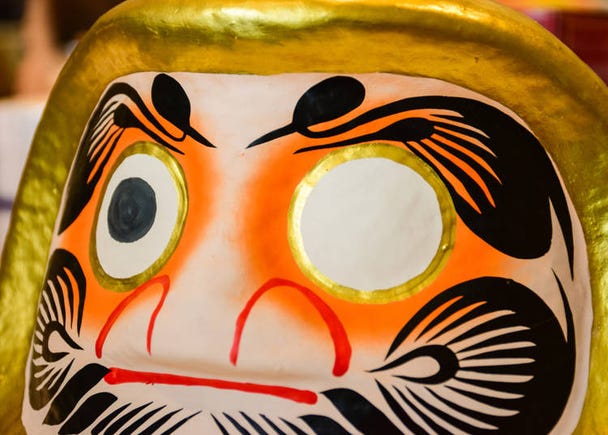 Daruma Doll
These dolls are toys but are actually considered lucky charms and are popular for goal setting. Looking closely at the dolls you will notice the eyes are blank. Japanese people make a wish or a goal and paint the left eye. Then when the goal or wish comes true they paint in the right eye. These Daruma dolls are kept for the year and are returned to the temple or shrine where they were bought and burned. Then a new daruma doll is bought for the next year.

Of course, if you are taking your daruma with you to your home country, you can still make a wish, fill in the eyes and keep the daruma as a souvenir and memory of your trip to Japan.

A great gift for students and children who can create goals and get motivation from the daruma doll the entire year.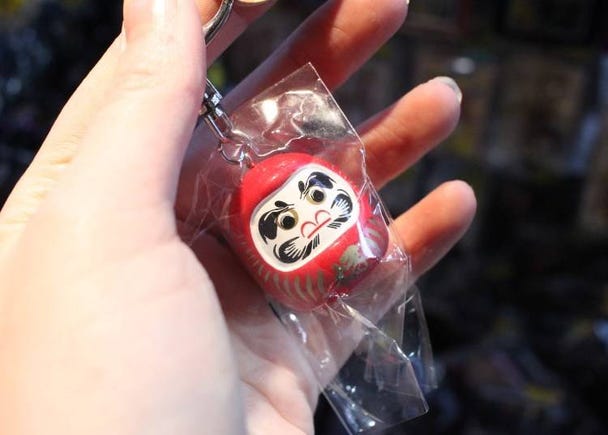 Daruma Doll Items at Sparkle
But... If you don't want the pressure of wish making and goal setting, you could even simply buy these little cuties with the eyes already painted on!
Japanese Plush Toys: Perfect stocking stuffers!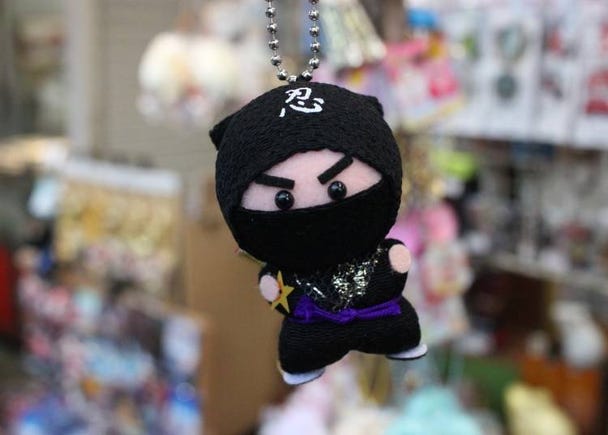 Ninja Plush at Shizuoka-ya
Small but beautifully crafted soft plush toys are a great stocking stuffer and unique gift idea. Soft and aesthetically pleasing with traditional Japanese kimono fabric, Japanese patterns or Japanese themes, these toys make a simple but cute Christmas present.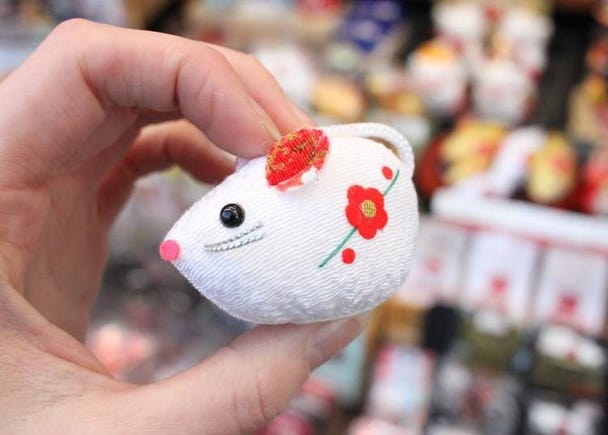 Mouse Plush at Shizuoka-ya
Many of them come with chains or strings that can make them easily placeable on Christmas trees as ornaments. The best part is the variety of shapes, characters, patterns, fabrics, embroidery and styles so you can pick up heaps of different ones to give away or collect for yourself.
Incense: Good smells and good vibes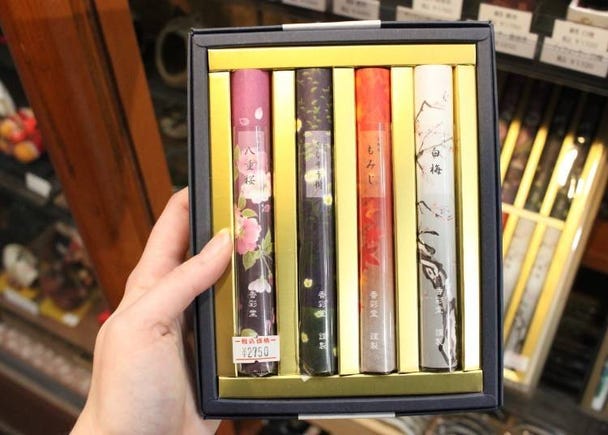 Incense at Shizuoka-ya
Although not a popular item used for Christmas, incense is a major part of Asian and Japanese culture. Used in meditation, religious ceremonies and for aromatherapy, this is a gift that would be perfect for health conscious people who are into yoga, meditation, exercise, aroma therapy or wellness.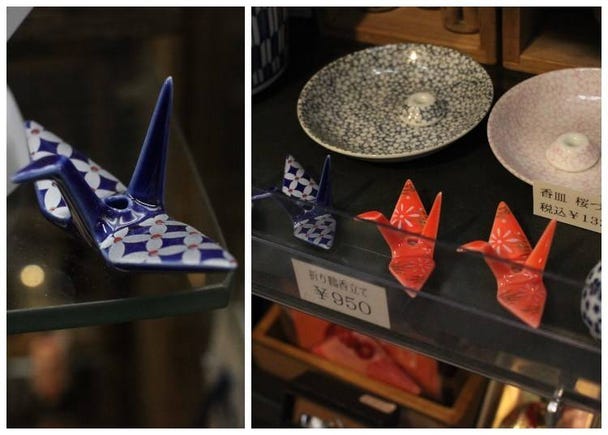 Incense Stands at Shizuoka-ya
The incense comes in a variety of fragrances and not only releases pleasant scents through your home but also create a relaxed and serene atmosphere. Whether you light incense at night to help you sleep or place it in your bathroom to add a spa-like experience to your bath, incense charges any atmosphere with comfort and tranquility. And the ceramic holders that come in a variety of shapes from dish to crane adds to the beauty as well.
Japanese Mantelpieces: For the sophisticated few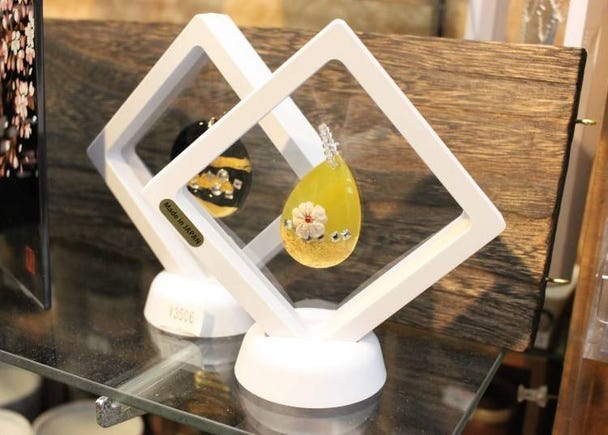 Mantelpieces at Shizuoka-ya
Heading to tourist zones you are bound to come across tacky, cheap looking souvenirs being heaved onto passing tourists. However, many shops in the Asakua area contain beautiful and elegant looking pieces that would spruce up any fireplace during the Christmas season.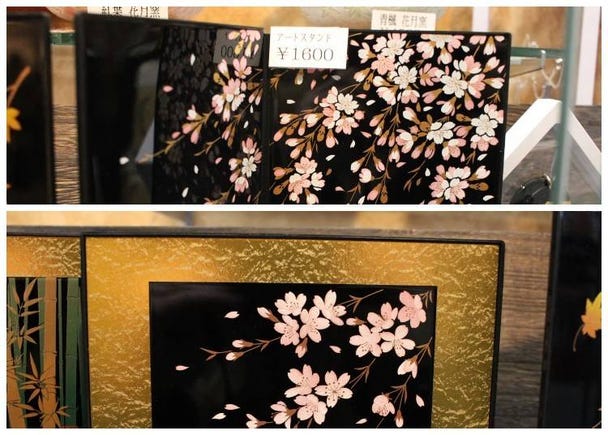 Mantelpieces at Shizuoka-ya
Painted in gold and featuring some of Japan's most iconic images like cherry blossoms or Japanese maple leaves, the details in the art as well as the work that goes into the look is anything but cheap-looking.
Mantelpieces at Shizuoka-ya
Made in Japan and using high quality materials but still being affordable makes these art pieces an item that many tourists quickly pick up while shopping in Asakusa.
Japanese Accessories: A good girly gift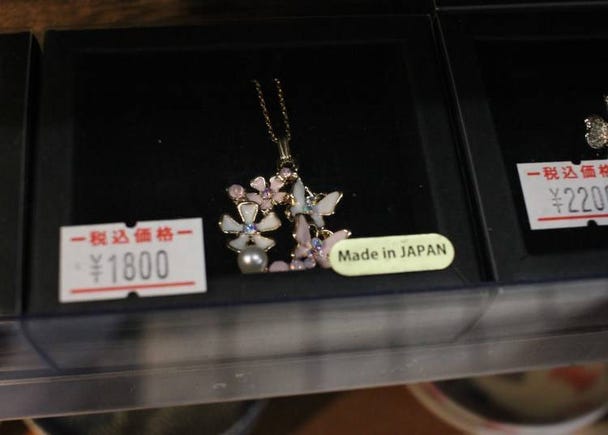 Japanese Accessories at Shizuoka-ya
If you are looking for some flair to add to your wardrobe while attending Christmas parties, you might want to pick up some Japanese made jewelry and accessories.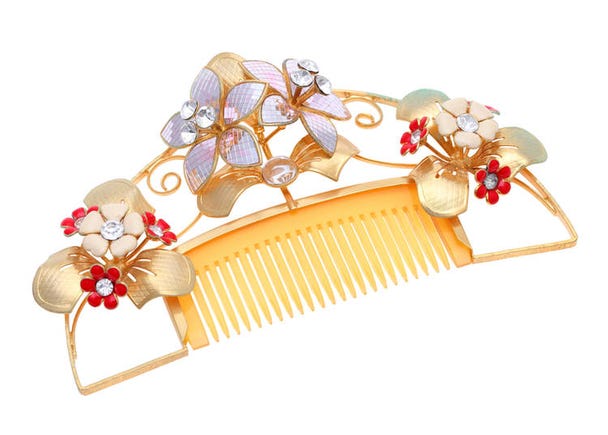 Japanese Hair Comb
Delicate flowers and Japanese made designs, adorning traditional style necklaces, earrings, bracelets or hair pins would definitely set you apart from others. Also a perfect gift for mothers, wives, sisters and other important women in your life.
Warosoku Candles: Do they remind you of anything?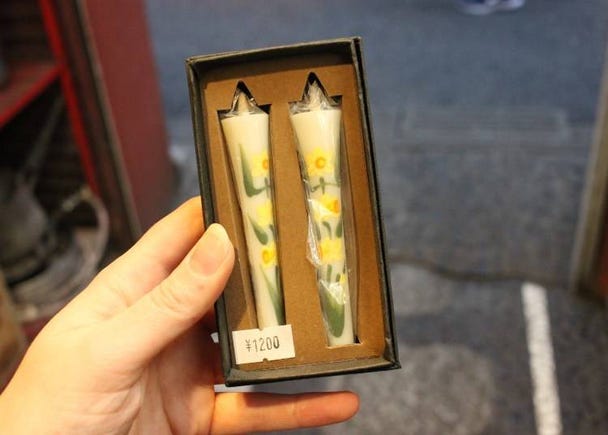 Warosoku Candles at Shizuoka-ya
Warosoku candles are actually different from other candles made with paraffin or beeswax as the candles are made from berries of a hazenoki or wax tree. The wick of the candle is made of Japanese paper and the candle is hollow which means that it emits no smoke and doesn't drip wax.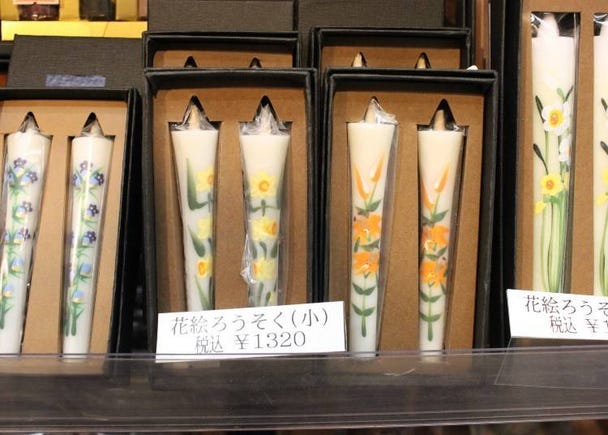 Warosoku Candles at Shizuoka-ya
Although these candles are Japanese made with floral design, they almost look like something you would find in a Catholic church during Christmas mass.
With an elegant cathedral esque style and alluring floral imagery, these candles would make a great centerpiece at the Christmas table or in a living room decorated with a Christmas tree and presents.
Ukiyo-E prints: Fancy looks without the huge price tag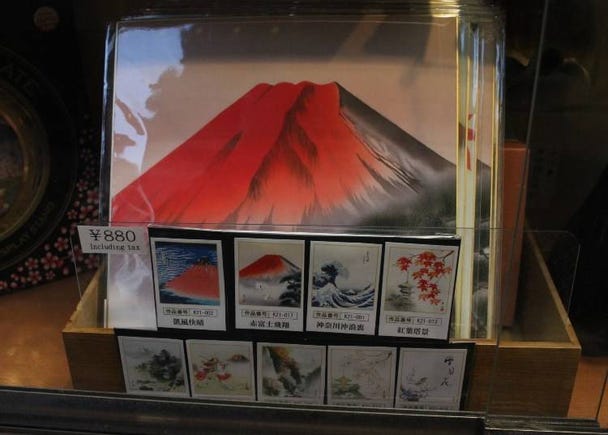 Ukiyo-E Style Print at Shizuoka-ya
A genre of traditional Japanese art, you have most likely seen the famous Mt. Fuji, Tsunami or Geisha works prominently displayed around Japan on a variety of products. Ukiyo-E are prints created by woodblocks that were prominent from the 17 century. Many European artists like Monet and Van Gogh were inspired by the Japanese art which became the prominent idea of Japanese art around the world.
Hokusai Wave Replica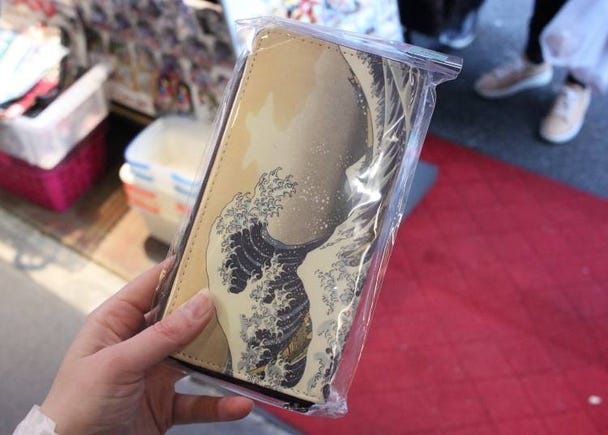 Hokusai Wallet at Sparkle
Whether it be in postcard form, cloth fabric, large print or on clothing, the ukiyo-E imagery is iconic of Japanese landscapes, culture and beauty. Any home would be an excellent place to house one of these world renowned images.
Japanese Fabric Purses: An easy fallback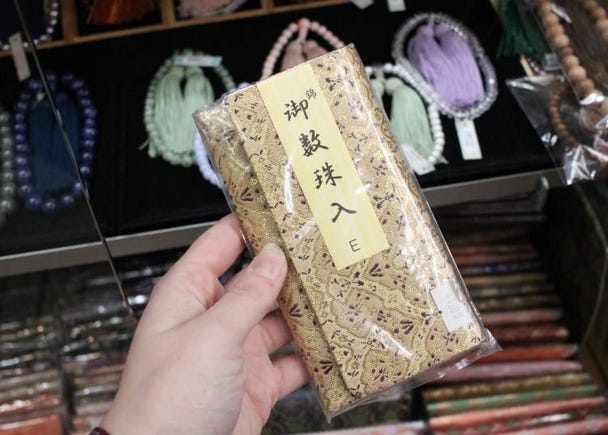 Fabric Purse at Shizuoka-ya
A popular item for females of all ages are fabric bags, wallets and pouches that are available all along the Nakamise shopping street. With a variety of colours, patterns and sizes, the prices are quite inexpensive and many shops have many bargain sales if you buy sets.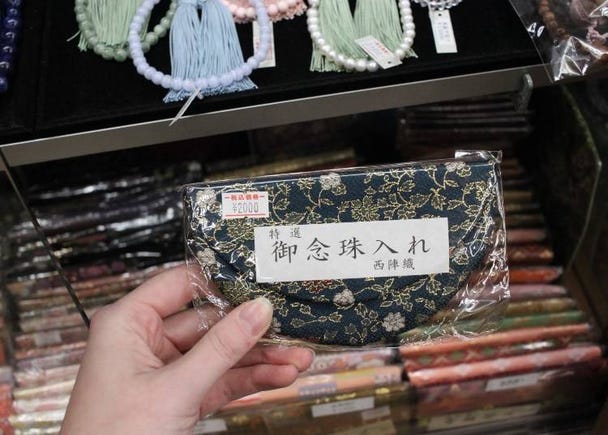 Fabric Purse at Shizuoka-ya
The pouches are light and slim making them perfect as wallets, card holders, passport holders, cosmetics and medicine pouches, and even smartphone holders. Versatile and great for traveling you can pick one up for friends, family and definitely for yourself.
Buddhist Prayer Beads: Something cultural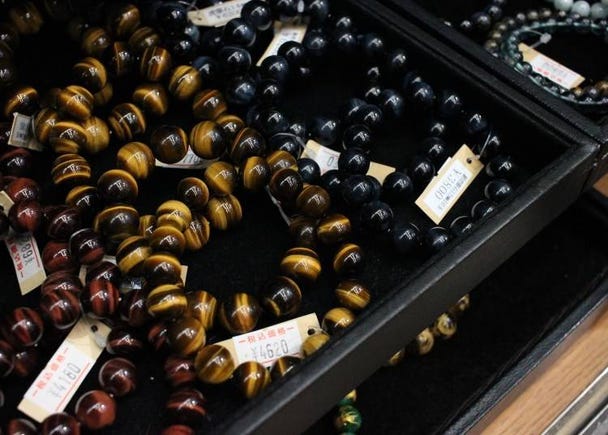 Prayer Beads at Shizuoka-ya
Originally these beads were used for prayer, traditional ceremonies and meditation. Each bead used to help focus prayer and served as repetition reminder of Buddha's name. However, nowadays the main appeal is for fashion.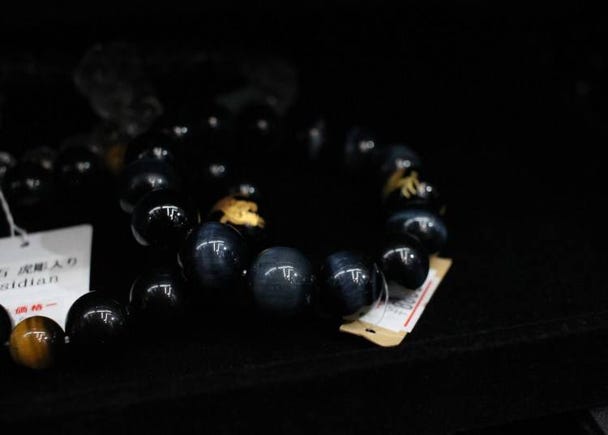 Prayer Beads at Shizuoka-ya
There are a variety of materials used to make the beads and prices vary depending on the material used. Some popular materials used in making these prayer beads include Ume trees, Sandalwood, crystal, amethyst, turquoise, glass and plastic. The prayer beads are both as a tool for prayer and a charm that brings happiness. Regardless of the reason for wanting these beads, they can be used as a symbolic decoration, in prayer, as necklaces or bracelets or as a decoration in your home.
Kimono Hello Kitty: Pretty in pink!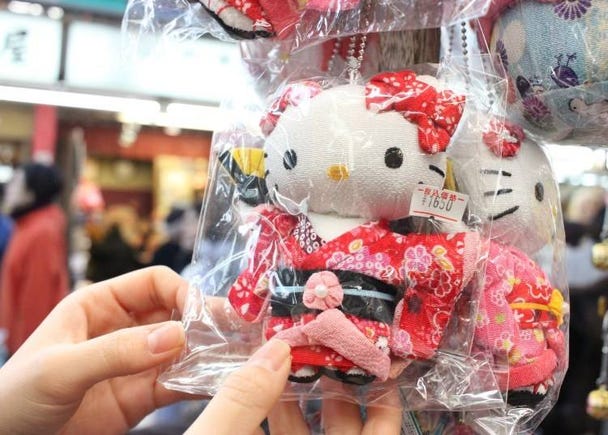 Hello Kitty at Shizuoka-ya
World renowned Hello Kitty also pops up in Asakusa but with a traditional twist. Instead of her typical dress or overalls, Asakusa Hello Kitty is usually dressed in Japanese traditional kimono. With a variety of gorgeous kimono colors and patterns, these Hello Kitty are most likely not available back home.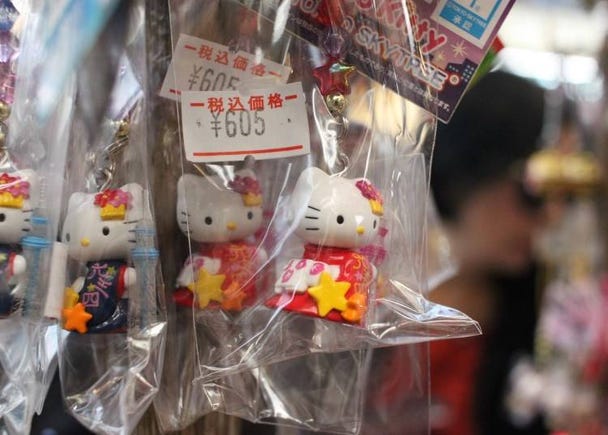 Hello Kitty at Shizuoka-ya
There are different items like key chains, charms, plush toys and stationary all with Hello Kitty dressed in a variety of different kimono styles. Exclusive to traditional areas of Japan like Asakusa, taking home a kimono clad kitty is definitely a unique opportunity.
Novelty Shot Glasses and Sake Cups: For the party animals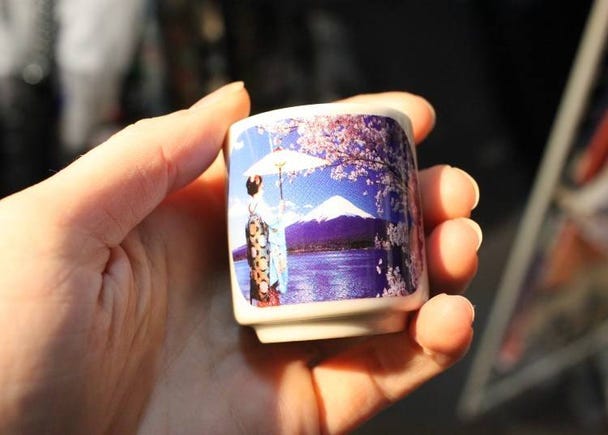 Shot Glass at Sparkle
Something that most people will be doing this holiday season besides shopping and seeing their loved ones is... drinking! Whether it be at Christmas parties at work or with family or even New Years celebrations, the spirits will be flowing.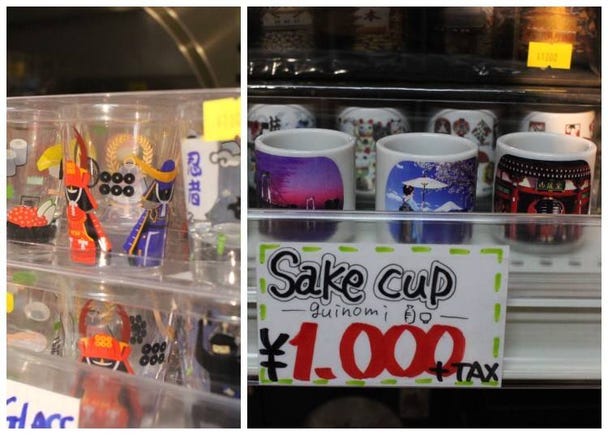 Shot Glasses at Sparkle
With that in mind, these Japanese themed shot glasses are a perfect gift for anyone who enjoys a drink with their Christmas feast. And with a wide range of designs and styles there are shot glasses for liquor or beautifully crafted glasses for Japanese sake and sho-chu. Whether you like ninjas, sushi, cherry blossoms or Japanese landscapes, there is a shot glass made for you.

These items are just a few of the hundreds of amazing gift ideas that most people would be happy to receive for Christmas. With so much variety there is literally something for every taste and preference. And depending on your budget you can get something inexpensive, simple yet elegant or splurge on that special someone with something fancy, traditional and lavish. While walking the streets of Asakusa during this Christmas season make sure to soak up the culture, the beauty and all the treasures Asakusa has to offer.
Sparkle

Address

1-37-2 Asakusa, Taito-ku, Tokyo

Nearest Station

Asakusa


Phone Number

03-6802-7661

Business Hours: 10:00-19:00
Closed: No set holidays
静岡屋

Address

1 Chome-31-1 Asakusa, Taito City, Tokyo 111-0032

Nearest Station

Asakusa


Phone Number

03-3842-2849

Business Hours: 8:30 - 18:30
*This information is from the time of this article's publication.
*Prices and options mentioned are subject to change.
*Unless stated otherwise, all prices include tax.