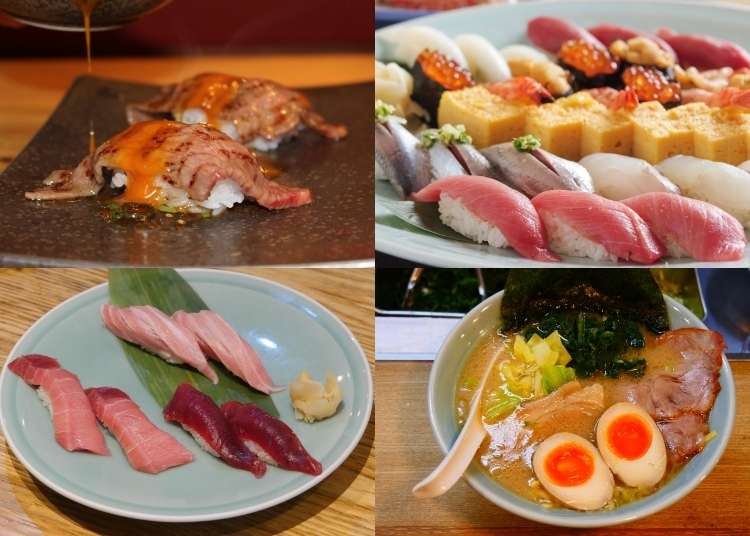 Asakusa is a popular tourist hang-out by day and an equally popular tourist resting place by night. So if you wanna grab some dinner near your hotel or have your evening culminate with a late-night feast then we've got a few hot recommendations for you. Here's four of the best dinner spots in Asakusa that stay open past your bedtime!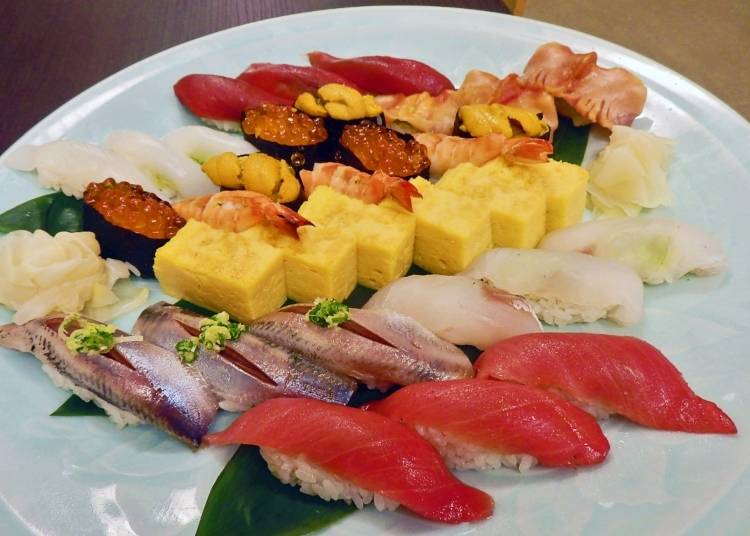 Sushiwaka is the first of two sushi places on our list. It occupies a two-story building on a humble side street not far from Asakusa station. It's as traditional as they come, with ashen wood furniture, a sushi counter on the first floor where you can watch the artistic chefs at work, tatami flooring and low tables on the second floor and kimono-clad waitresses serving up your food. What's more, it stays open until 2am. Sound good?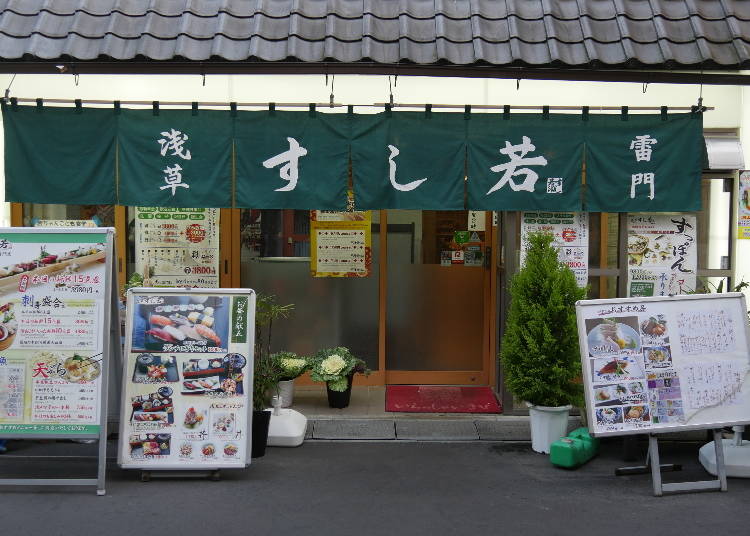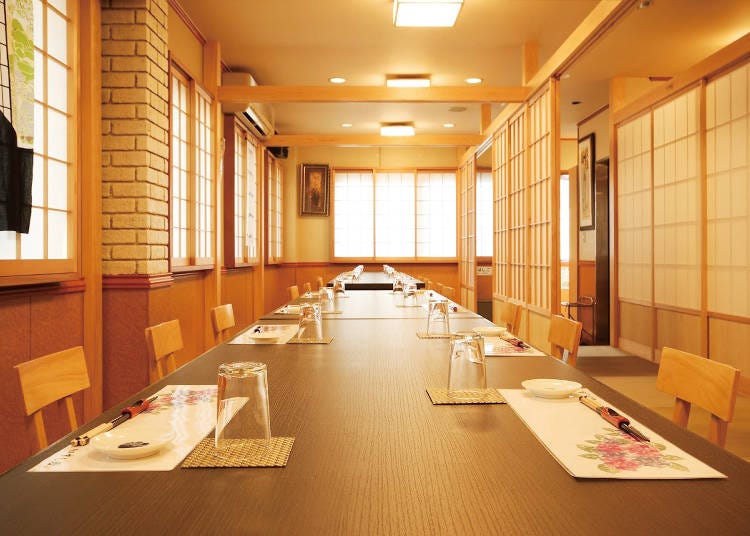 The second floor of Sushiwaka has around 70 seats and is generally for larger groups of 10 people or more—reservation by phone is recommended but if you don't speak Japanese you can use Gurunavi's restaurant reservation helpline. If you decide to opt for the group booking then you will receive special menu options in return for your patronage.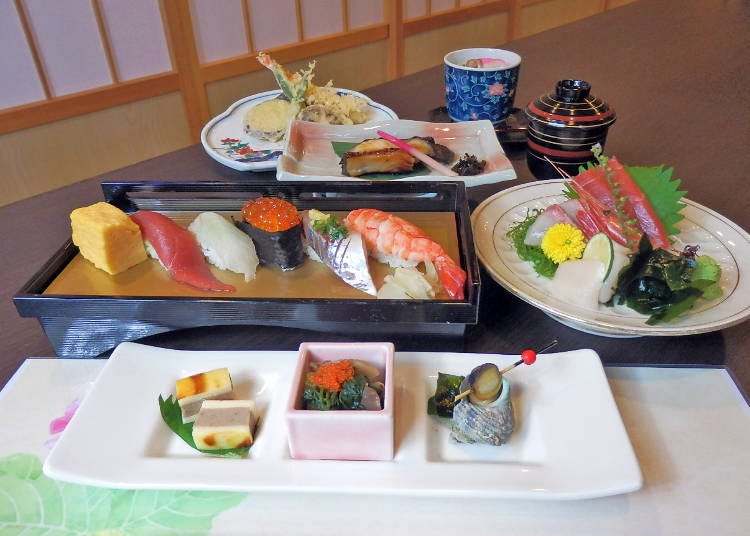 What's Popular?
These exclusive menu options come in the form of set meals at seriously competitive prices. The ¥3,800 Irodori 3-course set is probably the best seller. It comes with an appetizer and sashimi, followed with grilled dishes and deep-fried tempura, then it's rounded off with chawanmushi (traditional egg custard dish), a nigiri sushi set and soup—the specifics of the meal will vary from season to season. And, you can add all-you-can-drink to the set for as little as an extra ¥2000!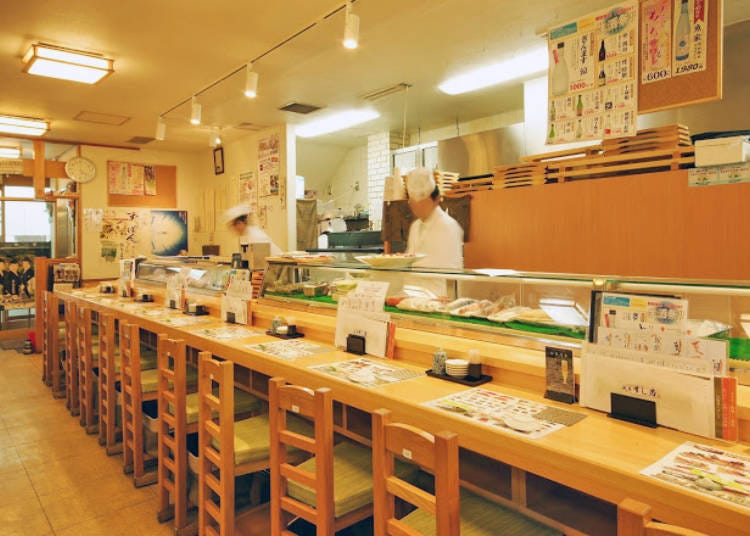 The ground floor, which is more suitable for smaller groups and walk-ins, is dominated by a chef's counter on the left-hand side and approximately 10 tables aligning the right wall. There are a variety of menus depending on your taste and style preferences. From the set menu the nigiri deluxe set—containing 10 different types of sushi—and the various tuna special are both popular orders coming in at ¥2980 and ¥2484 respectively. There's also a piece rate menu so you can pick and choose the individual cuts of sushi at your leisure (a variety of vegetarian maki rolls are also available from the piece menu). The individual pieces range from ¥98 up to ¥398 depending on the type of fish.

There's also a carefully selected assortment of liquor options—both hard and soft—to help wash your supper down. There's a pretty vast selection of Japanese sake and vintage whiskies from all corners of the land of the rising sun, 10 variations of umeshu (plum wine)—which goes particularly well with raw fish—and some standard Japanese beer and wine options too. Unfortunately, all-you-can-drink options are not available for smaller groups.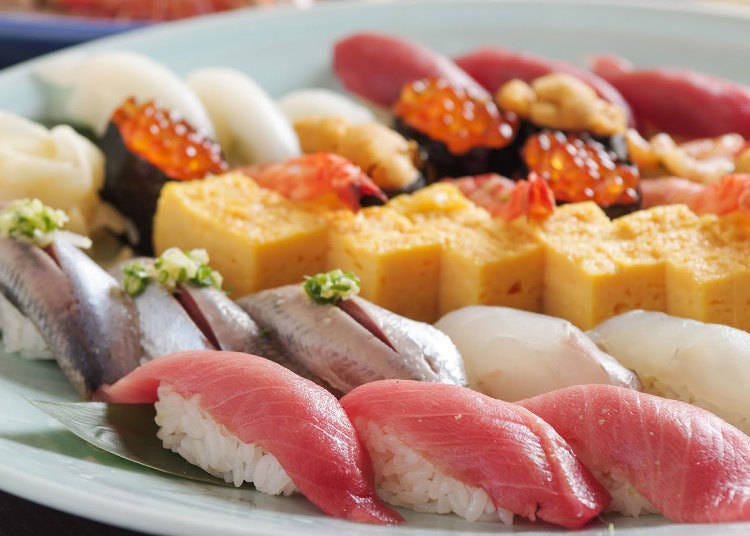 Events
The last point worth noting is that Sushiwaka is a popular booking location for traditional Japanese performances. These are delegated exclusively to the second-floor group booking area. As these bespoke performances are available by special request, reservations must be made a month in advance and are geared towards larger groups. If you happen to be visiting with a group of 12 or more, this may be an option to explore!
浅草すし若 雷門店

Address

Oban Building 1・2F,1-18-8, Asakusa, Taito-ku, Tokyo, 111-0032


Nearest Station

Asakusa Station (Tokyo Metro Ginza Line / Toei Asakusa Line / Tobu Isesaki Line (Tobu Sky Tree Line) / Tsukuba Express)


Phone Number

03-5806-3888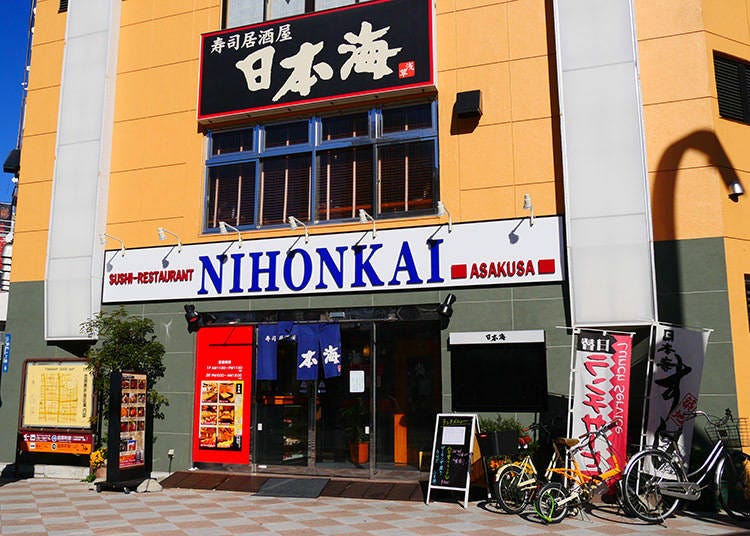 Staying within the realms of aquatic cuisine we have Nihonkai, a sushi restaurant whose name literally means "Japan Sea." Nihonkai has 230 seats spread across 2 large floors and a 3rd smaller floor which is typically resigned to private functions only. The 1st floor seating area encircles a large sushi-making counter which operates as the room's centerpiece. This is great for individuals and couples. Large groups however may be moved up to the 2nd floor which has bigger tables, some semi-private booths and a pretty interior of that mixes bleached wood with soft pastel colors. Although Nihonkai does stay open until midnight, last order will typically fall around an hour before, with the restaurant's peak hours being 6-9pm.
What's Popular?
Though sushi is their specialty, variety is a key theme at Nihonkai. Sashimi platters, fried chicken wings (which come highly recommended), a rice and fish stir-fry and a popular crab and egg drop soup are all top sellers. For vegetarians there are vegetable maki rolls, negi (spring onions) and soba dishes too.

If indeed you are on the hunt for sushi then there are a few popular options which may take your fancy. The value set A of sushi, kushiyaki chicken and miso soup (¥2,450) and value set B of sushi, teriyaki chicken and miso soup (¥2,380) are both very popular.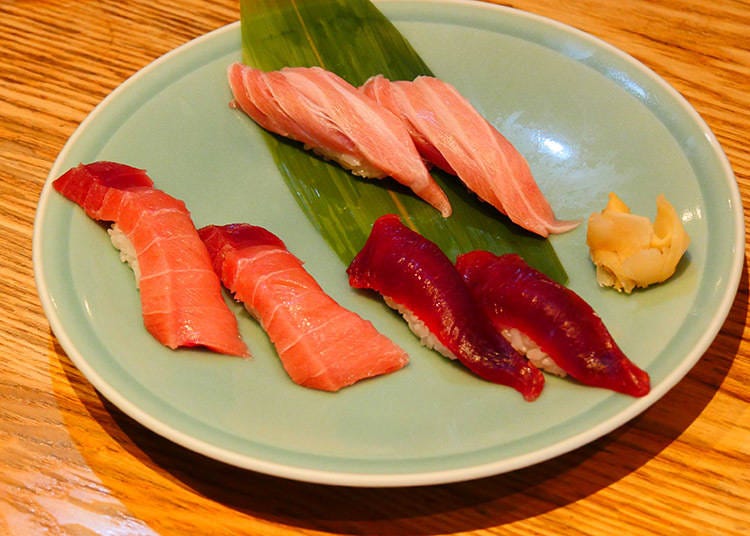 Another selling point that helps Nihonkai to stand out from the crowd is their Indian tuna sushi and sashimi. Indian tuna is not all that common in Japanese seafood restaurants in spite of its delectably rich umami-flavors. This lends it a meaty quality that also calls for less of a need to overburden it with flavor additives like soy sauce and wasabi.

Each and every slice of tuna served in-house is of the Indian variety. The tuna combo plate for ¥910 is absolutely delicious and possibly the best way to sample this tasty fish from Japan's oriental cousin. It contains three cuts of raw tuna served on beds of room-temperature rice and a side of palette-cleansing ginger. The fat running through the fish gives a rich buttery taste and an incredibly tender texture!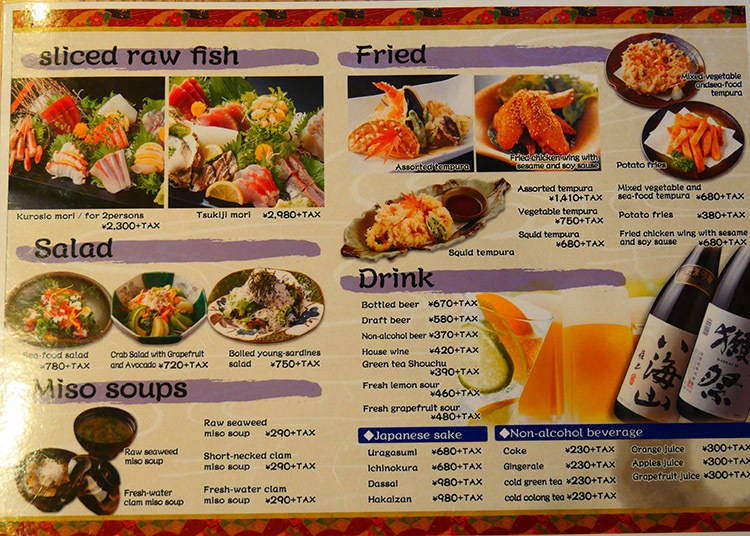 For drinks, draft beer (as tends to be the case in Asakusa's sushi parlors) is a fan favorite. If you'd like to sample something a little more traditional then you'll be glad to know that the sake menu is quite inviting. There's a healthy variety of brands, flavors and variations hailing from several of the nation's acclaimed sake-brewing prefectures. Jyouzen is one of the most popular brands of sweet sake, whereas Bakuren tends to appeal more to those who like their rice wine dry. A personal recommendation is Hakkaisan, a dry sake hailing from the mountainous regions of snowy Niigata prefecture. Each of these will knock you back ¥680 per glass.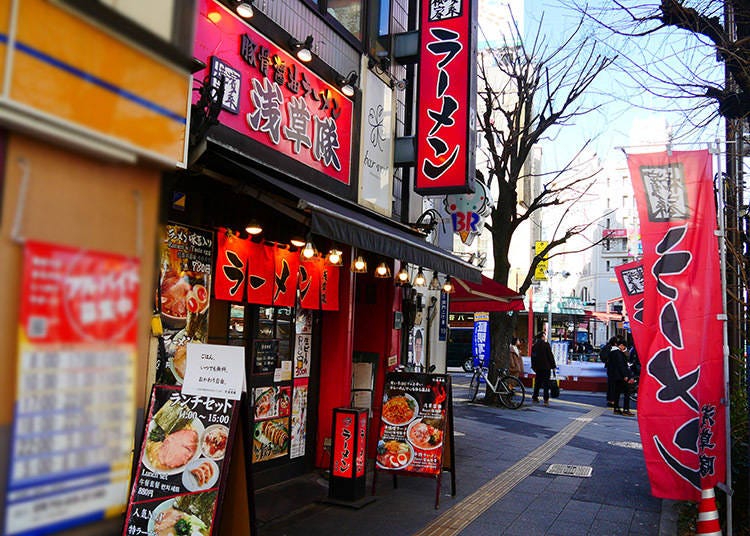 Asakusatai is a small ramen shop that serves a variety of styles and opens its doors from lunch time right the way through until 4am! It's a great stop-off point to soak up the evening's liquor with a soupy bowl of meaty broth, eclectic toppings and thick egg noodles before wobbling back to your hotel for some much-needed shut eye.

Asakusatai is a local-run business with 10 seats at the store counter and another 12 seats spread across 4 tables that are packed into its tight, elongated interior. Asakusatai is also open kitchen so we recommend sitting at the counter where you can catch a glimpse of the talented chef's in action.
What's Popular?
Although they do serve different styles from tonkotsu (broiled pork bone ramen) to miso, butter corn ramen (which is famous in Hokkaido), as always there are a couple of recommendations. Their spicy ramen (¥980) is not for the feint-of-heart, but if you think you're up to the fiery task its flavors are worth the gamble. The broth can come with either a shoyu (soy sauce) or shio (salt) base, whereas the heat comes from chili oil and togarashi (a genus of spicy red pepper).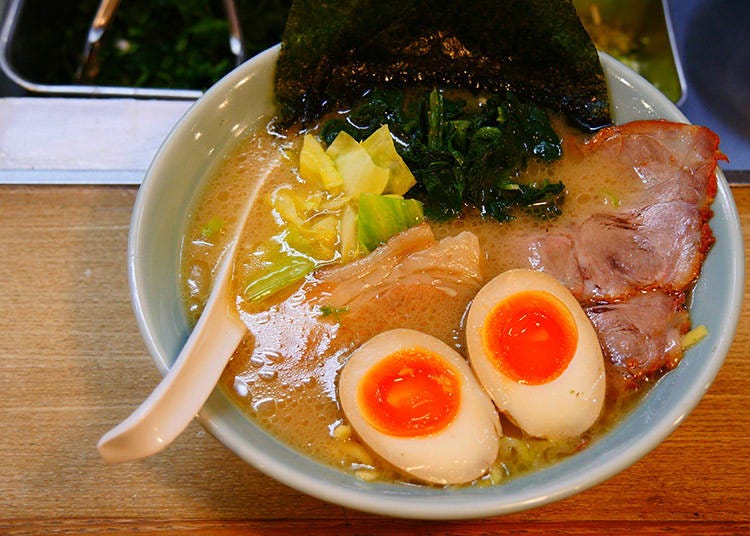 If spicy food isn't really your thing then the special ramen—which is the shop's signature dish—is a must-try (pictured above). When you consider the wealth of flavors and beastly size of the bowl it's a cracking deal for ¥880. Tonkotsu is a classic style of ramen that originated on the island of Kyushu, though by now it has proliferated to every corner of the nation and well beyond. At Asakusatai however, they have taken this tried and true method and added their own culinary twist.

Accompanying the strong taste of umami that comes from the pork bones, flavors of chicken and essences of shoyu can be detected throughout the broth. They also give the ramen soup a lighter consistency than many of the thicker tonkotsu broths that you can slurp up around Japan. The noodles of choice in Asakusatai are relatively thick and chewy egg noodles which makes them perfect vessels for soaking up these flavors. The special ramen toppings include chashu pork, negi, nori seaweed, tea-soaked eggs and a thick, fatty cut of pork belly to top it off. All-in-all Asakusatai's special ramen is a creatively designed and seriously well-rounded bowl of food!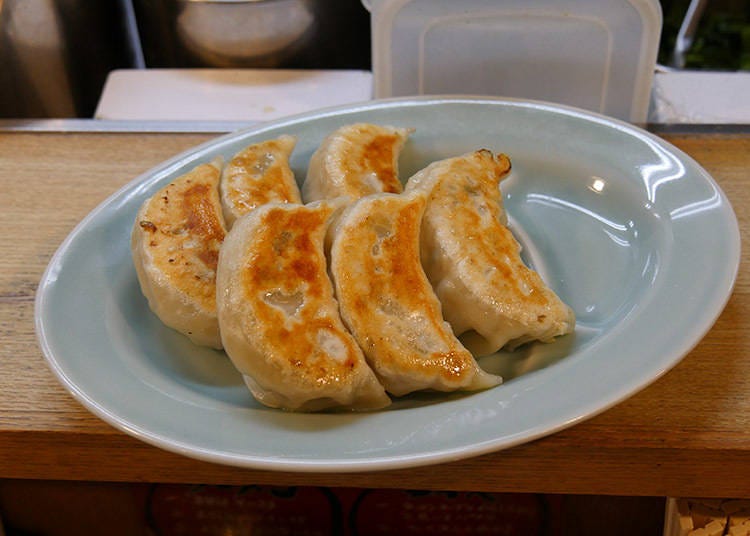 For those of you with ravenous appetites then why not sample a few pork gyoza dumplings on the side of your ramen? At 6 for ¥320 and 10 for ¥500 (probably better for 2 people) they're likewise pretty reasonably priced. One drink for the road? The alcohol menu isn't quite as extensive as you'll find in the other spots on this list, but beer, highballs and nihonshu are all available to help you wash down your late-night feast.
浅草隊

Address

Sukeroku Building 1F,Kaminari-mon Gate 2-19-13, Taito-ku, Tokyo, 111-0034


Nearest Station

Asakusa Station (Tokyo Metro Ginza Line / Toei Asakusa Line / Tobu Isesaki Line (Tobu Sky Tree Line) / Tsukuba Express)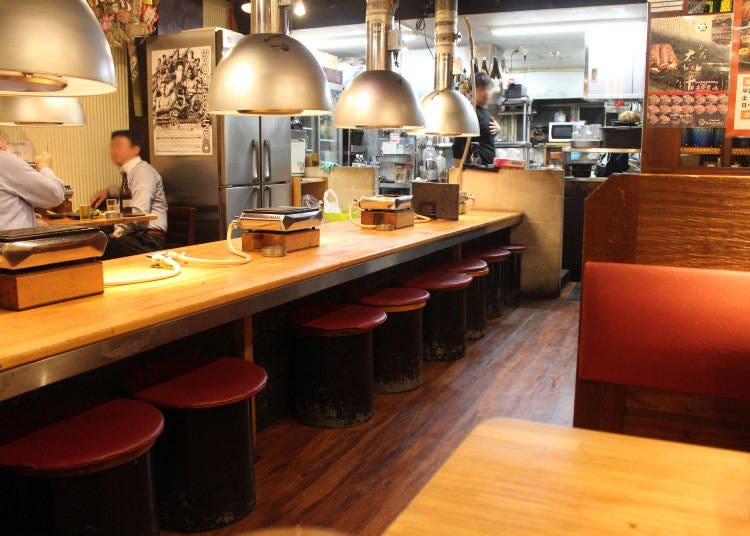 Yakiniku restaurants tend to operate along a spectrum from mammoth chain restaurants to intimate and steamy, back-street meat houses. Yaichi falls towards the latter half of said spectrum. "Nominication" is the word of the day here, which is a linguistic fusion of the Japanese "nomu" (to drink) and "communication". The interior is stripped back, compact and brightly lit in an attempt to offer a close-quarters communal dining experience. In spite of its cozy size—40-50—seats, it too will stay open as late as 4am!

A grill is the centerpiece of each table with in Yaichi a large convex fan placed above it to suck up the smoke that will emanate from the flaming meats that are sure to be placed atop it. A thin "tare" condiment will also be placed in front of each diner. This is like a sweet-barbecue dipping sauce to accompany your food.

Orders can be made through tablets at your table, although they only contain a Japanese and Chinese language options. To help you out there is a full English menu that you can use to order directly from staff or to help you decode the options on the tablet.

What's Popular?
The Yaichi menu revolves heavily around wagyu beef. Japanese wagyu beef is famous the world over as an ethically sourced and clean, umamai-rich red meat. To find out more on the ins and outs of wagyu, read our piece below on this most famous of steaks!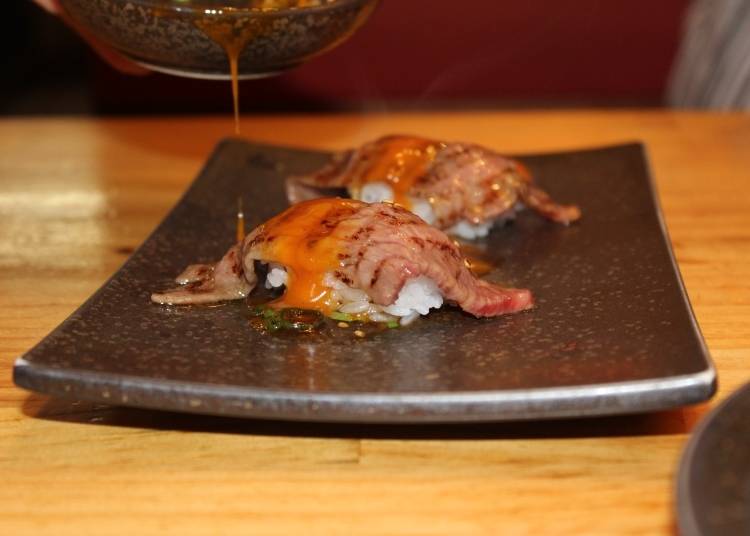 Beef aburi nigiri
Wagyu beef often strikes fear in prospective customers due to its reputation as an extortionately priced food. However, Yaichi's offers come at pretty reasonable prices. The Yaichi set for ¥4,500 is certainly worth a shout, although personally, I recommend trying an assortment of their smaller dishes and sides. There's a few in particular that are hard to look past.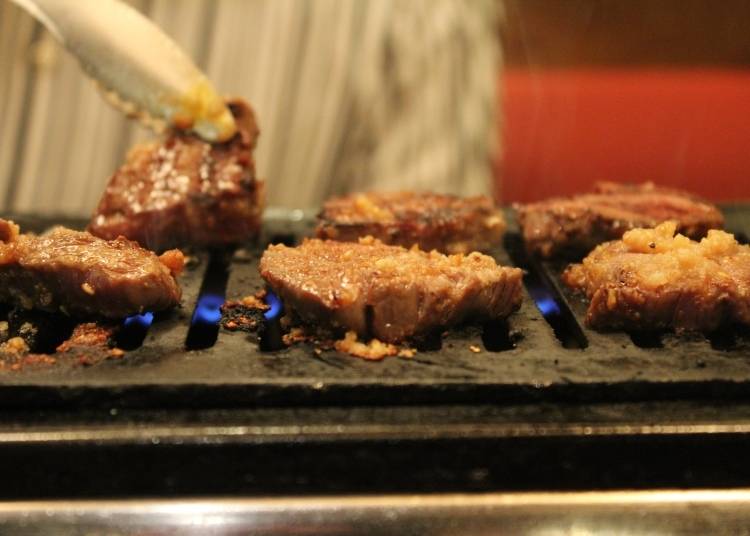 Niniku harame
The beef aburi nigiri (¥900 for 2 pieces) are thin chargrilled slices of wagyu served on a bed of rice and mopped up with raw egg. It's like a meat-lover's sushi alternative and a great way to kick of your dinner. The yaki-shabu sirloin (¥1,500) are thin cuts of flame-grilled sirloin beef again with raw egg to taste. The lines of char add a crispness that cuts through the juicy flavors.

Last meaty recommendation is the niniku harame which is effectively minced garlic and tender beef loin. The meat is as tender as you would expect and the garlic goes with it perfectly, enlivening the taste buds! The food at Yaichi will be cooked either by yourself or the staff, depending on the dish in question.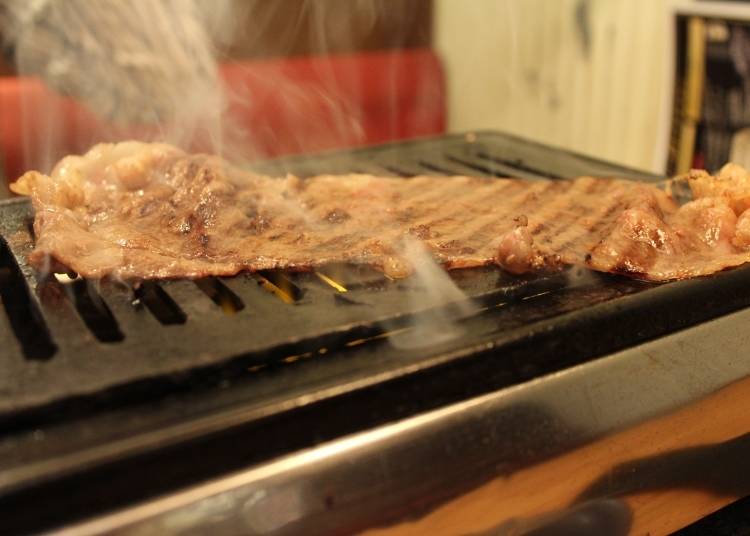 Yaki-shabu sirloin
You can also add some sides or liquids to your meat feast. Beer, highballs, nihonshu, shochu and whiskey soda are all popular options among the boozers. The sides are quite eclectic too with a couple of Korean favorites on the menu, including: kimchi, sangchu salad and crispy seaweed flavored fried in sesame oil. FYI the last of these is a great little beer snack!
焼肉やいち

Address

2 Chome−1−4 Suzuki Building 1F, Nishiasakusa, Taito-ku Tokyo 111-0035

Phone Number

050-5269-8587
Written by: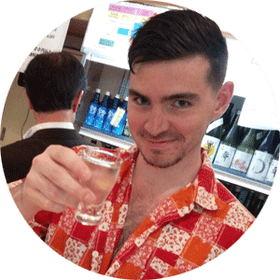 *This information is from the time of this article's publication.
*Prices and options mentioned are subject to change.
*Unless stated otherwise, all prices include tax.