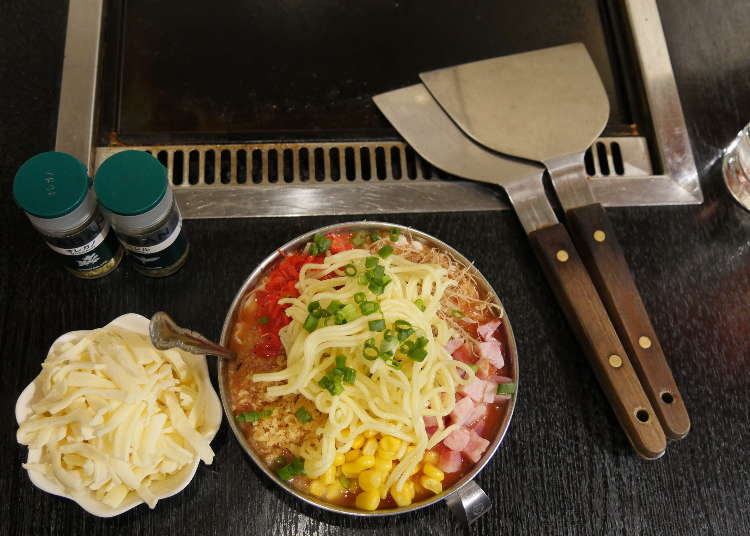 The district of Asakusa is arguably the most thriving tourist hotspot in northern Tokyo. This is a testament to the variety of cultural activities and top-drawer food that it has to offer. Most notably it is the home of the ancient and iconic Buddhist landmark, Senso-ji, which is also Tokyo's oldest temple and the location of Hoppi Dori—one of the best summer drinking and dining streets in the city.

To visitors, one of Asakusa's lesser known shining lights is the plethora of options to get your hands on a Japanese-style brunch. Here we will give you a run-down of our top 4 recommendations, featuring 4 different vintage Japanese cuisines.
1. Asakichi: Okonomiyaki and Monja
The cuisine of choice in Asakichi revolves around deliciously heart-warming, Japanese classics, with a focus on two main specialties—Osaka favorite, okonomiyaki, and monja (or monjayaki) hailing from the local region of Kanto. The food at Asakichi is filling, wholesome, bursting with flavor and oh so filling. If you've overdone the sake the night before, this is the kind of food that will erase your hangover in a hurry.

Osaka, Japan's second largest metropolis, has achieved nationwide acclaim as the birthplace of okonomiyaki—a savory egg-pancake, stuffed with the ingredients of your choice, drizzled in mayonnaise and barbeque sauce and usually sprinkled with some bonito flakes (dried tuna) for good measure. Monja is effectively okonomiyaki with a slightly different consistency. More water is added during the ingredient mixing process giving the final product a more gelatinous appearance than its culinary cousin from Kansai. It's not the most aesthetically pleasing dish that you'll ever feast your eyes on, but as they say "don't judge a book by its cover", monja packs a seriously flavorsome punch.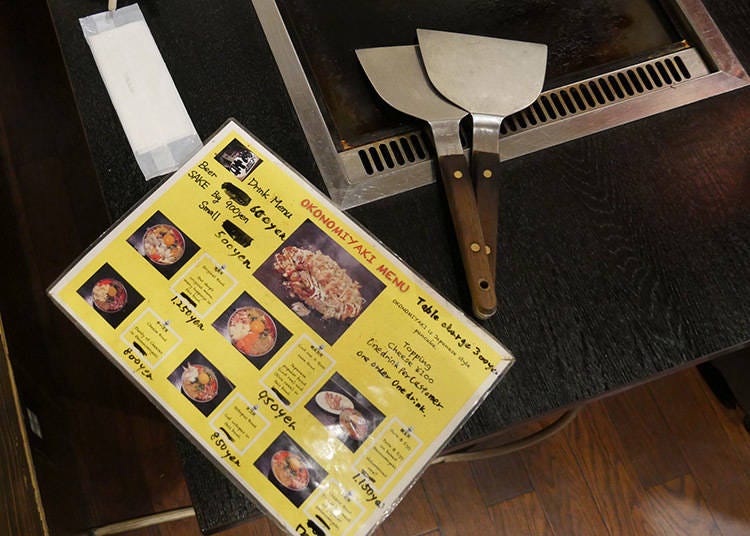 Asakichi is a little 16-seater eatery hidden on a quiet back street just a stone's throw away from Senso-ji Temple. The interior is simple and cozy, with four sets of four-seater tables aligning the wall on the left-hand side. Each table is kitted out with a hotplate which either you, or one of the friendly staff members, will use to turn your bowl of ingredients into the meal of your choice. (Or if you opt to cook it yourself don't worry, the process is very simple.)

What's Popular?
For okonomiyaki, the cheese and octopus variety typically flies of the shelf at Asakichi (¥950). Although if that doesn't tickle your fancy there's also plenty of other options for meat-lovers and vegetarians alike (however, given the need for egg to bind the okonomiyaki together, vegan options are not available).
If you feel like giving the monja a go, we recommend the cheese and tomato special (¥900). This is an exclusive recipe that Asakichi have been perfecting for over 40 years. The flavors taste almost Mediterranean, not unlike a very flavorsome pizza that lacks any of the stodginess. Please note that this is not on the English menu so you'll have to ask for it directly (the word for cheese is "chi-zu" and tomato is "to-ma-to", very easy!).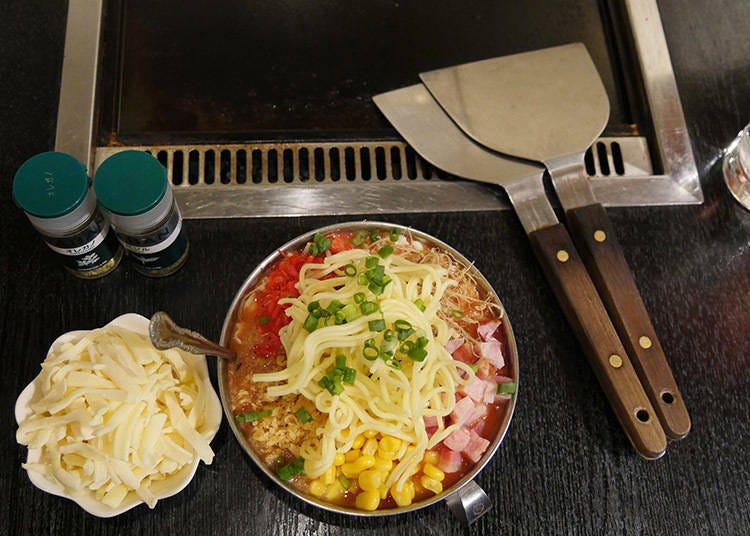 Fancy a hair of the dog with your brunch? The selection of alcohol isn't too shabby. Beer, Japanese sake and umeshu (plum wine) are all popular - and they even have a special 'okonomiyaki' labeled red wine on offer too.
鉄板酒場 浅吉

Address

2-28-6, Asakusa, Taito-ku, Tokyo, 111-0032


Nearest Station

Asakusa Station (Tokyo Metro Ginza Line / Toei Asakusa Line / Tobu Isesaki Line (Tobu Sky Tree Line) / Tsukuba Express)


Phone Number

03-6231-7478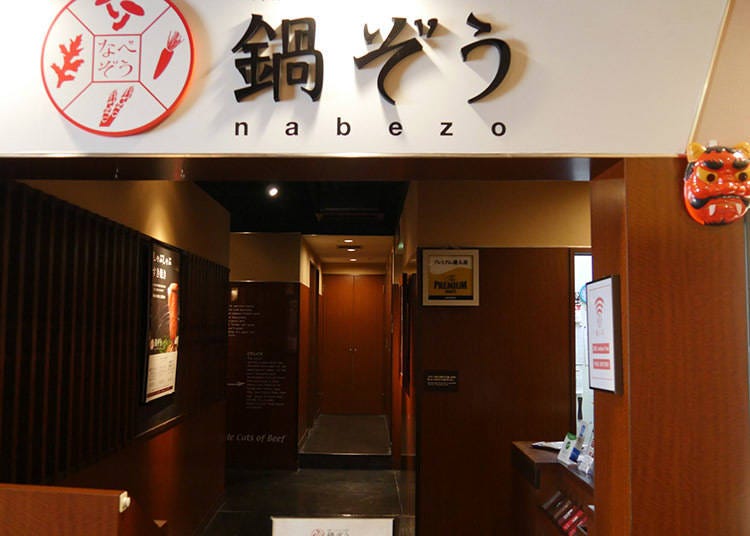 In keeping with the theme of food sharing and giving customers a communal dining experience, the next spot on our list is Nabezo. Here the hot plates have been replaced in favor of convection cooking hobs in the middle of each table as Japanese shabu shabu-style hotpot dishes take to the center-stage on the Nabezo menu. They can contain anything from beef and chicken to fish and shellfish and an assortment of seasonal veg—or even all of the above. However, the focal point of the dish will generally be varied cuts of beef.

This form of dining involves putting ingredients into a pot of simmering broth, with a couple of "styles" that are differentiated between according to the cooking utensils used and the type of broth in the pot. Nabezo's concept is simple: quality ingredients at a reasonable price, this is in essence the "true" shabu shabu experience.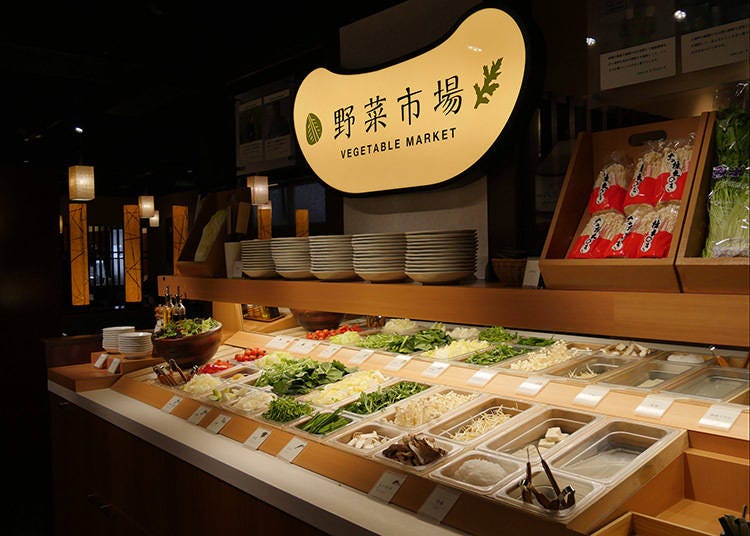 What's Popular?
Nabezo focuses on convenience with all-you-can-eat ("tabehoudai") and all-you-can-drink ("nomihoudai") options. One of the most popular is the all-you-can-eat beef option for ¥2,800 (lasting 100 minutes) which includes a selection of fine cuts of beautifully marbled meat, the mere sight of it is sure to induce salivation. The ordering process is as follows, simply choose your style, choose your meat and choose the broth that you'd like to stew your food in (the kimchi and shio-tonkotsu broth are both highly recommended). The vegetables that accompany your meal are located at the self-serve vegetable market buffet which has a wide range of classic shabu shabu ingredients among other seasonal favorites—which is obviously a great addition for the vegetarians out there. A soft drink bar is included with the food for ¥300 although you can ramp it up a notch to include alcohol—sake, umeshu, beer and highballs—for an extra ¥1,500.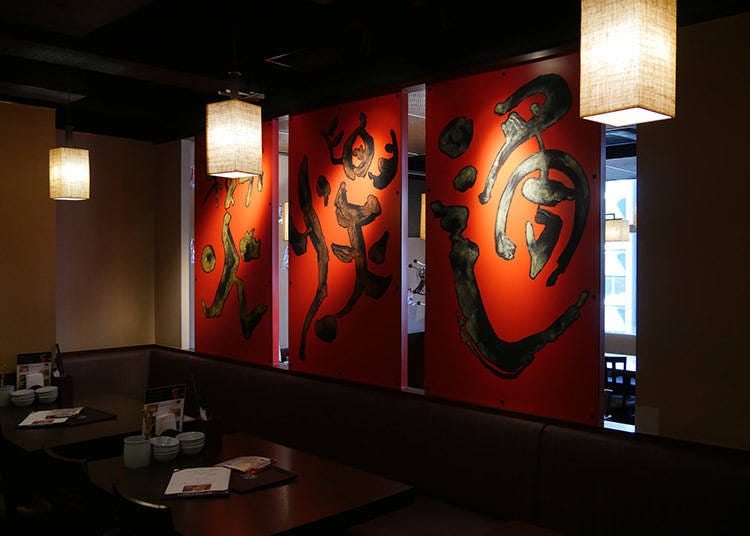 The interior of Nabezo is super spacious with a dark wooden finish which is often dressed in traditional artwork. The staff are very accommodating and help to lend a welcoming atmosphere to the restaurant. Evenings usually tend to be the most popular hours for business and as such, you can only eat at brunch at Nabezo on weekends and public holidays. But if that aligns with your schedule then count yourself lucky and enjoy!
nabezo Asakusakaminarimonten

鍋ぞう 浅草雷門店

Address

Pagoda Asakusa 4F,Kaminari-mon 2-16-9, Taito-ku, Tokyo, 111-0034


Nearest Station

Asakusa Station (Tokyo Metro Ginza Line / Toei Asakusa Line / Tobu Isesaki Line (Tobu Sky Tree Line) / Tsukuba Express)


Phone Number

03-3847-2981
Yakiniku (literally "grilled meat") is another fan favorite, and is especially popular with meat loving tourists. If you like a good barbecue then think of this as the Asian equivalent.

Tokori is a tasty fusion of Korean and Japanese cooking methodologies and flavors. The restaurant is also pretty spacious with the capacity to seat up to 100 customers, so you should have no issue getting a table. If you desire a more traditional setting for your brunch there also private booths with low tables, traditional tatami floor mats and noren curtains which can be reserved for groups of 4 and up. In the event that you'd like to do this use Gurunavi's reservation helpline to circumvent the potential language barrier.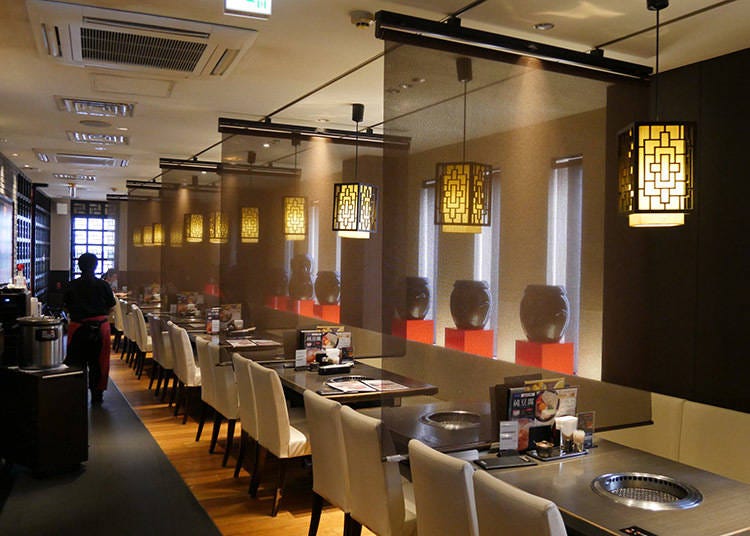 What's Popular?
Tokori's grilled meat set meal is especially popular and comes in three increasingly more expensive variations; standard, deluxe and premium. If you've got an appetite and want to load up for the day then the 2-hour tabehoudai option for ¥6,000 is definitely worth consideration. The nomihoudai is only an extra ¥1,000 and—as you may expect—Asahi beer tends to be the most popular liquid accompaniment. While Tokori's target audience is clearly those who appreciate good meat, there is a tasty bibimbap (grilled vegetables and rice with egg) option for vegetarians too.
As per the yakiniku custom portable grills will be placed at your table which you will use to cook the meat. Choose your favorite meat (or meats) and watch with delight as your brunch sizzles in front of your eyes. And don't worry you don't need to be a chef in the making, the process requires very little culinary skill (alternatively you can ask a staff member to tend to the meat for you while you sit back, relax and enjoy the show).
土古里 浅草店

Address

Asakusa Sekine Building 2F,1-23-6, Asakusa, Taito-ku, Tokyo, 111-0032


Nearest Station

Tawaramachi Station (Tokyo Metro Ginza Line)


Phone Number

03-5246-6633
Soba noodles are the order of the day (every day) in our last recommendation, Sobamae Tsurugi. Soba noodles—made from buckwheat—are a stalwart of the Japanese culinary world and offer a healthier alternative to the more carbohydrate-heavy egg noodles found in many ramen dishes across the nation. At Sobamae they are soba purists serving only 100% buckwheat flour noodles from Hokkaido and Ibaraki prefectures—which is somewhat of a rarity in Tokyo. Given that the food here is of a less heavy nature than the other shops on this list, it serves as a kind of "light lunch" option.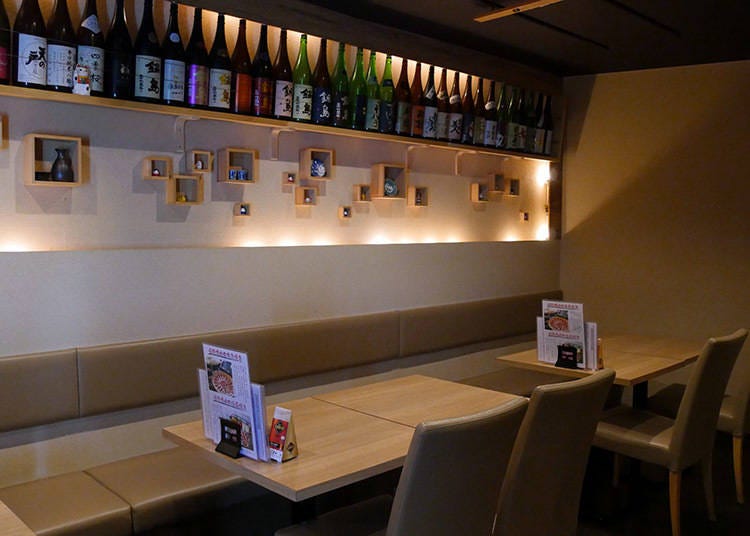 Don't be initially fooled by Sobamae's underground location, both the food and atmosphere exude an air of eloquence and authenticity. The interior is subtly chic with polished wooden tables and the 40 different varieties of sake which they have on the menu align the walls in illuminated, artisanal bottles. And the tasty food they serve is presented with equal levels of aplomb.

What's Popular?
Two of the most popular options are the soba tempura set for ¥1,680 (which can be vegetarian if requested) and the soba and sushi box combo (only ¥980). Sushi and soba are not common bedfellows but the chefs at Sobamae deliver the dish with quite some expertise.

The fish, which vary from season to season, are about as fresh as you'll find outside of a sushi restaurant and are served alongside a double helping of soba in wooden boxes. On the tray you will have soy and wasabi for the sushi and a tsuyu dipping sauce for the soba—which you can add spring onions and wasabi to in order to give it an extra kick. As most soba shops do, "sobayu" is also available. This is the residual water left over from the soba making process which can be added to the remainder of the dipping sauce after you've eaten the noodles. This creates a soup which is surprisingly flavorsome, providing a lovely little punctuation to your meal.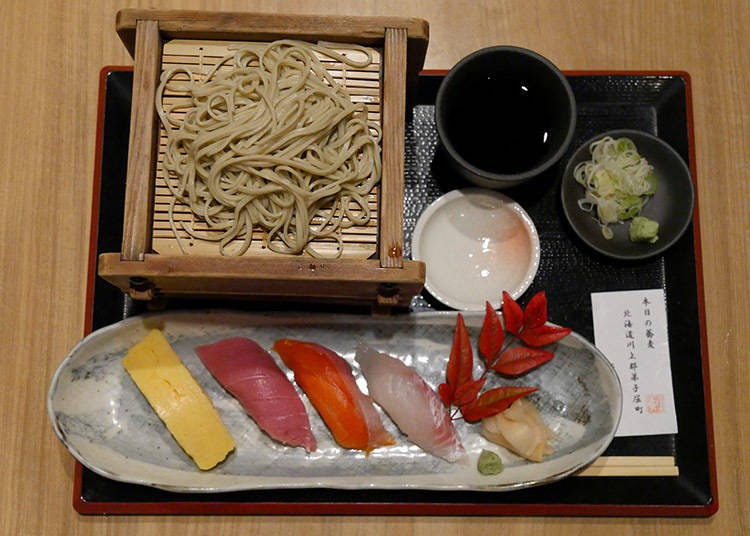 For drinks both the non-alcoholic and liquor options are quite unique. Of course, we recommend trying out a few different kinds of sake for ¥500 a cup or washing your soba down with the local beer. If you're in for a sober lunch however, they do a delicious Japanese tea that's made from, you guessed it, soba!
蕎麦前 つるぎ 浅草店

Address

Masuda Building B1, 1-chome-1-17, Taito City, Tokyo 111-0032

Phone Number

03-5246-4916
Written by: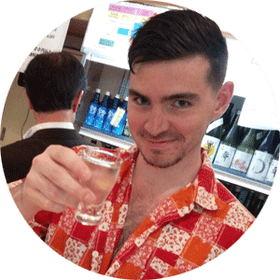 *This information is from the time of this article's publication.
*Prices and options mentioned are subject to change.
*Unless stated otherwise, all prices include tax.