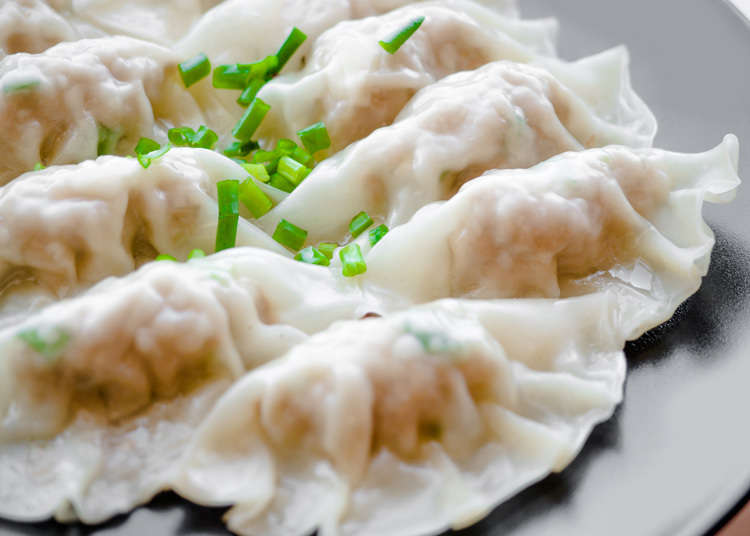 For everyone visiting Japan, enjoying Japanese food often is at the top of the must-do list. From sushi to tempura, the delicacies that Japanese cuisine has to offer are innumerable!

One of them is gyoza, the potsticker dumplings that are wonderfully juicy and crunchy at the same time! Recently, the little dumplings have gained more and more attention becoming a downright trend. An example of this is women calling themselves "gyoza girls," because they indulge in their love for gyoza at specialty restaurants all by themselves regularly.

Filled with ground meat and vegetables that are wrapped in a thin, crispy dough, there's hardly a person who doesn't like the tasty dumplings. And if you haven't tried them yet, it's about time you do!

We'll tell you all about gyoza and how to best enjoy them, as well as introduce you to four recommended gyoza specialty stores that'll make your first gyoza experience an unforgettable one.
Getting to Know Gyoza – All About the Dumplings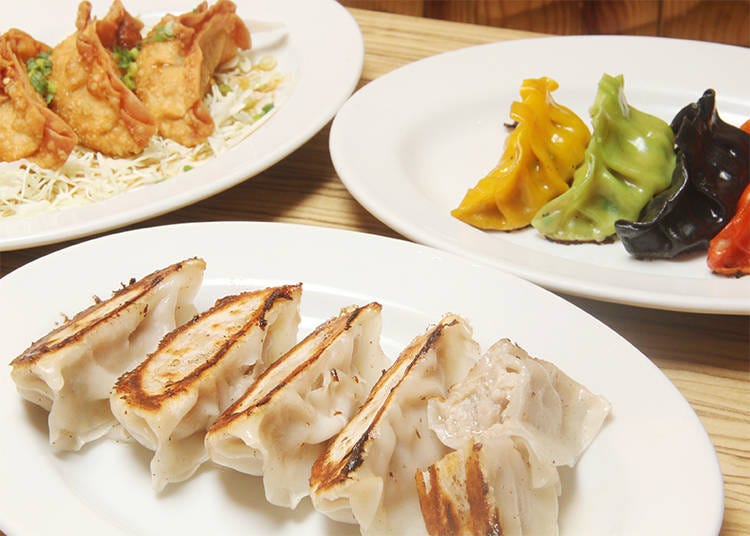 Gyoza originally come from China where they're referred to as jiaozi – you might know them as potstickers. Over the centuries, Japan gave the dumplings its own taste, with one of the most noticeable differences being a distinct garlic flavor. As already mentioned, gyoza are typically made of a mixture of ground meat – often pork – and vegetables such as meat, wrapped in a thin sheet of dough.

In Japan, the main type of gyoza you'll come across is called yaki-gyoza, which means that the dumplings are pan-fried before water is added, giving them a wonderful crisp and tender texture. Other varieties are the deep-fried age-gyoza or dumplings boiled in soup called sui-gyoza.

At a gyoza specialty restaurant, you'll get to enjoy all kinds of unique flavors and varieties! The recent gyoza boom has inspired chefs to create colorful varieties or unique versions such as deep-fried dumplings – yummy!
How to Eat Japanese Gyoza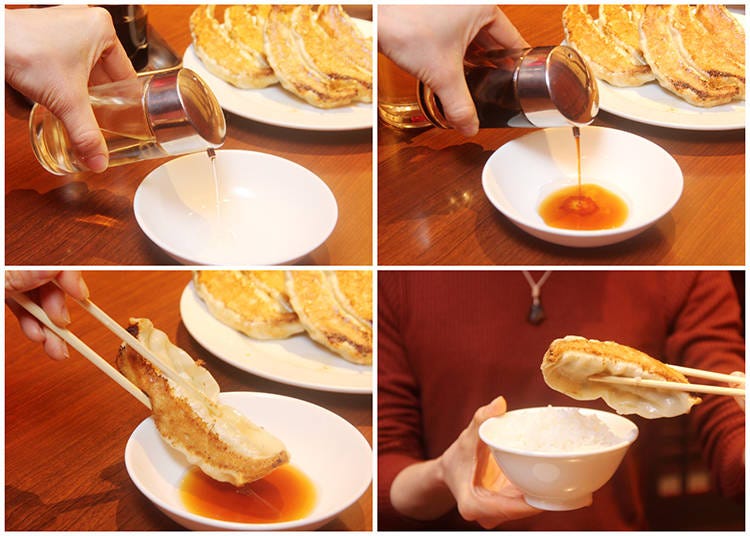 1) Pour vinegar in a small bowl – add chili oil if you like! 2) Add soy sauce 3) Generously dip the dumpling 4) Enjoy the gyoza by itself or with rice!
Another difference between Japan and China is how to eat gyoza.

In China, they're a staple food and usually eaten as a main dish, while Japan enjoys gyoza as a side dish and with rice.

In Japan, people generally make a gyoza dipping sauce out of soy sauce, vinegar, and a dash of chili oil. For those who don't like vinegar, try them with a spicy chili paste! Sometimes, Japanese karashi mustard is also used to enhance the flavor.
1) Tenryu in Ginza: Tokyo's Original Jumbo Gyoza!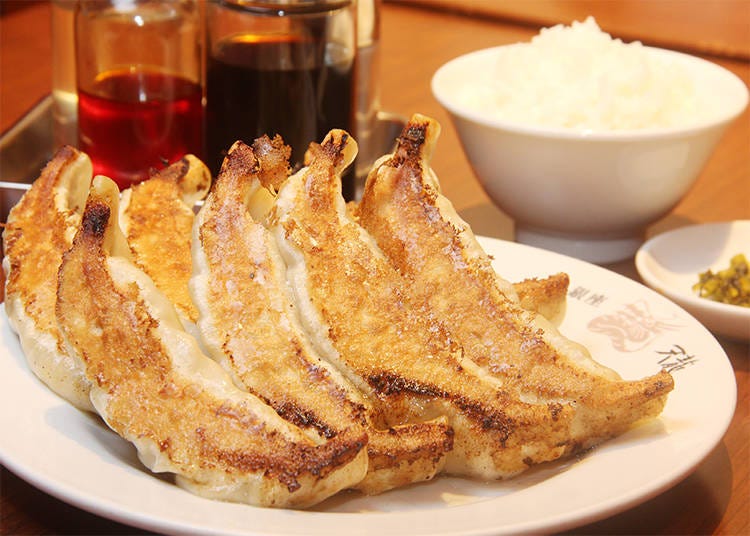 Large, crispy dumplings ready to be enjoyed – although not in one bite!
After having learned how to best enjoy gyoza, let's dive right in and visit our first recommended gyoza specialty restaurant!

Welcome to Ginza Tenryu (銀座 天龍), a place that is often called one of the Big Three when it comes to jumbo-sized dumplings. The well-established restaurant from Beijing first opened its doors in 1949 and was entirely renewed as it moved to the 4th floor of Puzzle Ginza. The modern interior perfectly manages to keep its traditional charm and the rustic menu, gyoza at the forefront, will make you feel right at home.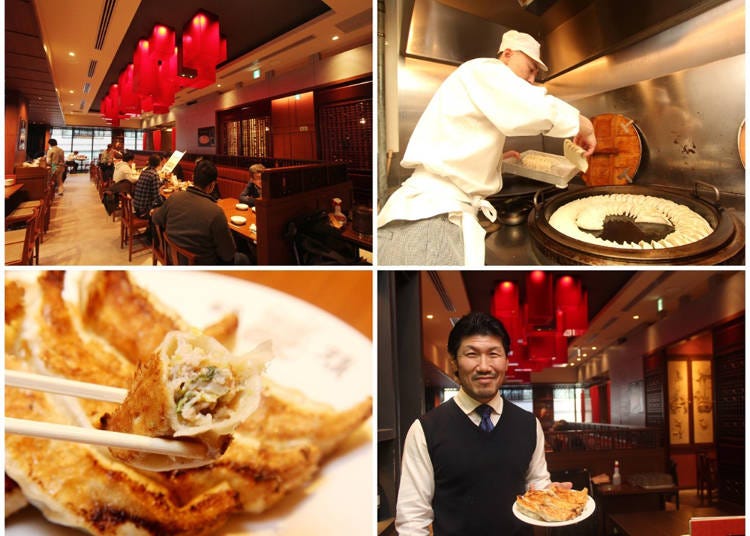 1) A modern atmosphere accompanies 2) Between 4,000 – 5,000 gyoza are fried each day by the Chinese chefs 3) They're incredibly juicy! 4) You may have a chance to meet Kobayashi Owner!
The famous jumbo gyoza can be enjoyed for 1,100 yen for 8 dumplings. They're approximately twice as big as regular gyoza, making them way too big for standard bowls and plates! The skin is on the thicker side, making for a pleasantly chewy, crispy texture. The filling is made up of juicy pork thigh, Chinese cabbage, and spring onion – simple yet unbelievably delicious! We recommend ordering a small bowl of rice (ごはん小/100 yen) or a big one (ごはん大/150 yen)if you're especially hungry!

During dinner, Tenryu offers a large selection of dishes, such as shrimp with mayonnaise (エビのマヨネーズ和え/ 1,750 yen), Ginza soy sauce ramen (銀座のラーメン(醤油)/ 980 yen), or sweet-and-sour pork (懐かしいスブタ/ 1,750 yen).
銀座 天龍

Address

PUZZLE GINZA 4F, 2-5-19 Ginza, Chuo-ku, Tokyo-to 104-0061

Nearest Station

Ginza Itchome Station (Tokyo Metro Yurakucho Line), direct access
Ginza Station (Tokyo Metro Ginza Line), 3 minutes on foot


Phone Number

03-3561-3543

Hours: 11:00 a.m. – 9:30 p.m. (open from 11:30 on Saturdays, Sundays, and national holidays)
Closed: always open
2) Shinjuku Kakekomi Gyoza: Savoring Dumplings and Japan's Izakaya Culture!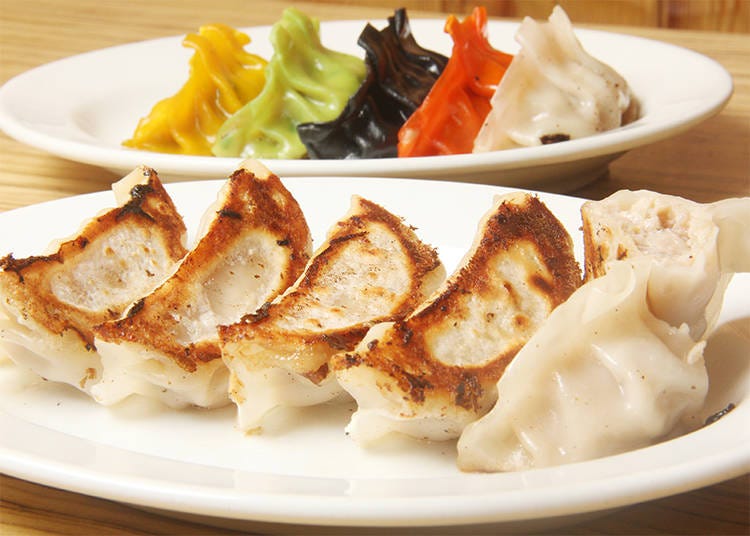 Meat broth fried gyoza (front), five-colored gyoza for 540 yen (back)
Next up: Shinjuku Kakekomi Gyoza (新宿 駆け込み餃子). This specialty restaurant is open 24 hours a day, offering amazing dumpling creations around the clock! You'll find it in the heart of Kabuki-cho, Shinjuku's famous entertainment district, right next to the famous Godzilla Head on top of the Shinjuku Toho Building. Next to savoring gyoza, you'll get an authentic and vivid taste of izakaya (Japanese pub) culture here!

Both the interior and the staff are designed after Tokyo's firefighters of the Edo period, enveloping you into a wonderfully traditional atmosphere. And indeed, Kakekomi Gyoza seeks to quell your gyoza craving with incredibly juicy dumplings that are available for an unbelievable 86 yen per dumpling if you order 5 or more! (A set of 10 dumplings for 842 yen). The dumplings here are all about meat juice, bringing out a wonderfully rich flavor – neither strong garlic nor strong chives are used, making them a recommendation for travelers who don't enjoy the usual garlic sting.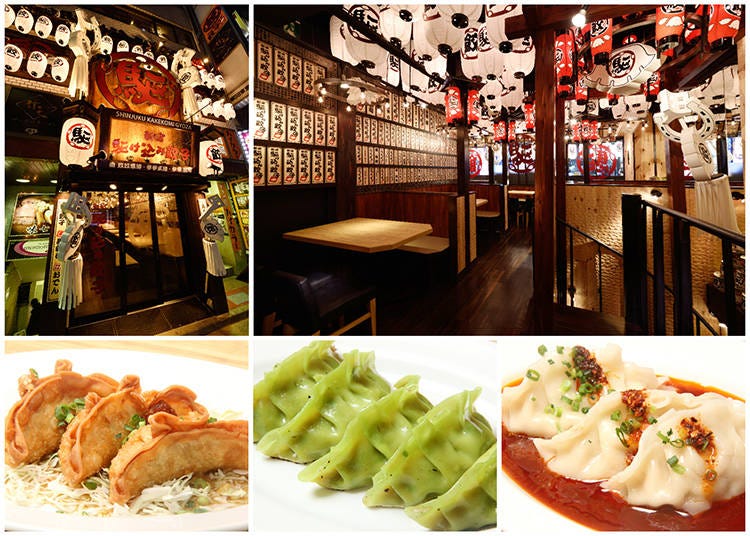 1) The outside of the shop 2) Designed after an Edo-period fire department 3) Fried chicken gyoza 4) Vegetarian gyoza 5) Gyoza in chili sauce
The Yurinchi Chicken gyoza (油淋鶏餃子/108 yen per dumpling, orders from 3), with sweet-and-sour soy sauce and green onions. This crunchy skin and a rich flavor is a characteristic of Kakekomi Gyoza's homemade dumplings. We also recommend the dumpling variety that is steamed and cooked in chicken soup (濃厚名古屋コーチン炊き餃子/1,058 yen), savory and plump.

Generally, the restaurant works like an izakaya but offers special gyoza lunch and breakfast sets (from 580 yen), served with soup and rice. Everything is ordered via touchscreens and every dish is portrayed with a photo, so the restaurant is extremely tourist-friendly!
新宿 駆け込み餃子

Address

Dai58 Tokyo Bldg. 1F, 1-22-2 Kabuki-cho, Shinjuku-ku, Tokyo-to 160-0021

Nearest Station

JR Shinjuku Station, 5 minutes on foot from East Exit


Phone Number

03-6233-7099

Hours: open 24/7
Closed: always open
3) GYOZA IT: The Fanciest Place to Enjoy Authentic Dumplings?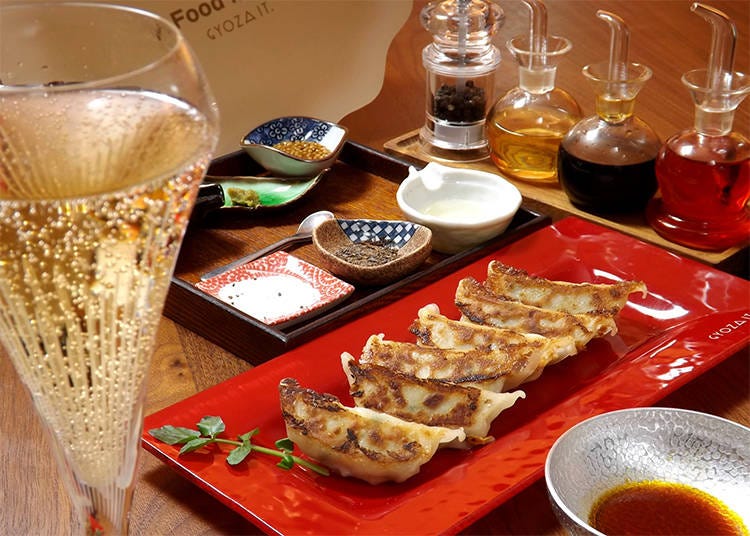 The fancy way: savoring gyoza with champagne!
Gyoza It might be the fanciest gyoza place in all of Tokyo right now. The specialty restaurant was opened by Japanese giant Ajinomoto Frozen Foods with the goal to bring the real gyoza experience to tourists and expats! It is open for 5 years only (from 2017 to 2022), embracing the Olympic Games in 2020.

The multilingual staff is able to answer all your needs and questions in English, French, Italian, and more – up to 15 languages are spoken at Gyoza It! You can find this fancy, welcoming place in Akasaka, close to the large complex called Akasaka Sacas. At this restaurant, really everything is about dumplings – from the tables to the lamps, you'll find references to the casual, tasty dish basically everywhere!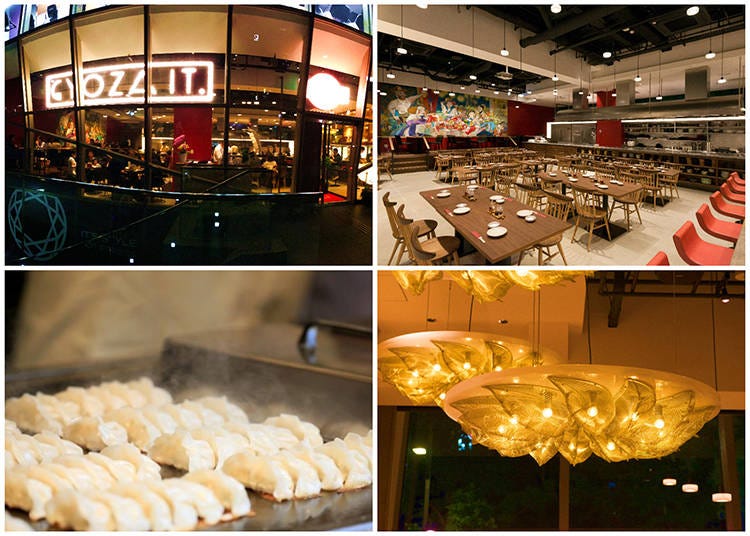 1) Gyoza It looks like a fancy wine bar 2) The interior 3) Frying gyoza on the teppan 4) The gyoza chandelier
We especially recommend the "Gyoza without Garlic" ( GYOZA(ニンニク抜き)/ 6 dumplings for 440 yen. They're juicy and crunchy, an excellent start for every gyoza beginner. Other than that, do try the "Duck Meat Gyoza perfect for Wine" (ワインに合うカモ!GYOZA/ 6 dumplings for 660 yen) ! Another favorite of ours are the "Spicy Tonkotsu Soup Gyoza" (ピリ辛白湯スープGYOZA/ 6 dumplings for 700 yen) – this selection covers three distinct flavors that open the doors to the tasty world of gyoza!

The selection of sauces and condiments is equally rich, including soy sauce, vinegar, and chili oil, but also truffle salt or seaweed sprinkle – choose from a total of 6 options! Toppings such as fresh green leaves to wrap your gyoza for 400 yen can be ordered to spice up your gyoza order even further.

If you absolutely don't know what to order, get the course for 5,000 yen. You'll be served with three kinds of gyoza, appetizers, teppanyaki creations, desserts – 11 dishes in total, including a 2-hour all-you-can-drink offer!
ギョーザイット

Address

The Hexagon 1F, 5-4-7 Akasaka, Minato-ku, Tokyo-to 107-0052

Nearest Station

Akasaka Station (Tokyo Metro Chiyoda Line), 1 minute on foot


Phone Number

03-3560-4141

Hours
5:00 p.m. – 11:00 p.m. (last order at 10:00 p.m.)
11:30 a.m. - 2:00 p.m. (last order at 1:30 p.m., weekdays only)
Closed: always open
4) Gyoza No Osama in Asakusa: Crunchy, Local, and Absolutely Charming!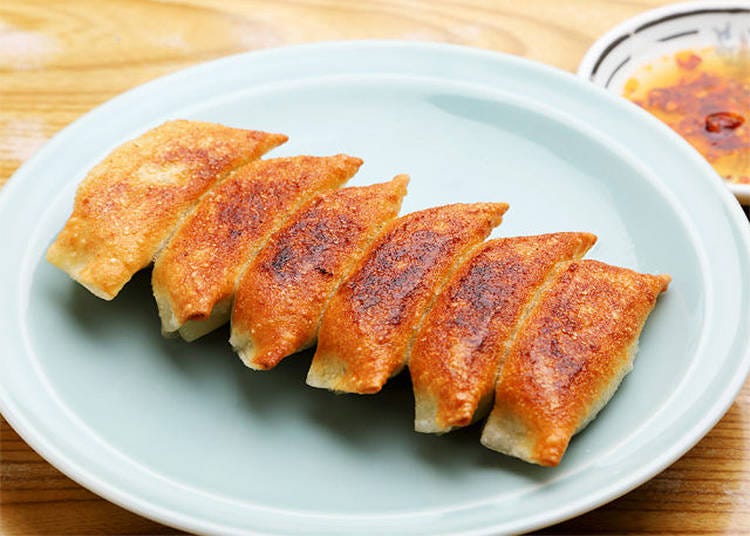 It doesn't get crispier than this!
Gyoza no Osama(餃子の王さま), meaning "the king of dumplings," is a long-established store close to Asakusa's Senso-ji Temple. Since 1954, this little restaurant has charmed both tourists and locals with its amazing cuisine. You'll find it by looking out for its yellow signboard, in an alley left of the busy Nakamise-dori street, the approach to Senso-ji Temple. Gyoza no Osama also serves ramen (ラーメン/530 yen), as well as fried rice (チャーハン/ 780 yen) and Yakisoba noodles (焼きそば/ 630 yen). Look forward to sitting among the locals and savoring a relaxed taste of traditional Japan!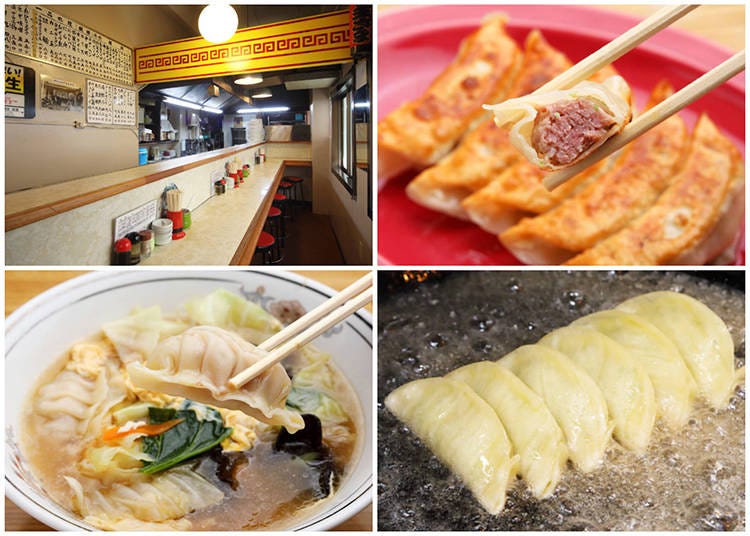 1) Counter seats on the 1st floor, tables are on the 2nd floor 2) The juicy meat filling 3) Soup gyoza 4) Being fried
But now to the gyoza – the must-try is, of course, the "osama no gyoza" (king's dumplings) themselves. Enjoy six of them for no more than 440 yen! The minced meat filling is enhanced with chives, garlic, and a hint of ginger, blending to a marvelous mix! The skin is then fried until golden and crispy in plenty of oil – but once done, it's not greasy at all! With your first bite, an amazing flavor spreads throughout your entire mouth and, we promise, you won't be able to get enough of these.

There are three kinds of gyoza in total: the pork gyoza without garlic (肉餃子-ニンニク不使用/ 500 yen), pork gyoza cooked in chicken soup (湯餃子/ 420 yen), and the vegetable gyoza in soup (スープ餃子/ 700 yen).
餃子の王さま

Address

1-30-8 Asakusa, Taito-ku, Tokyo, 111-0032

Nearest Station

Asakusa Station (Tokyo Metro Ginza Line, Toei Subway), 3 minutes on foot


Phone Number

050-3312-6885

Hours: 11:15 a.m. – 2:30 p.m. (last order), 4:00 p.m. – 8:45 (last order)
Closed: Tuesdays
Other recommended gyoza spots around Tokyo
Address

3-6-7, Minamishinagawa, Shinagawa-ku, Tokyo, 140-0004
View Map

Nearest Station

Aomono-Yokocho Station (Keikyu Main Line)

*This information is from the time of this article's publication.
*Prices and options mentioned are subject to change.
*Unless stated otherwise, all prices include tax.