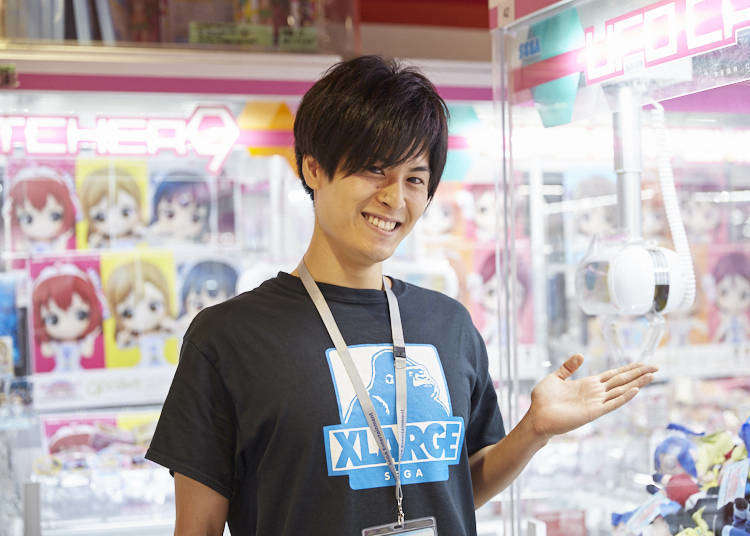 Visiting Japan soon? Then you're probably looking forward to trying out some activities that are uniquely Japanese! How about dropping by an arcade - one of Japan's best kept entertainment secrets - where you can enjoy the latest and greatest games of the highest quality?

These arcades are so different from the mainstream image of Japanese entertainment that more than a few international tourists who have visited one have been pleasantly surprised by the incredible experience.
SEGA: Not just a game manufacturer!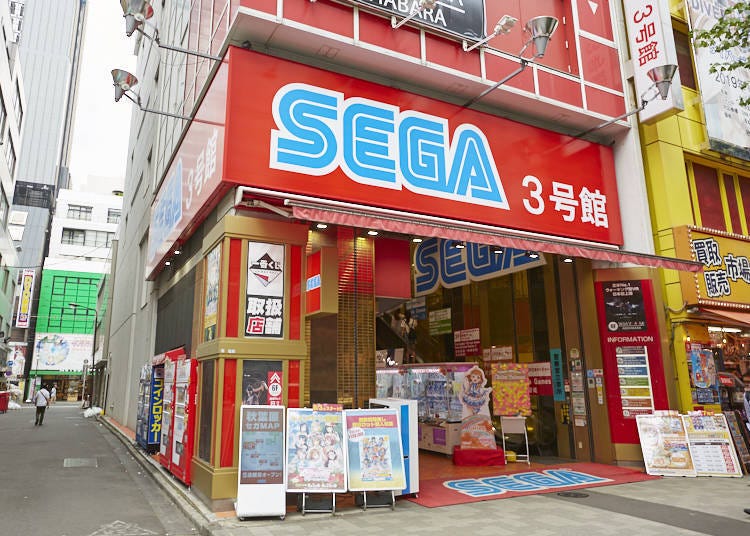 Many people naturally associate SEGA with Japan's iconic game arcades, and it's really no wonder, because there are five SEGA arcades Akihabara alone!

The company has been involved in the development and manufacturing of commercial amusement consoles since the 1960s, developing the UFO Catcher® brand of claw crane machine in 1985 and then the SEGA Genesis home console in 1988. It wouldn't be an exaggeration to say that SEGA was a major driving force behind the progress of Japan's gaming culture.

The company is still well-known among gamers for their large number of entertainment facilities that can be found all over Japan. One of the company's game mascots, Sonic the Hedgehog is a global celebrity with his own live-action movie of the same name, coming to a screen near you in 2020.
Taking on SEGA Akihabara 3rd!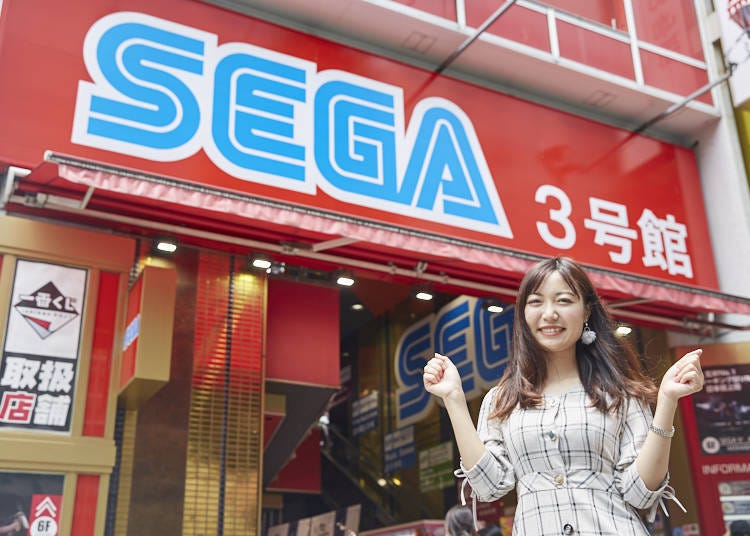 We think our international friends will enjoy learning more about the world of SEGA through personal experience, which is why we've recruited Qin, originally from Guangzhou, China, to visit a SEGA arcade for the first time in her life and share with us her highlights.

Our destination this time is SEGA KINBARA 3rd, which is conveniently located along the main street of Chuo-dori a short three minutes walk from the Electric Town exit of Akihabara Station on the JR Lines. As mentioned at the outset, there are five SEGA arcades in Akihabara, each with its own theme and concept.

The third arcade we're visiting this time is known for having rows upon rows of UFO Catchers squeezed tightly against each other in the first to third floors. The fourth and fifth floors contain the latest machines for other genres like rhythm games and shooting games, whereas the sixth floor is the SEGA VR Area Akihabara, a great place to experience fun and realistic VR games.

Qin: "We have arcades in China too, but not nearly so huge! It's really amazing to see so many big arcades packed into one area like this. You've got to hand it to Akihabara!"
Three floors full of UFO Catcher machines!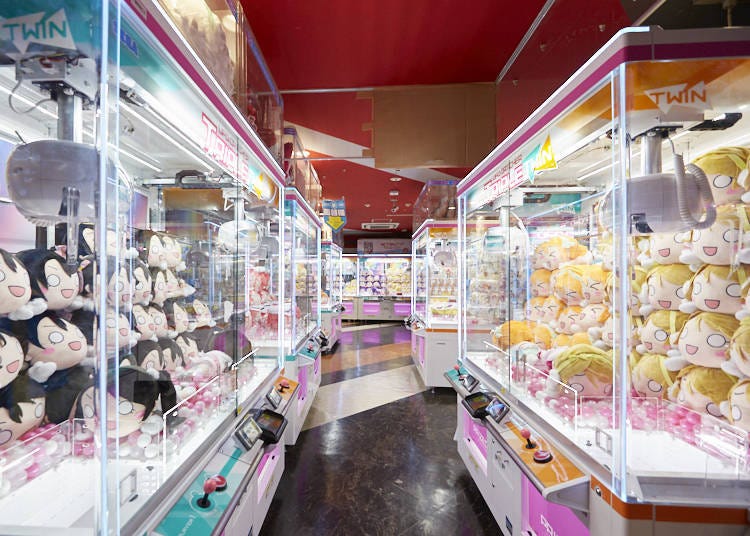 The UFO Catchers in SEGA AKIHABARA 3rd cater to a wide range of demographics, so whether you're a man, woman, anime fan, idol enthusiast, or something else, you're bound to find a machine with merchandise that tickles your fancy. Especially popular among international visitors are character goods from big names like Disney and Pokemon.

Since Akihabara is also known as the sanctuary of popular anime title "Love Live!", you'll find a plethora of Love Live!-related goods that appeal to both male and female fans. There's also a UFO Catcher machine chassis that's been autographed by the voice actors and actresses of the anime that fans will be thrilled to visit for sure.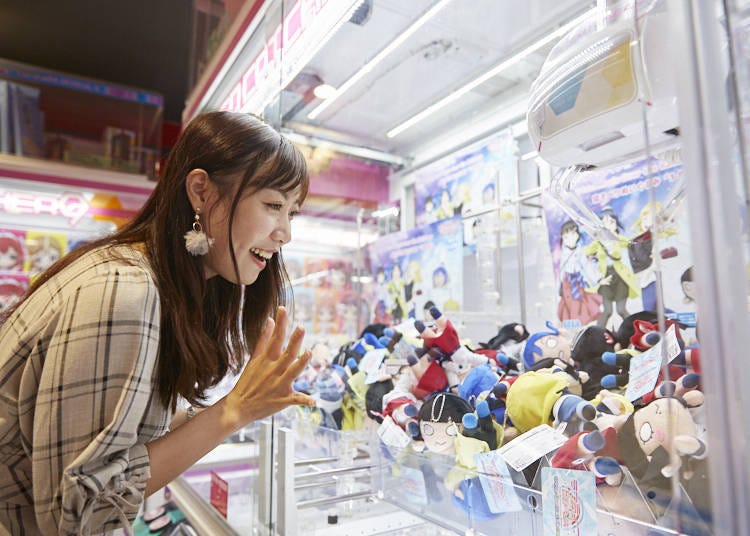 Qin: "It's my first time playing UFO Catcher, really. This is a lot tougher than it looks! Hey, that's a really cute plush toy!"

A plush toy of Love Live! character Kanan Matsuura catches Qin's eye, and she decides to try to catch it right away.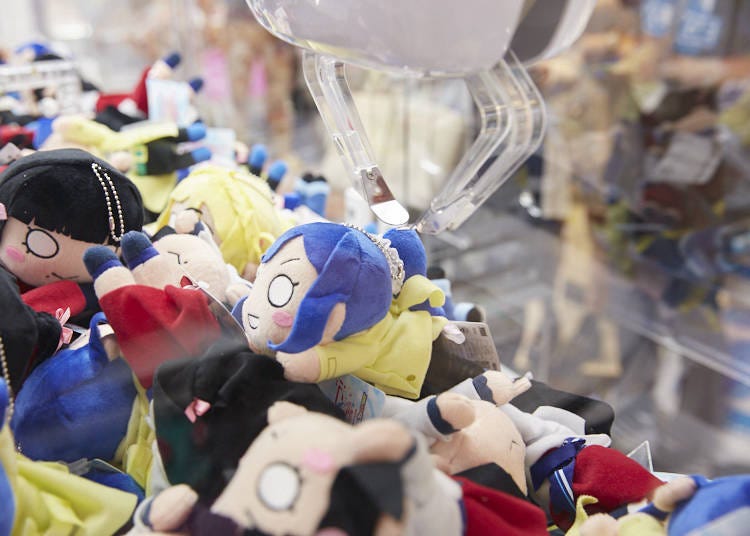 Qin: "Wait, how do I do this? I can only press each button once? Umm... This isn't going very well at all."

This is, after all, Qin's first time playing a UFO Catcher, and she fails to nab her desired prize. She valiantly tries it a second time, only to meet with similar failure.
Do you struggle with claw crane games too? Here are some great tips you should try!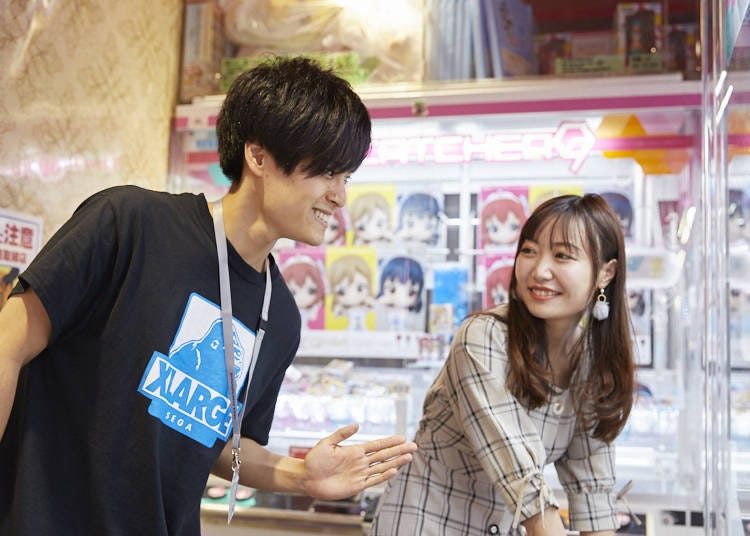 Handsome staff member Non, who's better known by some by his prestigious nickname, Prince of UFO Catchers, shows up to save the day! Non is in charge of the UFO Catcher floors in SEGA AKIHABARA 3rd.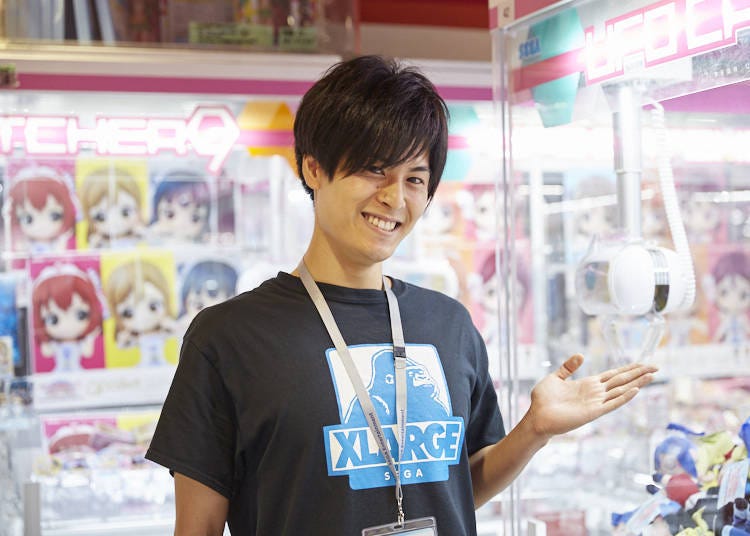 Tip 1: If your desired prize is in a bad location, give the staff a holler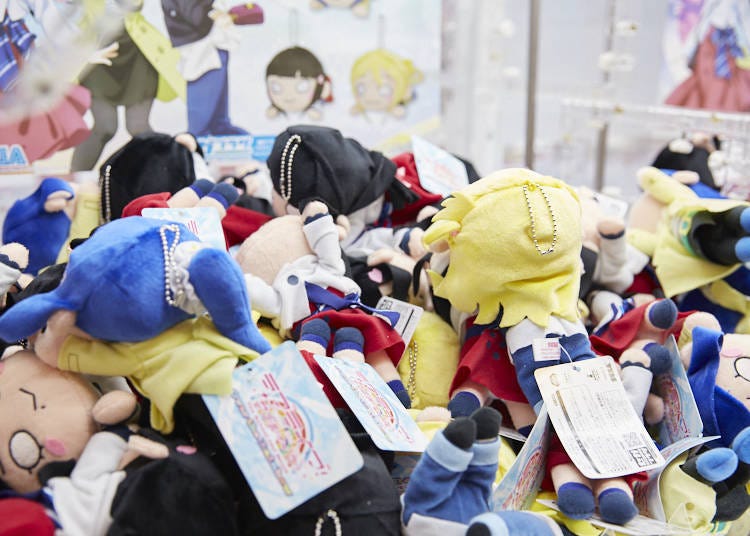 Prince: "First time playing UFO Catcher? Let me share some tips that will make your experience much more enjoyable!"

Prince: "Which plush toy do you want? This one? Okay, give me a sec."

The Prince opens the machine window and stacks Qin's desired prize on top of the other plush toys. Wait...isn't that cheating?

Prince: "Oh, don't worry about it. Anytime you find something you want, just inform a staff member and they'll put it in an easier location to catch for you. Don't stand on ceremony, and just feel free to let any one of us know!"

Now that Qin's desired plush toy is on top of the huge stack of other toys, she starts calculating how to best make use of this opportunity...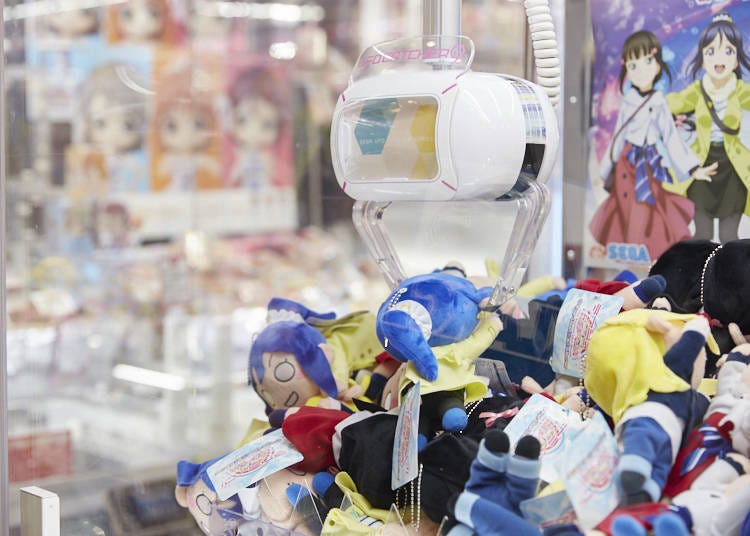 Prince: "Don't focus on using the claw to grab your plush toy. Instead, think about how to hook it up. Try to figure out where the toy's center of gravity is and imagine trying to hook it so that it rolls over. It's easier to make part of the toy's body caught onto one or both of the claws like this."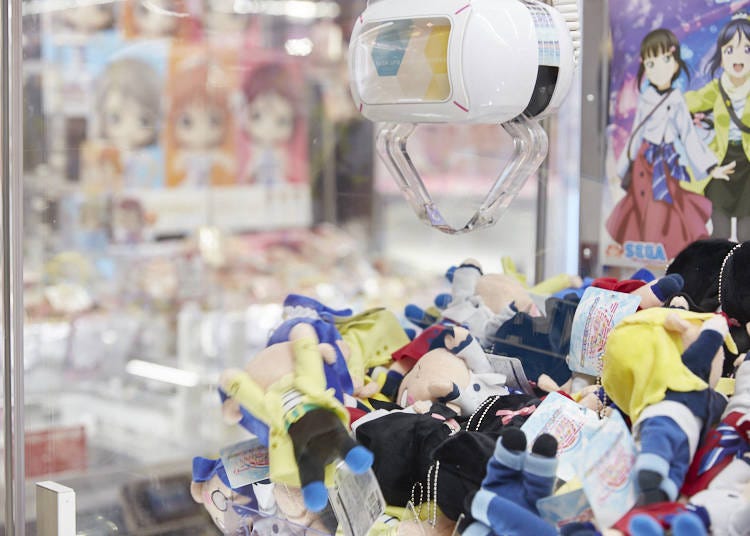 Qin attempts to apply the Prince's advice, and manages to get part of the plush toy's body hooked onto the claw, but alas, it was not to be... The plush toy falls back into the heap.
Tip 3: Plan to retrieve the toy in a few tries instead of trying to get it in one shot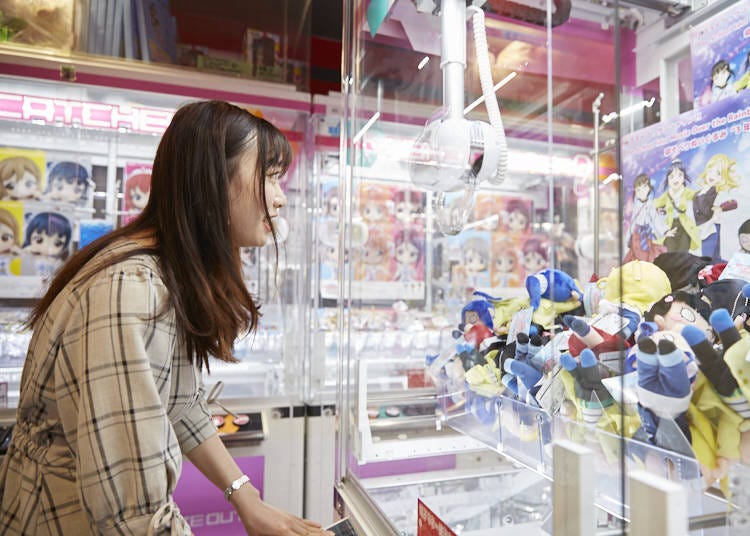 Prince: "Not even I can get a toy at the first try! Instead, I plan to keep hooking the toy and rolling it forward so that it comes closer, until it's right in front of the duct. This usually takes me about five tries to achieve."

Once again, Qin listens to his advice and finally, on her sixth try, wins her hard-earned prize!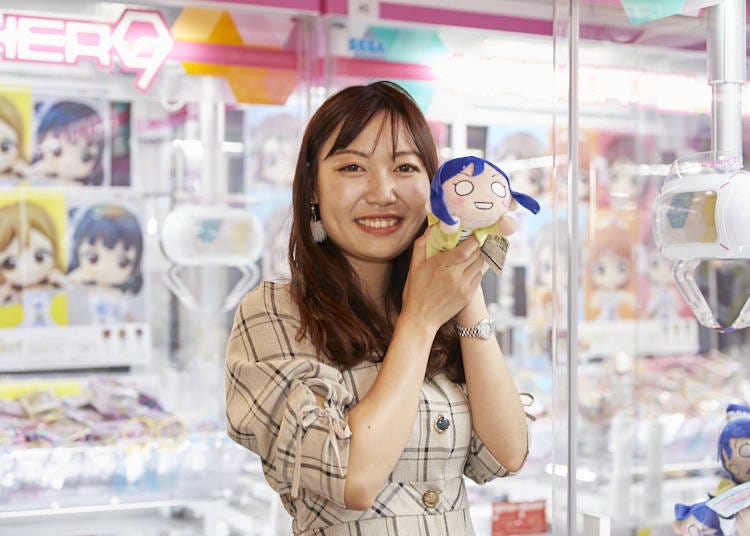 Qin: "I thought it was so tough at first, but after being told it's a game where it's normal to try several times, I became less anxious. I'm so glad I got what I wanted... I think I could get addicted to this!"

Prince: "You're always welcome here!"

His job here done, the Prince of UFO Catchers flashes a charming smile and returns to his floor work.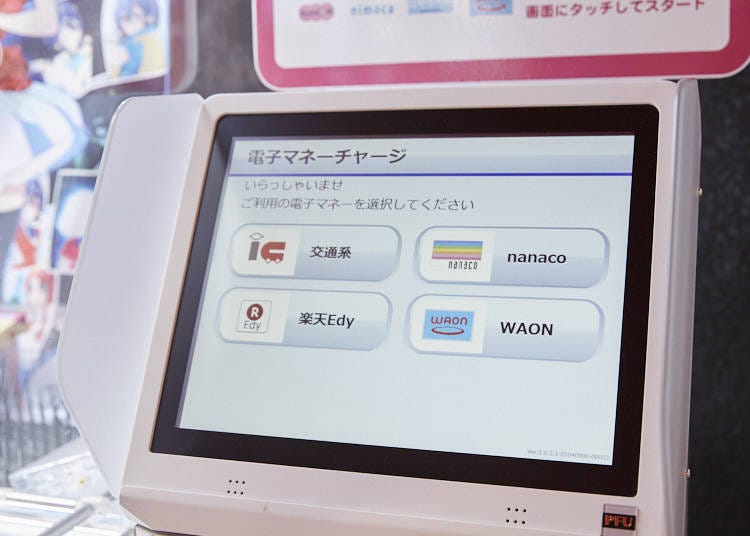 All of the UFO Catchers at SEGA's arcades can take cash, transport prepaid cards, Rakuten Edy, nanaco, WAON, and other digital wallet services. This means you don't have to fumble around with unfamiliar Japanese coins if you don't want to - especially useful for visitors from overseas! If your cards or digital wallets don't have enough value to use the services, fret not! You can recharge them within the shop itself too.
Latest arcade games for days!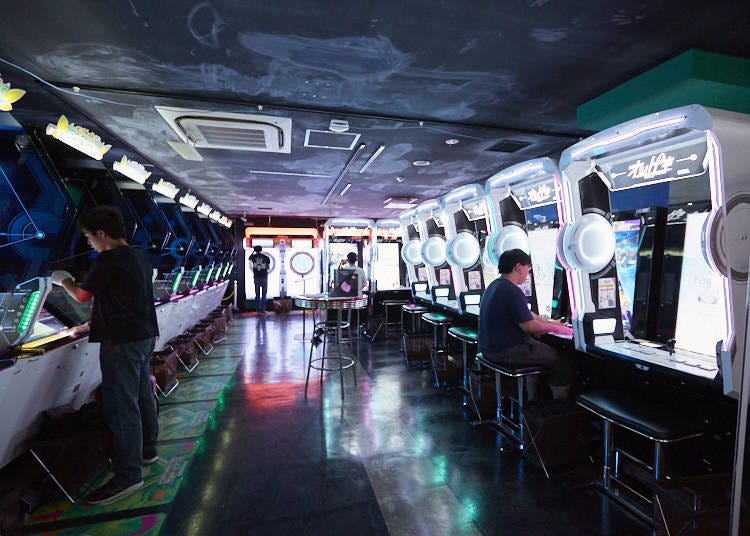 After conquering the UFO Catcher, Qin moves to the fourth floor of the building to try out the latest rhythm game, "maimaiDX".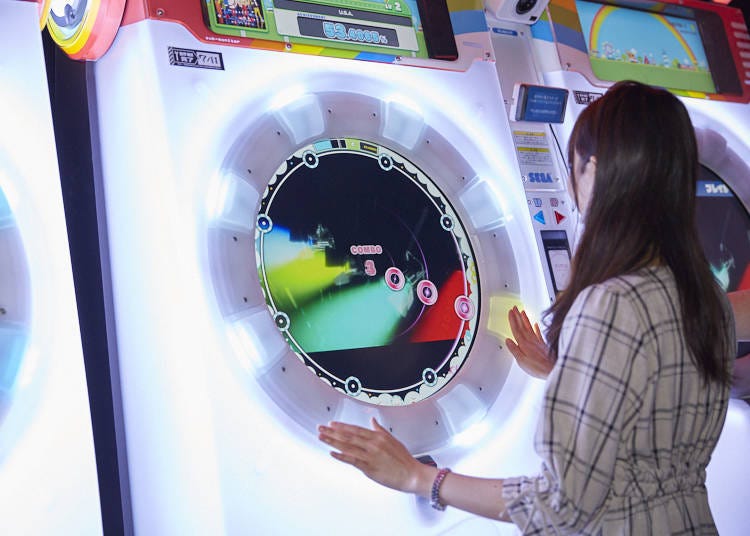 The maimaiDX game machine only started operations in July. This engaging rhythm game requires you to tap or snap to a round-shaped console mounted with high-precision LED in conjunction with revolving sounds and lights. The game features a vast selection of Japanese folk music, pop songs, SEGA original songs, and others.

The maimaiDX game is quite complicated to master, and it quickly confounds Qin, who has had little experience with rhythm games to begin with.

Qin: "What? I don't get it. Over here? What's this light? What's going on?"
Despite her confusion, she continues playing the game by following the rhythm and still appears to be enjoying herself quite a lot!

Qin: "That was fun! Felt like a great workout!"

The SEGA arcades that can be found in Akihabara are gamer sanctuaries where top-ranked gamers from all over Japan gather together to compete with each other.
On the day of our visit, there were gamers on the machine next to Qin's who were going to town with their unearthly snap-and-tap techniques. If you enjoy watching top-class gamers showcasing their superior skills up close and personal, you can do no better than to step into one of Akihabara's arcades.

As you can probably guess, SEGA's collection of the latest game machines like maimaiDX makes it a popular hangout spot during the weekends, which means the lines for getting hold of a machine to actually play will be quite a sight to behold! While you're waiting in the queue for your turn, make use of this good chance to observe other players and learn from them too.
Your first VR game experience will make you marvel at how far technology has come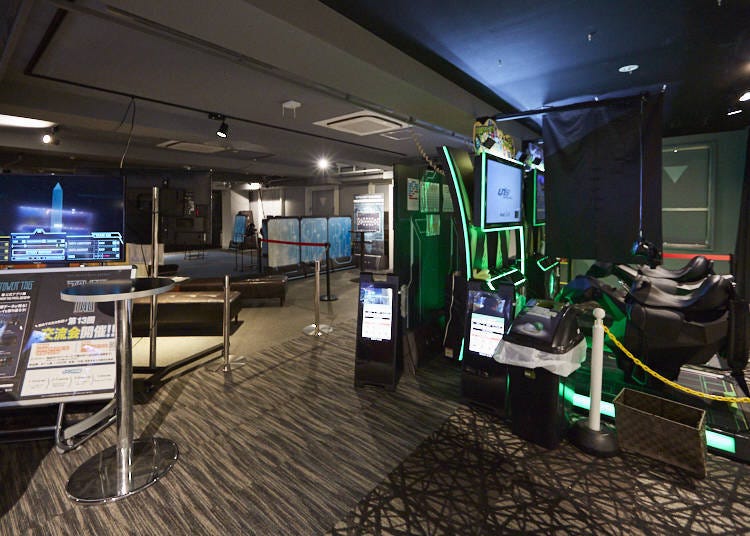 For her final stop, Qin heads to SEGA VR Area Akihabara on the sixth floor, which houses the latest cutting-edge VR technology. Qin picks "Mortal Blitz for Walking Attraction" (hereafter just "Mortal Blitz"), a walking-type VR game for her first brush with this new gaming technology.

In Mortal Blitz, you take on the role of a fighter who defends your territory from attacking aliens - all within the safe confines of a virtual space. You'll be equipped with a pair of VR goggles, a sensor-mounted vest, and a gun before diving into your exciting new endeavor in the game world.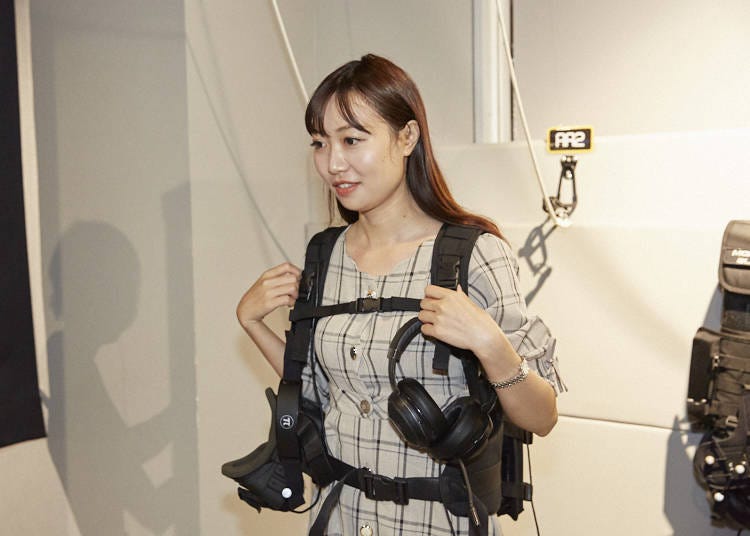 Once you put on your VR goggles, your visual and audio senses are transported into a different world and your VR adventure begins. Unlike conventional games where you let a controller with buttons dictate where you go, you won't be able to make progress in this free-roaming game unless you move around the floor space yourself! Sounds like it might take a while for those who get easily scared to complete this game. For the record, the faster players tend to finish their games at the eight-minute mark, whereas regular players usually take about 12 minutes.
Despite the occasional scream or two, Qin progresses in her game solidly calm and composed. Her gun form is frankly top-notch, too!

After 15 minutes in the game world, Qin returns to reality bubbling with excitement.

Qin: "That was so scary! Honestly, I wanted to give up halfway through... I just couldn't wait for the game to end! How many hours was that? What? Fifteen minutes? It felt so much longer when I was in the game. Almost like I was sitting through a full-length movie! As scary as that was, though, I'd definitely say it was a great experience."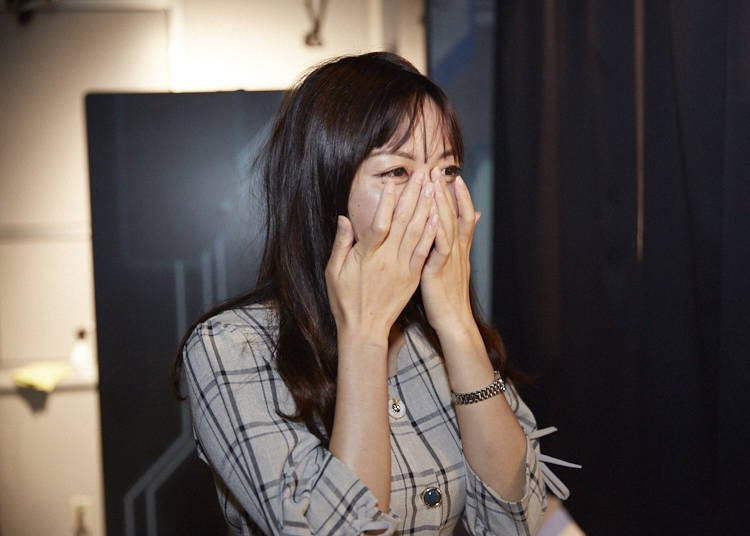 Qin's legs couldn't stop shaking for a while from the sensations in the VR game she had yet to completely leave behind.

Mobile Blitz costs 2,000 yen per play session and comes with Japanese, English, Chinese, and Korean language support, so visitors from overseas can enjoy the game even if they're not familiar with the Japanese language.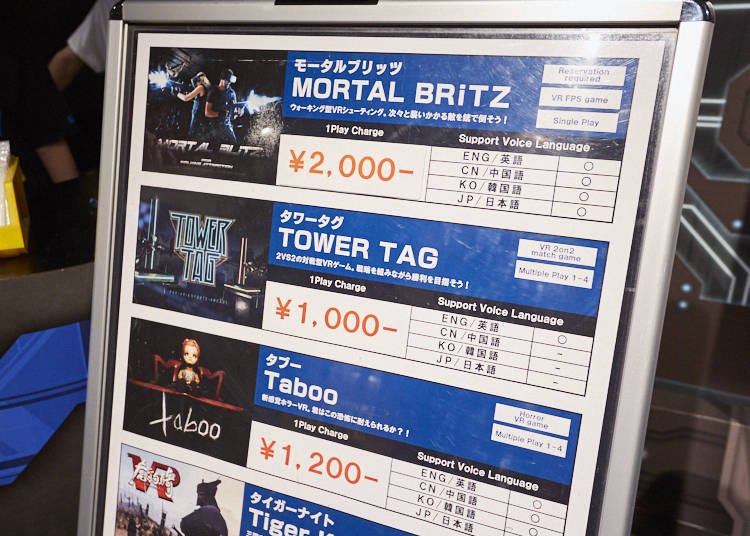 There are four VR games in SEGA VR Area Akihabara. Because supported languages and session prices differ from game to game, do ask a staff member beforehand for more information before jumping in. This floor only takes cash, so prepare some yen if you're planning to go on your next big VR adventure here!
Akihabara, Japan's arcade sanctuary is well worth a visit
Qin: "I always had the idea Japan's arcades were amazing, and now I've confirmed it! All those UFO Catchers in one floor was quite an impressive sight, and the futuristic rhythm games and VR games gave me a glimpse into the latest technology had to offer. This is actually my first time in an arcade, but now I know why people actually make plans to visit one when traveling to Japan! I had fun with the UFO Catcher for sure, and got to bring back an adorable souvenir that I won all by myself. What's there not to like?"

Besides housing five of SEGA's arcades, Japan's arcade sanctuary Akihabara has other shops full of game machines at every turn as well. If you happen to be visiting this electrifying town, we highly recommend that you drop by one of SEGA's arcades for a taste of the unique game center culture you won't be able to find anywhere else in the world!
セガ 秋葉原3号館

Address

1-11-11 Sotokanda, Chiyoda-ku, Tokyo, 101-0021


Nearest Station

Akihabara Station (JR Keihin-Tohoku Line / JR Yamanote Line / Tokyo Metro Hibiya Line / Tsukuba Express / JR Sobu Line)
2 minutes on foot


Phone Number

03-5297-3601
Other SEGA arcades in Akihabara:
セガ 秋葉原1号館

Address

1-10-9 Sotokanda, Chiyoda-ku, Tokyo, 101-0021


Nearest Station

Akihabara Station (JR Keihin-Tohoku Line / JR Yamanote Line / Tokyo Metro Hibiya Line / Tsukuba Express / JR Sobu Line)
2 minutes on foot


Phone Number

03-5256-8123
セガ 秋葉原2号館

Address

1-15-1 Sotokanda, Chiyoda-ku, Tokyo, 101-0021


Nearest Station

Akihabara Station (JR Keihin-Tohoku Line / JR Yamanote Line / Tokyo Metro Hibiya Line / Tsukuba Express / JR Sobu Line)
2 minutes on foot


Phone Number

03-3252-7528
セガ 秋葉原4号館

Address

1-15-9 Sotokanda, Chiyoda-ku, Tokyo, 101-0021


Nearest Station

Akihabara Station (JR Keihin-Tohoku Line / JR Yamanote Line / Tokyo Metro Hibiya Line / Tsukuba Express / JR Sobu Line)
1 minute on foot


Phone Number

03-3254-8406
セガ秋葉原5号館

Address

Yoshiba Radio Building, 1-10-1 Sotokanda, Chiyoda-ku, Tokyo, 101-0021


Nearest Station

Akihabara Station (JR Keihin-Tohoku Line / JR Yamanote Line / Tokyo Metro Hibiya Line / Tsukuba Express / JR Sobu Line)
3 minutes on foot


Phone Number

03-3255-2168
*This information is from the time of this article's publication.
*Prices and options mentioned are subject to change.
*Unless stated otherwise, all prices include tax.
Limited time offer: 10% discount coupons available now!