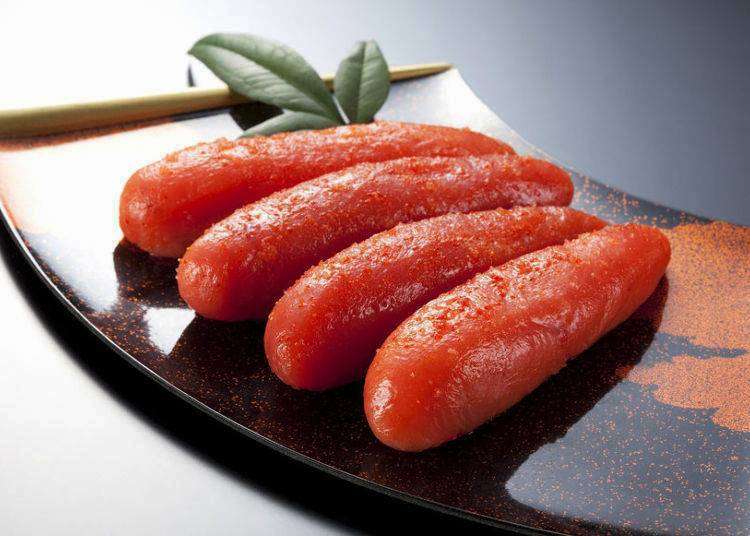 The giving of omiyage, or small souvenirs, upon returning home from a trip is a custom that is finely ingrained into Japanese culture. While people from other cultures may be thankful if their friends and/or family bring a trinket or two from the foreign country they have visited, your Japanese friends and even coworkers will absolutely expect it.

A traditional omiyage in Japan is usually a local food or specialty of the area visited. These souvenirs serve more than just the purpose of showing your family or friends that you were thinking of them while you were away. They are also to show your appreciation to your coworkers for picking up your workload whilst you were away on vacation.
Wondering What Souvenirs to Buy in Japan? Regional Food Souvenirs are Fantastic!
Because of this strictly-followed culture of omiyage gift giving, various regions of Japan have started marketing their own specialty foods and desserts for visitors to purchase, made with local ingredients and cooking techniques. Read on to learn about some of the most popular regional food souvenirs throughout Japan!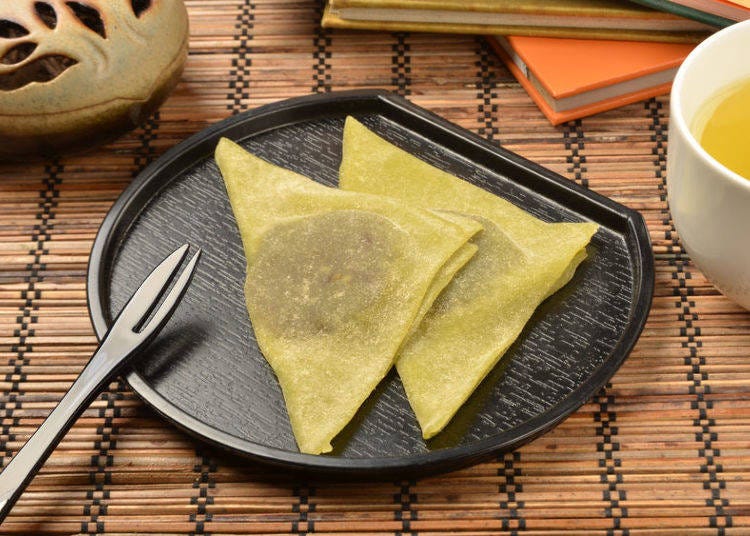 No visit to Kyoto is complete without trying yatsuhashi, a traditional sweet that has been enjoyed in the area since the 17th century, making it one of the most popular Japanese omiyage around. There are two types of yatsuhashi to choose from: yatsuhashi senbei, a thin, toasted rice cracker flavored with cinnamon, and nama yatsuhashi, an unbaked version which became popular in the 1960s. Nama yatsuhashi is folded in a distinctive triangle shape and filled with a bit of sweetened azuki (red bean) paste. The dough can be flavored with cinnamon like yatsuhashi senbei or with matcha, strawberry, and other flavors.
2. Momoji-manju (Hiroshima)
Momiji-manju is a type of wagashi, or traditional Japanese sweet, which is originally from the Hiroshima Prefecture. During the Meiji era, they were created in order for ryokan inns to sell and are still sold today. Momiji-manju is made by filling a small, maple leaf shaped castella cake with sweetened azuki paste, hence the name "momiji" (maple leaf). The name comes from Momijidani (Valley of Maple Trees) in Hiroshima where the treat was first sold. This omiyage can be found all throughout Hiroshima today.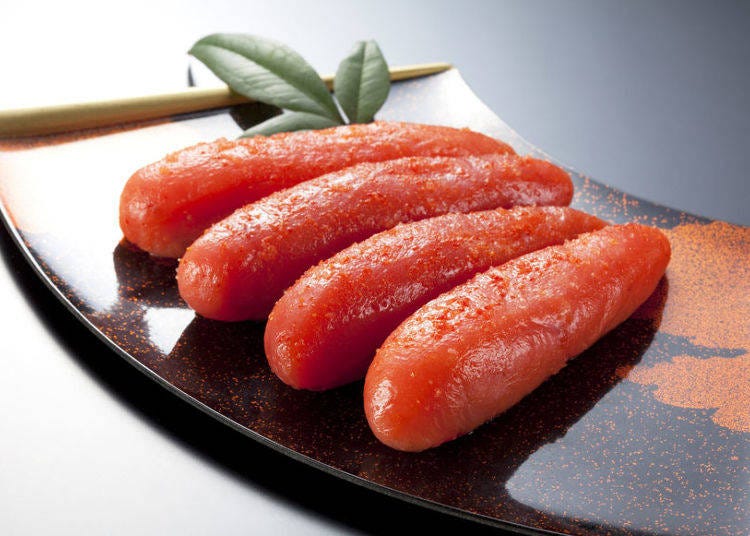 Mentaiko is a spicy salted pollock fish roe from Fukuoka Prefecture in Kyushu. Mentaiko first came to Fukuoka via Busan, a port city in Korea, following WWII and the seasoning has since been adapted for the Japanese palate. It's commonly enjoyed with a bit of sake or mixed in with other dishes such as nabe (hot pot) or even as a pasta topping. When visiting the area, it is a popular omiyage to bring back home.
4. Cheese Tarts (Sapporo)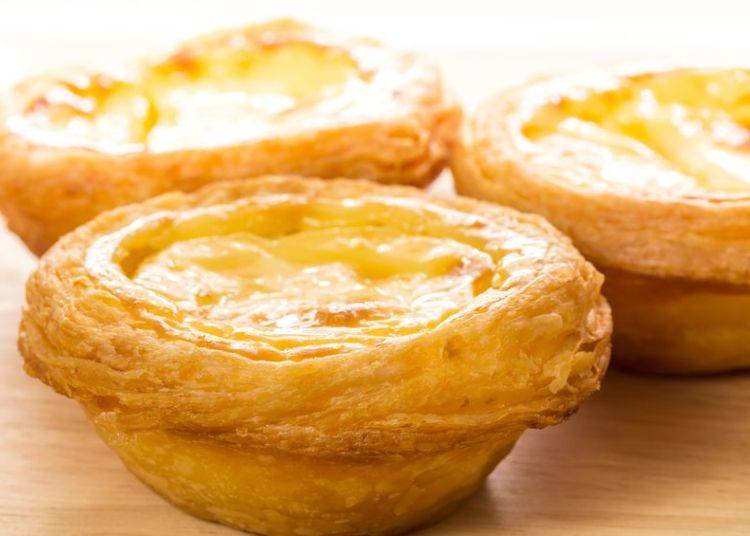 In the north of Japan lies Hokkaido Prefecture, the area in Japan most well known for its tasty dairy products. One such dairy product you can find in the area is the Hokkaido cheese tart. With a cream cheese that features three types of cheese filling up a flaky pastry shell, your friends and family will surely be thankful if you bring some home to them. Like all great food, these cheese tarts taste best freshly baked, but they also taste great at room temperature, chilled, or even reheated in a toaster oven.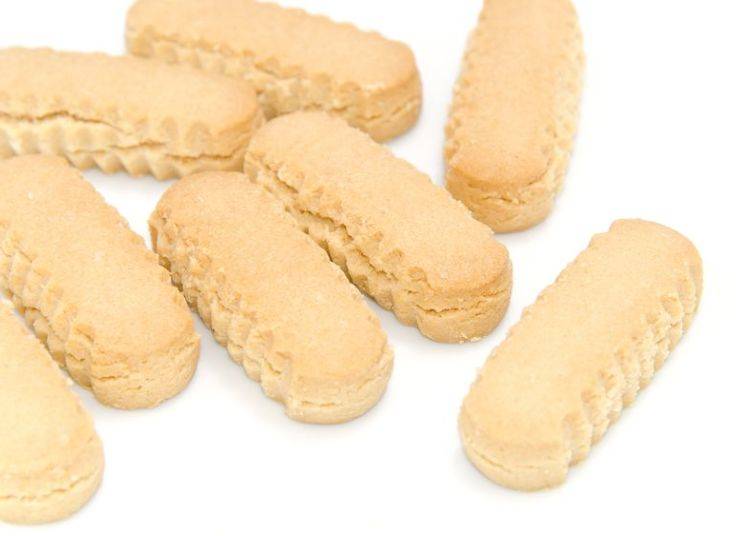 Located the southwest of Japan's main island of Honshu are the islands of Okinawa. Being separated from the rest of Japan and greatly influenced by the American army presence, the Okinawa islands have quite a unique culture compared to Honshu. If you have the chance to visit the islands, make sure to pick up some chinsuko, a type of salted shortbread cookie made with flour and lard. The most common flavor picked up is salt, but there is a plethora of other flavors including mango, sweet potato, pineapple, and shikuwasa citrus.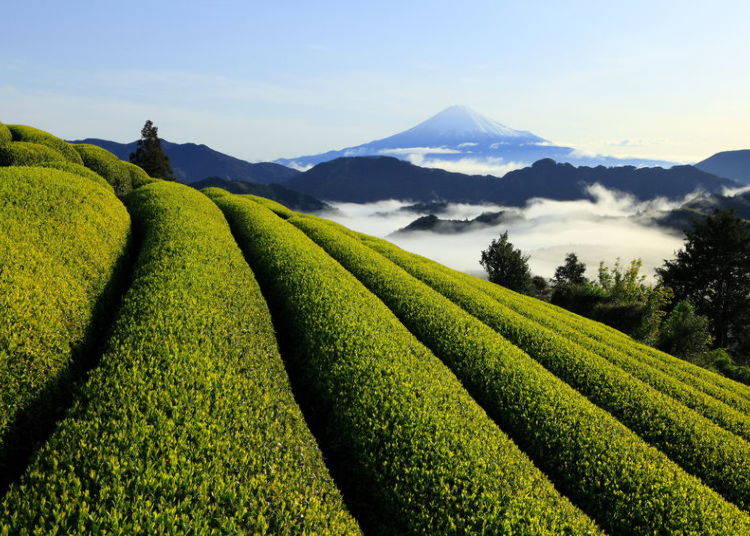 Though green tea is popular throughout the entire island country, you can find the absolute finest tea in Shizuoka Prefecture, in the foothills of the Southern Alps. The cultivation of green tea first began in the region in the 13th century. It was introduced into the area by a local Buddhist monk who brought tea back from China. Since then it has become a vastly popular drink all around Japan and is grown mostly in Shizuoka Prefecture. Upwards of 40% of Japan's green tea is grown in the region. This is a must-buy when looking for souvenirs from the area.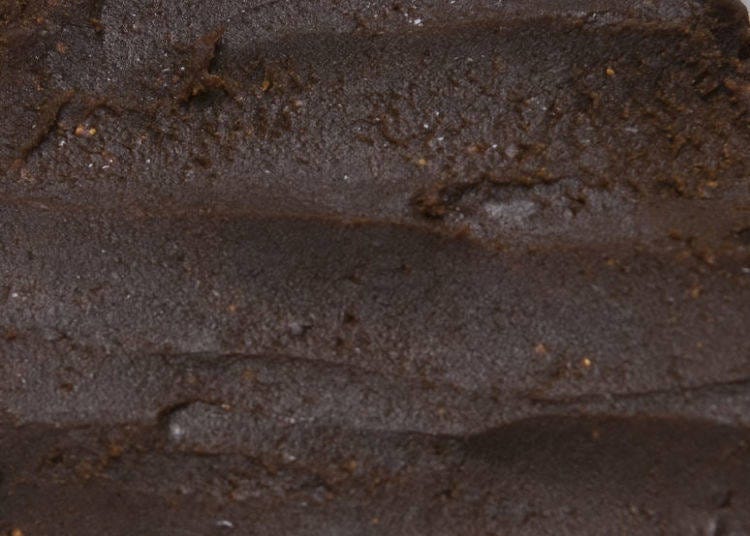 If you've ever been to Nagoya in Aichi Prefecture, you'll know that it's quite famous for its miso. Miso is a traditional Japanese seasoning that is created by fermenting soybeans with koji mold and salt. The most popular type of miso in Nagoya is hatcho miso, a red miso made only with soybeans and no grain. Because this miso has quite a rich and intense flavor, it's commonly used as a sauce for dishes such as tonkatsu (pork cutlet). If you have a foodie who loves cooking, why not bring them back a tub of hatcho miso?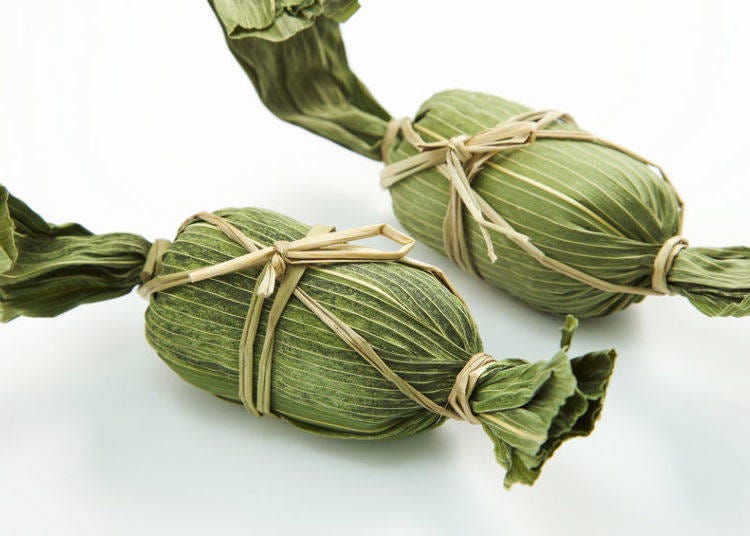 This confectionery comes from Niigata Prefecture, on the coast of the Sea of Japan. Saso dango is a type of mochi (rice cake) made out of mugwort herb and filled with azuki paste or kinpira root before being wrapped in bamboo leaves and steamed. Sasa dango was traditionally eaten in May, during the Boys Festival, but now it is commonly enjoyed during all seasons so it's a good and tasty souvenir to pick up while you're in the Niigata area.
9. Shingen Mochi (Yamanashi)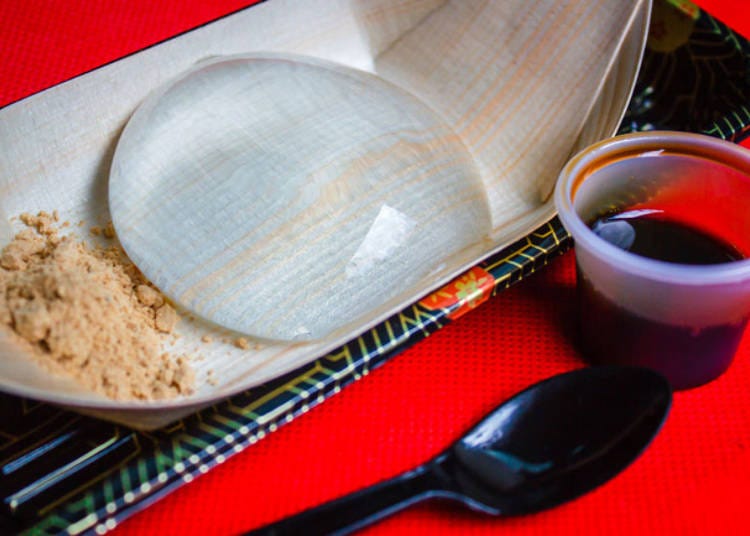 Shingen mochi is a type of wagashi that features small pieces of mochi covered in kinako (toasted and ground soybean powder), over which kuromitsu (brown sugar syrup) is poured. This omiyage was thought up in order to capture the history and flavors of the region. It's based on a traditional mochi that has been enjoyed in Yamanashi Prefecture since ancient times. If you look closely, you'll notice that the Shinsen mochi packaging features traditional Yamanashi textile patterns as well.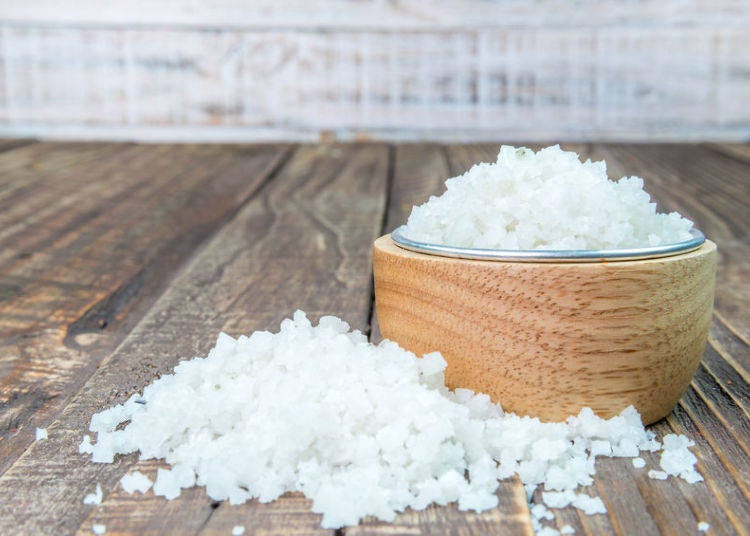 Lying on the central coast of Japan's main island of Honshu, facing the Sea of Japan is Kanazawa, the capital of Ishikawa Prefecture. Although the area is known best for its scrumptious sushi, it might prove a little difficult taking fresh fish home. However, don't fret, because the Noto Peninsula, also in Ishikawa is well-known for their sea salt omiyage. It's extracted from the sea using salt pans in a traditional, yet highly labor-intensive process. This results in a mild-flavored sea salt with a strong ocean taste that is said to have a higher mineral content than your everyday table salt.
11. Kakinoha-zushi (Nara)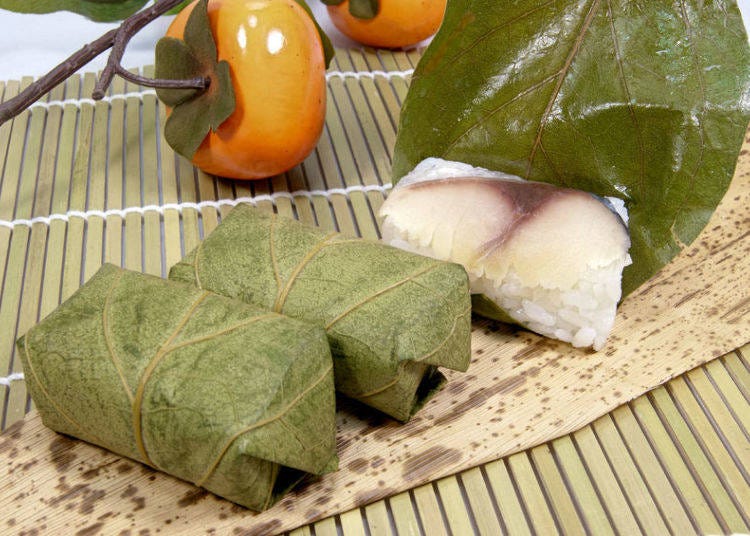 Nara, home to Japan's capital during the 7th and 8th centuries, is one of the oldest prefectures in Japan and is located in the western Kansai region. With a plethora of temples, shrines, and ancient tombs, Nara is home to more UNESCO World Heritage sites than any other area. As Nara is located inland, fresh fish wasn't always easily accessible. Therefore, in order to transport fish such as salmon, trout, and mackerel were preserved in salt with rice and wrapped in a persimmon leaf, which has antibacterial properties and instills a particular aroma and faint flavor into the sushi. This dish is called kakinoha-zushi and is now considered a delicacy in Nara. Seeing as the sushi was made for transportation, you might as well take some home, right?
Regional Food Souvenirs Are the Perfect Japanese Travel Gift!
Sure, maybe you want to bring back some folding fans, "I ❤ Japan" hats or even your friends' favorite manga, but don't forget to try things the Japanese way and buy some food omiyage so everyone back home can get a taste of Japan!

Top image credit: ingehogenbijl / Shutterstock.com
*This information is from the time of this article's publication.
*Prices and options mentioned are subject to change.
*Unless stated otherwise, all prices include tax.