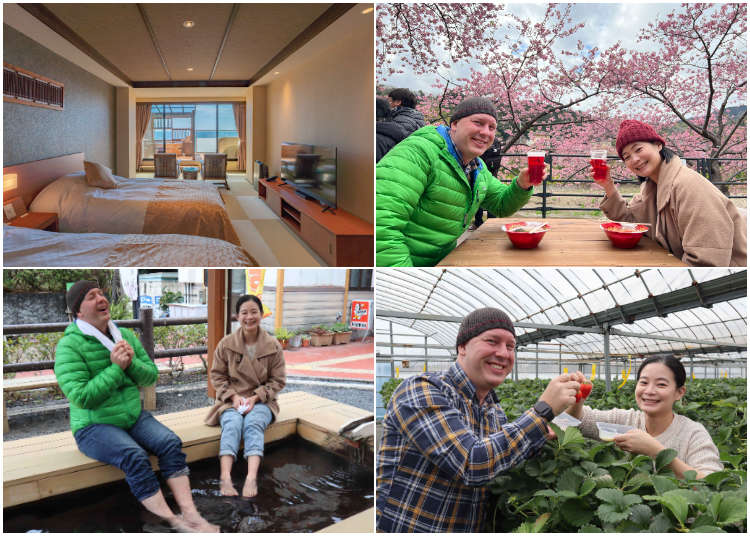 Seasonal events and attractions are one of the best things about Japan. While February is still cold, it's actually the start of spring, and early-blooming cherry blossoms, strawberry-picking, and more can be enjoyed in Kawazu, Shizuoka Prefecture.

For this article, LIVE JAPAN international editors Timothy and Chia-chi will introduce their own early spring itinerary in Kawazu with an on-site report!
Our Two Kawazu Travelers!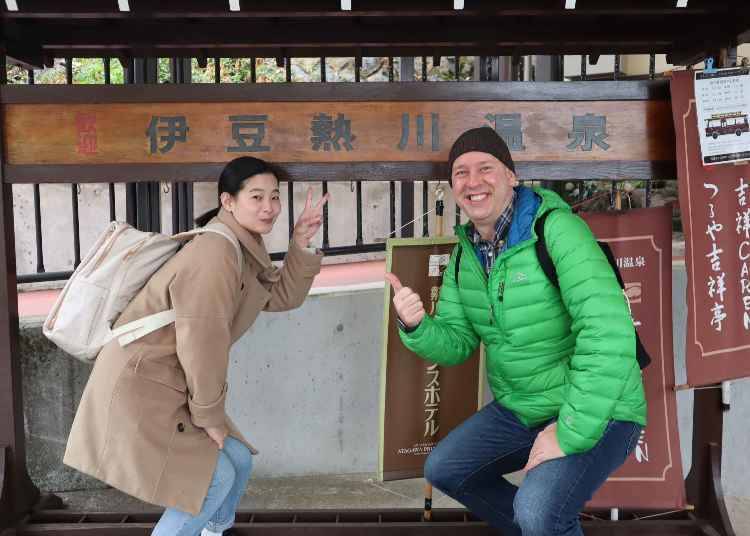 ・Timothy (Photo: Right)
Originally from New York, Timothy has lived in Japan for more than 20 years and is an expert in all things Japan. His hobbies include cycling, trekking, and other outdoor activities, and he is always embarking on active, adventurous trips. He also likes cooking and eating, along with sake, beer, wine, and whisky. He is well-versed in the cuisine of Japan, but prefers everyday, hearty meals over luxury dishes. His smile and carefree personality are his self-proclaimed charms!

・Chia-chi (Photo: Left)
Originally from Taipei, Taiwan, Chia-chi has been a resident of Japan for 7 years. She prefers relaxing, indoor trips, often seeking out cafes, charming old buildings, and people-watching while reading books. She also enjoys taking photos of flowers and buildings. Placing great importance on sleep, she always thoroughly checks an accommodation's bedding, room temperature, airflow, and noise levels before settling in.
What sort of place is Kawazu?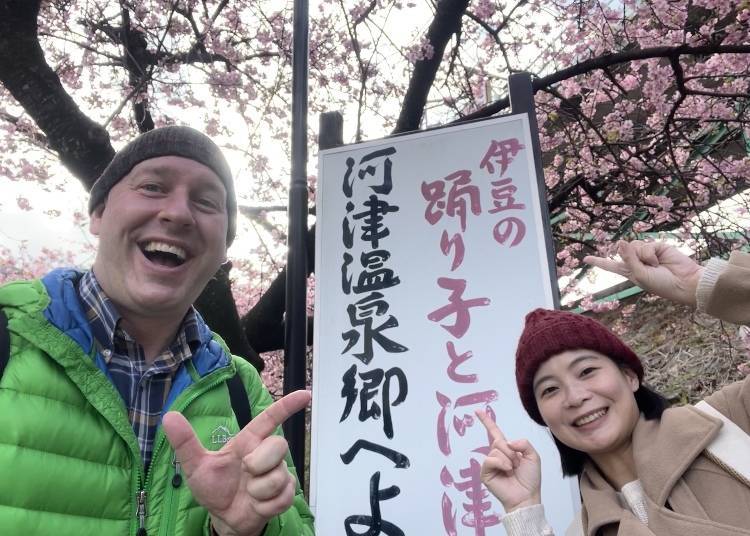 Kawazu is a town located on the southeastern part of the Izu Peninsula in Shizuoka Prefecture, reachable by train in roughly 2.5 hours from Tokyo. Blessed with abundant nature from both the sea and mountains, it is famous for its vast array of flowers blooming over the year thanks to the warm climate.

It is also a foodie hotspot, with local delicacies including fresh and high-quality strawberries, citrus fruit, wasabi, soba noodles, and seafood like "kinmedai (splendid alfonsino)" fish.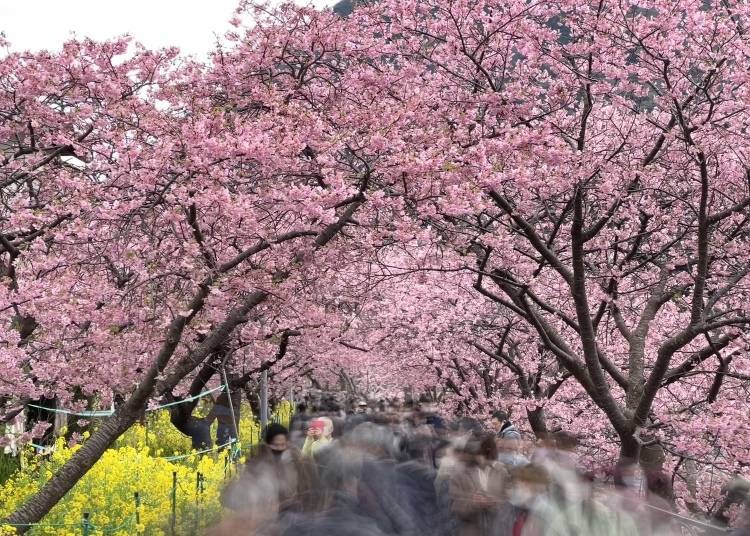 However, Kawazu is best known for its early-blooming "Kawazu-zakura" cherry blossoms, which are named after the town and can be seen in February. This variety of cherry blossom originated in Kawazu, and is now famous all over Japan, attracting flocks of sightseers during their peak.
Kawazu was also the setting for The Dancing Girl of Izu, one of the definitive works of Japan's first-ever Nobel Prize in Literature winner Yasunari Kawabata.
Newly opened in 2022! Experience the sea, food, and charms of Kawazu at Isoaruki no Yuyado Ushiogumo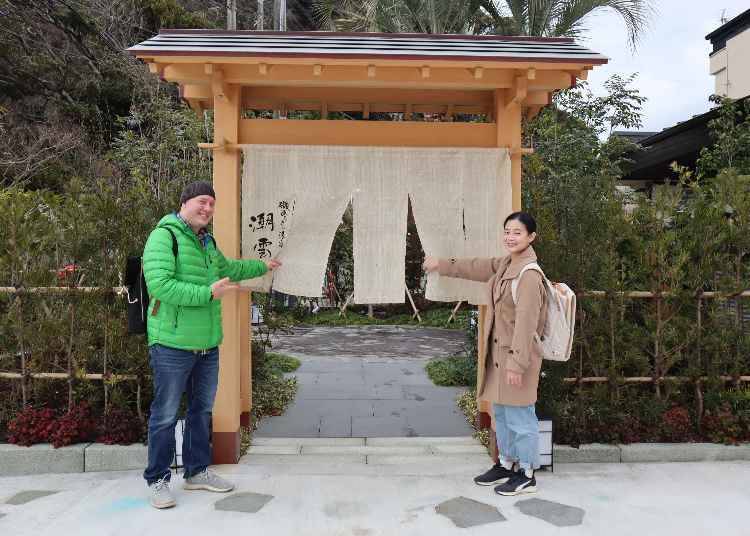 Chia-chi's recommended traditional "ryokan" inn in Kawazu is Isoaruki no Yuyado Ushiogumo. Opened in September 2022, it's a collection of all the things that make Kawazu great, like its food, scenery, hot springs, and more.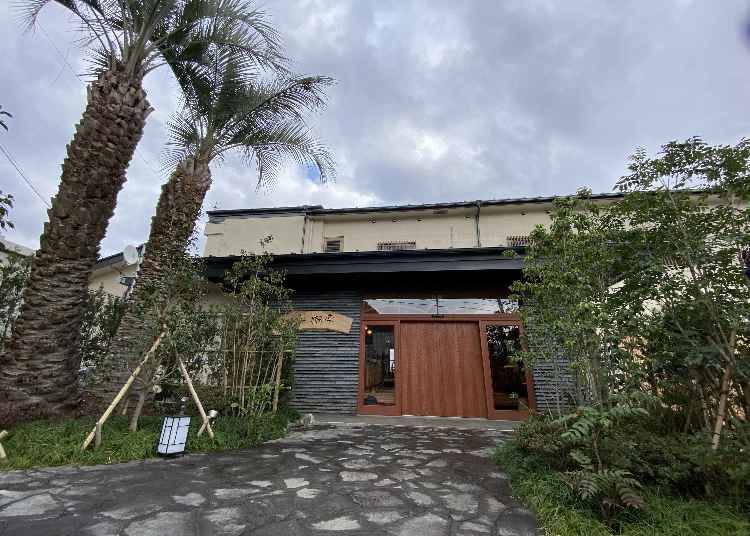 It also boasts a fantastic location right in front of the ocean, and is just a hop away from Kawazuhama Beach. It is also a 5-minute walk from Kawazu Station, and the iconic Kawazu-zakura cherry blossom rows are also within walking distance.

"I am not good with directions, so having the ryokan so close to the train station is a big plus. After a short walk through the streets, it wasn't long before we spotted it," said Chia-chi.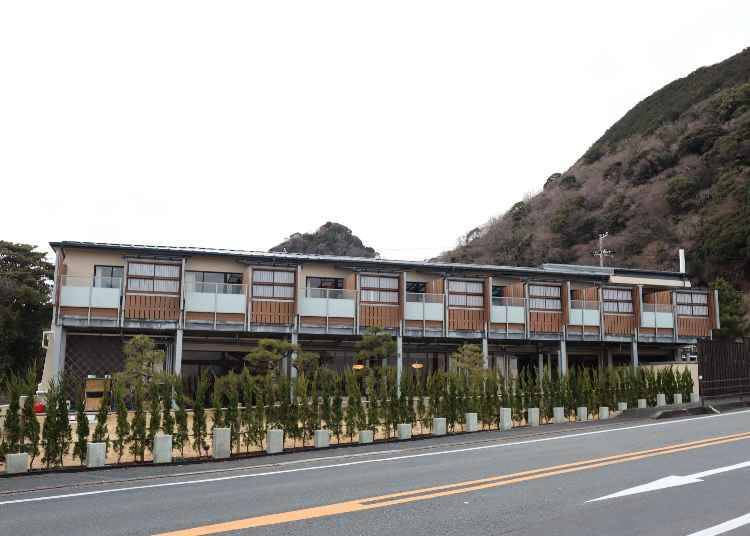 All 7 of its guestrooms have hot springs attached, allowing you to bathe in privacy and escape the clutter of everyday life amongst a wealth of gorgeous scenery, delicious cuisine, and pristine hot spring water. It's a great spot to celebrate special occasions, accommodating couples, families, friends, and solo travelers.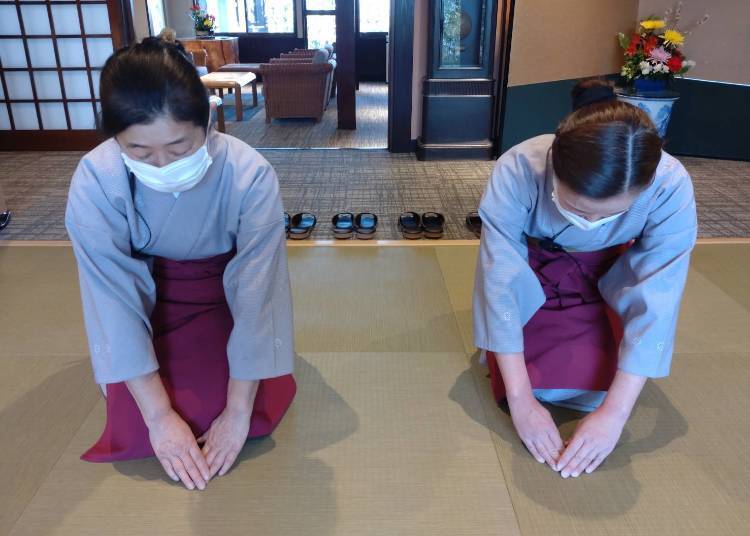 At the entrance, the friendly staff will greet you with an enthusiastic "irasshaimase" before guiding you to reception.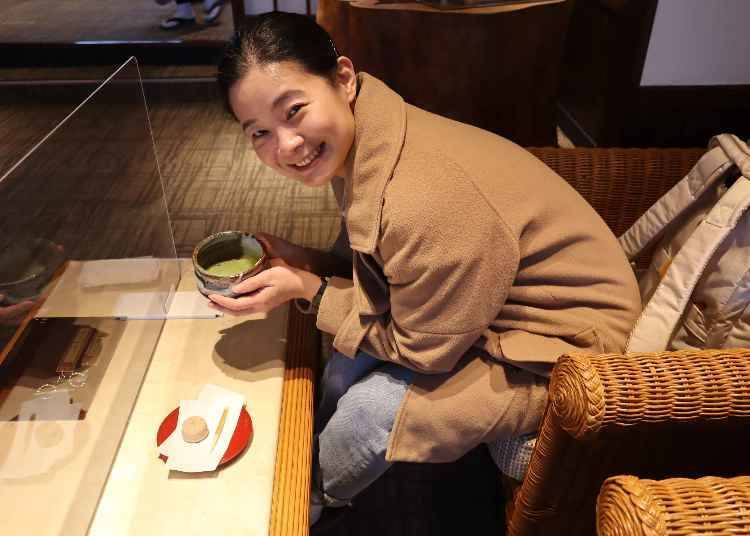 Here you'll receive a warm towel, local sweet, and cup of matcha tea. "The warm matcha and tasty sweet really captures the essence of Japanese service," said Chia-chi.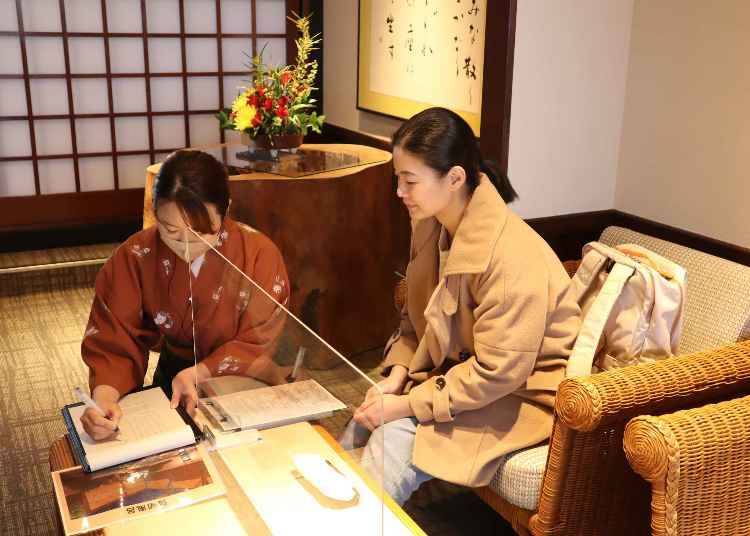 At reception, the staff will confirm your booking and guide you through the facilities and meal times. Even if you don't understand Japanese, they will help you with simple English or the Pocketalk translator, ensuring that you're well looked after.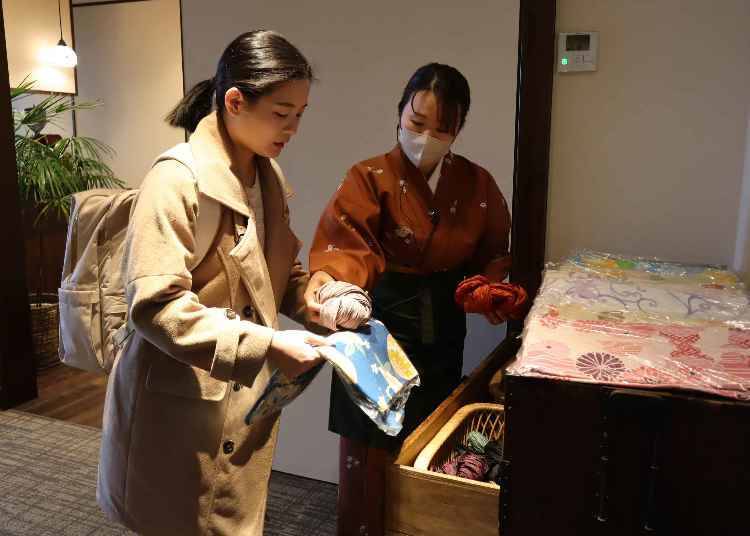 Women can freely select a "yukata" kimono, with advice from the staff like which "obi" belt will best fit.

"There were so many to choose from, so I was glad to get expert advice! Wearing the yukata made me even more excited for the stay ahead!"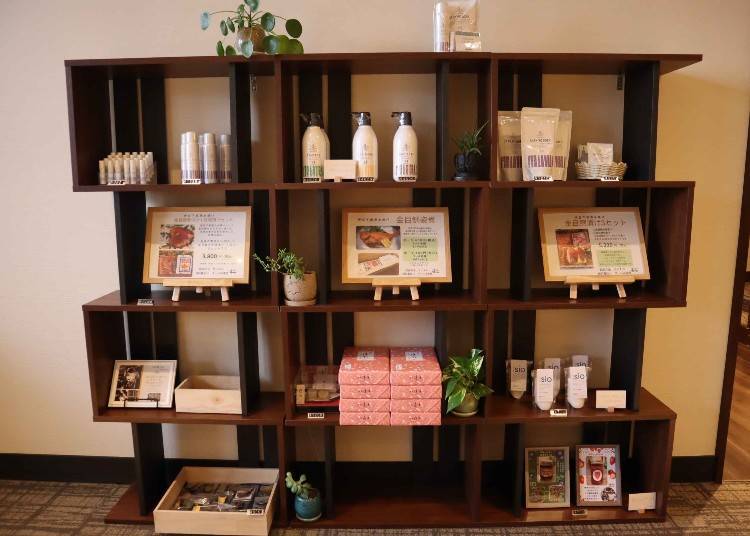 The lobby also sells a lineup of souvenirs representing the region, like Izu salt for cooking, along with the sweets received at reception and the in-room amenities.
Comfortable Japanese-style guestrooms with beachside views!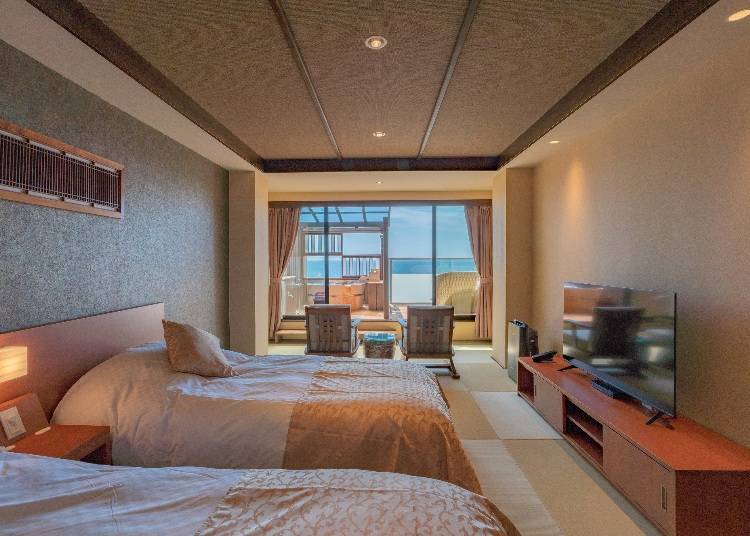 This is the "Oshima" guestroom, a pleasant space with a detached sink and scenic views. "As soon as I entered, I was greeted by stunning scenes of the ocean - it really blew me away," said a delighted Chia-chi.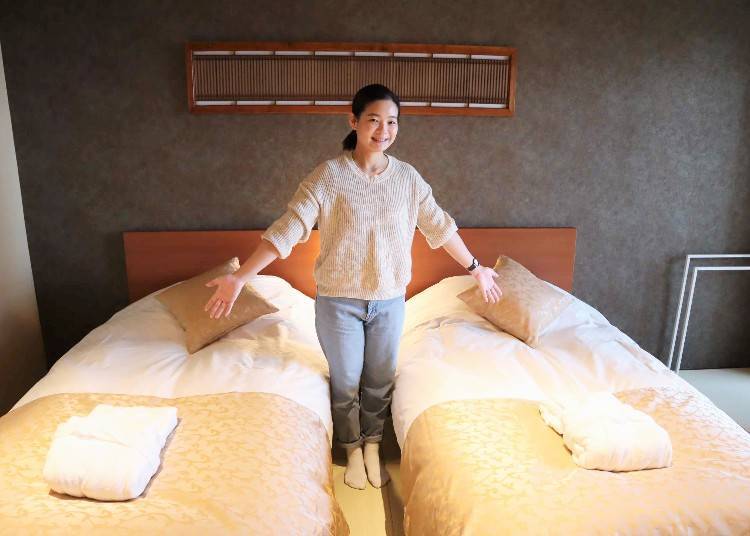 Take off your shoes and unwind on the soft tatami mats, then nap on the soft and bouncy bed. "I just know I'm going to get a good night's sleep here," said Chia-chi, who is obsessed with relaxing.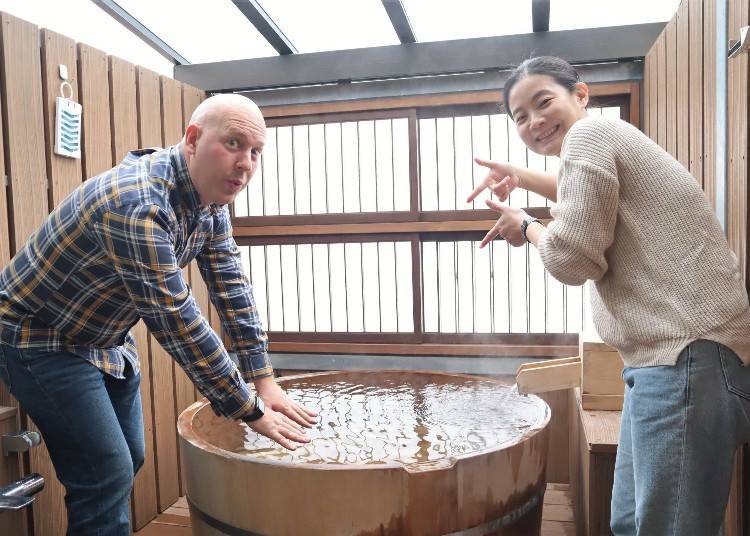 On the veranda is a private open-air bath with free-flowing hot spring water. "There's no greater pleasure than bathing in a hot spring while gazing upon the ocean," agreed both guests.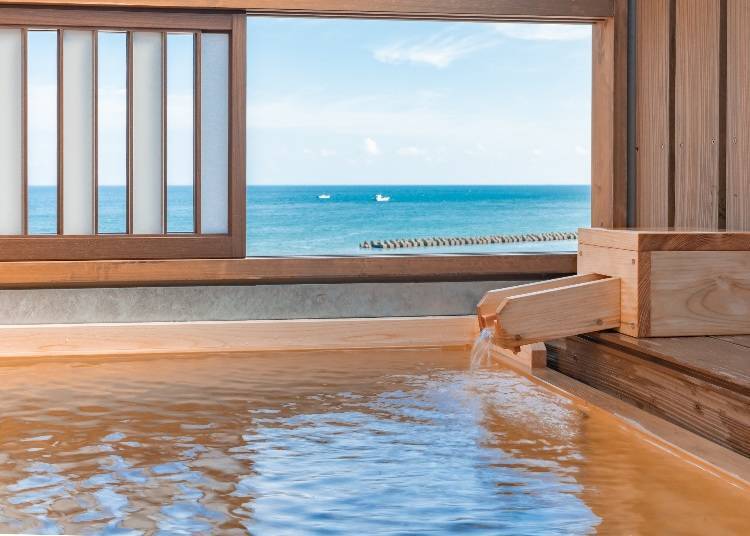 The view from the bath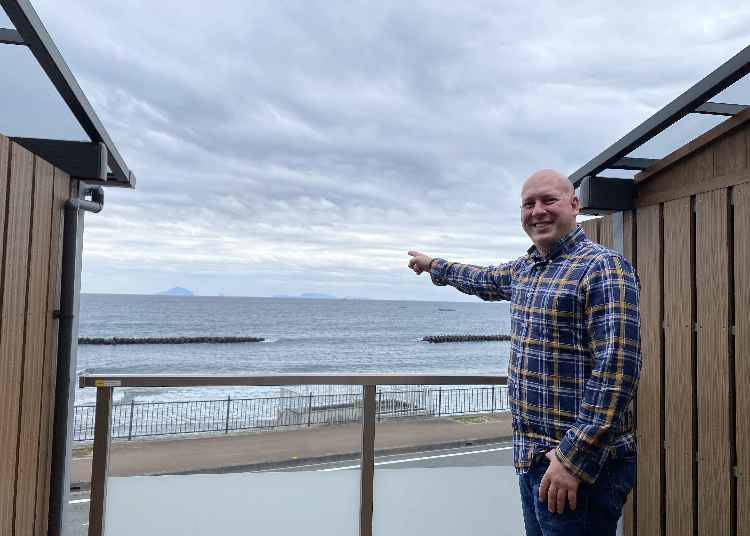 In front of the spacious veranda lies sweeping ocean panoramas, which include clear views of the Seven Islands of Izu. The scenery is at its best during the crisp days of winter, making it a great time to visit. "Check out these views! It feels so liberating," said Timothy.
There are also plenty of amenities and drink services to enjoy. Timothy was particularly impressed by the coffee beans and mill, allowing guests to grind and brew their own coffee.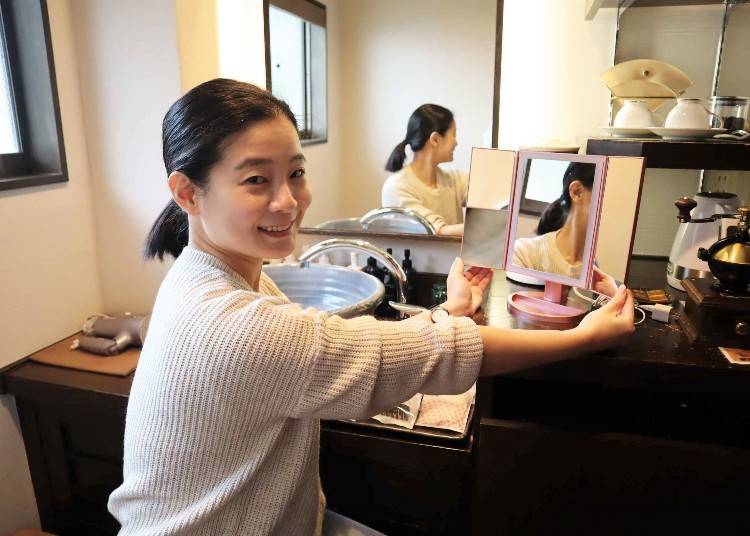 The rooms are furnished with all sorts of luxuries, like a Hollywood mirror with lights, a mist sprayer with private hot spring water from Izu-Atagawa, and more.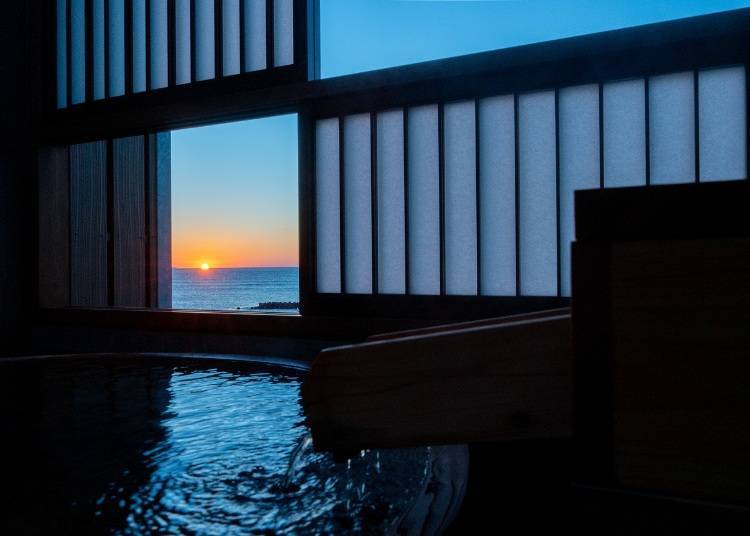 Time here is best enjoyed slowly. Take in the unique ocean scenery, listen to the sound of the waves, and soak in the hot spring. Plus, while designed in authentic Japanese style, the rooms are equipped with proper beds, ensuring optimal comfort.
Chill out with ocean views in your own private onsen hot spring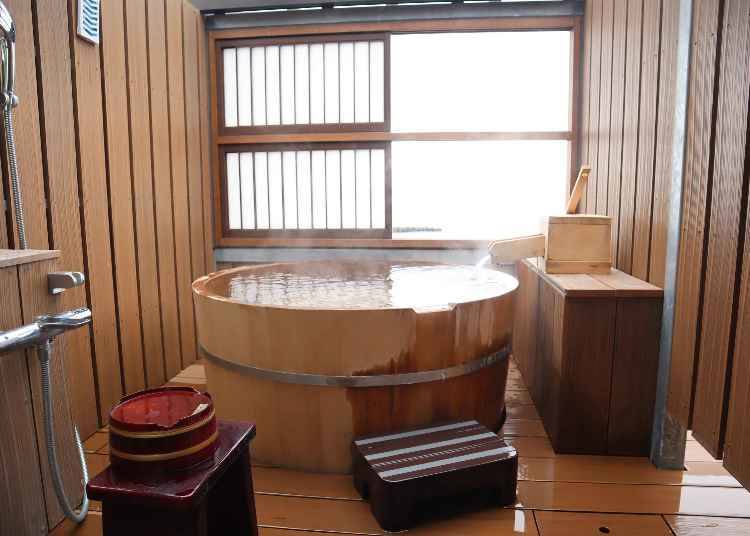 The ocean panoramas from the guestroom's private hot spring are simply magnificent, and the waves act as a calming soundtrack to your soak - the epitome of a ryokan stay! You can relax as you like, without worrying about the gazes of others.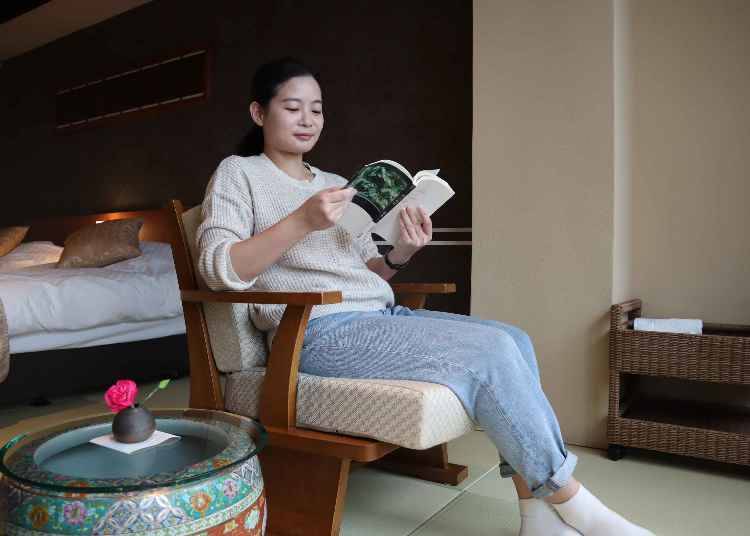 The calm space of the guestroom is also the perfect spot to get stuck into a book while looking out at the sea. For Chia-chi, a book lover, this is the definition of bliss.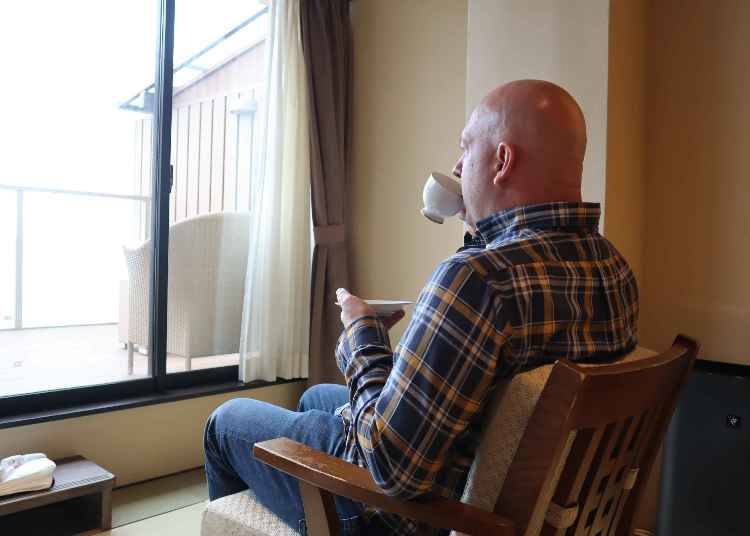 The coffee beans, which can be ground in-room, are painstakingly sourced and provided by the owner of a local Kawazu roastery. Timothy sat and relished the views while sipping on a freshly brewed cup, satisfying his inner gourmand.
Enjoy a seashore stroll while taking photos and sipping coffee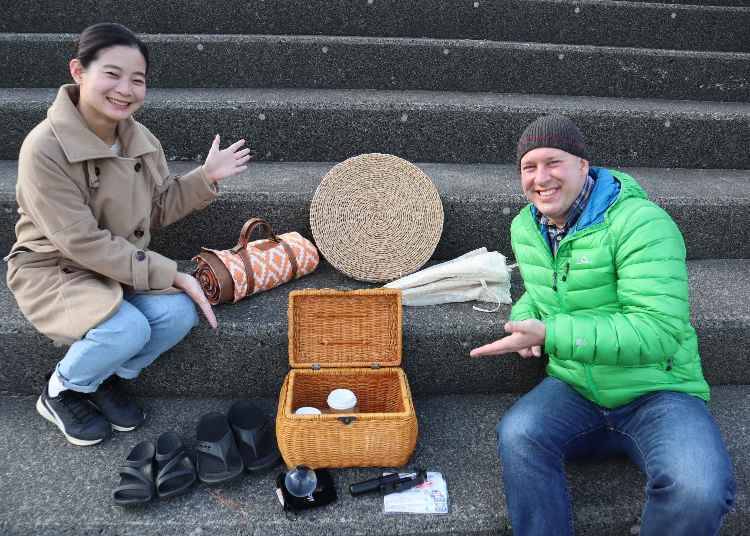 While it's tempting to just stay in the luxurious rooms, we definitely recommend taking a walk along the seashore. Seashore strolls are called "isoaruki" in Japanese - a part of the ryokan's name. A beach kit containing everything you'll need like sandals, parasols, cushions, and mats are already prepared, so you can head out immediately!
Also in the kit is a selfie stick and crystal ball for even more charming photos. "The scenery reflected through the glass is utterly enchanting, making it a breeze to capture loads of great shots!" Both travelers were thoroughly impressed!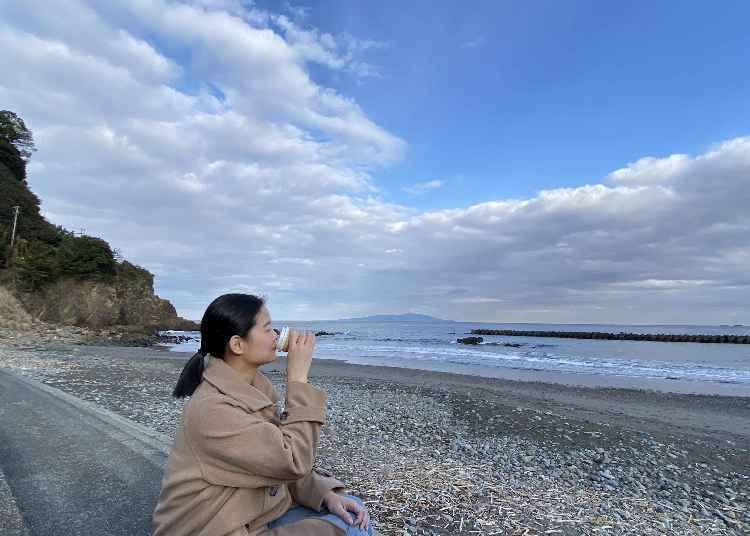 When heading out to the beach, the ryokan will also provide you with a free cup of freshly ground coffee, so you can heighten your stroll with a tasty, warm brew. Surrounded by such pleasures, Chia-chi was totally entranced.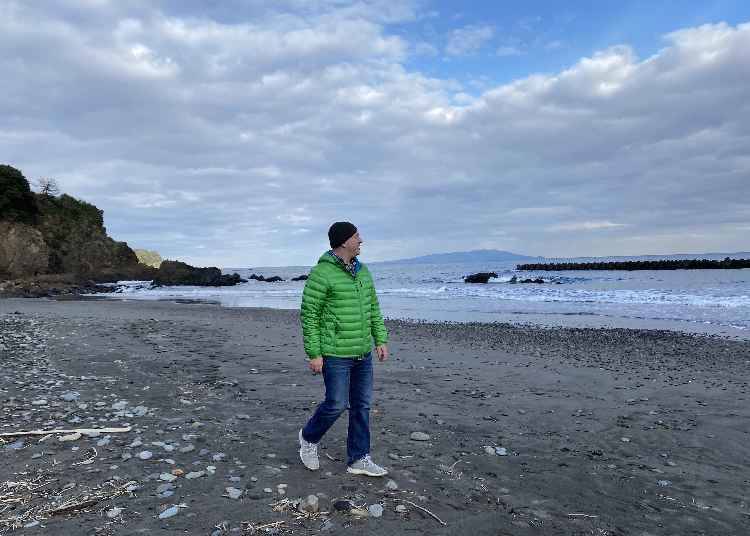 "Nothing reinvigorates the mind and body like a walk on the beach," exclaimed Timothy. Of course, once the weather gets warmer in summer, you can swim here, too.
The "Relax Space" within the ryokan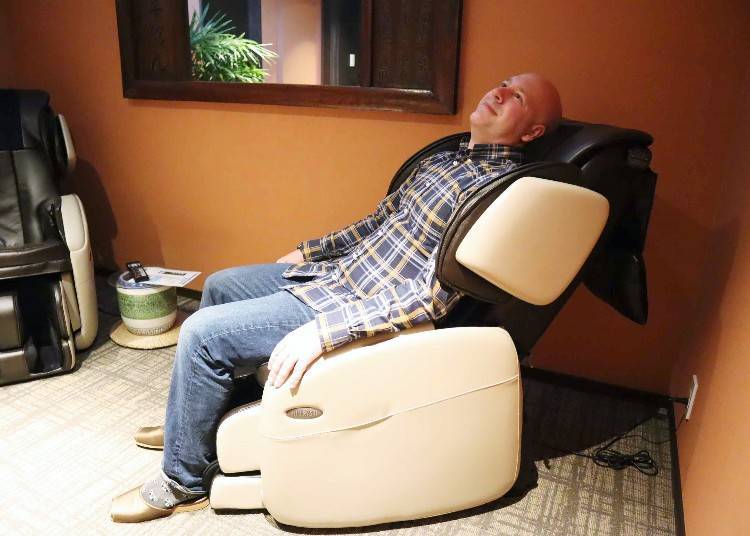 The ryokan contains a bunch of different spaces to enhance your relaxation and further escape from urban life. Timothy immediately spotted the massage chairs, which can be used freely.
Complementing the in-room baths is "Shiosai no Yu," a private reservable hot spring with a lay-down bath. Brimming with a Japanese garden-like elegance, a soak in this spacious bath is the next natural step in your journey of self-healing.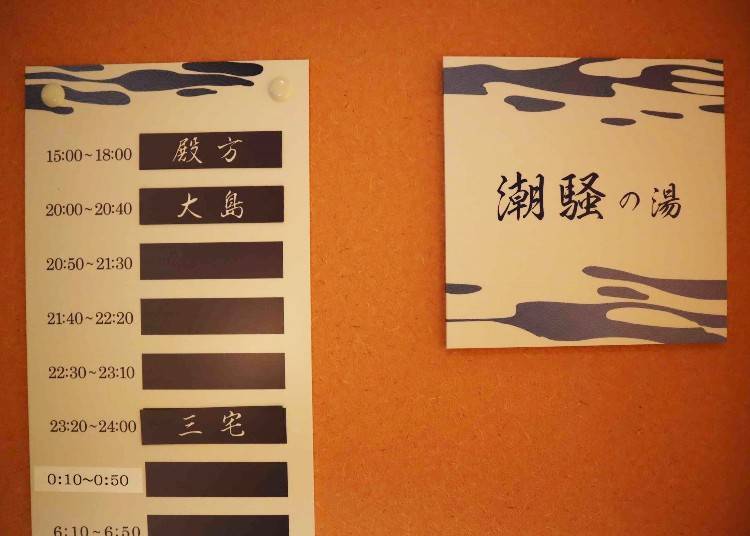 Being private, you also don't have to worry about bathing in front of other guests here too. You can reserve your desired time at check in.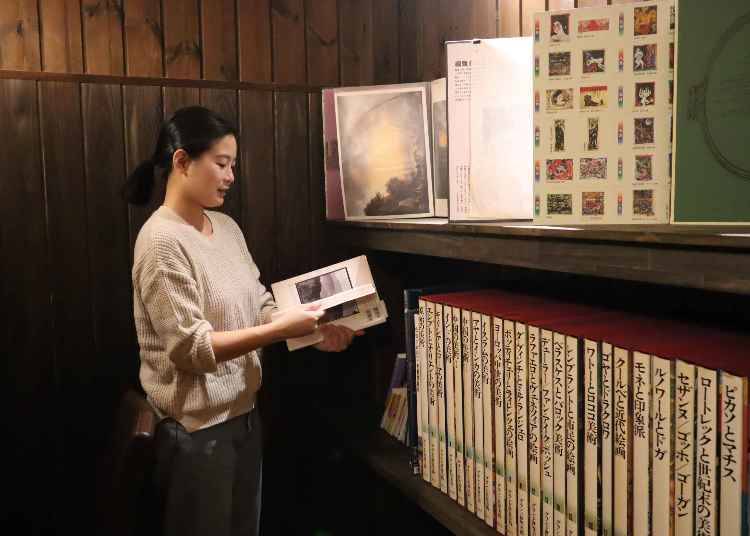 Bookworm Chia-chi also recommends checking out the library, which also doubles as a workspace. It has both paper books and a tablet, allowing you to choose from around 1,000 titles.
Savor the Local Flavors of Kawazu and Izu With Opulent Dining!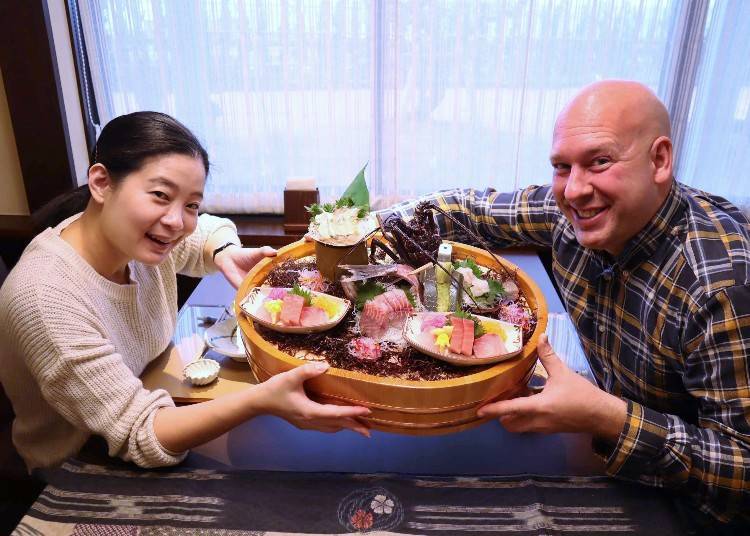 Ushiogumo's food is based on the local cuisine of Kawazu and the greater Izu area. This includes fresh sashimi sourced directly from the seas right in front of the ryokan! You'll be treated to a smorgasbord of delicacies capturing the essence of the region.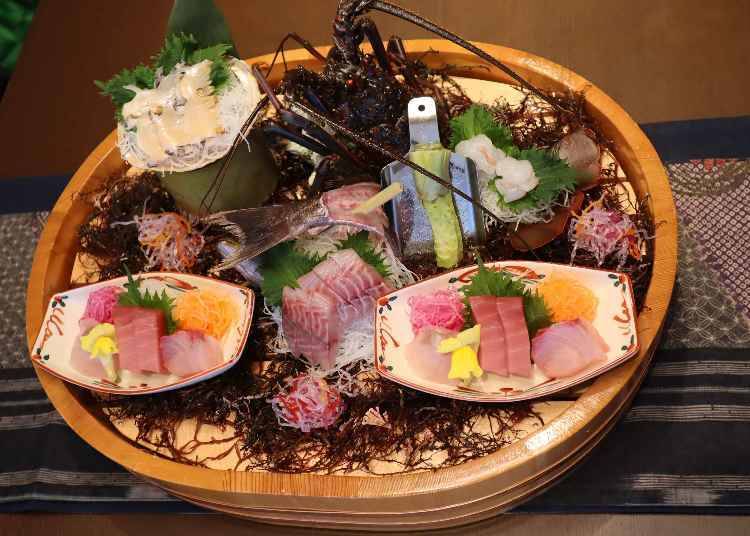 On the day of our visit, we were served six kinds of seafood, including abalone, spiny lobster, and "isaki" fish, spiced up with Izu's highly coveted wasabi, which is an essential condiment for sashimi. Izu is one of the few places in the world where you can grate and enjoy fresh wasabi.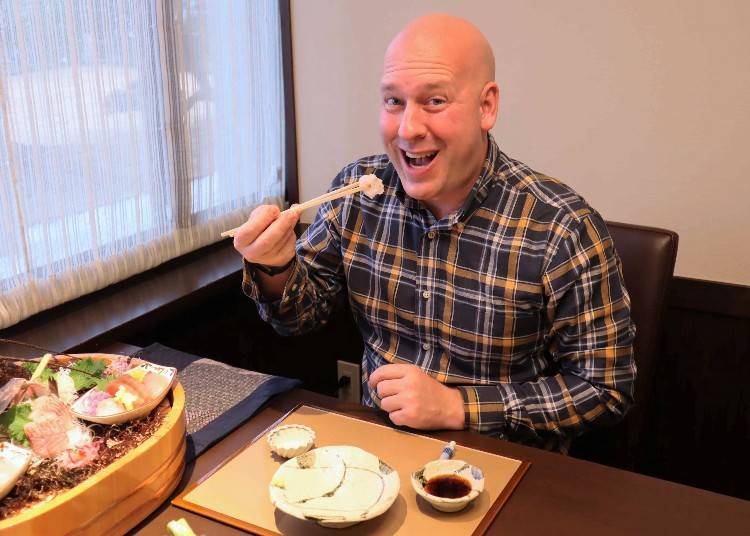 "The staff recommended trying the abalone with salt instead of soy sauce, which I had never done before! I felt it enhanced its flavor, and the crunchy texture of the abalone proved its freshness."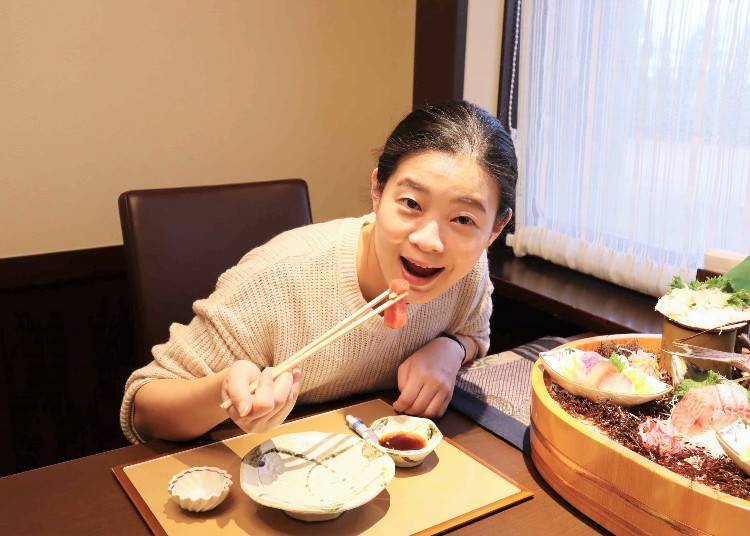 "Each piece of sashimi had a clear, pronounced flavor with a thick, meaty texture, making them totally delectable," said Chia-chi.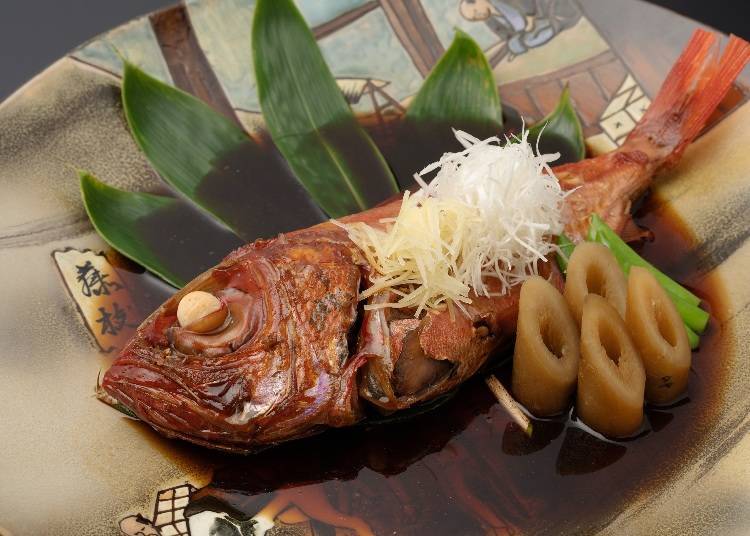 An unmissable addition to any Izu feast is the fish kinmedai (splendid alfonsino), a kind of sea ​​bream. Each guest is served their own full fish, which is cooked in a broth.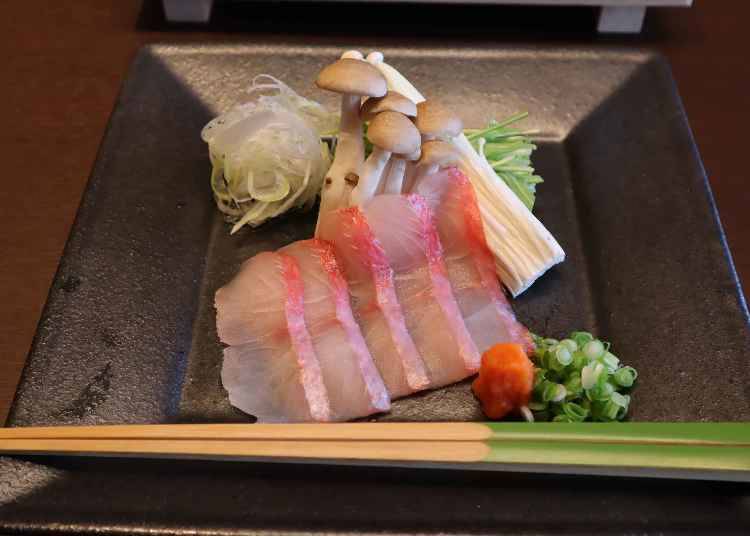 For the main course, we were offered a choice of either "shabu shabu" kinmedai or Japanese sirloin steak grilled on a ceramic plate.

"Kawazu is famous for kinmedai, so let's go with the shabu shabu!" they both agreed.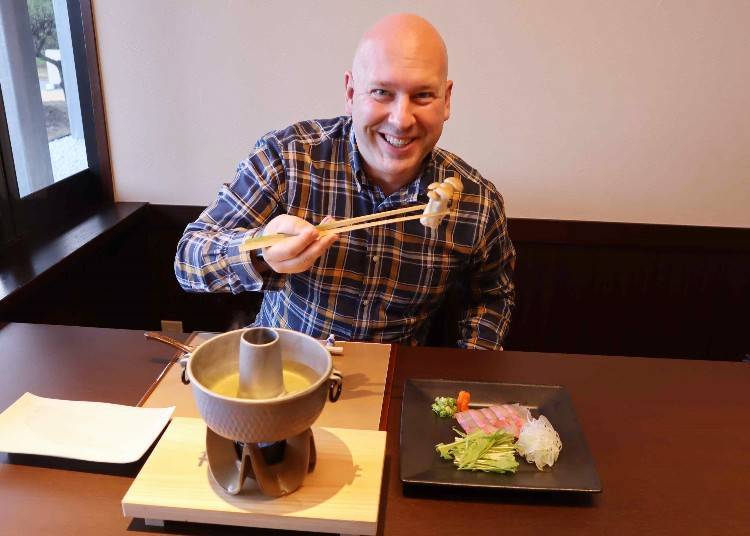 "The aroma of the broth is irresistible!"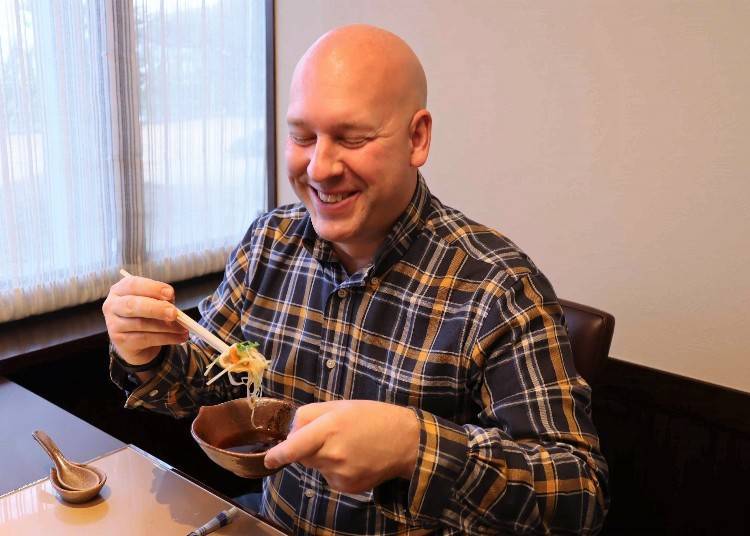 "Shabu shabu" sees diners quickly dip each ingredient in a boiling broth before flavoring it with ponzu sauce for a delectable bite.

"Each morsel melts in the mouth, releasing a symphony of flavors from within the rich, plump meat." As expected, it wasn't long before plates were cleared of food!
Information:
Available Languages:

Japanese *Multilingual support is available with Pocketalk
Health & Safety Measures

・Placement of disinfectant
・Disinfection after each customer
・Ventilation of store/facility
・Use of coin trays
・Installation of partitions
・Staff wear masks, wash hands, sanitize, gargle, and take their temperatures
・Guest capacity limitations, wider seat spacing
・Restrictions on entry, reservation system in place
・Refusal of entry to customers who appear unwell
・Customers are requested to wear masks and have their temperatures taken
・Restrictions on room service
・Installation of Airdog air purifiers
Facility:

No. of Guestrooms: 7
Hours: Check-in 3:00 pm / Check-out 11:00 am
Rates: From 31,350 yen/per person *Weekday, two guests, single room
*Bath tax not included: 150 yen/person
Address

Hama 358-2, Kawazu, Shizuoka, 413-0513
View Map

Nearest Station

Kawadu Station (Izukyu Line)
11 minutes on foot


Vacancy search, reservation

from

62,700JPY

1room, 2adults

Check with our partner site as the latest rates, rate details, and guest room requirements may vary.
Early Spring in Kawazu: Enjoy cherry blossoms along the Kawazu River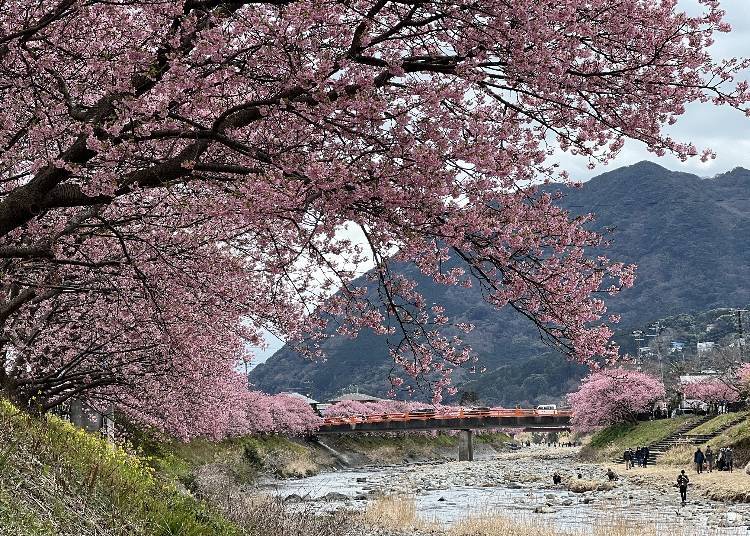 It wouldn't be an early spring trip to Kawazu without seeing the Kawazu-zakura cherry blossoms. Being the birthplace of this early-blooming variety, there are around 8,000 trees within the town, and 850 lining a 4 km stretch along the Kawazu River. These form a spellbinding cherry blossom tunnel when they bloom, attracting flower viewers from all over.
The combination of pink Kawazu-zakura and yellow "nanohana" (canola) blossoms is the epitome of Kawazu's natural splendor.

From Isoaruki no Yuyado Ushiogumo, where we stayed, you can reach the trees lining the Kawazu River in about 5 minutes on foot.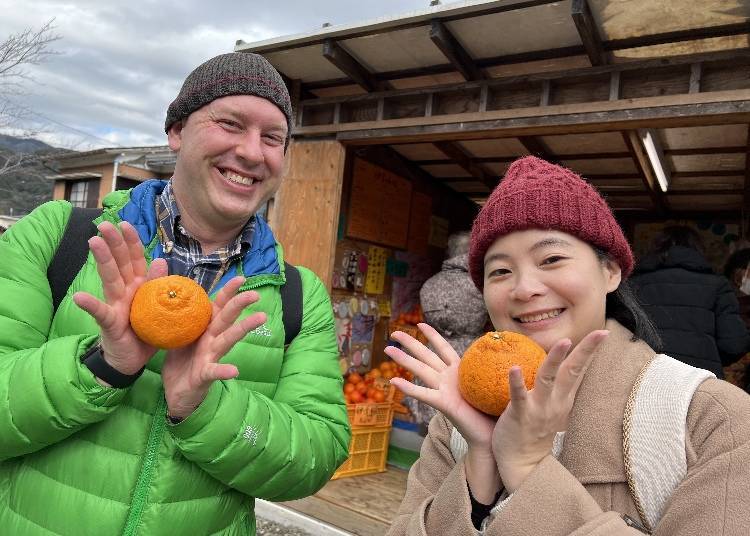 Between February and early March each year, the Kawazu-zakura Festival is held alongside the Kawazu River. Numerous stalls are set up selling local delicacies like fruits, dried foods, cherry blossom-based sweets, and more, and the entire town bursts with a festive, jovial atmosphere.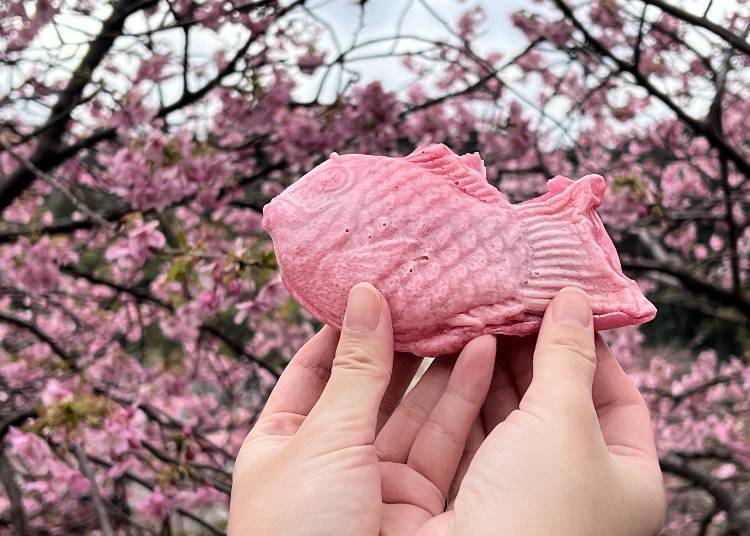 The one-of-a-kind cherry blossom-colored "taiyaki" pastry is one of the hottest festival sweets.

"I saw someone post about it on Instagram and was impressed to see it was the actual color of the Kawazu-zakura. I thought, I have to give this a go!" said Chia-chi as she made a bee-line straight for the stall.

The satisfyingly squishy batter is packed with scrumptious "anko" sweet bean paste sure to have you lining up for another!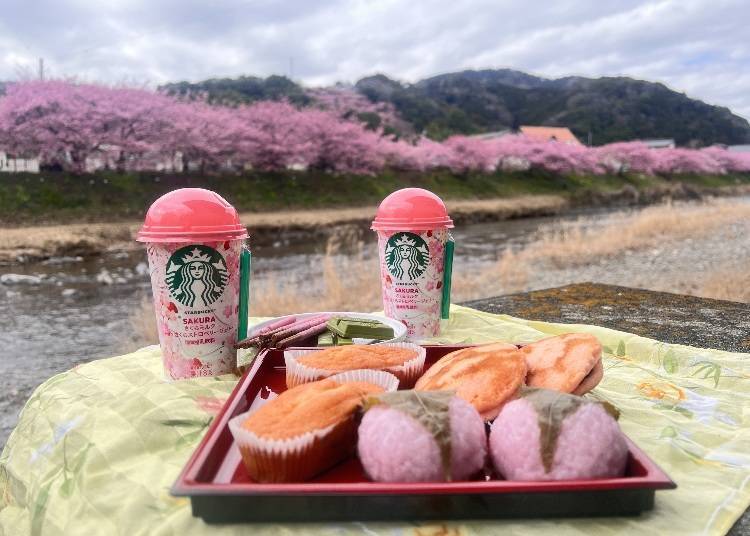 There are loads of other irresistible sweets inspired by cherry blossoms, like "sakura mochi" and "sakura dorayaki." Throw in some matcha confections and a Starbucks sakura latte, and you've got yourself a flower-viewing picnic!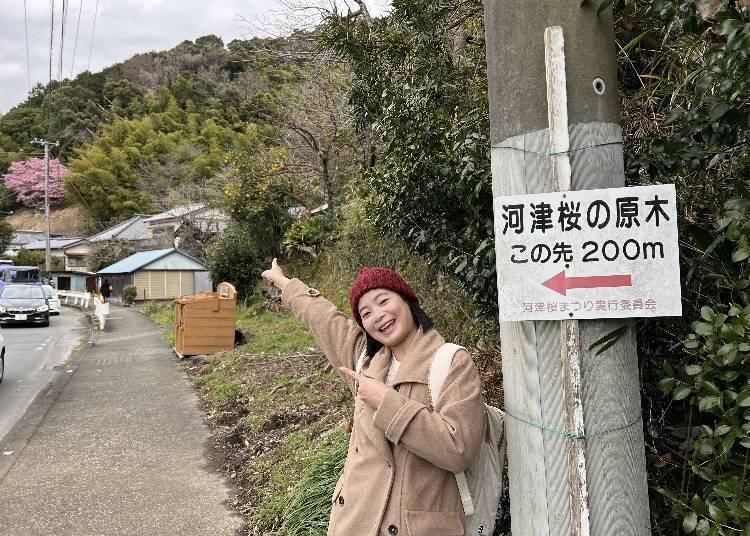 Here you can witness the roots of Kawazu-zakura cherry blossoms. This is the original Kawazu-zakura tree, designated as a Natural Monument of Kawazu. It is the first to bloom in the season, and can be found after a 20-minute walk along the Kawazu River.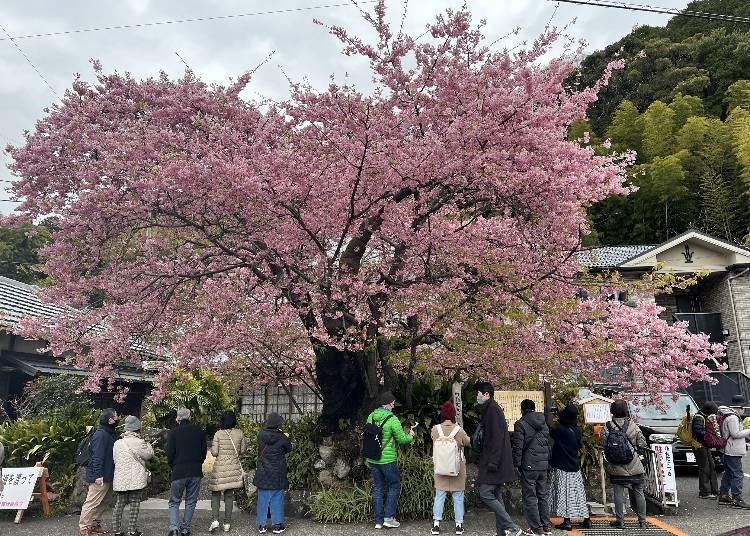 Its bulky branches spread wide, forming a grand, splendid shape capturing the hearts of all those who see it. Keep in mind that this is private property, so stay outside of the grounds.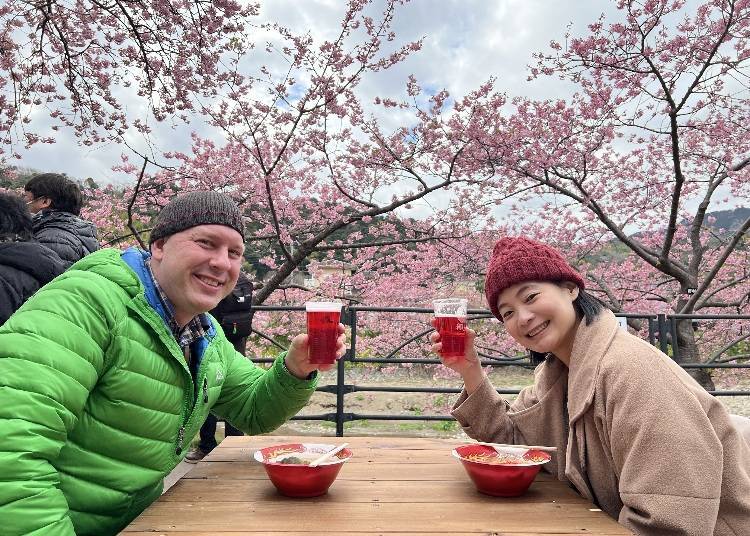 Our two travelers couldn't help repeating "wow" and "delicious" as they walked and ate their way along the riverside, relishing local specialties as they took in the stunning Kawazu-zakura scenery.
Savor early spring by picking strawberries at Ota Farm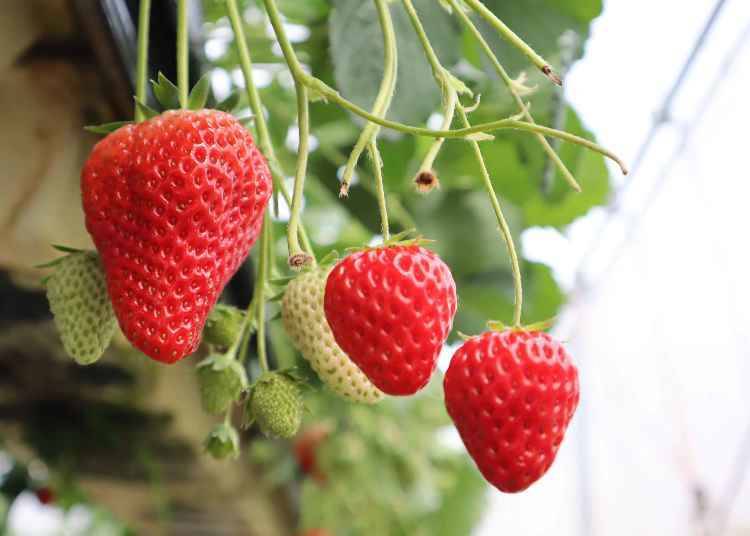 Strawberry season in Izu is between December and May, and the season up until around March is said to produce the tastiest strawberries.

And rather than simply purchasing a bunch from the supermarket, the best way to make the most of this seasonal delight is to pick them yourself at a farm!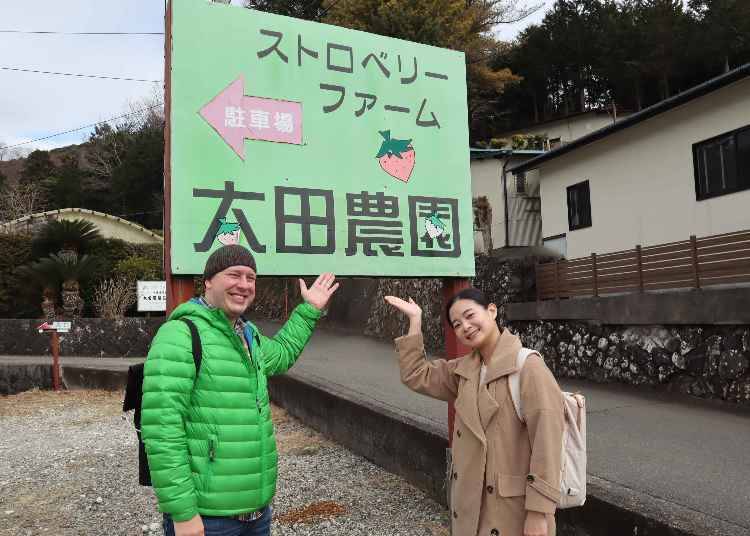 For this article, we stopped by Ota Farm, which can be reached from Izu-Atagawa Station, a roughly 15-minute train ride from Kawazu Station. There is a free shuttle bus service from Izu-Atagawa Station, or from hotels within the Atagawa area.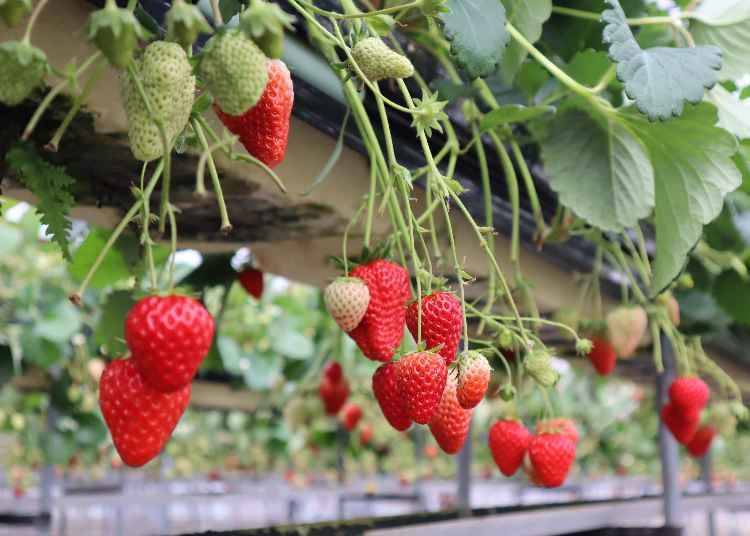 Ota Farm allows visitors to pick and eat as many strawberries as they like within the greenhouse for 30 minutes. So get your fill, and don't hold back! You can also purchase strawberries to bring back home separately.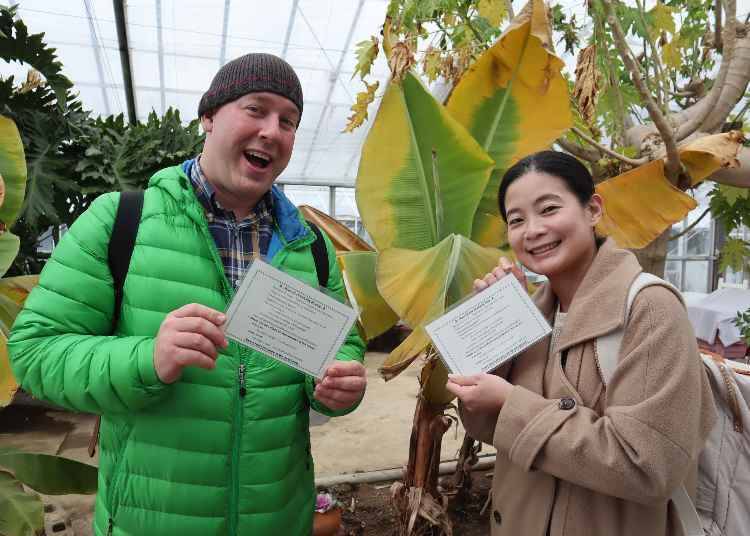 English guidance is available, making it stress-free for international visitors. On the day we visited, a group of overseas tourists was also enjoying the farm.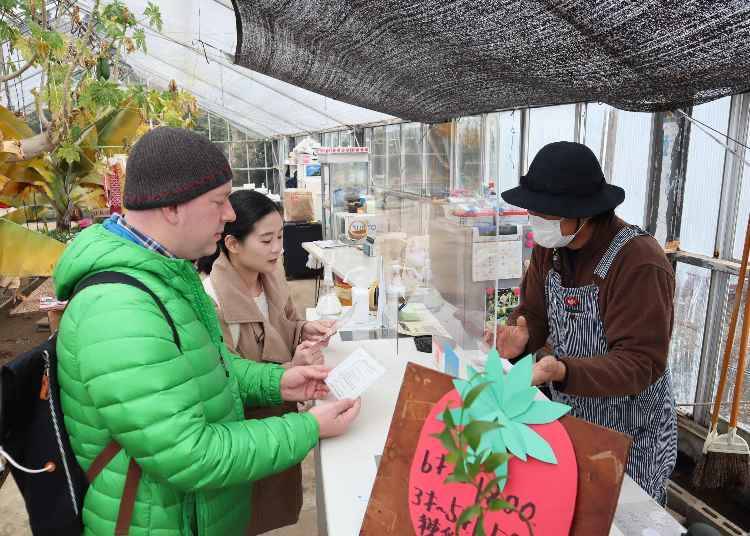 After listening to the simple introductions, we immediately set our sights towards the greenhouse and started feasting!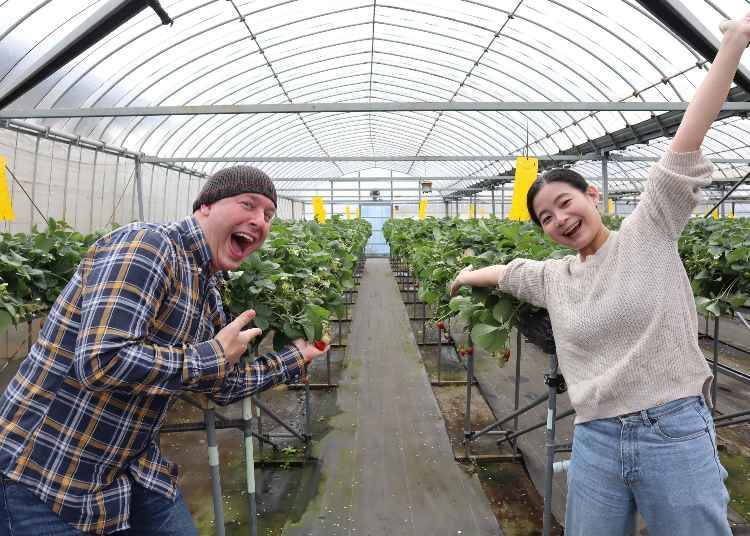 Inside the greenhouse is a staggering number of ripe and juicy strawberries. They largely cultivate two different types - Benihoppe, which are common in Shizuoka, and have a good balance of sweetness and tartness with a deep, classic strawberry taste; as well as Akihime, which are sweet with a reduced sourness and juicy, clean flavor. Both varieties are planted at random throughout the greenhouse.
The farm staff will show you how to tell each type apart, determine the most delicious, and pick them like a pro. The farm owner, Ota, said, "Strawberries that are red all the way to near the top make for great eating. Many think that the big ones are best, but actually, the smaller sizes have equally potent flavors, with a deep and delicious taste."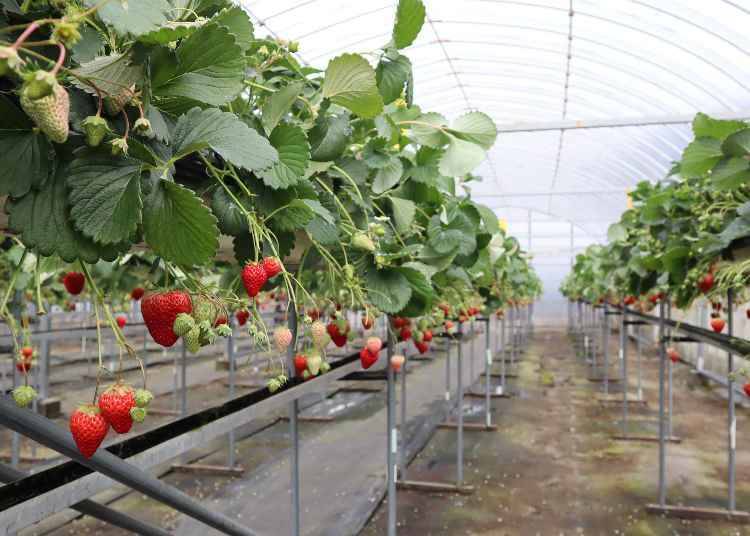 The strawberries here are grown in raised plots, so you don't have to crouch down to pick them, or worry about getting your clothes dirty.

"I've been strawberry-picking as a kid in Taiwan, but they were in a field, and it was pretty hard work. This is a lot easier and more fun," said Chia-chi.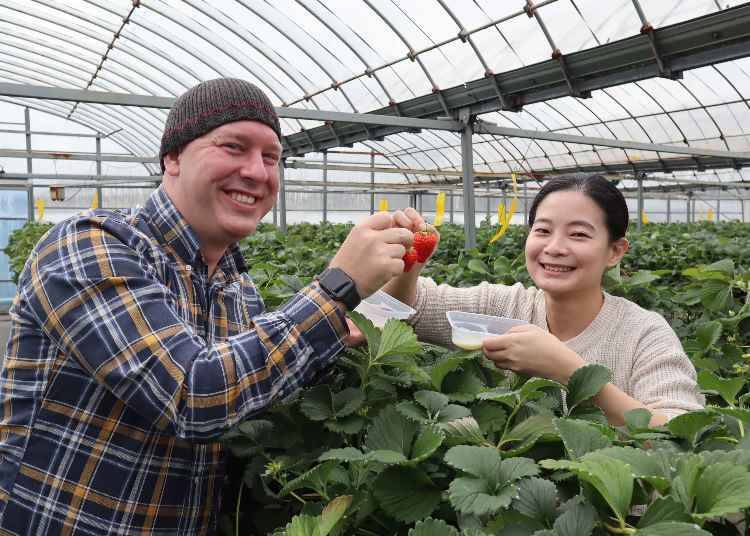 Plus, the aisles are wide, so those with prams or in wheelchairs can enter without trouble. Strawberry picking is an activity for all, regardless of age or ability!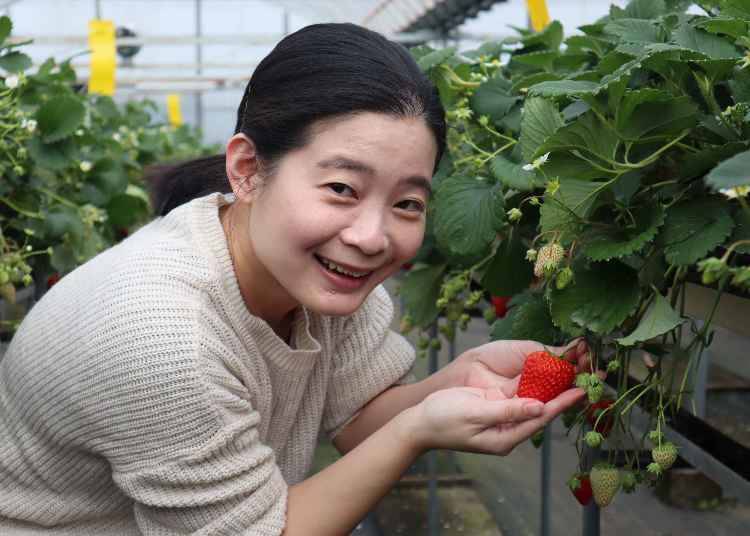 Strawberries sold at supermarkets are generally picked and shipped out early, so most of them are not ripe, unlike the ones at farms. As our two travelers quickly discovered, strawberries at farms are on an entirely different level!
Chia-chi has always been a massive fan of strawberries. "There are strawberries in Taiwan, but most Taiwanese prefer the Japanese varieties. And many are keen to try strawberry picking in Japan! The climate here is ideal for scrumptious strawberries, and there are so many varieties to discover," said Chia-chi. "They are just so sweet and delicious," she added with a smile.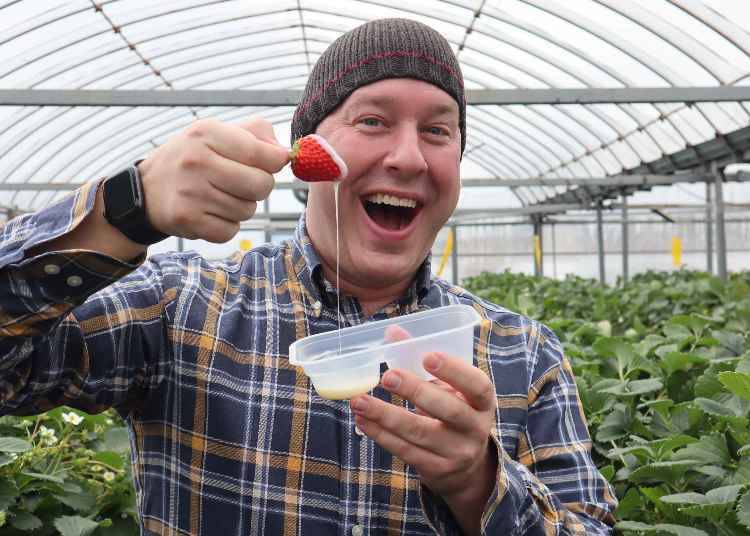 "Strawberry picking is very popular in the U.S., but we usually just eat them as-is. I'd never tried them with condensed milk before coming to Japan, and it was a pleasant and tasty surprise! The sweetness of the milk and natural acidity of the strawberries formed an invigorating mouthful, and I think others would really enjoy trying it this way, too!" said Timothy between helpings of condensed milk-covered strawberries.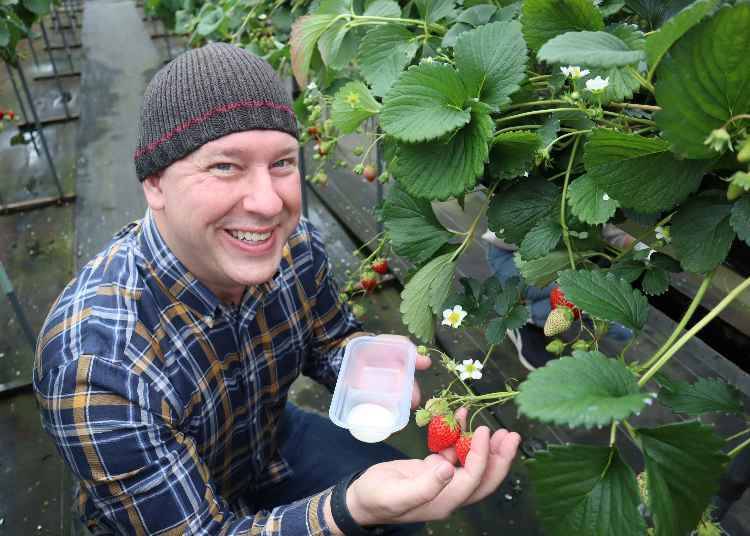 "I was also impressed by just how many different types of strawberry they cultivate in Japan. It's much more fun to taste a few varieties and see the unique characteristics of each. Plus, the farms here are safe and clean, and it's perfectly fine to eat them straight off the plant, which is very satisfying."
Information:
Available Languages:

Explanatory materials in Japanese and English available
Health & Safety Measures:

・Placement of disinfectant
・Ventilation of store/facility
・Staff wear masks, wash hands, sanitize, gargle, and take their temperatures
・Guest capacity limitations, wider seat spacing
・Restrictions on entry, reservation system in place
・Refusal of entry to customers who appear unwell
・Customers are requested to wear masks and have their temperatures taken
ストロベリーファーム太田農園

Address

153 Naramoto, Higashiizu, Kamo District, Shizuoka, 413-0302

Prices:
- Dec - Jan: Adults: 2,000 yen / Children: 1,700 yen
- Feb - March: Adults: 1,800 yen / Children: 1,500 yen
- April - May: Adults: 1,400 yen / Children: 1,100 yen
*Children are from 3 to 5 years old (free for children up to 2 years old)
*Payment is cash or PayPay only.
Hours: 9:00 am - 3:00 pm
Website: https://www.ohta-farm.com/
Feel the arrival of early spring with a trip to Kawazu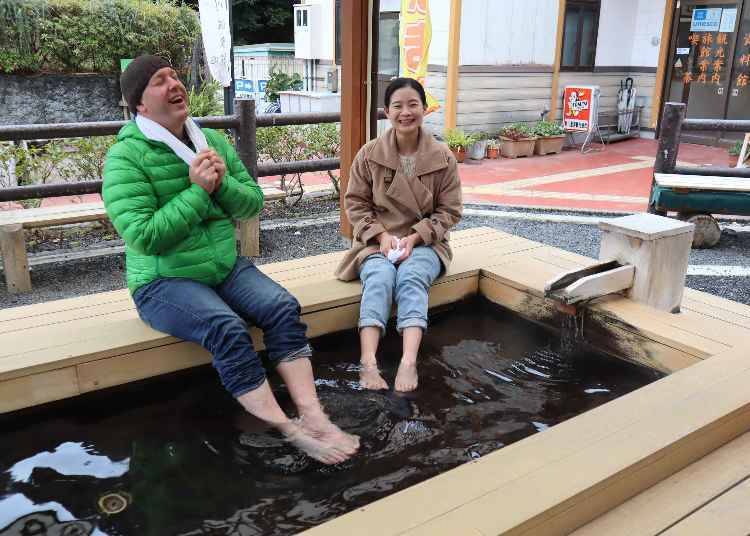 The free footbaths in front of Izu-Atagawa Station
So, what did Timothy and Chia-chi think of the experiences, scenery, food, and accommodations of early spring?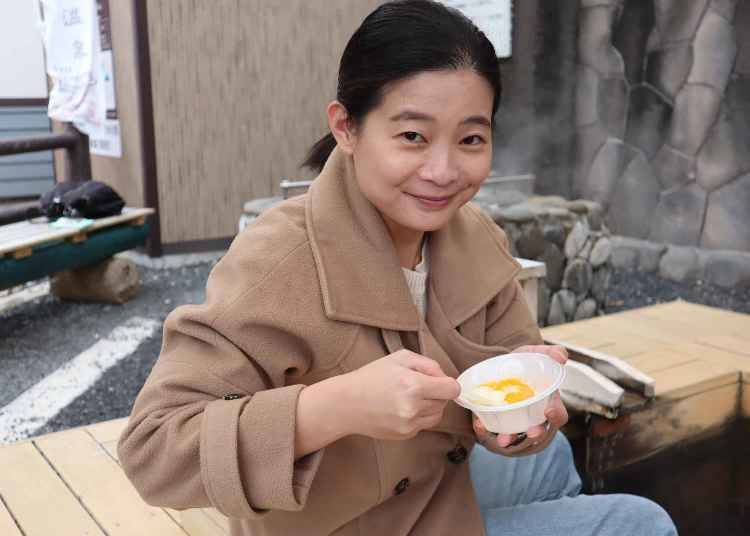 Eggs boiled with the heat of hot springs.
"I was so happy to relax and unwind in the ryokan. I felt the service culture of Japan here, like the welcome drink and sweets, the beach set, coffee service, and more. The staff were gentle and kind, and made me feel very comfortable. I got plenty of chances to enjoy the cherry blossoms, and gorge myself on scrumptious strawberries!" responded Chia-chi.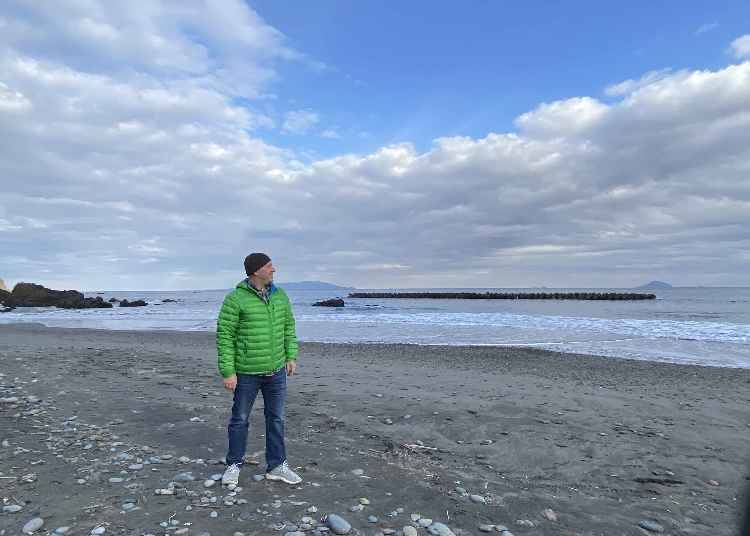 "The location of the ryokan was superb - right in front of the ocean, with the riverside rows of Kawazu cherry blossoms nearby. I could take it in together with the scent of the sea while soaking in the hot spring, and enjoy plenty of local delicacies like Kawazu coffee, seafood, fresh wasabi, and more. The staff were friendly and their hospitality was impeccable, making it feel welcoming for visitors from all over the world," stated Timothy.

With the cherry blossoms of early spring, cool beaches in summer, colorful foliage in autumn, hot springs in winter, and plenty of seasonal flowers, seaside panoramas, and other year-round attractions, Kawazu is a getaway full of beauty no matter the time!

Whether it's blissful ryokan accommodation, heavenly hot springs, authentic Japanese cuisine, or whatever other Japan bucket list goals you have, you will surely find them in Kawazu!
Written by:
*The information in this article is current as of February 2023. Please check official websites for the latest information.
*This information is from the time of this article's publication.
*Prices and options mentioned are subject to change.
*Unless stated otherwise, all prices include tax.
Limited time offer: 10% discount coupons available now!