Shizuoka is known for several things, one of them being the famous Mount Fuji. But did you know Shizuoka is also famous for tea? Shizuoka, nicknamed 'the town of tea,' is amongst Japan's popular sightseeing destinations and is quick and easy to get to from the city. Just hop on the Shinkansen Hikari Line from Tokyo Station! You'll arrive at Shizuoka Station in only one hour.

Traditional tea-related crafts and experiences await you in Shizuoka. Explore the vast tea gardens, pick your own tea leaves, and enjoy a freshly-brewed cup on the terrace overlooking the gardens.

For today's trip, we follow Bella and Chia-chi from LIVE JAPAN's editorial team as they partake in several tea-related experiences in Shizuoka, such as tea harvesting at Tea Museum, Shizuoka, sampling fresh brews at Ihachi Nouen's tea garden terrace, and ochazome, or tea dyeing, at Takumi-shuku's craft workshop.

These hands-on experiences offer an up close and personal look into the charms and traditions of Shizuoka tea and take place in Shizuoka's beautiful natural environment guaranteed to bring you peace and relaxation.
What Makes Shizuoka Tea So Special?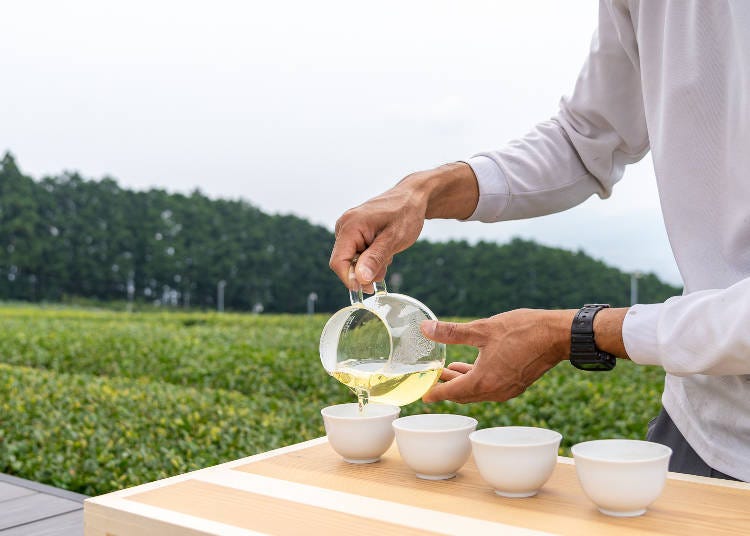 During our visit, Mr. Shigeta, owner of Ihachi Nouen, brewed three kinds of delicious teas to sample. (For more details on the Shizuoka Tea Tasting Experience, please read on!)
"Since ancient times, Shizuoka Prefecture has boasted the highest number of experts in the tea industry compared to other areas. With its long history and developing technology, Shizuoka's tea cultivation has evolved along with the trends of the times. Recently, many people are also showing a greater interest in organic farming and environmental issues," explains Shigeta, owner of Ihachi Nouen.

"But above all, Shizuoka tea is delicious. Tea is grown in abundance here and is a beloved crop of the local community. This is why so many people love Shizuoka tea."

Shizuoka Prefecture is surrounded by mountains and seas, with rivers running through it. Its mild climate means little snowfall, even in the winter, which has blessed the area with a rich natural environment perfect for growing tea. Shizuoka tea comes in many varieties, determined by altitude differences and other geographical features.

Shizuoka also boasts stunning landscapes with fantastic views of Mount Fuji, the sea, and the expansive tea gardens, all at the same time. For these reasons, Shizuoka has made a name for itself as a popular sightseeing spot, as well.
Getting to Shizuoka from Tokyo, Osaka, and Nagoya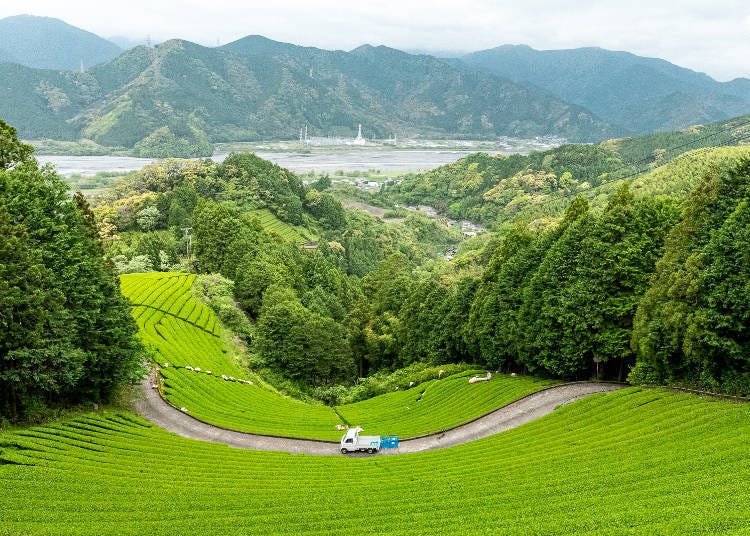 A view of Ihachi Nouen in late April, when new tea leaves are harvested.
Shizuoka Prefecture is located in central Honshu, between Tokyo and Osaka, and faces the Pacific Ocean. Situated along the Tokaido, one of Japan's most important travel roads, you can easily reach Shizuoka Station by Shinkansen. It takes only two hours from Osaka, and one hour from Tokyo and Nagoya.

Get away from the hustle and bustle of the city and head to Shizuoka, Japan's number one tea town and the home of Japan's tallest mountain, Mount Fuji.

From Tokyo:
Take Shinkansen Hikari Line from Tokyo Station
(Adult ticket: 6,470 yen (reference price)/ Approx. 60 min)

From Osaka:
Take Shinkansen Hikari from Shin-Osaka Station
(Adult ticket: 11,090 yen (reference price)/ Approx. 110 min)

From Nagoya:
Take Shinkansen Hikari from Nagoya Station
(Adult ticket: 6,470 yen (reference price)/ Approx. 50 min)

There are two Shinkansen lines that stop at Shizuoka Station: Hikari and Kodama. The Hikari line runs once every hour, and the Kodama line runs twice per hour. However, note that some Hikari trains may not stop at Shizuoka Station, so be sure to check before boarding!
Getting to Know Shizuoka Tea! Part 1: Harvest Your Own Shizuoka Tea Leaves with the Tea Picking Experience
To learn more about Shizuoka tea, we headed to the Tea Museum, Shizuoka, Japan's largest tea garden. We participated in a memorable experience where we could hand-pick our own fresh tea leaves. Located near the Makinohara Plateau, the landscape offers an incredible view of the vast tea gardens. If the weather is nice, you may even catch a view of Mt. Fuji!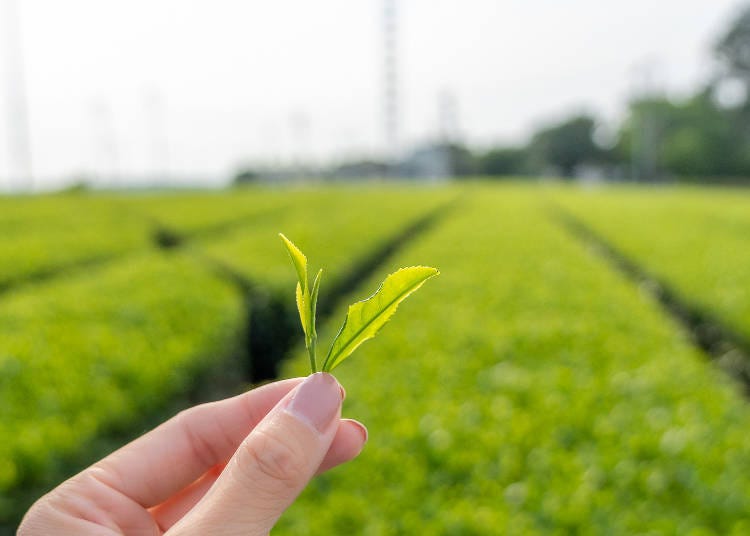 Mr. Shirai, assistant director of the Museum, tells us more about what makes Shizuoka tea so special. "Shizuoka tea differs from other Japanese teas in that it offers a wider variety, from those grown in high altitudes to those grown in the flatlands. Different production areas mean different characteristics, which become apparent in the taste and fragrance. The surrounding landscape, along with its view of Mt. Fuji, is also unique to this area."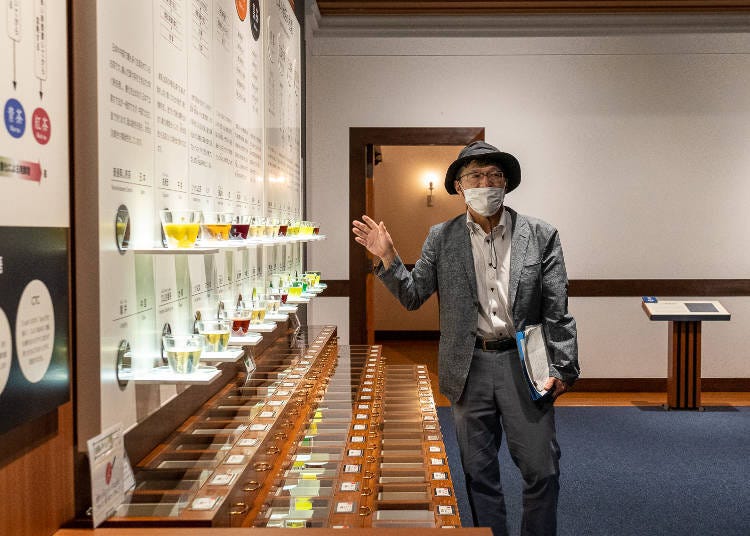 The Tea Museum, Shizuoka offers guided museum tours two times per day, at 11:00AM and 2:00PM, which last about 45 minutes. On the day of our visit, Assistant Director Shirai was our guide. Please note that different staff members may lead the tour on regular visits.
Right next to the museum, past the Japanese garden and bridge, is the tea garden where you can harvest your own tea. Tea picking experiences are available four times a year (early May, late June, early August, and late September), depending on the growth of the new buds.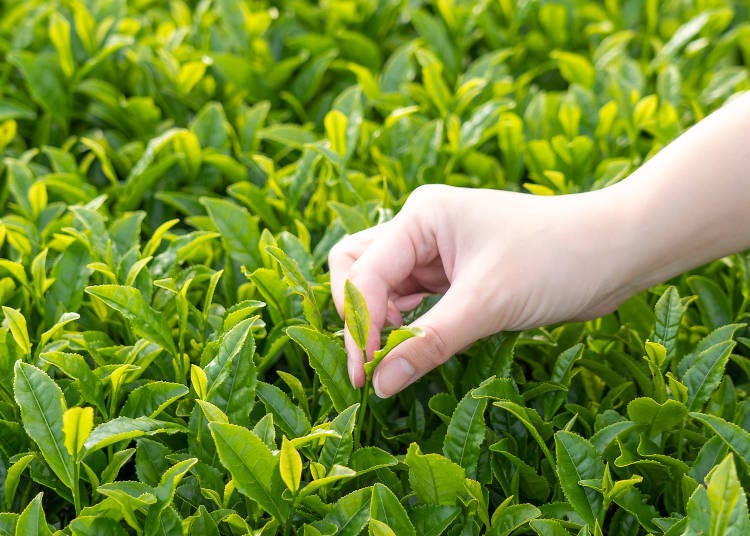 Assistant Director Shirai explains some essential things to bear in mind before beginning your tea-picking experience.

First, look for one stem with two leaves sprouting around a bud.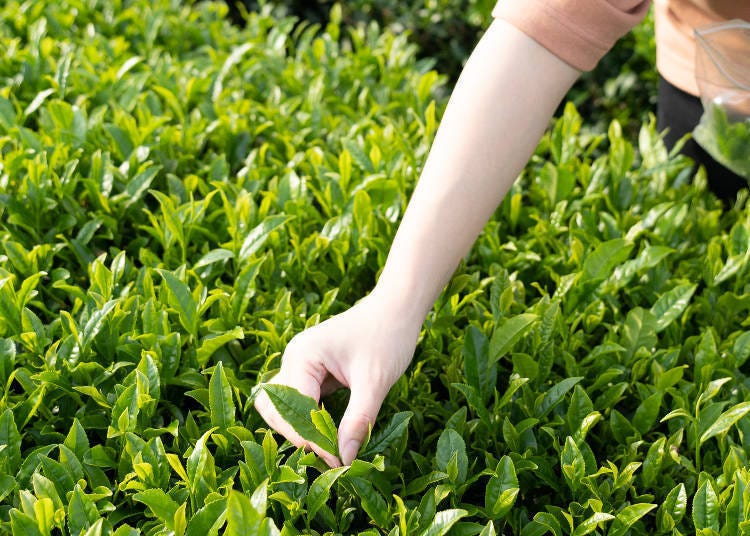 To harvest, gently pinch the stem between your index finger and thumb, applying light pressure with your fingertips to pinch off the leaves. Please do not force or pluck them.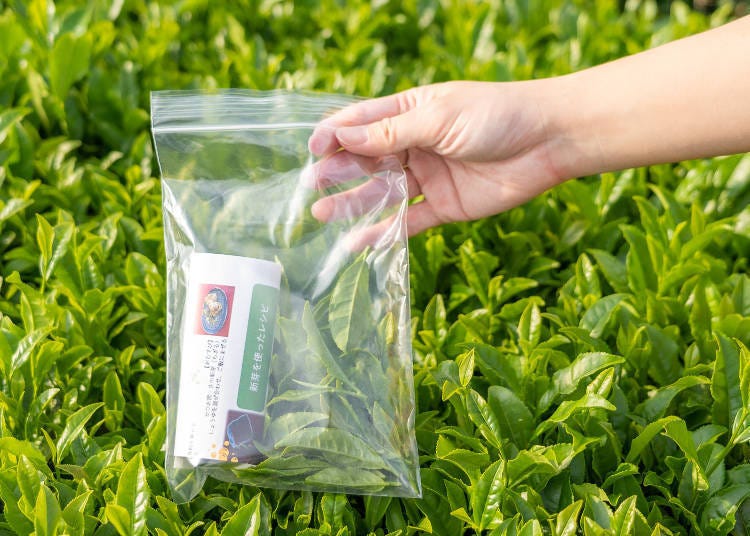 Carefully place your harvested tea leaves in the transparent plastic bags provided. Do not seal the bag, however, as the tea leaves are still fresh and need air, and will wilt and die without it.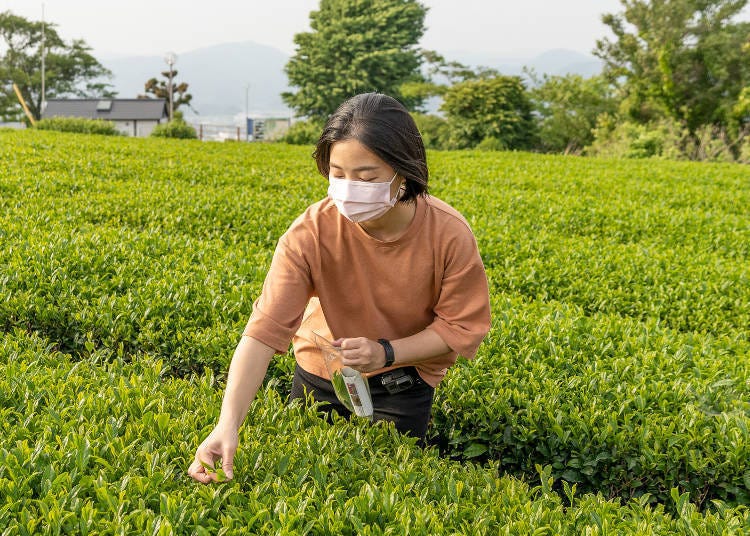 The tea-picking experience made us realize that harvesting tea is more than simple, repetitive movements. But once we got used to the process, we were able to do it more smoothly. It even felt somewhat therapeutic!

Chia-chi says, "The tea leaves feel weird when you touch them. They're very soft and thin!"

Of course, you can bring home any leaves you pick during the experience. The bags provided also come with some easy-to-follow recipes! Use your freshly-picked tea leaves in tempura, salads, and rice balls. Who knew fresh tea leaves could be used for so many things?
Health & Safety Measures

Indoor disinfection measures taken - Sanitizer installed - Disinfected after each guest leaves - Ventilation measures in place - Staff wear masks, gargle, wash hands regularly, and monitor body temperature - Entry declined to anyone who is feeling unwell - Masks requested
ふじのくに茶の都ミュージアム

Address

3053-2 Kanayafujimi-cho, Shimada-shi, Shizuoka

Nearest Station

Directions: At JR Kanaya Station, transfer to the Katsumada or Hagima Bus to Nikenyabara. The museum is just a 3-minute walk away. Alternatively, ride the Shimada City Community Bus to Fujinokuni Cha no Miyako Museum bus stop, and walk for about 1 minute.


Phone Number

0547-46-5588

・Hours:
9:00AM - 5:00PM (Last admission: 4:30PM)
Tea Room: 9:30AM - 4:00PM (Last admission: 3:30PM)
Closed: Tuesdays, New Year holidays; open on public holidays, but closed the following day
・Admission: 300 yen (tax included)
・Tea Picking Experience
Price: 500 yen (tax included)
Time: Approx. 30 min (May vary by season. Please see official website for more information)
・Official Site: https://tea-museum.jp/index_en.html
Getting to Know Shizuoka Tea! Part 2: Sipping Tea on a Terrace in the Sky
The Tea Terrace at Ihachi Nouen offers a fantastic mountain scenery from an altitude of 450 meters! You can see the ridgeline of the Japanese Alps in the north, Suruga Bay in the south, and the Abe River right before you.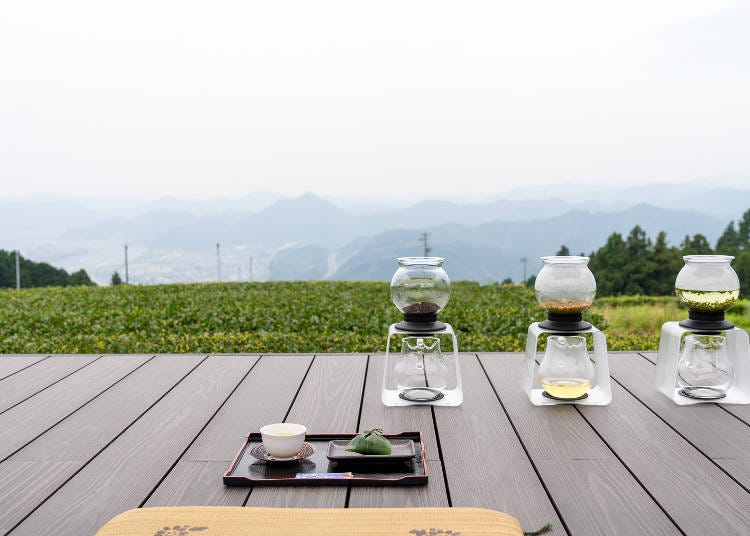 "The tea gardens neatly extend before your eyes. You can watch all the seasonal changes that take place in nature, from the wind and rain, to the snow and scorching sun. As a farmer managing the tea crops, it's something you feel very strongly," explains Mr. Shigeta.

"There are many times when I can't help but say to myself, 'Wow, it's so beautiful...'. I wanted more people to learn about our teas, which is why I built this tea terrace."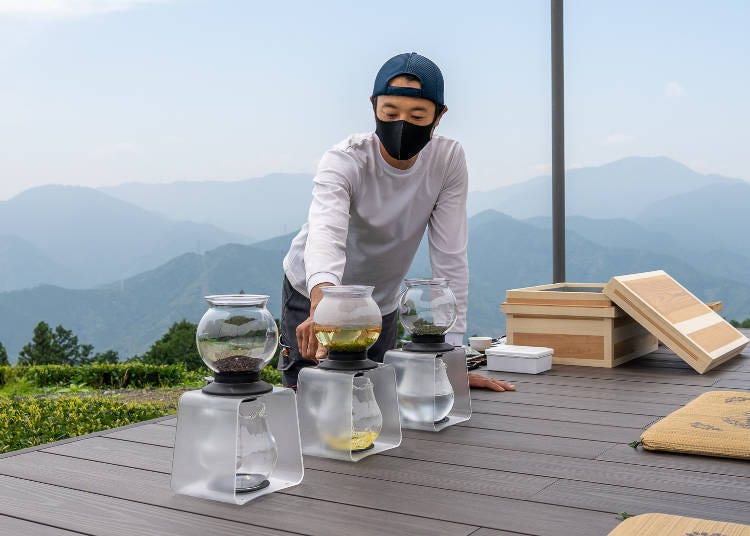 Mr. Shigeta, owner of Ihachi Nouen, brewing tea as he explains about the different varieties (in Japanese only).
In the Tea Tasting Experience, you can sample three kinds of Shizuoka tea. The first one we sampled was the genmaicha (brown rice tea), one of Ihachi Nouen's most popular selections.

Mr. Shigeta explains, "Genmaicha is typically made with leaves collected from the second harvest; however, our genmaicha is made with the first. It's very sweet. The rice is also home-grown." Different from other types of genmaicha, this home-grown genmaicha is the pride of Ihachi Nouen.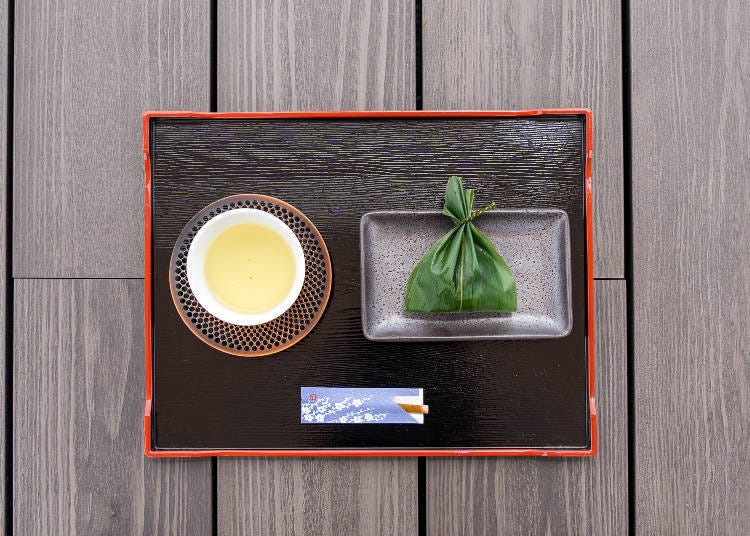 Seasonal Japanese sweets from Shizuoka City's long-established Japanese confectionery shop, Shirokiya, are served with the tea. The genmaicha has a stronger aroma and a fresher, sweeter taste after roasting.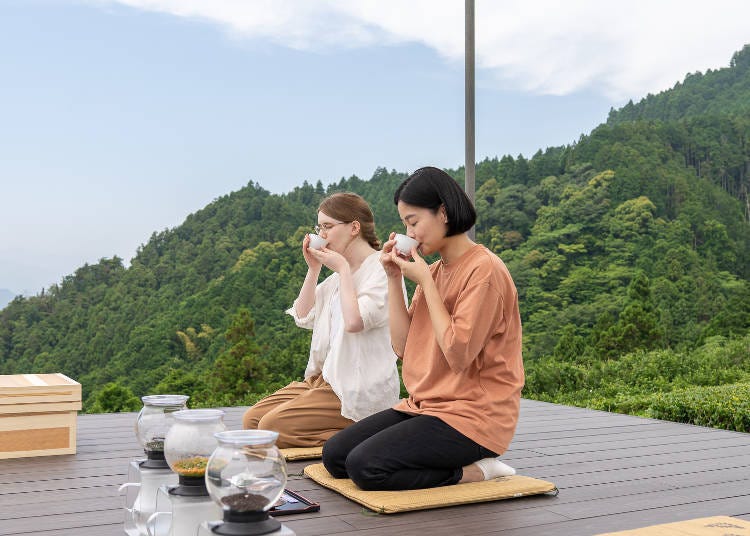 Bella and C, savoring the deliciously addicting flavor of their teas.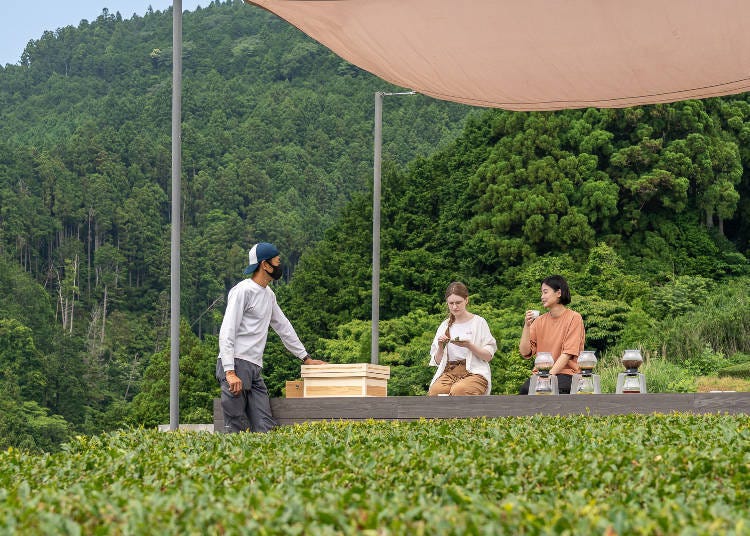 Absorbed in conversation with Mr. Shigeta while enjoying delicious tea and the relaxing natural atmosphere.
The second cup was an astringent brew of sencha (green tea) and had a completely different taste from the third cup, which was koucha (black tea).

Chia-chi says, "To tell the truth, I don't like bitter things, so I don't normally drink tea. Black tea, in particular, is one of my least favorite. However, when I tasted this black tea for the first time, it didn't taste bad at all. I was impressed." She goes on to drink all three teas as she explains.

As for the aroma and taste of the black tea, she describes it as similar to honey caramel or refreshing fruit. Once it hits your tongue, you'll notice the flavor change and a lasting aftertaste.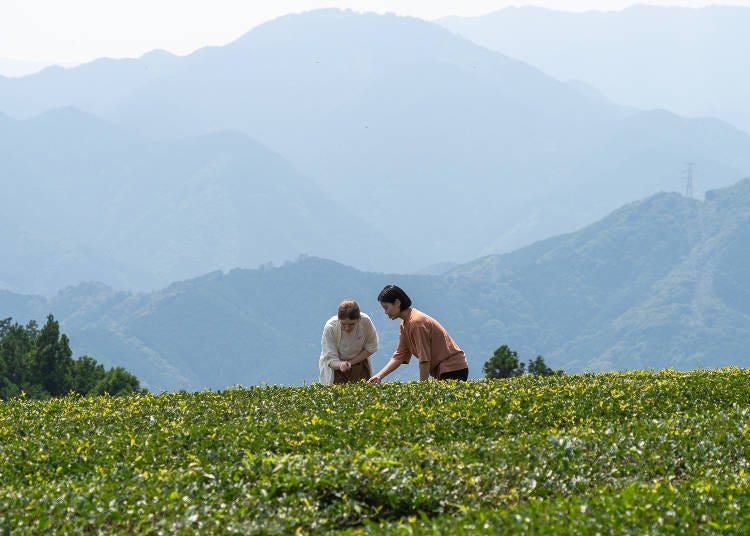 Health & Safety Measures

Masks requested - Alcohol disinfection and temperature measurement upon arrival
いはち農園

Address

1381 Ushizuma Aoi-ku, Shizuoka-shi, Shizuoka

Nearest Station

Public Transportation:
From JR Shizuoka Station, take the Shizutetsu Bus Abe Line (bound for Aburayama / Yokozawa / Kamiochiai / Aibuchi / Umegashima Onsen via Chubu Driver's License Center / Umegashima Onsen / Shimowatari). Get off at Ushitsumahara. Location is a 10-minute walk away.

By car:
Approx. 25 minutes by car or taxi from JR Shizuoka Station


Experience Details:
・Time: Weekends only, unavailable from mid-April to late May every year, due to the first harvest of the year. (May change depending on crop condition.)
・Price: 3,000 yen per person, via reservation system (tax included; sweets provided)
・Website: https://ihachinouen.com/teaterrace/
Getting to Know Shizuoka Tea! Part 3: Ochazome, A Hands-On, Tea-Dyeing Experience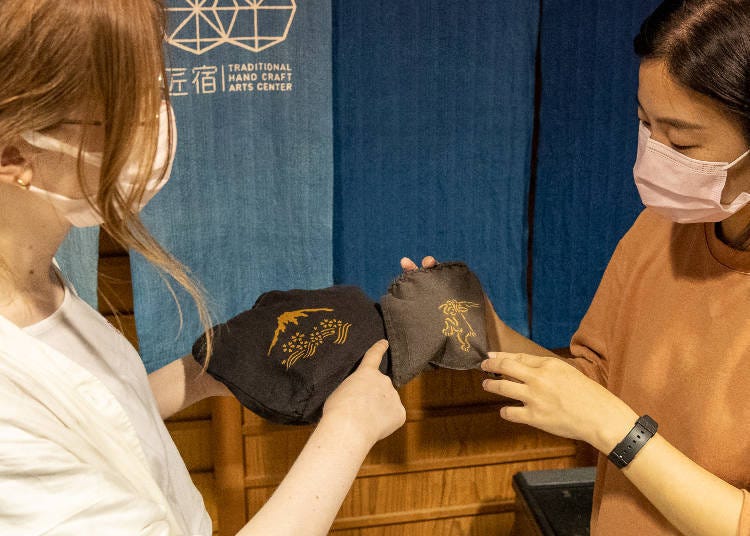 Tea leaves can be used for more than just brewing. You can also use it as a dye and return the used leaves to the earth as compost. Shizuoka ochazome, or tea-dyeing, is a craft that combines traditional Suruga tea-dyeing and the tea industry. Based on the concept of sustainable development, it can be said to embody the modern-day spirit of Shizuoka tea.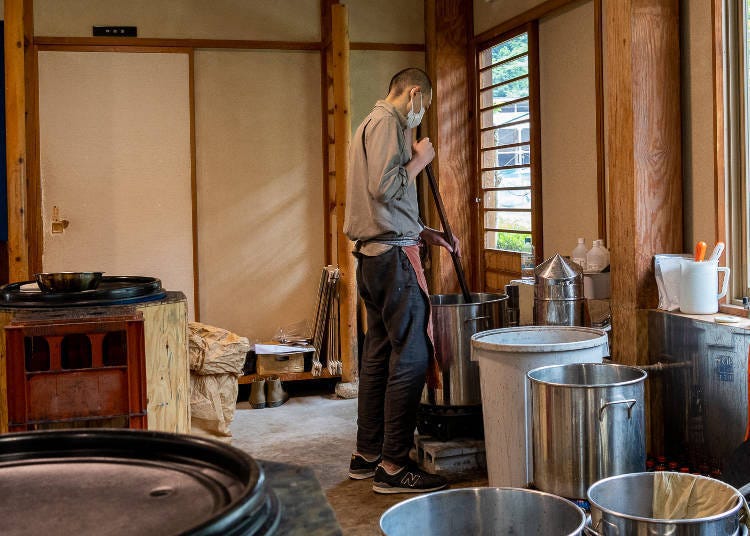 Mr. Washizu, ochazome craftsman, demonstrating the tea-dyeing process
Mr. Washizu is an ochazome craftsman and our guide for today's visit. He explains, "In tea-dyeing, we boil tea leaves that cannot be used in the tea manufacturing process, and turn it into a natural dye. After boiling, we mix the used leaves with organic waste to make compost. All the nutrients necessary for tea cultivation come from the soil. By reusing the leaves from the ochazome process as compost, we return them back to the Earth".

Ochazome is a craft that combines Shizuoka tea leaves with Japanese dyeing technology and is in accordance with the Sustainable Development Goals (SDGs) of modern society. Through his work, we could deeply feel this craftsman's love for his hometown.
At Takumi-shuku's Tea-Dyeing Experience, you can choose between a tote bag or a small kinchaku pouch. The parts of each bag that are already colored have been dyed through ochazome. Select your favorite pattern, then decide where and how you'd like to add your own design. The staff will help you apply the dyeing paste.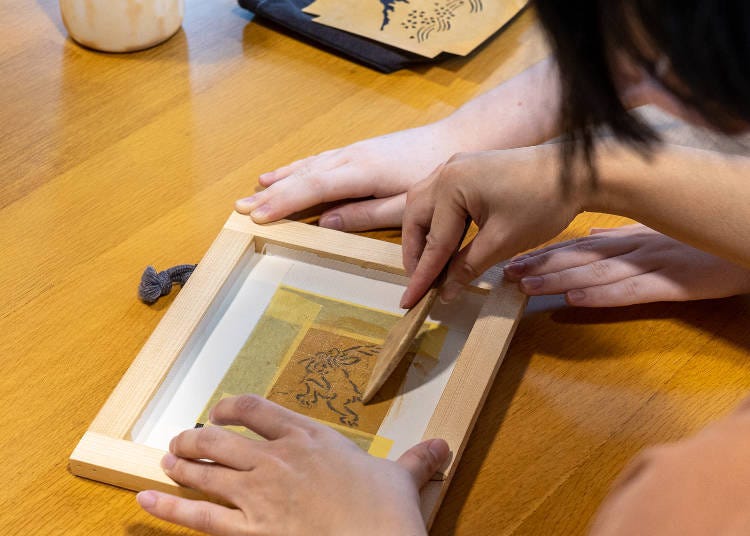 The paste application process looks simple, but requires some effort. Bella says, "When applying the paste, you need to hold down the wooden stencil to keep it in place. It's a little difficult for one person to do it alone, so it's best if the participants help each other!"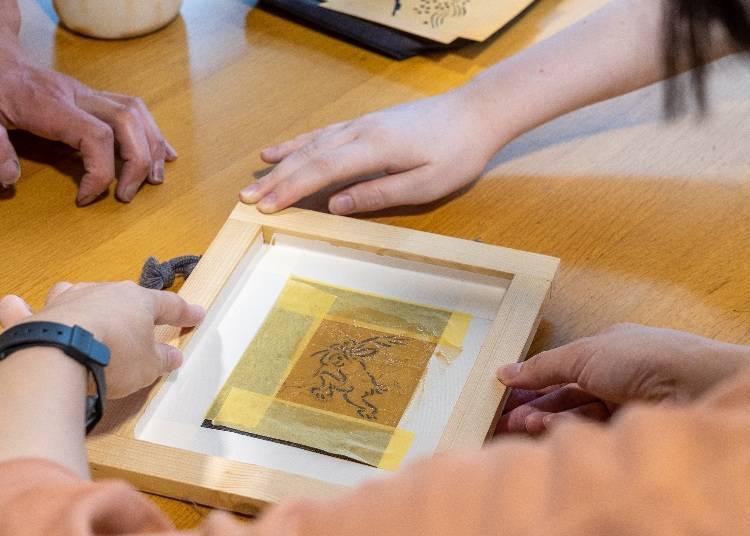 Apply the paste with a spatula. Make sure not to leave any gaps, and be careful not to apply too much pressure. Handle the stencil gently so that it doesn't stick to the bag, and remove it in one quick motion.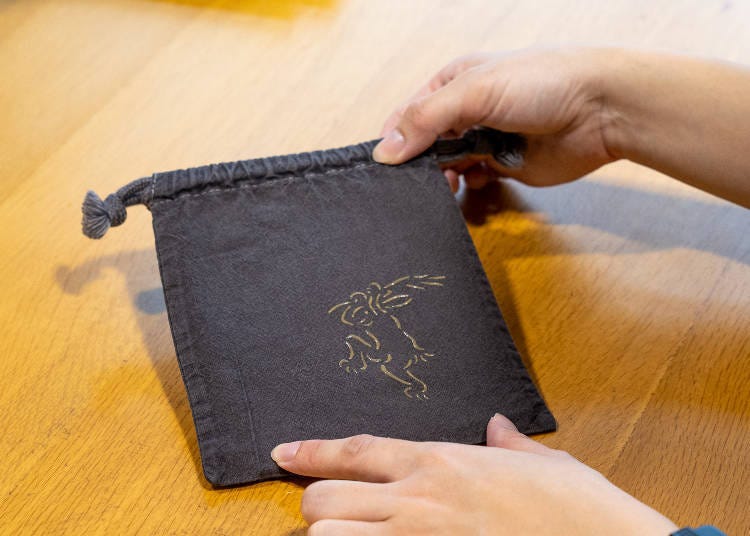 The Tea-Dyeing Experience is a simple process and only takes about 30 minutes. Afterwards, a craftsman or staff member will help you complete your work by steaming it to enhance the color, rinsing off the paste, and drying it.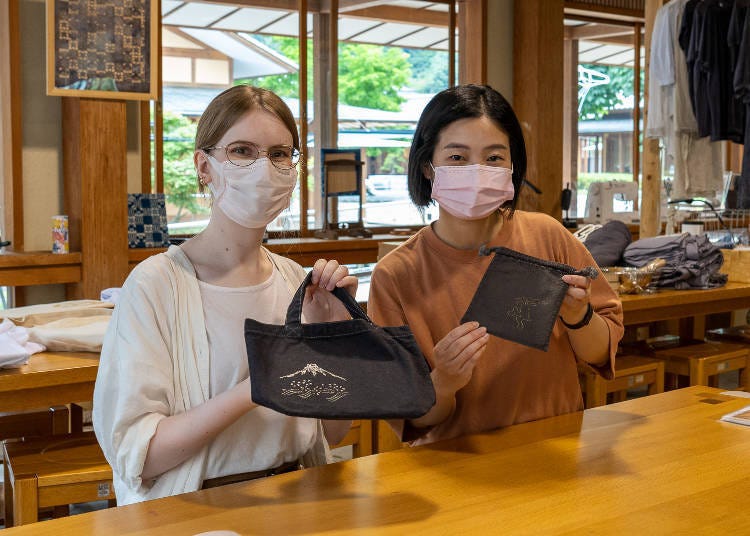 "Each and every individual craft is unique. When you combine your own design with the pattern you selected, the result is a completely original, one-of-a-kind masterpiece, and the only one like it in the entire world!" Chia-chi explains in awe.

"Tea-dyeing is based on environmental conservation and waste reduction. It allows us to be more conscious of how we use our precious resources, and encourages us to handle them with care." As you can see, Bella and Chia-chi are fully satisfied with their works!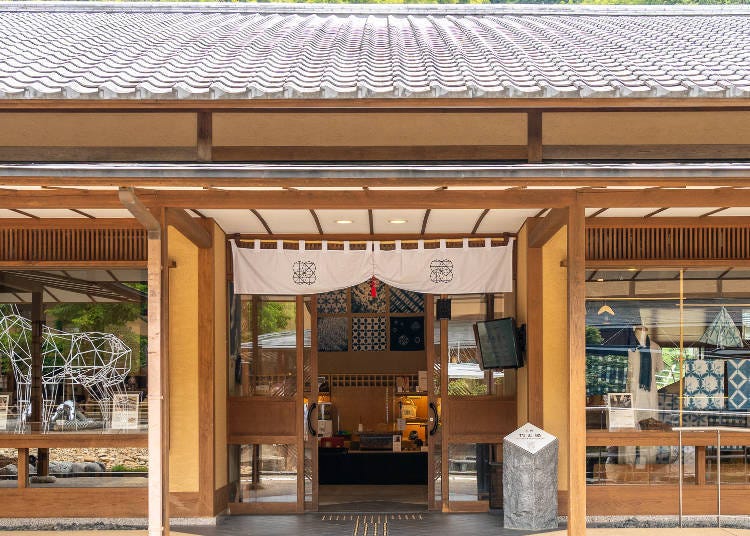 Health & Safety Measures

Indoor disinfection measures taken - Sanitizer installed - Disinfected after each guest leave - Ventilation measures in place - Coin trays used - Staff wear masks, gargle, wash hands regularly, and monitor body temperature - Limited capacity/increased space between seats - Restricted admission, reservation system in place - Entry declined to anyone who is feeling unwell - Masks requested - Temperature check enforced
駿府の工房 匠宿

Address

3240-1 Mariko Suruga-ku, Shizuoka-shi, Shizuoka

Nearest Station

From JR Shizuoka Station (North Exit 7), take the Shizutetsu Justline Chubu Kokudo-sen bus bound for Fujieda Ekimae. Get off at Togeppo Sumpu Takumi-shuku Iriguchi. Your destination is a 5-minute walk away.


Phone Number

054-256-1521

・Hours: 10:00AM - 7:00PM
・Closed: Mondays
・Workshop: Bamboo and Dye
・Price:
Tote Bag: 3,000 yen (tax included)
Kinchaku Pouch: 1,200 yen (tax included)
Optional: Original stencil creation: 500 yen
*Tea-Dyeing Experience and post-production procedures may vary in accordance with workshop and staff schedule.

・Website: https://takumishuku.jp/
Want to Taste and Learn About Tea? Head to Shizuoka!
Today's experience allowed us to participate in activities such as sampling Japanese teas. It also allowed us to reflect on the intangible concepts of Japan's traditional culture and history.

If you're looking for a break from the big city, head to the famous tea town of Shizuoka, and experience tea picking, sampling, and dyeing for yourself! Through these unique and interesting activities, you'll get an up-close, hands-on look at the tradition of Shizuoka tea.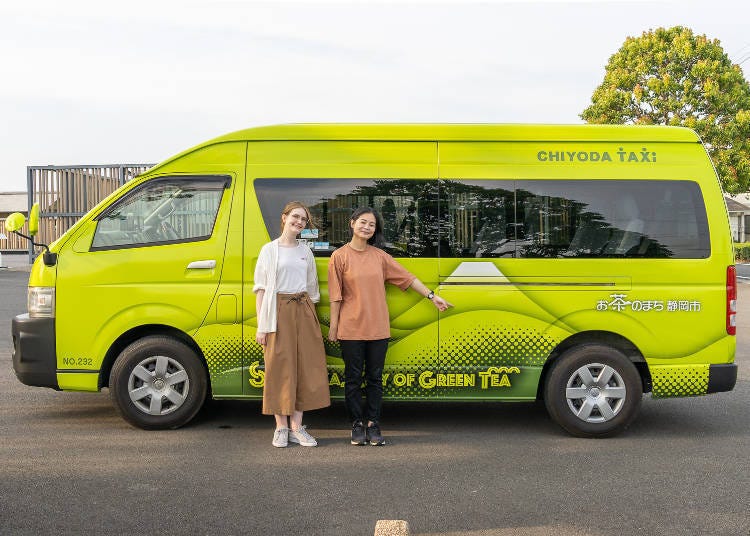 To travel around the Suruga area of central Shizuoka, we recommend renting a car or using a taxi service. This way you can get around easily and check out even more places than those introduced here today! Chiyoda Taxi is a service that operates adorable "tea taxis" inspired by Mt. Fuji and the tea gardens.

So whether you're traveling for one day or for the entire weekend, why not head to Shizuoka for a tea experience of your own?
Interview coverage: SURUGA Marketing & Tourism Bureau
*Information in article as of June 2022. Please see official websites for the latest information and updates.

Written by:Kayo

English translation by: Krys Suzuki
*This information is from the time of this article's publication.
*Prices and options mentioned are subject to change.
*Unless stated otherwise, all prices include tax.
Search for International flights