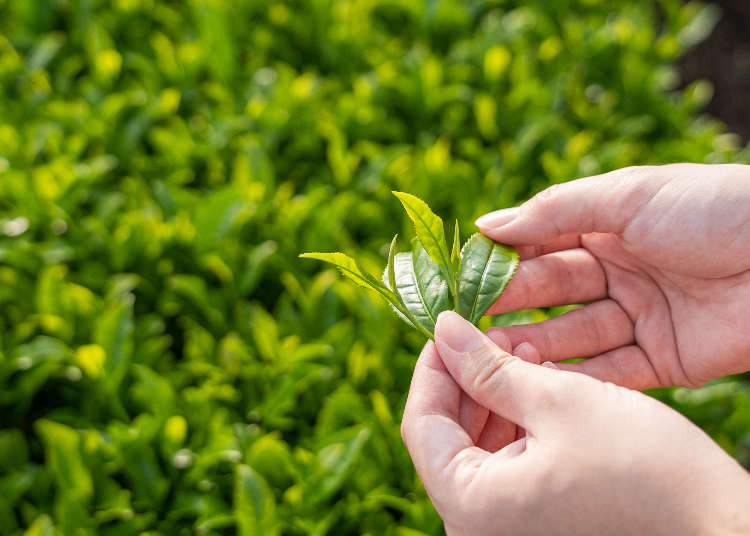 Shizuoka Prefecture is home to a number of famous landmarks, from Mt. Fuji to vast tea plantations. But to fully appreciate everything this tea production center has to offer, it's not enough to simply sip a cup and learn about its history.

Travel just one hour away from either Tokyo or Nagoya Station on the Shinkansen Hikari Line, and you'll arrive at Shizuoka Station. Before you even arrive, the expanse of tea gardens let you know exactly where you are.

To dig deeper into Japan's tea culture, we decided to try the Shizuoka Tea Picking Experience for ourselves. Today, we tag along with LIVE JAPAN editorial staff, Bella and Chia-chi as they visit the Tea Museum, Shizuoka. Join us as we explore the vast tea fields, and learn about Japan's tea culture through immersive and extraordinary experiences!
The secret behind Shizuoka's tasty teas is the surrounding natural environment!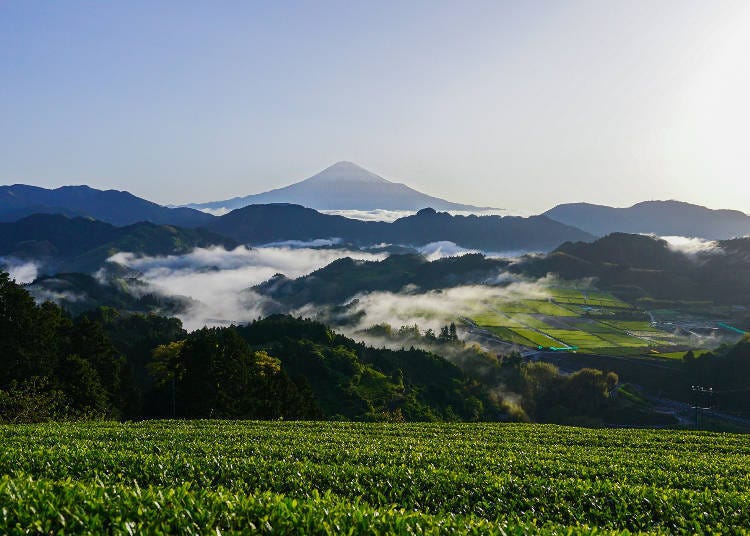 A lovely view of Mt. Fuji and the tea plantations in central Shizuoka's Suruga region. (Photo taken during late April harvest season from Mt. Yoshiwara in Shimizu Ward, Shizuoka City. Landscape will vary by season, time, and weather.)
Shizuoka Prefecture is home to Japan's tallest mountain peak, Mt. Fuji, as well as the Japanese Alps and clear, flowing rivers. Facing Suruga Bay, this fertile mountain region's mild climate and abundant water resources meet the perfect conditions for nurturing Yama no Ocha, a refined aromatic mountain tea.

Another tea in the area in Sato no Ocha, a mellow brew made by steaming and processing leaves that have grown thick as a result of warm temperatures and lots of sun exposure.

Shizuoka's unique and diverse topographic features play an integral role in Shizuoka's tea production as a whole, and varies by specific production area and type of tea being grown.
What's the Best Season for Shizuoka Tea?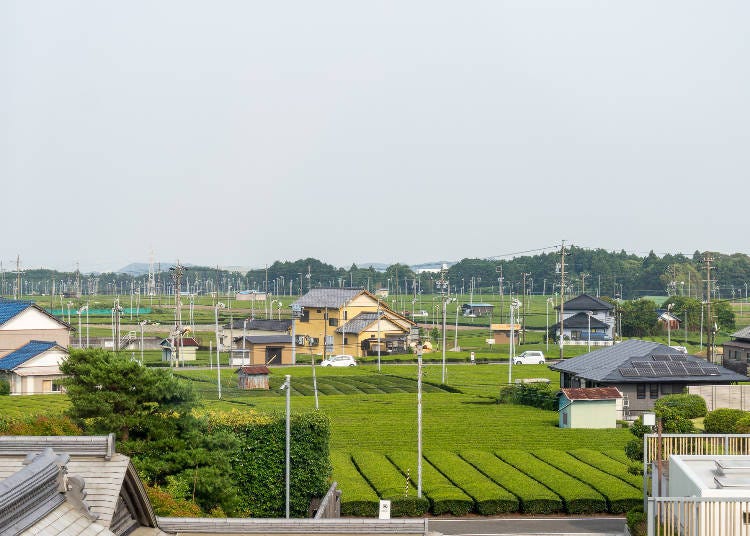 Shizuoka's vast tea plantations
Shizuoka tea is harvested four times a year. The first harvest season lasts from late April to early May. This harvest is called 'shincha' (lit. 'first tea of the season'), and produces sweeter, high-quality teas rich in amino acids. The second harvest (called 'nibancha') lasts from mid- to late June, and has more catechins, resulting in more bitter and astringent teas.

As you can see, time and season factor greatly into the flavor and characteristics of the tea. If you're planning to try a tea-picking experience for yourself, you may want to plan your schedule according to your preferred brew!
The Tea Museum, Shizuoka: Everything You've Ever Wanted to Know about Shizuoka Tea!
An outside view of the Tea Museum, Shizuoka
To learn more about Shizuoka's tea culture and experience the harvest for ourselves, we visited the Tea Museum, Shizuoka, located near the Makinohara Plateau. Along the way, we pass tea gardens stretching out as far as the eye can see. To get to the Tea Museum, take the JR Tokaido Main Line to Kanaya Station.

The museum is about 25 minutes on foot from there, or 10 minutes if you're driving. (Other public transportation methods may be available. Please see facility information at the end of this article for details).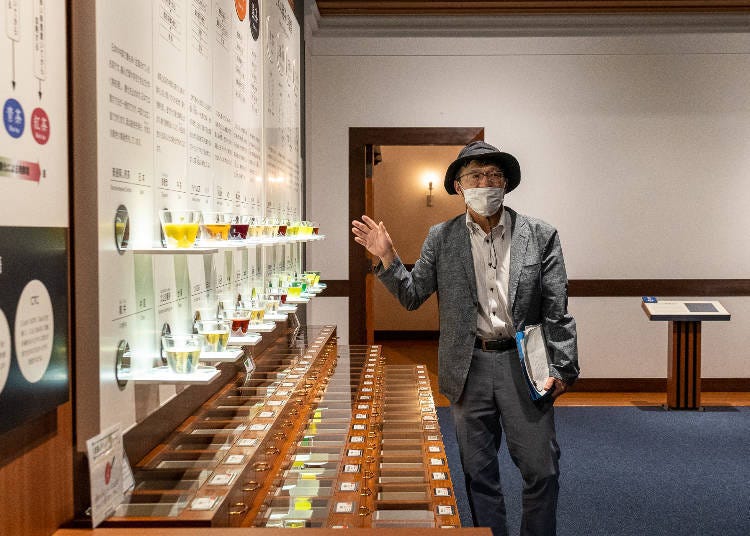 On the day of our visit, we were given a guided tour by the museum's Assistant Director, Mr. Shirai. Please note that different staff members may lead the tour during regular hours (starting at 11:00AM and 2:00PM).
At this museum, not only can you experience harvesting tea for yourself. You'll also learn everything you've ever wanted to know about Japanese tea culture, and appreciate the restored Japanese gardens and tea room designed in the likeness of artworks by Kobori Enshu, a famous feudal lord and tea master from the Edo Period.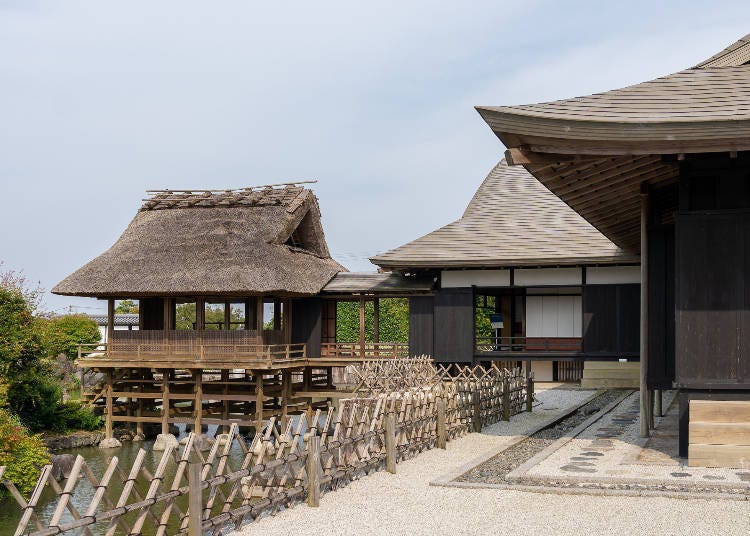 The first Shizuoka tea seeds were said to have been imported from China by a monk named Enni Ben'en, and planted in Ashikubo, Shizuoka City during the Kamakura Period. Ashikubo is located in the Suruga region of central Shizuoka, which is quite famous amongst tea lovers for the high-quality teas produced there. Teas grown in the Suruga region have played an important role in the overall development of Shizuoka tea.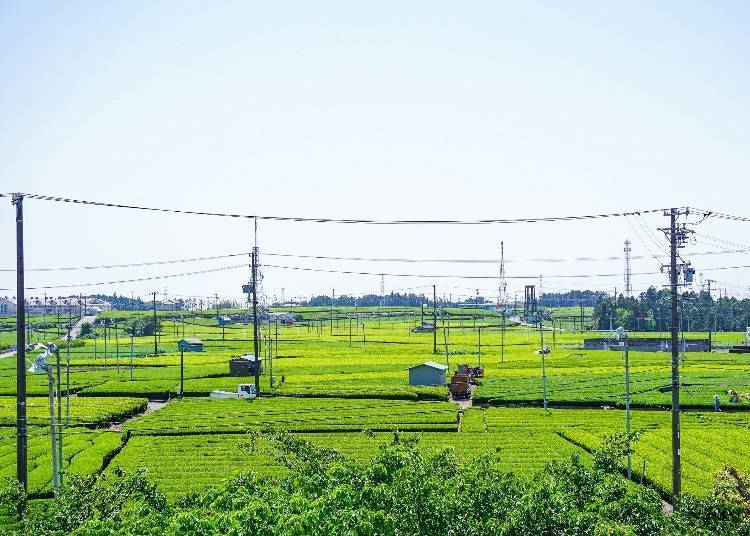 View of the tea fields and Makinohara Plateau from the observation terrace
"During the Edo Period, Tokugawa Ieyasu had his samurai learn to cultivate Shizuoka tea. But after the Tokugawa Shogunate came to an end, many retainers lost their jobs. By having them develop the lands of Kanaya and Makinohara, which were considered to be barren, Katsu Kaishu (a Japanese naval officer and statesman) was able to support them," explains Assistant Director Shirai. Gesturing toward the Makinohara Plateau and tea fields before us, he continues to teach us about the history of what is now Japan's greatest tea-producing region.
Shizuoka has so many teas! Which ones do you recommend?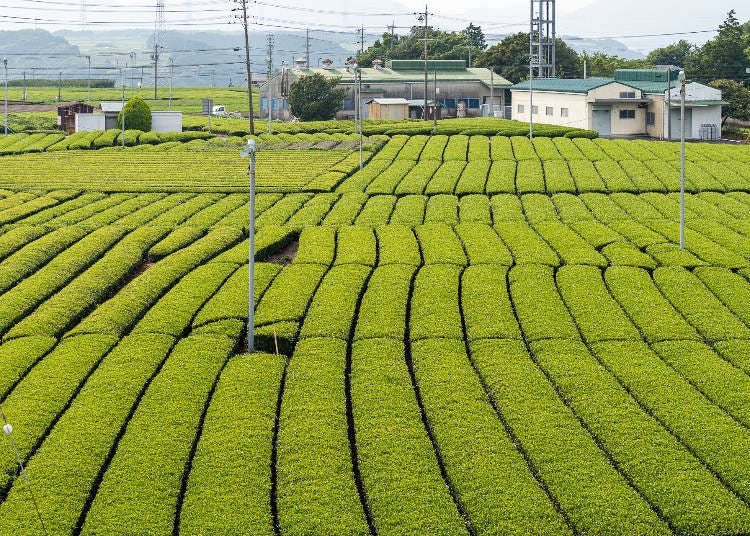 The Yabukita variety, first discovered in Shizuoka, is not only high-quality, but easy to grow. Currently, about 75% of Japan's tea is of this variety, making it practically synonymous with Japanese tea.

"Nowadays, Yabukita is one of the most popular varieties of Japanese tea." Assistant Director Shirai explains: "Due to Japan's long history of tea cultivation and ever-evolving developments, Shizuoka has also produced many new cultivars, such as 'Tsuyuhikari', 'Shizuka-7132', and 'Fuji-kaori'".

Shizuoka Prefecture currently produces over 100 varieties of tea, each with their own characteristics, harvest yields and times, colors, aromas, and compositions.
Harvest your own tea leaves in Shizuoka!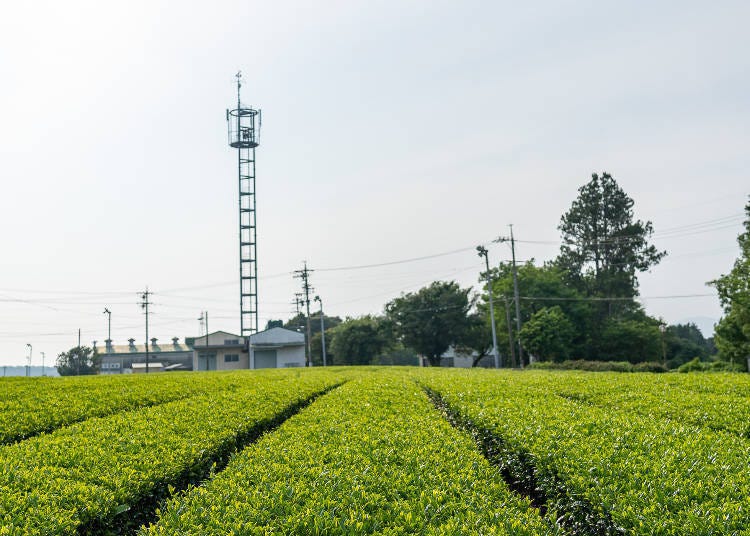 At the Tea Museum, Shizuoka, you can participate in a hands-on tea picking experience, right in their very own tea fields!
You can harvest your own tea at the the Tea Museum, Shizuoka in all four tea harvesting seasons: late April to early May, late June, early August, and late September. The museum's official website regularly updates with details and the teas' germination status. Be sure to check the website in advance, as the Tea Picking Experience varies by season. In general, the full experience costs 500 yen (tax included) and lasts about 30 minutes.

All participants also receive a zipper bag with tea recipes and harvest instructions (available in Japanese and English), so you can pack up your pickings and take them home! (Please note that some countries may have restrictions on what you can bring in).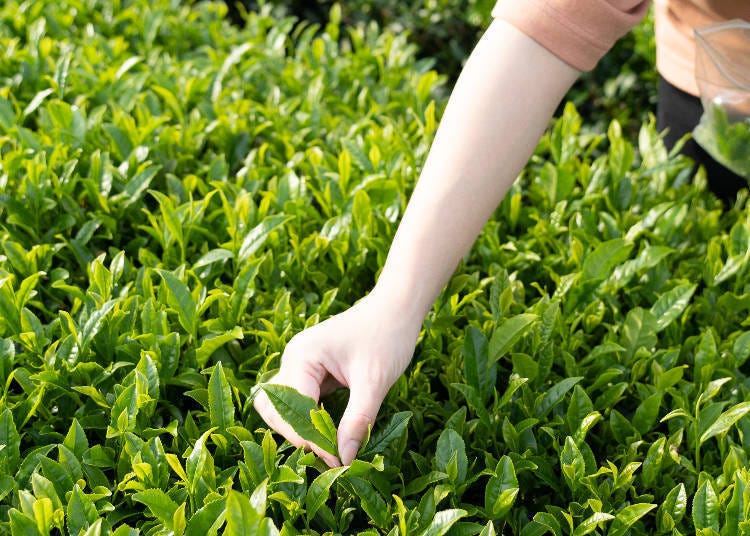 The gentle green hues of the fields are certainly eye-catching. Under the sun, the tea leaves appear a pale, yellowish-green, and the leaves themselves are moist and soft to the touch. Before starting, Assistant Director Shirai shares some important tips to bear in mind when harvesting the leaves. First, you should look for one stem with two leaves sprouting around the bud.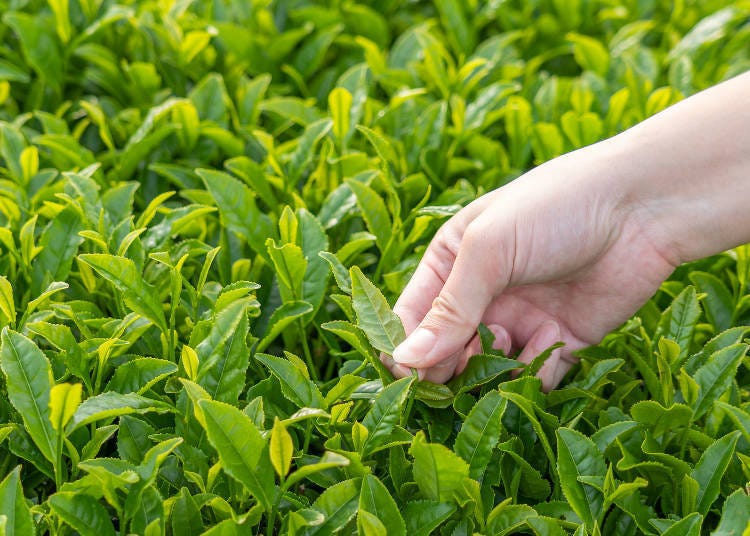 To pick the leaves, gently pinch the stem between your index finger and thumb. Apply gentle pressure with your fingertips to twist the leaves off. Bella, an editor from New Zealand, says, "It's actually really easy! You can feel the leaf pop right off!" As you can see, harvesting leaves is not as tricky as it may sound.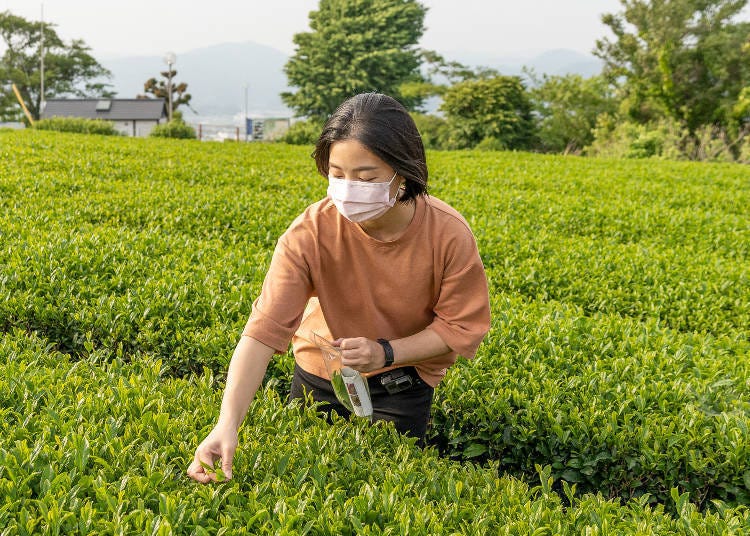 For Chia-chi, our editor from Taiwan, this is her first tea picking experience. She says, "The leaves you normally use when brewing your own tea are rough and dry to the touch. However, they're actually very soft and thin when you harvest them. I would've never imagined that this is what they feel like!"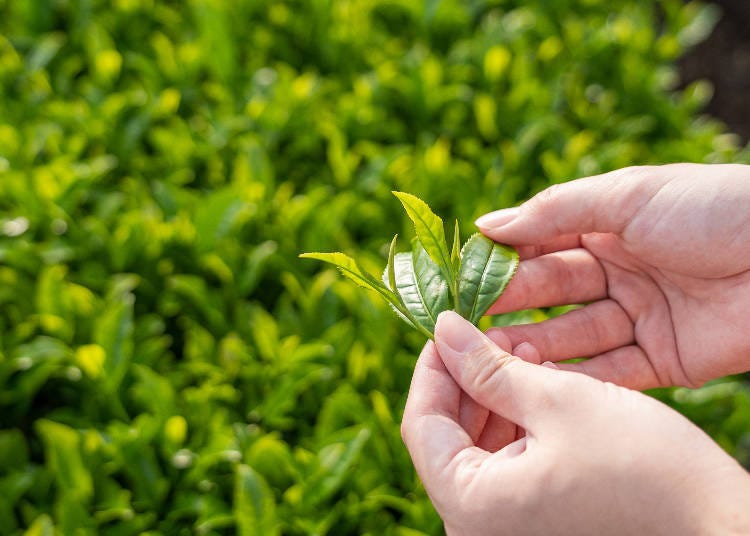 "We're now in the second season of tea harvesting. The leaves are still very fresh and soft, so you have to be very careful when you pick them," explains Chia-chi as she puts her harvest into a bag.

When bagging your leaves, be careful not to seal them completely. The freshly-picked leaves still need air, and will wither and die without it!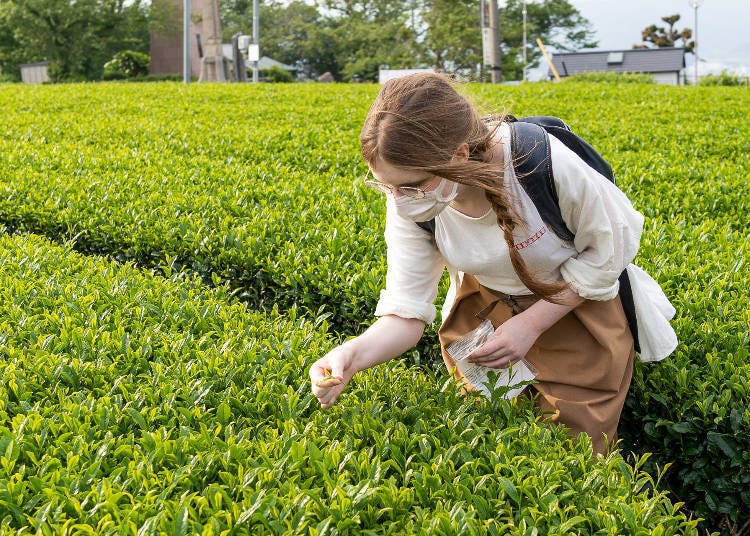 Bella comes from New Zealand, which she explains has no traditional tea culture. The museum exhibits incorporate sight, smell, and touch, providing an immersive way to learn all about various teas and tea culture. And being able to pick real, fresh tea leaves by hand make the experience all the more special.

Bella talks about her first-ever tea picking experience: "The leaves don't really have any fragrance as you pick them. But it was therapeutic being able to touch them directly, while surrounded by the beautiful fields and the gentle breeze".

Caution: The fields are also home to friends of nature such as spiders and small insects. Be sure to wear proper footwear, pants, and a light jacket!
Other Languages:

Chinese / English
Some tours may be available in English. Plastic bags distributed during the tea-picking experience also available in English (see staff for details). Audio guides for permanent exhibits available in English, Chinese, and Korean.
Health & Safety Measures

Indoor disinfection measures taken - Sanitizer installed - Disinfected after each guest leaves - Ventilation measures in place - Staff wear masks, gargle, wash hands regularly, and monitor body temperature - Entry declined to anyone who is feeling unwell - Guests are asked to wear masks
Tea is for more than just drinking! Try these simple, at-home recipes!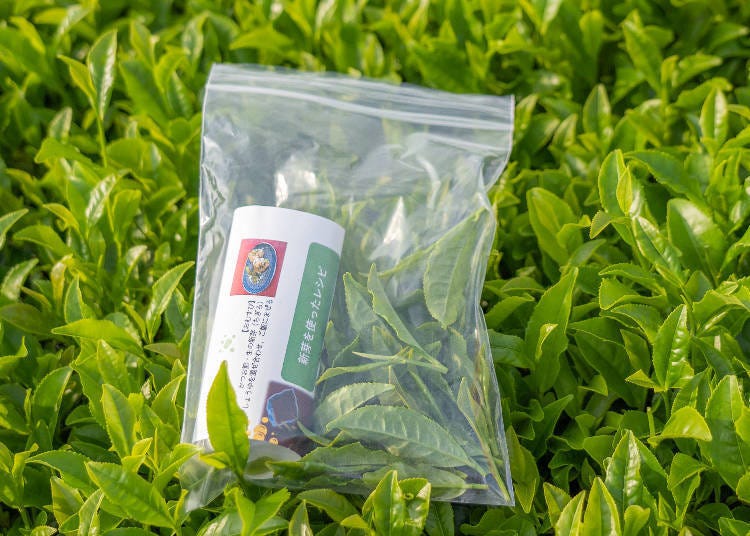 Once the experience is finished, you can pack up your leaves and take them home as a souvenir. The bag also includes simple cooking recipes that you can try at home! Assistant Director Shirai recommends the tea leaf tempura.

"After washing the tea leaves, wipe off the moisture, sprinkle with tempura powder, and lightly fry them in oil. They taste great with matcha salt or tempura sauce!"

There are also recipes for salads and rice balls. You can also use them to make fresh spring rolls! Wrap them in plastic wrap, heat them lightly in the microwave, and remove the moisture before using.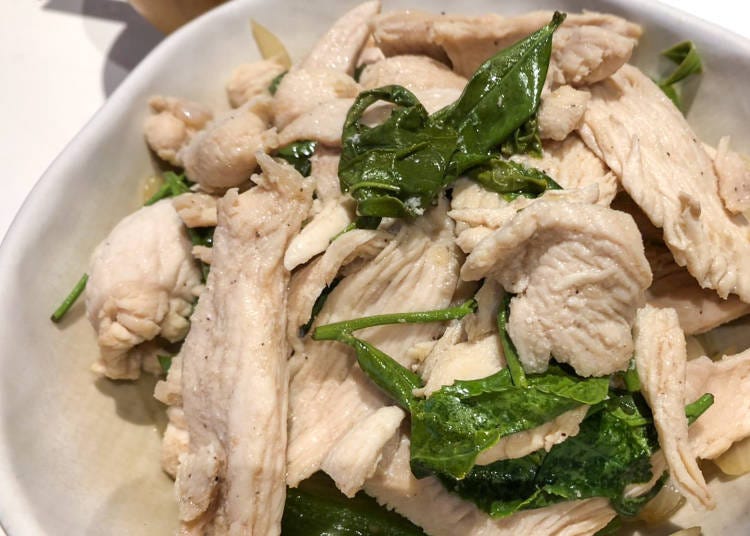 Chia-chi attempts the chicken and stir-fried leaves recipe. The chicken is richly seasoned with onions and garlic, while the simple, refreshing taste of the tea leaves balances it out, making it easy to eat. "It doesn't have the same aroma as roasted tea, but when you chew it slowly, you might notice a faint plant scent," says Chia-chi. Who knew tea leaves could be used for so many things?
Traveling for Tea! Experience the Joys of Japanese Tea in Shizuoka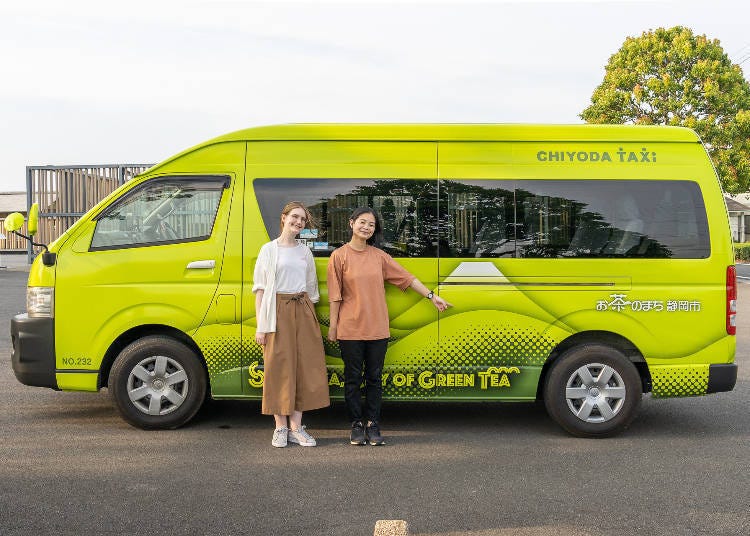 Shizuoka tea accounts for about 40% of Japan's tea production, making it one of Japan's top three popular teas (together with Uji and Sayama tea). And with Shizuoka's convenient location, rich natural environment, and lengthy history of tea cultivation, it's easy to see why!

Each individual variety of tea reflects the unique climate of the land. And at the Tea Museum, Shizuoka, not only will you learn about the history of Shizuoka tea, you'll get to experience it up close by stepping into the fields and harvesting leaves for yourself!

And the experience doesn't end there. Bring home your pickings, cook up one of the recipes, and end the day with a tasting experience, right in your own home!
ふじのくに茶の都ミュージアム

Address

3053-2 Kanayafujimi-cho, Shimada-shi, Shizuoka

Nearest Station

Directions: At JR Kanaya Station, transfer to the Katsumada or Hagima Bus to Nikenyabara. The museum is just a 3-minute walk away. Alternatively, ride the Shimada City Community Bus to Fujinokuni Cha no Miyako Museum bus stop, and walk for about 1 minute.


Hours: 
9:00AM - 5:00PM (Last admission: 4:30PM)
Tea Room: 9:30AM - 4:00PM (Last admission: 3:30PM)
Closed: Tuesdays, New Year holidays; open on public holidays, but closed the following day 

Admission: 300 yen (tax included) 

Tea Picking Experience 
Price: 500 yen (tax included)
Time: Approx. 30 min (May vary by season. Please see official website for more information)

Official Website: https://tea-museum.jp/index_en.html
Interview coverage: SURUGA Marketing & Tourism Bureau
Visit Suruga

*Information in article as of June 2022. Please see official websites for the latest information and updates.

Written by Kayo:
English translation by: Krys Suzuki
*This information is from the time of this article's publication.
*Prices and options mentioned are subject to change.
*Unless stated otherwise, all prices include tax.
Limited time offer: 10% discount coupons available now!