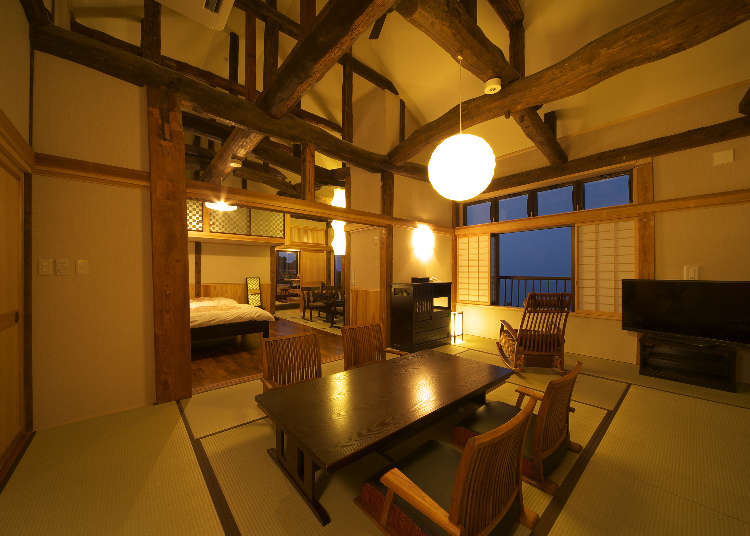 There's hardly a place that lets you get an authentic taste of nostalgic Japan more than renovated Japanese farmhouses called kominka. Atami, one of Japan's most famous and popular hot spring resort towns, has an amazing variety of these kominka to offer, many of them turned into unique inns, hotels, and restaurants.
Soba no Bo: Enjoying Buckwheat Delicacies in the Garden of the MOA Art Museum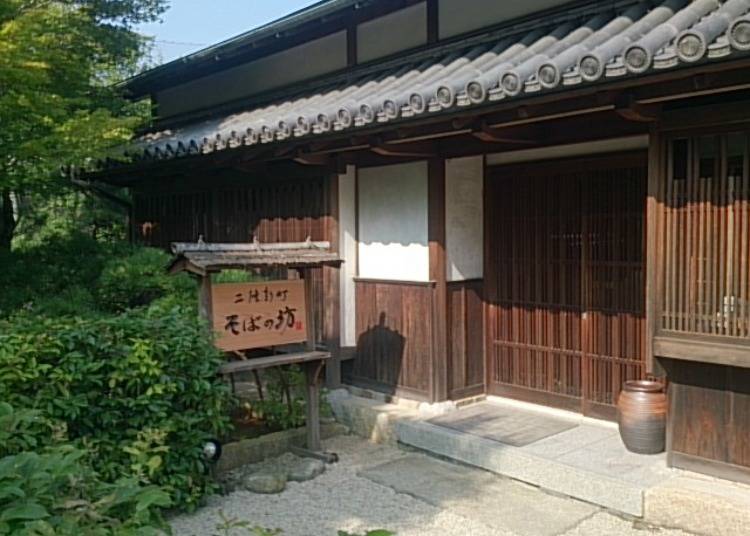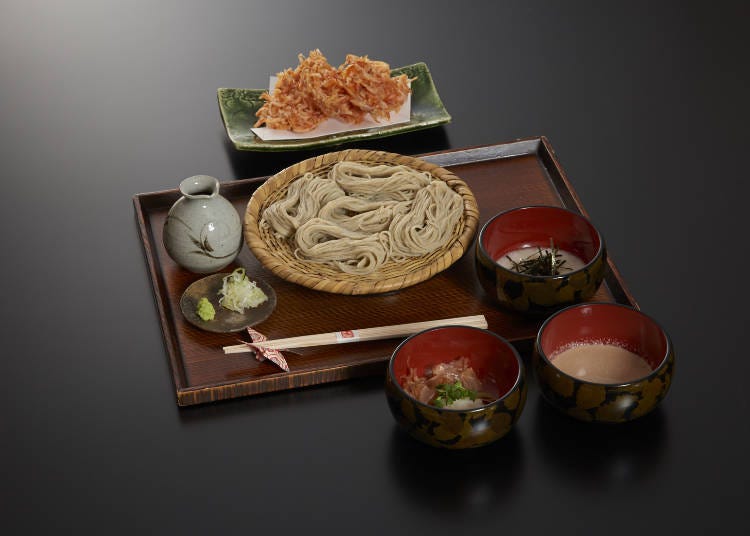 Scheduled for its renewal opening in February of 2017, the buckwheat specialty restaurant Soba no Bo is nestled in an atmospheric corner of the MOA Museum of Art's tea garden in Atami. While the museum boasts an incredible collection of 3,500 works of art, including the national treasure Red and White Plum Blossoms by Ogata Korin, Soba no Bo doesn't only dazzle with its amazing dishes but also with the kominka atmosphere to relax in. The Shinshu soba, the buckwheat used for the restaurant's dishes, is harvested at an altitude of 1,000 meters, making the finished noodles taste especially rich and delicious. Soba no Bo is an atmospheric and relaxing hideout for anyone who wants to forget time for a little bit while enjoying not only soba but also set meals, sake, juicy prawns, and tempura.

Hours: 11:00 a.m. – 3:00 p.m.
Closed: Thursdays
そばの坊

Address

26-2 Momoyamacho, Atami-shi, Shizuoka 4130006 Japan (inside the MOA Museum of Art tea garden)
Mugitoro Warabe: Enjoying Both Great View and Great Seafood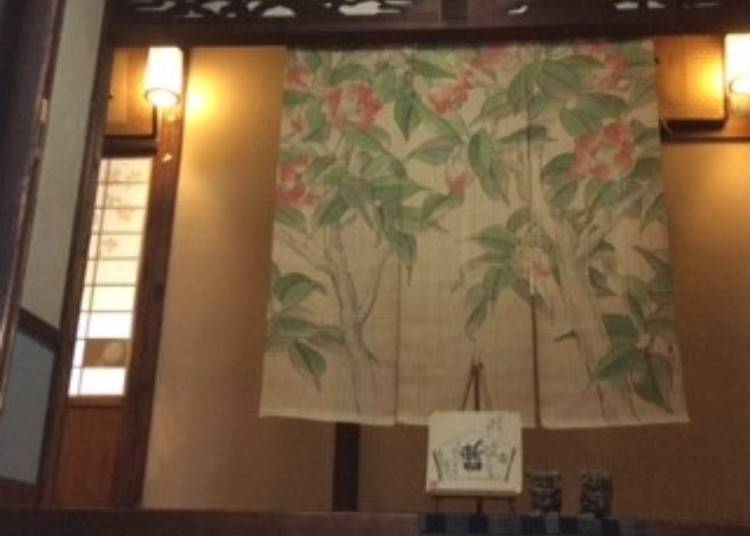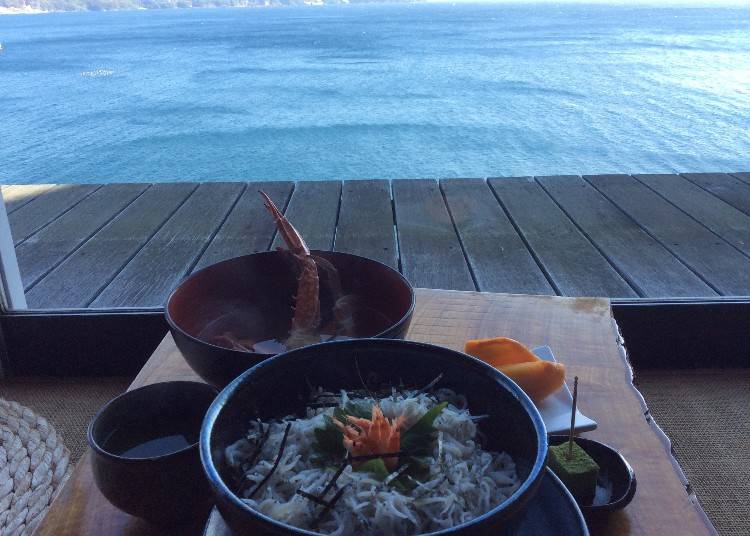 On the National Highway No. 135 lies the restaurant Mugitoro Warabe, located in a beautiful renovated kominka that lets you enjoy a breathtaking view on the ocean. One of the restaurant's highlights is "Beetoro" for 2,100 yen (tax included), a fusion between savory roast beef and tororo, a Japanese dish made from grated yam. Another recommendation is the "Kama-age Shirasu Tororo Don," or straight-from-the-pot young sardine bowl with tororo, for 1,890 yen, tax included. Enjoy whichever dish you want to try the most while gazing out over the blue ocean!

Hours: 11:30 a.m. – 5:00 p.m. (last order 5:00 p.m.)
11:30 a.m. – 8:00 p.m. (last order 7:00 p.m.) on Saturdays and Sundays
Closed: Wednesdays
自然薯処 麦とろ童子

Address

210 Izumi, Atami-shi, Shizuoka 4130001 Japan
Café Kichi: Delicious Dishes in a Wooden Townhouse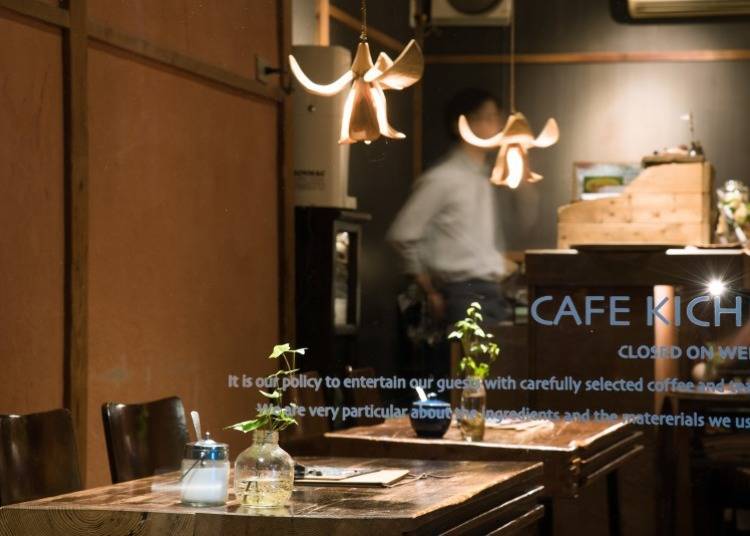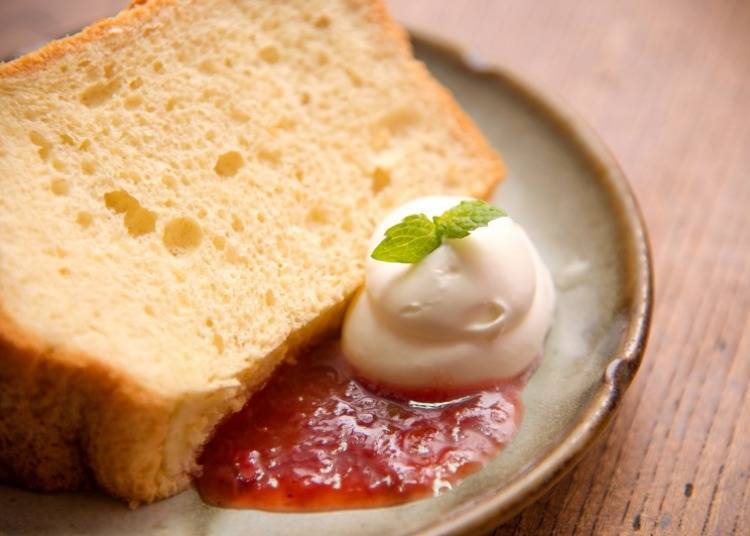 Located very close to Atami Station, Café Kichi is a wonderful little kominka café that is reminiscent of Japan's nostalgic Showa period. Start out with a cup of aromatic coffee for 510 yen (tax included) and try your way through the many delicious and homemade sweets, such as the chiffon cake starting at 410 yen (tax included). The warm, nostalgic atmosphere of the sepia color restaurant is sure to make you forget time! Just a short walk away from the café is Kashi Kichi, a shop affiliated to the café that specializes in the most amazing tarts.

Hours: 1:00 p.m. – 9:00 p.m. (last order 8:40 p.m.)
Closed: Wednesdays
カフェ キチ

Address

5-9 Taharahoncho, Atami-shi, Shizuoka 4130011 Japan
Kichi+: Serving Atami's Most Popular Seafood Bowl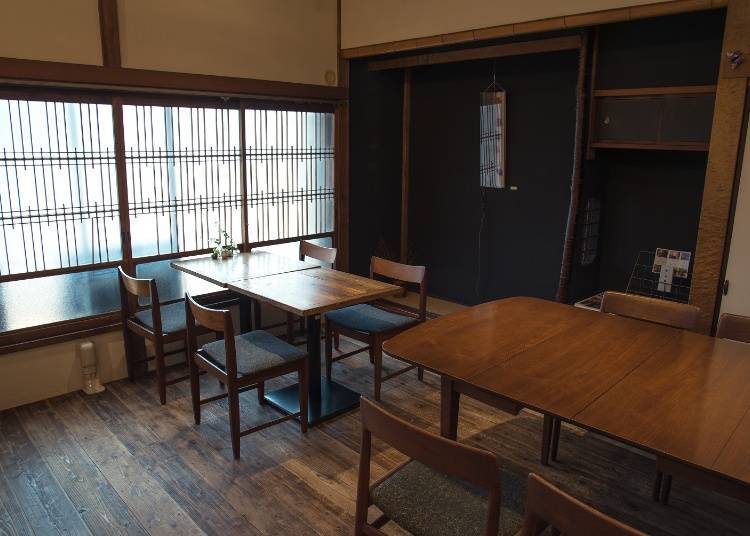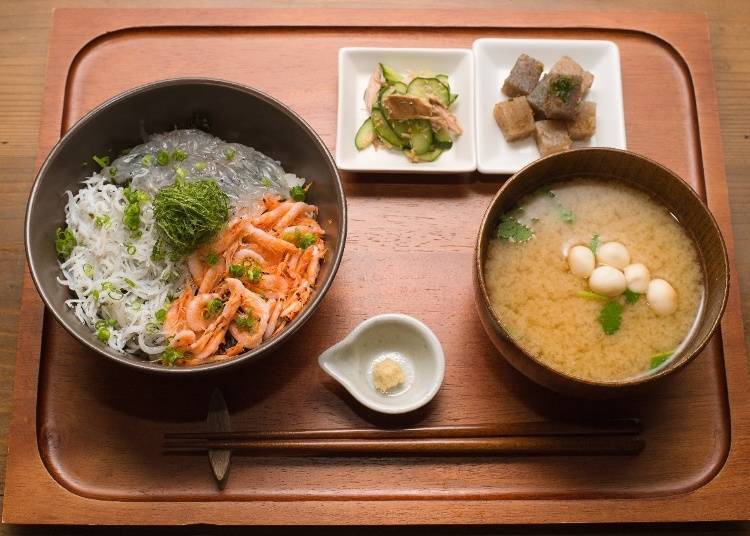 Kichi+ is the restaurant version of the incredibly popular Kominka Café Kichi, located right in front of Atami Station. Just like its café sibling, the restaurant is actually a townhouse that is over 50 years old, the taste of its dishes as amazing as its atmosphere. Our warmest recommendation is the Shirasu-don (young sardine bowl) for 1,000 yen (tax included), as well as the shrimp and sardine pizza toast for 650 yen (tax included). When coming to Atami, trying some of the restaurant's signature dishes is a must!

Hours: 10:00 a.m. – 6:00 p.m.
Closed: Wednesdays
キチ プラス

Address

6-11 Taharahoncho, Atami-shi, Shizuoka 4130011 Japan
Atami Soba Taga: Enjoying Buckwheat in an Edo Era Trader's Residence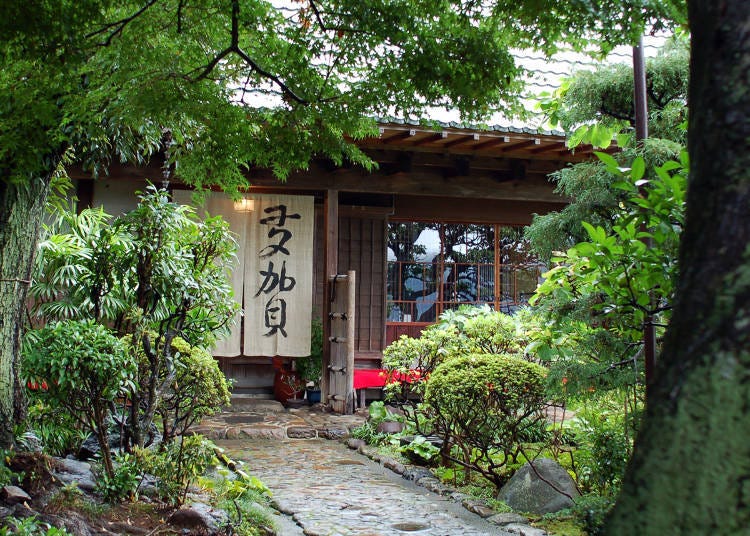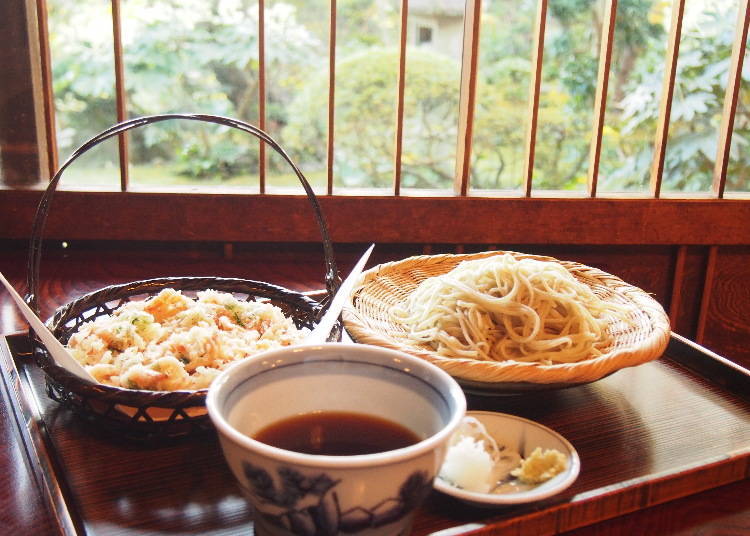 Originally the villa of a wealthy merchant of the late Edo period, the reconstruction of this historic place was supervised by the famous German architect Bruno Taut. The around 200 year old building is nestled between seasonal trees and flowers which paint the scenery in a different color with every passing season. Gazing out of the window, there's a breathtakingly beautiful ocean view to be enjoyed while savoring the delicious soba (buckwheat noodles) from 700 yen (tax included). Slip back in time at Atami Soba Taga!

Hours: 11:00 – 16:00 (L.O. 15:50)
Closed: Thursday
蕎麦処 多賀

Address

798 Kamitaga, Atami-shi, Shizuoka 4130101 Japan
Mizuno: Experiencing the Authentic Japan of Olden Days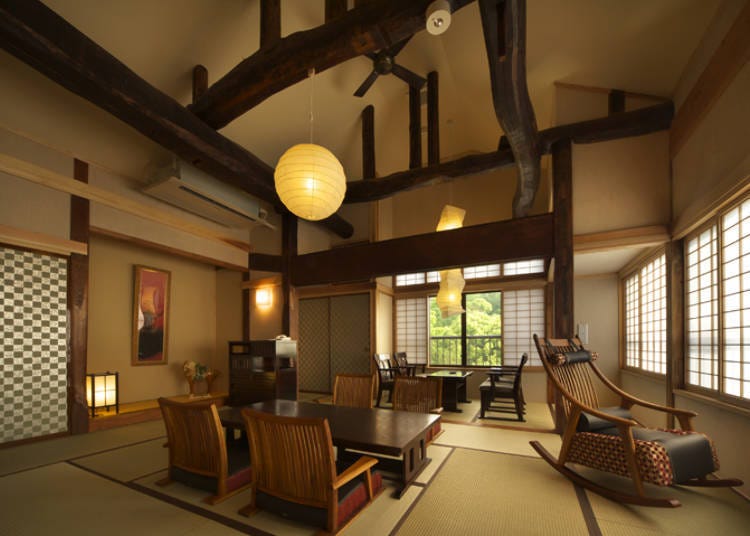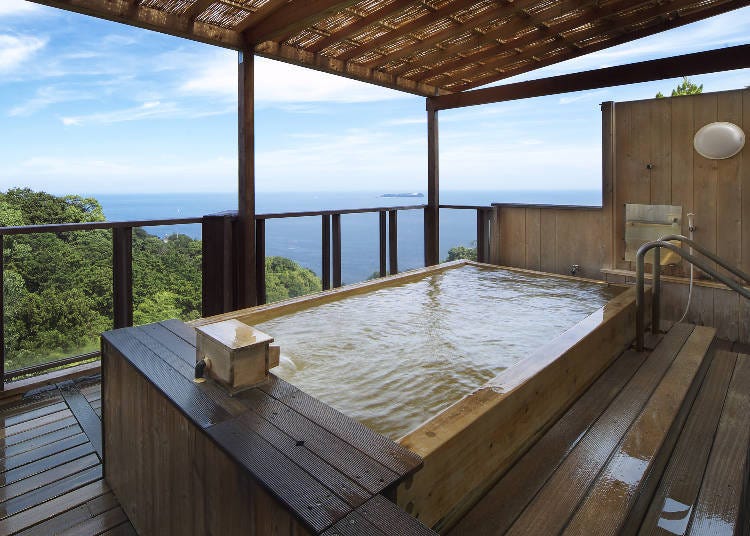 Mizuno is a quiet and atmospheric kominka hot spring inn that is just a 7 minute dive by car away from Ajiro Station on the JR Ito Station. It is a place where the warmth of the sea and mountains surrounding the hot springs harmonize just perfectly with the inherent warmth of the old, natural materials that the inn was built with. Incredibly rich in nature, the inn was once a private farmhouse that was renovated to serve guests as a traditional Japanese inn. With their thick, wooden pillars, the rooms emulate the cozy feeling of an old forest, an experience that is brought to perfecting by soaking your body in the natural open-air bath of Mizuno. Bring time to a stand-still and seek refuge of the busy day to day life of the city here.

Check-In: 2:00 p.m. – 6:00 p.m.
Check-Out: 10:30 a.m.
"Kutsurogi" Room: from 23,900 yen per two persons on weekdays
Kominka: from 37,950 yen per two persons on weekdays
(consumption & bathing tax included)
Address

627-363, Ajiro, Atami-shi, Shizuoka, 413-0103
View Map

Nearest Station

Ajiro Station (JR Ito Line / JR Ueno Tokyo Line)


Phone Number

0557-67-2643
Atami Sekitei: the Beauty of Japanese Architecture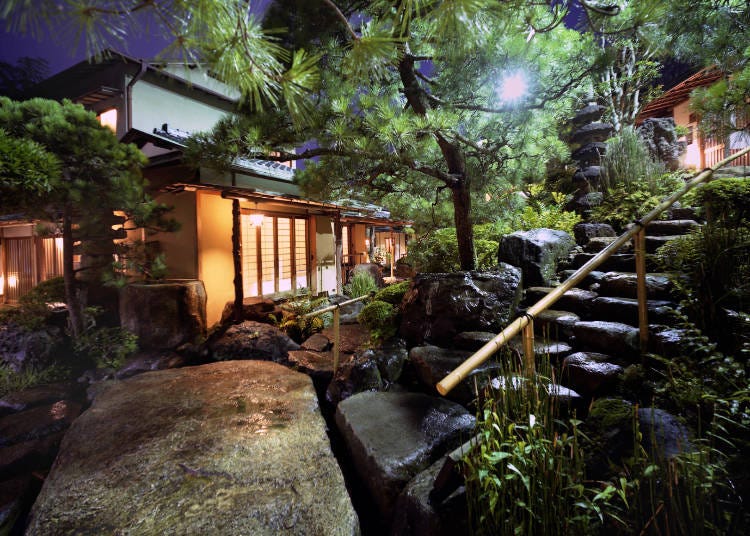 Atami Sekitei is a famous kominka inn with around 55 years of history, standing on a small hill that overlooks the city of Atami. Its stone garden, illuminated and adorned with traditional stone lanterns, is just one of its majestic highlights that draws in visitors from all over Japan. The entire complex is an amazing sight to behold, though, as it is dotted with structures built in a traditional architectural style from Kyoto, featuring paper sliding doors and alcoves that are reminiscent of old Japan. Enjoy an authentic spa experience, savor traditional Japanese cuisine and hospitality, and enjoy yourself to your heart's desire at this beautiful kominka inn.

Check-In: 2:00 p.m. – 6:00 p.m.
Check-Out: 11:00 a.m.
"Sukiya" Room: from 29,612 yen for one night and two meals
Open-Air Bath Room A: from 33,048 yen
Open-Air Bath Room S: from 43,871 yen
(tax excluded)
あたみ石亭

Address

6-17 Wadacho, Atami-shi, Shizuoka 4130024 Japan

Vacancy search, reservation

Please enquire directly about rates.

Check with our partner site as the latest rates, rate details, and guest room requirements may vary.
*This information is from the time of this article's publication.
*Prices and options mentioned are subject to change.
*Unless stated otherwise, all prices include tax.
Limited time offer: 10% discount coupons available now!