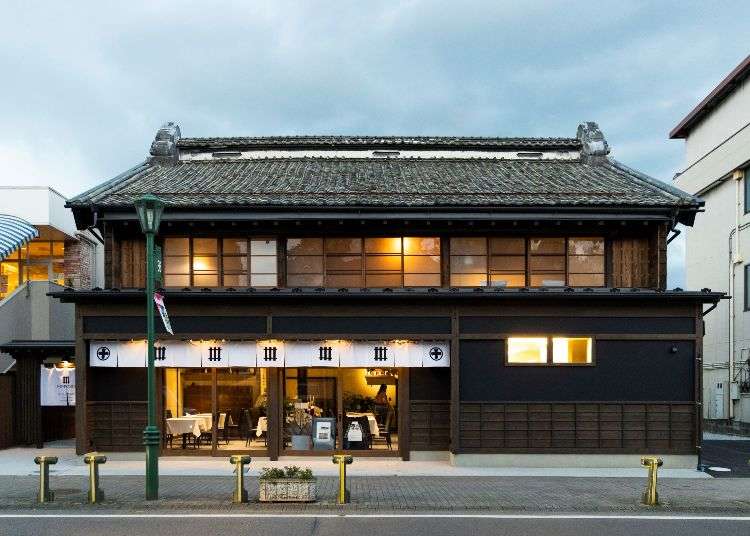 You'll no doubt want to spend time amongst historical, authentic Japanese architecture during your stay in Japan. In recent years, more and more old-fashioned, disused stores and homes are being renovated into accommodations, attracting both Japanese and international visitors alike for their nostalgic charms and serene atmospheres.

Here, we'll introduce one such place to stay - NIPPONIA Chichibu Monzenmachi. Located among the culturally-rich, ancient townscape, nature, and hot springs of Chichibu in Saitama Prefecture, it's easily accessible from Tokyo. Our American-born editor spent the night here and explored the area to uncover the hotel's appeal and more!
About NIPPONIA Chichibu Monzenmachi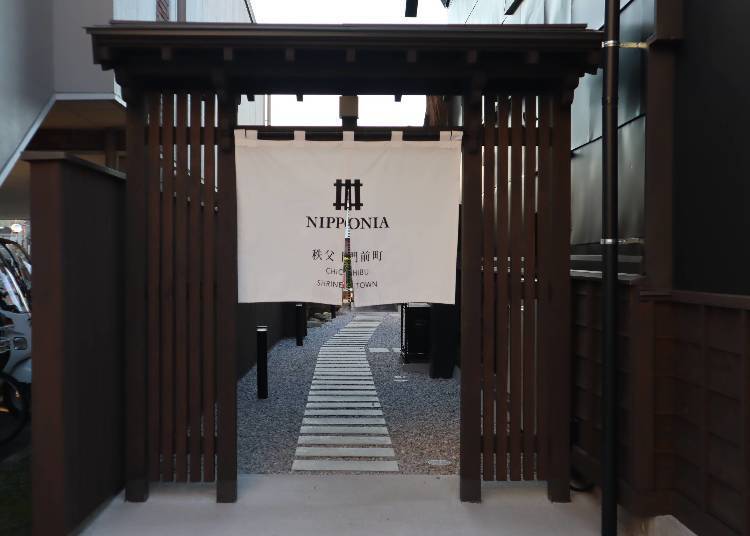 The welcoming noren curtain at NIPPONIA Chichibu Monzenmachi
NIPPONIA Chichibu Monzenmachi is a hotel made from a renovated traditional folk home in Chichibu, a city in Saitama Prefecture approx. 80 minutes by train from Tokyo/Ikebukuro.

The hotel is a 15-minute walk from Seibu-Chichibu Station on the Seibu Line and a 5-minute walk from Chichibu Station on the Chichibu Line. It is also close to Banbamachi, famous for its rows of buildings constructed during the Taisho and Showa eras, along with Chichibu Shrine, one of the region's most spiritual locations.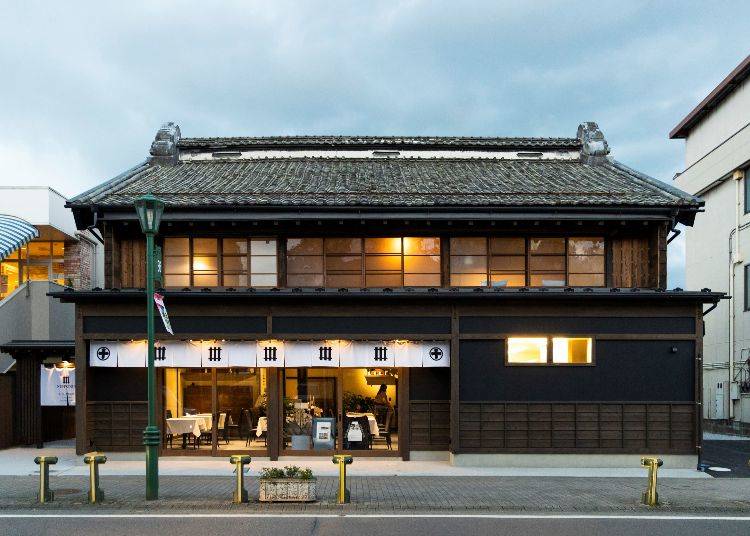 NIPPONIA Chichibu Monzenmachi opened to guests in August 2022 under the NIPPONIA brand. NIPPONIA aims to restore old homes and historical buildings under the concept of "a nostalgic and new Japanese way of life," allowing guests to relish the essence of authentic Japan and dive into the local area in a way totally different from typical hotels and inns.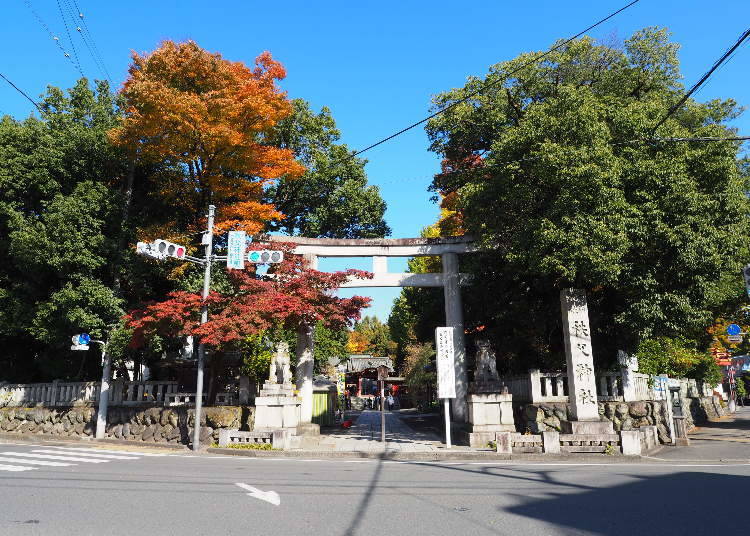 Chichibu Shrine
Chichibu is a popular sightseeing region on the outskirts of Kanto with easy access from Tokyo. The deeply spiritual Chichibu is known for lush nature, local food, hot springs, historical sites, grand shrines, along with retro streetscapes imbued with the Taisho and Showa eras plus loads of festivals, including the famous Chichibu Night Festival (or Yomatsuri).

It is also the setting for the popular anime, Anohana: The Flower We Saw That Day, and has appeared in numerous other Japanese anime and commercials.
NIPPONIA Chichibu Monzenmachi main building
Within Chichibu is the NIPPONIA Chichibu Monzenmachi, a decentralized hotel made up of the MARUJU and KOIKE/MIYATANI buildings, each a 5-minute walk apart. The elegant buildings stand proudly amongst their surroundings, filling the heart with excitement.

The hanging "noren" curtains project a warm, welcoming ambiance, beckoning travelers to enter.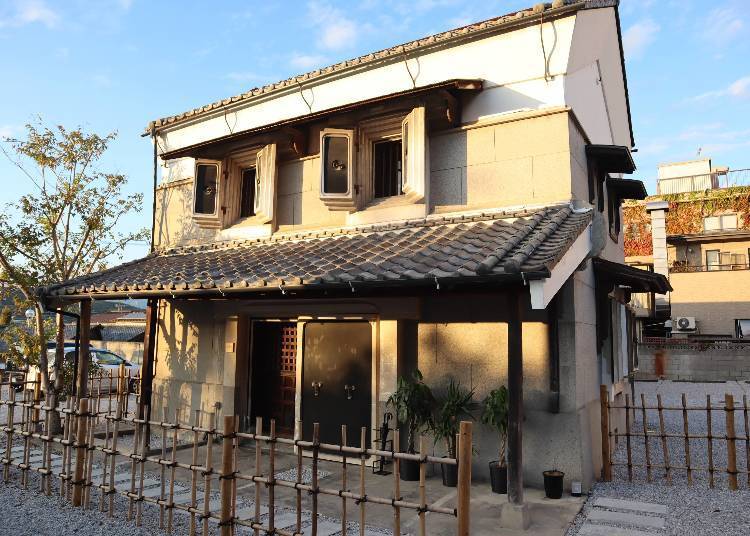 The MARUJU storehouse has been converted into a lovely place to stay
MARUJU, near Chichibu Shrine, was originally a home and storehouse built over 100 years ago and once used as a pharmacy. While brimming with traditional Japanese ambiance, the renovated interior is clean and refined.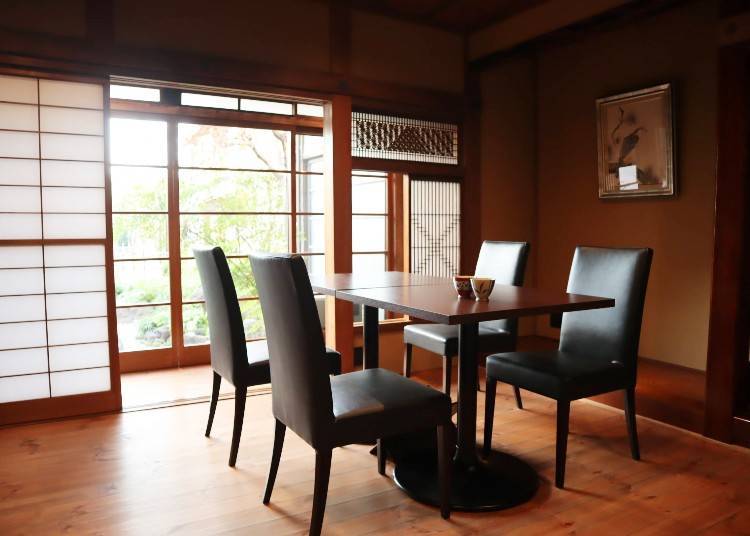 Reception, where you'll check in, and the restaurant where breakfast and dinner are served, are all in MARUJU. Even if you're staying in KOIKE/MIYATANI, you'll first need to come here.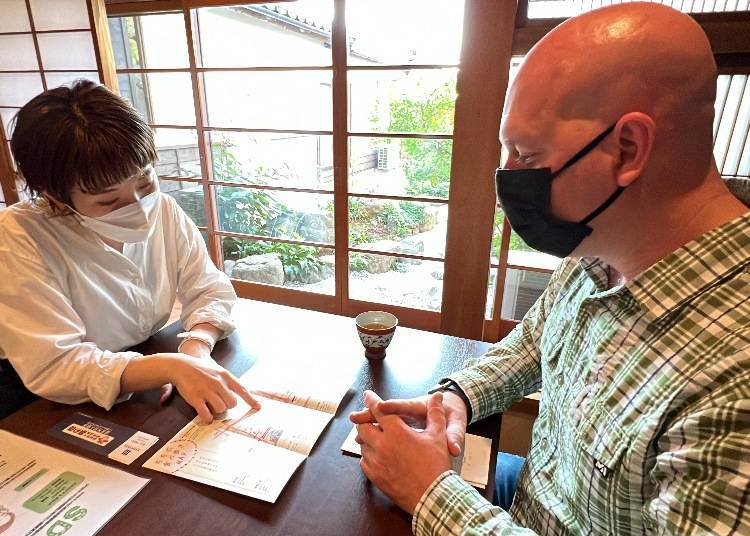 At MARUJU, the friendly staff will provide helpful information, such as hotel rules, after-dark contact numbers, recommended spots to visit in the area, and more.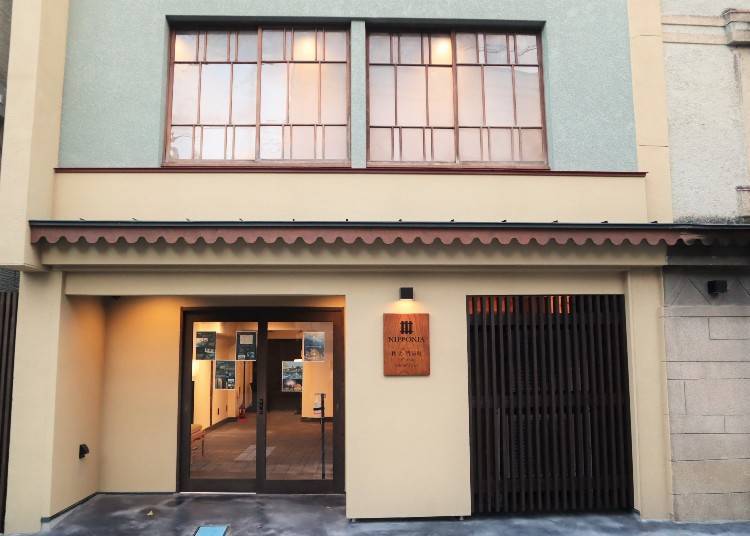 KOIKE/MIYATANI
KOIKE/MIYATANI, located in Banbamachi, uses a building that originally served as a tobacco and footwear shop.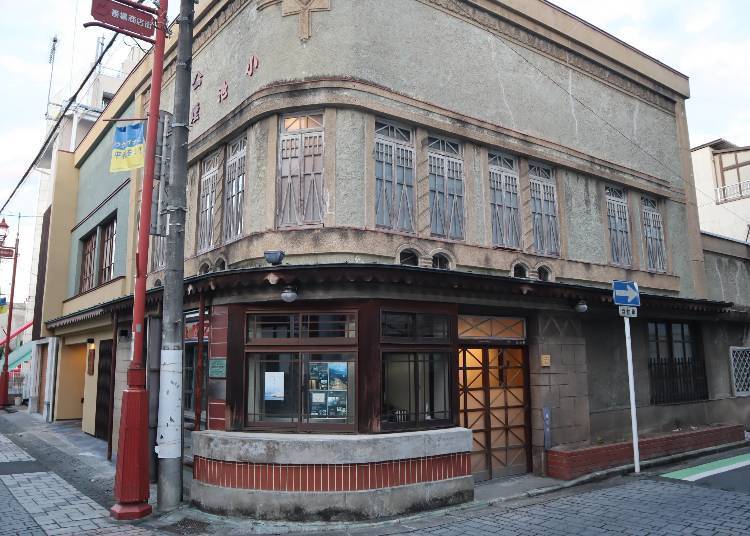 The Showa-esque, western-style facade is a Registered Tangible Cultural Heritage and is highly valued for its charming architecture.
Staying in MARUJU - the renovated storehouse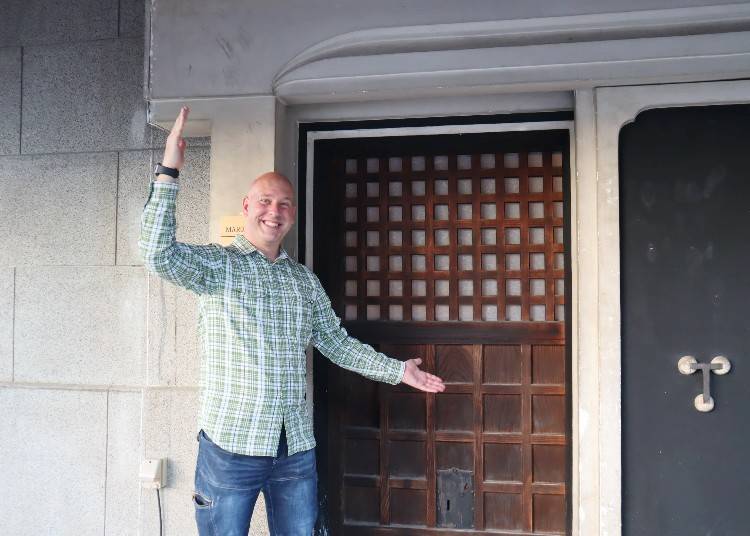 Entrance to the MARUJU building
Timothy, our American editor, spent the night in a guestroom made from a renovated storehouse in the MARUJU building. "This is the kind of building you'd usually see in Japanese films. It feels exciting to be able to spend the night inside!"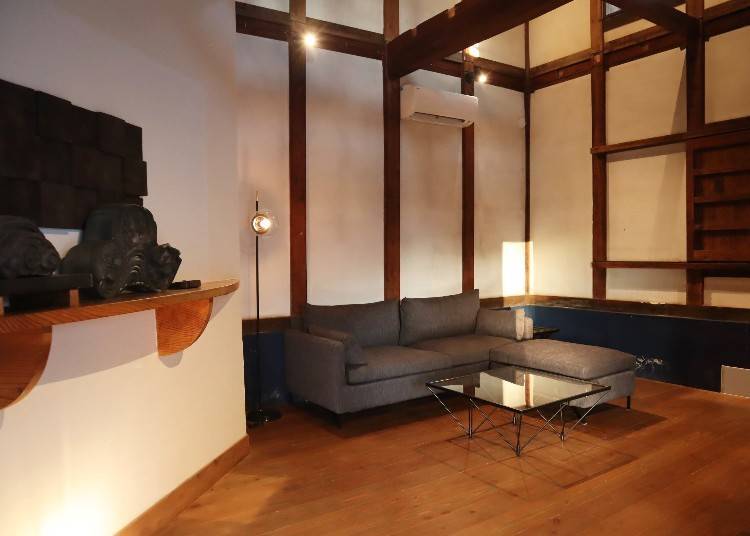 MARUJU building living room interior
The maisonette-style interior has a first-floor living room and second-floor bedroom. Wearing shoes inside is not allowed, so be sure to take them off before entering.
The open floor plan and huge support beams are exactly what you'd expect from a traditional storehouse.

Up from here is the bedroom. Absent are a television and clocks, encouraging guests to instead listen to the sounds and enjoy the flow of time in Chichibu, settling into the local way of life while letting go of hectic modern routines.

Surrounded by tranquility, this is a great place to relax after a day of sightseeing.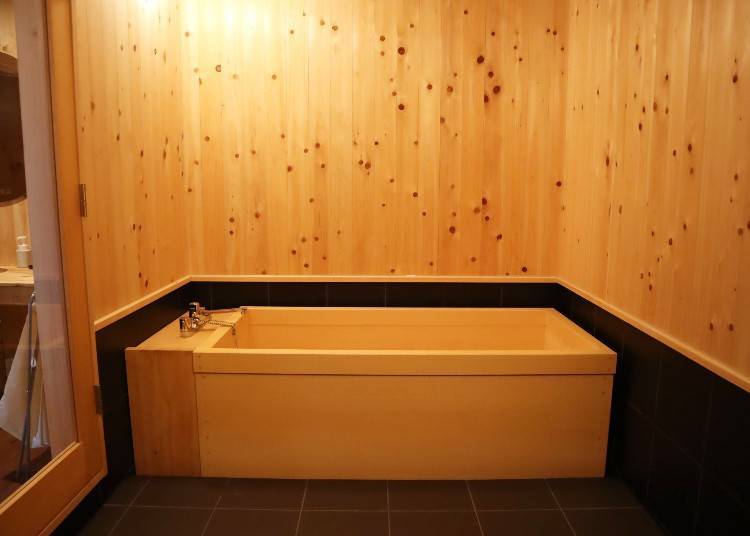 Beautiful hinoki cypress wood bathtub in the MARUJU building
While preserving the styles of the time, the guestrooms are clean, sleek, and user-friendly. Each has a private bath and toilet, with a spacious bathtub made of fragrant "hinoki" cypress wood to unwind leisurely.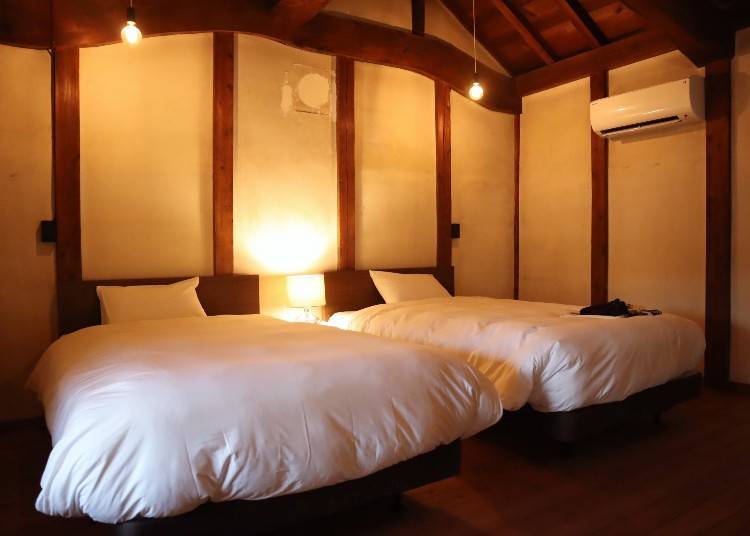 Comfortable bedroom in the MARUJU building
All guestrooms are fitted with semi-double, top-quality Simmons mattresses to facilitate deep, comfortable sleep. "The room was very quiet, with virtually no sound coming in from outside, and the bed was super comfortable. I felt so relaxed and peaceful and got a great night's sleep," Timothy said after spending the night.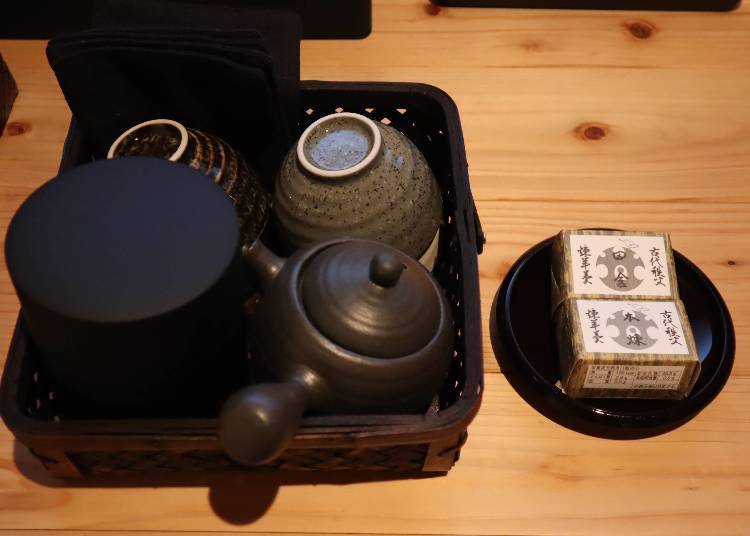 Famous Chichibu sweets and a Japanese-style "kyusu" kettle and "yunomi" cup are also laid out for guests, adding to the authenticity.
Each room has its own distinctive character, brimming with Japanese ambiance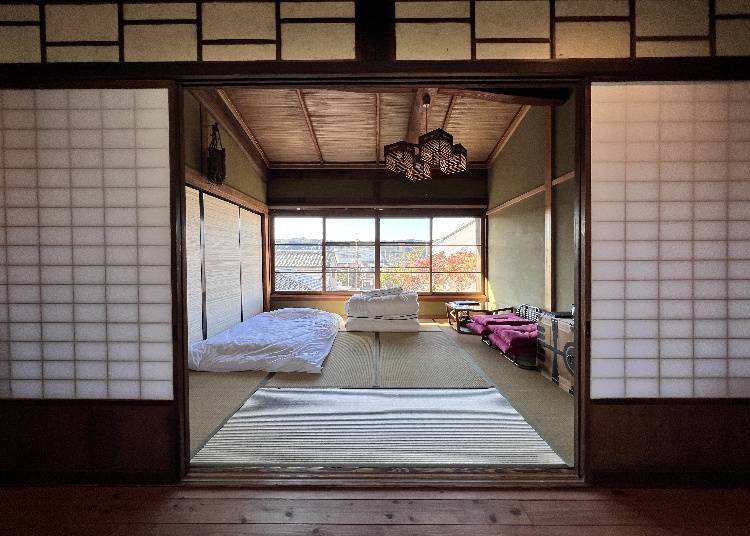 The interior of MARUJU Room 201
There are a total of eight rooms between MARUJU and KOIKE/MIYATANI, all utilizing the original structure and interior, giving them each a unique charm.

This is a "washitsu" tatami straw-matted room, upon which you'll roll out a futon and sleep on the floor for a genuine Japanese sleeping experience. Up to four guests can stay here, making it great for families.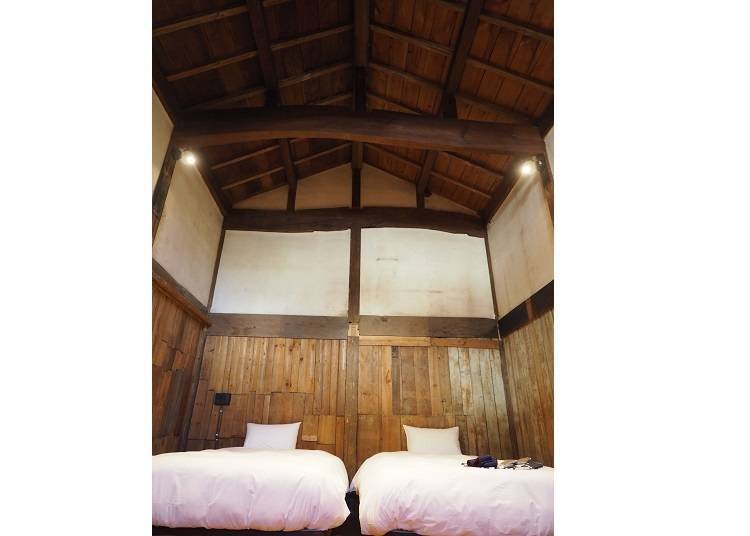 The interior of MARUJU Room 103
The five rooms of MARUJU brim with a profound, composed ambiance born from the 100 years of history. It's the perfect place for couples and families to relish the feeling of nostalgia while enjoying some downtime.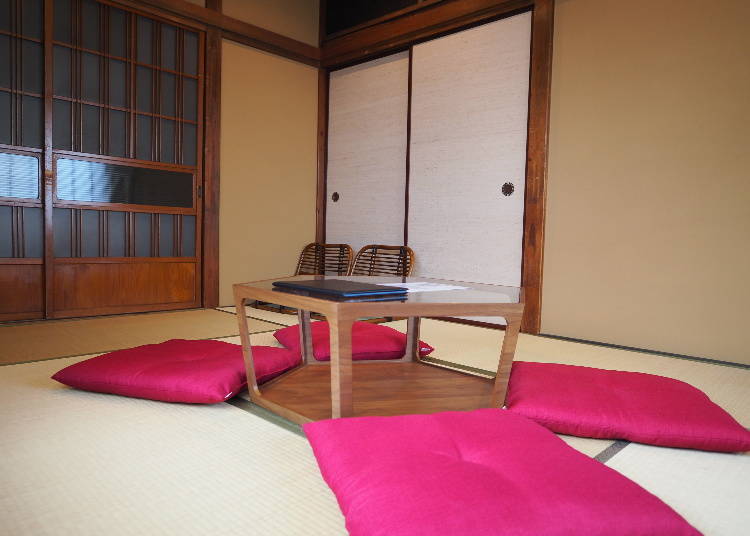 The interior of KOIKE/MIYATANI Room 202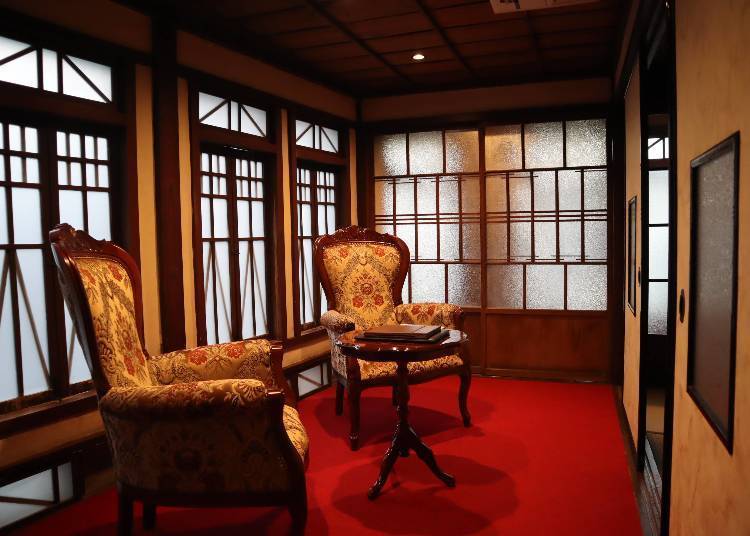 The interior of KOIKE/MIYATANI Room 203
KOIKE/MIYATANI presents a chic retro-modern atmosphere with fantastic furniture and interior design. This building is aimed at all kinds of travelers, especially those of a younger age. Spending an evening reading a historical novel in your room will make you feel like you've stepped back in time!
The hotel's own optional "Retro Chichibu Town Walking Tour"
Limited to overnight guests checking out on weekdays, this tour allows you to see the best of Chichibu's evocative streets with an expert guide. Departing from the hotel, you'll explore nearby attractions like Chichibu Shrine, Banba-dori Street, and Dangozaka.
・Duration: 1 hour, 2,200 yen/person
・English, Taiwanese, and other language guidance also available
・Reservations required in advance.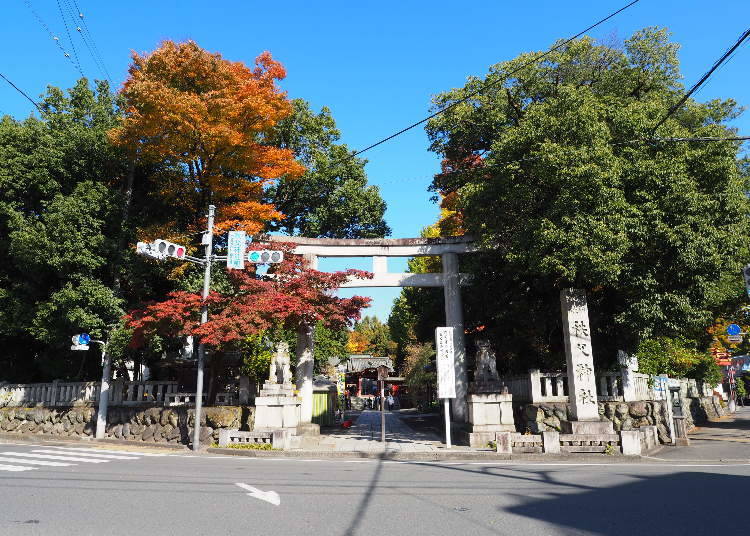 Arguably the most famous site in Chichibu is Chichibu Shrine, which, together with Mitsumine Shrine and Hodosan Shrine, make up the Three Shrines of Chichibu, considered one of the most spiritual areas of the entire Kanto region.

The beloved Chichibu Shrine festival, called the Chichibu Yomatsuri (or Chichibu Night Festival), is registered as a UNESCO Intangible Cultural Heritage.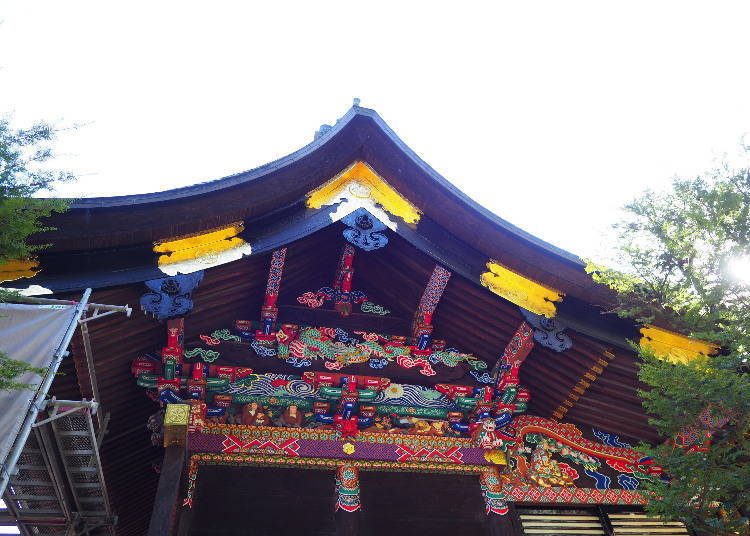 The extravagant "gongen-zukuri" style main shrine building is adorned by dazzling carvings, earning it recognition as a Prefectural Important Cultural Property.

When we visited in November 2022, part of the complex was under renovation; however, you can still admire and appreciate plenty of the fine, intricate, and colorful carvings. Said to have over 2,000 years of history, simply basking in its glory is enough to calm the heart and cleanse the spirit.
The relaxing "Matsuri no Yu" Plan (Hot Springs Area)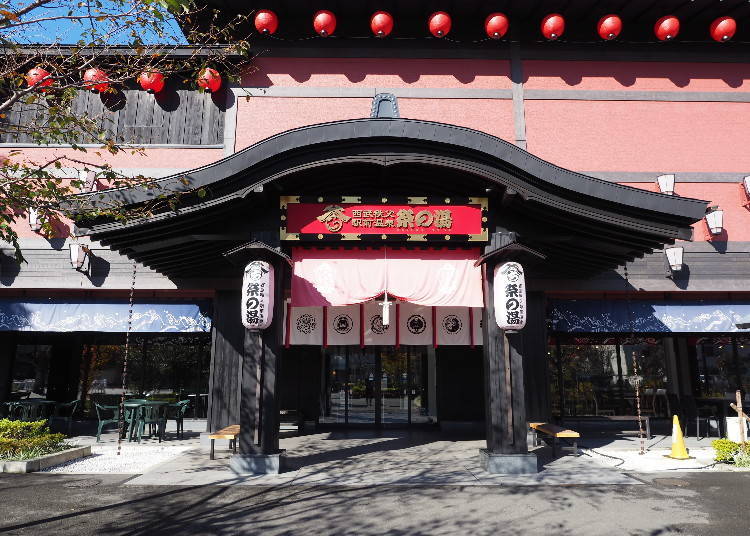 While the hotel's cypress bath is a delight, a trip to Chichibu without experiencing its famous hot springs is a waste!

Thankfully, guests at the NIPPONIA Chichibu Monzenmachi will receive a free ticket to Matsuri no Yu, a festival-themed hot spring complex connected directly to Seibu-Chichibu Station.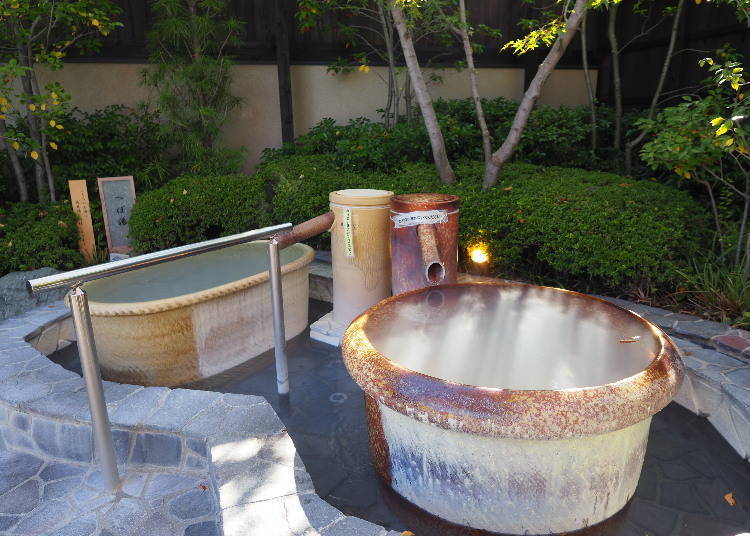 Here you can try out a number of bathing styles, from silk baths, single-person barrel bathtubs, bedrock baths, and more. On weekends and public holidays, you can also use the ticket for morning bathing (6:00 a.m. - 9:00 a.m.)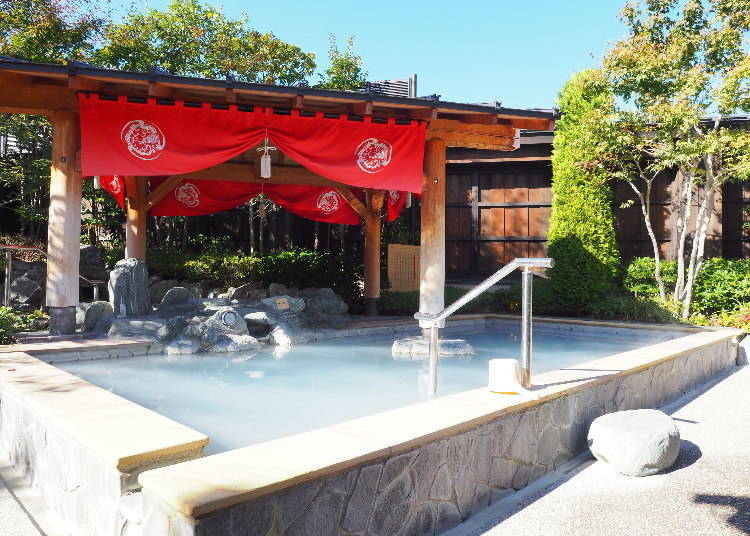 The open-air hot spring "Hanami-yu" is a designer artificial hot spring bath that regularly changes its theme.

As of the time of writing, the water is dyed pink to represent the foothills of Mount Buko covered in "shibazakura" moss phlox, a symbol of spring in Chichibu. With blue skies during the day and starry skies at night, you can enjoy the charm of Chichibu without moving a muscle.

While there is generally no English-speaking staff on duty, guests can easily use English-language pamphlets to guide them through the facility. Keep in mind that those with tattoos cannot enter.
Chichibu French: Course cuisine using local ingredients!
NIPPONIA Chichibu Monzenmachi's Restaurant MARUJU serves spectacular dishes designed by Chef Sakura Akimoto from the renowned French bistro "morceau" in Hibiya, Tokyo. Utilizing local produce, Restaurant MARUJU serves course meals based on the concept of "Chichibu French."

These one-of-a-kind, highly-polished creations will make your five senses sing, earning the restaurant a stellar reputation from day one.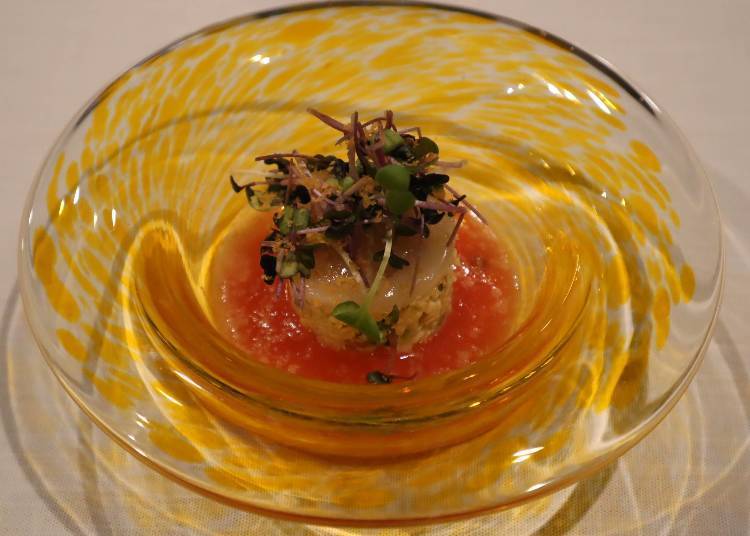 To indulge in the goodness of Chichibu from the first bite, a specialty dish of Chichibu vegetables and local miso paste arranged in a bowl crafted by a local glass artisan is served first. The refreshing cucumber, apple, and celery are well-matched for the subtle zest of the sauce, shaping an elaborate balance that feels perfectly calculated.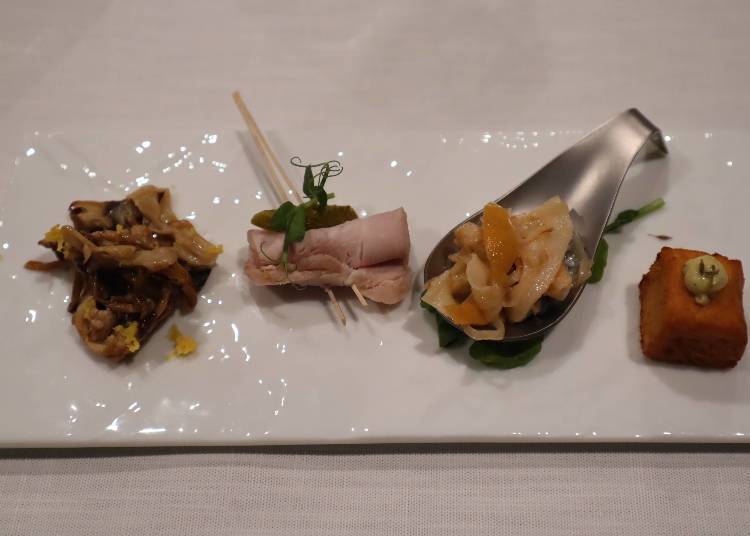 The second serving is a platter of appetizers built from famous Chichibu vegetables with ham made of the highly-coveted local Bushu Pork, and more.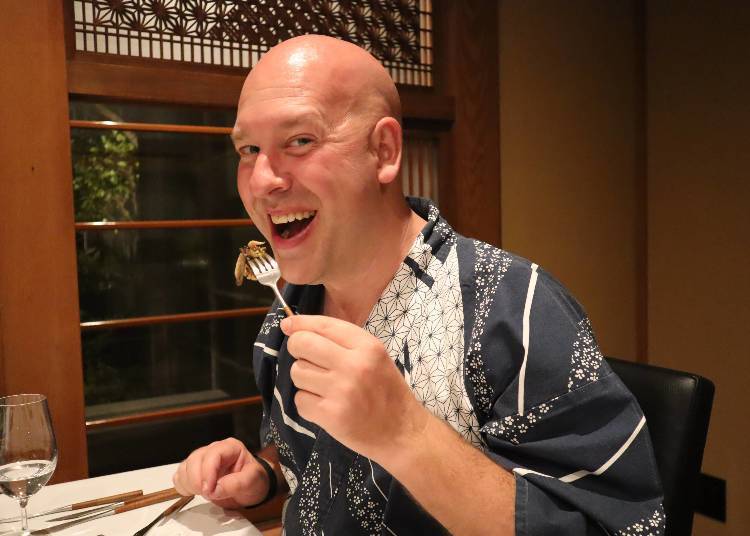 Traditional yukata kimonos are placed in each guestroom, which Timothy donned with a smile. "Sure, you can always enjoy dinner in your regular clothes, but there's something so gratifying about wearing traditional Japanese clothing, then sitting down for your meal. It's a wonderful way of enjoying your Japan experience."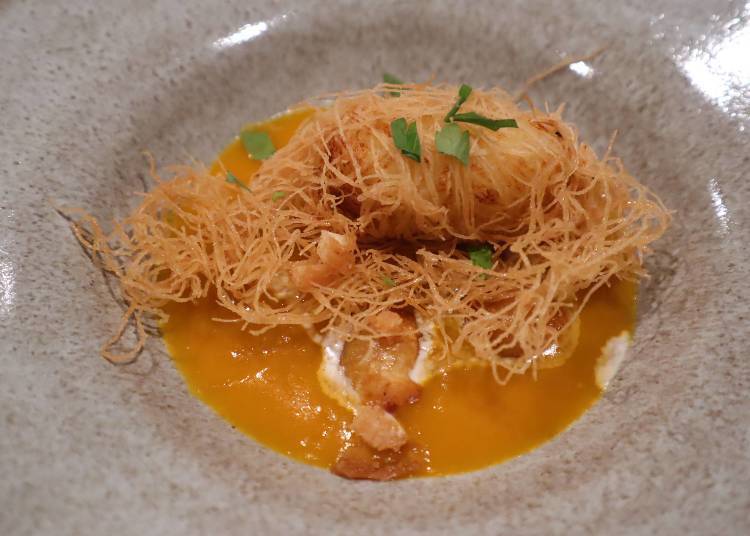 The third course is a pottage made with pumpkin grown in Chichibu.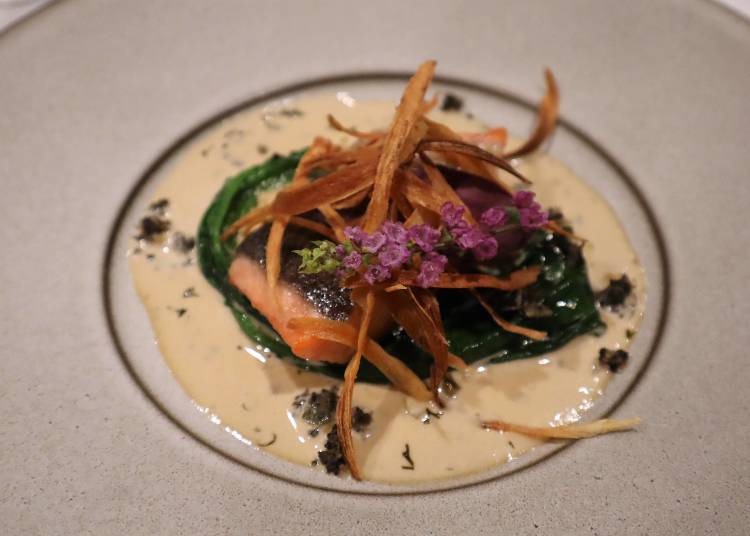 The following fish dish consists of seasonal autumn trout with a helping of Chichibu's specialty shakushi-sai bok choy layered underneath.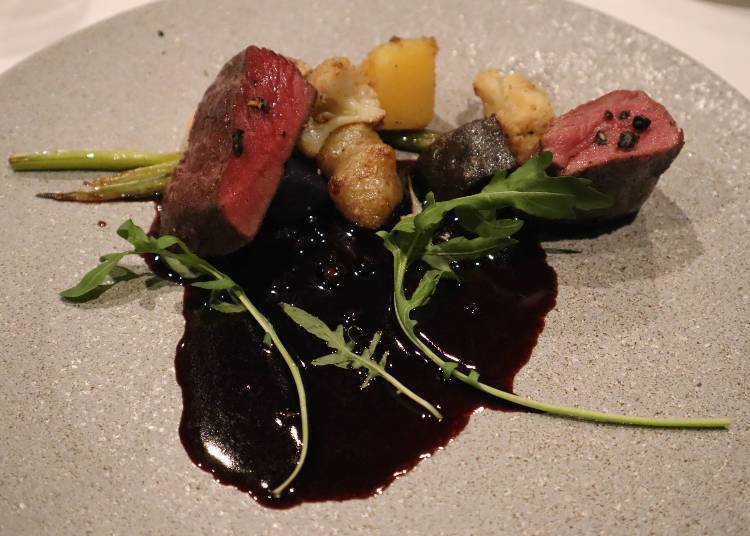 The main dish is venison rôtir (a method where food is roasted at high temperatures in an oven), dressed with Chichibu vegetables. Within the abundant wilderness of Chichibu, wild game is a treat to be savored, and Restaurant MARUJU is particularly well regarded for its venison.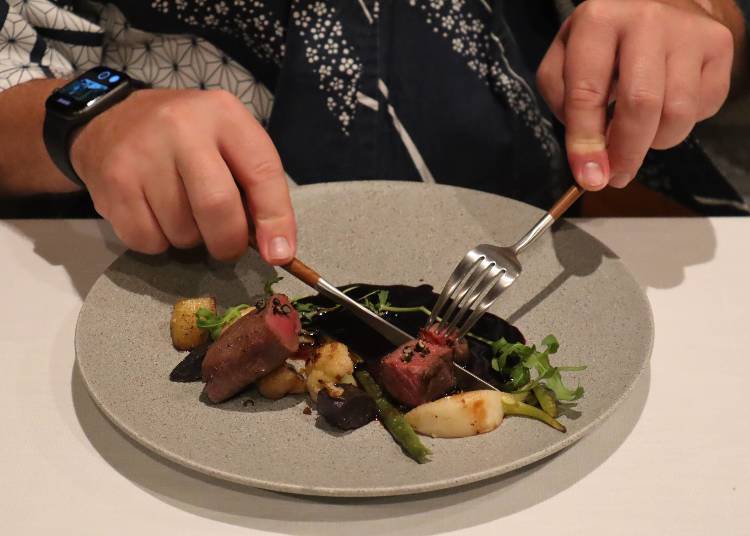 The knife effortlessly slides into the tender, juicy, rare-roasted venison meat, giving the palate utter bliss. Even just looking at the pictures is enough to whet the appetite!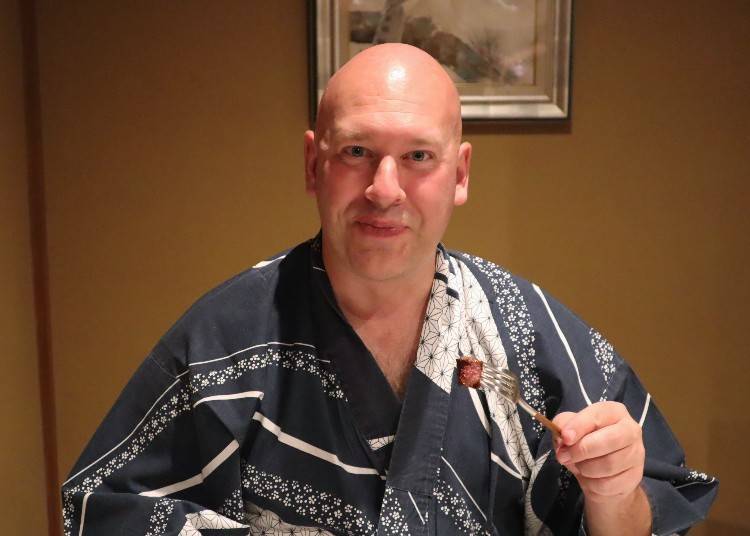 Timothy is enraptured. "The venison is wonderfully soft and tastes magnificent."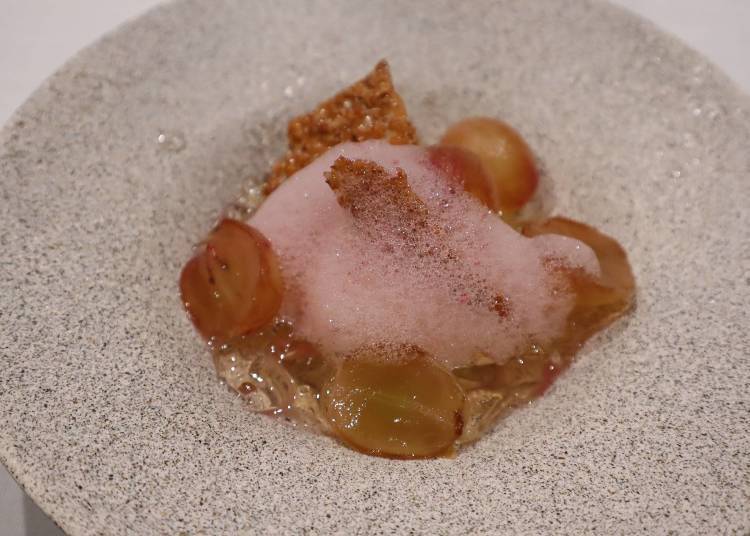 Dessert is a crémet d'Anjou, which resembles a cheesecake made of cheese from a local producer with Chichibu grapes. The juicy grapes, refreshing jelly, and rich cheese cream offer an invigorating end to the course.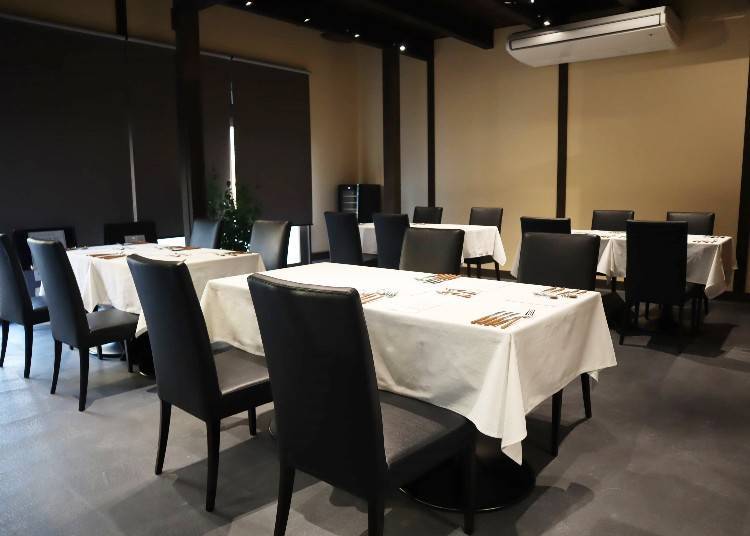 Each dish served at Restaurant MARUJU abounds with the essence of Chichibu, delicately arranged to yield gentle, nuanced flavors sure to please the stomach and heart. In addition to relishing the food, we also recommend enjoying some sake pairings.

Incidentally, Restaurant MARUJU can also be booked by non-guests as well, with reservations required at least five days in advance.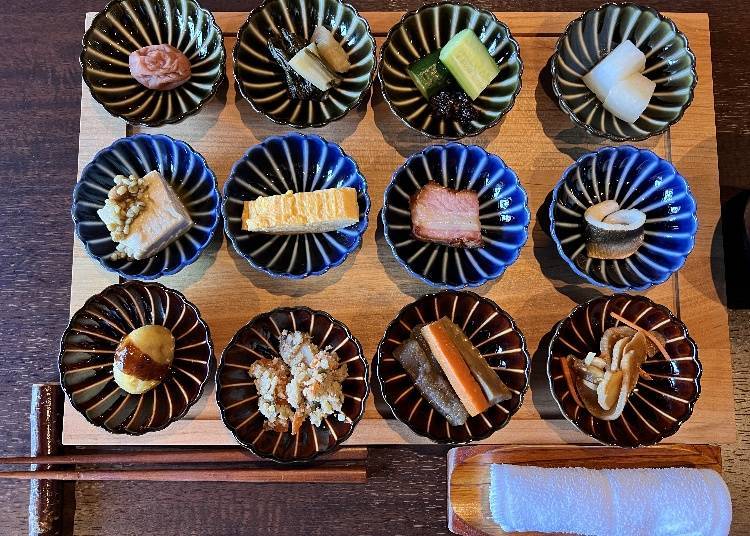 Breakfast likewise consists of locally-sourced vegetables, eggs, river fish like ayu sweetfish, and regional miso and umeboshi, further delving into the Chichibu palate. With ample variety, following up the French dinner with a nutritious Japanese set breakfast will get you energized for the day!
Chichibu - A Trip to Recharge and Relax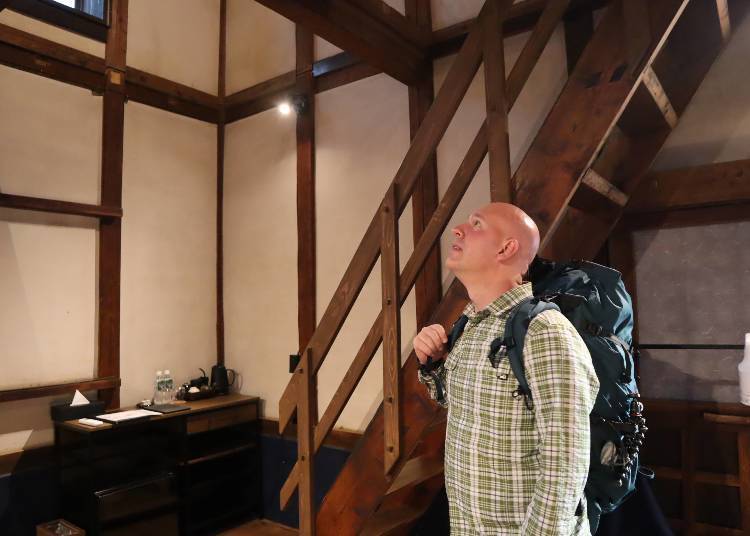 After spending the night at NIPPONIA Chichibu Monzenmachi, Timothy shared with us his final impressions.

"The old-style exterior felt authentic and historical, while the inside was polished, elegant, and fitted with all sorts of tasteful furnishings. Staying at such a historical site brought the essence of Japan close by, making me feel both elevated and relaxed. Plus, the staff were extremely friendly, welcoming me in and explaining everything with care. It felt less like a 'hotel' and more like a 'home.' I was also impressed with the experiences, sightseeing, and people I encountered, letting me feel a part of this amazing community."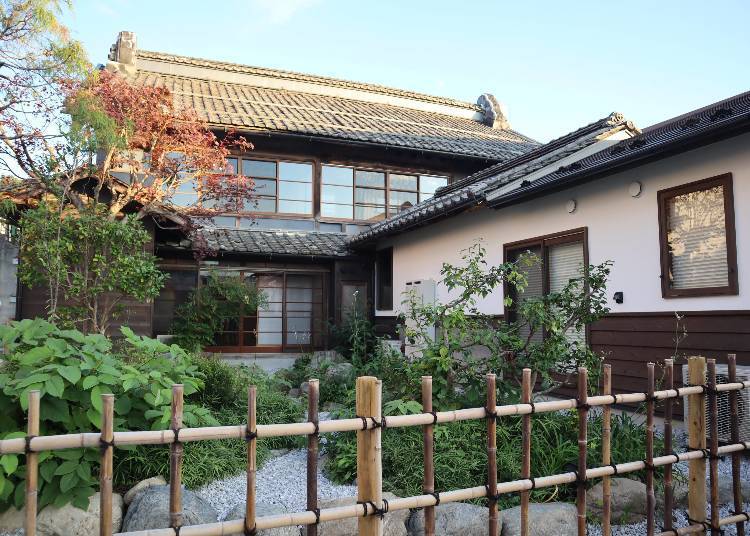 Soaking in hot springs, gorging on wholesome local cuisine, resting in homely rooms, and touring hubs of spirituality - these are all quintessential elements of a trip to Chichibu.

There's also plenty more we didn't cover, such as downriver boat cruises and rafting, plus hiking and other outdoor activities deep amongst the wilderness, making Chichibu an excellent destination for adventurous travelers too!

Stay at the NIPPONIA Chichibu Monzenmachi to heal and unwind, and let your spirit roam free in the grand splendor of Chichibu!
Facility Information
Multilingual support

Japanese (Through an interpretation app, can support multiple languages)
Health & safety measures

・Sanitizer available
・Disinfected after each guest
・Ventilation measures taken
・Plastic partitions installed
・Staff wear masks, gargle, wash hands regularly, and monitor body temperature
・Capacity limited/increased space between seats
・Admission restricted; reservations advised
・Entry declined to anyone feeling unwell
・Masks requested/temperature check enforced
・Restrictions on room service (entry) for staff
Hotel Info

・Rooms: 8
・Hours: Check-in from 3:00 p.m. - 9:00 p.m. / Check-out at 11:00 a.m.
*If dinner is included in your plan, check in must be completed before 7.00 p.m.
・Front desk hours: 7:00 a.m. - 9:00 p.m. (everyday)
・Rate: From 13,000 yen per person, per room (at the lowest price)
*Rates change regularly
Address

17-5 Miyakawa-cho, Chichibu, Saitama, 368-0046
View Map

Nearest Station

Chichibu Station (Chichibu Railway)
8 minutes on foot


Vacancy search, reservation

from

37,300JPY

1room, 2adults

Check with our partner site as the latest rates, rate details, and guest room requirements may vary.
Written by:
*This information is from the time of this article's publication.
*Prices and options mentioned are subject to change.
*Unless stated otherwise, all prices include tax.