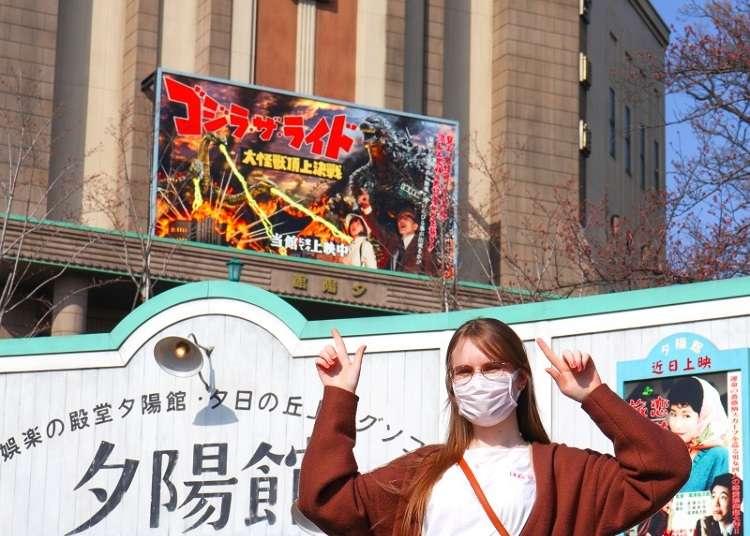 Seibuen Amusement Park, located in Tokorozawa, Saitama, reopened after renovations in spring 2021. Brimming with the vibe of 1960s Japan, the park is packed with exciting attractions and experiences, including the mega-popular Godzilla ride.

For this article, the LIVE JAPAN team visited Seibuen to discover what there is to do, ride, eat, and buy!
Seibuen Amusement Park: The Spirit of 1960s Showa Japan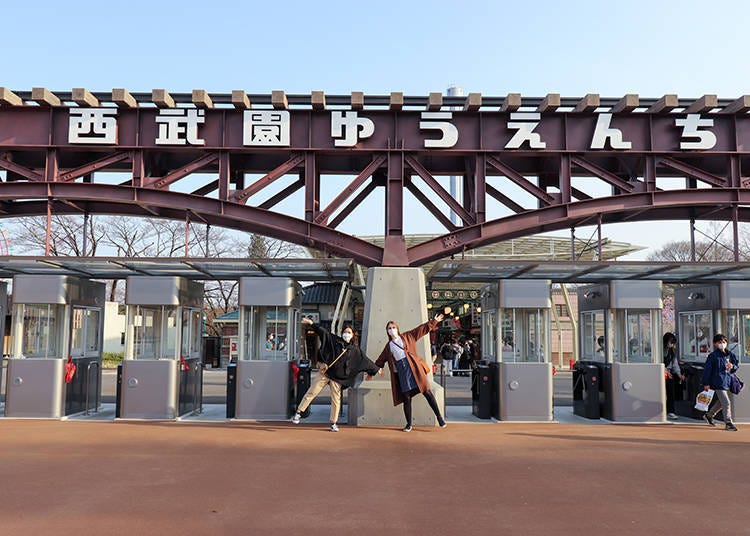 Seibuen Amusement Park is a retro theme park in Tokorozawa, Saitama Prefecture. The closest station is Seibuen-Yuenchi Station on the Seibu Railway and Yamaguchi Line, making it easily accessible in one hour from major stations in Tokyo.

After getting off at the station, the entrance of Seibuen appeared before us. For this article, we sent LIVE JAPAN editors M and B.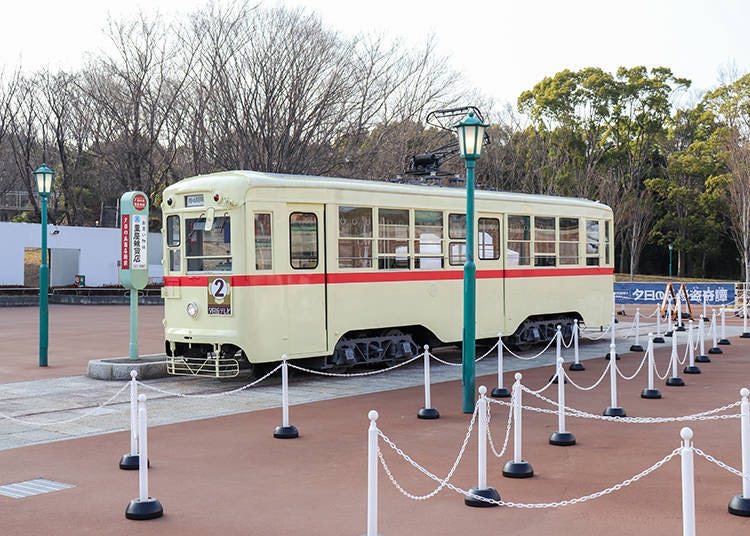 Seibuen Amusement Park was built on the concept of a world filled with warmth and happiness, and features buildings, attractions, shows, and gourmet foods that evoke the passion, vitality, and energy of the Showa period in the 1960s. As if testament to this, a retro train marks the main entrance.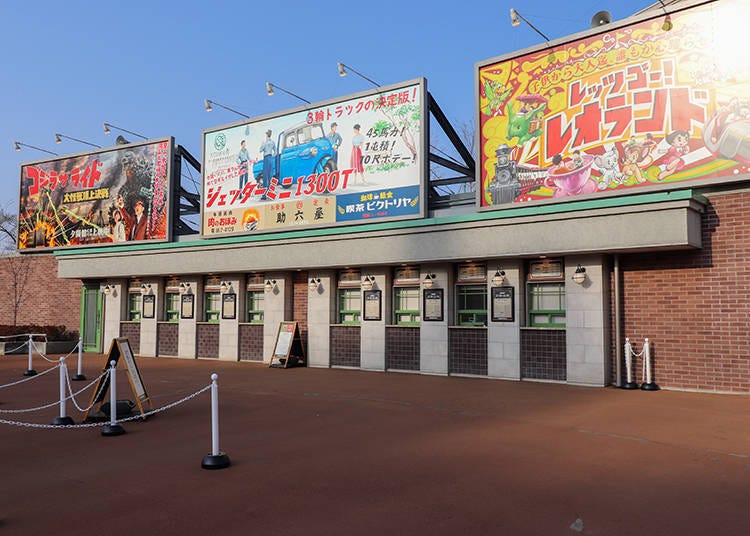 The park attractions can be enjoyed with the "One-Day Leisure Ticket" or "Discount One-Day Leisure Pack." To dine and shop, you'll also need the park's special currency, called the "Seibuen Tsuka," which can be purchased within the park or beforehand.

The One-Day Leisure Ticket is 4,400 yen for adults and 3,300 yen for children. The Discount One-Day Leisure Pack is 9,500 yen for adults and 8,500 yen for children, and includes 5,400 yen worth of Seibuen Tsuka (= 450 seibuen), saving 300 yen for adults and 200 yen for children.
Sunset Hill Shopping Street: Food, Shopping, and Shows!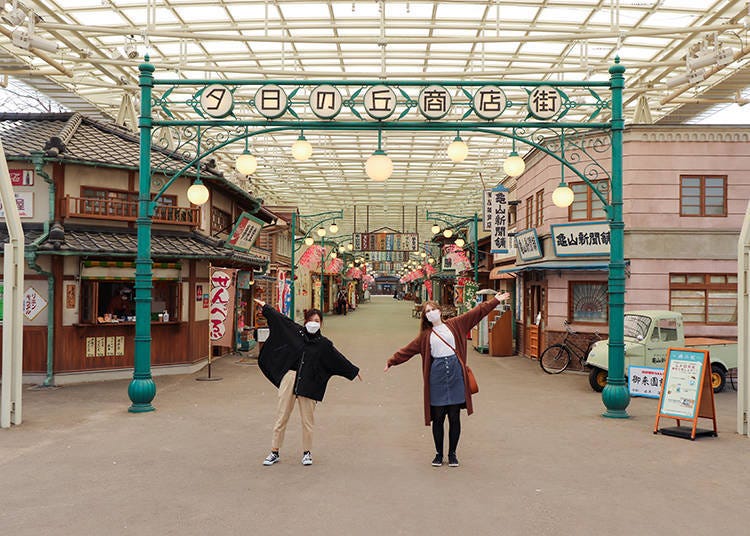 The first place you'll encounter is "Sunset Hill Shopping Street." This lively main street hosts several performances during the day, along with plenty to eat and buy.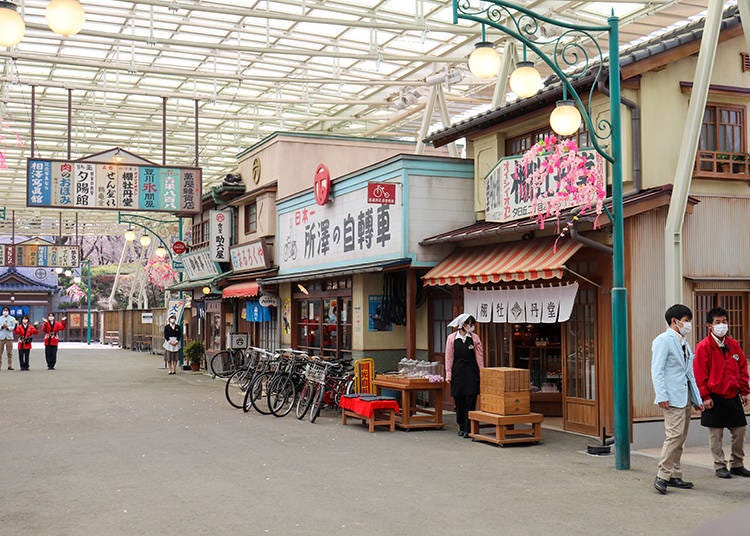 Sunset Hill preserves the rustic charm of 1960s Showa Era Japan and has plenty of shops putting on funny and fascinating shows. Slowly making your way down the street and checking out what each has on offer is endless fun, and you'll be able to snap loads of dynamic retro photos.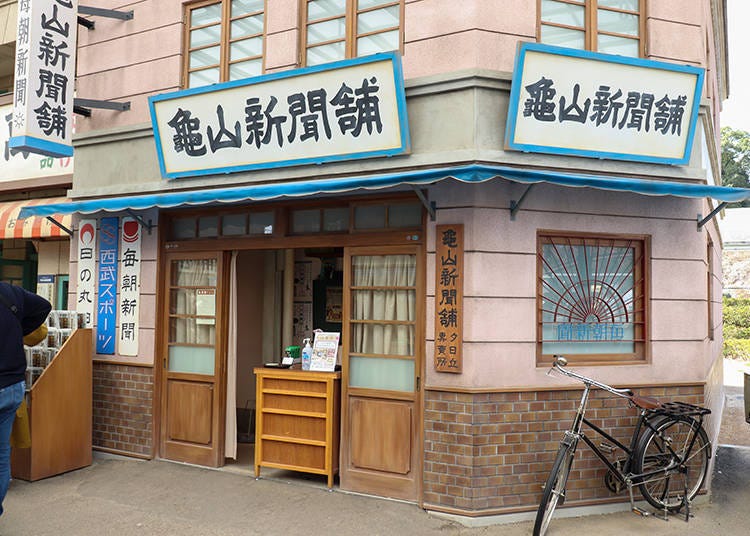 First, let's get ourselves a Seibuen Amusement Park map from the Kameyama News Agent.
The 8-page Sunset Hill Newspaper is designed to resemble a real newspaper from the period. In addition to the park map, the newspaper also has information about attractions, shows, food, and more, making it the first thing you should seek out after entering.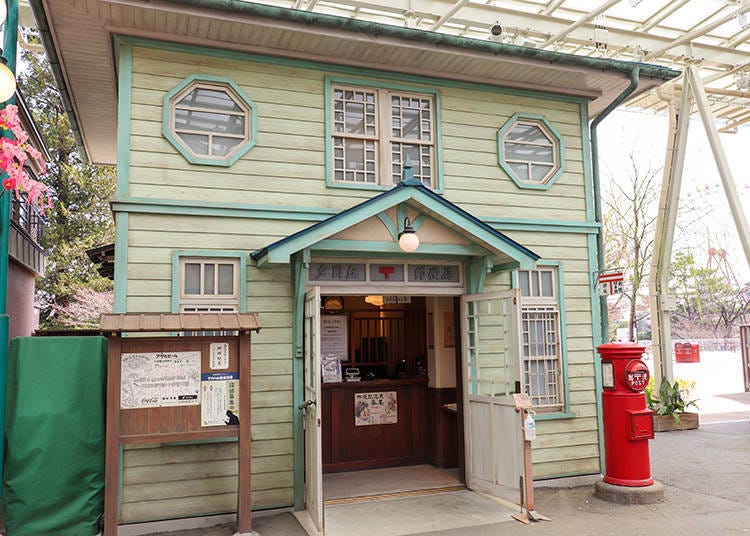 You can also buy the local Seibuen Tsuka currency at the Post Office.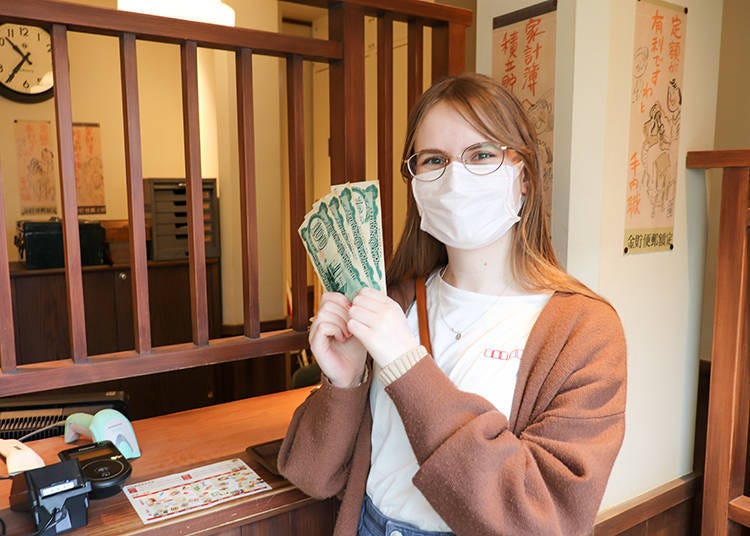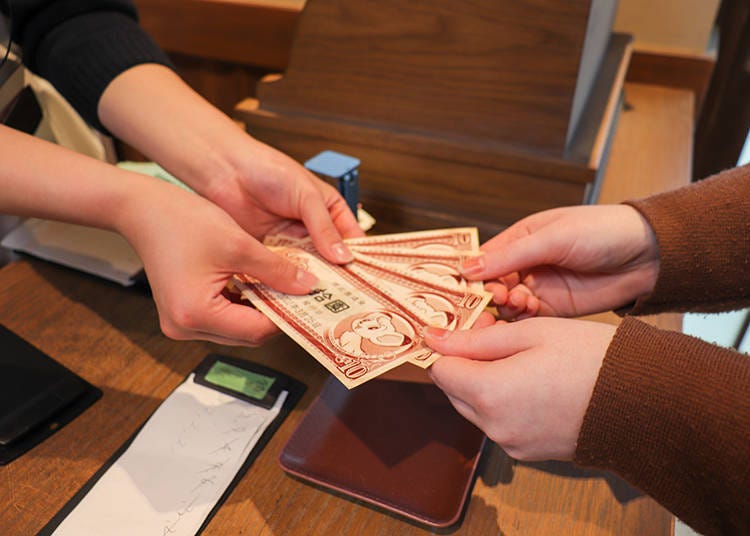 ©TEZUKA PRODUCTIONS
Visitors can exchange 600 yen for 50 "seibuen" worth of Seibuen Tsuka. Exchanges start at 10 seibuen for 120 yen. Seibuen Tsuka is only valid for the date it was printed and cannot be refunded, so take care not to over-purchase.

If you run out of currency, then payments can be made at several stores via credit card or cashless payment.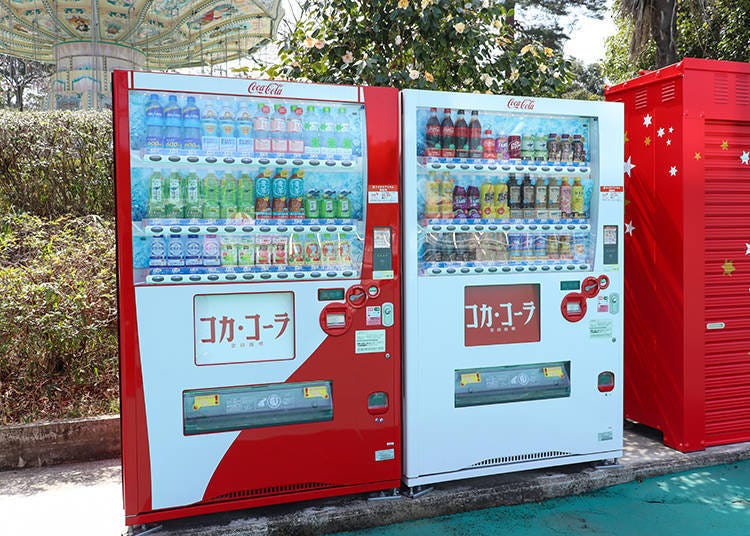 There are also vending machines dotting the park that accept regular cash.
Godzilla the Ride: Giant Monsters Ultimate Battle - Maximum Thrills With Realistic Visuals and Audio!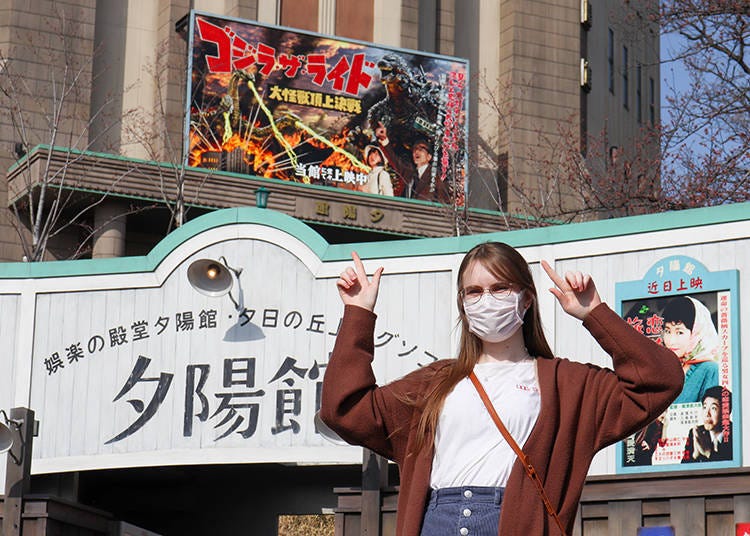 TM & © TOHO CO.,LTD.
After picking up some Seibuen Tsuka and the newspaper map, we made a bee-line for the park's most popular attraction - Godzilla the Ride: Giant Monsters Ultimate Battle!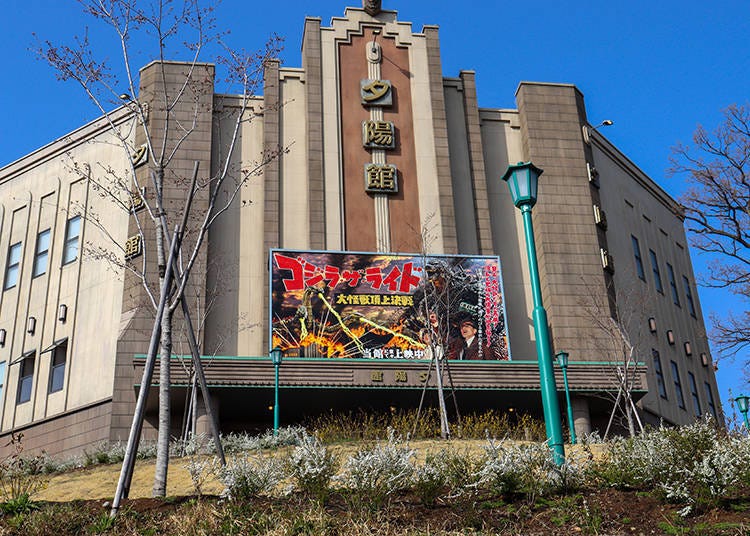 TM & © TOHO CO.,LTD.
Godzilla the Ride: Giant Monsters Ultimate Battle is inside the "Yuhikan," which towers over an area left of the main entrance with an interior like an old-school cinema. The posters adorning the walls resemble classic Japanese films, faithfully recreating the look of the time.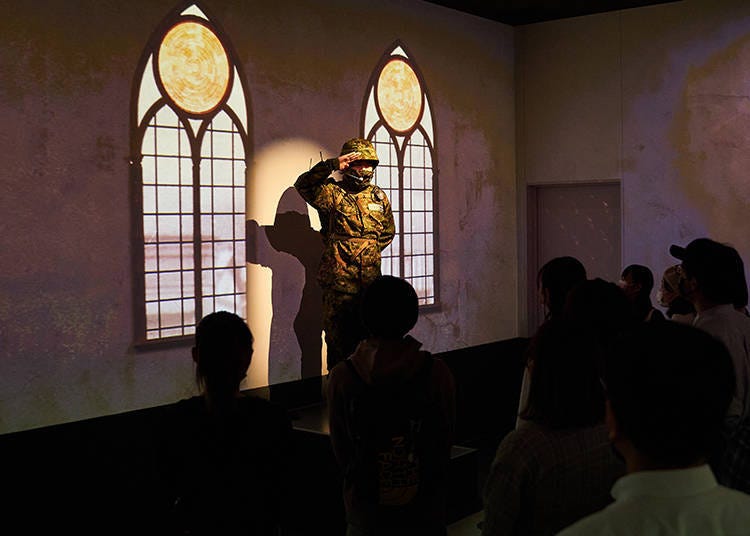 We gathered in one room as a member of the "defense force" appeared.

What awaited was an overwhelmingly riveting experience! Godzilla and King Ghidorah appeared and engaged in a fierce battle over the city of Tokyo. The thrill of seeking safety and escaping the wreckage felt almost too real!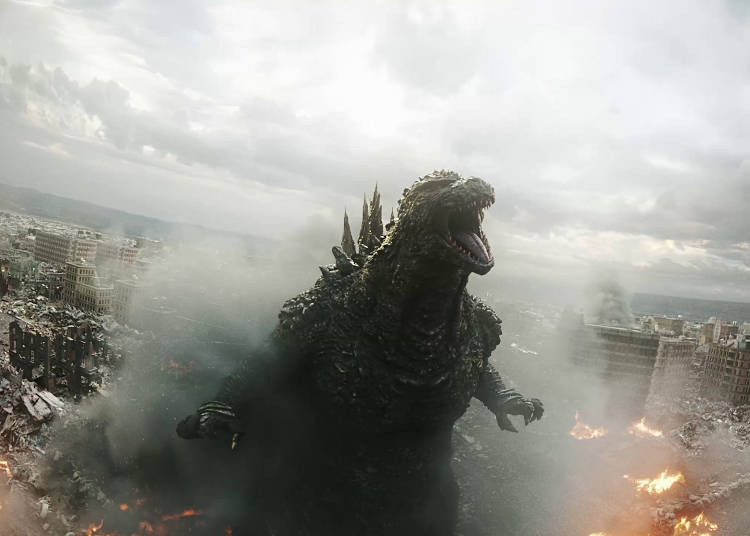 TM & © TOHO CO.,LTD.
This Godzilla is a brand new rendition created specifically for the show. Made from a 3DCG model with around 380 million polygons, loads more than conventional film, details like skin texture and more appear in extraordinary detail. There's truly no better render of Godzilla in the world than this!

We were overcome by the incredible realism and storm of sounds that shook our bodies to their core. The sheer scale and quality will undoubtedly unnerve even the most stoic among us.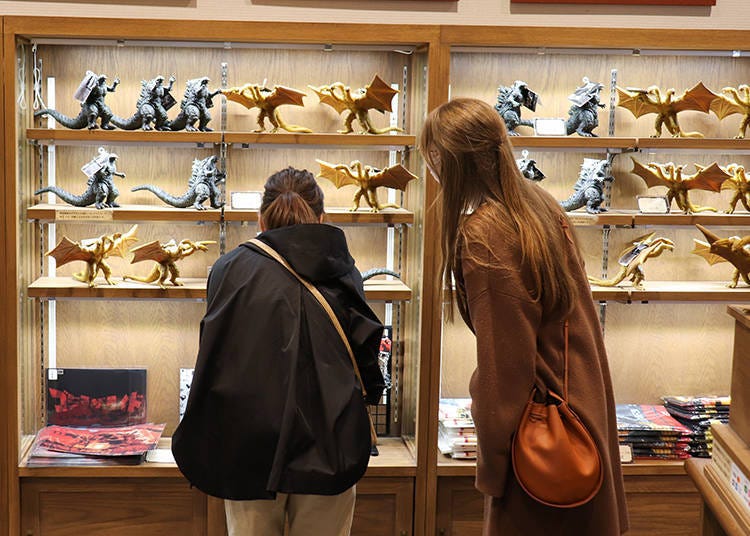 Also in Yuhikan is the Kinema Store, which sells Godzilla goods like figurines, shirts, keyholders, and more. Slowly browsing will surely calm the nerves after the show!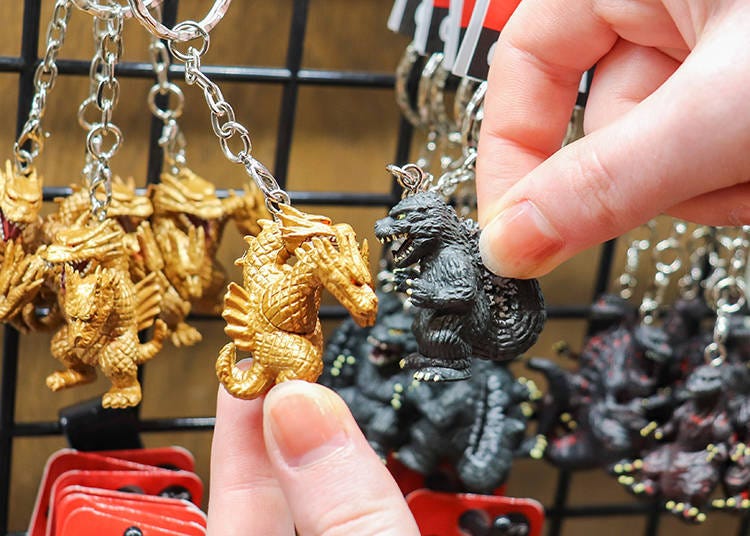 TM & © TOHO CO.,LTD.
B recreates the battle between Godzilla and King Ghidorah using keyholders.
Entertainment Shows: Sing, Dance, and Smile!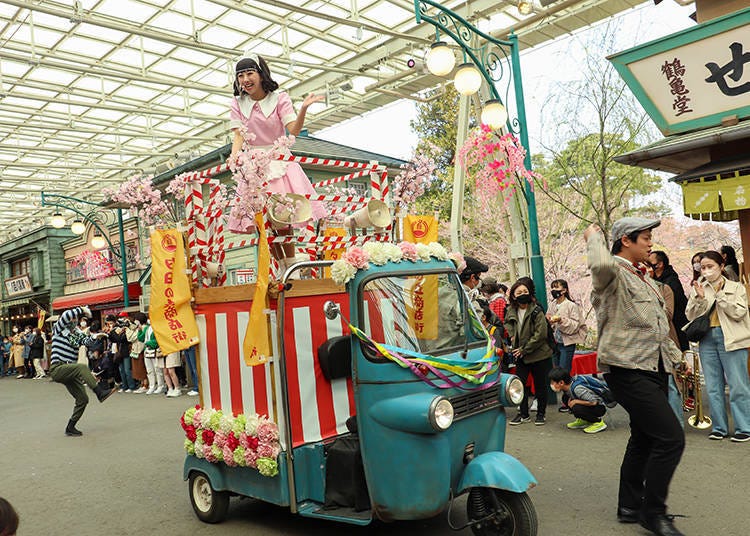 Sunset Hill Shopping Street hosts a multitude of unique performances by local "residents." You won't be able to take your eyes off the unexpected developments that happen one after another!

Live performances spontaneously happen in all corners of the park. The most jovial of the lot is the "Boogie‐Woogie Festival," which runs daily at noon for 15 minutes.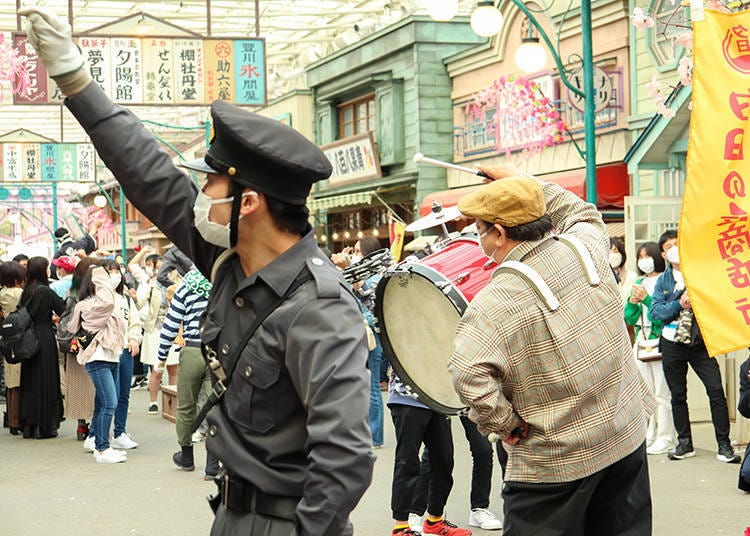 Guests are welcome to join in singing and dancing!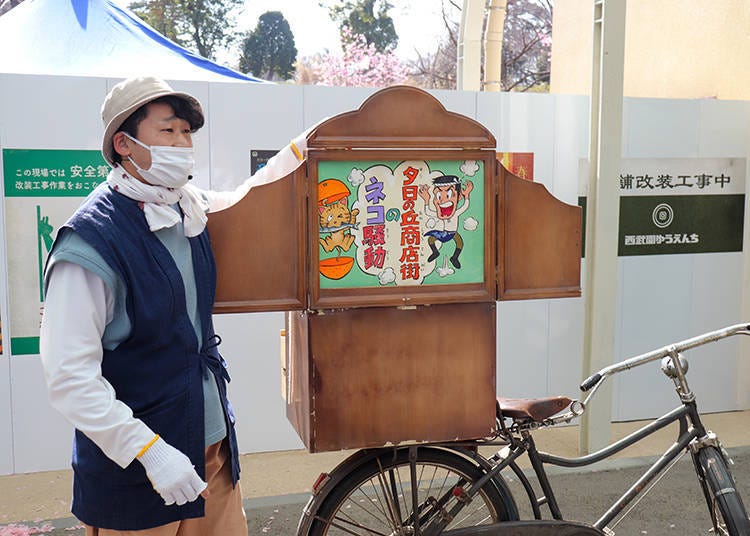 There is also the "Bizarre Kamishibai," "Chindon Band," "Greengrocers Bargain Sale," "Ukiuki Recital" at the record shop, and "Radio Calisthenics" at the police box. Each showcases a different element of 1960s Japan.
Sukerokuya Food Hall - Perfect for Lunch!
Before we knew it, lunchtime had come! Being the Seibuen Amusement Park, it was only natural that lunch would have retro vibes. The Sukerokuya Food Hall, on Sunset Hill Shopping Street, boasts a hefty menu of classic Japanese dishes making for satisfying, hearty lunches.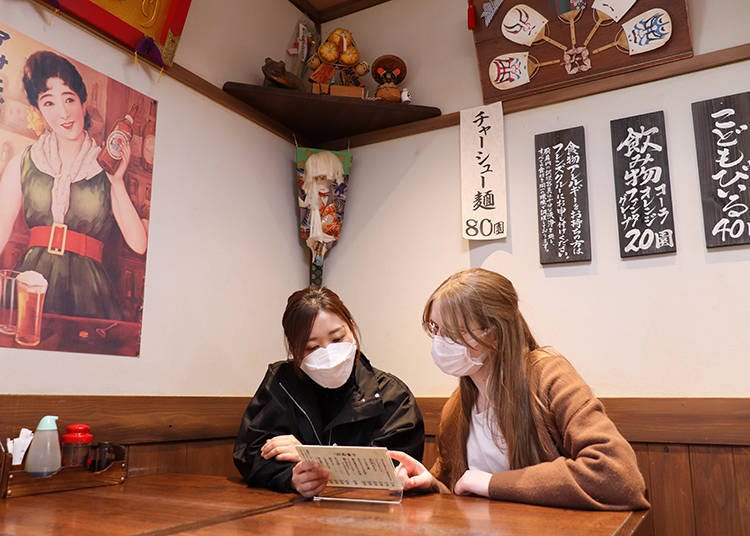 Dishes include rice curry, soba, omurice, katsu, and ginger pork sets, with bottled beer to wash it all down.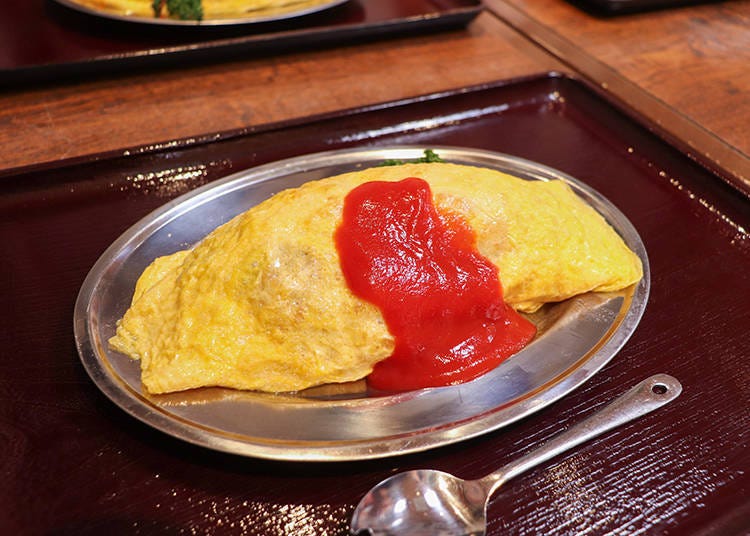 Unsure of what to order, our two editors asked the staff for a recommendation, which was "omurice" (90 seibuen). It's crafted from rigorously selected ingredients with fried chicken rice cooked to perfection.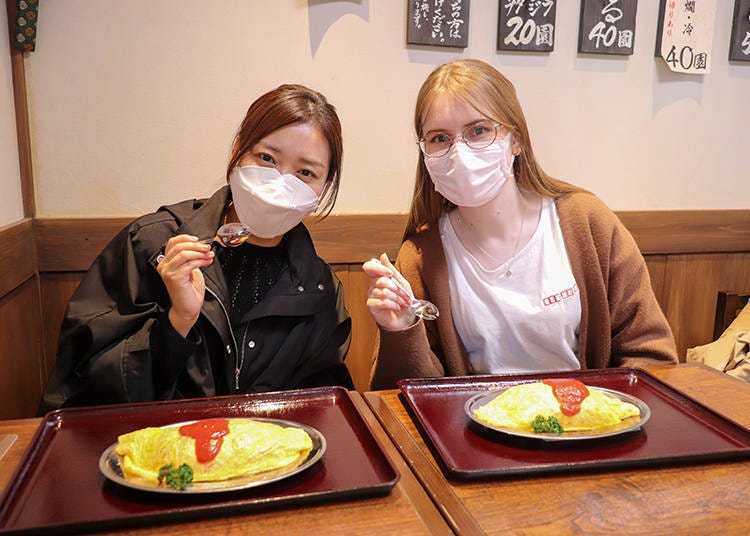 Let's take a bite!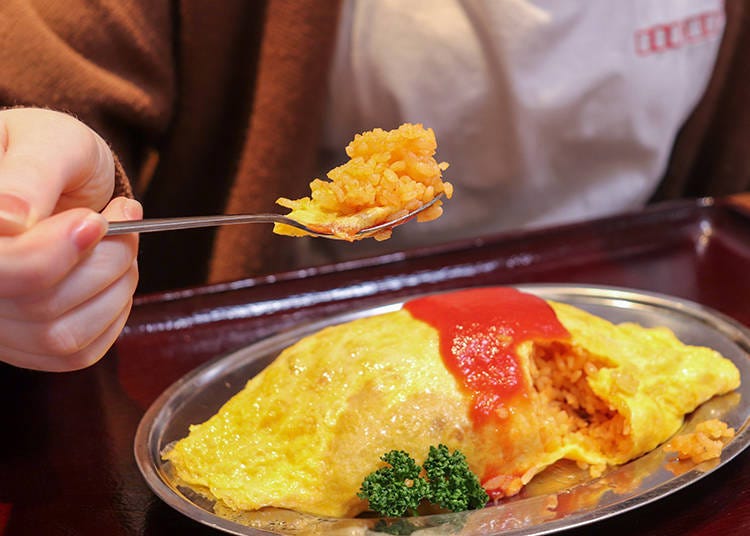 The chicken rice had a subtle ketchup flavor, with a light taste that was not too rich. The egg on top was thin and well cooked. "Most omelets these days are fluffy and thick, so I feel like I haven't had this style in a long time," said M as B nodded along.
Kissa Victoria: Great for a Rest and Bite to Eat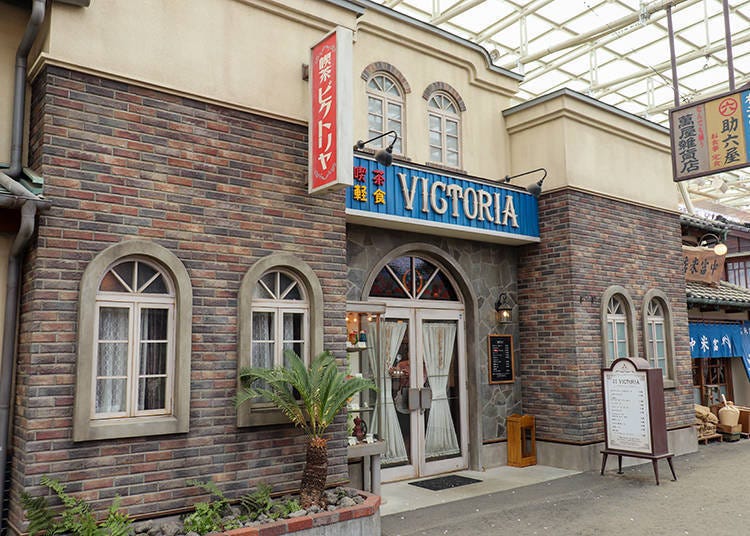 Alongside lunch meals, Kissa Victoria is a sanctuary for visitors to take a breather and regain their energy. It sits roughly in the center of Sunset Hill Shopping Street.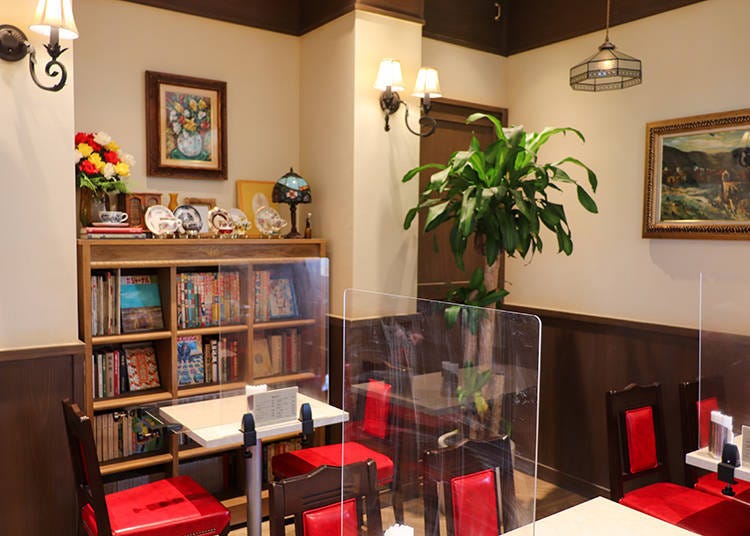 The cafe displays a sizable collection of manga and fashion magazines printed in the Showa Era, giving it an authentic Japanese feel.

In Japan, the "Showa retro" aesthetic has recently grown trendy, with young people flocking to old-school cafes to relish the nostalgic ambiance. Kissa Victoria is known as a hotspot for fans of this style, and its highly-instagrammable cream soda has become a massive hit.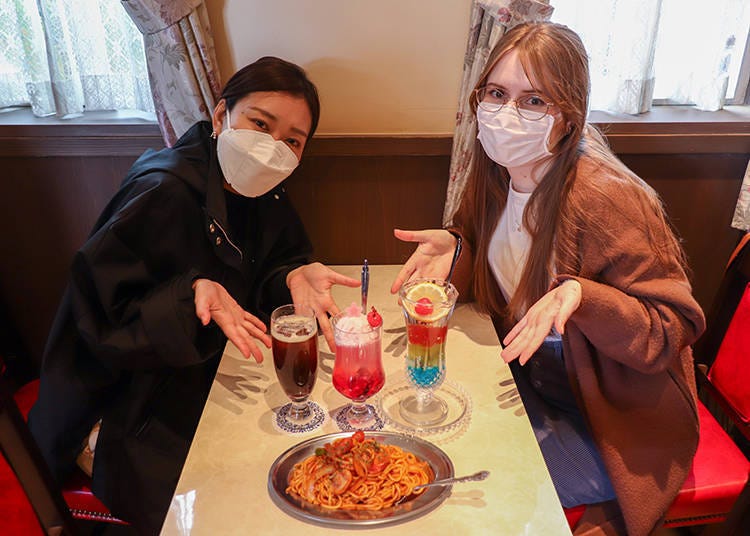 We ordered four items representing peak 60s Japanese cafe culture.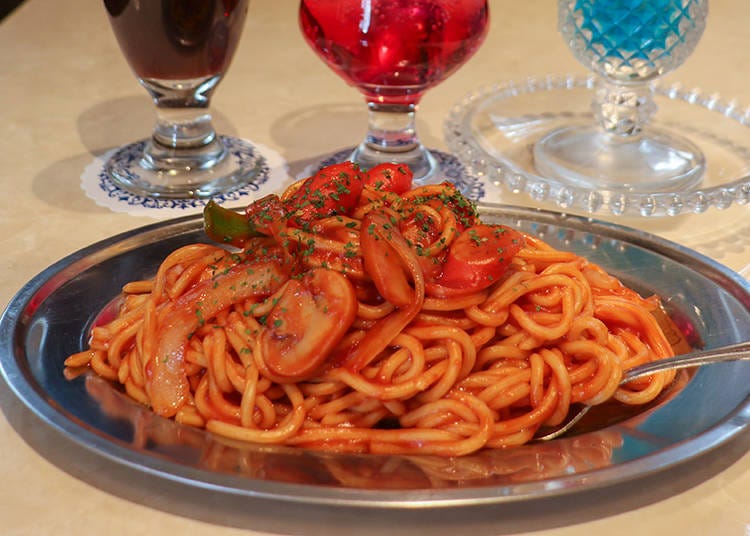 This is the "Napoletana Spaghetti" (90 seibuen), which is doused in a secret ketchup sauce with aromatic demi-glace. The springy noodles are made from Hokkaido wheat.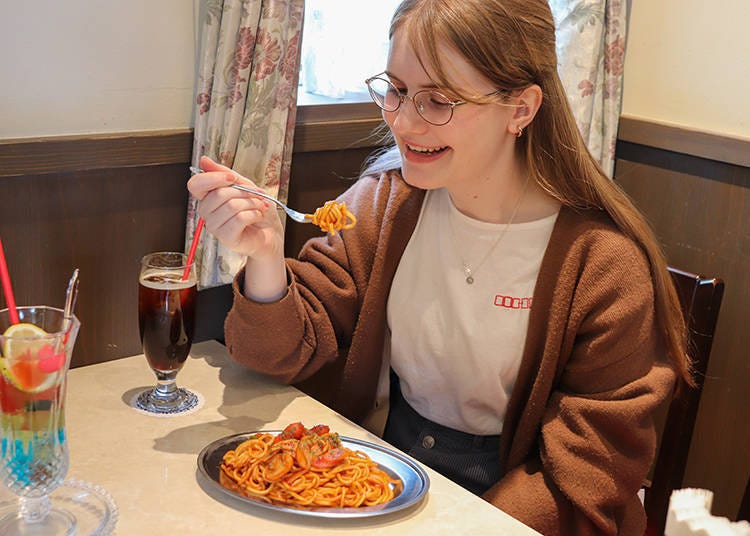 This kind of spaghetti is known as "napolitan" to Japanese people. M, who is familiar with Japanese culture, felt overwhelmed with nostalgia as she got stuck in. B, who was born overseas and had yet to try the dish, was surprised to find the sauce was much sweeter than expected.

"While it doesn't taste nostalgic to me, I can clearly imagine children really enjoying it. The noodles are so thick and chewy."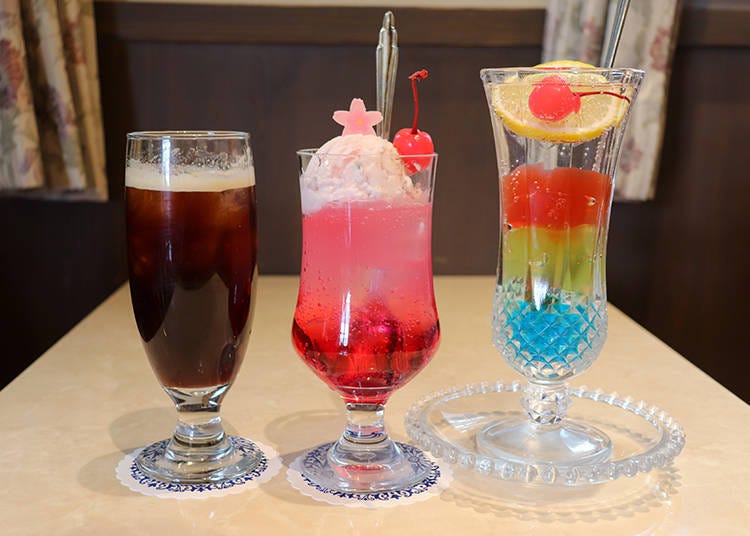 The drinks pictured from left to right are "Reiko" (30 seibuen), "Cream Soda Cherry Blossom" (60 seibuen), and "Jelly Punch" (60 seibuen). Reiko is Japanese slang for iced coffee, with "rei" meaning "chilled" and "ko" short for "coffee." This phrase was mostly in use around the Kansai region during the Showa era.

The Cream Soda comes in lemon, strawberry, melon, and sky blue. However, this time we were able to order the limited-edition springtime "cherry blossom" edition. "You can really taste the essence of cherry blossom, and the shaved ice syrup reminds me of classic Japanese sweets, making it quite nostalgic," said M.

The Jelly Punch is a carefully-crafted beverage packed with fruity flavors and delightful gemstone jelly. It uses "Tanzawa Cider," which is sourced from the natural water of the Tanzawa Mountains. "The bubbly cider and sweet jelly are a match made in heaven! Each jelly has a different flavor, making it a treat right up until the end," said B.

For a deeper understanding of Showa flavors, definitely stop by Kissa Victoria!
Piping Hot Croquette: For Snacking On the Go!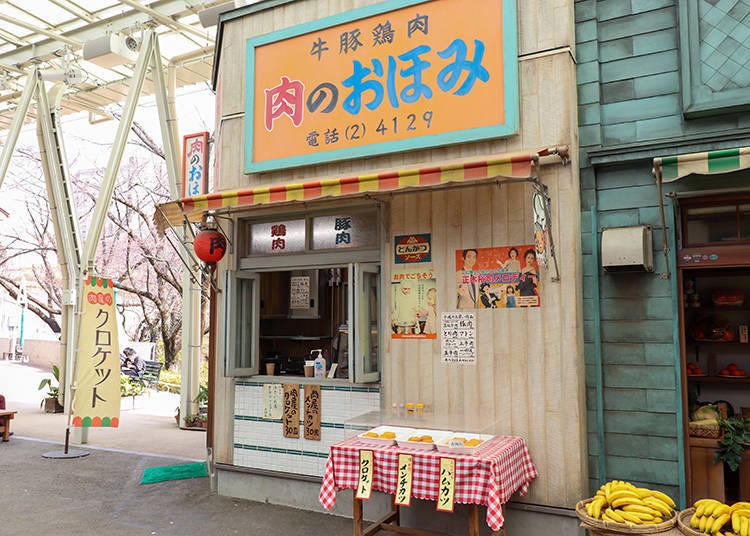 Along with sit-down meals at restaurants and cafes, Seibuen Amusement Park has plenty to munch on while exploring. For those feeling a tad peckish, the croquettes at "Niku no Ohomi" provide quick relief.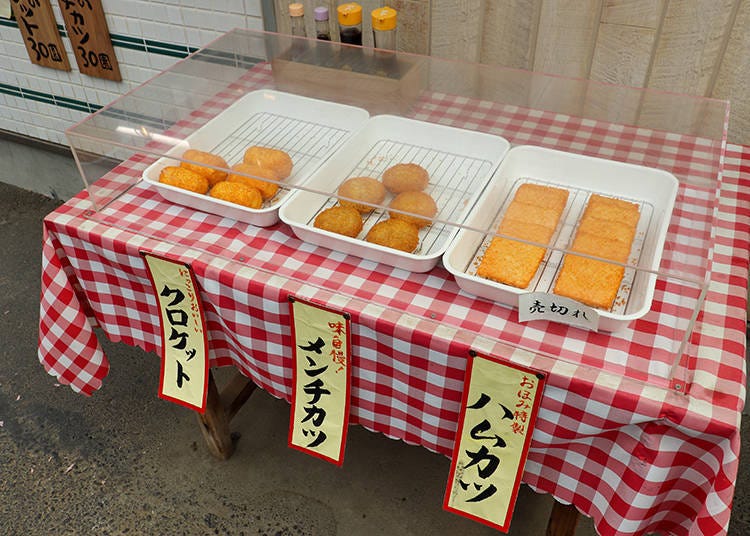 The croquettes and mince cutlets are 30 seibuen each.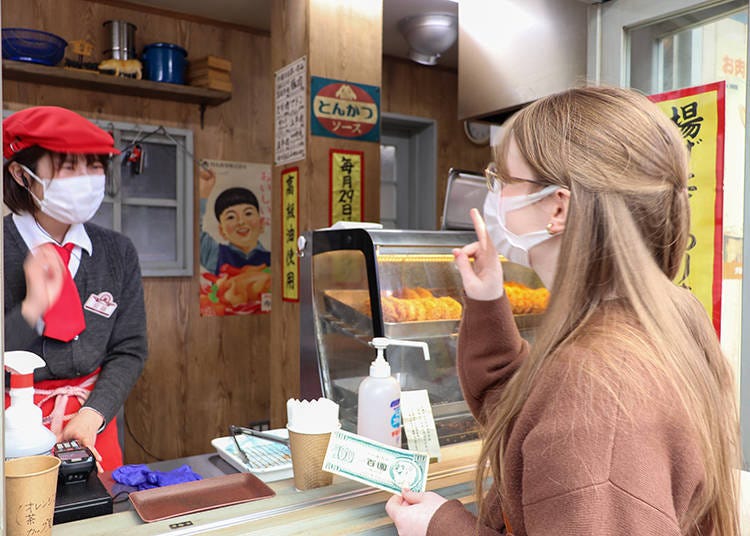 While take-out croquettes and mince cutlets remain popular at shopping streets throughout Japan, relishing them amongst old-fashioned ambiance is an out-of-this-world experience.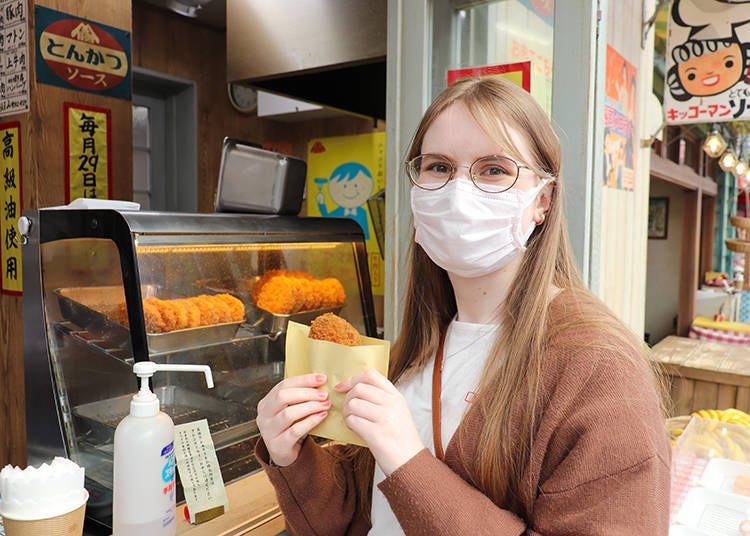 "The savory flavor of the meat and sweetness of the potatoes are a perfect match. You can really feel the different textures of the potatoes," says B.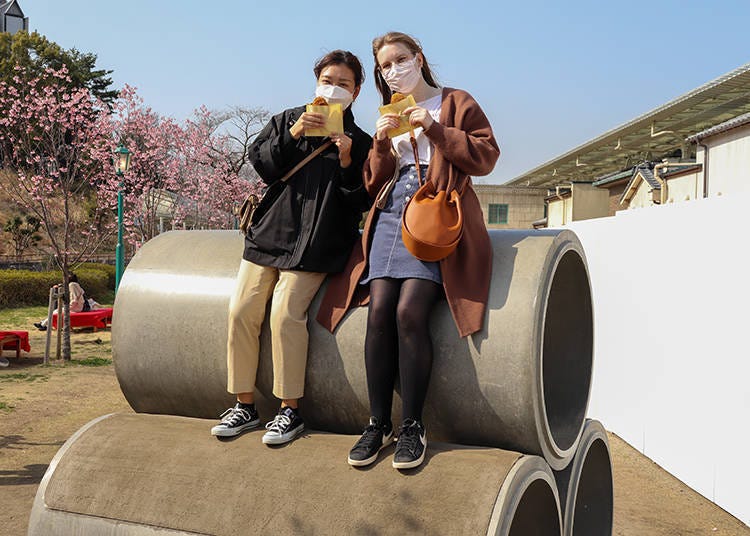 These giant pipes are the perfect spot for a rest and quick photo. Pipes like this were often seen in Japanese parks during the Showa Era, but now only exist in old manga.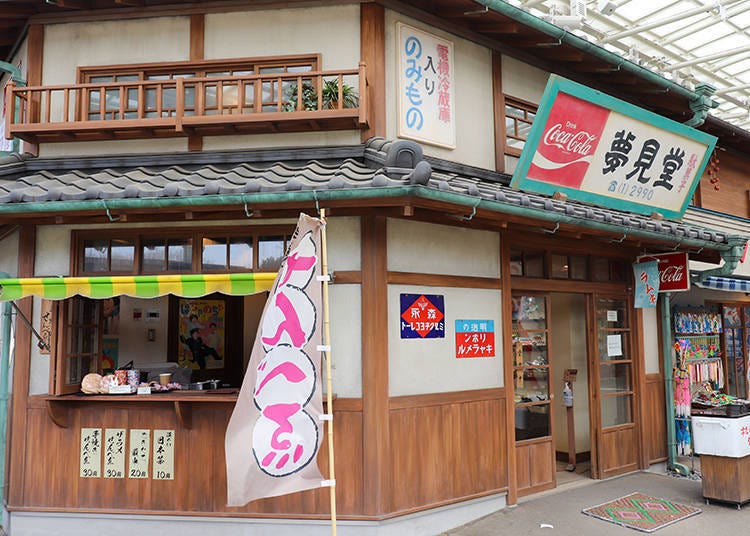 The corner of the sweet shop "Yumemido" sells rice crackers, which are also a great on-the-go treat.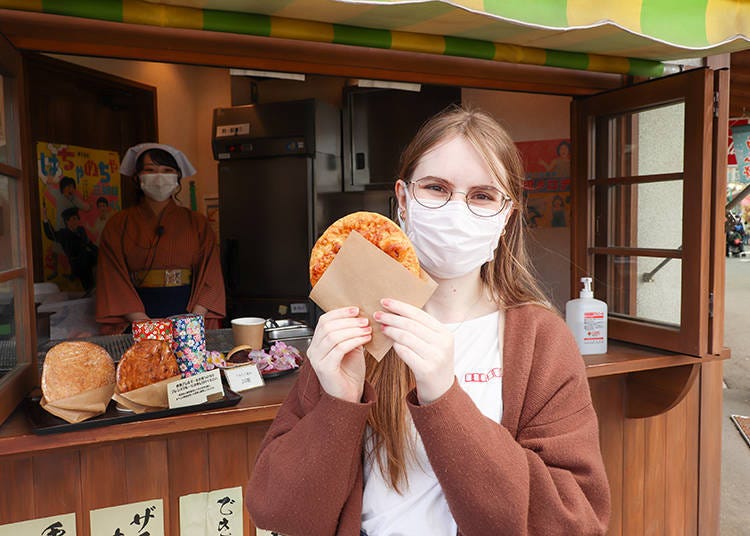 After ordering, the rice crackers are roasted right there on the spot. Bigger than your face, they sport a hefty crunch sure to satisfy. The soy sauce-flavored "Hand-Roasted Rice Crackers" are 30 seibuen a pop.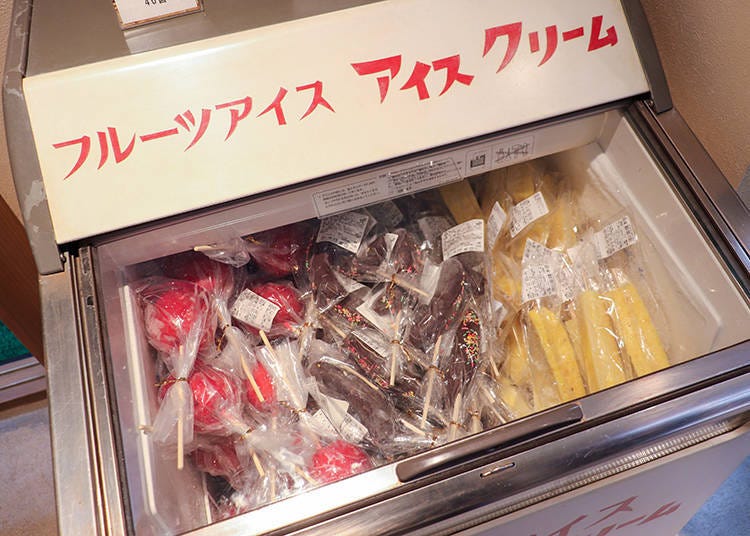 The fruit ice cream inside Yumemido is another option for street food, perfect for a hot summer's day.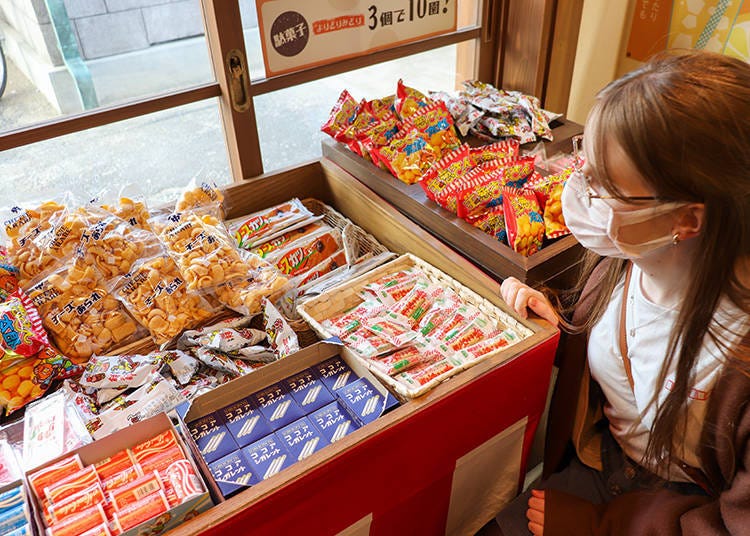 Yumemido also stocks a diverse selection of classic Japanese candies, like konpeito and dagashi, along with antique toys, making it a good place to return to for a cheeky pick-me-up or something for the kids.
You can also watch staff make "pongashi" live at the Sunset Hill Shopping Street. Pongashi are puffed grains made by putting rice and more under pressure and suddenly releasing it, making a loud noise that sounds like "pon."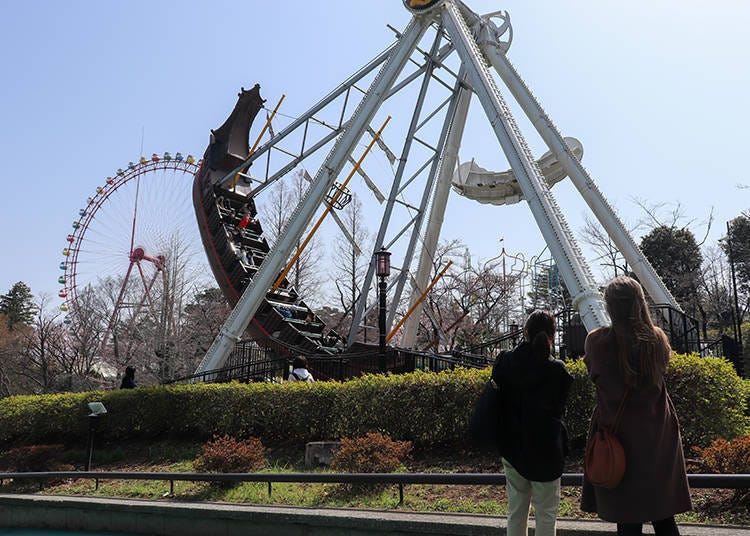 While it's tough to wave goodbye to the warm, welcoming atmosphere of Sunset Hill Shopping Street, a world of attractions awaited us! One of these is the "Giant Ferris Wheel," which runs for 20 minutes a loop and can be ridden by infants with a guardian.

The "Viking" is a thrilling ride made in collaboration with the residents of Sunset Hill Shopping Street, who will visit to try and make you laugh. It lasts for roughly 1 minute and 30 seconds. Children 110 cm and taller can enter.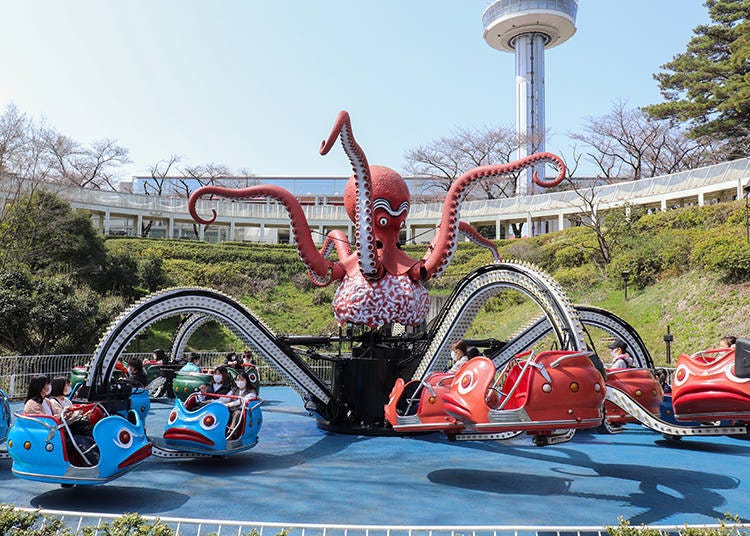 The comedy ride "Octopath Adventure" allows two adults or three children to sit on each leg of a giant octopus. It lasts for around 1 minute and 30 seconds, and children 100 cm or taller can ride.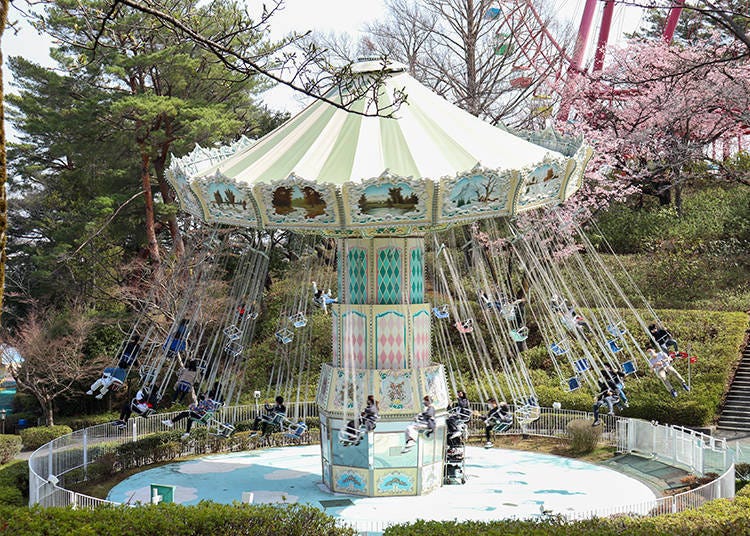 The "Kaiten Kuchu Swing" makes you feel like you're flying, giving off the exhilarating thrill of speed and weightlessness. It lasts for around 1 minute and 30 seconds, and children 120 cm or taller can enter. This is also one of the comedy rides.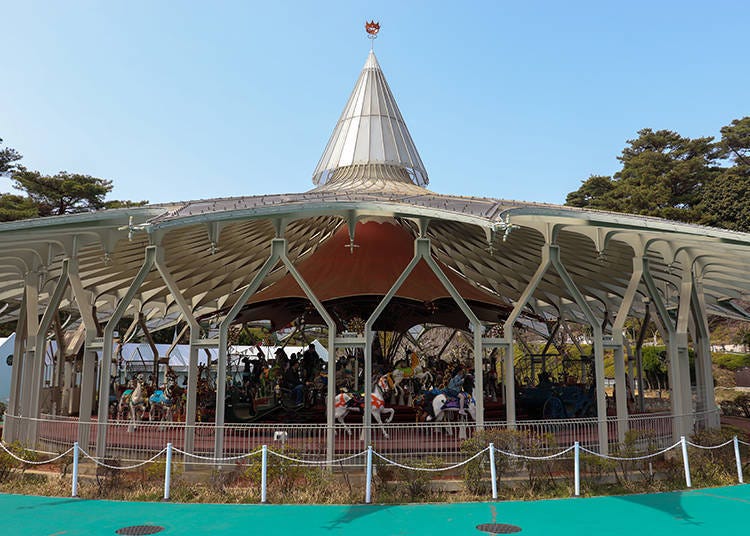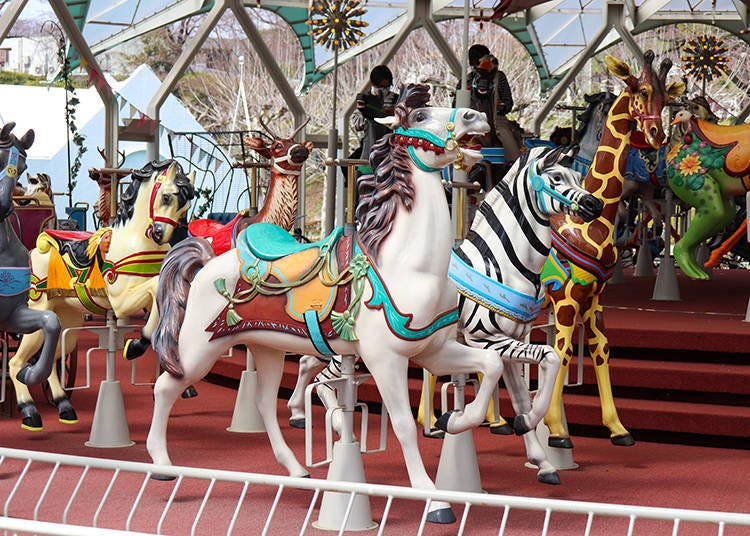 A ride on the Merry-Go-Round lasts for approximately 2 minutes, and has lions, frogs, kirin, and more in addition to horses. Children 2+ can ride on the animals, while infants can sit on the carriages.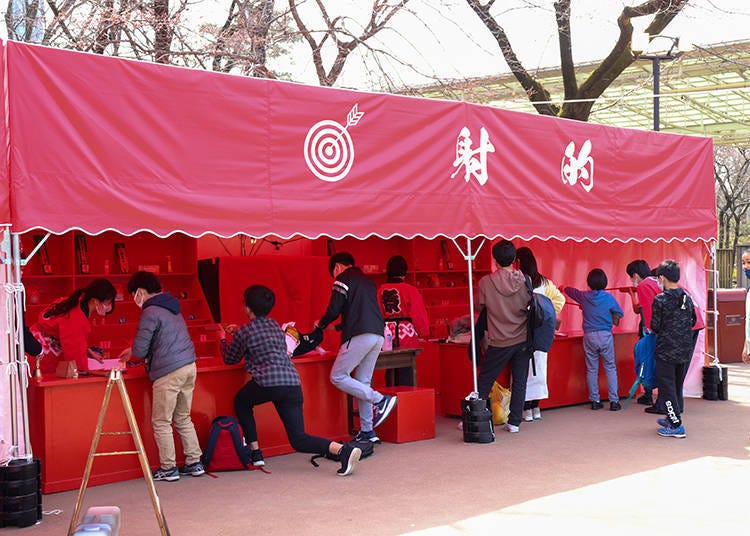 At the "Nishioka Game Center" on Sunset Hill 1-Chome Square, visitors can try their hand at shooting games, ball games, and more!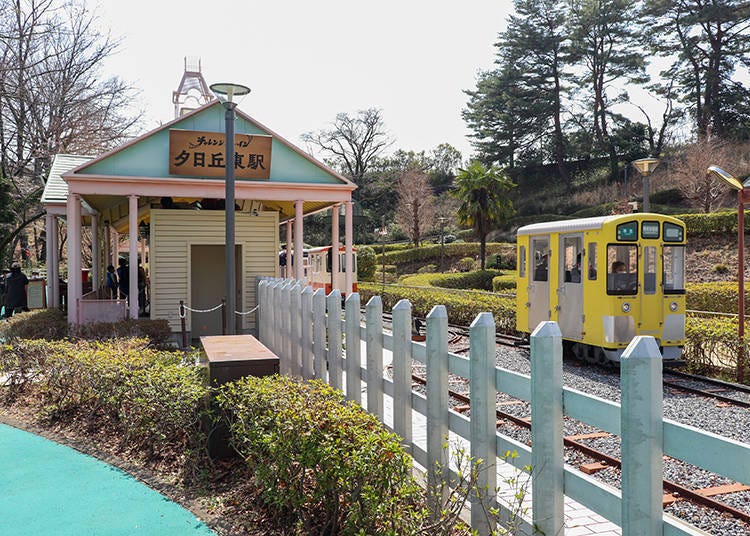 The riveting "Challenge Train" allows you to drive a real mini-train - a dream come true for most of us! One lap is 197 meters, taking about 3 minutes to complete. Infants can also ride on the train along with you.
Plenty of Attractions for Families!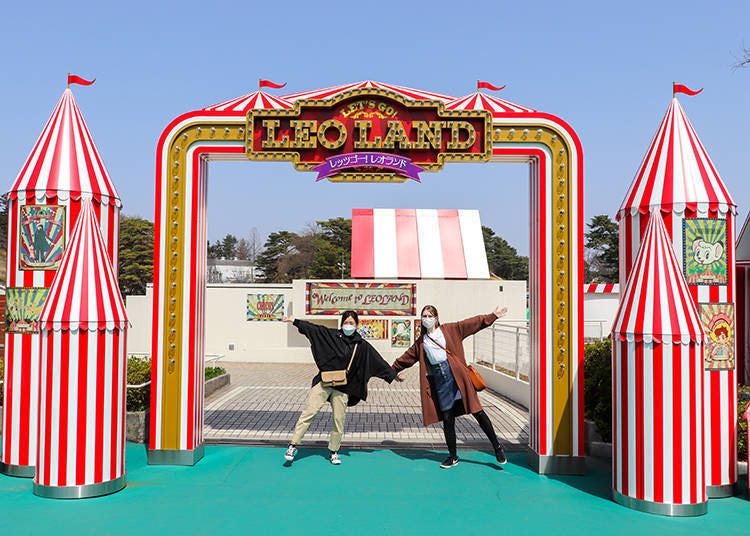 The "Let's Go! Leoland" area features attractions based on characters by legendary manga author Osamu Tezuka.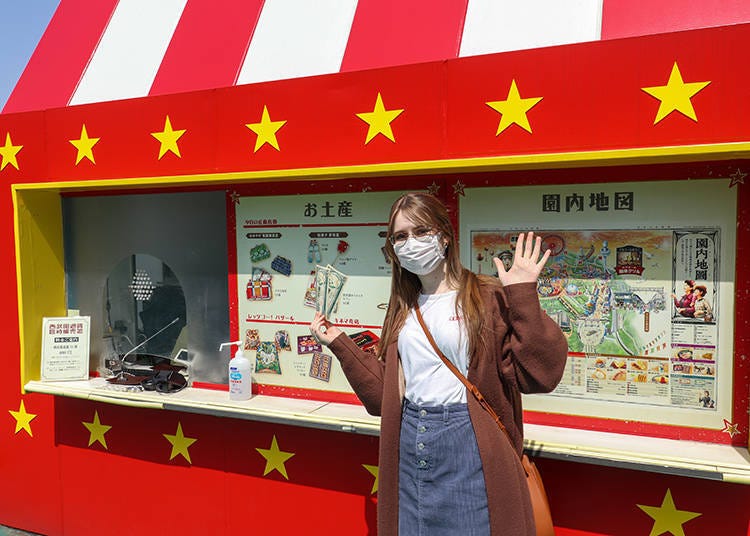 There is also another spot to exchange money for Seibuen Tsuka.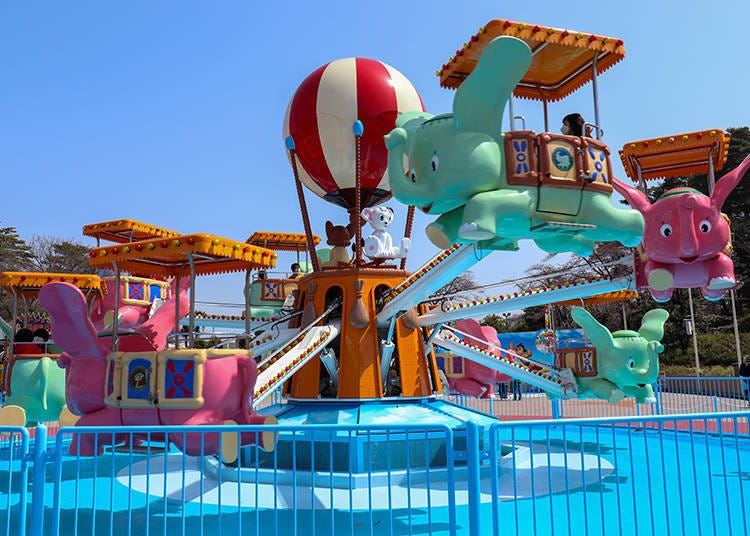 ©TEZKA PRODUCTIONS
"Jump! Leo the Hero of the Jungle!" has visitors ride mid-air on elephants through the sky. It takes around 1 minute and 30 seconds, and infants are permitted to ride.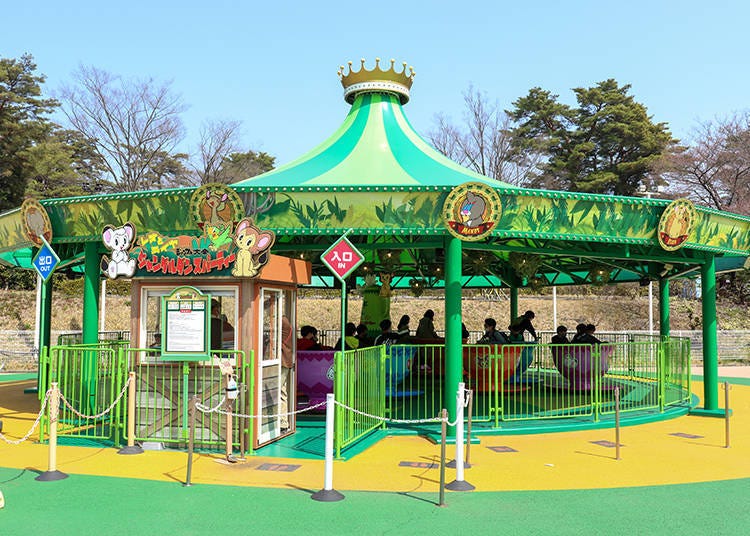 ©TEZKA PRODUCTIONS
The "Leo and Laiya Jungle Dance Party" is a relaxing spinning cup ride that lasts for 1 minute and 30 seconds, with babies allowed to join with a sling if necessary.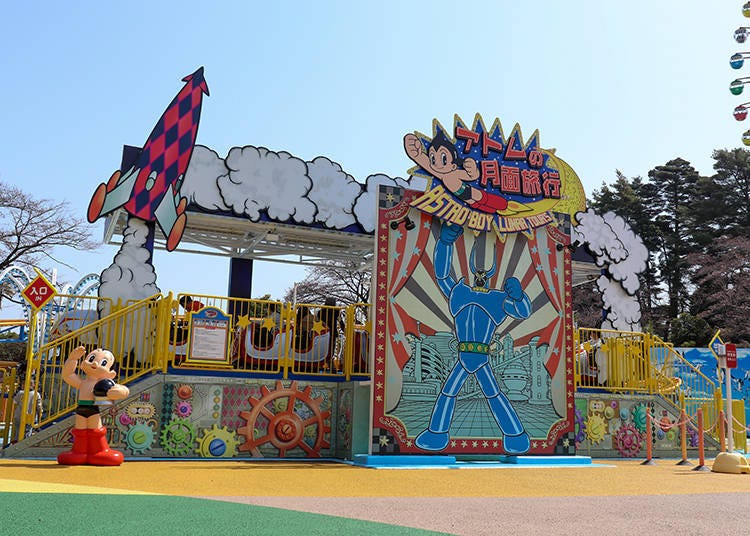 ©TEZKA PRODUCTIONS
"Atom's Journey to the Moon" is a more intense ride, with sharp turns at high speeds based on the iconic character, Astro Boy. It lasts for around 30 seconds, and children must be at least 3 years old to ride.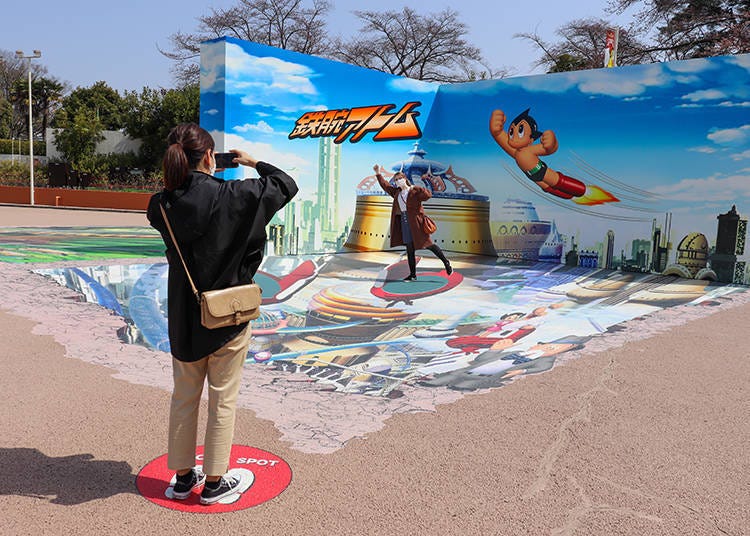 ©TEZKA PRODUCTIONS
Let's Go! Leoland also displays a fantastic gallery of giant trick art featuring scenes from Kimba the White Lion and Astro Boy. Find the right position and pose, and you'll be able to take some brilliant photos!
Recommended Souvenirs and Where to Buy Them!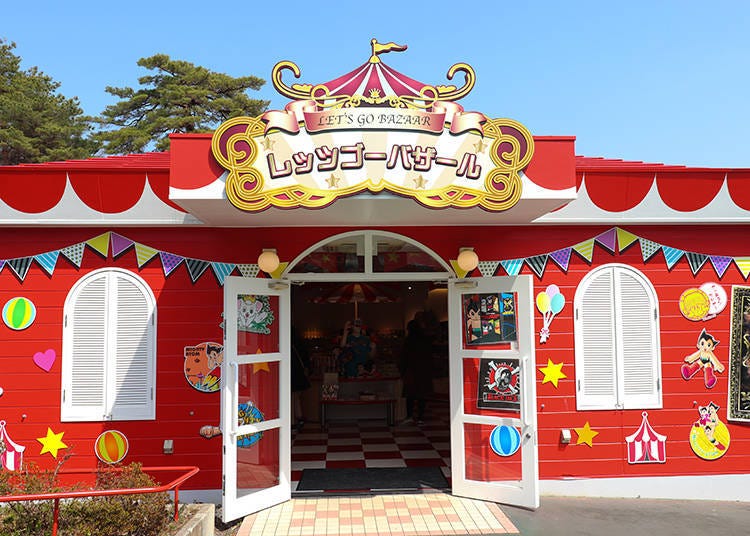 The "Let's Go Bazaar," in the square of Let's Go! Leoland, sits at the bottom of the Yuhikan hill, making it a convenient spot to get your shopping fix.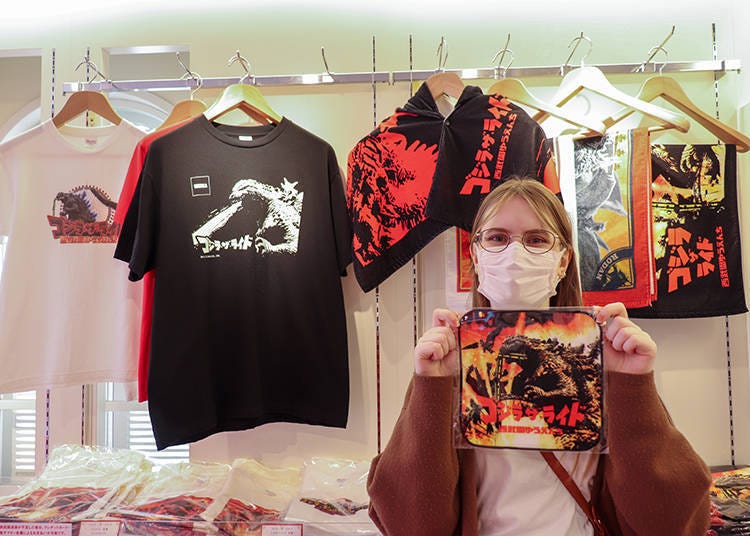 TM & © TOHO CO.,LTD.
The store stocks an impressive assortment of Godzilla and Osamu Tezuka merchandise.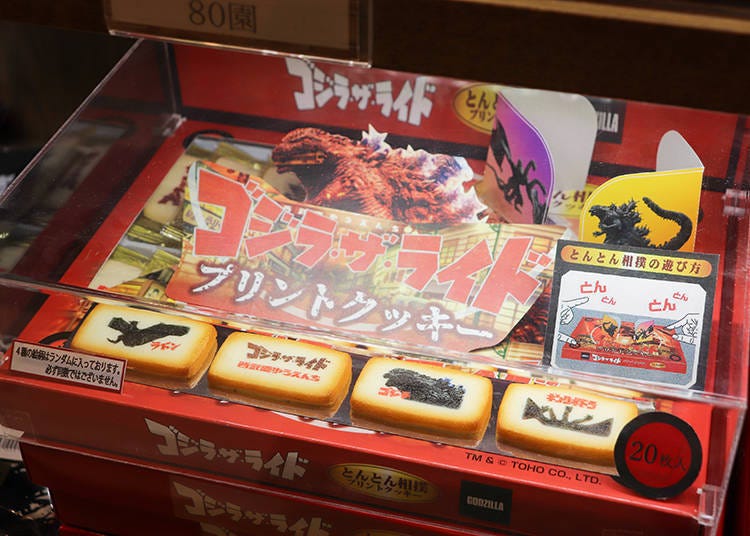 TM & © TOHO CO.,LTD.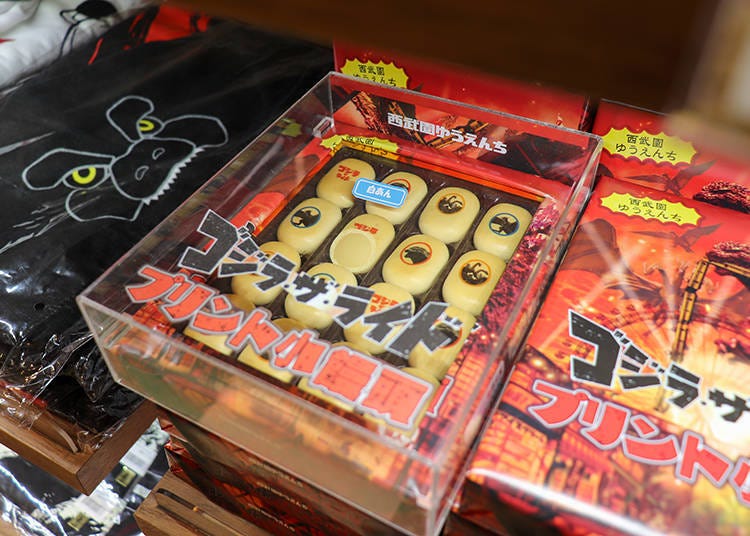 TM & © TOHO CO.,LTD.
The perfect gift for Godzilla fans are the cookies or mini manju, which have the silhouettes of Godzilla monsters printed on them.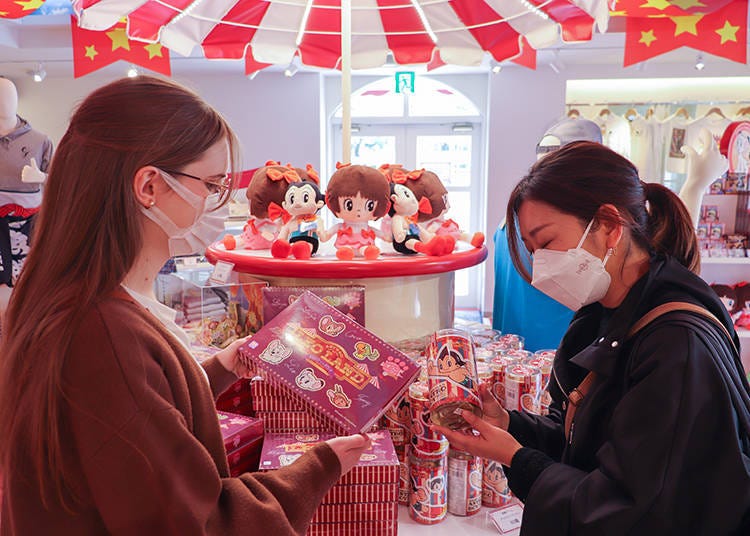 ©TEZKA PRODUCTIONS
Everything is so tempting, choosing just a few seems an impossible task!
©TEZKA PRODUCTIONS
B settled on the "Leoland Printed Cookies" (90 seibuen) from Kimba the White Lion. The cleverly-designed box resembles the Japanese board game "sugoroku."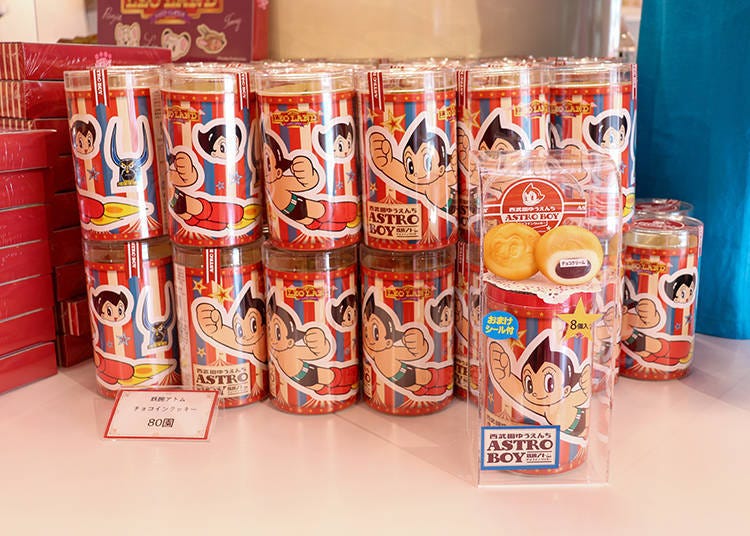 ©TEZKA PRODUCTIONS
M opted for the "Astro Boy Chocolate Cookies" (80 seibuen), which have the face of protagonist Astro Boy engraved on them, and come with a free sticker.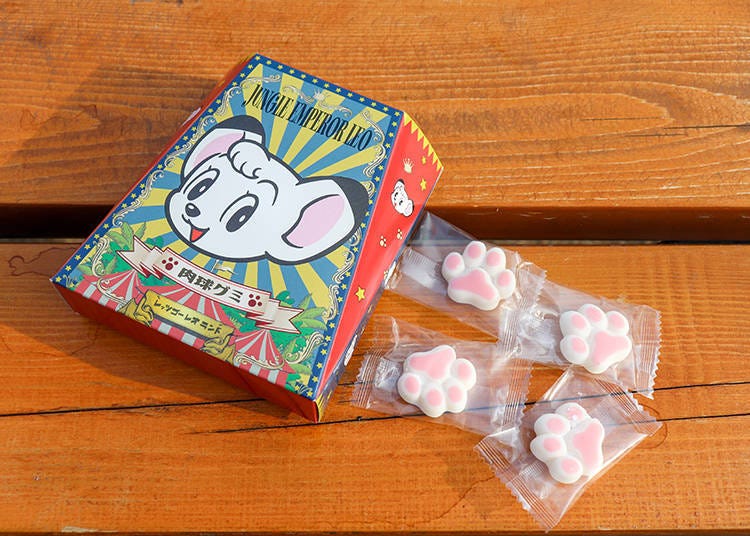 ©TEZKA PRODUCTIONS
Seibuen Amusement Park recommends the "Let's Go! Leoland Paw Gummies" (50 seibuen). These adorable paw-shaped treats have an irresistible squishiness sure to entice. However, they are surprisingly firm and have a refreshing yogurt taste and satisfying bite.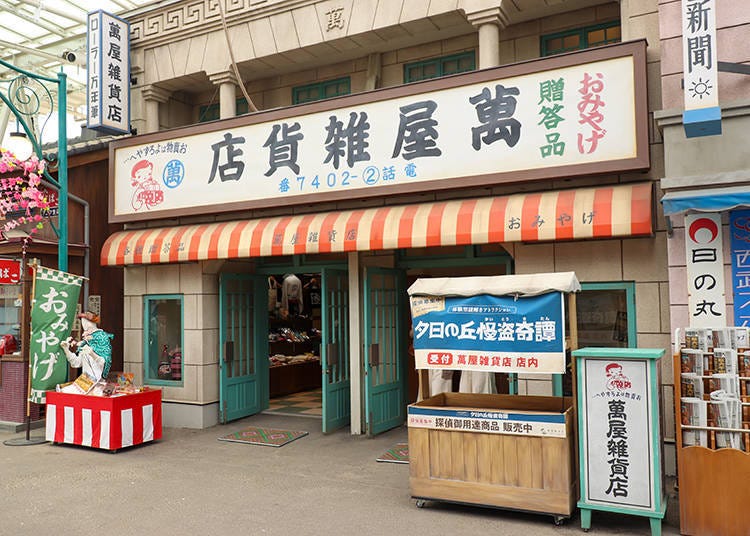 Check out the Yorozuya General Store for more souvenir shopping at Sunset Hill.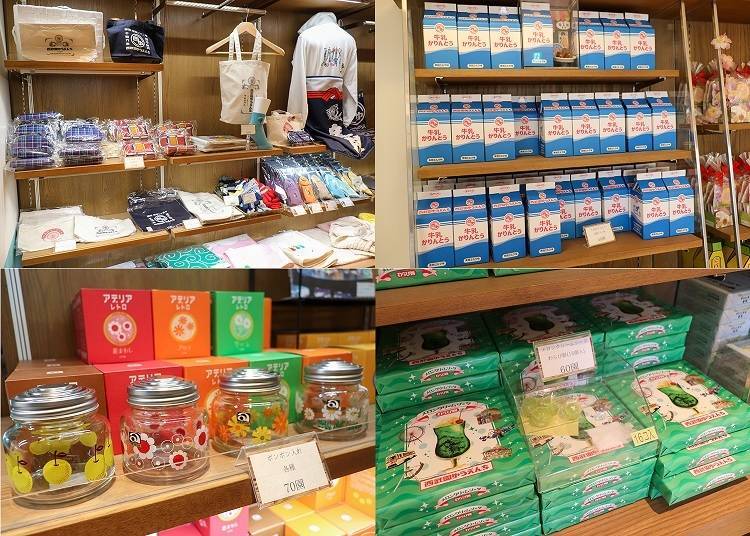 The Yorozuya General Store offers a comprehensive lineup of the park's most famous goods, including clothes and stationery flaunting the Seibuen Amusement Park logo, sweets with retro packaging, and more. If you didn't find something before, you're bound to come across the item of your dreams here!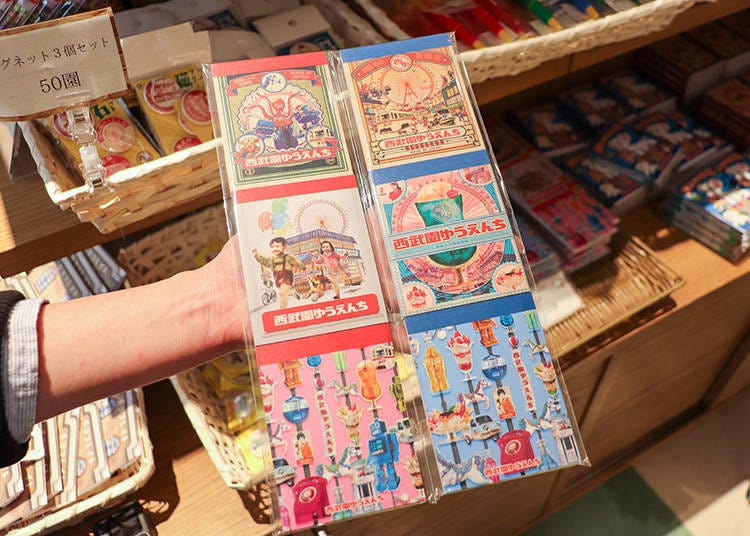 The park recommends the "3-Set Memo Book" (30 seibuen). These colorful, poppy pads feature original designs of the park's attractions and streets. Coming in a set of three, you can hand them out to friends too!
Seibuen Amusement Park showcases the essence of yesterday's Japan. With plenty of attractions aimed at both adults and children alike, there's a day's worth of fun to be had here! Take a break from the flashy modern Japan and delve into the simple joys of the 1960s!
Health & Safety Measures

Indoor disinfection measures taken - Sanitizer installed - Disinfected after each guest leaves - Ventilation measures in place - Staff wear masks, gargle, wash hands regularly, and monitor body temperature - Entry declined to anyone who is feeling unwell - Guests are required to wear masks
*Article is based on our visit in March 2022
*Opening hours and such may change depending on the spread of COVID-19. Check the official website for the latest information.
西武園ゆうえんち

Address

2964 Yamaguchi, Tokorozawa, Saitama

Phone Number

04-2929-5354

・Hours: 10:00 a.m. - 5:00 p.m.
*Opening days and hours are subject to change.
Written by: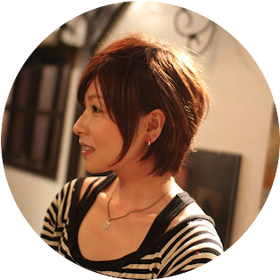 *This information is from the time of this article's publication.
*Prices and options mentioned are subject to change.
*Unless stated otherwise, all prices include tax.