Moominvalley Park opened in March 2019 by Miyazawa Lake in Hanno, Saitama. A Japan-first, the park allows visitors to dive into the world of Moomin, and is always bustling with families, couples, and friends enjoying the jovial atmosphere and fun attractions.

For this article, the LIVE JAPAN editorial team visited Moominvalley Park to discover what you can do, see, eat, and buy, along with how to get there!
Moominvalley Park - Sitting on the Shores of a Nature-Rich Lake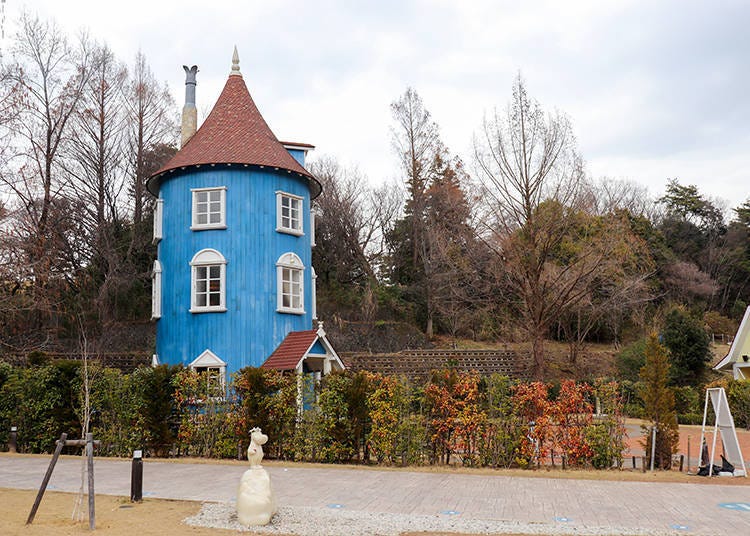 Moominvalley Park is located in the nature-rich region of Hanno in southwestern Saitama Prefecture, roughly 50 km from the center of Tokyo. It's easily accessible from Ikebukuro Station via the Seibu Ikebukuro Line to Hanno Station, after which you can take a 12-minute bus ride from the station's north exit.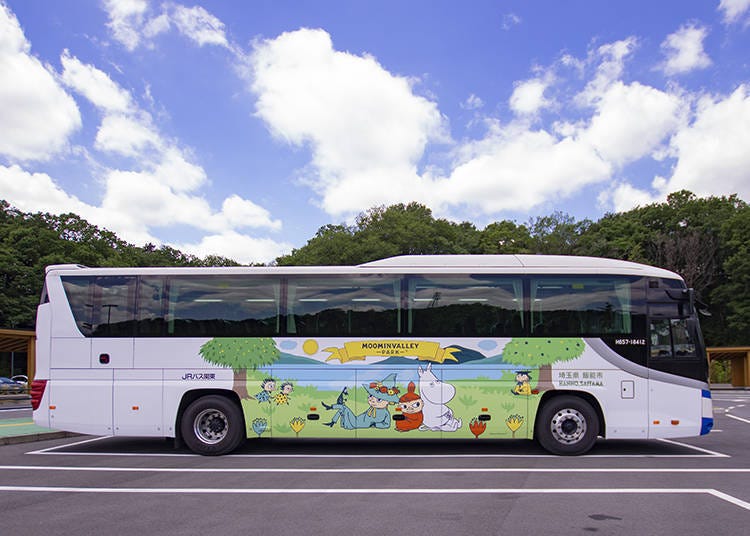 Bus tours are available, departing directly for Moominvalley Park from major terminal stations. The bus from Tokyo Station is even decorated with delightful Moomin illustrations on weekends and public holidays.

A special ticket that includes both a return bus ride and a 1-day pass costs 5,200 yen (adults) and 2,700 (children) on weekends and public holidays, and 4,700 yen (adults) and 2,700 (children) on weekdays. The bus also screens movies and comes with a free coupon book to be used at the metsä Village.

There are also direct bus tours departing from Shinjuku Station for 7,000 yen (adults) and 6,500 (children), which also include a return ticket and a 1-day pass. This bus also has movies plus a limited-edition Moominvalley Park tote bag for passengers.
Checking Out the Poukama Welcome Cove!
After getting off the bus and passing through metsä Village, we arrived at Moominvalley Park. For this article, we sent LIVE JAPAN Editorial Staff "M" and Bella for a first-hand look at what's on offer.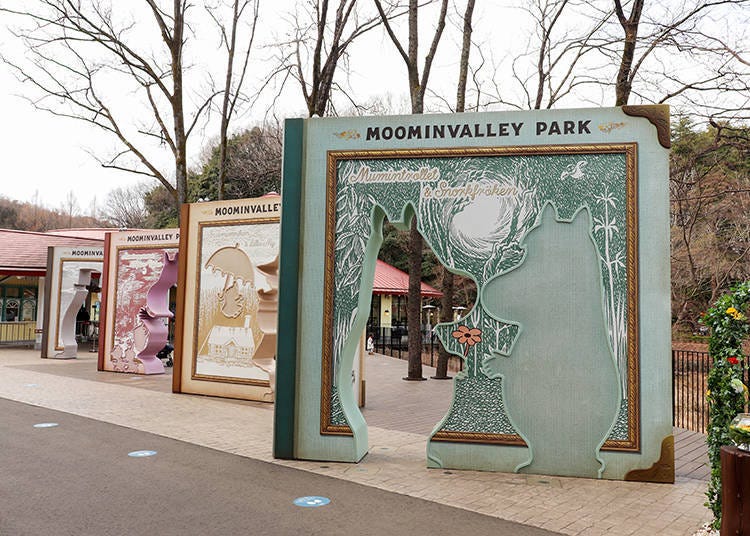 Passing through the whimsical entrance of four giant Moomin books, we were instantly transported to the wonderful world of Moomin! Past the books is the Poukama Welcome Cove, which also has a ticket office to purchase the tickets required for the park.

(*1-day pass: 3,200 yen (adults), 2,000 yen (children), children under 3 are free.)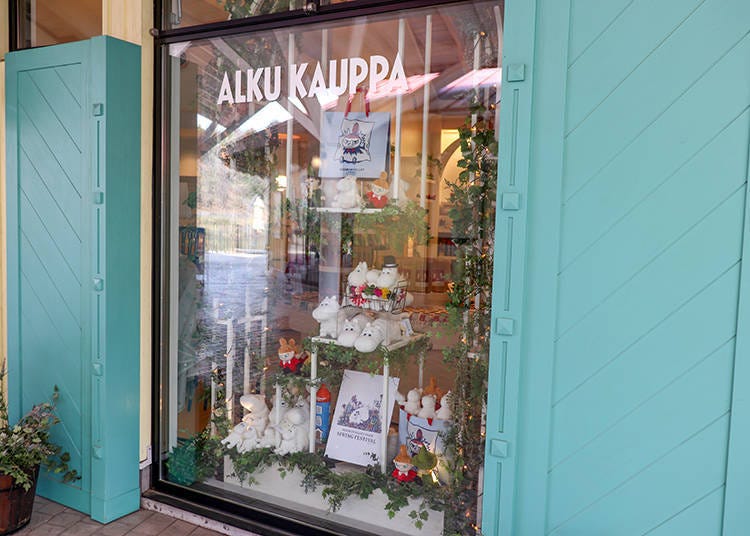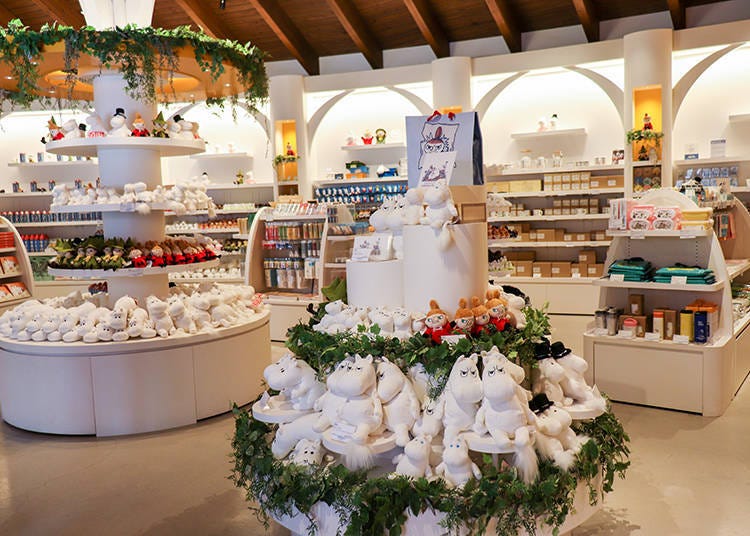 At the Entrance Shop is a hoard of Moomin merchandise perfect for souvenirs.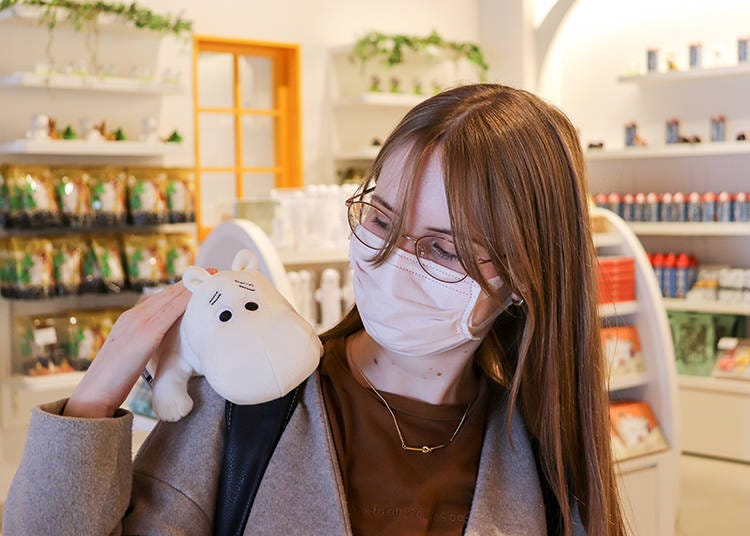 Many visitors can't resist buying the adorable Moomin plush doll for an extra helping of cuteness in their photos.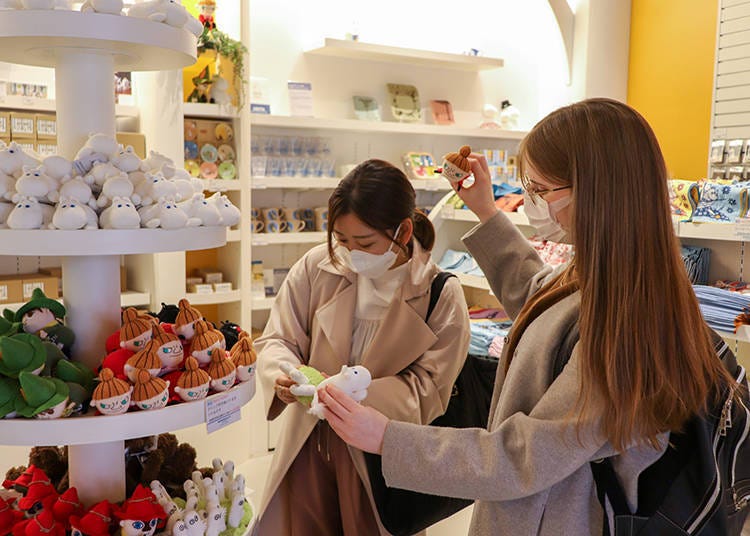 We bought ourselves the "Clippable Plush Doll," which can be attached to your bag or clothes. Naturally, we struggled to decide which we should settle on: Moomin, Little My, or Snufkin.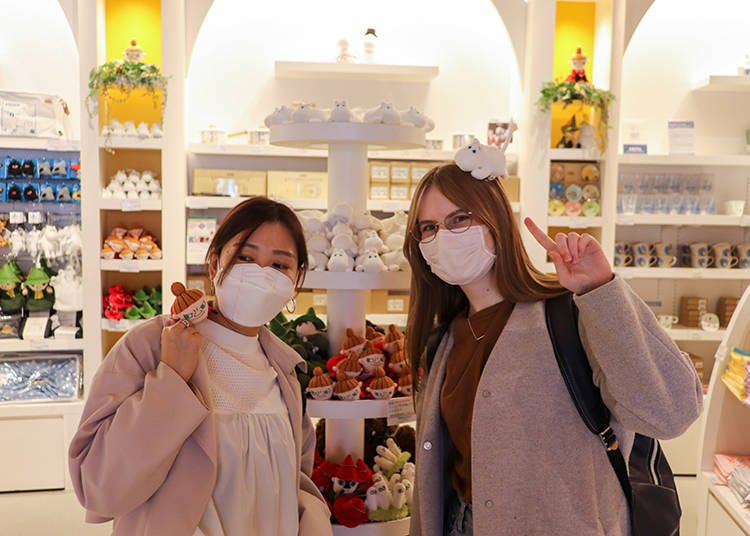 In the end, we settled on Moomin and Little My. Using the clip, we were able to easily carry them around the park while keeping our hands free.
On the other side is the Lettula Lounge, where you can pick up a selection of scrumptious breads like cinnamon rolls and more. This is a great place to recharge during your adventuring through the park.
Moominvalley Floating Flower Walk - A Gorgeous Springtime Decoration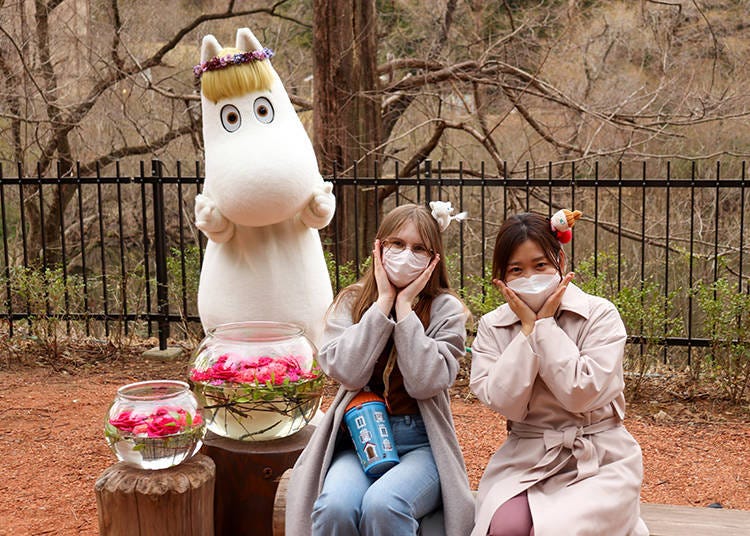 Characters from the series frequently wander the park, making for fun and unexpected encounters. If you're lucky, you'll be able to take a photo together like us!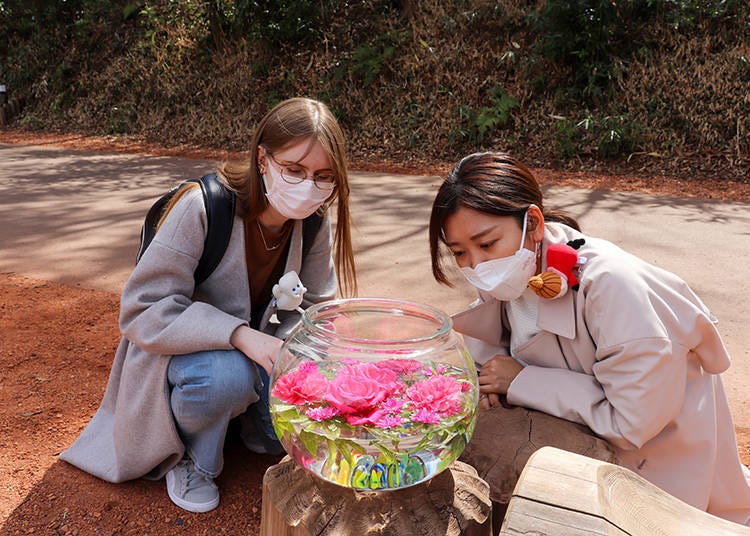 As we visited during spring, we were also blessed with the added enjoyment of the "Spring Festival," which runs between March and May. The highlight of this festival is the "Floating Flower Walk," which sees colorful flowers delightfully arranged upon bowls of water.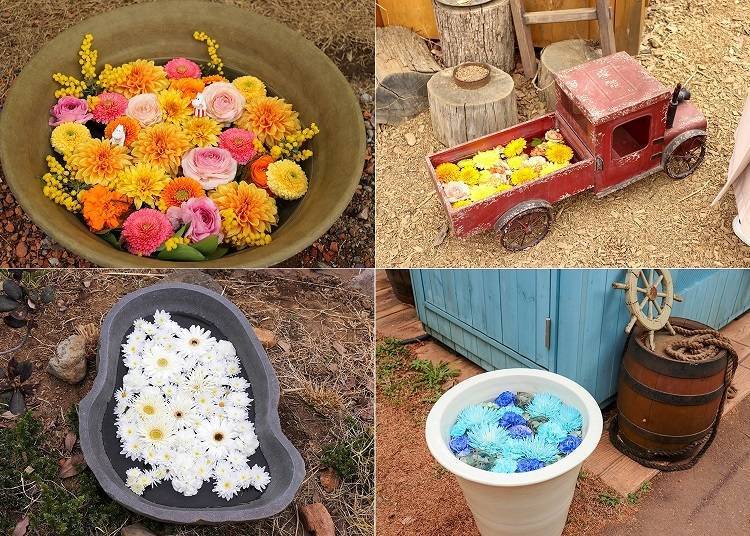 There are more than 15 spots featuring these floating flower displays. Each has its own unique pattern and charm, and is frequently changed out with seasonal, live flowers. Keen eyes will notice that the white flowers above look like Moomintroll himself!
The Uimahuone Made By Moominpapa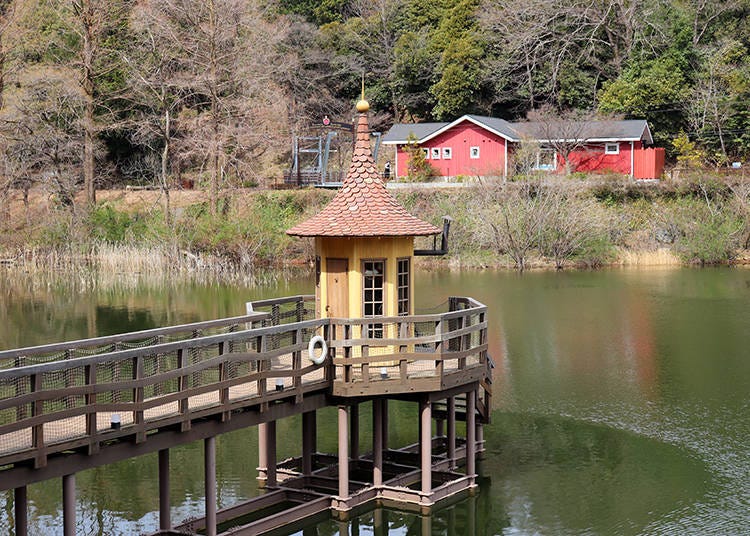 Continuing further into Poukama Welcome Cove, we came across the "Uimahuone." This small lakehouse is based upon the one made by Moominpapa, where the Moomins would swim, fish, and unwind in summer. During winter, it would become the home of Too-Ticky.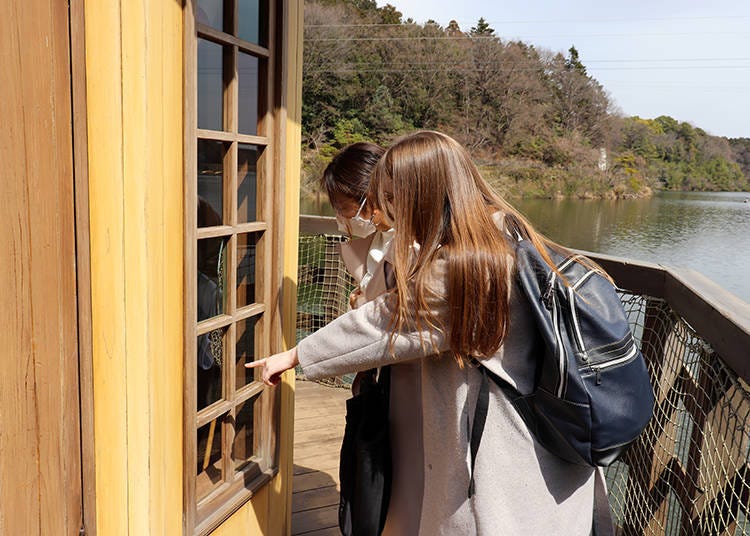 Peeking inside, you'll spot swimwear and floating rings. In winter, the design changes to Too-Ticky. We loved all the little intriguing details like this!

Next, we'll enter the "Moominvalley" area.
Moominhouse - The Symbol of the Park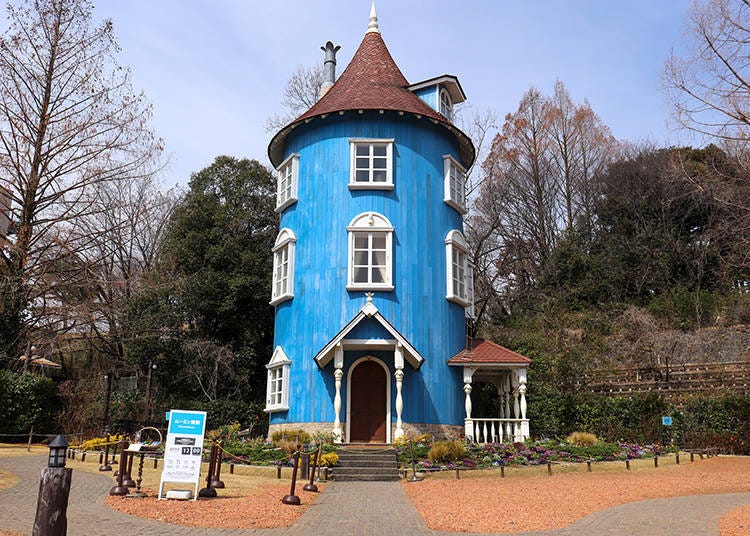 The most iconic attraction at Moominvalley Park is Moominhouse, which is the dream house of the Moomins designed and built by Moominpapa. This is truly the epitome of the Moomin world, with each room showcasing the family's lifestyle.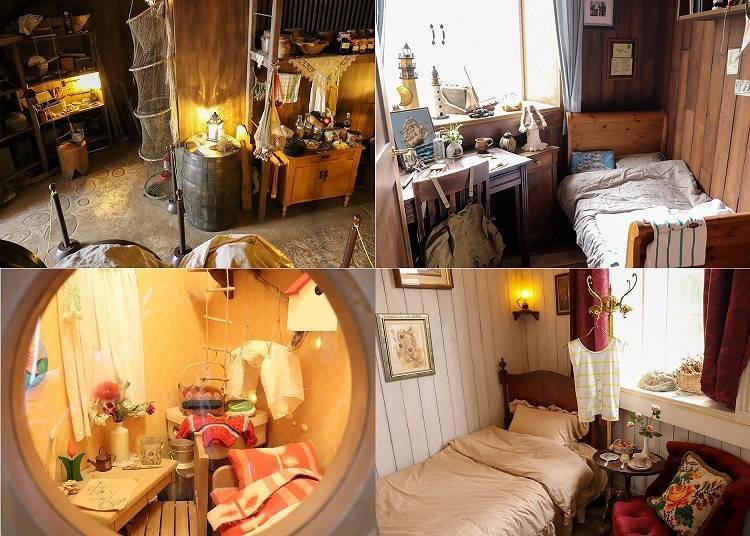 The basement is the storehouse, the 1st floor is the kitchen and dining room, the 2nd floor is the living room and bedroom of Moominpapa and Moominmamma, the 3rd floor is the room of Moomintroll, Little My, and the guestroom, and the attic holds the study of Moominpapa where he does his writing.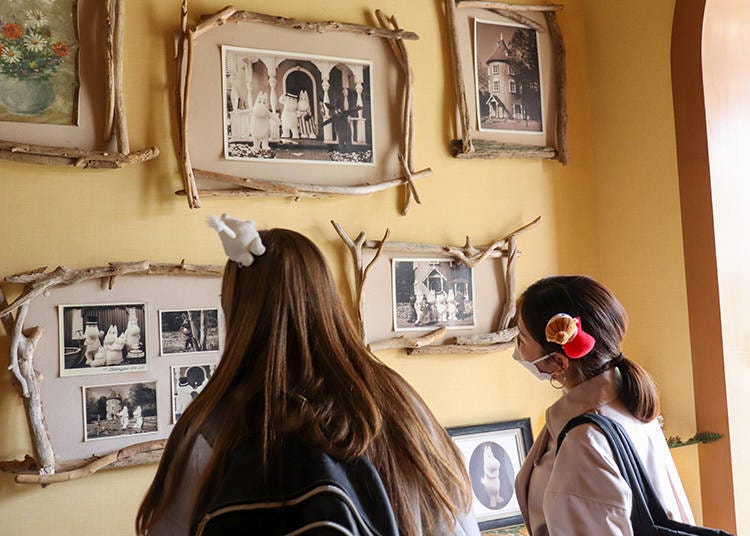 With such meticulous attention to detail, like the sewing equipment of Moominmamma and Moomintroll's x-ray pictures, you'll feel the lifeforce of the family permeating all throughout the home!
Moomin characters will also often appear from the veranda, so don't miss the chance to take a photo!
Emma's Theater - Dance With the Moomins!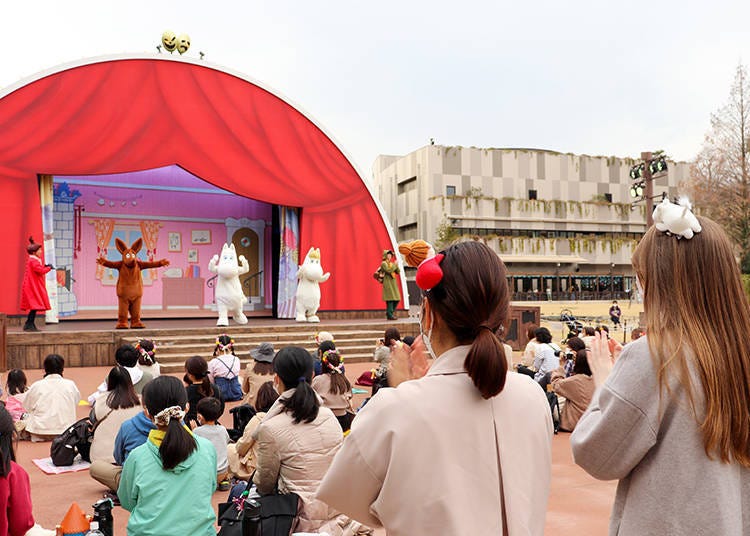 In one of the Moomin episodes, the Moominvalley is flooded and "Emma's Theater" washes past. Here Moomintroll, Little My, and others create a play with song and dance.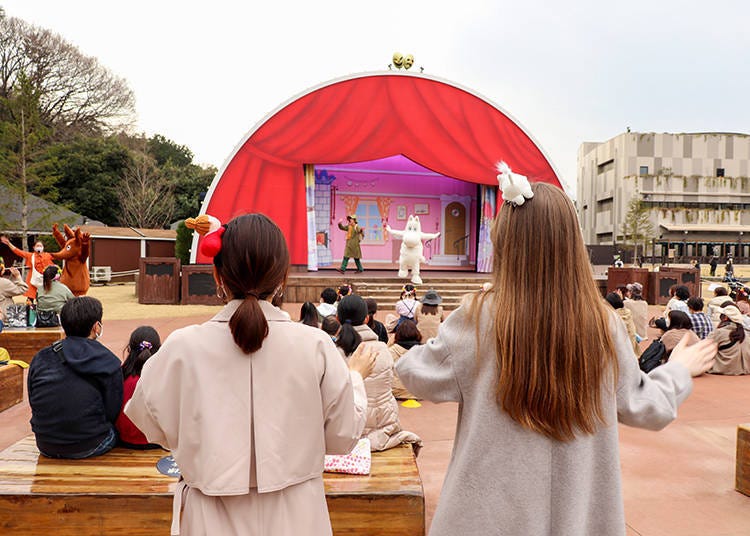 The Moomins will teach you how to dance, so don't hesitate to get up and join in! The show "Dance Dance with Moomin" will be performed from 12:00 p.m. and 2:30 p.m., each lasting about 15 minutes.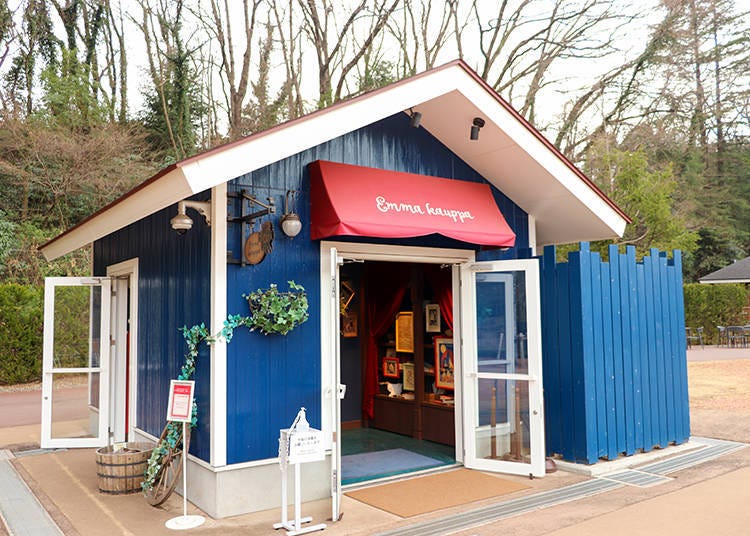 Next to the theater is "Emma's Store" which screens the original short movie "Story Door," featuring six different park locations, including Lettula Lounge and Uimahuone.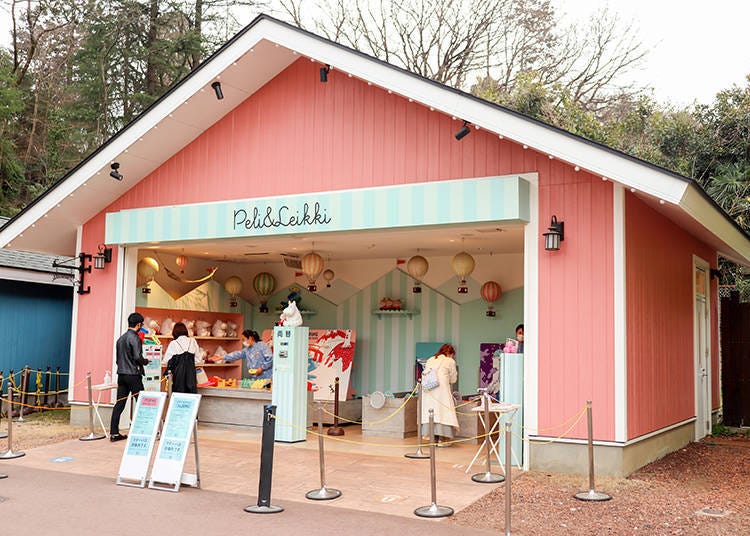 Nearby we tested our skills with arcade games. There are fishing games with hammers, ball games, and more, each playable for 500 yen with prizes available.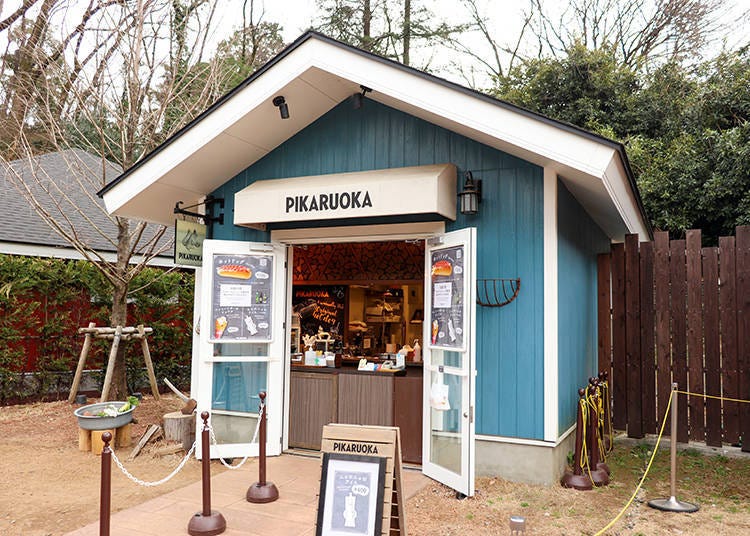 Also nearby is the takeout food stand. We recommend the hot dog (500 yen) and the "Nyoro Nyoro Ice Cream - Milk" (400 yen).
Exciting Theatre Attractions!
One of the best places to truly lose yourself within the magic of Moominvalley is at "Sea Orchestra No. Merenhuiske," which is based around the themes of "courage," "challenges," "friendship," and "family bonds."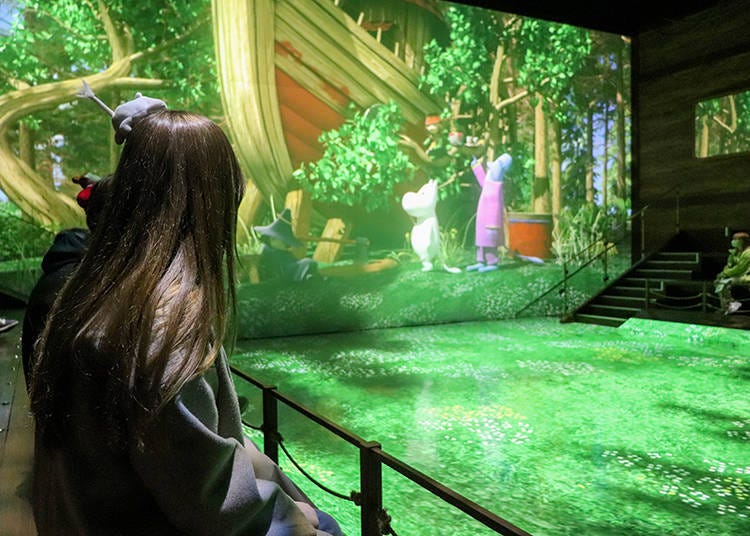 Here you can go on a fun adventure together with the younger version of Moominpapa, Snufkin's father, Joxter, and Sniff's father, The Muddler.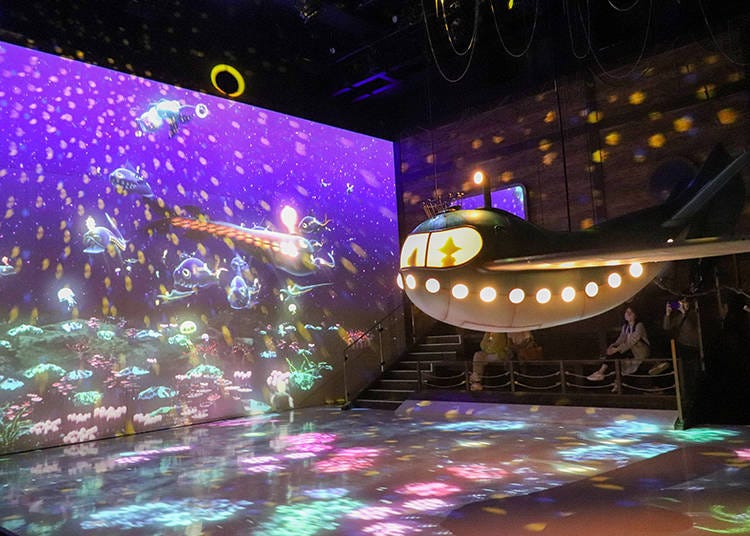 The show runs for 15 minutes, utterly encasing the senses in a dazzling spatial presentation of light and wind.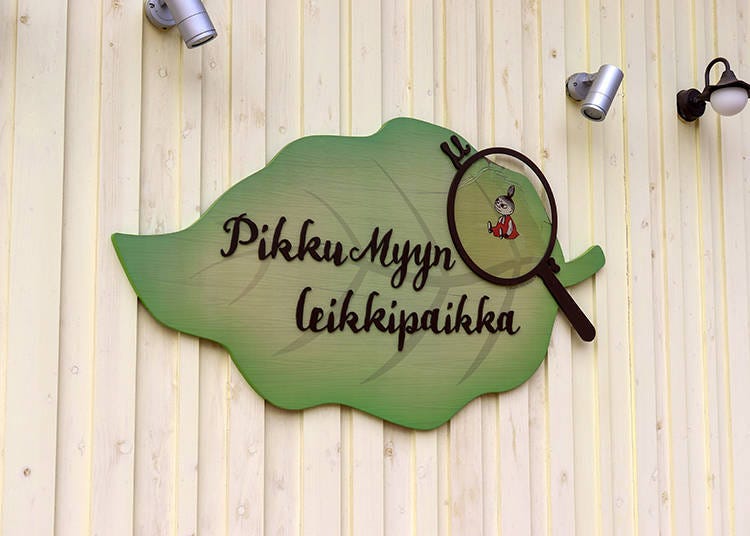 In "Little My's Playspot," visitors can enjoy a theater-style experience of the comical slapstick antics of Little My, one of the mischievous protagonists of the series.
Alongside our host, we were thrilled by Little My's schemes! It was utterly charming to re-experience the Moomin stories through these gentle, warm, and nostalgic images.
The Kokemus Area - Discover the History of the Moomins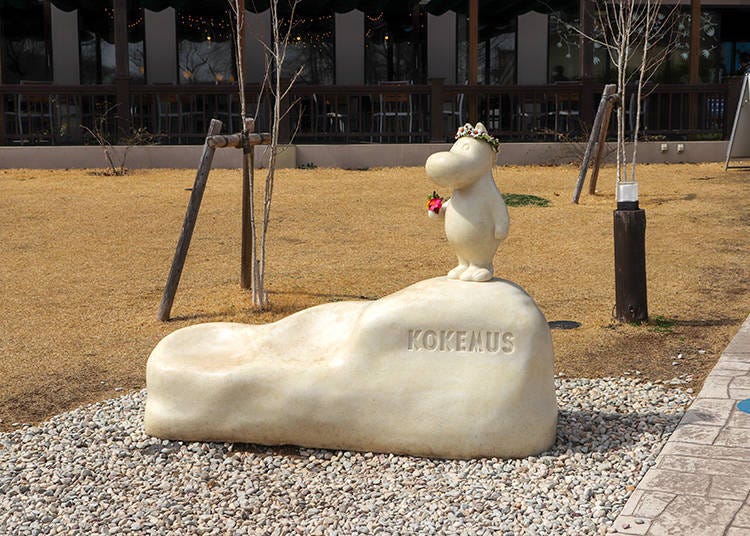 The Kokemus area, which is right by Moominhouse and Emma's Theater, is chock full of exhibitions and ample opportunity for interactive photos. Don't forget to take a snap with the Moomin statue at the entrance!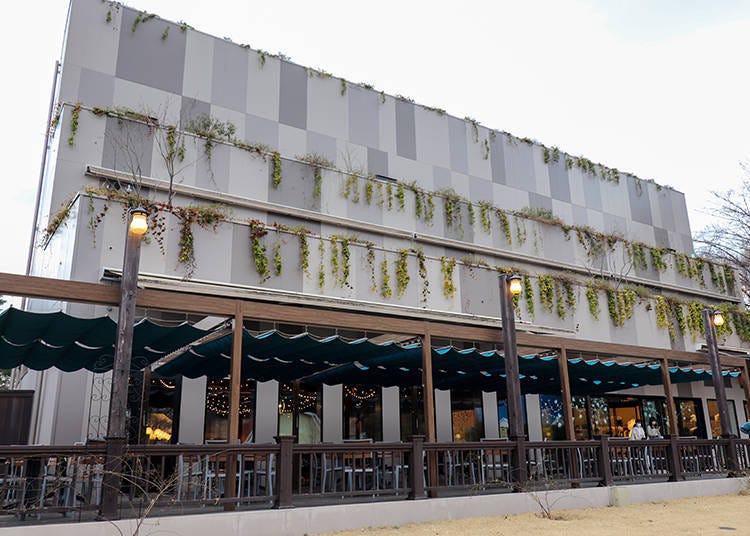 The 1st floor holds the "Moominvalley Food Hall," an excellent spot for lunch, along with the "Main Shop Moominvalley," ideal for souvenirs. The 2nd floor is ideal for a quick sit-down, with both the "Library Cafe" and "Kids Space" offering ample room to unwind.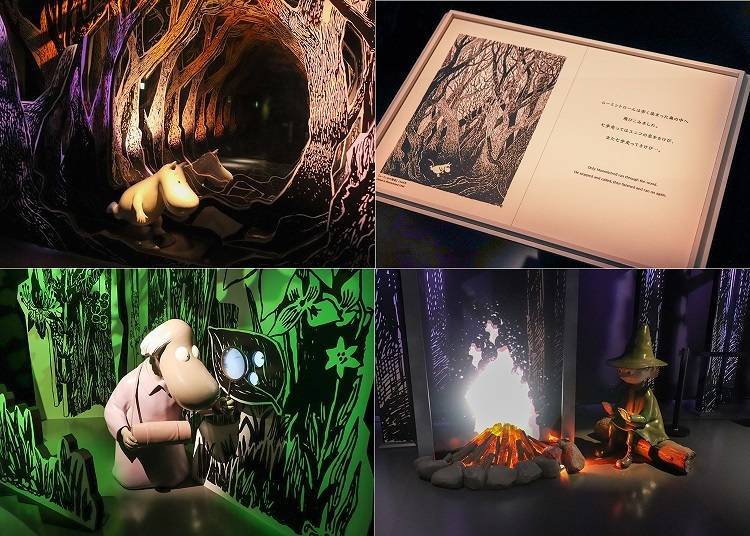 Both the 2nd and 3rd floors are full of fascinating displays taking us deep into the creative world of Moomin.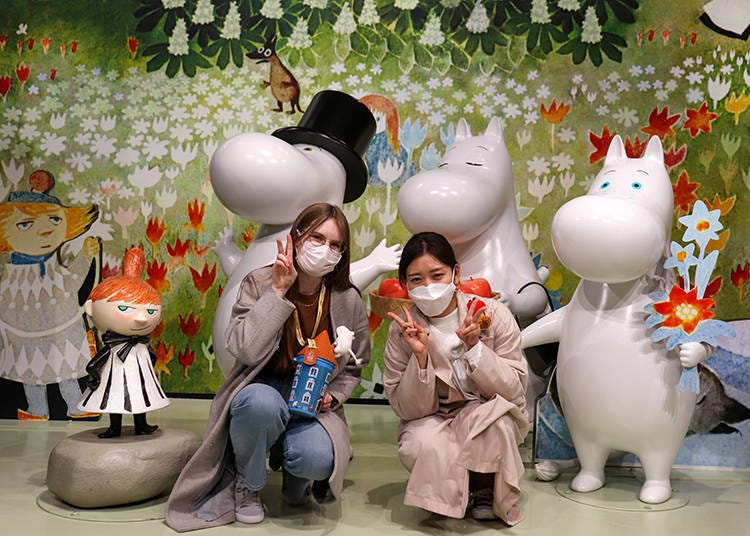 As you can see, we took plenty of amazing photos!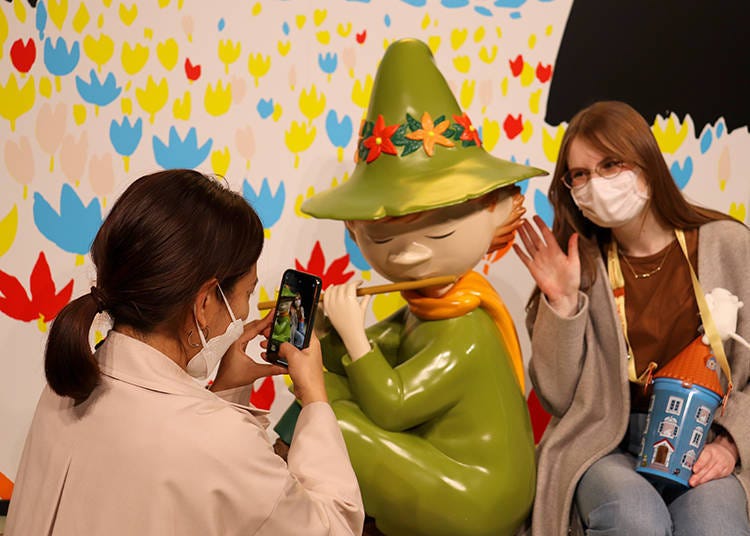 Find a good angle and take a snap with Snufkin. Don't hesitate to really get into it!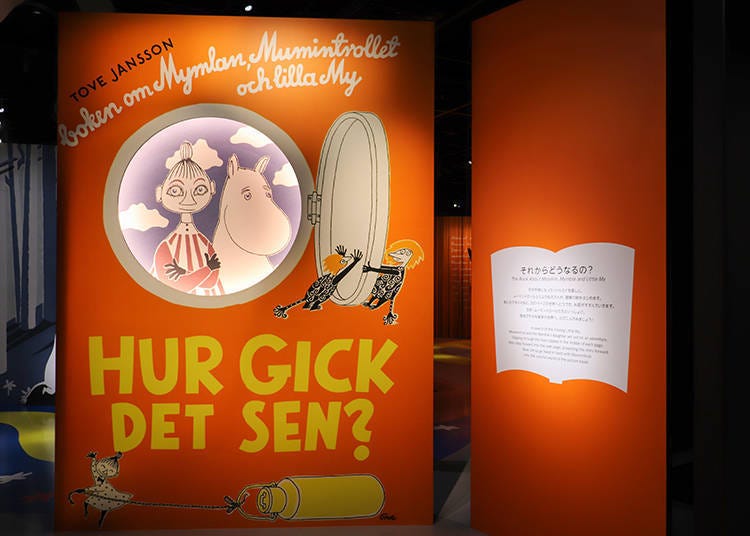 One of the most riveting displays is the recreation of "The Book about Moomin, Mymble and Little My," by author Tove Jansson.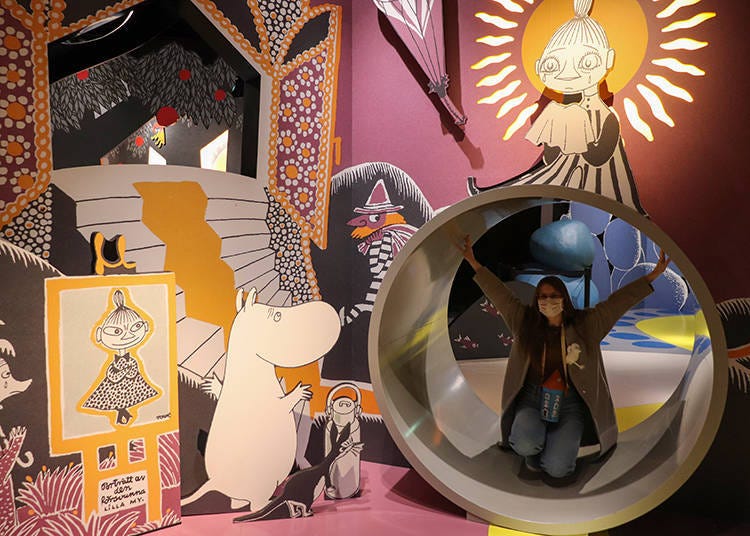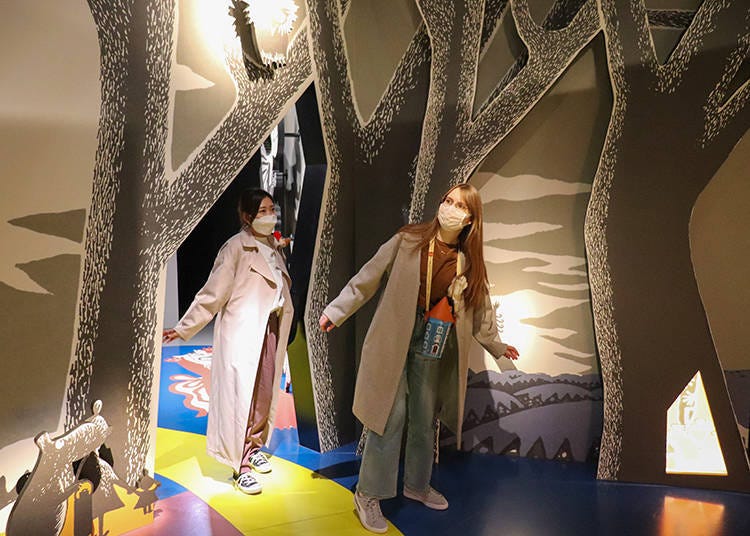 Each page is brought to life through vivid three-dimensional recreations, allowing you to walk through the holes in each page to re-experience this beloved story.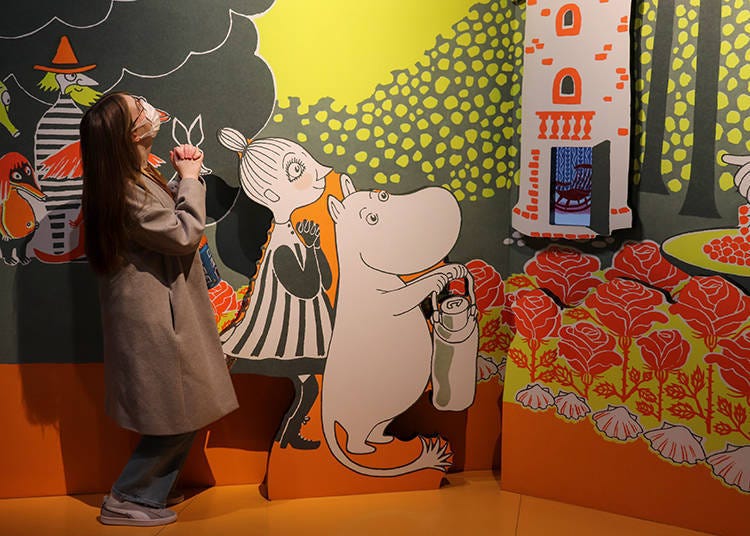 Surrounded by the sights and sounds of Moominvalley, we felt ourselves naturally slipping deeper into this charming storybook world.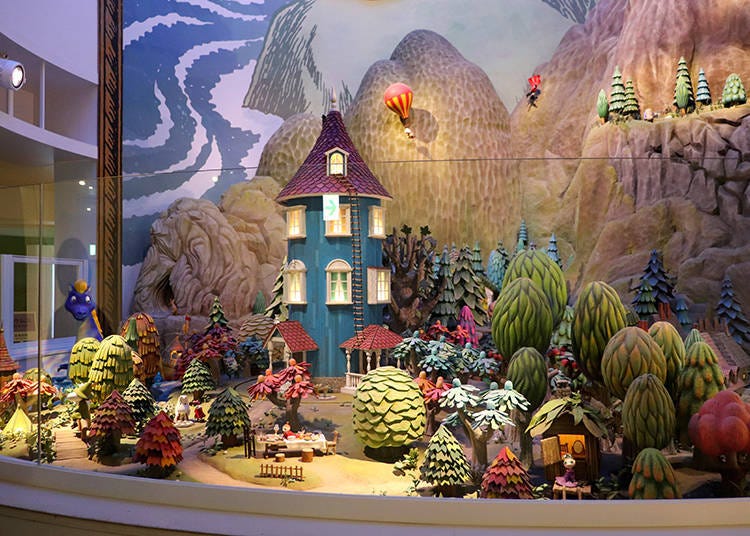 Within Kokemus is an elaborate Moominvalley model that slowly revolves to showcase all the intricate details - including the inside of Moominhouse.
Time For Grub! Lunch at Moominvalley Food Hall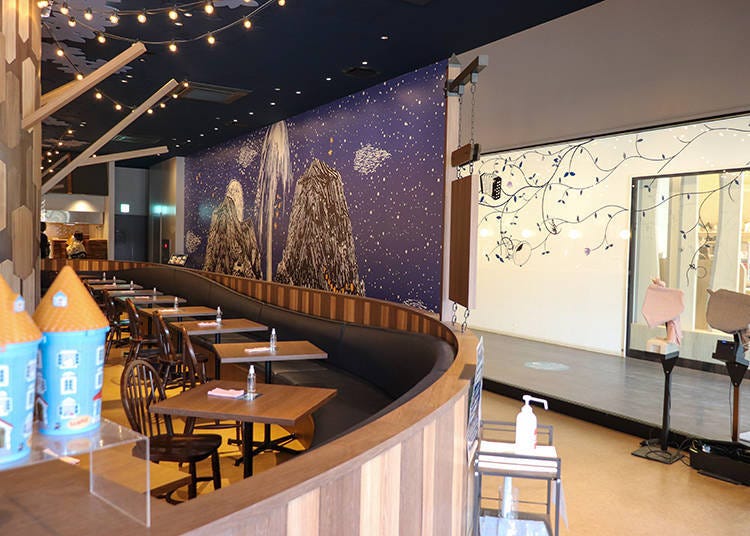 The largest restaurant in Moominvalley Park is the "Moominvalley Food Hall," found on the 1st floor of Kokemus. The Nordic-inspired menu is packed with tasty dishes sure to satisfy and give you the energy needed to continue exploring!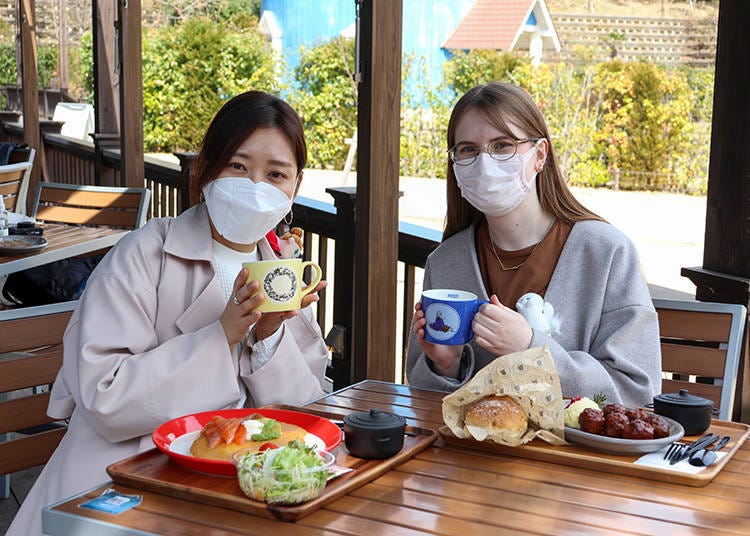 Honestly speaking, both of us had never eaten Nordic cuisine before! We were just as excited about this as the attractions themselves.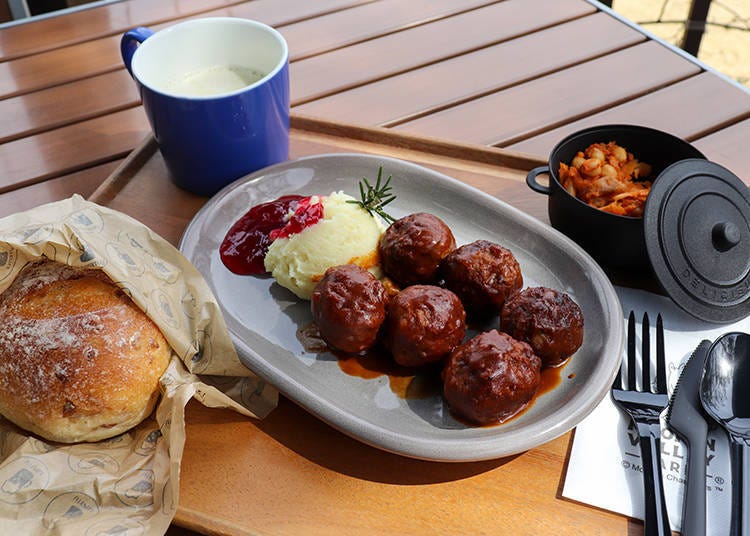 Bella had the "Meatball Set (with soup, side dish, and bread)," which was 1,600 yen. It was tastefully arranged with traditional home-cooked Northern European meatballs as the main dish, accompanied by a serving of mashed potato and lingonberry jam.

"While I'd never had meatballs paired with jam before, the sweet tartness of the jam was a match made in heaven for the savory, juicy meat. I was filled with intrigue, and I've got to say, it really exceeded my expectations!" said Bella.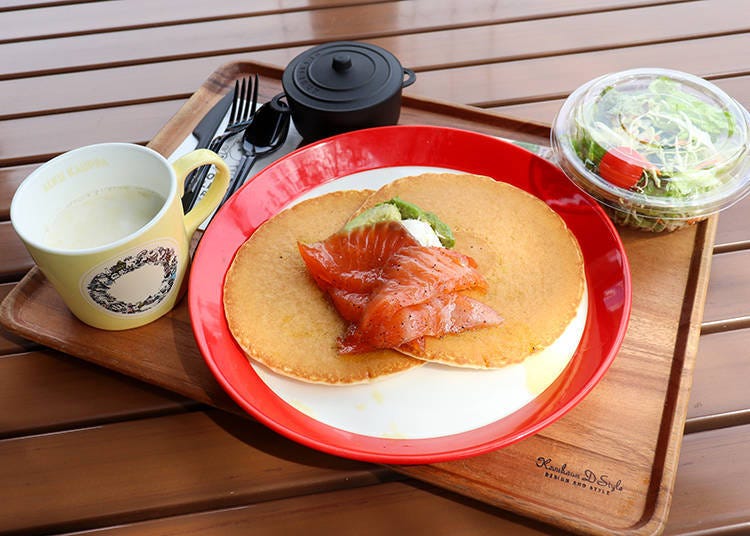 "M" settled on the "Salmon Pancake Set (with soup, side dish, and salad)" for 1,600 yen, which boasted marinated Atlantic salmon caught in the seas of Northern Europe.

"I think I've finally gotten an understanding of what Northern European cuisine is. With cream cheese, salmon, and avocado heaped on top of a thin pancake, I was treated to a wide range of different tastes in a single meal," said M.
Moominvalley Park also recommends visitors try the "Nigiyaka Salad Set (with soup, side dish, and bread)" for 1,600 yen. While centered around vegetables, the accompanying roast beef gives it an extra kick of flavor.

(*Set contents may change.)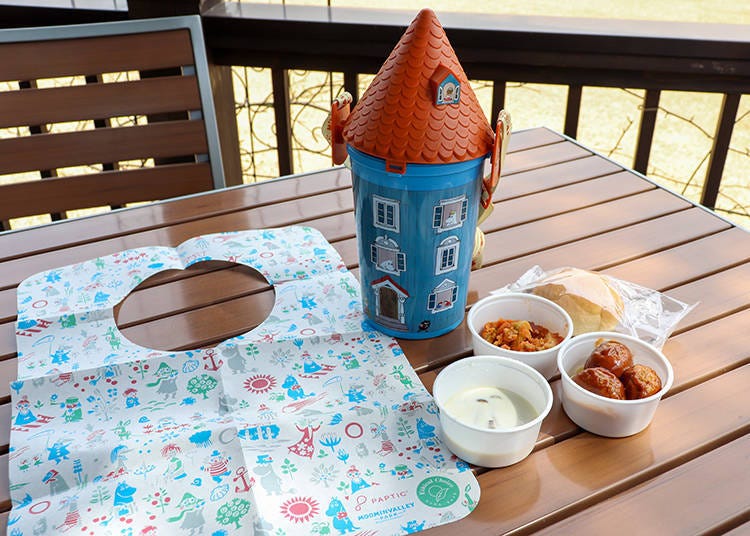 For kids, you can't go wrong with the "Kids Meal Bucket" (1,500 yen), which includes a helping of Hamburg steak, spaghetti, bread, salad, and the soup of the day. It is available for take-out, too, so you can pick a spot to eat amongst the spacious park grounds.

The meal also comes with an apron you can use at home, along with an eye-catching Moominhouse box. These goodies alone make fantastic souvenirs!
Head to the Library Cafe for a Quick Cool Down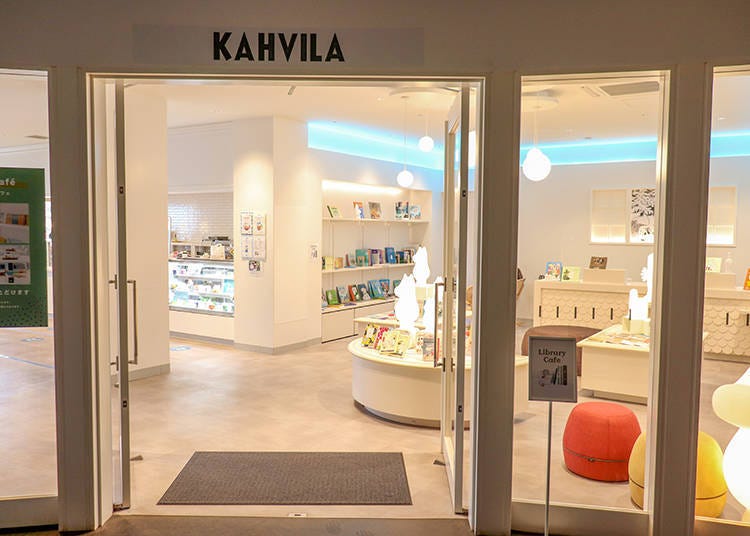 To cool down after walking, we recommend the "Library Cafe" on the 2nd floor of Kokemus.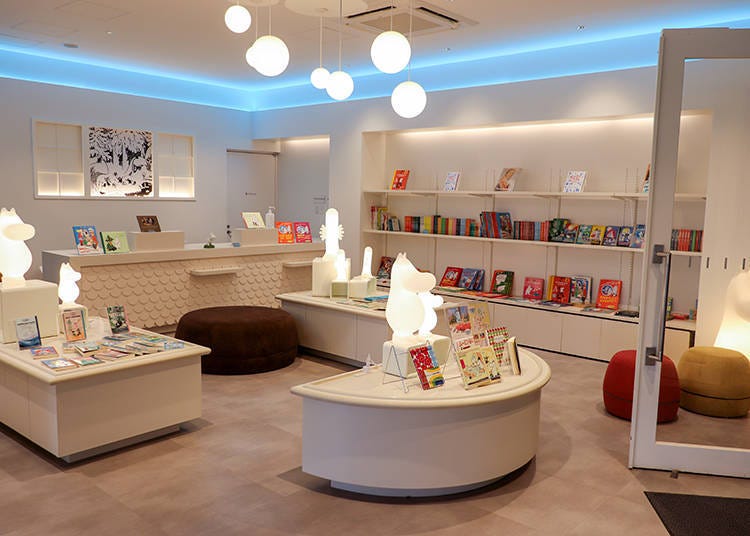 The library boasts a collection of around 400 books detailing the world of Moomin along with the country of Finland. You can freely pick them up and read at the desks, while also trying out some Finnish board games.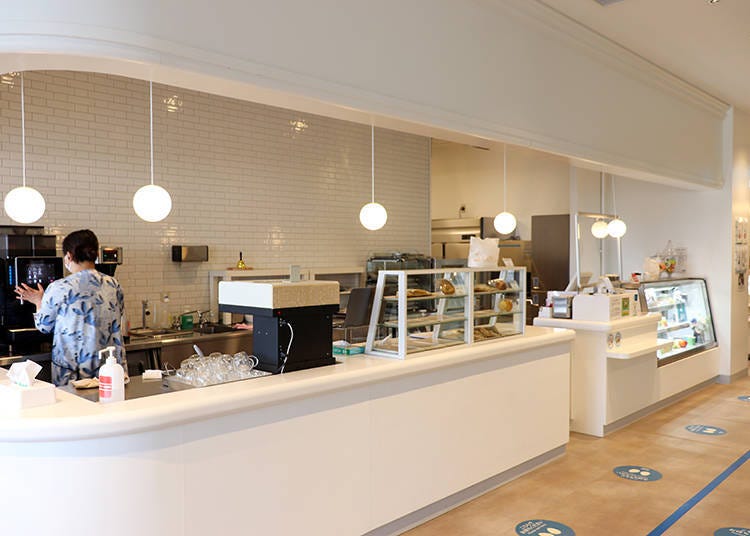 For those feeling a tad peckish, the library also serves scrumptious bread and original blend coffee.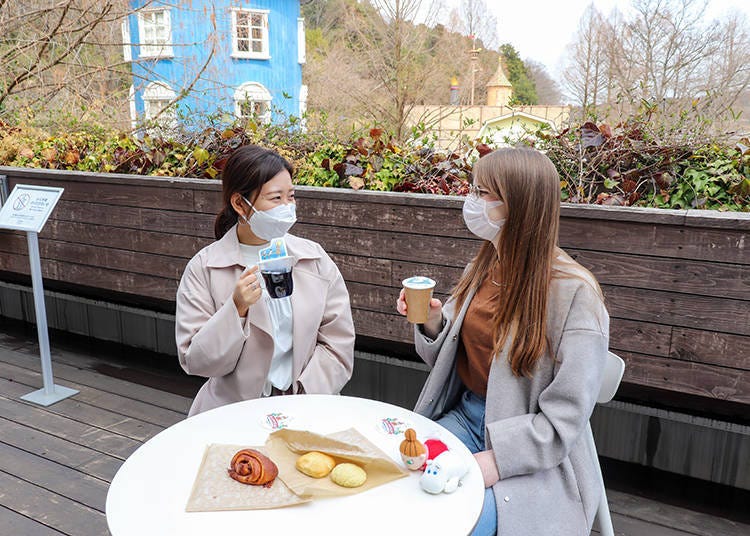 The back of the cafe has an outdoor space to relish your treats with Moominhouse in the background.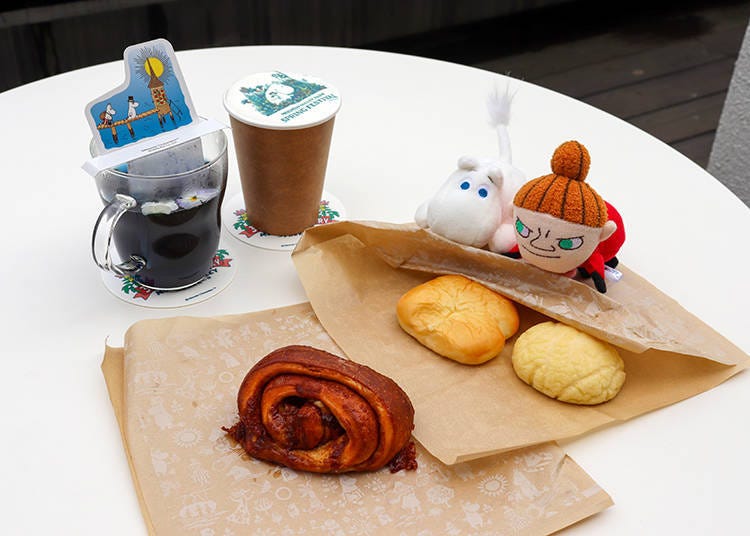 We opted for the park-recommended cinnamon roll and the "sweet bread set" of melon pan and cream bread. Both are 300 yen each.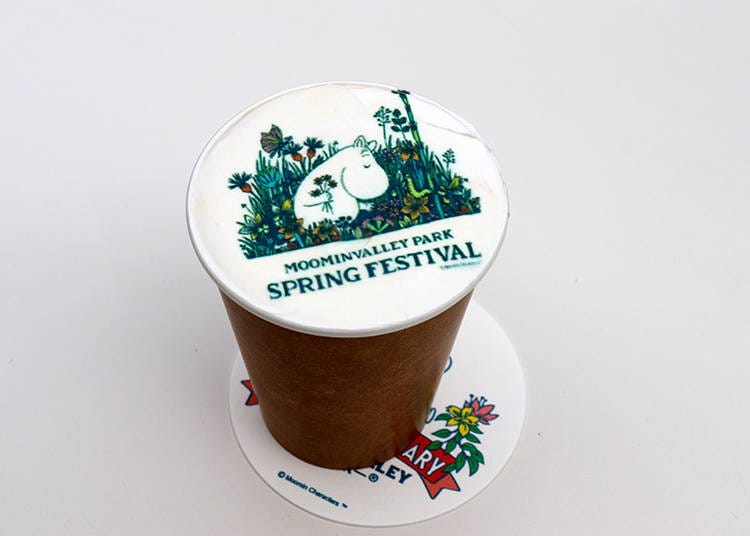 The popular "art latte" also came with a limited-edition Spring Festival design! (700 yen).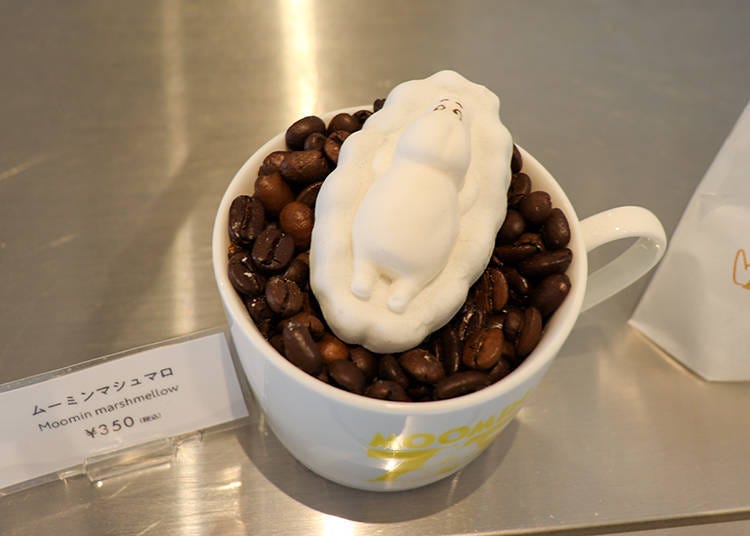 Both the coffee and hot chocolate can be topped with the ever-delightful "Moomin Marshmallow" (350 yen).
If you're around during the Spring Festival, definitely consider the limited-edition "Floating Flower Herb Tea" (600 yen). Each day features brand new edible flowers, so you'll never know which one you'll get!
Kid's Spaces and Nursing Rooms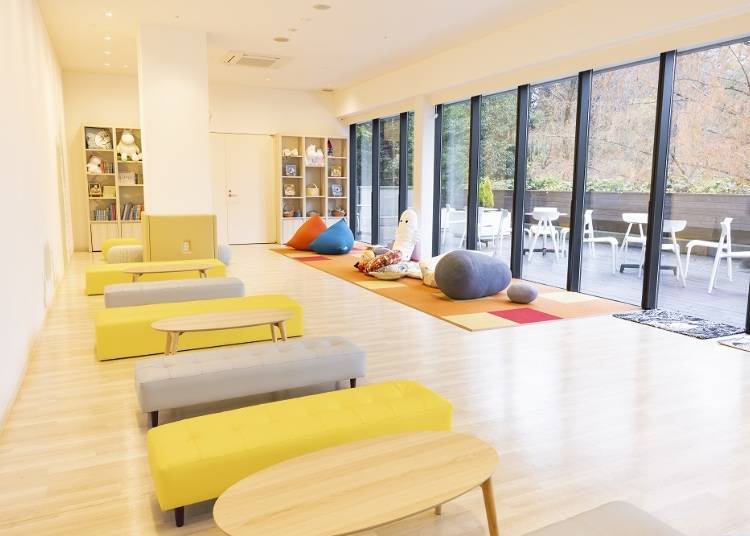 On the 2nd floor of Kokemus is a kid's space where children can freely play and learn with typical Northern European toys, blocks, and picture books.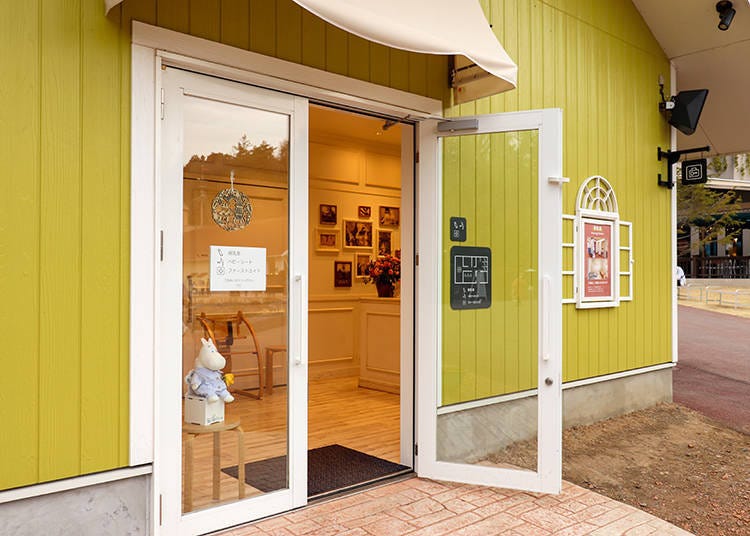 There is also a nursing room near the Kokemus entrance.
Lonely Mountain - Dive Further Into Lush Greenery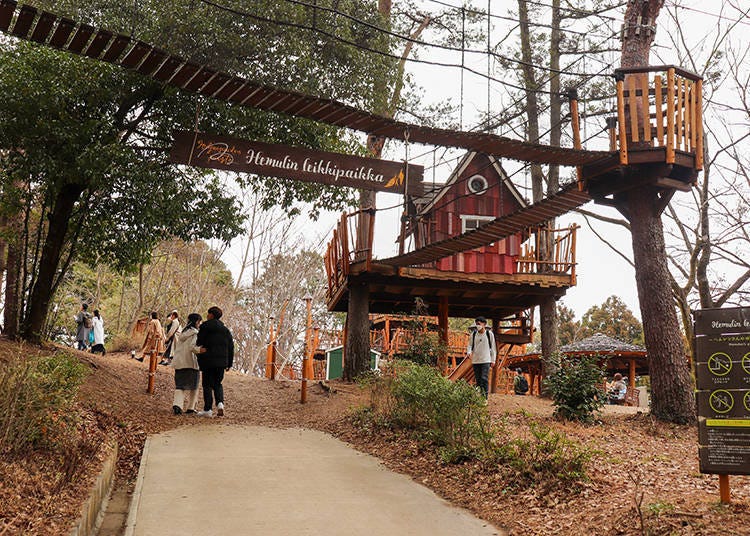 Venturing deeper into Moominvalley Park, we finally enter the Lonely Mountain area.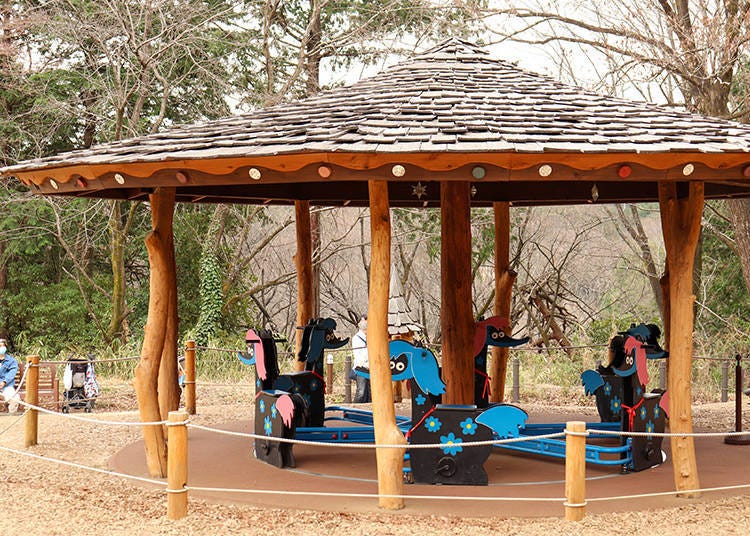 Here we got our blood pumping through several exercise facilities inspired by the story "The Hemulen Who Loved Silence" from the Tales from Moominvalley series.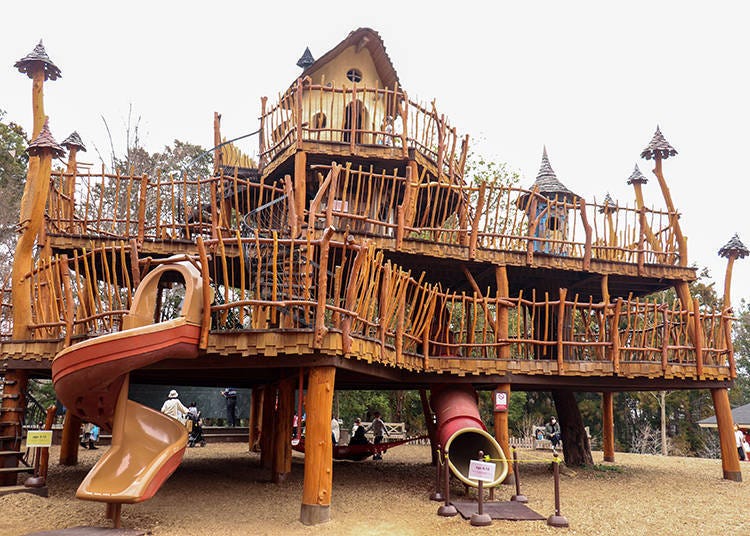 This spectacular treehouse is based on the one made by the character Hemulen, who once worked in an amusement park. It is suited for kids between the ages of 6 and 12.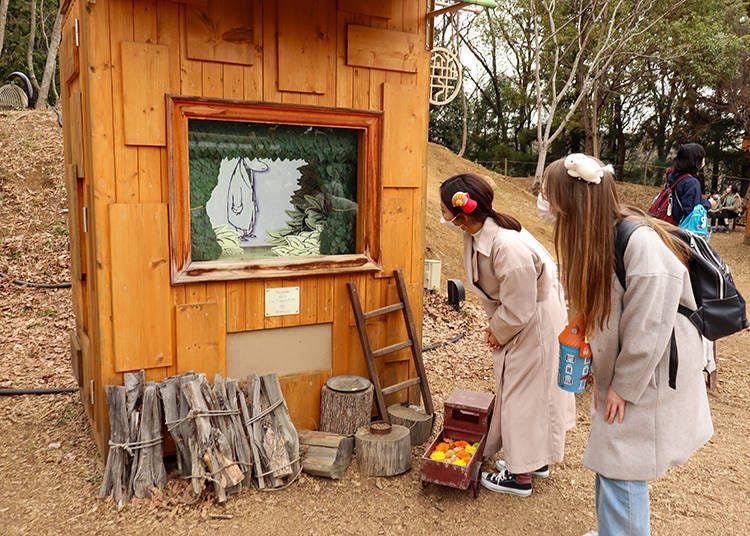 While kids burn up energy on the playgrounds, adults can wander the grounds and experience the Japanese art of "forest bathing."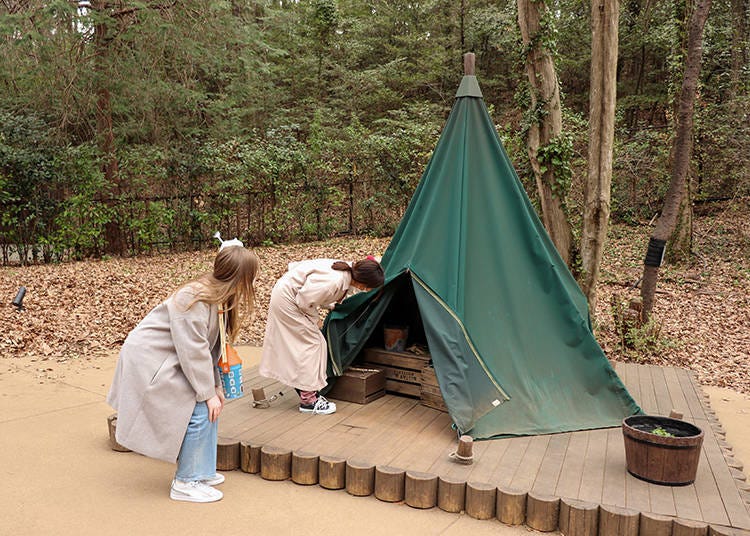 Heading further into Lonely Mountain, we reached "Snufkin's Tent," which is the deepest point of the park. Peeking inside, we could see a pile of boxes with the silhouette of Snufkin himself.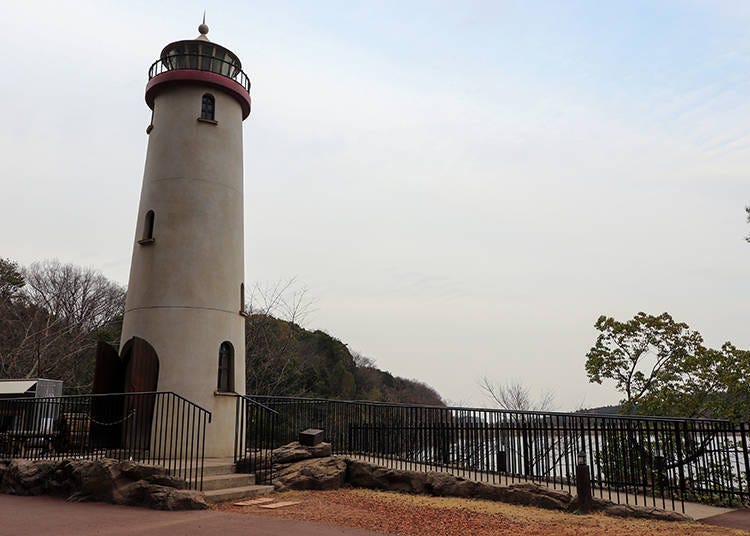 Also within Lonely Mountain is the "Lighthouse," which appears in the story "Moominpappa at Sea." Looking into the lighthouse where the Moomin family once settled, we could see the drawings left behind by Moominmamma, who missed her life at Moomin House. When the sun sets, the lighthouse is lit up, giving off a totally different ambiance from the daytime.
Get Your Moominvalley Park Shopping Done Here!
Starting with the "Entrance Shop" by the entrance, there are loads of places within Moominvalley Park to find souvenirs to memorialize your fun day.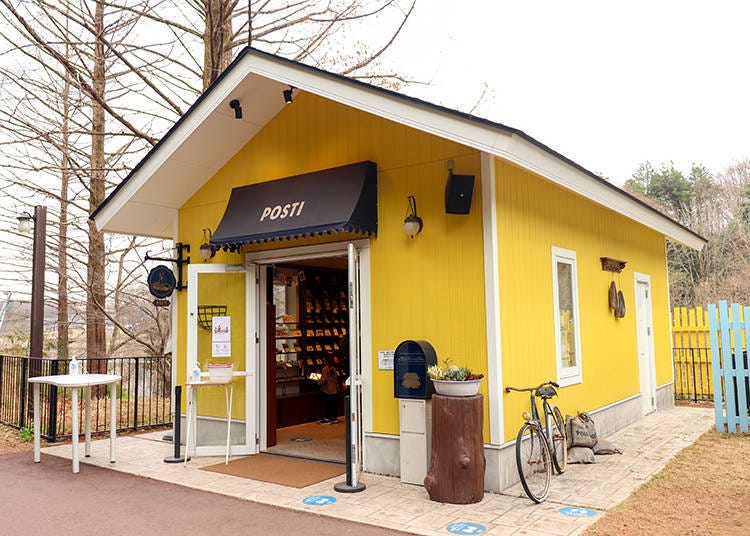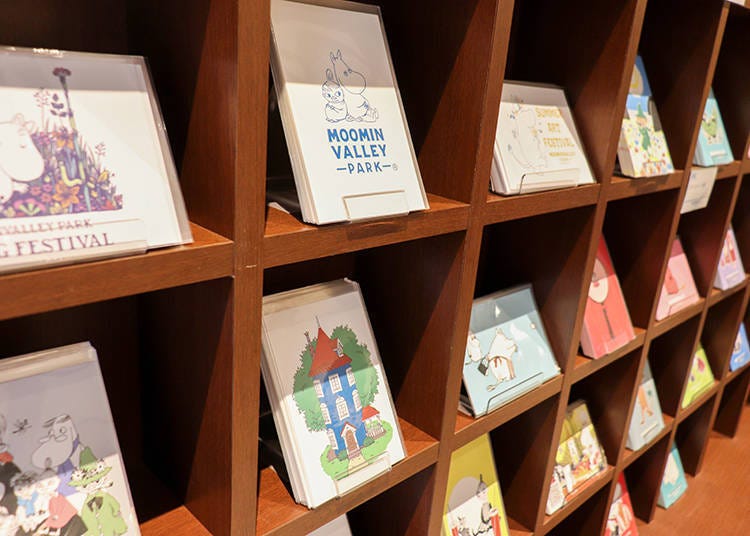 At "Posti" is an entire wall of postcards featuring Moominvalley characters, along with stationery for those who love writing letters.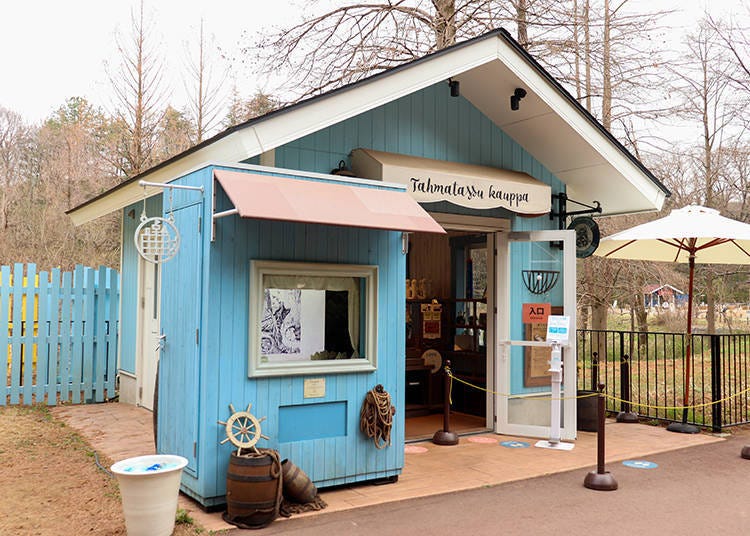 At the "Nibbling Store," visitors can challenge themselves to a fun arcade ball-rolling game. If you win, you'll get a Hattifattener plush doll! Even if you don't, you'll still receive a participation certificate, so there's no harm in giving it a go!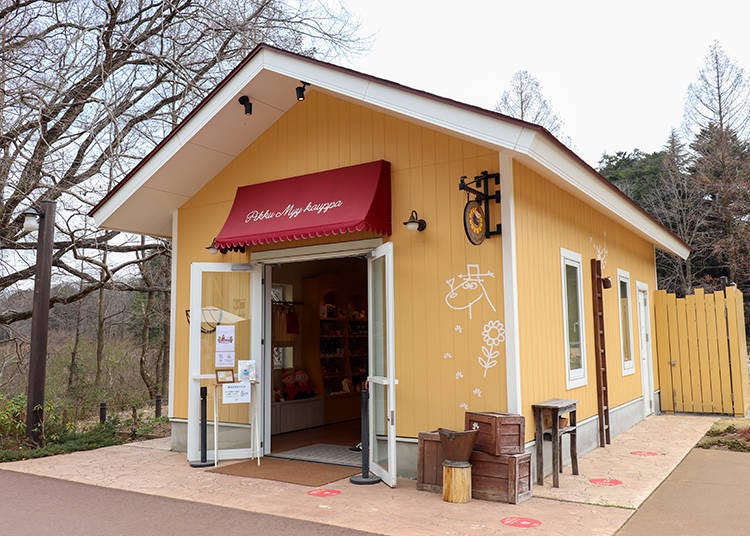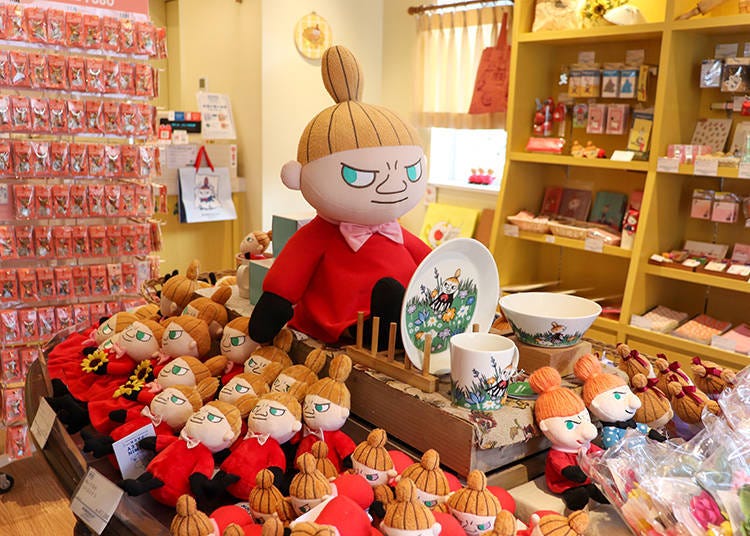 The "Little My Store" is entirely dedicated to the popular character Little My. Along with cute plush dolls, there are all kinds of daily essentials and more up for grabs colored with Little My designs.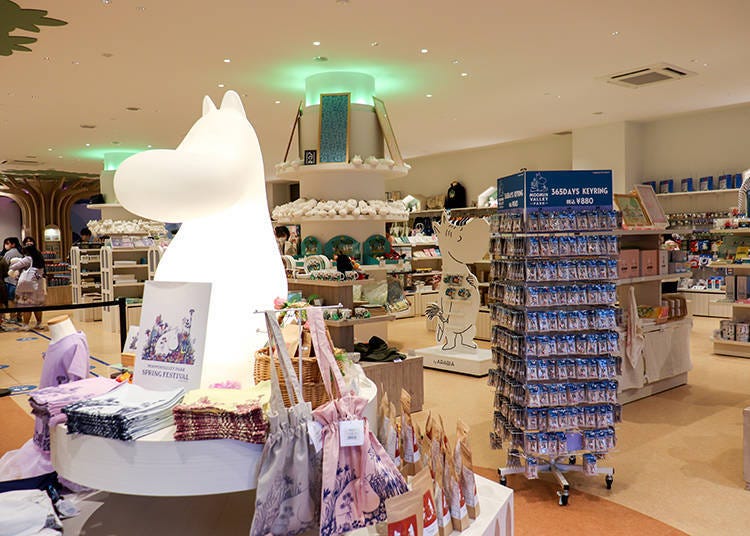 However, the largest and most diverse assortment of souvenirs in Moominvalley Park is at the "Main Shop Moominvalley," on the 1st floor of Kokemus.

This is actually one of the biggest Moominvalley stores in the world, beating most others in terms of size and range, so you're guaranteed to find something that takes your fancy!
We Recommend Buying These at Main Shop Moominvalley!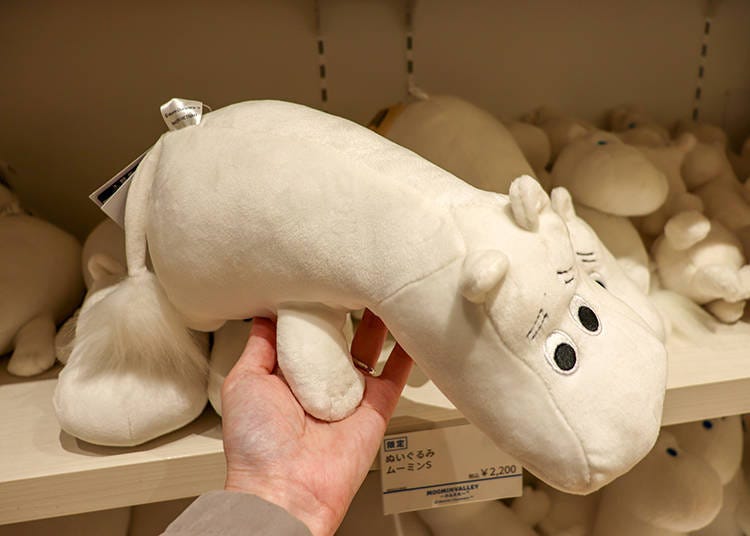 One of the most popular items at Moominvalley Park is the "Moomintroll Plush Doll Nervous Face" (3,080 yen). It's also on sale at the Hajimari Shop, so you can pick it up when entering to take photos around the park.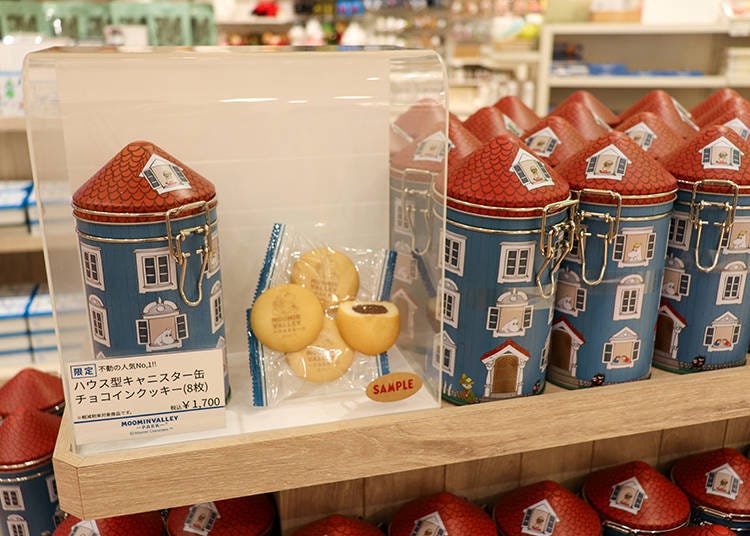 Moominvalley Park also recommends the "House-Shaped Canister Can Chocolate Cookies" (1,700 yen). The enchanting Moominhouse-designed can alone makes for a fantastic souvenir and handy container once you've devoured all the cookies.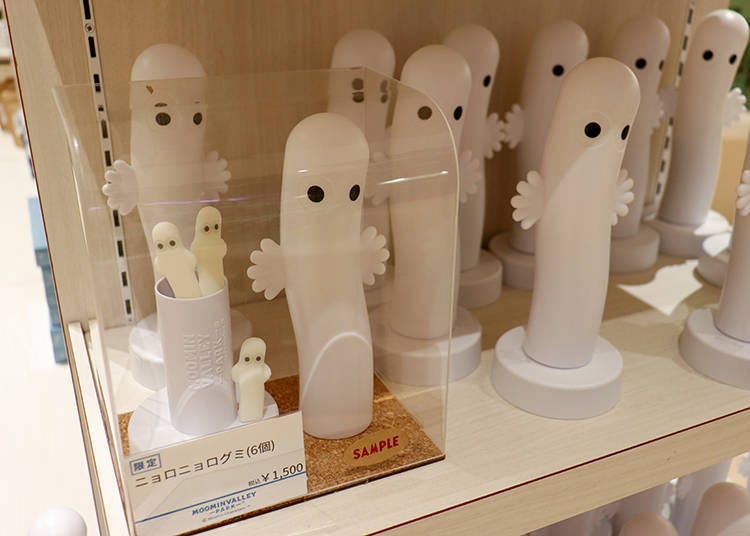 One item that caught our eye was the "Hattifattener Gummy (6 pieces)" for 1,500 yen. These delicious-looking gummy candies are based on the ever-popular Hattifattener characters - we wondered how they tasted!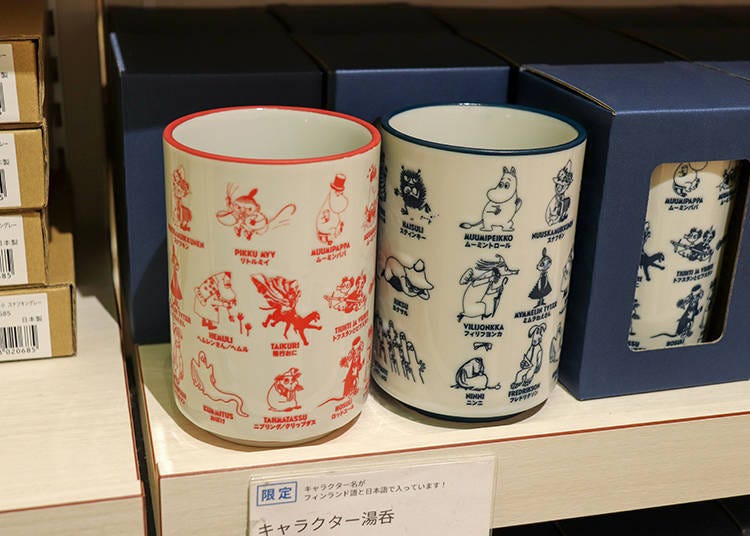 LIVE JAPAN Editorial Team member M personally opted for the "Character Teacups" (1,320 yen each), which feature the character names both in Finnish and Japanese.

"After spotting these distinctly Japanese-style teacups decorated with the Moominvalley characters, I couldn't resist buying one for myself," said M. Available in two different colors, we decided to buy them as a pair.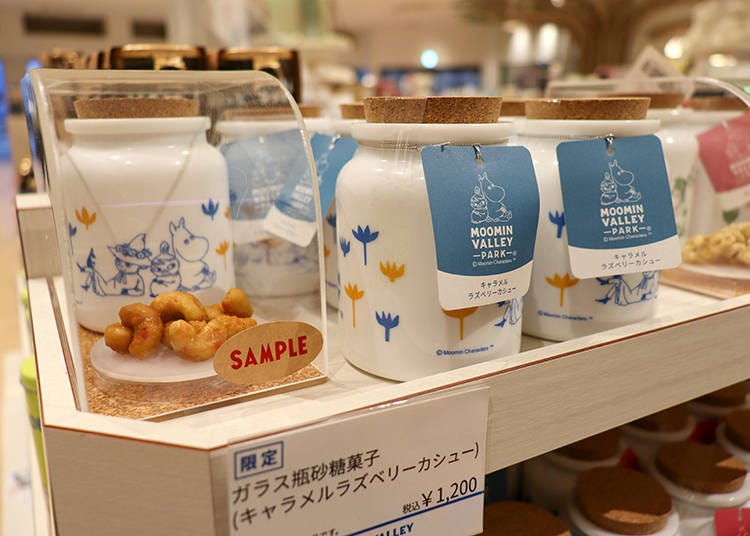 Bella went for the "Glass Jar of Candy (caramel, raspberry, cashew)," which was 1,200 yen.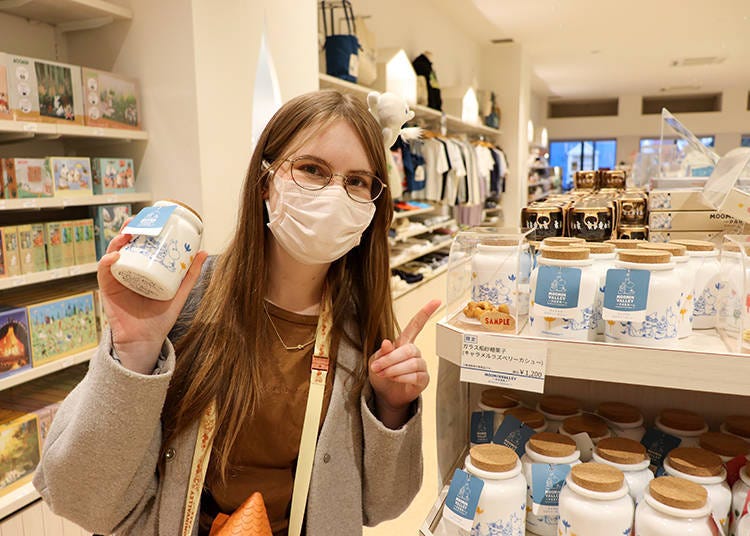 Bella, who basically enjoys anything caramel flavored, was additionally drawn to this treat after being reminded of the berry on the meatballs at lunch. It's always nice to find a souvenir with special memories attached.

Sitting upon nature-rich lakeside, Moominvalley Park brings to life the characters and world of Moomin. After exploring every inch of this storybook dreamland, our two editors said "Everything was perfect - the attractions, the food, and even the location!"

Needless to say, they were very impressed and totally satisfied. Moominvalley Park makes for a fun and slightly offbeat day out in Japan with plenty to do for both adults and children alike!
Health & Safety Measures

Indoor disinfection measures taken - Sanitizer installed - Disinfected after each guest leaves - Ventilation measures in place - Staff wear masks, gargle, wash hands regularly, and monitor body temperature - Entry declined to anyone who is feeling unwell - Guests are required to wear masks
©Moomin Characters™

*Information is current as of our March 2022 visit.
*Opening hours and more are subject to change upon the spread of COVID-19. Confirm the latest information on the official website before visiting.
ムーミンバレーパーク

Address

Metsä, 327-6, Miyazawa, Hanno, Saitama

・TEL: 0570-03-1066 (weekdays, weekends, holidays: 10:00 a.m. - 6:00 p.m. *shuts irregularly)
・Hours:
- Weekdays: 10:00 a.m. - 5:00 p.m.
- Weekends/Public Holidays: 10:00 a.m. - 6:00 p.m.
*May change due to events, etc.
Written by: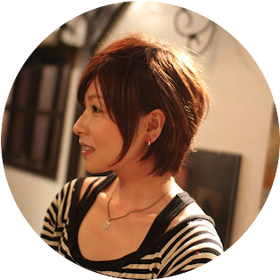 *This information is from the time of this article's publication.
*Prices and options mentioned are subject to change.
*Unless stated otherwise, all prices include tax.