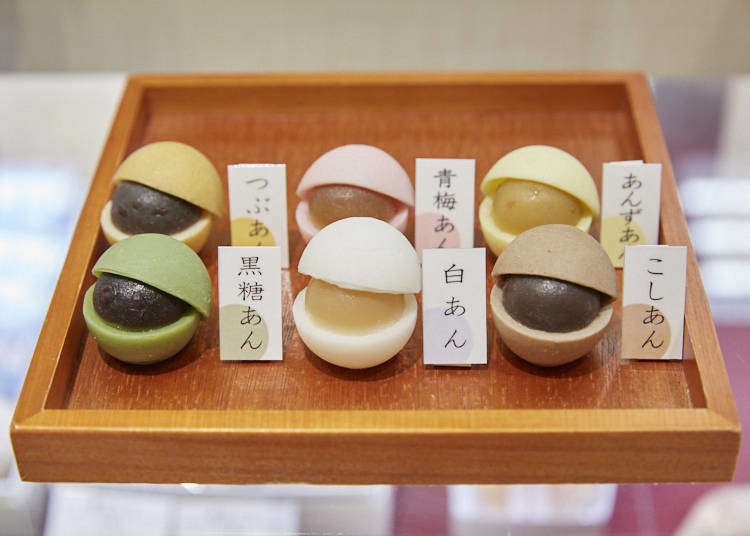 Depachika is Japan's word for the underground gourmet floor where various shops sell produce, sweets, dishes, and everything food-related. Those spots are wonderlands of amazing gourmet souvenirs, offering all sorts of delectable creations from elegant to traditional. It's the perfect place to pick up a gift for loved ones with a sweet tooth!

If you've never been to such a depachika, come with us to Yokohama, about an hour train ride away from Tokyo. There, we'll not only find an atmosphere that is quite different from the capital but an array of intriguing gourmet delights. We've enlisted Shin, a Chinese woman who will have her first Japanese depachika experience with LIVE JAPAN.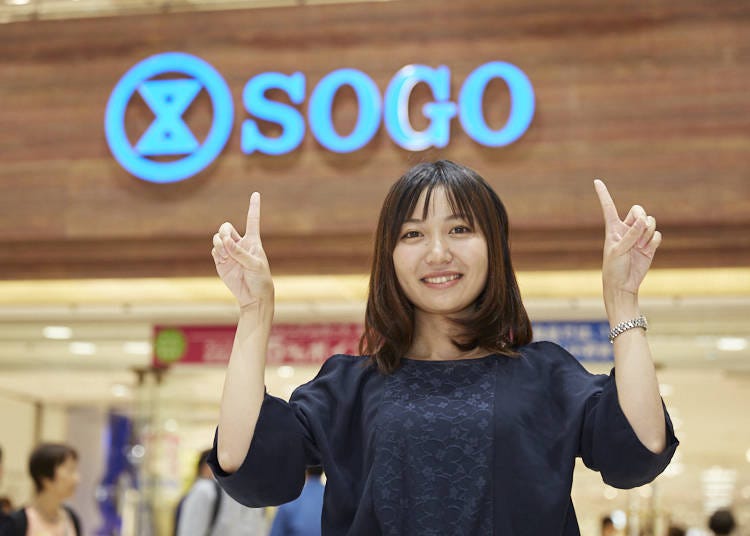 We're visiting Sogo Yokohama, a large department store that celebrated its 33rd anniversary on September 30, 2018. It's always bustling with tourists and locals! Especially noteworthy is how big the entire basement floor is.

It has been created to "let the customer browse and choose products slowly," inviting to leisurely stroll along the many different delicacies. It could be said that this concept is unique to Sogo Yokohama, with many of the shop's customers being seniors and families. The first floor also features a tax exemption counter and has staff that can speak English, Chinese, Korean, and other languages, so don't worry if you cannot speak Japanese.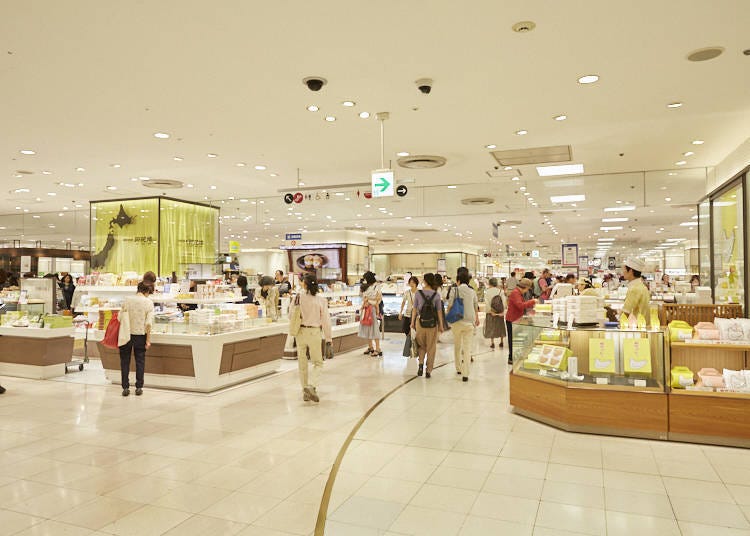 Sogo Yokohama is especially loved by locals because it has many shops of the "Kanagawa brand," meaning that they're from around the area. At a shop called Kanagawaya, you'll find plenty of specialties and delicacies that Kanagawa is known for.

We're accompanying Shin on her first depachika adventure, starting on the second basement floor of Sogo Yokohama. What souvenirs is she going to pick?
1. Marlowe: the Popular "Beaker" Pudding Made with the Finest Ingredients from Around Japan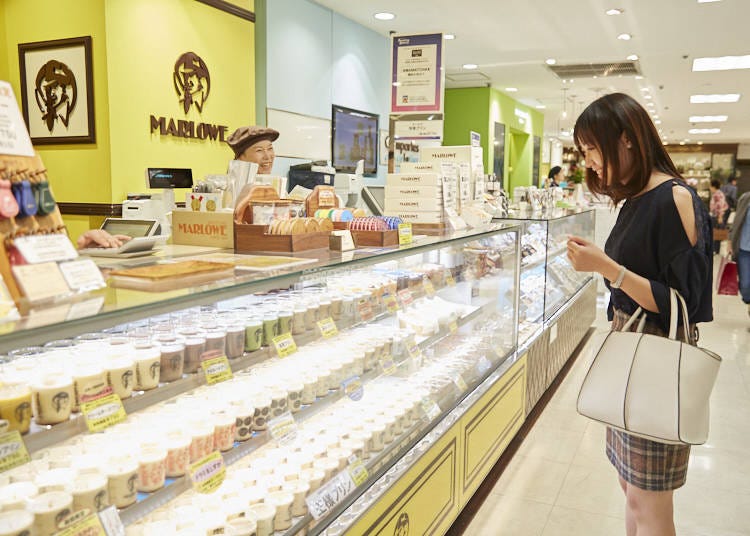 Shin immediately stops in front of Marlowe and its hard-boiled detective type of logo. Originally, Marlowe was a restaurant in Yokosuka. When it opened in 1984, it had a homemade baked pudding on the menu that quickly rose in popularity, making the restaurant famous. Served in a 200cc glass beaker boasting the curious logo, the pudding is incredibly smooth and rich in flavor, made with the finest domestic ingredients. After a single spoon, you'll understand why this pudding has gained such a reputation.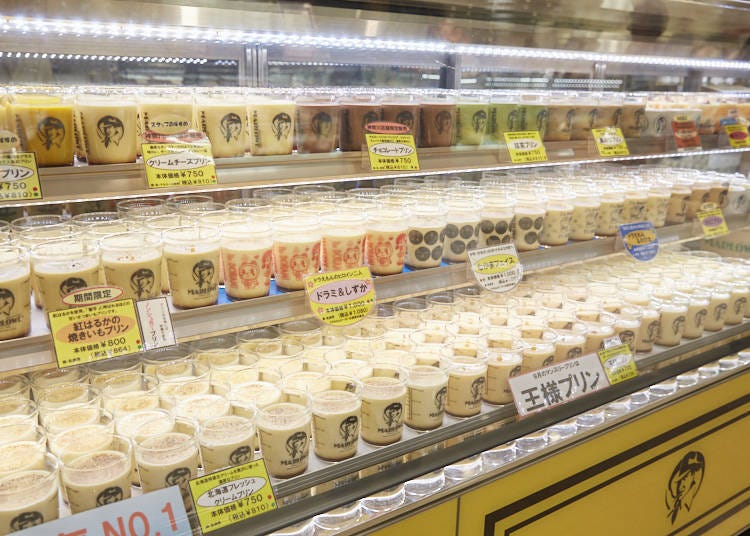 One pudding variety that is particularly recommended to international tourists is the "Matcha Pudding" (810 yen, tax included). The matcha powder used for this delight is the famous Kyoto Ujitawara Matcha. Moreover, the powder is incredibly fresh, no older than one week after being ground. That gives the pudding a full-bodied flavor and rich aroma, tickling your taste buds with a perfect harmony of gentle bitterness and mild sweetness.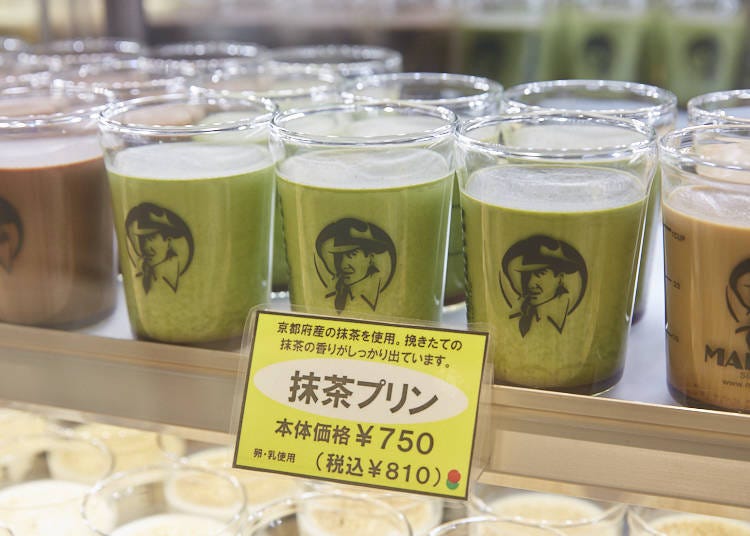 About 20 types of pudding are offered at Marlowe, including the aforementioned matcha and limited specialties. Which one is Shin going to choose?

"This is a tough choice. I really like matcha, but I think I will go with 'Hokkaido Fresh Cream Pudding' (810 yen tax included). The high-quality milk and fresh cream that it is made with really sound good. I never liked milk in China, but when I had it for the first time in Hokkaido, I was almost shocked at how good it was. I've liked it ever since. For Chinese people, milk from Hokkaido is as famous as matcha tea, so if I gift this to my friends back home as a souvenir from Japan, they will be super happy."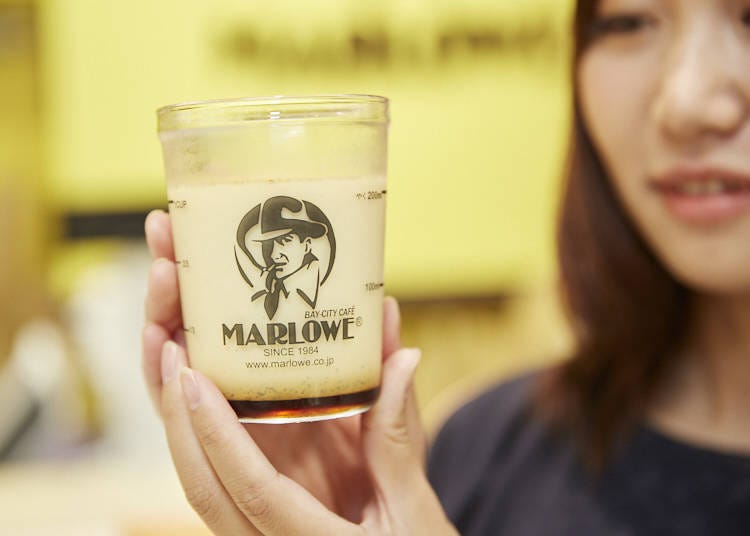 Certainly, Hokkaido is a popular tourist destination! The richness of the milk coming from the northern area is something out of the ordinary for a lot of people, which is exactly why Shin chose Marlowe's "Hokkaido Fresh Cream Pudding."
2. Unohanagaki: a True "Kanagawa Brand" Souvenir from a Traditional Confectionery Shop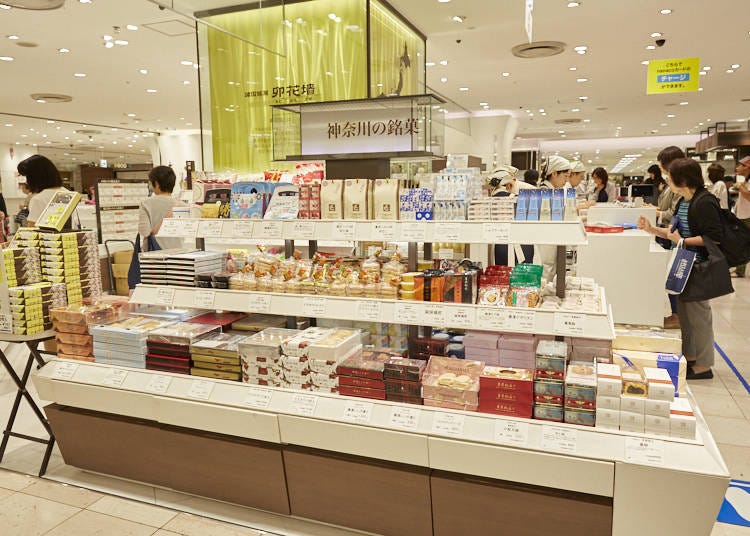 Next up is Unohanagaki, a famous confectionery shop that delights people with its creations from Hokkaido in the north to Okinawa in the south. All sweet delights are sold individually, so it's a great shop to actually try different confectioneries without having to buy an entire box. While Unohanagaki offers sweets from around Japan, the most sought-after are those from Kanagawa. One corner is stocked with "Kanagawa brand" products, about 40 different delights representing the prefecture in the most delicious way.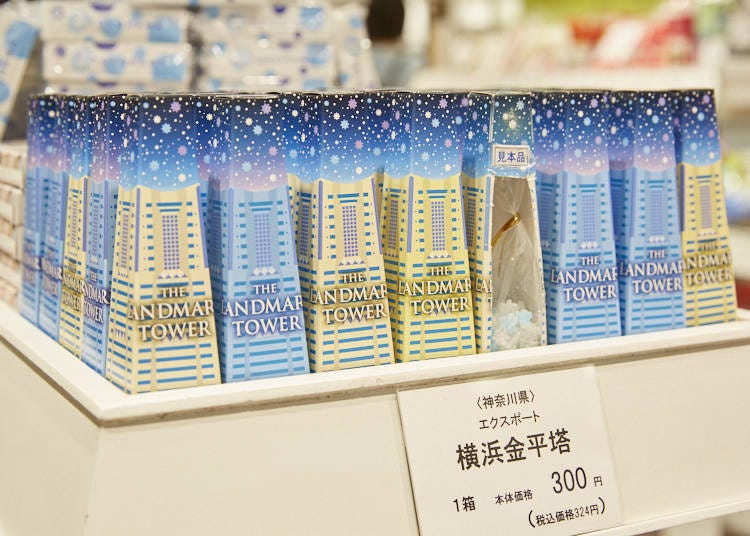 "Oh, this is perfect as a small souvenir for someone special!"

The souvenir that Shin chose is the "Yokohama Konpeito" (324 yen, tax included). The Yokohama Landmark Tower, one of the most prominent symbols of the city, adorns the box full of traditional sugar candy called konpeito.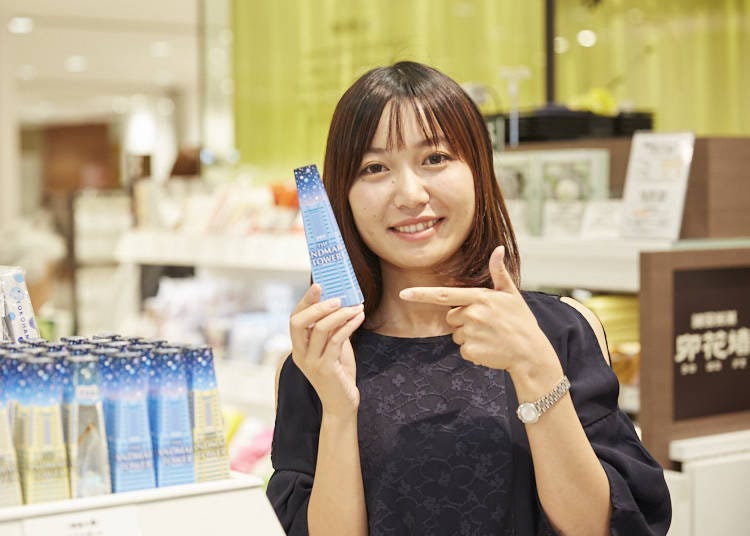 "I like the blue and white color! The konpeito are so delicate and cute, and when I meet my friend next week, I will tell her about my first time in Yokohama and surprise her with this gift."
3. Kamakura Mameya: the Unique Fusion of Beans and Sweets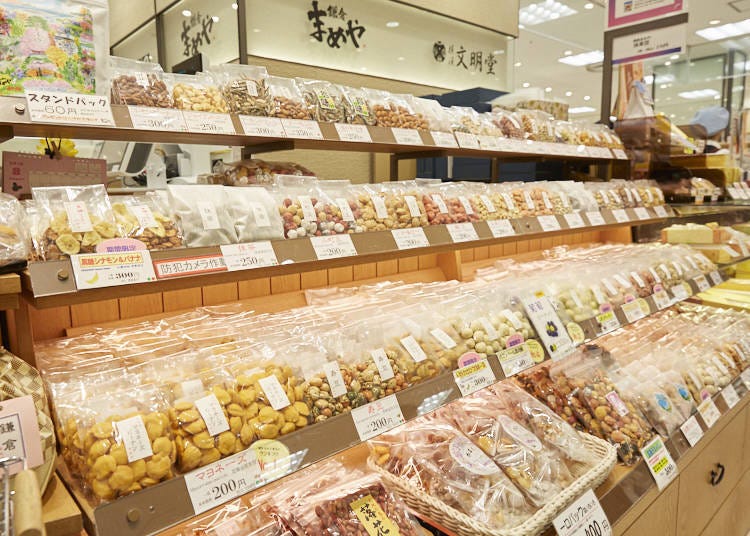 Next, Shin heads to Kamakura Mameya, drawn in by the pretty bean candy lined up in front of her. Founded in 1951, this confectionery shop specializes in bean candy and has locations in Kamakura's Hase, Komachi-dori Street, and more, boasting a lot of local fans. Even at Yokohama Sogo store, Kamakura Mameya has always between 50 to 60 kinds of colorful bean confectionery lined up. While we might think of soybeans first, this shop uses all sorts of different beans, including peanuts, broad beans, cashew nuts, almonds, and so on, to make sweet, salty, and spicy delights.

The most popular of Kamakura Mameya's creations is "Mayonnaise Peanuts" (216 yen, tax included), a snack is beloved by both adults and children. For international tourists, the bean creations with more traditional ingredients are especially interesting, such as "Aosa Wasabi" (216 yen, tax included), "Broad Bean Curry" (270 yen, tax included), and others. The store also lets you taste the different sweets, so feel free to ask for a sample if something piques your interest. Shin likes garlic a lot, so she asks the staff to try "Garlic Nuts" (432 yen, tax included).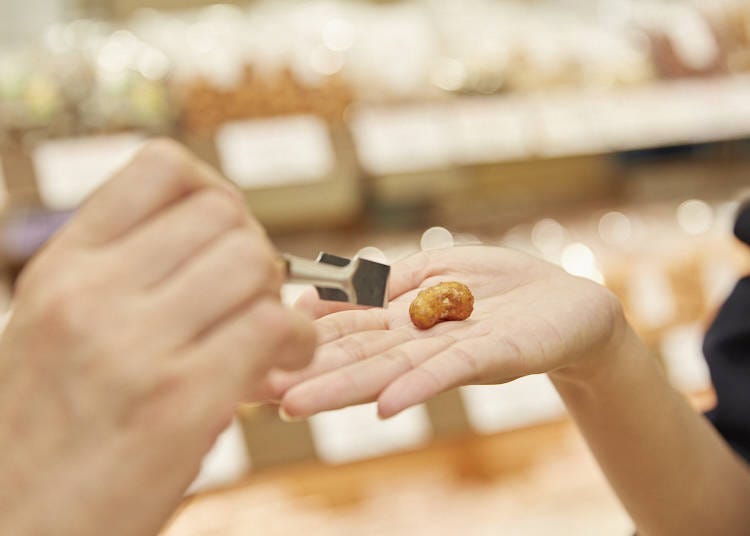 "Wow, the garlic taste is really rich! It goes great with the subtle sweetness from the cashew nuts and I can already see myself finishing an entire pack in one go. That one, I will gift to my family. This 'chinmi' is also very good. In China, we also like to eat tiny fish as snacks, but I've never seen them as a confectionery such as this one. They're cute! I also like that it's all sorts of different fish in one bag."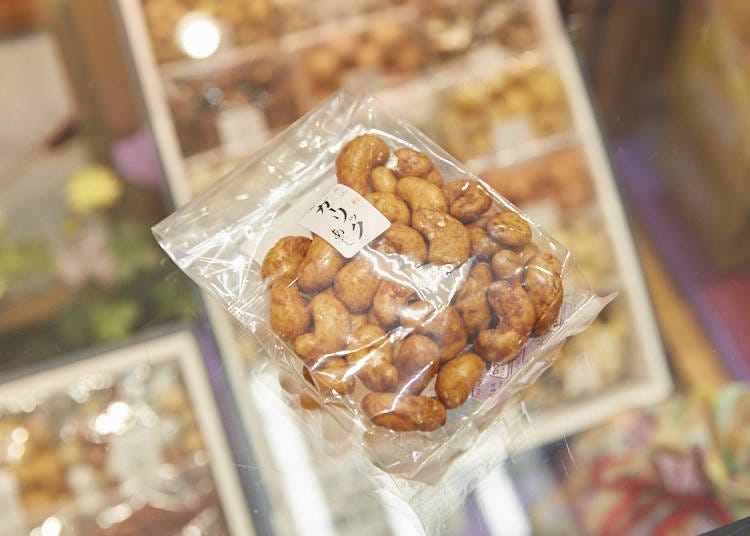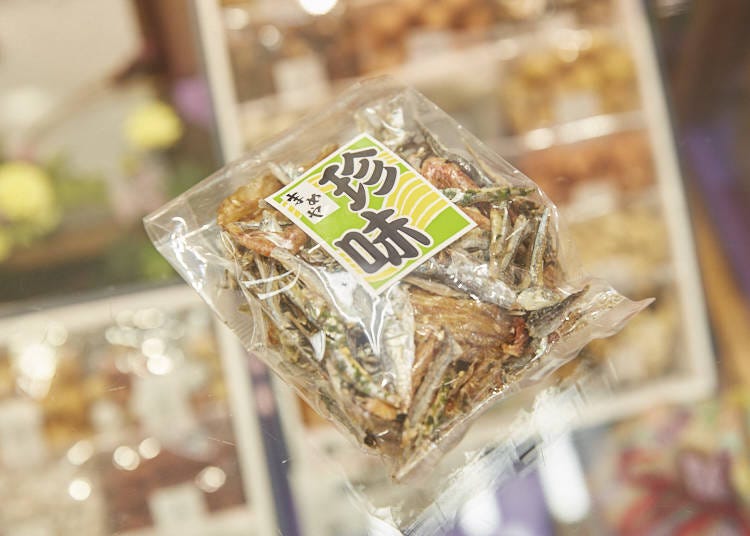 Shin likes the "Chinmi" (270 yen, tax included) best, despite the shop being known for its bean sweets. The staff tells us that the "Chinmi" are popular among Chinese tourists, apparently because people are drawn to the little fish looking like confectionery. Shin buys both the "Chinmi" (270 yen, tax included) and the "Garlic Nuts" (432 yen, tax included).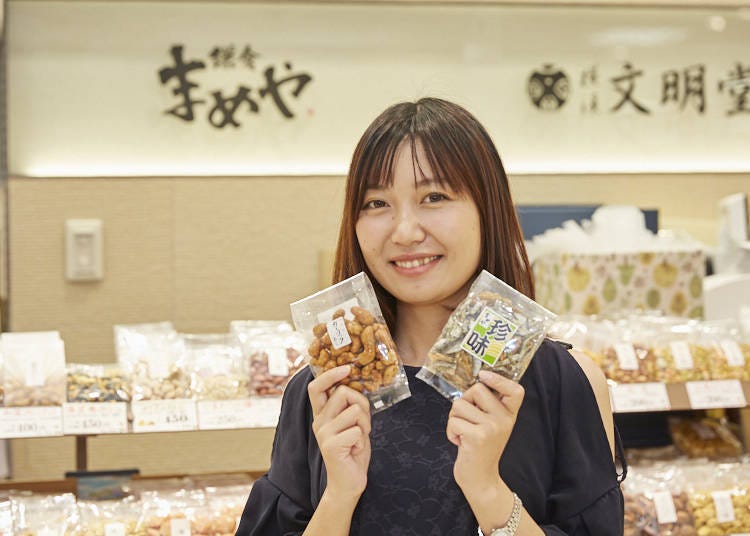 4. Kouro-an: Traditional Japanese Confectionery That is a Feast for the Eyes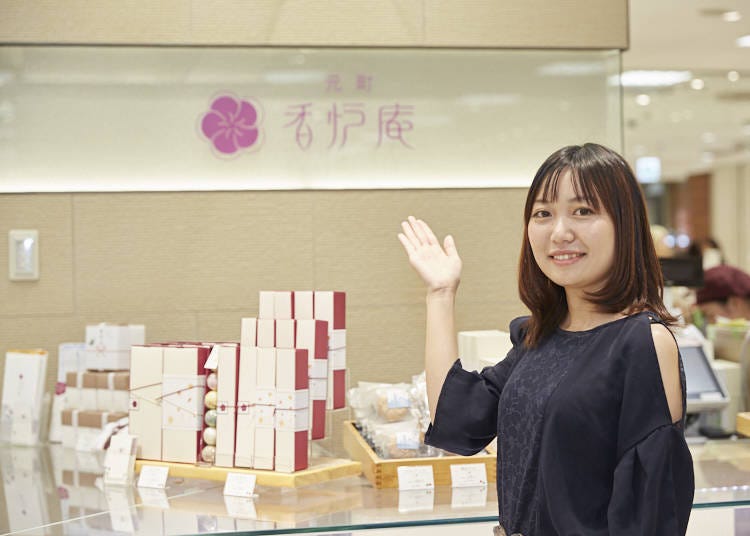 Having purchased salty snacks, Shin wants something sweet and traditionally Japanese, so she heads to a shop called Kouro-an. This confectionery shop has its home base in Yokohama. It first opened in 2004 and celebrates its 15th anniversary this year.

The most popular item at this shop is the "Brown Sugar Dorayaki" (195 yen, tax included), moderately sweet pancakes that are filled with coarse red bean paste. They're sold individually, so a lot of customers buy one or two over and over again.

Shin explicitly wanted traditional Japanese sweets that look delicate and beautiful, so which one will she choose?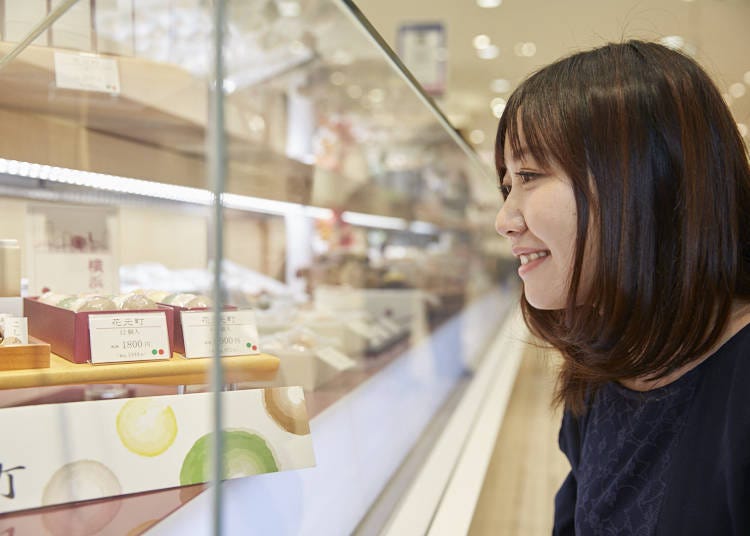 "Japanese sweets look really beautiful, to the point where it's almost a shame to eat them. Are these "Hana Motomachi" filled with chocolate? Oh, anko! They're really pretty, I want to buy them. I think those are a great gift to share among my female friends. All the Chinese sweets are big, but Japan's sweets are small and adorable. Easy to eat. For women, Japanese sweets are really great."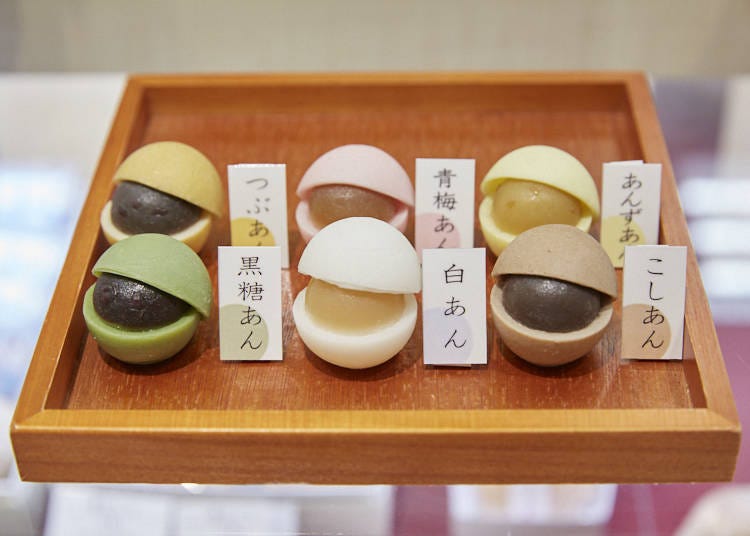 The Japanese confectionery that Shin chose as a souvenir is the shop's "Hana Motomachi" (972 yen, tax included). They seem to be created after the "floating balls" in Yokohama Port and are filled with coarse red bean paste, white bean paste, apricot paste, and so on. Six different varieties sit in one box, colorful and pretty. While waiting for her gift to be all wrapped up, Shin also noticed the "Chestnut Yokan" (756 yen for one, tax included) in the shop window. It's a limited product only sold between August and December.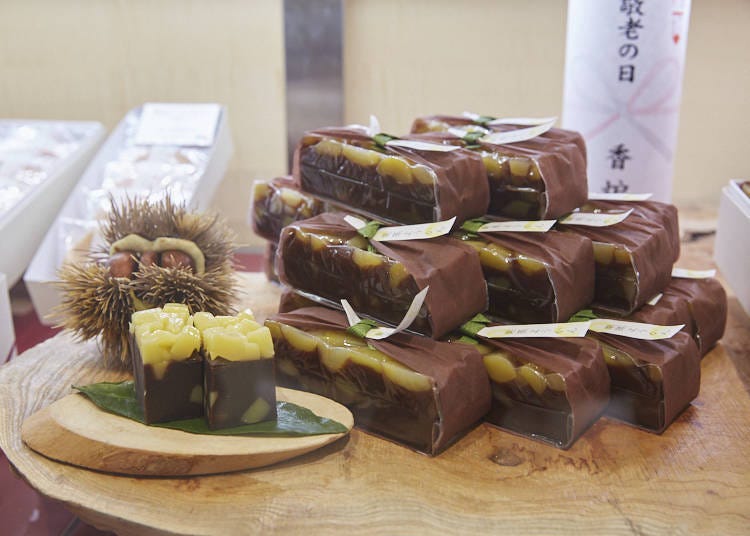 "This steamed yokan is packed with plenty of chestnuts, it really looks delicious! Sweet chestnuts called 'tenshin amaguri' are also rather famous and Chinese people usually love chestnut. That steamed yokan, I will get that for myself."

Chestnut and its rustic sweetness seem to be incredibly popular in China. Shin certainly was happy about her find!
5. La Marée de Chaya: From Fresh Cakes to Baked Pastries at a Well-established Pâtisserie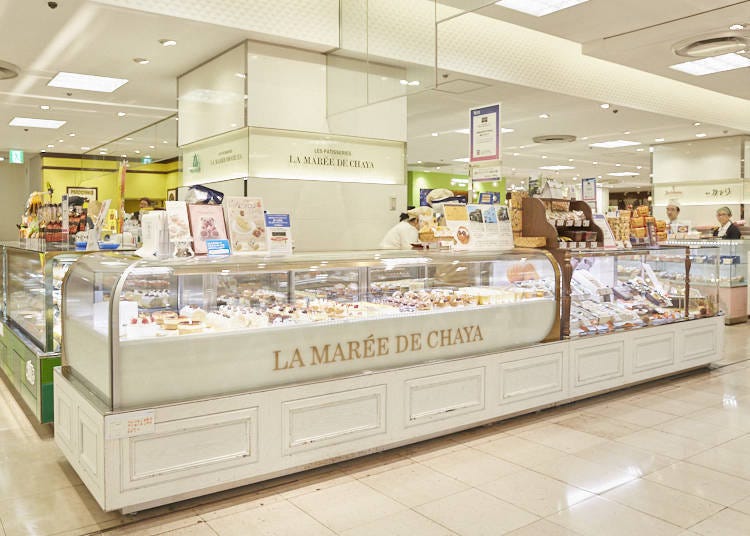 Last but not least, Shin stops at La Marée de Chaya. It's a famous Kanagawa patisserie, calling Hamaya its home since 1972. It offers over 20 kinds of fresh cakes and baked pastries, all of them wonderful souvenirs.

By adding liqueur and such ingredients to the fresh cake creations, they have a particularly rich taste. That is the shop's main characteristic. These cakes are certainly for a sophisticated palate, making the most out of the raw ingredients' flavors and aromas. These sweets aren't only suitable for tea time but also go great with a glass of wine or whisky. Additionally, each piece sells for around 400 yen, meaning that the price is rather reasonable.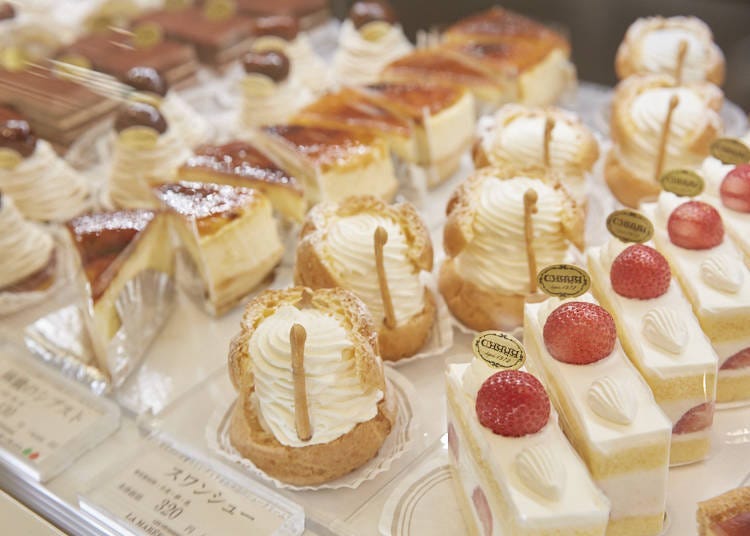 Most popular among international tourists are the pastries that have a long shelf life. The hand-made cookies (140g, 1,200 yen, tax excluded) are a popular choice, as is the Furian Financiers made with Kyoto Uji Matcha and Saikyo Miso. Especially the latter choice offers an authentically Japanese taste.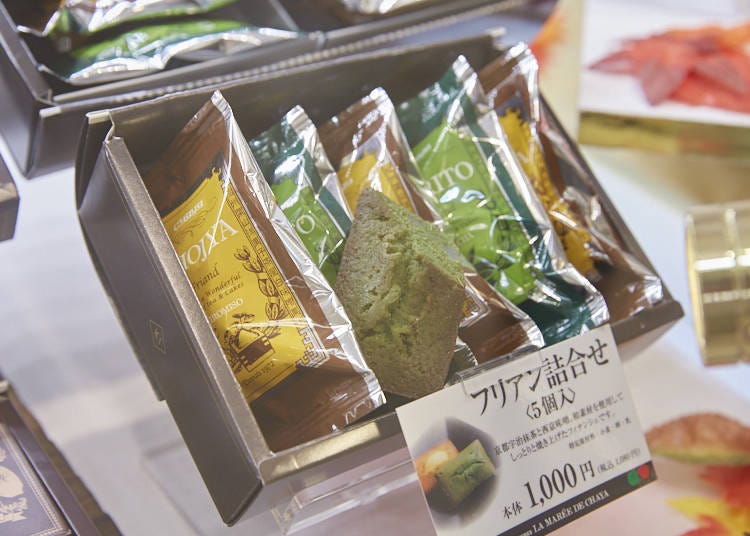 Shin also chose the "Matcha Furian" (200 yen, tax excluded) and tasted it immediately. She seems very happy!

"Matcha is a classic souvenir from Japan, but I really like this Financier version! The green tea flavor is rich and the texture is very nice as well. That might just have been the most delicious matcha sweet I've ever had...I'd like to show these to my Chinese friends!"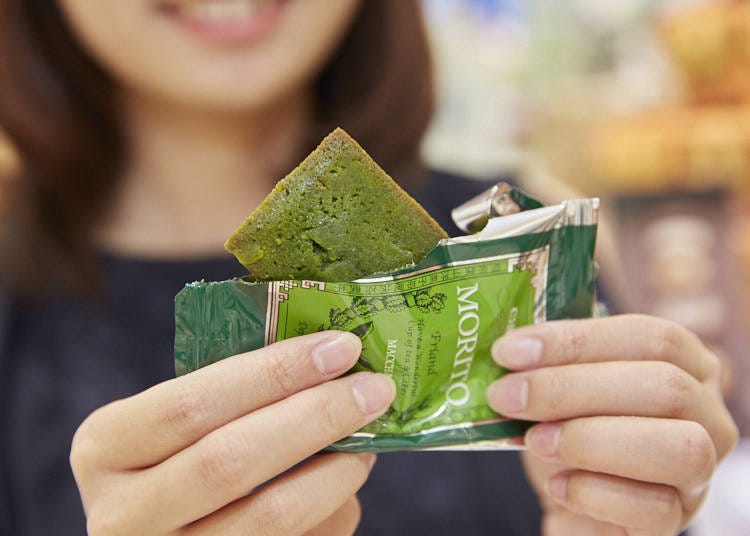 Apparently, Shin's favorite sweet is the Matcha Furian with its rich green tea flavor. "The next time I visit China, I'll come to Yokohama to get souvenirs for everyone!"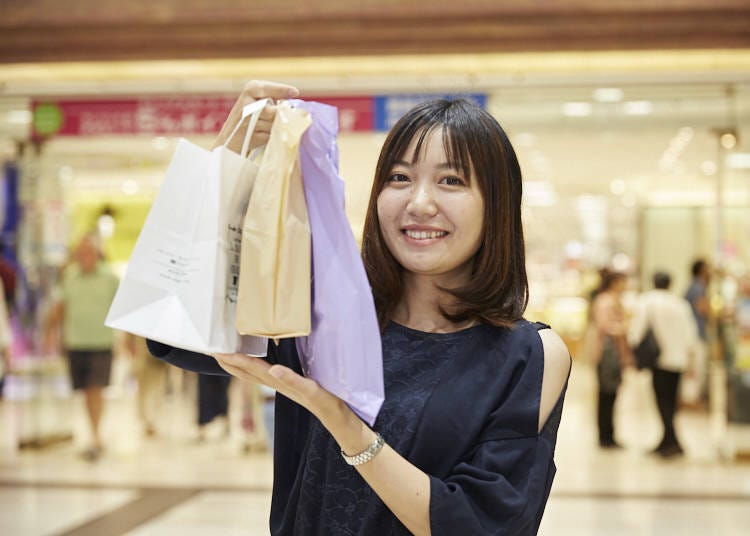 Sogo Yokohama's second basement floor offers a kaleidoscope of delicious sweets and snacks, while Kanagawaya treats you to various delicacies from around the prefecture. The next time you're in Yokohama to explore the city's many sights, why not stop by and get some delicious souvenirs for friends and family?
Appealing

Address

2-18-1, Takashima, Nishi-ku, Yokohama-shi, Kanagawa, 220-8510
View Map

Nearest Station

Yokohama Station (JR Tokaido Main Line / JR Yokosuka Line / JR Shonan Shinjuku Line / JR Keihin-Tohoku Line / JR Negishi Line / JR Ueno Tokyo Line / Line 3 (Yokohama Blue Line) / Tokyu Toyoko Line / Minatomirai Line / Keikyu Main Line / Sagami Railway Main Line)


Phone Number

045-465-2111

*This information is from the time of this article's publication.
*Prices and options mentioned are subject to change.
*Unless stated otherwise, all prices include tax.