Have you ever heard of Miura Peninsula? Located just south-east of Kanagawa Prefecture and surrounded by glittering seas, this sightseeing spot that is easily accessible from Tokyo has been causing a buzz among the local Japanese recently.

This area is also known for its prosperous fishing industry that produces delicious Misaki tuna, young sardines, and other local fish. Little wonder, then, that the area is full of restaurants serving up deliciously fresh seafood.

This time, we'll be taking you to 5 restaurants in Yokosuka and Miura where you can find the best seafood that locals residents totally swear by.
1) Maruichi Shokudo: Daily fresh fish directly from fish merchants!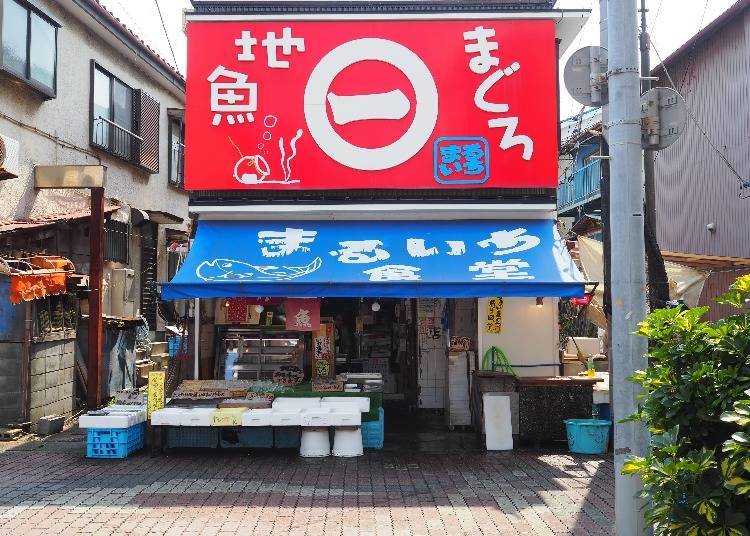 Maruichi Shokudo - with its eye-catchingly bright red signboard - is about a two-minute walk from Misakiko Bus Stop and a direct fish distributor as well. The restaurant it runs is popular among locals because its menu uses fresh fish that were caught that very day and specially selected by the experienced shop owner.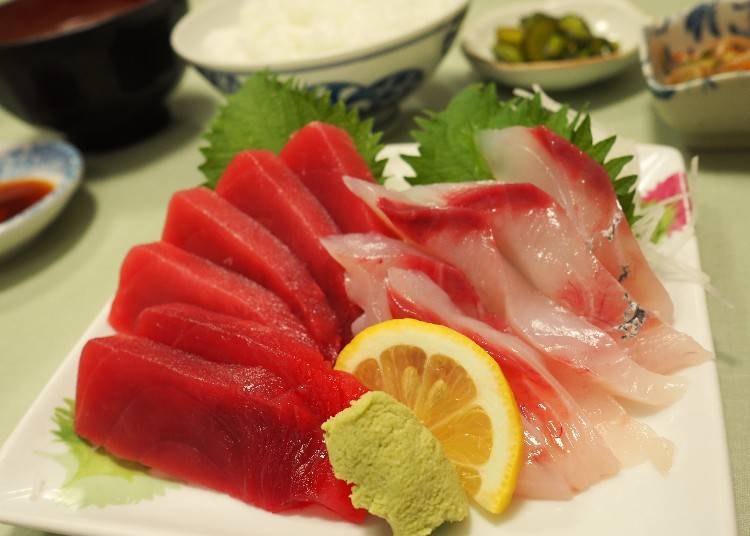 So, what could be one of the more popular items in a shop like that? You guessed it - sashimi set meals! The well-received "Maruichi Fresh Tuna Sashimi Set Meal" (1,300 yen, tax excluded) features the lean tuna meat that Miura Peninsula's Misaki city is known for, alongside two types of white-fleshed fish that were part of the day's catch. Because you can only find out what fish they are on that day itself, it certainly adds a layer of thrill to your dining experience. The restaurant's menu is basically a list of the best seafood Miura has to offer every day.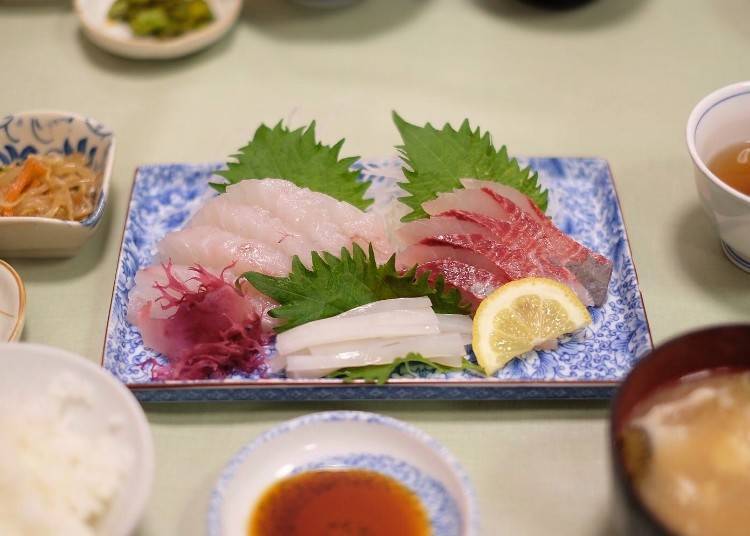 Some other popular items include the "Misaki Select 3 Local Seafood Sashimi Set Meal" (1,500 yen, tax excluded) shown in the photograph and the fatty tuna belly dish "Maruichi Select 3 Tuna Sashimi Set Meal" (1,500 yen, tax excluded). All set meals come with small bowls of rice, fish soup, and pickled vegetables. What's the most popular and must-try item here, you ask? That would have to be the opulent "Maruichi Select 5 Tuna and Local Seafood Sashimi Set Meal" (1,800 yen, tax excluded)!

Because of the shop's popularity, you may find yourself having to queue even during the day. If you come before the shop opens, however, you'll be able to put your name down for a reservation. For those wanting to be seated without too much waiting, we suggest dropping by the shop before it opens to put your name in the list, then going for a nice walk around the harbor area as you wait for the restaurant to open.
まるいち食堂

Address

3-5-12, Misaki, Miura City, Kanagawa Prefecture

Nearest Station

About 2 minutes on foot from Misaki Port bus stop


Phone Number

046-881-2488

Closed: Wednesdays, sometimes Tuesdays and Wednesdays
Hours: Weekdays 11:00 a.m.—6:30 p.m. (last order 5:30 p.m.) / Weekends and public holidays 11:00 a.m.—7:00 p.m. (last order 6:00 p.m.)
2) Showamaru: The place to be if you fancy a drink with your fresh tuna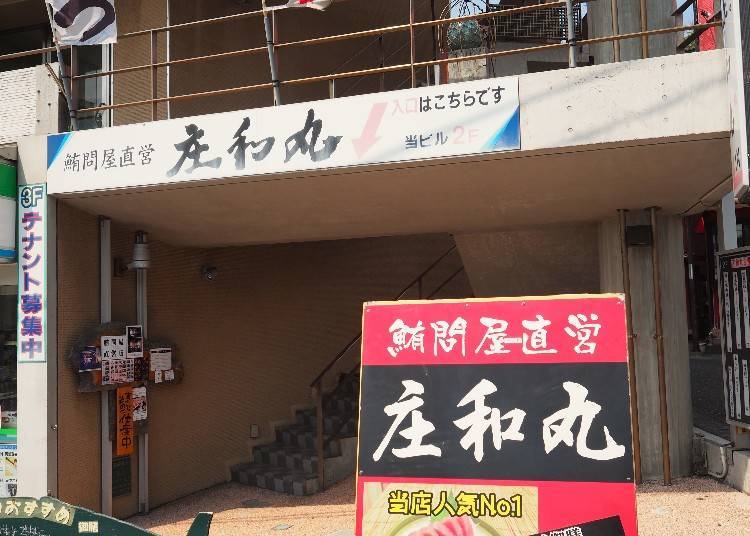 Also located near Misakiko Bus Stop, Showamaru has the custom of buying in entire stocks of tuna directly off fishing boats. This guarantees freshness for the tuna they serve, and makes it a shop where you can enjoy the more unusual parts of tuna that are rarely used as ingredients but equally tasty.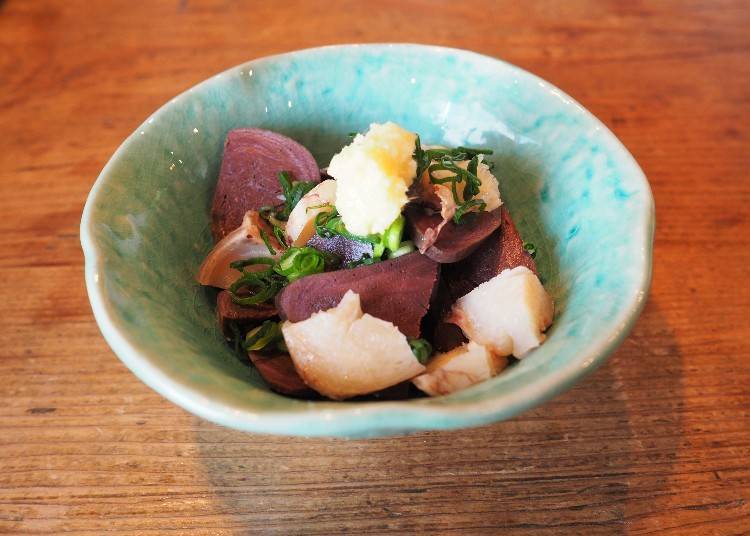 As is to be expected of a seafood restaurant in Miura, the shop here offers a variety of tuna-based dishes as well, such as tuna on rice and grilled tuna collar. One particular item we'd like to draw your attention to is the tuna delicacy depicted in the photograph - "Tuna Heart" (300 yen, tax excluded) - a mixture of the taut and chewy red parts and the fluffy and crunchy white parts, topped with a drizzling of ginger soy sauce.

If it's your lucky day, you may be able to get a bite of a raw heart as well! Other items such as "Tuna Roes" and "Tuna Belly" (both 300 yen, tax excluded) are also perfect companion dishes to go along with a drink of Japanese sake.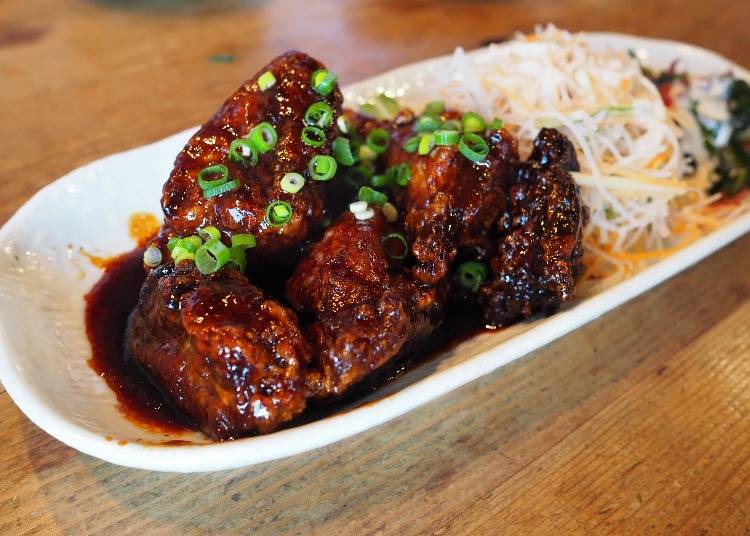 Showamaru also offers plenty of other items that are prepared in interesting ways. Take, for example, the "Tuna Collar Diced Steak" (1,300 yen, tax excluded) shown in the photograph. It's so juicy, it's almost like you're eating real steak! The firm taste of this dish makes it a great match with alcohol as well.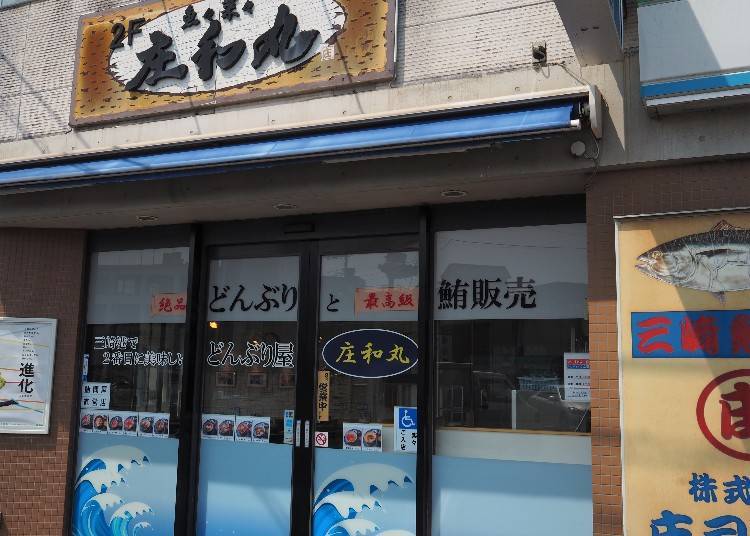 On the first floor of the restaurant is a donburi rice bowl restaurant of the same name. Depending on what you're feeling like that day, or how crowded the other restaurant is, this may be a good choice for a smooth dining experience as well!
庄和丸

Address

Kayama No. 3 Bldg. 2F, 5-2-1, Misaki, Miura City, Kanagawa Prefecture

Nearest Station

Close to Misaki Port bus stop


Phone Number

046-880-1231

Closed: Wednesdays
Hours: 11:00 a.m. — 9:00 p.m. (last order 8:00 p.m.)
3) Arasakitei: Freshly caught Miura crab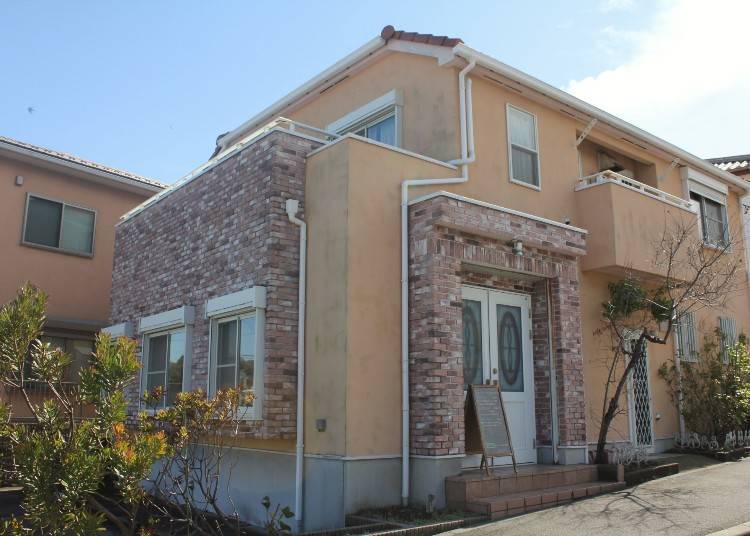 Although Miura Peninsula is better known for its tuna, we would be remiss to not mention Arasaki on the southwest part of the peninsula, where the tasty Arasaki crabs can be found. Also known as milk crabs because of their thick and creamy flesh, the best place to indulge in these delectable crabs is Arasakitei, a cozy restaurant popular among the locals connected to the owner's house in a residential town.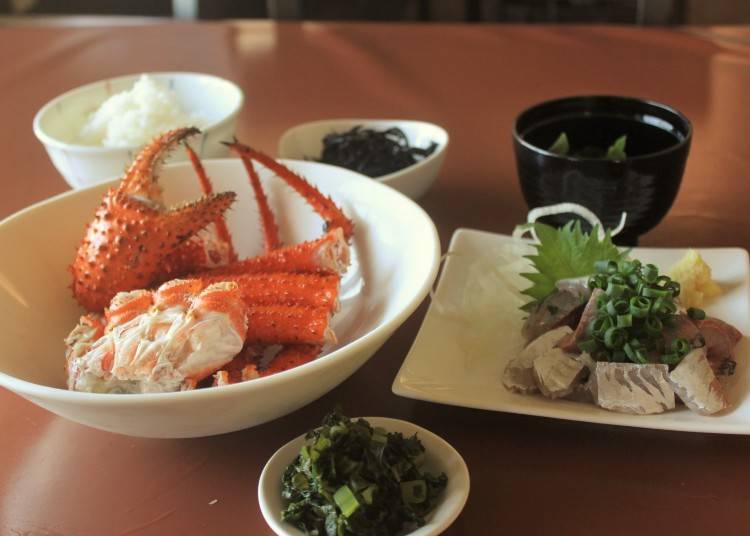 Needless to say, one of the most popular menu items here is the luxurious "Arasaki Crab Set" (2,200 yen, tax included), which comes with rice, soup, seaweed, pickled vegetables, and a dash of homemade dessert. The sumptuously prepared crab is great enough on its own, but becomes even more heavenly with a trickle of sanbaizu, a sauce made from equal parts of vinegar, soy sauce, and rice wine. The "Daily Set Meal" (1,200 yen, tax included) is another hot item that features a different ingredient for the main dish every day, as it uses the fresh haul on that day itself!

The shop looks like a normal residential house, so look out for the signboard in front of the building. Depending on the day, the amount of Arasaki crabs they have available may be on the low side, so to avoid disappointment, we recommend that you give them a call to inquire about stock status first before heading down!

If it's of any interest at all, Soleil Hill is a mere seven-minute walk away from the shop, and it offers a full experience of Miura Peninsula's untouched natural sights. Taking an early nature walk before finishing the morning off with a hearty Arasaki crab lunch? Sounds like a plan indeed!
あらさき亭

Address

6-15-5, Nagai, Yokosuka City, Kanagawa Prefecture

Nearest Station

Two minutes from Urushiyama Bus Stop, accessible from Misakiguchi Station via a Keihin Kyuko (Keikyu) bus


Phone Number

046-856-2402

Closed: Tuesdays and Wednesdays
Hours: 11:00 a.m. — 3:00 p.m.
4) Kamotsuru: Pot cuisine using ingredients from the port just next door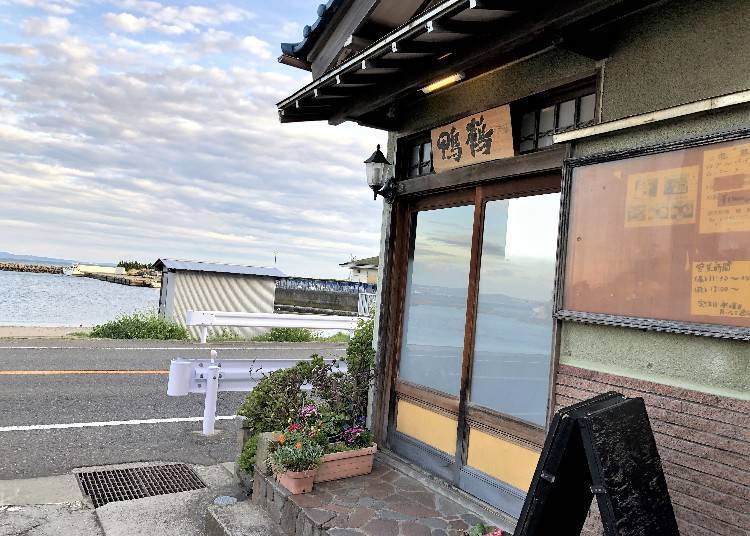 Kamotsuru is a kamameshi (pot cuisine) restaurant about a 10-minute bus ride away from Uraga Station. Right across the narrow road from this charming shop is Kamoi Port and a long stretch of sandy beach. Despite the fact that it's located quite a distance away from the train station, the restaurant is always packed with eager customers enjoying the food being served. Truly a hole-in-the-wall for people "in the know", so to speak, which you're now a part of!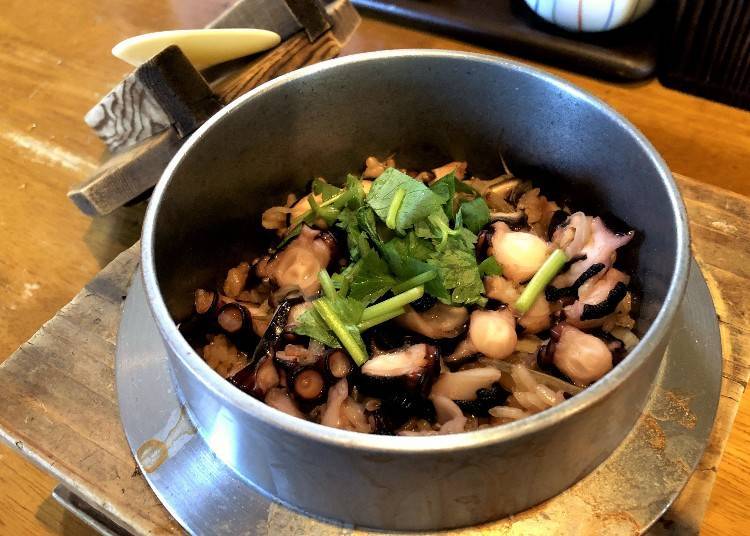 Let's start with the most popular dish: The shop's signature "Kamameshi" (980 yen ala carte, tax included). Complete your meal with a set (1,480 yen, tax included) that includes three side dishes, a bowl of soup, and pickled vegetables. Each Kamameshi is only prepared after an order is made, so rest assured that food here is always served fresh off the stove!

For the pot's main ingredient, you have a choice between octopus, sea bream, garden eel, scallop, crab, or turban shell, and they all cost the same. Octopus is the most popular ingredient of them all! According to the shop owner, Kamoi is well-known as the first place in Japan to successfully cultivate sea bream for commercial use, which is probably why the fish is so popular as food here. As a vestige of those heydays, many people here still call sea bream by its nickname of "Tei" as well!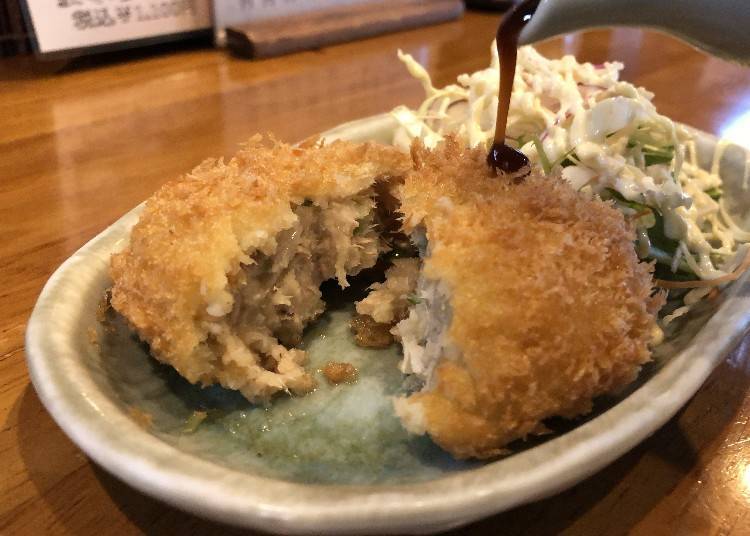 A la carte items sell fast as well, like the "Tuna Croquette" (220 yen, tax included) depicted in the photograph. Don't let that low price tag fool you - the croquette is the size of an adult's fist and stuffed full of incredibly delicious filling. We recommend that you take a bite into the tasty treat as it is first to relish the original taste, then add on soy sauce or other sauces according to your preference, if you so desire!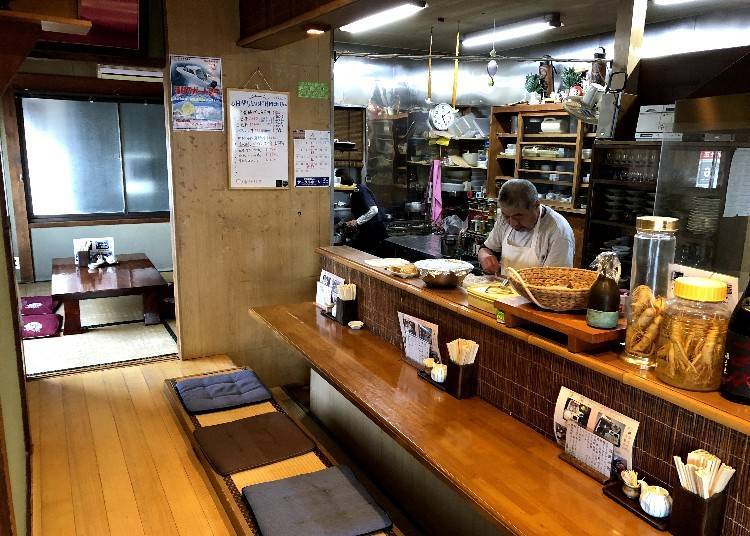 To add to the flavor of your meal, there's a private room (shown in the back of the photograph) which overlooks the sea, but we also recommend trying out the counter seats. Being able to see the food you'll be eating being prepared up-close is an experience in itself!
鴨鶴

Address

3-6-3, Kamoi, Yokosuka City, Kanagawa Prefecture

Nearest Station

One minute from Kamoi Bus Stop, accessible from Uraga Station via a Keihin Kyuko (Keikyu) bus


Phone Number

046-841-0731

Closed: Wednesdays, another random day a month
Hours: 11:30 a.m. — 2:00 p.m., 5:00 p.m. — 8:00 p.m.
5) Kaitenzushi Kaisen: Ample fish at affordable prices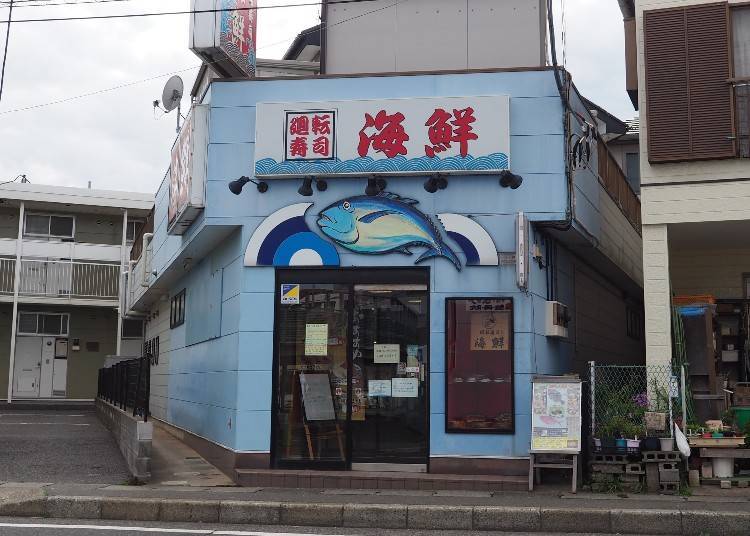 Kaisen is a conveyor belt sushi restaurant that is about a five-minute walk from Miurakaigan Station and uses the fresh fish caught from Misaki fishing harbor as ingredients for its sushi. That said, the only things you'll be seeing on the conveyor belts here are alcohol. The shop prides itself on offering fresh sushi, and will therefore only start making them as they receive orders.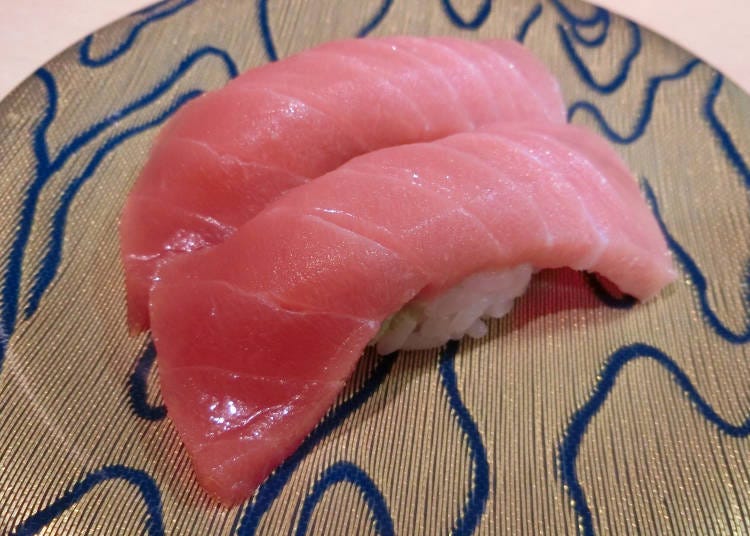 Despite the ultra-freshness of the ingredients being used here, sushi platters start from an unbelievable 100 yen. This makes it popular among not just tourists, but local residents as well. The photograph is of their most popular platter, the "Mid-grade Tuna Belly Sushi" (500 yen, tax excluded). For the more budget-conscious, consider their "Local Caught Fish Set" (1,000 yen, tax excluded) with ingredients from the fresh fish hauled in on that day itself.
When people talk about eating tuna, they usually mean their lean red-fleshed meat or luxurious fatty belly, but Kaisen doesn't just restrict itself to conventional parts and preparations. For example, the photograph shows the unique "Bluefin Tuna Dark Meat Steak Sushi" (200 yen, tax excluded). You'll also find sushi that uses tuna tripe or tuna cheeks as ingredients, so for those of you hoping to try out the different flavors the tuna fish has to offer, this will be an easy way to start!

The shop doesn't take prior reservations, so check the queue panel at the shop itself to see how long the wait might be. And to avoid bill shock, be sure to educate yourself on the different price tiers of the platters as indicated by the patterns on the plates too!
廻転寿司 海鮮

Address

3372-18, Kamimiyata, Minamishitauramachi City, Kanagawa Prefecture

Nearest Station

5 minutes walk from Miurakaigan Station


Phone Number

046-889-2565

Closed: Not fixed
Hours: Weekdays 11:00 a.m. — 8:00 p.m. / Weekends 10:00 a.m. — 8:00 p.m.
Of course, what we've presented here is just a sampling of what Miura Peninsula has to offer in terms of delicious seafood. Since the area is accessible by train or bus and easy to move around in, why not plan to visit Miura Peninsula soon for a "seafood walking tour"? Your belly will thank you for it!
*This information is from the time of this article's publication.
*Prices and options mentioned are subject to change.
*Unless stated otherwise, all prices include tax.
Limited time offer: 10% discount coupons available now!