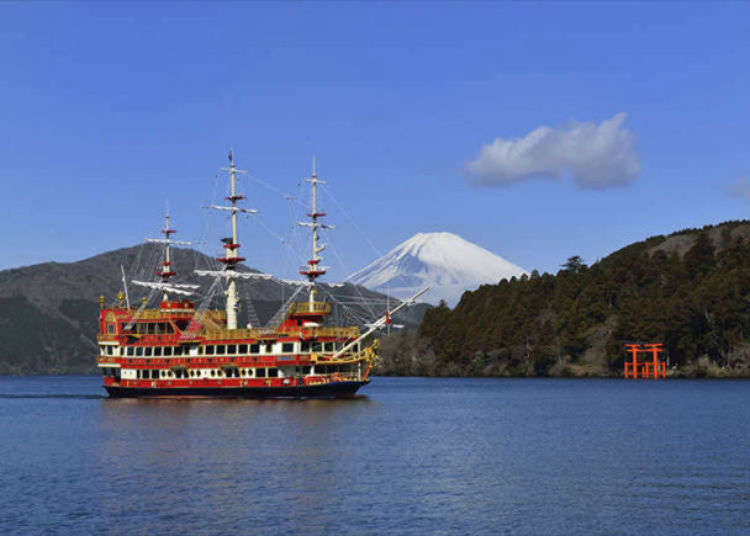 Hakone is one of the most popular tourist destinations for both foreigners and Japanese alike. Starting from Hakone-Yumoto, only an hour-and-half train ride away from the city center, down to Gora and Lake Ashi, there's no shortage of nature and hot springs in the area.

For today, we'll introduce a "Hakone Area Tour" route that starts from Hakone-Yumoto Station going around the various must-see spots of the region. For this one-day trip, it'll start with a bus trip from Hakone-Yumoto going down to Lake Ashi, followed by Gora, then a trip to the Hakone Open-Air Museum, and finally back to Hakone-Yumoto. Experience a unique blend of nature and art as you enjoy the famous spots of Hakone.
■Representing Hakone as a prime power spot! An early morning visit to the Hakone Shrine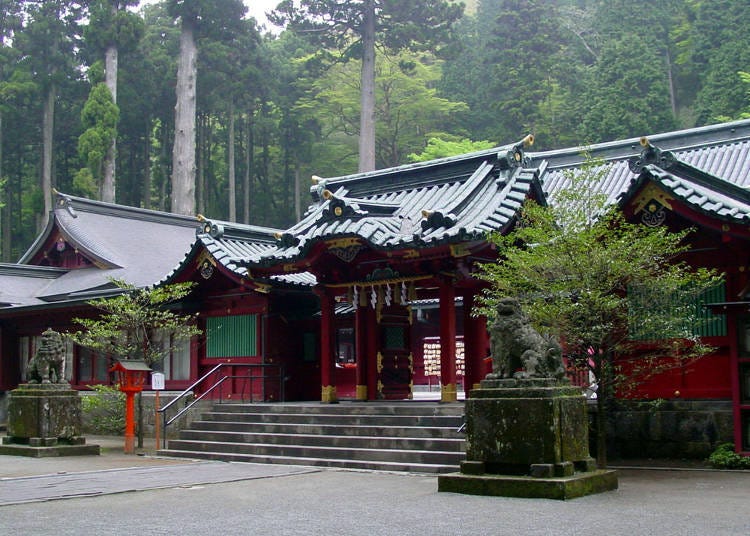 The Lake Ashi area is one of Hakone's more renowned tourist locations, as is the Hakone Shrine in Gora. For the trip to the shrine, take the Hakone Mountain Bus from Hakone-Yumoto Station and alight at the Hakone Shrine Entrance.

The Hakone Shrine is home to a high-ranking deity who gives blessings of better fortune and warding off bad luck, as well as granting safe passages and earnest wishes. It's said that the shrine receives more than 2 million visitors a year.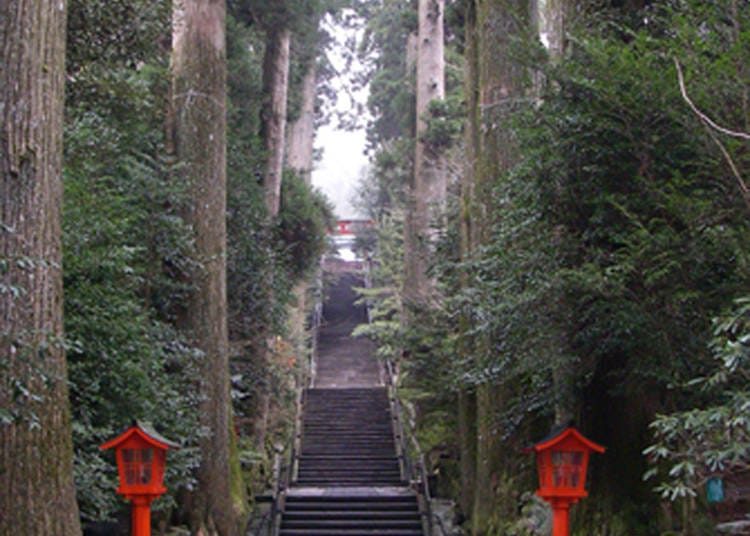 Within the extensive compound lies myriad shines and lacquered toriis, not to mention a repository of data and treasures. The Kuzuryu Shrine, a subordinate shrine who specializes in marriage, business and economic protection, is also located further in. Visiting both will surely prove to be an interesting experience. Moreover, the "Lake Ashi Summer Festival Week", which lasts from July 31 till August 6, runs firework displays across several nights, which are accompanied by various shops and taiko drums along the river bank, so it draws quite a crowd.

While it depends on the crowd, at the right time, it'll only take 30 minutes to get there.
Address

80-1, Motohakone, Hakone-machi, Ashigarashimo-gun, Kanagawa, 250-0522
View Map

Nearest Station

Hakone-Yumoto Station (Hakone Tozan Railway)


Phone Number

0460-83-7123
■Have your fill of the view of pirate ships and luxury vessels alike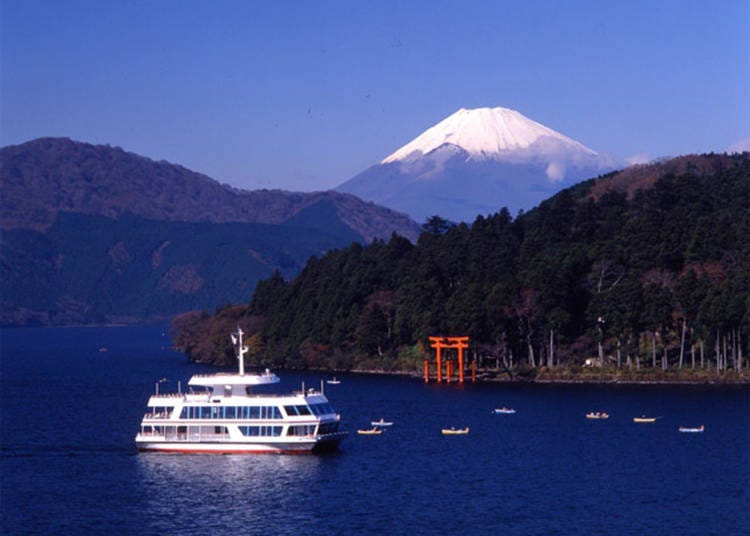 Lake Ashi is home to several ports, like the North Gora Bank Port, the Motohakone Port, and the Hakone-En Port, and the Yuransen ferry service operates between all three.

The northern bank Kojiri Port area consists of Owakudani and Sengokuhara, as well as the South Hakone Checkpoint Atoko, whereas the Motohakone area contains the Hakone Sekisho and the Hakone Shrine. The Hakone-En Port area has an aquarium and the Hakone Komagatake Ropeway, so the entire surrounding area is perfect for those staying over.
Address

45-3, Motohakone, Hakone-machi, Ashigarashimo-gun, Kanagawa, 250-0522
View Map

Nearest Station

Kowakidani Station (Hakone Tozan Railway)
38 minutes by bus


Phone Number

0460-83-6351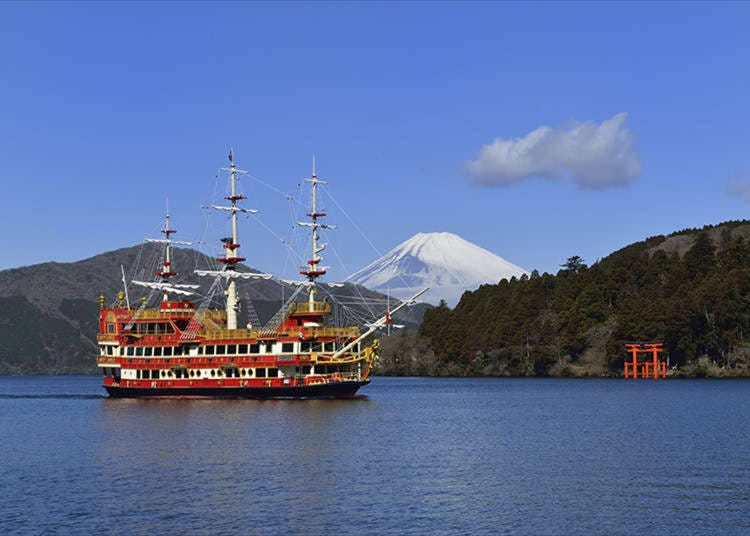 Alternatively, you can take the Pirate Ship around the area, which ferries across the 3 piers Motohakone Pier, Hakone-machi Pier and the Hakone Pirate Ship Togendai Port.

Compared to the cruise, the Pirate Ship floats merrily across Lake Ashi, and stands out vibrantly against the scenery. It's a fun scene indeed, especially for those thinking of strolls along the lake shore or relaxing at the benches there while taking in the view.
Address

161, Hakone, Hakone-machi, Ashigarashimo-gun, Kanagawa, 250-0521
View Map

Nearest Station

Hakone-Yumoto Station (Hakone Tozan Railway)

■Have a break, free of charge! Enjoy a hand bath at Meisanten right in front of Gora Station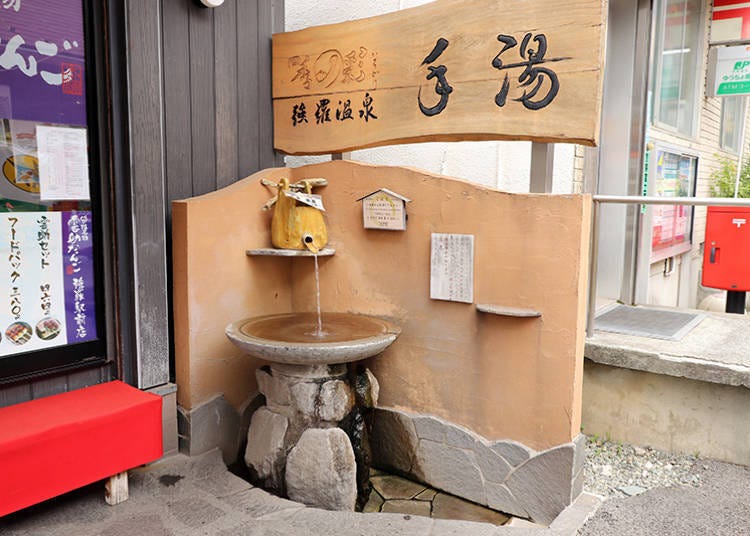 Once you've had enough of the lake, take the Hakone Mountain Bus again down to Gora Station. There are plenty of famous tourist locations here as well. In fact, right in front of the station is one such place: at the Meisanten, you can enjoy a hand bath free of charge.

The best part of the hand bath is that there's no need to take off your clothes or shoes. Even just washing your hands is enough to warm your body up. If Gora Station is part of your itinerary, be sure to check this place out.
名産店 強羅店

Address

Kanagawa-ken Ashigarashimo-gun Hakone-machi Gora 1300

Phone Number

0460-86-1621

Operating Hours: 9:00 - 18:00 (9:00 - 17:00 from December to the end of February) Closed on New Year's
■Make your very own unique tea bowl! Experience ceramic making at Gora's Togeikobo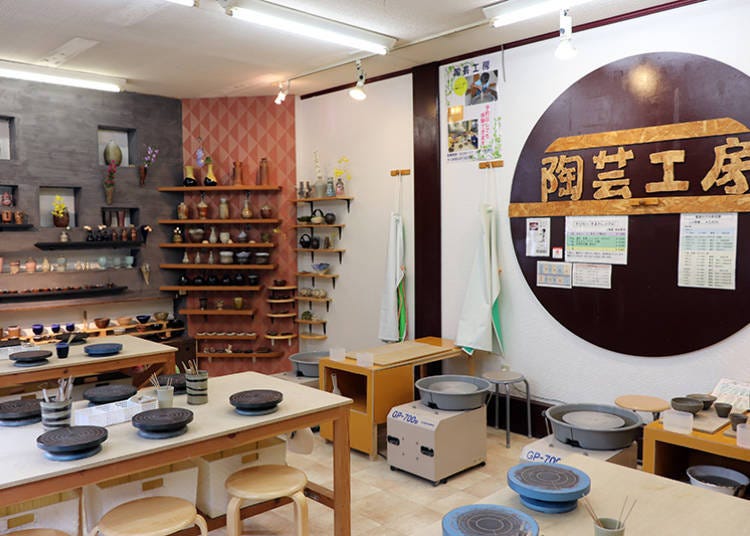 At the Soun Hakoneyaki Togeikobo, even without a reservation you can try out how to make ceramic pottery. The whole workshop takes about an hour to shape your creation right before heating it. If you're flying back soon after you can also opt for the place to send your completed masterpiece by EMS (prices may vary with the number of articles and location).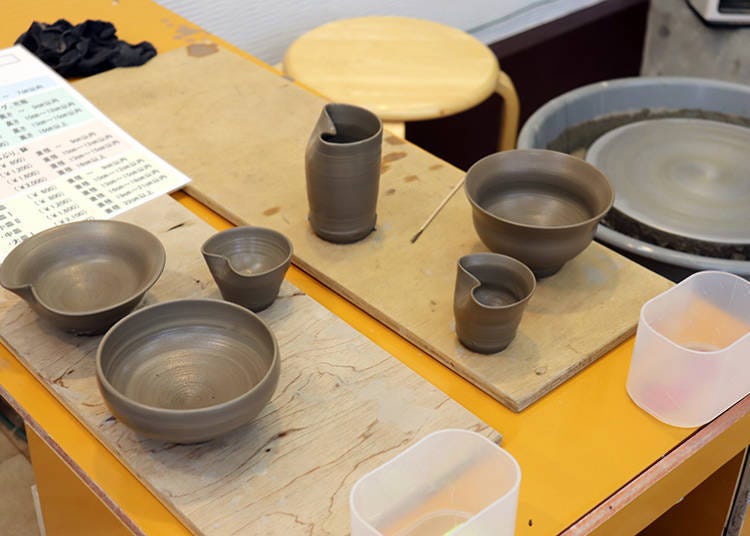 At the workshop, you can opt to either use a manual lathe or an electric-powered one. For the manual one, making small pottery like sake cups or tea bowls would cost 1800-yen per pax while larger items like mugs and cups would cost around 2800-yen, though prices might fluctuate with weight. The motorized lathe on the other hand, costs 2800-yen per pax as well as an additional fee around 600 yen depending on the size of your creation.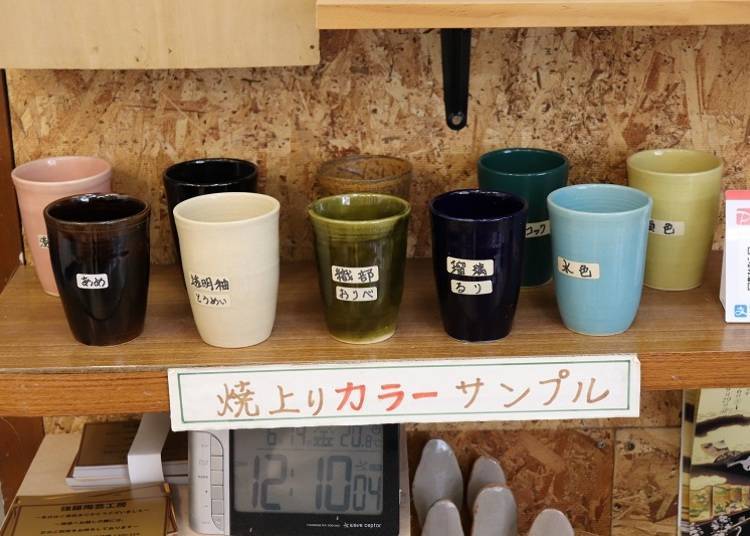 Depending on the enamel the resulting colour of the tempering is also different, which is one of the charms of pottery. Colour samples are also provided so you can consider what colour you want your creation to have. Making pottery in a workshop surrounded by nature, now that's certainly a unique experience to have.
Soun Hakoneyaki Togeikobo

早雲箱根焼 陶芸工房

Address

Kanagawa-ken Ashigarashimo-gun Hakone-machi Gora 1300-315

Phone Number

0460-87-0335

Operating Hours: 10:00 - 17:00
Open Daily
■The very first French garden in Japan: Gora Park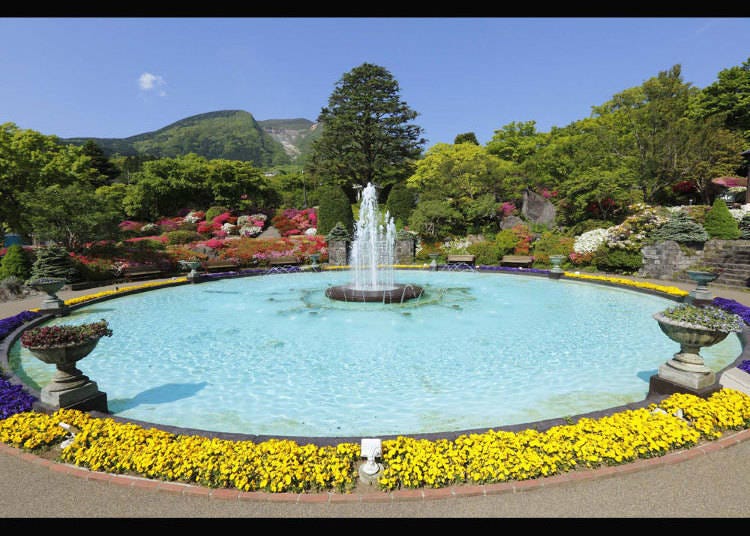 Gora Park is only a 7-minute walk away from the station of the same name, and is the first French garden constructed in Japan. The grand expanse has seasonal flowers dotting the premise surrounded by Hakone's natural greenery.

With no shortage of stairs and inclines, there is a 40 meter height difference between the main gate and the west gate. Depending on the temperature, you might even get to see a winter wonderland as the park gets blanketed in a rare shower of snow.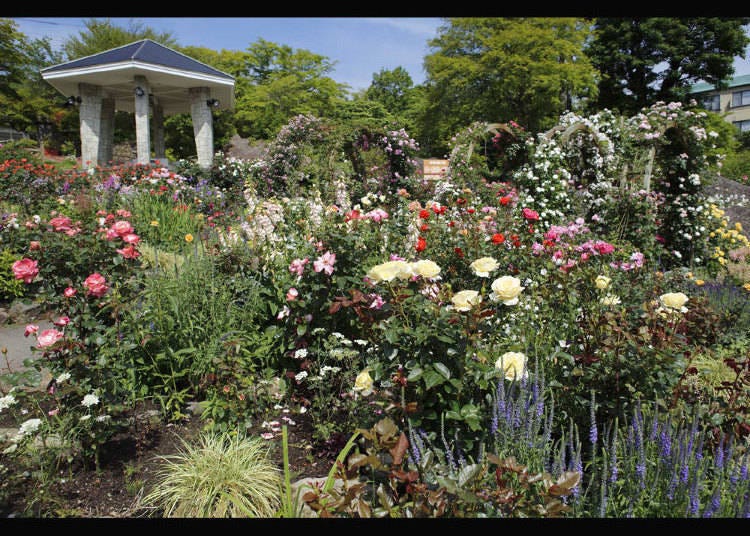 In the spring, you get to see the azaleas and cherry blossoms blooming. For summer, the hydrangea. Autumn, maple trees, and lastly poinsettia in the winter. Depending on the season, you get to experience a different park. A tropical greenhouse as well as a tea room are also available, not to mention a pottery workshop, so visitors can enjoy a wide range of activities.

For the crafting workshop, depending on the item you can take about 15 minutes up to 1 and a half hours. If you include making a complete walk around the interior, going through the park should take about 2 hours for the full experience.
Address

1300, Gora, Ashigarashimo-gun, Kanagawa, 250-0408
View Map

Nearest Station

Hakone-Yumoto Station (Hakone Tozan Railway)


Phone Number

0460-82-2825
■An outdoor museum with a plethora of artworks: The Hakone Open-Air Museum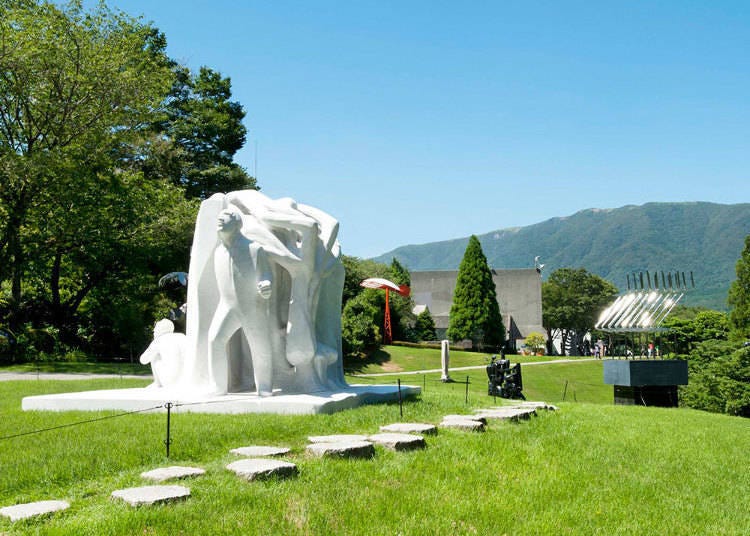 After having your fill of Gora, take the Hakone Mountain Train down to the following stop, Chokokunomori Station.

The Hakone Open-Air Museum is just a 2-minute walk from here, and is the first outdoor art gallery in Japan. Boasting 70,000 square meters in area, it has over 120 artworks by various modern sculptors which change by the season, surrounded by Hakone's expansive nature.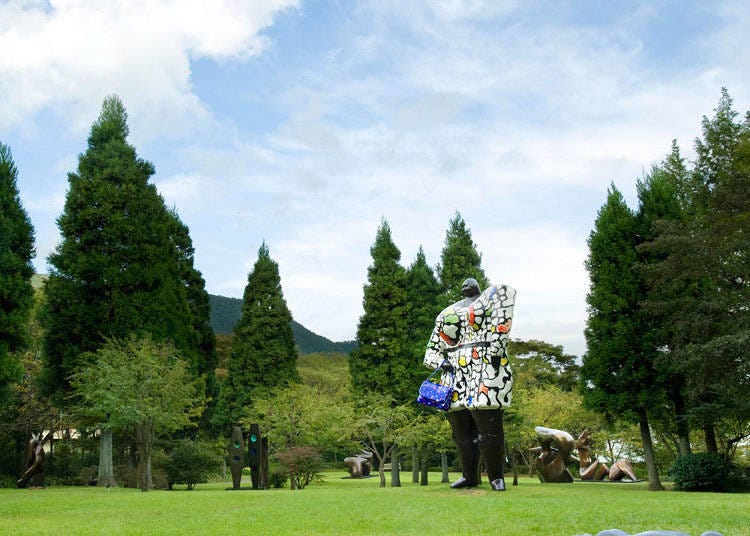 With a collection of just over 300 items masterpieces exhibited at the Picasso Building and the other 5 indoor exhibition areas, there regularly have a wide variety of events and exhibitions. Their also not short of facilities, with a buffet restaurant within the premises, as well as cafes and shopping malls, not to mention a footbath that uses all-natural hot spring water straight from the source.

Leisurely enjoying an extensive collection of artwork in a vast expanse, not a bad way to spend the day, right? For the full experience without any rush, we recommend spending an hour and a half here.
Address

Hakone-machi, Ashigarashimo-gun, Kanagawa nino flat 1121, 250-0493
View Map

Nearest Station

Chokoku-no-Mori Station (Hakone Tozan Railway)
2 minutes on foot


Phone Number

0460-82-1161
■Enjoy local specialties while soaking your feet at Yubadon Naokichi's footspa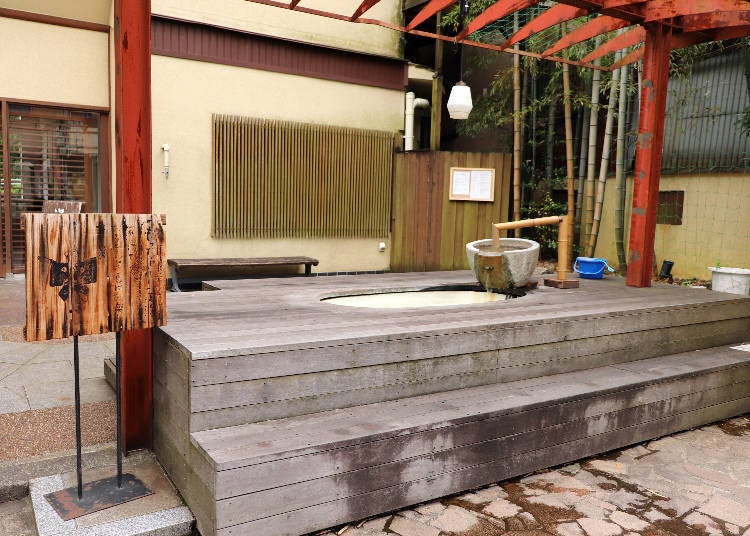 At last, we return to Hakone-Yumoto Station. Here, we recommend trying Yubadon Naokichi's complimentary foot spa located at the store front., the store in question being located along Hayakawa street just a little way from the station.
Their signature item, the Yubadon costs 980-yen (tax inclusive), and uses Hakone's water to make their tofu. It's one of the top items in Hakone's gourmet rankings and is Hakone's specialty. If you're visiting Hakone, we highly recommend trying this exotic dish.
湯葉丼「直吉」

Address

Kanagawa-ken Ashigarashimo-gun Hakone-machi Yumoto 696

Phone Number

0460-85-5148

Operating Hours: 11:00 - 19:00 (Last Order: 18:00)
Closed on Tuesdays
■Hakone Yuryo: The best onsen establishment for a casual private room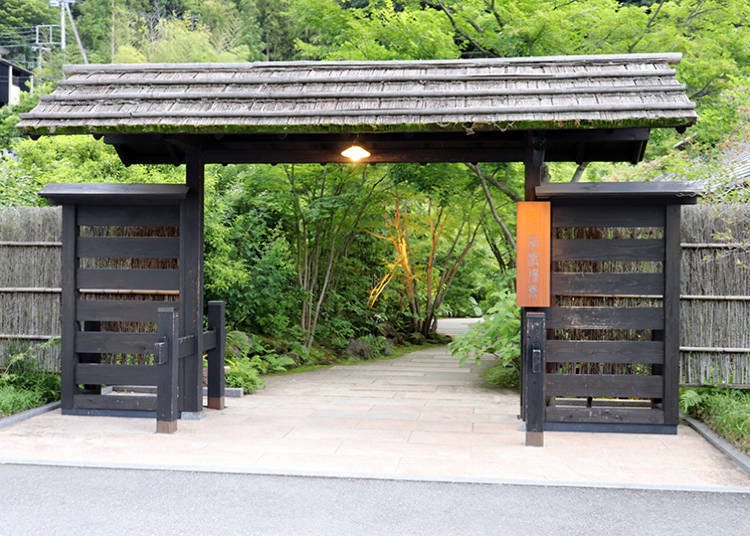 Your trip can't end without a visit to the Hakone Yuryo. Only 3 minutes away via their free shuttle bus service, the establishment is reminiscent of an old Japanese private house. Enjoy a relaxing respite within this satoyama onsen which brings forth the full elegance of Hakone-Yumoto's mountain-side.
Their public bath has both indoor and open-air baths, as well as 19 reservable private open-air baths, which means guests have a variety of ways to relax and unwind.

Entry to their public bath "Honden Yurakuan Oyu" costs 1500-yen for adults (13 and above) and 750-yen for kids (12 and below). While there are no towel rental services, you can purchase them at the front desk (450-yen for bath towel, 250-yen for a face towel, and 300-yen for yukata rental).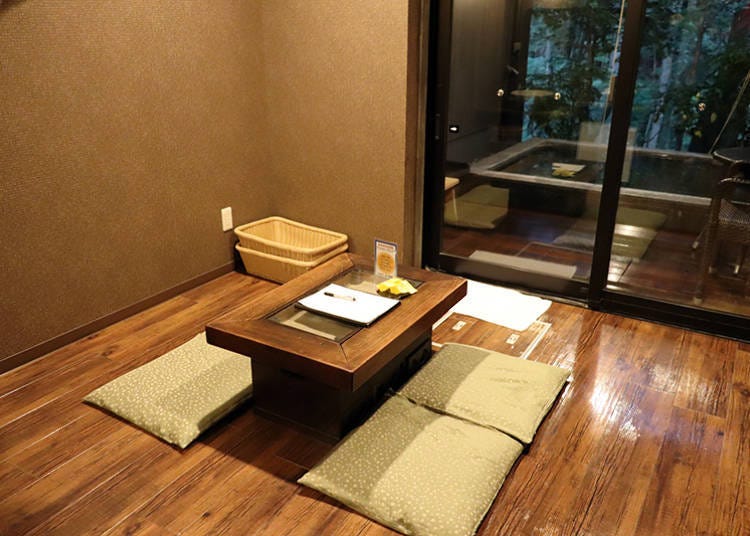 The private open-air baths are 19 in number, and each are of the highest quality. There are 3 types of rooms and are meant for 2 to 4 guests, each room costing 4,300-yen per hour. You can extend your stay by paying extra for every 30 minutes (prices vary depending on room).
The private rooms are furnished with basic amenities like towels, so you can enjoy your stay empty-handed if you wish to do so. We recommend spending about 60 to 90 minutes relaxing here to shake the weariness from your travels off.
箱根湯寮

Address

Kanagawa-ken Ashigarashimo-gun Hakone-machi Tonosawa 4

Phone Number

0460-85-8411

Operating Hours: [Weekdays] 10:00 - 21:00 (Last Entry at 20:00), [Weekends and Holidays] 10:00 - 22:00 (Last Entry at 21:00))
Open Daily (Except during maintenance days)
Hakone is big and teeming with so many tourist spots which makes it really difficult to see everything in a day. It's easily accessible from the city, so even on a whim a trip here is totally feasible as well. When you plan your next daytrip, do consider the places we've mentioned.

Written by: Naho Jishikyu
*This information is from the time of this article's publication.
*Prices and options mentioned are subject to change.
*Unless stated otherwise, all prices include tax.