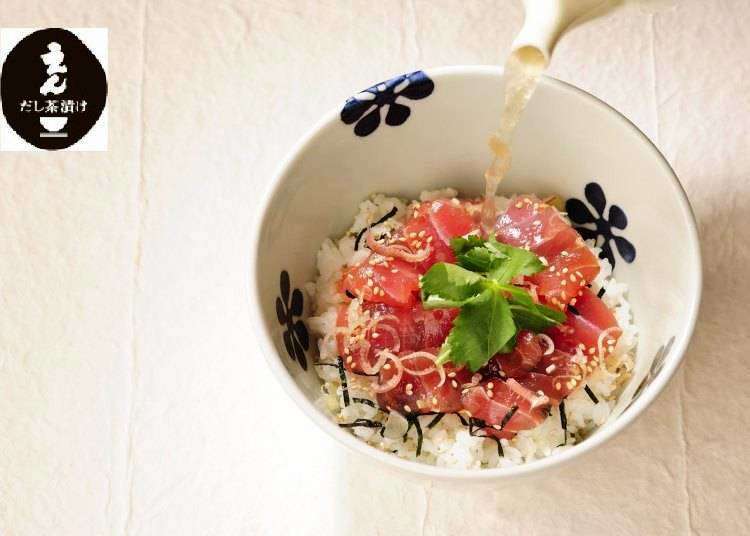 Why is it that most people using Narita Airport end up eating at one of the restaurants there? For local residents, it may be because they want to enjoy a good meal that tastes like home first before setting off on an adventure in a foreign land. Similarly, upon returning, they likely want to reacquaint themselves with that same homely taste as soon as possible. In the case of foreign visitors, perhaps they're trying to squeeze that last bit of Japanese flavor out of their trip before making their way home?

Whatever the case, we've enlisted the help of a tour conductor who is a frequent visitor of the airport, flying overseas a few times every month, to acquaint us with some airport delicacies. Our thorough interview reveals their top five picks of restaurants serving Japanese cuisine in Narita Airport, from a shop with an emphasis on Japanese rice to a restaurant that makes good use of dashi soup stock, a famous tsukemen shop, and other attractive eateries!
1. Gihey (T1): A passion for good rice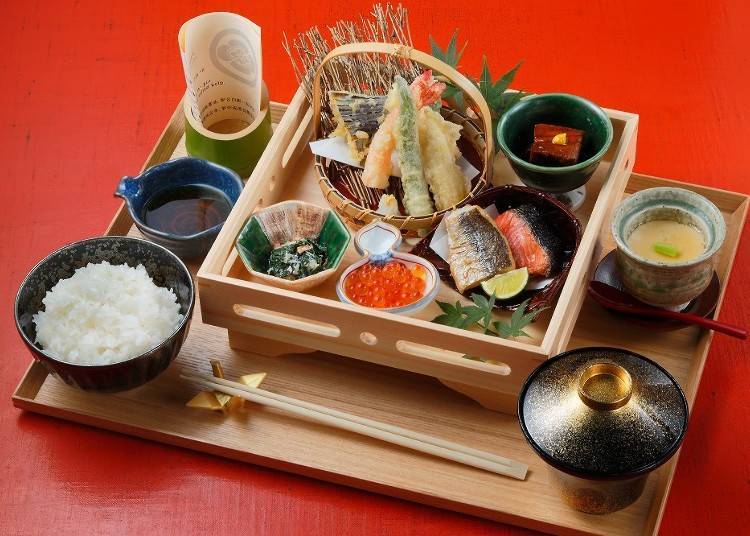 "First Class Cooked Rice Set Meal" - 2,296 yen (tax excluded)
"When it comes to food in Japan, something with rice should be your top choice! If you agree, then this is the restaurant for you. Gihey doesn't just serve Japanese food - it serves Japanese food along with meticulously selected rice, and it's their rice that sets them aside from other eateries. What's more, they generously provide a second serving if you ask!"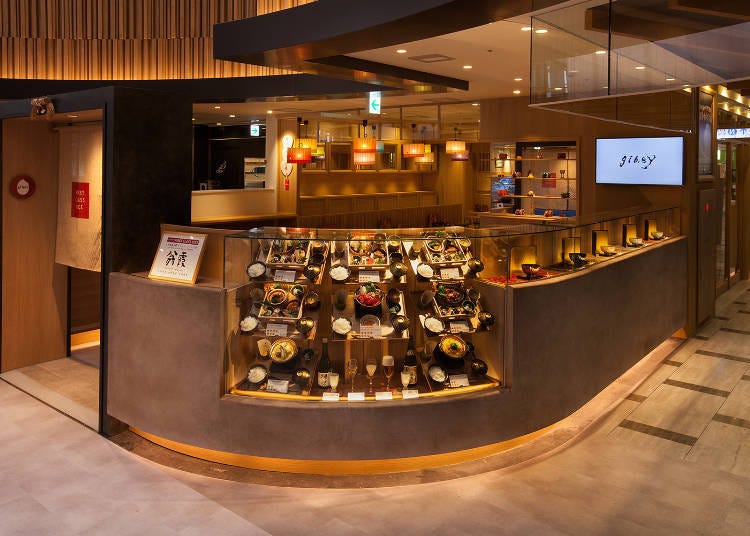 Gihey was created by Hachidaime Gihey, a rice-based business that operates on the concept of "changing the value perception of rice". Their mission is to convey the delicious taste of Japanese rice to everyone, everywhere in the world. A Narita Airport restaurant is therefore the perfect base to do just that!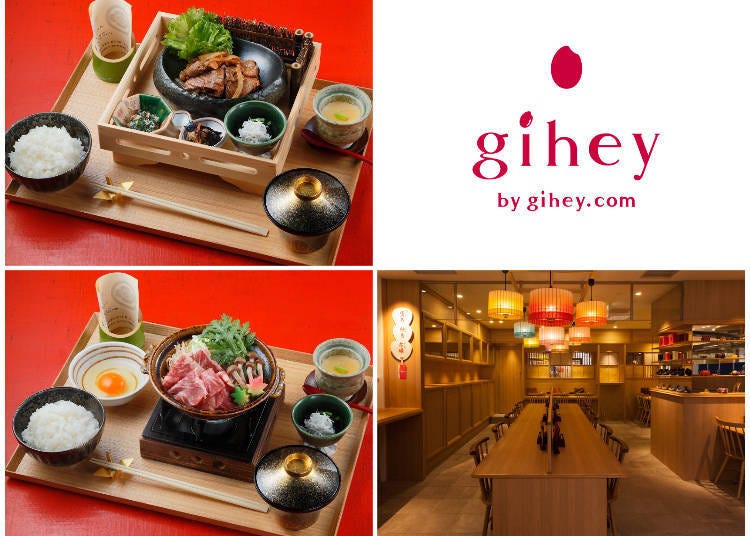 Everything on the menu is exclusive to their Narita Airport branch. Items have also been named to reflect the airport mood, like the opulent "First Class Cooked Rice Set Meal (2,296 yen, tax excluded)"! The rice is "first class" because it has been personally chosen by the owner, a five-stars Rice Meister, an accolade that certifies top rice specialists in Japan, with five-stars being the highest honor.

The well-researched and developed rice blend has been filtered through stringent standards for its whiteness, luster, fragrance, sweetness, smoothness, texture, and viscosity. The most amazing part? You can request for as many helpings of this freshly cooked rice as you like.

Visitors from Asian countries like China and Taiwan that also eat rice as a staple often gush about how the rice they eat here is the best in Japan! As this quality rice blend is only available in Narita Airport, it's definitely worth checking out.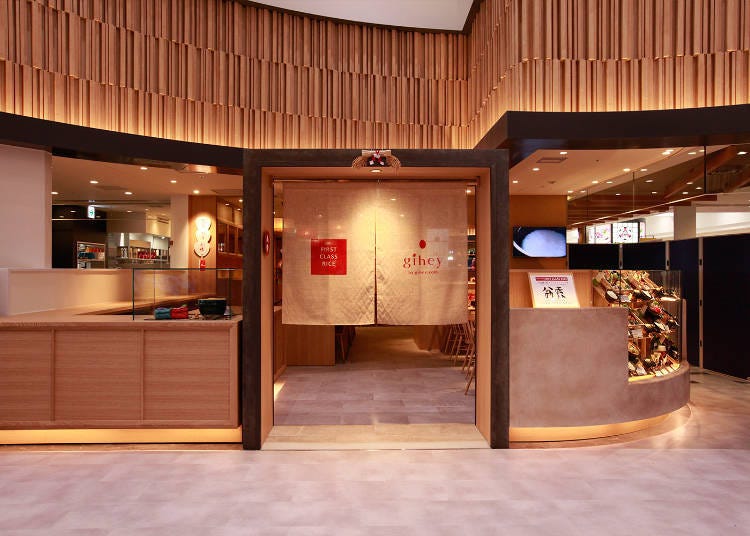 gihey Naritakukodaiichitaminaruten

gihey 成田空港第1ターミナル店

Address

First terminal 4F,Narita International Airport, Furugome, Narita-shi, Chiba, 282-0004


Nearest Station

Narita Airport Station (JR Narita Line / Keisei Main Line / Narita SKY ACCESS Line)

2. Nihonno Chukasoba Tomita (T1): The authentic ramen you've been searching for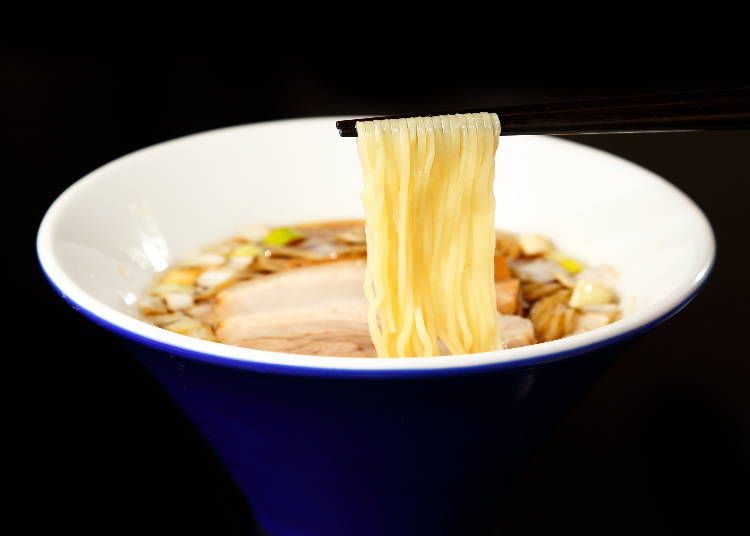 "You can find popular ramen franchises overseas as well, but there's always this tiny difference that makes you think there's no better ramen than in Japan itself! Authentic ramen is one of the items most locals want to eat first when they return from a trip, and they can absolutely do that right in the airport itself with Nihonno Chukasoba Tomita. The shop's uniquely Japanese and very delicious fare has earned it quite a number of repeat customers as well!"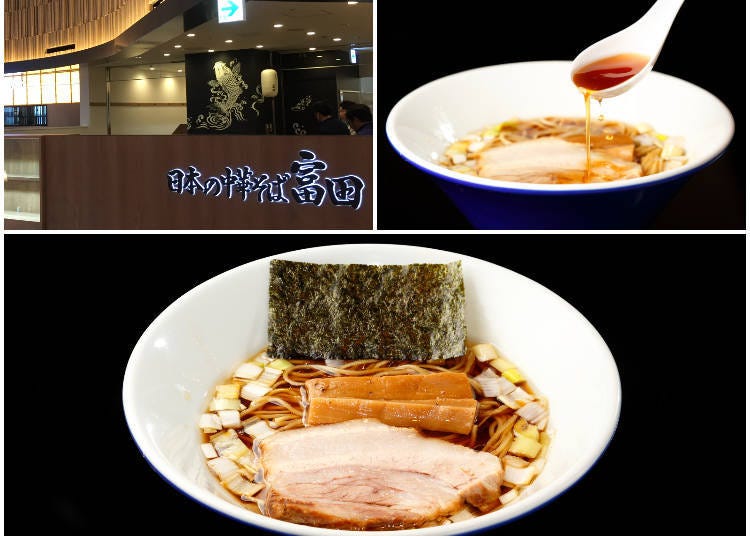 Chukasoba Tomita is a restaurant that's well-known for what many claim is the best-tasting tsukemen (ramen dipped in a separate broth) in Japan! Nihonno Chukasoba Tomita in Narita Airport was thus set up with the idea of presenting this very same taste to anyone - local or visiting - looking to have one last bowl of authentic Japanese ramen or tsukemen before flying out of the country.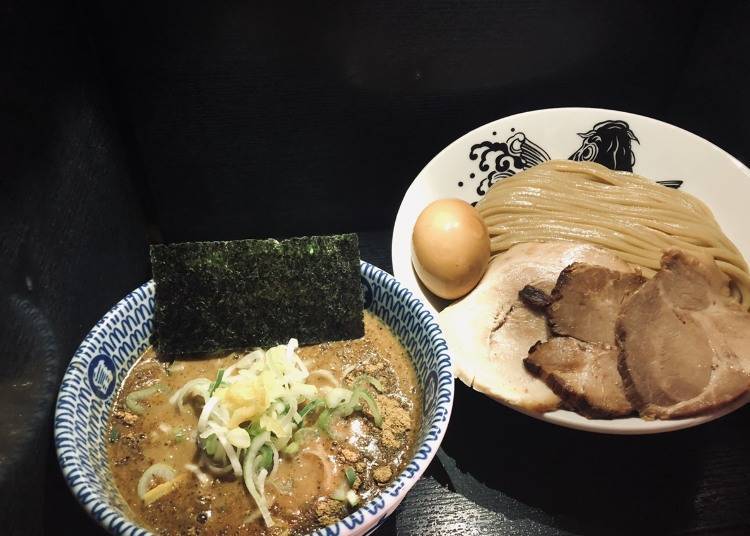 The popular "Tokusei Tsukemen (1,180 yen, tax included)" contains Chinese-style wheat noodles that was specially created by Mr. Tomita, the shop owner. That means you can only taste these unique noodles in the airport store!

You'll usually see long queues at all of Tomita's branches, but Nihonno Chukasoba Tomita at Narita Airport has a shorter waiting time in comparison, and food is served quite a bit faster too. Some people do make special trips down for this reason, even if they may not be traveling abroad! Certain menu items are only available in the airport branch, so don't miss the chance to try out something special if you're in the area, especially if you love ramen!
Nihonno Chukasoba Tomita (Japanese Ramen Tomita)

日本の中華そば富田

Address

4F, Terminal 1, Narita Airport, Narita-shi, Chiba-ken

Phone Number

0476-32-8673

Closed: Open daily
Hours: 8:00 a.m. – 8:00 p.m. (last order)
3. Obon de Gohan (T2): Homey set meals that warm both stomach and heart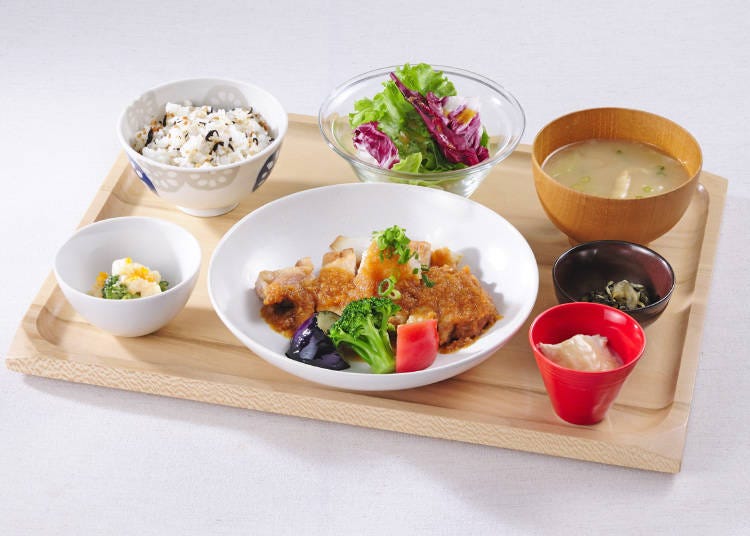 "Mugifuji Pork and Grated Vegetables Sauce Set Meal" - 1,329 yen, tax included
"Teishoku, or set meals can be said to be a unique part of Japan's food culture. This homey Japanese meal is just so palatable! It's easy to mix-and-match combinations freely using the large number of available items on the menu here, and the restaurant's earlier opening hours is a boon as well."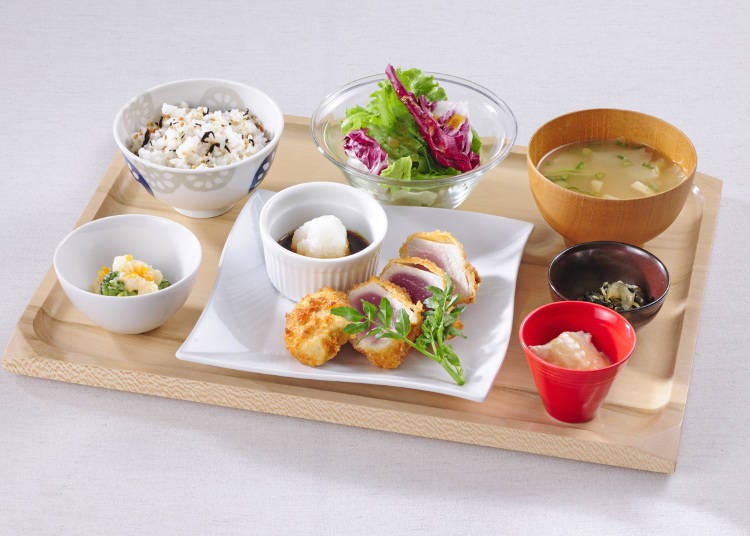 "Rare Albacore Tuna Cutlet with Daikon and Ponzu Set Meal" - 1,296 yen, tax included
The restaurant offers a wide range of set meals which you can customize into a nutritious and balanced meal appropriate for your dietary needs by selecting a main dish and rice, then adding small bowls of side dishes to go along.

Being able to combine dishes according to your mood that day is one of the main appeals of the restaurant. The shop's signature dishes like "Mugifuji Pork and Grated Vegetables Sauce Set Meal (1,329 yen, tax included)" and "Rare Albacore Tuna Cutlet with Daikon and Ponzu Set Meal (1,296 yen, tax included)" will be a treat for your taste buds as well.

Many foreigners love the sheer variety of items available here. The great-tasting food has also earned the restaurant the regular patronage of plenty an airport staff!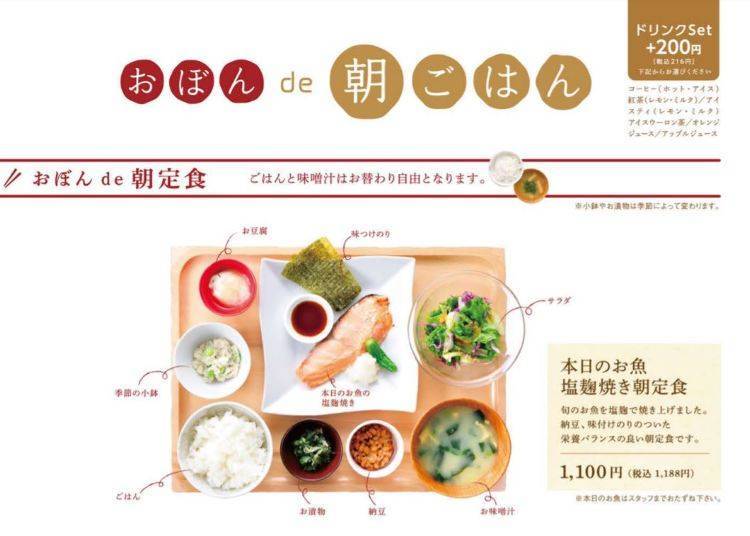 "Obon de Asagohan" is a morning set meal only available in Narita Airport, and it allows you to refill your rice and miso soup as many times as you like. There are five types of soup stock for your chazuke (rice covered with tea or soup stock). And don't forget about the delicious side dishes too!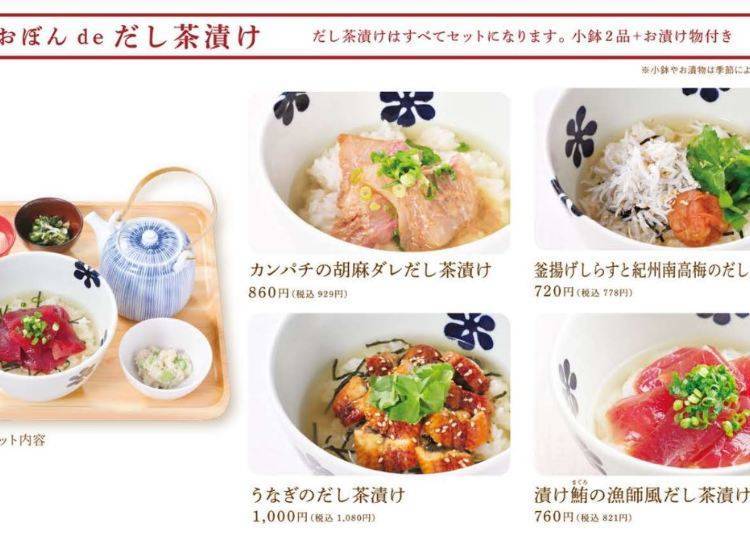 Rice, miso soup, a main dish, and side dishes make for a perfectly balanced set meal that's as Japanese they come, allowing you to enjoy your airport breakfast menu like a true local!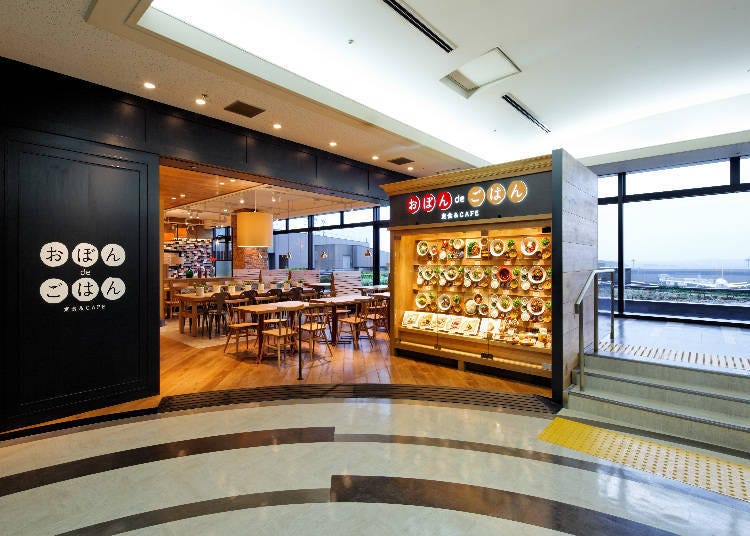 Obon de Gohan Naritakukodainitaminaruten

おぼんdeごはん 成田空港第2ターミナル店

Address

Second terminal 4F,Narita, Furugome, Narita-shi, Chiba International Airport, 282-0004


Nearest Station

Airport Terminal 2 Station (JR Narita Line / Keisei Main Line / Narita SKY ACCESS Line)

4. Dashi Chazuke En (T1): The nostalgic taste of Japanese dashi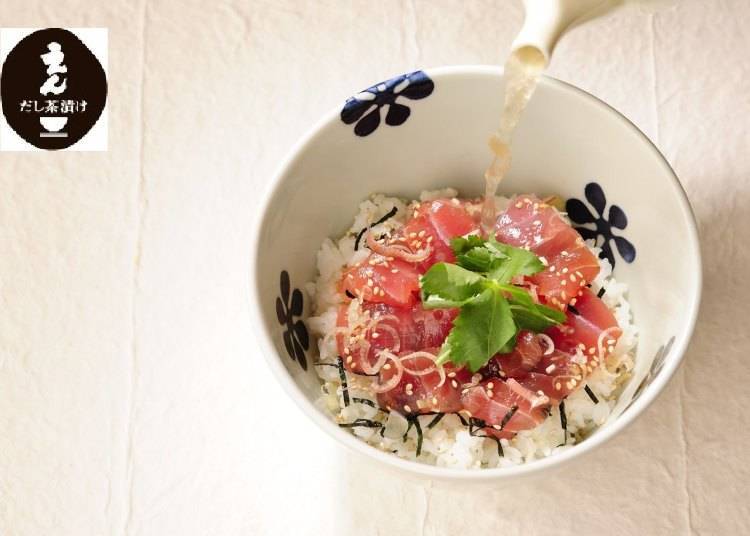 "The taste that locals who go abroad miss the most is dashi, or soup stock made from fish and kelp. Not a full-bodied soup, but just plain old dashi. Many even feel grateful for being born Japanese when they finally taste authentic local dashi again! And since ochazuke with dashi is easy on the belly, anyone can eat it at any time!"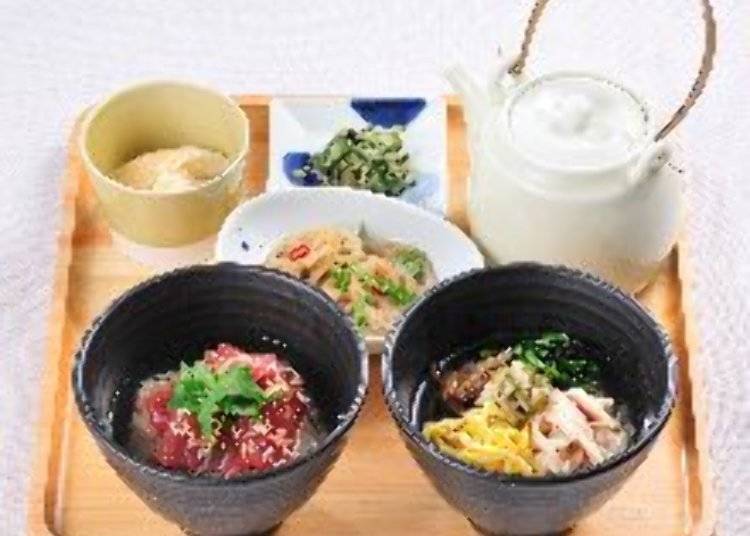 The restaurant operates on the concept of offering premium fast food crafted by Japanese chefs. Needless to say, dashi is the backbone of most items being sold here, and it makes their offerings different from traditional ochazuke, which uses tea as broth. Customers can choose how much rice they want for their orders, and the dashi broth can be refilled without charge. This comfort food will warm the cockles of your heart and soothe any frayed nerves.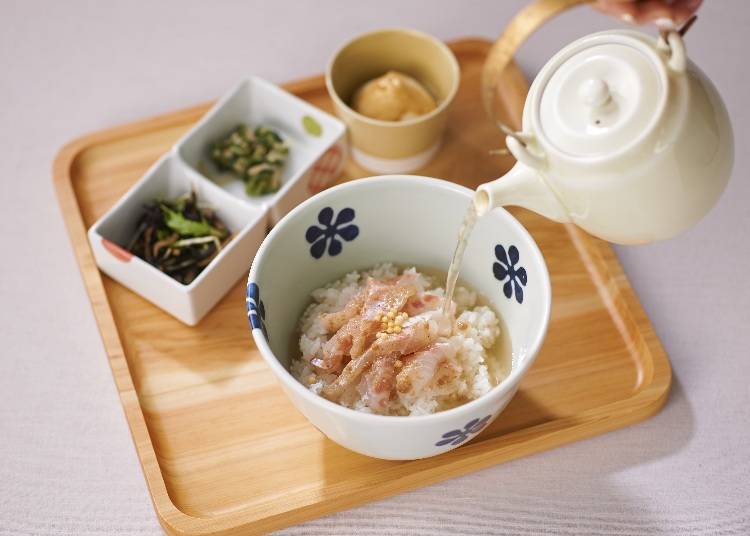 "Sea Bream Dashi Chazuke (960 yen, tax included)" is one of the more popular items here. In this dish, fresh caught red sea bream is mixed with a few types of nuts and rich sesame sauce, then topped with dashi broth for a luxurious finish.

Another popular item is "Dashi Chazuke Half & Half (1,080 yen, tax included)", where you can choose between two types of dashi to use as broth. Foreign visitors also love the restaurant's "Chopped Eel on Rice Dashi Chazuke (1,300 yen, tax included)".
One of the building blocks of Japanese food culture is the widely used dashi, and being able to savor it as much as you like in a bowl of chazuke can really rejuvenate you from inside out. Taste and see for yourself why it's the first place many locals coming back from overseas visit immediately upon their return!
Address

First terminal 4F,Narita, Furugome, Narita-shi, Chiba International Airport, 282-0004
View Map

Nearest Station

Narita Airport Station (JR Narita Line / Keisei Main Line / Narita SKY ACCESS Line)


Phone Number

0476-33-1796
5. Kineya Mugimaru (T1): Readily available freshly cooked authentic udon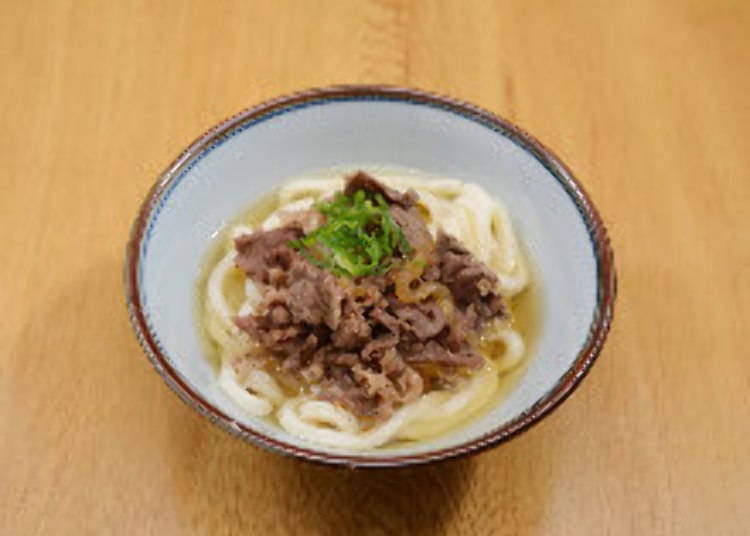 "A simple meal you can have before leaving the country or just after coming back, even if you're rushing for time! The reasonable price is a bonus that attracts many repeat customers."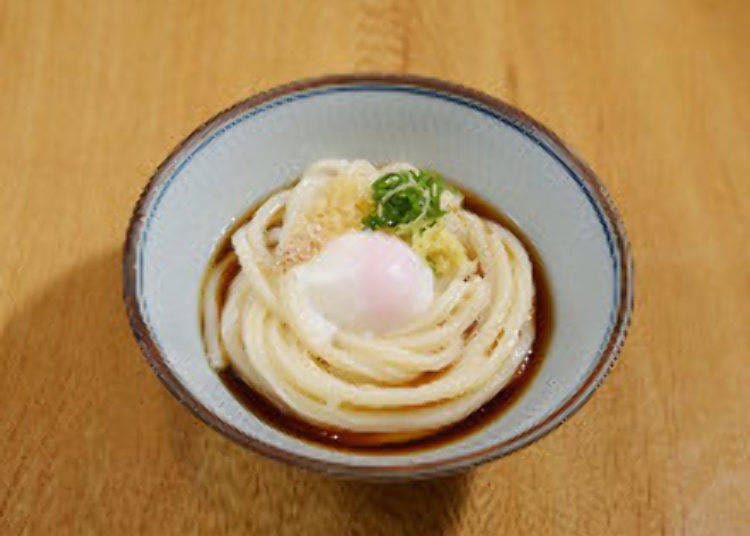 This udon specialist restaurant makes its own udon noodles in the shop using wheat flour produced in Mie Prefecture. Prices are affordable and orders are served quickly, making it a good choice for customers who may be strapped for time - basically the majority of airport passengers! A simple fare with little waiting time is easy to plan into a packed schedule while still being on time for your flight. It's exactly what many travelers need, and precisely why it's such a popular choice among airport restaurants!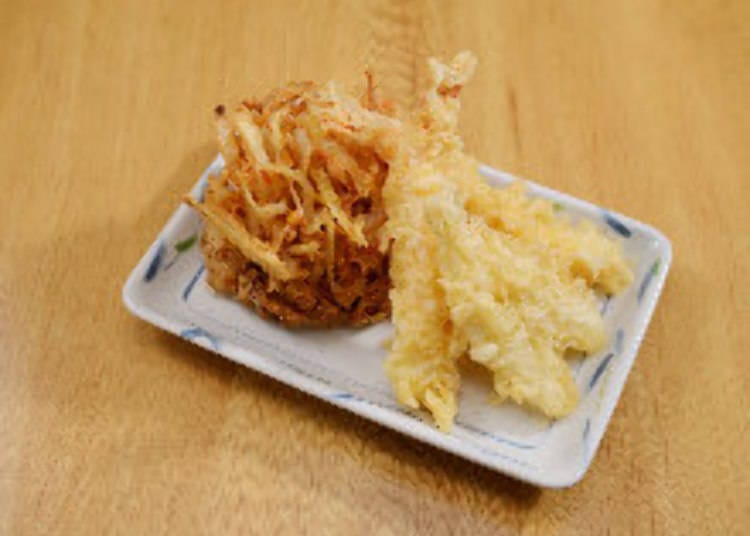 "Kitsune Udon (450 yen)" is a popular standard offering, alongside "Beef Udon (630 yen)", "Onsen Egg Udon (480 yen)", "Zaru Udon (390 yen)", and all sorts of tempura items (starting at 130 yen each). The accessible price of their menu makes it easy for you to grab as many of your favorites dishes as you like!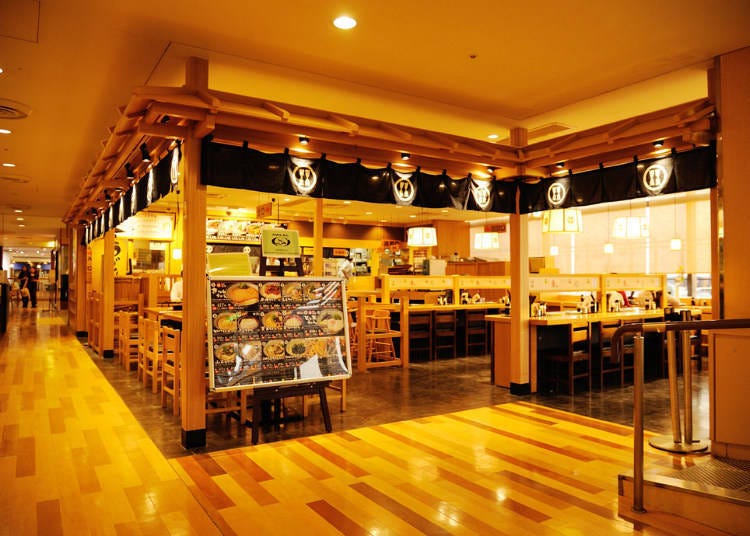 Located in the airport and certified to be Halal by the Japan Halal Association, this restaurant is a safe choice for Muslim travelers. (However, as the certificate is a Muslim-friendly accreditation, draft beer is available for sale here.)
Address

First terminal 5F,Narita, Furugome, Narita-shi, Chiba International Airport, 282-0004
View Map

Nearest Station

Narita Airport Station (JR Narita Line / Keisei Main Line / Narita SKY ACCESS Line)


Phone Number

0476-32-7877
Uniquely Japanese Flavors Right Inside Narita Airport
Hopefully this quick introduction to the top five Japanese restaurants in Narita Airport recommended by an expert frequent flier will come in handy for you!

A Japanese cuisine-centric menu made with carefully chosen ingredients sounds like just the meal you'd want to have before departing from Japan, or immediately after your arrival here, doesn't it?

Remember, some of these shops have special menus only available in the airport too, so even if you're not taking any flights, you can still feel free to drop by for a "food tour" visit, so to speak!

Written by Miyuki Yajima
*This information is from the time of this article's publication.
*Prices and options mentioned are subject to change.
*Unless stated otherwise, all prices include tax.