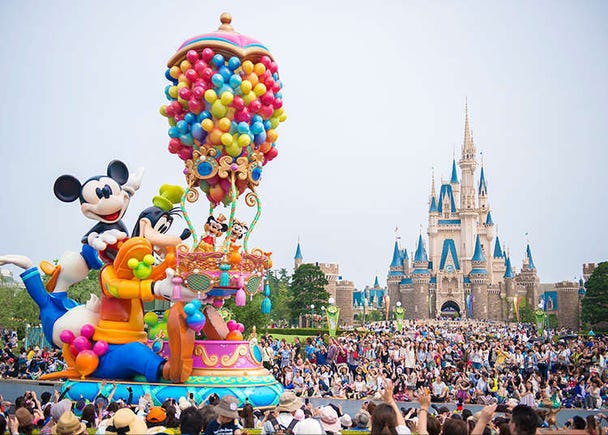 Tokyo Disneyland, the Kingdom of Dreams and Magic. One day is easily spent at the vast, beautiful park and even though it already celebrates its 35th anniversary, it is as popular as ever. The weekends are always crowded with enchanted guests, but even weekdays never leave Tokyo Disneyland and Tokyo DisneySea empty. Because of its popularity, it is good to know a few tips, tricks, and general things before your actual visit to make the most out of your own experience! From the FASTPASS Ticket system to the Birthday Service, let's take a thorough look at Tokyo Disney Resort!
Planning Your Visit
1) Where to Get Tickets for Tokyo Disneyland?
The admission tickets to Tokyo Disney Resort's parks are called "Passport." They can be booked and purchased online, while the easiest way is simply getting a passport at the local park ticket counter. These counters can be found right next to the entrance of both Tokyo Disneyland and DisneySea.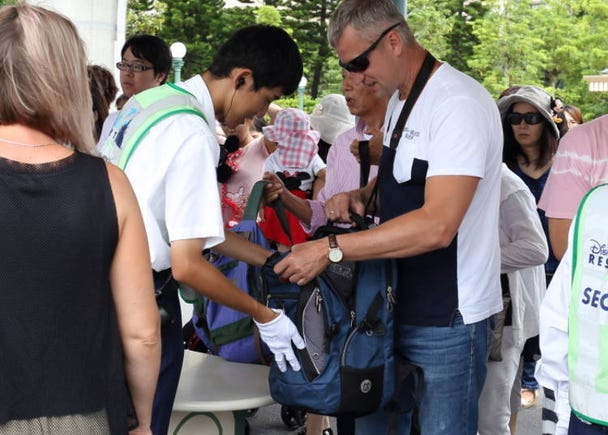 There's a baggage check right at the parks' entrances. Certain items are prohibited to bring into the parks, but you can safely store such items inside the coin lockers at the station.

Alcoholic beverages, cans and bottles, various types of luggage, including hard cases, suitcases, and carry cases, as well as other things that might inconvenience other guests are not allowed inside the parks.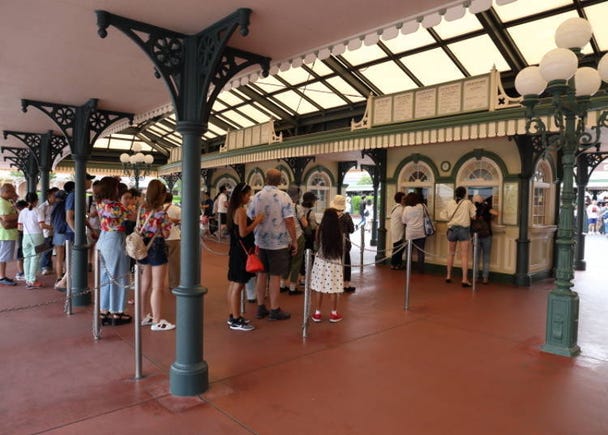 The park ticket counters of Tokyo Disneyland. They tend to get quite crowded around park opening time.
2) Which Tokyo Disney Resort Ticket to Buy? The Different Passports
You choose your type of passport upon reaching the ticket counter. If you're visiting as a day trip, take the regular "1-Day Passport." For only half a day, make use of the "After 6 Passport" on weekdays that can be used after 6:00 p.m., or the "Starlight Passport" from 3:00 p.m. on weekends and national holidays. If you are staying longer, the "2-Day Passport" lets you enjoy both Tokyo Disneyland and Tokyo DisneySea on two consecutive days. The same goes for the "3-Day Magic Passport" and the "4-Day Magic Passport," offering unlimited entry to the parks for the number of days the passport is for.

All passports are sold by age. Children are from 4 to 11 years, Juniors are from 12 to 17 years, and Adults are from 18 years. There's also a discount for seniors (65 years and above) for the 1-Day Passport only.

■ Passport Prices
1-Day Passport
Adults: 7,400 yen / Juniors: 6,400 yen / Children: 4,800 yen

Starlight Passport:
Adults: 5,400 yen / Juniors: 4,700 yen / Children: 3,500 yen

After 6 Passport:
Adults: 4,200 yen / Juniors: 4,200 yen / Children: 4,200 yen

2-Day Passport:
Adults: 13,200 yen / Juniors: 11,600 yen / Children: 8,600 yen

3-Day Magic Passport:
Adults: 17,800 yen / Juniors: 15,500 yen / Children: 11,500 yen

4-Day Magic Passport:
Adults: 22,400 yen / Juniors: 19,400 yen / Children: 14,400 yen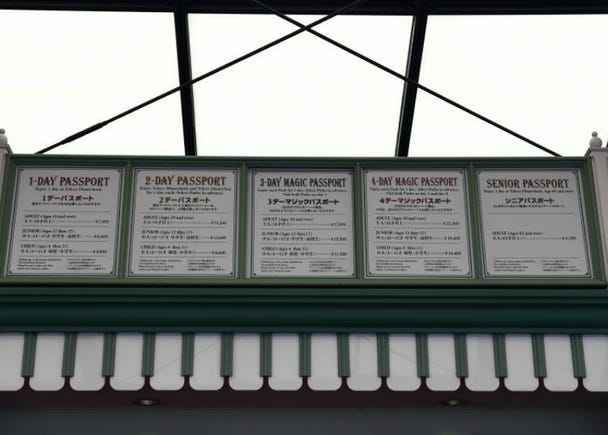 A signboard with ticket prices at the entrance to Tokyo Disneyland. There are various options, so having a look at them in advance is recommended.
Example of a 1-Day Passport, featuring illustrations of different characters. The passport is necessary for re-entering the park and obtaining a Fast Pass, so be careful not to lose it.
3) When is the Best Time to Visit Tokyo Disneyland? How to Avoid the Crowds
The most important factor to consider when thinking about when to visit Tokyo Disney Resort is how crowded it will be. Weekends are always crowded, but so are Mondays and Fridays.

Hence, the best days to go are Tuesdays, Wednesdays, and Thursdays. Also, pay attention to Japan's public holidays. Sometimes there is an overlap of weekends and holidays and several consecutive days of holidays in a row. In that case, the second day is always the most crowded.

Especially the period from late February to March is the busiest for Tokyo Disney Resort because Japanese schools are in spring break then. The next crowded period is summer vacation throughout August, but especially between August 13 to 15. Christmas and New Year's is also not recommended because of the massive crowds. Another factor for congestion are the regular events – avoid going just after an event has started or shortly before it ends.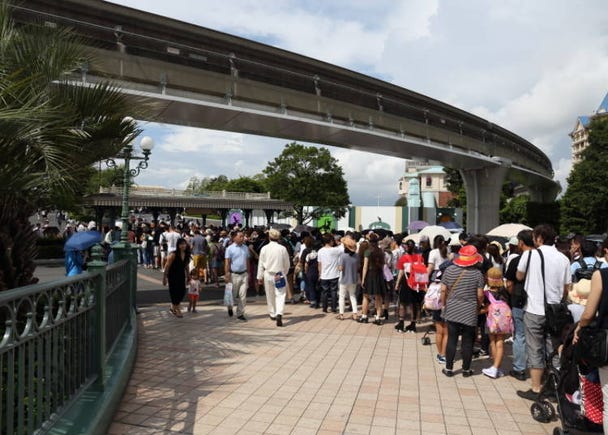 The queue at Tokyo Disneyland's baggage check. While the park was relatively empty that day, there still was a long line of people right after opening.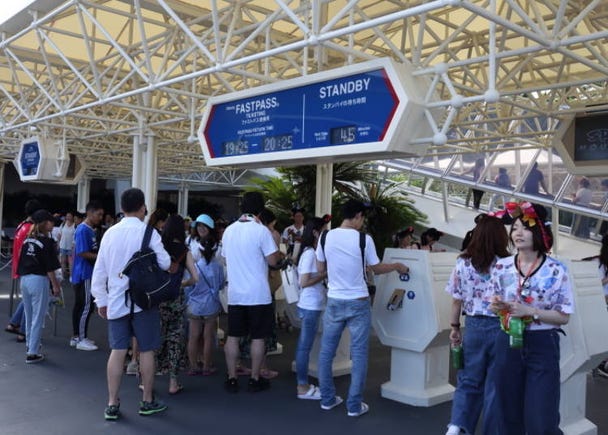 Take advantage of the Fast Pass if you're planning on riding on one of the most popular attractions. However, the most sought-after rides tend to run out of fast passes within one hour after opening.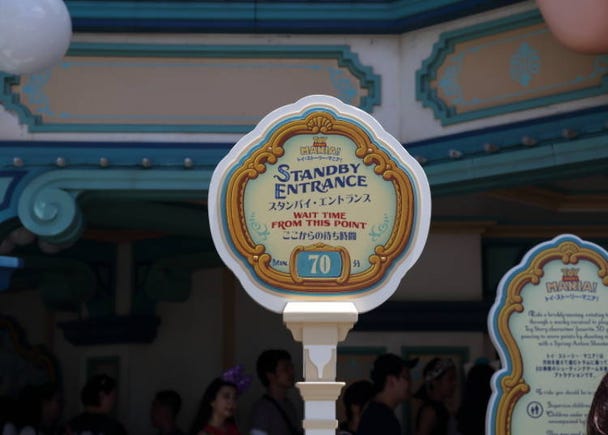 Waiting one hour is the norm for the popular rides. On especially crowded days, brace for waiting times of up to four hours.
4) What to Bring to Tokyo Disneyland? Essential Things for Every Park Visit
If you want to watch the parade, you will be thankful for having something to drink and a tarp or blanket to sit on. A flashlight (or simply your smartphone) will be helpful if you're queueing or waiting for the parade in the evening once the sun has set.

Summer & Warm Season
There are very few shadows within the park so you will find yourself exposed to direct sunlight quite a lot. Prepare for that with sunscreen, a hat, sunglasses, and so on, especially in the summer.

Winter & Cold Season
Likewise, dress yourself to keep warm in cold weather during the winter months. The two parks of Tokyo Disney Resort are also directly next to he ocean, so the temperature often feels colder than it actually is. Thick down jackets, a muffler, hat, and gloves are indispensable for winter fun. Portable blankets and disposable heating pads (available for about 100 yen at convenience stores) also make waiting for rides and shows a lot cozier.
Don't forget hat and parasol in summer.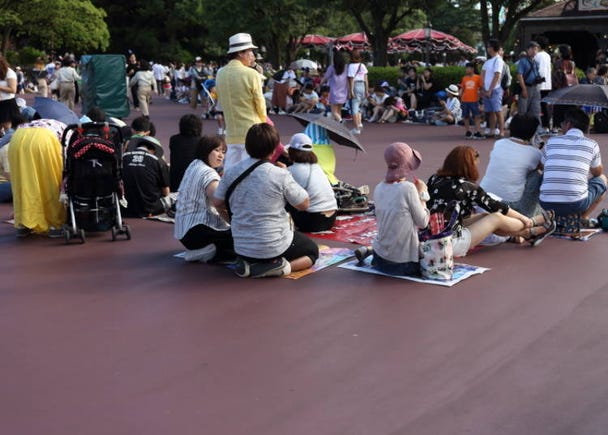 Bring a tarp to sit on for everyone if you want to save yourself a spot for the parade.
5) How to Get to Tokyo Disneyland? Access to Tokyo Disney Resort
The nearest station to Tokyo Disney Resort is Maihama Station on the JR Keiyo Line. The JR Keio Line starts at Tokyo Station, however, it is quite far from all other lines, so prepare for a 10-minute walk to the platform. From Maihama Station to Tokyo Disneyland, it's another 5-minute walk, while you have to take the Disney Resort Liner to get to Tokyo DisneySea – we will talk about at that later. Major stations and hotels in and around Tokyo also have direct buses to and from the parks, which are convenient if their schedule matches yours.

Here is an overview of the departure and arrival locations of the main direct bus lines to Tokyo Disney Resort. The time inside (brackets) is how long the bus takes.

Shinjuku Station (~40 minutes): Shinjuku Expressway Bus Terminal / Keio Bus, JR Bus Kanto
Tokyo Station (~25 minutes): JR Tokyo Station Yaesu South Exit, Terminal No. 5 / Keisei Bus, Tokyo Bay City Koutsu
Ikebukuro Station (~45 minutes): Ikebukuro Station West Exit, Terminal No. 7 / Keisei Bus, Keisei Transit Bus, Kokusai Kogyo
Akihabara Station: (~55 minutes): JR Akihabara Station Central Gate, East Exit Traffic Square / Keisei Bus, Tokyo Bay City Koutsu
Yokohama Station (~50 minutes): Yokohama Station East Entrance Bus Terminal No. 17 / Keisei Bus, Keihin Express Bus
Narita Airport (~65 minutes): Terminal 1, Bus Terminal No. 5; Terminal 2, Bus Terminal No. 12; Terminal 3; Bus Terminal No. 6 / Airport Limousine, Tokyo Bay City Koutsu, Chiba Kotsu Narita Eigyosho, Limousine Passenger Service
Haneda Airport (~45 minutes): International Terminal, Bus Terminal No. 5; Terminal 1, Bus Terminal No. 6, Terminal 2, Bus Terminal No. 6 / Limousine Bus, Keihin Kyuko Bus, Tokyo Bay City Koutsu, Keisei Bus, Limousine Passenger Service
Tokyo Skytree Town (~55 minutes): Tokyo Skytree Town Terminal No. 3 / Tobu Bus Central, Keisei Bus

*Please check the official websites for detailed schedules, fares, and so on.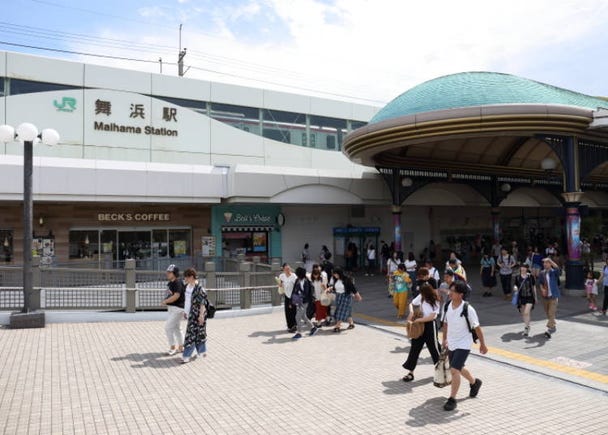 Heading to the park from Maihama Station.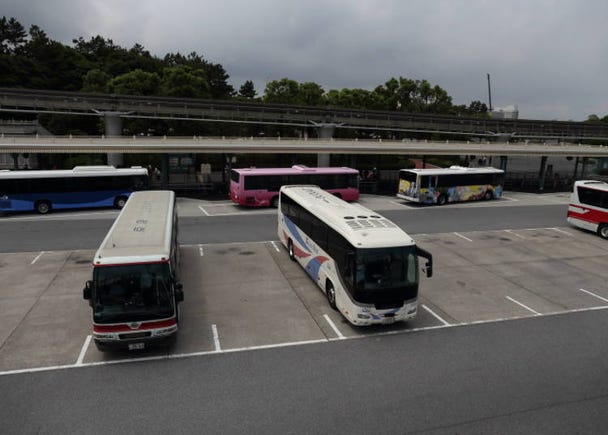 Direct buses arrive and depart at the bus terminal in front of Maihama Station. Direct buses from and to Kyoto, Osaka, and so on are also available.
6) What's the Disney Resort Line? The Train Within Tokyo Disney Resort
While Tokyo Disneyland is only a 5-minute walk away from Maihama Station, you will have to take the Disney Resort Line to best get to Tokyo DisneySea. Including transfer, it takes about 10 minutes to get to the park. The Disney Resort Line is a circular monorail that connects Maihama Station to the parks and hotels in the area. As already mentioned, it is useful when going to DisneySea or when traveling from one park to another. You can use the monorail with both regular Single Tickets or with Day Passes, so choose what fits your needs best. They can be bought at the ticket vending machines at each station on the line.

■ Ticket Types and Prices
Single Ticket: 260 yen for adults (12 and over) / 130 yen for children (11 and under)
1-Day Pass: 650 yen for adults (12 and over) / 330 yen for children (11 and under)
2-Day Pass: 800 yen for adults (12 and over) / 400 yen for children (11 and under)
3-Day Pass: 1,100 yen for adults (12 and over) / 550 yen for children (11 and under)
4-Day Pass: 1,400 yen for adults (12 and over) / 700 yen for children (11 and under)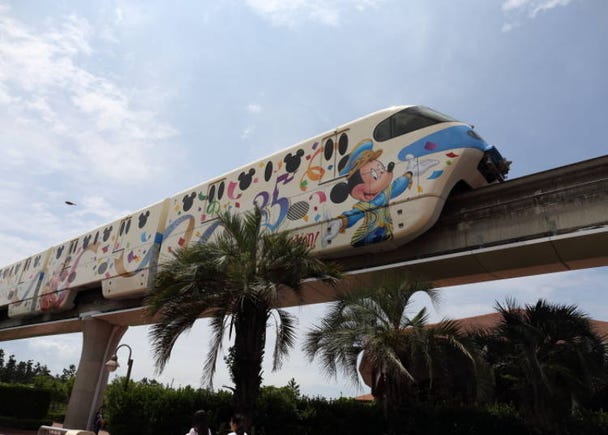 The Disney Resort Line is a great way to get from one park to another. Right now, it is decorated for the 35th anniversary.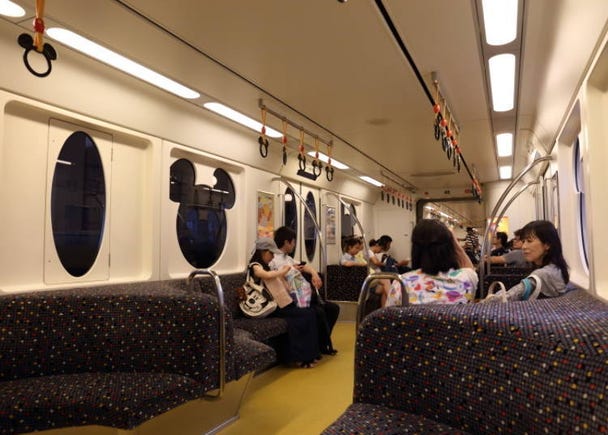 The interior of the train. Even the windows and straps boast a Mickey design.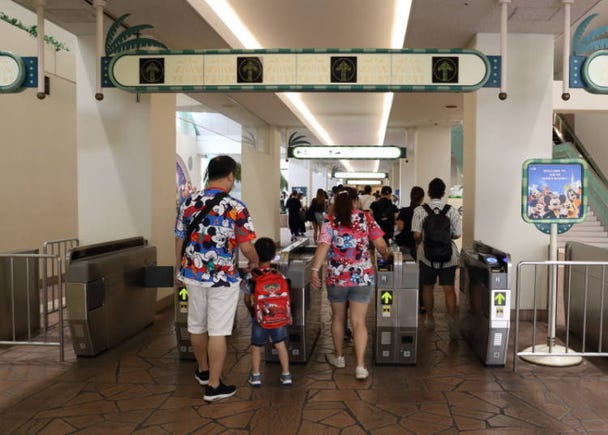 The ticket gates are automatic.
■ Stops
1) Resort Gateway Station (transfer to JR Maihama Station)
2) Tokyo Disneyland Station (access to Tokyo Disneyland, Tokyo Disneyland Hotel)
3) Bayside Station (access to Sunroute Plaza Tokyo, Tokyo Bay Maihama Hotel, Tokyo Disney Resort Official Hotel)
4) Tokyo DisneySea Station (access to Tokyo DisneySea, Tokyo Disney Sea Hotel MiraCosta)
One circulation takes about 13 minutes. The line runs in one direction only.
Inside the Parks
7) What's the Fast Pass? Skipping the Long Queue for Attractions!
Both Tokyo Disneyland and Tokyo DisneySea have a FASTPASS Ticket system (FP) for popular attractions. It works like a reservation for a specific attraction for a specific time slot, letting you enjoy it with much less waiting in the queue if you get such a pass in advance.

The system is easy to use: simply insert your Passport (park ticket) into the FASTPASS Ticket machines, found near the entrance of the attraction. You'll automatically receive your FASTPASS Ticket. The time period for which these tickets are currently distributed is clearly indicated above the ticket machines and further printed on your FASTPASS Ticket, so all you need to do is go back to that attraction within the designated time period and enjoy a much shorter queue. The parks' maps also clearly indicate which attractions offer a FASTPASS Ticket, so don't forget to check.

The only downside is that you must wait a certain time before getting another FASTPASS, but that time is also written on your current one. It's important to note that popular attractions such as "Pooh's Hunny Hunt" in Disneyland and "Toy Story Mania!" in DisneySea may run out of FASTPASS Tickets about one hour after the parks open.

Even if you manage to get a FASTPASS Ticket, its designated time can be after 8:00 p.m. If there's an attraction you absolutely want to ride, it is highly recommended to go there first and get a FASTPASS Ticket right as the park opens.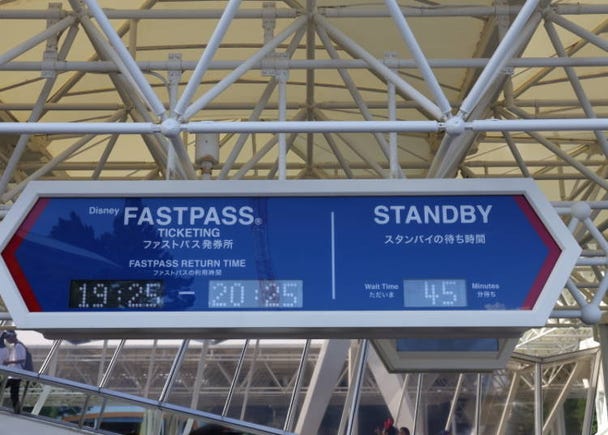 Every attraction has a sign showing the current waiting time and the period for which FASTPASS Tickets are distributed.
These are the FASTPASS Ticket machines. Just place your passport (park ticket) under the reader and your FASTPASS Ticket will be issued immediately.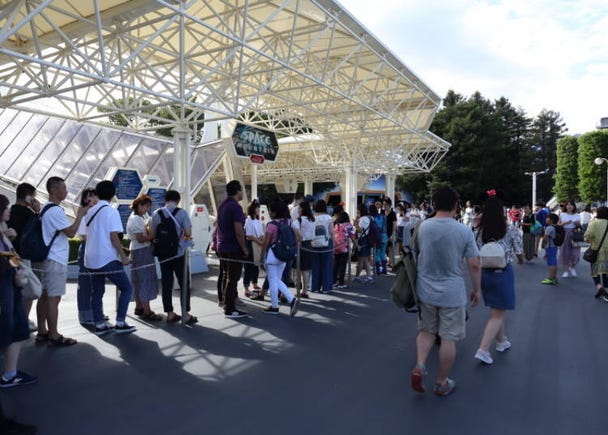 Once it's time, simply hand your ticket to the staff at the FASTPASS Entrance.
8) What to Eat at Tokyo Disneyland? Take a Relaxing Break at One of the Many Restaurants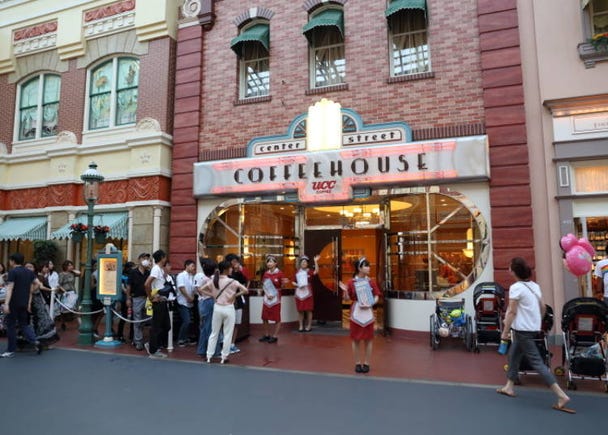 If you don't want to lose any time riding as many attractions as possible, various food stalls will provide you with snacks to enjoy on the go or while waiting in a queue. However, if you want to rest your feet and take a break, choose one of the many restaurants inside the parks.

Some of them even accept online reservations on their multilingual websites, so don't hesitate to make use of that. The majority of restaurants, however, can be visited without any reservation on the day of your park visit.

It's worth noting that small restaurants with few seats tend to have longer waiting times. Here's an overview of large restaurants that typically have no to short queues:

Tokyo Disneyland
Tomorrowland Terrace (~1470 seats), Tomorrowland
Plazma Ray's Diner (~920 seats), Tomorrowland
Hungry Bear Restaurant (~710 seats), Westernland
Pan Galactic Pizza Port (~590 seats), Tomorrowland
Grandma Sara's Kitchen (~530 seats), Critter Country

Tokyo DisneySea
Cape Cod Cook-Off (~910 seats), American Waterfront
Casbah Food Court (~850 seats), Arabian Coast
Zambini Brothers' Ristorante (~750 seats), Mediterranean Harbor
Yucatan Base Camp Grill (~690 seats), Lost River Delta
Horizon Bay Restaurant (~600 yen), Port Discovery
Miguel's El Dorado Cantina (~600 yen), Lost River Delta
9) When to Buy Souvenirs? Shops are Crowded Before the Parks Close!
Many park visitors buy souvenirs just before leaving the park and returning home. That's why shops are incredibly crowded in the evening, especially around one hour before closing time. To avoid this busy period, a good strategy is to check what you might want to buy before the peak hours by strolling through the shops throughout the day, making evening shopping much faster. Since July 20, 2018, there's also a shopping app that we'll explain in the next paragraph.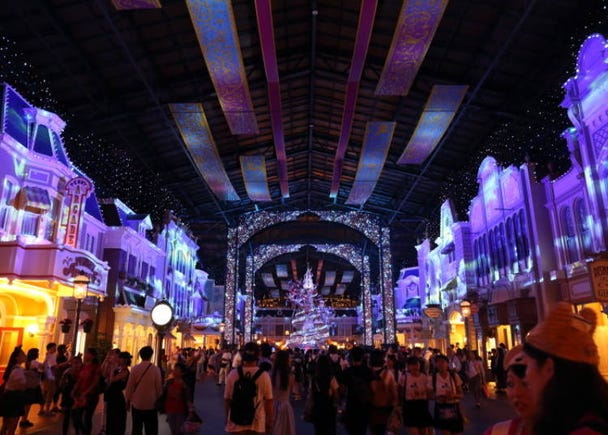 Tokyo Disneyland's World Bazaar is where all the shops are.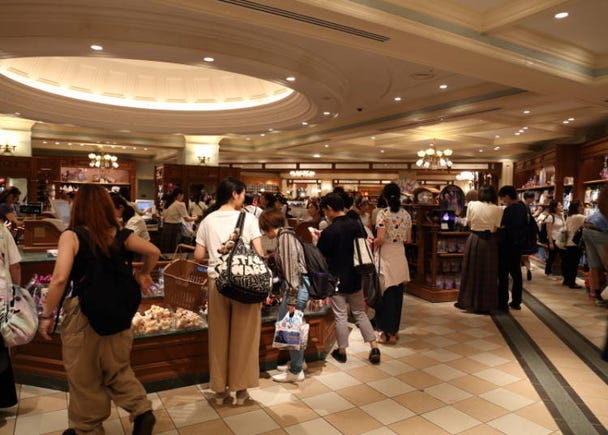 The shops are incredibly crowded in the evening.
10) What's the Tokyo Disney Resort App? Check Waiting Times and Buy Souvenirs!
The new Tokyo Disney Resort App is a big success among park visitors. It boasts various functions, with the map that shows attractions' waiting time in real time being one of the most convenient. It's incredibly helpful to enjoy all the rides in the most efficient way. The app also lets you buy park tickets, features lottery drawings for shows, online reservations for restaurants, and more. It's a strong tool for every park visitor.

Since July 20, 2018, the app also has an online store for almost all goods sold at the parks. You won't have to line up at a crowded cash register and if you shop for more than 10,000 yen, the delivery is free. We recommend installing it before your visit. However, the one big downside of the app is that it is only available in Japanese (as of August 2018).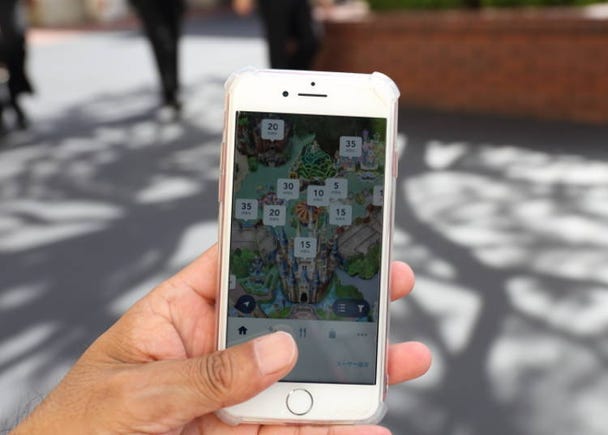 The waiting time of nearby attraction is displayed in real time.
11) Multilingual Guide Maps, Multilingual Staff
Guide maps for the parks are available in English, Chinese (simplified and traditional), and Korean at the Main Street House near the entrance of Tokyo Disneyland. Multilingual staff is also on duty, so don't hesitate to go to the Main Street House if you need help or have any questions.
Special Services
12) The Birthday Service: Get Special Congratulations from the Staff!
If you're visiting the park in your birthday, make sure to tell the staff. You'll get a special badge with your name on it and if you stick it visibly to your clothes, the staff all around the park will with you a Happy Birthday! It's one big celebration sure to make your birthday an extra special one. Get the birthday sticker at Tokyo Disneyland's Main Street House or DisneySea's Guest Relations.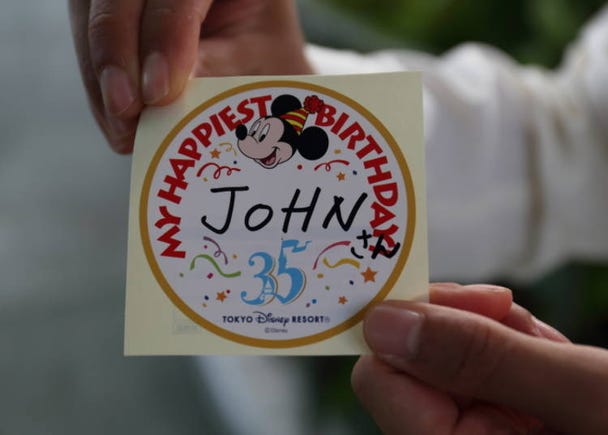 The birthday sticker for the 35th anniversary event.
13) I Can't Find the Ride! Ask the Staff for Help at Any Time!
You'll definitely notice that there is a large number of staff inside the parks of Tokyo Disney Resort. Every single person, from staff working at the FASTPASS queues to the cleaning staff, is prepared and ready to help the guests.

Each of them knows the parks like the backs of their hands, including the location of all attractions and shows, but also toilets, restaurants, and so on.

Do not hesitate to approach them, even for minor questions or issues. In fact, the staff proactively approaches people who are looking at a map of the park, offering their help. This sort of service and attentiveness is one factor that makes Tokyo Disney Resort so pleasant and special.
The staff will gladly point you in the right direction, no matter what you're looking for.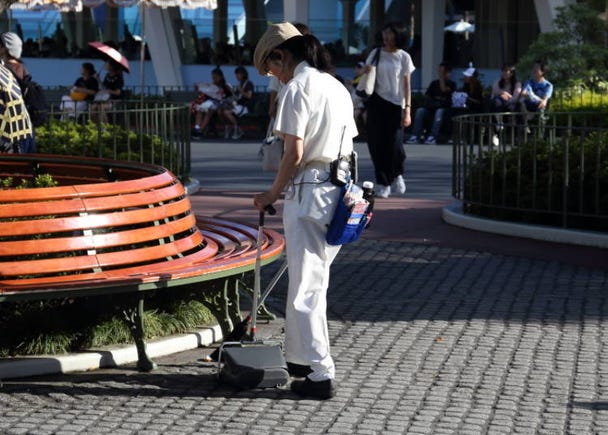 Sometimes, cleaning staff may spontaneously start to perform a little show.
14) The Park with Children: Renting a Stroller for 1,000 Yen Per Day!
A stroller is essential when visiting the park with a child. Even if your little one usually doesn't use a stroller anymore, it's great to have for luggage or a brief break or nap. Strollers can be rented for 1,000 yen a day, able to seat children of up to 100cm tall and weighing up to 15kg.

The strollers can be parked near the entrance of all attractions, so they won't be a burden inside the park. However, don't leave any luggage on the stroller while it is parked to prevent theft.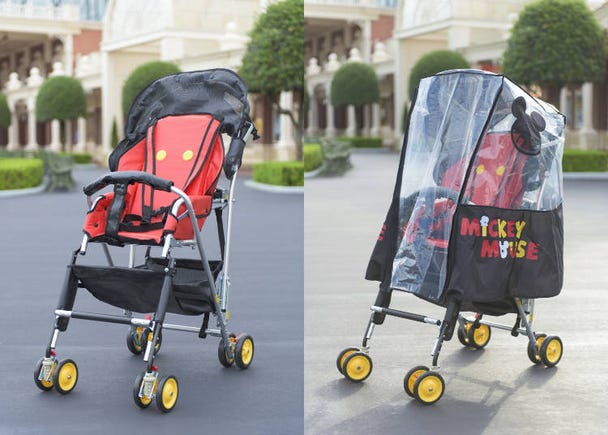 15) Re-entering the Park: Get a Stamp!
Sometimes, you need to leave a park because you forgot something outside, for example. Tokyo Disney Resort lets you re-enter as many times as you like as long as it is within the validity of your Passport. Simply get a stamp on your hand at the exit and show it to the staff upon re-entering.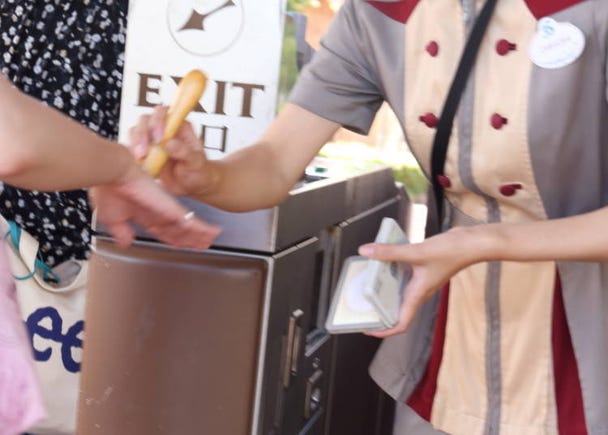 Get a re-entry stamp at the exit.
Even More Fun: Special Tips
16) Look for Hidden Mickeys!
Our special recommendation for passionate Disney fans is to look for all the hidden Mickeys inside the parks. You'll find his iconic shape hidden in objects, patterns, and so on – quite literally throughout the entire area. It's fun to spot a hidden Mickey design unexpectedly, enhancing your visit with a little casual magic on the side!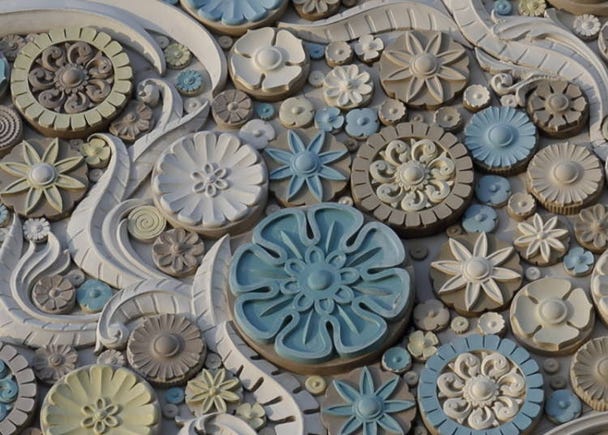 An example of a hidden Mickey. Designs such as these can be found everywhere if you look closely.
17) Meeting Disney Characters: Where to Find Them
Getting up close and taking a commemorative photo with Disney's iconic characters is one of the funs of Tokyo Disney Resort. These events are called Character Greetings and offer you the opportunity to meet your favorite character without fail, using a fixed schedule and designated greeting spaces.

You'll also just stumble upon various characters because both parks have unannounced character appearances – in that case, consider yourself lucky and make the most out of the situation! They often appear near the parks' entrances and particularly popular characters usually have people queueing up for photos. On the other hand, characters that participate in the parade never appear. Likewise, spontaneous character greetings almost never happen in the evening.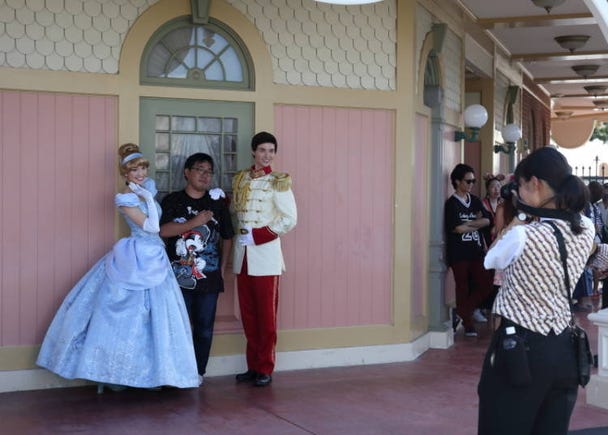 Line up and have a commemorative picture taken by the staff!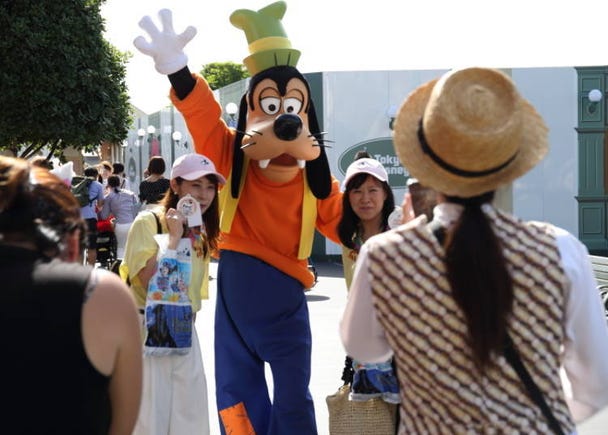 Approach characters on the parks' streets for a snapshot!
Address

1-1, Maihama, Urayasu-shi, Chiba, 279-0031
View Map

Nearest Station

Maihama Station (JR Keiyo Line)
4 minutes on foot


Phone Number

0570-00-8632
Address

1-1, Maihama, Urayasu-shi, Chiba, 279-0031
View Map

Nearest Station

Maihama Station (JR Keiyo Line)
13 minutes on foot


Phone Number

0570-00-8632

*This information is from the time of this article's publication.
*Prices and options mentioned are subject to change.
*Unless stated otherwise, all prices include tax.