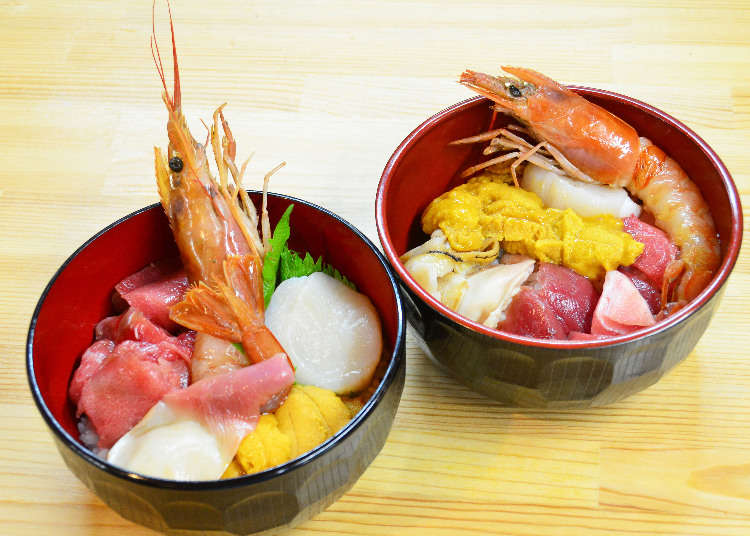 When traveling in Miyagi Prefecture, you can't miss out on the delicious seafood. Located right off the Sanriku Coast, it is known as one of the best fishing ports in the entire world.

The markets are lined with plenty of fresh and delicious seafood dishes, beloved by the locals. There are plenty of places to grab a great gourmet dish of delicious seafood.

Today, we will take a look at the Shiogama Fish Market, one of the largest wholesale markets in the Tohoku Region. These seafood and tempura bowls are made with fresh fish and pack plenty of flavor.
The Delicious Seafood of Miyagi!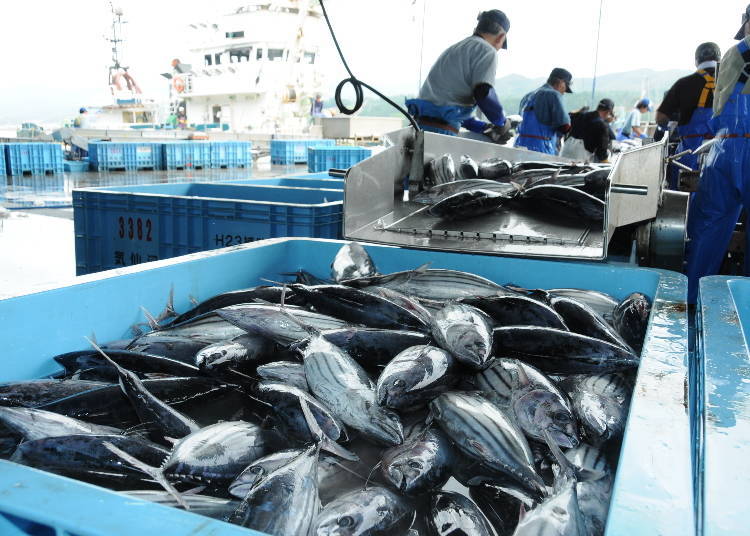 Miyagi is located off the shores of Sanriku, one of the world's three largest fishing grounds. Miyagi boasts around 142 fishing ports throughout the prefecture. Of particular importance in Japan are the fishing ports of Shiogama, Kesennuma, and Ishinomaki, which have been designated as Specially-Authorized Type 3 Fishing Ports. There are only 13 specially-authorized Type 3 ports nationwide, so for three of those to be centered in Miyagi alone is quite a feat!

Each region boasts its own specialties. Kesennuma, located in northeast Miyagi, is famous for bonito and shark fin. This single area boasts the highest amount of fresh bonito and shark fin caught and sold in all of Japan. Ishinomaki is famous for Kinka saba (a kind of mackerel), which is usually caught around October.
Shiogama Fish Market: Popular Miyagi Seafood Market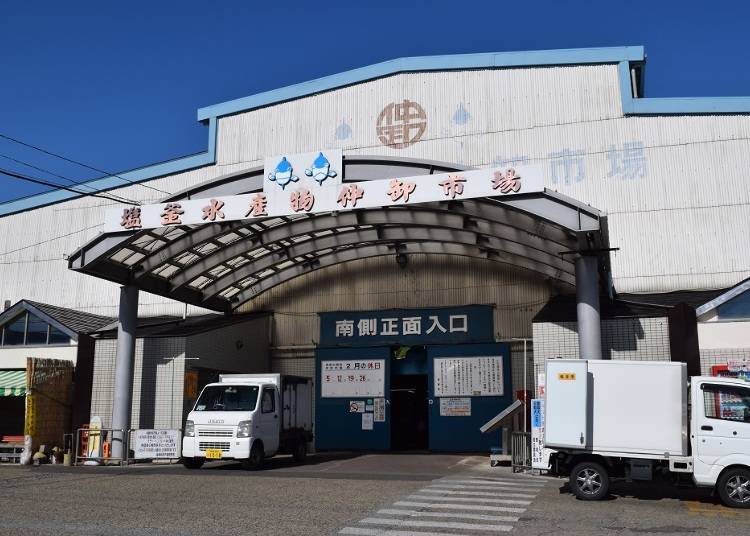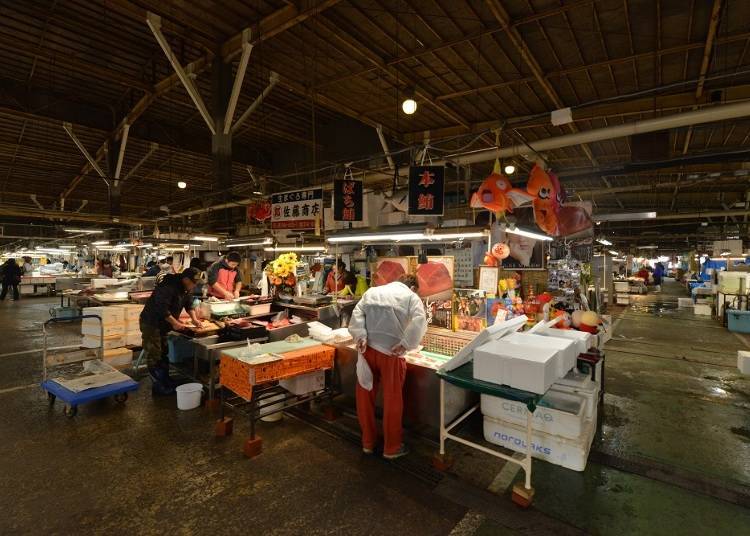 The entire coast of the prefecture is dotted with fish markets. Shiogama Fish Market is one of the most popular, with about 100 seafood and fishery shops in its spacious area. Of these, nearly 20 shops specialize in tuna. Such high numbers can only be found in Shiogama, which boasts Japan's top volume of raw tuna sales.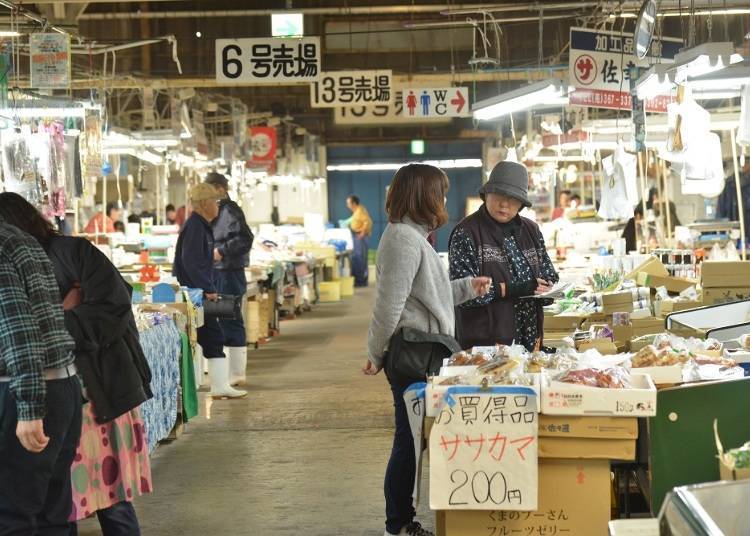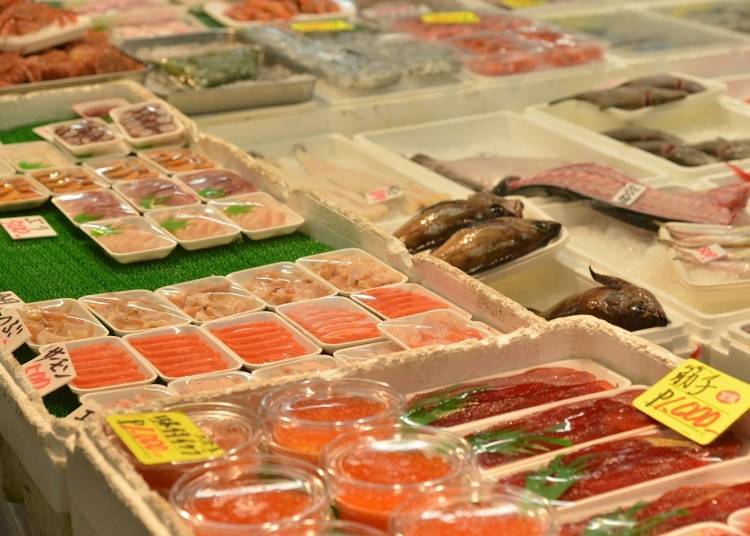 The gourmet of Shiogama Fish Market is what makes it fun. You can make your own seafood bowl with your favorite fish, or have the seafood you purchase grilled right in front of you to enjoy on the spot. Today, we will introduce some of the top recommended shops from the market.
1. My Kaisendon: Market Specialties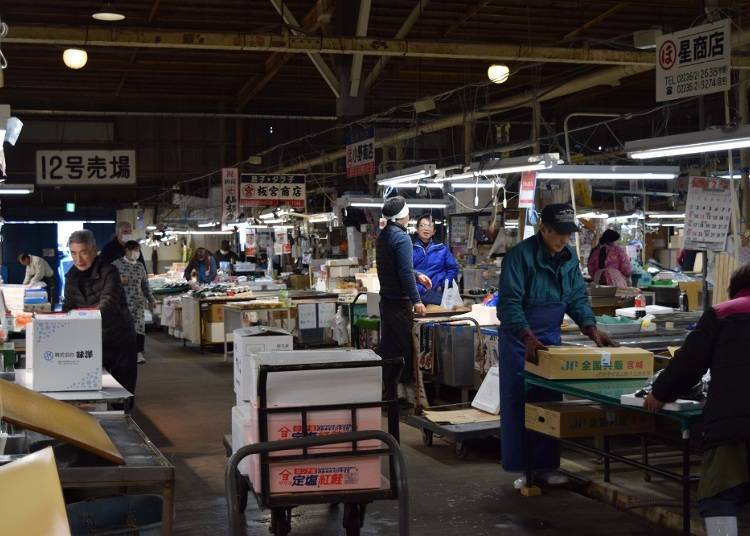 One of the highlights of the market's eateries is My Kaisendon. It is a popular gourmet experience, especially amongst tourists, where you can create your own original seafood bowl using the seafood you purchase.

First, go around the shops and select your sashimi. You can opt for one kind of favorite fish, or gather several pieces little by little. Shop for your desired ingredients as you imagine the kind of seafood bowl you want to create. Some shops sell small packs of assorted seafood in a set. We recommend going around and checking out each shop.
Once you purchase your sashimi, head to the front entrance of the market (at the south exit) and purchase a rice set (400 yen, miso soup included) at My Kaisendon Corner. You can find it at Sales Area 6 in the back. Three sizes of rice are available: regular, large, and extra large. You can also ask for vinegar sushi rice for an additional 50 yen.

Finally, once you are served you can eat your meal at the neighboring eat-in corner. Enjoy a seafood bowl specially topped with your favorite seafood, whether it's delicious, flavorful tuna, fragrant sea urchin, or melt-in-your-mouth juicy shrimp. Prices vary depending on ingredients, but in general you can make a filling bowl of seafood and rice for about 2,000 yen on average.

You can order a rice set up to one hour before closing. If you'd like to try for yourself, come early, and be mindful of the time while choosing your ingredients.

My Kaisendon Corner
Phone: 022-367-1622 (Shiogama Market Sales Center)
Hours: 6:30AM-12:00PM (Weekends/holidays: 6:30AM-1:00PM)
Closed: Wednesdays
2. Kaisen Yatai Dotto-ya: Popular Plump Shrimp Tempura Bowl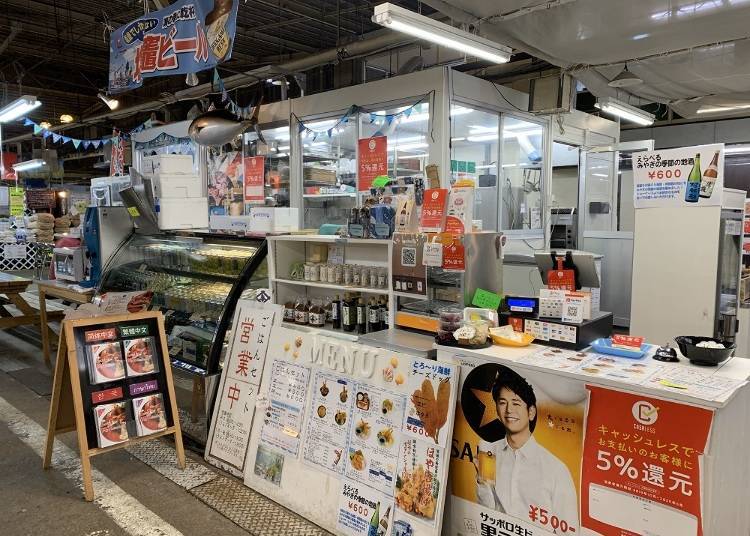 Tendon, a classic rice bowl, has long been a favorite meal in Japan. Because it is so delicious, it has even gained popularity amongst foreign tourists. Kaisen Yatai Dotto-ya, located in Sales Area 6 of the market, is a shop that specializes in tendon. You can also enjoy a tempura bowl or a set meal made with seafood from the market for around 1,000 yen.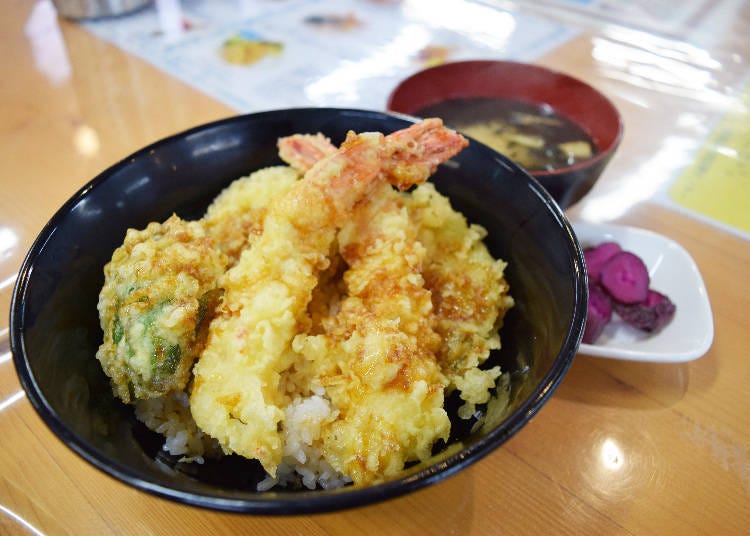 Their recommended dish is the Ebi Tendon (1,000 yen), which includes two large shrimp tempura and vegetable tempura. The crisp coating of the tempura is soaked in sweet sauce and pairs well with the rice. The star of the dish is the shrimp, which are super plump and spread a delicious sweet flavor through your mouth with each and every bite. You can also order beer and sake, and enjoy both together from as early as noon.

Kaisen Yatai Dotto-ya
Phone: 022-367-1622 (Shiogama Market Sales Center)
Hours: 8:30AM-12:00PM (weekends/holidays: 8:30AM-1:00PM)
Closed: Wednesdays
3. DIY Grill: Grill Your Own Seafood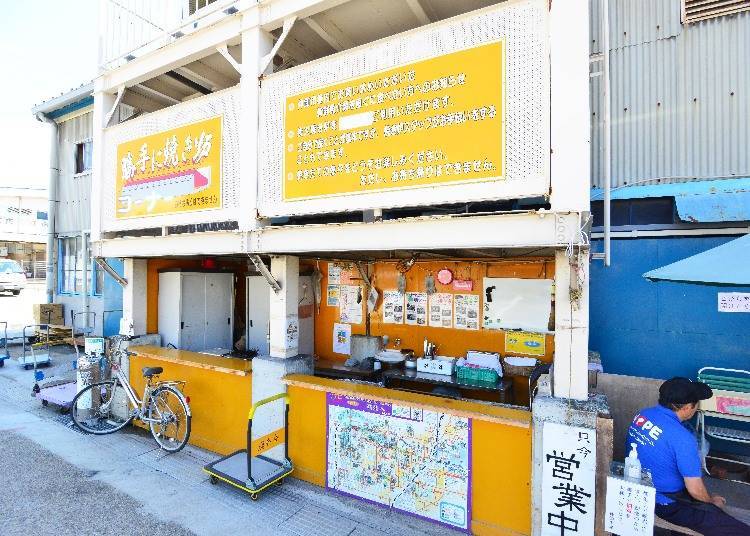 If you are not a fan of raw seafood, we recommend the DIY Grill, located right outside of Sales Area 5. Here you can grill and eat your own seafood that you purchase in the market. If you aren't sure how to use the grill, you can ask the market staff. They will teach you when to turn over the seafood, and when it is ready to eat.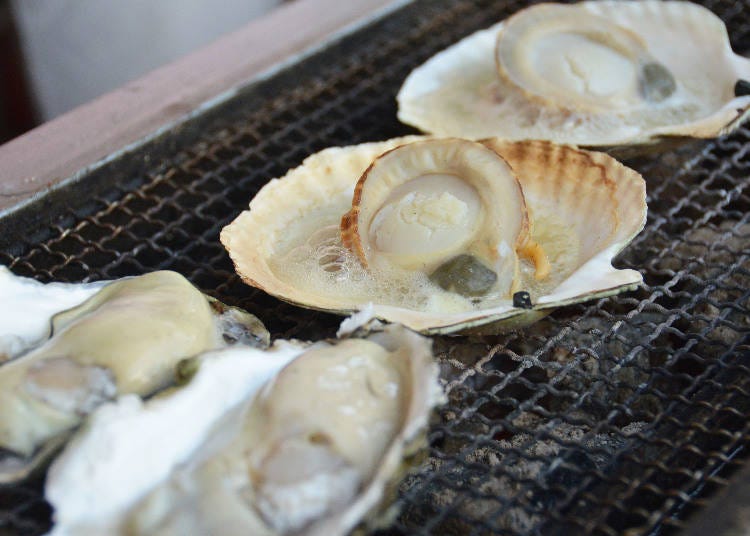 The estimated cooking time is 5-10 minutes for shellfish and 15-20 minutes for regular fish. Fish and shellfish grilled over a charcoal fire are extra flavorful and juicy! You can order a rice set at My Seafood Bowl and eat it together for a great DIY set meal. Let the fat and flavor of the fish slowly drip into the rice for an extra-delicious dish.

DIY Grill
Phone: 022-367-1622 (Shiogama Market Sales Center)
Hours: 7:00AM-12:00PM (Weekends/holidays: 8:30AM-1:00PM)
Closed: Wednesdays
4. Tamago Kobo: The Perfect Take-Out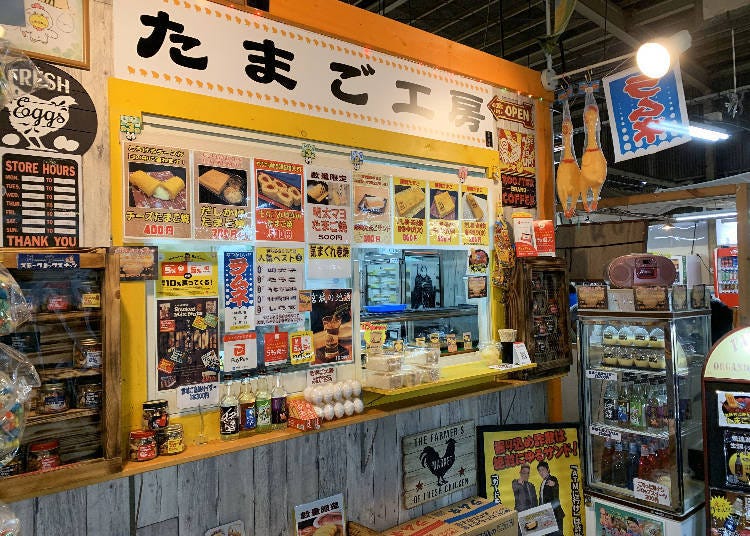 Not in the mood for seafood or tempura? Why not enjoy an egg dish instead? There is a specialty tamagoyaki (rolled omelette) shop located in Sales Area 6, Tamago Kobo. This shop specializes in fluffy egg dishes cooked and prepared right before your eyes.

You can order Dashi-yaki (egg cooked in dashi) and Ama-yaki (sweet cooked egg) from 200 yen apiece, prepared with bonito and kombucha dashi. You can also try a Cheese Tamagoyaki (400 yen) or a Mentai-Mayo Tamagoyaki (500 yen). You can order to eat in or as take-out.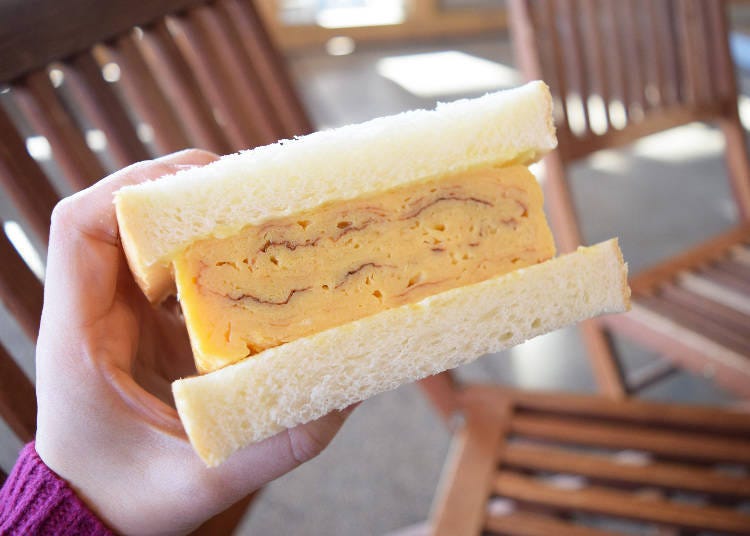 The Atsuyaki Egg Sandwich (300 yen) is rapidly growing in popularity. The balance between the sweet egg and tart mayonnaise sandwiched between the bread is what makes it really delicious. If ordering as take-out, we recommend heating it up for about 20 seconds in the microwave before eating.

Another popular item of this shop is the Mochikomi Seafood Tamagoyaki, in which you can have ingredients you purchase in the market rolled into your egg. Mentaiko, tarako, and broiled eel are the most popular. If you want to try a unique dish, this is definitely one to try.
*Some ingredients may not be suitable for your tamagoyaki depending on type and size.

Tamago Kobo (Egg Workshop)
Phone: 080-3336-1005
Hours: 6:00AM-12:00PM (Weekends/holidays: 7:00AM-2:00PM)
L.O. 30 min. before closing
Closed: Wednesdays
Foreign Language Support and Easy Access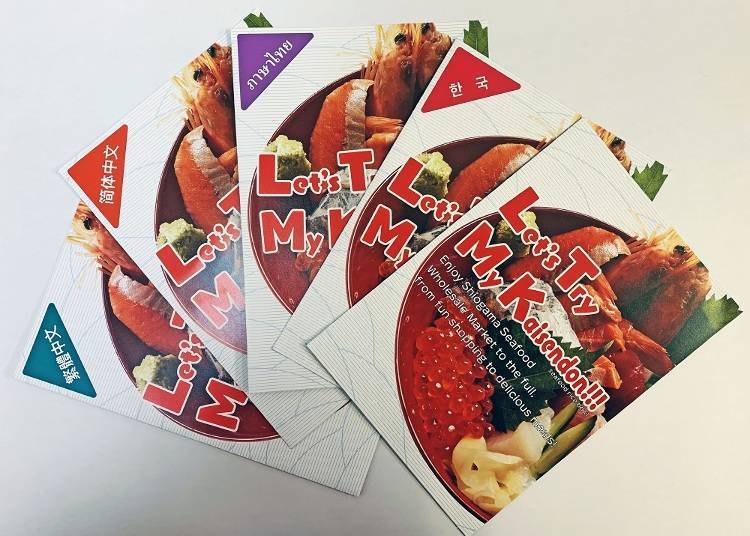 Please be aware that eating while walking around the market is prohibited. Please bring any foods you purchase to eat at the market to the eat-in corner at Sales Area 6. You can also pick up pamphlets in English, Chinese, and Korean in Sales Area 6. Website also available English and Chinese. The nearest station is Higashi-Shiogama Station, located about 30 minutes from Sendai Station, the gateway to Miyagi. It is about 15 minutes on foot from Higashi-Shiogama Station.

The Shiogama Seafood Wholesale Market has a variety of great eateries, including some restaurants that are only open on Sundays and holidays, and others that only sell seafood bowls on weekdays in the morning. This seafood market also tends to be chilly during the warm season, so you may want to carry a light cardigan when visiting.
塩釜水産物仲卸市場

Address

1-20-74 Shinhamacho, Shiogama City, Miyagi Prefecture, 985-0001

Phone Number

022-362-5518

Hours: 3:00AM to 1:00PM, Saturdays from 3:00AM to 2:00PM, Sundays and holidays from 6:00AM to 2:00PM
Closed: Wednesdays *May close temporarily on other days. See homepage for details
Text by: SHOE PRESs
*This information is from the time of this article's publication.
*Prices and options mentioned are subject to change.
*Unless stated otherwise, all prices include tax.
Limited time offer: 10% discount coupons available now!