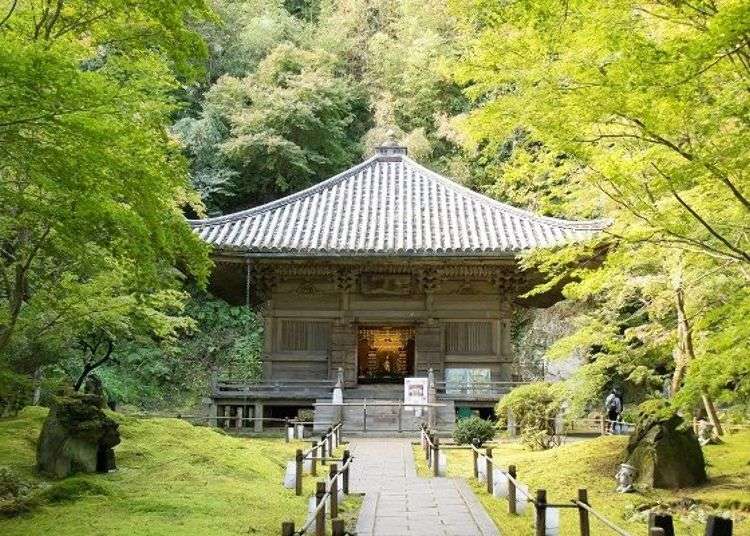 One of Japan's three major scenic spots, Matsushima in Miyagi Prefecture, is home to Entsuin Temple. Also known as the matchmaking temple, it is also a popular sightseeing point of interest.

There are many fun things to do at Entsuin Temple, from walking around its beautiful garden, to making original prayer beads! The fall foliage here is stunning - especially when lit up at night.
The matchmaking Goddess of Mercy looks out on Entsuin Temple's beautiful garden
Many temples related to the Date Clan still remain in Matsushima-machi, Miyagi Prefecture. This place is not only famous for Zuiganji, a national treasure and temple that Date Masamune rebuilt, but also as a popular tourist spot attracting many to the nearby Entsuin, famous as a matchmaking temple.

Entsuin Temple is about a 30-minute drive on the expressway from Sendai. It is a 5-minute walk from Matsushima Kaigan Station on the JR Sengoku Line if you go by train.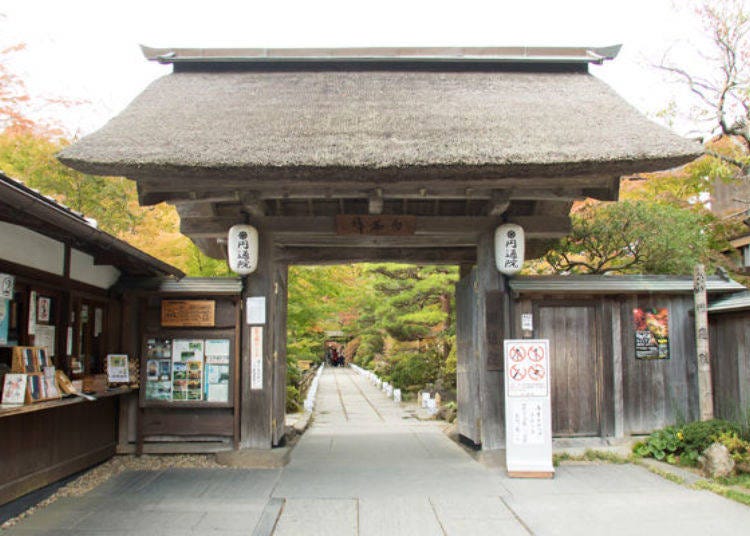 ▲ Yakuimon (Sanmon) is a designated cultural asset of the town.
Entsuin Temple was founded in 1647 as a mausoleum for Mitsumune, the grandson of Date Masamune. The Enmusubi Kannon [Matchmaking Goddess of Mercy] is located on the left just after you enter through the thatch-roofed Sanmon Gate.

The Goddess of Mercy is said to bring together people who have not yet had a relationship and who are seeking one.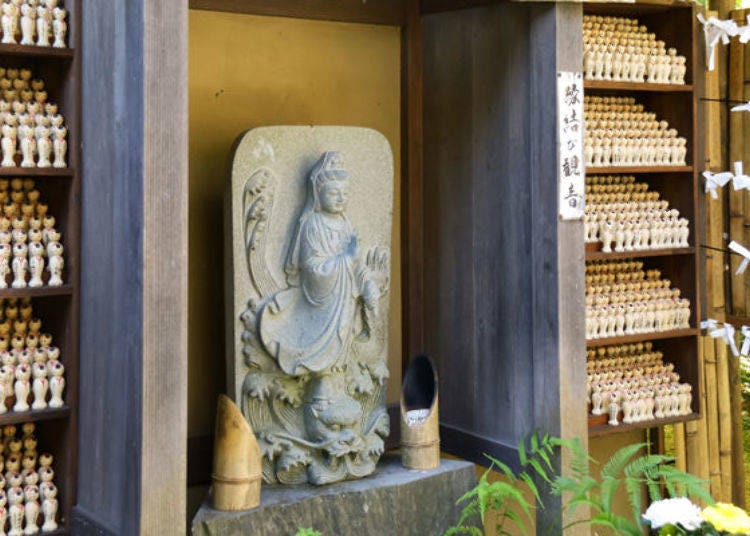 ▲ The matchmaking Goddess of Mercy is depicted as a Kannon Bodhisattva riding a dragon.
Numerous tiny kokeshi dolls line the shelves on each side of her! Those seeking a match write what they wish for on an Enmusubi Kokeshi and offer it here. These give you a good idea of the number of people visiting here to pray for a good relationship!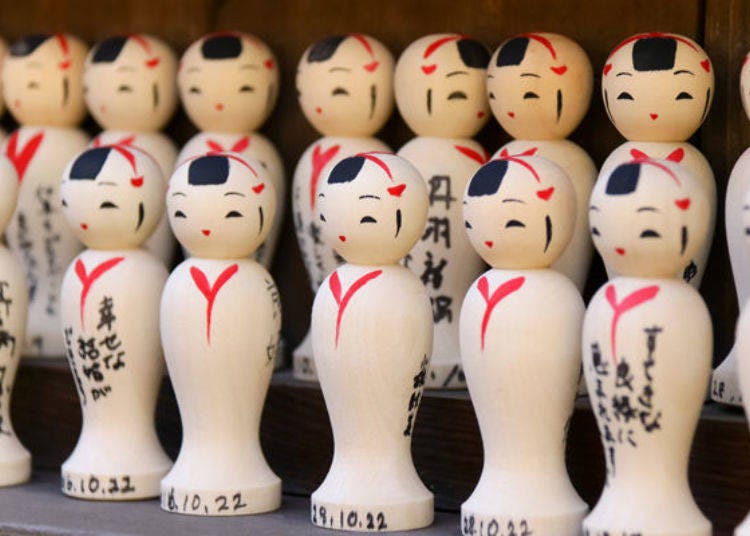 ▲ The Enmusubi Kokeshi (500 yen) is about 5 cm tall.
▲ Cute Kokeshi cookies (250 yen) are also available next to the Enmusubi Kokeshi!
After leaving the Matchmaking Goddess of Mercy, you will come upon two gardens. The Ama no Niwa [Garden of Heaven] rock garden represents Matsushima Bay and the Ji no Niwa [Garden of Earth] represents life. Here you can sit and leisurely admire the scene.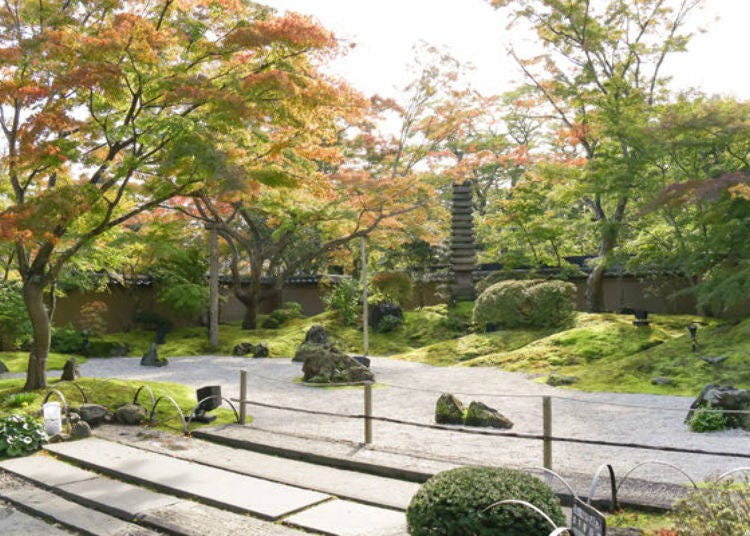 ▲ The Garden of Heaven represents Matsushima Bay with white sand and moss.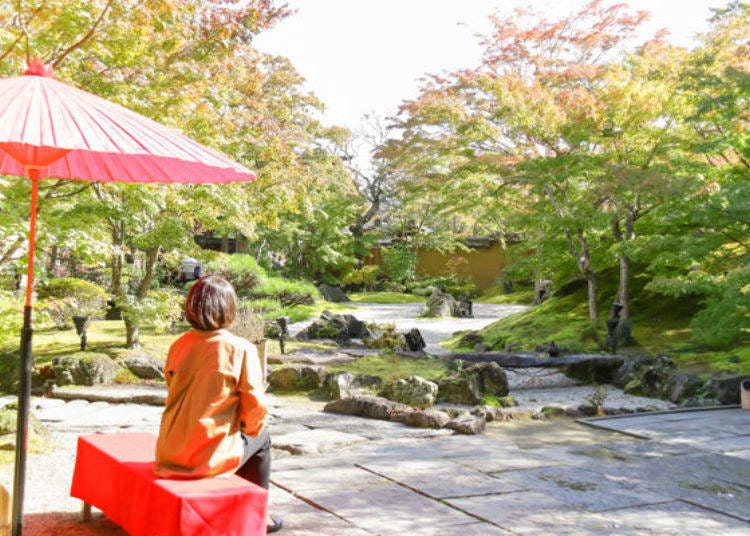 ▲ The rustic and quaint Garden of Heaven and Garden of Earth.
There is another beautiful garden in front of the main hall. This is called Enshu no Niwa [Garden of Enshu] and is said to have been created by Kobori Enshu, a famous gardener of the Edo period.

The pond is in the shape of the Japanese character for "heart," and the garden is famous for its many maple trees. In autumn, their beauty is gorgeous when their leaves turn bright red.

Each of the four seasons transforms the beauty of the Entsuin Temple gardens; in spring, it is radiant with luxurious greens, and in winter mantled with drifts of snow.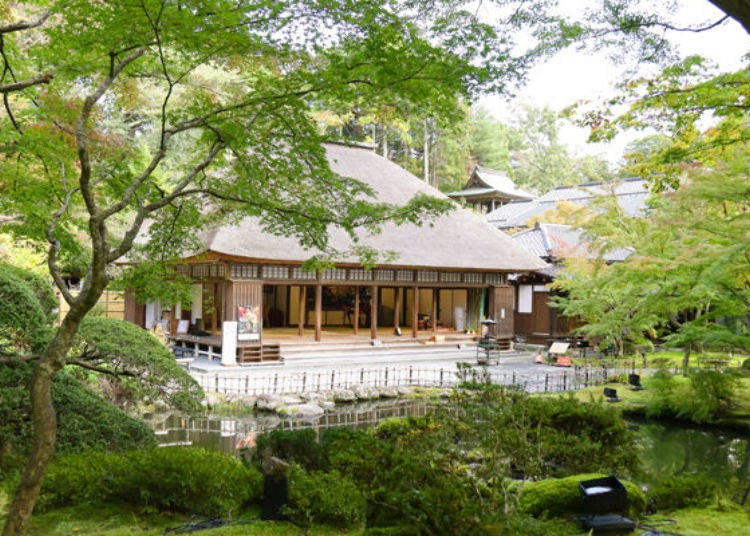 ▲ The Garden of Enshu is said to have been moved from the Date Clan estate in Edo to here.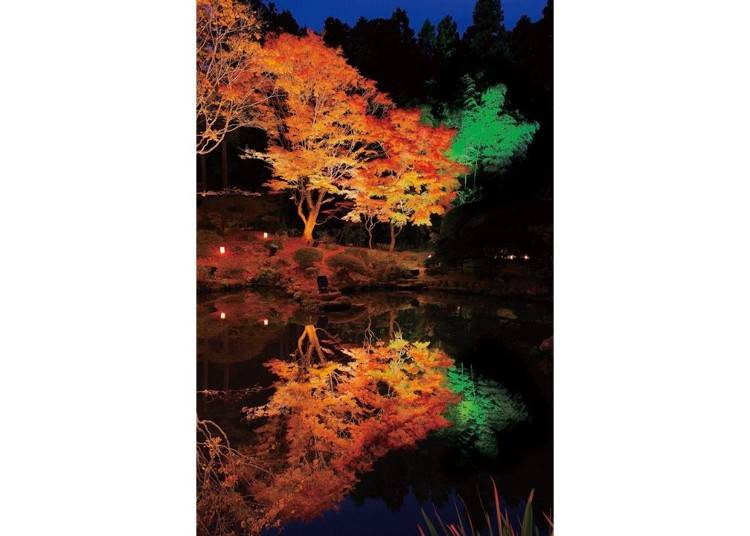 ▲ The latter part of October to the latter part of November is the best time to see the autumn leaves which are illuminated at night.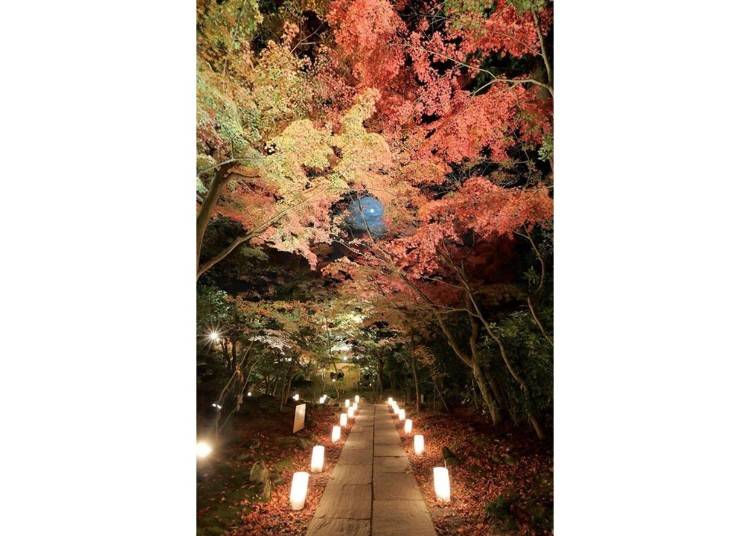 ▲ The illuminated mountain path is also mystical.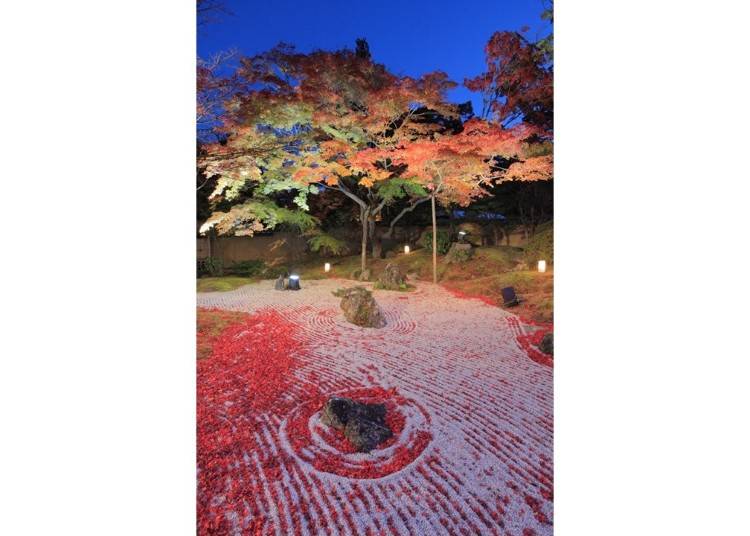 ▲ The illuminated rock garden adorned in fallen autumn leaves is a sight you really must see.
The mausoleum is a cultural asset having a hint of Western culture and is a must-see!
Beyond the Entsuin is the Sankeiden in which Date Mitsumune is enshrined. Mitsumune's father, Tadamune (the second-generation lord of Sendai), erected it to mourn his son's death. This is said to be the oldest mausoleum structure in Miyagi Prefecture and is designated as an important cultural asset of the country.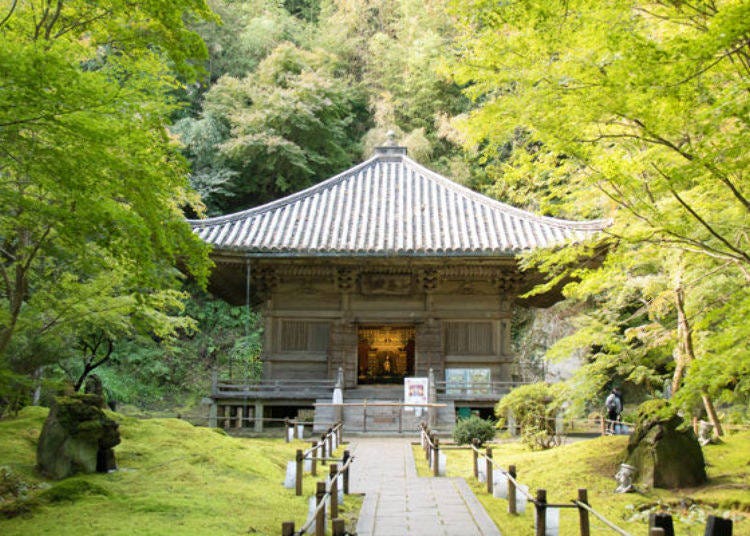 ▲ This beautiful structure has a polygonal tiled roof.
This small shrine is decorated with Western patterns of roses, narcissus, diamonds, clubs, hearts, and spades. According to temple legend, Hasekura Tsunenaga, a family retainer, brought back culture from Europe on which the designs were based. These are valuable resources that show the connection between Europe and Japan at that time.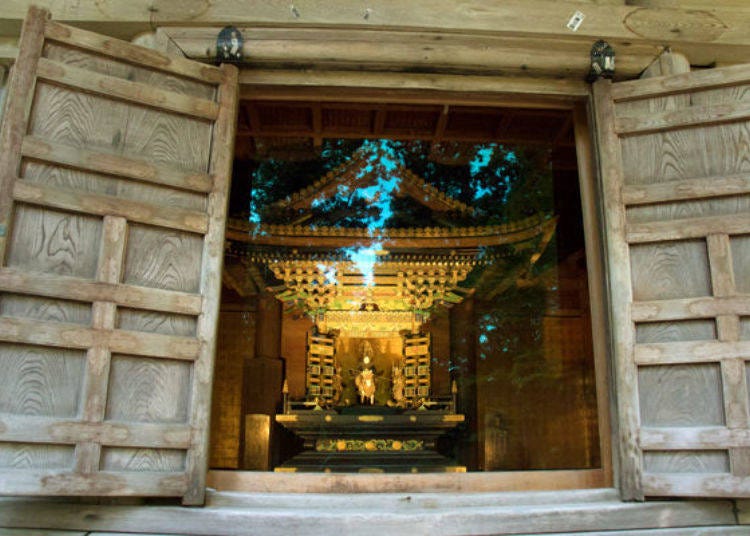 ▲ You can see inside the small shrine through the glass panel a figure of Mitsumune astride a white horse.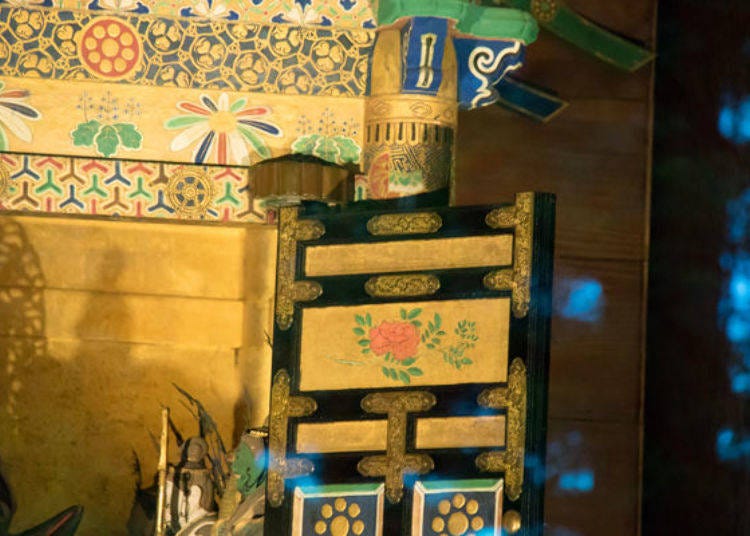 ▲ You can also see the rose pattern!
Select your favorite colors and try making prayer beads!
Making a juzu, or prayer beads, is a popular activity at Entsuin. Visitors can select beads that they like and create juzu or their own original designs. There are three types of beads: natural stone, glass, and plastic. I opted for the most popular course which was the one using natural stones (small beads, 3,000 yen).

After receiving an explanation on how to make the juzu, you can begin. Select a favorite color for each of the Oyadama [the largest bead], Shadama [main beads used for the 108 beads], and Niten [the two tiniest beads].

There were so many to choose from I had trouble making up my mind. Usually, this takes about 20 minutes, but some individuals take as much as two hours to make their selections.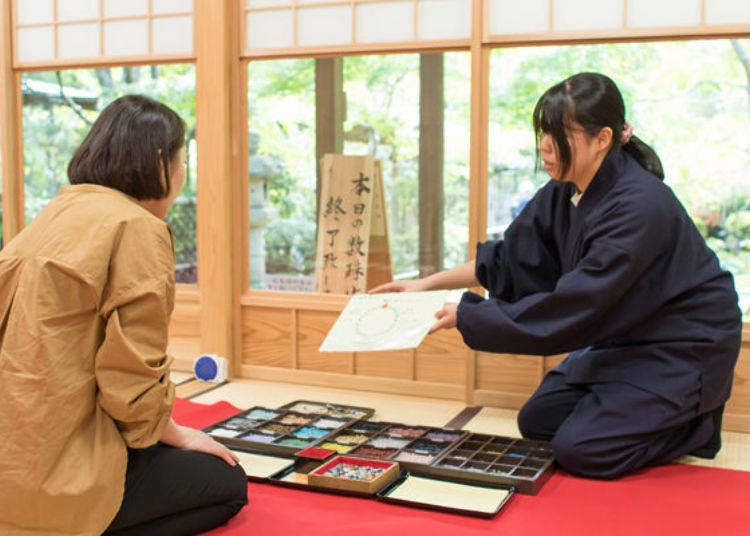 ▲ First you are given instructions and then your wrist is measured.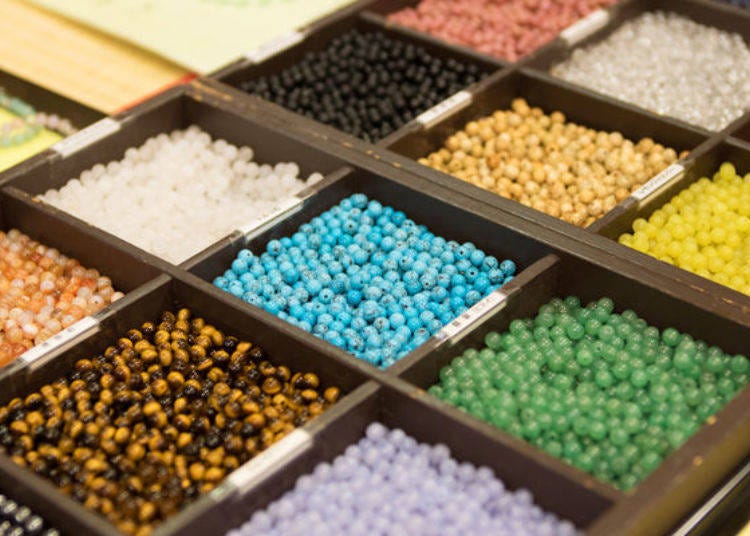 ▲ There are 16 types of Shadama and 18 types of Niten. Natural stones come in course sizes of extra large, large, medium, and small and are respectively priced at 8,000 yen, 6,000 yen, 4,000 yen, and 3,000 yen per course.
After selecting the natural stones course, an explanation of each stone is provided after the juzu has been made. As each bead is explained, such as "This stone is for relieving anxiety and worry," and so on, one seems to get a better understanding of one's own mental state.

Making a juzu of your own original design is the perfect souvenir for yourself.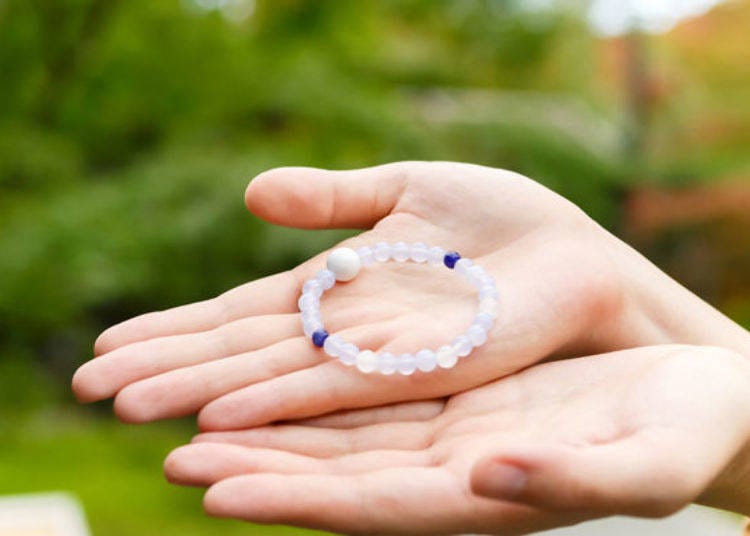 ▲ If the string on which the beads are strung should become stretched it will be replaced at no charge.
Viewing beautiful gardens and pleasant activities await you at the matchmaking temple. When sightseeing in Matsushima you definitely should visit here!

* This article is based on an article written in 2016 in which some parts were revised.
Address

67 in Matsushimacho, Matsushima-machi, Miyagi-gun, Miyagi, 981-0213
View Map

Nearest Station

Matsushimakaigan Station (Senseki Line)
5 minutes on foot


Phone Number

022-354-3206
*This information is from the time of this article's publication.
*Prices and options mentioned are subject to change.
*Unless stated otherwise, all prices include tax.
Limited time offer: 10% discount coupons available now!