Naruko Onsen is one of the go-to hot spring towns in the Tohoku region. The area is surrounded by mountains, and the onsen town has a charming feel, with many ryokan and eateries with long histories built side-by-side.

The accommodations for each hot spring have their own unique traits and quirks, and one highly recommended one is "Oedo Onsen Monogatari Naruko Onsen Masuya," by the Oedo Onsen Monogatari group.

From hot springs that offer resplendent views to a bountiful buffet menu, we'll be introducing to you this all-in-one resort that warrants revisits in the future!
What kind of place is Naruko Onsen?
Naruko Onsenkyō is in the inland northern part of Miyagi prefecture. Along with Miyagi prefecture's Akiu Onsen and Fukushima prefecture's Iizaka Onsen, this is one of the representative hot springs of the Tohoku region. From Tokyo, you can reach the area via bullet train and local trains in about three hours.

Of the ten qualities of hot springs in Japan, the waters of Naruko Onsenkyō embody an amazing eight of them.

From bicarbonate springs, which are great for the skin, to sulfur springs that do wonders for skin problems, there are over 370 sources for the hot springs. There is a total of five hot springs there with their own accommodations and sightseeing spots, including Naruko Onsen, Higashinaruko Onsen, Kawatabi Onsen, Nakayamadaira Onsen, and Onikōbe Onsen, and amongst them, Naruko Onsen is the main tourist spot, with many restaurants and accommodations within walking distance from the train station.
Oedo Onsen Monogatari Naruko Onsen Masuya: Popular hot spring resort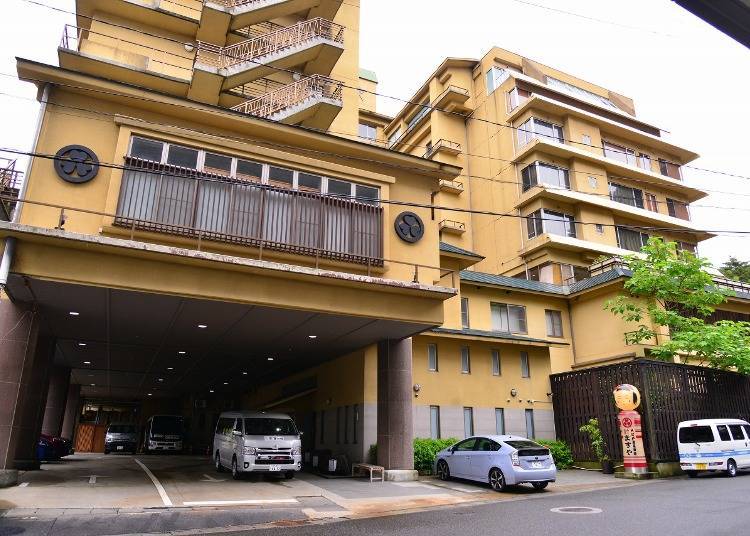 The place is three minutes away from JR Naruko Onsen station on foot. Along a gentle slope lined with many onsen accommodations, in one corner stands Oedo Onsen Monogatari Naruko Onsen Masuya.

First built in 1915, in 2016, the bathing area was renovated, and the restaurant also had a live kitchen added, for a complete renewal of the place. This is one hot spring resort where you will definitely enjoy yourself regardless of age.

From JR Sendai Station, the jumping board to sightseeing Miyagi Prefecture, take the JR Tohoku shinkansen for about 13 minutes. Alight at JR Furukawa Station, and change onto the Rikuuto line. You'll arrive at JR Naruko Onsen Station in around 45 minutes.

One great perk of Oedo Onsen Monogatari Naruko Onsen Masuya is that it offers a free direct shuttle service from JR Sendai Station. It makes one round trip per day, and especially for overseas visitors who aren't used to changing trains and may have worries about making transport connections, this certainly puts them at ease.

The service is limited only to guests staying at the hotel, and reservation must be made by phone beforehand. As there are limited seats available, it's best to make your reservations early.

*To prevent the spread of Covid-19, direct bus services to the place have been stopped.
Check-in at the front desk first!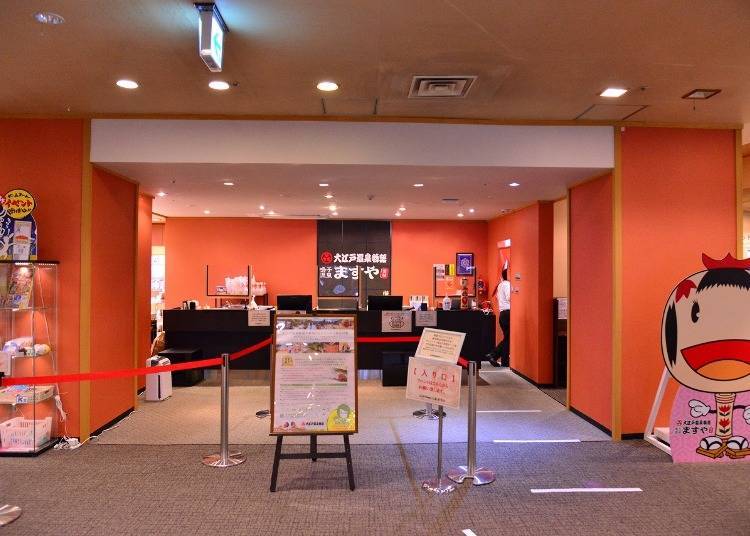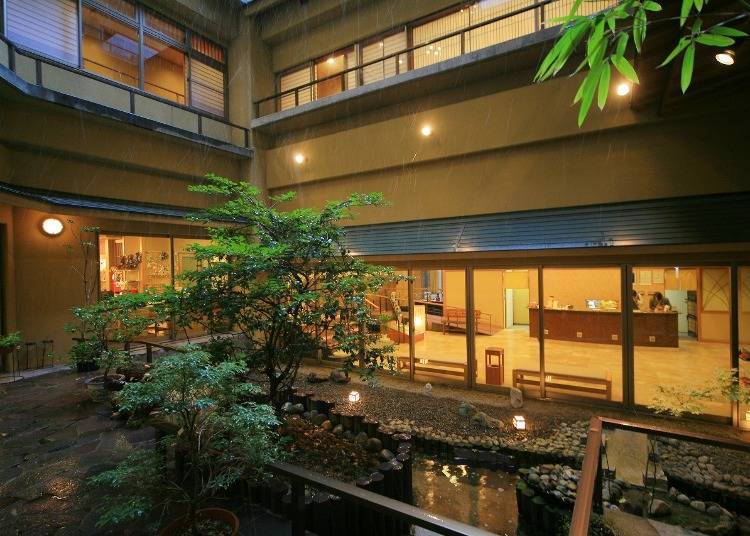 Photo provided by Oedo Onsen Monogatari Naruko Onsen Masuya
Once you've reached the hotel, head to the front desk. An adorable kokeshi doll will be there to welcome you. As you can see the beautiful garden from the lobby, take some time to admire it while your group representative is checking in.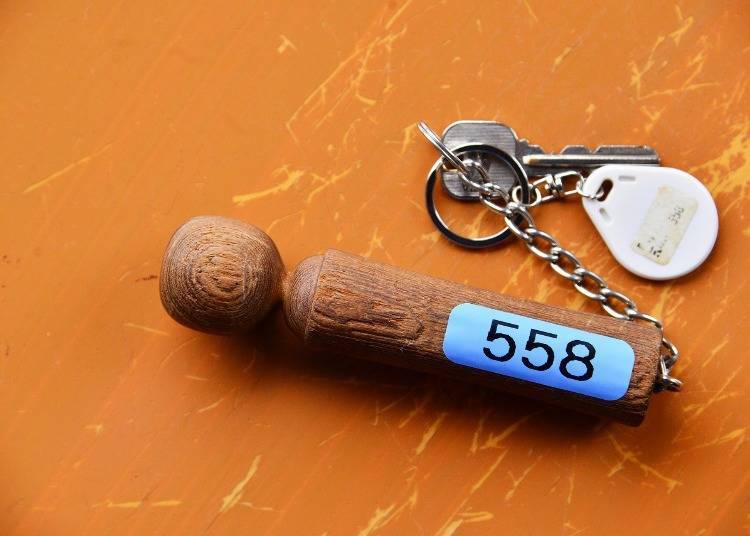 Once you've finished your check-in, you'll receive the keys to your room from the staff. The key chain is in the shape of a kokeshi doll, a traditional Japanese doll. It seems that kokeshi are famous in Naruko Onsen. You can catch hints of the hotel's character through it.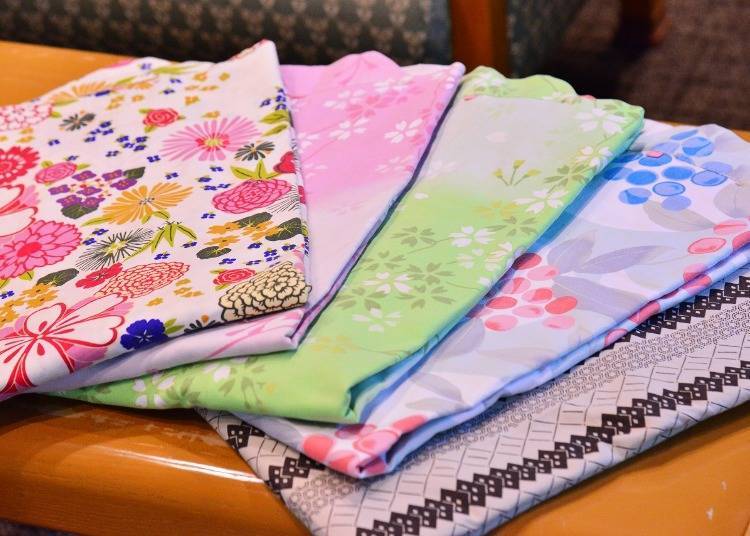 As this is an onsen hotel, yukata, a type of casual kimono, are provided. In Japan, it's normal to wear yukata while staying in an onsen hotel. There are several types of yukata available, and there are designs from traditional Japanese prints to prints featuring the hotel name on them.

For most onsen hotels, calming colors such as dark blue and white or light purple are the standard, and both males and females share the same pattern.

However, at Oedo Onsen Monogatari Naruko Onsen Masuya, there are six patterns available for ladies, and four for gents, and well as an additional three types for children, with a wide variety of designs to choose from. Yukata are available near the front desk and are arranged by size. Wearing a yukata that you like also ramps up your excitement more.
The hot springs are incredible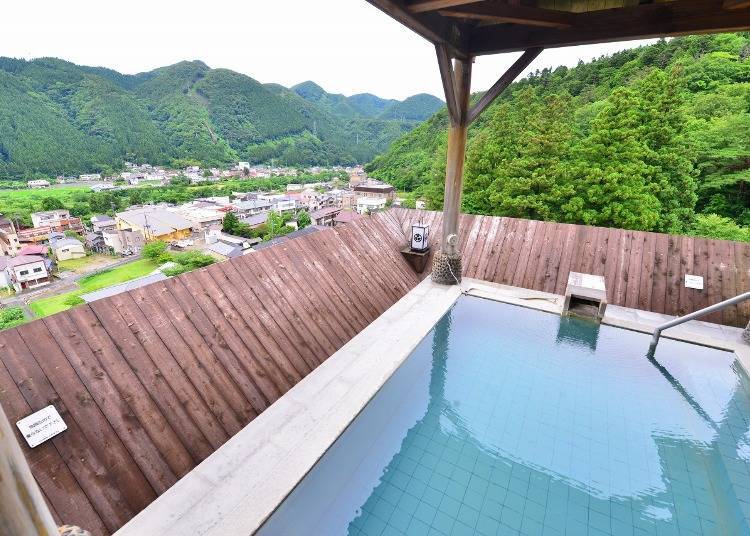 Tenma Rotenburo, an open air hot spring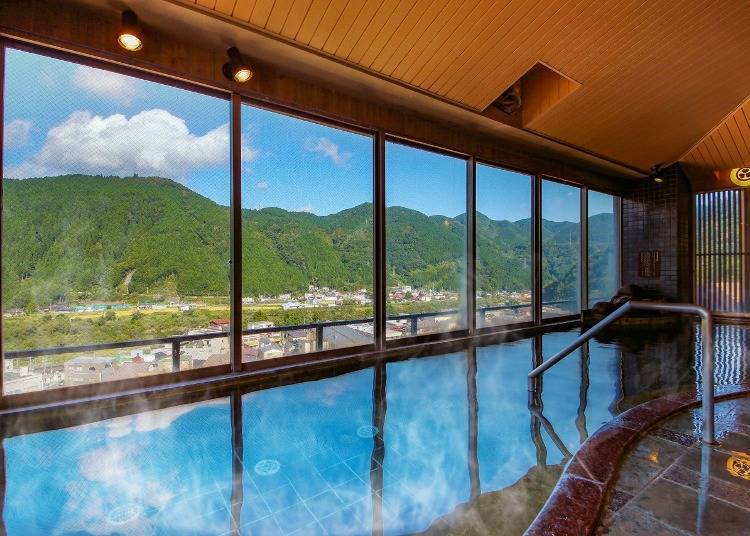 Tenma public bathing area / Photo provided by Oedo Onsen Monogatari Naruko Onsen Masuya
If there's one thing that can be said to be the main charm of Oedo Onsen Monogatari Naruko Onsen Masuya, it's the rotenburo, or open-air bath. On the top floor of the hotel is the Tenma Rotenburo, where you can see views of the surrounding mountains.

From lush leaves to autumn foliage and snow, you can see gorgeous views throughout the four seasons while healing your body in the spring waters, for an unparalleled combination. The waters flow directly from the spring source, and are mildly alkali sulfur baths. However, as the sulfur in the water reacts with metal and turns it black, do remove any necklaces and other metallic items before entering the bath.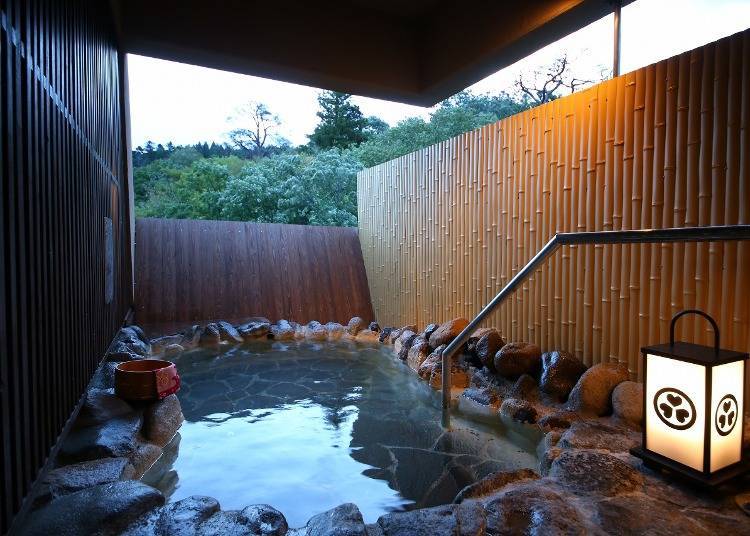 Tenshō Rotenburo / Photo provided by Oedo Onsen Monogatari Naruko Onsen Masuya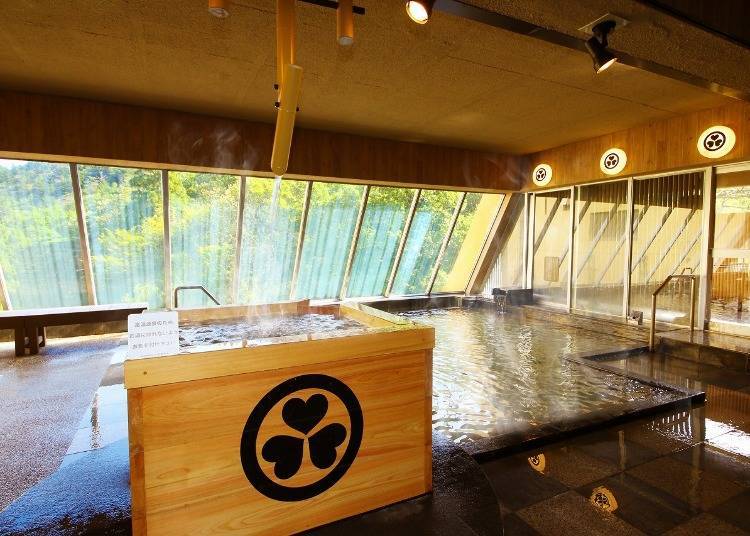 Tenshō public bathing area / Photo provided by Oedo Onsen Monogatari Naruko Onsen Masuya
There are two bathing areas available, the Tenma and the Tenshō, which are regularly rotated between males and females. However, as part of measures to prevent the spread of Covid-19, the Tenshō bath has been reserved for males, while the Tenma bath is reserved for females.

Besides this, from 2:00 p.m. to 6:00 p.m., Oedo Onsen Monogatari Naruko Onsen Masuya had allowed those on day trips to use the baths as well, though it has been stopped for the time being for the same reason. For more details on when bath rotations and day trip usage resumes, please check their website.
Fill yourself with incredible local food!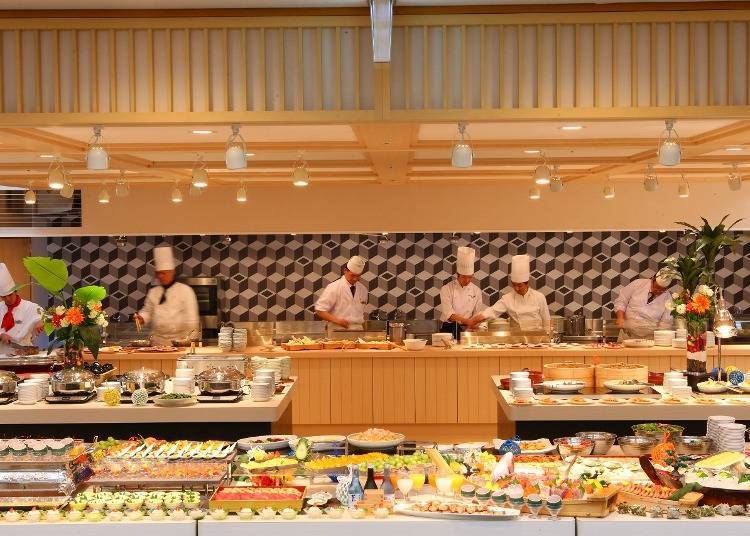 Photo provided by Oedo Onsen Monogatari Naruko Onsen Masuya
After a soak in the hot springs, why not fill yourself with some delicious food? The food at Oedo Onsen Monogatari Naruko Onsen Masuya is very popular. Breakfast and dinner are served buffet-style, with a dinner offering a lineup of over 100 types of both western and Japanese food. As seasonal ingredients are also used in dishes, do look forward to those.

From grilled meat, called sukiyaki, to tuna and crab, you have to check out the culinary fair featuring seasonal foods and ingredients. Incidentally, on the day that we visited, there was a meat festival buffet! With soft homemade roast beef and crunchy "gyūkushi katsu," or fried beef kebabs, available, a strong lineup of irresistible meat dishes was on offer.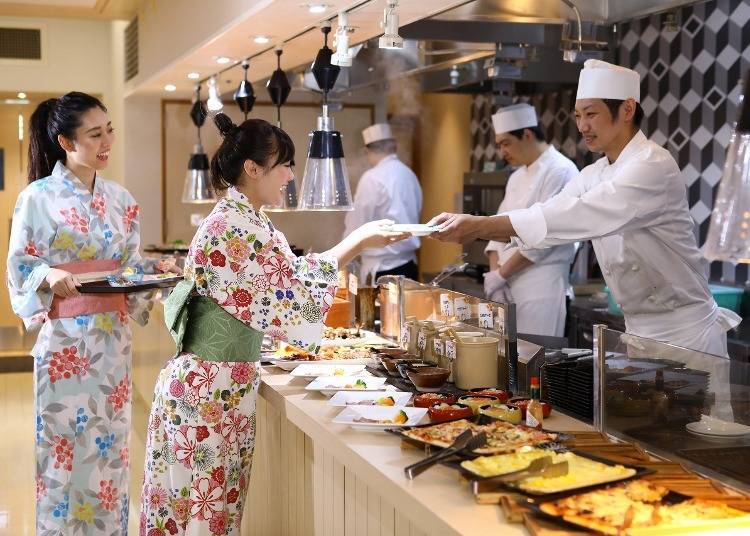 Photo provided by Oedo Onsen Monogatari Naruko Onsen Masuya
The main draw of the dinner service is the live kitchen, where chefs prepare your food right before your eyes. You can enjoy steaks and tempura while they're still piping hot. As the fragrance of the freshly prepared food and sounds of cooking permeate the restaurant, together with the taste of the plated dishes, you can experience and enjoy your food using all five senses.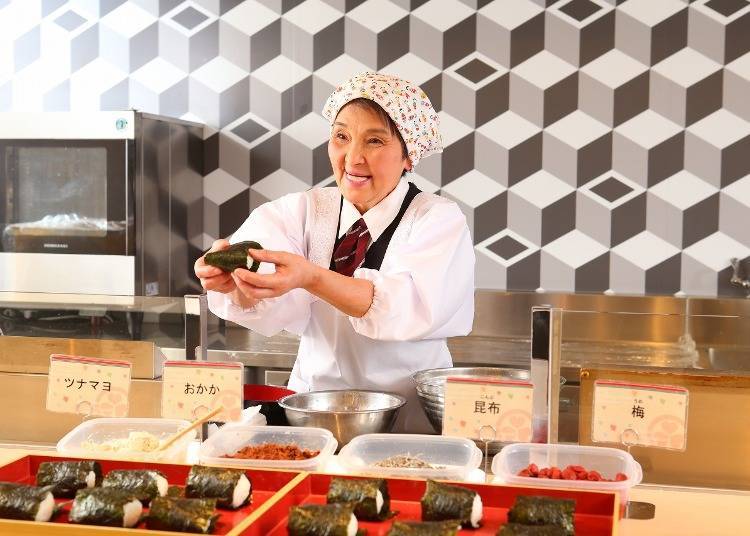 Photo provided by Oedo Onsen Monogatari Naruko Onsen Masuya
About 100 different dishes are available for breakfast as well. The hotel's recommendation is the onigiri, with six different flavors to choose from, including pickled plum and salmon. As the onigiri are only made after the order is received, they have a soft and fluffy texture. Even if you prefer continental cuisine, do try ordering this.

To prevent the spread of Covid-19, the live kitchen is currently not available.
You'll love the Japanese-style rooms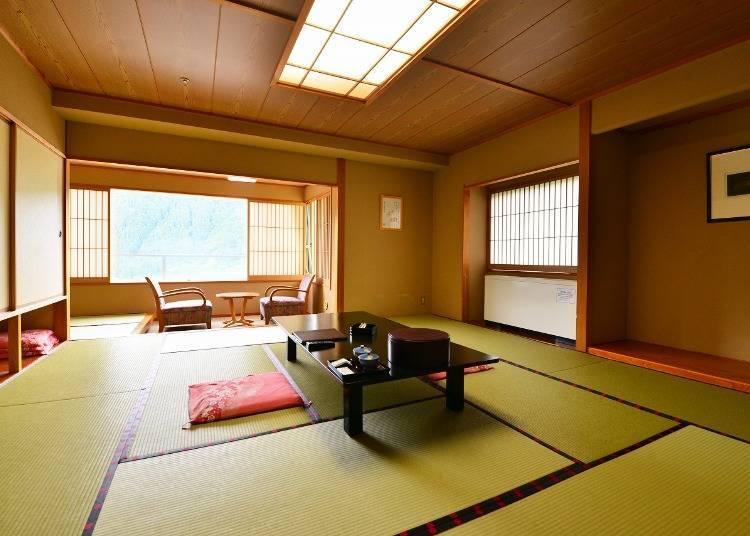 Japanese style rooms in the new wing, for two to five guests.
Most of the guest rooms are Japanese style, but two Japanese and western-style hybrid rooms with beds, for two to six guests, are available as well. Toothbrushes and skincare products, along with various other amenities, are available as well so you can rest easy even if you've forgotten them.

Japanese hot spring hotels usually have their staff set up futons in the guest rooms while guests are having dinner, but at this hotel, the futons are arranged beforehand. This eases guests who are uncomfortable with strangers entering their rooms while no one is around. Once you've returned to your room, you can immediately curl yourself up to sleep.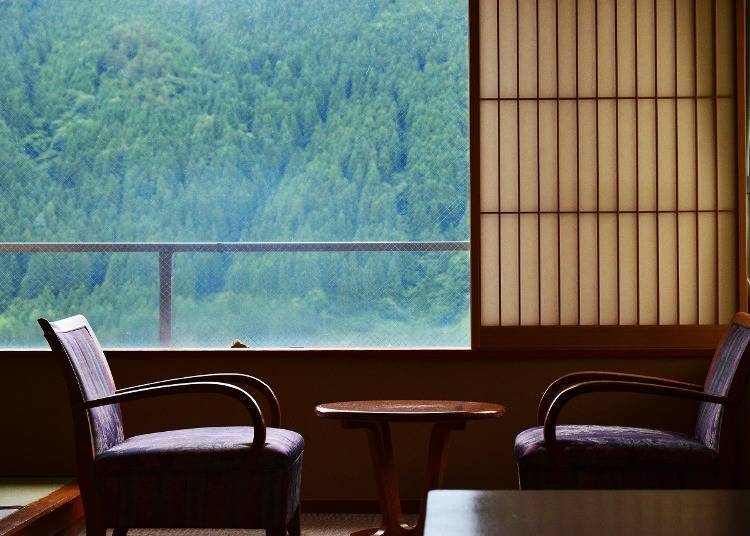 Most of the rooms offer views of the natural scenery and greenery around Naruko Onsen. Gazing out while resting in your room is a great way to refresh and recover too.
We checked out the sister hotel, "Oedo Onsen Monogatari Naruko Onsen Kounkaku" too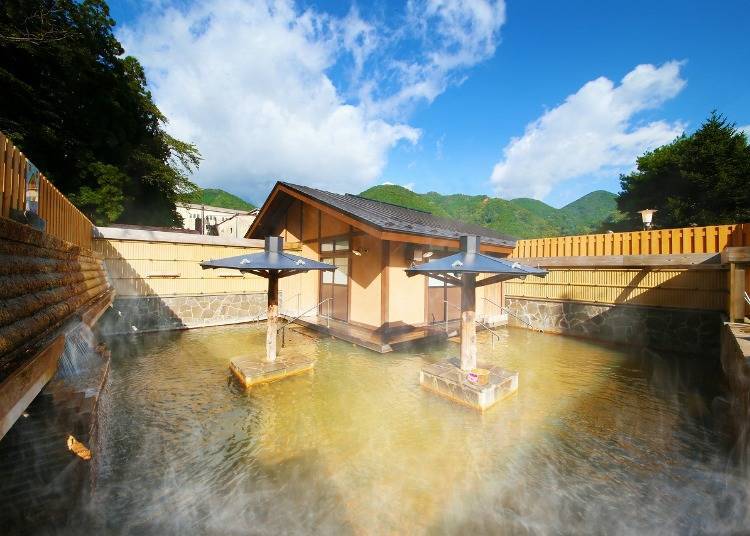 Hyakujō Rotenburo / Photo by: Oedo Onsen Monogatari Naruko Onsen Kounkaku
Guests of Oedo Onsen Monogatari Naruko Onsen Masuya can use the public baths of Oedo Onsen Monogatari Naruko Onsen Kounkaku, in the same hot spring town, as well. Including the bathing areas and the open-air baths, there are a total of four types of spring waters available. Amongst these, the "Hyakujō Rotenburo" is the largest in the Naruko area, allowing for a truly open and free feel. Shuttle buses are available between the two hotels.
What preventative measures are taken against Covid-19?
At Oedo Onsen Monogatari Naruko Onsen Masuya, governmental and industrial guidelines are strictly followed, with over 200 measures taken to prevent its spread. Below are a few of them.

Restaurant
- Alcohol disinfectant at the entrance and throughout the restaurant
- Limitations on patron numbers to implement social distancing
- Changing the seating layout of the restaurant to ensure a space of at least 1.5 meters between tables
- Partitions between tables, and progressively changing them to taller partitions
- Providing patrons with disposable gloves at the restaurant entrance, to be used when taking food or drinks

Guest rooms
- Informing guests of the timings when the baths are expected to be crowded, and advising them to enter the baths when there are less people
- Clothing baskets, lockers, and other shared facilities are disinfected with alcohol during cleaning
- Twenty-four-hour ventilation in the changing rooms, and windows open where possible to maximize ventilation

Others
- Before entering the hotel, all guests are required to sanitize themselves with alcohol and have their temperatures taken.
- All guests are requested to fill in a questionnaire about their health status before and after their visit
- All staff on duty and other contractors and vendors have to wash their hands thoroughly and disinfect with alcohol


Though there aren't English speaking staff available, guests from overseas are welcome as well! Enjoy an unforgettable and relaxing time at Oedo Onsen Monogatari Naruko Onsen Masuya.
Oedo Onsen Monogatari Naruko Onsen Masuya

大江戸温泉物語 鳴子温泉 ますや

Address

82, Naruko Onsen Yūmoto, Ōsaki-shi, Miyagi-ken, 989-6100

Phone Number

0570-020-268

Business hours: Reservations can be made from 9:00 a.m. to 7:00 p.m.
Price: Plan for two adults in one room, per night with dinner and breakfast buffet included starting from 9,980 yen
Open all your round

Vacancy search, reservation

from

15,662JPY

1room, 2adults

Check with our partner site as the latest rates, rate details, and guest room requirements may vary.
Text by: SHOE PRESs
*Information is current as of July 2020.
*This information is from the time of this article's publication.
*Prices and options mentioned are subject to change.
*Unless stated otherwise, all prices include tax.