Shiogama Port in Shiogama City, Miyagi Prefecture once prospered as a base for northern ocean fisheries and still boasts being one of the areas in the nation having the largest hauls of fresh tuna.

The Shiogama Seafood Wholesale Market is the center for its distribution. The Mai Kaisen-don [My Seafood Bowl] and Jiyu Shoro [Grill It Yourself] dishes made with seafood products purchased at the market are very popular! We also tasted the Sanriku Shiogama Higashimono brand bigeye tuna which is distributed only for a limited time from mid-September to December.
Nostalgic wholesale market jam-packed with 105 seafood specialty stores
The Shiogama Seafood Wholesale Market is approximately 35 minutes by car from Sendai City, and when coming from outside the prefecture, approximately 15 minutes from the Sanriku Expressway and Rifucho IC. If you go by train, get off at JR Sengoku Line, Higashi Shiogama Station and walk for about 15 minutes, or ride the Shionabi bus for about 5 minutes. Just outside Shiogama Port, large trucks come and go on the broad road in front of the port.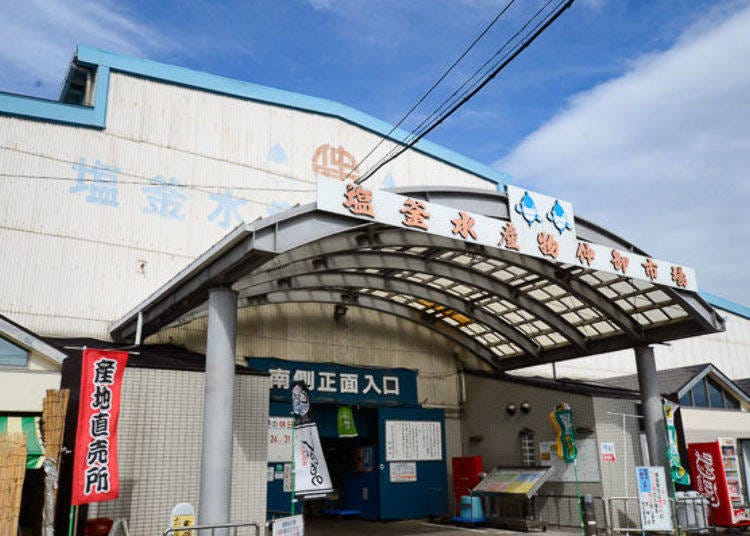 More than 50 years have passed since its establishment in 1966, and the building has a feel to it that much time has passed. Despite the port's immediate vicinity, it escaped damage when the tsunami caused by the Great East Japan Earthquake hit and remains today in its original form. Now that the Tsukiji market has been closed due to its relocation to Toyosu, this has become one of the oldest wholesale markets in the country.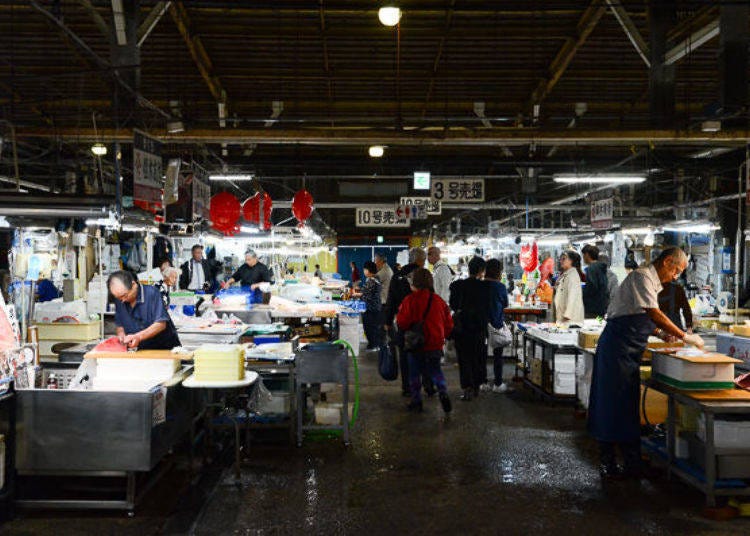 ▲ The place has been used on several occasions for film locations. An increasing number of foreign tourists appear to be looking for nostalgic Japanese scenes.
The interior has 105 specialty shops crowded into its 4,950 square-meter floor space (as of November 2018). There are 7 walkways going east to west and if you go up and down each one, you can see all the shops in the market.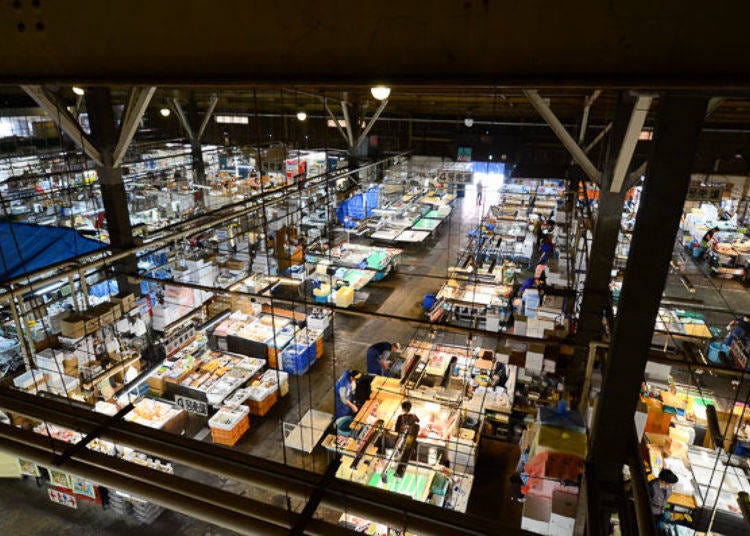 ▲ The sales floor is divided left and right from the front (south side entrance) across the aisle that extends from north to south, and numbers 1 to 14 are assigned to each aisle extending east to west
Aisle upon aisle of Sanriku seasonal seafood! Let's walk from one end to the other
Each shop is lined with seafood from such ports as Shiogama, Shichigahama, and Kesennuma. A unique feature of this market is the many shops specializing in particular marine products.

For example, there are about 20 shops that specialize in tuna with others specializing in octopus, shellfish, salmon, trout, frozen fish, processed food, dried fish, dried food, food in paste form, and shops specializing in delicacies. In addition, there is also a shop that specializes in containers for serving sashimi.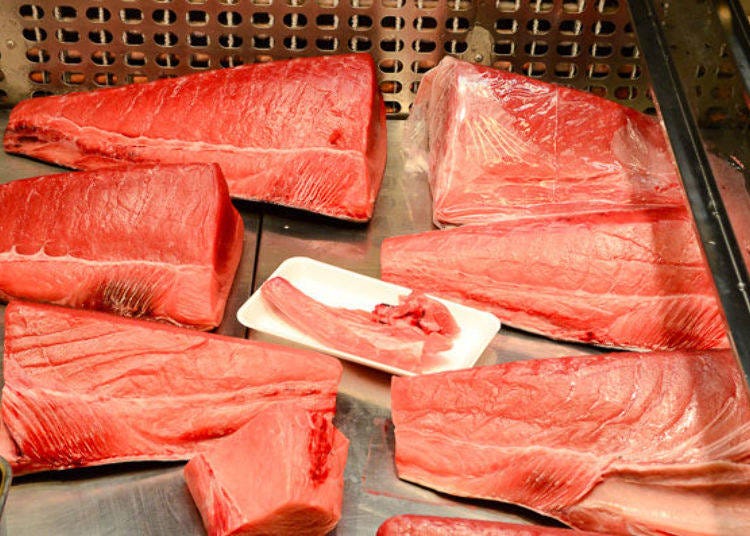 ▲ Speaking of Shiogama, it boasts one of the largest tuna catches in the country. Blocks of tuna in a refrigerated case.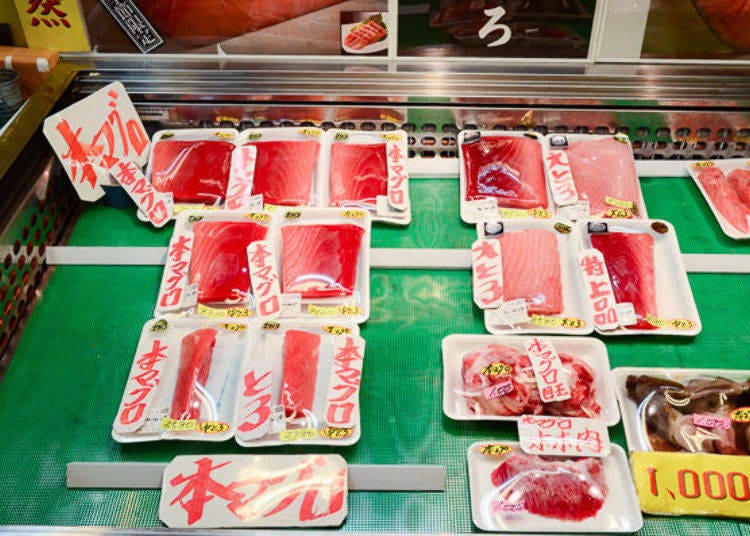 ▲ Eyeballs, cheek meat, hearts, and other delicacies are also available in the market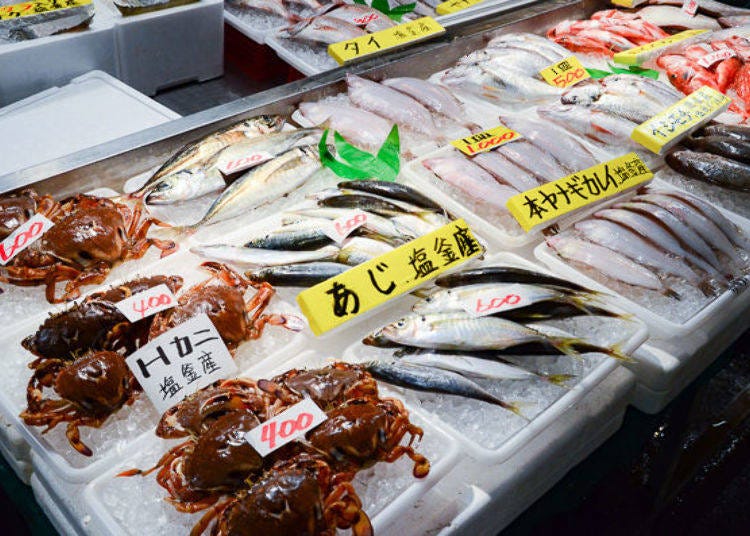 ▲ Other types of seasonal seafood caught at Shiogama Port are also offered in abundance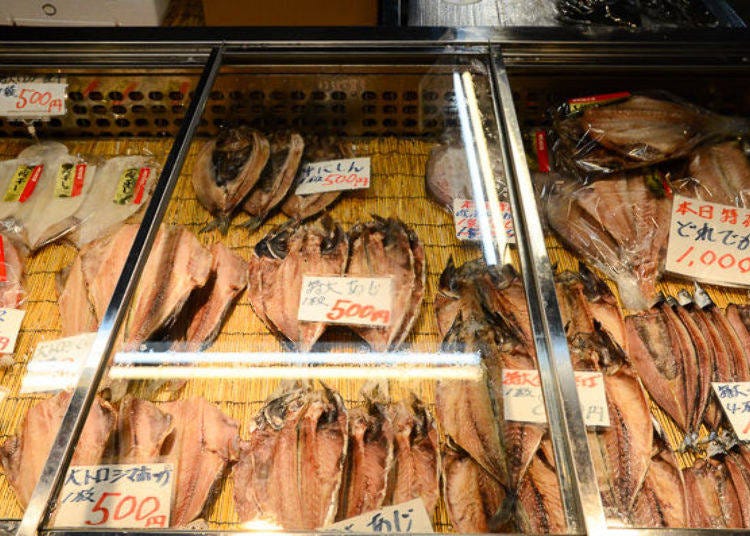 ▲ This shop specializes in dried fish. You can also bake and eat purchased items at the Grill It Yourself Corner which will be introduced later.
▲ Sanriku is also famous for octopus. Recently stocks are low due to poor fishing and a person at the shop said the catch this year has also not been good.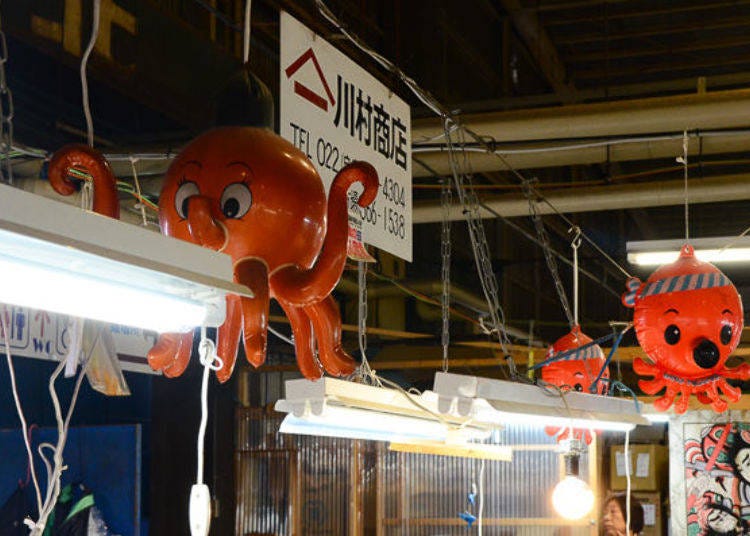 ▲ The store name and the items it handles are written on a signboard. The cute octopus dolls indicate this shop sells octopus.
The day we visited we saw wholesalers mingling with lots of regular customers even though it was a weekday. I did not expect to see so many young people; many appeared to be university students or in their early twenties. There were also families with children as well as long-time regular customers who have been shopping here for many years - all in all a broad spectrum of society.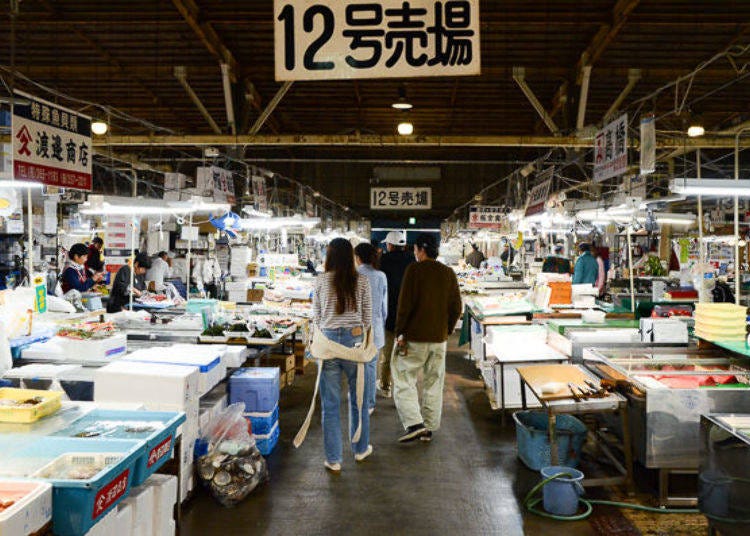 ▲ A group of young people were thrilled to see the aisles lined with fresh seafood
The offshore area of Miyagi Prefecture is rich in marine resources as the Kuroshio (warm current) and Oyashio (cold current) meet there. Because of the rich hauls caught here, the offshore fishing grounds of Kinkazan and Sanriku are one of the three largest fishing grounds in the world. In addition, the aquaculture industry along the coast is prosperous, and the production by prefecture is fourth largest in the whole country (Ministry of Agriculture, Forestry and Fisheries "2016 Sea Surface Fishery Production Statistics").

The sight of all these various types of marine products all lined up so close together is a spectacular one.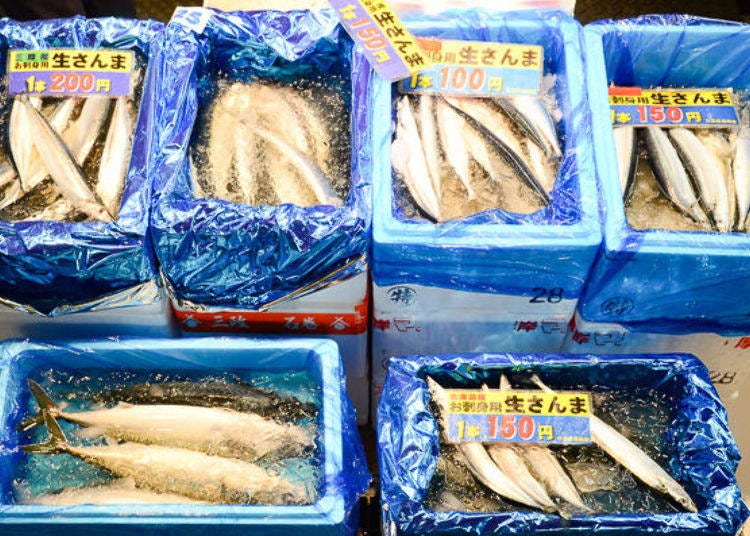 ▲ Pacific saury is a special product of Sanriku. It was just the season for it when we visited.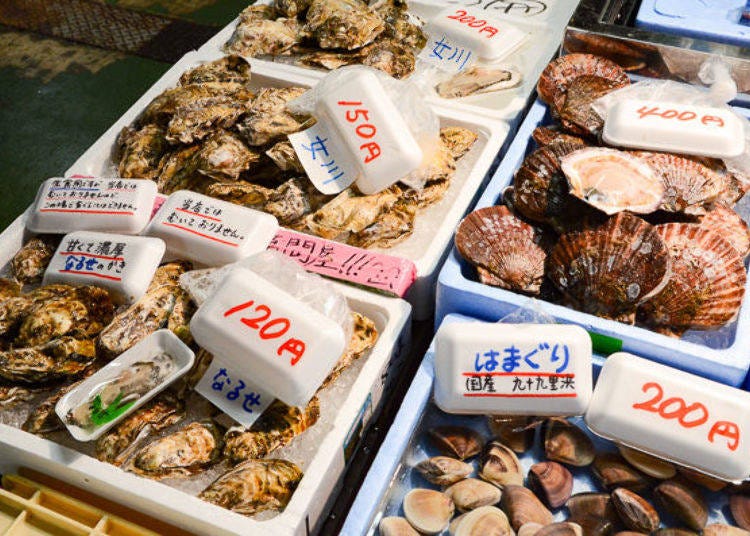 ▲ Containers of oysters and scallops cultivated in the Sanriku area
As you pass by a shop looking at its display of seafood, the storekeeper will call out saying, "Today we are recommending this." You can taste samples, bargain with them, and they will tell you the best ways to fillet and eat products. Interacting with vendors in this way is one of the joys of visiting here.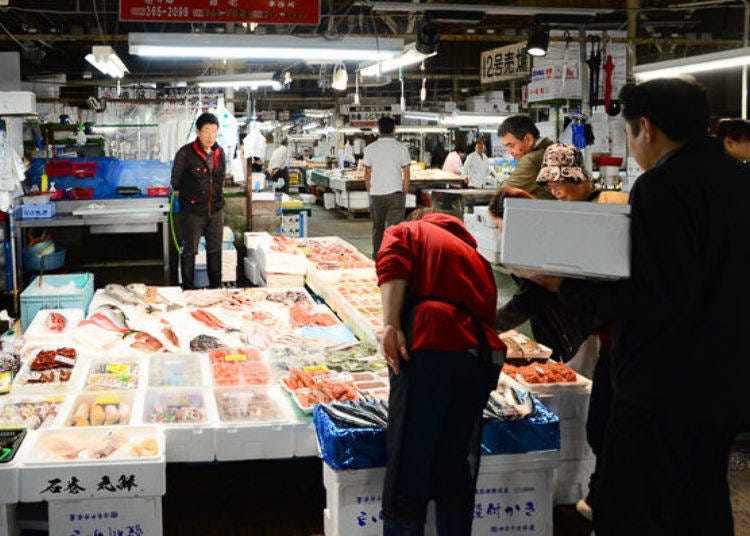 ▲ The place becomes quite lively by the exchanges between vendors and customers.
Discover the secret behind the popularity of the Sanriku Shiogama Higashimono brand of tuna!
Let's see what makes Sanriku Shiogama Higashimono, which from now we will just call Higashimono, so popular. Of the bigeye tuna that are landed at Shiogama Port from mid-September to December, only the most carefully selected ones are referred to as Higashimono. "Higashi" refers to the area off Sanriku Higashi, which is a fishing ground where delicious bigeye tuna is caught.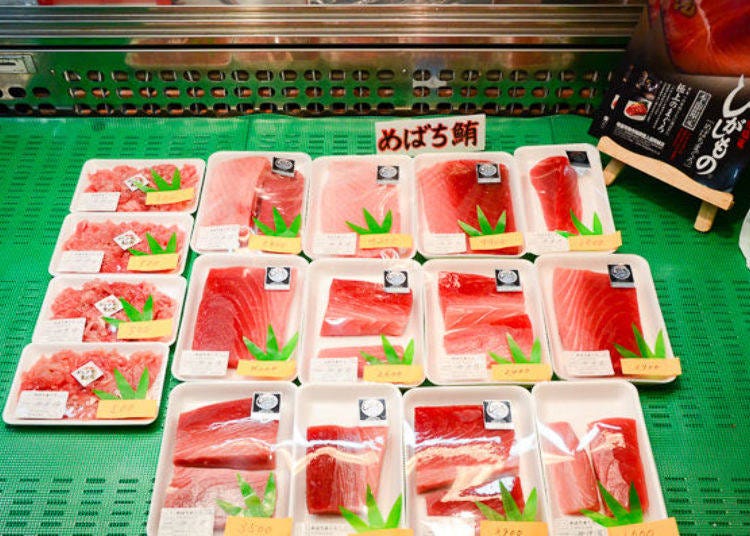 ▲ The price varies from time to time, but on this day fillets were priced in the 2,000 yen range.
The Higashimono is a fishing ground off Sanriku East, where the Oshio and Kuroshio currents meet, and among the bigeye tuna that are caught in longline fishing these are superior in color, luster, fat content, and taste. Furthermore, two strict conditions must be met in order to be certified as Higashimono: the weight must be over 40 kg and go for an auction price of more than 2,000 yen per kg.

As only 5 to 10 fish out of 100 are certified as Higashimono, there is not enough to provide retail shops and restaurants with a stable supply, so for that reason there is not much distribution. Most of it goes to sushi shops in Shiogama and only a few other shops in Sendai receive it while outside the prefecture it is virtually impossible to find. At one sushi shop in Tokyo a single kan [individual sushi serving] costs 1,000 yen!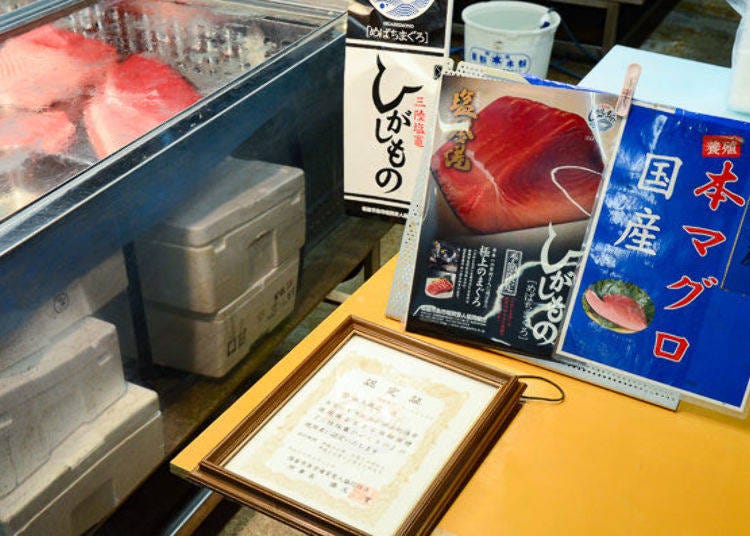 ▲ Only authorized dealers can handle it, and in the Shiogama Seafood Wholesale Market there are only 14 shops that can handle it. Those that can, proudly show their certification.
We asked Mr. Toshiyuki Matsuoka, the third generation shop owner of tuna specialty shop Matsuoka Shoten, about Higashimono. "Bluefin tuna is considered to be the best while bigeye tuna is considered less so, but even with bluefin tuna there are good and bad types. This season's Higashimono is really good with good bluefin tuna not far behind it," he clearly stated.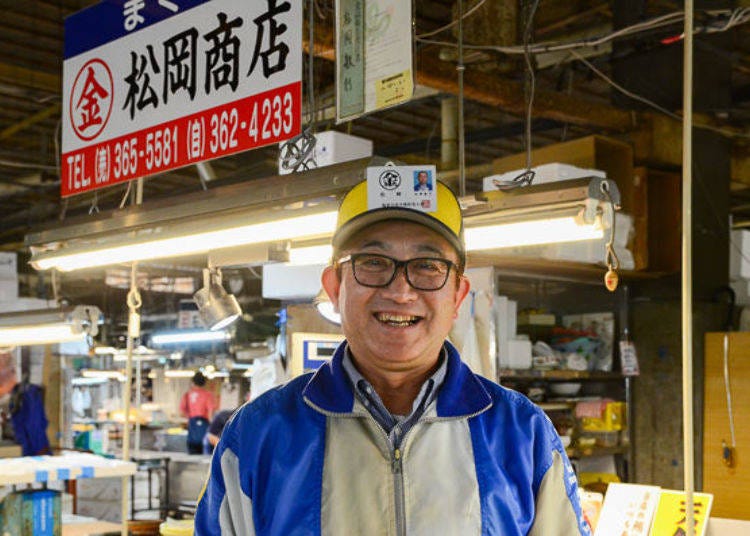 ▲ Mr. Matsuoka who enthusiastically told us about tuna. "Recognizing good tuna is really difficult. It takes a lifetime of study."
When asked about flavor, "The best way to determine that is to actually taste it. I always tell customers 'Taste it for yourself'," he said. And he is right.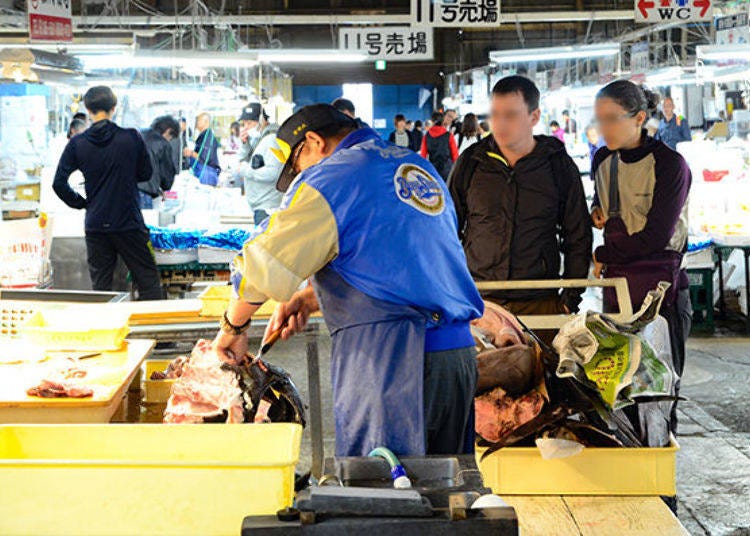 ▲ Tuna that has been landed and sold at auction arrives at the Shiogama Wholesale Fish Market at around 9 o'clock. You can watch the fish being filleted at the shop.
Buy as much as you like! Then make yourself a heaping My Seafood Bowl
We decided to follow Mr. Matsuoka's advice and try the Higashimono. The Shiogama Seafood Wholesale Market is famous for being able to make your own My Seafood Bowl. This is a dish you make yourself by first selecting and purchasing sashimi of your favorite seafood offered in the market.

The seafood bowls that are served in shops are beautifully balanced, but if you are not good at arranging the slices of seafood, it doesn't come out looking as well. Some people like to just stuff themselves with only a single type they like. Whether you like one or many types of sashimi, the My Seafood Bowl would be good for you!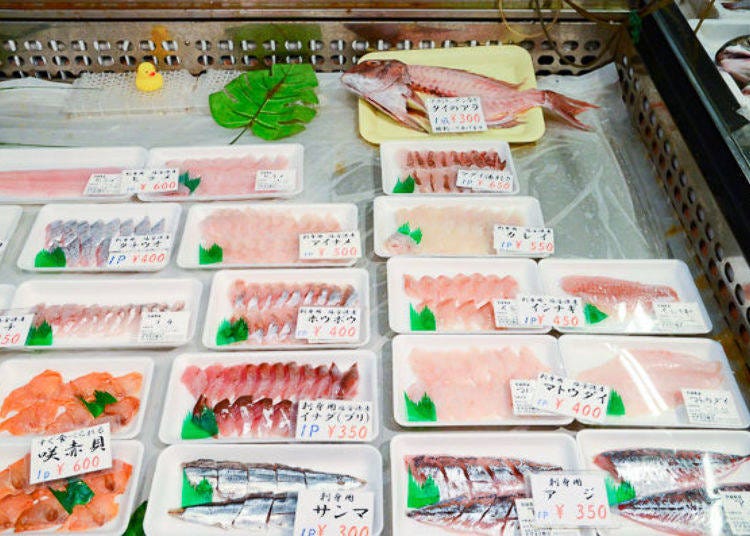 ▲ Packs of sashimi arrayed at a shop. Lots of favorites to choose from.
First buy sashimi that is sold in packs at a shop in the market. You can also ask shopkeepers to make sashimi from whole seafood items and blocks of fish on the spot. After you get the plastic bag with your purchases, continue looking for more seafood items to put in it.
▲ Some shops also sell sashimi packs specifically for the My Seafood Bowls. There are a lot of general customers on Saturday and Sunday so lots of these small packs are sold at that
After you have completed making your purchases, proceed to the My Seafood Bowl Corner in the No. 6 sales area. Here you can purchase the Gohan Set which includes rice and miso soup (regular 400 yen, large 500 yen, special 600 yen, and for another 200 yen you can get tuna soup instead of miso soup; all prices include tax).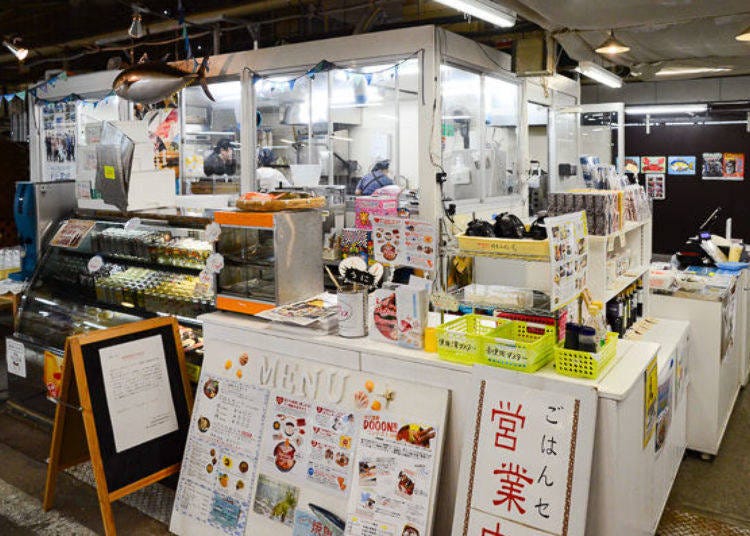 ▲ At the My Seafood Bowl Corner (open from 6:30 a.m. ~ 12:00 p.m.; *Saturdays, Sundays, holidays until 1:00 p.m.; closed on Wednesdays) you can also purchase Tendon [tempura bowls] and set lunches in addition to the My Seafood Bowl sets
Once you make your purchase you can load up your bowl.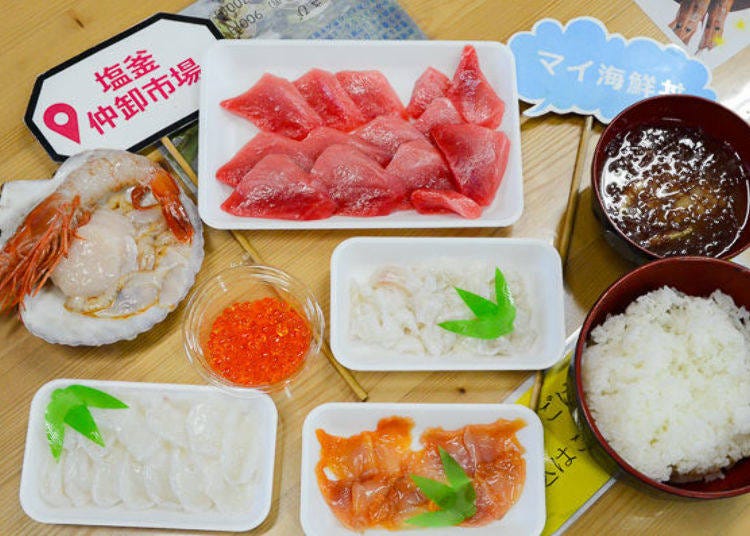 ▲ I bought Higashimono, shrimp, scallop, salmon roe, raw octopus, flounder fin, and ark shell. I bought a lot of white items...but that's OK. The My Seafood Bowl is where you can make one with just the kind of ingredients you like.
Including the Higashimono, it all came to about 5,000 yen, but there was enough sashimi for 3 or 4 people, so much so that I couldn't put it all on the bowl. I hear that many young people in groups of 4 ~ 5 people like to share, so the price per individual then is not all that expensive.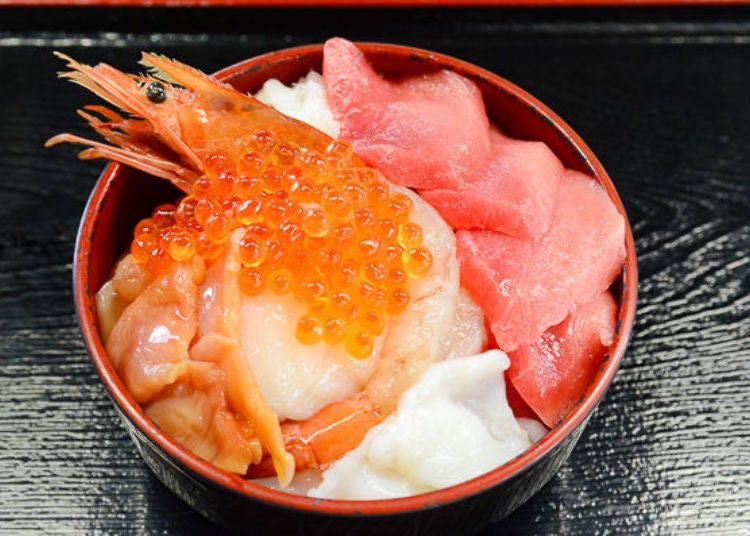 ▲ Done! I took a photo before I ate it. A My Seafood Bowl Contest is regularly held in which people send photos using SNS of how they arranged the contents and you are invited to do so, too.
Now for the moment of truth. The Higashimono had a pleasant, soft texture that made it melt in the mouth with each bite. The umami of the tuna was clearly defined and the tuna left a refreshing aftertaste. The quality of the fat was good so there was no greasy aftertaste.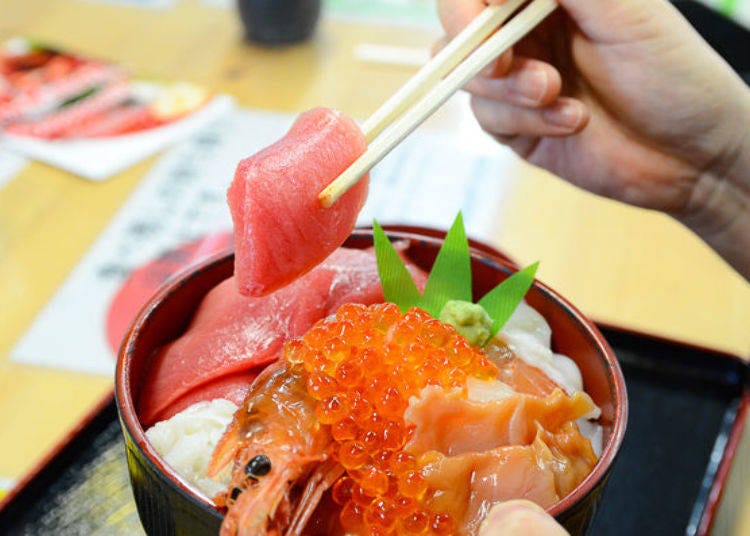 ▲ As expected, the color and luster of the Higashimono met the criteria for certification. The almost transparent brilliant red color looked really delicious.
The other ingredients were also fresh and delicious. This bowl with all my favorite ingredients was so delicious that once I started eating it I couldn't stop.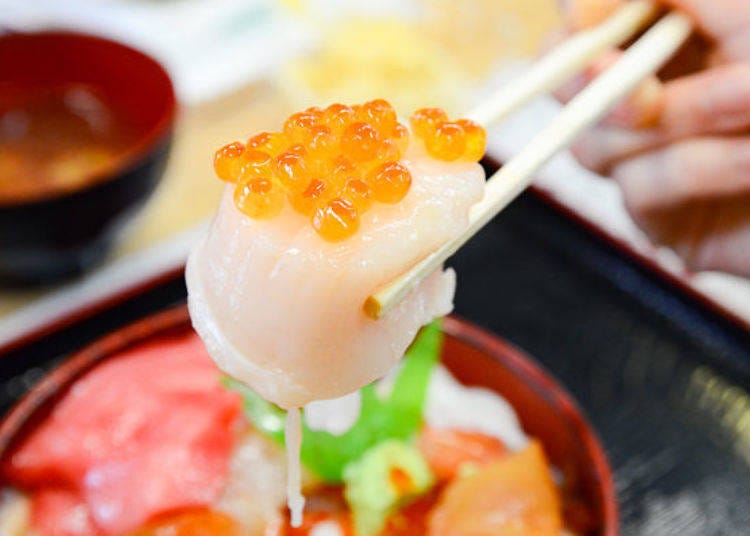 ▲ Look at how thick the scallop is! I loaded it with salmon roe and stuffed it into my mouth.
This was so good I felt like I was on Cloud 9.... When having fish for lunch, it is always good to have a little something on the side, so you can also buy canned beer (350 yen including tax), draft beer (500 yen including tax), and of course local sake such as Urakasumi (700 yen including tax).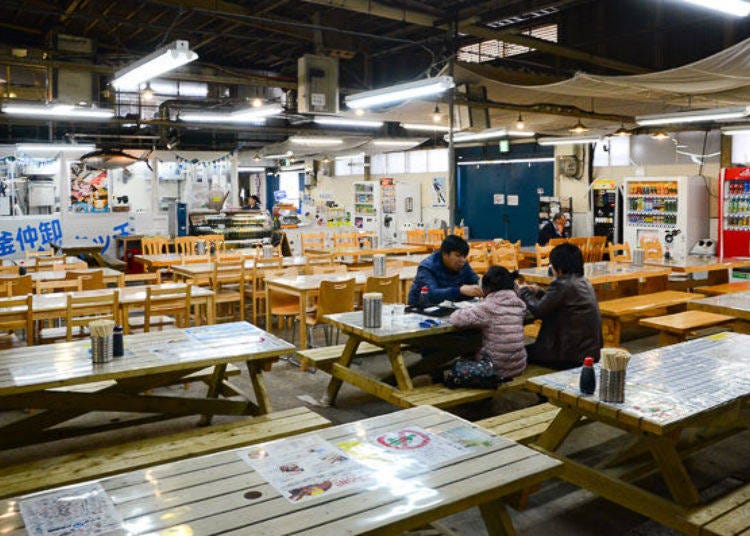 ▲ The My Seafood Bowl Corner can seat about 100 people. It gets crowded during the lunch hour and from the morning on Saturdays and Sundays.
When the My Seafood Bowl Corner opened in 2010 the space could only seat about 20 people. However, after the earthquake, many people who visited the area to help with reconstruction came here to eat and as they shared their experiences on SNS, the number of visitors steadily increased. Currently there is now space for about 100 people and its popularity is such that on Saturdays and Sundays between morning and noon it fills to about 80% of capacity.
No need to bring anything to enjoy a seafood barbecue at the Jiyu Shoro [Grill It Yourself] Corner
Another place where you can enjoy the seafood you have purchased in the market is the Grill It Yourself Corner (open from 8:00 a.m. to 12:00 p.m. and from 1:00 p.m. on Saturdays, Sundays and public holidays). You can freely use the outdoor grill to cook fish, shellfish, shrimp, squid, dried fish and other items you bought in the market. This is especially popular with children and others who are not partial to raw food.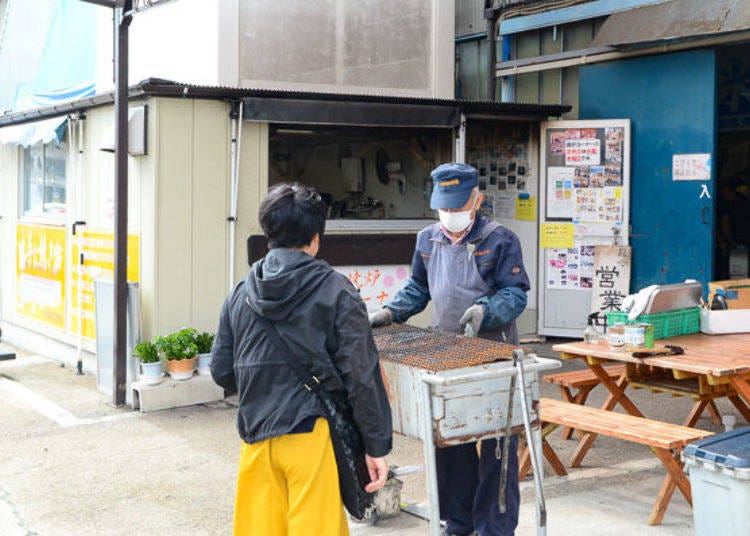 ▲ Normally you are expected to do the cooking yourself, but if you need help, the staff there is happy to assist. Several grills are used on Saturdays and Sundays when there are many ordinary customers.
Shellfish can be placed directly on the grill (100 yen including tax for up to 5pieces) and fish are grilled between wire mesh (1 mesh per fish, 100 yen including tax).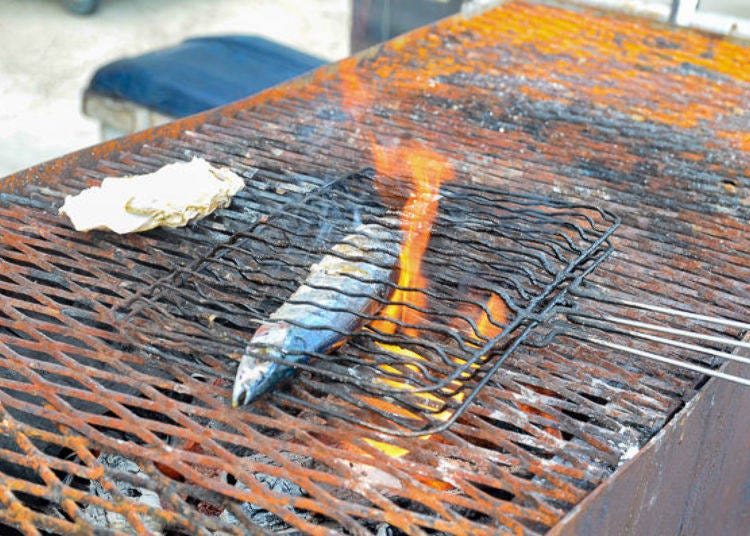 ▲ I bought a saury, which was in season, and an oyster to try it out. Grilling over the charcoal sometimes causes the flames to flare up.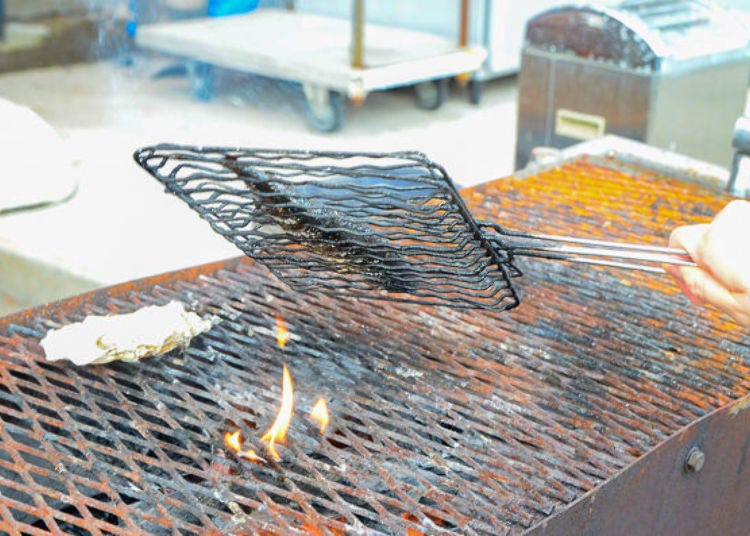 ▲ Occasionally you need to flip over the mesh to see how well the fish has been cooked.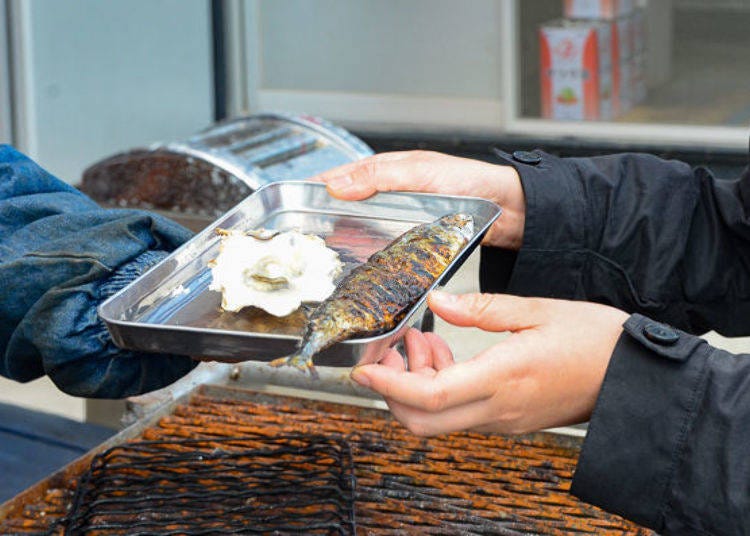 ▲ All finished! Once it is done you can take it back inside to the My Seafood Bowl Corner.
The saury and oyster after they were carefully cooked on the grill. The far-infrared-grilled saury was fragrantly plump and juicy. The oyster was full of flavor and plump. The full flavor of these ingredients grown in the seas of Sanriku was fully brought out. You can't make it this well at home.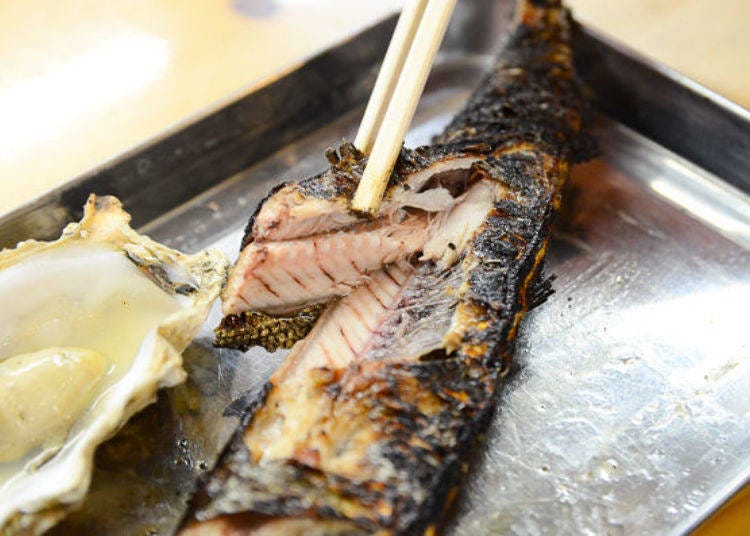 ▲ Grilling the fish made the skin crisp. The meat easily came away from the bone just using chopsticks.
▲ The plump meat had a rich flavor. The juices left in the shell were also delicious!
Some people put grilled seafood and sashimi packs in a rice set and eat it like a set meal. That is also an interesting way to do it. One of the attractions is being able to try something different each time you visit. I thoroughly enjoyed walking around the spacious interior, selecting seafood for a bowl of my own creation, and barbecuing, too, as though I were in a food theme park.
There is still even more to enjoy at the wholesale market. There are places to eat and also events.
In addition to the My Seafood Bowl Corner, there are three restaurants within the market, all of which offer a menu using fresh seafood from the market.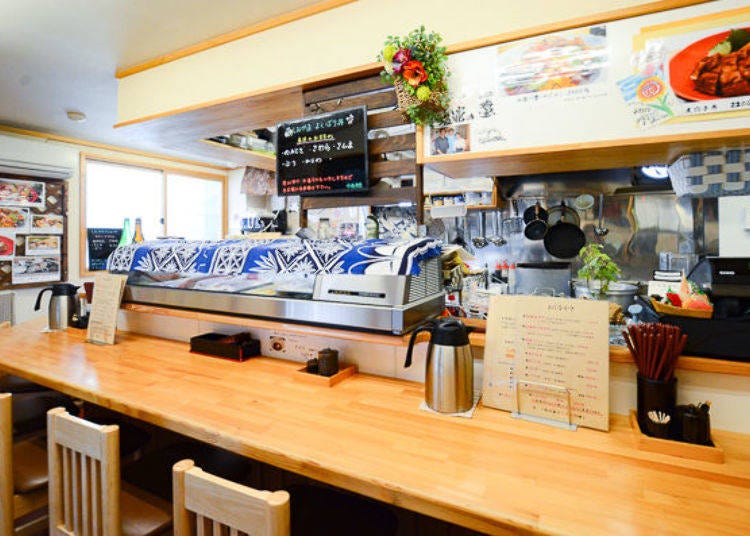 ▲ Shiogama Market Shokudo Tadano (Open: 6:00 a.m. ~ 1:00 p.m., Saturdays, Sundays and public holidays until 2:00 p.m., closed on Wednesday). In addition to various seafood bowls and sashimi set meals, there is also a Shiogama Yokubari-don where you can select the ingredients yourself.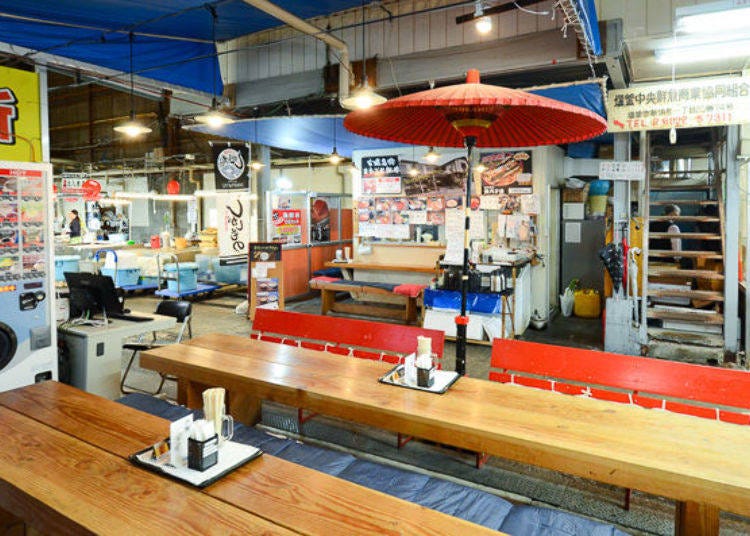 ▲ Kato Shiogama Market Shokudo Shop (Open: 7:00 a.m. ~ 1:00 p.m., Saturdays, Sundays and public holidays until 2:00 p.m., closed on Wednesday). In addition to its famous Marugoto Maguro-don [all tuna bowl], limited to ten servings per day, and the Yaki Anago-don [grilled conger eel bowl], the restaurant offers a wide selection of other menu items such as the Omakase Sanshoku-don [3-color leave-it-to-us bowl] and Chu Toro & Anago Sashimi-don [medium-fatty tuna and conger eel sashimi bowl].
Every year around October (September 30, 2018), the Shiogama Fish Market Open Dotto Festival is held once a year sponsored by the Shiogama Fish Market and the Shiogama Seafood Wholesale Market. There are tuna filleting shows, make-your-own tekamaki [tuna sushi roll] experiences, grabbing live tuna, and simulated tuna auctions. It is attended by so many people that there is always a line of cars waiting to find a parking space.

In addition, every week there is a Sunday Morning Market (6:00 a.m. to 2:00 p.m.) where farmers sell seasonal fruits and vegetables.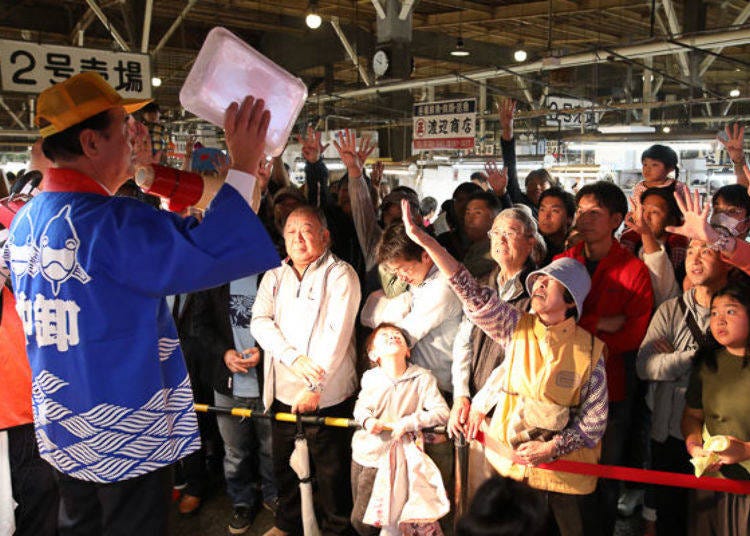 ▲ The simulated tuna auction during the Dotto Festival. It looks like this one was sold at a price below the going price (Photo courtesy: Shiogama Fisheries Promotion Center, Inc.)
The Shiogama Seafood Wholesale Market is where tuna and seafood caught in the port of Sanriku are brought together in one place. I enjoyed the atmosphere of the lively venue, interacted with the shops, got fresh seafood at a great value, ate until I could not eat another bite, and thoroughly enjoyed myself. Please definitely pay a visit to this facility where you can discover, eat, and enjoy the delicious seafood taken from the abundant waters of Sanriku.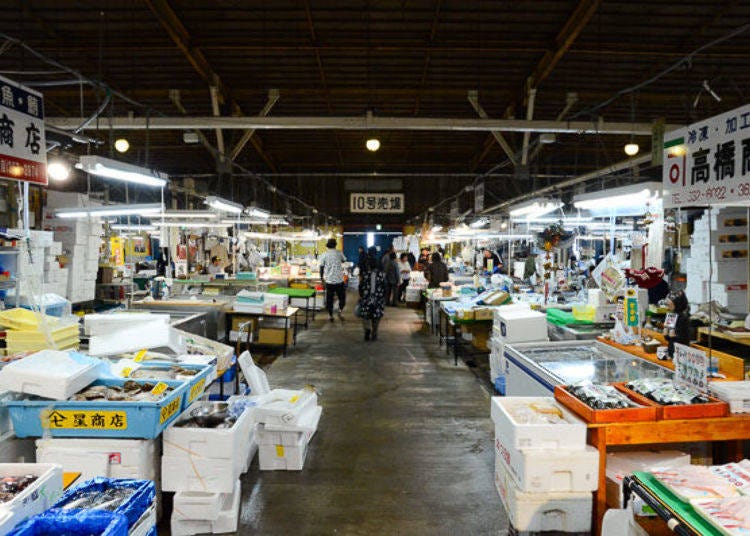 ▲ It is recommended that visitors arrive in the morning because an increasing number of shops close after lunch.
Shiogama Seafood Wholesale Market

塩釜水産物仲卸市場

Address

1-20-74 Shinhama-cho, Shiogama City, Miyagi Prefecture

Phone Number

022-362-5518

Open: weekdays 3:00 a.m. ~ 1:00 p.m., Saturday 3:00 a.m. ~ 2:00 p.m., Sunday and holidays 6:00 a.m. ~ 2:00 p.m. (Hours vary according to shops in the facility)
Closed: Wednesday (During Golden Week and the latter half of December it is open on Wednesday), Jan. 1 ~ 4, August 14 ~ 16
*This information is from the time of this article's publication.
*Prices and options mentioned are subject to change.
*Unless stated otherwise, all prices include tax.
Limited time offer: 10% discount coupons available now!