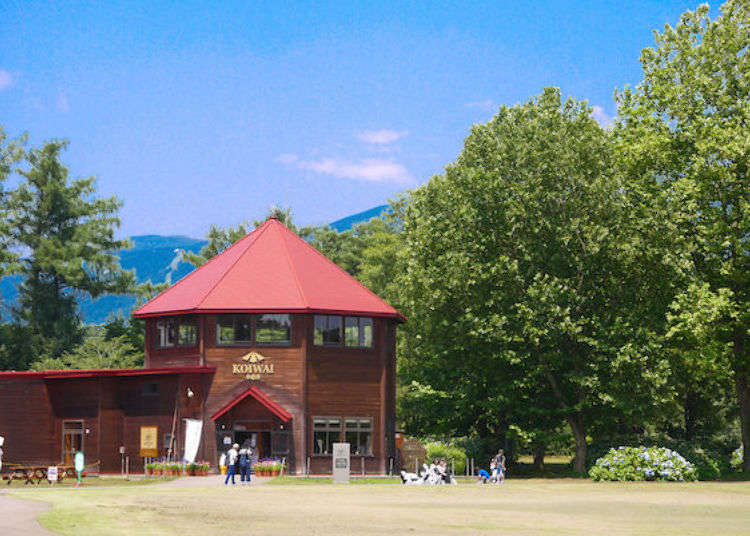 One of the major sightseeing destinations that represents Japan's northern Iwate Prefecture is Koiwai Farm.

In recent years they have included various tours where you can fully enjoy this farming area. This time we'll share about the most popular spot Makiba Park, and the area around it.
Koiwai Farm: Morioka Japan's Cute, Spacious Tourist Destination
Located about 30-minutes by car from JR Morioka Station. Koiwai Farm is located in Shizukuishi Town, next to Morioka City. The Koiwai Farm brand is known around Japan for their eggs and dairy products. Its 3,000-hectare property is also a major sightseeing destination in the area.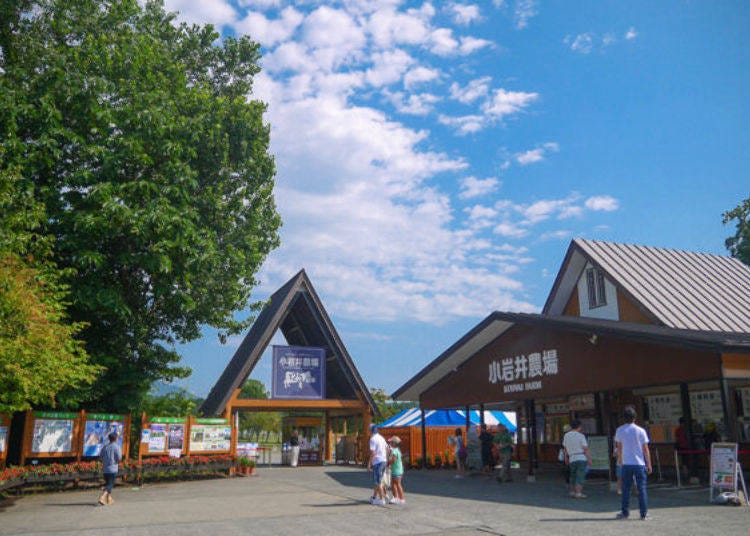 ▲A private farm that was established in the Meiji Period. They celebrated their 125th anniversary in 2016
Makiba Park is the area in Koiwai Farm where you can pet animals, ride various rides and explore nature. They offer 10 types of activities that can be enjoyed by all age groups, such as sheep shows, horseback riding, horse tram, kid's boat ride and archery.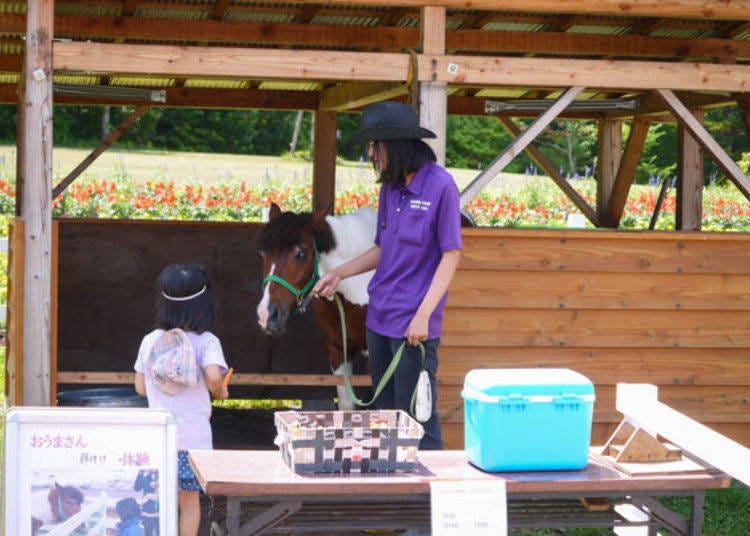 ▲Interact with ponies
An attraction you will want to experience is the horse tram. The horse tram renovated horsecar and trolley tracks that has been used for 50 years since 1904, for sightseeing. The ride takes about 10 minutes and you can see sheep grazing on pastures and the view of the beautiful forest.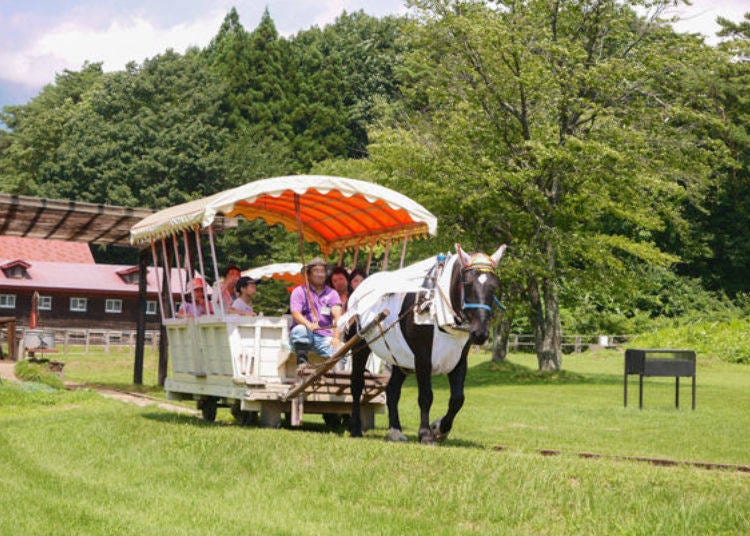 ▲The sound of the wheel and horse hooves gives a relaxing and nostalgic feeling
There are other activities that are popular among adults such as the bus tour where you can discover the history of the farm and the tractor bus tour where you can enjoy nature. Since the tour goes to normally off-limits areas, even locals who have visited Koiwai Farm will discover something new.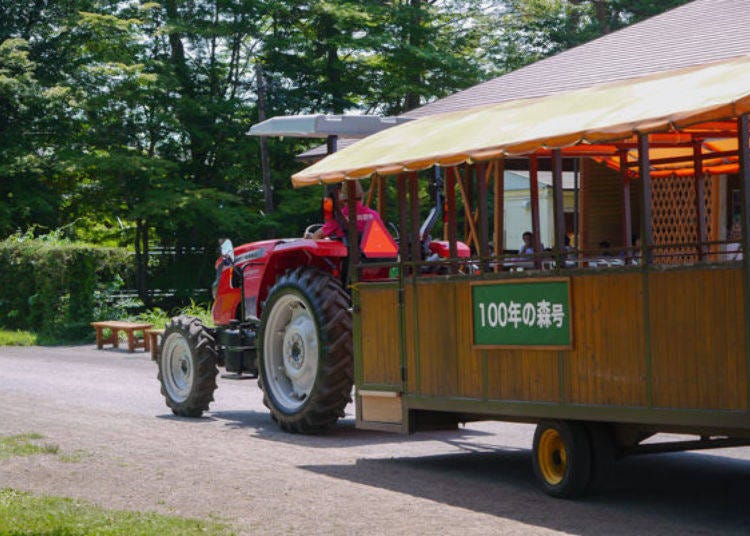 ▲Tractor heading to the bus tour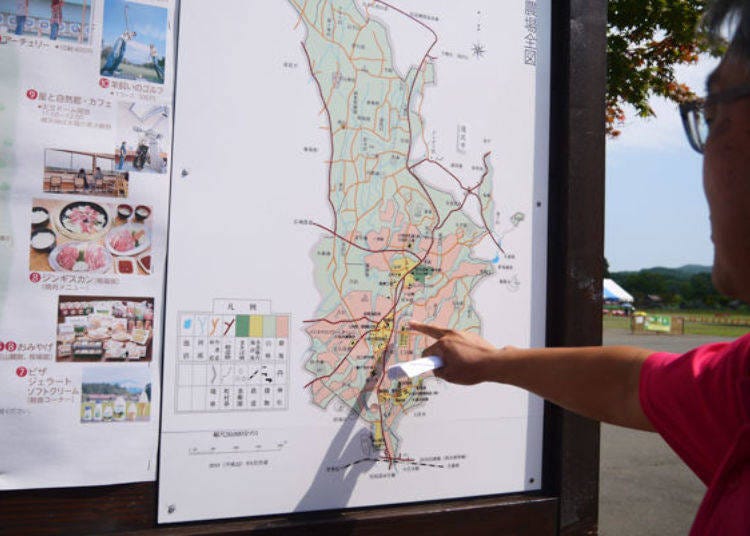 ▲Makiba Park is about 40 hectares and looking at the park you think it's really large! However it's only 1% of the farm
Meet the Cows at the Birthplace of Koiwai Farm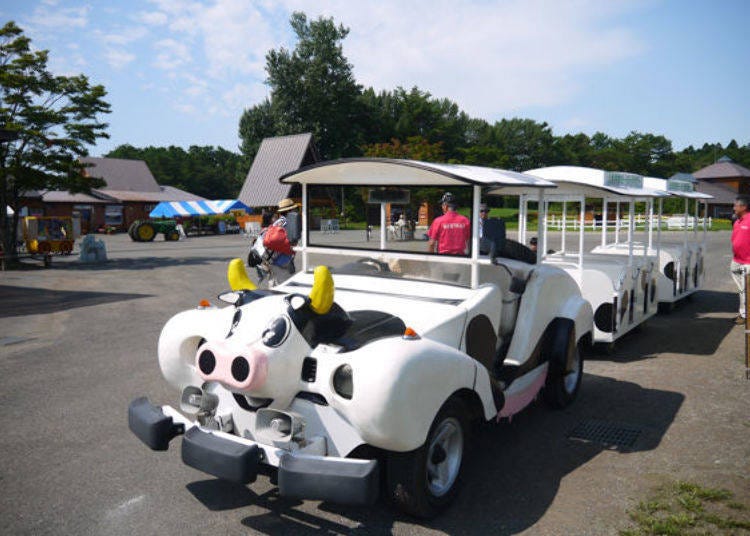 ▲The Park 'n' Dairy Barn Shuttle heading towards Kamimaru Cowshed. When the bus departs it makes a moo sound
We strongly recommend taking the Park "n" Dairy Barn Shuttle when going to Kamimaru Cowshed from Makiba Park. This cute little ride offers a nice view of the farm and mountains as it mosey on over to its destination.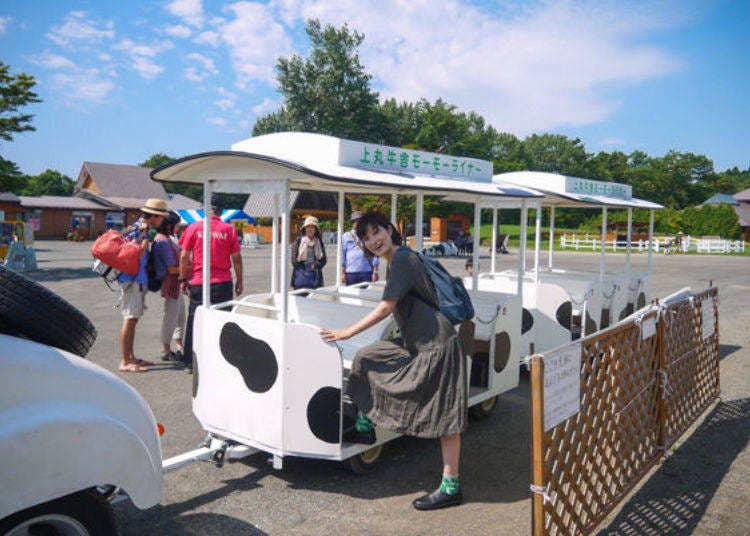 ▲It takes about 10 minutes on the Park "n" Dairy Barn Shuttle. 100 yen one way (tax included)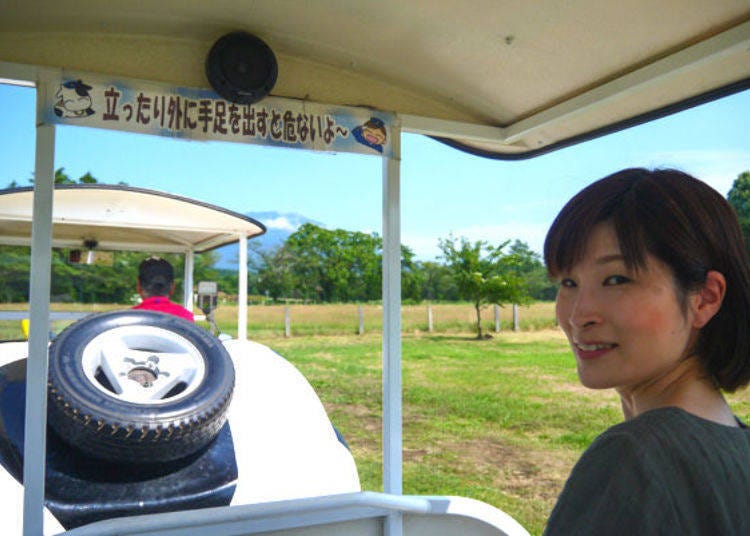 ▲Moseys through the park. The wind blowing down from Mount Iwate feels good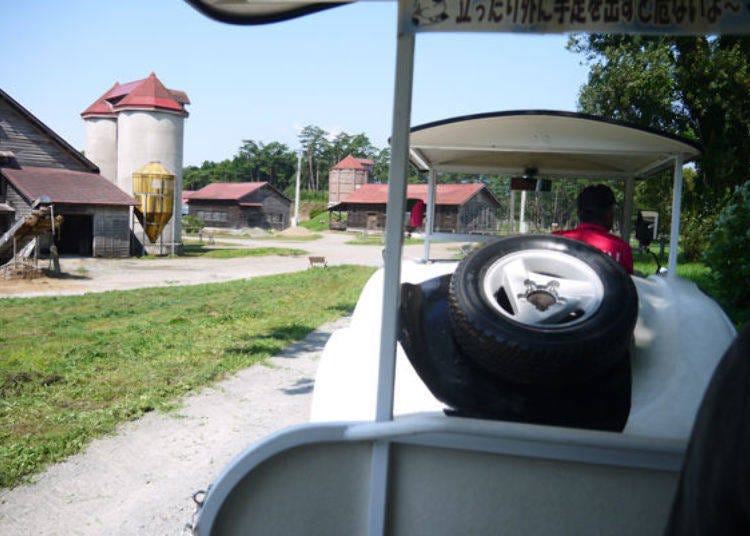 ▲You can start to smell the cows from here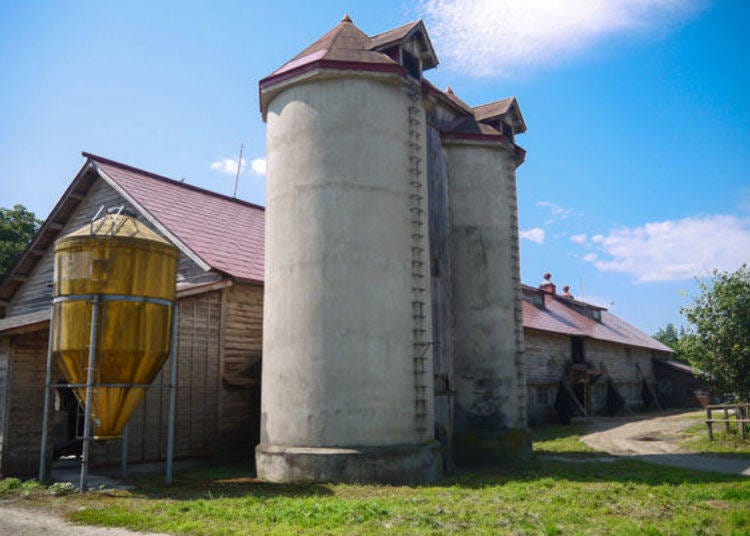 ▲Arrival at Kamimaru Cowshed that hasn't changed since its inception in the Meiji Period
Kamimaru Cowshed is split in 4 buildings, in Cowshed No.1 & 4 there are mother cows, Cowshed No. 2 is the birthing shed and Cowshed No. 3 is the calf shed. Out of the 4 cowsheds, it is possible to visit No. 1 & 3. It is a rare opportunity to see cows up close relaxing.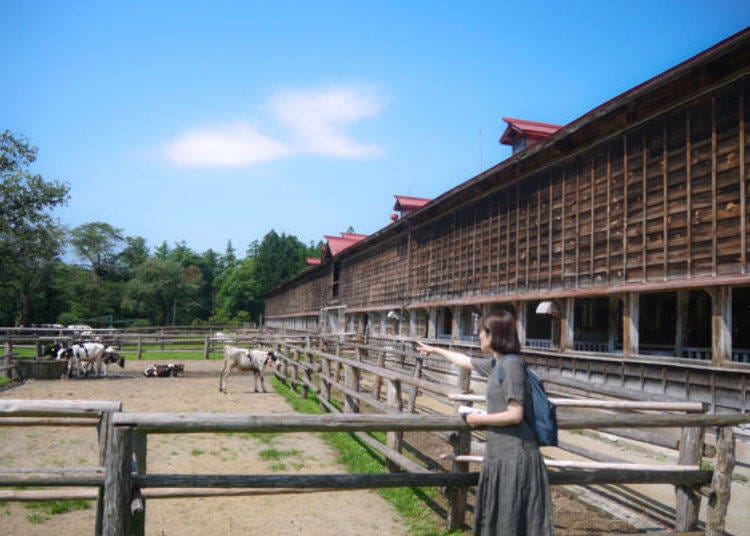 ▲Calves up ahead!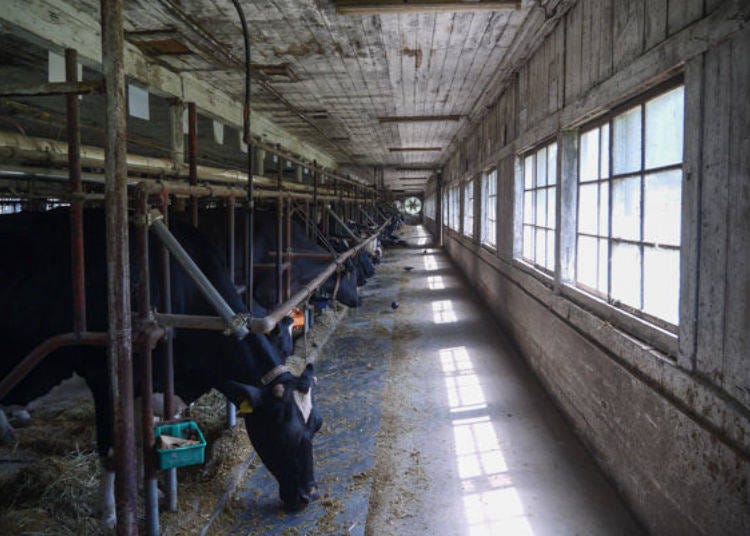 ▲Momma cows in Cowshed No.1. They look quite impressive up close
Watching cows grazing is kind of relaxing.

The two brick silos that were built during the Meiji Period are still active to this day. They are the oldest silos in Japan and are designated as a Tangible Cultural Property.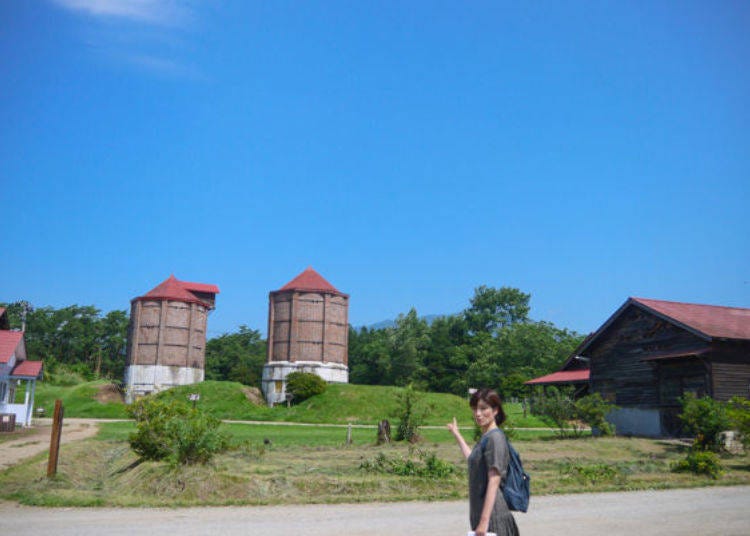 ▲The brick silo on the left was built in 1907 and the one on the right was built in 1908.
There is a museum in Kamimaru Cowshed area. Here you can learn about the 125 years of Koiwai Farm history.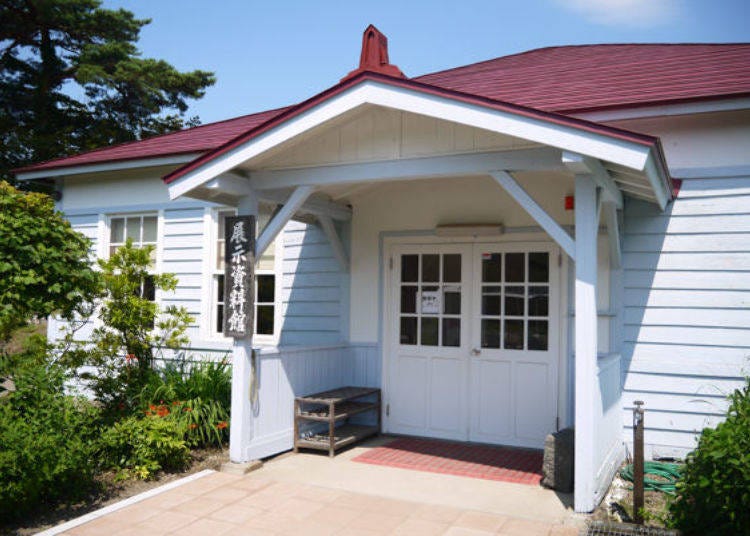 ▲The cute Koiwai Farm Museum with a red roof and white wall (Hours: 9:30 a.m. - 4:30 p.m.)
It explains how they have cultivated the barren wildland into Koiwai Farm with pictures and the dairy equipment used back then are preserved and on display. Lots of interesting facts!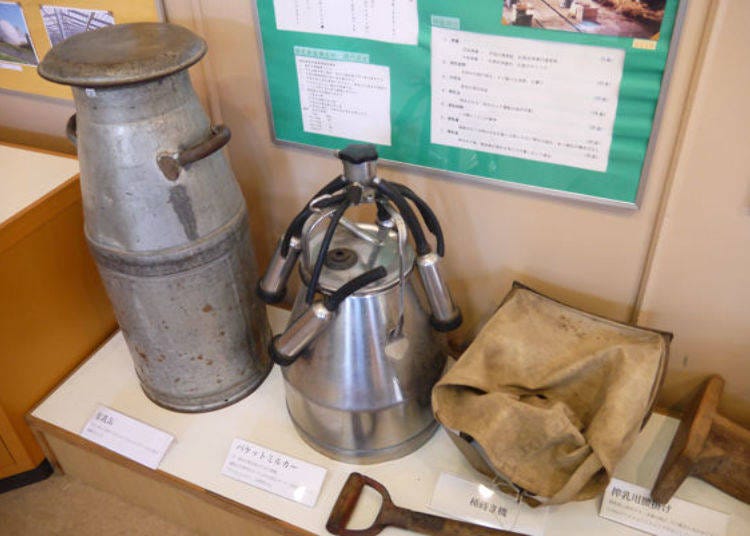 ▲Old milking tools on display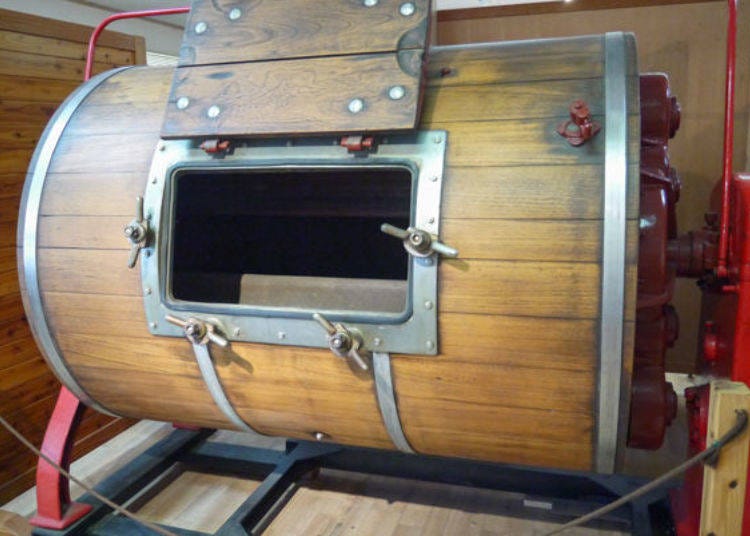 ▲A wooden butter churner. By fermenting lots of fresh cream, you can make a lot of butter at one time.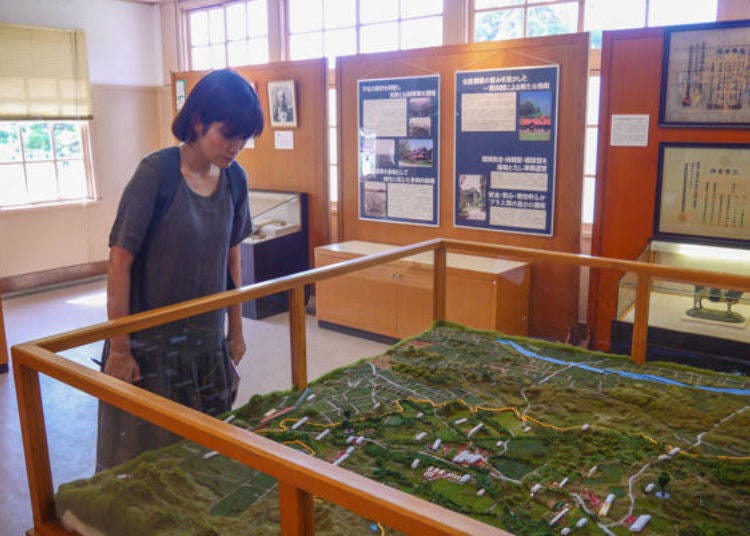 ▲A diorama that shows all of Koiwai Farm
Getting Lunch at Koiwai Farm - Also Try Out the Famous Soft Ice Cream!
After looking around Kamimaru Cowshed and waling back to Makiba Park for 15 minutes, it is probably a good idea to get some food. We headed to the farm restaurant Sanroku Hall, which offers charcoal-grilled Jingisukan (grilled mutton dish) and easy to eat ramen.

At Sanroku Hall, all the dishes are made with ingredients locally grown at Koiwai Farm.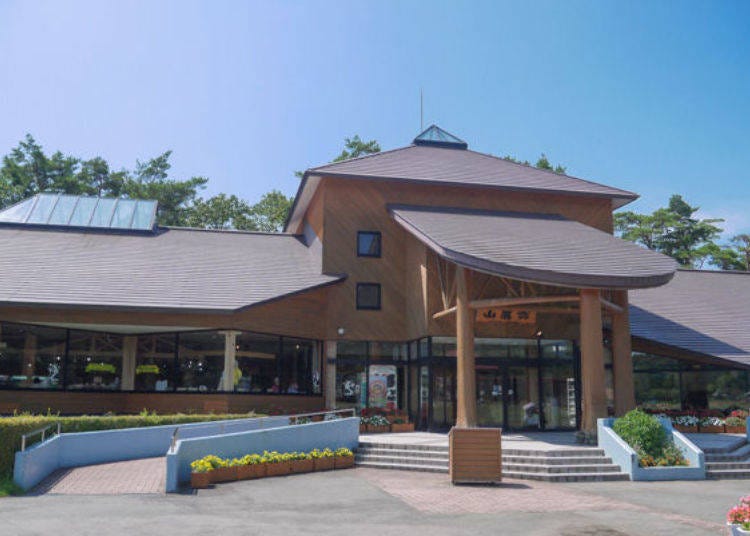 ▲Sanroku Hall also has a gift shop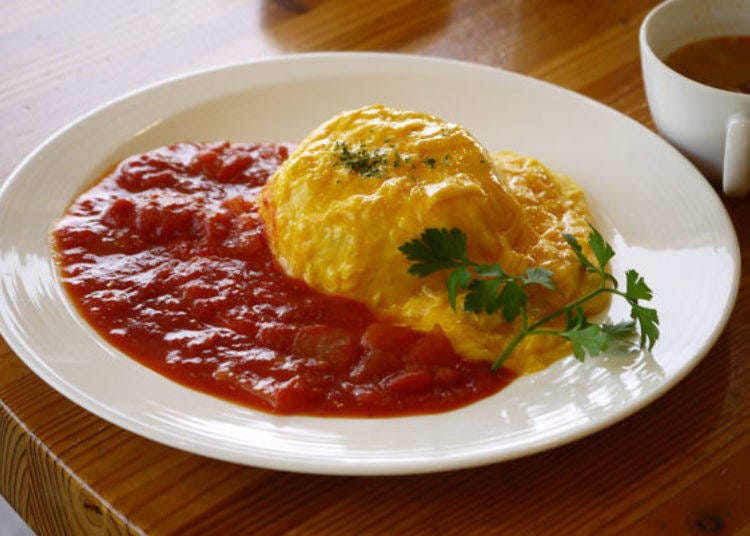 ▲The popular Farm Fresh Omelet Rice
We strongly recommend the Farm Fresh Omelet Rice. There are two types, simple but delicious tomato sauce (1,080 yen) and the rich demi-glace sauce (1,280 yen), both dishes use three fresh eggs from Koiwai Farm. They use rice cooked from milk from the farm. It is quite easy to get hooked on the milk flavor.

Another dish that we recommend, is the extravagant Earth's Bounty Lunch (2,200 yen). This lunch offers many different ingredients from Koiwai Farm. Dairy products such as cheese and milk, eggs, vegetables, and beef from Koiwai Farm is used. We recommend this dish for people visiting Iwate for the first time.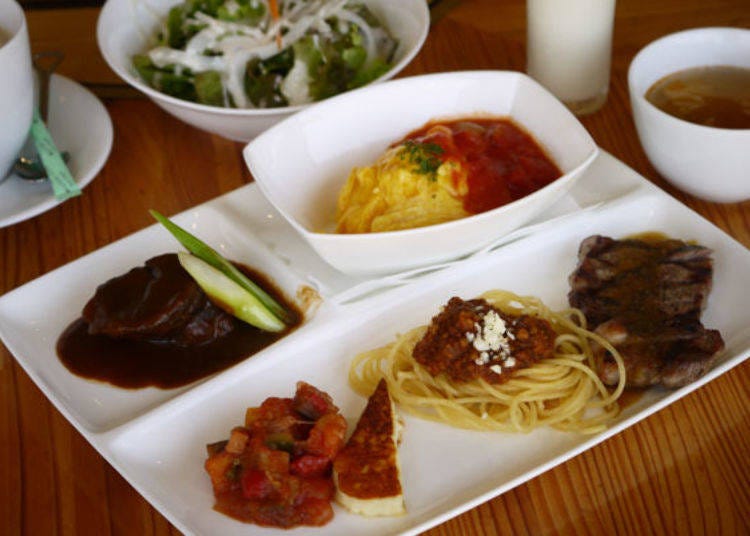 ▲When we visited the Earth's Bounty Lunch had 9 items of, mini Fresh Farm Omelet Rice, Grilled Beef and Bolognese Pasta, Grilled Halloumi Cheese, Summer Vegetable Ratatouille, Beef Stew, Salad and Farm Pasteurized Milk, Soup, Coffee.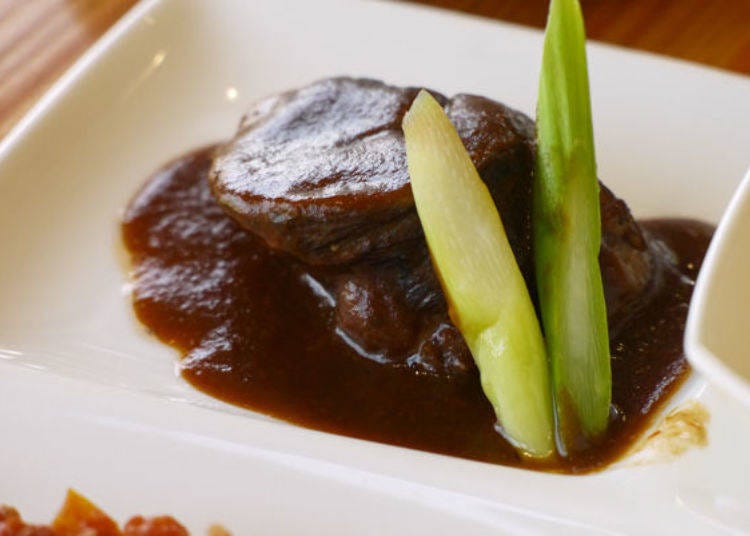 ▲Nice and tender Beef Stew
The Koiwai Farm beef used in the Beef Stew, is tender and lean, which is easy to eat and great for all age groups.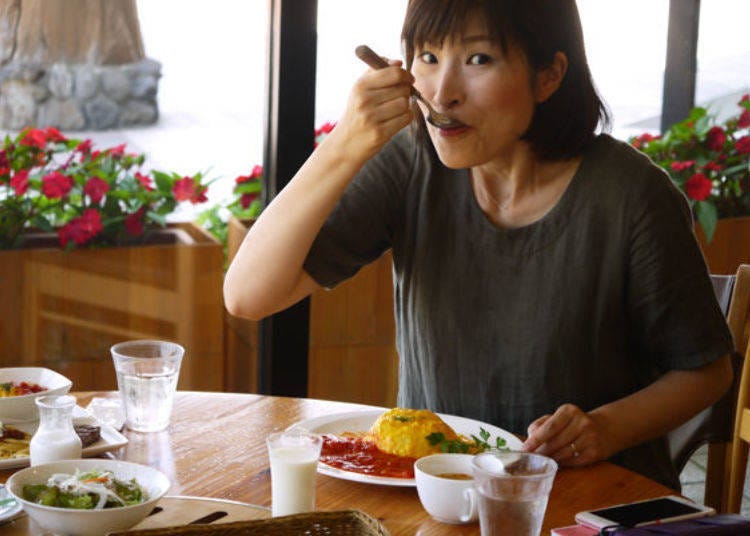 ▲Taking in the bounty of Koiwai Farm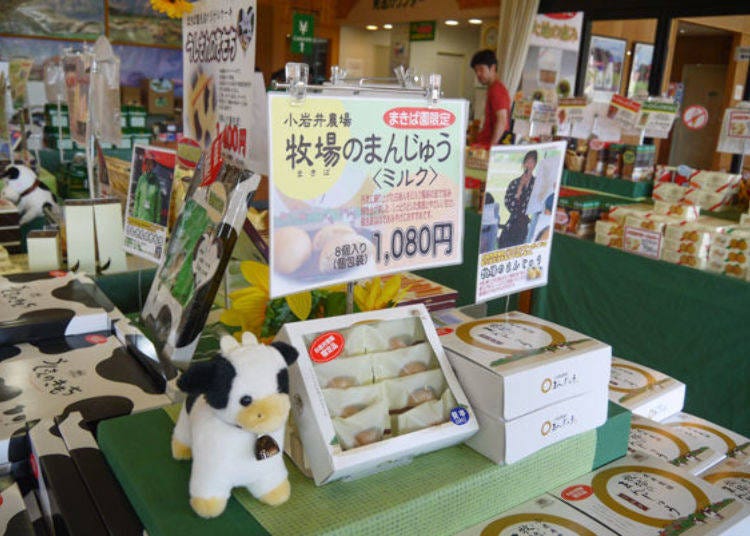 ▲Next to the restaurant is the gift shop. The popular items here are dairy products made with Koiwai Farm milk
If you want to enjoy more of Koiwai Farm delicacies, you can't miss the Koiwai Farm Soft Ice Cream!

The soft ice cream made form raw milk is rich and delicious. The most unique feature of it is the texture. A perfect desert to eat under the clear blue sky!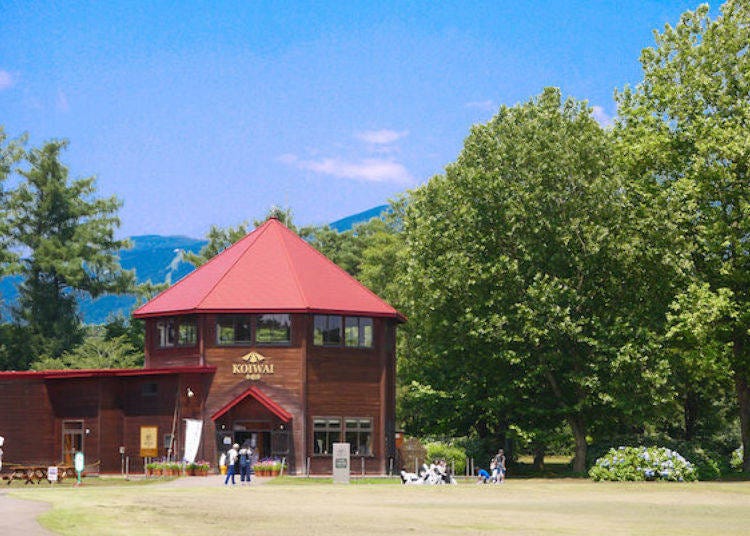 ▲If you plan to get the soft ice cream we recommend going to the Milk & Cheese Factory!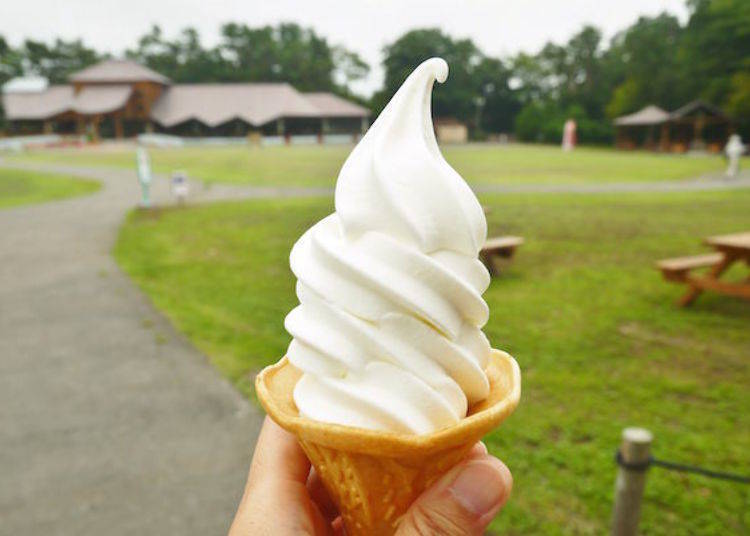 ▲The fresh Soft Ice Cream (380 yen tax included)
In Makiba Park there are many other facilities and areas to enjoy throughout the seasons, such as the Astronomical Dome where you can see the night sky with stars, and trail paths with rare creatures such as fireflies and forest green tree frogs. Each season has its own charm and makes you want to experience it all!
小岩井農場まきば園

Address

Address: 36-1 Maruyachi Shizukuishi Town, Iwate Prefecture

Phone Number

019-692-4321

Hours: 9:00 a.m. – 5:00 p.m.
*Hours may change depending on the season, please check their website for more detail.
Closed: None (may temporarily close)
Fee: Jr. High school student and above 800 yen, 5 years old and up 400 yen (both included tax)
Make Sure to Stop by Koiwai Dairy Factory 5 Minutes Away from Makiba Park by Car
Since we were in the area, we decided to head over to Koiwai Dairy Factory, which is a 5-minute drive away. Here we can take a look at how they make dairy products like milk and butter for free. Reservations are not required and you can stop by anytime.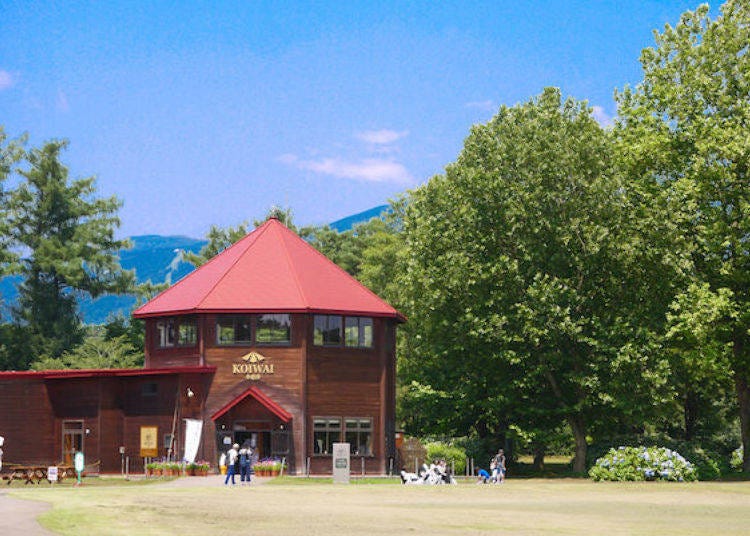 ▲A factory with a cute exterior (visiting hours: 10:00 a.m. - 3:00 p.m., closed on Wednesday)
What they make depends on the time and day you visit, on the day we visited we saw the milk production line. Freshly made milk are put in containers by machine and ready to be shipped around Japan (photographs prohibited).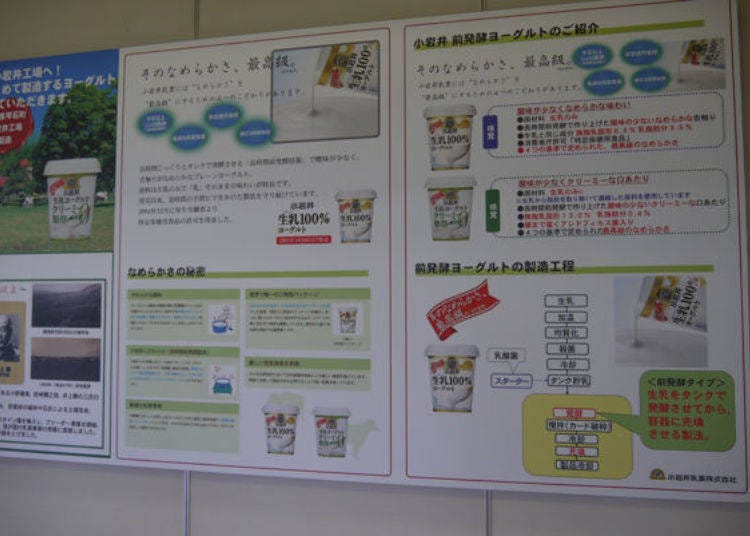 ▲A panel explaining yogurt processing method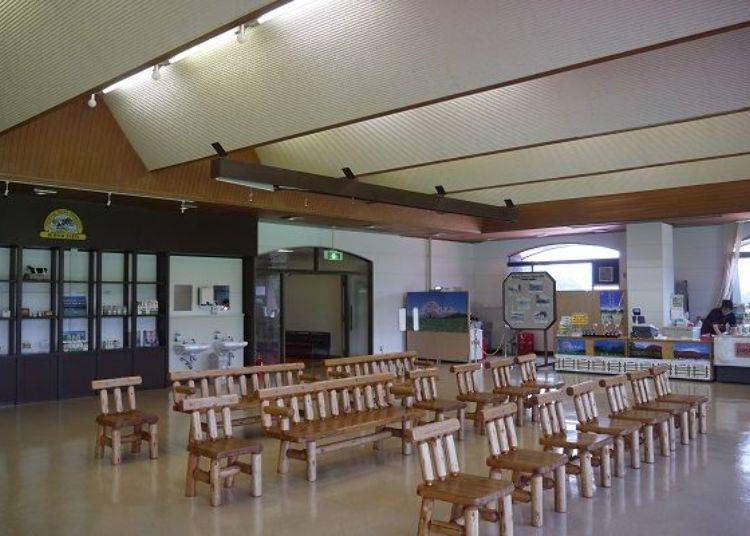 ▲You can sit down and enjoy samples
After looking at the production line, let's try some dairy product samples. Out of the items we tried, we strongly suggest the yogurt. By carefully letting the yogurt to age for 16 hours in a special tank, the yogurt is mild and edible without sugar.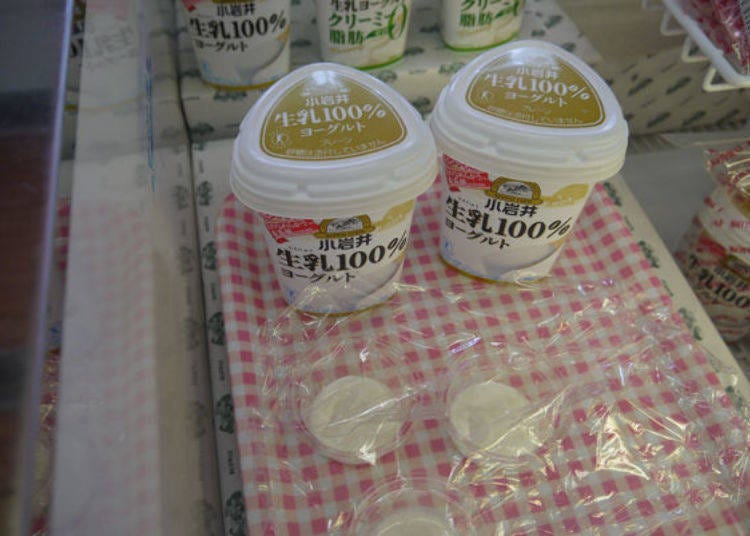 ▲The most popular item raw milk 100% yogurt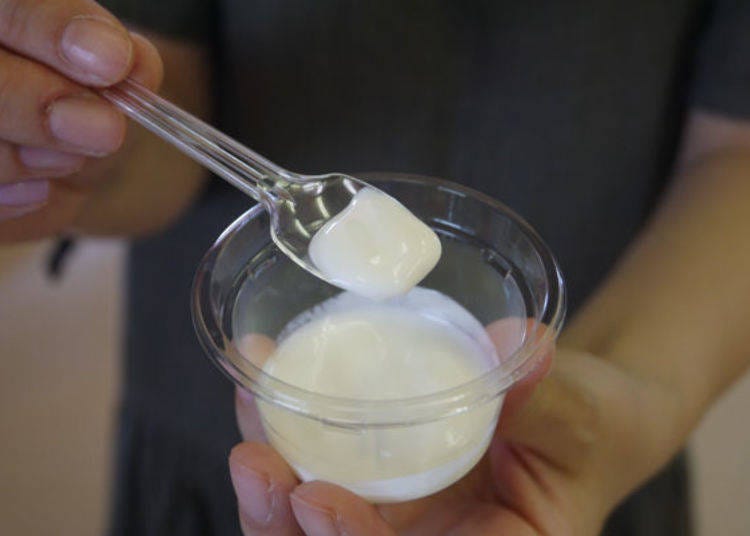 ▲Yogurt with amazing texture.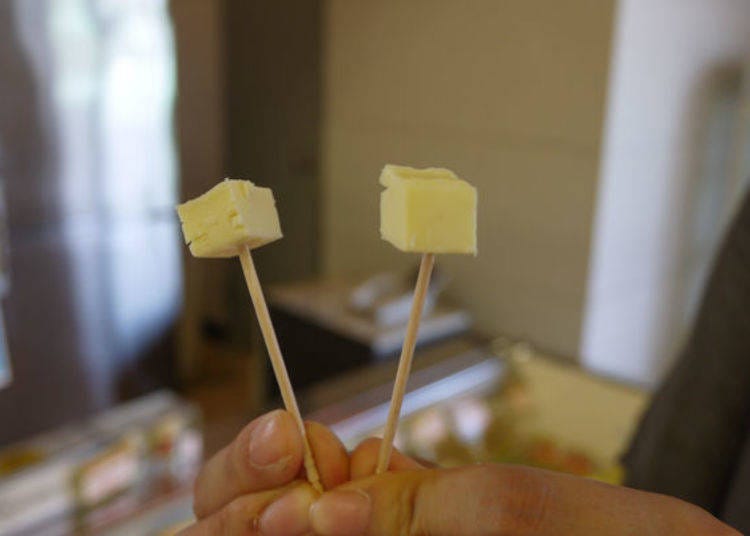 ▲Cheese samples changes daily. On this day we had cheese with salami and onions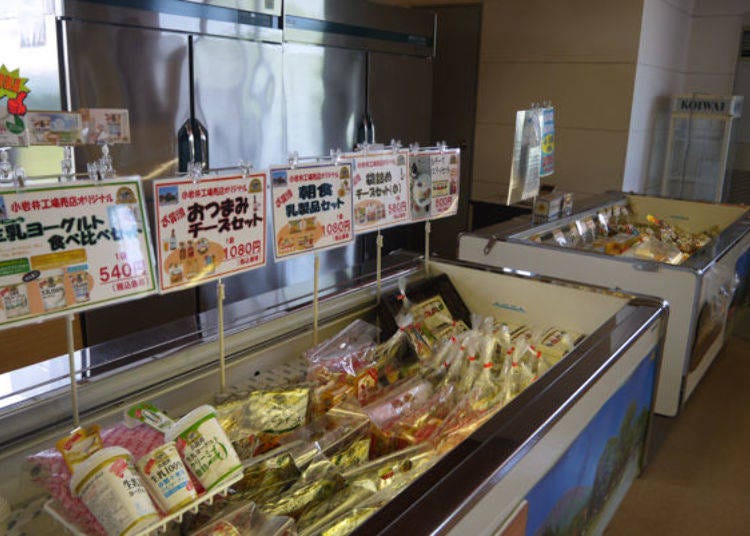 ▲At the shop you can purchase Koiwai dairy products
小岩井乳業小岩井工場

Address

36-1 Maruyachi Shizukuishi Town, Iwate Prefecture

Phone Number

019-692-1211

Hours: 10:00 a.m. – 3:00 p.m.
Fee: Free
Closed: Wednesday (shop is closed from Tuesday – Friday)
Phone: 019-692-1211 (available from 9:00 a.m. – 5:00 p.m., not available on Saturday, Sunday and holidays)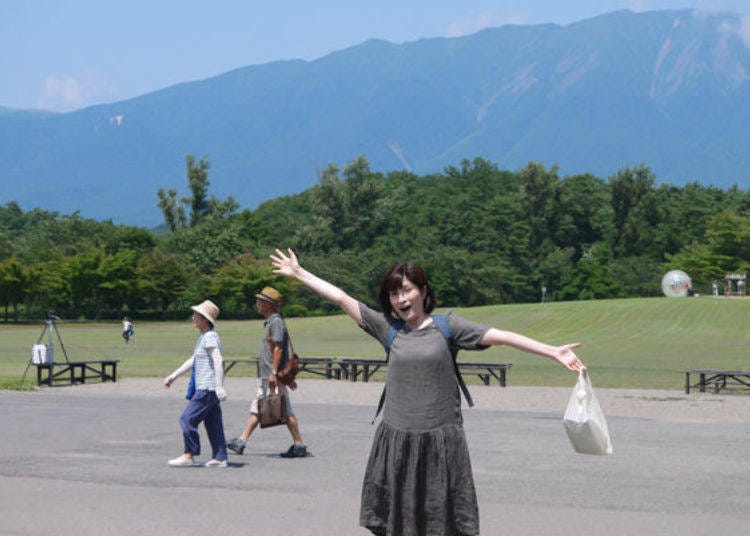 ▲You will need more than one day to explore all of Koiwai Farm
Utilizing its large property Koiwai Farm conducts various businesses and also provides great sightseeing attractions. It is a great open space surround by nature to refresh. We recommend visiting other areas of Koiwai Farm to experience the full charm of the place.
*This information is from the time of this article's publication.
*Prices and options mentioned are subject to change.
*Unless stated otherwise, all prices include tax.
Limited time offer: 10% discount coupons available now!