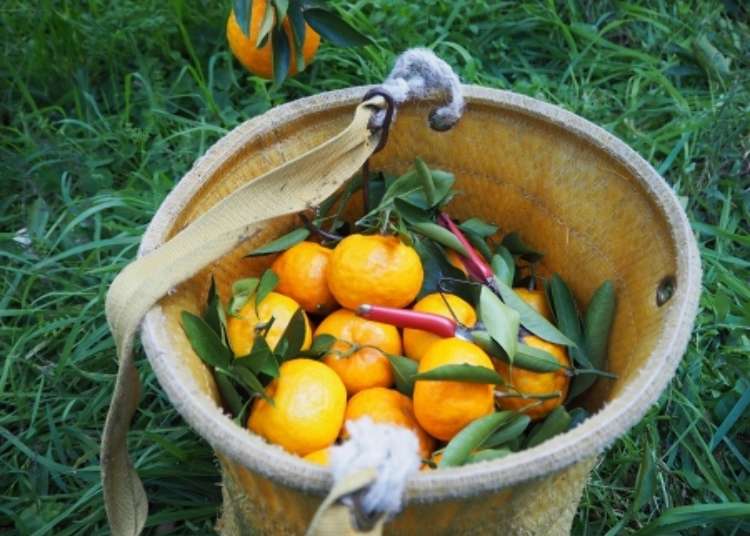 Imagine: peeling a soft Wakayama mikan orange peel, the refreshing citrus scent filling the air. Take a piece of the fruit. With every bite, the sweet juice excites your taste buds. Now, picture this moment of delight taking place in the grove where you just picked the ripe mandarin orange yourself!

Located on the west side of the Kii Peninsula, Wakayama Prefecture has a mild climate and with its thriving fruit industry, and is Japan's leading producer of mandarin oranges. So let's take a look!
What is a "Wakayama mikan" and why are they so popular?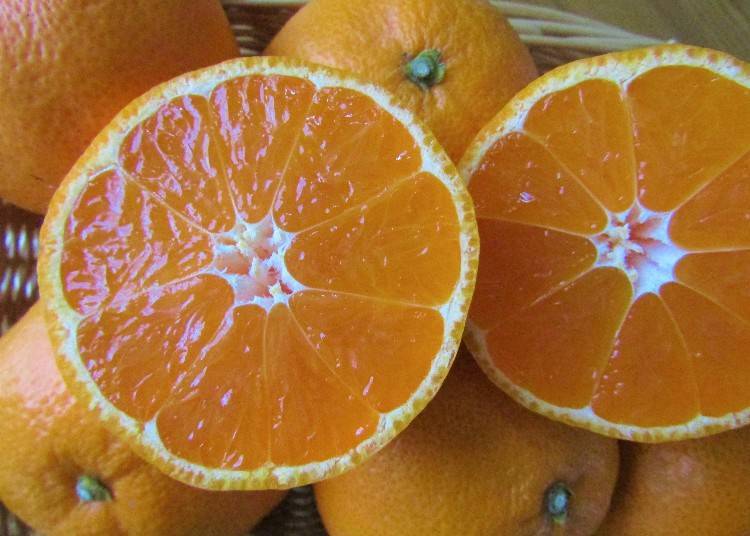 Wakayama not only produces "satsuma mandarin oranges," which are generally called "mikan," but also large hassaku oranges and that have a refreshing sweetness and aroma. They even produce Valencia oranges, too.

Wakayama mikan are characterized by their thin, easily removed peel. Compared to typical oranges which often have a thick peel, the smaller mikan are easy to eat. If you've ever had a satsuma before, you'll know what we're talking about.
Enjoy Wakayama mikan picking at Akizuno Garten!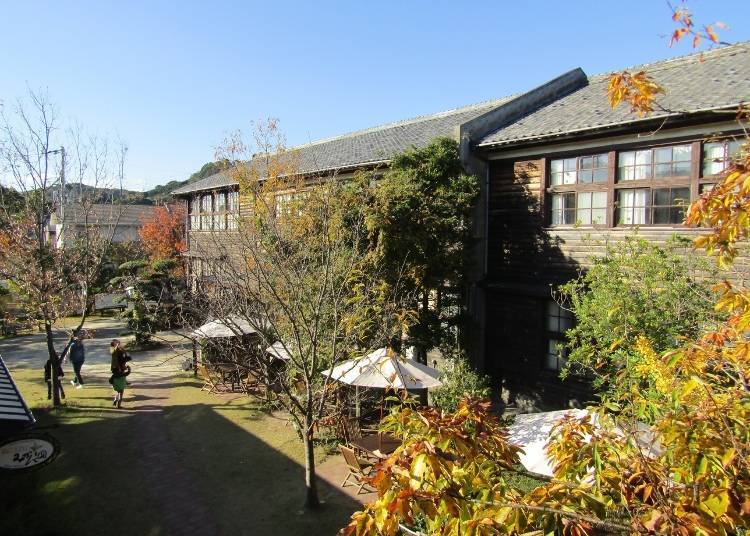 Akizuno Garten is located in Tanabe in southern Wakayama and gives visitors the opportunity to enjoy mikan picking almost all year round. This green tourism site is housed in a former elementary school about 100 minutes from JR Kansai Airport Station (via limited express train), and about a 5-km, 15-minute drive northeast of JR Kiitanabe Station.

Operated by local residents, the facility offers agricultural experiences, confectionery making, lodging, and a cute restaurant, all with a traditional atmosphere where you can really take your time.

Arriving from both Japan and abroad, about 80,000 (as of 2019) visitors come to Akizuno Garten annually. There are English-speaking staff on site, and pamphlets are available in English, Chinese and Korean, so it's convenient for international tourists.

The Kamiakizu area, where Akizuno Garten is located, is a region in which about 80 kinds of mikan can be harvested throughout the year.

The typical Wakayama mikan picking period is from October to December, but at Akizuno Garten, visitors can also experience mikan harvesting during other seasons in cooperation with local farmers. But don't forget to make a reservation in advance! (1,700 yen per person, tax included)
Wakayama mikan picking is so cute!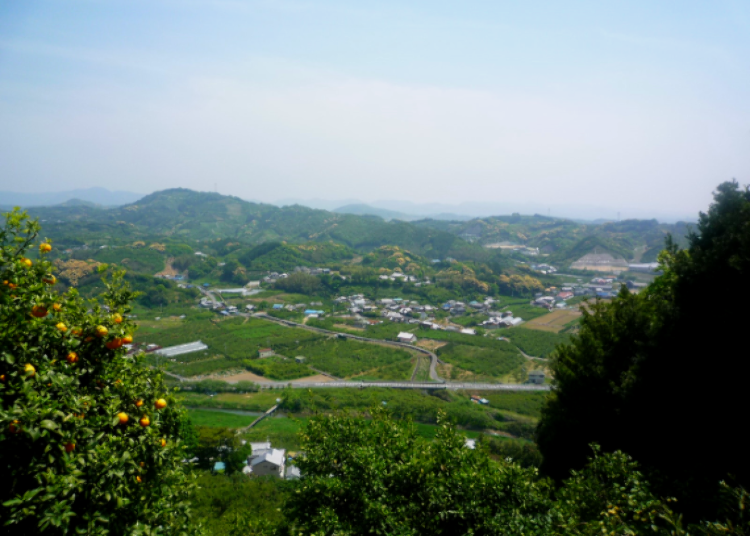 A beautiful day for mikan picking!
It's about a 10-minute drive from Akizuno Garten to a small mountain where the Wakayama mikan grow. Overlooking the seaside, the view from the mountainside is breathtaking, and looking back toward the mountain itself you'll see the mikan you've come for!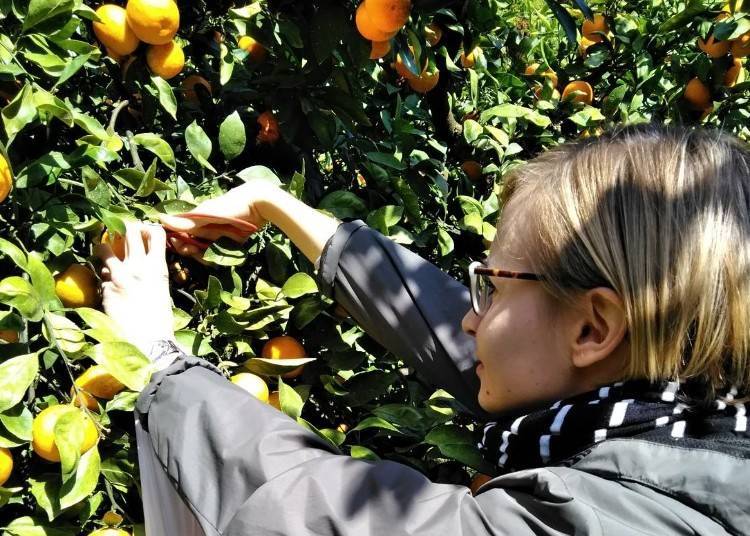 Wakayama mikan trees are about 170cm tall, so it's easy to pick the fruit without overexerting yourself.

Ripe mikan are a darker orange and get plenty of exposure to sunlight. Once you've found a sun-lit branch, you can use scissors to cut the stem about 1-2cm above the fruit, being careful to avoid damaging the other mikan.

While you may be tempted to pick large mikan, it's said that the medium, slightly flat ones are the sweetest. A well-textured peel is another indicator of good taste.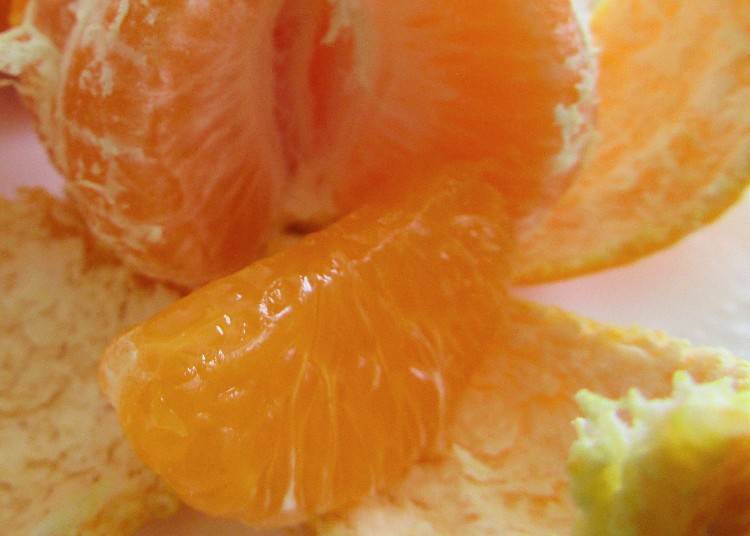 You're welcome, no, encouraged to sample the fruits of your labor in the field, so feel free to try one! The peel is easily removed by hand so you can enjoy the juicy fruit. After eating one, save more of that enjoyment for later, and get back to harvesting!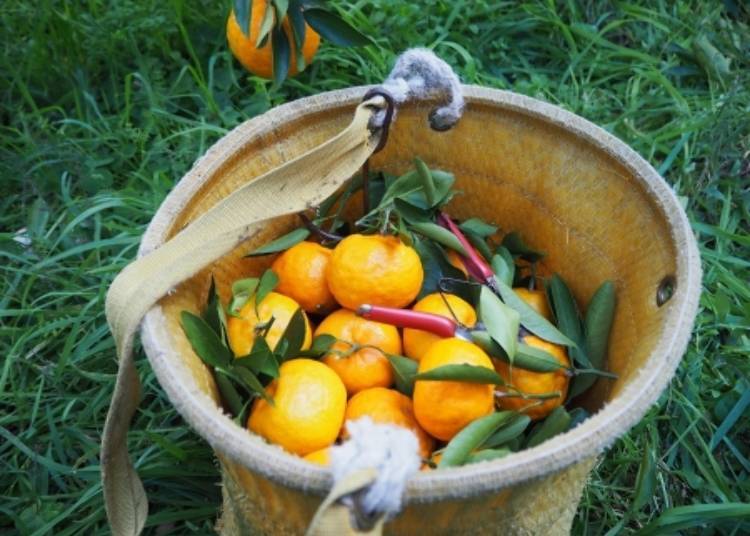 It takes about an hour to gather a 2kg basket of mikan, then you can drive back to Akizuno Garten in a car filled with a fresh citrus scent.

Depending on the variety, guests can take 3 to 5 mikan home with them, and picking times last about 30 minutes to 1 hour.

Sneakers and long trousers are recommended for working on the steep mountain slopes, and because the cut stems are surprisingly sharp, gloves should be worn for safety. In the summer, measures should be taken to avoid insects, sunburn, and heat stroke.
More fun at Akizuno Garten
Akizuno Garten also features an experience building, a café, a mikan museum, and a restaurant and accommodations in the wooden school building.
1. Valencia Field Sweets Workshop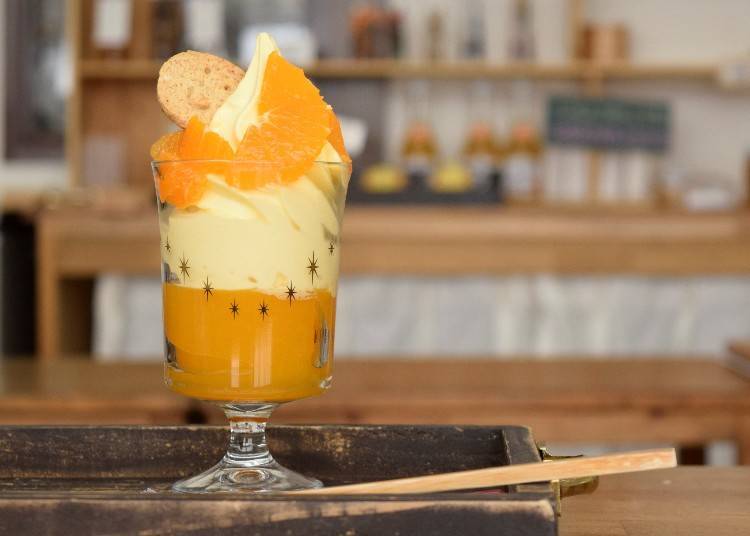 Mikan jelly parfait 600 yen (excluding tax)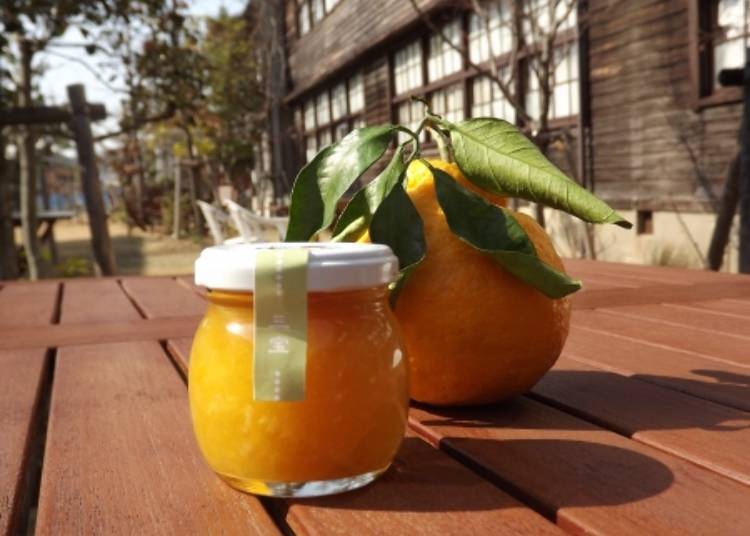 Valencia Field sells jellies, pound cakes and jams made from local mikan, and the café offers fresh mikan parfaits and crepes.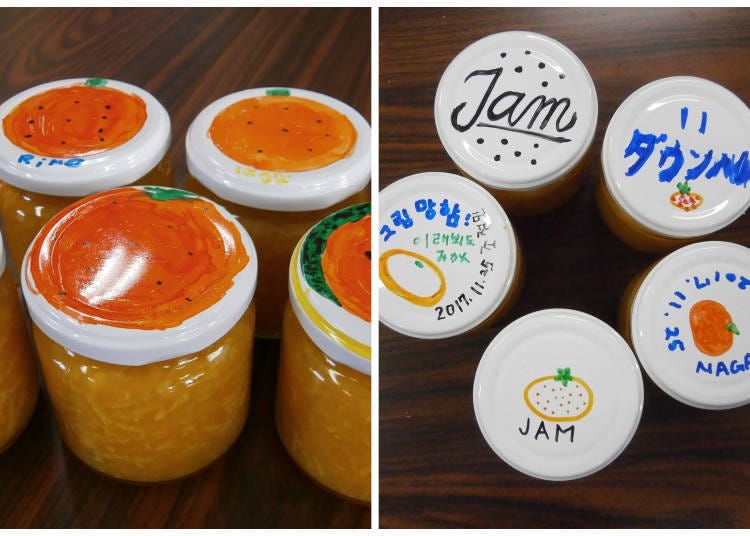 Fresh mikan marmalade (200g bottle) 1,650 yen (including tax; limit 2 per person)
There you can also make jams, sweets and handicrafts, and process mikan you've harvested into marmalade to take home as a souvenir - a big hit with tourists!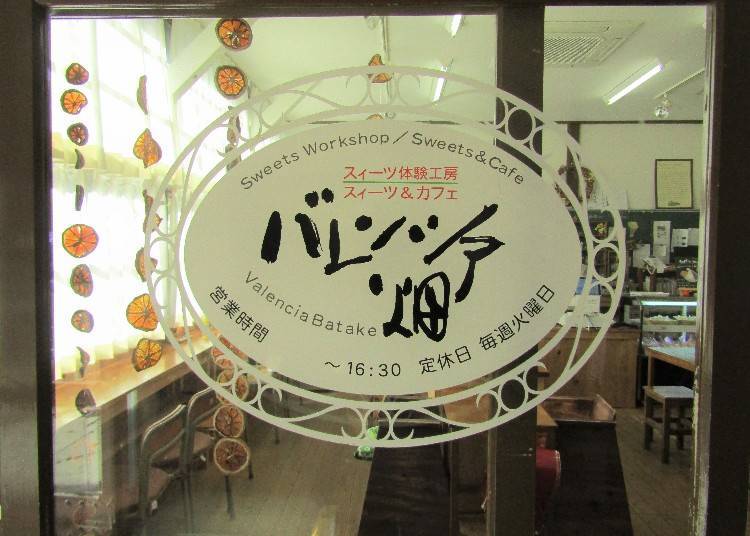 Shop info
Sweets Workshop & Café Valencia-Batake
お菓子体験工房「バレンシア畑」
Hours: 11:00 - 16:00; closed Tuesdays (or the Wednesday following a Tuesday national holiday)
2. Farmer's Restaurant Mikan Batake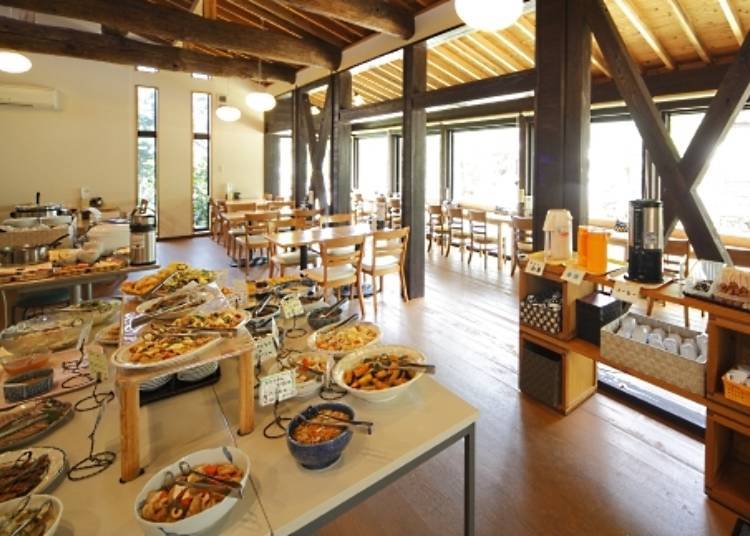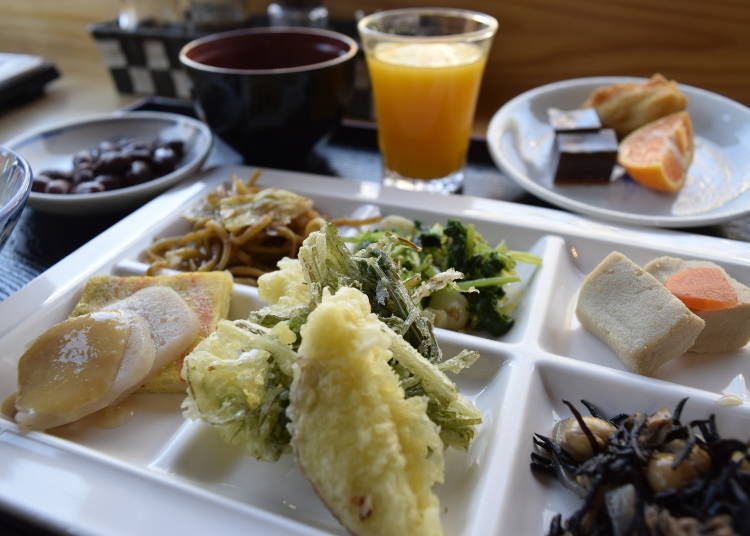 At Mikan Batake guests can indulge in a buffet of home cooking prepared by local mothers. The "Slow Food Buffet Lunch" menu consists of more than 30 delicious dishes featuring local vegetables.

You won't be able to put down your fork or chopsticks until you've had your fill of delicious food, dessert and fruit juice. When the weather is nice, take a seat on the terrace where the atmosphere of the old school building and a pleasant breeze will add to the mystique.

For guests staying in Akizuno Garten's accommodations, dinner and breakfast are also served at Mikan Batake. (Reservations required)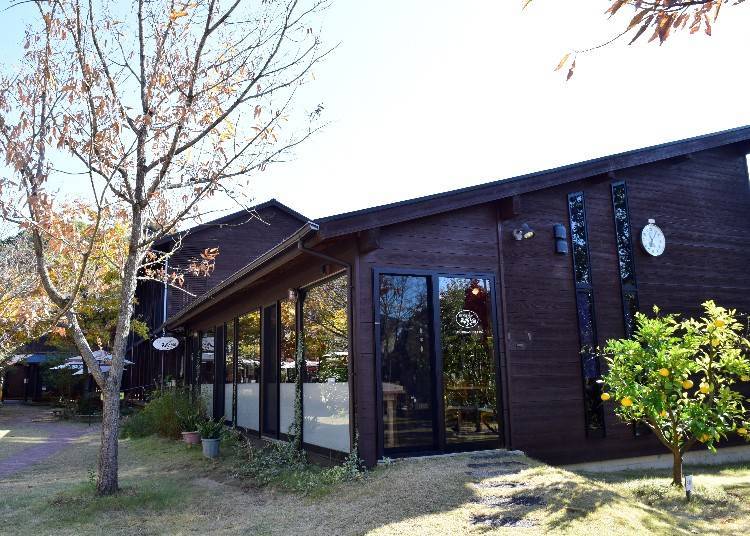 Shop info
Famer 's Restaurant, Mikan Batake
農家レストラン「みかん畑」
Hours: Weekdays 11:30 - 14:00, Saturdays, Sundays and holidays 11:00 - 14:00 (last entry 13:30)
Price: Junior high school students and older 980 yen, elementary school students 780 yen, 3 years old to preschool children 480 yen (seating for up to 100 people, reservations are not possible)
3. Stay in the "Accommodation Building" to enjoy slow countryside life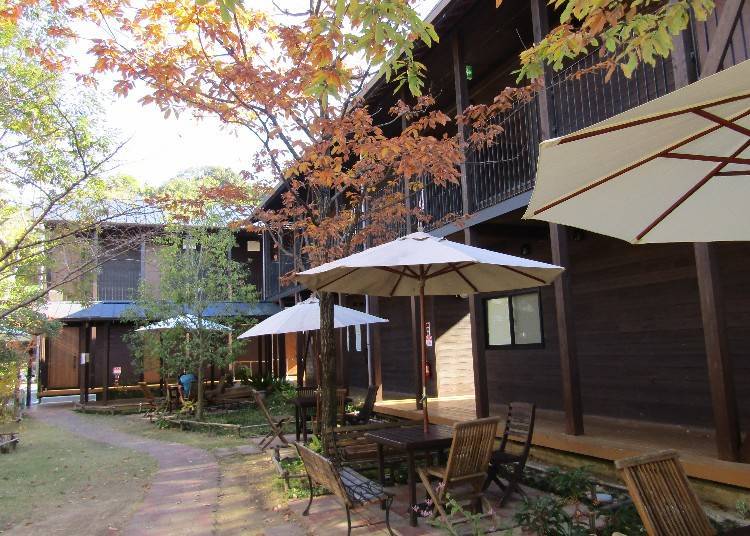 Accommodation building as seen from the courtyard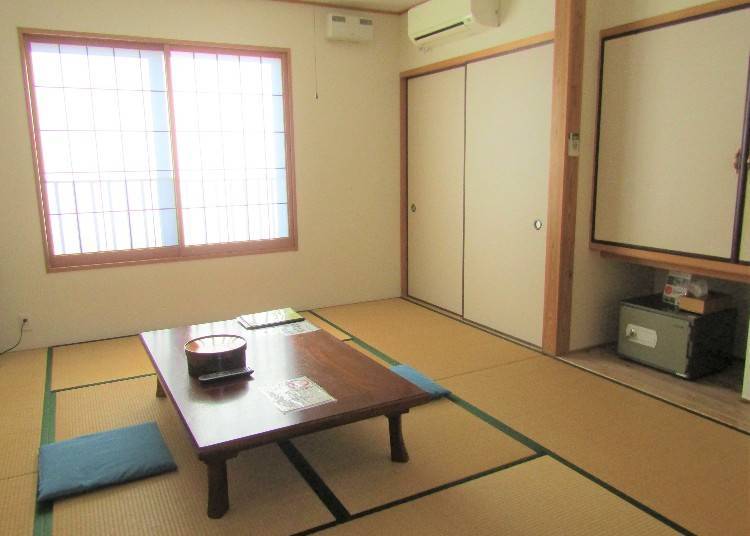 Japanese-style room (4-person room)
Staying at Akizuno Garten's two-storey wooden "Accommodation Building" is also an excellent option. On the terrace, or in the courtyard you could read a book while feeling the refreshing breeze coming off the mountains, relax on the tatami mats of your room, or take a casual stroll through the village.

There are 6 Japanese-style rooms that accommodate 4 people each, 6 tatami bedrooms (for 2 people), and 6 Japanese-style rooms (8 people). All rooms have access to free Wi-fi for additional convenience.

From here, a walk on the World Heritage Kumano Kodo pilgrimage route, or sightseeing in nearby Shirahama are also recommended.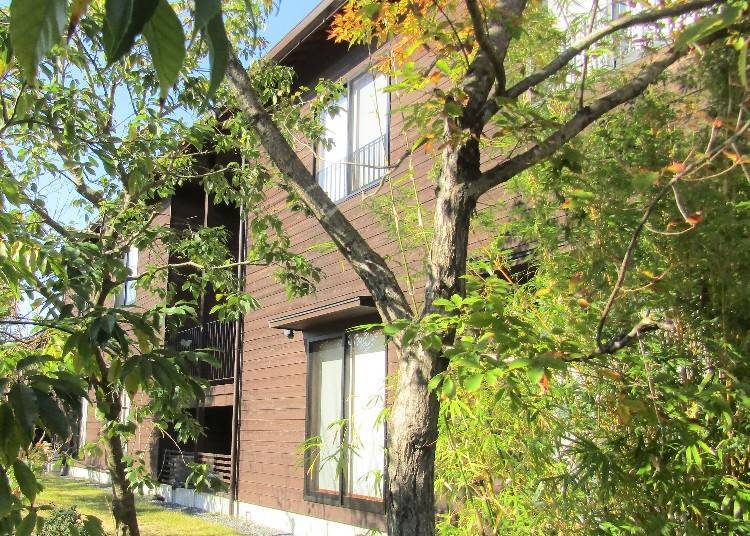 Shop ingo
Akizuno Garten Accommodation building
秋津野ガルテン 宿泊棟
Hours: Check-in from 15:00 to 22:00, Check-out 10:00
Price: From 3,900 yen (tax included)
English website: https://agarten.jp/syukuhaku/eindex.html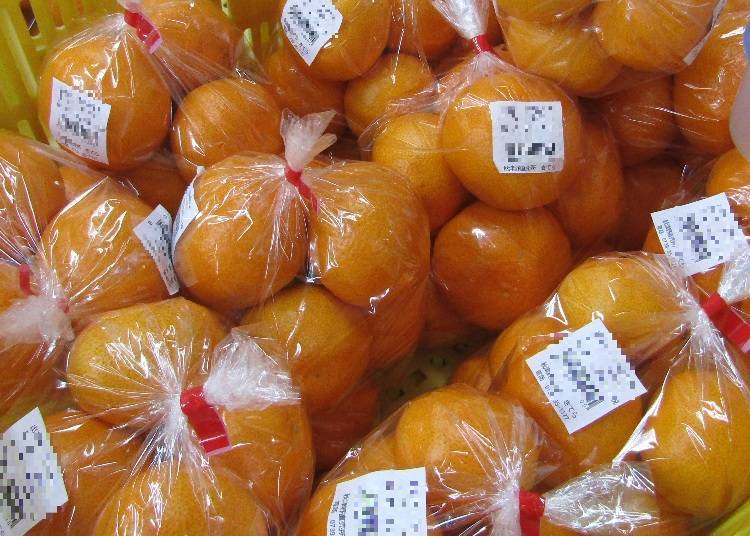 There are other places nearby where you can buy Wakayama mikan. Kitera, a local farmer's market, is about a 20-minute walk north of Akizuno Garten. Since mikan grow year round in Akizuno, it's nice being able to purchase fresh fruit wherever you go as well as jam and 100% natural juice.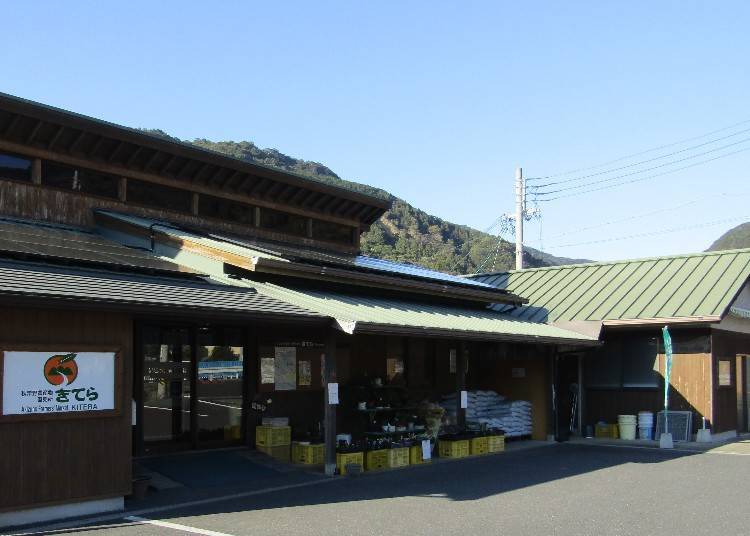 秋津野販売所「きてら」

Address

1487 Kamiakizu, Tanabe, Wakayama 646-0001

Phone Number

0739-35-1177

Hours: 9:00 - 16:30; closed December 31 - January 3
English website: https://www.kiteraga.com/eindex.html
Akizuno Garten, with its main "Wakayama mikan picking" attraction, was created by local residents in November 2008.

The former elementary school has been brilliantly revitalized, and the experiences here are wrapped in a relaxed atmosphere that will remind you of "something" you may have left behind.

Come enjoy the taste of fresh mikan, take a journey back to sweet memories, and make some new ones!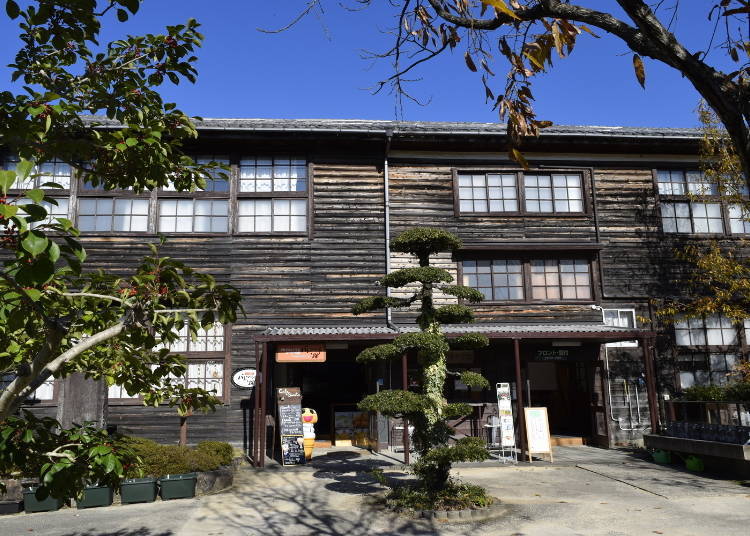 秋津野ガルテン

Address

4558-8 Kamiakizu, Tanabe, Wakayama 646-0001

Phone Number

0739-35-1199

Hours: 10:00 - 16:00
No set holidays
Written by: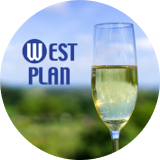 *This information is from the time of this article's publication.
*Prices and options mentioned are subject to change.
*Unless stated otherwise, all prices include tax.