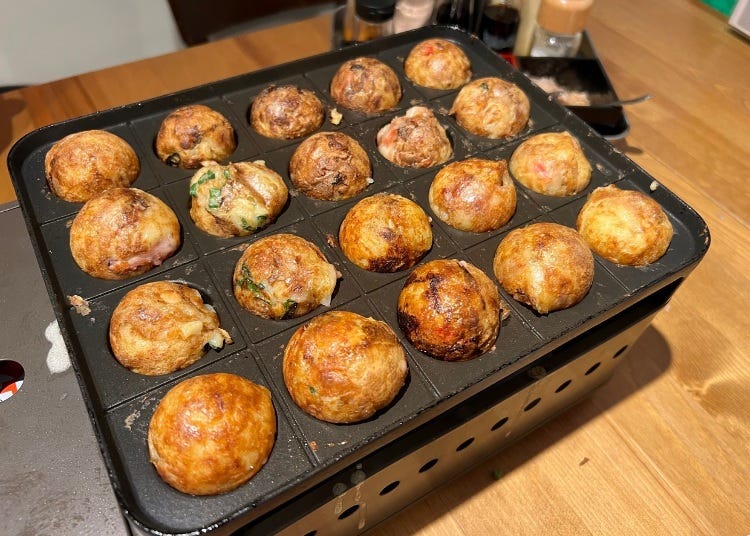 At Takoyaki Okoku, you can enjoy a 70-minute takoyaki buffet where you can customize ingredients and grill this dish yourself!

For the uninitiated, takoyaki is the soul food of Osaka Prefecture. It's made by grilling pieces of octopus with various spices and wrapping them in floury balls of dough. While many restaurants will grill the takoyaki separately, Takoyaki Okoku lets you enjoy the experience all to yourself. And, in addition to the delicious dough, the restaurant carefully selects its toppings and sauces.

Here we will introduce the best deals and ways to fully enjoy your experience at Takoyaki Okoku.
Takoyaki Okoku: Easily Accessible from Osaka Aquarium Kaiyukan & Tempozan Marketplace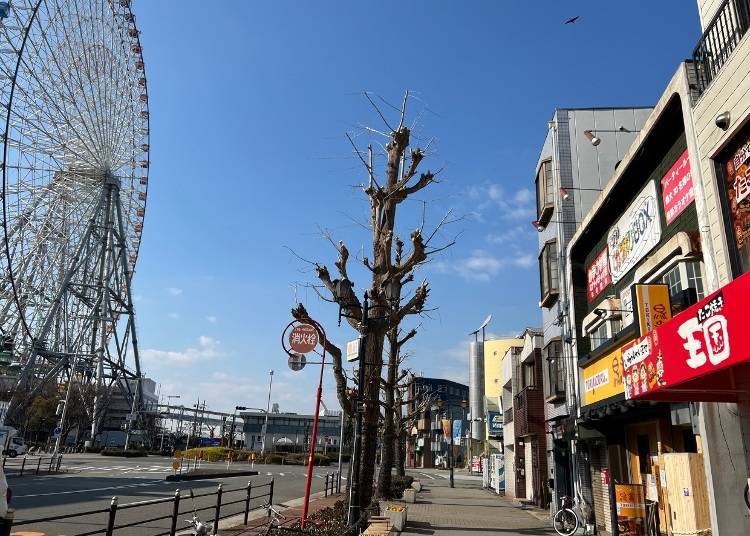 Takoyaki Okoku is right by Osaka Aquarium Kaiyukan, one of the world's largest aquariums, a large commercial complex called Tempozan Marketplace, and Tempozan Harbor Village, known for its gigantic Ferris wheel.

From Osaka Metro's Osakako Station, you'll find the Ferris wheel a four-minute walk in the direction of the aquarium! Such a view will leave you excited about what else this area offers!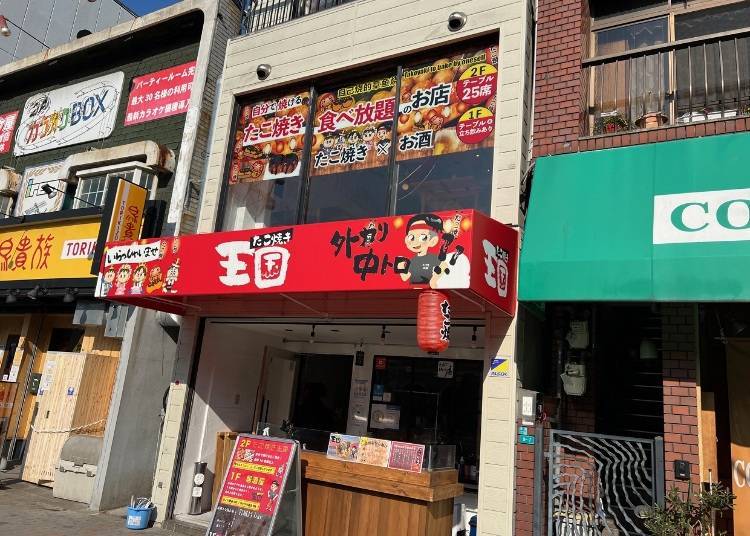 The two-story restaurant has a take-out area out front. On the first floor, you'll find a takoyaki izakya pub, and on the second is the takoyaki buffet restaurant!

In February 2020, Takoyaki Okoku opened its doors just as Covid-19 was spreading throughout Japan. The owner, Mr. Takahiro Kitamura, had always wanted his own business. After graduating college, he got a company job to start saving money.

Mr. Kitamura knew that a restaurant where you could make your own takoyaki would be a potential hit. Thus, he set his heart on only serving this timeless Osaka soul food dish.

Once completing training and gaining knowledge from a takoyaki restaurant he frequented as a college student, he opened up his own shop.
From Entering the Restaurant to Getting Ready for the Buffet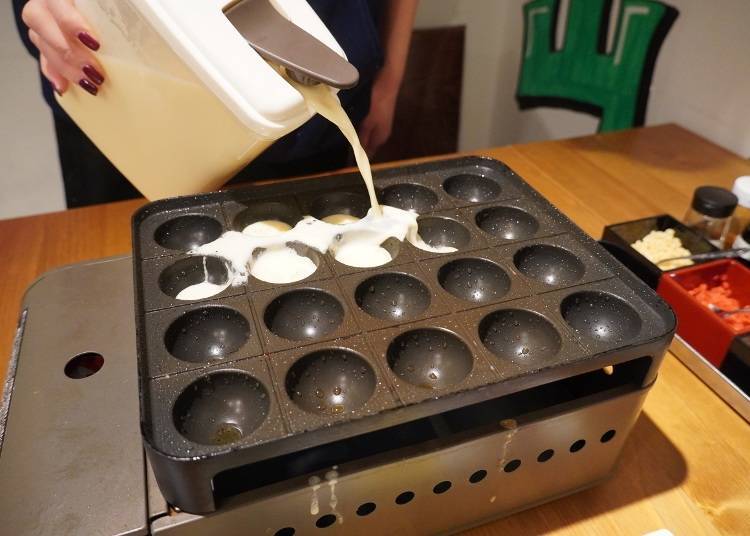 Once you enter the restaurant, you should let the restaurant staff know you are there for the buffet. Then, staff will take to the back of the first floor and up the stairs to the buffet area on the second floor. Here you will find portable stoves, takoyaki grills, and condiments such as takoyaki sauce and soy sauce at all tables.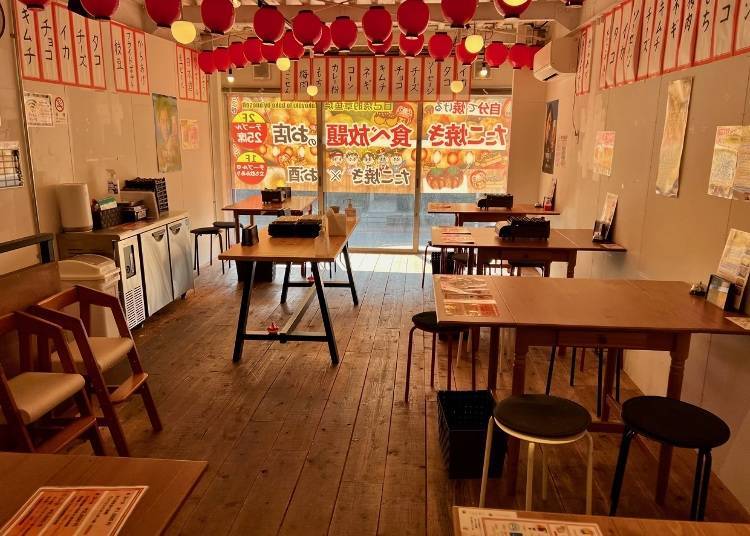 Red lanterns decorate the ceiling while options for takoyaki fillings are written on menu strips hanging from the walls. Such a casual interior allows you to enjoy an atmosphere reminiscent of a Japanese festival!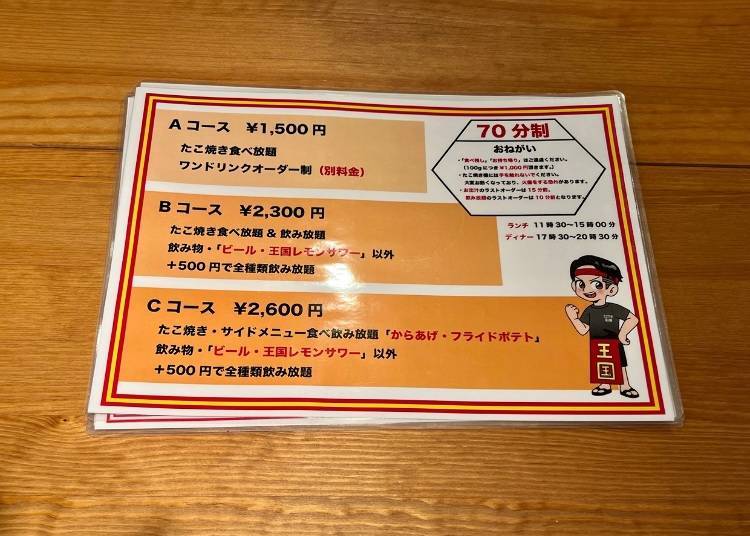 There are three lunch courses. Although all of these enable you to enjoy a takoyaki buffet, the A course (1,500 yen) doesn't include drinks, the B course (2,300 yen) includes free-flow drinks (except a few special kinds), and the C course (2,600 yen) includes both free-flow drinks and a side menu buffet.

For dinner, the courses are the same, with 2,100 yen for the A course, 2,700 yen for the B course, and 3,400 yen for the C course. The A course is a customer favorite during lunch hours, while the all-you-can-drink B and C courses seem to be more popular at night.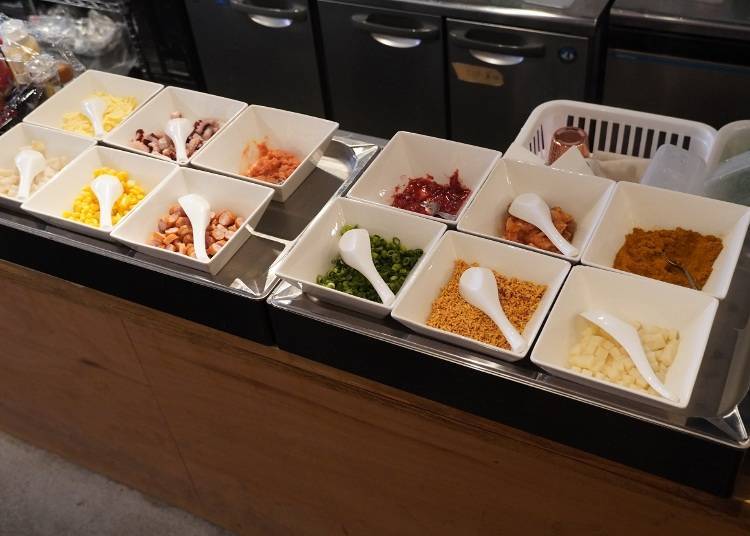 On our visit, we decided to try the A course. We recommend getting the fillings ready while restaurant staff are preparing your drinks. Takoyaki fillings can be found at a table in the middle of the second floor. Next to all of these ingredients are plates, chopsticks, and bamboo sticks used to flip the takoyaki over during the grilling process.

There are 12 different types of ingredients available. This includes octopus, squid, sausage, cheese, corn, mochi, and green onions, as well as more unique options such as spicy Pollak roe, curry powder, and Baby Star Ramen, a savory dried-ramen snack. What's more, it's said that ingredients that cool your body from the heat, such as okra and Japanese yam, are added in the summertime!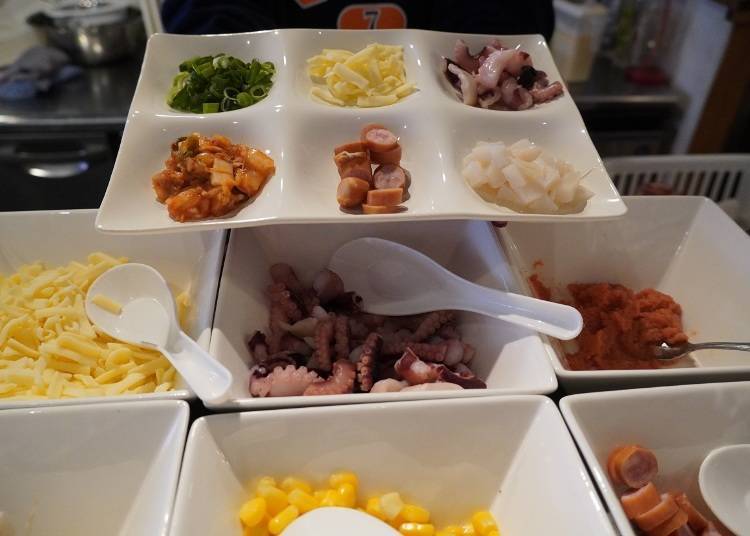 Taking a plate divided into six sections, you can walk around the table to select fillings of your choice. There's no limit to how many plates you can fill, so feel free to pile on as many ingredients as you like!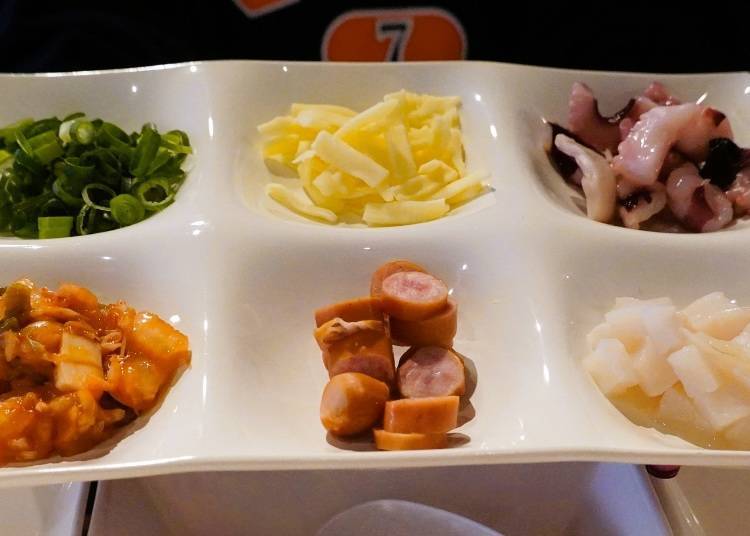 Starting clockwise from the top right corner, the photo above shows octopus, squid, sausage, kimchi, green onions, and cheese.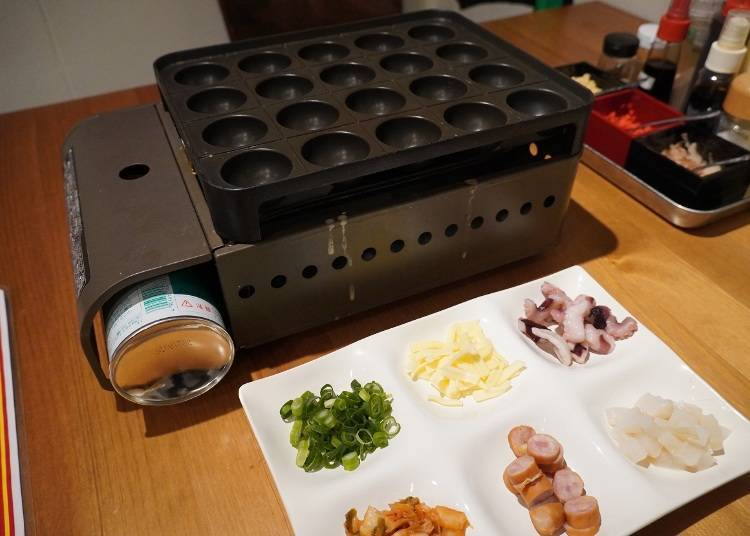 This time around, we chose standard takoyaki fillings, including octopus and squid, along with staff recommendations such as sausage and kimchi. Of course, we also had to include the beloved green onion, and cheese - a complementary option that goes with any other ingredient. This came to a total of six fillings.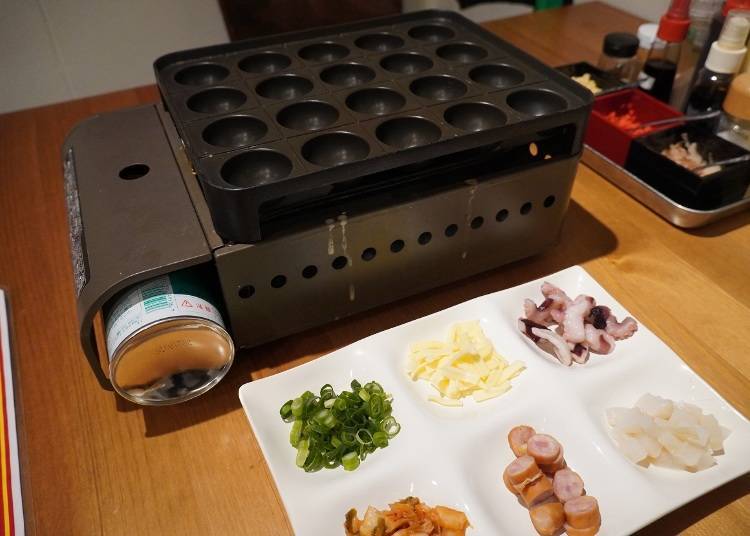 We returned to the table to wait for our drinks with our fillings in hand. The photo above shows a takoyaki grill that enables you to make up to 20 takoyaki balls at one time. This grill has sections that surround the circular takoyaki molds. These are very useful in the case that some of the batter overflows. All you have to do is use a bamboo stick to carve out a circle, and flip!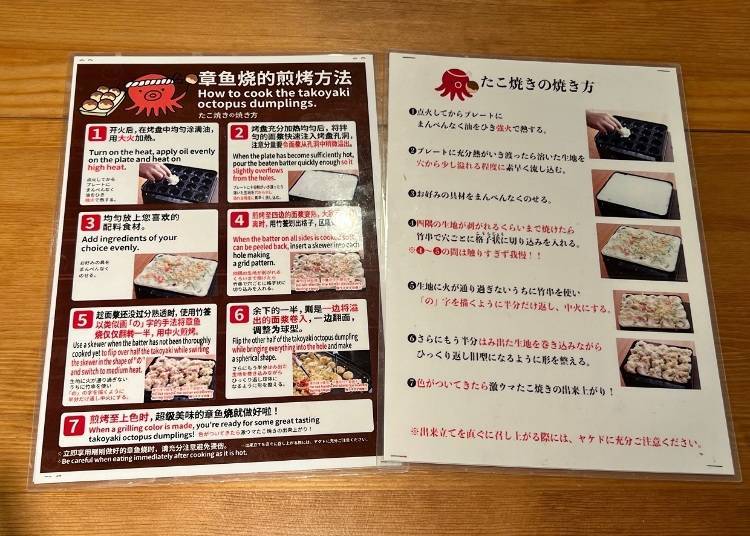 Before you get started, the restaurant staff will give a short explanation of how to cook everything. Please find some of the important points below.

① Generously cover the entire grill with oil and turn the heat on high.
② Pour the batter quickly until all the circular molds are covered.
③ When the batter on all four corners of the grill seems to be cooked, use a bamboo stick to carve around the circular molds. Once this is done, flip the batter around in a circular motion- starting from the bottom to the top as if you were writing the Japanese character "の."
④ Try to gather any batter that's overflowed and put it back into the mold while flipping it. You should also be mindful of shaping the batter into a ball during this process.


Not limited to Japanese, there are guides in English and Japanese-enabling foreign guests to enjoy cooking with ease!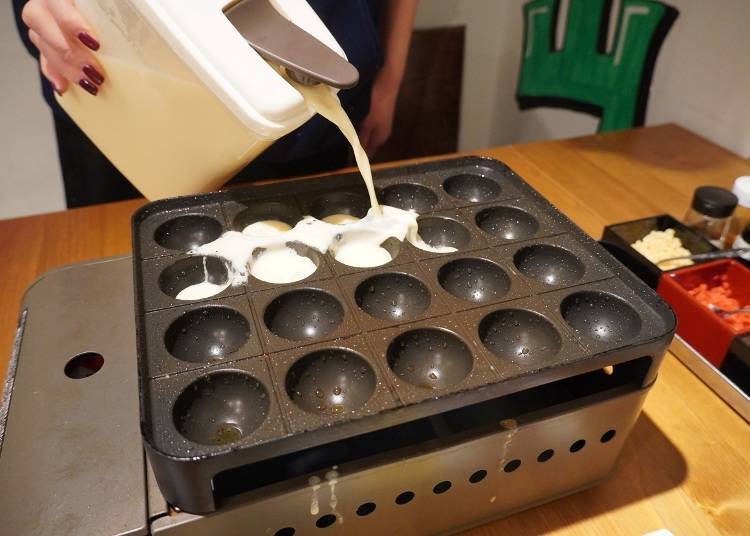 Once you pour the batter, the 70-minute takoyaki buffet begins! This is your sign to get cooking! A tip for when pouring the batter is to not pour it directly into the circular molds. It's better to pour it from the sides and let it slide into the molds. This is so that the batter doesn't splash and burn you during the cooking process.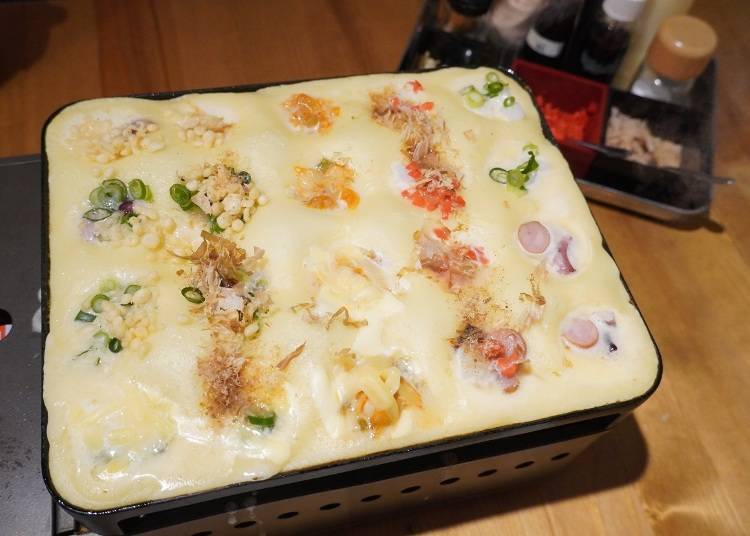 After pouring the batter, it's time to add the filling! A standard takoyaki would have octopus, green onions, dried bonito flakes, and tenkasu, crunchy bits of fried tempura batter. A great combination for kids is a sausage, corn, and cheese takoyaki. You can even make a seafood-medley takoyaki with octopus, squid, and green onions. Feel free to fill the 20 molds with whatever ingredients you like!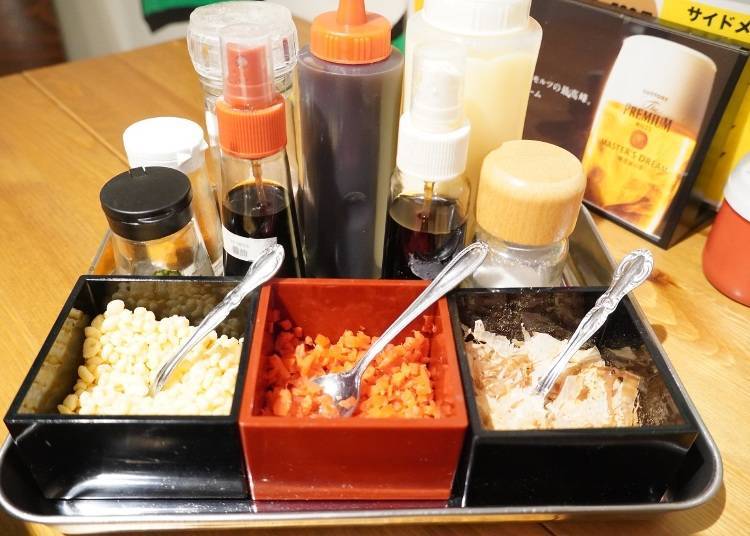 Ponzu sauce and soy sauce are put in spray bottles so that too much doesn't come out a once!
Each table also offers additional tenkasu, beni shoga (red pickled ginger), and dried bonito flakes! When you finish filling all 20 molds, the batter on the four corners of the grill should start to rise. This is a sign to start cutting the batter in a reticular pattern and get ready to flip.

You won't believe how easy it is to turn the batter into perfectly-shaped takoyaki balls! The secret seems to be the special oil used to make the grill slick.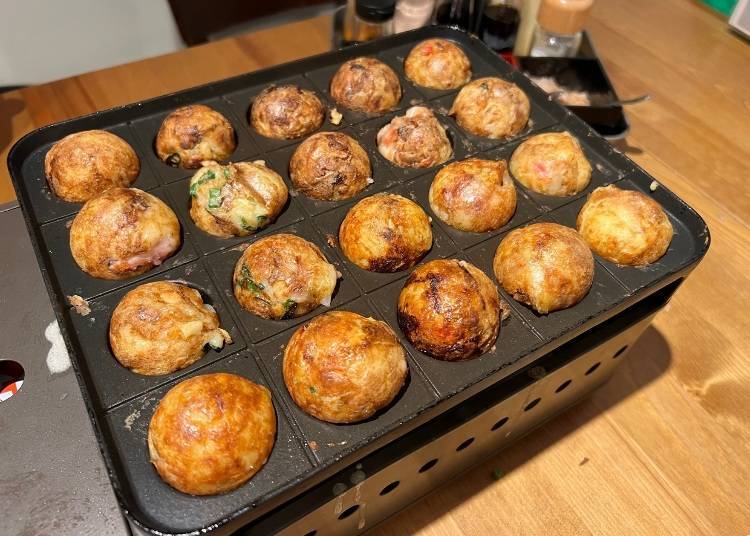 While gathering any batter that's flowed to the sides of the molds, you should continuously flip the takoyaki to form it into a ball. It should be fully cooked around 10 to 15 minutes after pouring in the batter.

Crispy on the outside and chewy on the inside - the special batter offers a deep brothy flavor! This batter is made from an original blend of flour, water, egg, and its secret broth-enabling you to enjoy takoyaki without any of the usual condiments.

Also, thanks to using a special cooking oil during the cooking process, this dish is unbelievably chewy and melty. After much experimentation, the restaurant was able to find a magical oil blend that results in an incredibly, mouth-watering texture!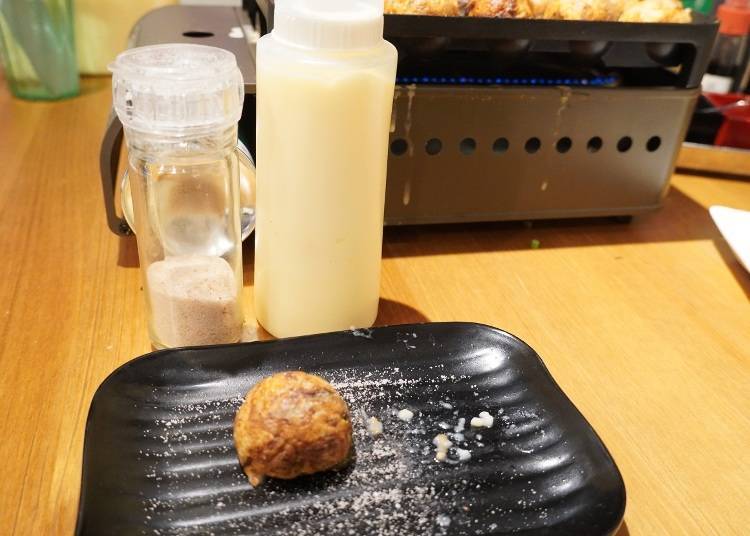 Sausage and kimchi-filled takoyaki topped with rock salt and mayo.
The restaurant staff highly recommended the following two filling combinations. The first is sausage, kimchi, cheese, and curry powder, and the second is squid, corn, and mochi pieces.
We were advised to try these takoyaki without adding any condiments.

The reason why the first combo of sausage, kimchi, cheese, and curry powder is recommended is that curry is a strong flavor that's loved worldwide. Also, the harmonious flavors of juicy sausage and spicy kimchi together are irresistible!

Regarding the squid, corn, and mochi combo, the crunchy corn pieces with the soft and chewy texture of Japanese mochi make for a satisfying pair that people just can't seem to get enough of!

Furthermore, a customer favorite is adding the Japanese ramen snack, Baby Star Ramen, as a takoyaki filling. This is said to be popular because it's reminiscent of a modern okonomiyaki (savory Japanese pancake) dish that's cooked with Japanese soba noodles.

A recommended takoyaki topping is rock salt with mayo. The mellow flavors of mayo coupled with punchy rock salt are said to make for the perfect flavor bomb! Putting the mayo on first and sprinkling some rock salt on top is the best way to make this topping!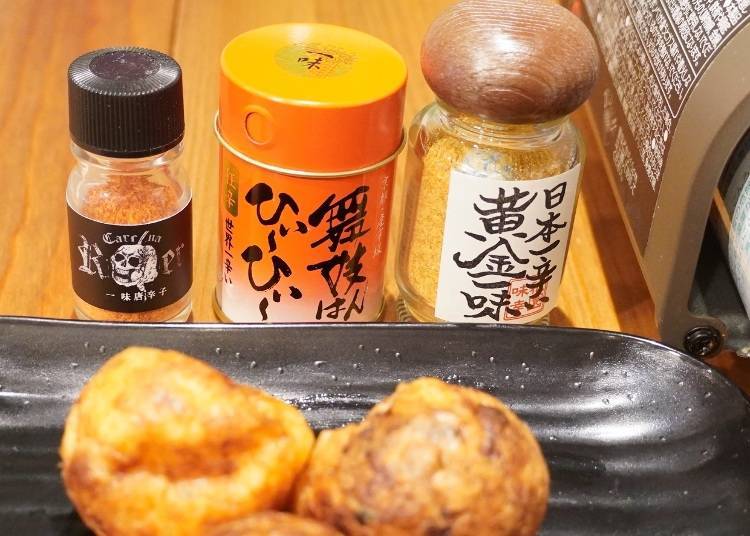 There are also three different types of cayenne pepper powders to choose from!
For those who like a slight kick, you can top your takoyaki off with some cayenne pepper powder!
Starting from the right, the photo above shows powders from least to most spicy. First is Japan's Spiciest Golden Spice Powder, the middle spice is called the Maiko Hanhihihi, and to its left is the Carolina Reaper spice.

Mr. Kitamura suggests playing a game of spice Russian roulette for those who come as a group. If you're brave enough to take him up on his offer, let staff know that you want to participate in this challenge!
Getting the Most Out of the Buffet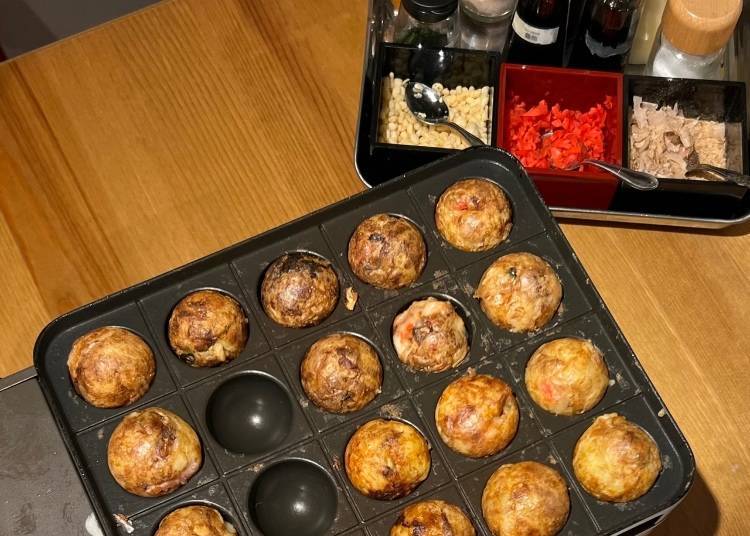 When it comes to buffets, some restaurants have a policy that limits the amount of ingredients or dishes you can take at one time. However, at Takoyaki Okoku, no such rule exists! You can even take as much beni shoga, tenkasu, and dried bonito flakes as you like!

This fact alone makes this buffet seem like a great deal. Just think of how much you're getting for your buck when you put multiple pieces of octopus or other ingredients into one takoyaki mold!

If you want to eat as much as possible, make sure to put the takoyaki immediately onto a plate once they're done cooking. Then, you can effectively start to cook the next batch, making the most of your 70-minute buffet time!
Side Dishes Are Also Super Tasty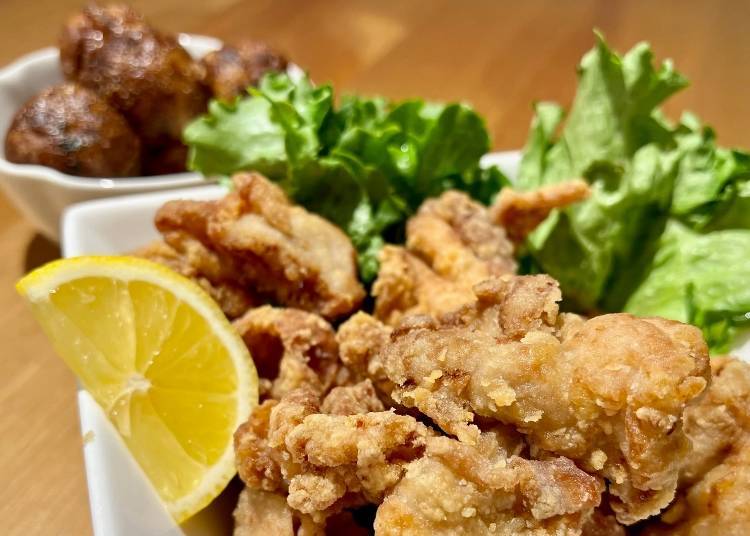 Popular side dishes include original Japanese karaage fried chicken and Okoku's deep-fried takoyaki. These can also be enjoyed if you order the restaurant's C course.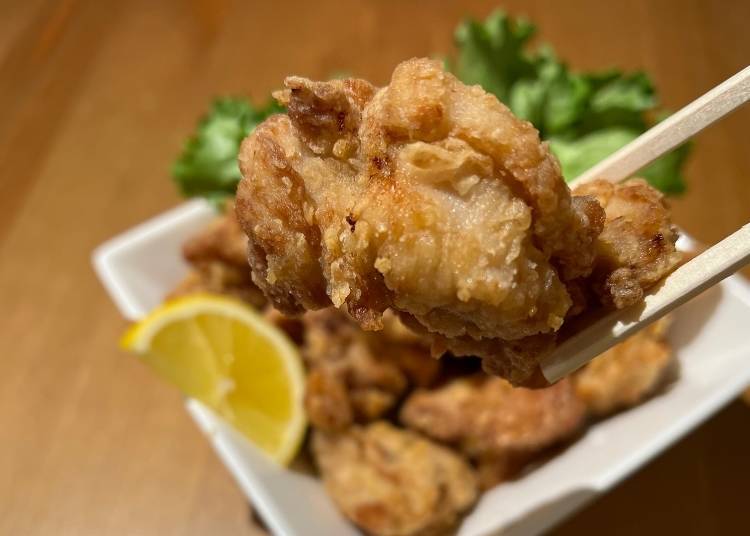 The fried chicken is made Japanese-style with a soy sauce base. Like the takoyaki, the outside is crispy, and the inside is tender. Another characteristic of this dish is that each piece is quite large-making for a satisfying bite! A large-sized portion is 860 yen (10 pieces), a medium is 590 yen (six pieces), and a small is 500 yen (four pieces).

For an extra 100 yen, you can get upgraded versions of this dish covered in various sauces or toppings. This includes Ponzu sauce and green onion karage fried chicken, tartar sauce-covered karage fried chicken, and a salt-based sauce-covered karage fried chicken.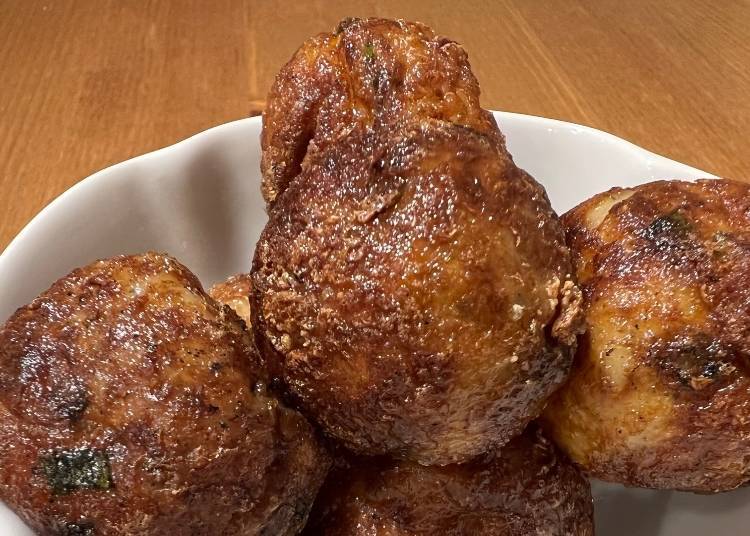 The deep-fried takoyaki dish is made by deep-frying the restaurant's plain takoyaki. This makes the outside even crispier while the inside remains melty! With its extremely reasonable pricing at 50 yen per piece, it's a known customer favorite at the takoyaki izakaya on the restaurant's first floor.
Wanting to Make Everyone Smile Through Food!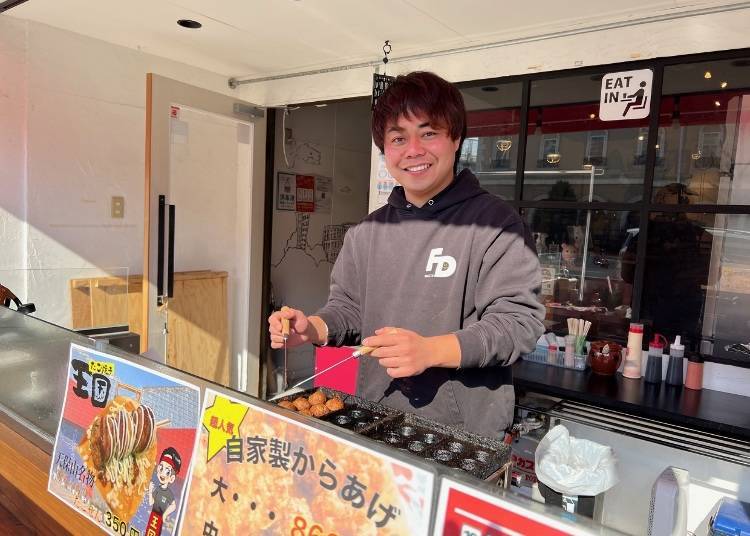 Originally, Mr. Kitamura planned to open just a takoyaki buffet restaurant. However, with the spread of Covid-19, no one was visiting the nearby tourist attractions. With this being the case, he decided to open up the Takoyaki Izakaya on the first floor-which became a big hit among neighborhood customers. As of now, many people stop by to enjoy drinks and takoyaki together.

In the future, Mr. Kitamura wants to open a second and third shop. He shared, "The main theme surrounding my restaurant is making people smile through both food entertainment and the delicious tastes of the dishes themselves.".

Takoyaki is a soul food dish from Osaka where both its flavors and the process of making the dish can be enjoyed equally. When stopping by Takoyaki Okoku, make and eat as many takoyaki as it takes until you find your favorite filling combination! After all, that's the best part of eating at a buffet, isn't it?
Services for Foreign Customers
The guides teaching you how to make takoyaki are available in Japanese, English, and Chinese. Also, in addition to some staff being able to speak English, the restaurant will do its best in accommodating you by using translation devices as well as gestures to communicate!
Health & Safety Measures
Indoor disinfection measures taken - Sanitizer installed - Disinfected after each guest leaves - Ventilation measures in place - Coin trays used - Plastic partitions installed - Staff wear masks, gargle, wash hands regularly, and monitor body temperature - Limited capacity/increased space between seats - Entry declined to anyone who is feeling unwell - Guests requested to wear masks and conduct temperature checks


*The information in this article is from March 2022. For updated information, please refer to the official website.
たこ焼き王国

Address

3 Chome-9-8 Chikko, Minato-ku, Osaka, 552-0021

TEL: 06-6567-9194
Hours: Lunch 11:30 a.m.~3:00 p.m. (last entry), Dinner 5:30 p.m.~8:30 p.m. (last entry)
Closed: Monday (Open in the case of a holiday and closed the following day)
*This information is from the time of this article's publication.
*Prices and options mentioned are subject to change.
*Unless stated otherwise, all prices include tax.
Search for International flights