Relaxing in an onsen hot spring is one of the best things about traveling in Japan. Solaniwa Onsen Osaka Bay Tower is an excellent place to experience various hot springs and enjoy various shows.

It's conveniently located for Osaka sightseers, just 8 minutes from JR Osaka Station, and even offers a free shuttle service to nearby Universal Studios Japan. So put on a yukata and feel your fatigue slip away!
Solaniwa Onsen: Kansai's largest hot spring theme park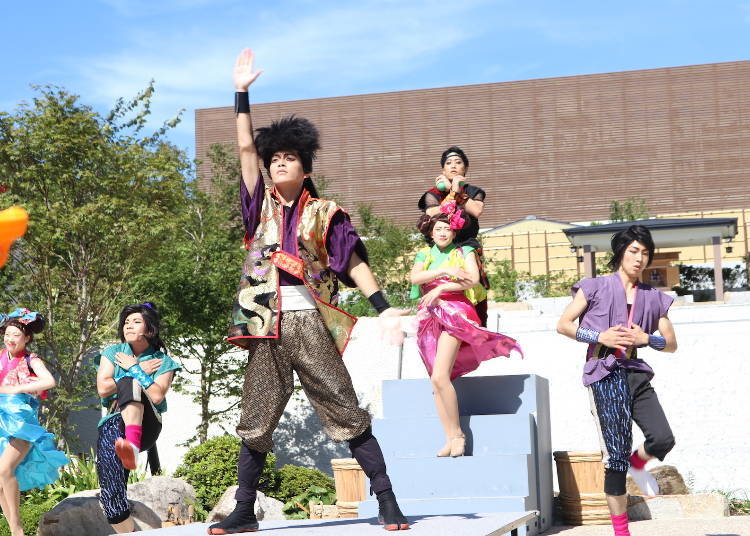 The open-air hot spring opened in February 2019 and really brings the old ways of relaxation in the Azuchi-Momoyama period into the modern world. Walk into the traditional Japanese townscape, and you'll be transformed into a resident of a time gone by.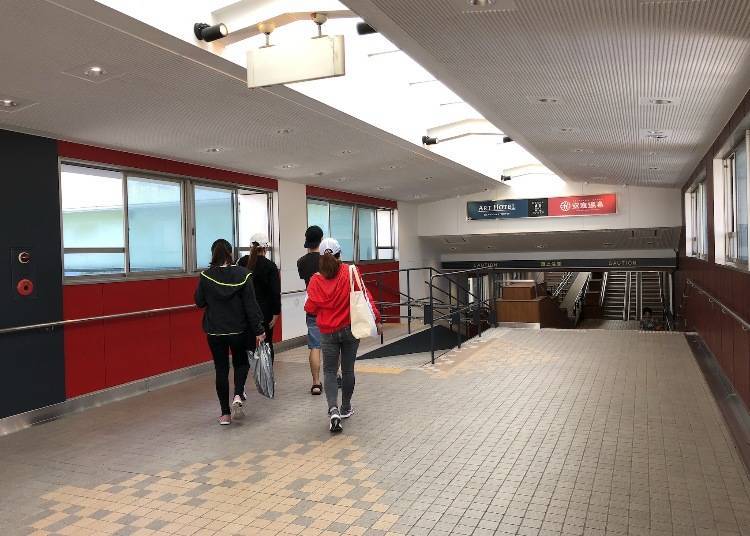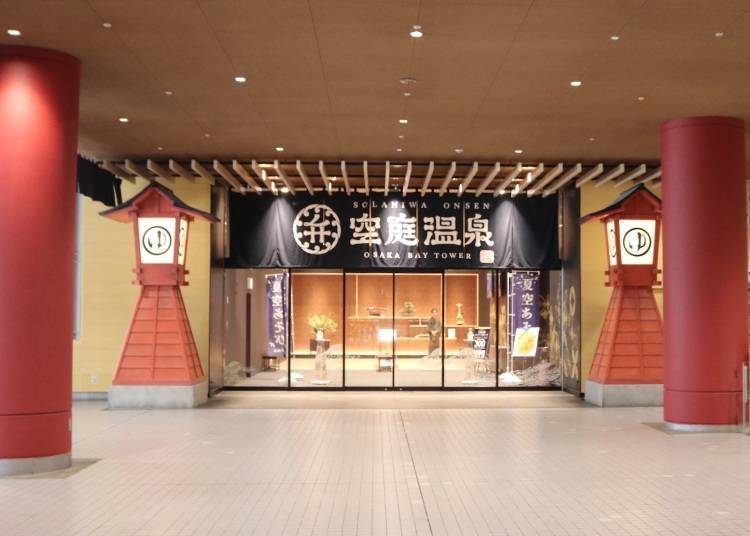 Directly connected to JR Bentencho Station, access to Solaniwa Onsen couldn't be easier. Directions from the station platform to the hot springs are prominently displayed and easy to understand, so it's hard to get lost.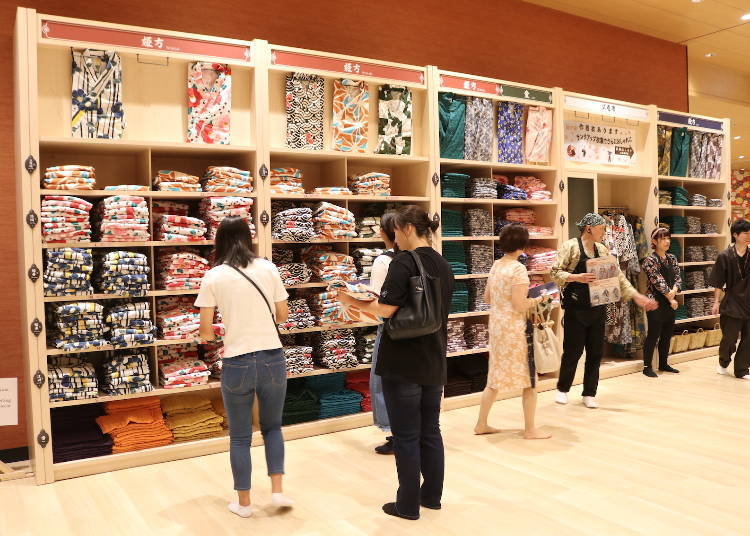 After checking in at the reception desk, choose your favorite yukata! There are seven styles for women, four for men, and two for children. Since shoes are prohibited on the grounds, you can leave yours in this area.

The second floor at Solaniwa Onsen features a restaurant and a shopping area, and a hot stone spa. The third floor is a huge rest area, while the fourth floor is home to a garden where you can enjoy footbaths, and the bathrooms are found on the fifth floor.
Nine different baths at this Osaka onsen!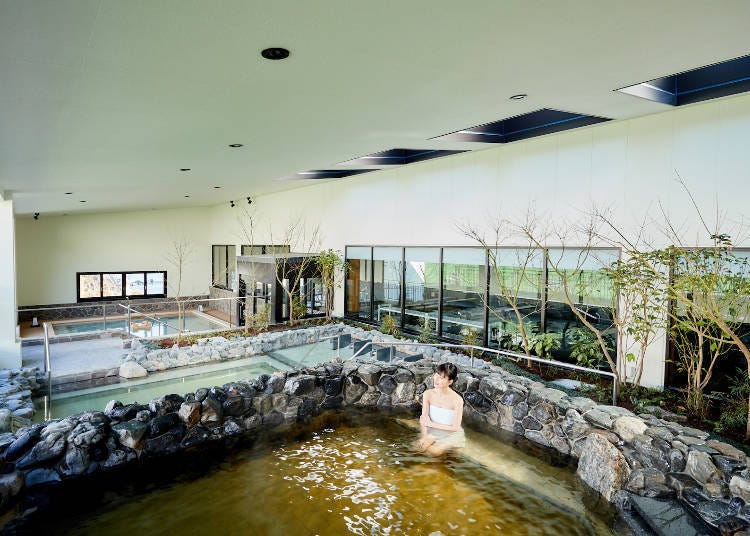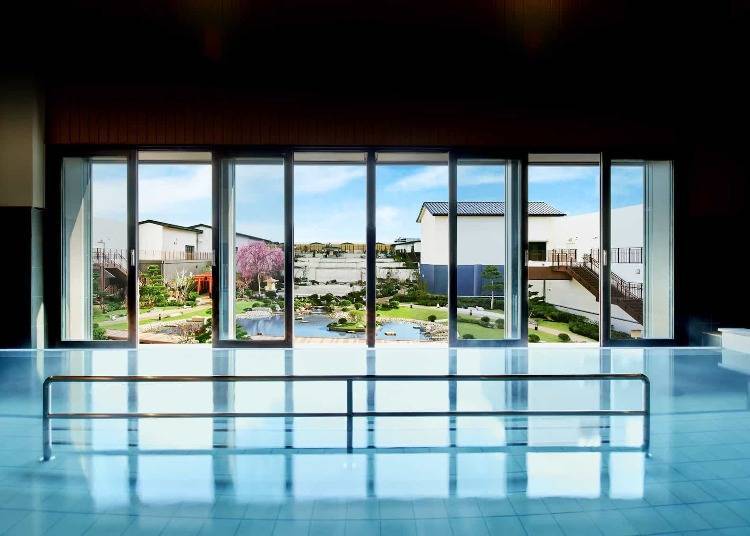 When you come to Solaniwa Onsen, you'll first want to take a relaxing bath and immerse yourself in a sense of freedom. You can enjoy a total of nine types of baths, including an open-air bath where you can feel the nature of the four seasons and a garden-view bath that offers a splendid view of the 3,300 square meter Japanese garden.

Of course, nude bathing is separated into men's and women's baths so that you can bathe with peace of mind.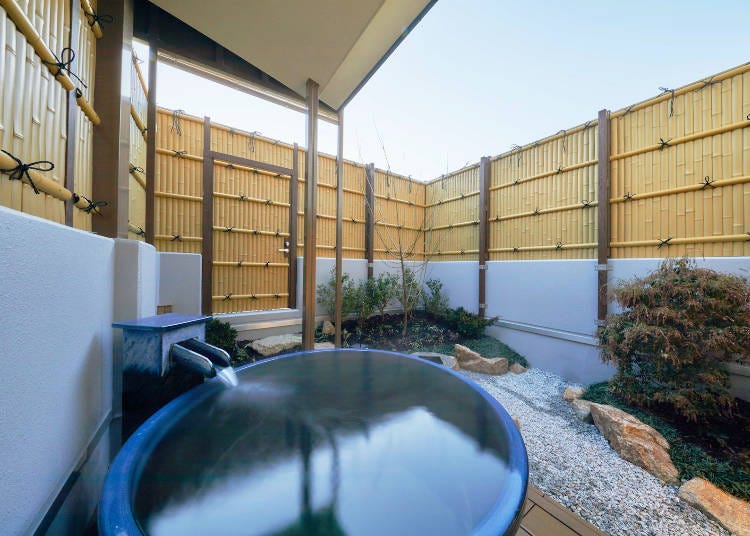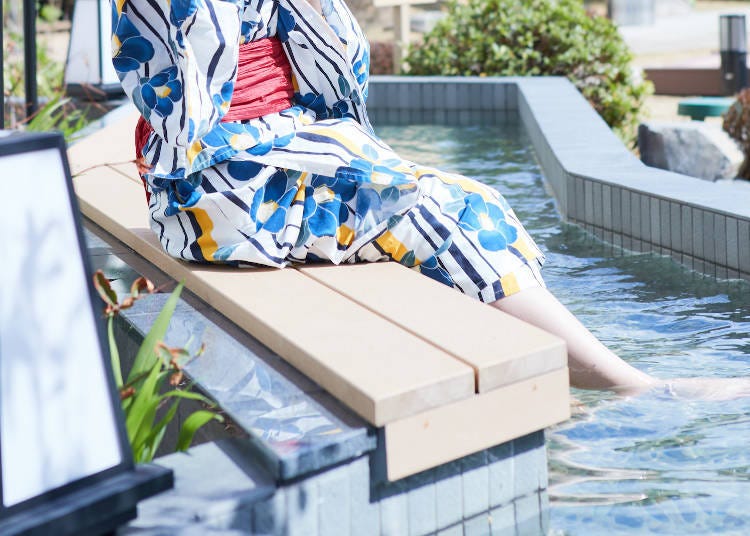 However, private family baths or footbaths where you can relax in your yukata are also recommended. The open-air family baths feature their own gardens, so you can fully appreciate your private space.
Can I visit Solaniwa Onsen with tattoos?
Tattoo-covering stickers are available in three sizes (smartphone for size comparison)
At this particular Osaka onsen, visitors with tattoos can bathe if their body art can be covered with stickers that can be purchased at the reception desk.

The stickers are available in three sizes for 100, 200, and 400 yen, respectively (excluding tax), up to a limit of five per guest. In the individual family baths, of course, you can bathe freely without the stickers.
Shows, shopping, dining ... Solaniwa Onsen is full of fun!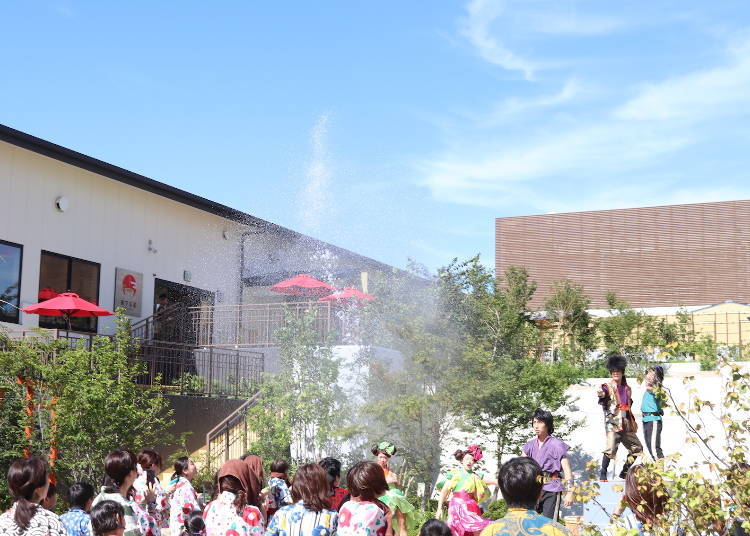 A summer-only "splash show" where you can participate in a water battle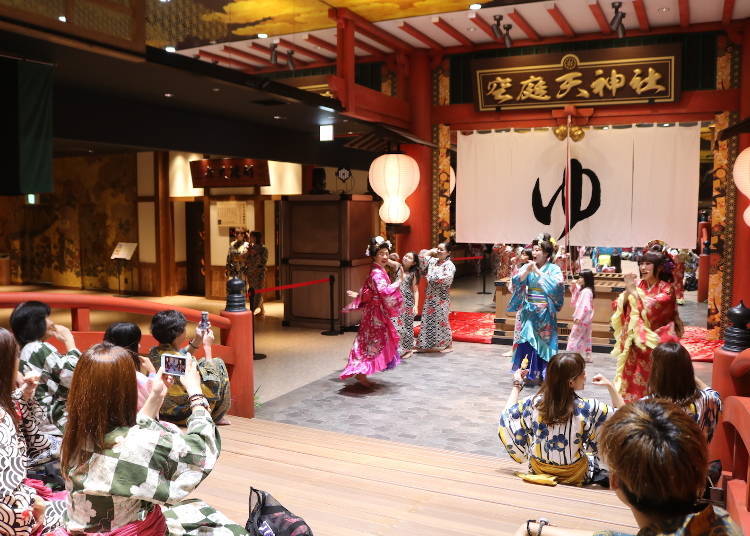 An audience-participation dance show
In addition to bathing, you can enjoy shows, shopping, and dining at this famous Osaka onsen. During the daily shows, performances by figures from the Azuchi-Momoyama unfold before your eyes, drawing you further into that era.

The experience-based shows are a fun way for guests to spend time together while participating!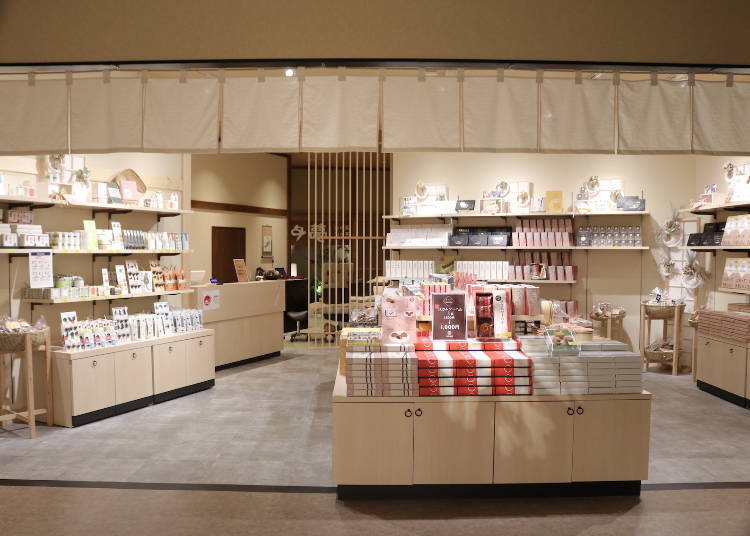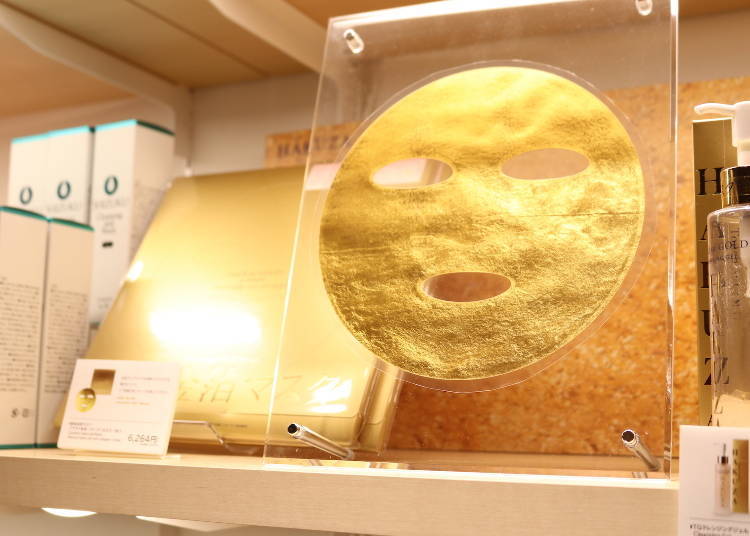 Gold leaf mask 6,000 yen (excluding tax)
The shopping area is divided into sections: "Beauty," "Miscellaneous Japanese Goods" and "Food & Drinks." Many souvenirs unique to this Osaka onsen are available, so it's an exciting place to do some shopping.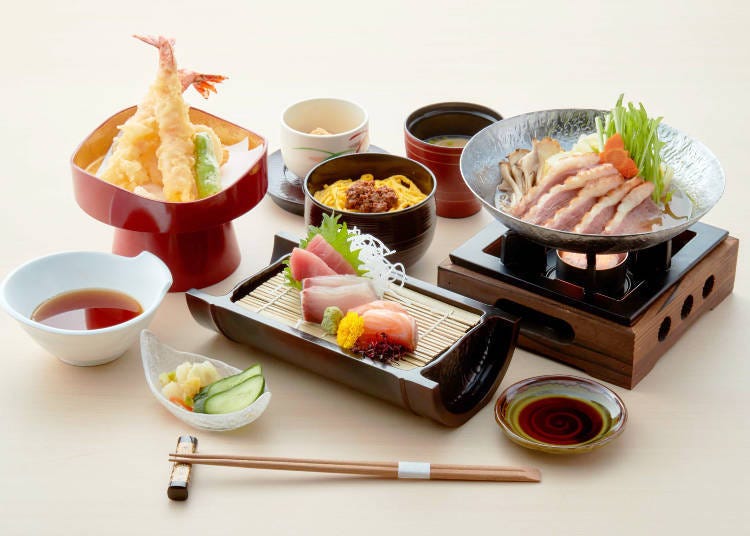 Ukiyotei Gyoen 2,980 yen (tax included)
There are two restaurants: "Kappo Ukiyo-Tei," where you can enjoy creative Japanese cuisine, and "Izakaya Nawanoren," modeled after popular restaurants of the past. If you want to eat traditional Japanese food such as tempura, sashimi, and soba, Kappo Ukiyo-Tei is the place to eat. If you're in the mood for a lighter meal, try Izakaya Nawanoren, which features a convenient touch panel menu with photos.
Costume rentals and photoshoots: Even more fun!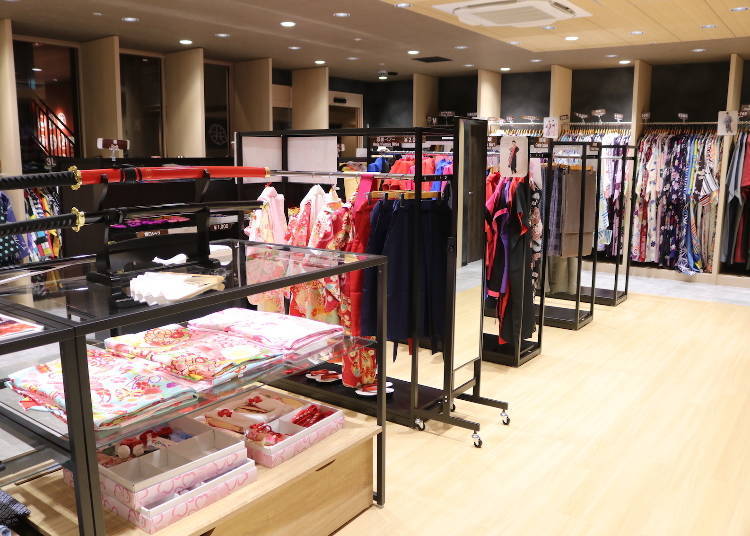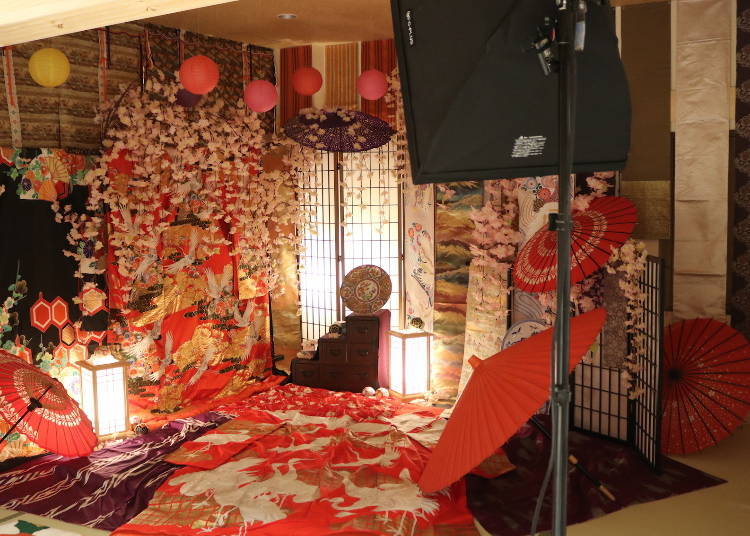 Oiran photo shoot
There are also areas where you can dress up as a townsman or townswoman, ninja, or samurai (charges apply) for a fun photoshoot. The most popular option is being transformed into an oiran (8,500 yen excluding tax). When you enter the studio wearing a glamorous kimono and elaborate hair and makeup, you can leave the rest to the photographer, who will help you create some beautiful Japanese memories!
A fulfilling experience and you'll need more than a day
Since it's open all night, Solaniwa Onsen is a great place to stay on your first night in Osaka. After a relaxing evening bath, you can ease into the next morning before sightseeing in the city. So enjoy eating, dancing, and onsen culture and this fun Osaka onsen theme park!
Solaniwa Onsen Osaka Bay Tower

空庭温泉 OSAKA BAY TOWER

Address

1-2-3 Benten, Minato-ku, Osaka

Phone: 06-7670-5126 (10:00 - 20:00)
Hours: 11:00 - 9:00 the next day
Admission: Adults 2,400 - 2,800 yen, 4 - 12 years old 1,200 - 1,400 yen (under 4 years old free)
* Excluding consumption tax and bath tax
*Additional charges for There is a charge for hot stone spa, dining, and transformation photography
* Additional late-night fee for admission and admission from 1:00 a.m.
Closed: Once a month, irregular days
Text by: WEST PLAN
Book an unforgettable experience in Osaka!
Make your trip extra memorable by booking one of these recommended experiences on our partner site, Voyagin!
*This information is from the time of this article's publication.
*Prices and options mentioned are subject to change.
*Unless stated otherwise, all prices include tax.