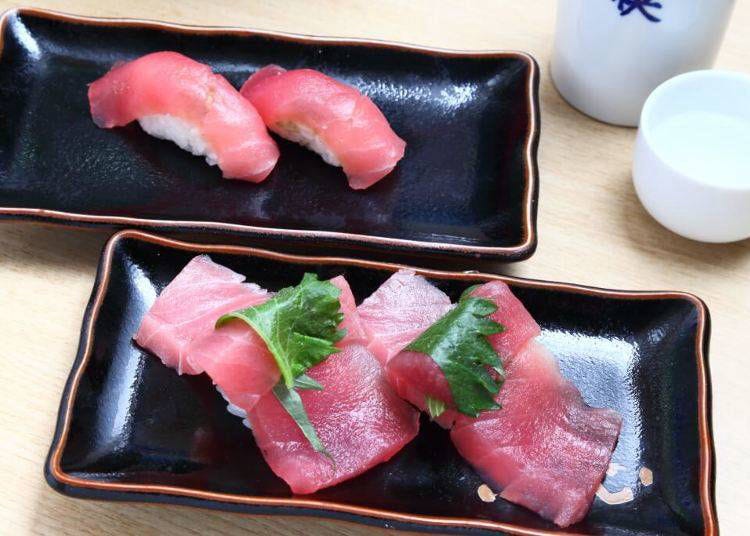 Sushi, one of Japan's most iconic foods, is commonly enjoyed throughout the world in revolving conveyor "kaiten" restaurants and more. Osaka, the home of revolving sushi, is home to a one-of-a-kind establishment that draws in sushi lovers from all over the globe, by serving up hefty portions of sushi - sometimes 4 times bigger than usual - for a reasonable price.

For this article, we visited "Ganso-Bucchigiri Zushi Uoshin" on the famous Hankyu Higashi-dori shopping street, right by Osaka Station.

This long-established sushi joint is a local hit loved for the generous sizes, incredible flavors, and diverse selection. Let's see if it lives up to its reputation!
What Is Ganso-Bucchigiri Zushi Uoshin?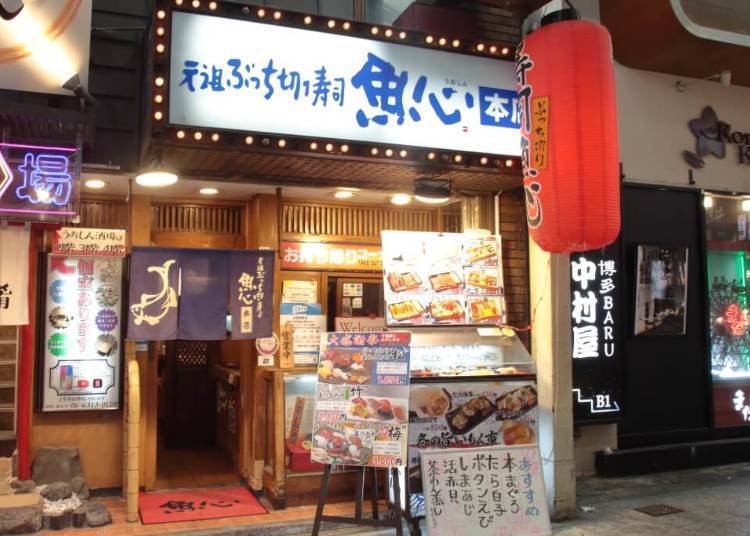 The head shop of Ganso-Bucchigiri Zushi Uoshin can be found by heading down the Whity Umeda underground shopping area by Osaka Station, towards Izumi-no-Hiroba. Exit the underground, and you'll find yourself amongst a bustling shopping arcade full of restaurants called Hankyu Higashi-dori.

Entering from the Shimmido-Suji side, you'll find Ganso-Bucchigiri Zushi Uoshin immediately on your left.

Since its establishment 50 years ago, it has been famed for its generous toppings of sushi, with the name "bucchigiri" meaning "thick slices."

The sushi, roughly cut like a fisherman's meal, became popular due to the irresistible price and excellent flavors. Even after all these years, they remain steadfast in their sizes. They have since expanded to Umeda, Minami, Sannomiya, Abeno Apollo, and Fukushima, forming a total of 6 outlets in the Keihanshin area.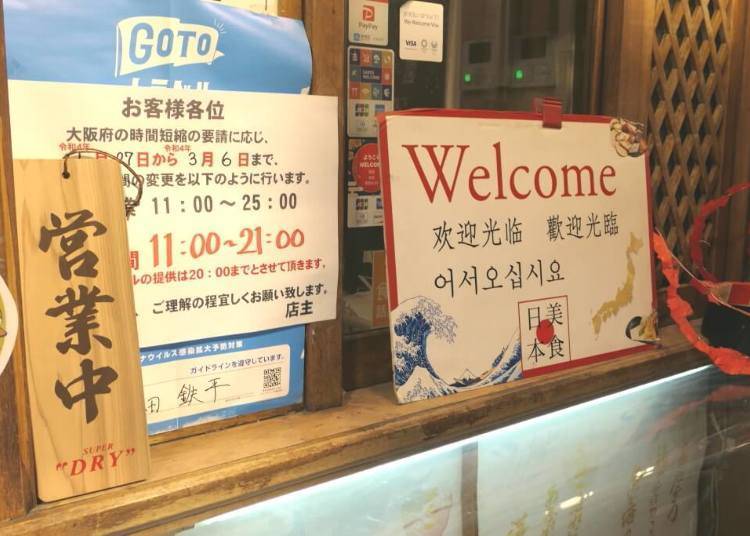 Upon entering Ganso-Bucchigiri Zushi Uoshin, you'll be immediately greeted by a "welcome" sign in several languages. With the store receiving lots of international attention, the owners have strived to make it as friendly as possible.
The front window showcases the sushi on offer and its incredible sizes. I wonder how many of these monsters we can handle?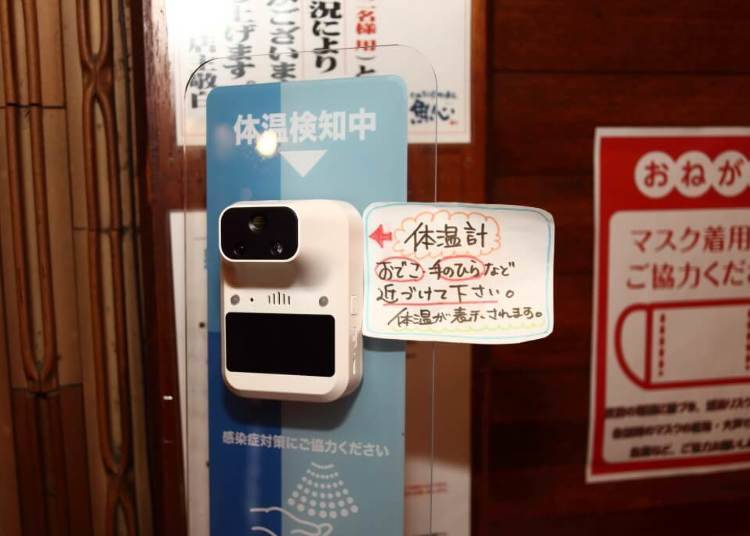 Health and safety measures, such as temperature checks and hand disinfectant, are firmly in place.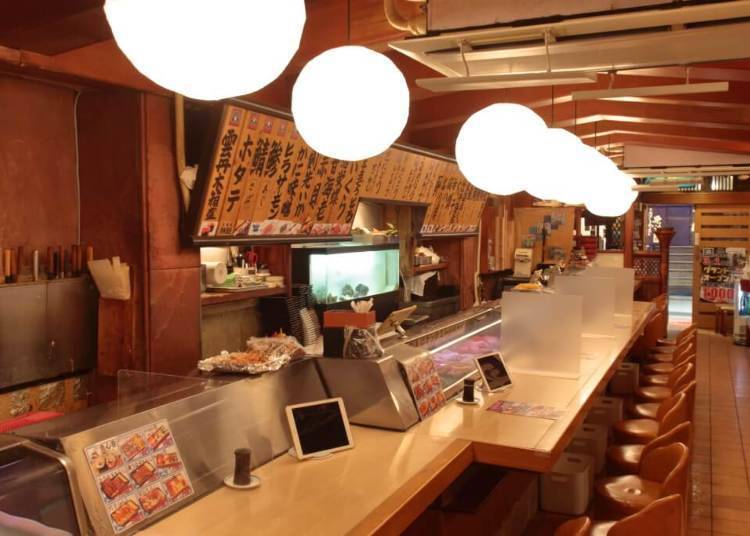 There are 25 counter seats and 4 tables seating groups of up to 4. If you're visiting alone or with a partner, sitting at the counter directly in front of the sushi chef is a fantastic way to see their talents up close and have a chat.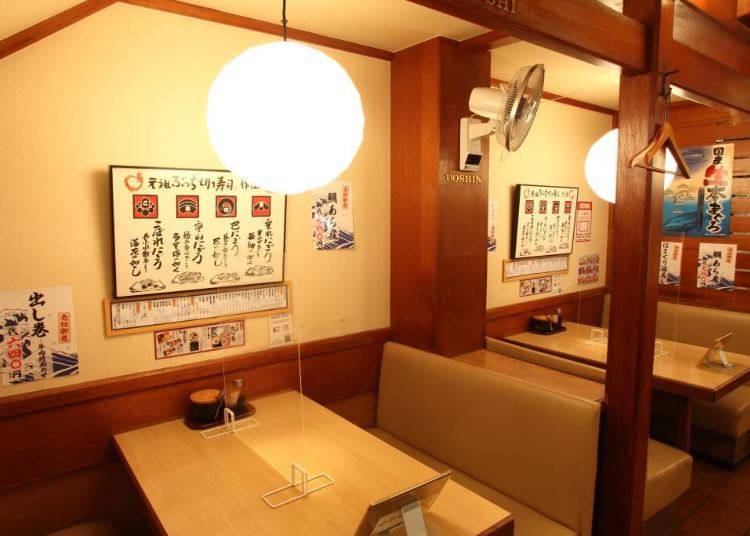 If you're with a group, the table seats are a better fit to share food easily.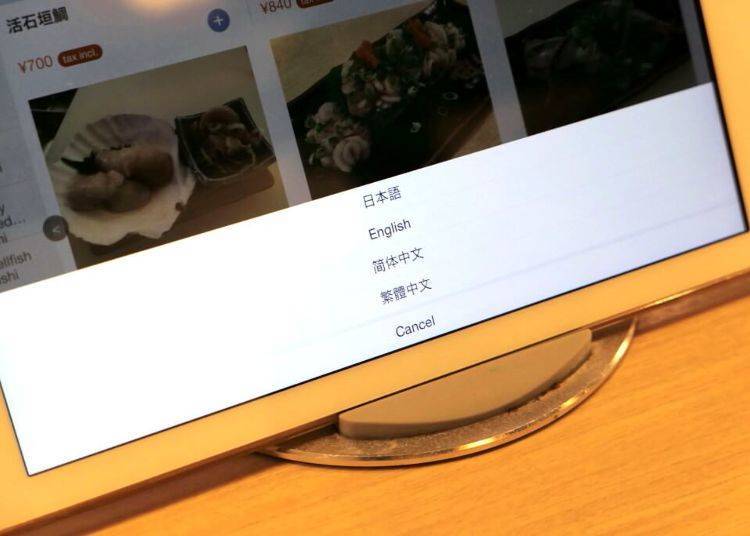 While you can call over the staff, orders are generally done via tablet, which can be changed from Japanese to English or Chinese (simplified or traditional). There are sometimes English-speaking sushi chefs behind the counter too.
The "nigiri" sushi is served two pieces at a time. The tablet displays the ingredients and sizes along with the bill (including tax), making it easy to eat within your budget.

While tempting to order lots right off the bat, those who do so will be warned by staff that you may not be able to finish them all. With this in mind, we recommend holding back and ordering slowly. Each piece is served at peak freshness, so ordering a few at a time is the way to go.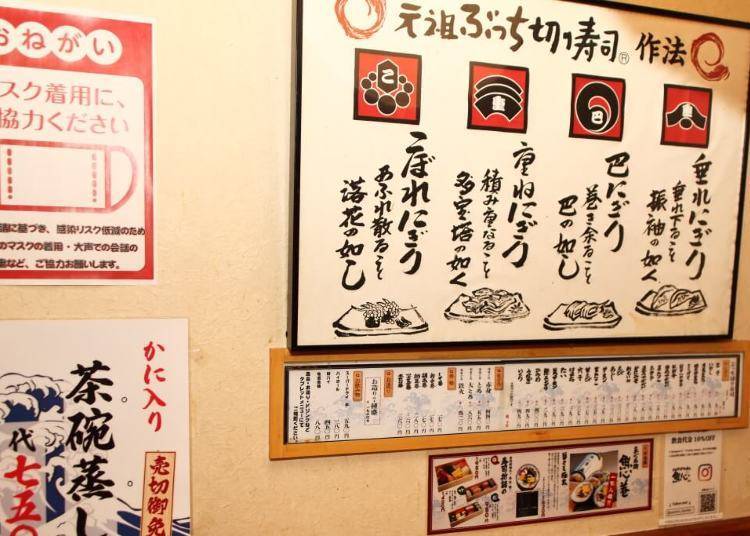 On the wall is a menu and sign explaining the four original styles of sushi at Ganso-Bucchigiri Zushi Uoshin.

These are "tare nigiri," "kasane nigiri," "kobore nigiri," and "tomoe nigiri."

Each is made with the freshest, most high-quality ingredients from across Japan and is designed to be enjoyable to eat despite their voluminous sizes. Particular attention is paid to freshness, taste, appearance, size, and ease of eating.

We ordered from each of the four varieties. The menu fixed to the wall is Japanese-only and displays the price for each individual piece of sushi. Remember that orders come in sets of two, so the price will be doubled.
Sushi #1: Tare Nigiri (Hamachi, Salmon, Eel, Egg)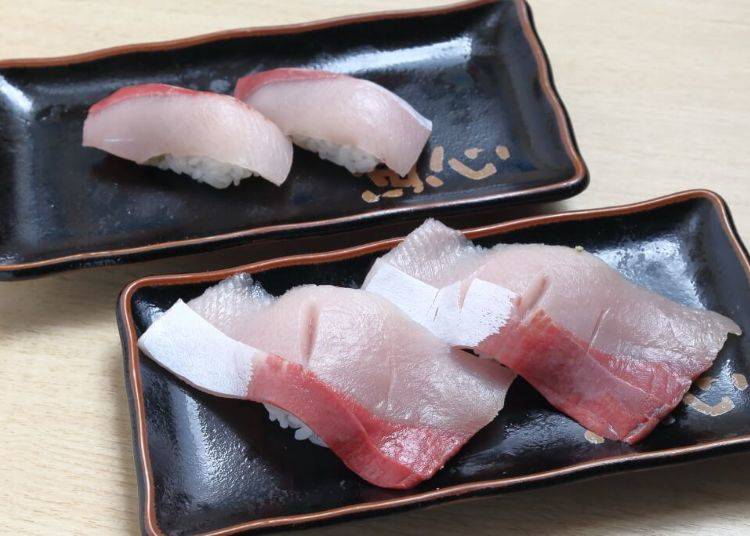 Tare nigiri sees the ingredients hanging down from the rice, almost completely covering it. Such massive sushi is rare in Japan, so we were naturally surprised! This is peak Ganso-Bucchigiri Zushi Uoshin!

The sushi above is the "hamachi" young Japanese amberjack, which is 780 yen (2 pieces, pictured in front). The regular size, which you can spot in the background, measures around 65mm long, 25mm wide, and 10mm thick. On the other hand, Tare nigiri comes in at 120mm long and 50mm wide, making it around four times larger!

*The regular size was specially made for this article and is not served at the restaurant. Same for items introduced below.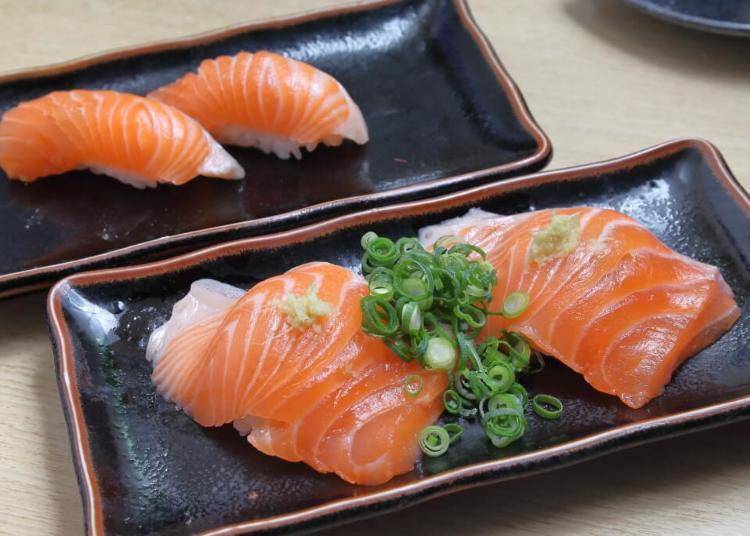 Salmon is 700 yen (2 pieces, in front) and boasts a length of 100mm and a width of 40mm, making it more than three times larger than the regular (back of the photo).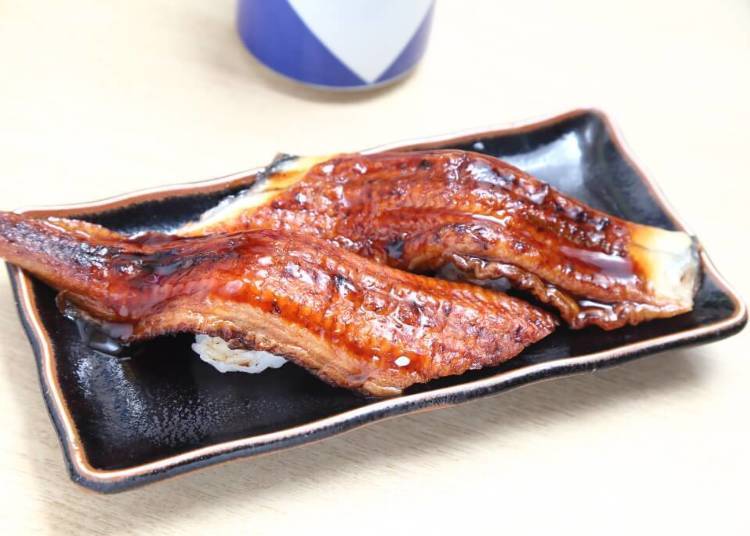 The "unagi" eel is 980 yen for two pieces and comes in at 155mm long and 45mm wide, forming a satisfying light meal on its own. As you can see, the rice is barely visible.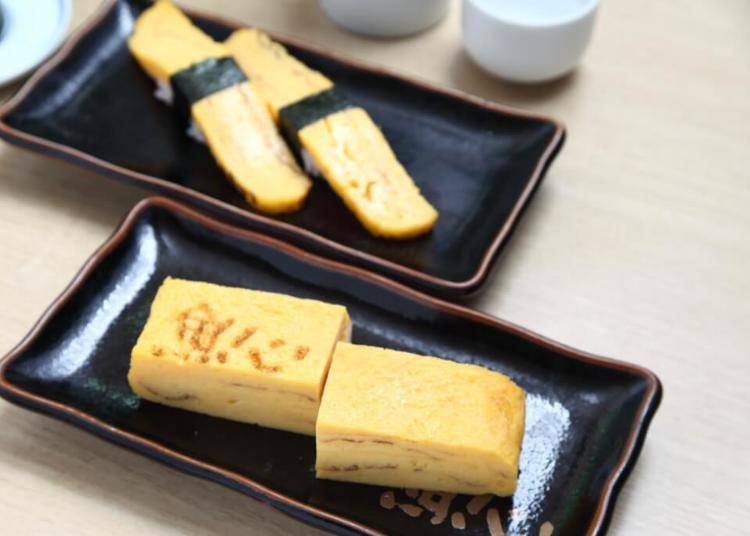 The egg is a thrifty 180 yen for two pieces. Rather than sushi, this is more like baked egg with rice in the middle. They measure 60mm x 35mm x 20mm.

Also within the tare nigiri selection is cuttlefish mentai (2 pieces, 360 yen), common octopus (2 pieces, 500 yen), raw scallops (2 pieces, 560 yen), shrimp (2 pieces, 660 yen), sea bream (2 pieces, 780 yen), and lots more.
Sushi #2: Kasane Nigiri (Raw Tuna)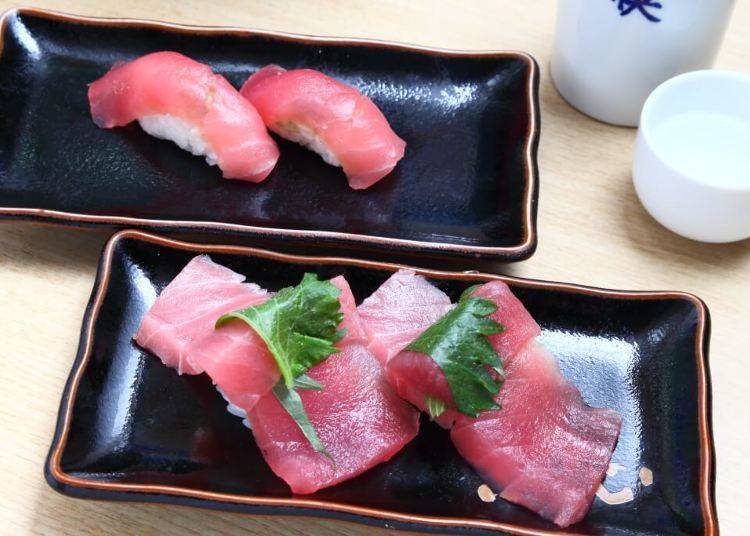 The word "kasane" means "pile" in Japanese, and as one would expect, kasane nigiri boasts two layers for a double helping of sushi. The raw tuna is 440 yen for 2 pieces, each measuring 100mm x 70mm x 15mm, making it a stunning 20 times larger than regular tuna sushi! And with a second piece heaped on top, it has a chunky, satisfying bite at a shockingly low price.
Sushi #3: Kobore Nigiri (Ikura, Shrimp Avocado)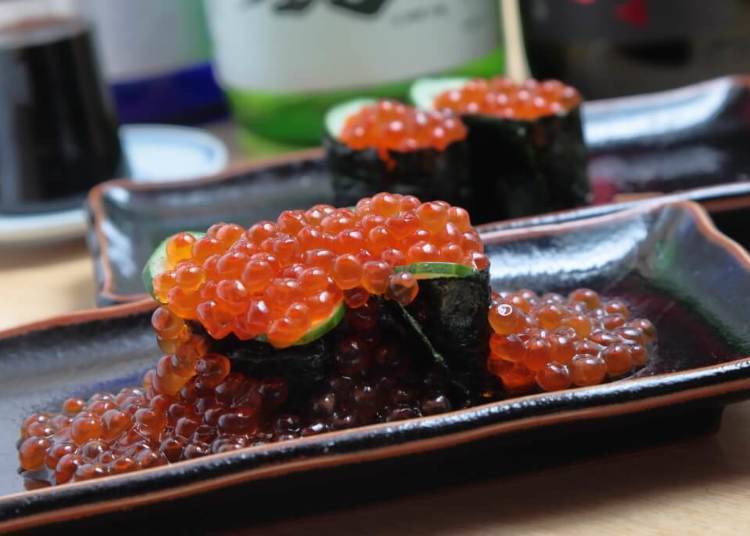 "Kobore" means to "spill" or "overflow," so you can probably guess what's coming next! The classic kobore nigiri is the "ikura" salmon roe, which is priced at 980 yen for 2 pieces. Despite the sizable diameter of 43mm, the enormous helping of salmon roe spills out all over the plate, making your mouth water at the pictures alone.

Comparing it to the neat, tightly-packed regular ikura sushi in the background above, this super-sized rendition comes with a staggering five times as much salmon roe shoved inside.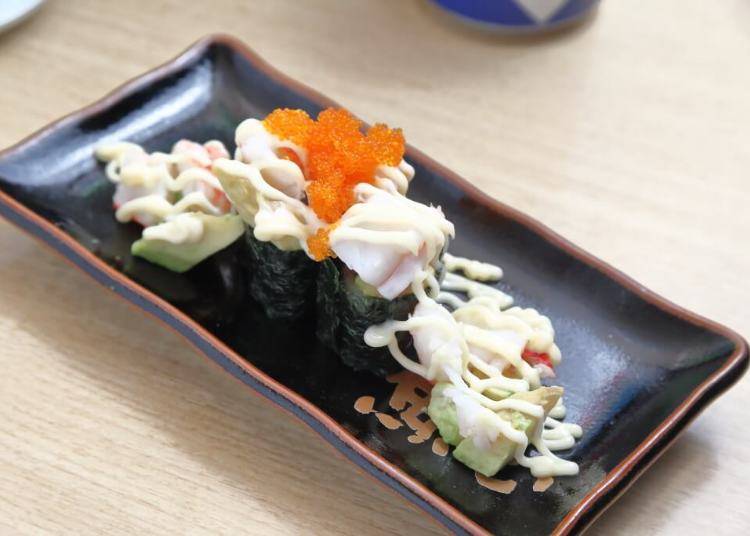 The shrimp avocado costs 440 yen for 2 pieces and offers a refreshing, palate-cleansing taste popular with those not used to eating raw seafood. As you can guess, these are also super-sized, with the avocado literally falling out of the rolls.

Other notable kobore nigiri includes "tsukimi tororo" (2 pieces, 180 yen), tobiko (2 pieces, 380 yen), and more.
Sushi #4: Tomoe Nigiri (Conger Eel)
The "tomoe" is a traditional Japanese pattern resembling a vortex. Uoshin's innovative tomoe nigiri sushi winds the rice around the topping, with an additional tail sticking out the end.

"Anago" conger eel sushi is 740 yen for 2 pieces. This tomoe creation is an impressive 180mm x 45mm, making it four times the regular size (90mm x 25 mm).
We Accepted the Bucchigiri-zushi Challenge!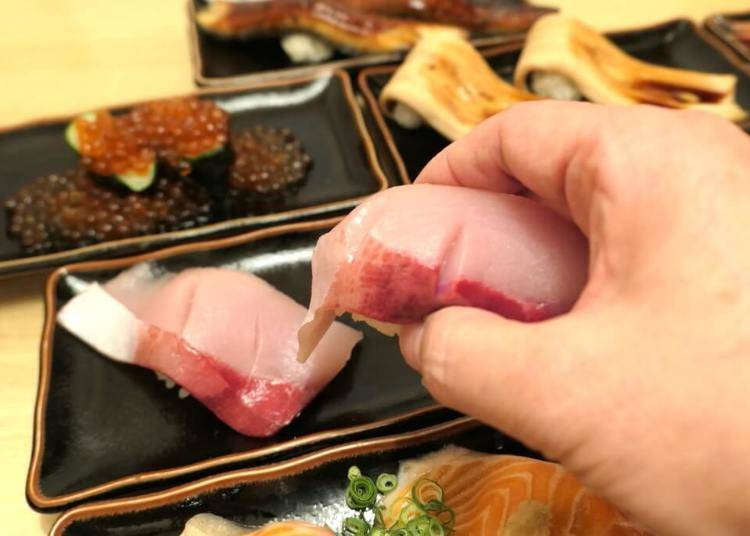 Having reviewed all the scrumptious offerings listed above, we couldn't wait any longer to dive in! Most of the seafood is meant to be dipped in "Murasaki" soy sauce before eating, eliminating any fishy odors and killing any lingering bacteria.

Of course, it also enhances the taste by drawing out the "umami" flavors of the fish. Just be careful not to spoil it by adding too much soy sauce or getting it on the rice.

While eating with chopsticks is perfectly acceptable, nigiri sushi is traditionally eaten by hand. However, the massive portions make it hard to handle - especially when flipping it upside down to dip in the soy sauce.

For this, the store manager Mr. Murata has some advice: "Believe it or not, it's actually easier to eat our sushi with chopsticks. However, if you can't manage, we are perfectly happy to provide forks, so don't hesitate to ask!"
While sushi etiquette dictates the pouring of soy sauce into a small dish to be dipped with sushi, this is quite a challenge at Ganso-Bucchigiri Zushi Uoshin!

Because of this, it has become the norm to simply pour the soy sauce straight from the bottle onto the sushi (a brush was also available before COVID-19). This way, there's absolutely no risk of your sushi falling apart!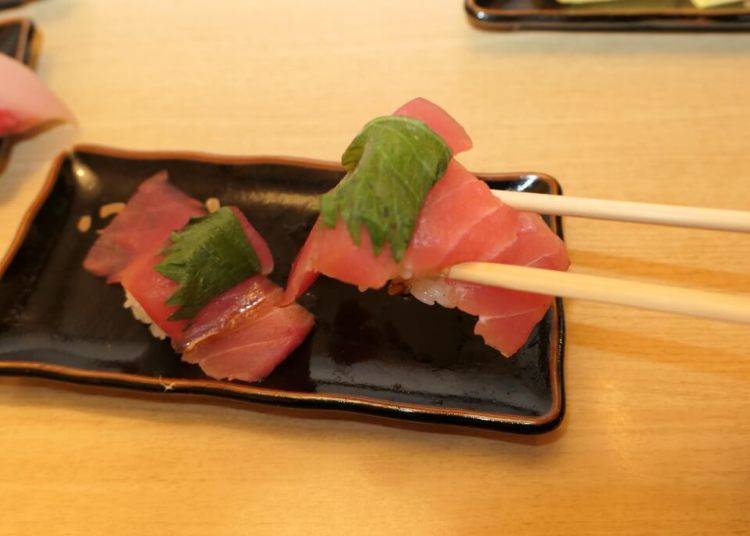 We started with "hon-maguro" tuna sushi. Despite the size, it had a soft mouthfeel and fresh taste, and we were able to eat it in around three bites. At this rate, I think we'll be able to handle a lot more!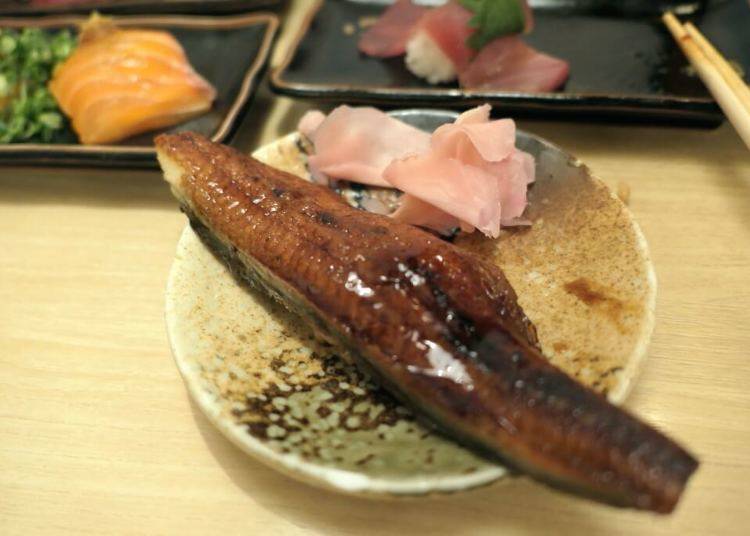 Next up, the "unagi" eel, which would barely fit on the plate! This was a lot bulkier, making our stomachs start to feel full.

The pink stuff on the plate is "gari," which is made from sliced ginger pickled in vinegar. It serves as a palate cleanser while also removing the raw odors of fish and eliminating bacteria. It has a refreshing spiciness with a hint of sweetness and should only be eaten a little at a time.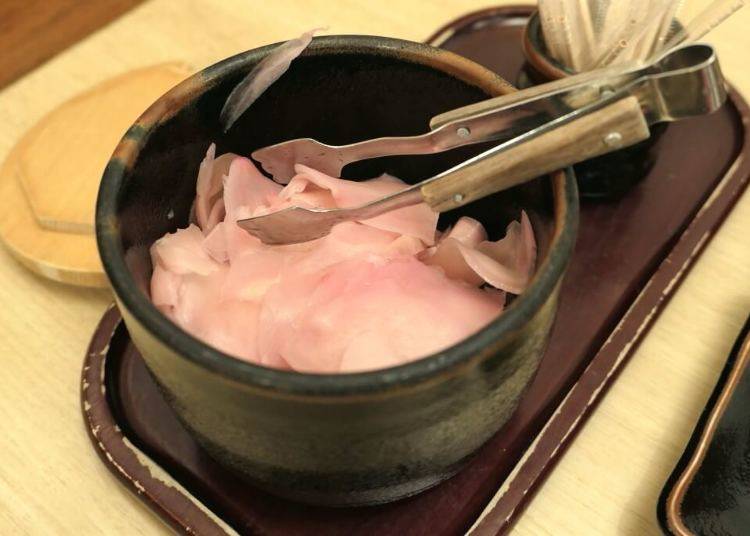 We recommend a bite of gari between each different type of sushi. It will help to accentuate the flavors and reset your taste buds to ensure maximum enjoyment. Use the mini tongs to place the desired amount on your plate, and don't eat straight from the container.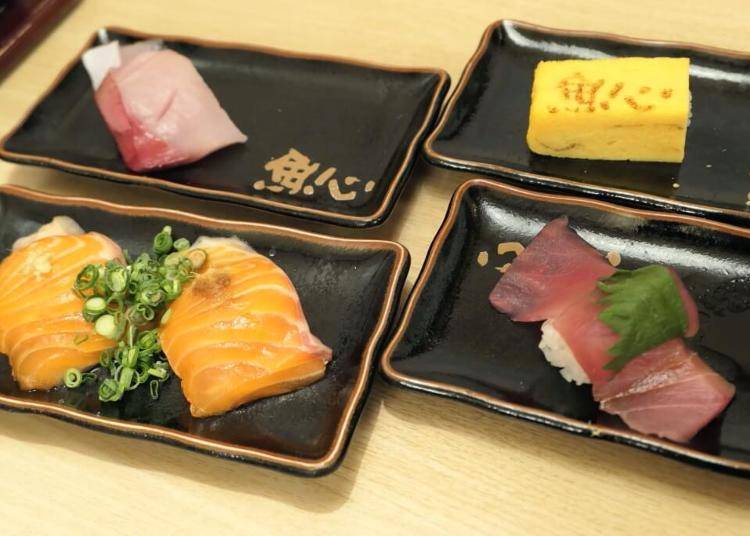 After five pieces of sushi, we felt we had reached a good stopping point. The average customer apparently eats around 5 plates (10 pieces), but we think we did a decent enough job! If you wish to sample a whole bunch of different sushi types, then it's probably best to visit as a group and share.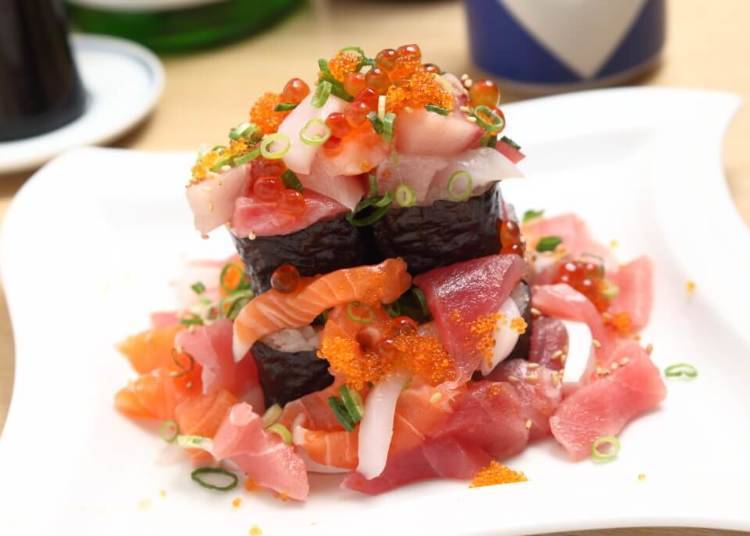 This is the "Pagoda Special," built from a colorful assemblage of 6 thin "hosomaki" sushi rolls surrounded by a deluge of fresh tuna, salmon, hamachi, squid, salmon roe, and tobiko (960 yen). This sushi salad is one of the most popular choices for international customers.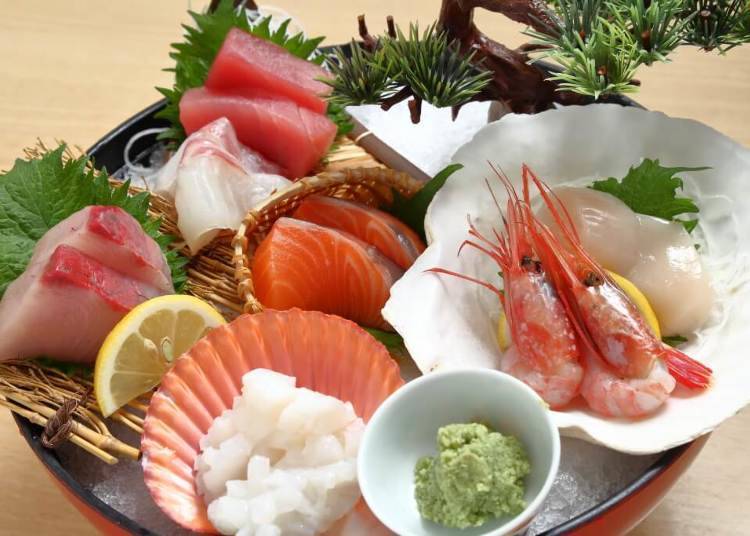 This is the "7 Types of Fresh Sashimi Platter" (1,980 yen). It features an arrangement of fresh, seasonal sashimi (2 pieces per type) and is also a hot choice for regulars. We were utterly spellbound by the vivid colors and gorgeous design, bringing to mind a Japanese garden. The ingredients change depending on the availability of the day.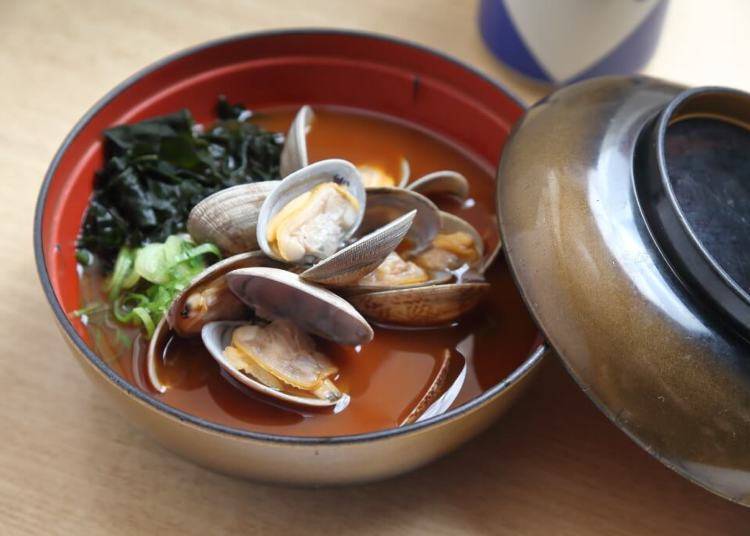 You can also order miso soup jam-packed with ingredients and flavored with rich red miso paste. The content and price change depending upon what's fresh. When we visited, it was a clam-based soup for 640 yen.
What if I Can't Eat It All?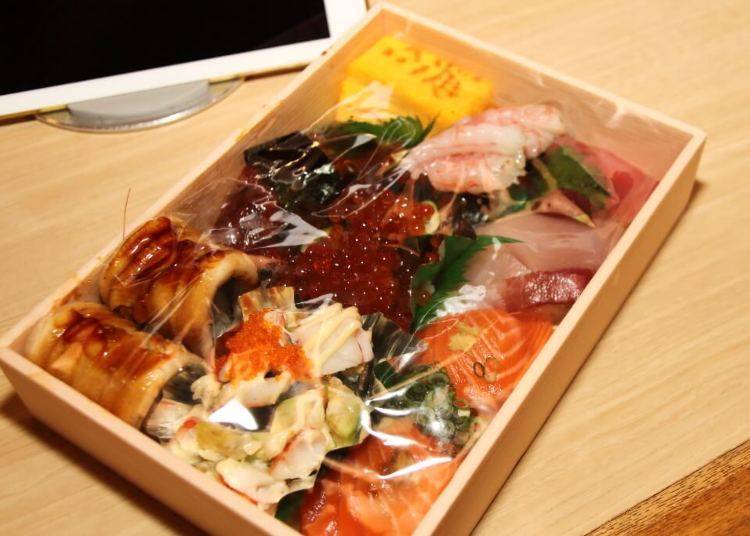 Thankfully, if you can't finish what you ordered, you are free to take the leftover sushi home! Call the staff and let them know, and they'll kindly pack your sushi into a take-out box. However, we still think it's best to pace yourself by ordering one at a time.
Recommended Mega-Sushi Souvenirs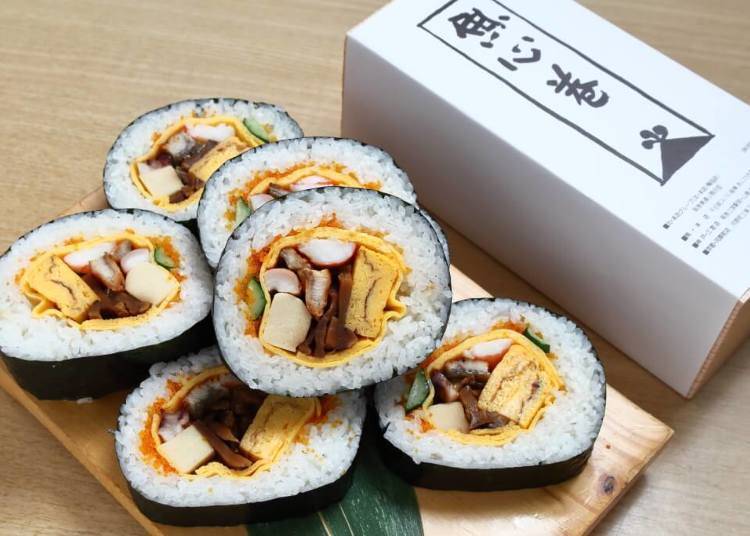 We highly recommend the famous "Uoshin Maki" for 1,620 yen for something to take home.

These "futomaki" sushi rolls are jam-packed with 7 different ingredients: shrimp, octopus, eel, cucumber, egg, koya, and tobiko, weighing a whopping one kilogram! It has been cut into 7 sections of around 3cm with a diameter of 9cm, making it easy to eat without preparation.

As these are for take-out only, they can't be ordered or eaten in the restaurant, making them a popular treat for customers to bring home or give to friends and family.

(*The image above was arranged especially for our photo shoot.)

Health & Safety Measures
Indoor disinfection measures taken - Sanitizer installed - Disinfected after each guest leaves - Ventilation measures in place - Coin trays used - Staff wear masks, gargle, wash hands regularly, and monitor body temperature - Limited capacity/increased space between seats - Entry declined to anyone who is feeling unwell - Guests asked to wear masks and sanitize hands when entering shop
Savor the Tastes of Sushi Perfected Over 50 Years!
Nowadays, there are numerous sushi establishments specializing in large servings in Japan. However, Ganso-Bucchigiri Zushi Uoshin was founded 50 years ago, and is a true pioneer in the genre.

Amassing a wealth of knowledge through decades of trial and error, their offerings are leagues apart from newcomers.

While significantly more expensive than your run-of-the-mill sushi, each uses between 3-4 times more ingredients and is some of the most delicious you'll ever taste. We're confident that, after eating your fill, you'll be commenting on how good a deal it was!

While it's perfectly fine to visit alone, we think Ganso-Bucchigiri Zushi Uoshin is best enjoyed alongside friends and family as a group, allowing everyone to sample a wide range of styles and ingredients.

There are also limited lunchtime-only options available, such as the Bucchigiri Sushi Platter, so it may be a better idea to first visit during the afternoon to understand better what's on offer!

(*Opening hours and details may change due to COVID-19 government policies.)
Ganso-Bucchigiri Zushi Uoshin Main Store

元祖ぶっちぎり寿司 魚心 本店

Address

5-4 Doyamacho, Kita Ward, Osaka City, Osaka 530-0027

Phone Number

06-6313-0135

・Hours: 11:30 a.m. - midnight
・Closed: Open daily
Written by: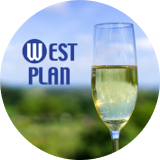 *This article is accurate as of April 2022. Confirm the latest information on official websites before making plans.
*This information is from the time of this article's publication.
*Prices and options mentioned are subject to change.
*Unless stated otherwise, all prices include tax.