There seem to be a lot of rumors and misconceptions around the "proper" way to eat sushi.
1. How to Eat Sushi: Chopsticks or Fingers?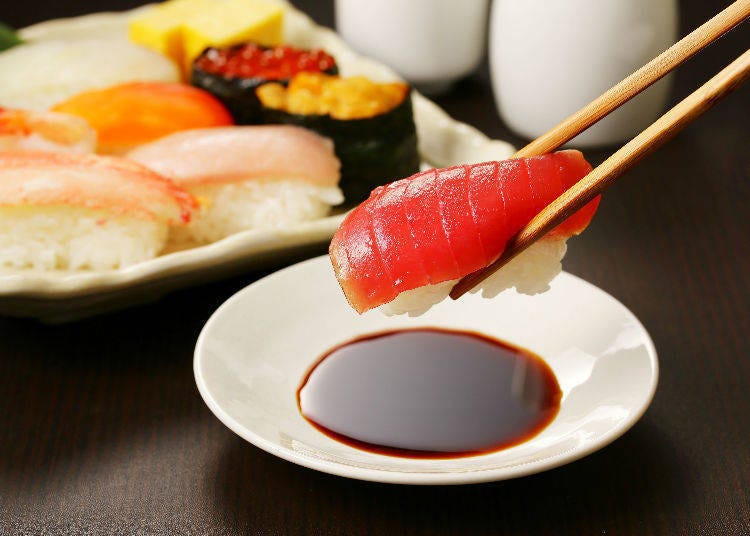 First of all, it does not matter whether you use chopsticks or simply eat with your fingers – both are perfectly natural and acceptable. The important point here is to not make it fall apart as you dip it in the sauce. Sushi rice has a lot of air between the grains to make it nice and fluffy on your tongue. If you soak it with soy sauce too much, the rice will fall apart – that doesn't only ruin the appearance, but also the intended flavor. It's better to use your hands if you notice the rice being particularly airy or if you're not too confident in your chopstick skills. You're always served a wet towel called oshibori to wipe your hands with so that they're nice and clean for your sushi experience.
2. How to Eat Sushi: Soy Sauce Dipping Tips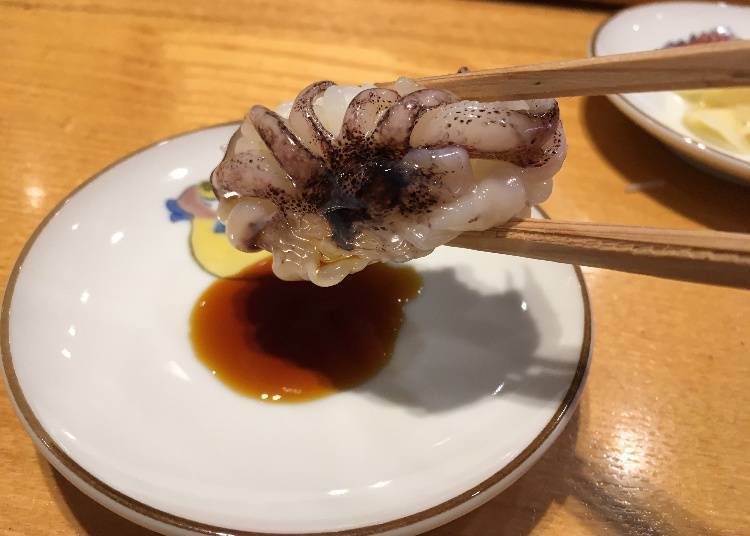 Turn the nigiri to the side and dip the topping.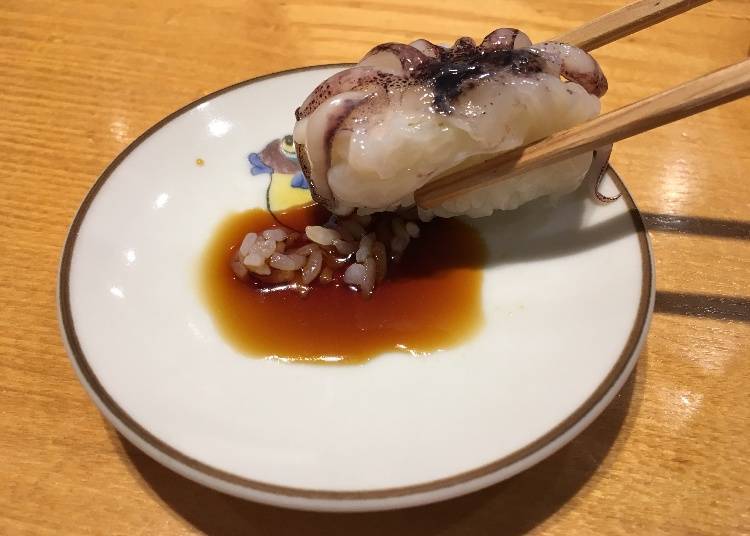 Don't soak the rice in soy sauce.
It's not just your imagination – dipping sushi in soy sauce is one of the biggest hurdles when it comes to eating the healthy delicacy! The best way to get a decent amount of soy sauce on your nigiri is to turn it sideways and dip the tip of the topping. While it may seem easier to dip the bottom of the nigiri, the rice soaks up too much soy sauce. That doesn't only make it too salty but might also cause it to fall apart.
3. How to Eat Sushi: Dipping Battleship Sushi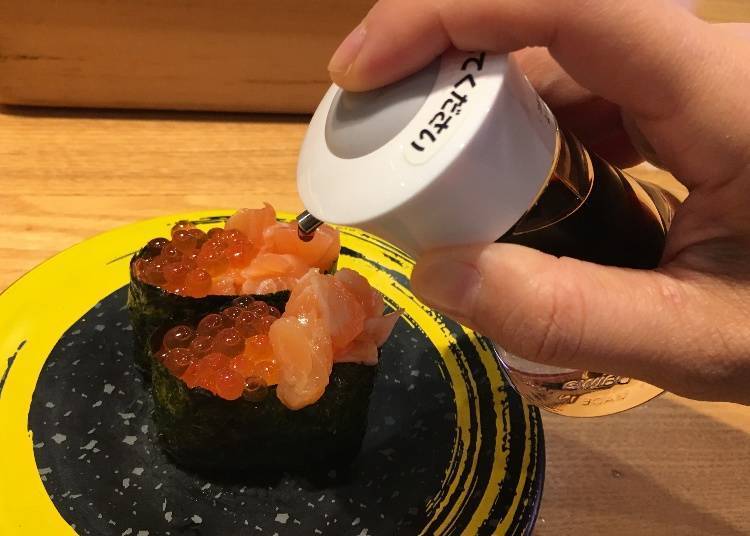 The battleship sushi or gunkan-maki is made by forming rice to an oval shape, wrapping nori around it, and topping it with whatever you like. Because it's so simple to make, it's a popular variety to make at home. The classic toppings such as salmon roe or sea urchin easily fall out, however, so turn it just a little bit and dip the seaweed in soy sauce.

Recently, spray type soy sauce has become popular at all kinds of sushi restaurants as well. Feel free to use it and directly spritz a bit of soy sauce on the toppings.
Some sushi toppings are served already seasoned, in which case you don't need any soy sauce at all. The chefs prepare every piece in a way they deem to be the most delicious, so even if you're a fan of plenty of soy sauce, give it a try just the way the chef intended. Classic examples of this are boiled conger eel and eel, as they come coated in a special sauce already. The rule of thumb is that soy sauce is unnecessary whenever there's another sauce on the topping.
4. How to Eat Sushi: In One Bite or Two?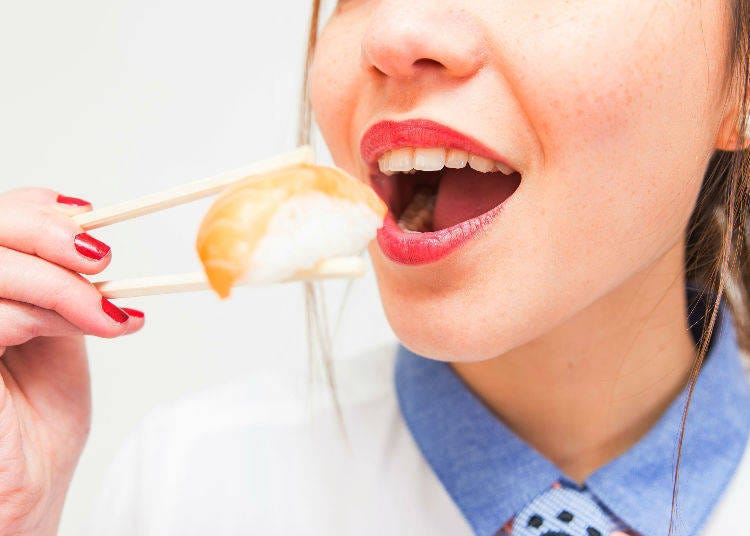 Nowadays, one plate generally offers two pieces of sushi. Up until the 1940s, however, there was only a single piece served that was as big as a onigiri rice ball, impossible to eat in just one bite. While the amount of rice has stayed the same, sushi chefs have split it in two, creating two portions that are supposed to be the size of a single bite – and that's the best way to eat sushi! Trying to bite one piece in half is not only difficult, it often causes the sushi to fall apart.
5. What's up with wasabi?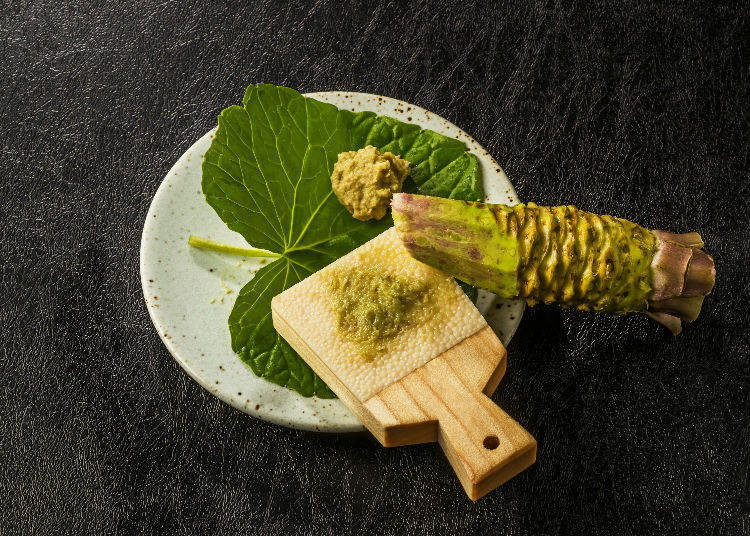 Wasabi is more of a condiment than anything else. The sushi chef has already dabbed your sushi with just the right amount for flavor - though it might very well be under the fish itself. If you find yourself wanting to zest up your dinner, begin with a tiny amount and place it directly on the fish for eating.

As sushi has become quite popular outside of Japan, these days it is fairly common to see people mix their wasabi in their soy sauce to use as a dipping sauce. Inside Japan, while this is technically not exactly standard practice, it is also fine to do.
6. So how to use the ginger?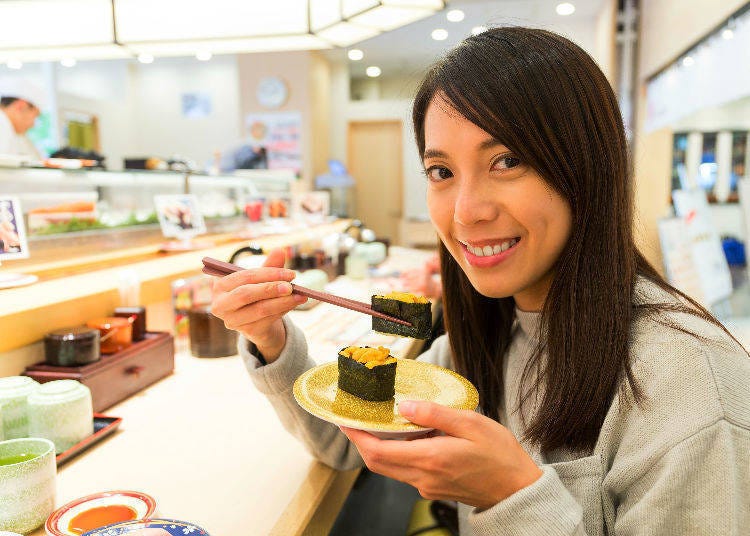 Ah the delicious pickled pink ginger. Not only does it have an aesthetic appeal when served with the sushi, it's intended to refresh the palate between mouthfuls of sushi. When you're shifting to a different type of fish, have a quick bite of ginger and get your mouth ready to indulge in a new flavor.
So there we have it! Six of the more commonly-asked questions about sushi. But if you are curious about how to eat one of Japan's most famous foods (or other elements of Japanese culture), be sure to subscribe to our Flipboard magazines below!

*This information is from the time of this article's publication.
*Prices and options mentioned are subject to change.
*Unless stated otherwise, all prices include tax.