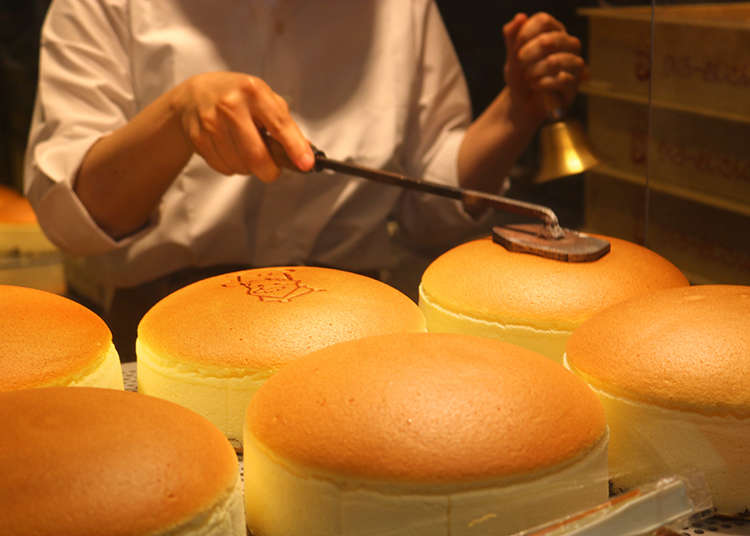 Rikuro's Cheesecake is an Osaka bakery renowned Japan-wide for fresh and fluffy cheesecakes. Excluding train station outlets, all cheesecakes are baked fresh and in-store, filling the surrounding streets with sweet aromas passersby can't resist!

There aren't any Rikuro's Cheesecake shops outside Osaka, so if you're exploring the vibrant Kansai metropolis, don't miss out on getting your cheesecake fix!

Today we're going to introduce Rikuro's Cheesecake Namba Honten outlet, which, along with classic cheesecake offerings, boasts a stylish café serving coffee and cakes in-store! Measures to curb coronavirus spread are thorough, so you can dine in peace!
Soft, Jiggly, Fresh – Osaka's Most Beloved Cheesecake!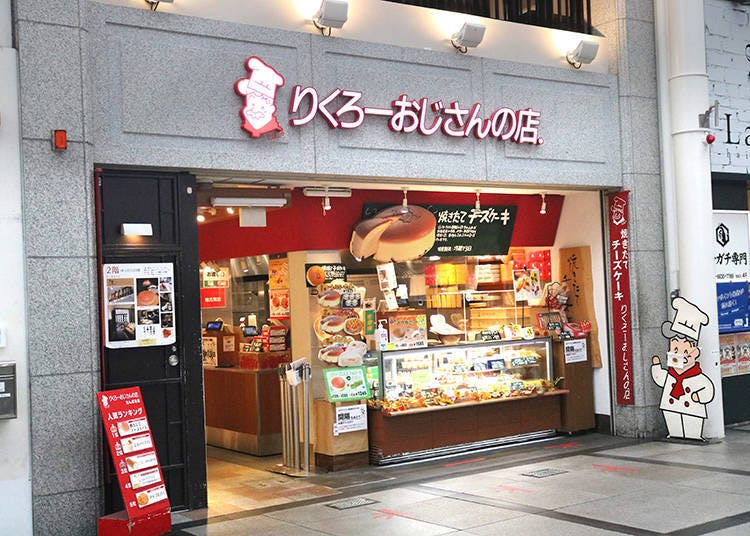 Rikuro's Cheesecake Namba Honten
Rikuro's Cheesecake Namba Honten can be found in the bustling Ebisu Bashi-Suji Shopping Street, a 5-minute walk from Osaka-Namba Station.

After each cheesecake is cooked, the staff will ring a bell letting customers know their order is ready – a nostalgic sound known to all the locals! Best of all, each cheesecake costs just 735 yen – a great deal considering the size and quality!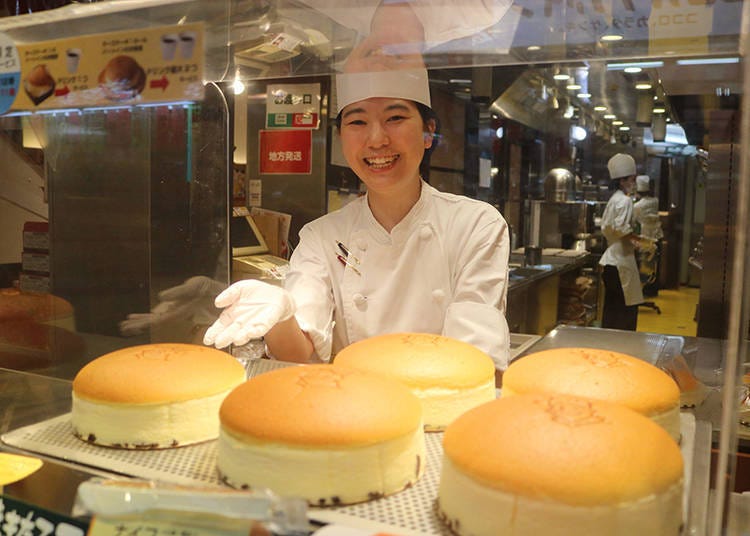 Freshly baked cheesecakes lined up at the storefront
Once a hidden gem beloved by locals, it has recently started trending on social media, making it a hit amongst trendy shoppers looking for the next big Osaka thing! Their cheesecakes have already become a popular Osaka souvenir for Japanese travelers to bring back to their hometowns.

They have expanded to an impressive 11 locations, all of which are in Osaka City. While they have an online shop, if you want your cheesecake fresh, you've got to make the trip to Osaka!
The cheesecakes are all baked in the designated 'cheese kitchen' on the 1st floor. There are two varieties, freshly baked and regular, both of which are the same price. If you want a fresh cheesecake, be prepared to have to wait in line! We promise it's worth it, though!

The store contains 12 ovens which can bake 12 cheesecakes simultaneously. During regular hours, cheesecakes are baked every 10 minutes, which is shortened to 7 minutes during peak times. This efficient system makes wait times surprisingly short, so you'll be able to devour your cake in no time!

The regular cheesecakes, which are baked in advance on the same day, are likewise delicious and offer a way to beat the lines. Many locals opt for the regulars, as the line for the freshly baked can be fearsome. You'll likely spot Rikuro's Cheesecake fans snap up to 5 cakes at a time to share with families and friends later!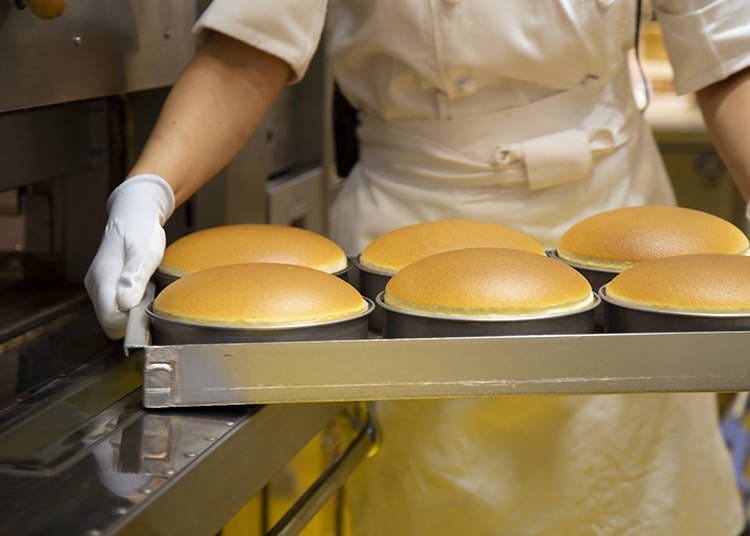 Freshly baked cheesecakes are taken out of the oven and immediately rested upon a tray. Rikuro's cheesecake's logo is then seared on the top of the cake with a branding iron right in front of your eyes.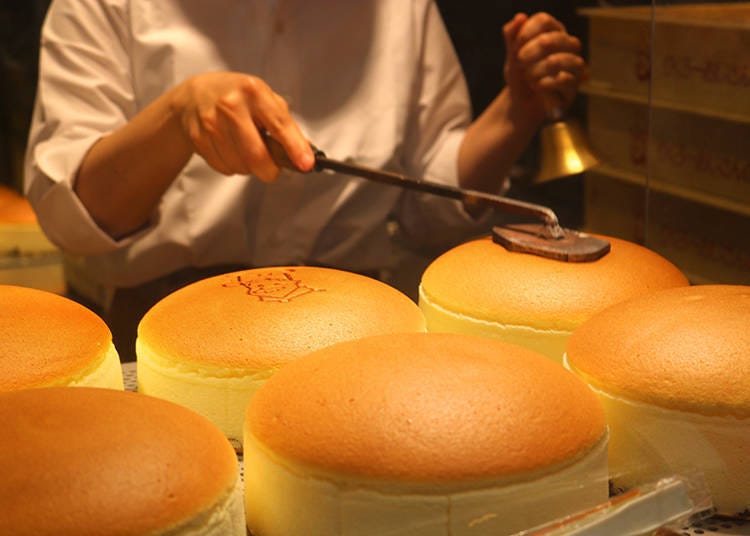 The chef rings the bell while branding the cheesecake
The satisfying jiggle of the cake's spongy body while being branded will whet your appetite and make you want to start tearing at it straight away!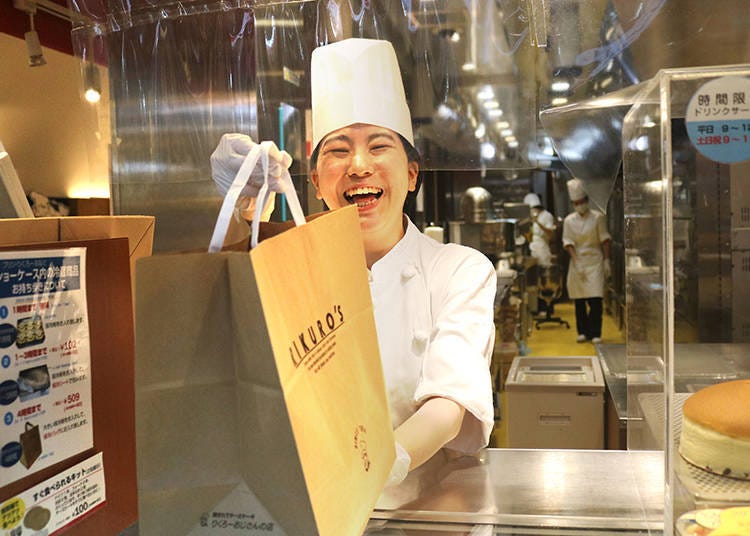 The cheesecakes can be stored at room temperature for 7 hours. Refrigeration or ice packs are not necessary, so you can finish up your day of Osaka sightseeing and enjoy your cake at home or in your hotel! They also sell plastic knives for 10 yen to slice it up and enjoy with friends.

After you've brought your cheesecake back to your hotel, you can store it in the fridge for up to 3 days. Rikuro's Cheesecake recommends heating it up in the microwave at 500W for 20 to 30 seconds to revitalize its crisp and bouncy texture.
Riku Café ROOM – Relish Freshly Baked Cheesecakes in a Stylish Café!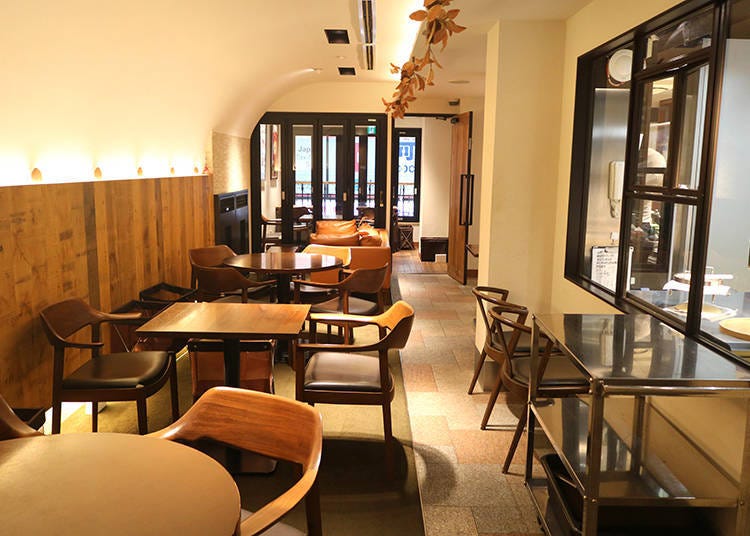 The Riku Café ROOM on the 2nd floor
If you want to get started on your cheesecake right away, the 1st floor of the Namba Honten offers a space for customers to stand and eat. Suppose you'd rather sit down and chill out. In that case, the 2nd and 3rd floors boast the stylish 'Riku Café ROOM' (below: Riku Café), which, in addition to their classic cheesecakes, offers a menu of cakes and drinks.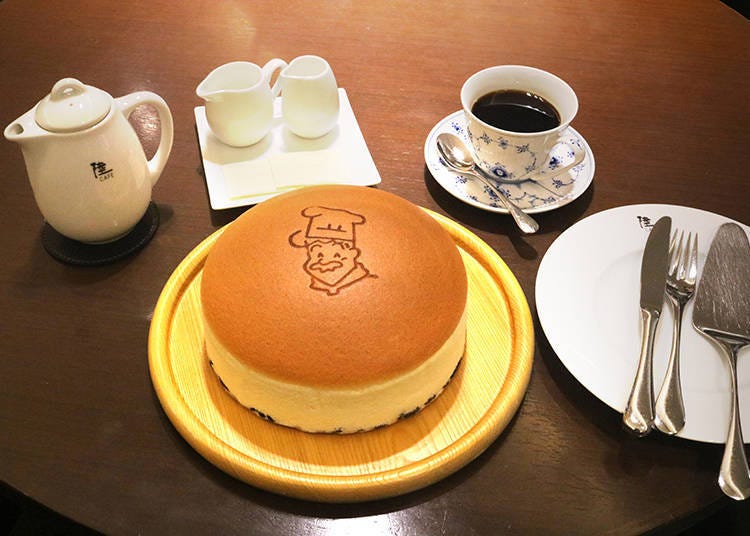 In addition to the 'The Super Cheesecake Set' (1,760 yen), individual cheesecakes are also available (1 cake 980 yen)
One of the most popular menu items is the 'The Super Cheesecake Set,' which includes an entire freshly baked cheesecake and a large serving of your choice of drink.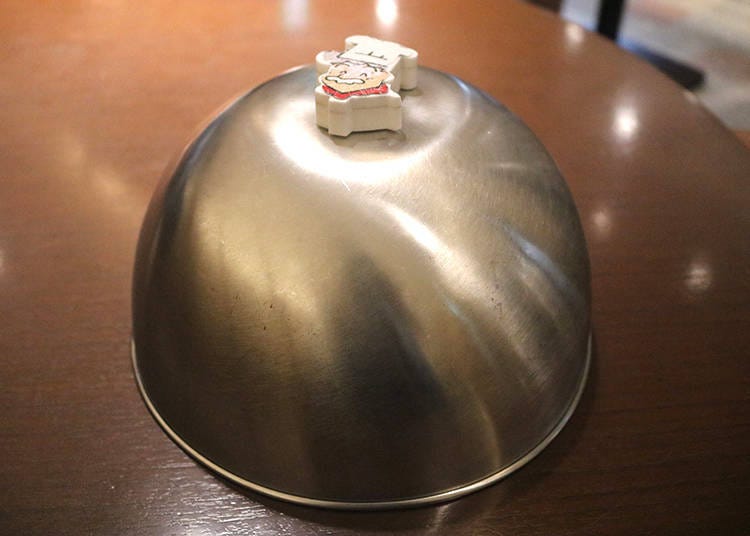 Under the metal lid awaits your cheesecake!
After being baked, the cheesecake is brought upstairs straight from the 'cheese kitchen.' Presented under a metal cloche, the cake is steaming hot and smells amazing! Take a moment before eating to appreciate the elegance of this delicate delight!
A freshly baked cheesecake
"The cheesecake is full of air, making it soft and fluffy! This is something only a freshly baked cheesecake can offer!" said Madoka Taniguchi of the advertising department.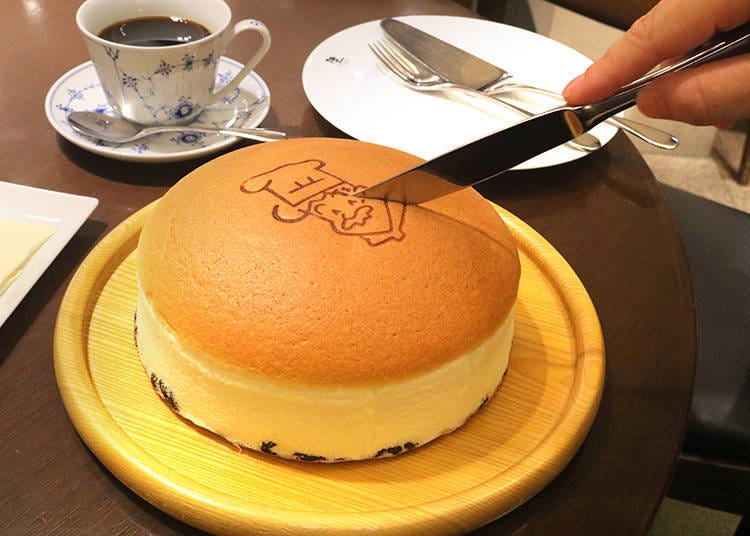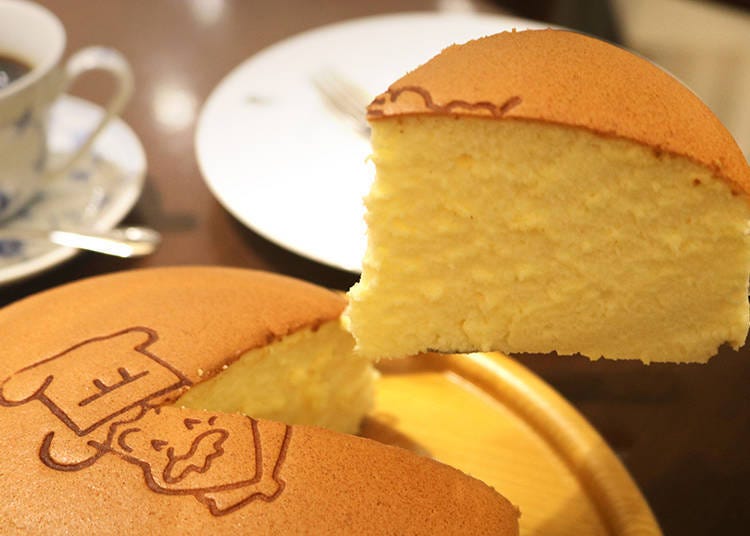 It almost feels like a crime to disturb such a delicacy! Nevertheless, it's time to cut up the cake and dig in!
Cream cheese from Denmark, milk from Hokkaido, high-quality butter, and fresh eggs - these carefully selected ingredients are blended together in this simple, delicate recipe, resulting in a final product that will literally melt in your mouth! The light mouthfeel, fluffy texture, and sweet aromas will be sure to convert you into a Rikuro fan immediately!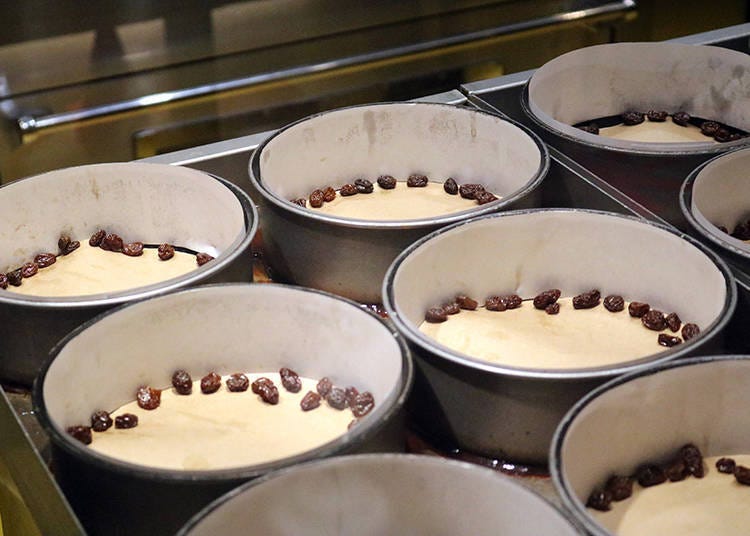 Raisins are placed around the edge of the cake ring.
The bottom of the cake is lined with raisins, which serve to highlight the existing flavors. These light and tangy raisins, which are imported from California and cooked with syrup, blend flawlessly with the essence of cheesecake, providing an extra kick completing the dessert. Don't be put off if you don't like raisins – you'll barely notice them!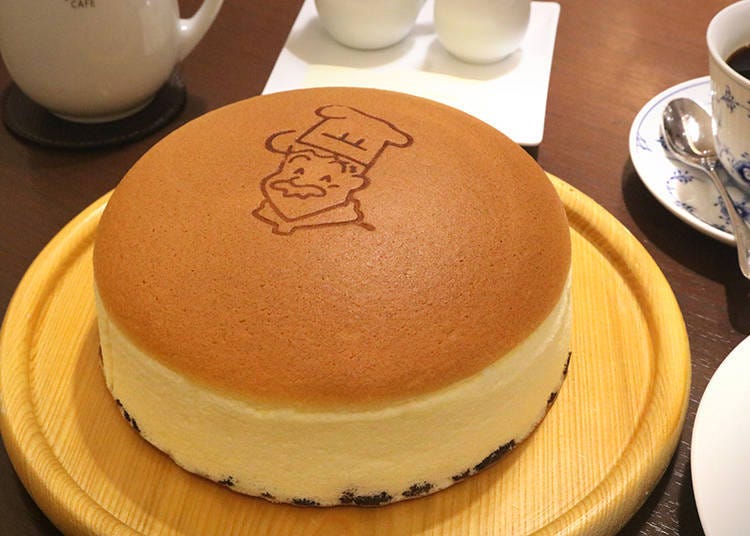 Just look at how soft it is!
As time passes, cheesecakes slowly wither and lose their bulk. If you want the best possible version, we recommend eating it within 10 minutes. Its fleeting nature makes it all the more precious!
Namba Honten's Special Menu!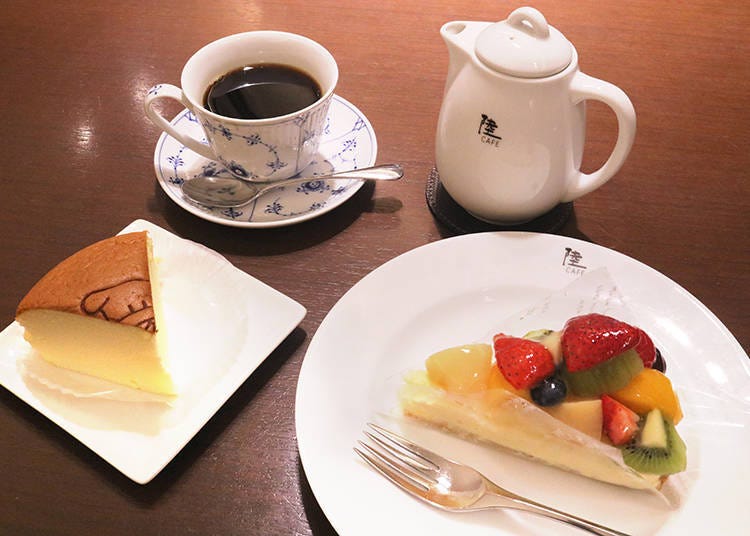 The 'Riku Café Mankitsu Set' (1,400 yen). A popular choice with two types of cake!
The Riku Café also presents a popular limited-edition Namba-only menu, which includes the legendary 'Mankitsu Set.' In addition to a slice of cheesecake, you can select another slice of cake plus a drink. While the cheesecake isn't fresh, it's still amazing!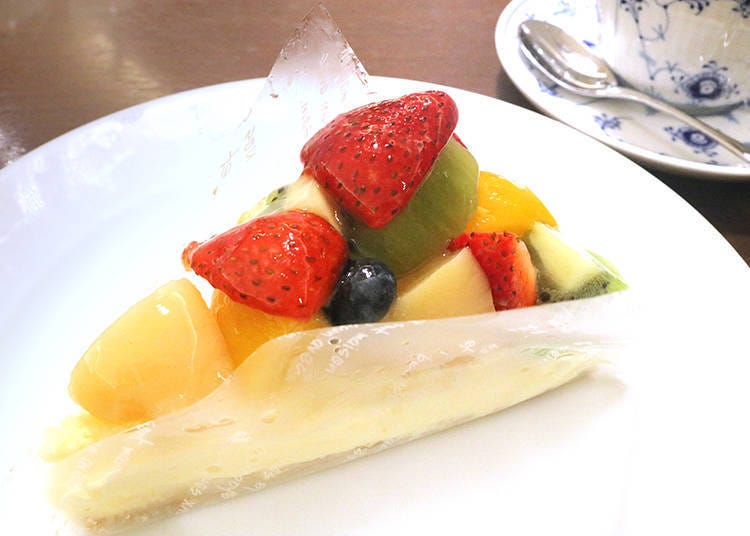 Delicious fruit tarts are also on the menu (561 yen).
One of the popular choices for the extra cake is the 'Fruit Tart,' which is smothered by an ample helping of 8 different fruits! The tart base is made from a rich, aromatic batter crafted to complement the fruit, creating a delightful little number!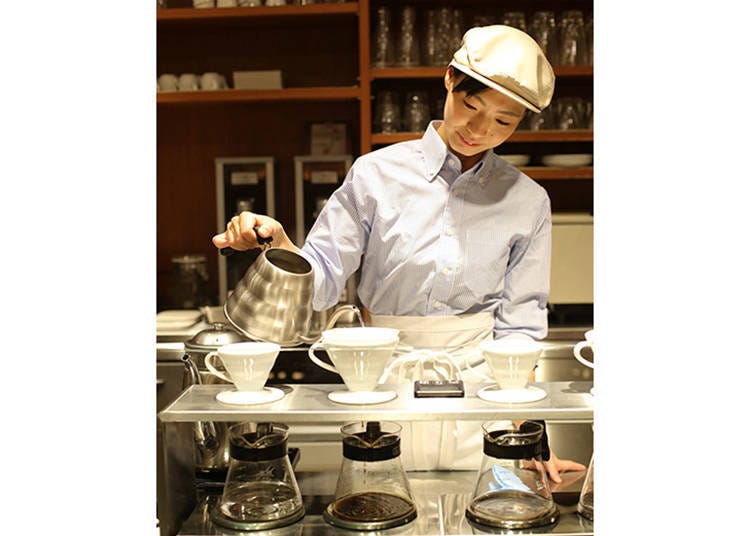 Riku Café coffee is served hand-drip style.
The Riku Café offers drinks designed to pair with their cakes. This includes their drip coffee and original tea blends, along with an apple juice made of 100% Aomori apples. You can get a pot of coffee or tea for the set meal or a double helping of tangy apple juice – your call! This generous course was designed by the company's head, who wanted customers to relish their cakes slowly and comfortably with a nice drink!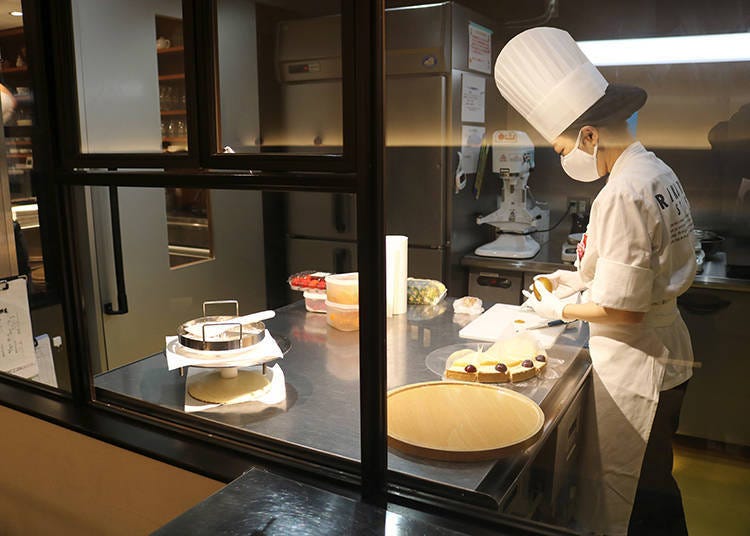 The cakes and tarts are also made in-store
Together with limited-edition seasonal treats, the Riku Café offers around five different types of cakes and tarts. While most can't look past the famous cheesecakes, these other cakes are an equal delight, so don't miss out!
Osaka's vibrant Minami Namba area is packed with hotels and sightseeing, making it very popular with international travelers. Payment is a breeze, with options including Union Pay, Alipay, along with numerous other cashless systems.

While English menus are lacking, there are pictures displaying each item, so you can just point at what you want. Namba is a very international area and staff are used to helping travelers with all kinds of requests, so your shopping and eating should be stress-free!

Rikuro's also has stores inside train stations, so you can pick up a cake while traveling. This includes an outlet near the central ticket gates at JR Tennōji Station, so keep a look out for its eye-catching red color scheme!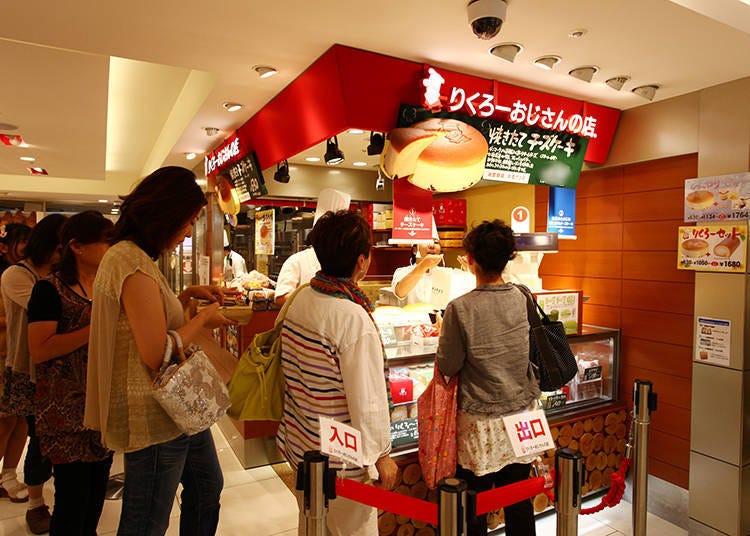 The JR Tennōji Station outlet
There is also a Rikuro's outlet near the central bullet train gates at JR Shin-Osaka Station, which is ideal for last-minute souvenirs. Another outlet can be found at the EKI MARCHÉ shopping center inside the gates of the regular Shin-Osaka train service. These station outlets have no café or kitchen, so be aware the experience is a little different.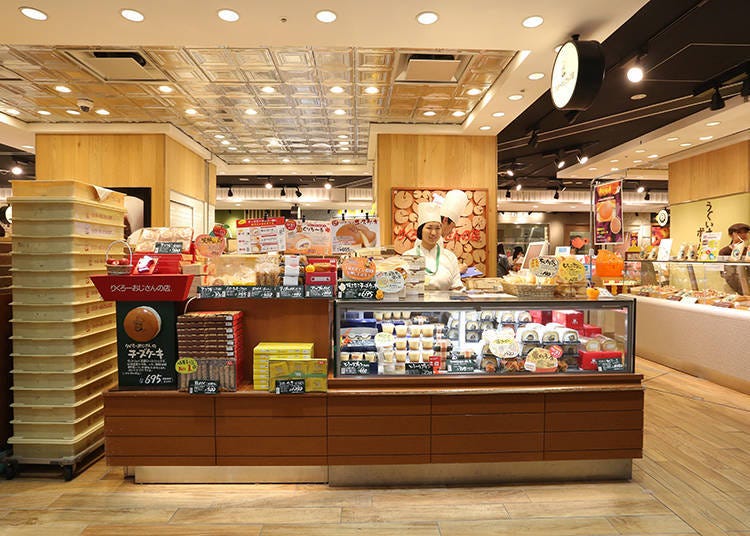 EKI MARCHÉ Shin-Osaka outlet
Rikuro's Cheesecake – a luscious, mouthwatering treat only found in Osaka! Next time you're wandering Japan's vibrant food mecca, take a break from your travels and reward yourself with a freshly baked Osaka-style cheesecake at Rikuro's!

*All prices include tax
Current anti-COVID-19 measures:
Stores, facilities, and equipment are thoroughly disinfected, sanitized, and cleaned after each customer. Stores are well-ventilated. Coin trays are in use. Staff wear masks, wash hands, sanitize, gargle, and check temperatures. Store capacity and admission is limited. Seating is spaced further apart. Stores operate on an order-by-order basis.
Rikuro's Cheesecake Namba Honten

りくろーおじさんの店 なんば本店

Address

3-2-28, Namba, Chuo Ward, Osaka, Osaka 542-0076

Nearest Station

Access: A roughly 5-minute walk from Namba Station on the Osaka Metro Midosuji Line


Business Hours: 9:00am – 8:00pm (Fridays, Saturdays: until 9:00pm) (Business hours are currently shortened)
Regular Hours:
- 1F Namba Honten: 9:30am – 9:30pm
- 1F Riku Café STAND: 9:30am – 8:00pm
- 2F Riku Café ROOM: Weekdays 11:00am – 6:00pm (last order 5:00pm), Weekends and Public Holidays 11:00am – 7:00pm (last order 6:00pm)
Closed: New Year's Day
Information in article from 2020.

Text by: Niki Shigemi
*This information is from the time of this article's publication.
*Prices and options mentioned are subject to change.
*Unless stated otherwise, all prices include tax.
Limited time offer: 10% discount coupons available now!