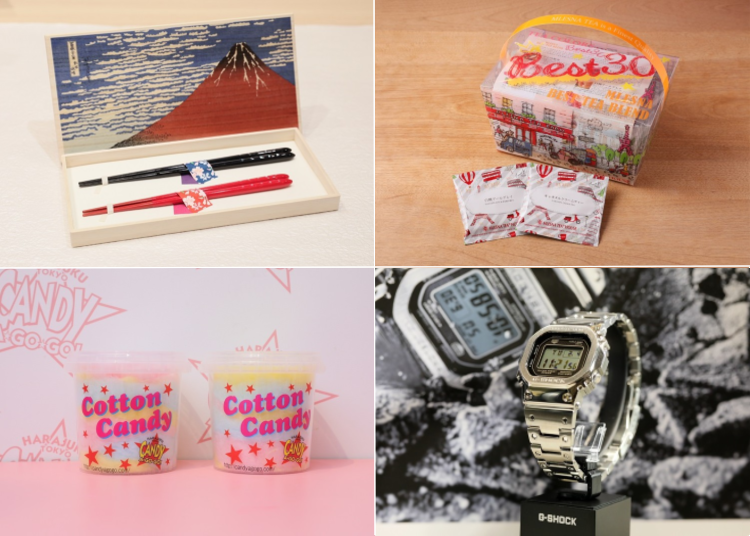 Osaka is the second biggest destination for tourists coming to Japan after Tokyo, with shopping and dining being enormous draws for visitors. The center of all the action is Hankyu/Hanshin Osaka-Umeda Station, around which are many malls with great establishments inside. Indeed, there are so many great spots that it's hard to figure out where one should go.
To that end, here we'll share where to find the best souvenirs! Let's head out on a shopping spree out in one of Japan's premier spots.
Osaka-Umeda Station is perfect for shopping!
Hankyu/Hanshin Osaka-Umeda Station is like the heart of Kansai, with superb access to cities like Kyoto and Kobe. You'll find both luxury hotels like the Ritz-Carlton and Intercontinental in addition to budget options, so it really is an excellent sightseeing foothold. You don't even need to take a train to get to Umeda's many establishments for cuisine, fashion, souvenirs and such. All kinds of shoppers will love Umeda, whether you're looking for products for yourself or a keepsake of your Osaka trip. The many malls of Umeda all have great establishments packed together, making it easy to get from one spot to the next. Enjoy mall-hopping and shopping at the same time!
1. Shop at Grand Front Osaka for the finest products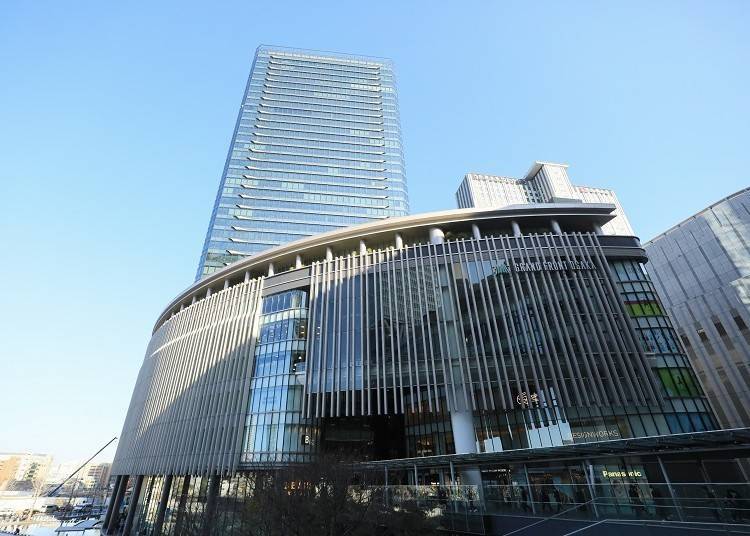 One of the Umeda area's foremost malls is Grand Front Osaka. The mall includes an office and an Intercontinental hotel, along with many shops with exceptional products. Those seeking cutting-edge Japanese products should be most satisfied.
G-SHOCK STORE OSAKA: Their only flagship store in Kansai (North Building 1F)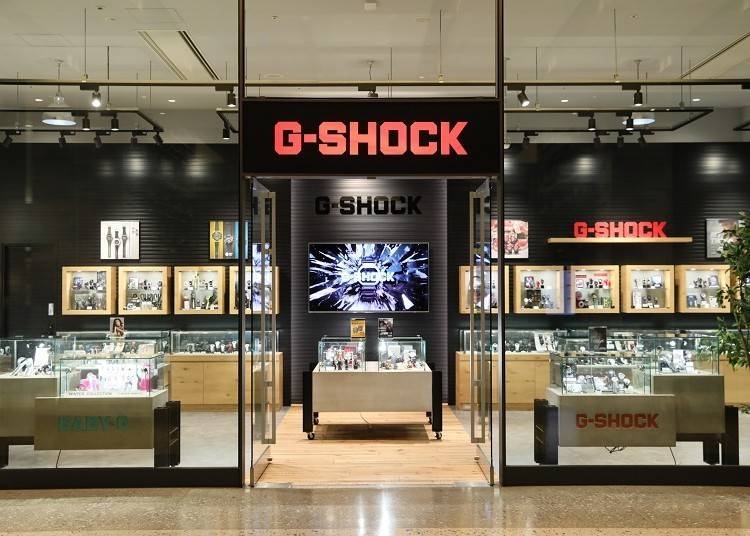 The biggest of its kind in the country, G-SHOCK STORE OSAKA comes even with a maintenance booth. They have all models, both standard and luxury, so the store is visited by both fans of G-SHOCK watches and people looking for their first model.
■ Recommended Souvenir - GMW-B5000: 66,000 yen (with tax)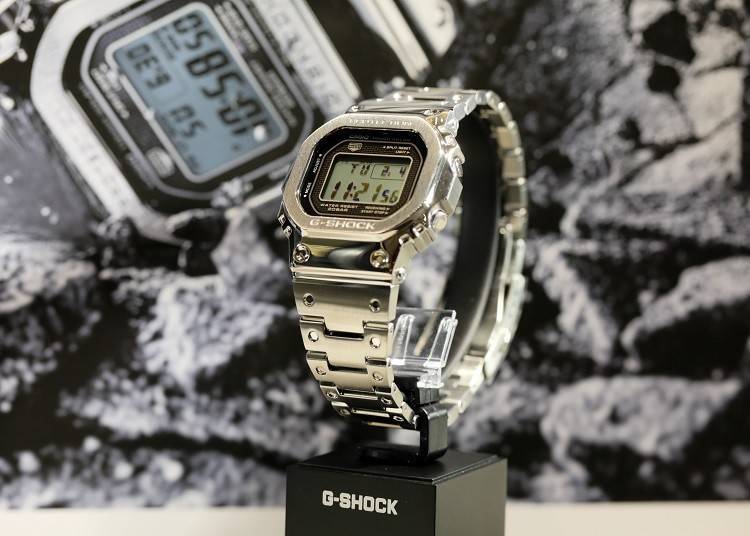 This model sticks with the G-SHOCK's original square design while upping its toughness with full-metal shock absorption. It's made-in-Japan and is excellent for all occasions, with a beautiful metallic finish and easy-to-read liquid crystal display. It can even pair with a smartphone via Bluetooth. Some say it's a masterpiece example of Japanese engineering.
■ G-STEEL: 55,000 yen (with tax)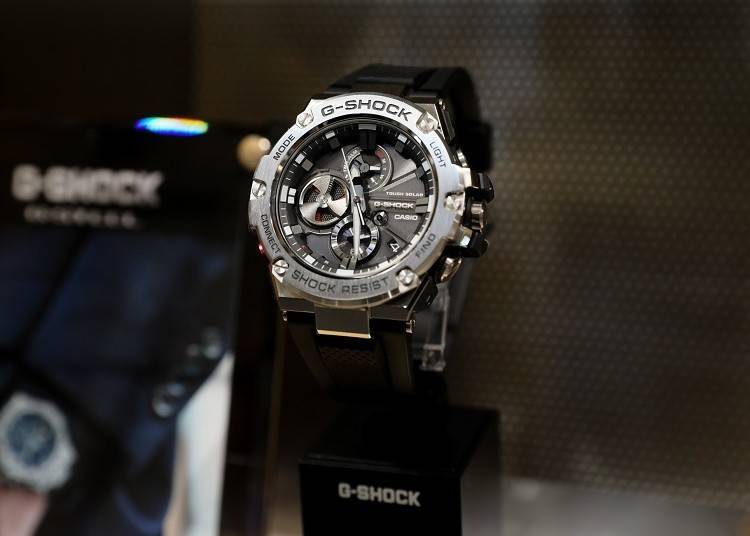 G-STEEL models are robust, like steel. Their analog displays and multi-material design give an impression of durability. It can similarly link with a smartphone.
Hyozaemon: Take home quality Japanese chopsticks(South Building 5F)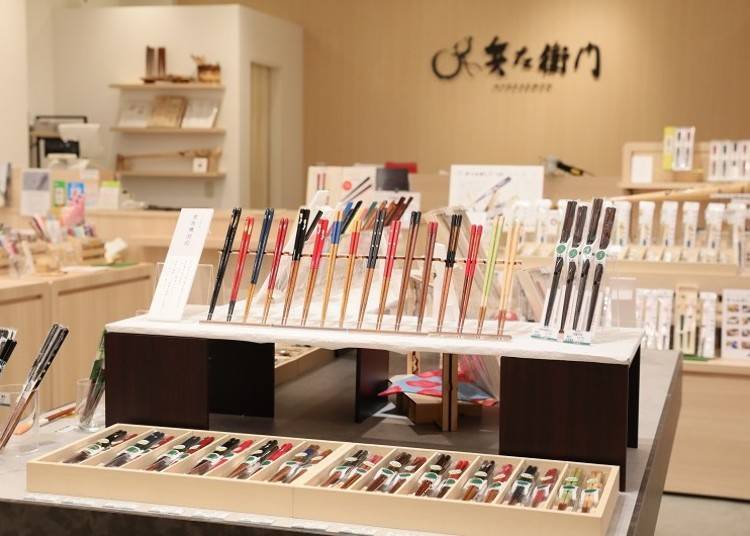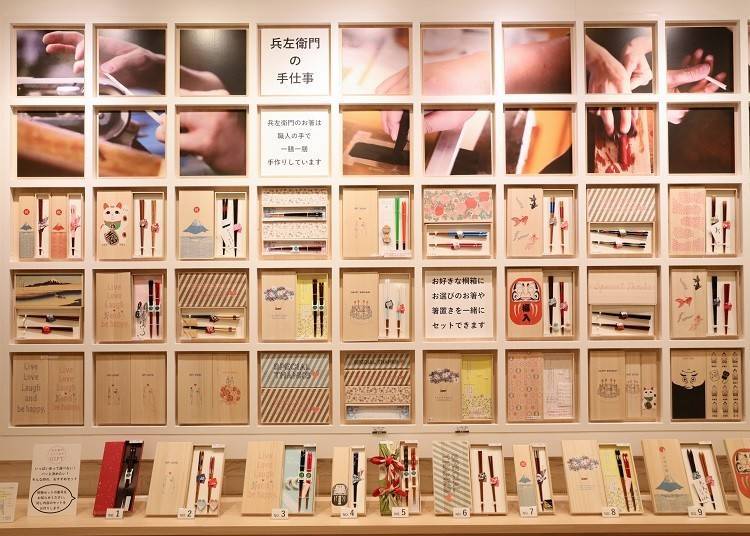 This is a store directly managed by Hyozaemon, a maker of chopsticks established more than 100 years ago. The tips use natural materials, and they have models perfect for use by adults and children alike. Placed in their paulownia wood gift boxes, their chopsticks can make for perfect gifts.
■ Recommended Souvenir - Paulownia Box Gift: 5,500+ yen (with tax)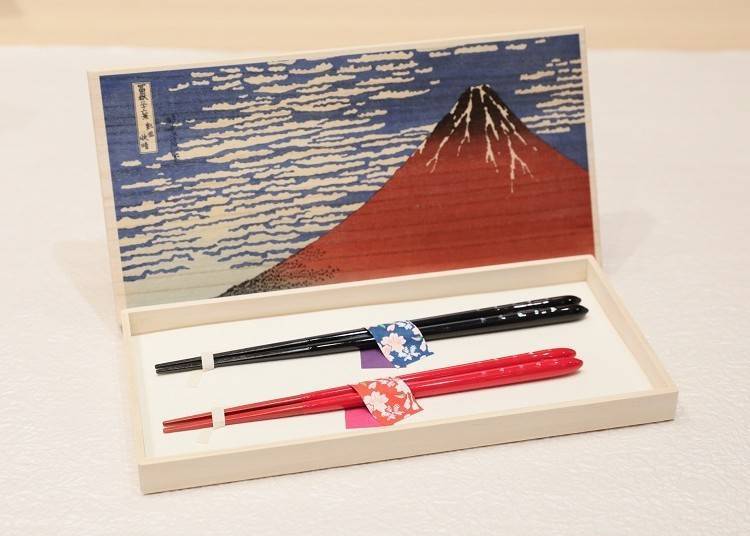 Their Paulownia Box Gift is a specially made box containing two sets of their thin-tip, easy-to-eat-with chopsticks. The package has images evocative of Japan like ukio-e and Mount Fuji. It would make an excellent souvenir.
■ Origami Crane chopstick stand: 605-935 yen (with tax)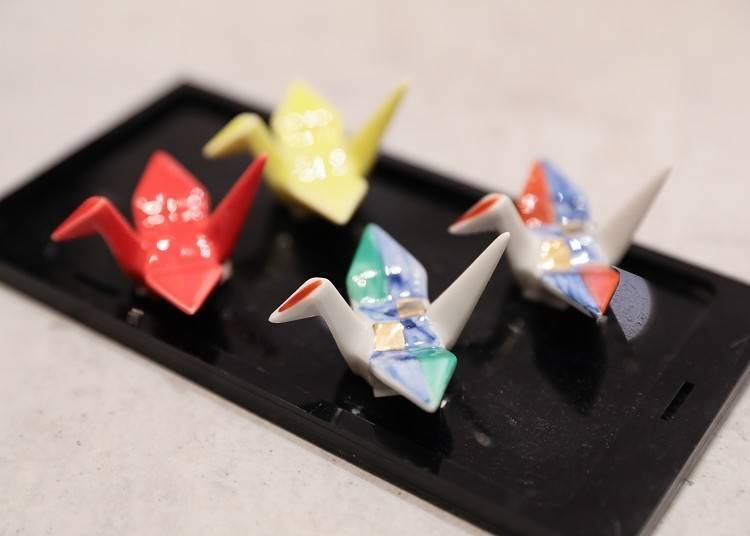 Chopstick stands assure that their tips do not touch the table. These origami crane models would make a great decoration for your dinner table. A fine design you'd find only in Japan!
Address

4-20 Ofukacho, Kita Ward, Osaka 530-0011, 530-0011
View Map

Nearest Station

Osaka-umeda Station (Hankyu-kyoto Main Line / Hankyu-kobe Main Line / Hankyu-takarazuka Main Line)


Phone Number

06-6372-6300
2. Get the most out of the specialty shops at HERBIS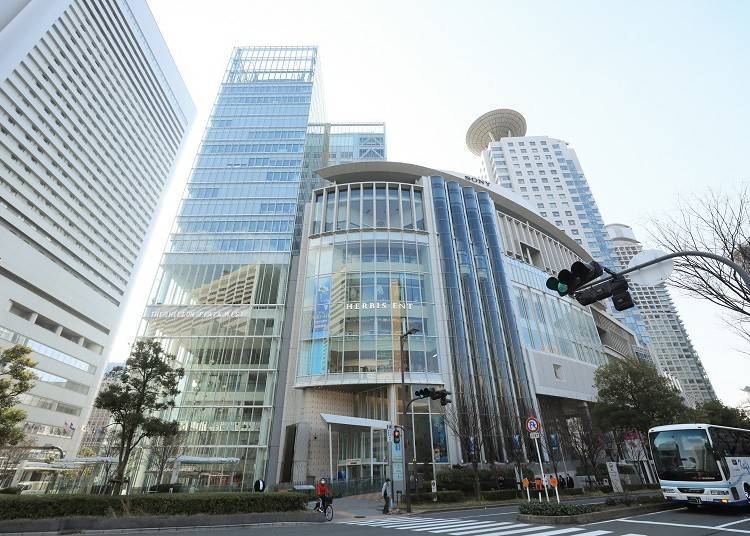 HERBIS, including HERBIS PLAZA and HERBIS PLAZA ENT is a shopping complex in the Umeda area. This mall is a cut above, with select shops, outlet stores for high-end brands, fine dining, and a luxury hotel. Underground routes connect it directly to Hanshin Osaka-Umeda Station.
Sony Store Osaka: Get the latest Sony products! (HERBIS PLAZA ENT 4F)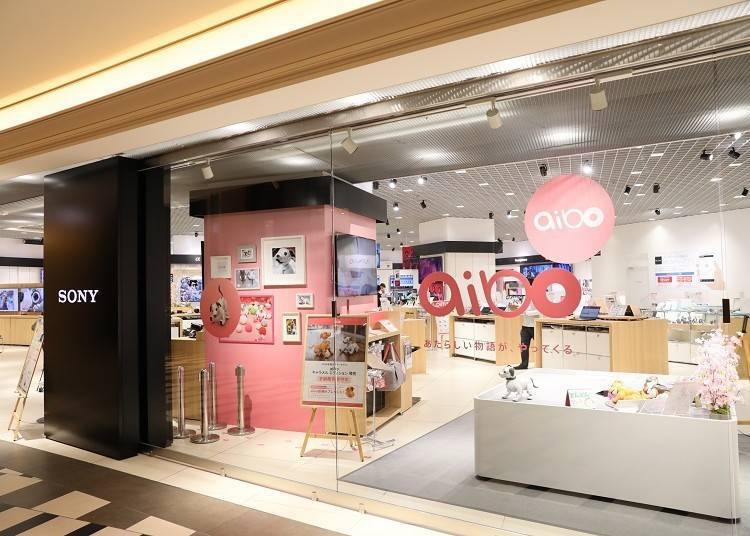 Here at Kansai's only directly-managed Sony outlet, a stylist can help you find products to fit your lifestyle. The latest digital cameras, earbuds and headphones, televisions, and audio-visual equipment are all here.
Some overseas models on offer have service warranties effective in 52 countries, including Japan.
■ Recommended Souvenir - WF-1000XM3: 28,468 yen (with tax)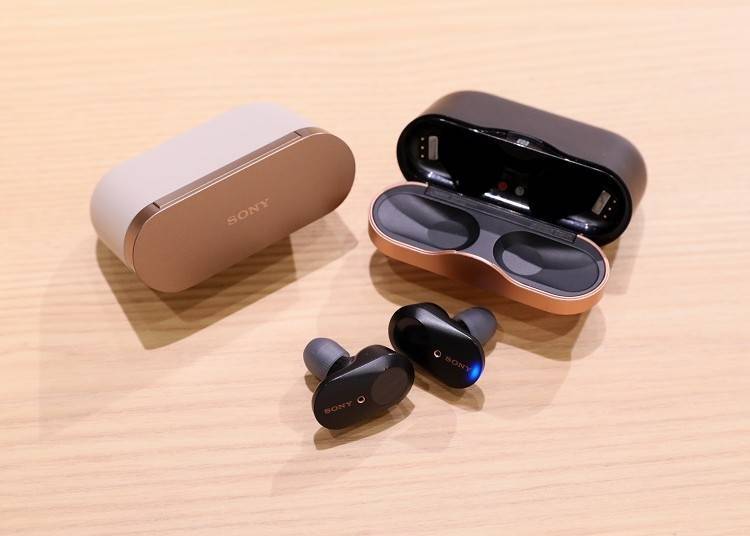 These wireless earbuds have noise-canceling ability that rivals the best in the industry. Their battery works for up to six hours, and their case can charge them to max three times. As the latest model, it has a long-lasting battery, incredible noise-canceling, and solid reception.
■ ILCE-6400L Overseas Model: 138,468 yen (with tax)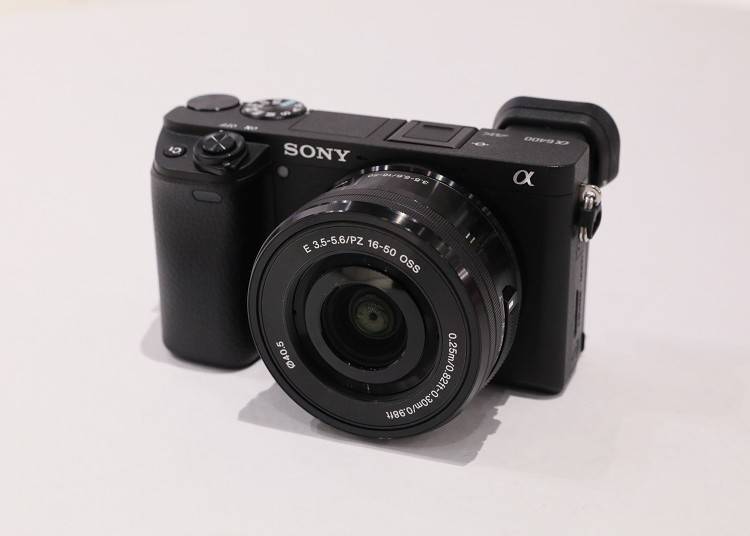 This is a great entry model for mirrorless interchangeable‑lens cameras. It has high-speed autofocus and can smoothly capture young children and animals in motion. It can even take 4K video.
The Tee Supported by Mlesna: For original flavored teas (HERBIS PLAZA B1)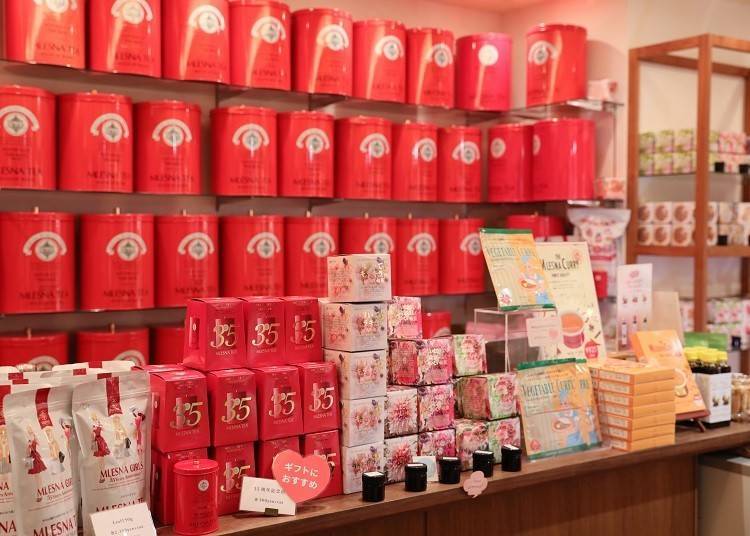 Sri Lanka's Mlesna Tea Company is famous globally, and this store specializes in their teas. There are over 100 varieties with flavors of fruit or caramel that can only be purchased in Japan. They'll help you choose just the right ones for an elegant teatime.
■ Recommended Souvenir - Gift Set of 6: 5,044 yen (with tax)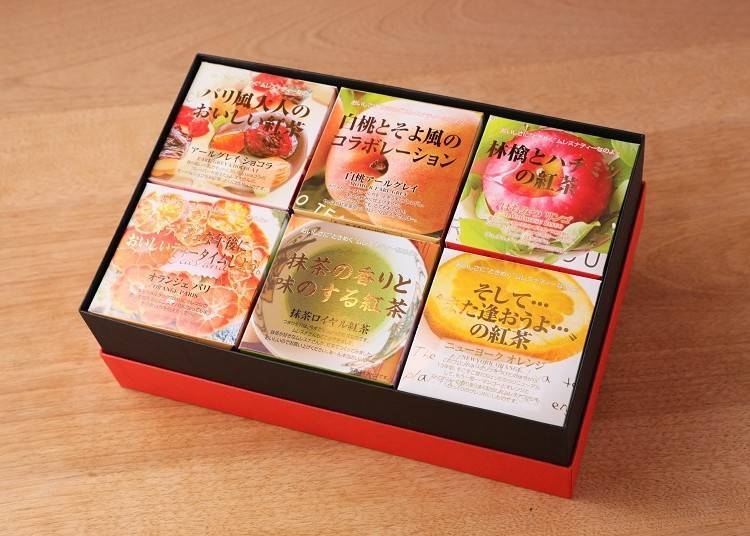 Select six Japan original flavored teas (778 yen with tax each) for this gift set. One such Japan original is "Black tea with the flavor and aroma of matcha," and there are more surprises in store.
■ Mlesna Best 30: 3,888 yen (with tax)
A set of 30 popular flavored teas. Each bag is a different flavor, so you can distribute them amongst your friends and coworkers.
Address

(HERBIS PLAZA ENT), 2-5-25, Umeda, Kita-ku, Osaka-shi, Osaka (HERBIS PLAZA)/2-2-22, Umeda, Kita-ku, Osaka-shi, 530-0001
View Map

Nearest Station

Osaka-Umeda Station (Hanshin Line)
1 minute on foot


Phone Number

06-6343-7500
3. Discover fine dining at HANKYU SANBAN GAI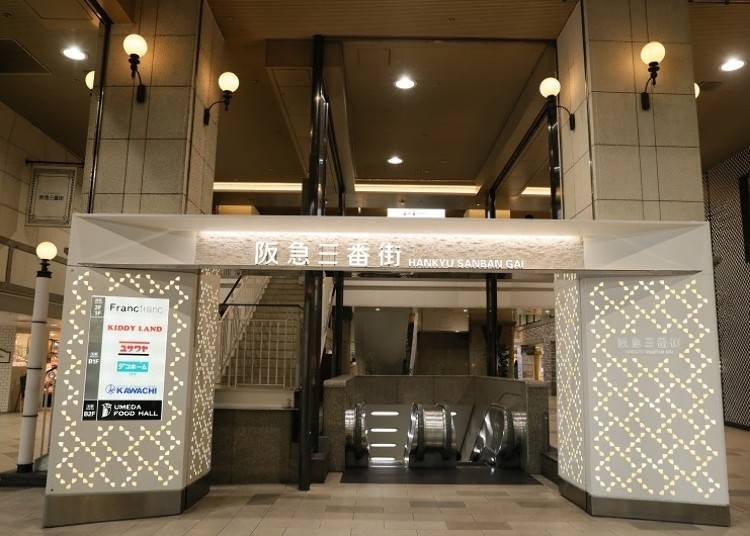 This shopping center is directly connected to Hankyu Osaka-Umeda Station, divided into a north and south area . Their mall has a wide variety of establishments for great food, trendy fashion, character merch, and more. The North area B2F is their food hall, a great place to take a break.
Ujien: Discover the deliciousness of Japanese tea (South Area B2F)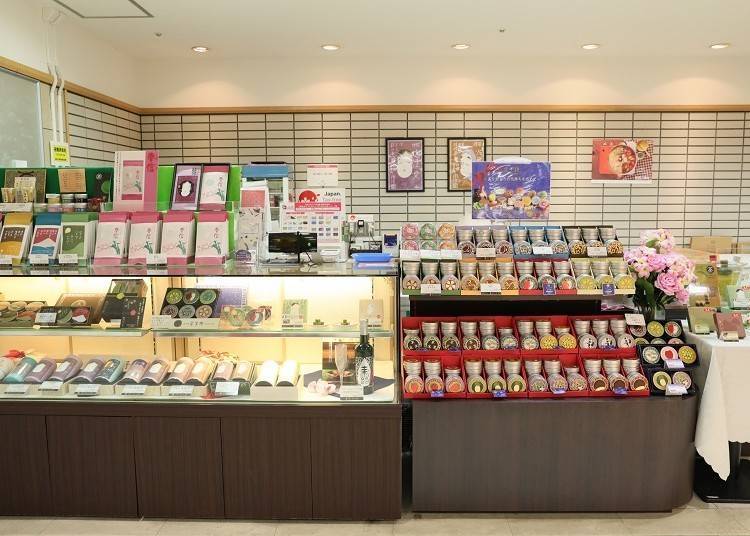 Ujien is a long-lived tea retailer, established in Kyoto in 1869. Their main product is Japanese green tea, but they also have matcha and sweets. All would work well as personal purchases or as gifts. High-quality green tea, hoji-cha, and matcha are all too delicious to forget.
■ Recommended Souvenir: Okame (pull-tab can), 1,620 yen (with tax)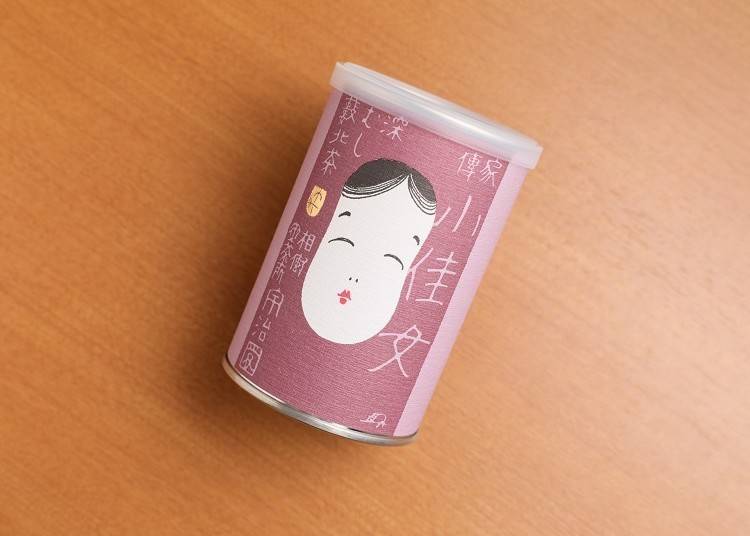 Ujien's leading tea brand is Okame. It's deep-steamed sencha, light on bitter flavors but with a pleasant depth. It's quick to prepare: a spoon of tea leaves steeped in water at 80 degrees for fifteen seconds. The luxurious taste of sencha will call back memories of Japan.
■ Matcha Langues de Chat: 756 yen (with tax)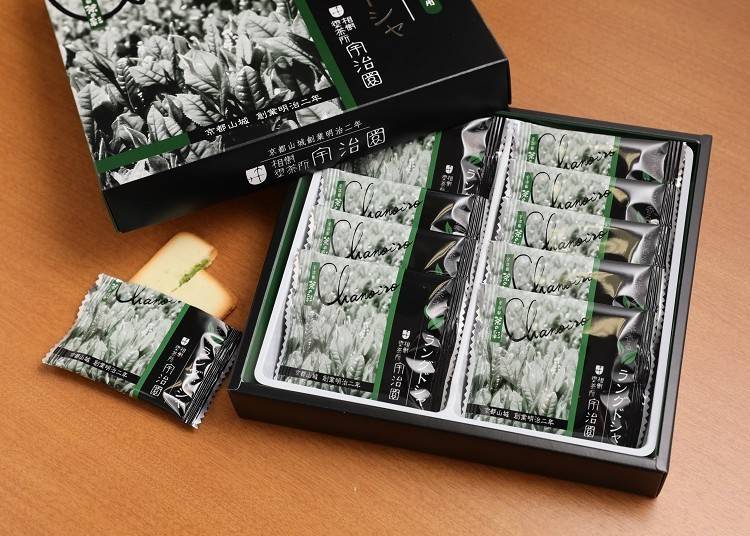 The light and crunchy texture of langues de chat cookies, sandwiched with wildly popular matcha cream. They naturally go great with tea, but also match coffee and black tea.
Kuze Fuku & Co.: Purveyor of delicious products from all over Japan (North Area 1F)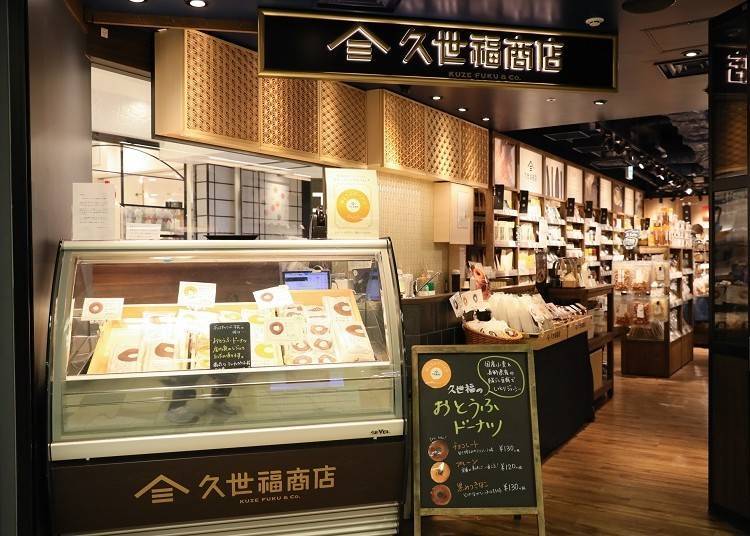 This select shop brings you all kinds of delicious things from all over Japan, right to Osaka. Their excellent stock includes broths, rice, canned goods, seafood delicacies, sake, and snacks. They also have staff fluent in English.
■ Recommended Souvenir - Tamagogani, 421 yen (with tax)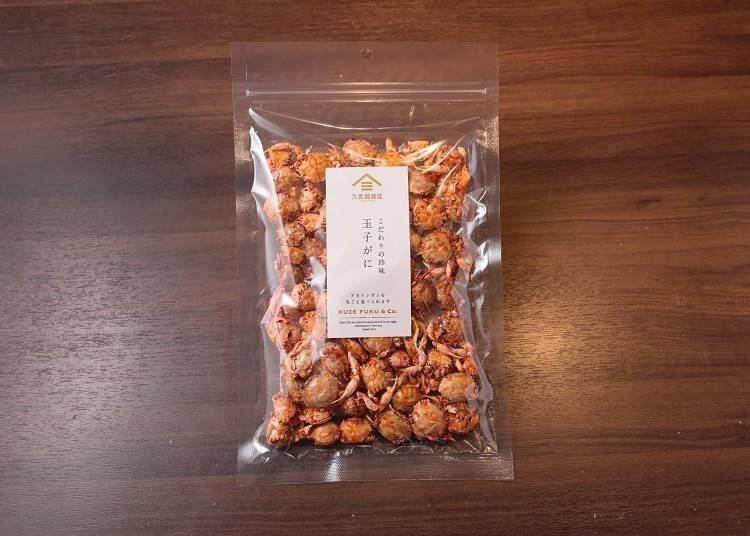 Bite-sized pieces of Akaishi crab with a mildly sweet flavor. They pair well with drinks, but are also popular with children, so people of any age will enjoy them. It has a distinctly Japanese flavor, both sweet and savory through soy sauce, and has an exquisitely crunchy texture. You won't know when to stop!
Address

1-1-3, Shibata, Kita-ku, Osaka-shi, Osaka, 530-0012
View Map

Nearest Station

Osaka-umeda Station (Hankyu-kyoto Main Line / Hankyu-kobe Main Line / Hankyu-takarazuka Main Line)


Phone Number

06-6371-3303
Kuze Fuku & Co.: Find it at the Diamor Mall, within walking distance from Osaka-Umeda Station!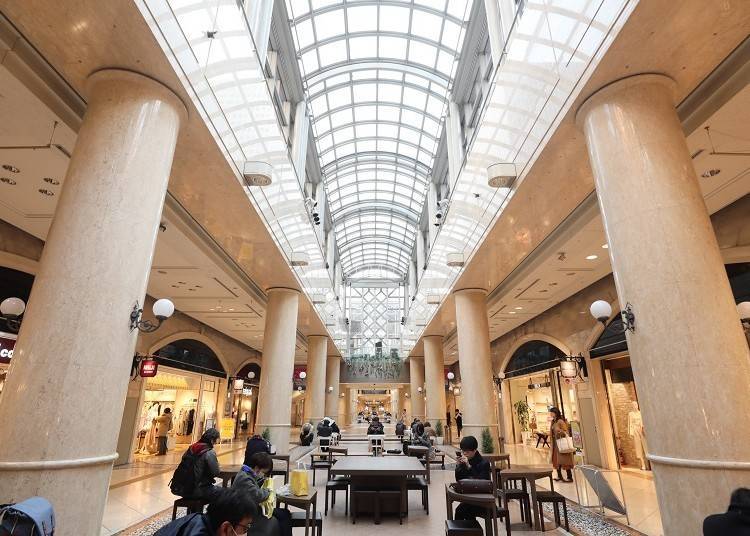 Diamor Osaka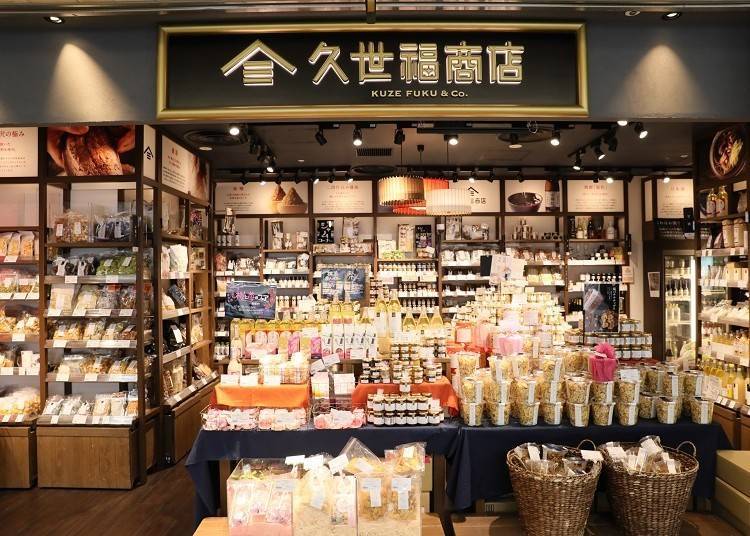 Leaving the west gate to Hanshin Osaka-Umeda Station and going right, you'll see the entrance to the underground Diamor Osaka, where the famed Japanese gourmet store Kuze Fuku & Co. is. Diamor Osaka also has fashion and food establishments and plenty of space to explore.
■ Recommended Souvenir - Kuze Fuku dashi packs, 129 each (with tax)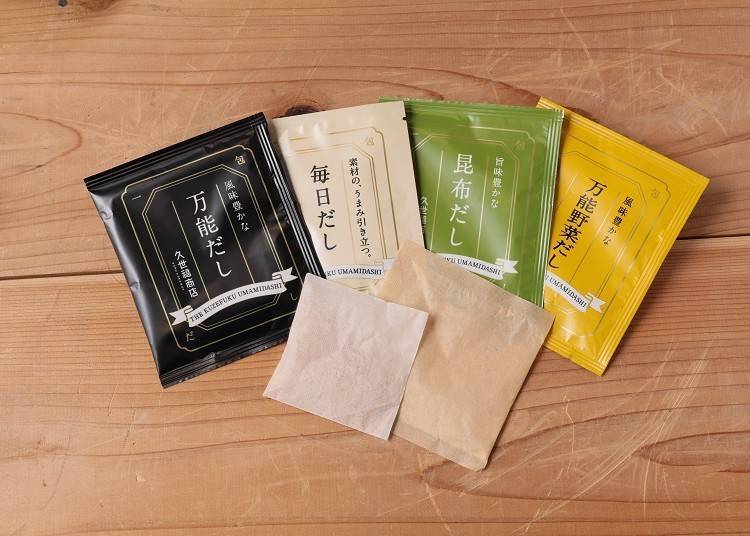 Kuze Fuku & Co.'s popular dashi broth in individual packets. The black "banno dashi" is primarily skipjack tuna broth, while the beige "mainichi dashi" is lower in salt, and the green "kombu dashi" is primarily kombu seaweed broth. Yet still are the yellow "banno yasai dashi" packets, a vegan-friendly option. They're all complete packages: just add them to water with ingredients, and you've got yourself a tasty soup. Their powder can also be used as Japanese spices for enriching other kinds of cuisine.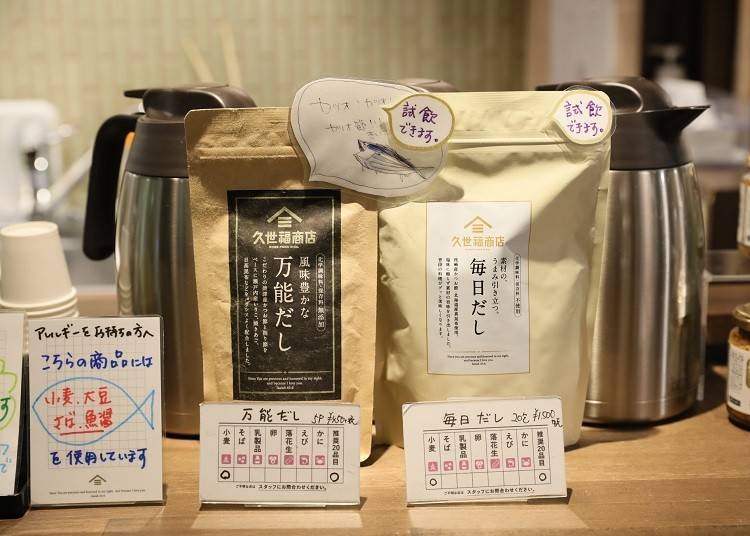 At the dashi tasting corner, you can compare four flavors of Kuze Fuku & Co.'s original dashi broth. Don't miss out on sampling their rich, mouth-enveloping tastes.
Address

Osaka Station Kita-ku Umeda 1 chome Osaka Station Diamond Underground Shopping Street No. 1, 530-0001
View Map

Nearest Station

Osaka-Umeda Station (Hanshin Line)
3 minutes on foot


Phone Number

06-6348-8931
4. HEP FIVE: The place to find casual souvenirs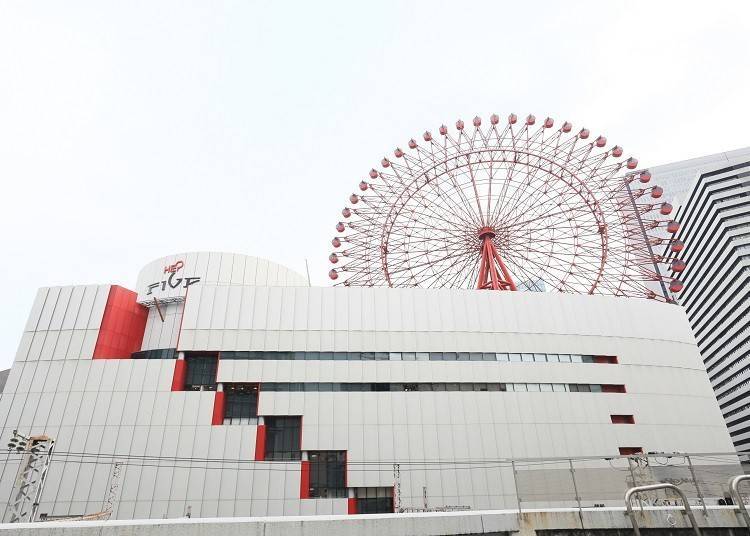 HEP FIVE is easily spotted thanks to its red Ferris wheel. They have lots of fashion and trend shops aimed at young people, so if you're looking for casual, latest-hit items, this is the place to go! After shopping, the Ferris wheel and its view of Umeda could be fun. To get here, leave Hankyu Osaka-Umeda Station towards HANKYU SANBAN GAIand proceed three minutes.
CANDY-A-GO-GO: Everything "Kawaii" (4F)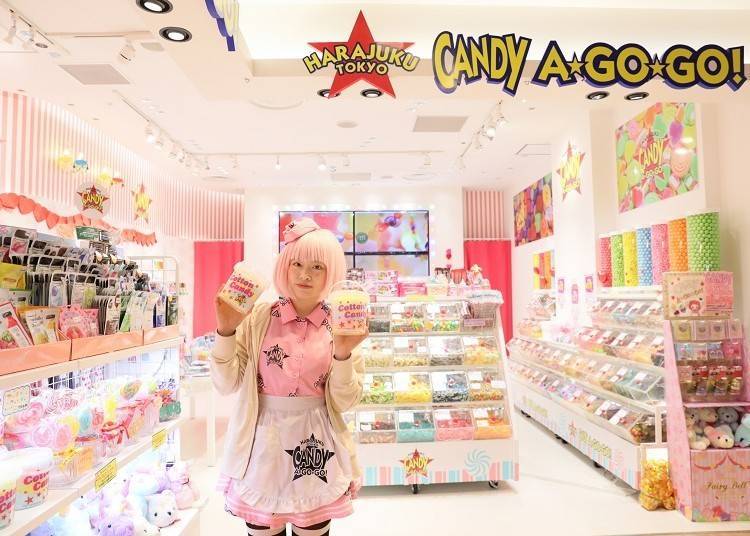 This store sells 150 kinds of cute candy rounded up from around the world in bulk. They also have stylized general goods and stuffed animals. Fans of "kawaii" will love it!
■ Recommended Souvenir - Candy, 114 yen (with tax)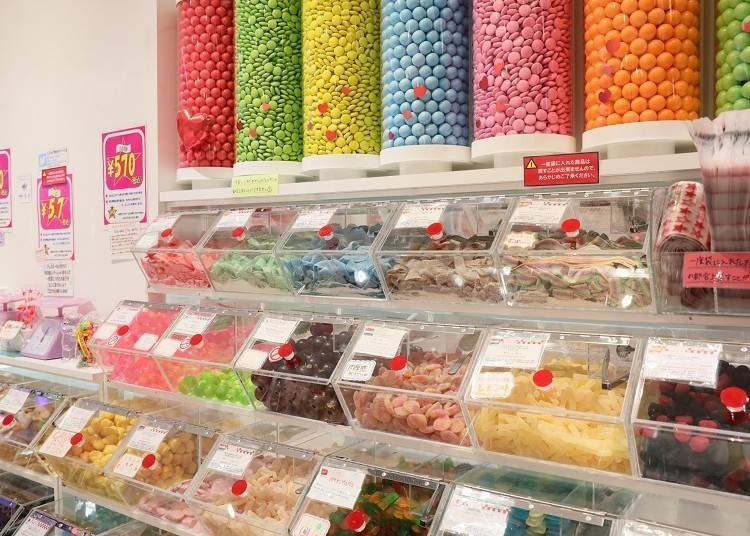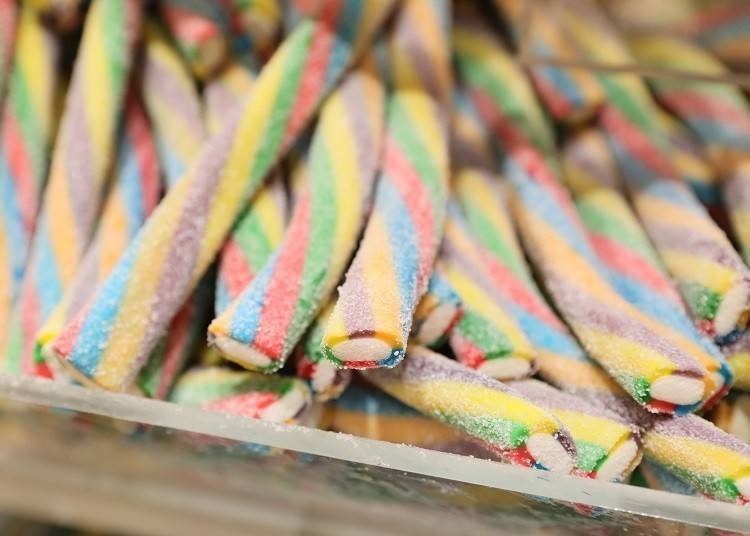 It's a mood-boost just to look at their colorful candy! Take this and that, toss it in your bag, and make it a souvenir for friends. It's 5.7 yen per gram, sold in units between 1 and 20 grams.
■ Cotton candy: 756 yen each (with tax)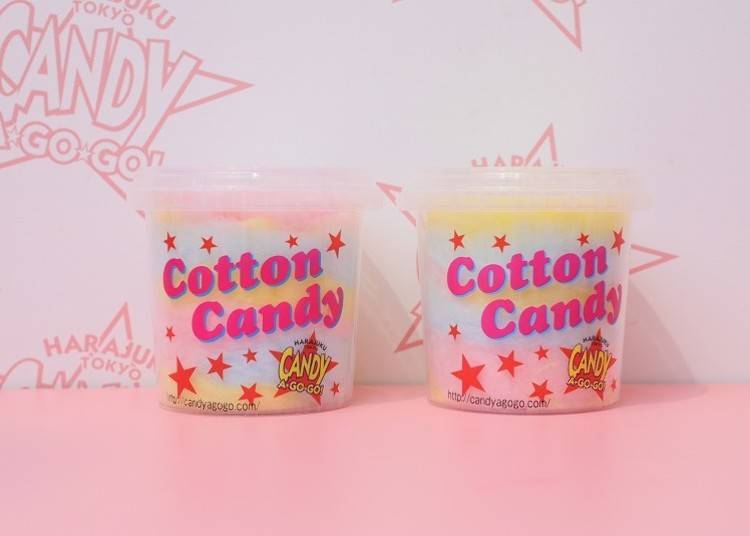 Rainbow cotton candy in cute packaging. It's so cute, one hesitates to eat it. It's popular with young children, who have fewer reservations about that!
3COINS: Offering "idea" products at around 300 yen each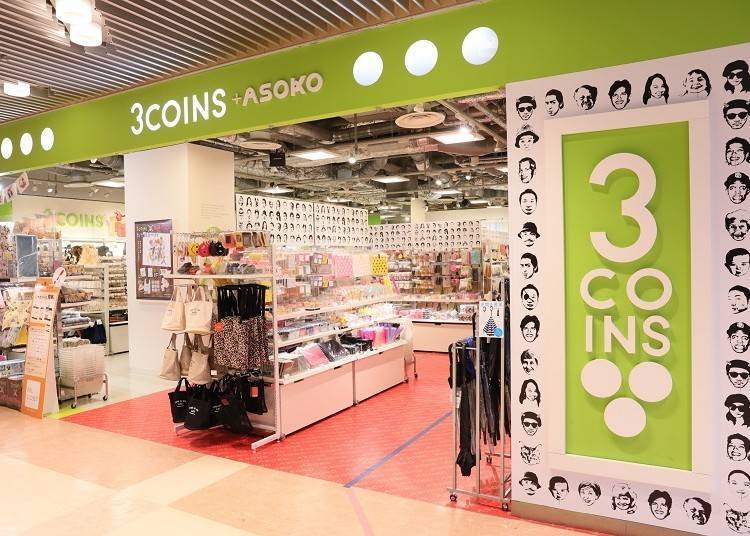 Clever products for kitchen, bath, decoration, plus accessories and socks, all mostly 300 yen (minus tax). Younger generations appreciate their brightly colored items and smartphone accessories. Dig up some treasure to share with your friends!
■ Recommended Souvenir - Smartphone Neck Holder, 330 yen (with tax)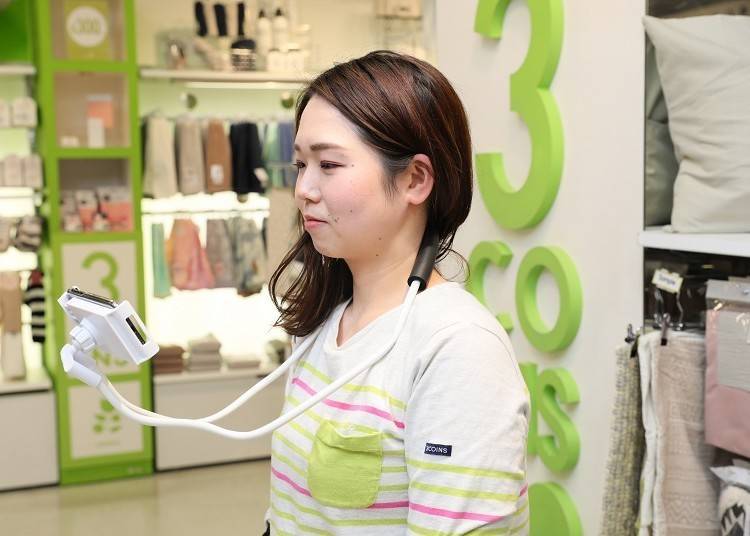 A Japan-like gadget for looking at your smartphone without using your hands. This could help you if you want to watch videos or anything lengthy on your phone. Its flexible arm can stand or lie down, offering a variety of configurations.
■ Socks, 330 yen (with tax)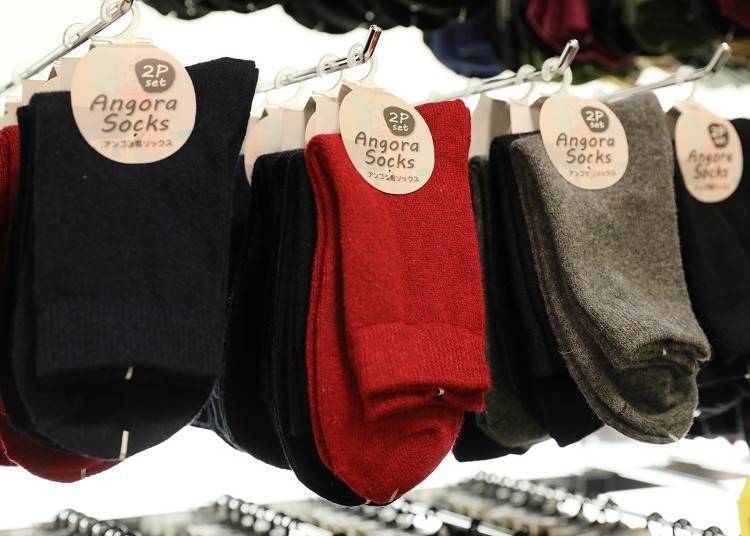 Handy but straightforward socks in two-pair and three-pair sets at low prices. Many of their socks have special, antifungal, or moisture-absorbing functions to keep your feet hygienic. Many visitors will buy this product in bulk for their friends.
Address

5-15, Kakudacho, Kita-ku, Osaka, 530-0017
View Map

Nearest Station

Umeda Station (Midosuji Line)


Phone Number

06-6313-0501
5. NU Chayamachi: Smart shopping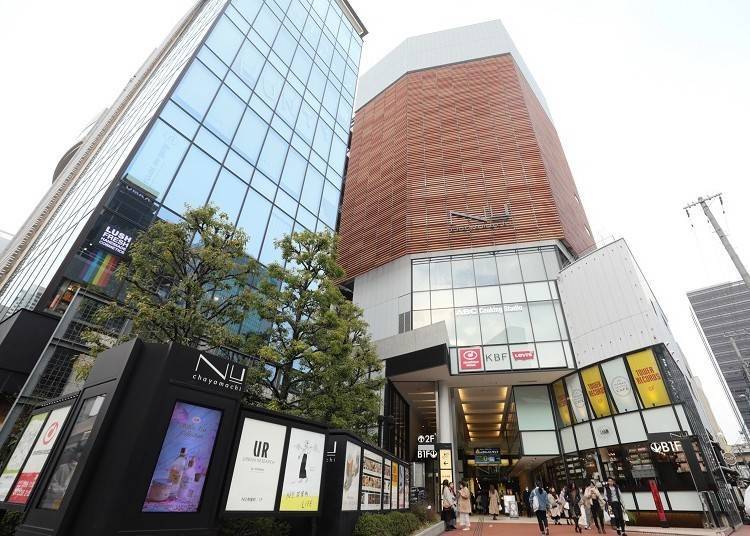 NU Chayamachi and NU Chayamachi+ are known for their delicious selection of fashion, accessory, and lifestyle goods. It's a perfect choice for those that want to set themselves apart with their items. Find it near the Chayamachi gate at Hankyu Osaka-Umeda Station.
Nuts DOM: A store for beans and nuts (NU Chayamachi+ 2F)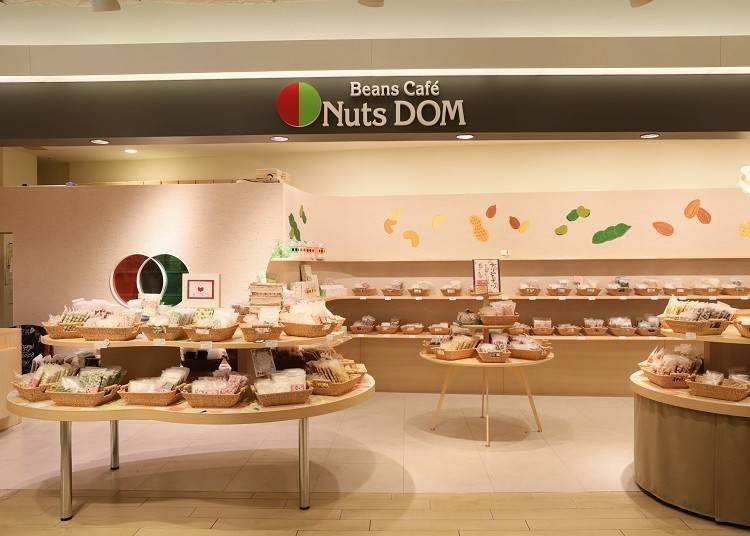 This store has more than 50 kinds of healthy nuts, beans, and snacks, all at competitive prices. They have products you could snack on for two or three days, making them good souvenirs or presents.
■ Recommended Souvenir - Wasa-Pista (small), 194 yen (with tax)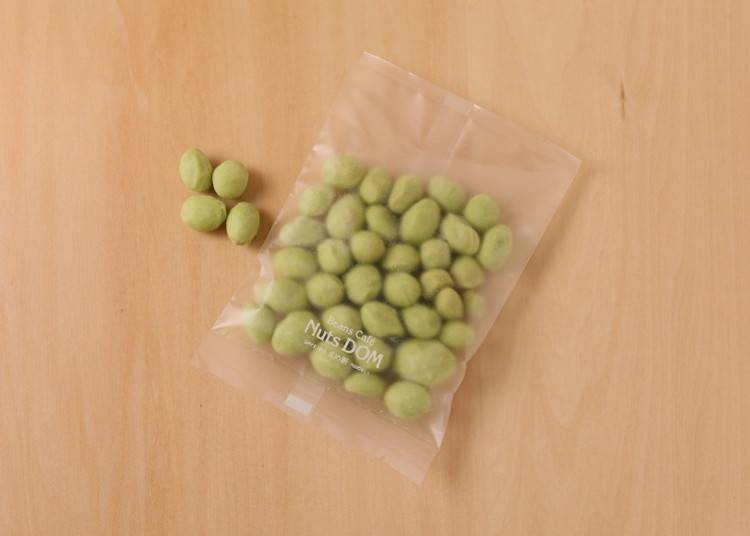 Crunchy pistachios lightly covered in wasabi-flavored rice powder. You'll love the sharp sensation it creates when you pop it in your mouth! Hugely popular with wasabi-flavor fans around the world.
■ Giant Corn Curry (small), 140 yen (with tax)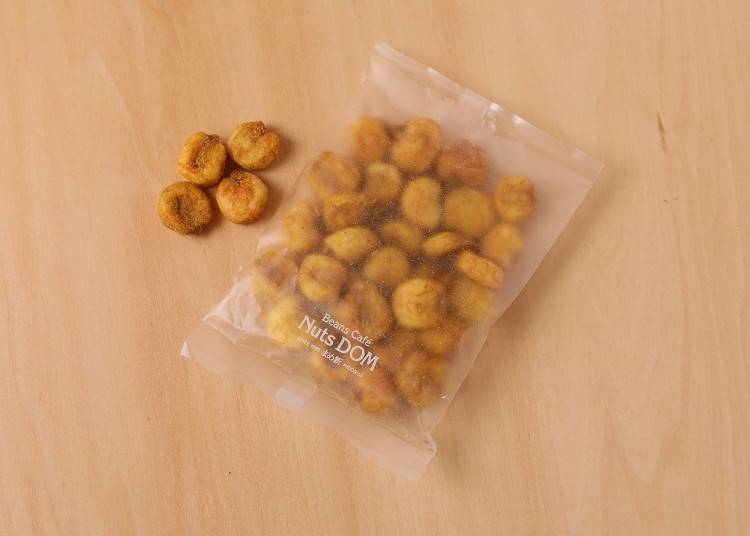 Giant corn covered in curry powder, spicy and delicious. The crunchiness of corn nuts goes perfectly with the spiciness of curry.
Address

10-12, Chayamachi, Kita-ku, Osaka-shi, Osaka (NU Chayamachi)/8-26, Chayamachi, Kita-ku, Osaka-shi (NU Chayamachi +), 530-0013
View Map

Nearest Station

Osaka-umeda Station (Hankyu-kyoto Main Line / Hankyu-kobe Main Line / Hankyu-takarazuka Main Line)


Phone Number

06-6373-7371
■From Shin-Osaka Station
・JR Tokaido Line
 About 4 minutes from Shin-Osaka Station to Osaka Station

■From Osaka International Airport (Itami Airport)
・Osaka Monorail
 Begin with a three-minute trip from Osaka Airport Station to Hotarugaike Station. Switch to the Hankyu line and travel 15 minutes from Hotarugaike Station to Osaka-Umeda Station.
・Airport Bus
 A 25-30-minute trip from Osaka Airport to the Osaka-Umeda Area bus stop.

■From Kansai International Airport
・Nankai Electric Railway
 Begin with a 34-39-minute trip from Kansai Airport Station to Namba Station. Switch to Osaka Metro and travel 15 minutes to Umeda Station.
・Airport Bus
 A roughly 60-minute trip from Kansai International Airport to the Osaka-Umeda Area bus stop.

■From Kobe/Sannomiya
・Hankyu Kobe Line
 About 30 minutes from Kobe/Sannomiya to Osaka-Umeda Station
・Hanshin Main Line
 About 35 minutes from Kobe/Sannomiya to Osaka-Umeda Station

■From Kyoto
・Hankyu Kyoto Line
 About 43 minutes from Kyoto-Kawaramachi Station to Osaka-Umeda Station
Use these coupons at six malls!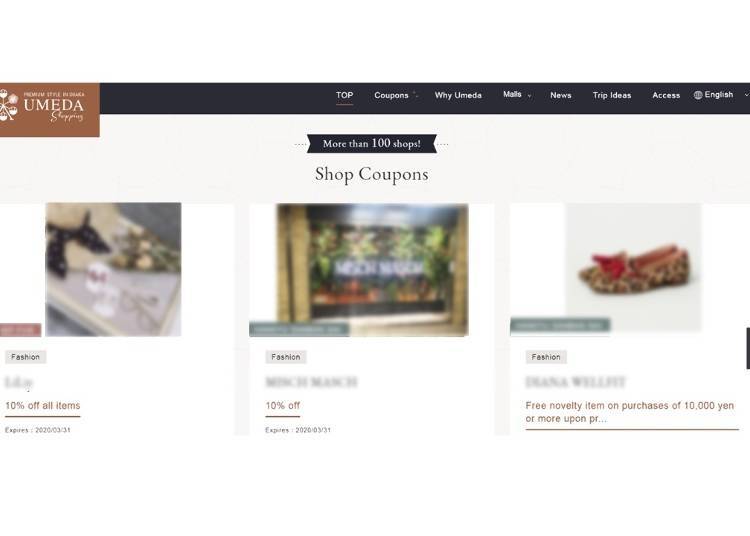 You can't go wrong using these exclusive coupons when on a trip to Umeda, Osaka. You can use them at more than 100 establishments found at any of the shopping malls introduced in this article, plus "NU Chayamachi / NU Chayamachi +" and "Diamor Osaka."

Umeda is your key to all kinds of shopping, whether that be for fashion, lifestyle, or general goods. Then there's the food scene! No doubt you'll be able to find a souvenir to make someone happy, or a product to make yourself happy. Have yourself a fulfilling trip around each of the Osaka-Umeda area's great shopping malls!
*This information is from the time of this article's publication.
*Prices and options mentioned are subject to change.
*Unless stated otherwise, all prices include tax.
Limited time offer: 10% discount coupons available now!