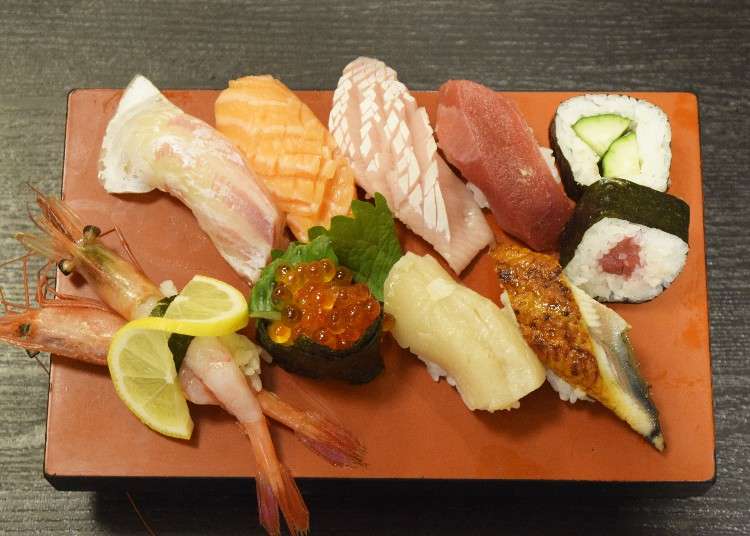 Osaka sushi is something you need to sample when visiting Japan. While at many high-end restaurants, it's common practice to use seasonal pricing, but if you know when you dine, you can save a fair amount of money.

Lunchtime offers a small reprieve from the worry of sky-high prices. With more affordable set lunches on sale, compared to dinner time, it's a great entryway for first-timers.

The set lunches also release you from the worry of having to choose from the large variety of fish available, especially when you don't know how or what to choose!

This time, we'll be introducing three Osaka sushi restaurants serving lunches with great cost-performance that will get you the most bang for your buck.
1. Sushimasa: With 58 years of history, taste true Osaka sushi skill! (1,000 yen / Tenjinbashisuji)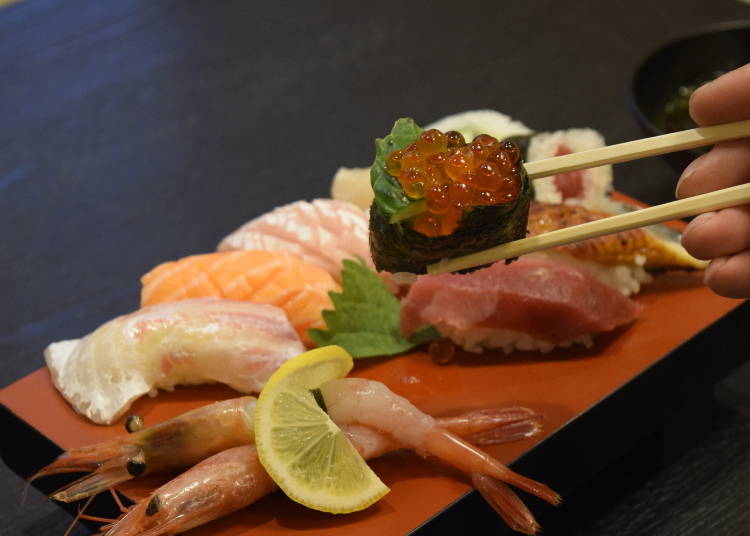 Jō-teishoku set meal
Located in the longest shopping street in Japan, Sushimasa in Tenjinbashisuji shopping street is now on its second-generation owner, and is a popular Osaka sushi shop split into two locations.

Their nigiri sushi set meal with eight types of sushi and soup is just 1,000 yen (before tax), and includes sweet prawn, eel, sea bream, salmon, roe, scallop, tuna roll, and cucumber roll, along with miso soup.

The fish used is sourced from Tenman, Kuromon, and Chuo markets, all of which provide only the freshest fish. Dipping the sushi with their large slices of fish into soy sauce, you can taste the umami of the fish balanced with the sharp sweetness of the vinegar rice. It's really surprising to find such high-quality fish at just 1,000 yen.
Since it opened, Sushi Masa has not changed their operating style, and their motto is to bring great sushi to the masses. From their high-quality ingredients to their affordable prices, the highly skilled chef uses his years of training and technique to make delicious sushi.

In the blink of an eye, the chef turns a ball of sushi rice into a beautiful piece of sushi with a few choice movements of his hands. As the absorbency of the rice changes with the season and variety, the chef uses his own blend of rice to make a uniquely flavored rice. The dedication and passion the chef holds for his work radiates the true spirit of a master at his craft. Awesome Osaka sushi at its finest.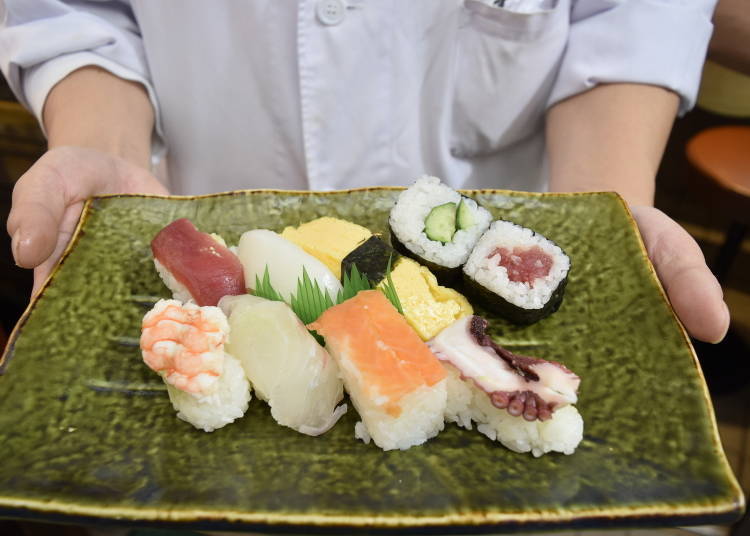 Service Teishoku set meal
Sushimasa Nakaten has counter and bar seats on the first floor, and a banquet room on the second. A mountain of pickled ginger is set at each table to cleanse your palate, so be sure to make use of it between your sushi!

If the 1,000 yen sushi set isn't surprising enough, Sushimasa also has a 500 yen (before tax) service set meal available too. On days when your wallet is in dire straits, but you're still craving for sushi, you can choose this set meal for a reasonably priced sushi fix. You can get a plate of tuna, prawn, and the roll of the day. As English and Korean menus are available as well, foreign visitors can easily patronize the store too.
すし政 中店

Address

5 Chome-6-19 Tenjinbashi, Kita-ku, Osaka, 530-0041

Phone Number

06-6358-2558

Hours: 11:10 a.m. to 11:00 p.m. (last order at 10:30 p.m.), lunchtime from 11:10 a.m. to 2:30 p.m.
Closed on Mondays
2. Maguro-Stadium: 1,500 yen for a fresh catch of tuna sushi (Tenmabashi)
Having been in the tuna and aquaculture business for 40 years, Maguro-Stadium is in the building River Station Hachikenya along Osaka's Ōkawa River. The popular land and water tour bus Osaka Duck Tours departs from here, making it a popular place amongst tourists too.

On the upper floor of this river station is a large, 74-seater restaurant, with a large window that allows you to enjoy the view of boats along Ōkawa River as you dine. Dinner time often features the cutting and slicing show of a huge bluefin tuna, allowing you to enjoy seafood, alcohol, and a live Osaka sushi show all at once.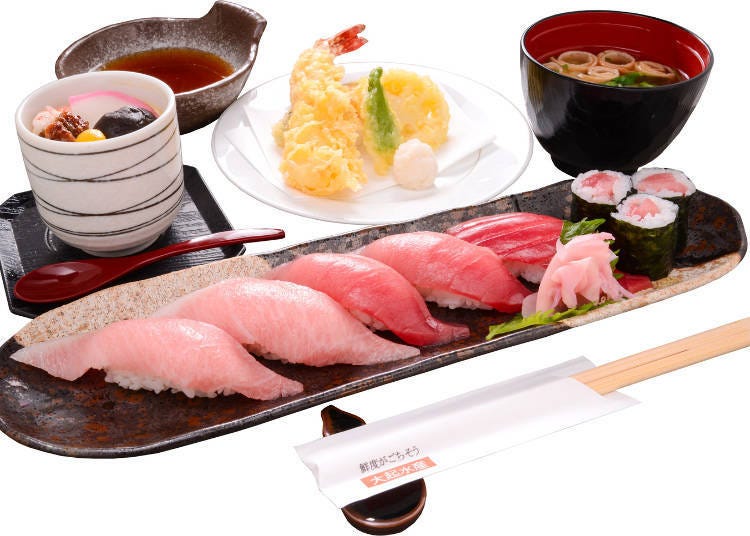 Nama hon-maguro sushi gozen set meal
For lunchtime, we recommend the nama hon-maguro sushi gozen set meal, for 1,500 yen (before tax). As the tuna used in Maguro-Stadium is raw, the fish is flash frozen and brought in, resulting in its fresh juiciness.

As the business brings in around 10,000 live tuna a year, they can provide tuna at an affordable price, at about half the price that regular shops do. It's an Osaka sushi shop well known even amongst foreign tourists, and there are many repeat customers who make a beeline here for their fix of fresh seafood.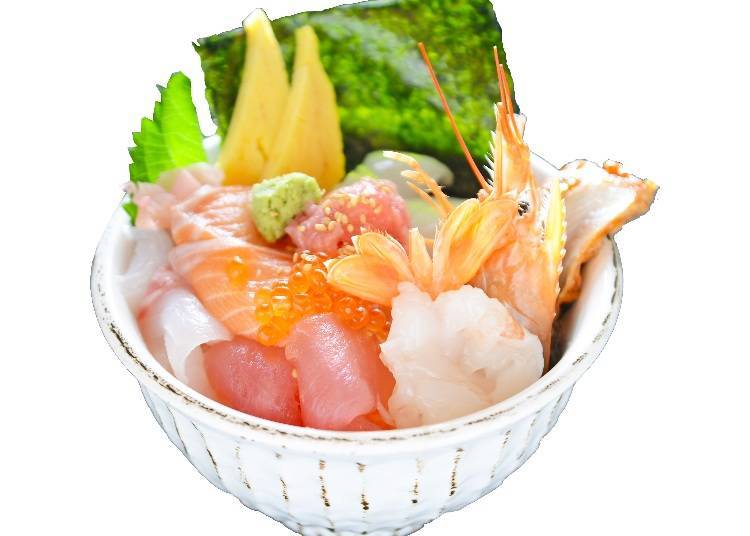 Mega-mori kaisen-don
For those that really, really love seafood, we have one more recommendation, the mega-mori kaisen-don (or mega-sized seafood rice bowl) for 980 yen (before tax). There is, of course, tuna inside, along with salmon and prawn, and the variety of fish changes with the seasons. It's a portion size that would have many ladies request for less rice when ordering.

To eat this dish, mix some wasabi with soy sauce in a small saucer, and pour the mix directly onto the rice bowl. During lunchtime, there is free self-service tea available too. Cups are available at each table, and to each cup, add two spatulas of matcha, then add hot water. Pickled side dishes and sweets are available for sale as well, and they make perfect souvenirs.
まぐろスタジアム

Address

1F River station Hachikenya 1-2 Kitahamahigashi, Chuo-ku, Osaka, 540-0031

Phone Number

06-6910-0150

Hours: Weekdays from 11:00 a.m. to 3:00 p.m. (last order at 2:30 p.m.), 5:00 p.m. to 10:00 p.m. (last order at 9:30 p.m.)
Saturdays and public holidays from 11:00 a.m. to 10:00 p.m. (last order at 9:30p.m.)
Open year round
3. Tokisuhi: Taste the brilliant umami of torched sushi, at 8 pieces for 1,400 yen (Nihonbashi)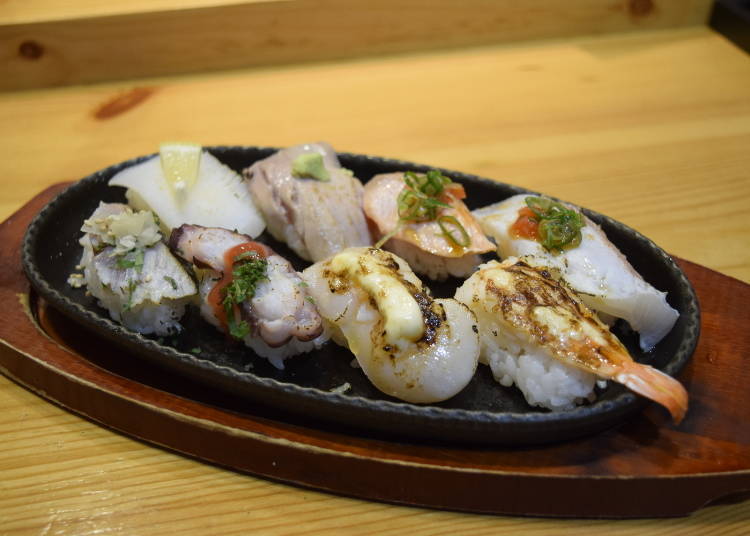 Sushiyaki
Tokisushi is an Osaka sushi shop tucked away in a narrow street on the west side of the road connecting Kuromon Market to Sakaisuji.

The shop is famous for its sushiyaki, consisting of 8 pieces of torched sushi with miso soup, for a total of 1,400 yen (before tax). The fatty tuna is seasoned with wasabi salt, the squid with salted lemon and yuzu, the scallops with cheese and mayonnaise, and each type of fish is seasoned with a different topping, eliminating the need for soy sauce when eating it.

The sushi is torched after being shaped into form, and you can see its lightly flamed exterior, and smell its mouth-watering fragrance. As the sushi is partially cooked, this sushi is perfect for those with an aversion to raw food.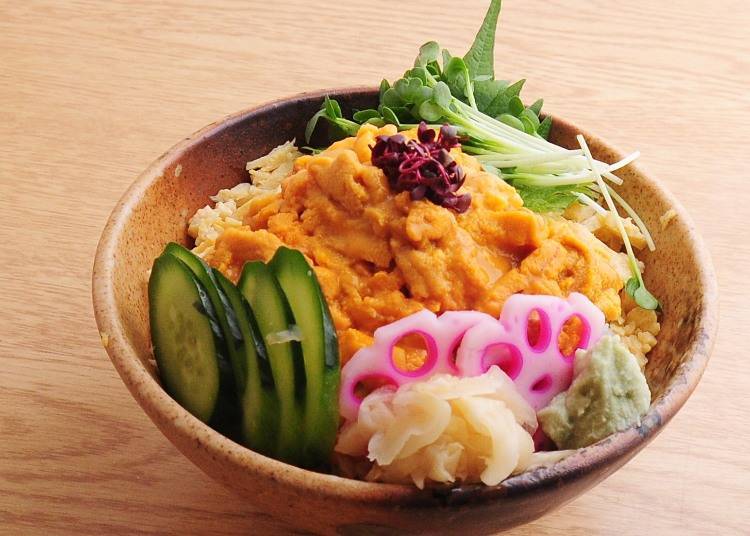 Uni-don
Other sushi items include sushi starting from 220 yen for a plate of two pieces, and with its affordable price, there are many people who order this on top of their set meals.

Besides sushi, the uni-don, or sea urchin rice bowl, is another popular item, featuring sea urchin from Hokkaido, at 2,200 yen (before tax). The sea urchin melts in your mouth, and the sweet flavor of the fresh urchin spread throughout your mouth as you eat it.

Besides Chuo Market and Tsurubashi Market, the restaurant also gets its fish directly from the port of Izumisano in the mornings, sometimes even to the extent of queueing overnight for the items. As there are many fish items that you normally would not find in other shops, it definitely ups the enjoyment factor here!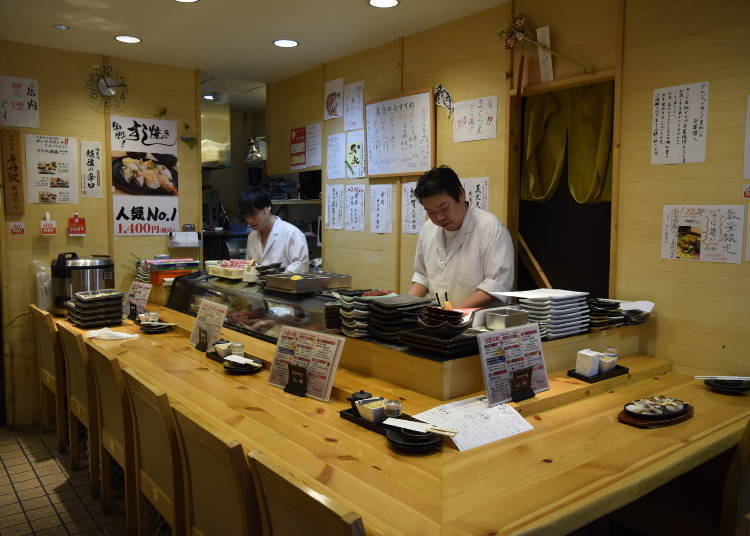 The main shop is nearby, just at Sennichimae, and the Higashi-Shinsaibashi shop is nearby too. With so many branches in the same area, this branch is in a particularly quiet area during the day, making it a more relaxing place to visit.

English menus and point-and-order menus are available too, and with the prices clearly stated on each one, it's popular amongst repeat foreign visitors for its ease of use. The first floor has counter and table seating, while the second floor has counter and sofa seats. Reservations can be made too. As the place gets crowded on weekends, it's best to go on weekdays, when it's quieter.
ときすし はなれ店

Address

2 Chome-7-28 Nipponbashi, Chuo-ku, Osaka, 542-0073

Phone Number

06-7713-1379

Hours: 11:30 a.m. to 11:00 p.m. (store closes once fish is out of stock)
Open year round
With popular Osaka sushi shops like these, best to go early!
As these Osaka sushi restaurants are very popular at lunchtime, snaking queues are common. However, as the preparation is quick, the customer turnover rate is fast too.

But near office streets, the weekday lunch crowd from 12:00 p.m. to 1:00 p.m. can get quite bad, so it's best to try avoiding them.

The lunch menus of many shops are displayed at their shop fronts with all the prices clearly written, so be sure to check them out, and find your perfect, value sushi lunch!

Text by: West Plan
We also recommend these restaurants in addition to those above. Save time and hassle - book your table online today!
*This information is from the time of this article's publication.
*Prices and options mentioned are subject to change.
*Unless stated otherwise, all prices include tax.