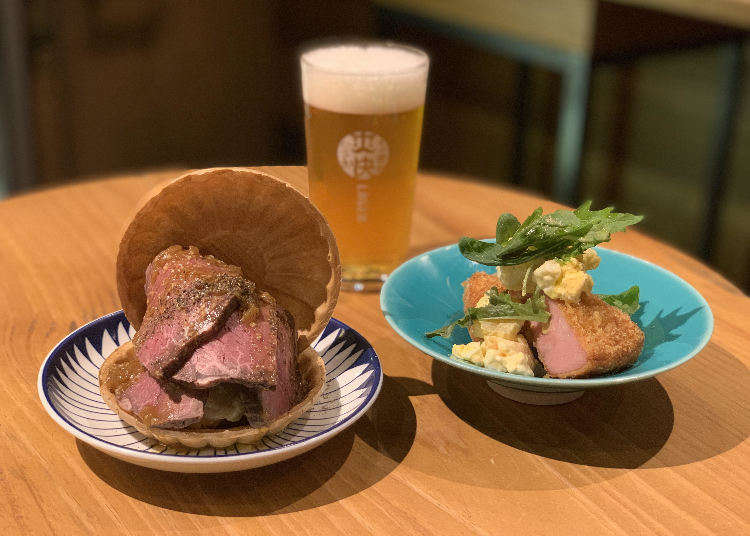 Nothing can beat getting on a good buzz from drinking in the afternoon on holiday! Around Osaka Station and Umeda Station there are some great places offering great value for money and in this article we want to show you our top 3 recommendations. From bargain lunches to standing bars, this area has it all!
1. Maguro Daigaku Suisan Kenkyujo: Only 100% natural tuna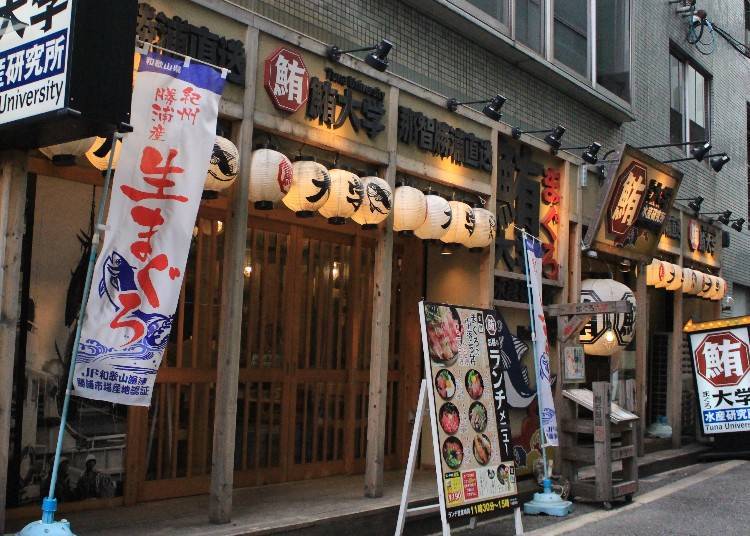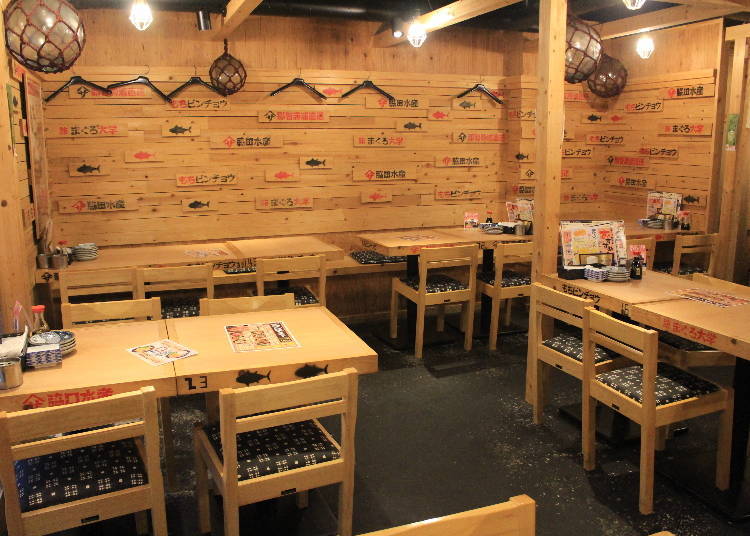 The Maguro Daigaku Suisan Kenkyujo is a spot that specializes in tuna dishes made from 100% fresh natural tuna directly shipped from the Nachi Katsuura fishing port in Wakayama. At night you can eat and compare all types of tuna from Nachi Katsuura, a menu standard being the Maguro Daigaku Mori [Daigaku Assorted Tuna], and other impressive items such as its famous Honetsuki no Maguro no Nakaochi [Bone-in Tuna Meat].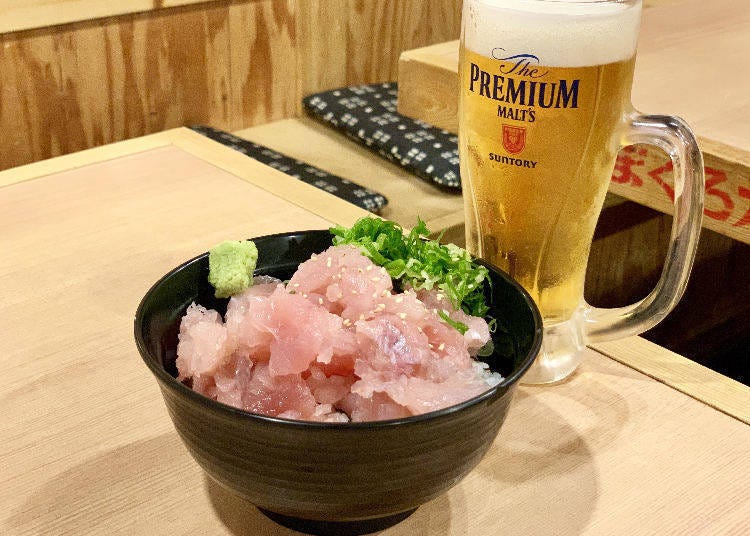 Maguro no nakaochi-don [Tuna meat-off-the-bones bowl] (regular) 800 yen
The portions at lunch are not stingy! This is their famous "Maguro no nakaochi-don" [Tuna meat-off-the-bones bowl]. The size of this "regular" bowl would probably be considered "mega" anywhere else. This fatty tuna has a wonderful, delicate texture. What's more, for another special lunch-time amazingly low price of 190 yen you can order a Suntory Premium Malts beer to go with it, bringing everything to just 990 yen. With the consumption tax added on it still only comes to a little over a thousand yen, which is very reasonable.

The lunch menu offers 8 kinds of dishes including Maguro no Naka Toro-don [medium fatty tuna bowl], Maguro Zuke-don [marinated tuna bowl], Maguro Sousu Katsu-don [tuna sauce cutlet bowl], and Maguro Yukke-don [raw tuna and raw egg mixed together with a spicy Korean sauce]. They're all great value for money with prices ranging between 600 and 1,000 yen. If you really like tuna, for an extra 200 yen you can order large portions.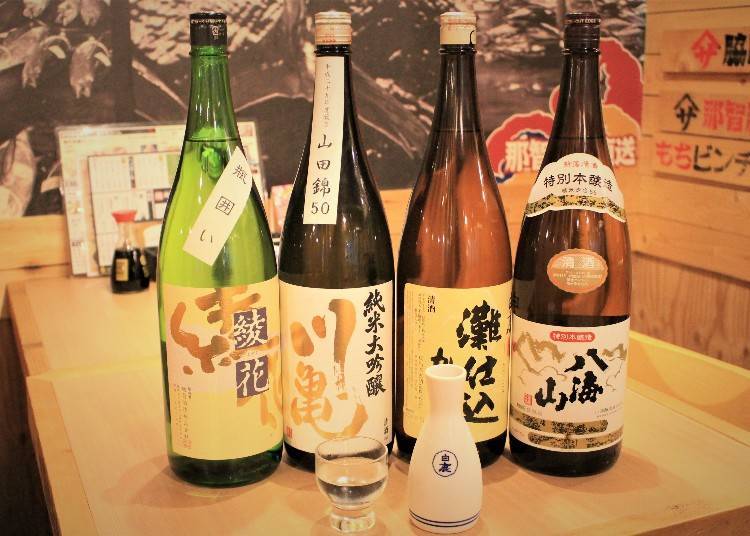 In addition to the fabulously low-priced beer, there are tons of other types of drinks that go well with the tuna such as a strong green tea highball, shochu, and red and white wines. The refreshingly dry Hakkaisan label is also available as well as locally brewed sakes that go well with tuna (prices start at 680 yen for 1 go [about 180 ml.]). Two popular drinks are the Kishu Citrus Sour and Kishu Citrus Highball made with citrus syrup from Kishu.

* Lunch prices exclude tax; dinner prices include tax.
鮪大学水産研究所

Address

1F Daiei New bldg. 1 Chome-12-7 Shibata, Kita-ku, Osaka, 530-0012

Phone Number

06-6375-0111

Open: 11:30 a.m.~ midnight (Weekdays 3:00 p.m. ~ 5:00 p.m. closed for a break)
Closed: always open
2. Hoshuku: Directly managed by a Nara sake brewery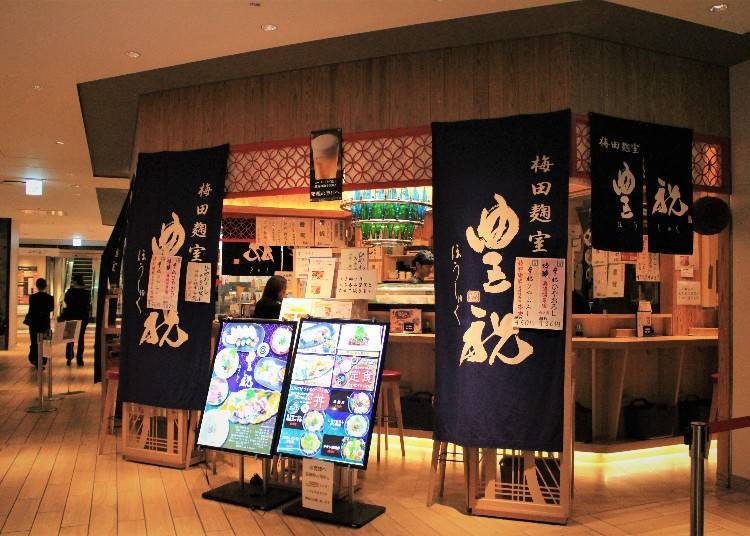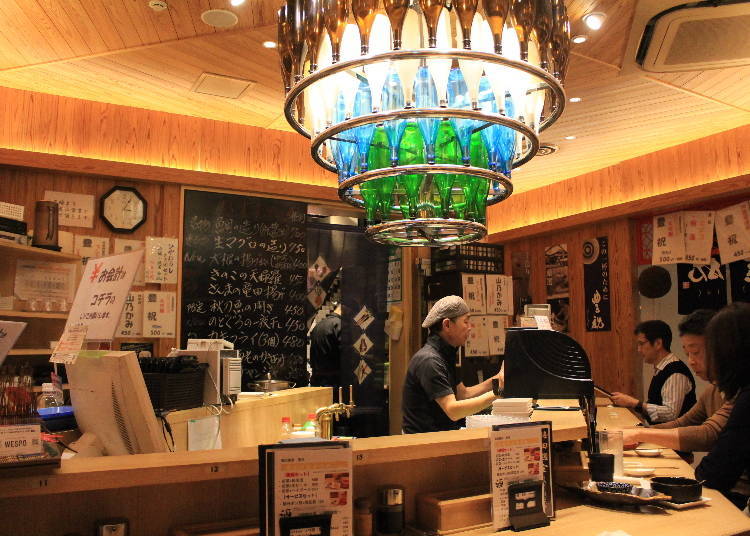 Hoshuku is located in a corner of Barchika, a popular gourmet area in Lucua Osaka that is directly connected to Osaka Station. Due to its excellent accessibility it is open from 11:00 a.m. to midnight. This restaurant offers sake from Toyosawa Sake Brewery, a well-established sake brewery in Nara that has been in business for over 100 years, and bar food that goes well with the sake. There are seven types of sake, from the finest Daiginjo [top-quality sake brewed from rice grains milled to 50% or less of their weight] to the more casual Honjozo [sake brewed without addition of saccharides and no more than 120 liters of seed alcohol per ton], and six types that are seasonal limited brews.

From 5:00 p.m. on weekdays it becomes a standing bar, but from 11:00 a.m. to 5:00 p.m., and all day Sunday and holidays, you can sit and drink at tables. There are a total of 22 seats. The order-made chandelier made from 1.8-liter bottles is pretty eye-catching.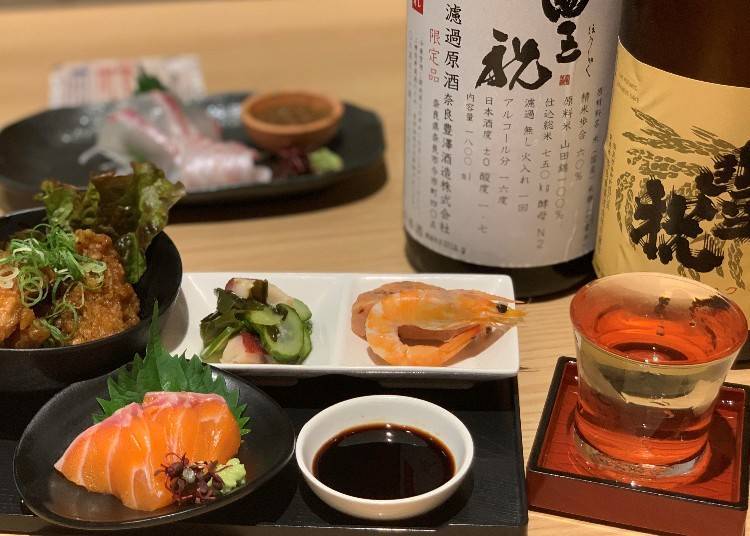 Weekday limited service set (in front) 800 yen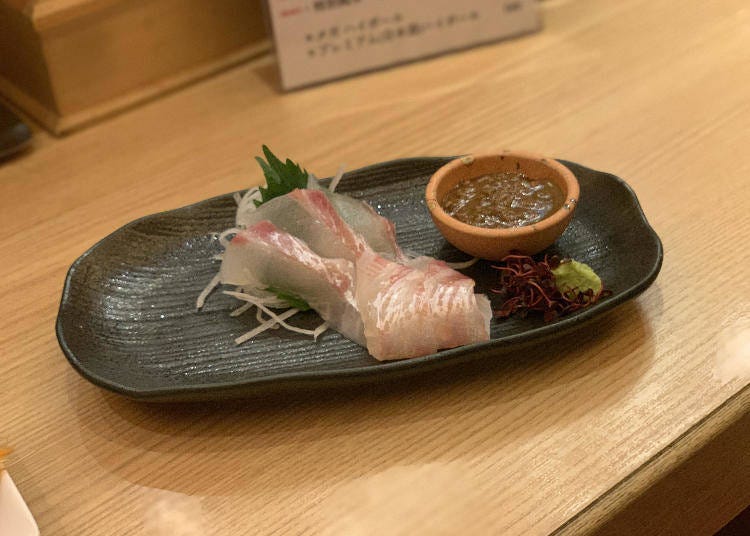 Sea bream sashimi (liver soy sauce) 700 yen
We recommend the weekday-only service sets for the afternoon. These offer the best value for money for sashimi and fried dishes that come with either beer or Japanese sake for only 800 yen. As for the sake, on Mondays and Tuesdays limited brands are offered while from Wednesday to Friday Junmaishu [sake made without added alcohol or sugar] is served. The dishes are carefully prepared, and the sea bream sashimi (liver soy sauce) is especially recommended. The liver soy sauce is an original blend that goes especially well with Japanese sake.

Hoshuku has a solid lunch menu (from 787 yen) offering a fried chicken set meal and a sashimi set meal, both of which can be enjoyed with sake.

* All prices include tax.
梅田麹室 豊祝

Address

B2F LUCUA BARCHICA 3 Chome-1-3 Umeda, Kita-ku, Osaka, 530-0001

Phone Number

06-6151-1545

Open: 11:00 a.m. ~ 12:00 a.m. (11:30 p.m. (L.O.)
Closed: always open
3. Beer Stand Molto!! Proudly offers craft beer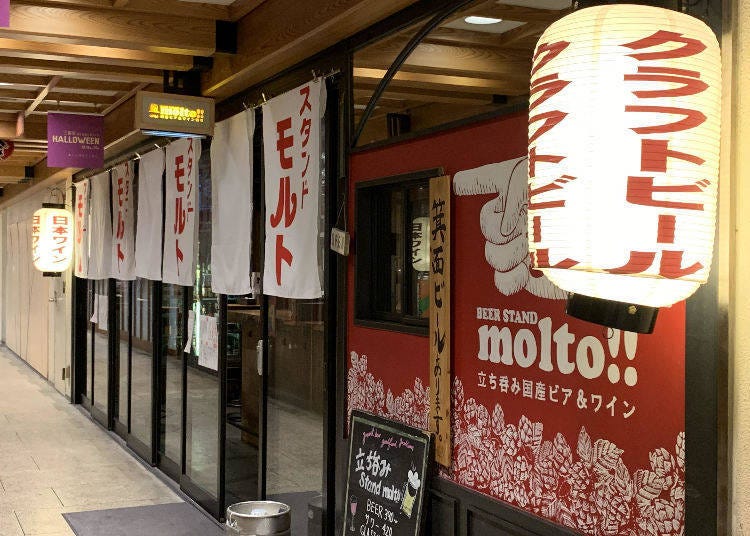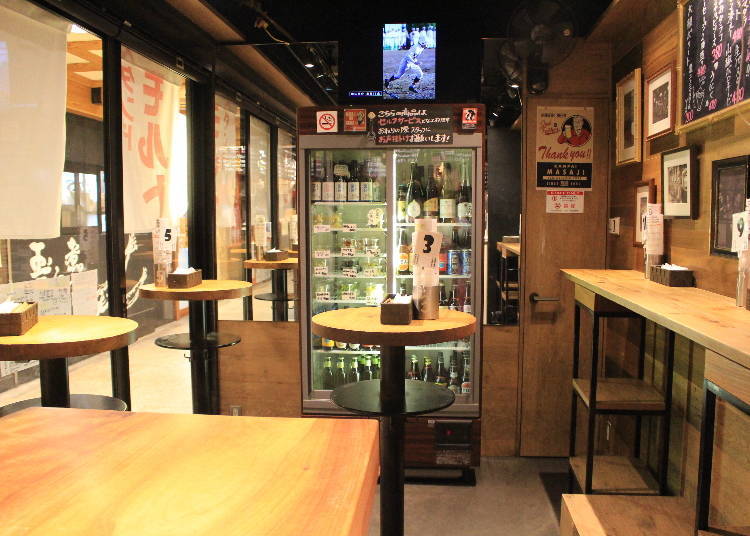 Beer Stand Molto!! Is a stand bar on the corner of Hankyu Sanbangai Jizo Yokocho It primarily serves domestic craft beers. Five different types of draft beer are always on tap and among them the pub's own original "bitter and refreshing lager" is a standard. As its name implies, it has a refreshing bitter taste and comes in three sizes of S, M, and L (can you guess what they stand for?).

The other four types are periodically changed. There are also 35 types of bottled beer which can be purchased for takeout, so there is a wide selection of brands from which to choose. In addition, the bar also serves domestic wines, highballs, and Japanese sake.

This place is popular because you can easily pop in for a quick drink, even in the afternoon, or while waiting for a train or before going to dinner. Some people like to make it their third or fourth stop of the evening, too.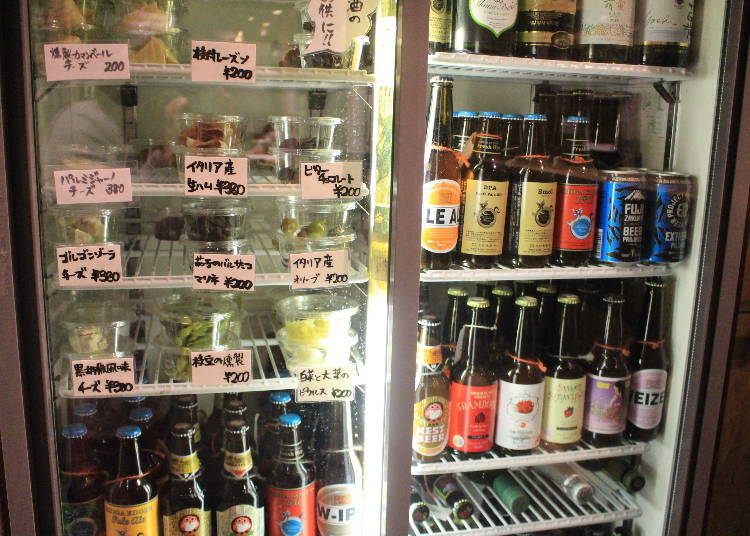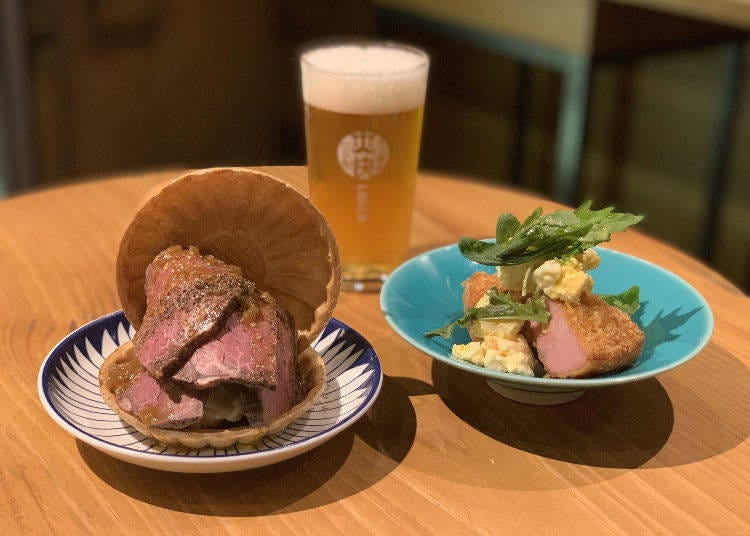 They always have an array of 40 types of Italian dishes. Four to six of these are offered as daily recommendations. The most popular is the Roast Beef and Potato Salad (wasabi flavor) costing 500 yen. Wasabi-flavored potato salad is in the middle and topped with lots of roast beef. An interesting, original dish that is both eye-catching and mouthwatering! Another popular dish is the Ham Cutlet Spicy Tartar (380 yen).

There are also ready-to-eat items in the refrigerator such as Chinese cabbage, pickled beefsteak plant, and smoked green soybeans (200 yen each).

* All prices include tax.
BEER STAND molto

Address

1F Hankyu Sanban Gai South area 1-chome-1-3 Shibata, Kita-ku, Osaka 530-0012

Phone Number

06-6374-3067

Open: 11:00 a.m. ~ 12:00 a.m. (11:30 p.m. (L.O.)
Closed: always open
These three spots are perfect for a jolly holiday whether you're looking for a good value lunch, or just for a bit of day drinking. If you're in the mood, why not go on a pub crawl and head to all three!

Text by:WESTPLAN
*This information is from the time of this article's publication.
*Prices and options mentioned are subject to change.
*Unless stated otherwise, all prices include tax.