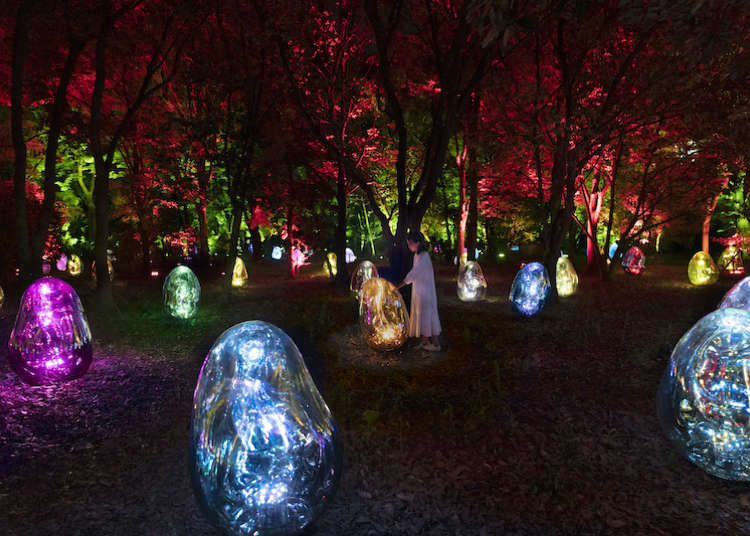 Are you ready for a magical journey through a world where nature meets art? teamLab Botanical Garden Osaka is the brainchild of the renowned art group teamLab. This awe-inspiring open-air exhibit has transformed a beautiful botanical garden into a mesmerizing art space that will take your breath away.

Picture this: stunning plants and trees illuminated by vibrant, ever-changing lighting effects that transport you to a world of wonder. No wonder it's been drawing in countless visitors since its debut! So join us as we explore the highlights of this incredible attraction.

Photo: teamLab Botanical Garden Osaka, Nagai Botanical Garden, Osaka (C) teamLab
What is teamLab Botanical Garden Osaka?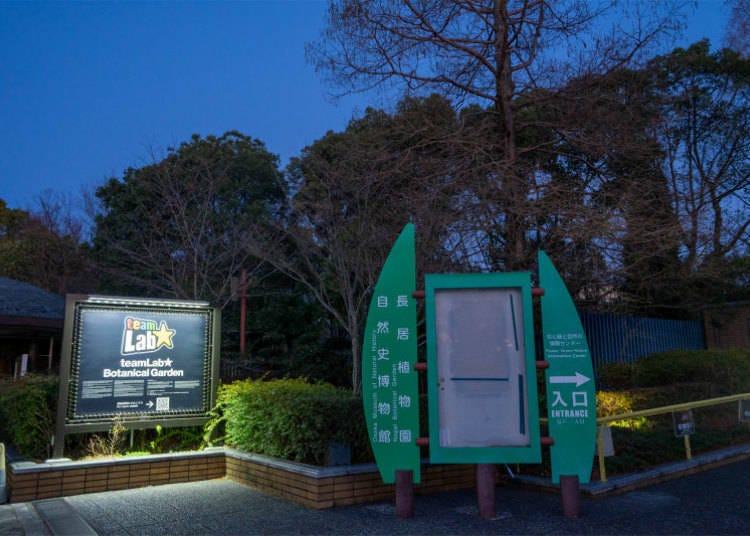 Let's go back in time to the summer of 2022, when teamLab Botanical Garden Osaka opened its doors as a permanent nighttime exhibit in Osaka City. This stunning attraction is located in Nagai Botanical Garden, a park that's been around since 1974.

But don't let its age fool you: after a revamp in March 2022, the garden now spans a whopping 240,000 square meters and is home to over 1,200 different plant species, making it the biggest botanical garden in all of Japan! This transformation involved some serious TLC: the team behind the garden enriched the soil, thinned out the trees, and created optimal growing conditions for all the greenery to thrive.

And now, thanks to the creative genius of art collective teamLab, this once-ordinary park has been transformed into an interactive wonderland that adapts to the rhythms of nature and human presence. It's a truly magical experience that blurs the lines between art and nature, as digital technology brings the garden to life right before your very eyes.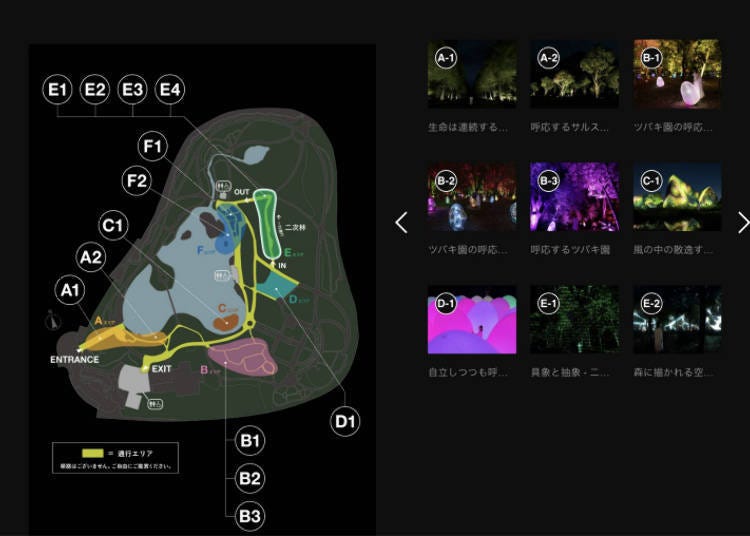 The exhibit is largely divided into the six areas A to F, each with one to four viewing points. Although you enter from a certain section, there is no particular order, allowing you to move freely. This enables you to enjoy the exhibit however you like, returning to areas that interest you or going back and forth between.
The lighting in the exhibit is set very low so that you can fully enjoy the light effects. Since you need to walk carefully, it's best to wear clothes that are easy to move around in. Wear pants, sweatshirts, T-shirts, sneakers, etc., rather than high heels, dresses, or other restricting clothing.

Also, because the botanical garden is outdoors, it tends to be cold in winter and hot in summer, and insects can be a concern. It's advisable to wear cold-resistant puffer coats in the winter, and insect-repellant spray in summer.
Online and Ticket Agencies
Adults (high school students and older): 1,600 yen
Children (elementary and junior high school students): 500 yen
Preschoolers: Free
Local Ticket Office Prices
Adults (high school students and older): 1,800 yen
Children (elementary and junior high school students): 600 yen
Preschool children: Free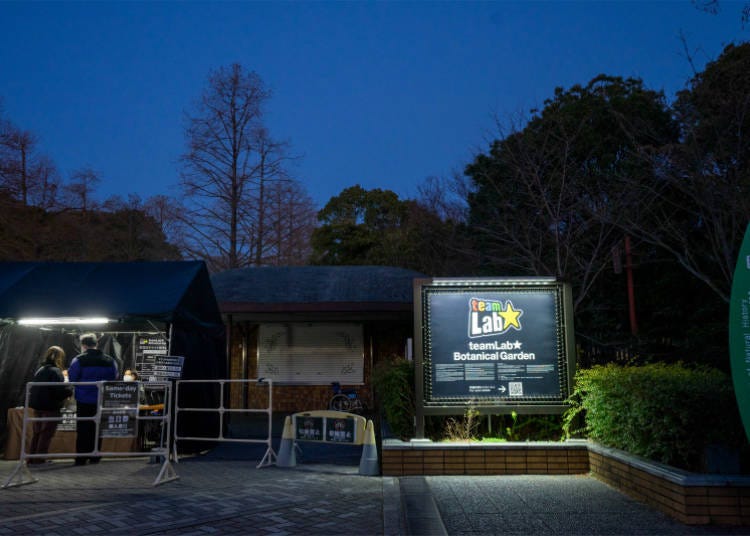 The ticket office is located by the entrance. Only same-day tickets can be purchased here, so if you want tickets for the next day, you should visit the next day or purchase online.

Since tickets at the ticket office may be sold out and same-day tickets tend to be expensive. We recommend purchasing them in advance online or through a ticket agency.
Getting to teamLab Botanical Garden from Osaka Station
Route 1: Go to the adjacent Umeda Station and take the Midosuji Line to Nagai Station. From here, it's a ten-minute walk east of Exit 3 (approximately 32 minutes, 280 yen)
Route 2: Take JR's Yamatoji Rapid Service Line from Osaka Station to Tennoji Station. Transfer to the Hanwa Line and take the train to Nagai Station.
Route 3: Take the JR Yamatoji Rapid Service from Osaka Station to Tennoji Station on the Hanwa Line and get off at Tsurugaoka Station. From the East Exit, walk southeast for about 15 minutes (approximately 45 minutes, 220 yen).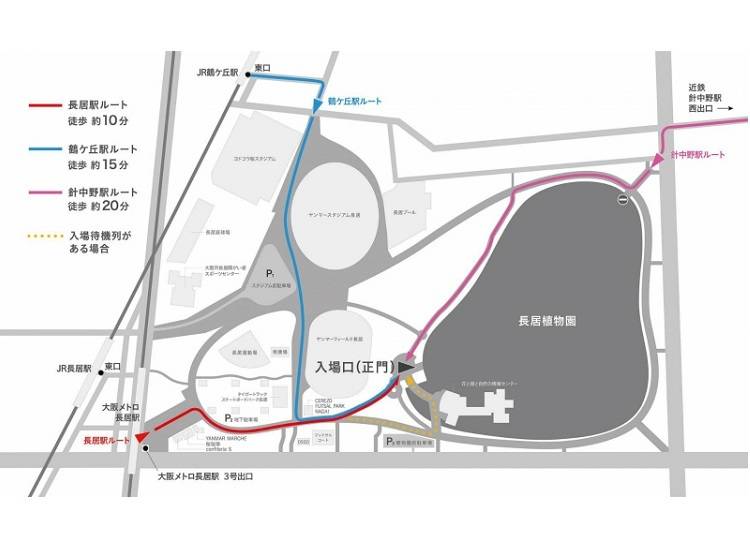 If you take the subway to the site, you will see the entrance to Nagai Park as soon as you exit from Exit 3. Once inside the park, there are signs to guide you to teamLab Botanical Garden Osaka, making the trip easy!
Introducing the must-see areas: Snap photos anywhere!
What makes teamLab Botanical Garden Osaka so darn special? Well, for starters, it's a feast for the senses! From the moment you step into this amazing exhibit, you'll be surrounded by beauty that you can see, touch, and even capture on camera.

Whether you're admiring the plants, feeling the textures of the leaves, or snapping a selfie with a digital art installation, there's no shortage of ways to appreciate the stunning surroundings. And the best part? It feels like the exhibit is alive, as if it has a mind of its own. Trust us, your expectations will be more than met when you enter this magical world!
Area A: Walk in awe along a tree-lined path!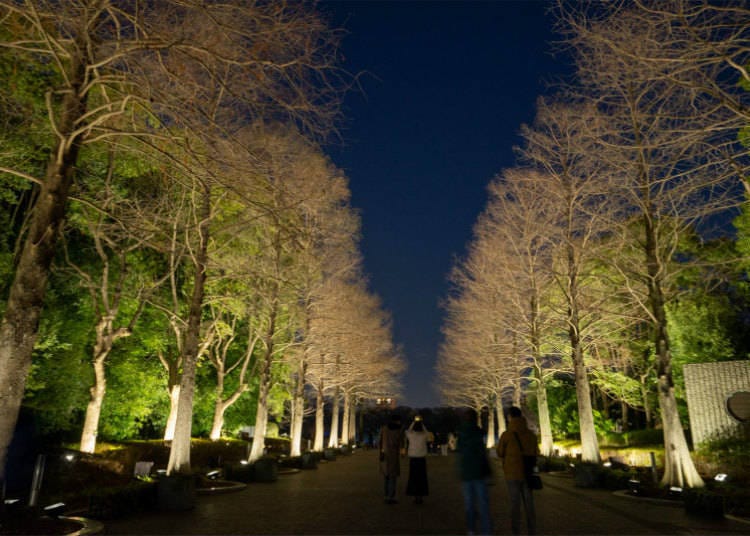 In "Area A," the first thing that catches the eye is the bald cypress tree-lined path. Called "Life is Continuous Light - Bald Cypress," this brightly lit path is accompanied by beautiful melodies. The illuminations and music are transferred onto the bald cypress trees, filling them with an undulating radiance.

As you stand admiring one illumination, you will start to notice other parts of the path beginning to glow. This means that someone else has set off a light. Even in the darkness, you can feel the presence of people in one space.
Area A: Other recommendations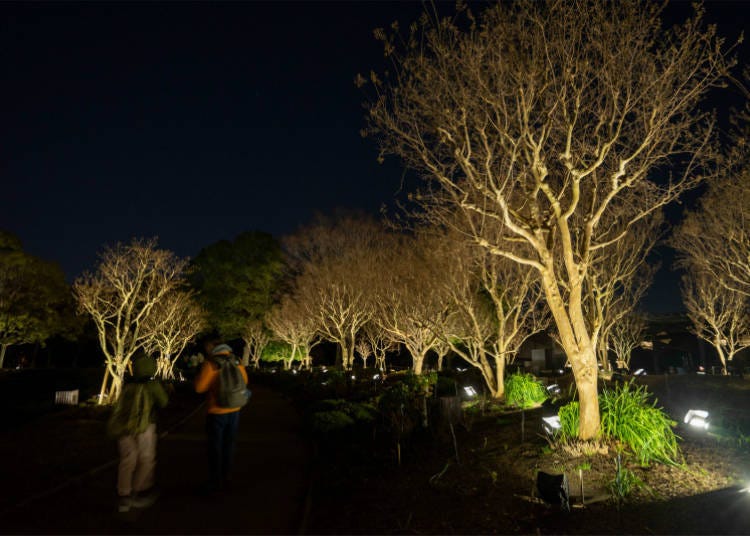 A short walk along the bald cypress-line path leads to carpe myrtle trees. Like the bald cypresses, they emit light and sound when people walk along them. The light leads you along the path.
Area B: Fantastical ovoid displays decorate the Camellia Garden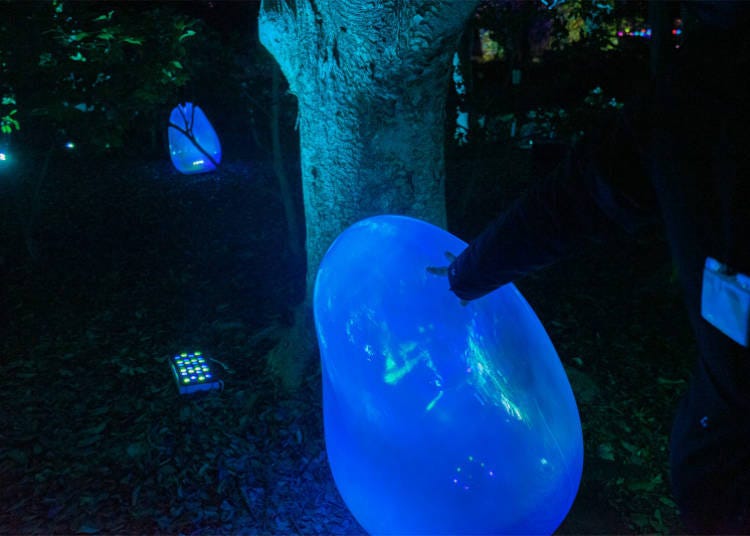 A cluster of egg-like structures or "ovoids" await in an area where camellias bloom. This exhibit, "Resonating Microcosms in the Common Camellia Garden - Liquified Light Color, Sunrise, and Sunset," presents a fantastic atmosphere with ovoids glowing in various colors.

You can also touch the ovoids freely! They instantly change color and emit a gentle melody when touched or pressed. Even if you only touch one, the surrounding ovoids also produce light and sounds in response, creating the unique experience of slowly being surrounded by the objects.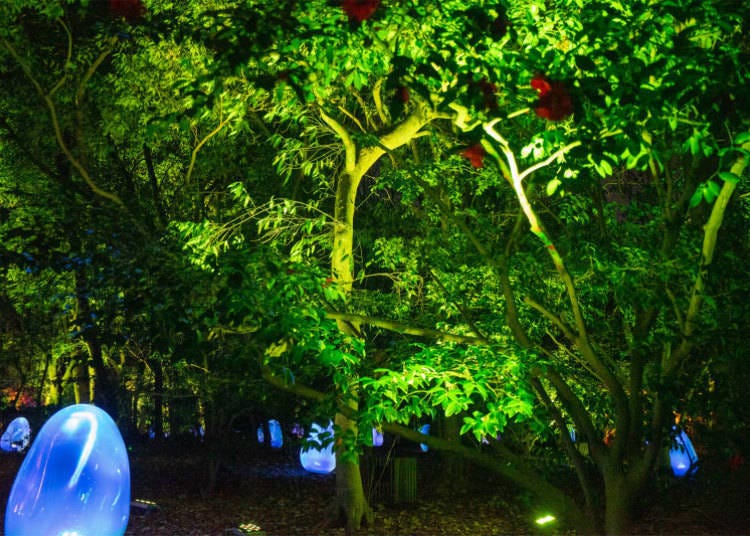 As you walk a little further to the "Resonating Common Camellia Garden," the trees start to glow along with the ovoids. The light emitted by the many ovoids is transmitted onto the trees, flickering as if they were slowly breathing. The illuminated, bright red camellia flowers are among the most impressive sights. This special view can only be enjoyed in the winter.
Area C: Admire the movement of birds projected onto sculptures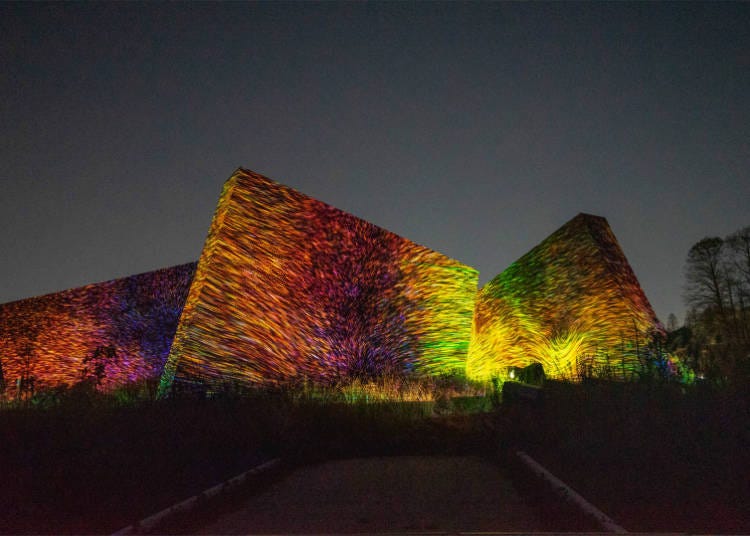 A group of sculptures near a large pond, located toward the center of Nagai Botanical Garden, is said to respond to the energy of the birds flying around it. This area is called "Sculptures of Dissipative Birds in the Wind."

Footage changes rapidly from that of birds flying earlier in the day to scenes of birds flying in the moment.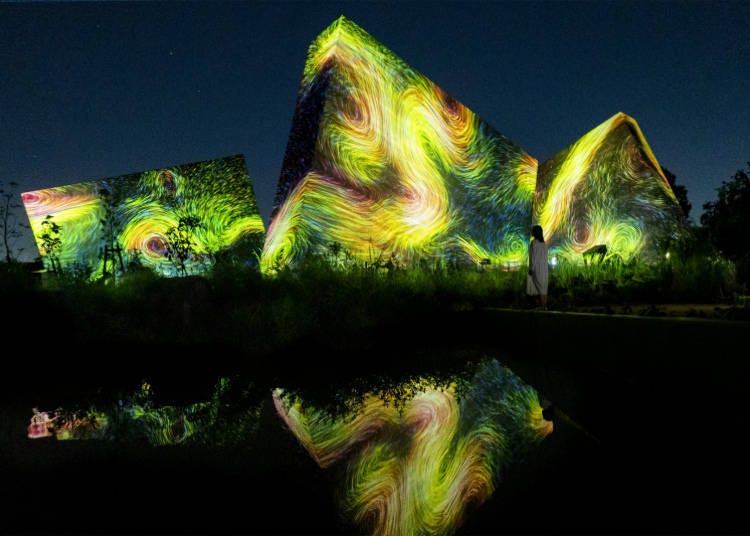 teamLab, Sculptures of Dissipative Birds in the Wind © teamLab
At certain times, the sculptures are covered in swirling streams of light. This beautiful light display is realized due to the gathering of birds. Time flies while gazing at this powerful and vivacious art installation.
Area D: Enjoy a photogenic, ovoid-filled spot!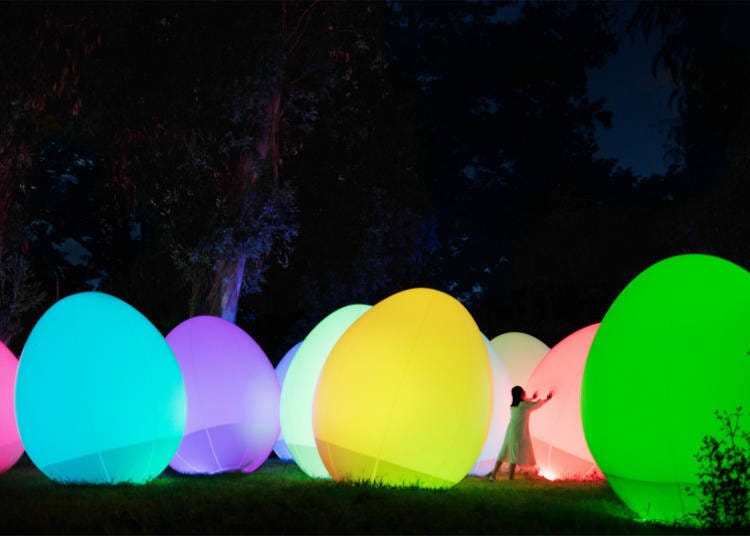 teamLab, Forest of Autonomous Resonating Life - Eucalyptus © teamLab
Area D is named the "Forest of Autonomous Resonating Life - Eucalyptus." Large, brightly lit ovoids taller than the average human stand clustered densely together here. The soft exteriors give off a nurturing presence, and standing between them is strangely comforting.

The light color and music change when the ovoid moves or falls due to the wind, creating a fantastic atmosphere. What's more, one illuminated ovoid triggers the changing of color in its neighbors, allowing the color to spread gradually throughout the area.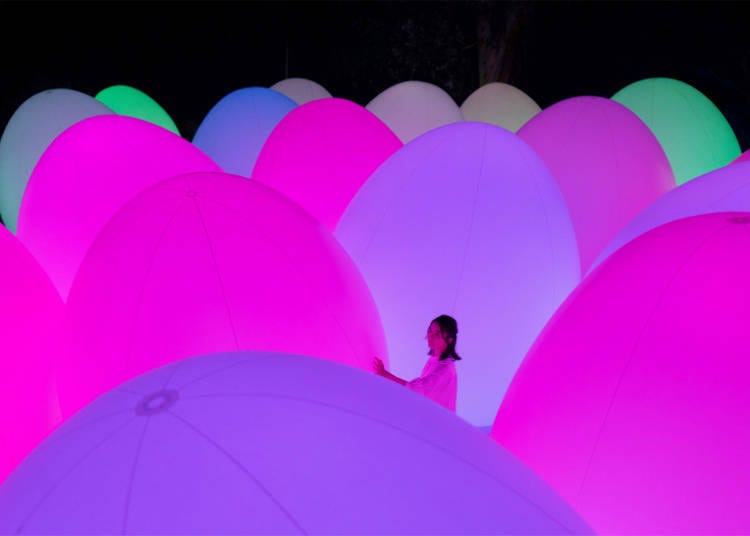 Although brightly lit, being between the ovoids makes you feel at ease. This is a very colorful, tranquil, and mysterious experience.
Area E: A Breathtaking space that merges forest with digital technology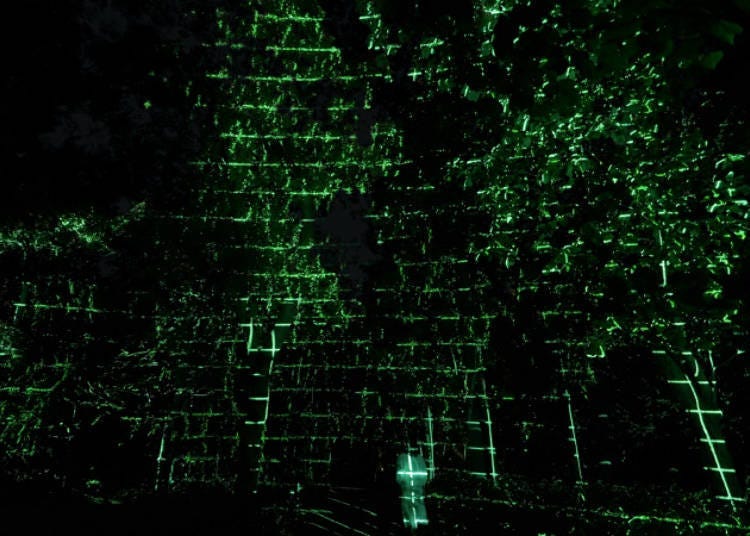 teamLab, Concrete and Abstract - Secondary Forest Entrance © teamLab
The entrance to the forest, crowded with trees, is covered with digital wire that freely projects in all directions, creating a very mysterious atmosphere!

This area is called "Concrete and Abstract - Secondary Forest Entrance." It offers a natural environment with forests, plants, and animals, but with the addition of digital wires that create the illusion of a screen-like, flat surface. The two-dimensional exhibit, comprised of darkness, light, and forest, is truly breathtaking!
Area E: Other recommendations
Walking through the forest, you'll be greeted by the "Spatial Calligraphy in the Forest - One Stroke, Secondary Forest" area. The bold and powerful lines of the "spatial calligraphy," which teamLab has been writing since its establishment, overlap, cross, rotate, and eventually disappear into the forest.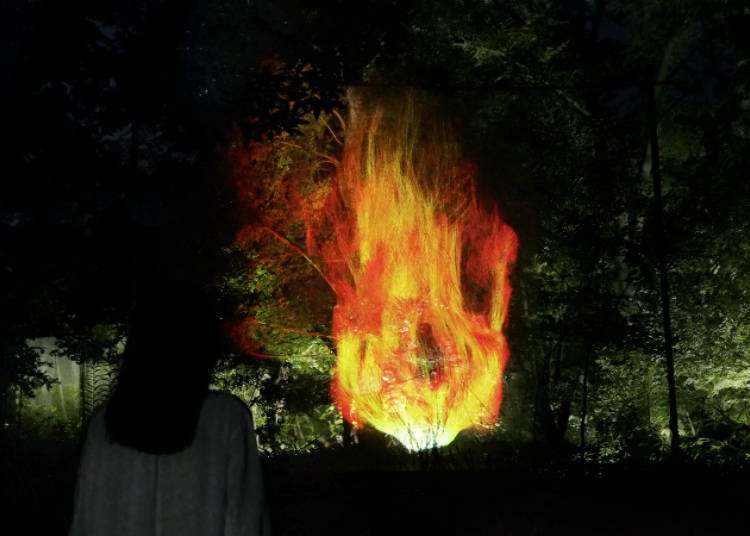 teamLab, Universe of Fire Particles in the Forest - Secondary Forest © teamLab
Walking further, you'll reach the continuously aflame "Universe of Fire Particles in the Forest - Secondary Forest." The intense yet quiet burning of the flames are very beautiful!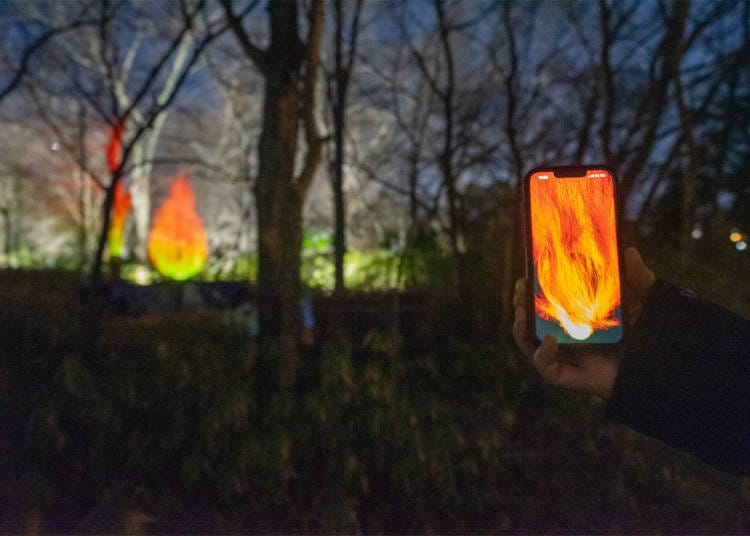 By approaching the flames with teamLab's "Distributed Fire" app, you can capture and save them to your smartphone, making it a unique souvenir. You can even share the flames with others at home, contributing to their steady spread.
Area F: Enjoy an enchanting combination of colors by the water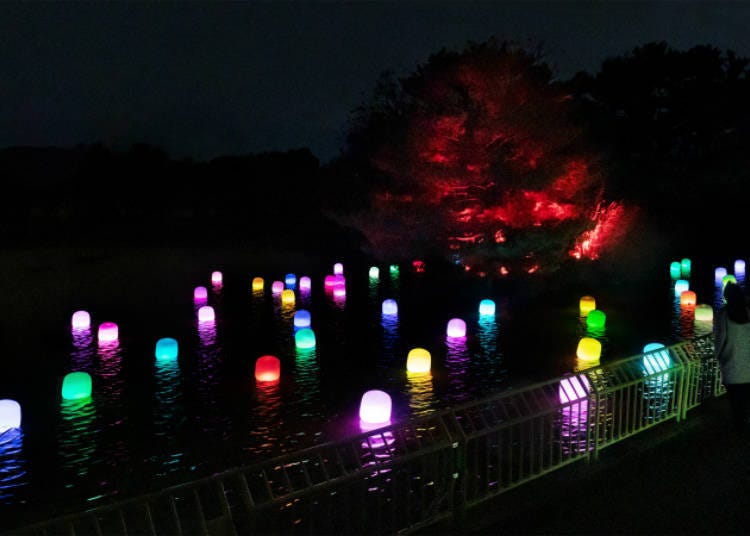 teamLab, Floating Resonating Lamps on Oike Lake - Ambiguous Colors © teamLab
"Floating Resonating Lamps on Oike Lake - Ambiguous Colors" is a winter-limited display in which lamps individually emit vividly colored light. The color of the lamps changes and play music once you stand nearby or if the wind moves them. What's more, the surrounding lamps respond and adapt to these changes.

Japan has a culture of enjoying the combination and layering of traditional colors called kasane-no-irome. These ambiguous colors created by such combinations were given seasonal names and have been chosen for the colors of the lamps, representing traditional Japanese culture.
teamLab's Handy Guide App!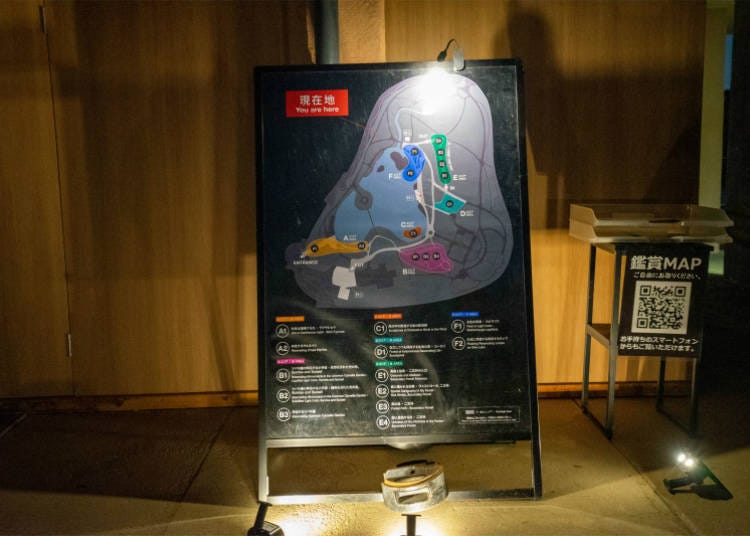 All teamLab Botanical Garden Osaka's guide boards are available in Japanese and English. A viewing map in Japanese and English is also available in front of garden restrooms, but as it's very dark, reading the map while walking around can prove to be difficult. If you want to know more about each art installation, we recommend downloading the free teamLab app and guide application.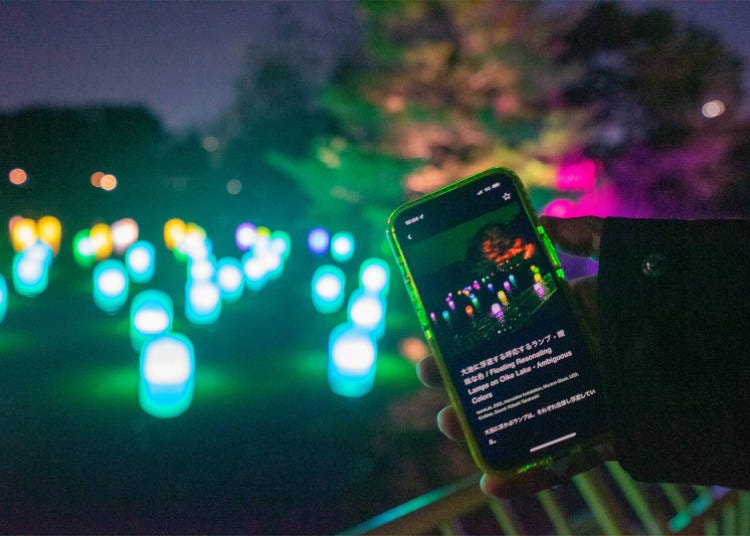 Upon launching the app, it automatically displays the concepts of nearby artworks and tells you how to enjoy them with explanations and videos. The app is very easy to understand, offering opportunities to immerse yourself in the works further! It also has multiple language settings, including English, Chinese (traditional and simplified), and Korean, and displays in the language appropriate for your smartphone.
Nature and Technology Come Together at this Botanical Garden Night Display!
Nagai Botanical Garden, which has been renovated to enhance its natural beauty, offers special nighttime displays! Art in the outdoors is highly enjoyable and offers changes in scenery throughout the seasons. Moreover, the illuminations and music are very alluring! We recommended adding this to your travel list as its charm remains in any type of weather.
Take a trip to teamLab Botanical Garden Osaka, where you can feel connected to both people and the environment.
teamLab Botanical Garden Osaka

チームラボ ボタニカルガーデン 大阪

Address

1-23, Nagaikoen, Higashisumiyoshi-ku, Osaka-shi, 546-0034

・TEL: 06-6699-5120 (Noon - 8 PM)
・Hours:
- From August 22 to September 10: 7 PM - 9:30 PM
- From September 11 to October 31: 6:30 PM - 9:30 PM
- From November 01 to February 29, 2024: 6 PM - 9:30 PM
- Last entry at 8:30 PM
・Online purchase: High school students and older: 1,600 yen, Elementary and junior high school students: 500 yen, Preschool children: free
・On-site purchase: High school students and older: 1,800 yen, elementary and junior high school students: 600 yen, preschool children free of charge
・Closed: 2nd and 4th Mondays of every month in 2023 (Sep 4, Sep 25, Oct 16, Oct 30, Nov 13, Nov 27)
(*The exhibition will be held even in the event of rain. It may be cancelled in case of typhoons or other inclement weather. Notifications will be made on the official website as needed.)
*The information in this article is from March 2023, with times updated in September 2023. Please check the official website for the latest information.
Written by: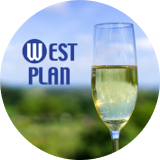 *This information is from the time of this article's publication.
*Prices and options mentioned are subject to change.
*Unless stated otherwise, all prices include tax.
Limited time offer: 10% discount coupons available now!