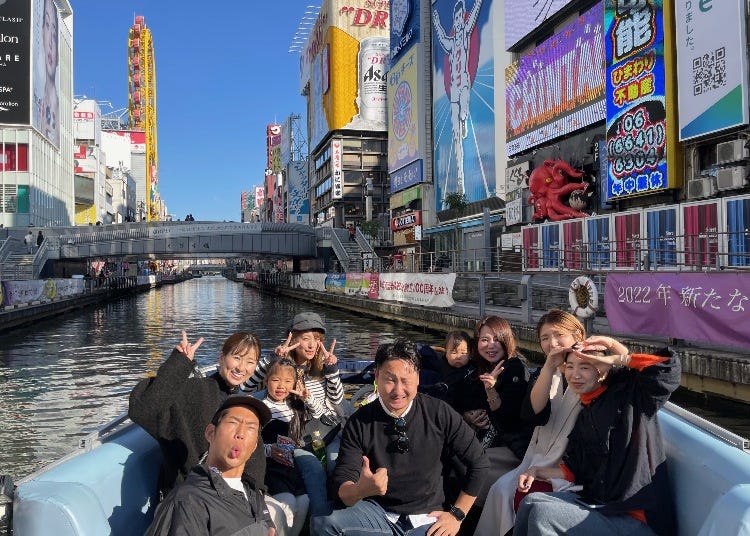 General Toyotomi Hideyoshi constructed Osaka Castle about 400 years ago (1583). Following that, Osaka merchants built the artificial river, the Horikawa, as a channel to transport goods. With that, water transportation flourished.

And while water transportation may no longer be the "in thing" today, that L-shaped river surrounding the city of Osaka still serves an important purpose: a way to enjoy sightseeing cruises!

Today, we introduce you to the exciting adventure of an Osaka cruise as we report on our experience on an actual Indy Cruise!
What Makes An Osaka Cruise Worthwhile?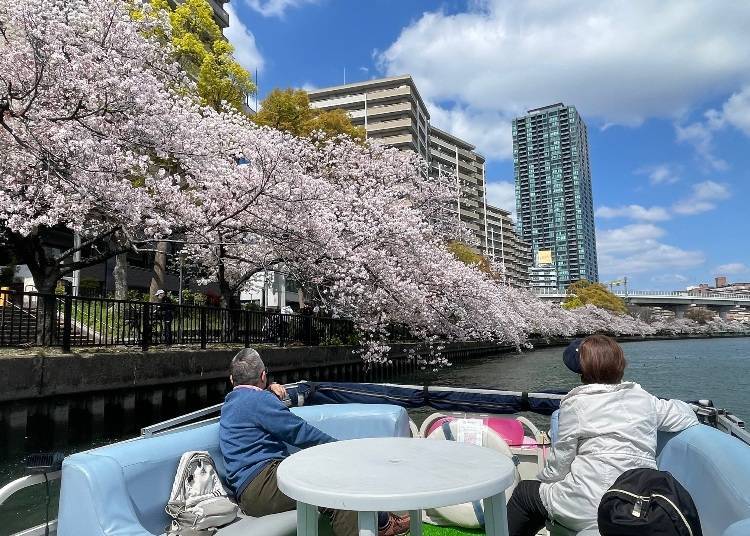 Lots of sightseeing boats operate around Osaka. The Santa Maria takes you around Osaka Port, while the Osaka Suijo Bus Aqua Liner offers a view of Osaka Castle from the river.

Meanwhile, the Tombori River Cruise passes right before Dotonbori's landmark Glico signboard. There are other tours, including Night View Cruises, which offer scenes of Osaka's nighttime cityscape, and spring-time Sakura Cruises which take you through rows of cherry blossom trees in Nakanoshima.

Each cruise has something special to offer, making them particularly popular with foreign tourists, especially those introducing classic Osaka sightseeing spots such as Osaka Castle and the Glico sign. Private charter plans are also available so that you can book a private cruise for your family and friends!
Hop Aboard the Indy Cruise!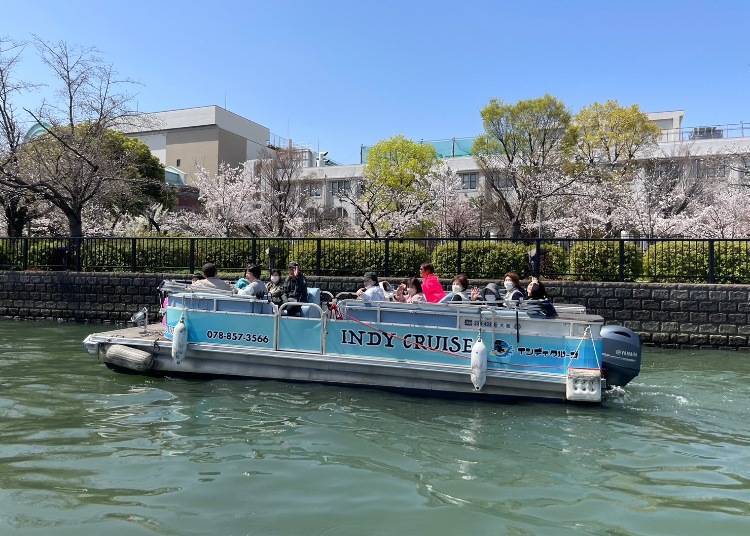 For today's tour, we used Indy Cruise, which offers a variety of options, from short 20-minute tours to longer excursions of nearly two hours or more!

・Water Roller Coaster (20 min): Adults: 3,300 yen / Children: 2,200 yen
・Rose Garden Cruise (20 min): Adults: 1,320 yen / Children: 770 yen
・Takoyaki Cruise Dotonbori (50 min): Adults: 4,400 yen/ Children: 3,300 yen
・Around Nakanoshima (60 min): Adults: 3,300 yen / Children: 2,200 yen
・20-minute Dotonbori Course (20 min): Adults: 1,100 yen / Children: 550 yen
・60 minute Dotonbori & Suimon Passage (60 min): Adults: 3,300 yen / Children: 2,200 yen

Child price includes children ages 4-11.
All prices include tax.

In addition to those mentioned above, they also hold special event cruises, including the nighttime 'Illumination Cruise,' the springtime cherry blossom-viewing 'Sakura Cruise,' and the 'Takoyaki Cruise,' in which passengers can grill their own takoyaki while on board!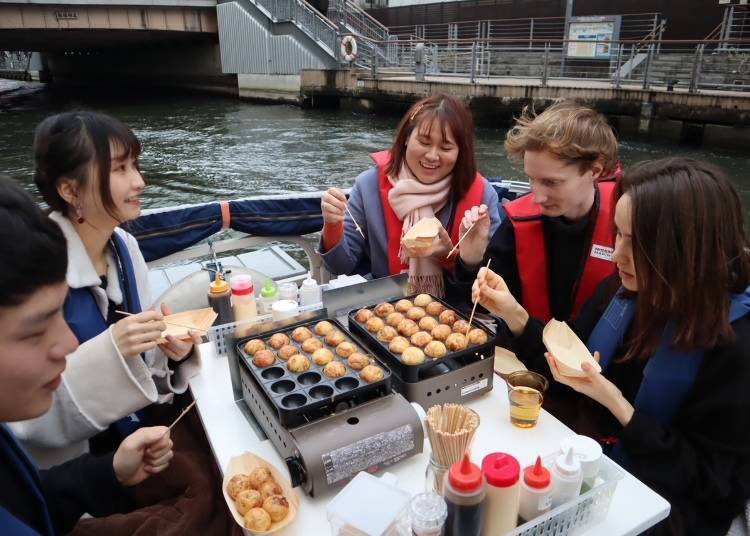 The Takoyaki Cruise is especially popular with tourists, as it provides an excellent opportunity to enjoy both the scenery of Osaka as well as one of its delicacies at the same time.

While aboard the boat, passengers get to grill and enjoy their own hand-made takoyaki! But don't worry if you've never made takoyaki before. The staff members on board will be more than happy to show you how to do it!

Passengers are also welcome to bring along their own food and beverages on board, so feel free to grab some beer or soft drinks beforehand to make a water-top toast with your friends!
Dotonbori & Suimon Course: A 90-Minute Cruise Around Osaka City!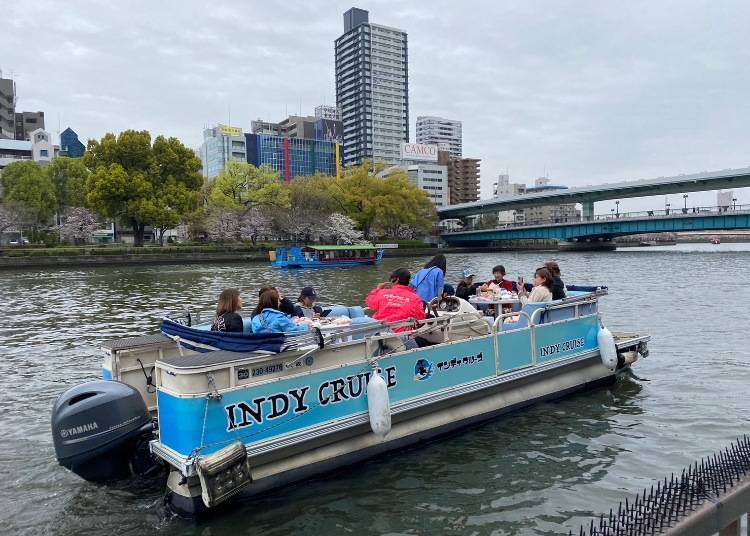 The tour we chose today was the 90-minute Dotonbori & Suimon Osaka City Round-Trip Course (Adults: 5,500 yen / Children: 3,300 yen).

This tour begins from the boat terminal in Namba and passes through the suimon water gates. It then takes you around the city of Osaka, cruising through areas like the Nakanoshima business district and Dotonbori. It's also the only cruise that takes you right through the water gates, making it a must-see attraction you'll only find here!

Passengers are allowed to bring drinks onboard, as well. The cruise is 90 minutes long, so feel free to kick back and enjoy a moment of leisure!
Close to Osaka Metro Namba Station!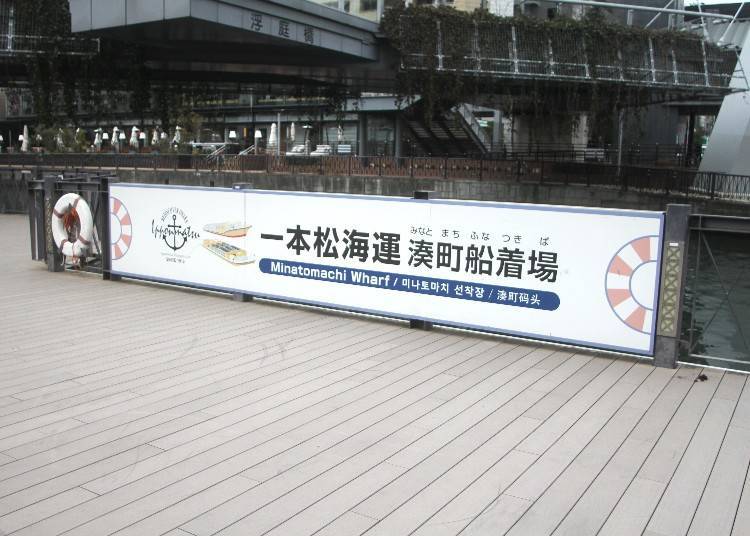 For the 90-minute Dotonbori & Suimon Osaka City Round-Trip Course, you'll board the boat at Minatomachi Pier, located at the Minatomachi River Place. It's right next to Exit 26-B of Osaka Metro Namba Station, just two minutes on foot from Kintetsu and Hanshin Osaka Namba Station (West Ticket Gate), and a 3-minute walk from JR Namba Station (North Ticket Gate).

For those going by car, note that there is no dedicated parking lot, however, there are coin-operated lots in the area you can use.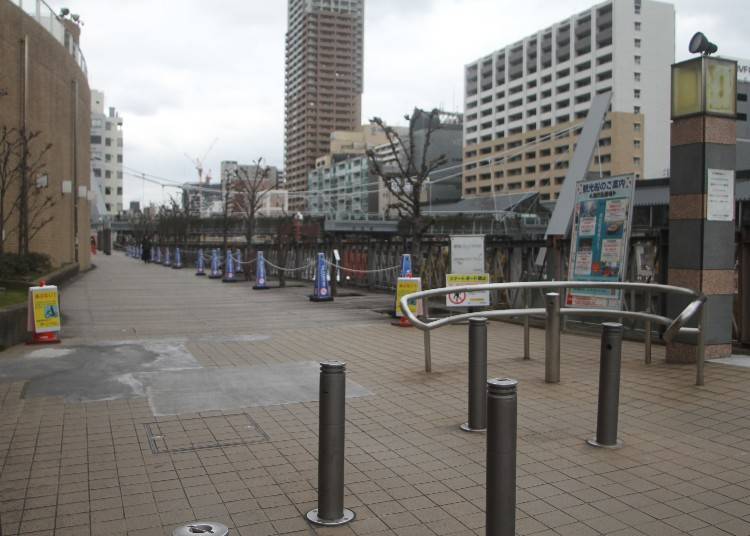 Take Exit 26-B at Osaka Metro Namba Station, cross at the pedestrian crossing, and turn left.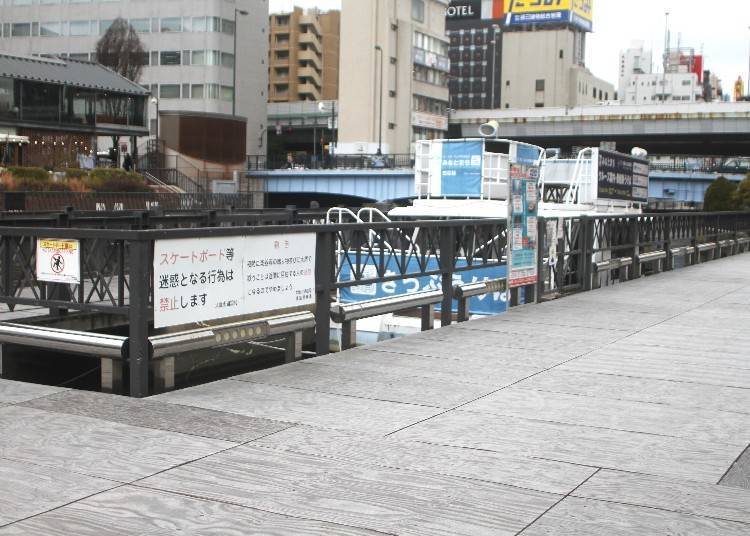 This is Minatomachi Pier, where you'll board your boat. We recommend getting to the pier at least 10 minutes before departure. There's no reception desk, but a staff member will be present to greet you.

Masks are not mandatory aboard the ship, however, when riding with other passengers, you may be encouraged to wear one. We recommend bringing your mask along, just in case.

Please note that the 90-minute Dotonbori & Suimon Osaka City Round-Trip Course requires reservations at least 3 days prior to the date of your cruise, as it takes some time to obtain the application necessary to pass through the water gates.
What Facilities Are On Board?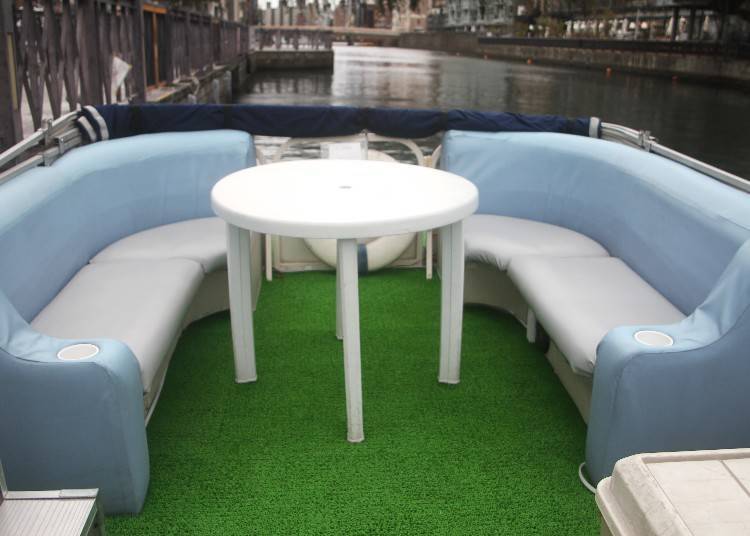 Sofa seats in the front
The ship's interior has spacious sofa seating, with two 3-seaters in the front and one 6-seater in the back. It can hold a capacity of 12 passengers, with dogs also allowed with advance notice.

Passengers can request tables (one each in the front and back) to use when bringing your own food and drink. In the winter, you can also request regular and electric blankets free of charge, with kotatsu* also available during certain periods.

A kotatsu will keep you warm from the waist down, which really makes a difference on a chilly winter cruise! Kotatsu are especially popular amongst foreign visitors eager to experience a unique part of Japanese culture.

(*A Japanese heating device equipped with a heat source under the table and covered with a thick cloth or other material.)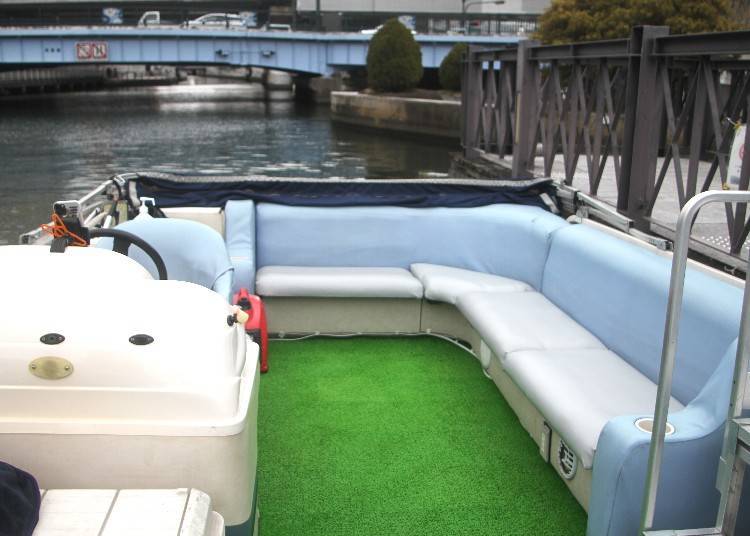 Sofa seats in the rear
There's also a simple toilet toward the back of the ship. Longer cruises may make stops at facilities with restrooms along the way, however in general, we recommend taking care of business before boarding if you can.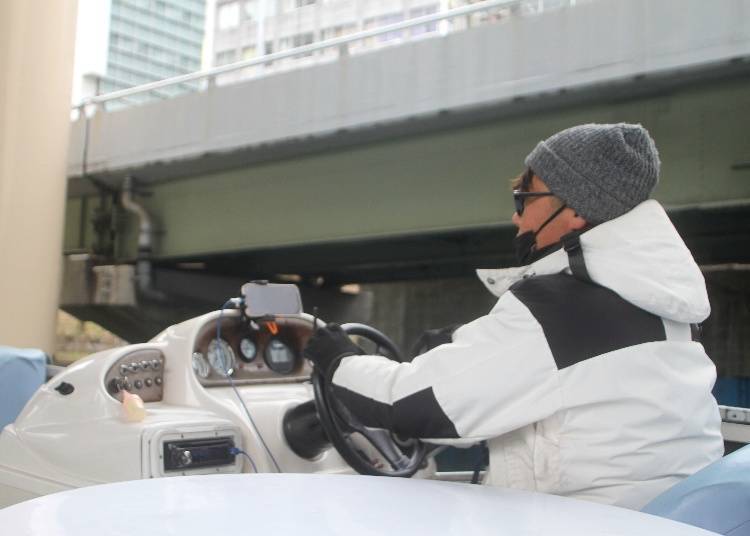 It's time to hop aboard and set sail! The river's current is relatively calm, so you won't have to worry about rough waters. For those concerned about seasickness, according to the staff, while it's still a possibility, there have only been a handful of cases over the past few years.

During the cruise, the guide may provide commentary at key landmarks (in Japanese or simple English), but in general, each passenger is left to enjoy the cruise on their own.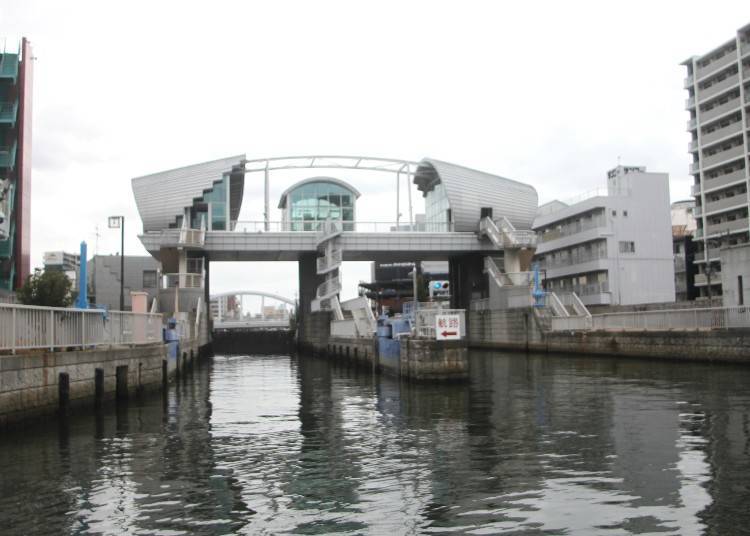 The first highlight of our trip is the water gate at the mouth of the Dotonbori River. This course grants passengers the rare experience of passing right through it!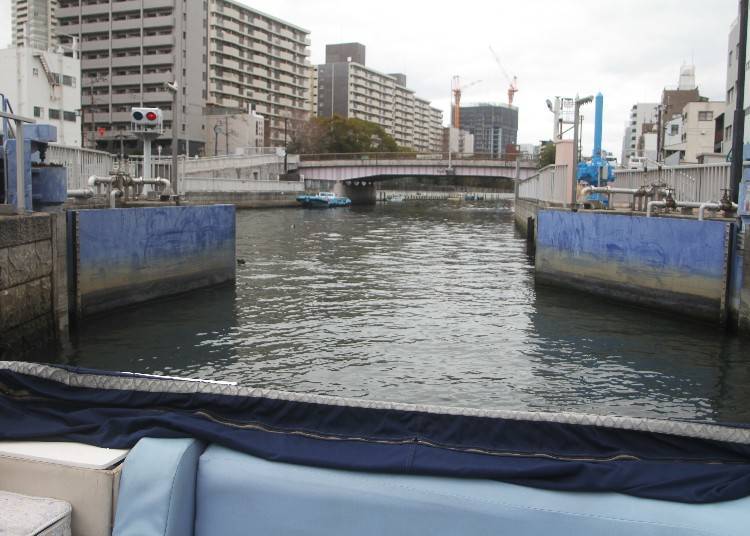 As the ship moves into position, the two blue doors at the rear on either side slowly close.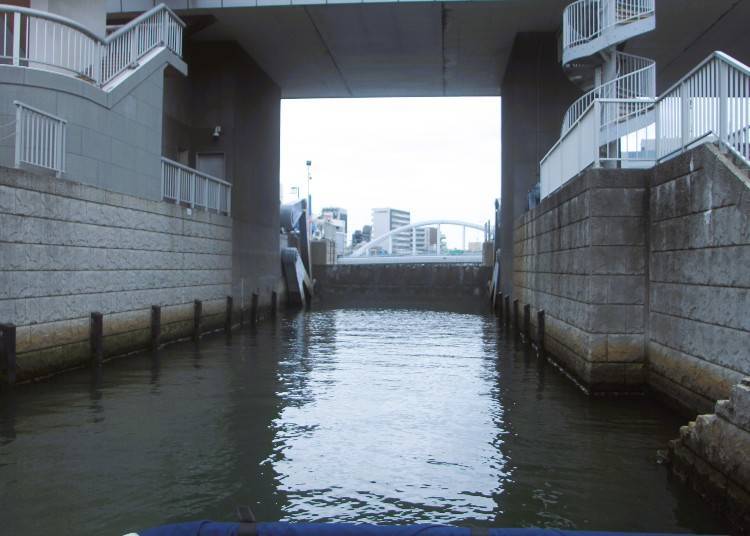 At the same time, the door in the front slowly lowers to adjust the water level.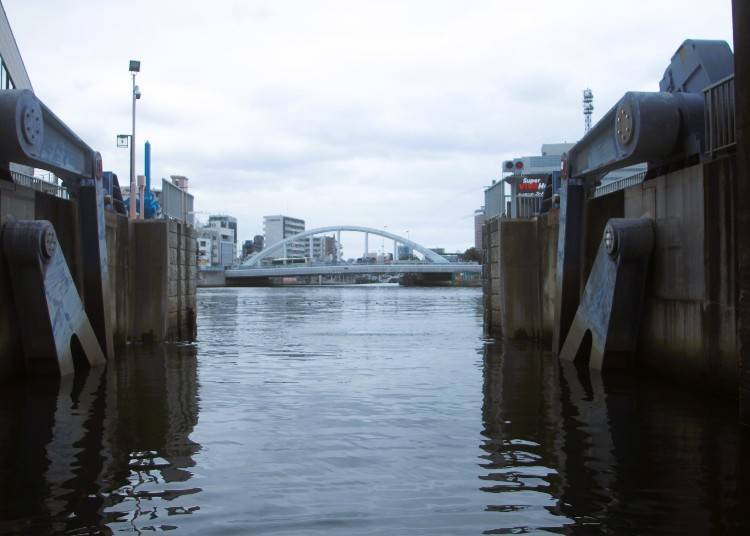 When the signal turns green, the boat is ready to pass. This river converges with the Kizugawa River on the other side of the Dotonbori River. Passengers get to enjoy this experience not once, but twice, when passing through both the Dotonbori River and the Higashi Yokobori River water gates.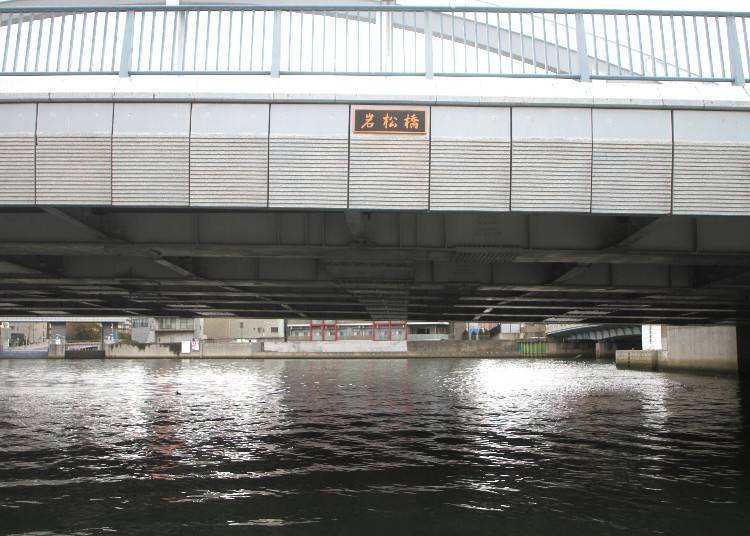 The second highlight is getting to pass under so many bridges! During the Edo Period (1601-1867), Osaka was known for having many bridges, so much so that it was dubbed "Happyakuya-bashi," or "eight hundred and eight bridges." You will pass under a number of them during this cruise.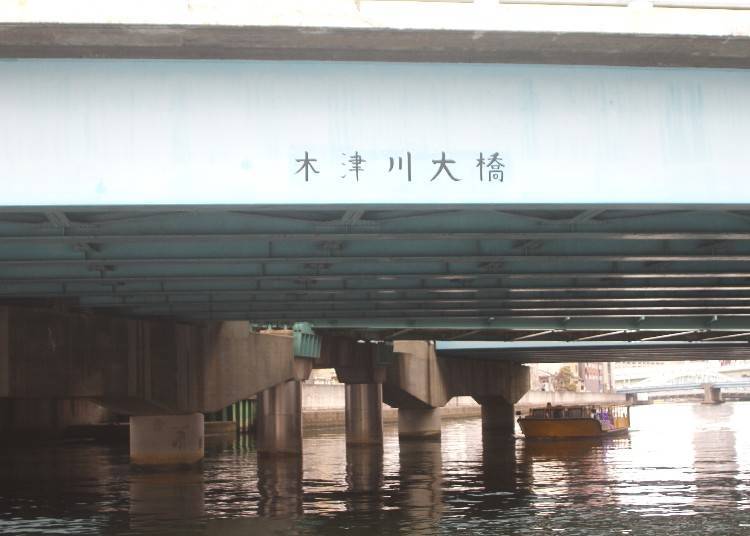 What's really surprising is just how different each bridge is! Some bridges have people's names inscribed on them, and others have the bridge's names written on them by hand. There's so much to see, you'll never get bored!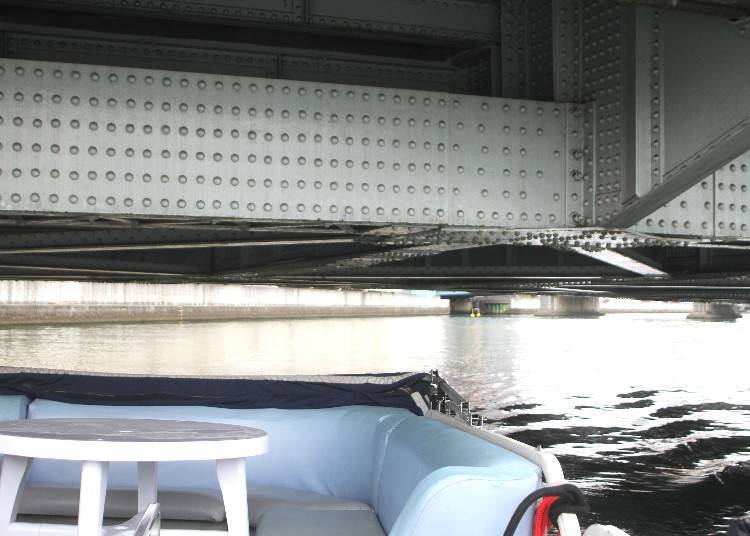 In some areas, the gap between the passing ship and the bridge above is so narrow, passengers may have to duck their heads down to pass! The bridges looming directly overhead are overwhelmingly impressive, making the bridges themselves one of the major attractions of this cruise.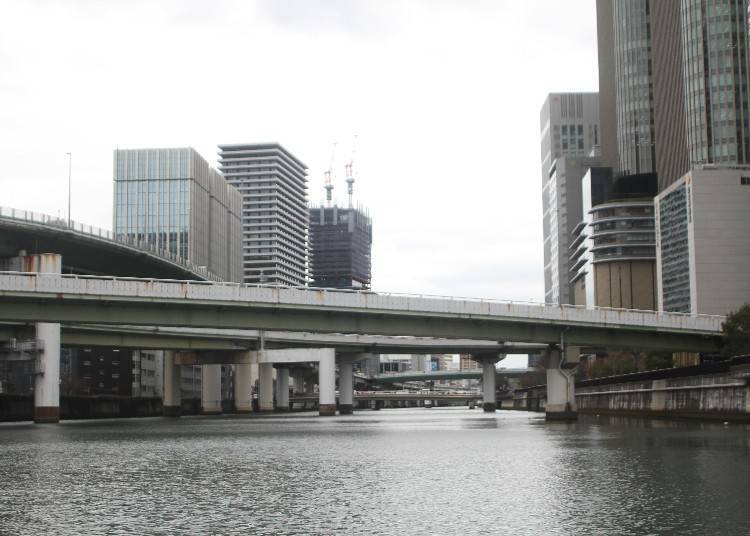 After exiting the Dotonbori River water gate into the Kizugawa River and passing by Kyocera Dome, you'll come upon Nakanoshima, Osaka's business district. There are many skyscrapers in the area, which is a notable nighttime view spot.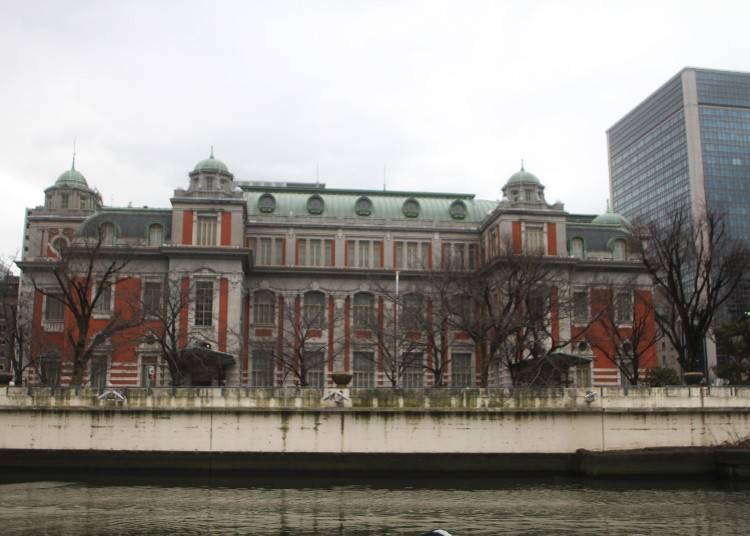 You'll also see the Osaka City Central Public Hall, an important cultural asset of Japan, Osaka City Hall, and the Bank of Japan's Osaka branch. The Dojima River is also one of Osaka's super-popular sakura spots in the spring, making this boat tour just another wonderful way to view them!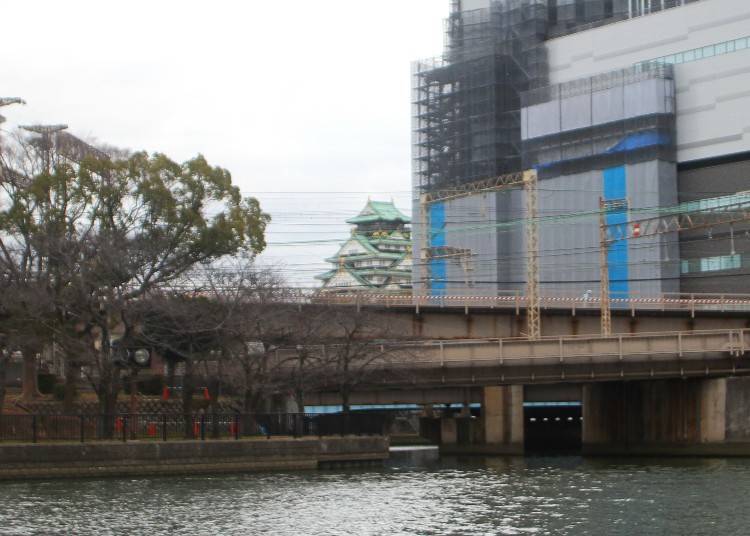 The boat's speed also varies by season (traveling a bit faster in summer and slower in winter). And if time allows during your cruise, you may be taken to a spot where you can see Osaka Castle! While you won't get a full view of the castle, that single glimpse is an exciting experience on its own, and one that foreign visitors may especially appreciate!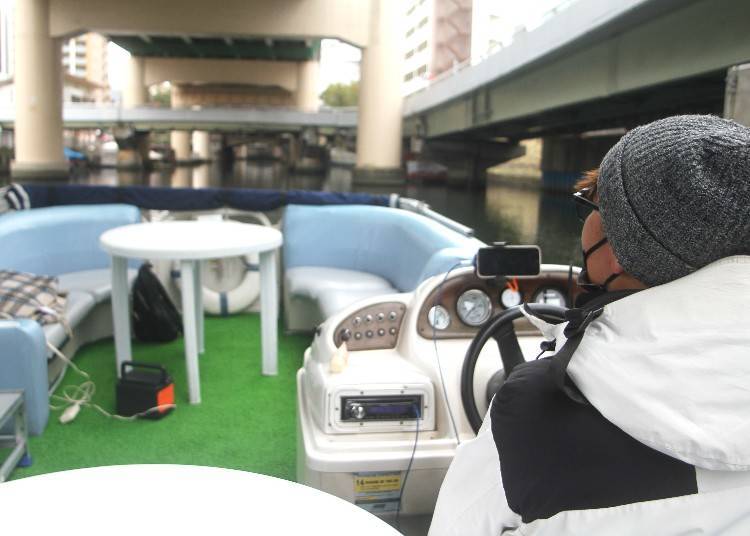 After leaving the Nakanoshima area, you'll pass under the expressway to the Toyokobori River water gate, Nihonbashi, and Dotonbori's Glico signboard.

Getting to see so many things from such a different perspective, like the highway toll booths at the side of the road, is another thing that makes this tour so fun!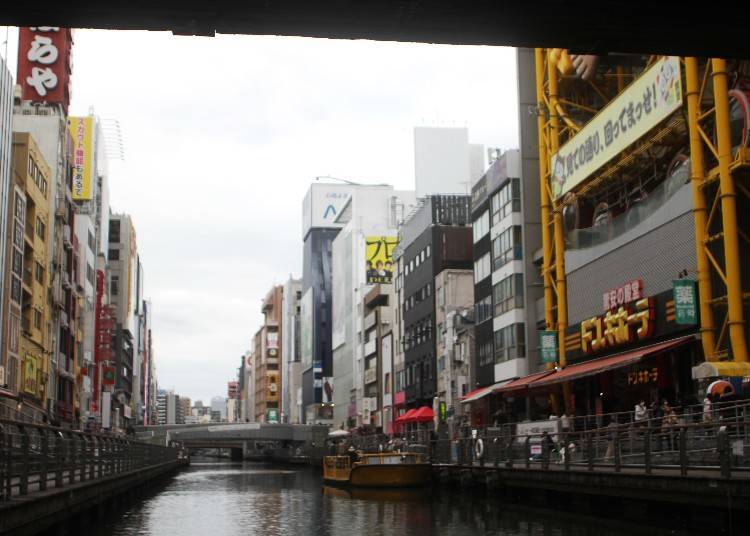 The Dotonbori River is lined on both sides by a promenade known as the Tombori River Walk, which itself is dotted with shops and cafes. Don't forget to wave back at the folks greeting you from ashore!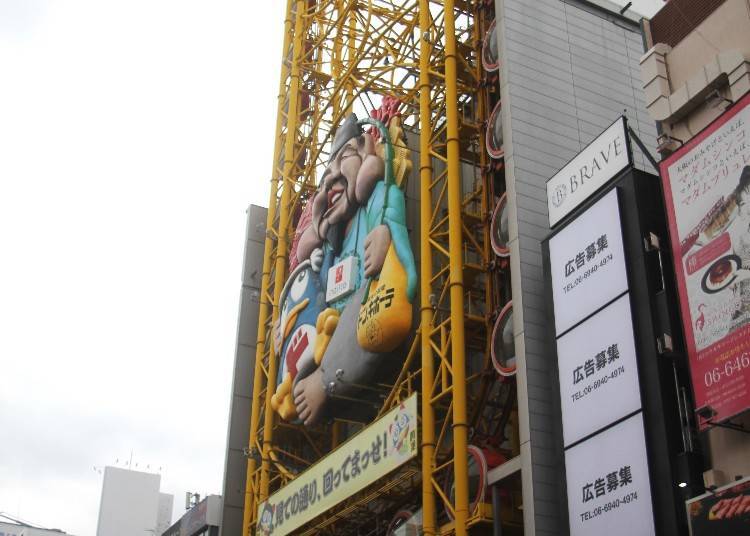 Here we have Ebisu Tower, a Ferris wheel and part of Don Quijote Dotonbori, also known as the "temple of surprise." Not only is this one of Dotonbori's most famous landmarks, but it's also the world's first elliptical Ferris wheel!

One full rotation takes about 15 minutes. Seeing it up close, it's much bigger and more towering than one might imagine!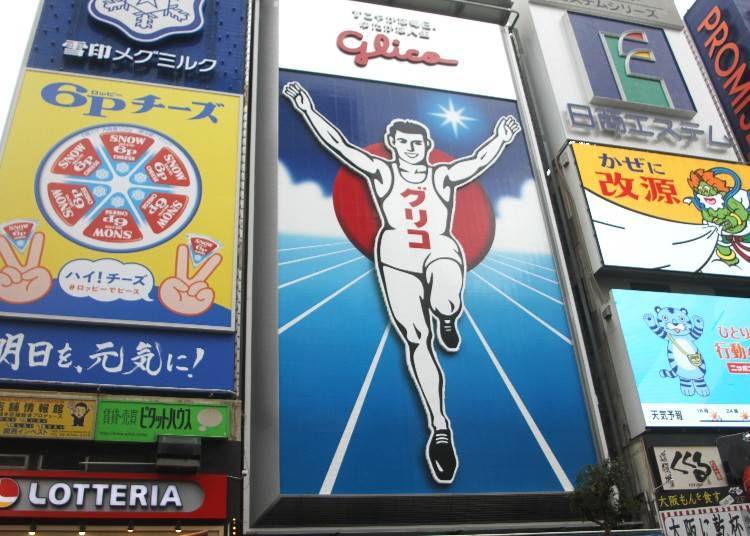 You'll also spot the giant Glico signboard, another must-see Dotonbori landmark! The sign was installed in 1935 by Ezaki Glico, one of Japan's leading confectionery makers, with the current design being its sixth generation. As one of Osaka's landmarks, you won't want to overlook this one!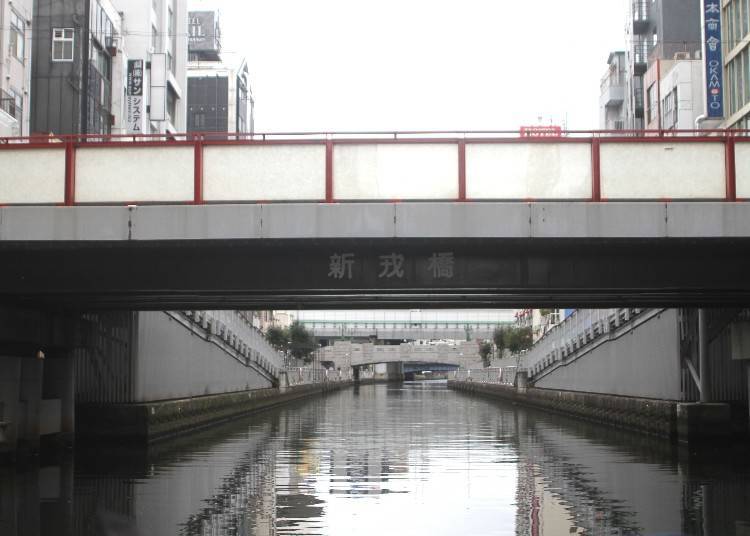 After passing under Ebisu-bashi and Shin-Ebisu-bashi bridge, the boat heads to its final destination, the Minatomachi Pier.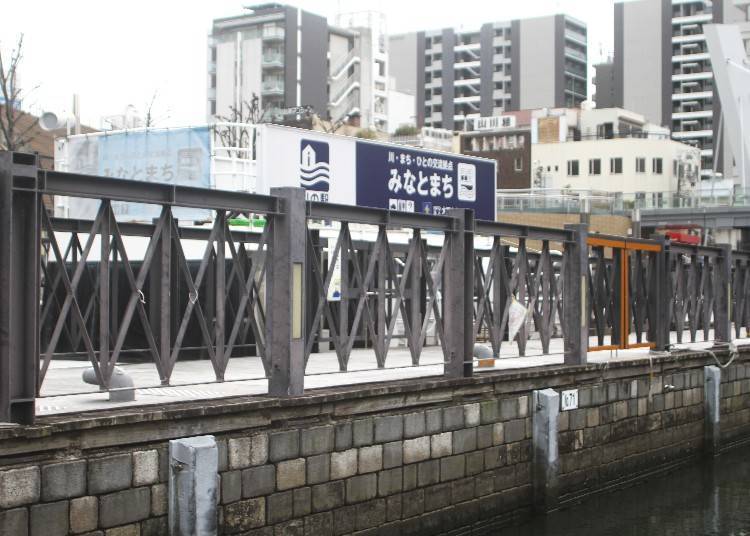 Thus concludes our journey, returning us to the starting point of the cruise, the Minatomachi Pier! The cruise is full of sights and excitement, and 90 minutes fly by in the blink of an eye. But cruising down the river on the open waters of Osaka makes this cruise a worthwhile journey you won't want to overlook!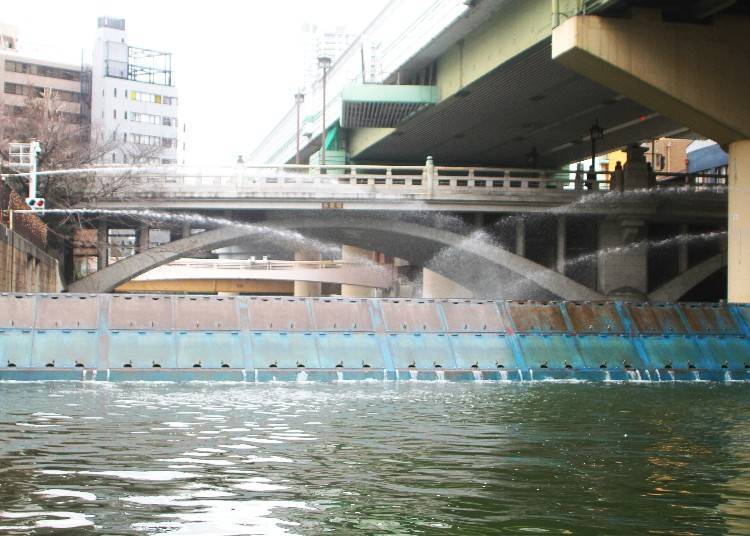 Our first recommended photo spot is right when the ship passes through the water gate. This experience can only be had on an Indy Cruise, making it something you'll want to capture on camera for sure!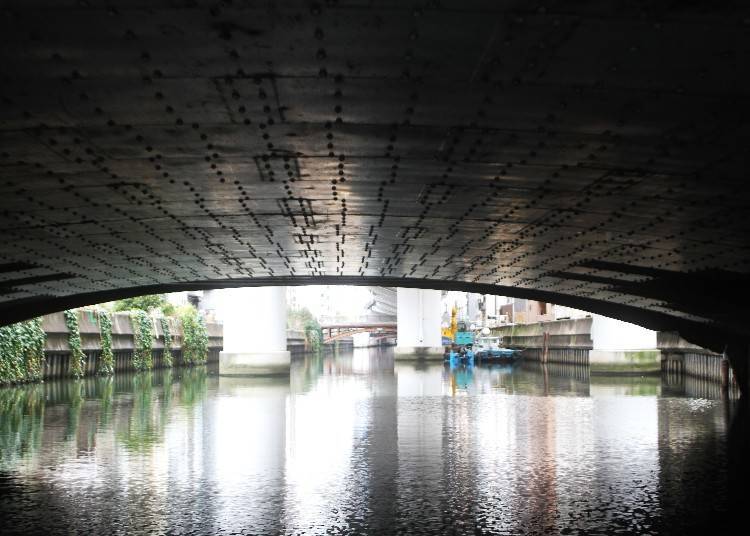 Our second recommended shot is the moment you pass under the bridge, especially if it's one with a narrow gap. Capturing such a photo on camera is absolutely something to brag about!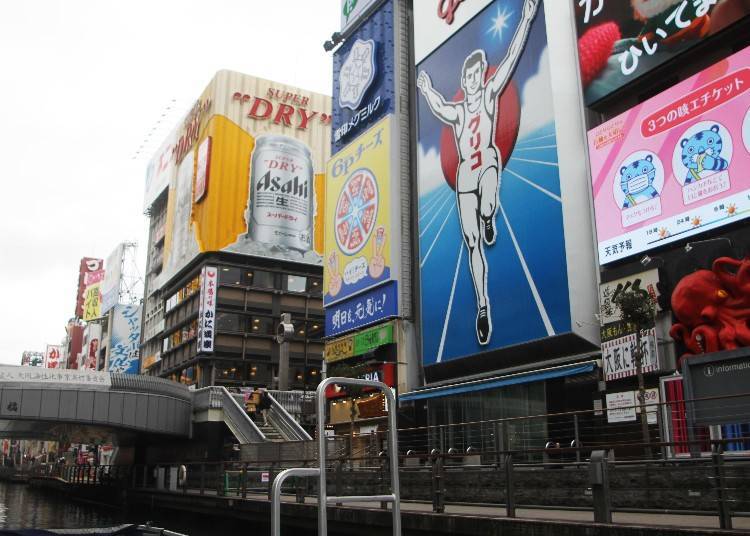 Our third recommended spot is in front of the Glico sign. The boat stops there for a while, so you can ask one of the staff members to take pictures for you. So strike a pose (feel free to mimic Mr. Glico!) and smile for the camera!
Recommended: The Night View and Hanami Cruise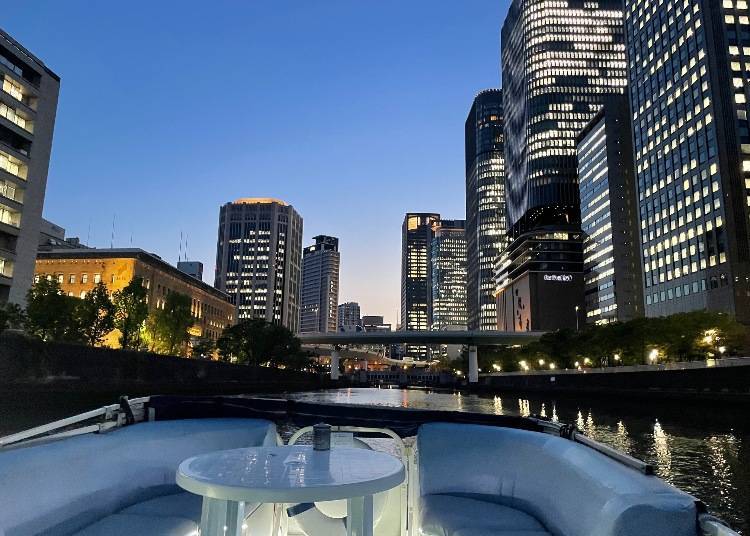 The Indy Cruise also offers a Night View Cruise, as well as a Cherry Blossom Cruise held every spring.

The Night View Cruise gives you an after-hours view of Osaka from the boat. The Nakanoshima area, lined with all kinds of buildings and businesses, is a particularly noteworthy nighttime photo spot!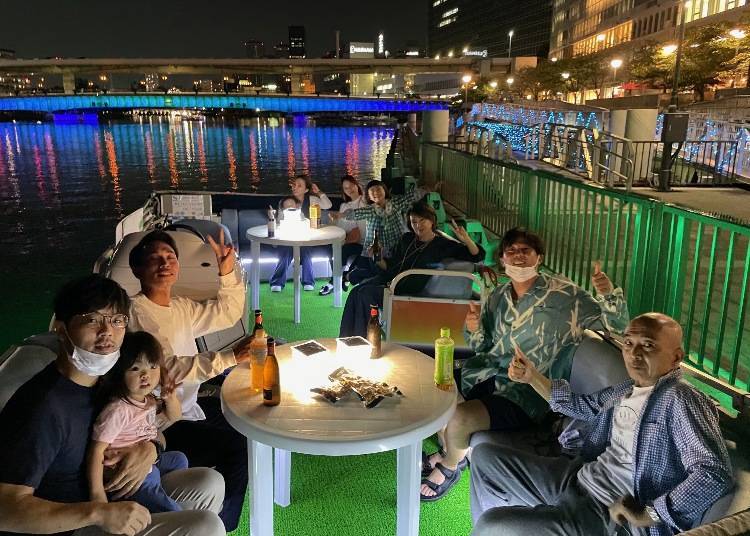 An Illumination Cruise is also available in December, highly recommended for date nights, or just for celebrating a toast with your friends!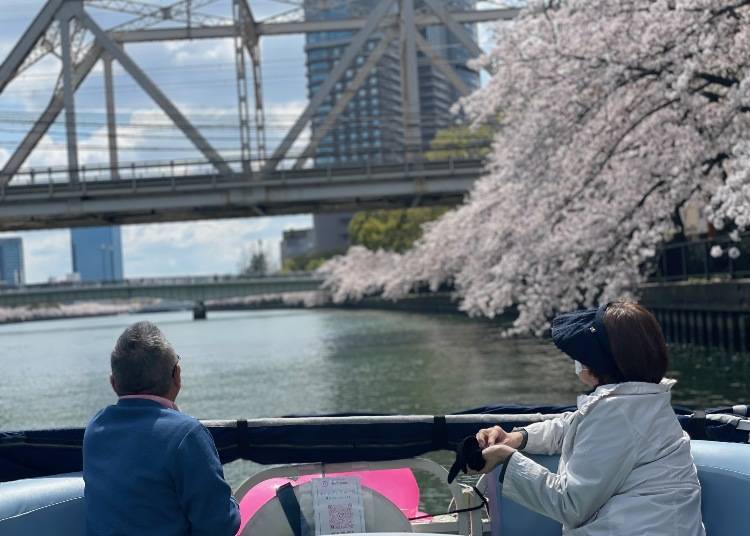 The Sakura Cruise runs from late March to mid-April every year, and takes passengers past Osaka Castle (via the Okawa River), Sakuranomiya, the Central Public Hall, and the scenic bridge of Nakanoshima. Nearly 4,800 cherry trees line the river along the front of the Mint Bureau, a spectacular sight of breathtaking beauty when in full bloom.

Same-day tours, including the '20-minute Dotonbori Sightseeing Course', are also available, although some may require advanced reservations. If you have a specific cruise and date in mind, we recommend making reservations in advance.
Cruising around Osaka in a boat offers a great chance to discover parts of Osaka's history, trivia, and scenery you might not have previously known about. And while attraction-hopping will never go out of style, if you'd like some downtime during your sightseeing trip that still allows you to explore the city, add a cruise to your Osaka itinerary!
Foreign Language Support
・Pamphlets: N/A
・Language Support: Simple guidance available (full guidance not available)
・Tourist Discounts: None
・Duty Free: None
インディクルーズ

Address

(office) 2-16 Imazunishihamachō, Nishinomiya, Hyogo 663-8225

Phone Number

078-857-3566

・Hours: Varies by cruise
・Admission: Varies by cruise
・Holidays: Varies by cruise
・Departures: Varies by cruise
・Official Site: https://indy-watercruise.com/
Information in article as of April 2023. Please see official website for the latest updates and information.

English translation by: Krys Suzuki
Written by: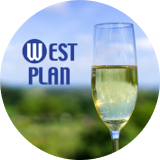 *This information is from the time of this article's publication.
*Prices and options mentioned are subject to change.
*Unless stated otherwise, all prices include tax.
Limited time offer: 10% discount coupons available now!